How To Choose The
Best Travel Backpack
The minimalist's guide to selecting a carry-on backpack for one bag travel.
Table of Contents
Updated:
September 21, 2023
01

Introduction
Fitting your life into one bag is no small task. We're here to help.
Best Travel Backpacks
See all reviews: Travel Backpacks
How to Select The Best Backpack for One Bag Travel
There's something so freeing about traveling with only one bag. All of your important stuff is within arm's reach, and it forces you to cut down on many of life's seemingly necessary consumer goods that you can probably live without. With one bag, you easily glide from location to location, always having just enough but never too much.
Choosing the perfect travel backpack for one bag travel can be a challenging endeavor. There are so many brands and models to choose from with varying degrees of durability, price, and try-on-ability (we made this word up for trying something out before buying it online). Add varying views and opinions into the mix from folks with different values, needs, and body types—and you've got a veritable clusterf*ck of options to wade through. Whether you're a new traveler gearing up for your first trip, a digital nomad going through a "sell-all-my-stuff-and-put-it-in-a-backpack" phase, or somewhere in between, it's essential to have the best travel backpack that works for you.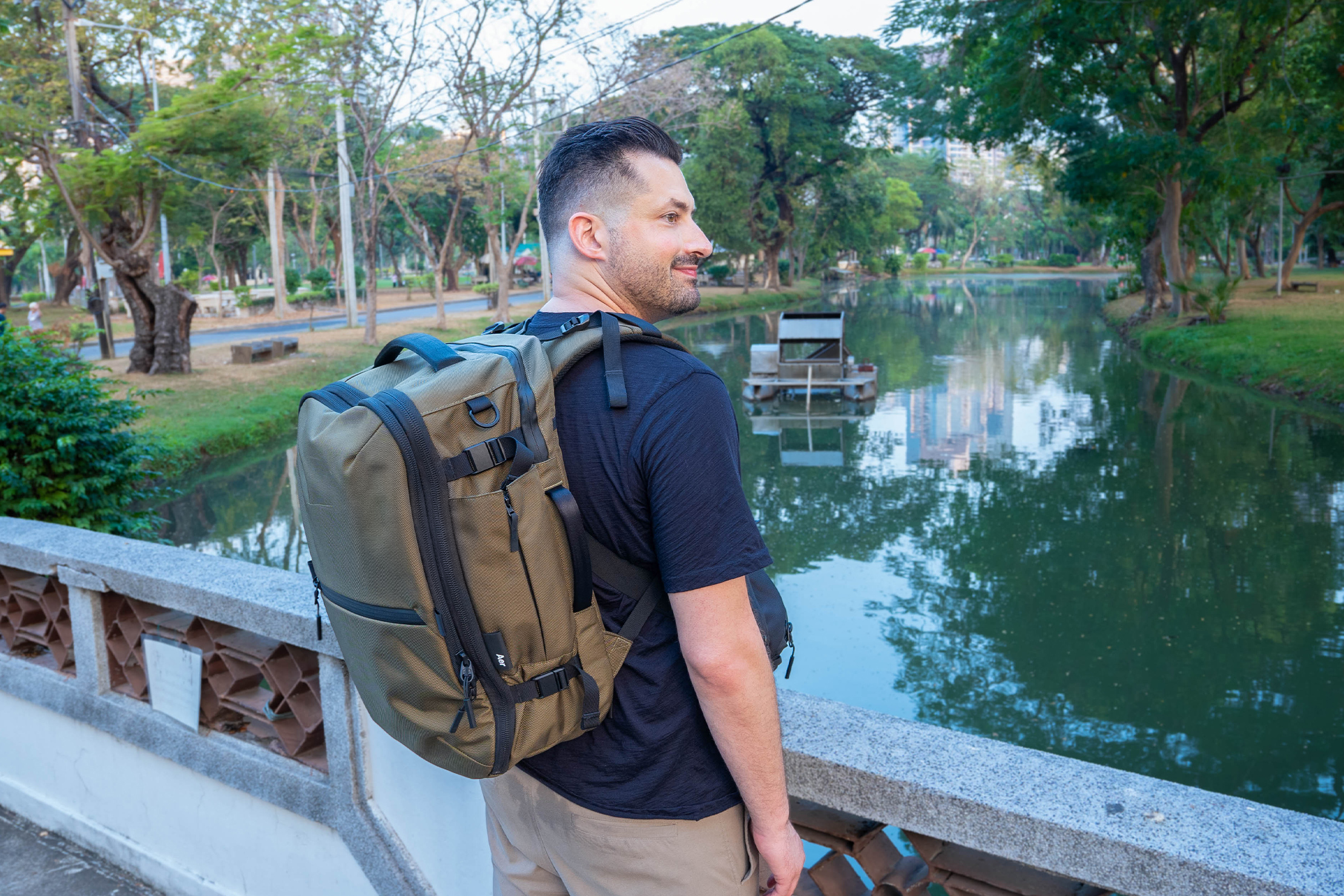 Here's the bottom line: There is no "best" backpack that is perfect for every traveler in every scenario. However, we believe everyone can find a pack that's perfect for their unique needs. In this guide, we'll break down the factors we think are most important when choosing the ideal one-bag travel backpack for you.
This guide is written and informed by Pack Hacker staff, many of whom are frequent travelers and digital nomads. That means we're using and testing these products every day to better understand what's available out there and how each bag may appeal to different types of travelers.
If you'd rather skip all this info and get straight to the backpacks we've reviewed, you can take a look at our highest-rated travel backpack list below, or all of our Travel Backpack Reviews. We're constantly updating this list as we review and rate new bags frequently.
Is It Better To Travel With a Backpack or Suitcase?
We've found that backpacks give you much greater mobility. You can breeze through airports. You'll never stand around a baggage carousel after a long haul again. And as long as your pack is carry-on size compliant, you'll never lose your luggage, ever. Depending on your travel style and what you're hauling, it comes down to your personal preference—both roller luggage and backpacks can be good options. In this guide, we'll focus on travel backpacks for a couple of reasons:
They Feel Freeing
You've got both of your hands-free, and you're not constantly dragging something behind you. No matter what terrain you're walking on, you'll never have the annoyance of loud or unsteady wheels behind you from standard travel luggage. Sure, roller bags work like a charm on smooth airport and hotel floors, but how about the winding cobblestone roads of Paris or a sandy beach in Ko Pha Ngan? You can traverse almost any terrain when you're wearing a backpack.
Travel Backpacks are Versatile & Usually Lightweight
If you pack light enough, you can comfortably have all of your belongings with you at once. Did you arrive earlier than your hotel or Airbnb check in? No problem, just take your pack around with you for the day—no need to stop by and drop your luggage off. Versatility at its finest.
We can't necessarily guarantee the pack will be lightweight if you fill it up with a bunch of heavy stuff (like camera gear), so we made a Travel Camera Guide too 🙂.
They Provide Flexibility
You'll take up less room on the airplane or in public transit. You'll generally feel more agile vs needing to drag around rolly luggage, with the added benefit of not looking like an out-of-place tourist. It caters to a more adventurous lifestyle by always being ready to go. And, you can easily catch that train that's about to depart without awkwardly side-running with a roller bag or two.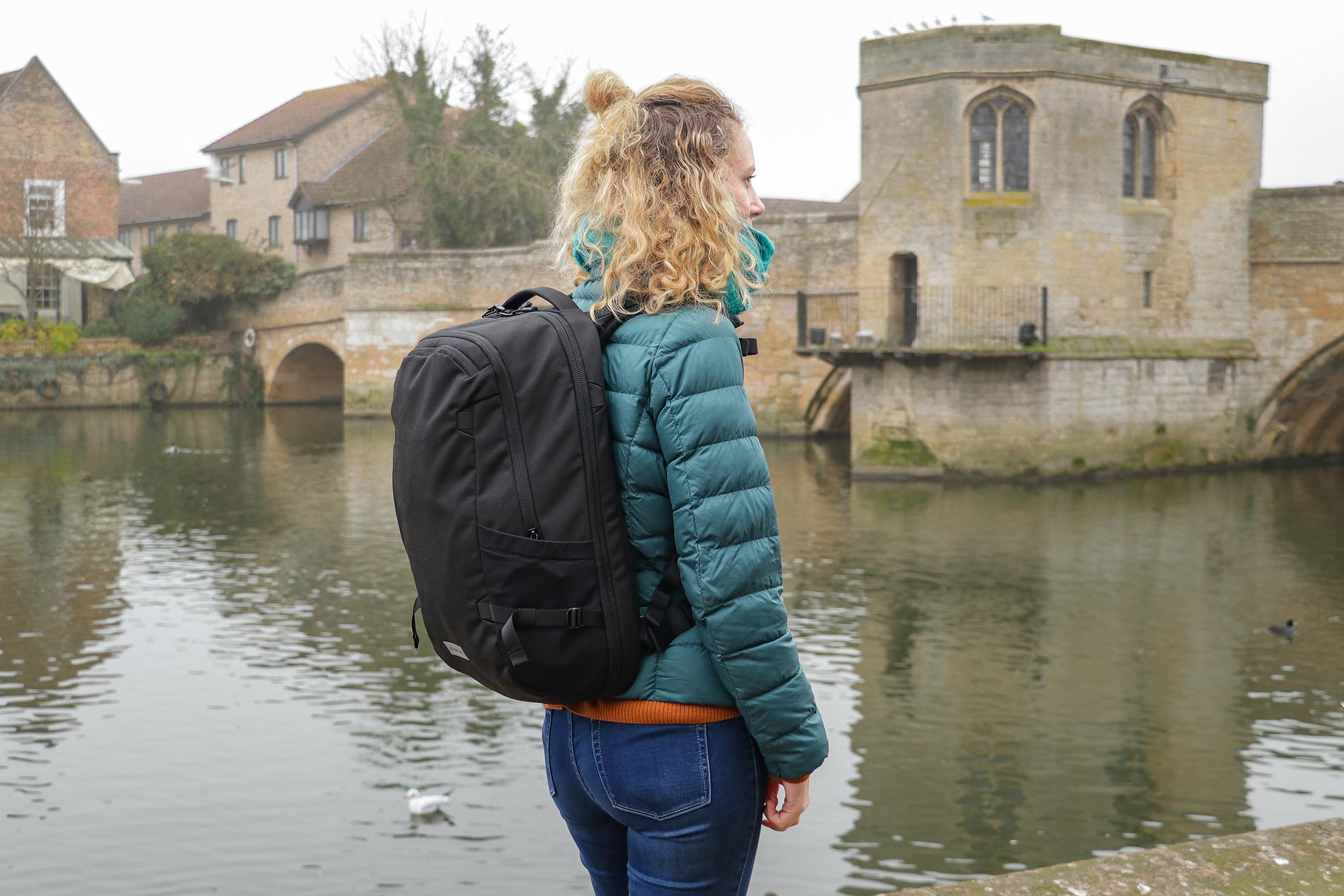 Utilizing a Backpack in Travel Contexts
In this guide, we're going for travel versatility. We want you to look good carrying these bags around in an urban environment and have the flexibility to head out on a hike for a couple of days of camping without having your backpack ruined by the elements. If you've got a piece of roller luggage, it's going to be hard to do that spontaneous half-day trek on the trail to the neighboring city you've been wanting to check out. Likewise, if you're going to post up at a coffee shop for a day of office work, you're going to look out of place with a bulky, multi-colored hiking bag. The packs mentioned in this article will blend into most city environments and are durable enough to withstand the abuse of longer excursions.
02

Form
Decisions, decisions… Navigating the not-so-clear world of travel packs.
Video Guide Part 2: Form
Feel free to watch this guide section in video format. We'll keep the written content on this page up to date.
Be sure to subscribe to Pack Hacker on YouTube and never miss a video. We also have these videos in a series playlist format on YouTube so you can watch them easier.
Best Backpack Size & Weight for Carry-On Air Travel
We favor smaller bags that fit in the overhead bin. Yes, it can be a challenge to fit your entire life into a 40L bag, but wow, is it worth it!. Trust us—you can fit your entire life into an 18L backpack if you're disciplined, and we highly recommend staying under 50L for one bag travel. Life is just easier with a smaller & lighter backpack. If you want to cheat a bit and get some extra space, you can also go the sling bag on the front, backpack on the back route.
Airlines can get pretty stingy around the amount of weight you can bring on board. It's essential to make sure your backpack itself isn't too heavy, or you won't be able to fit in as much clothing and other travel gear. We're all for less clothing and gear, but we are not for getting hit with extra fees if your carry-on is overweight. Starting out with a bag that's already too heavy before you've packed it is just setting yourself up for failure! We calculate a carry-on compliance score for every travel backpack reviewed on our site using its dimensions and data we collect from most airlines worldwide.
True Volume
It's easy to get caught up in all this talk around liters of a backpack. There's really no "industry standard" around this, and the liter size of a pack can vary from brand to brand. What's more important is the "True Volume" of a backpack and how usable the space is. Some weird, trapezoid-shaped backpack will certainly be more of a challenge than something with a larger, rectangular compartment. The thickness and flexibility of the material matter as well. A thin, strong material will leave you with more space inside of a backpack than something with thick padding in the liner. However, a rigid material—Dyneema, for instance—doesn't have much additional flex and isn't very forgiving when you're trying to pack your bag to the brim. The efficiency of space can make or break the usefulness of a pack.
Pack's Exterior Profile
The slimness of a pack can help out quite a bit. Not only does it seem less heavy because the weight is close to your back, but it has the added benefit of giving you a smaller, slimmer form factor. With this, you won't be taking up too much room on public transit or smacking people in the face when you're boarding the airplane—it'll be a better experience for you and everyone around you.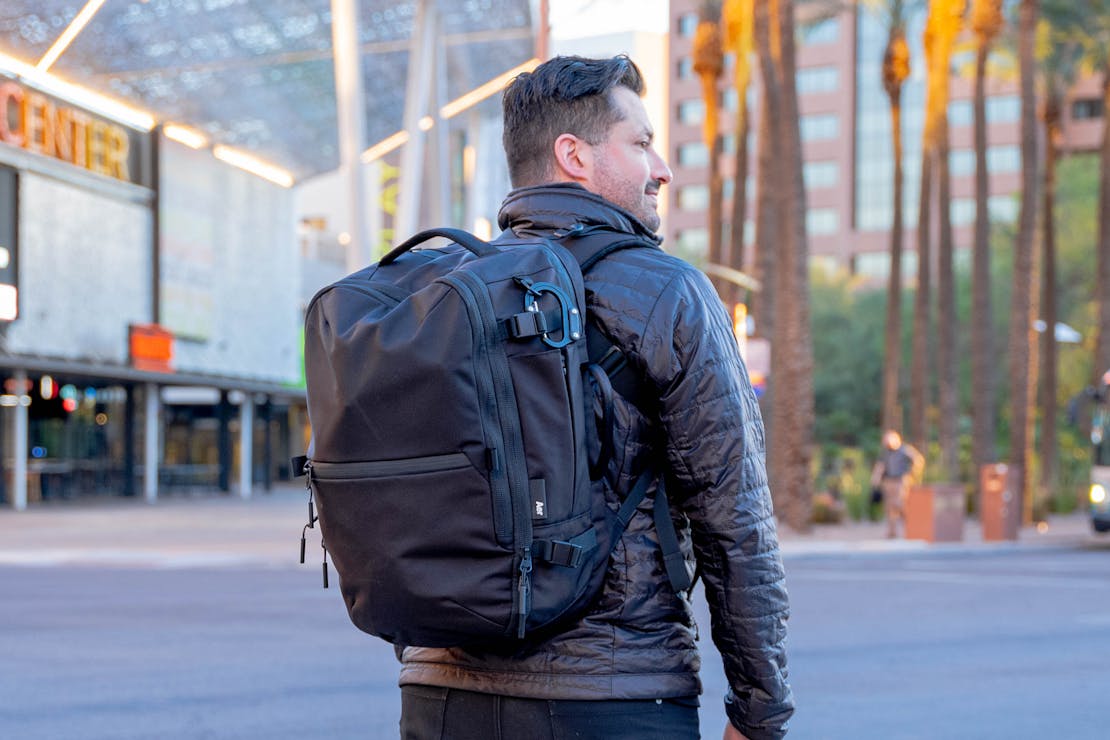 Aer
Travel Pack 3
The Aer Travel Pack 3 feels just big enough to comfortably use as a one bag solution but not too large to take around as a daypack. The added compression straps make it even better, allowing you to empty your bag except for what you need during the day and cinch down the straps to create a smaller-looking backpack for day-to-day usage. Plus, the load lifters help keep weight off your shoulders.
PRO TIP: Backpacks that offer a more "square" shape tend to hold more than bags of other shapes, but sometimes that comes with an aesthetic penalty (unless you're into a box on your back).
Max Legal Carry-On
Otherwise known as "MLC," Max Legal Carry-On size covers the largest acceptable backpack size for carrying on most airlines. Make sure to check with your airline before arriving at the airport, though—size limits can vary based on the airline you're flying with.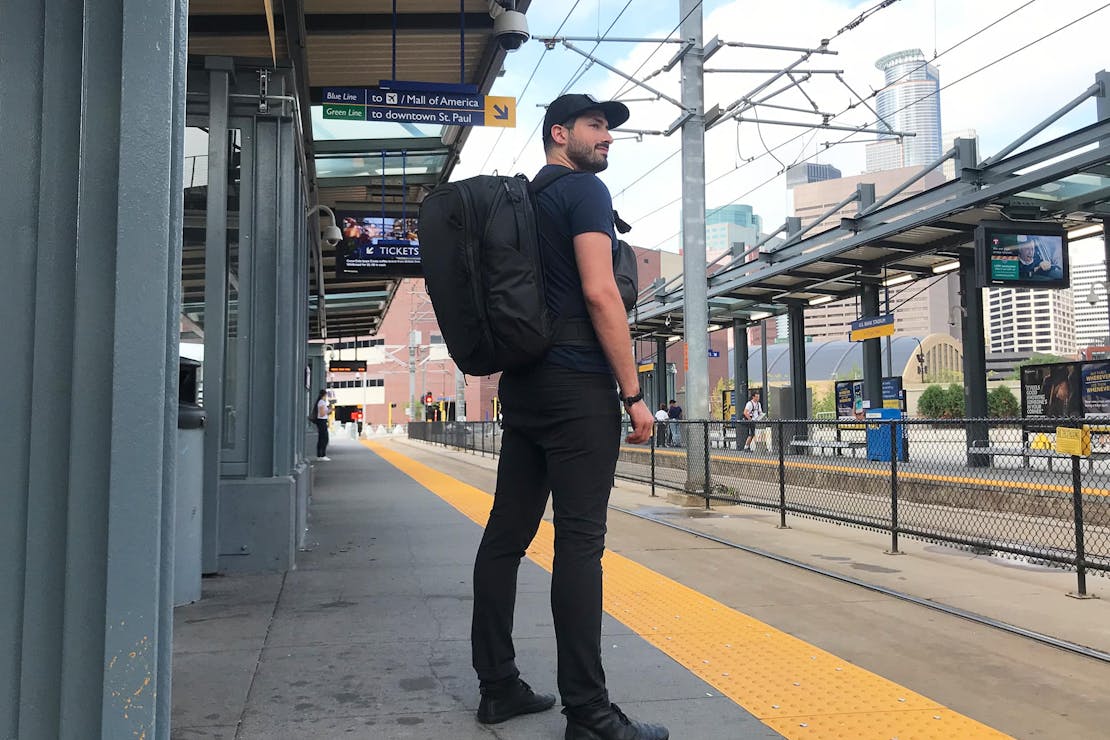 Peak Design
Travel Backpack
The Peak Design Travel Backpack is a well-executed travel bag from a company with an excellent track-record of bringing innovative and unique designs to the backpack world. This maximum legal carry-on can easily handle one bag travel, photography, or digital nomading with ease—and it will be a joy to use for any of those activities.
Top-loading vs Panel-loading (Clamshell) Backpacks
There's a big debate around clamshell and top-loading packs. We're personally a fan of clamshell for one-bag travel, as it gives you more open space to work with. Clamshell functions more like a suitcase and opens literally like a clam. You can easily open it up flat and see everything inside, so it tends to be easier to organize all your travel gear.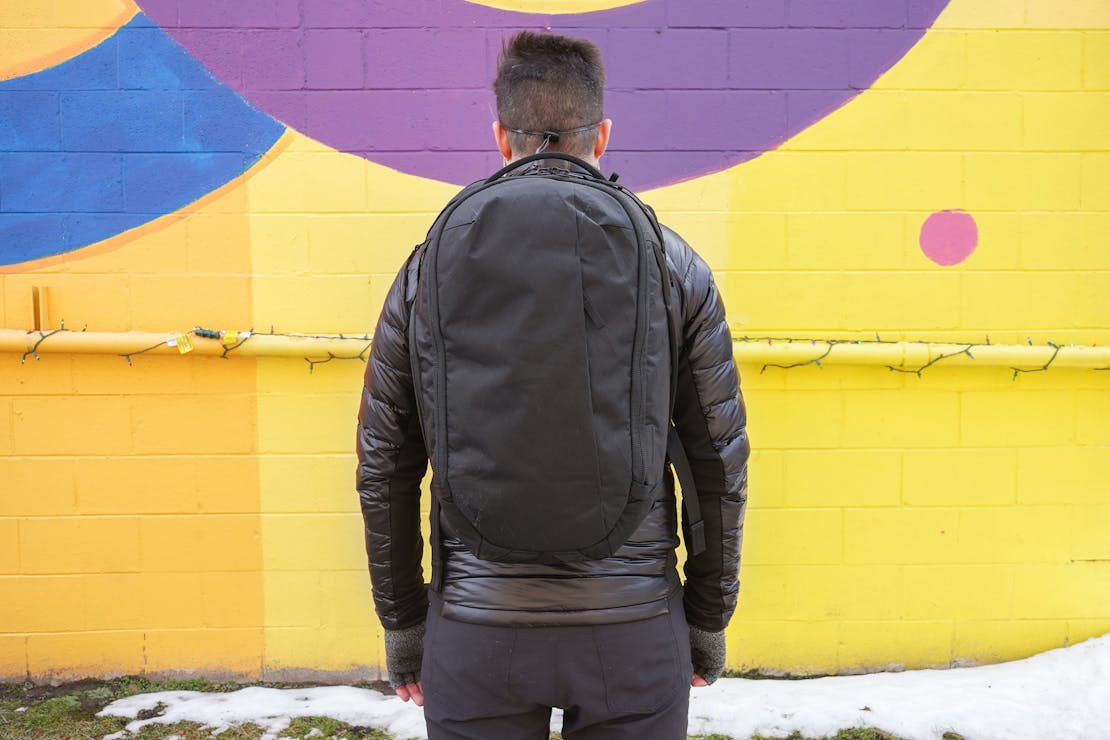 Able Carry
Max Backpack
The Able Carry Max Backpack is a clamshell-style backpack that opens to give you easy access to a spacious main compartment—this works great for packing cubes or rolled up clothing—whichever you prefer! Also, it's got a large but low-profile water bottle pocket.
Top-loading packs are great if you're on a long, multi-day trek or participating in other outdoor-focused activities as there's no main zipper that can fail you (which could be catastrophic if you're halfway up Mt. Everest).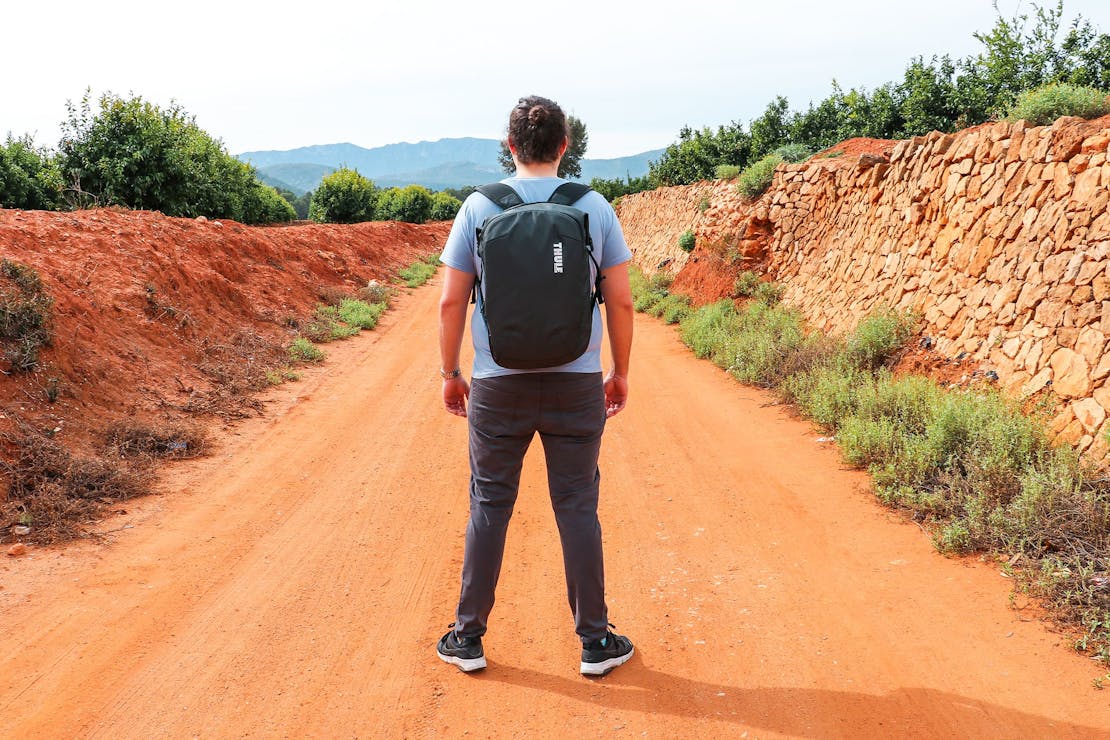 Thule
Subterra 34L
The Thule Subterra 34L is a top-loading backpack with a roll top opening. A top loader's usual pitfalls are fixed by an easy to access side zip that allows entry to the main compartment. This zip comes in handy when you don't have time to mess around with the roll top, or you want to grab something located at the bottom of the bag.
Weather Resistance
Weather resistance is another key component to consider for one bag travel. With all your tech gear and expensive possessions in your pack, you don't want it to get wet. We look for packs with some great weather resistance that'll easily get you through light rain and ideally through 20 minutes of a monsoon in Southeast Asia. There's a big difference between waterproof and water-resistant bags. We're mainly focused on the latter, as this will be plenty in most situations. Sure, waterproof is more secure, but unless you're leaving your pack outside in a torrential downpour for hours on end or plan to go snorkeling with your laptop on your back, there's no need for that extra tech.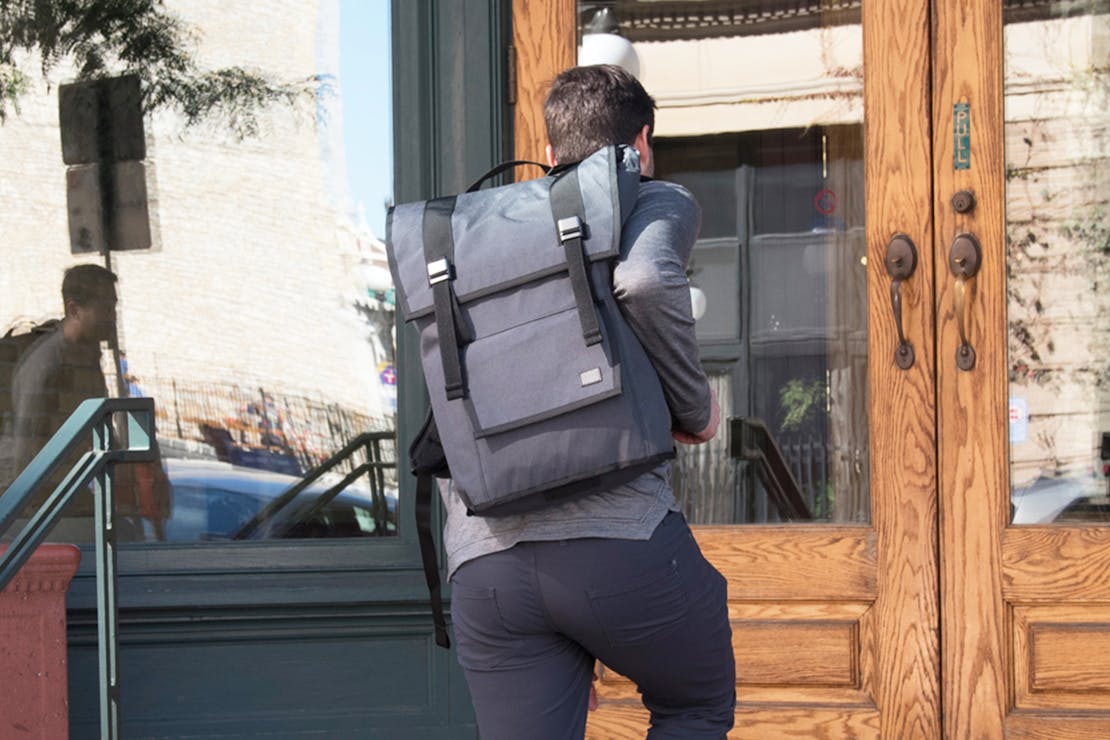 Mission Workshop
Fitzroy VX
The Mission Workshop Fitzroy VX utilizes weatherproof materials and weather-resistant zippers. We've found it to hold up decently in a downpour. Even if you're caught in a pretty torrential rainstorm, you should be okay with the PET waterproof membrane.
Got something that needs some additional weatherproofing? Consider picking up a DAKA Pouch. It'll give your valuables that extra layer of protection without requiring you to purchase an entirely waterproof bag—plus, these pouches double as organizers, separating your precious gear from the rest of your loadout with some additional protection to boot. It's a win-win.
Durability and Quality
Whether you're traveling for a week, a month, or a year plus, your backpack is pretty much your home, so you don't want it to break. Take it from us—the last thing you want is to find out that you lost your phone charger because your zipper broke during the journey to your next accommodation. Investing in a good backpack will prevent loss and damage to your gear, and higher quality products will last for several years. It can be a challenge to tell if a backpack is durable right out of the box, which is why we test bags as much as possible to notice any faults. Higher durability usually means higher weight, but not always. Here are a couple of key considerations we've found when it comes to durability.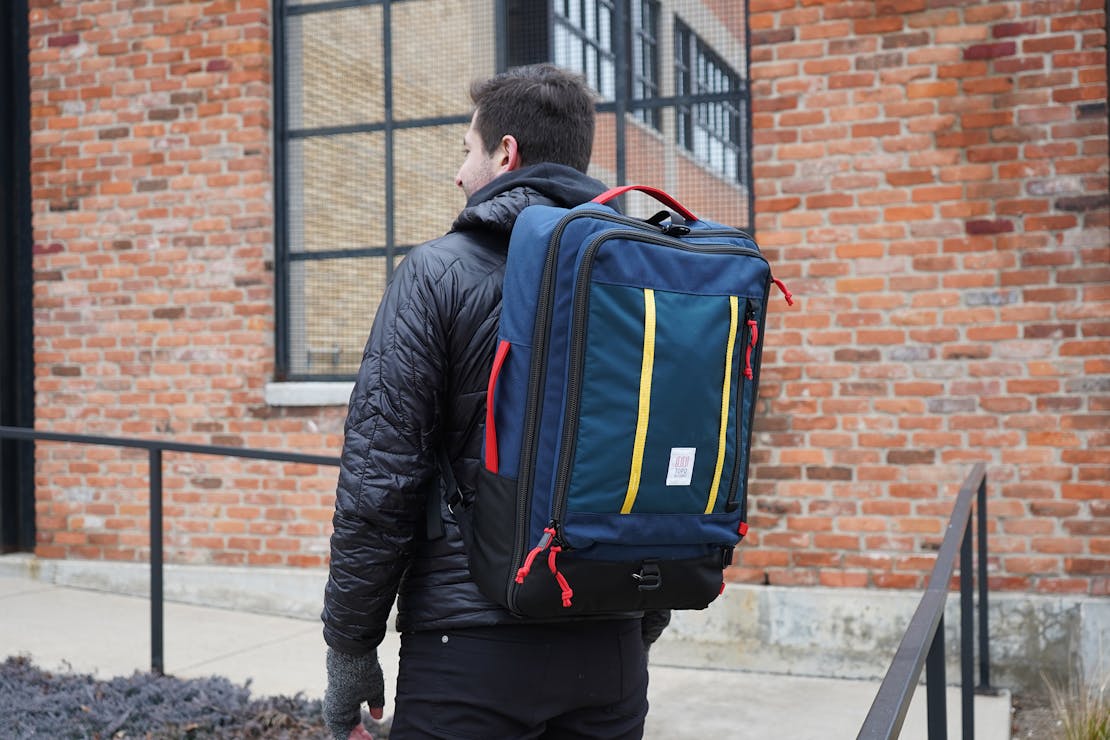 Topo Designs
Global Travel Bag 40L
When it comes to durability, the Topo Designs Travel Bag 40L doesn't mess around. The 1000D nylon, beefy YKK #10 zippers, and simplistic design all come together to create a bag that won't let you down.
Zippers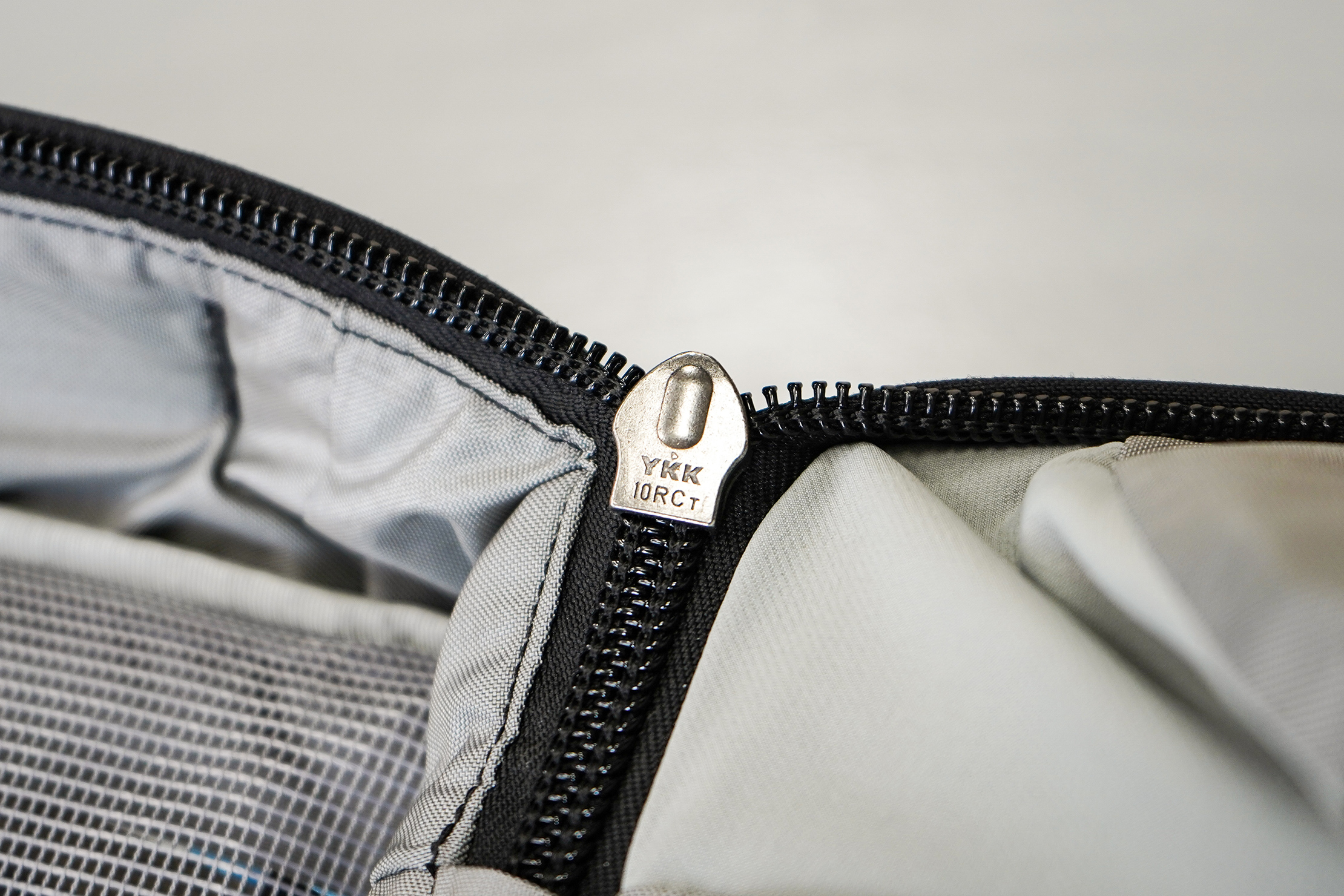 YKK zippers are some of the best around, so naturally, the best travel backpack brands tend to use them. They're super strong and have different weights depending on the area of the pack they're used. A YKK #10 will keep a main compartment secure, whereas a YKK #5 may be suited for smaller side pockets that don't receive as much use or tension.
YKK is obsessed with quality, and they do everything in-house. They smelt their own brass, forge their own zipper teeth, and even make the machines that make their zippers and the cardboard boxes they ship in! Needless to say, you probably won't end up with any broken zippers with YKK on your side. YKK zippers also account for about half of all zippers in the world, so that says something. Although less popular, RiRi zippers are pretty great too. Both RiRi and YKK are superior to any other zipper made in-house by a bag manufacturer, and Zoom Zippers are climbing up on that list as well, though we still find intermittent issues with them.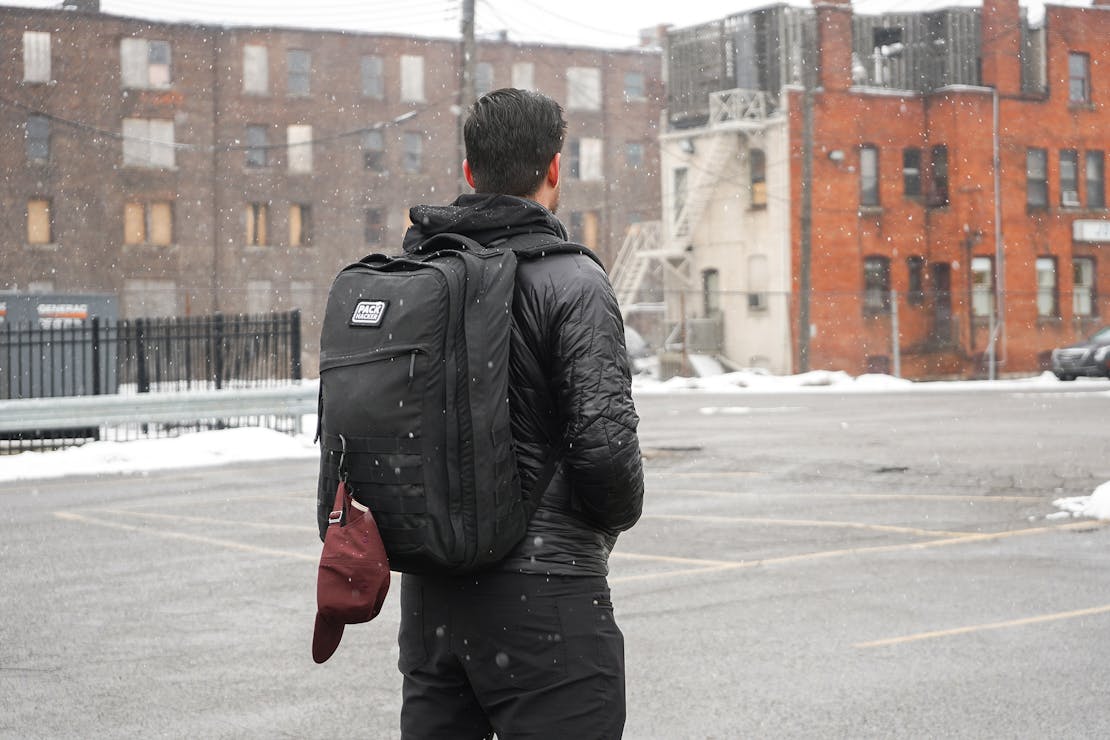 GORUCK
GR2 (40L)
The GORUCK GR2 is one of the most durable packs out there with tons of high-quality material—1000D CORDURA®, YKK zippers, designed by an ex-green-beret—the thing isn't going to break. How do we know that? We've tested it on the road, every day for a year. The founder of GORUCK, Jason McCarthy, states that he won't use anything else but YKK zippers, and he built a company around putting super heavy weights in his bags to exercise with. If YKK zippers are good enough to hold up in combat, they're good enough for one-bag urban travel as far as we're concerned. With all that durability, there is a weight penalty, though. The GR2 comes in at 4.75 pounds when empty.
Backpack Fabric and Material
There are a ton of fabrics and materials out there, too. When looking at fabrics, you'll often see a number followed by a D—250D, 950D, 1500D, etc. The D stands for denier, a term used to measure the fabric's thickness and weight—specifically the yarn. The formal definition is the mass (in grams) per 9,000 meters of thread, so lightweight fabrics (like silk) have a very low denier, while heavier fabrics have a higher denier. When it comes to backpacks, a higher denier is not necessarily better. In general, a higher denier will be more durable (depending on the fabric & weave) but also heavier. While the denier can tell you the weight and thickness of a material, the type of material, weave, and manufacturing involved will ultimately tell you more about its strength and durability. Here are some materials you'll come across when selecting your pack, along with the pros and cons of each one.
Ripstop Nylon


Pretty close in property to standard nylon, "ripstop" nylon has a unique square weave that prevents further tearing from happening after a puncture. It has an incredibly high strength-to-weight ratio, and, as the name implies, it is highly resistant to rips and tears. The reason why it's so strong is that additional fibers are sewn into the weave. Ripstop Nylon was developed in World War II as a more robust alternative to silk parachutes and is currently used in ejector seat parachutes for fighter pilots!
Ballistic Nylon


Ballistic Nylon refers to any nylon fabric with a "ballistic weave," a variation on the simple basketweave. This gives it excellent tensile and tear strength—especially when layered—and makes it heavier than a lot of other materials. Keep in mind that ballistic nylon almost exclusively comes in black. Why is it called ballistic? It was initially used on flak jackets for World War II airmen to protect them from artillery-shell and bullet fragmentations. PSA: We do not recommend the use of backpacks for protection in war zones.
CORDURA® Nylon


CORDURA® is not a fabric in and of itself—it is a brand covering a whole host of different materials, from cotton to nylon to polyester. What they do is take fabric from various mills, inspect it to make sure it's up to their standards, and then slap that CORDURA® tag on it. Yes, it's a bit deceiving, but they do put out some high-quality stuff. You'll mostly always see a "®" next to "CORDURA" (in all caps) because #branding and #lawyers.
Kodra Nylon


Kodra is virtually synonymous with CORDURA® but made in Korea. Peak Design opted for this in V1 of their Everyday Backpack.
Polyester


Polyester is one of the most common fabrics on the planet. It's made from plastic fibers, and you can find it pretty much everywhere—in clothing, pillows, seat belts, upholstery, rope, the list goes on… Oh, and backpacks. Polyester is not the most durable fabric, so you'll usually find it on lower-end packs (think of those classic Jansport backpacks everyone had in high school). It's really not the most suitable choice for a travel pack—as it just won't hold up through the years. Besides lacking in durability, polyester is also fairly heavy compared to other fabrics like nylon. If you're looking for a low-budget day pack, polyester is fine. If you're looking for something more serious, stay away from it.
Polypropylene


Polypropylene is a polymer that is used to make fabrics. This stuff is seriously everywhere—it is the world's second most widely produced synthetic plastic! It's used to make ropes, carpets, labels, plastic lids on tic-tac containers, plastic chairs, long underwear…basically, if you see something made of plastic, there's a solid chance there's some polypropylene in it. You'll find it mostly in minor backpack components, but it's also used to make drawstring bags and totes like the ones that are handed out for free at a college fair or festival. Polypropylene fabric has a few things going for it. It's cheap, it's a good insulator because it doesn't transfer heat very well, and it won't absorb water since it's hydrophobic. The major problem with polypropylene is that it is not very UV resistant. If it's repeatedly exposed to sunlight, the fabric will fade and break down over time. This is not great for backpacks. You may, however, see polypropylene used as a liner on the inside of some packs as it won't be affected by UV light and adds some additional protection.
Canvas


You could say that canvas is the OG backpack material. Back in the day, canvas was just about the only thing you would use for a "backpack," outside of maybe a burlap sack thrown over your shoulder. In World War II, GI's carried all their equipment around in canvas packs and slept in canvas tents. Canvas very thick and sturdy and was historically made from cotton, linen, or hemp coated in wax for waterproofing. Today, canvas tends to be made from things like nylon and polyester. Most modern backpack companies shy away from canvas because it's usually heavy, not overly water-resistant, and easily damaged by abrasion. If you're looking for a canvas one-bag travel pack, you're not going to find much out there. However, if you want the nostalgia factor, you can still find a bespoke canvas bag to satisfy that.
Leather


We may need to scrap our statement on canvas because leather is arguably as OG as it gets. Its use has been traced back as far as Ancient Greece and Rome! Like canvas, you're not going to see many travel packs made of leather. While a leather bag can make for an excellent, stylish daypack, it's not ideal for a long-term travel pack, mainly because of its weight. There is also a lot of potential care involved. Between protective oils and various cleaning techniques, it can be a hassle to deal with if you're on the move. There are three grades of leather—genuine, top-grain, and full-grain.
Contrary to popular belief, genuine is the lowest grade of leather while full-grain is the highest. Full-grain is used for heavy-duty use-cases like weapon holsters and work belts, so if you're dead set on a leather pack, we'd recommend looking for full-grain leather. Ideally, you'll want to find something thin enough to not be overly heavy while still thick enough to ensure durability.
PSA: Try to avoid bonded leather, patent leather, and corrected grain leather. These are all low-quality but can pass as the good stuff if you're unaware of what to look for. Bonded leather is probably the worst—it's a bunch of leather scraps that have been glued together—but they are all far less than ideal.
Sailcloth


The actual material is called ultra-high-molecular-weight polyethylene… but most know it as sailcloth (yep, the same material used on a sailboat). A relatively rare material for backpacks, brands like Tortuga have taken advantage of sailcloth due to its lightweight and water-resistant properties. It is by far the most lightweight and waterproof material on our list (no need for DWR or liners), but it does have some drawbacks. It's stiff and crinkly with zero stretch, which can cause problems if you're trying to utilize every nook and cranny of your pack. It isn't quite as indestructible as some other materials listed, but it's reasonably durable and can be patched. It also tends to be one of the most expensive backpack materials out there.
Dyneema® Composite Fabric


In May 2015, Dyneema purchased Cubic Tech, the creator and manufacturer of Cuben Fiber, and rebranded it as Dyneema® Composite Fabrics. So, Dyneema® Composite Fabrics = Cuben Fiber. This stuff was initially designed for high-tech sails on racing yachts because it is ridiculously light and robust. As such, it has been adopted wholeheartedly by the ultralight backpacking community. It's sort of like the carbon fiber of the backpack world—high-tech, super strong, super light, and…super expensive. While Dyneema® Composite Fabric is popular within the ultralight backpacking community, it has yet to become commonplace in the one-bag travel scene. That being said, if you do see Dyneema® Composite Fabric, you should know that you're getting some of the best stuff around.
TPU


Thermoplastic polyurethane —TPU for short—is a polymer used to add strength to a material, either through a manufacturing process or coating. You'll recognize it on products like inflatable rafts, phone cases, wire cables, and footwear. Think stuff that needs to be as durable as possible to avoid things going south for the user. It easily sheds water and oil, resists abrasions, and won't crack in high or low temps, making it ideal for frequent outdoor use. Unlike polypropylene, TPU is UV-resistant and won't be subjected to the same amount of fading over time. If you're the type of traveler who wants extra peace of mind on the go, you'll want to keep an eye out for TPU because of the extra strength it adds to a pack, but we wouldn't consider a lack of TPU a deal-breaker.
X-Pac


X-Pac is not so much a fabric as it is a bunch of fabrics smooshed together. With the help of lamination technology, it combines complementary materials to make an overall higher-performing product. Though there are variations in denier and waterproofing, it's most commonly made up of a nylon face for durability, polyester mesh for strength, and waterproof film that won't disappear over time. Like Dyneema® Composite Fabrics, it was inspired by the efficiency of sailcloth but is a less costly option that provides a similar level of ultralight performance. It holds its shape over time, won't fade with UV exposure, and easily sheds moisture, making it great for outdoor enthusiasts who hike and bike with their pack on the regular. However, it may be a bit overkill for casual travelers unless you're looking for a backpack for epic mountain climbing adventures.
Ultimately, the production process and design will dictate whether your gear will stay together. If a bag is made with 1000D CORDURA®, but it doesn't have good zippers to match, it doesn't matter how good the fabric is. Look for brands that proudly back their product with generous warranties, like GORUCK and their "SCARS warranty" or Patagonia and their "Ironclad Guarantee." These brands know they make quality products, so they're happy to back it up. If a brand offers no warranty or a short warranty, there's probably a financial reason for that, and the quality may not be as high. We're all about buying quality pieces that last versus something that's going to need repair or replacement year after year.
03

Function
Whether you're hopping on a plane or navigating city streets, you need a backpack that can hold up.
Video Guide Part 3: Function
Feel free to watch this guide section in video format. We'll keep the written content on this page up to date.
Be sure to subscribe to Pack Hacker on YouTube and never miss a video. We also have these videos in a series playlist format on YouTube so you can watch them easier.
Best Backpack for Comfortable Wear and Extended Travel
Comfort is a big deal when it comes to one-bag travel—especially if you plan to carry the bag around with you for hours on end. You'll want a high-quality harness that works with the shape of your body. When selecting a bag, it's crucial to take your height and body type into consideration. Although this matters more for hiking backpacks where you're carrying a ton of gear, it's less important for smaller, one-bag travel packs. That doesn't mean you shouldn't think about it before you make a purchase. A backpack suited for someone that's 6'5″ and 250 pounds probably isn't the best travel backpack for someone that's 5'3″ and 140 pounds. Buying something that doesn't fit your frame correctly will make for some seriously uncomfortable travel.
Men's Focused Fit Vs Women's Focused Fit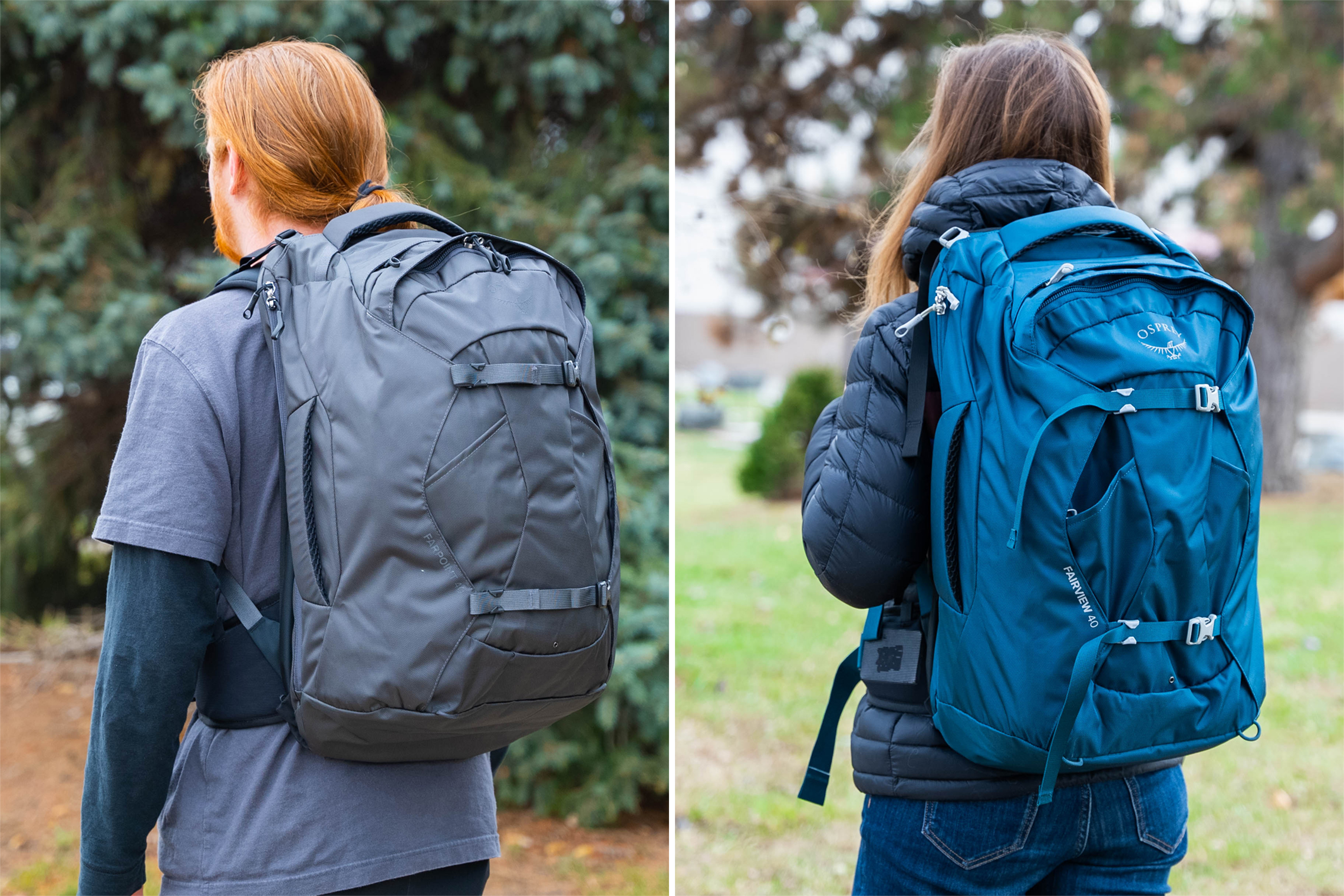 Some backpacks are only available with a "one size fits all" harness system, but there is an ever-increasing number of women's focused fit and men's focused fit travel backpacks on the market. For example, the Thule Landmark 40L, REI Ruckpack 40, and Deuter AViANT Carry On Pro 36 are all available in two different fits. The differences are subtle but have a big impact on how comfortable the harness system is on your frame. Compared to a men's focused fit, a women's focused fit backpack will typically feature:
Thinner shoulder straps for a narrower frame
Shorter shoulder straps that position the bag higher up the back
Smaller hip belt with a more pronounced curve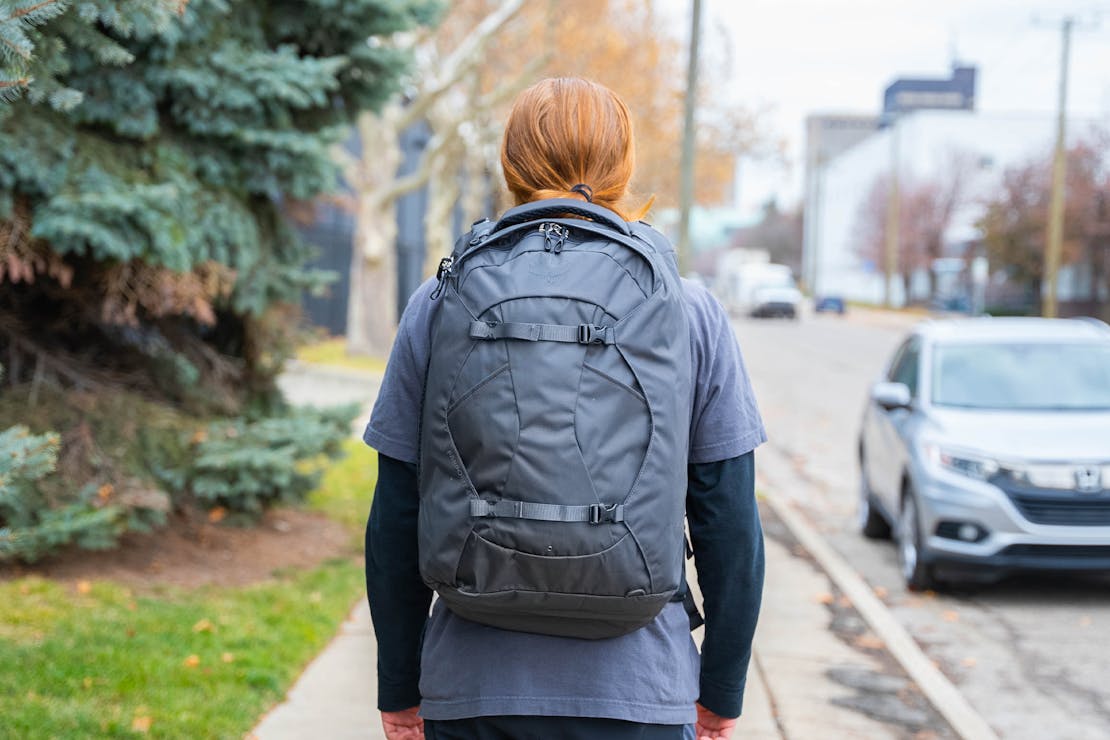 Osprey
Farpoint 40
The shoulder straps on the Osprey Farpoint 40 are comfortable and well padded. Plus, you have the added sternum strap and hip belt for load-lifting comfort. However, if you have a more narrow frame, you may want to take a look at the Fairview.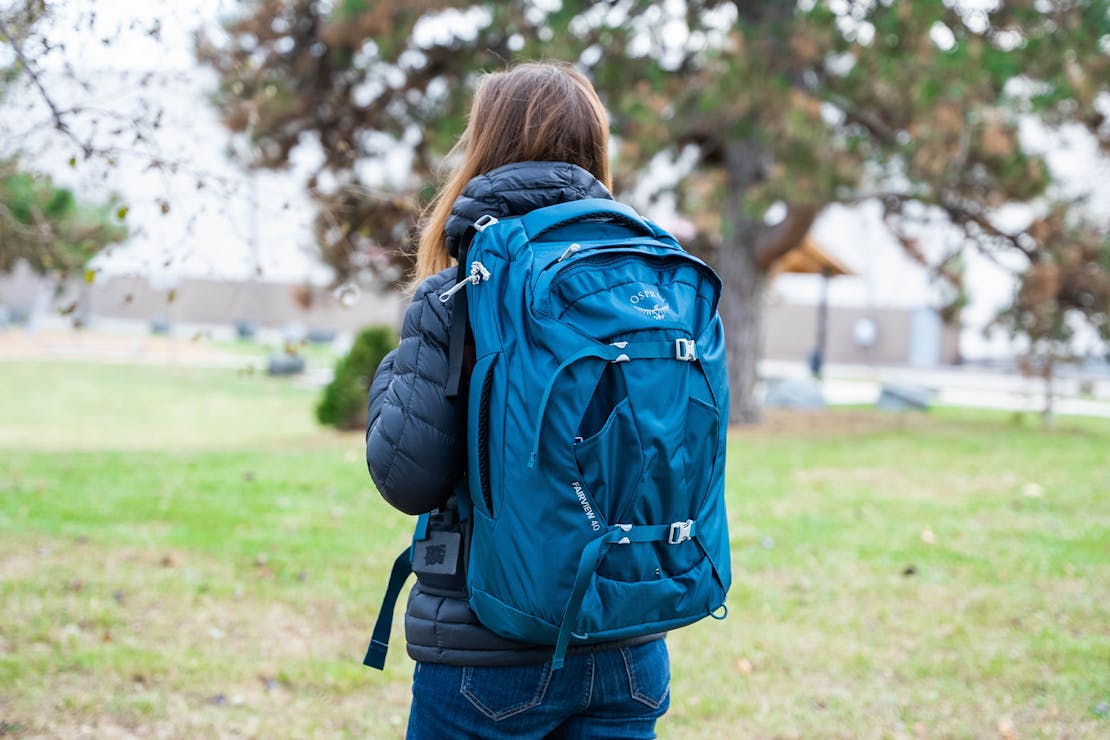 Osprey
Fairview 40
The shoulder straps on the Osprey Fairview are designed with women in mind—slightly narrower but just as padded. Most importantly, though, they are shaped differently. As opposed to coming straight over your shoulders, these curve in and around, making it easier to carry. After testing both the Farpoint and Fairview at full weight, there are noticeable changes in how this bag has been adapted for women's bodies.
Backpack Straps
You'll want to look for bags with high-quality straps that work for your body type. A mismatch here could lead to an uncomfortable carry, even with only a little weight inside.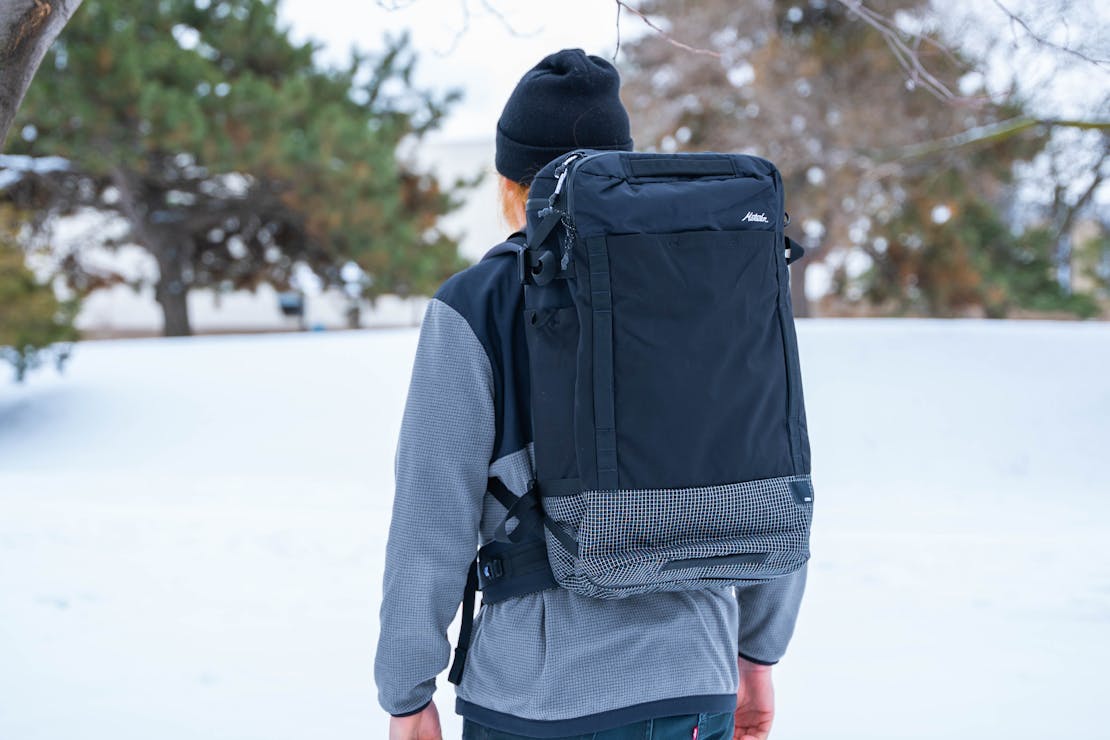 Matador
GlobeRider45 Travel Backpack
Even though the GlobeRider45 has the functionality and looks of a travel backpack, it carries more like a daypack. Its shoulder straps feature dense padding that curves and falls naturally to the body. A relatively high top area does give it a very slight hiking backpack feel, but it's an overall tameable bag to travel with, considering its 45-liter storage capacity.
The thickness of straps doesn't necessarily matter. Thinner straps that use high-quality foam may be more comfortable than thicker, bulkier straps.
If you're concerned with weight, look for bags that include load lifters – these are the adjusters that appear at the top of the straps. This concept is borrowed from larger hiking backpacks and does wonders for fitting the bag well to your back with different loads.
Some straps swivel and pivot to cater to different shoulder widths and make it easier to quickly flip the pack around to access the goods you've got inside.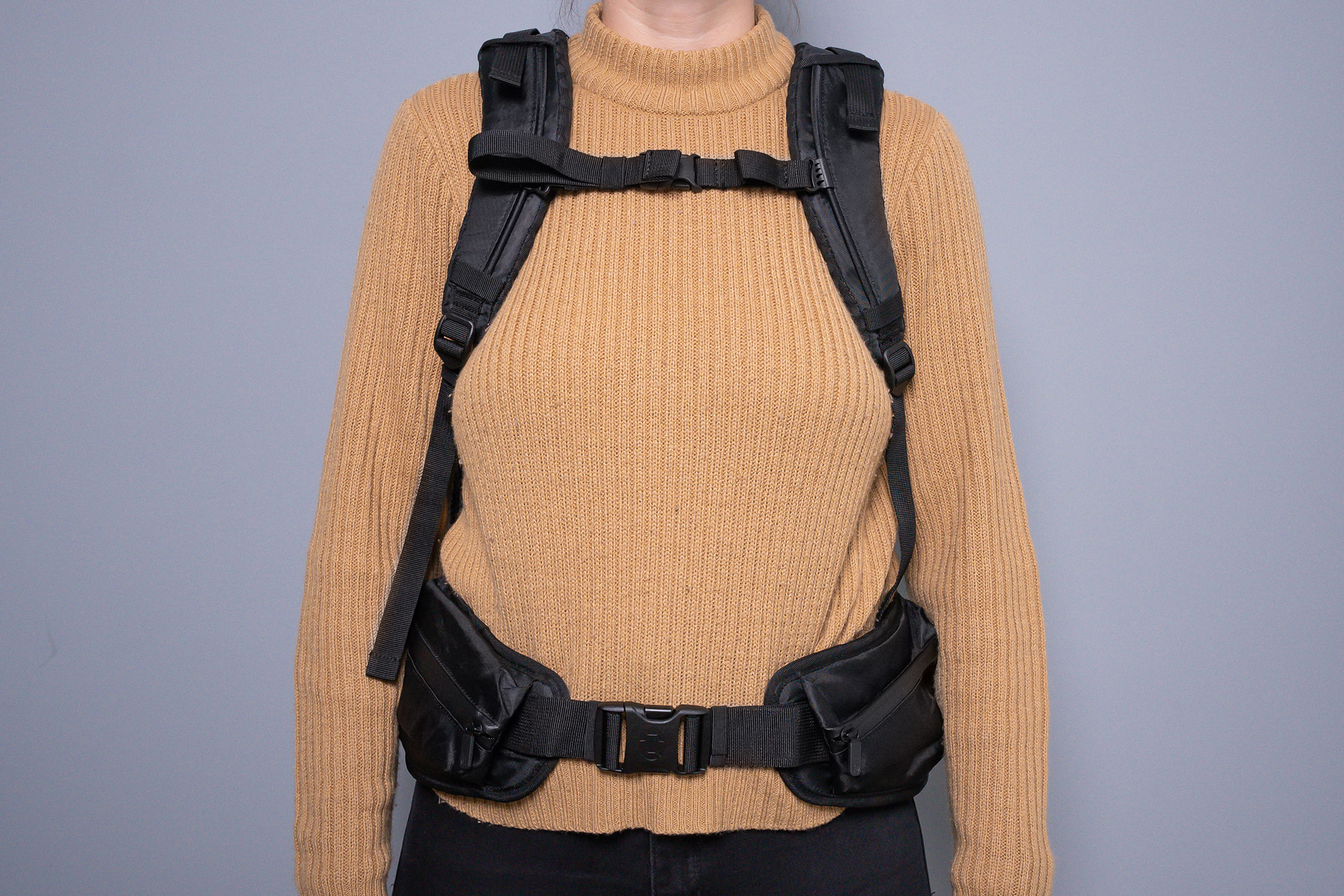 Hip Belts
We're middle-of-the-road on hip belts for one-bag travel backpacks. They can help a ton if you've got a heavier load or plan to carry your pack for long stretches but aren't necessary if you pack minimally in a smaller pack.
A good hip belt should be comfortable and secure without becoming too cumbersome. There are few things worse than hitting people with your bulky hip belt while walking down the aisle of an airplane. We'd recommend taking a look at travel backpacks that feature a detachable or hideable hip belt, so you don't have to use it when you don't need to.
Sternum Straps
Nearly all travel backpacks include a sternum strap. They're designed to distribute some weight away from your shoulders and secure the shoulder straps across your chest.
While sternum straps are all pretty similar across the board, there are a couple of things we'd recommend looking out for. First, some will feature an elasticated portion that allows the strap to flex with your body as you walk. We're big fans of these. Second, some sternum straps can be detached, leaving them vulnerable to falling off when not in use. We're not kidding; this has happened to us on multiple occasions. Not good, especially when you're traveling halfway around the world in remote locations! A detachable sternum strap is great when you don't always need to use one, and it makes adjusting the height easy. Just make sure it's secure and adequately anchored to the shoulder straps.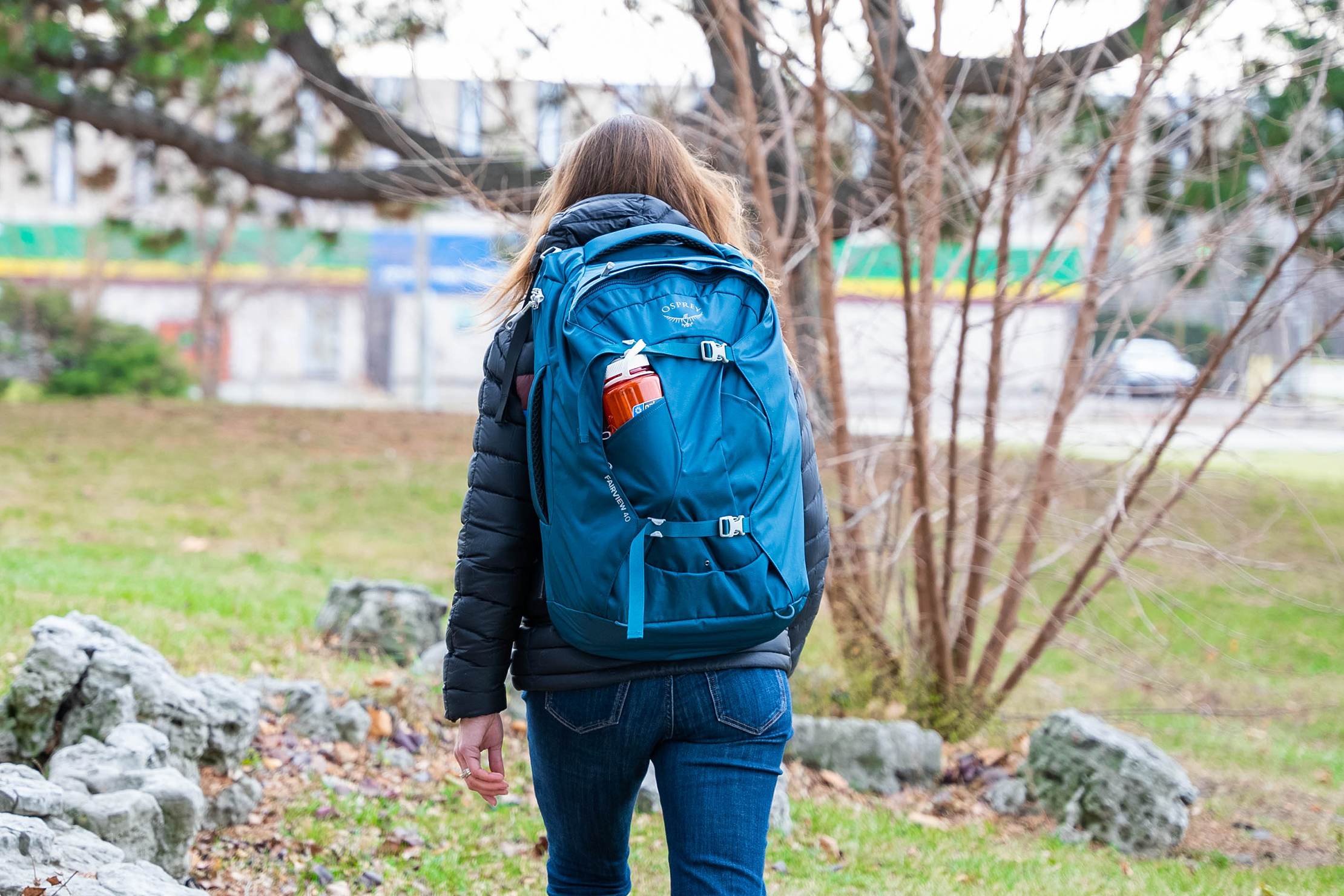 Back Panel
A well-designed back panel can make things much more comfortable. Although it's hard to avoid the old sweaty back with more extended periods of wear in hotter climates, well-ventilated mesh and foam can help with this. A curved frame can help with ergonomics and ventilation, but we don't see this on many travel-focused backpacks. Sometimes, it seems like overkill.

Cotopaxi
Allpa 35L Travel Pack
The Cotopaxi Allpa 35L Travel Pack has a breathable airmesh back panel that keeps the air moving. Although you'll still sweat a little (which we think is inevitable with a backpack on), we think this pack helps out.
How Do you Pack the Thing?
With all these fancy features, it's essential to consider how you should use them and how you pack your bag. Generally speaking, you want to load the heaviest items closest to your back. This'll ensure the heaviest bits of your bag are the closest to your center of gravity, pulling you down less from the back of the bag.
If you've got all the features mentioned above, you want to strap and tighten your hip belt first, then adjust the shoulder straps, then tighten the load lifter straps (the straps on top) to a 45° angle, and finally, adjust and tighten the sternum strap.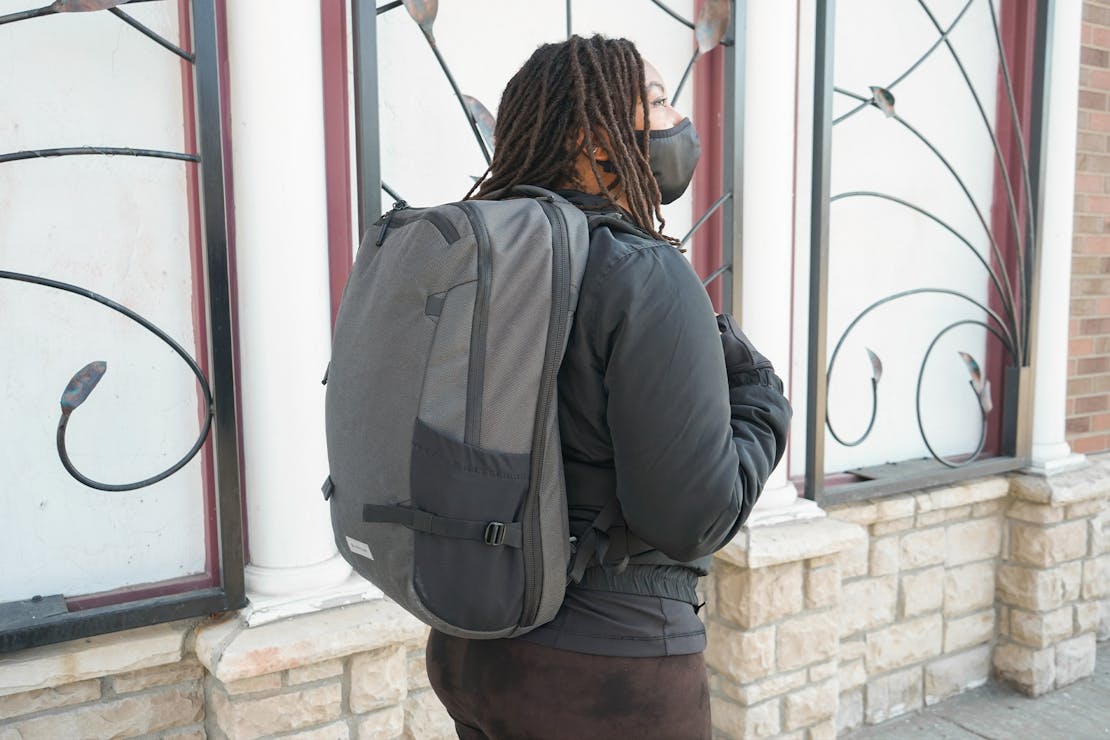 Heimplanet
Travel Pack 34L (V2)
The Heimplanet Travel Pack 34L (V2) has a horseshoe zipper at the top front of the pack, which opens up to allow you to reach into the main compartment and grab essential items rather than opening up the full clamshell. It also features liter independent compartments and pockets, which are great for packing to the absolute limits. Check out the smaller 28L version, too.
Modular Backpack System
If you want more options for customization, check out modular gear. To put it simply, this is gear that brands design to work with their bags. They allow you to make a bag suit your preferences, adding and swapping parts as needed instead of trying to fit your gear into the organization already installed in your pack. Anyone who uses a bag with PALS webbing, for example, will tell you how convenient it is to have loops ready where they can stick MOLLE accessories. Whereas PALS webbing and MOLLE attachments are one of the better-known standards out there, brand-specific modularity and attachment systems also exist.
In fact, some brands, like ALPAKA, TOM BIHN, Boundary Supply, and Roark, are known for it. We like to count how many O-rings we can find on each TOM BIHN bag we buy because that's where we can clip the brand's key leashes, admin pouches, packing cubes, and more.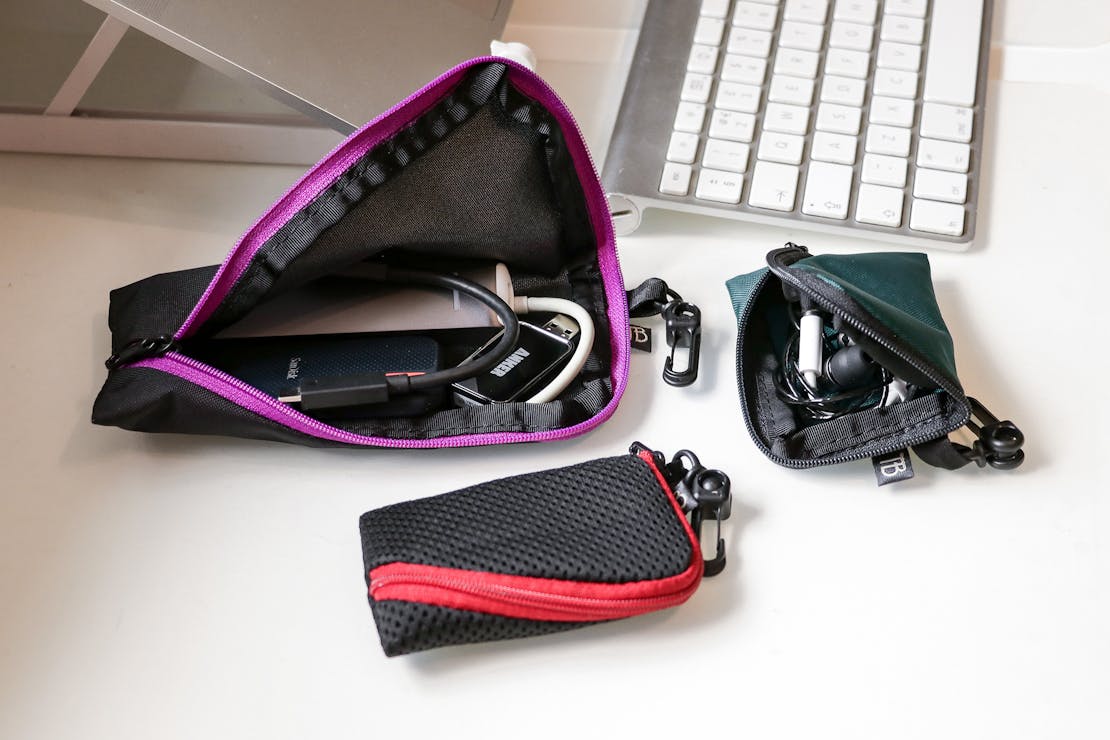 TOM BIHN
Ghost Whale Organizer Pouches

These great for carrying tiny travel accessories wherever we go. Sizes range from Super Mini, which can hold AirPods, chapstick, and similarly sized items, to A5, which is big enough for an A5-size notebook and pens. They're made from scrap fabric, so you can feel good about saving them from the cutting room floor. They clip to the O-rings in a TOM BIHN bag or a loop on another backpack to save you from digging for small gear.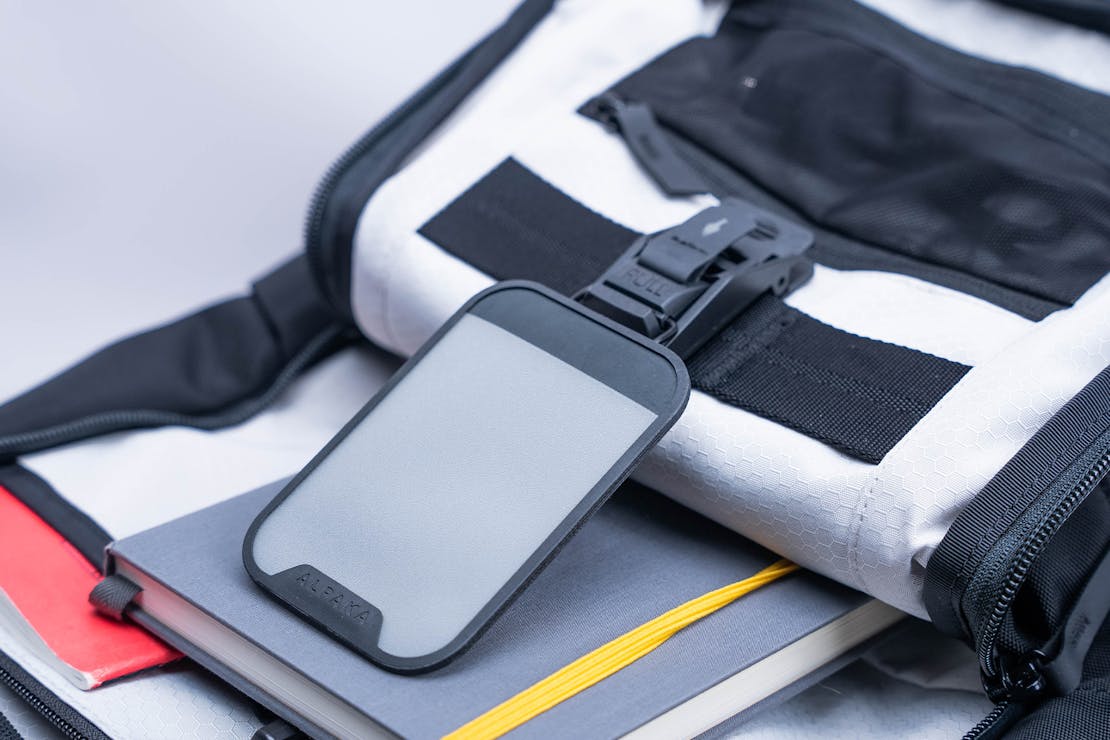 ALPAKA
HUB Accessories

ALPAKA's HUB Ecosystem lets you swap your keys, sanitizer, card holder, and more between your bags. Pull the Hypalon tab to release the magnetic fastener to swap your gear, then attach it to different points throughout their bags or the HUB ModPanel hanging in your house. Then you'll always be able to find your keys.


Boundary Supply
Prima System Modular Travel Backpack

The Prima System includes a 30L travel backpack, the Fieldspace admin panel, and Verge Camera Case. The Fieldspace holds a tablet or small laptop, plus small accessories, docking to the laptop compartment with a magnet, so it's removable if you don't need it. The camera case is also fully customizable and can sit inside the pack, connect to its exterior, or be carried separately.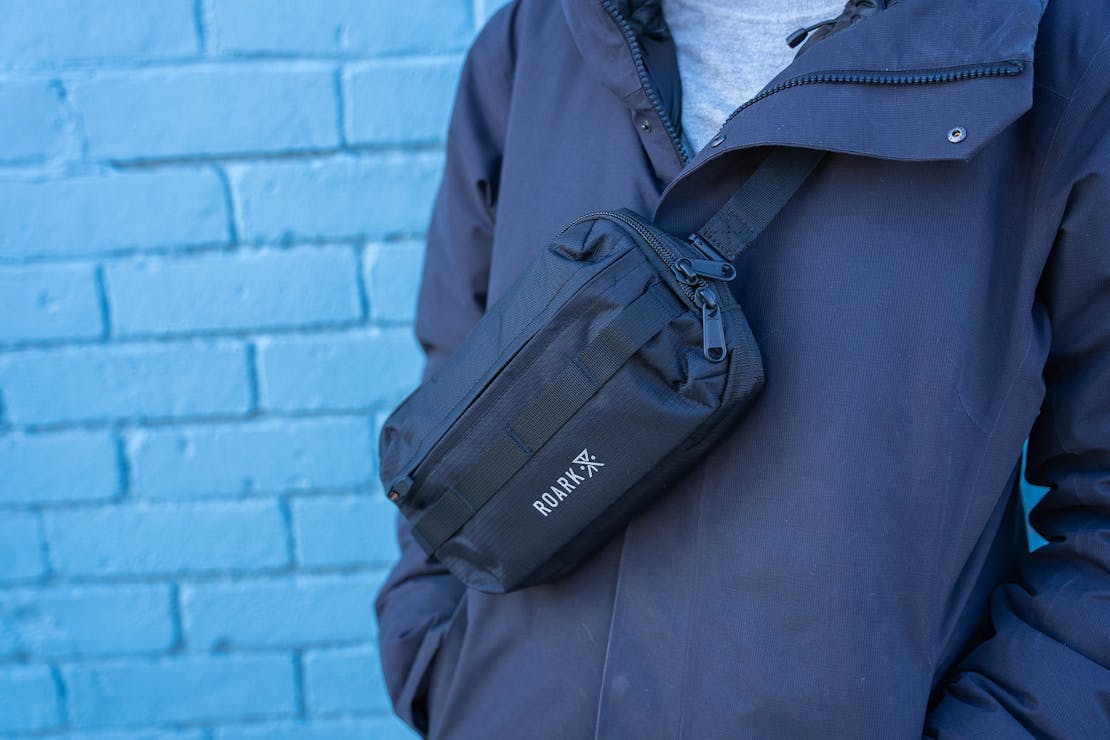 Roark
Accomplice Escape Modular 2L Bag

The Roark Accomplice Escape Modular 2L Bag works with the brand's other bags via their Slide Lock system, like the Roark Accomplice Missing Link 42L travel backpack. It can be used solo as a sling or with other Accomplice Stow Modular bags to add more organization to backpacks lacking it.

Organization: Multiple Travel-Focused Features or One Big Compartment?
Some backpacks take the approach of having a massive inner compartment with no organization. This is great if you're planning on using some packing cubes or compression sacks, but not so great if you want a little more internal organization out of the box. More things to consider: is there a dedicated place to put a pen or two for those pesky customs forms? Is it easy to grab? How about a dedicated laptop compartment (or, for that matter, a dedicated laptop bag)?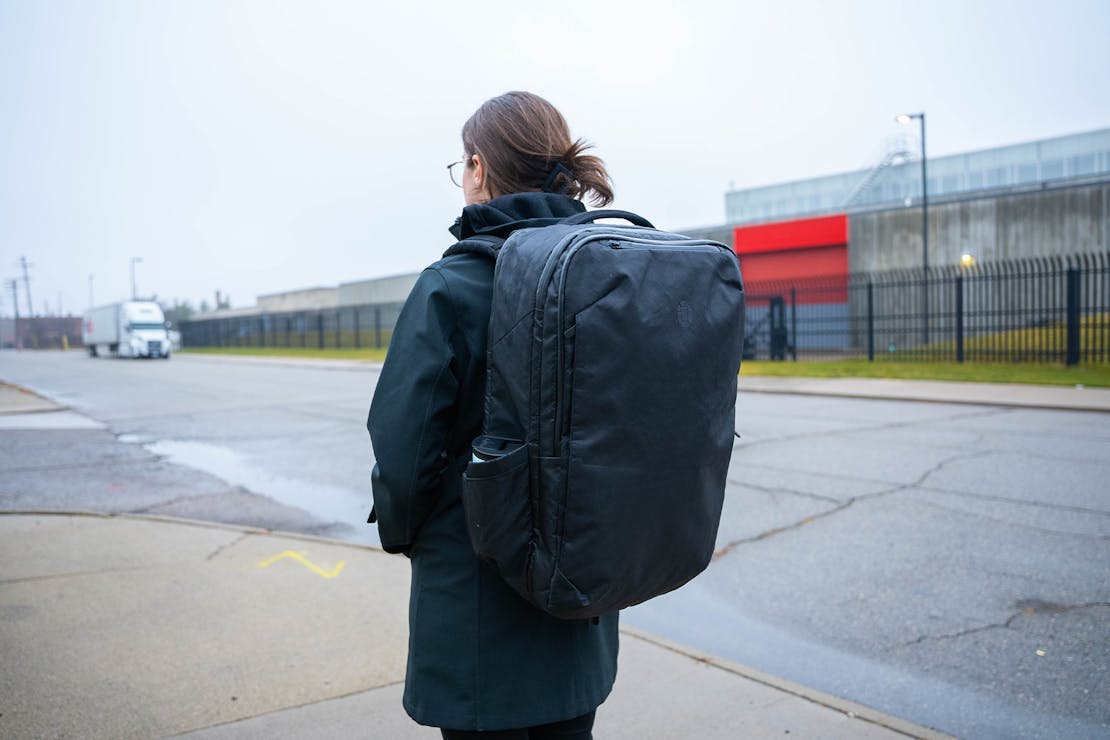 Tortuga
Travel Backpack 40L
This iteration of Tortuga's travel backpack design gives more control to the user. It has fewer organization options than its predecessors, but the extra space and weight savings can be better used for packing cubes and organizers. Those already invested in such accessories will find the wide and spacious main compartment easy to fill and navigate.
Packing Cubes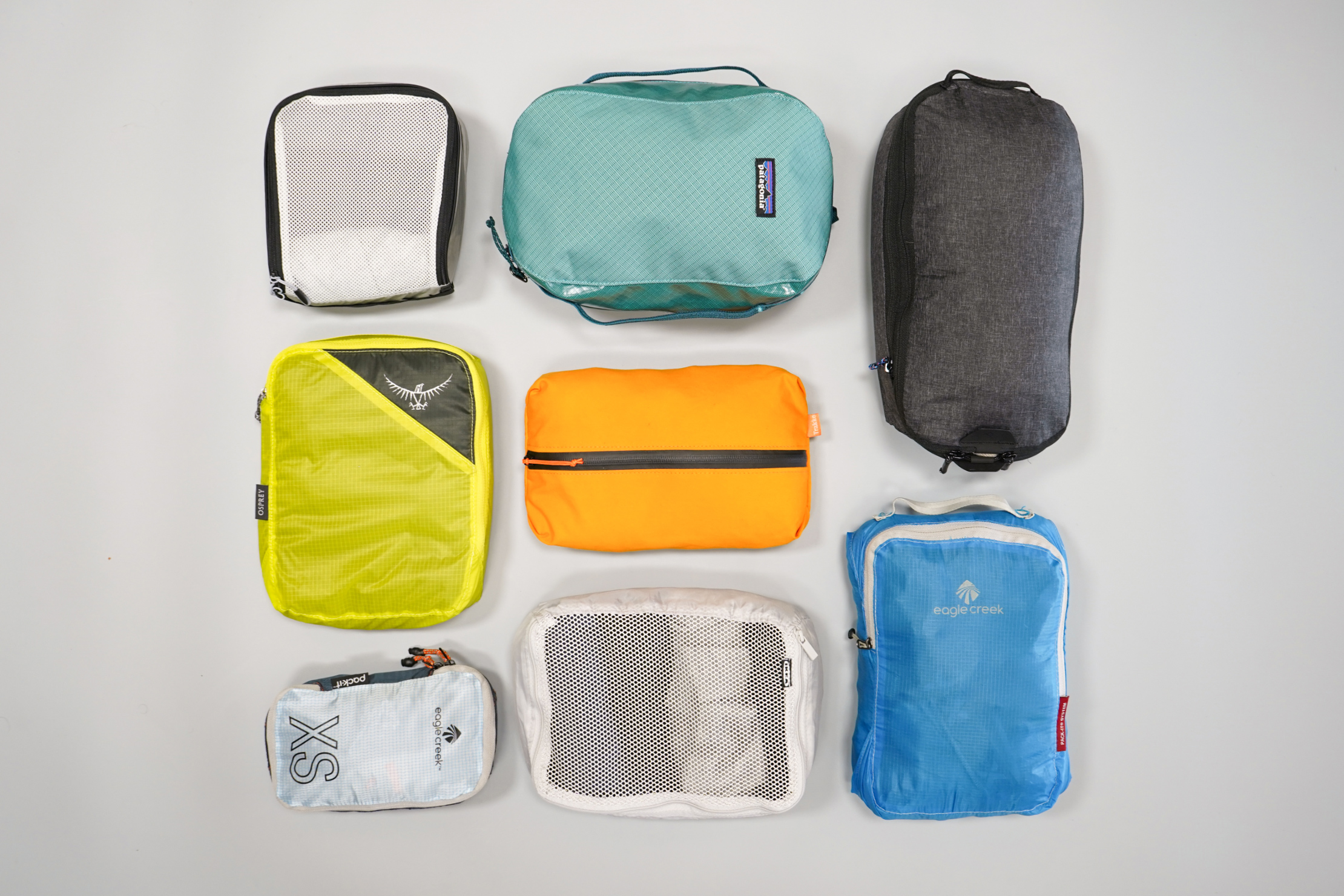 Packing cubes can be a great addition to your luggage regardless of whether the bag is one massive compartment or has a couple of smaller pockets inside. Packing cubes allow you to organize clothing between type, outfits, clean or dirty, and much more.
PRO TIP: We've found that bright interior liners can be convenient. In low-light scenarios, it can be difficult to find what you're looking for in a dark backpack. A bright liner can "turn a light on" and help you find what you're looking for.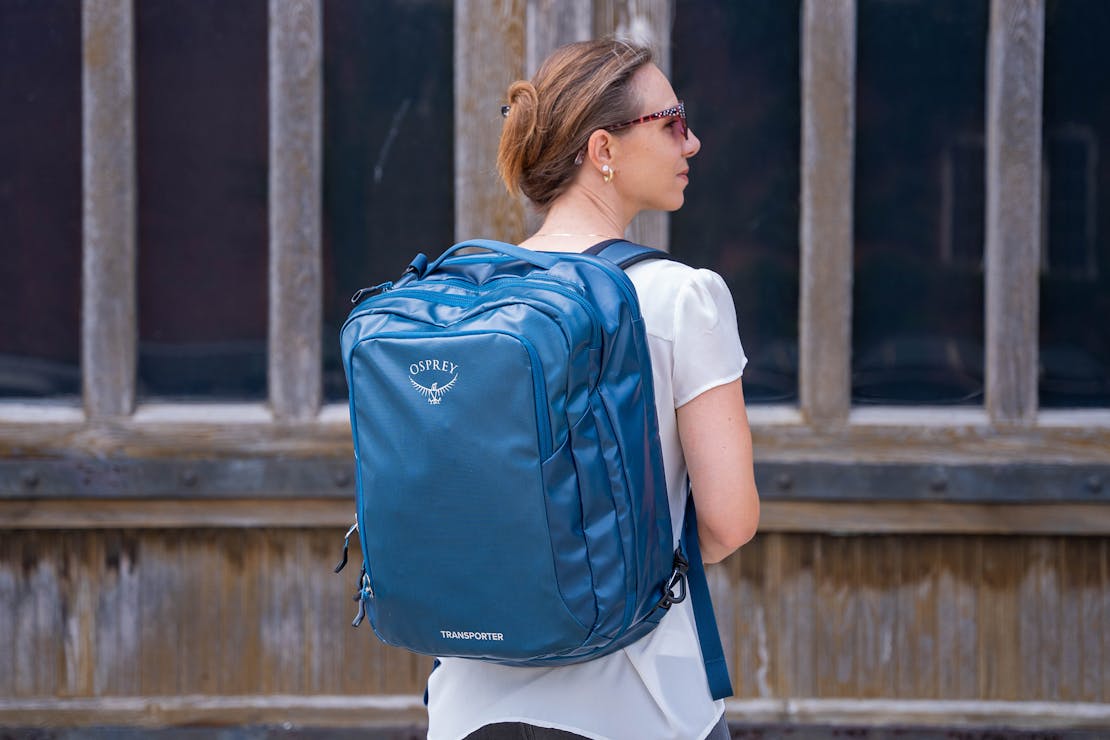 Osprey
Transporter Global Carry-On
The Osprey Transporter Global Carry-On's size and shape make it easy to pack with cubes. Plus, the light gray interior makes it easy to find your gear.
Compression and Expandability
If you're going with one bag, versatility is essential. Ideally, your pack will cater to different amounts of items that are packed in the bag.
Some packs even offer detachable daypacks, but they tend to be slightly larger in liters to justify the additional use of materials (extra zippers and extra straps.) If you're looking for a small travel daypack, consider some highly compressible bags from Matador. There won't be any padding on these, but you could also pair these with a padded field pocket from GORUCK or a padded laptop compartment if you want to cafe-hop and work for the day.
If you are looking for a more padded daypack, a Mystery Ranch In and Out Packable Daypack, or something like a Fjallraven Kanken 13″ Laptop Backpack could work. At the end of the day, you're packing another set of straps, padding, and zippers—all space and weight that's being subtracted from your main pack.
We like sticking to one bag whenever possible, and there are some bags out there with the right size and look that can be used as a daypack and for one bag travel.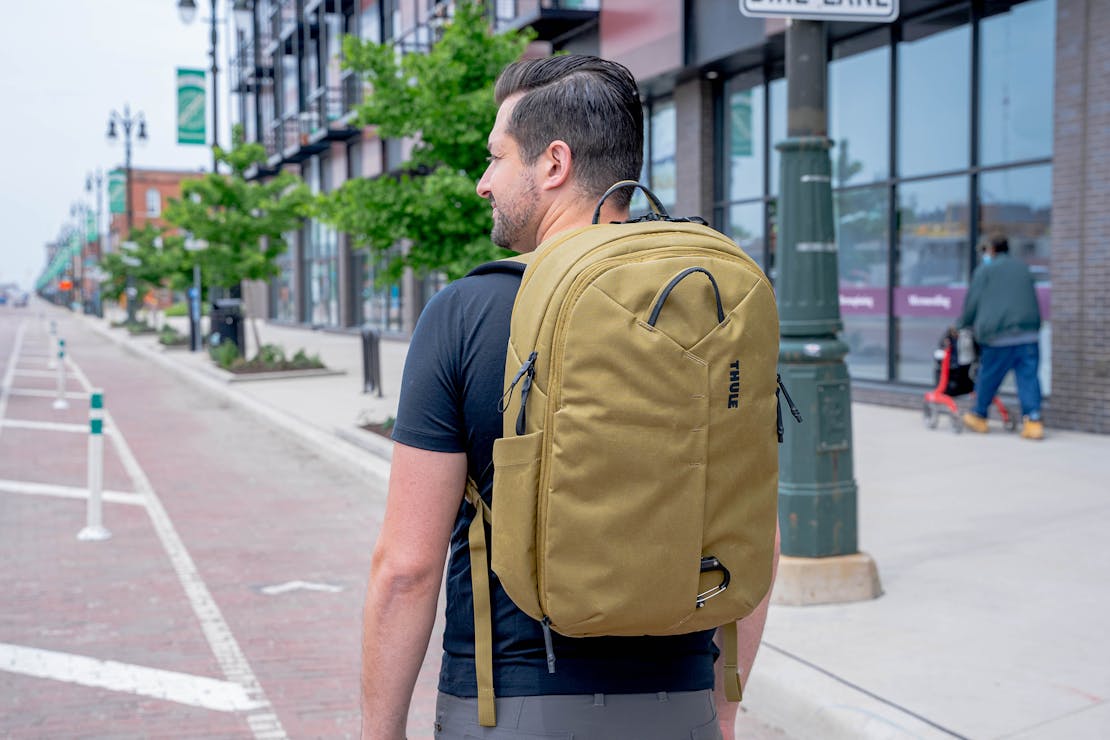 Thule
Aion 28L
The Thule Aion 28L Backpack expands to 32L when you need more space for a trip. Use the extra room when you're traveling, then empty it and compress it back down when you arrive at your destination to have a slimmer bag that can be used as a daypack while walking around.
Another great option is the Osprey Farpoint 40, mentioned above. One of our team members has utilized the compression straps to carry his tripod while traveling to numerous countries.
PRO TIP: If you pick a travel backpack that has a slimmer profile and doesn't protrude out as much in the back, the whole bag will feel lighter with the bulk of the weight closer to your center of gravity.
Security Backpacks
Be on the lookout for packs with great security features. Are the zippers lockable with TSA approved locks? Are there separate secret security compartments to place your passport and other valuables in hard-to-reach places? Is it made of a solid material to prevent the quick slash-and-grab? Are the outer pockets minimized to make it hard for a thief to unzip and grab what they want quickly?
A lot of safety when traveling comes down to common sense and your own self-awareness, but there are a couple of pack features that can make your trips a little bit safer.
Lockable Zippers & Anti-Theft Backpacks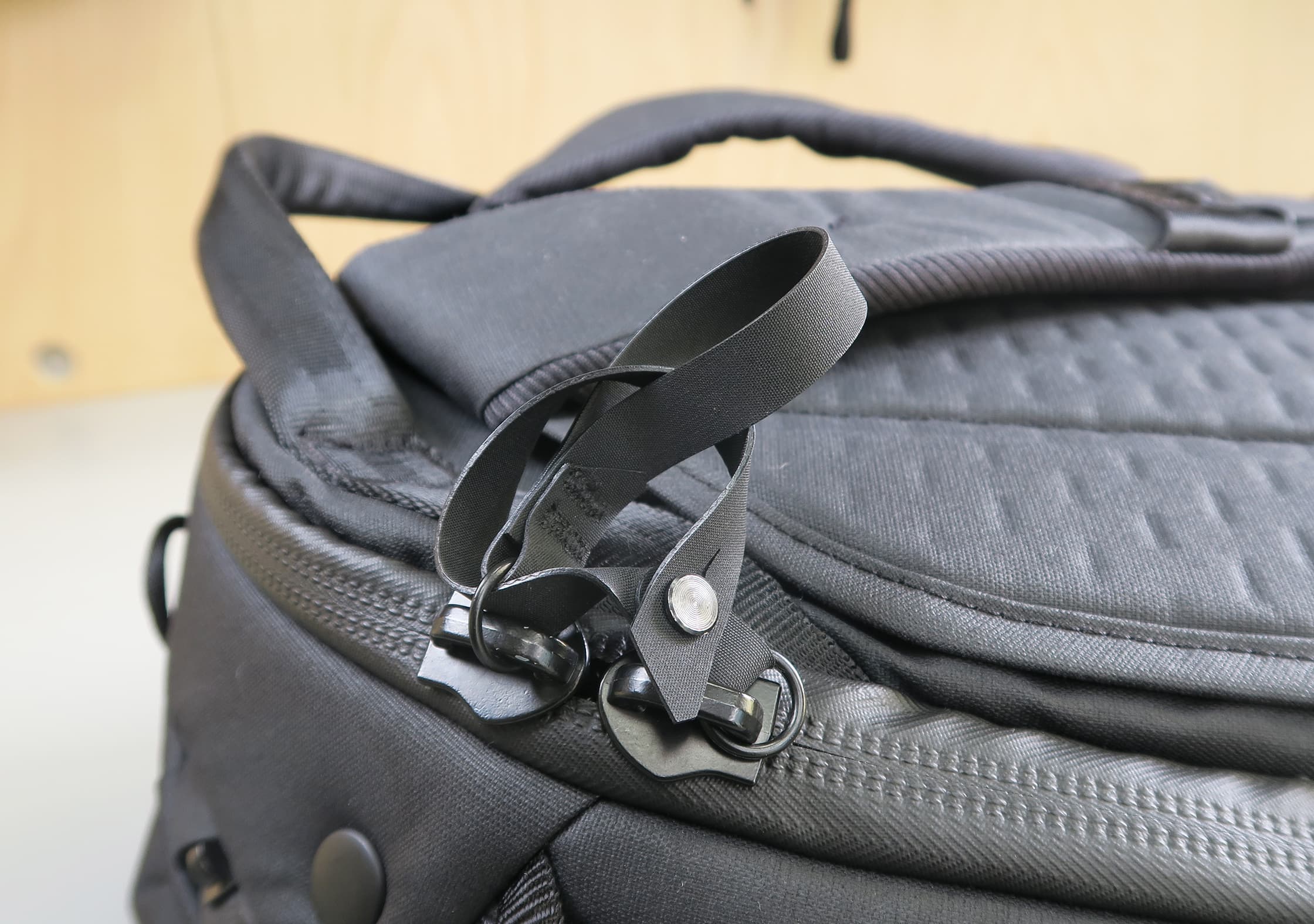 Some packs offer lockable zippers, or special looped zipper pulls that can be configured to deter thieves. Locking the zippers on your pack won't turn it into an anti-theft backpack—someone can still take it or cut through the fabric—but it can help stop wrongdoers from quickly unzipping your bag for a quick-grab, or make them move to the next easily accessible bag on a train or bus. No backpack is impenetrable, though, and some of these features on backpacks can be gimmicky—included just so the purchaser has some peace of mind—even if the benefit isn't that great. Peak Design's security features (example below) and PacSafe's Tough Zip put a lot of emphasis on that extra layer of security.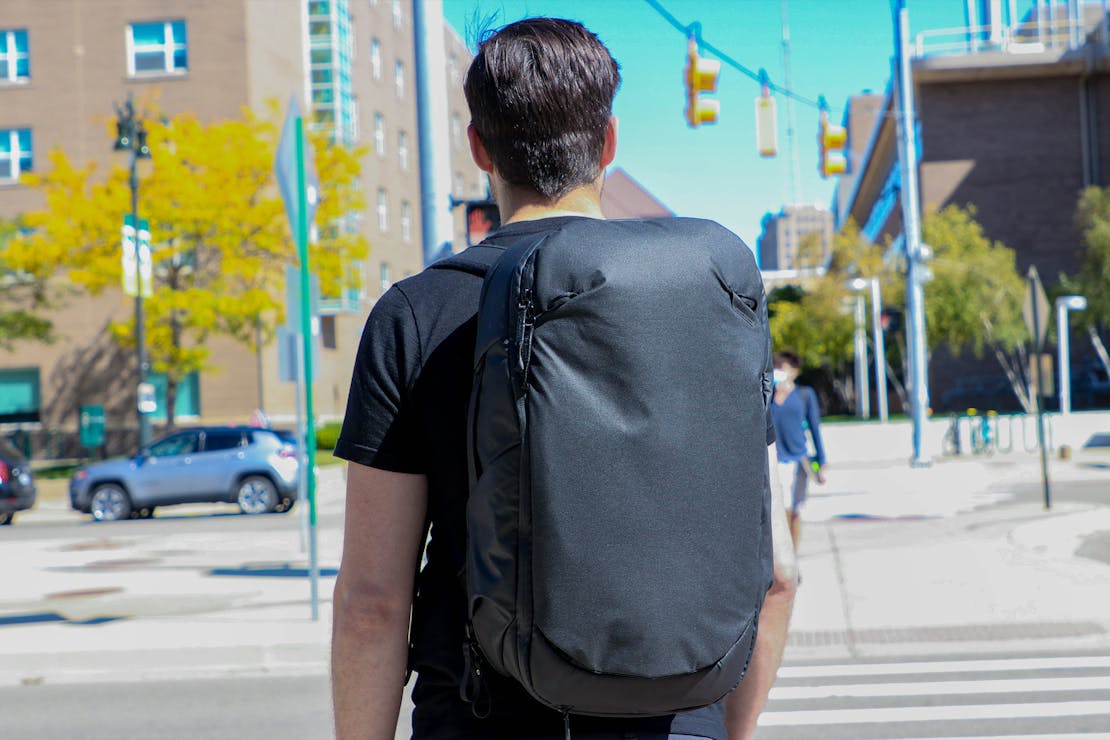 Peak Design
Travel Backpack 30L
The zippers on the Peak Design Travel Backpack come with multiple locking features. This won't necessarily deter all theft, but it'll stop anyone from the old unzip & grab trick, and it won't be against TSA Guidelines.
Anti-Theft Backpack Materials
Some bags offer more robust fabric that naturally enforces the bag. As we mentioned before, materials like Ballistic Nylon, CORDURA®, and others are super helpful with this. Some companies even include special mesh wiring, like Pacsafe's eXomesh®, that almost theft-proof your backpack, allowing you to lock it to a fixed object for added security. EXomesh® is either lined inside the fabric and can also be purchased externally with other backpacks. For the type of traveling we do, we think this is a little paranoid and adds some weight plus another thing to carry. But depending on your situation, it could be helpful. Strolling through Tokyo? Probably not necessary. Heading to Barcelona for the first time? Yeah, we'll take that extra layer of security.
RFID Blockers (Identity Theft-Proof Backpacks)
We feel that having a bunch of RFID-blocking tech covering an entire backpack is overkill. Sure, it'll stop folks from electronically scanning your passport, but If you're concerned with this, you could get a special wallet or wrap your passport & cards in aluminum foil. Let's face it—it's much less effort for a thief to physically grab what they want from you than dicking around with RFID technology. But again, whatever helps you sleep at night. If it's a 100% secure backpack you seek, we're not going to stop you.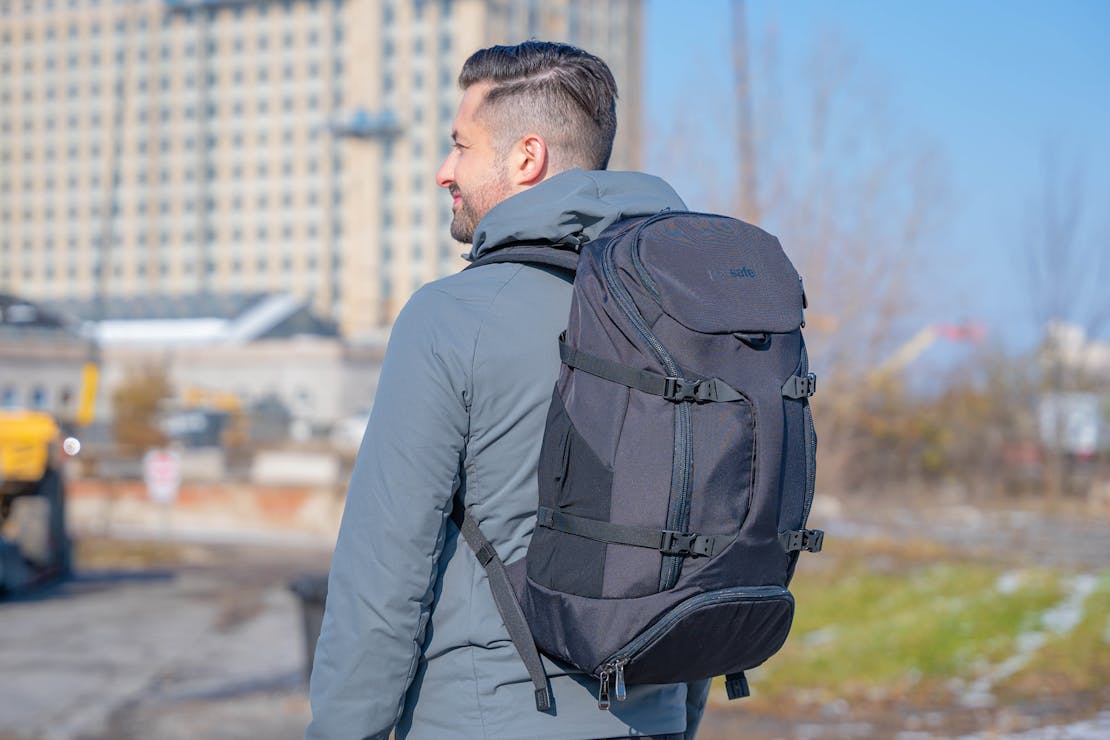 Pacsafe
Venturesafe EXP35 Travel Backpack
If you're looking for a secure travel pack, the Pacsafe Venturesafe EXP35 offers some great features for exactly that. From the eXomesh® slash-proof material to the secure zippers and RFID secure pockets, there is some great thinking that went into this pack along with some solid materials.
04

Aesthetic
You know what they say—"It's not how you feel, it's how you look." Or something like that...
Video Guide Part 4: Aesthetic
Feel free to watch this guide section in video format. We'll keep the written content on this page up to date.
Be sure to subscribe to Pack Hacker on YouTube and never miss a video. We also have these videos in a series playlist format on YouTube so you can watch them easier.
Finding the Best Travel Backpack Style For You
At the end of the day, the look and feel of a travel backpack should be right for you and your tastes. There are many things to consider as far as aesthetics go we'll pull in here for consideration. Stylish "urban travel" backpacks became a lot more popular within the last couple of years, and that's the look we prefer. Gone are the days of international travel with a big blaze-orange hiking backpack. Those certainly have a utility, but that utility is in the wilderness. Here are a couple of overall style points for your consideration:
Minimalist Travel Backpacks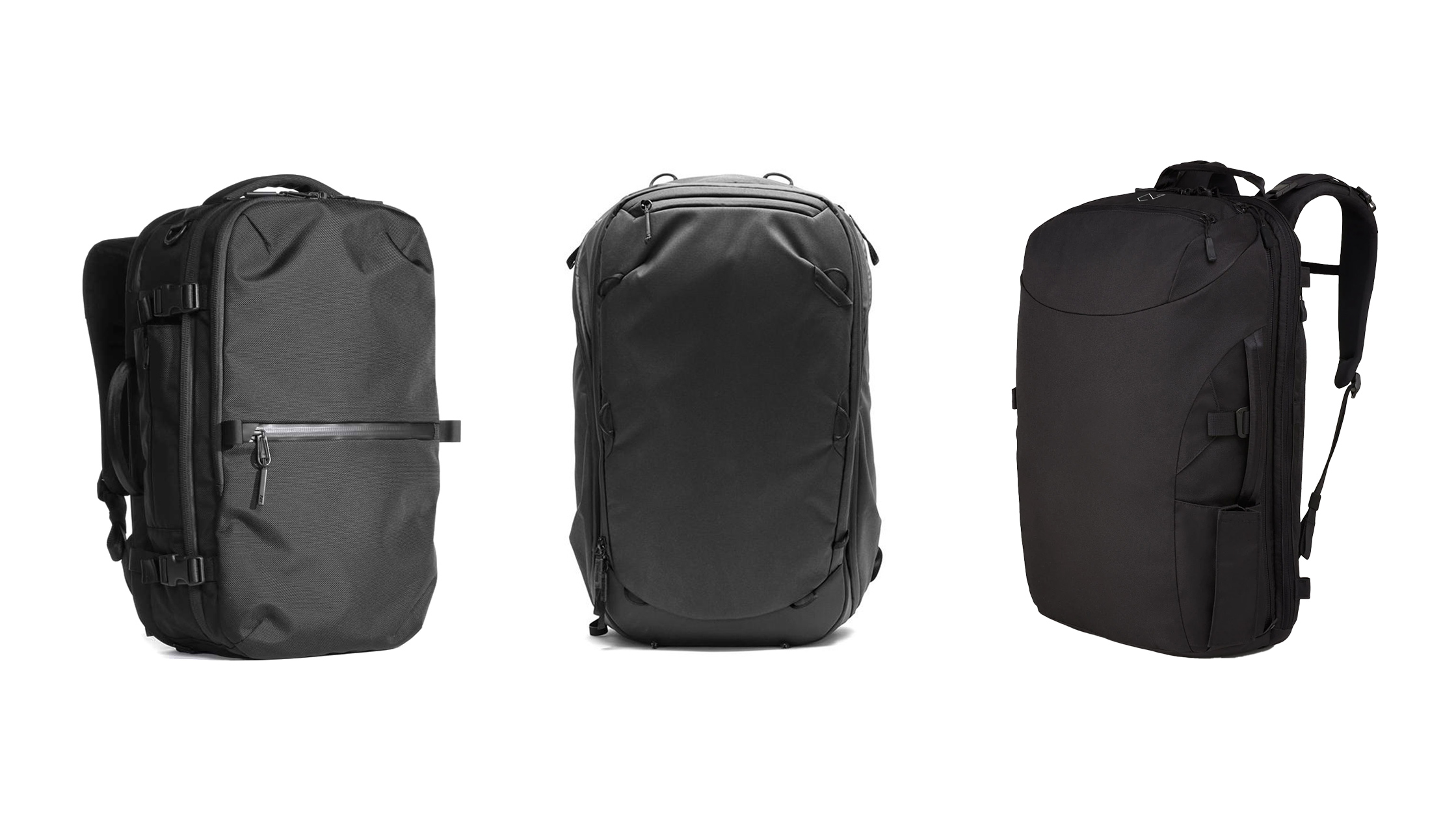 When you're in a new country, think a bit about how you want to be perceived. If you're heading to a more crowded or dicey area, nothing screams tourist like having a large, colorful backpack while looking up at tall buildings or a landmark in awe. It's easier to keep a low profile and blend in a little if you're not carrying around a monstrosity of a bag that acts as an advertisement for thieves and wrongdoers looking to target travelers for their own gain. It's an added bonus if you can roll into a meeting wearing one of these things. As one-bag travel has become increasingly popular in recent years, we're seeing many solid urban packs coming out that are built specifically with one-bag travel in mind.
Tacticool Backpacks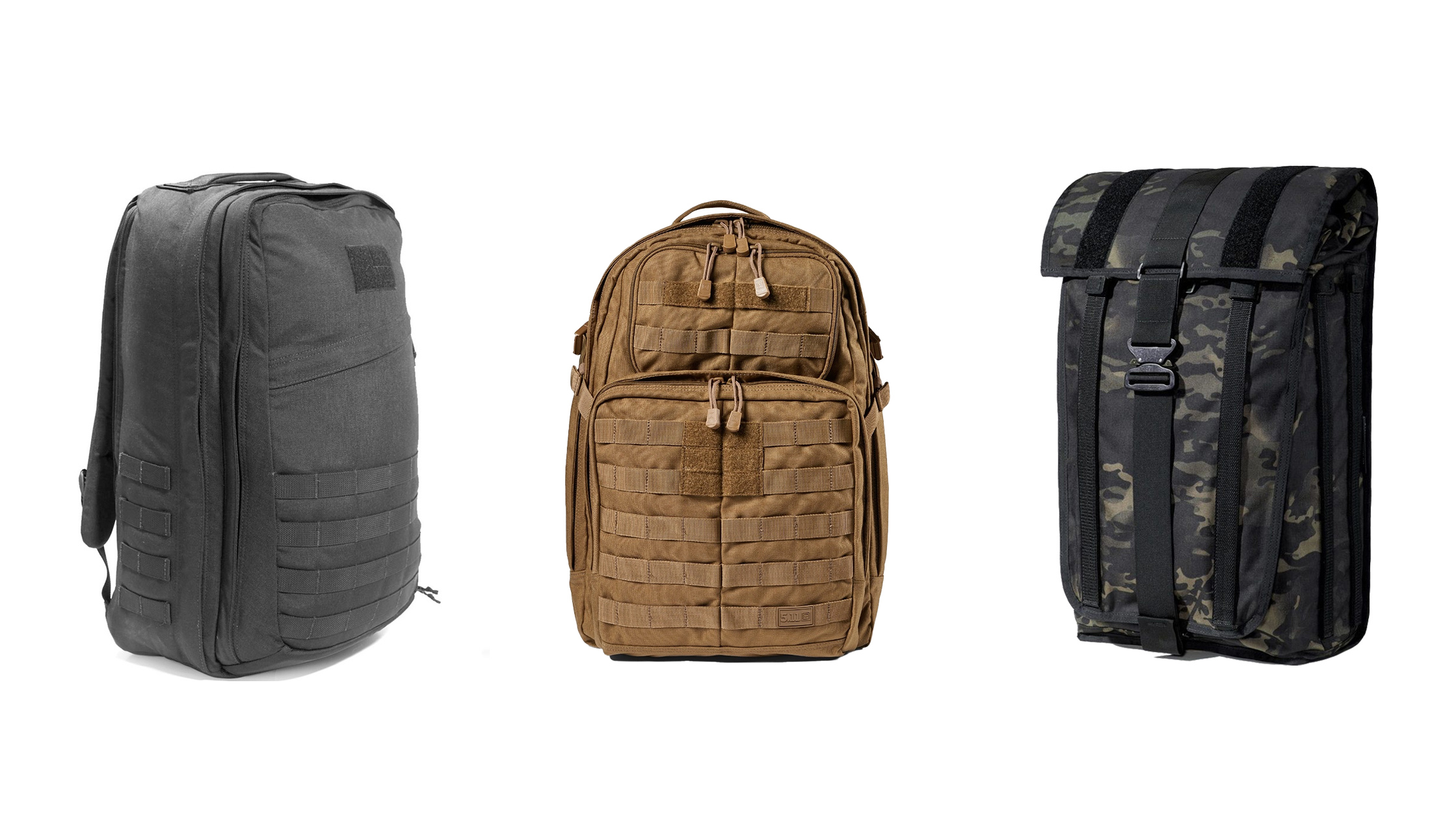 There are a ton of great, high-quality bags out there that are made to military spec. There's some really great utility to things like MOLLE for customizing your pack and including other accessories on your bag, and the stronger materials make for highly durable bags. Keep in mind that some folks may perceive you as being in the military if your bag has too much digi camo going on. It's one thing if the pack is all black & subdued, but another if it's camo and filled with patches. If this is your look, go for it, but this type of pack might also bring about some "unwanted attention" in certain parts of the world.
Outdoor & Hiking Backpacks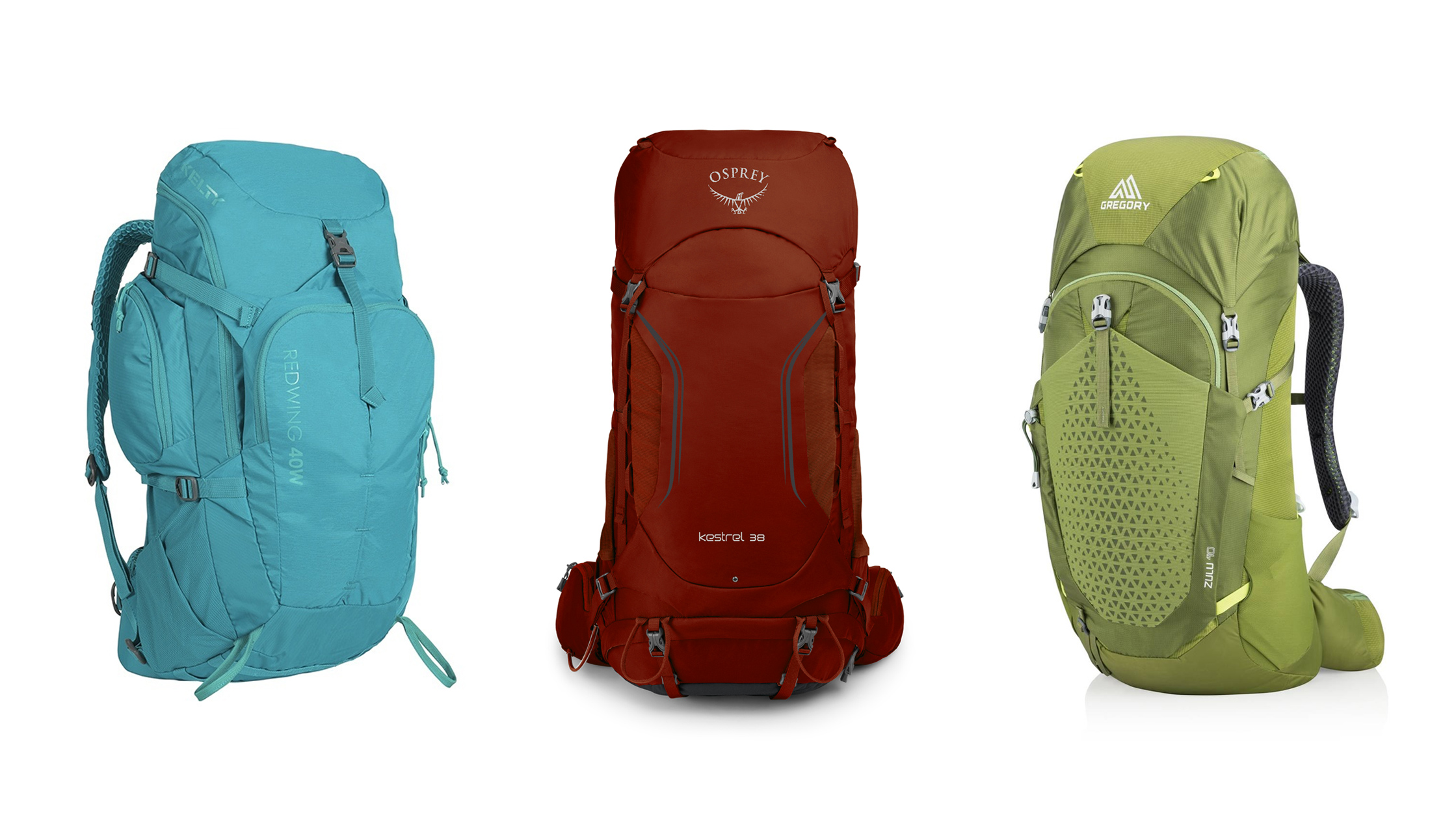 Think sportier packs with lots of pockets, brighter colors, and louder material. For a long time, outdoor backpacks were the only option for long-term one-bag travelers. They tend to be bulky and are built to carry big, heavy loads over long distances. This typically means lots of straps and a tall pack that will peek up over your head. Great for an extended camping excursion, not so great for a trip through the airport or a newly-discovered city square. They also tend to scream "TOURIST." No one casually walks around with a giant hiking backpack.
Backpacker Backpacks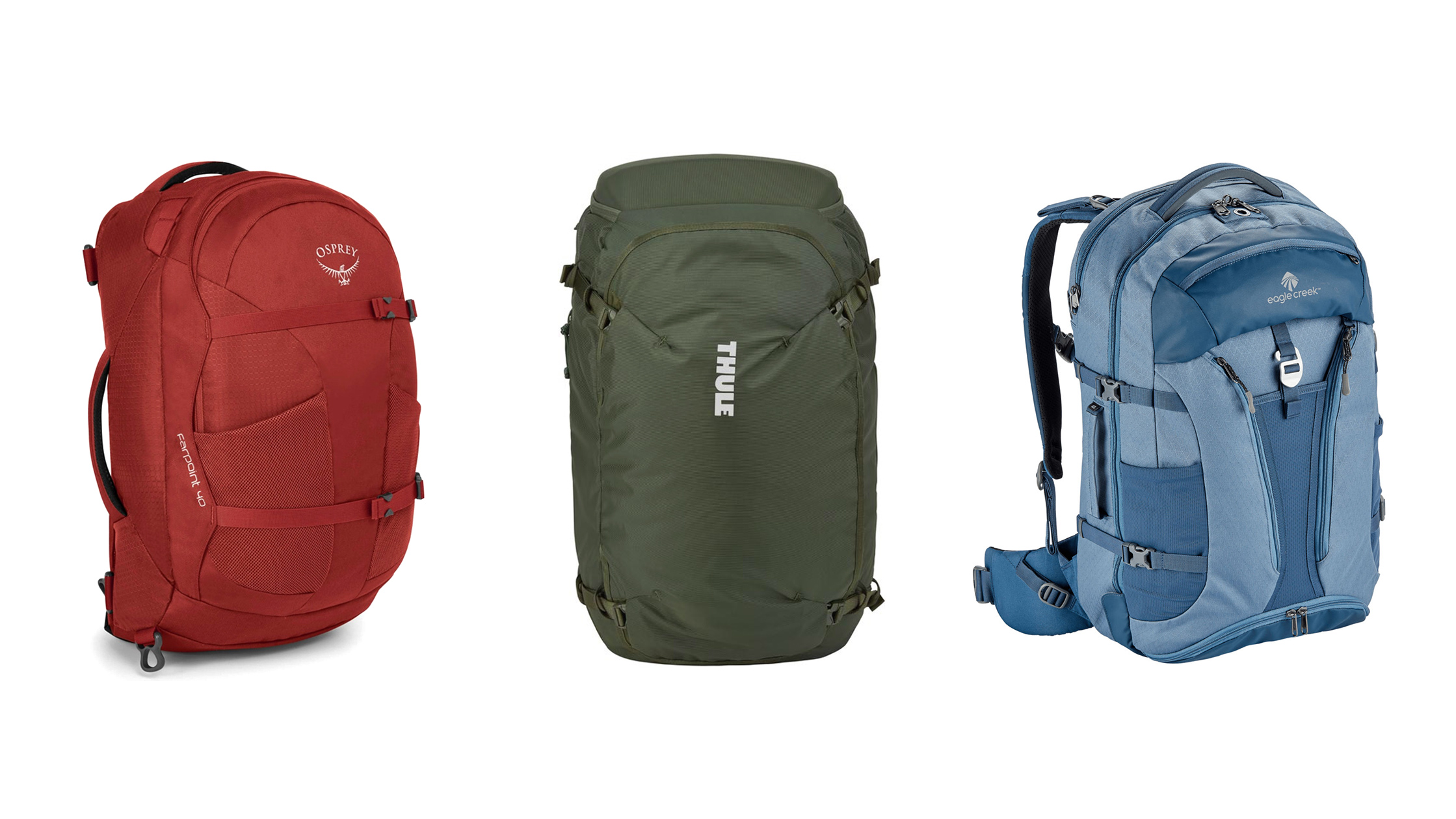 If it's not already obvious, the "Backpacker Backpack" is designed specifically for backpacking around the world. Typically from manufacturers that also make outdoor and hiking backpacks, this is the go-to style for anyone on a gap year looking to tick off as many countries in Southeast Asia as possible. And because of that, they're some of the most popular bags on the market today. Sure, you'll still look like a tourist—albeit not as much as you would wearing a hiking backpack—but that's fine because that's exactly what you're doing.
Heritage Backpacks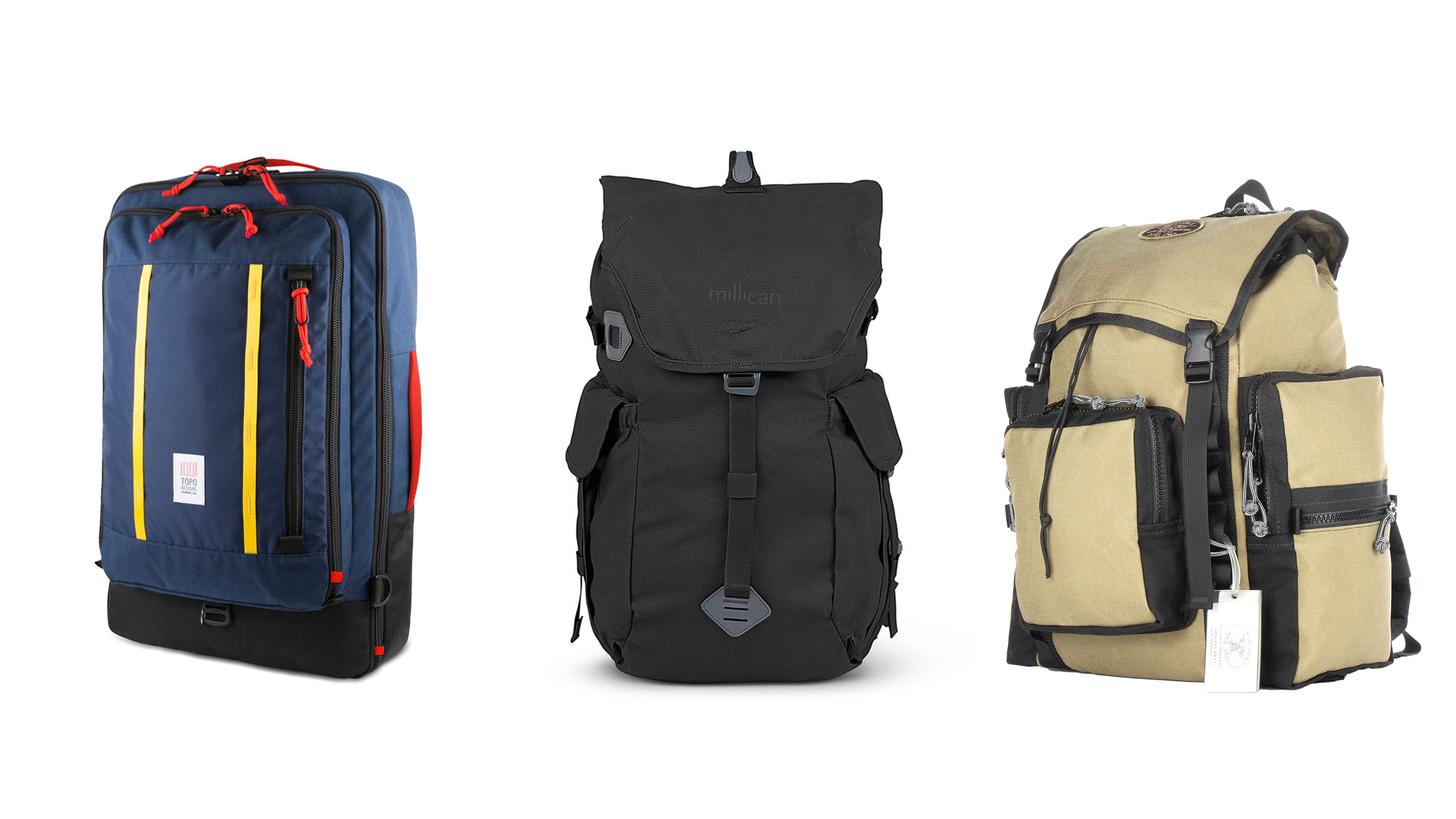 These bags are engineered with a classic look in mind. Most will be some variation of the one-compartment style with leather straps, subdued colors, and some type of canvas-y material. These packs look great but can sometimes lack functionality and comfort. Although there are a few bespoke style travel bags (we like Vinta and Rivendell Mountain Works), most will fall into the daypack category.
Having said all of this, aesthetic is subjective, and beauty remains in the eye of the beholder. This is why we conduct weekly polls over on our Instagram to get our communities' take on the look of bags. Follow us on Instagram to cast your votes! You can find all the results of the polls on our individual review pages too, so you can see how well a bag you're looking for has performed.
05

Conclusion
The humble backpack: It'll get you through anything and everything...
There Really is No "Best Travel Backpack"
Although, there is a best travel backpack for you. All this boils down to your preferences.
When we first started creating this guide, we admittedly thought there would be one best bag for travel, but the deeper we dug, the more we realized it depends on your needs as an individual traveler. Sure, there are generally guiding principles to follow, and a bag made out of cardboard objectively won't last, but there are too many quality backpacks out there to pick just one. If you're on a short trip, a lighter, less durable pack will suit you well. If you're headed to Southeast Asia during the monsoon season, you may want some heavy-duty weatherproofing.
We wish you the best of luck moving forward with your selection. Still want more? Be sure to check out our other guides and travel gear reviews too!
Our team at Pack Hacker developed the "best travel backpack" guide in partnership with our friends (and bag experts) at Carryology. We're constantly updating this guide as new backpacks are released, and the travel landscape changes.