5.11 Tactical RUSH24 Backpack 37L Review
The 5.11 Tactical RUSH24 Backpack 37L has a ton of organization and strong tactical vibe—both of which may be excessive for some.
Our Verdict
Unlock the Pro Summary
Save time. Get access to brief summaries of our reviews so you can browse and make decisions more efficiently.
Pros
Highly customizable with 5.11 pouches and accessories
Huge variety of pockets
Made of durable materials
Cons
Organization may be too much for some
Tactical aesthetic isn't for everyone
Compression straps interfere with accessing the main compartment
Recent Pack Hacker Video
Technical Details
Capacity

37l

Weight (lb)

4.2 lb (1.9 kg)

Denier

1050D

MultiCam version is 1000D

Dimensions

20 in x 12.5 in x 8 in (50.8 x 31.8 x 20.3 cm)

Main Compartment

Notable Materials

Nylon, Duraflex Hardware, YKK Zippers

Manufacturing Country

Vietnam

Laptop Compartment Size

15"
Full Review
In this review, we're taking a look at the 5.11 Tactical RUSH24 Backpack 37L. With a name like "5.11 Tactical RUSH24" you may be expecting a simple, bare-bones backpack that has a cheerful, colorful aesthetic…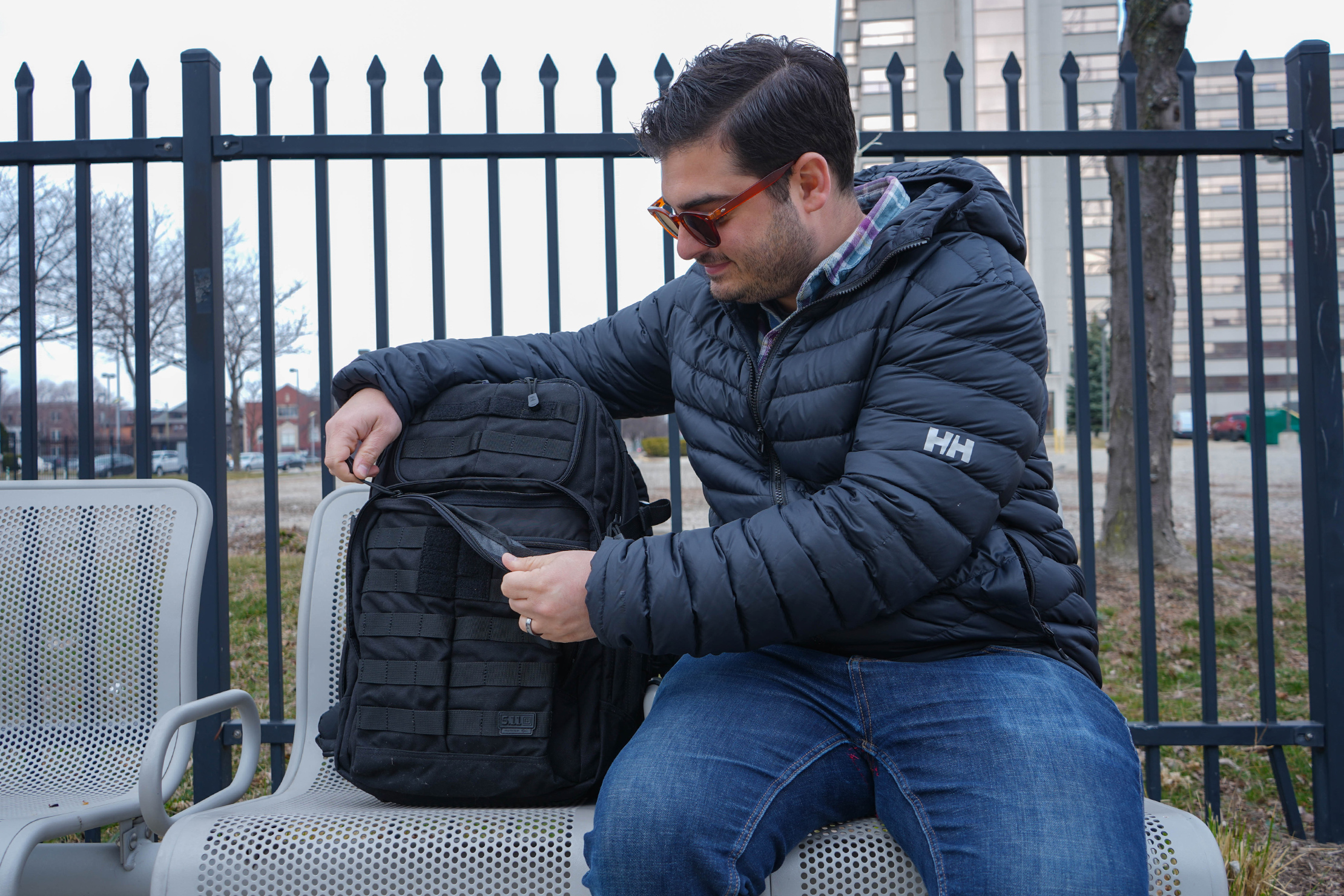 All jokes aside, the 5.11 Tactical RUSH24 Backpack 37L is exactly what it sounds like—a highly tactical, highly durable 37L pack with a ton of organizational features. It's also customizable. There's so much going on with this thing that we're going to skip a long intro and dive straight into the review.
Materials & Aesthetic
As we've said, the 5.11 Tactical RUSH24 Backpack has an extremely tactical style and aesthetic. The six colorways available at the time of this review—Dark Navy, Sandstorm, TAC OD, Flat Dark Earth, Double Tap, and Black—are all subdued, matching that tactical vibe.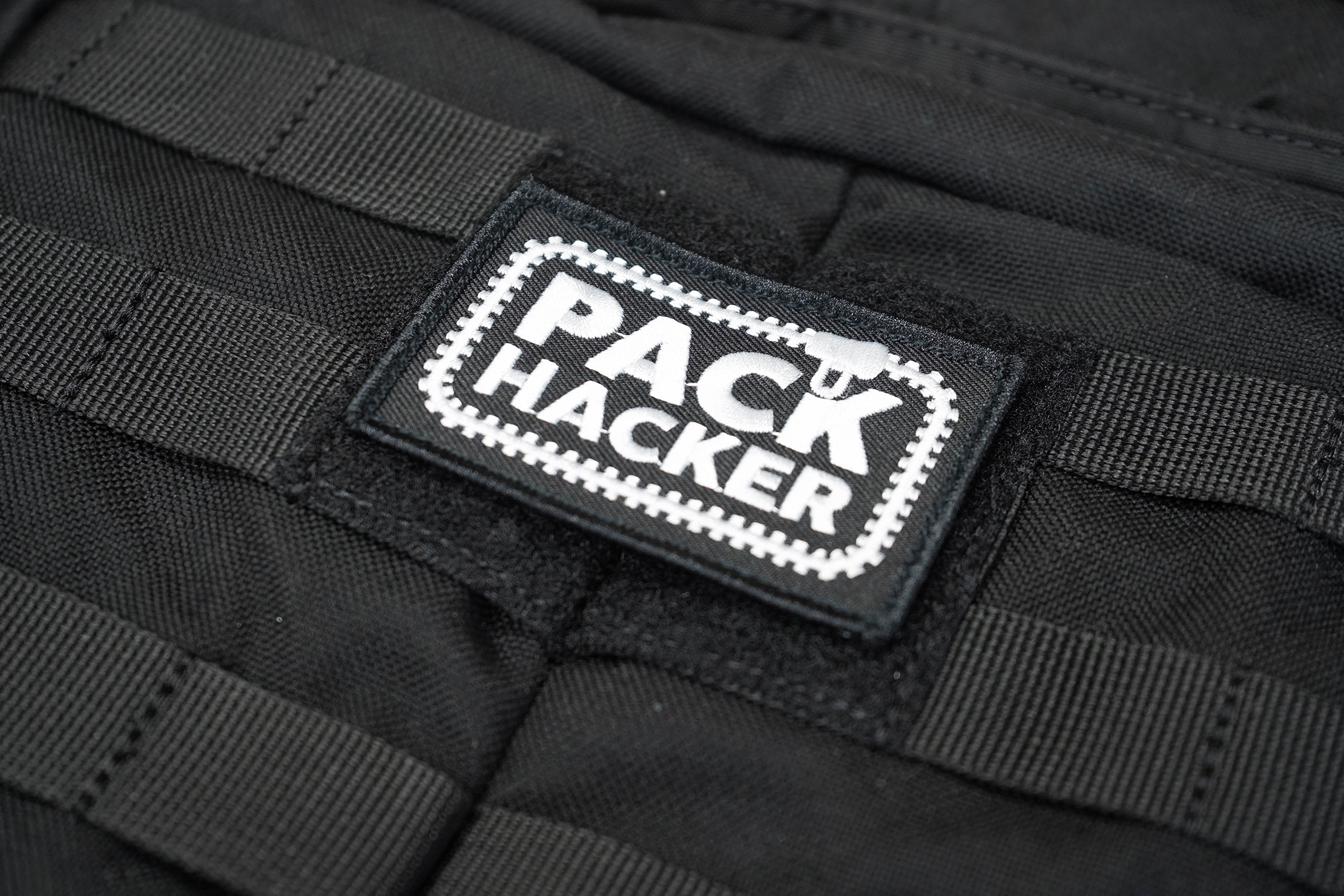 On the face of the pack, there's a hook and loop velcro nametape as well as a spot for a patch. We've tossed the Pack Hacker patch here—because it's the best looking patch out there (we're not biased at all)—but you can put whatever patch you'd like here.
The backpack is made of 1050D nylon (the MultiCam® is 1000D nylon), which is both durable and water-resistant. But water-resistant doesn't mean waterproof. You should be alright in inclement weather, but the pack certainly isn't submersible.
The fabric does collect hair/lint somewhat easily, which isn't ideal. If you have pets you'll want to invest in a lint roller (if you haven't already).
The zippers and hardware are from trusted brands YKK and Duraflex respectively, so you should have no problems there.
External Components
Before we jump into the specific external components, we want to note that the 5.11 Tactical RUSH24 Backpack is compatible with the 5.11® Tier System. We're not going to get into the specifics here, but basically this system uses straps to connect individual bags/packs to one another. That way you can attach another backpack to the Tactical RUSH24 to expand its capacity.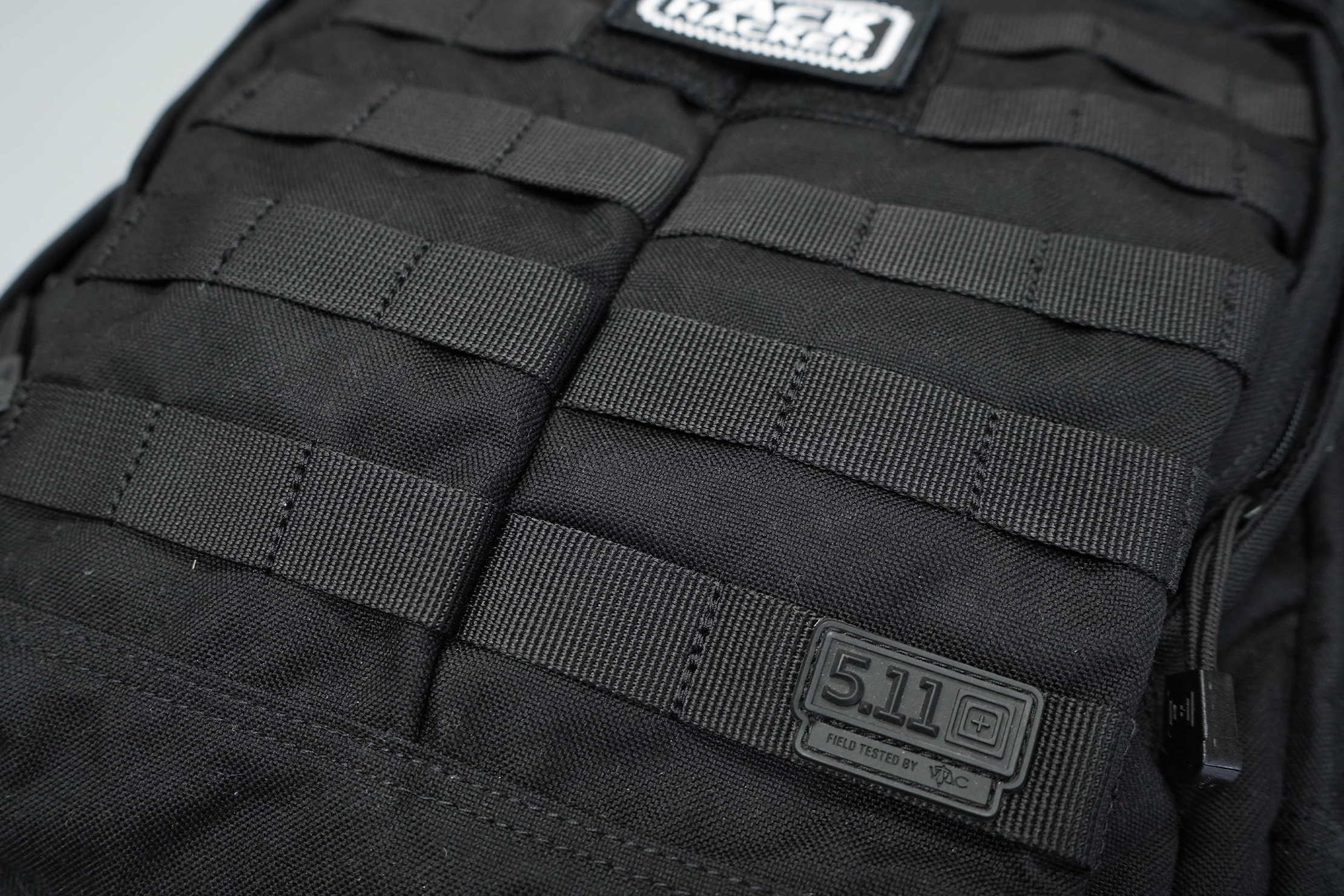 This pack also features loads of PALS webbing—along both sides and the front—which are MOLLE compatible. And you can customize this bag with all sorts of different pouches and accessories. 5.11 sells approximately one gazillion—give or take a quarter of a gazillion—pouches from an Emergency Ready Pouch, to a Dopp kit, to an H20 Carrier. You can go as wild as you want here.
Alright, let's talk about the harness system. Overall, this pack wears really well. It's far more comfortable than we initially expected it to be. The shoulder straps are densely padded. And while there are no load-lifters, the straps attach to the bag in such a way that they pull the bag close to your back. That said, the pack can get a little floppy when it's not fully packed out.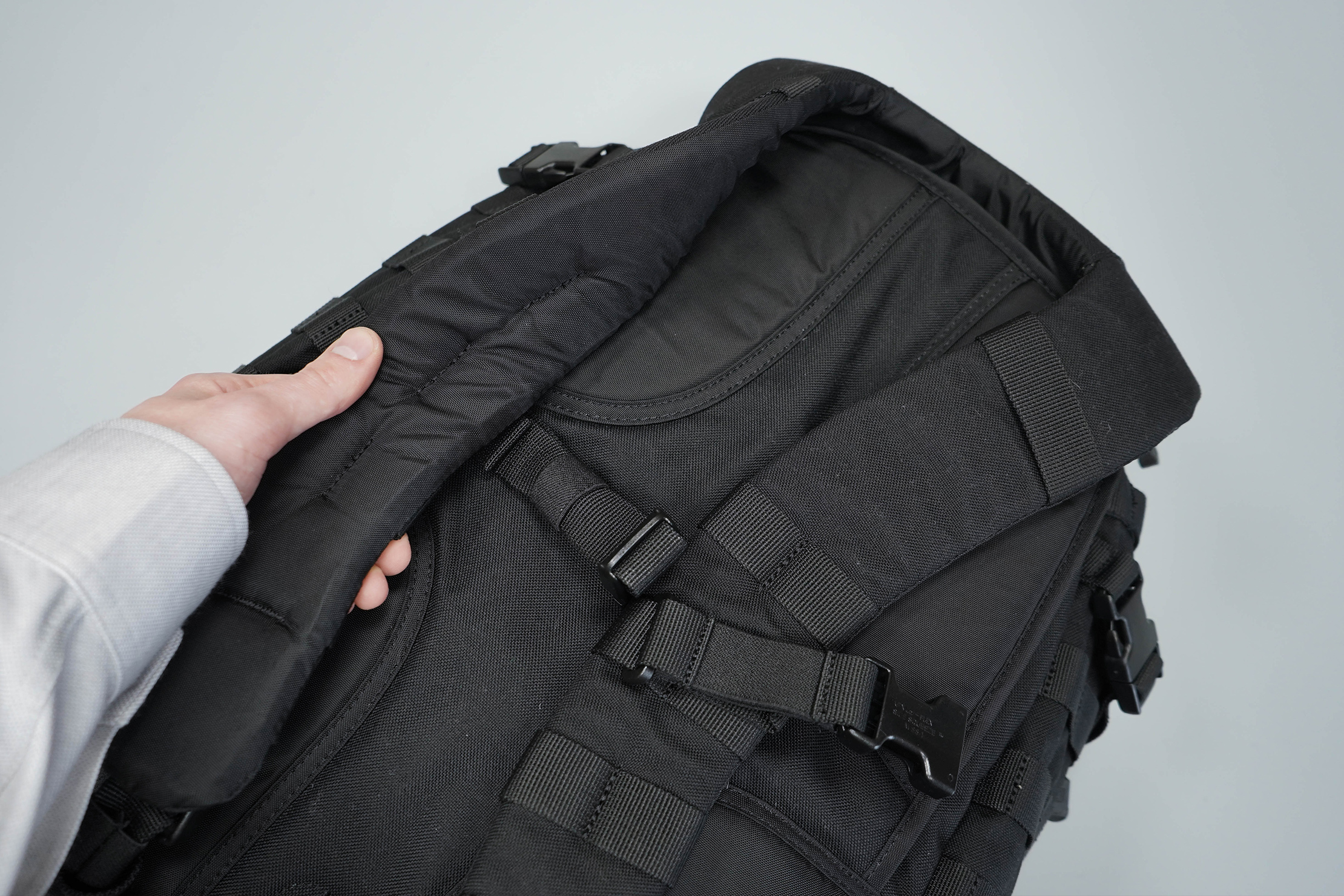 The bottom of the straps detach from the bag, so you can quickly take the pack off. Simply unclip the straps and pop out of it. However, there's no place to stow the shoulder straps. Not a big deal, but worth noting.
The sternum strap is quite robust and adjustable. You adjust it by clipping it into the webbing that runs down the length of the straps. It feels secure, although it's possible it could slip out during intense activity.
Both the sternum strap and backpack straps have elastic keepers for that coveted #DangleFreeExperience.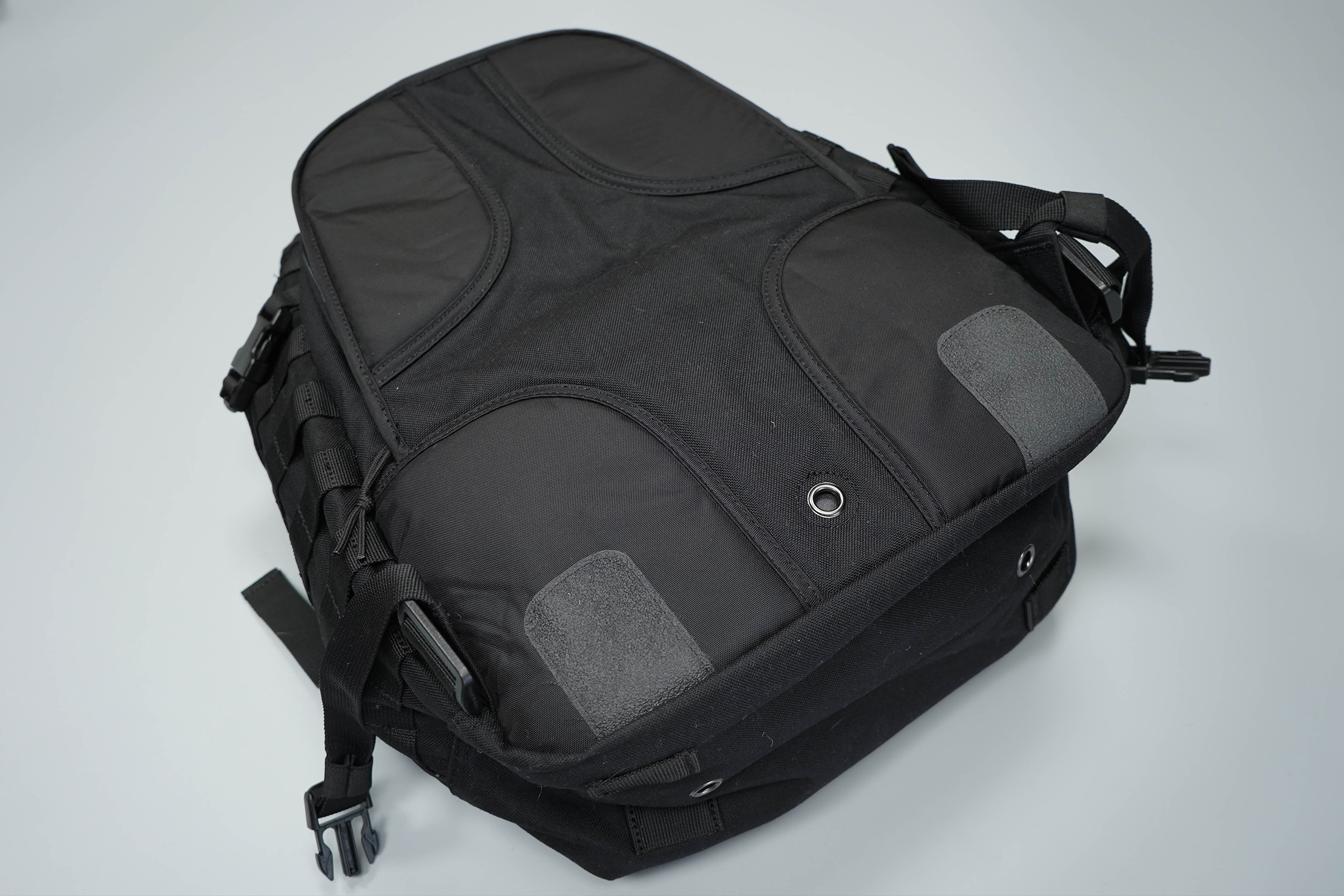 And that brings us to the back panel, which also has a decent amount of padding. It feels slicker and smoother than the nylon found elsewhere on this pack. There's no mesh, but there are some air channels. The channels help with ventilation, but you'll still likely get a sweaty back on hot days. There's no escaping the dreaded swamp back.
Toward the bottom of the back panel, there are two rubberized grippy spots. As far as we can tell, they're there to keep the pack from sliding up and down on your back. During testing, we haven't noticed the pack sliding around much, so it appears they're effective.
You'll also find what appears to be hip belt attachment points—which is always a nice option on a pack this size. But it doesn't appear that 5.11 Tactical sells a hip belt, so they're just kind of there…We're not sure the reasoning behind this, but they've stayed out of the way.
Also at the bottom of the back panel, there's a drainage hole because the water bladder compartment sits on the other side (we'll talk about this compartment more later).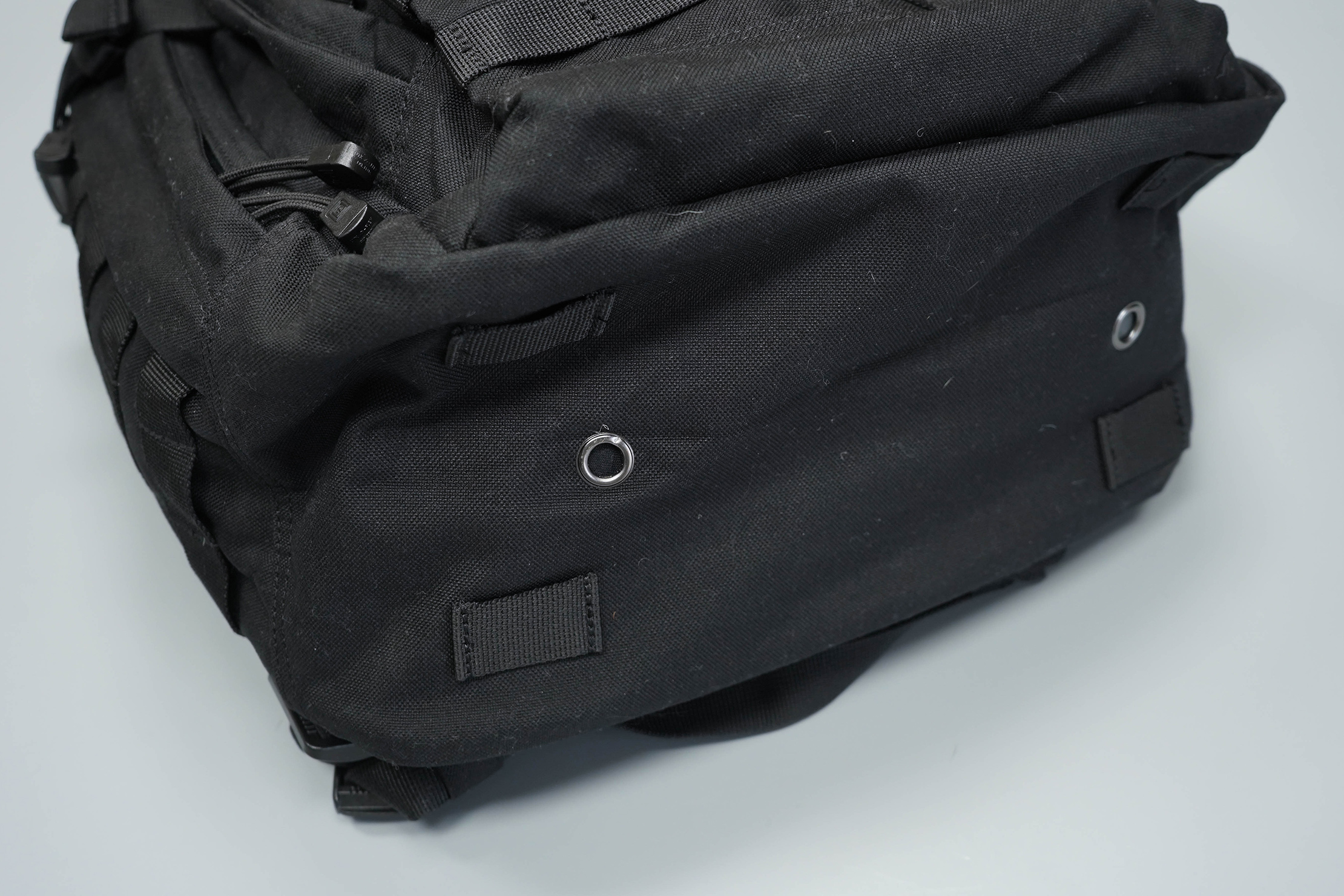 On the bottom of the bag, you'll find two more drainage holes to help dispel dirt and water from the interior of your bag. But you'd be wise to remember that they're there. Don't set your bag down on a white carpet. Don't set it down in a puddle either as water may seep into the bag. What we're trying to say is—be smart.
There are also loops on the bottom of the bag for extra gear—say a tripod, a jacket, a blanket, etc.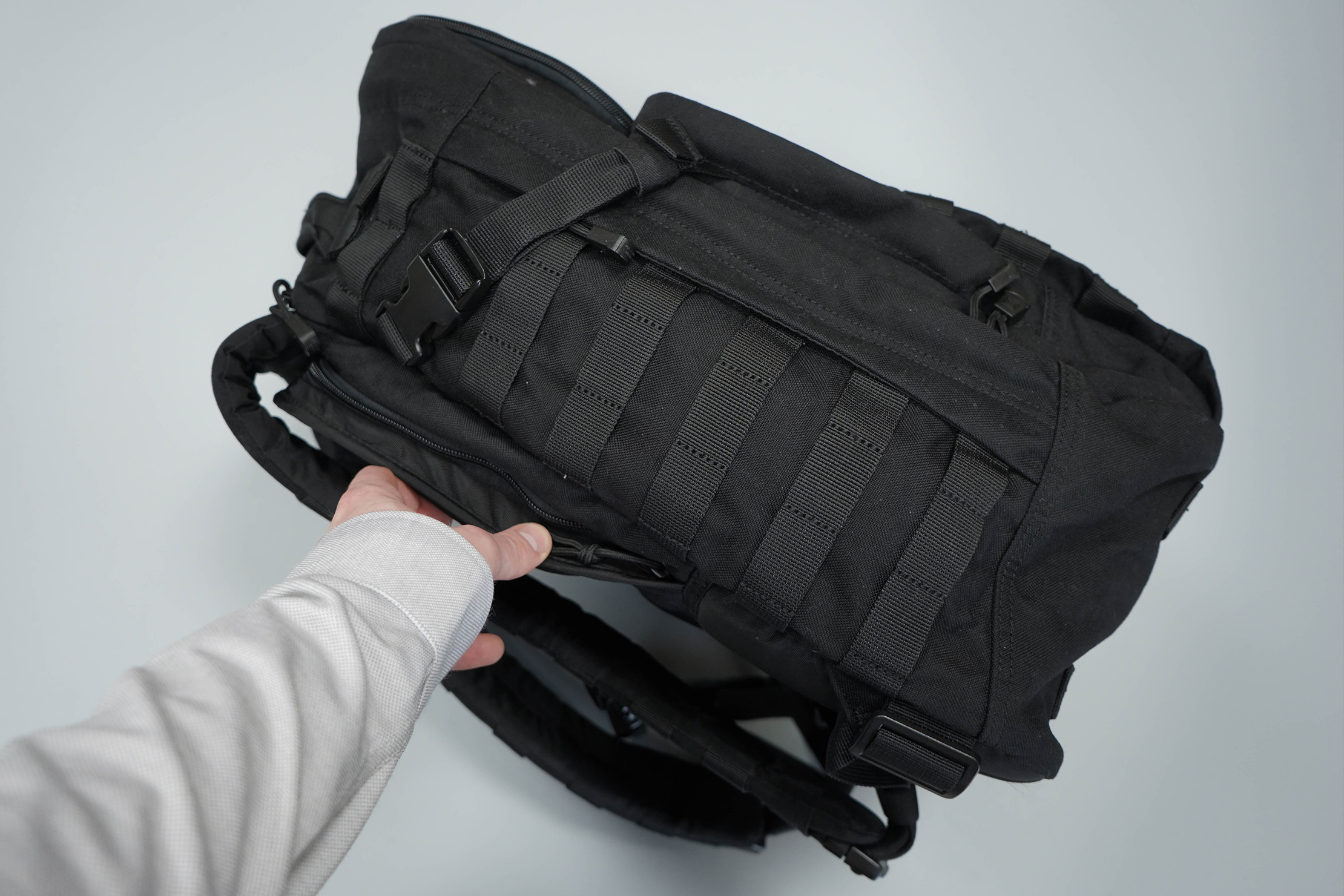 Moving along to the sides of the pack—there are compression straps on both sides. While they help compress the bag a little bit, we would've liked to see one more compression strap on each side at the bottom of the pack. That way you could really slim the bag down when you're not carrying a full load. The compression straps also interfere with the zipper on the main compartment, which can get frustrating (but we'll talk about this more in the next section of this review).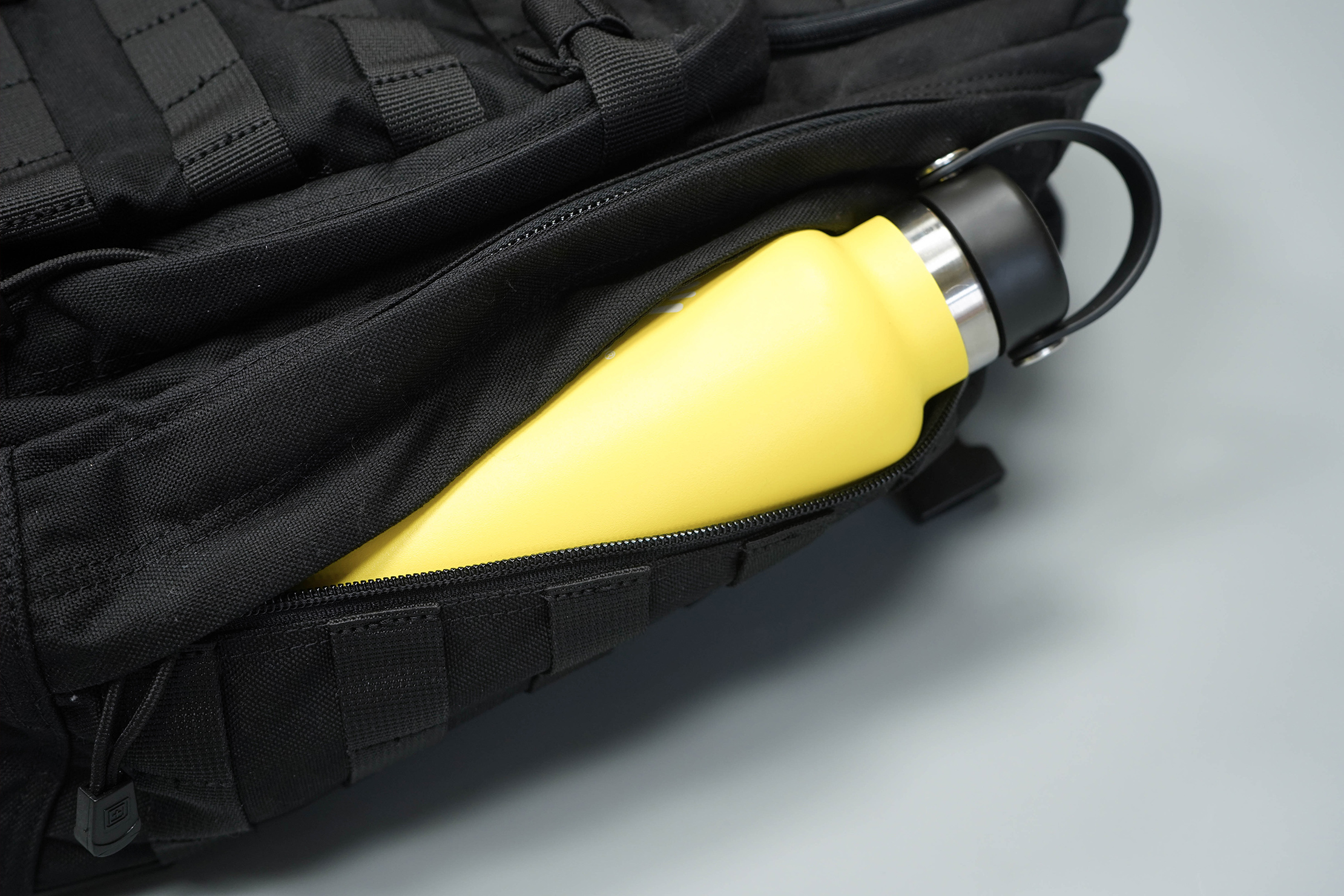 This backpack has two water bottle pockets—one on each side—which are both quite incognito, tucked into the sides behind the rows of webbing. We're digging the fact that the water bottle pockets stay out of your way when not in use.
These pockets will fit most average sized water bottles, although they're not great for larger bottles. The 32oz Hydro Flask we've been testing doesn't fit well (especially when the bag is full—there's simply no way to jam it in there). Inside each of the water bottle pockets, you'll also find a small zippered pocket to keep little items organized.
If you prefer to use a hydration bladder, or are not much of a water drinker, you can use these pockets as quick-grab pockets. You don't have to take the entire backpack off to access them. You can sling the bag forward off of one shoulder, open the pockets up and grab what you need. We've been testing this pack during a chilly Detroit winter and found these pockets work great for a hat and gloves.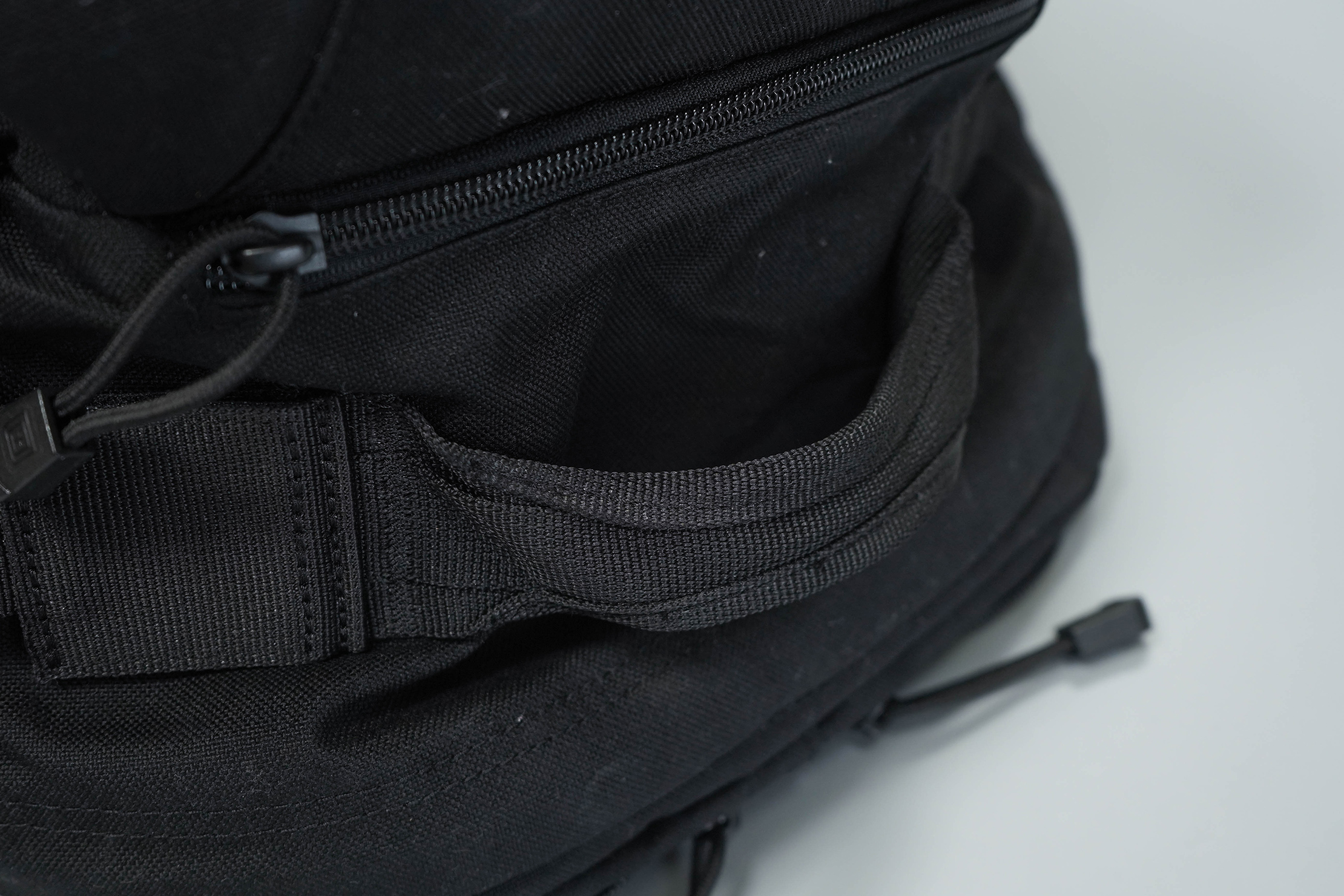 The last external component worth mentioning is the reinforced top handle, which is great for grabbing this pack out of cars, overhead bins, etc. You can also use it to hang this thing up when need be. Now, this handle is situated in the middle of the pack (front to back) making for more even weight distribution when toting it around. We generally like centered handles for this reason, however, this one has taken a little getting used to. Because this pack is so deep, when you take this thing off and set it down, your hand naturally grabs closer to the back of the pack, missing the handle. Of course, this has gotten better the more we've been using the bag, but we thought it was worth mentioning.
Inside the Pack
This pack features an incredible amount of pockets. We're going to run you through them all, which is going to take some time. So grab a mug of your favorite beverage, turn on some music, and settle in. Ready? Let's go.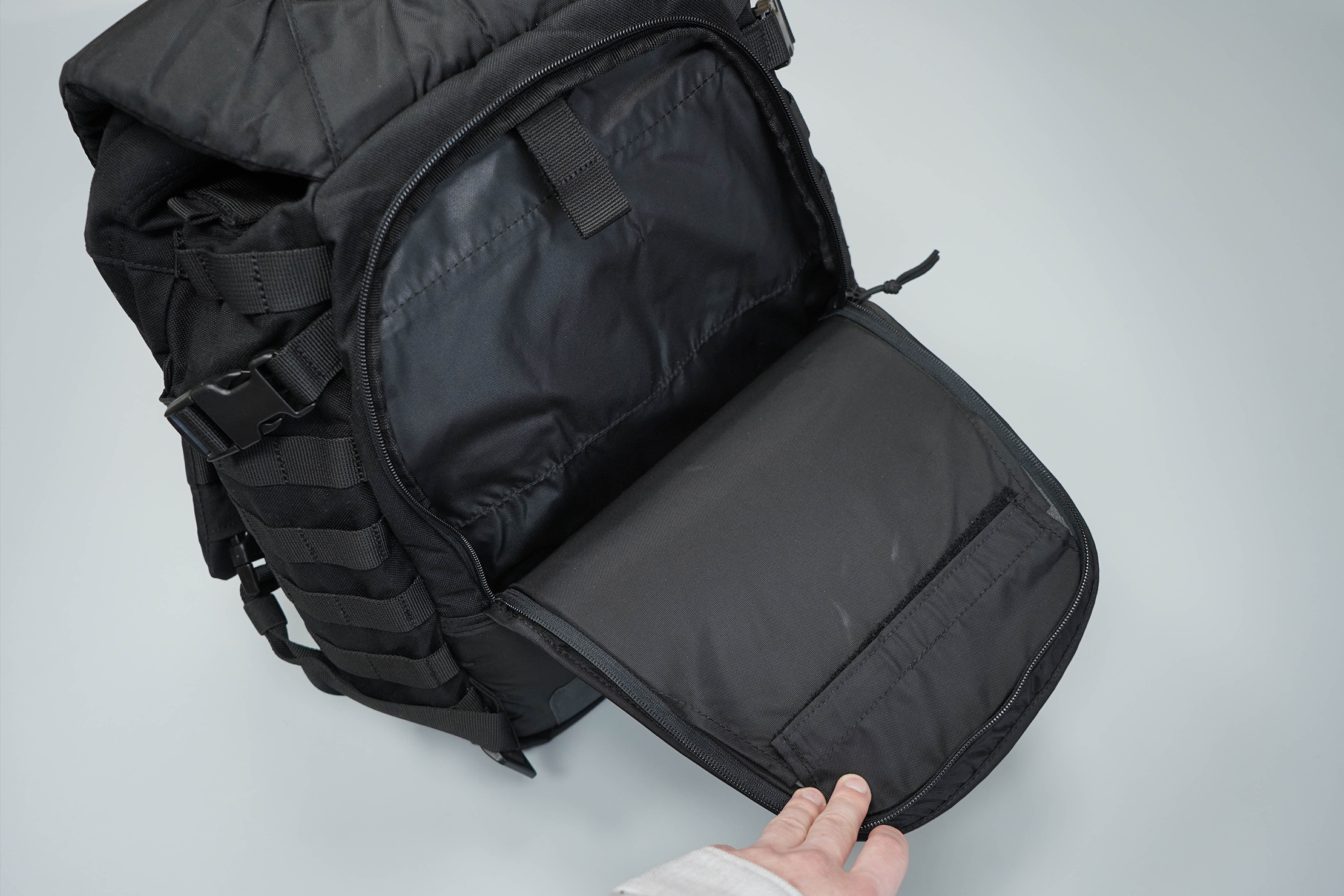 Let's start with the hydration bladder compartment, which sits against your back when you're wearing the pack. As its name suggests, this compartment has been designed specifically to hold a hydration bladder—there's plenty of space (it's designed for a 60-oz bladder) and a loop you can hang it on.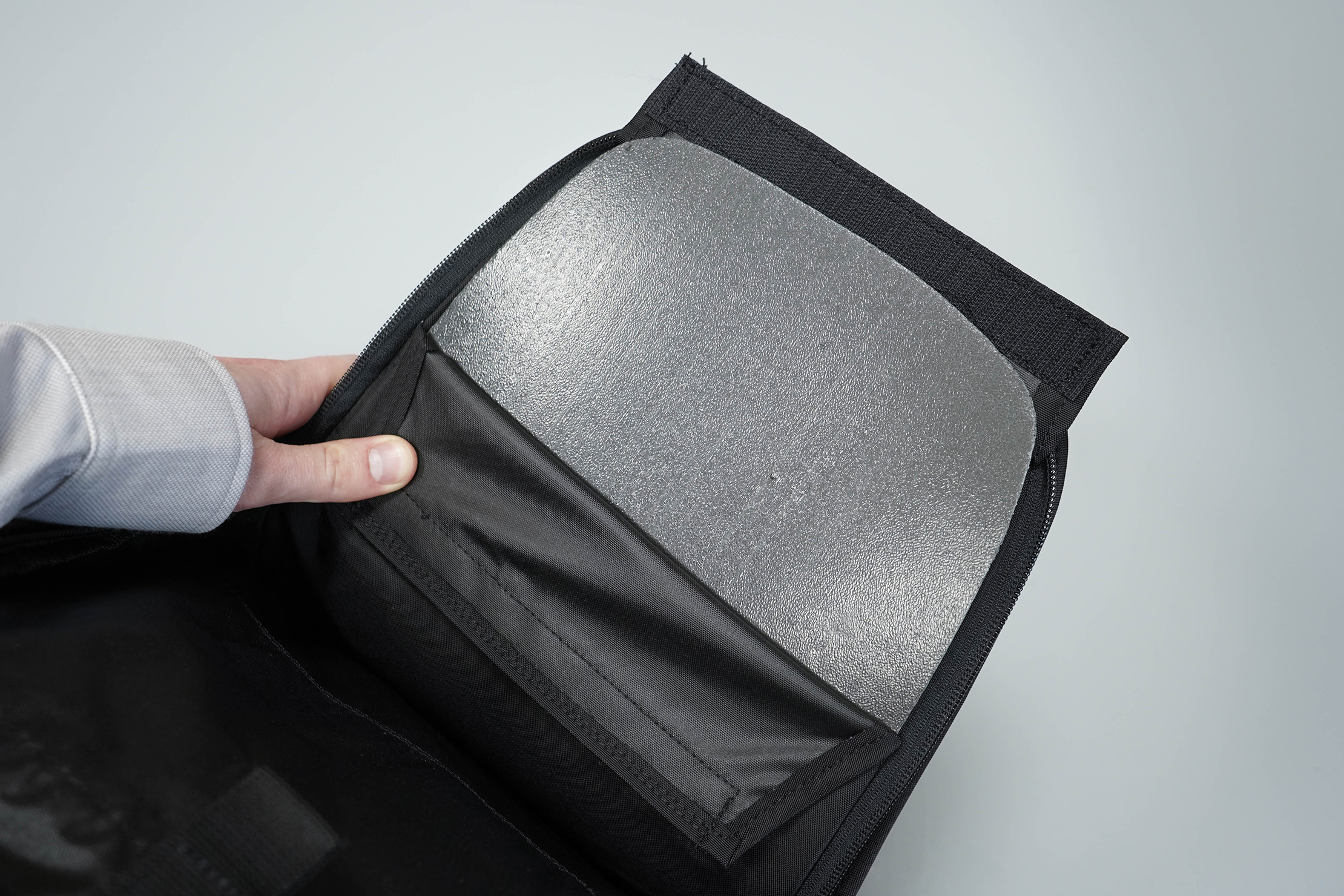 Opposite of the loop, there's a velcro flap. If you open it up, you'll be granted access to the frame sheet. It's not particularly thick, but it gives the back of the bag a decent amount of structure. You can take it out or swap it for something thicker if you'd like.
Of course, you can use the water bladder compartment for other items when you're not carrying a hydration bladder—flatter things work best. It's also a good spot for items you want to keep secure—your wallet, passport, extra cash—simply because this compartment sits directly against your body.
Flipping the bag over, let's take a look at the front compartment. Inside, you'll find a ton of organization. We've used it for basically all of our tech stuff—all of the cords, dongles, bits, and bobs we need for a successful day of work.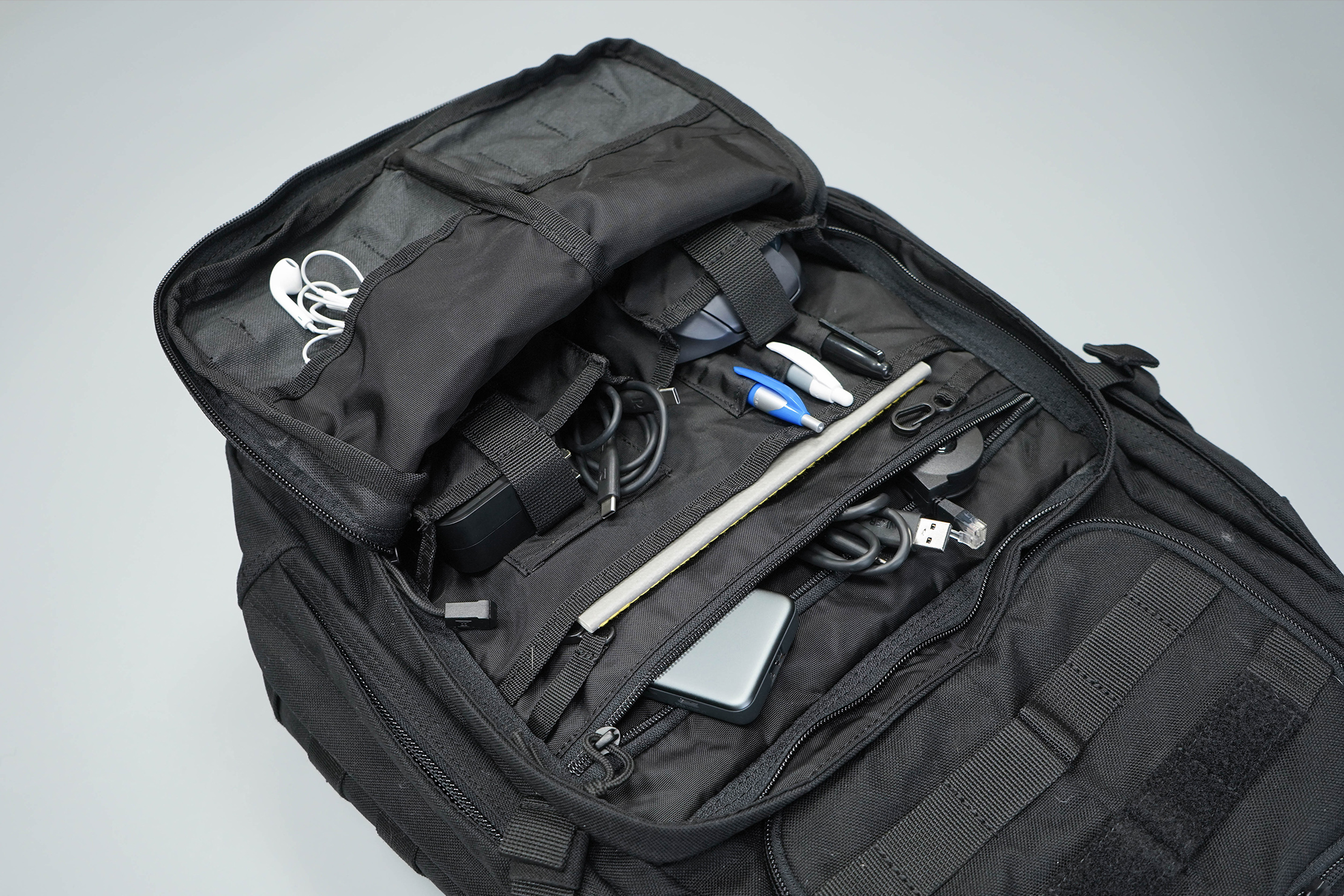 On the front flap, there are two liner pockets where we've put our Bluetooth headphones and other small items we've wanted to be able to grab quickly (you can easily reach these pockets without having to fully unzip the compartment).
On the opposite side, there are two pockets secured with velcro straps. We've kept our Apple Magic Mouse and bulky MacBook charging brick and cable here. The latter fits inside this pocket perfectly—almost like this pocket was made for it. We're digging the velcro closure as it ensures everything stays put.
Behind one of the velcro pockets, there's a small liner pocket where we've kept our AirPods. Next to that, there are three pen/pencil/stylus (styli?) pockets.
Above that, there's an open sleeve where we've stashed notebooks (to go with our pens). And, behind that, there's a large, zippered pocket. We've used it as a dump pouch for cords, chargers, a USB-C hub, etc. All the stuff we'd normally throw into an accessory pouch.
Which actually brings us to a quick aside—here at Pack Hacker, we're usually all about accessory pouches to organize all the random bits and bobs of our daily carry. But—as you've probably gathered at this point—the 5.11 Tactical RUSH24 Backpack has enough organization that we've opted to test this thing without accessory pouches. So this pack is especially great if you don't like to use tech pouches or other organizers. Or if you do, you have plenty of compartments to organize your organizers.
Alright, back to the pocket tour.
Finally, inside this front compartment, there are two key clips. They're plastic—of course, metal is always preferable from a durability perspective—but they get the job done. You can attach your keys to them, so you don't have to dig through your bag to get to your keys while it's raining and you just want to get inside and seriously where are your freaking keys? (Not that, uh, this has ever happened to us.)
The compartment itself has enough space for large or bulky items. Because there are so many pockets on this thing, we haven't needed to use this space much. When we have, we've mostly tossed snacks here.
Still with us? Good because we have four (!) more compartments to go.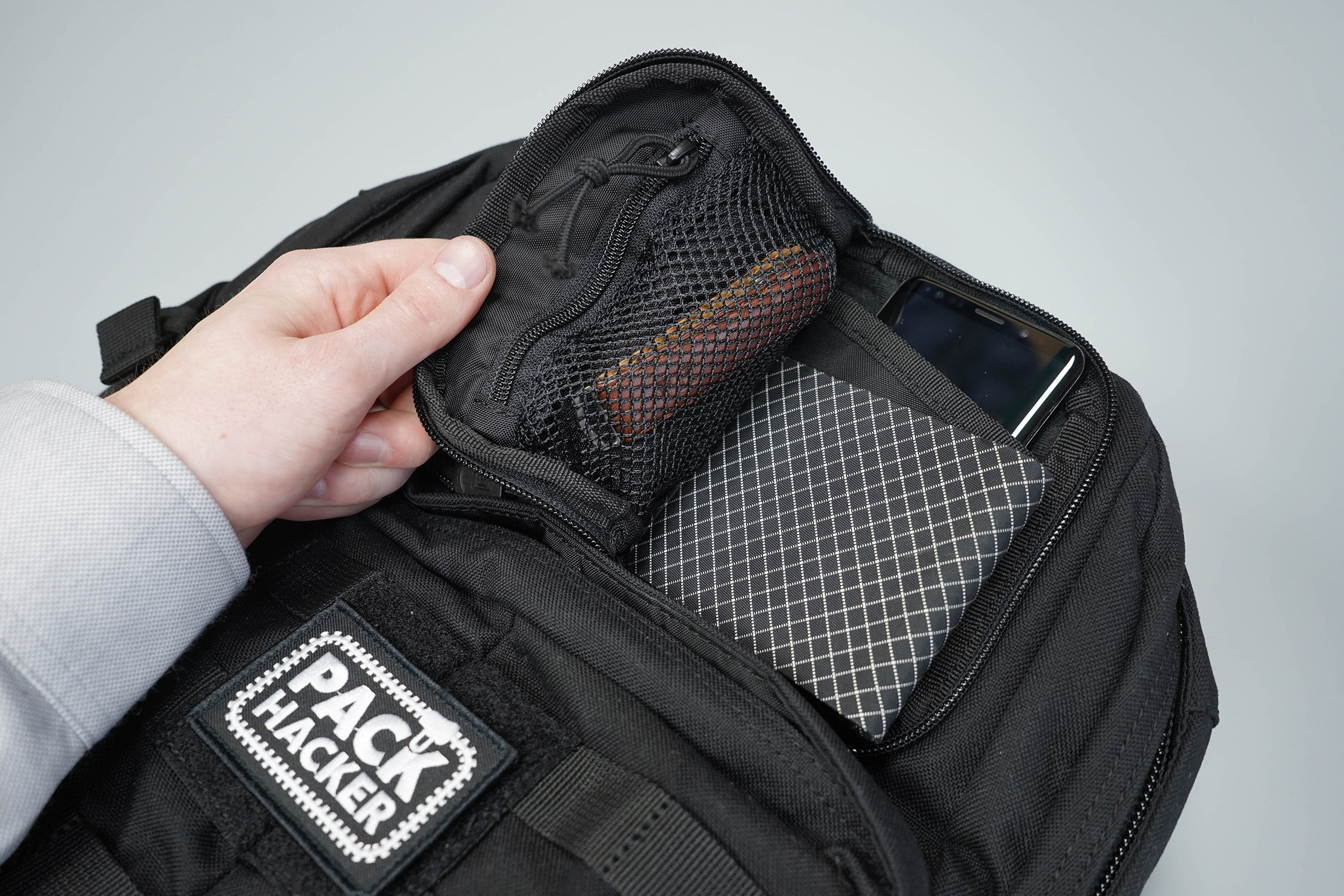 Above the front compartment, there are two quick-grab pockets, which are mirror images of each other. They have just enough depth to be a solid spot for everyday essentials.
Inside each pocket, there's a zippered pocket on the flap and a sleeve against the back, which features a fleece-like lining. The lining isn't the softest we've come across, but it should help protect delicate items from getting scratched up.
On one side, we've put our keys (encased inside the Jibbon Key Organizer) inside the zippered pocket, our phone inside the sleeve, and wallet in the pocket itself. On the other side, we've put chapstick, gum, mints (gotta have that fresh breath), and a comb.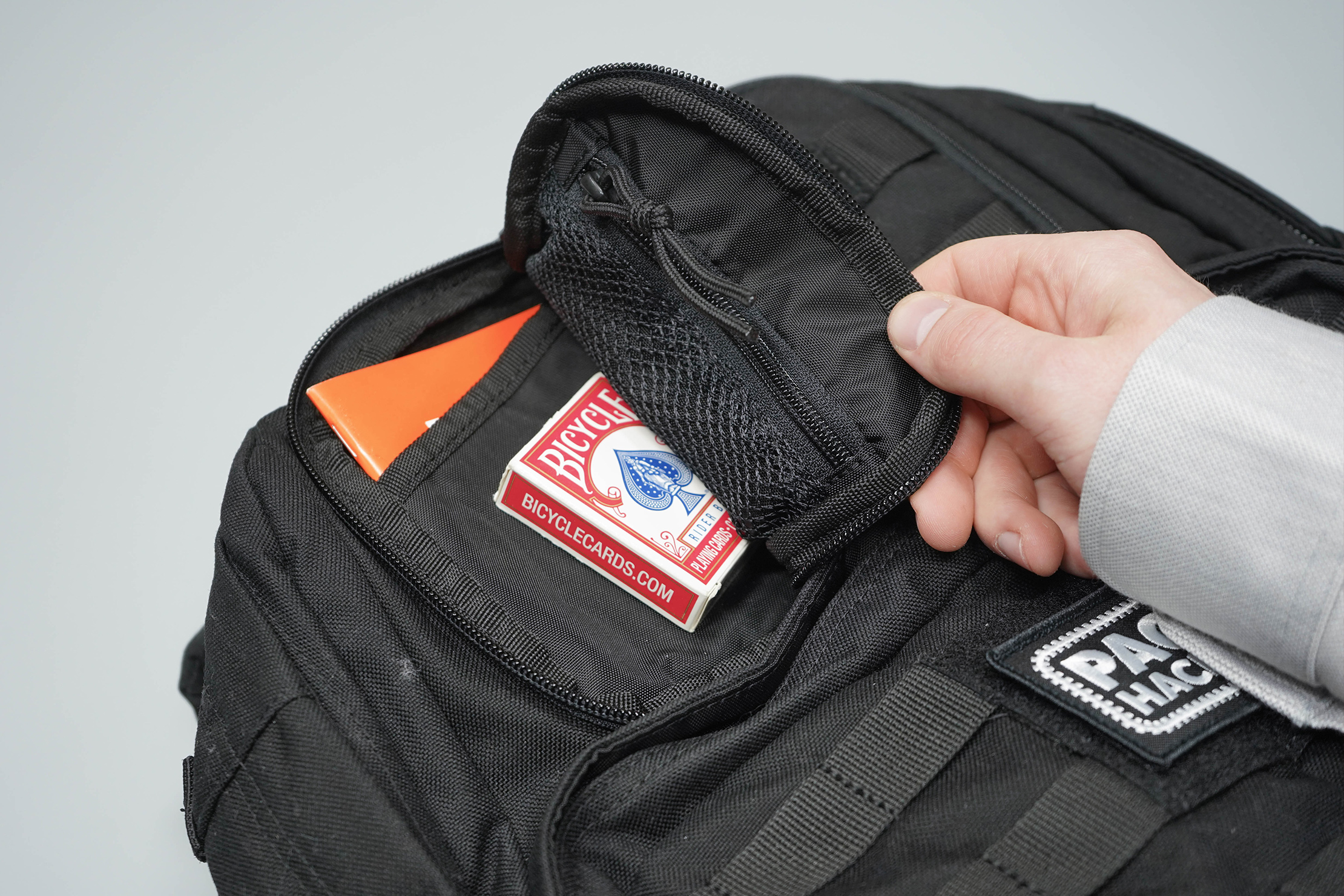 Up next, we have the main compartment. Like we said earlier, the compression straps interfere with the main zipper (you can't open the zipper further than the straps). The tighter you have the straps cinched, the less you'll be able to open the bag. So if you really want to open this thing up, you'll need to pop the compression straps open. This isn't a huge deal, but it can get bothersome. Especially if you're in and out of your bag a lot.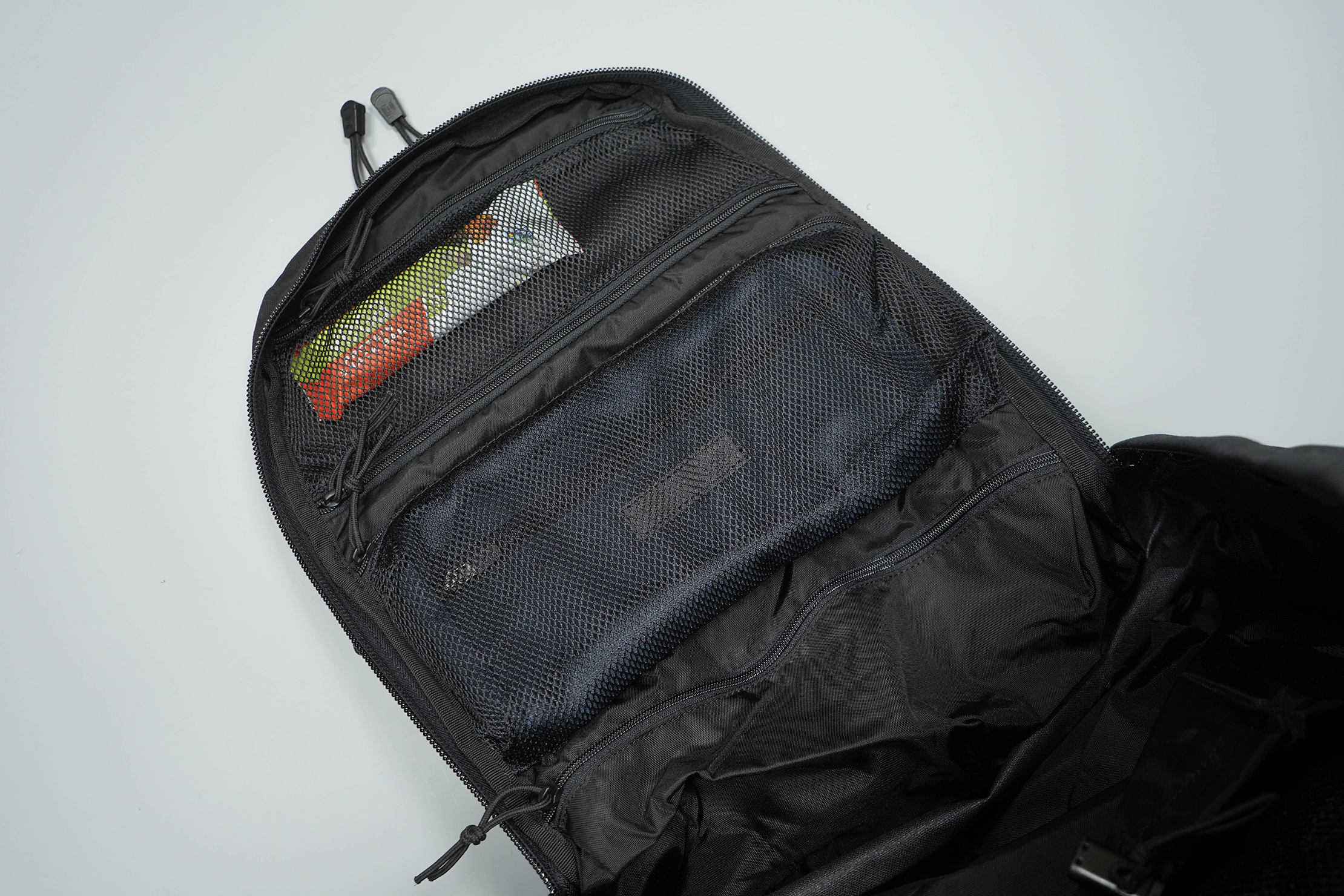 Inside this compartment, there's a good amount of organization (are you sensing a theme, yet?). On the front flap, there are three zippered pockets stacked on top of each other.
The top one—which is mesh—opens from both the top and the bottom. The top opening allows you to easily access the pocket without having to fully open the main compartment. The bottom opening allows you to easily get inside of the pocket when you have the main compartment splayed all the way open. It's a very thoughtful design that's performed well during testing.
The second pocket is also mesh. We've found that an Apple Magic Keyboard fits in this pocket perfectly width-wise. This pocket does have some dimension built into it, so it'll fit bulkier items, but keep in mind that anything you put inside this pocket (or any of these pockets) will eat into the capacity of the main compartment. This isn't a huge deal because accessory pouches do this too.
Below that is a liner pocket. There's no mesh, but plenty of dimension. However, this pocket can get squashed by the other stuff inside the bag. It's a good spot for soft, squish-able items—extra clothes, etc.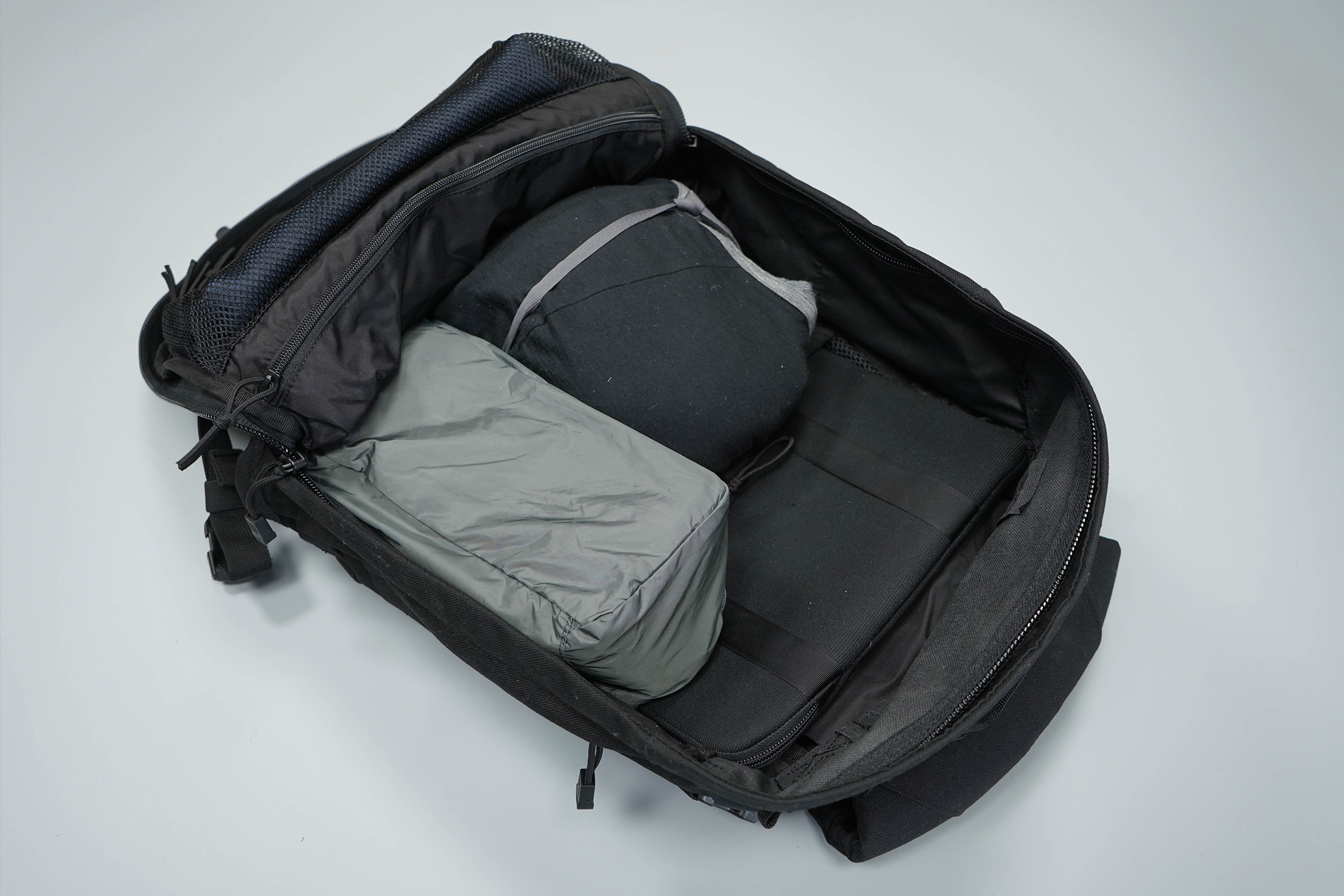 On the other side of the main compartment, there's a bucket of space and—sticking with the theme—even more organization. We've put the 32oz Hydro Flask that wouldn't fit in the water bottle pockets here as well as the Coalatree Evolution Hoodie (it's always nice to have an extra layer around). We've also put our Roost Laptop Stand 2.0 here.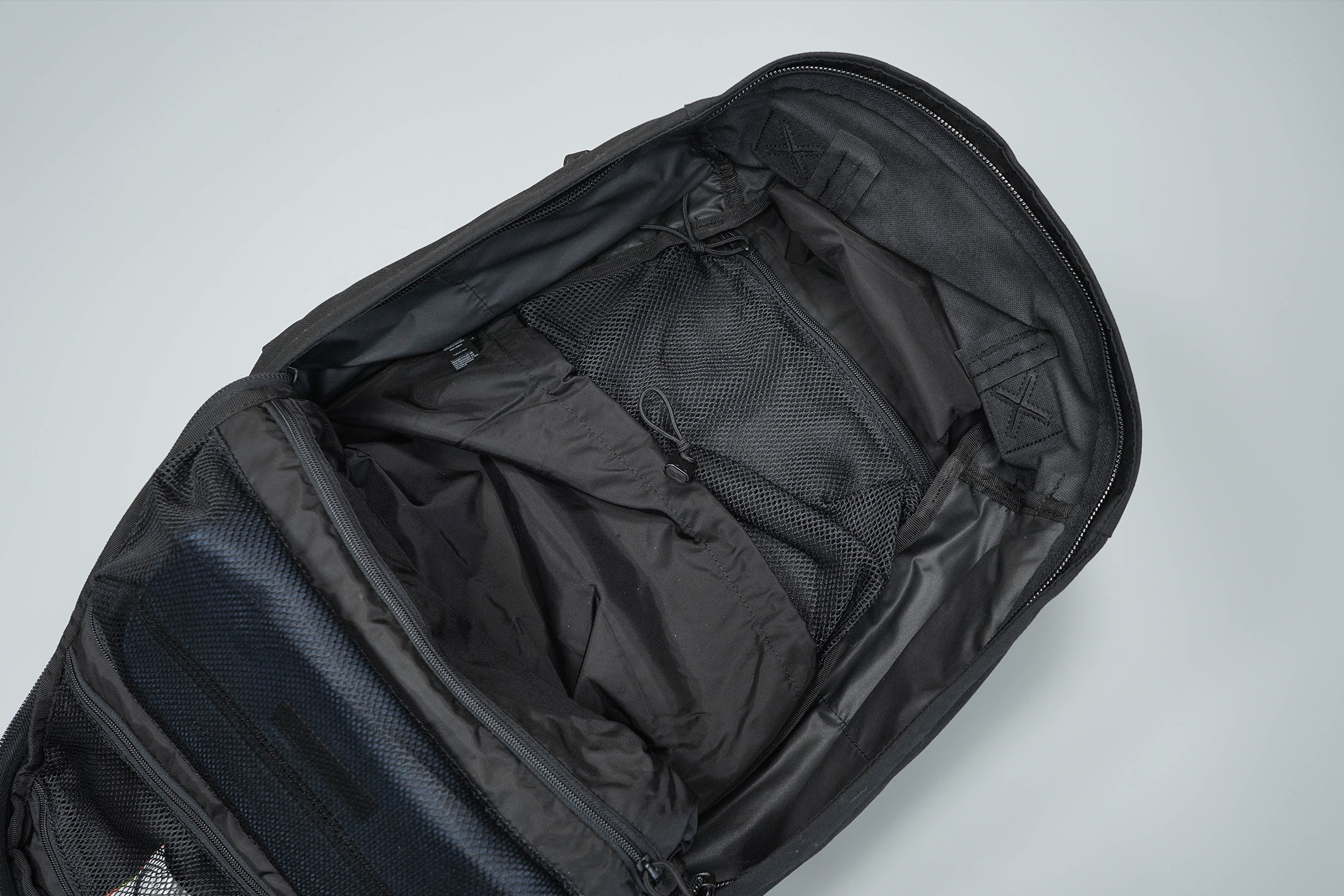 As far as organization goes, there's a sleeve against the back of the compartment, which cinches tight with a drawstring to keep your stuff secure. Because there's no dedicated laptop compartment inside this bag, we've put a laptop case inside this sleeve as a workaround. (To be clear, the sleeve itself doesn't have any padding or soft lining, so it's not ideal for laptops without cases.) It works well enough, but if you know you'll be transporting a laptop every day, you'll probably want a backpack with a dedicated laptop sleeve.
There's also another zippered mesh compartment for any smaller things you don't want to get lost.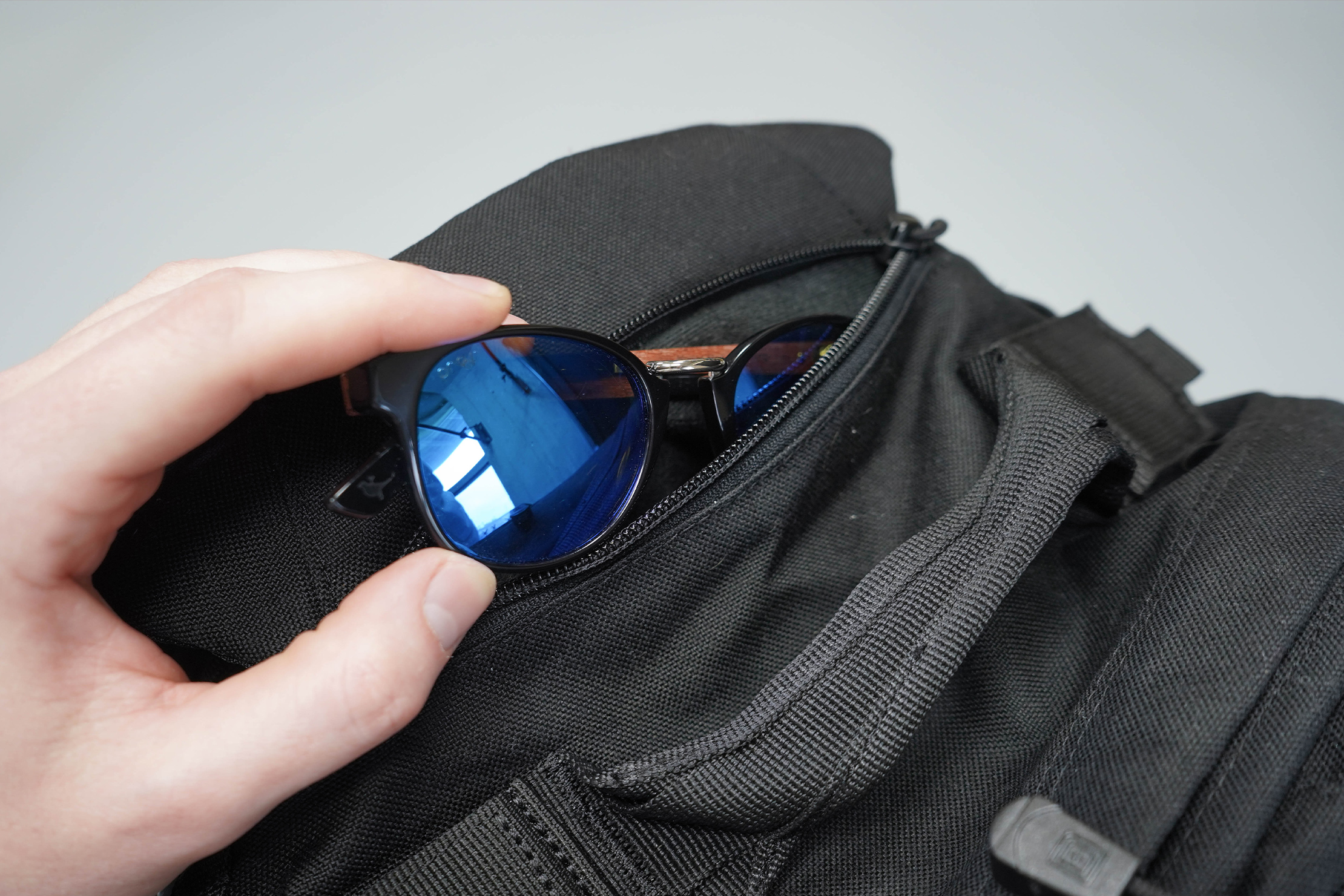 And, last but not least, there's a dedicated sunglasses/phone pocket on the top of the backpack. The pocket is lined with the same (sort of soft) fleece material that's inside the quick-grab pockets to protect your sunglasses/phone from getting scratched. Plus, having a dedicated pocket for sunglasses has been handy.
And that's it!
Durability & Testing
We've been testing the 5.11 Tactical RUSH24 Backpack 37L for just over two weeks as a daily driver around Detroit, Michigan. Overall, we've enjoyed using it. There's a spot for everything…which is both a pro and a con. If you're serious about your organization, then you'll love all the various pockets. But if you don't like to be bothered figuring out an organizational system—and may forget where you put what—then this pack is probably not for you.

As far as durability is concerned, everything is looking good. We have nothing major or minor to report.
Usage Timeline
Initial Usage
Condition: Excellent
Extremely tactical style and aesthetic
Customizable with other 5.11 pouches and accessories
Tons of varied organization with different shapes and sizes
2 Weeks of Use
Condition: Excellent
This bag has a comfortable carry and a ton of organization and customizability options—seriously, there are so many pockets on this thing.
Access the Pro Community Discussion
Get your questions about the 5.11 Tactical RUSH24 Backpack 37L answered from our team and the Pro Community right here on the page. Plus, join discussions with other members about gear, guides, and more.
Other Bags & Luggage Reviews