Apple AirPods Review
Minimal, wireless Bluetooth headphones from Apple, the Airpods also double as a microphone with some additional slick features to go along with them.
Our Verdict
Unlock the Pro Summary
Save time. Get access to brief summaries of our reviews so you can browse and make decisions more efficiently.
Pros
Great sound on both ends—the speakers and microphone.
Cordless makes them super convenient and great for traveling.
They are so comfortable, you will hardly notice when you have them in.
Cons
More to manage—three pieces total.
Not noise canceling, which can be a problem for airplane travel.
Charging can be an annoyance.
Recent Pack Hacker Video
Technical Details
Weight (oz)

1.3 oz (36.9 g)

Dimensions

1.7 in x 0.8 in x 2.1 in (4.3 x 2 x 5.3 cm)

For the carrying case & charger

Manufacturing Country

China

Warranty Information
Full Review
Cords are a pain when traveling. And honestly, we didn't even realize how much of a pain they were until we tested out these Apple AirPods. They're just like the earbuds we all know—minus the cord, and with better sound quality.
A friend of ours swears by these AirPods. He's an engineer at Apple, so obviously he is a little biased… But we were curious about all the hype—so we decided to try them out for ourselves.
The first thing we noticed after switching over from traditional, wired headphones, was how convenient these are—especially when traveling. Putting on a backpack, over-the-shoulder bag, or buckling a seatbelt becomes infinitely easier when you don't have to deal with cords. And just for the record, we have yet to figure out the best way to put on an over-the-shoulder bag with wired headphones on. Do you go over the strap? Under? Take the headphones off? Seriously, it's a problem. If you can figure this out, let us know.
Anyway, wireless is great. On to some other details…
When you pop these open, you'll notice they feel different than the traditional Apple earbuds. They're a bit heavier, and a little more solid—less 'cheap' feeling. More importantly, Apple has somehow managed to construct a headphone that fits most ears and is comfortable at the same time. Sometimes you will even forget that you're wearing these, they can feel so natural in your ears. It's a little scary, to be honest.
Initially, we were concerned that these might fall out a lot, but they actually have a really snug fit. You can even use them while running—something that the old earbuds weren't really capable of. Another benefit to wireless headphones is that there is no chance of snagging the cord and ripping them out of your ear by accident.
One of the major selling points for these headphones is that they function as a microphone as well. So, when you're listening to music on your phone you can easily transition into talking on the phone. We've also used them for Slack audio, Skype, and Facetime audio. The sound is crystal clear on our end, and we have yet to hear any complaints about mic quality.
Plus, if you pull one AirPod out of your ear to talk to someone, your music automatically gets paused. Pretty ingenious, and it is super convenient.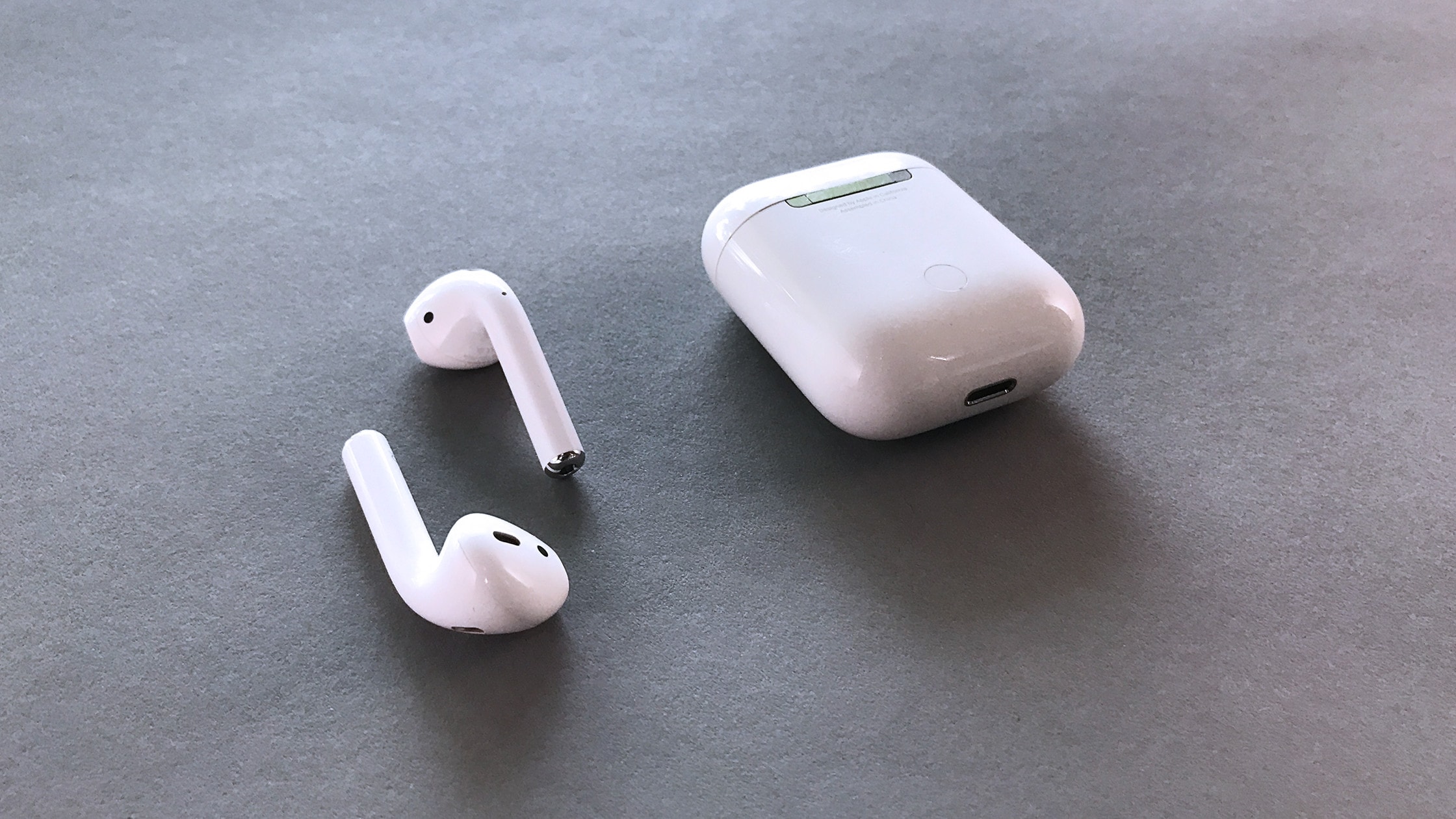 Now, there are three pieces associated with these headphones—the two AirPods and the case. We are hearing a lot of people talk about how easy these are to lose, considering there is no wire. Yes, it is a little bit harder to manage three items, but we have yet to have a real problem with it. If you're at all organized, it shouldn't be an issue. If you're that person that loses their phone every weekend at the bar, then AirPods may not be for you.
Initial setup is super simple—you pop the lid of the carrying case open, and your phone will recognize the AirPods immediately and ask to pair with them. You can also pair them with your laptop (or any other Bluetooth-enabled device) and easily switch between the two. One issue—we've found that it's pretty easy to forget which device they are paired to when you turn them on, which can cause some problems. Like when you start blasting music in a coffee shop because you thought your AirPods were paired with your laptop…
A great addition to these would be a different tone when you pair to different devices, to avoid that issue. Maybe we'll chat with our engineer buddy about this…
Now, there is a catch to all this amazing convenience that comes with these AirPods. Unlike traditional headphones, you have to charge them. They charge through the carrying case, and the case itself is actually pretty great. There's a nice magnetic "pop" that happens when you slip them into it, and the case easily fits in your pocket. The case is charged by plugging it into the wall or your computer with a lightning cord, just like charging your iPhone. But ultimately, this does cause two major problems.
If you are caught out and about without any juice in both your headphones and case, then you are shit out of luck.
If you are in the middle of a call and your headphones run out of juice, you'll have to switch to a different headset or talk on your phone in the traditional sense (ugh) while you charge them up again in the case.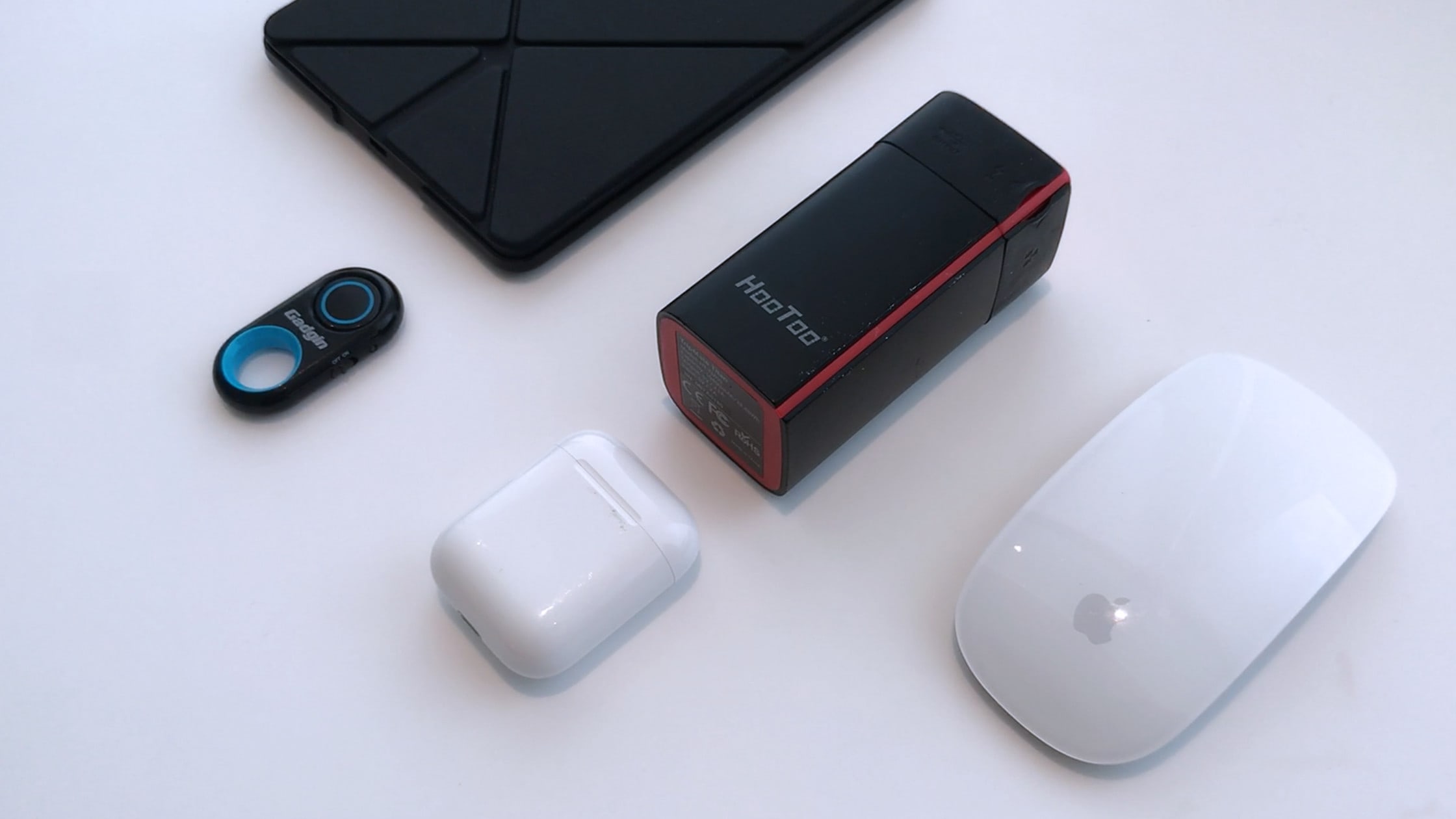 This, unfortunately, means a tough trade-off between the physical convenience of wireless headphones, and the added inconvenience of charging them. The carrying case holds 24 hours worth of charge, and Apple claims you can listen to 5 hours of music on a single charge. They also claim that 15 minutes of charging gives you enough power to listen to music for 3 hours. If we lost you with all those numbers, the main point is you can charge these things really quickly.
There's no denying it, AirPods aren't going to be the best headphones money can buy. Their sound quality isn't comparable to higher-priced headphones, and they're not noise canceling. But you'll be hard pressed to find a pair of high-quality, wireless, noise-canceling headphones that are as convenient as these.
The only other con to the AirPods is the fact that someone could walk up behind you and grab these things right out of your ears. We're pretty sure that is a largely irrational fear though. …Pretty sure.
Usage Timeline
Initial Usage
Condition: Excellent
Fresh out of the box—the carrying case looks slick, and is sized like a floss container.
3 Months of Use
Condition: Good


Going strong. There's some lint from my pockets that has built up in the carrying case. The AirPods themselves are still clean and working great.
6 Months of Use
Condition: Good
Still kicking! We've found that the Airpods can sometimes cut in and out in places with a high number of wifi and bluetooth enabled devices. Bluetooth technology is new, and not quite perfect yet.



Also, the case is incredibly dirty, and somewhat hard to clean. Here's the official way to clean from Apple which doesn't really work, at all: "Clean your AirPods with charging case – Clean your AirPods with charging case regularly with a soft, lint-free cloth. Don't get moisture in any openings, and don't use aerosol sprays, solvents, or abrasives." We'll get around to experimenting on how to clean them eventually (maybe, hopefully).
Access the Pro Community Discussion
Get your questions about the Apple AirPods answered from our team and the Pro Community right here on the page. Plus, join discussions with other members about gear, guides, and more.
Other Productivity & Tech Reviews