Jibbon Key Organizer Review
The Jibbon Key Organizer's thoughtful design and sophisticated look make it a joy to use—but keys with oversized eyelets feel particularly loose.
Our Verdict
Unlock the Pro Summary
Save time. Get access to brief summaries of our reviews so you can browse and make decisions more efficiently.
Pros
Premium look and feel
Quick and easy to open/close
Fixed D-ring is a nice touch
Cons
Leather is sensitive to the elements (compared to synthetic fabrics)
Keys with larger eyelets may slide around
Can look a little awkward when full
Recent Pack Hacker Video
Technical Details
Weight (oz)

.65 oz (18.4 g)

Dimensions

3.45 in x .75 in x .65 in (8.8 x 1.9 x 1.7 cm)

Depth dependent on the amount of keys inside.

Notable Materials

Stainless Steel, Leather
Full Review
If you've never used a key organizer before then be ready to have your mind blown. A key organizer ensures that your keys don't scratch up your things—phone, wallet, inside of your pocket, etc.—while sitting next to them in a backpack/pocket/wherever. Plus, it keeps your keys looking tidy and silent.
If you're sold, just know there are a ton of options out there. One key (see what we did there?) player is Jibbon, which launched its Key Organizer (actually spelled Organiser since it's an Australian company) on Kickstarter in 2019.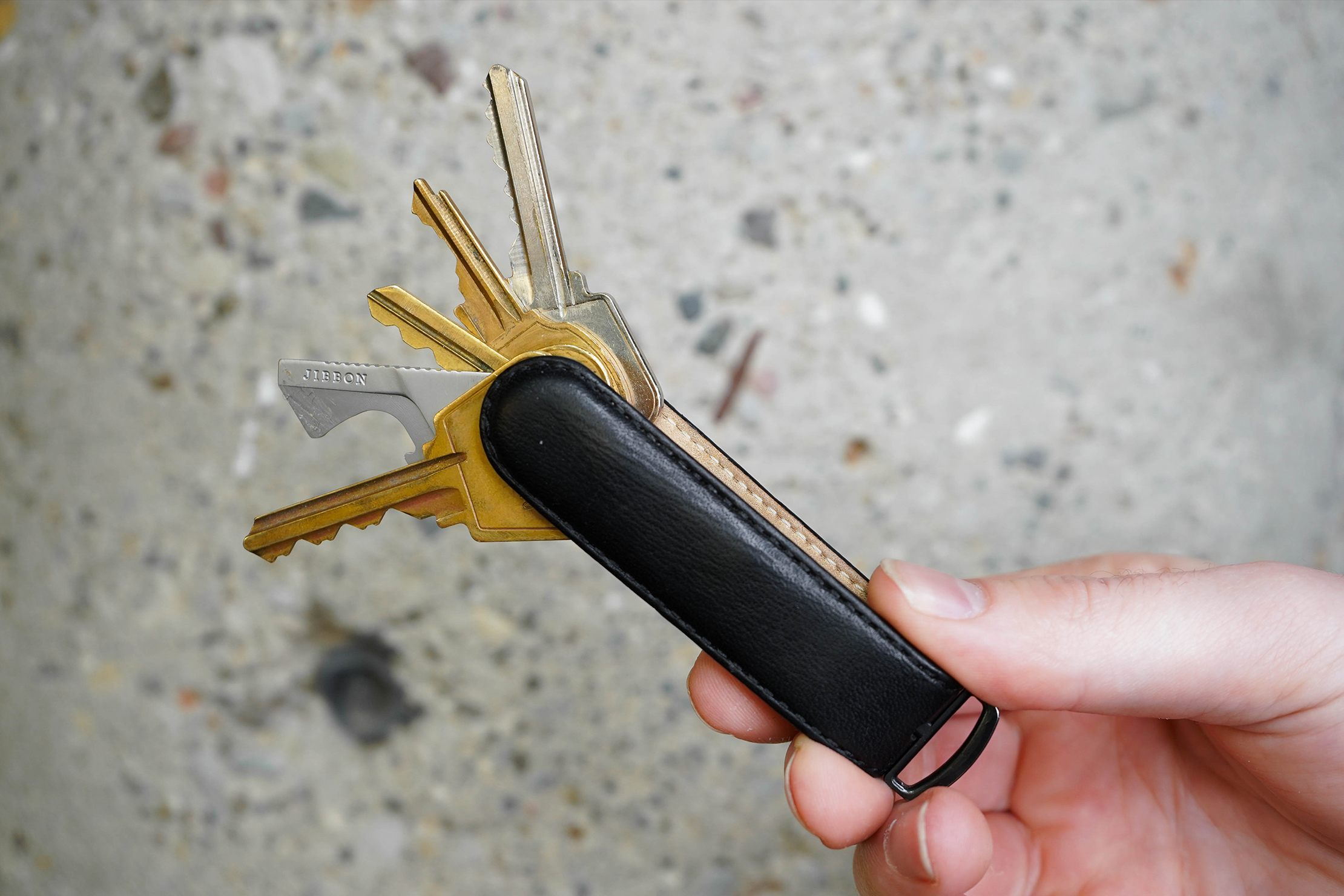 Three members of the Pack Hacker team have been testing the Jibbon Key Organizer, as well as a couple of its optional accessories, for five months through everyday life and travel.
And we've been really liking it. While similar to the Orbitkey Key Organizer, there are a few key (we could do this all day) differences that make it a joy to use. So let's check it out.
Features & Usage
The Jibbon Key Organizer has a chic, sophisticated aesthetic that we're digging. We like the Jibbon logo embossed into the interior screw post, and while we're usually more Helvetica kind of people here at Pack Hacker, we appreciate the serif typeface that spells out "Jibbon" and "Italian leather" on the interior of the organizer. Serif fonts just add a touch of old-fashioned elegance (if you're as much of a font nerd as we are, you get it).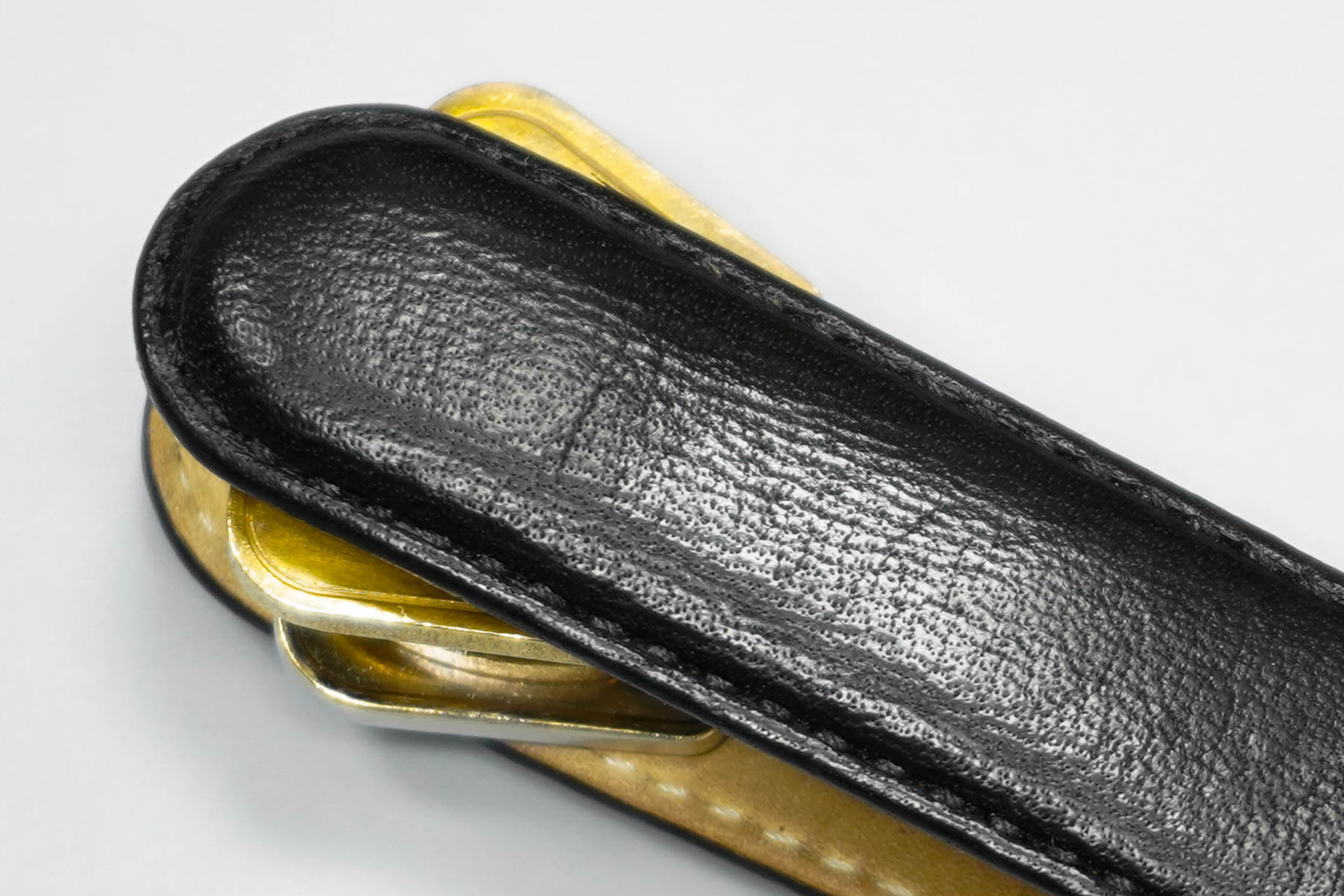 But most of the sophistication is due to the smooth leather exterior. Of course, if you avoid animal products than this organizer is not for you. Otherwise, you'll appreciate the quality Italian leather and premium stitching. Plus, leather ages beautifully, so it should only get classier as you continue to use it. Of course, leather can also be sensitive to the elements—so try not to get stuck in a storm with your key organizer exposed.
All the metal parts on this thing are stainless steel. One quick side note—the packaging the organizer comes in is made from 100% recycled materials and is glued using biodegradable corn-starch. We always appreciate when companies try and minimize their eco-footprint, so we wanted to be sure to point this out.
At the time of this review, the organizer is available in four colorways—Black, Cocoa (dark brown), Tan, and Blush. You may also choose to get it custom embossed with your name or—if you want to be really awesome—the Pack Hacker initials. No matter what colorway you choose, the Jibbon Key Organizer's sleek profile gives this thing a clean, professional look.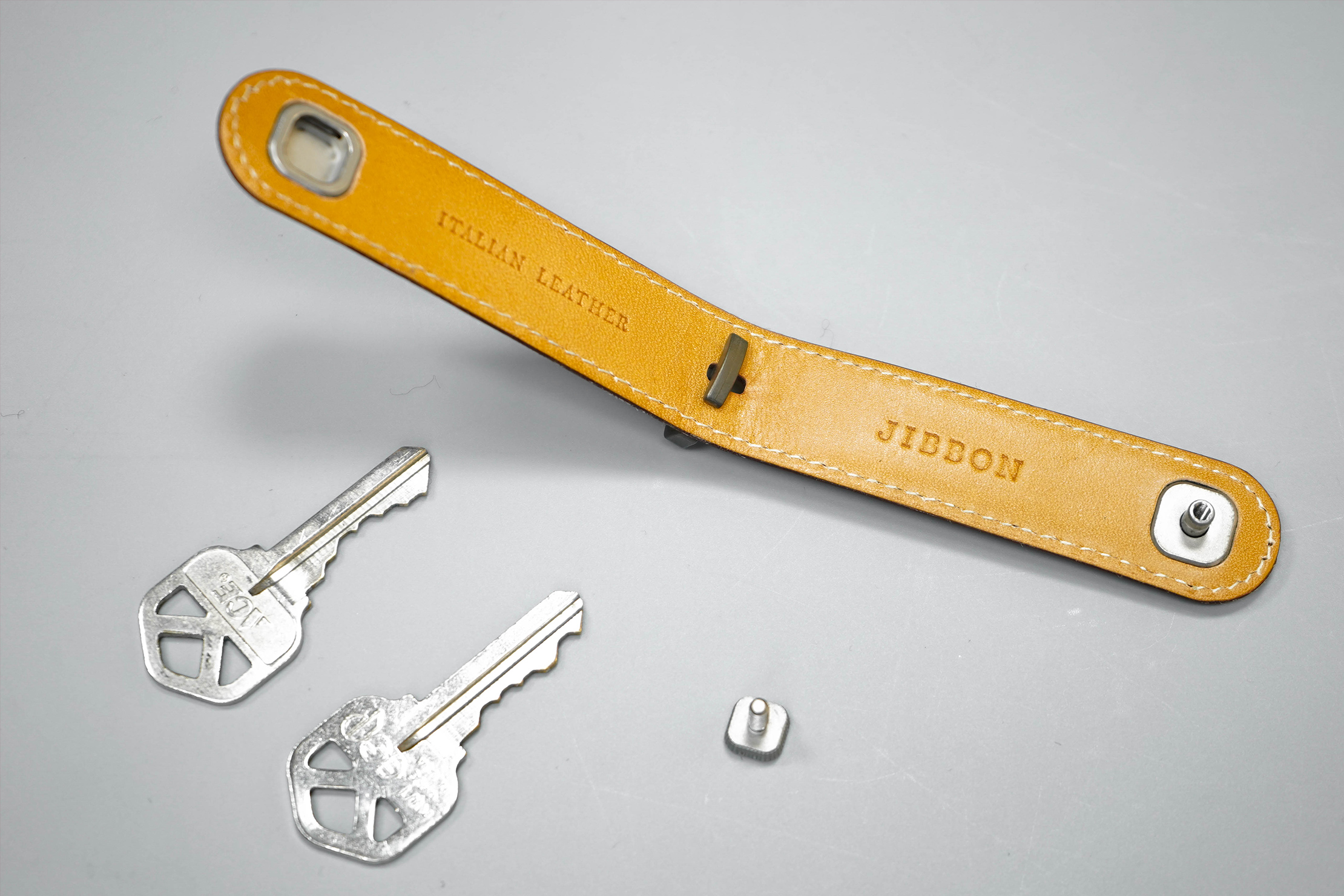 To organize your keys, simply place them on the interior screw post and tighten it. Your keys will still be loose enough you can easily swivel them out to open doors, safes, or whatever else you lock with a key (diaries?) with one hand.
One thing to note is that if you have keys with larger eyelets, they won't be as secure—they can kind of slide around. While this is pretty common on key organizers in general, it's particularly noticeable on the Jibbon because of the size of the post and screw that hold your keys.
The post is wider than the screw, but most of your keys will be resting on the screw itself (unless you're just rocking one or two keys). You can put keys with larger eyelets on the bottom of the Jibbon so they make use of the wider of the post—but it's only going to help so much. Other organizers, like the OrbitKey, skirt this issue somewhat by having the post go full-width. The KeySmart Key Organizer Original uses spacers to keep everything tight.
Now, this is a trade-off for the Jibbon Key Organizer's simplicity and sleekness. The folks at Jibbon advertise the lack of extra pieces as a plus, saying that there are no loose parts to have to deal with or assemble. Which, to some degree, is true. Sliding keys won't be an issue for most people, but it would still be nice if Jibbon included the option for a thicker post or some extra piece to help curb this issue.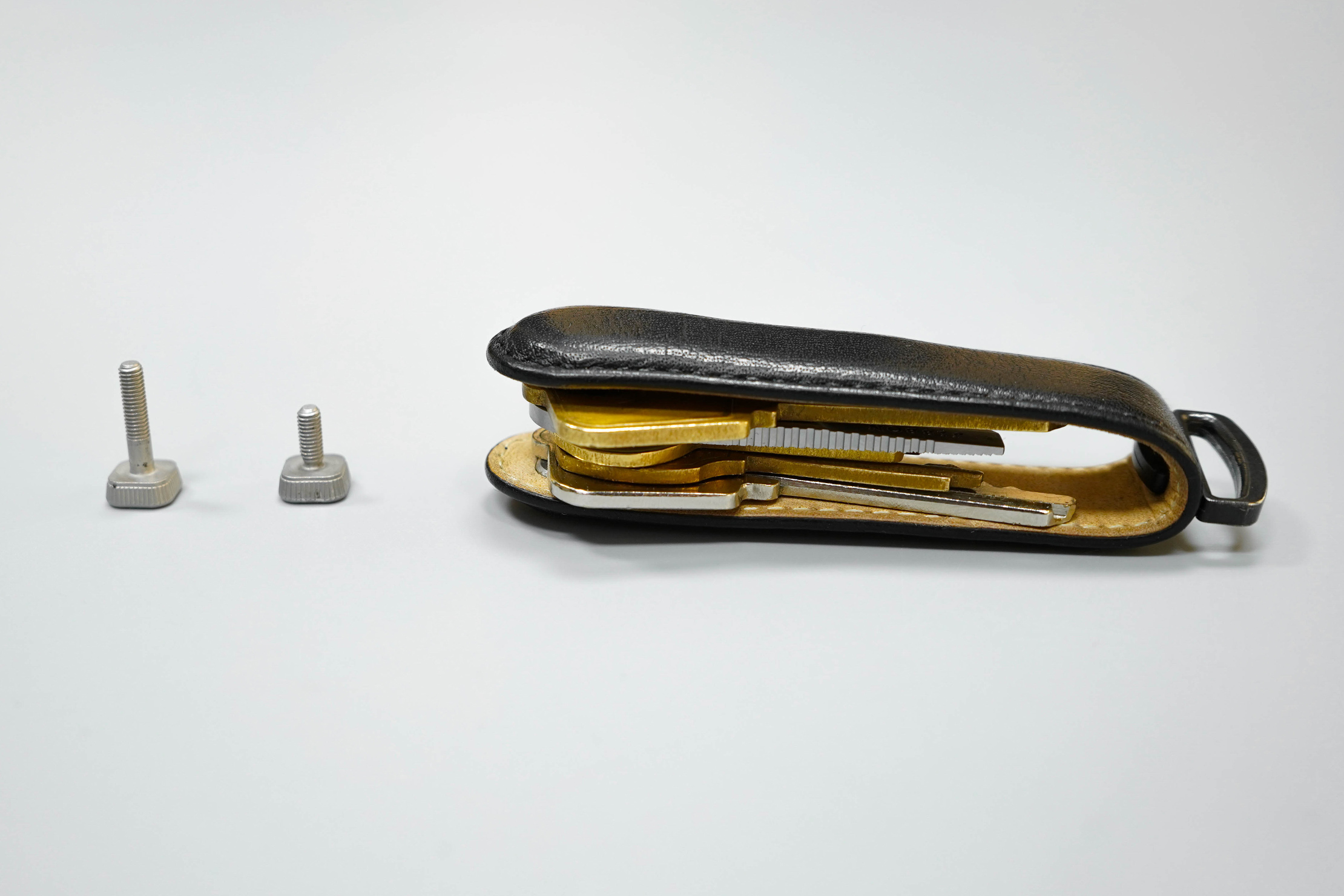 This organizer holds up to nine keys with the included extender and approximately four or five without it. That said, it can start to look a little off the more you fill it up. When full, it looks almost triangular with the leather stem bending inward. Obviously, this isn't any sort of deal-breaker, but it's worth pointing out.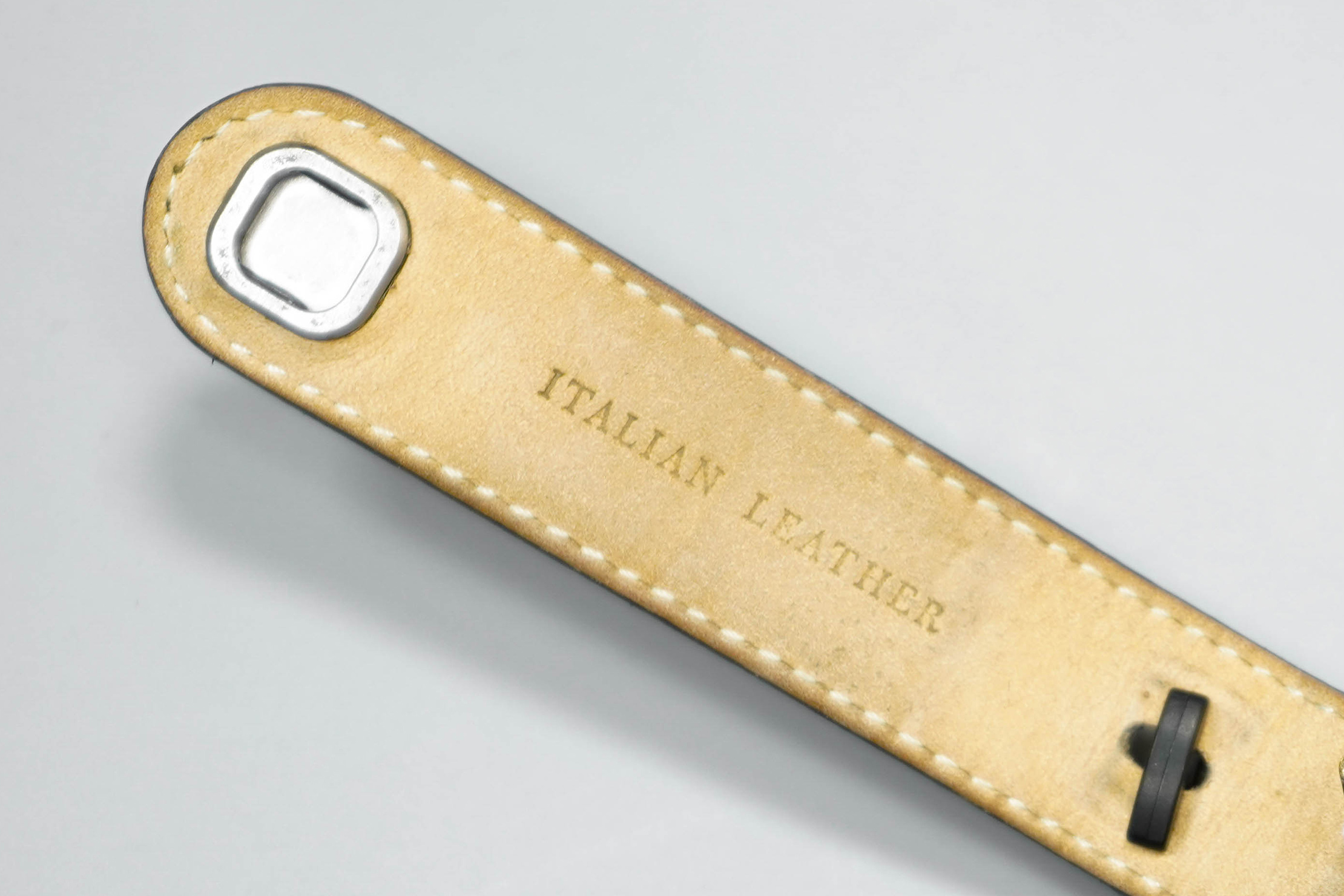 It latches closed with an interior clip that snaps to the screw post (which is where your keys are attached), which is a great design. Because the end of the screw is square, it's doesn't accidentally slide around like a circular one. Plus, it's easy and quick to open. We've tested it with a climbing gym pass that needs to be scanned upon entering the gym. The pass is designed in such a way that the barcode sits underneath the leather of the organizer, but it's not a big deal since it's so quick to open up and flash the code.
We did drop the organizer once and the leather disengaged from the clip. But the keys were okay and stayed together well—we just had to snap it back together. And it's possible the clip will get stickier with time, but it's been holding up well so far.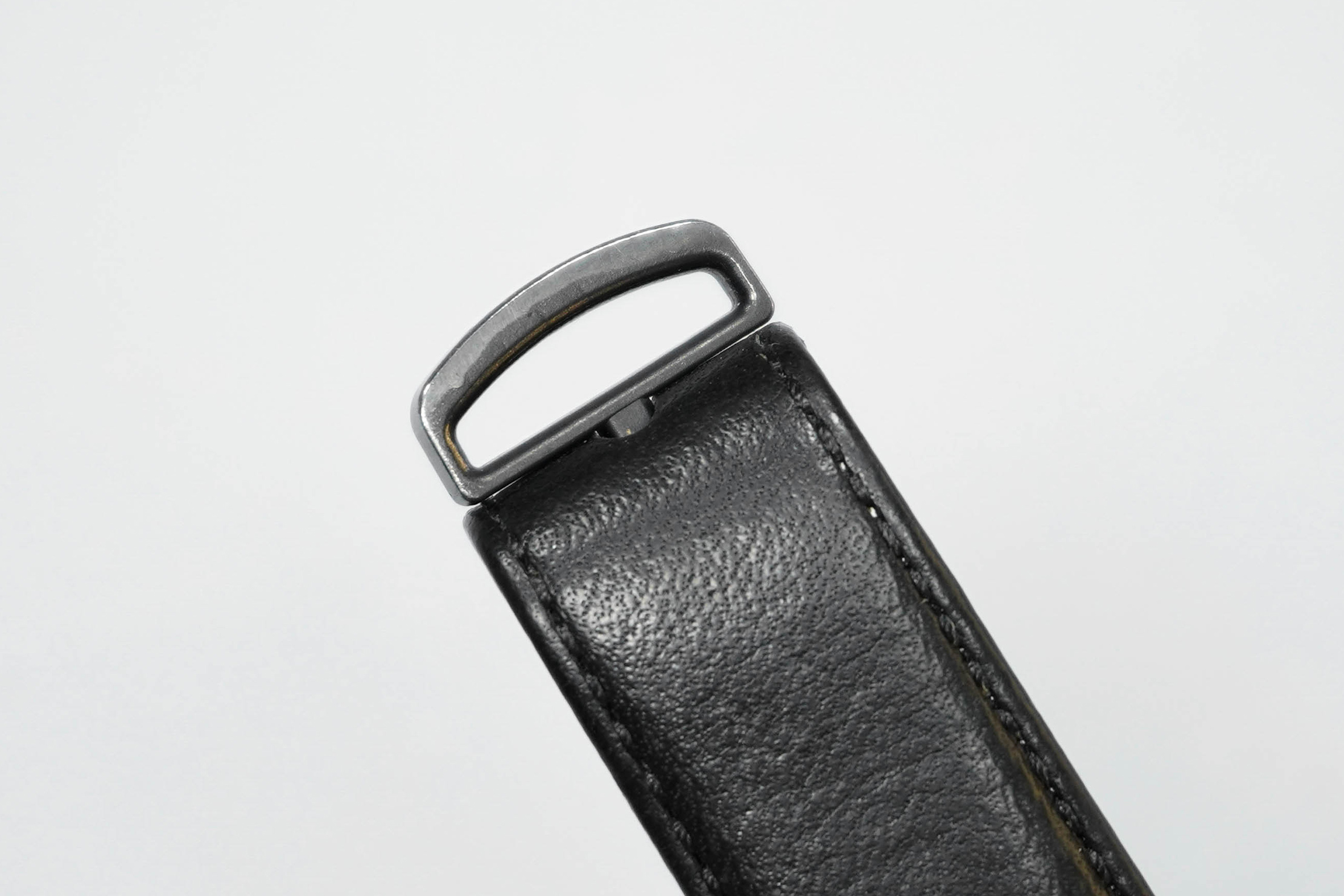 The organizer also has a fixed key D-ring, so you can hook it to extra large keys—think car—fobs, or various items you want to keep with your keys. You could also hook it to your belt or a lanyard or whatever if you'd like the Jibbon Key Organizer to be less of an organizer and more of an accessory. Plus, this D-ring is anchored into the leather, meaning it doesn't slide around. A small but appreciated detail.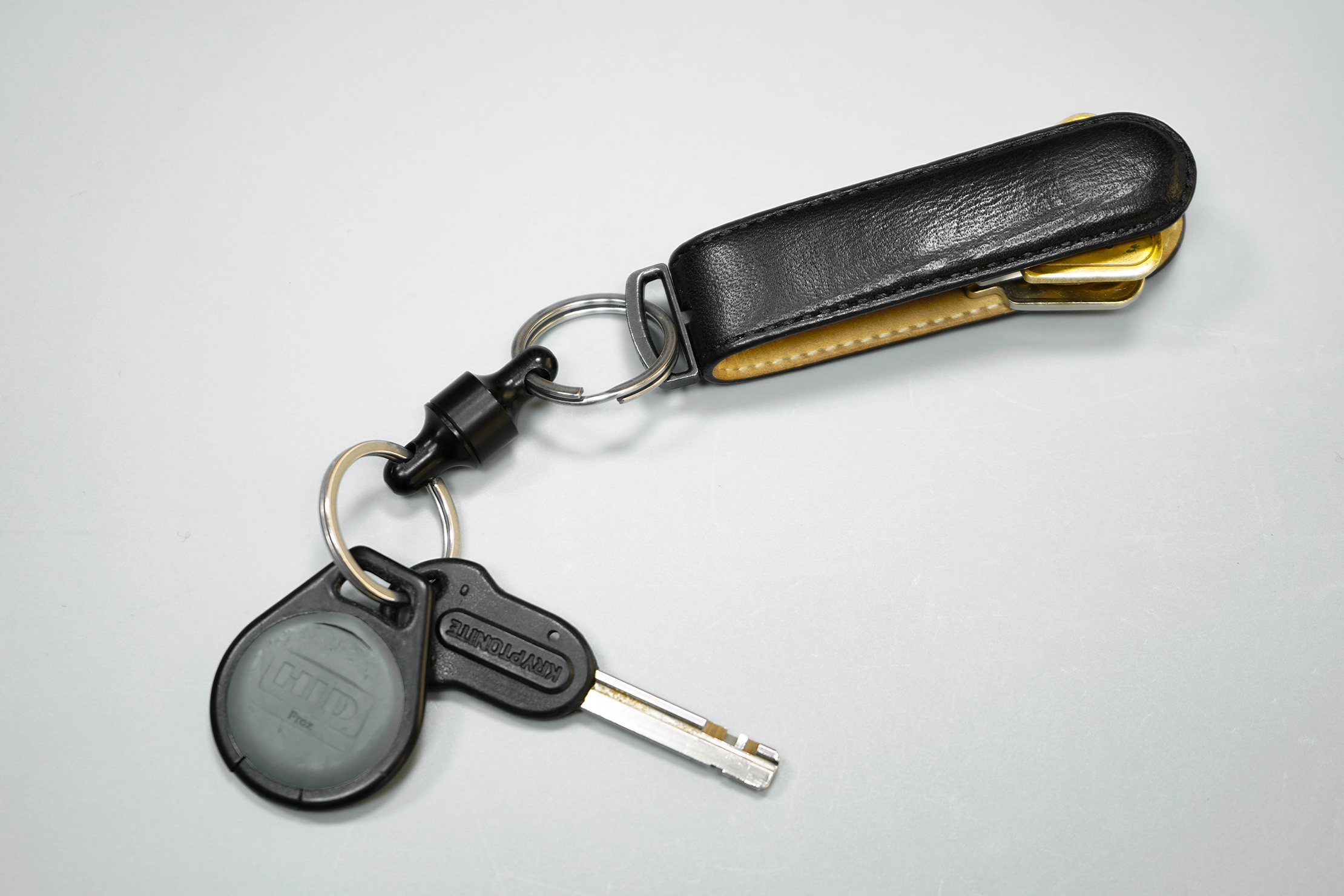 We like to use it with the Kappa Quick Release key chain, which allows you to quickly detach part of your keychain whenever you don't need it—say your car key if you're heading out bar hopping and plan to Uber home.
When buying the key organizer, you can also pick up a few accessories—a titanium key ring, multi-tool, and a USB drive.
We've been testing the USB drive and Jibbon Multi-Tool (which is a bottle opener, screwdriver, box cutter, nail file, and pry tool rolled into one). They both do their intended jobs and fit inside the organizer nicely. The multi-tool is about the same thickness—if not slightly thicker—than your average key.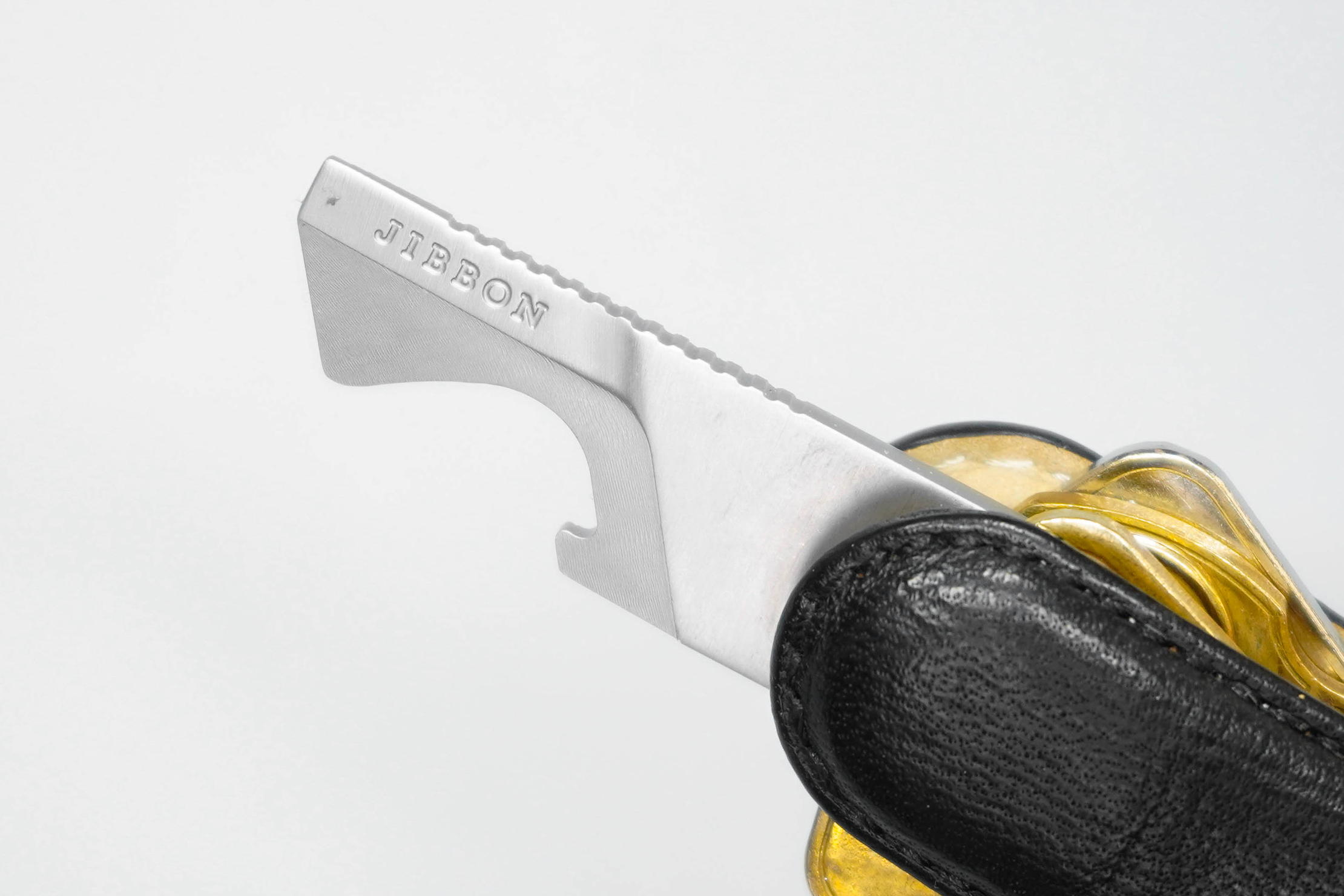 Durability & Testing
As we mentioned not-to-long-ago at the beginning of this review, three Pack Hacker team members have been testing the Jibbon Key Organizer for five months. We've taken it on multiple domestic and international trips and it's been a great accessory to have. You don't have to worry about your keys scratching up your laptop, phone, or wallet. You don't have to hear your keys jingling as you walk.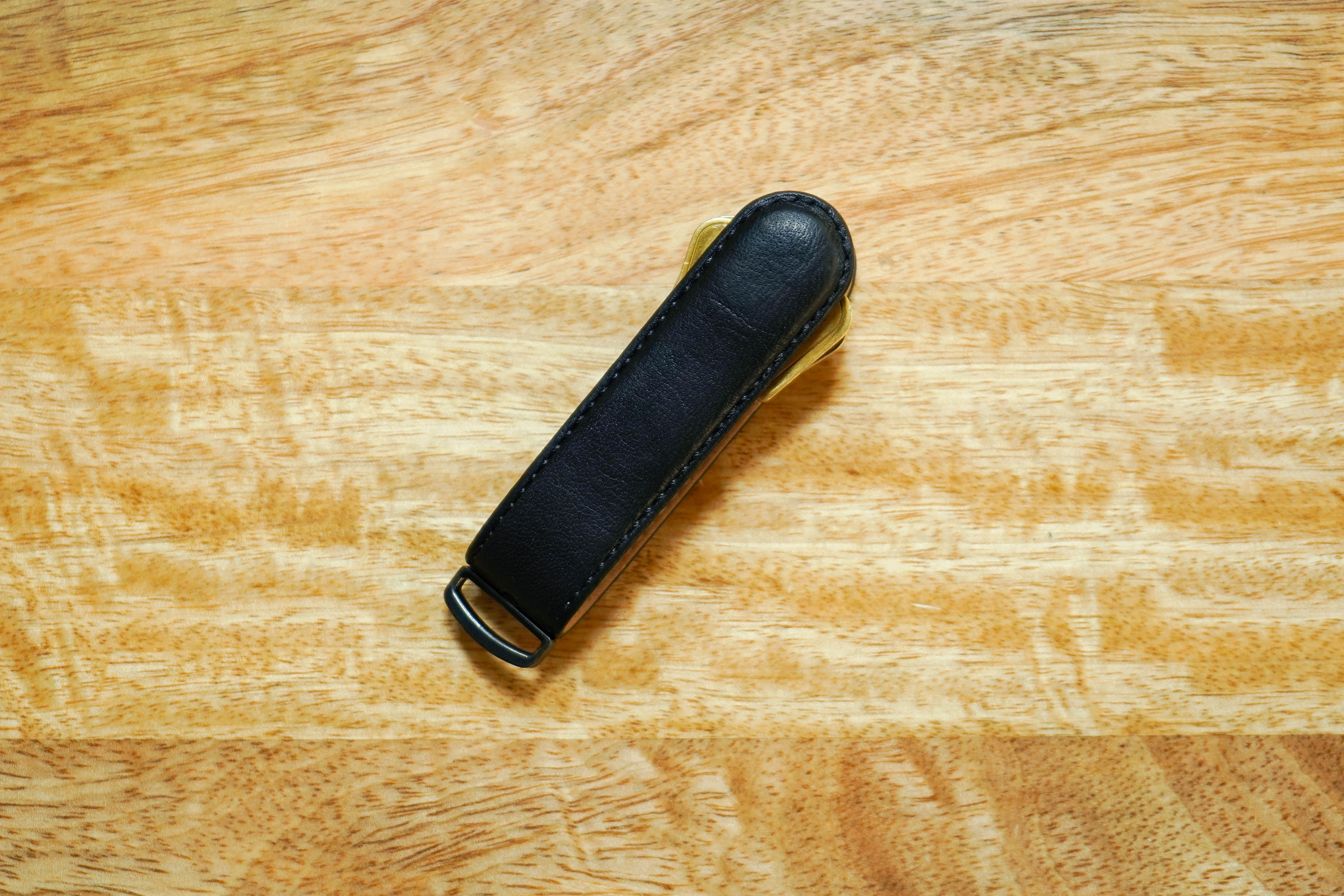 Plus, it's a sleeker, slimmer profile than keys hanging out on a keychain. It'll smoothly slide into your pocket or the quick-grab pockets of sling bags and backpacks—a huge plus for travel.
And, so far, it's been holding up nicely. There are a few small scratches on the D-ring, but nothing major. This thing should last you quite a while. And, if you do have any issues, it's backed by Jibbon's 3-year warranty (although your mileage may vary).
Usage Timeline
Initial Usage
Condition: Excellent
Interesting design with no visible screw heads.
Keys can feel a bit "loose" depending on the size of their eyelets on the threaded part of the screw post.
The fixed D-ring is a great touch.
1 Month of Use
Condition: Excellent
Been enjoying using this thing! Without using the extender, it fits approximately four keys and the USB drive.
2 Months of Use
Condition: Excellent
Really like the way it snaps open and closed. Makes taking keys on and off really quick and easy.
3 Months of Use
Condition: Excellent
Everything is looking good!
6 Months of Use
Condition: Excellent
A few small scratches on the D-ring, but nothing worth complaining about.
Access the Pro Community Discussion
Get your questions about the Jibbon Key Organizer answered from our team and the Pro Community right here on the page. Plus, join discussions with other members about gear, guides, and more.
Other Miscellaneous Reviews