How To Choose The
Best Sling Bag
The minimalist's guide to selecting a sling bag for travel, everyday carry, and beyond.
01

Introduction
Ready to embrace the sling bag trend? Step one: read this guide.
Save during the REI sale
Gear up for your next trip during the REI Cyber Week Sale, now through Dec. 4. Check it out →


Pack Hacker x Pakt Giveaway (2023)


How to Choose the Best Sling Bag for Travel and Beyond
The '90s are back and with them, the slightly edgier, far more hipster cousin of fanny packs—sling bags (and scrunchies, but that's a guide for another time). Sling bags are, yes, a fashion statement, but also a convenient way to carry the essentials while traveling the world. Think of them as the middle ground between a backpack and your pockets.
In this guide, we're going to walk you through how to choose the best sling bag for your situation, which means diving into all of the different aspects and explaining what works best for a variety of situations. We're also going to provide some specific sling bag recommendations based on months of testing.
This guide is written and informed by the Pack Hacker team, all of whom are gear fiends, and some of whom have been wearing sling bags since before they were cool (#hipster). Testing and reviewing gear is our bread and butter here at Pack Hacker—our team of world travelers and digital nomads have tested and reviewed hundreds of different types of travel-specific gear at this point. In fact, we have used nearly all of the sling bags mentioned in this guide (and we'll be getting our hands on those we haven't very soon).
By the time you finish reading this guide, you'll be a sling expert with all the knowledge necessary to find the best sling bag for you—or your mom, your friend, your dog, etc.
The Short Answer: The 17 Best Sling Bags for Travel, EDC, and Beyond
Remember, there's no one sling bag to rule them all, there's just the best sling bag for you. So we highly suggest reading our complete guide to figure out your best fit (your future favorite one might not have made this list).
Video Overview: 10 Sling Bags For Every Occasion | Should You Travel With One?
Feel free to watch this guide overview in video format. We'll go more in-depth in the written content and keep this page up to date.
Be sure to subscribe to Pack Hacker on YouTube and never miss a video.
What is a Sling Bag?
This question is not as straightforward as it seems. It's taken a team of six bona fide gear reviewers analyzing 50+ sling bags and hip packs for over two months to come up with an answer we can all get behind (and there's still some ambiguity).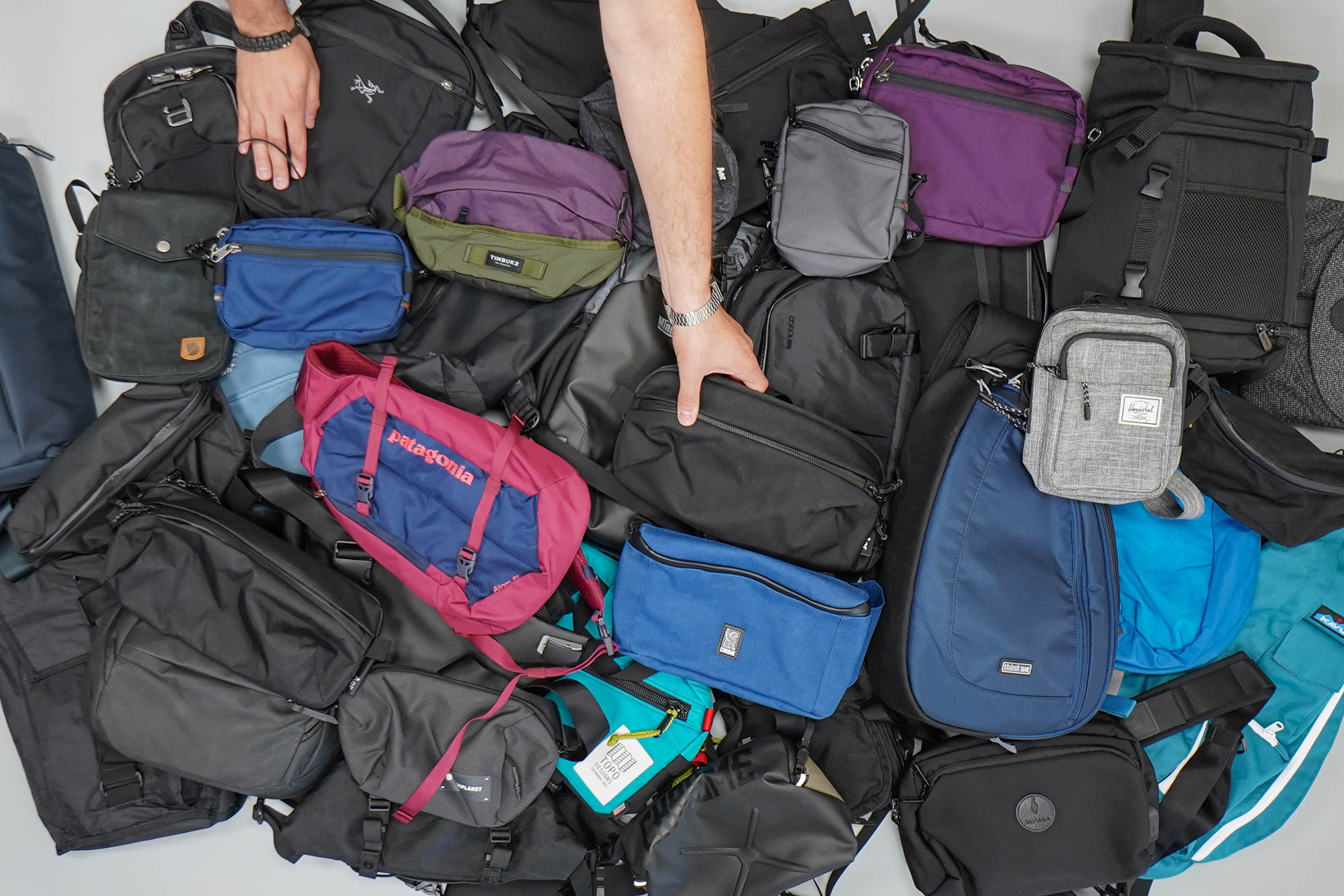 Here's the definition we've landed on: A sling bag is (drum roll, please…) a bag that's designed to be worn comfortably across the chest or back and secured to the body with a cross-shoulder style strap. The buckle tends to be off-center, the straps connect diagonally, and the body of the bag tends to have an oblong shape—we say "tends to" because there are quite a few exceptions, which we'll get into later.
One small clarification is that while sling bags and messenger bags have a similar thing going on with the single, crossbody style of strap—the two aren't synonymous. Messenger bags are usually bigger, boxier, and don't contour to the body, but there's no exact science. Really, you can go with your gut here. We tend to think you'll know a messenger bag when you see one.
There is a massive variety of sling bag styles out there, including tactical slings (for outdoor sportsman stuff), high-fashion slings (think Gucci), and backpack slings (spacious enough for a laptop). While we'll touch on those, we're mainly going to focus on sling bags for travel in this guide.
What's the Difference Between a Sling Bag and a Hip Pack?
You'll see people on the internet equating sling bags with hip packs (or waist packs, fanny packs, bum bags, belt bags, whatever you want to call them), but sling bags and hip packs aren't one and the same. We repeat: sling bags and hip packs are not the same things.
Simply put, a hip pack is the rebranded fanny pack, while a sling bag is something different (it's the hipster cousin, remember?). A hip pack can almost always be a sling bag, albeit not necessarily a good one, but a sling bag is virtually never a hip pack (like a square is a rectangle, but a rectangle is not a square).
That said, almost every single company out there has its own definition of a sling bag and a hip pack. To make things even more complicated, some companies will throw in the term "crossbody bag" to describe what we consider a sling bag. So, it gets messy—and our rules and definitions are by no means absolutes.
In this guide, we won't be discussing hip packs. Getting into the nitty-gritty of sling bags is complicated enough.
Why a Sling Bag?
Now that you know what a sling bag is, let's talk about why one will change your life (or, at the very least, make carrying stuff easier).
Sling Bags Are Perfect for Your In-Flight Essentials
Since wearing one backpack on the front and one on the back hasn't caught on yet (yes, we're surprised too), a sling bag becomes a great place to keep your pocketable items, especially while in transit. Just toss all of your stuff in your sling and throw the entire thing in a bin as you breeze through airport security like a pro, thus avoiding the much-dreaded "security shuffle."
And, unlike pockets, a sling bag will fit almost everything you could ever want in-flight (within reason—a masseuse obviously won't fit). Of course, what you carry in your sling bag is as unique as you are. Here are a few suggestions based on what works for us:
A smartphone
Snacks (arguably the most important)
USB cables
Tech chargers
Battery bank
Earplugs (every plane has at least one crying baby, even if it's your own; it's like a law of physics or something)
Eye mask
Headphones
Notebook and pen (something about being at 35,000 feet gets the creative juices flowing)
Tissues
An e-reader or book (depending on your sling; some are too small to fit one)
Once in flight, you can use a carabiner to hook your sling bag to the seat in front of you. That way, you can quickly grab a snack before you get hangry, some tissues because the movie you picked happens to be a lot sadder than you thought it'd be, or a phone charger because Tetris drains battery life surprisingly quickly. You know, only the essentials.
Sling Bags Are Perfect for Your Day Trip Essentials
Similar to the above perk, a sling bag may just be the perfect accessory for a day trip. Sometimes all you need are the basics—wallet, keys, phone—and while pockets may get the job done, 1) some clothes lack practical pockets, 2) skinny jeans are a thing, and 3) some clothes don't have pockets at all. (*cough* Women's clothing! *cough*)
Even if you are #blessed with useable pockets, some day trips require a few "extra" items, although not quite enough to make lugging around an entire backpack worthwhile. A sling bag allows you to bring:
Extra camera lenses
Extra camera batteries
Snacks (still the most important)
Sunglasses
Sunscreen
Chapstick
Makeup
Nintendo Switch (a gamer's gotta game)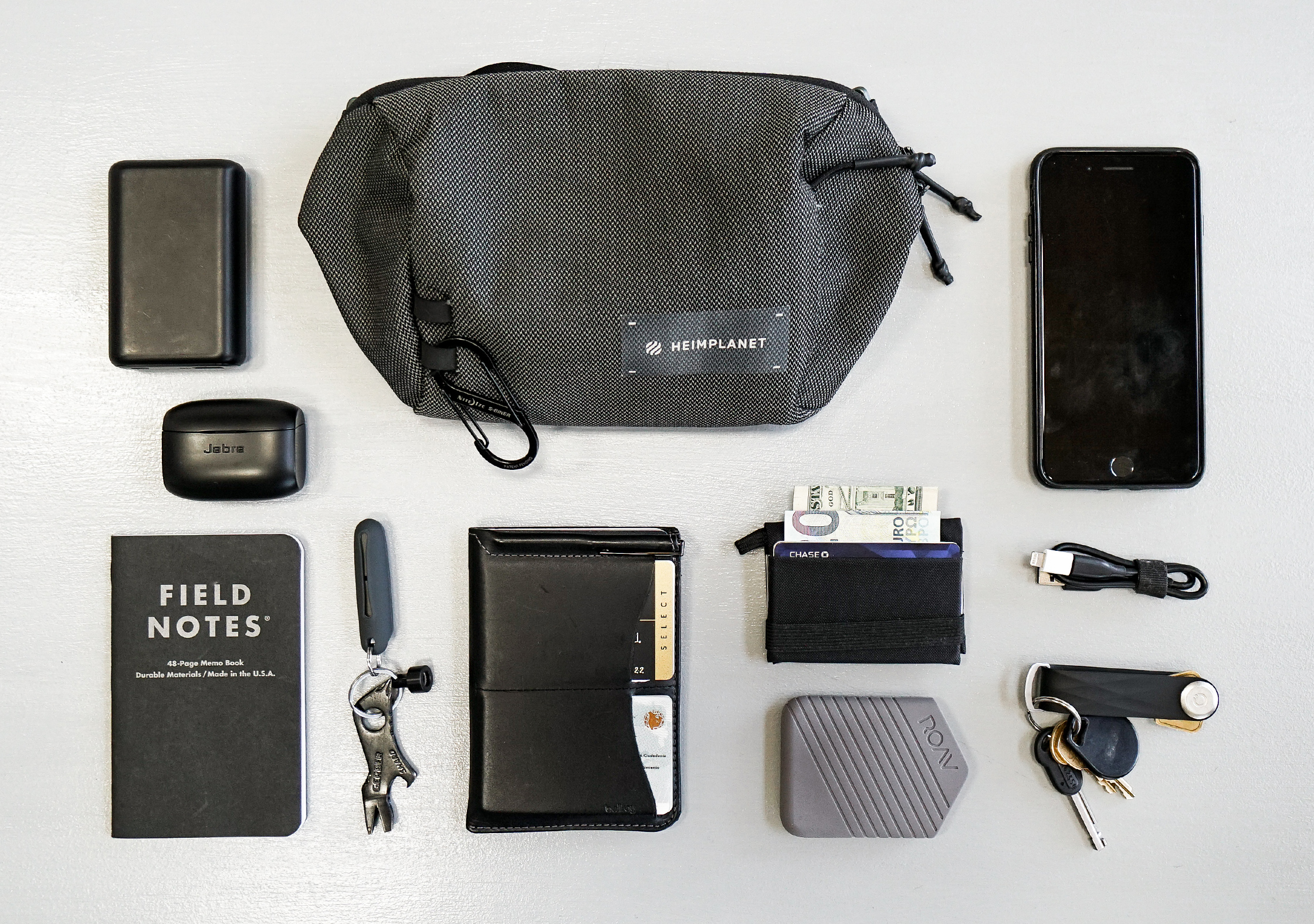 Sling bags truly are the middle ground between a daypack and your pockets. If you're usually a daypack kind of person, switching to a sling bag forces you to think about what you're bringing. And your back will thank you for leaving that copy of War and Peace behind because, let's be honest, you're just going to look at memes on your smartphone anyway. Alternatively, if you're usually a pocket kind of person, you can avoid overly-full pockets and think less about what you're bringing, tossing all sorts of fun goodies into your sling bag just because you can.
Sling Bags Are Lightweight and Packable
Sling bags—specifically ones designed for travel—weigh almost nothing and can easily lay flat in your travel backpack. You can pack it and forget about it until you require your sling's services (see the above perk).
Sling Bags Provide Easy Access
Sling bags are ridiculously easy to get in and out of. When worn on your chest, the pocket(s) is (are) literally right under your nose, and when worn on your back, you can shift it around to your front. However, beware of the T-Rex arms that can happen when the sling bag is worn high on your chest (yeah, you knew exactly what we were talking about as soon as we said "T-Rex arms," didn't you?).
Sling Bags Are En Vogue
At least for the time being, sling bags are "in." You'll find them in pretty much every high street store, and even luxury brands like Louis Vuitton are selling them. We don't know about you, but we love it when fashion and convenience merge.
Other Use-Cases for Sling Bags Include:
Festivals (both for convenience and trendiness)
Everyday carry (especially for those who cycle to work)
Hiking and outdoor adventuring
Exploring cities
Amusement parks
A million other things
02

Form
Don't let a broken sling bag break your heart. Choose one that will keep up.
Save during the REI sale
Gear up for your next trip during the REI Cyber Week Sale, now through Dec. 4. Check it out →
Finding a Dependable Sling Bag for Travel and EDC
We're partial to small slings since they are, point blank, the best for travel. Small slings are more comfortable to carry, easier to pack inside a larger travel backpack, and will be considered a personal item on most airlines (in the States, anyway). At some size, a sling bag just becomes an uncomfortable backpack.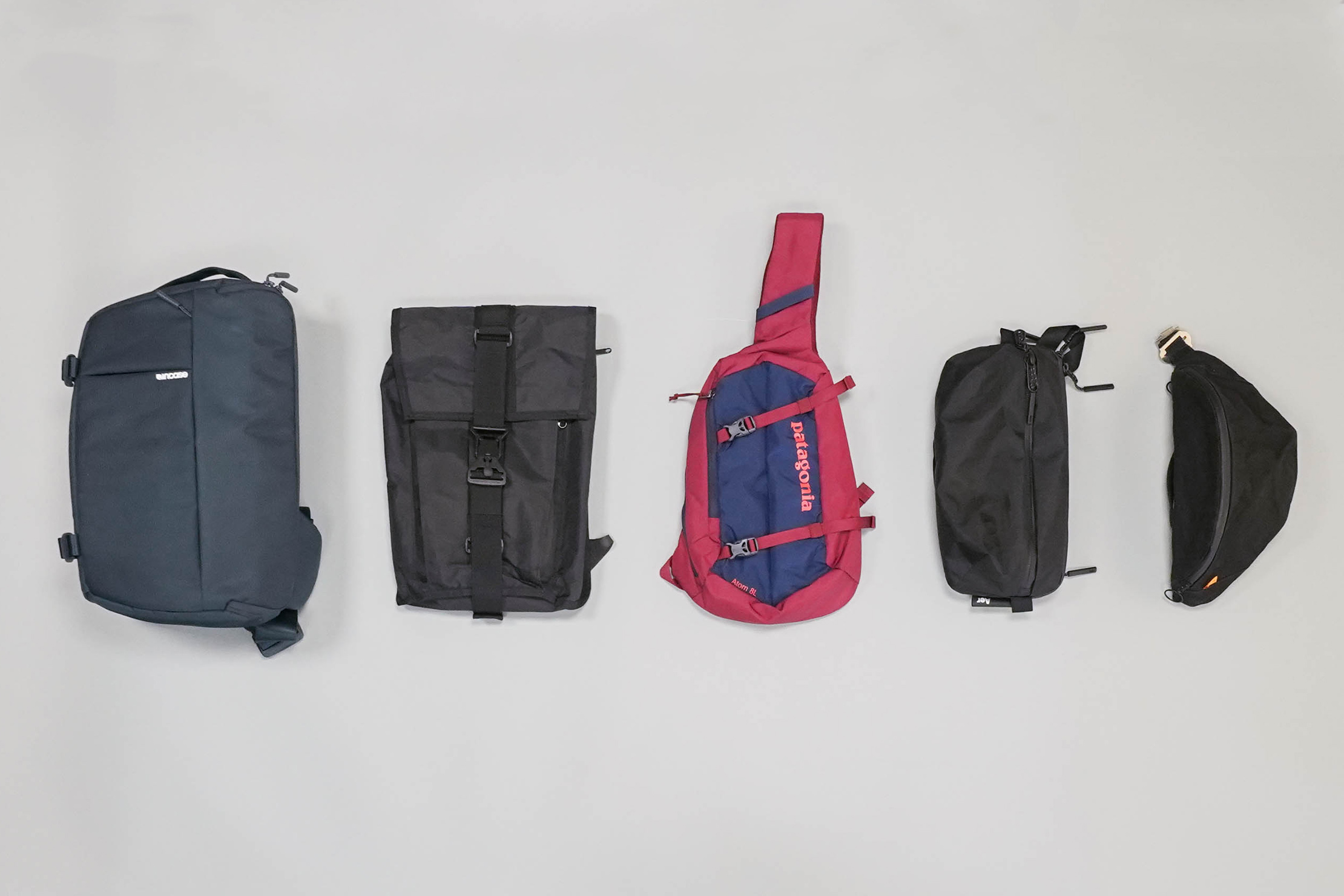 While a sling's size is measured in liters, the liter size of a sling bag can vary from company to company. One brand's 5 liters is another brand's 2 liters (exasperating, right? Get it together, people!). So it's equally important to consider the shape of the sling bag, the internal organization, and the thickness of the material—all of which will impact the amount of usable space available. Let's break that down.
Volume & Size
We know we just said judging a sling bag by liters isn't the most accurate way to determine volume, but it still works well as a benchmark. We recommend staying between one and eight liters and keeping the weight less than four, maybe five, pounds—this weight includes your stuff, of course. Since a sling bag wears over one shoulder, a big, heavy sling may, at best, get too uncomfortable to carry, and at worst, hurt your back. Plus, it'll look awfully strange sitting across the chest.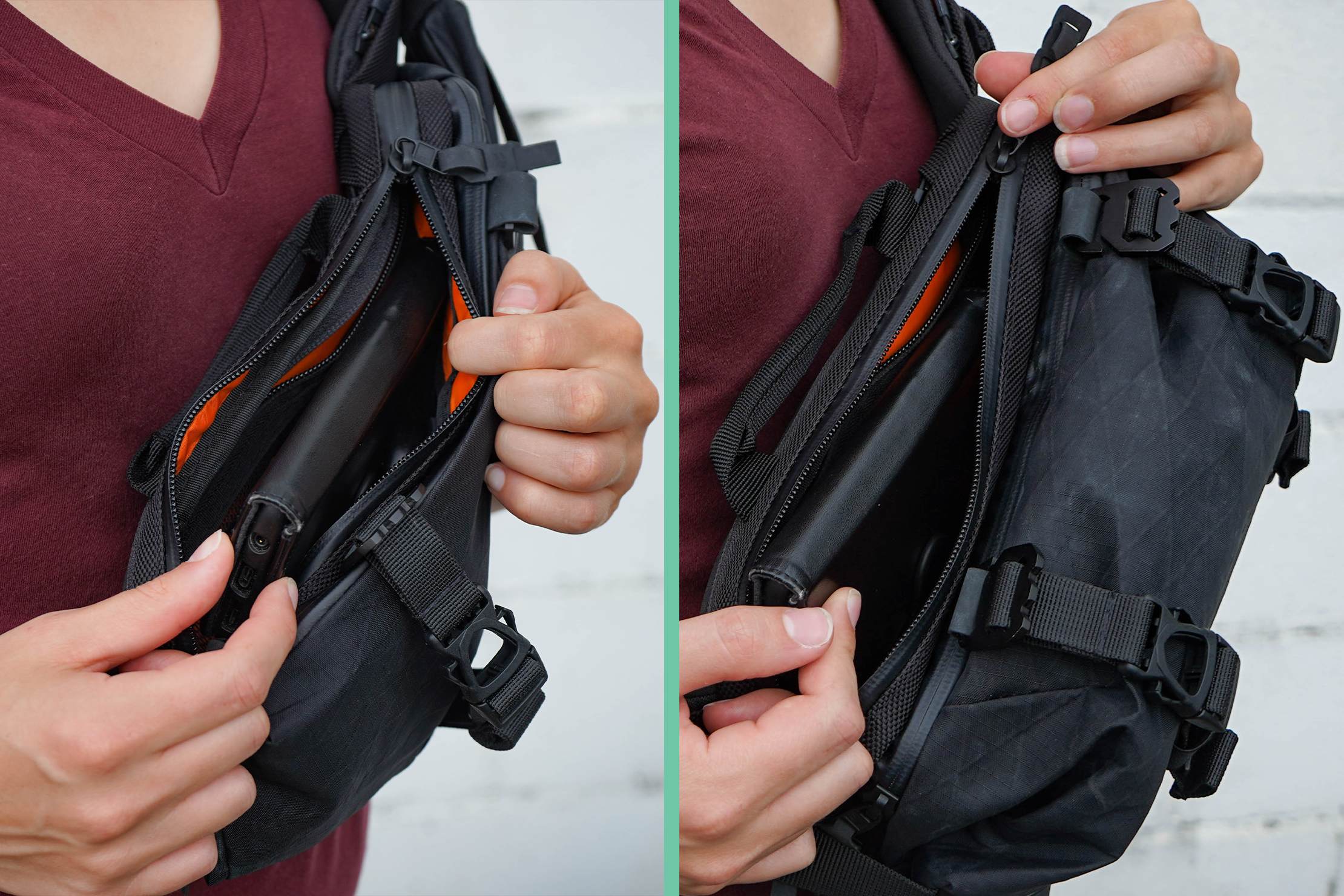 Some sling bags are expandable, which is excellent for travel since they'll take up little space when not in use or when you don't have much to carry—but you can still fill them with a decent amount of stuff when expanded. This trick works well on small sling bags but can be overkill on bigger ones, which expand to be comically bulky.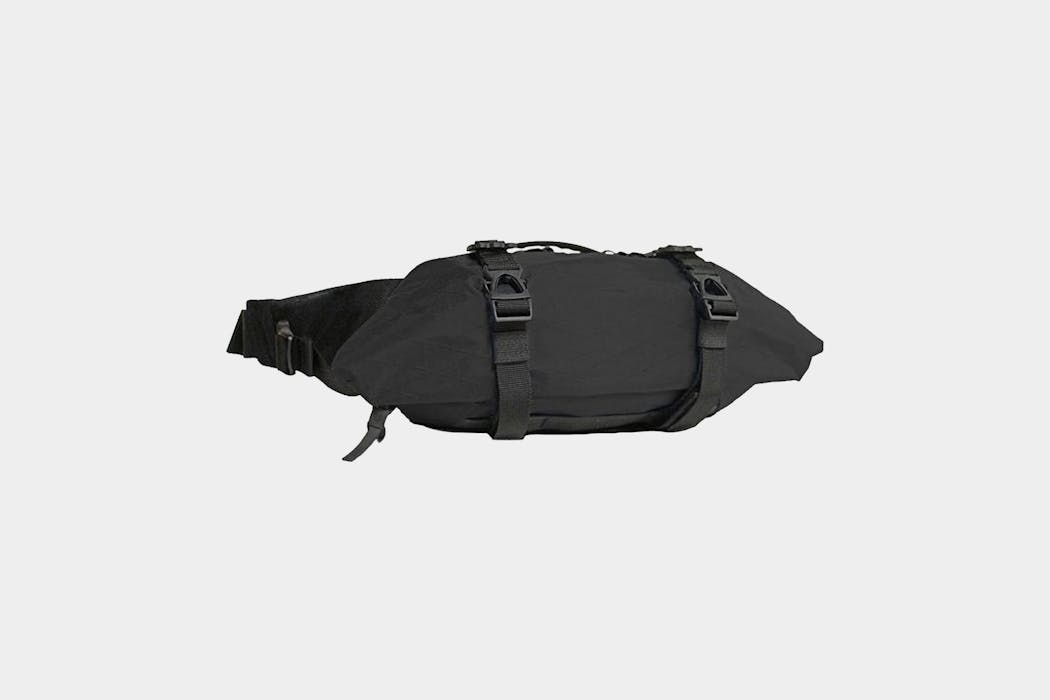 CODEOFBELL
X-POD
With an expandable main compartment, the CODEOFBELL X-Pod works equally well on days when you only need the essentials and on trips where you want everything but the kitchen sink. Plus, it never looks too bulky and manages to stay comfortable even when fully packed—an impressive feat we don't often see.
Profile
The profile of a sling bag has a significant impact on its overall look and comfort level. Most sling bags have an oblong shape to better fit the chest and back. As we mentioned earlier, sometimes hip packs try to be sling bags—some are even successful at it—but they won't be nearly as contoured to the chest and can hang in such a way as to look unbalanced.
With sling bags, you'll usually find one of two orientations: tall or wide. They're both equally great options that work better or worse for different use-cases and style preferences.

Tall sling bags are just that—tall—and wear more like a purse or mini-backpack. As you would expect, they work well for things that you want to pack vertically, say a phone case with bunny ears. Tall sling bags aren't usually tight against the body, nor can they only be worn on your back.

Topo Designs
Mini Shoulder Bag
This sling bag can be carried crossbody or as a hip pack with the same strap. Whichever you choose, the horseshoe zipper makes it easy to get to your gear, and the vertical orientation allows you to get a decent look inside the bag and squeeze in your hand without too much trouble.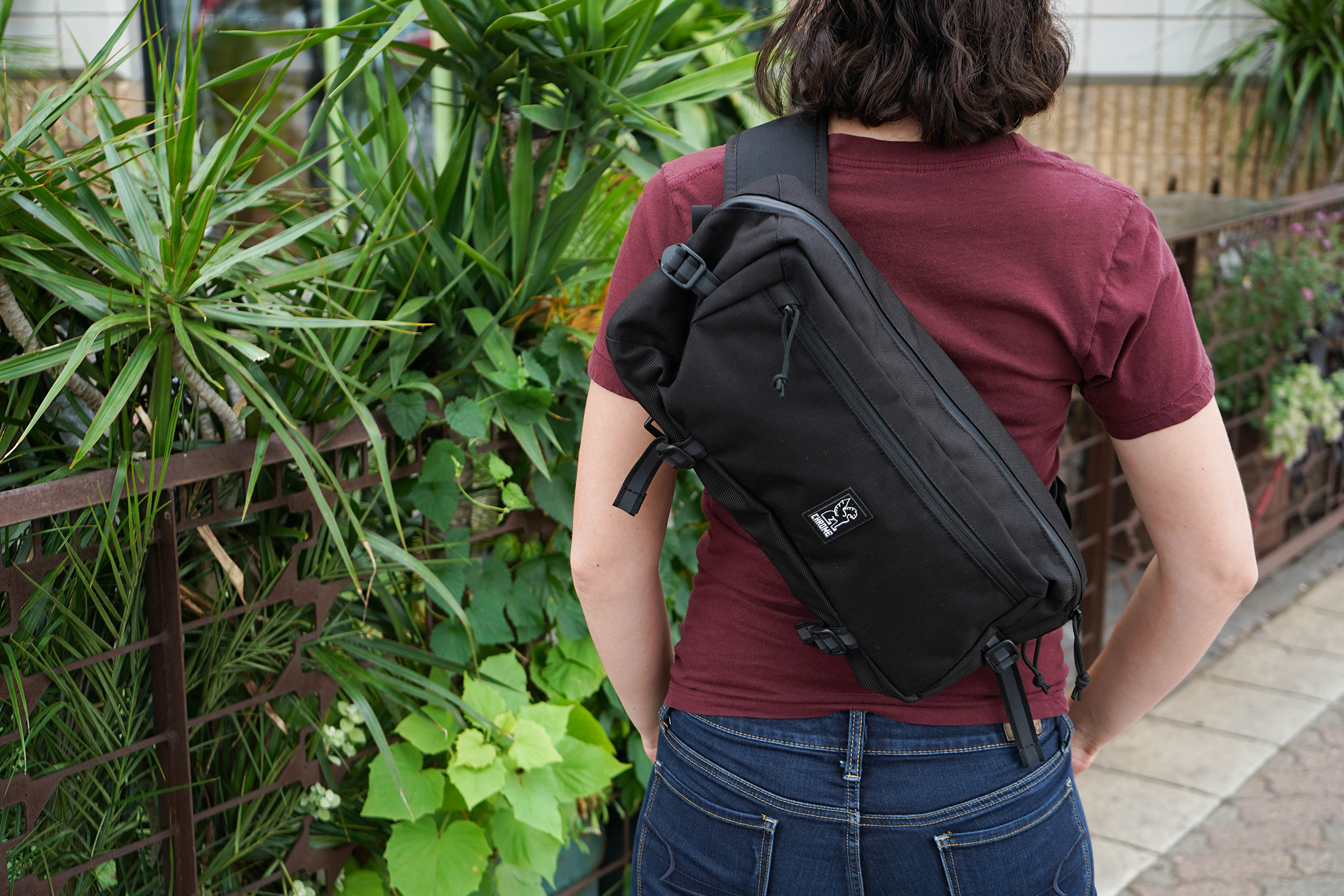 If you want to look like you don't know how to wear a fanny pack correctly, then a wide sling may be your style of choice. That's to say, they are more closely related to the fanny pack in the looks department, for better or worse, and usually sit tightly against the body.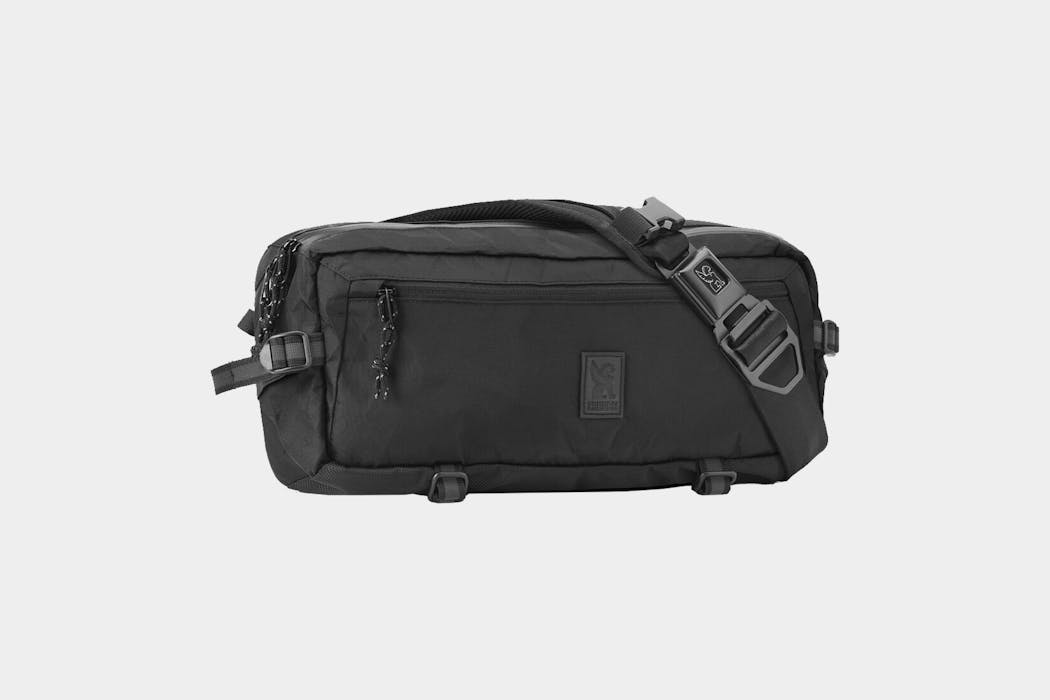 Chrome Industries
Kadet
Chrome Industries prides itself on its unique, recognizable designs. And this sling bag is definitely unique. Its oblong shape is reminiscent of the typical fanny pack, but its larger size, seat belt buckle, and stiff shape are all its own. It can overwhelm smaller frames—particularly when full—but it'll hold all of the essentials and then some.
Weather Resistance
You'll likely carry important gear in your sling bag such as your cell phone, money, and passport. Unless you've got special powers that allow you to avoid rain and snow indefinitely, a bit of weather resistance is a major plus, as it will protect those essential items from damage. Plus, a weather-resistant sling can be wiped down quickly, meaning you won't have to wear a sopping wet bag against your chest—not a fun experience.
On the other hand, too much weatherproofing is overkill. Full-blown waterproof or super weather-resistant materials are built for just that—resisting water. Generally speaking, they're not going to hold up to everyday use as well as other fabrics (more on that below), and they may not look as nice or feel as comfortable on your back/chest.
If push comes to shove and you need to protect your sling from a sudden rainstorm, they're usually small enough to fit under a rain jacket. Just beware—people may think you are either smuggling a small animal under your coat or have a bizarrely shaped chest. (This could be a pro or con depending on your personality.)

ALPAKA
Bravo Sling Max V2
A sling bag designed to carry your essential tech—small laptops included—better have some weather resistance. The ALPAKA Bravo Sling Max V2 doesn't disappoint, with high-quality, durable fabric and weather-resistant zippers.
Sling Bag Durability & Quality
With the popularity of sling bags on an exponential rise, you'll find sling bags ranging from ten bucks to thousands. While we don't recommend going out and buying a sling bag that costs as much as a car (unless you have money to burn), we do recommend purchasing a sling made of durable, high-quality materials—and that may cost you more than ten bucks.
That said, the same fabric that's ideal for a travel backpack can be a bit much on a sling bag. You have to balance durability with weight and interior capacity. When you're looking at quality, be sure to pay attention to:
Zippers
A broken zipper may lead to a broken heart while traveling. That may sound dramatic, but if you've ever had a zipper break on you while abroad, you'll know exactly what we mean. We usually trust zippers from YKK, RiRi, and SAB—all of which have solid track records for making quality products, our favorite being the Japanese manufacturer, YKK. YKK zippers have rarely let us down, even when we've put them through the wringer over years and years of testing. They account for about half of all the zippers in the world for a reason.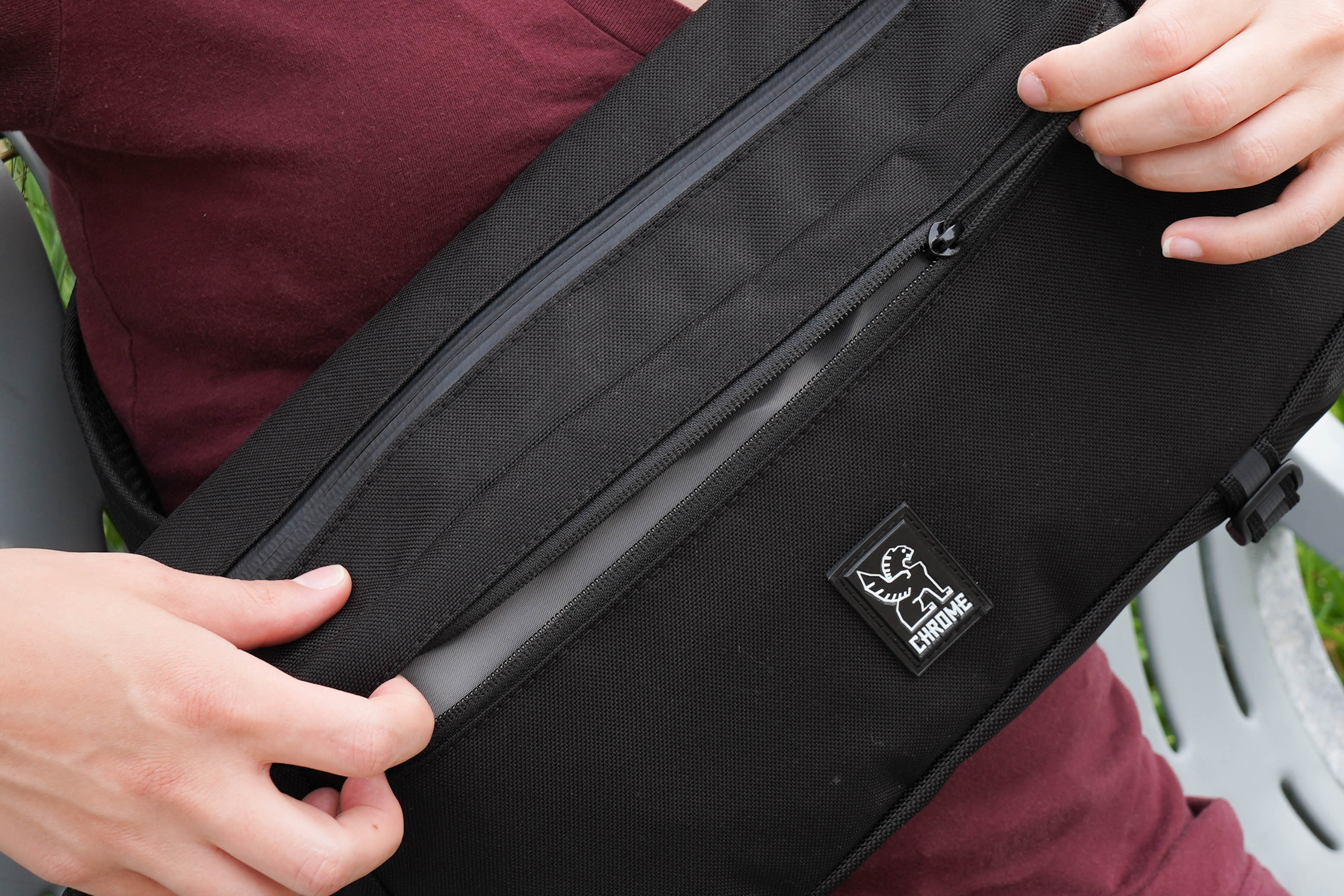 Beyond the brand, it's important to consider size, which is measured on a scale of one (small) to ten (large). While the main zippers on sling bags fall all over this spectrum, the most common sizes are #5 or #8—seriously, out of the 50 + slings we've tested, a very, very high majority have either #5 or #8 zippers. Anything less than a five and you'll likely run into durability issues.
With sling bags, you also don't need—or want—anything too beefy, like a #10 zipper. If they're too big, the zips can jingle, which gets annoying for us around the five-minute mark. Maybe you're more patient than we are. Larger zippers can also rub against your chest or back, which is just as uncomfortable as it sounds.
Some companies purposefully design their sling bags with oversized zippers or zipper teeth to look extra dope. If you're into this aesthetic, you may have to get used to the jingling. Fashion is pain and all that.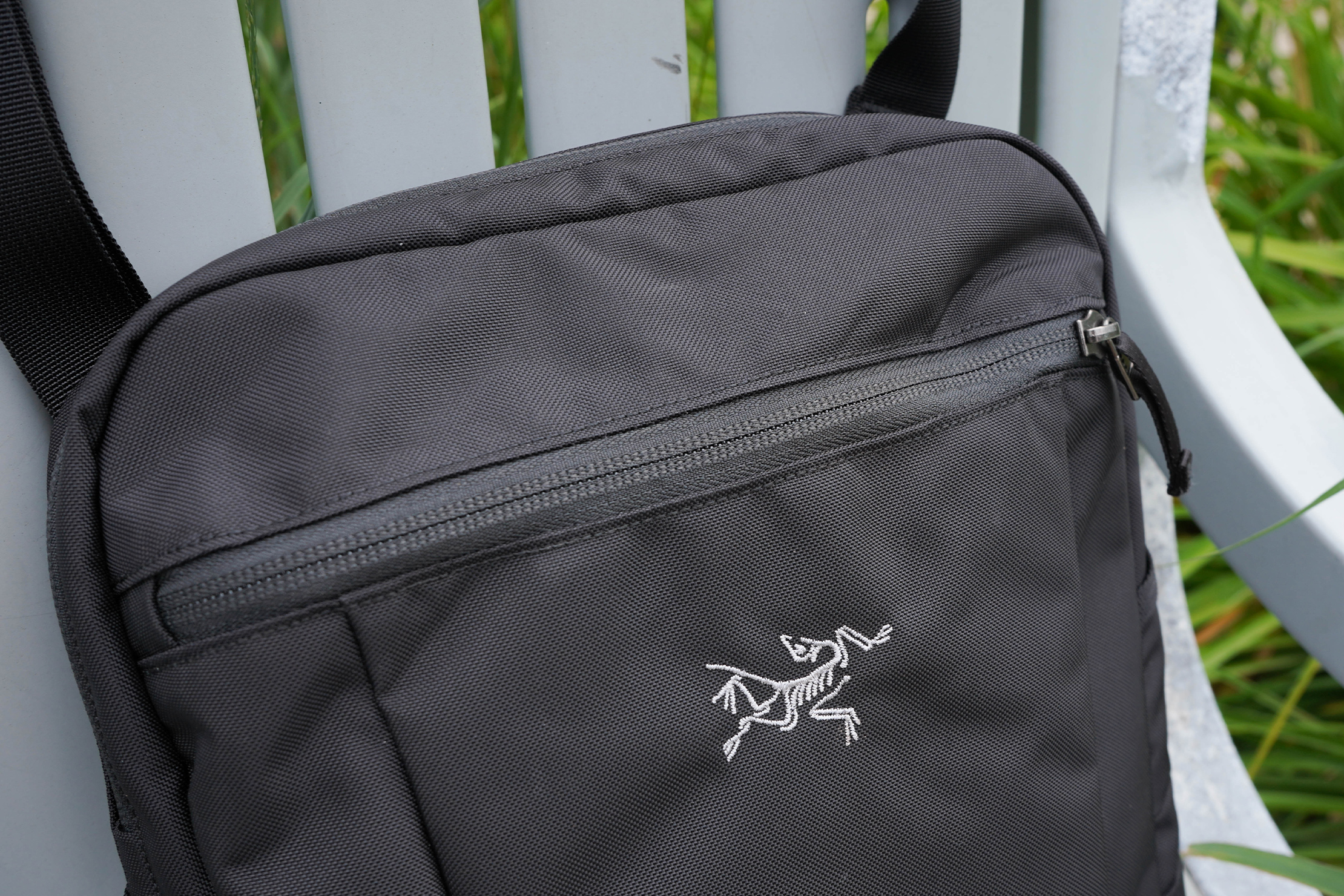 For the zippers on internal or less-frequented pockets, you'll be okay with a smaller size. They can also help with the aforementioned weather resistance. When looking at zippers, you may see the letters RC stamped next to the size (#5RC, #8RC, etc.). RC stands for reverse coil, a term that describes zippers with internally—rather than externally—facing teeth, which helps prevent water from percolating into the bag. But a reverse coil zipper isn't that water-resistant. So don't go thinking it'll protect your phone in a monsoon.
For further protection, there are water-repellent zippers—like the YKK AquaGuard zipper—which have a thin polyurethane coating to, you know, repel water. If you're planning on going to an unusually wet area with your sling bag, then you may want to look for this style of zipper. Otherwise, you'll likely be fine without that extra water resistance.
Hardware
Buckles are a major component of most sling bags, and if there's no buckle, there will be some sort of clip. You don't want the hardware to break on you because that'll make the sling practically useless. Unless you MacGyver up a big knot, which will help with the usefulness but, let's be real, look totally ridiculous.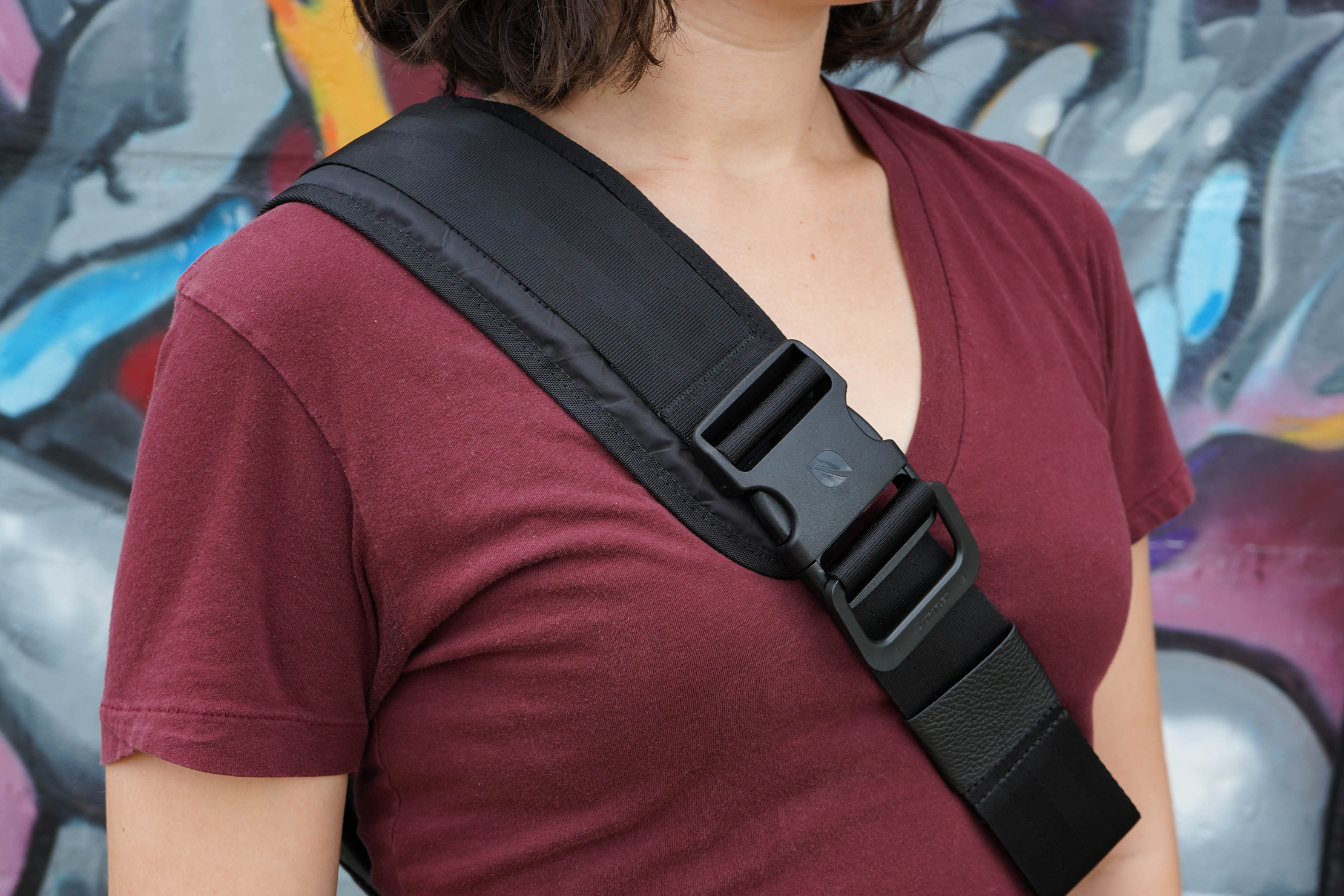 Again, the brand matters here. Some trustworthy companies are Duraflex, YKK, Woojin, and ITW. As long as you stick with them, you should be good to go. We also love metal buckles—as opposed to plastic—but when it comes to slings, they can be uncomfortable and add a good bit of weight. If durability is a priority however, metal buckles can't be beaten.
Fabric & Material
Unlike in the 1800s—or even the mid-1900s—bag designers (engineers?) have a ton of fabrics to choose from to make their bags, all of which have pros and cons. As we've already mentioned, you want to balance durability with weight and capacity. A sling bag won't have to do as much work as a travel backpack; therefore, it doesn't have to be as tough. Some materials you may run into are:
Nylon



You're probably familiar with nylon since it's a common synthetic fabric that manages to be soft, durable, and lightweight (go science!). These qualities make it suitable for a variety of products, and slings are no exception. That said, it's more of a blank canvas these days and is often infused with weaves, sewing patterns, or extra fibers that make the fabric more durable, tear, or weather-resistant.
Ballistic Nylon



Initially developed for military body armor, ballistic nylon is strong…and possibly a bit overkill on a sling bag. While we love that you won't have to worry about the exterior of your bag falling apart on you, it does weigh more than other fabrics and feels stiff against the body. Still, it's a great choice thanks to its exceptional resistance to pilling and water. Plus, it won't do any damage to your clothing as it rubs against it.
Ripstop Nylon



The magic of ripstop nylon is all in its name. Due to its magical properties—AKA, the extra fibers that are sewn into its square weave—ripstop nylon prevents punctures from spreading into full-on rips. Moreover, like plain old nylon, ripstop has a high strength-to-weight ratio, meaning it's lightweight but still remarkably strong—a significant asset for a sling bag. Plus, it's currently used in ejector seat parachutes for fighter pilots(!), and if it's good enough for fighter pilots, it's good enough for us.
Polyester



Polyester is another standard synthetic fabric, but clocks in at a lower price than nylon. It's generally heavier, too. If you're looking to buy a cheap sling bag to hold some beer at music festivals and you don't care that it won't last more than one season, polyester will suit you well. We should point out that there are some reasonably-durable polyester sling bags out there, but those are usually blended with other fabrics (especially in the lining and/or other sensitive areas).
CORDURA® Grade Fabrics (Nylon & Polyester)



CORDURA® is a brand, not a fabric, but it's still worth mentioning since you'll likely run into it more than a few times. CORDURA® nylon and polyester is the exact same as traditional nylon and polyester, the only difference being that the fabric has come from a CORDURA®-approved mill and production line. The CORDURA® label is basically a stamp of quality assurance—it's pretty much a guarantee that anything CORDURA® will have excellent abrasion resistance and an impressive strength-to-weight ratio.
Canvas



You aren't going to see a lot of canvas sling bags out there, but the few that do exist have an antiquated and sophisticated air about them. That's because canvas—particularly cotton canvas—was the fabric that started it all. Canvas is heavier and more susceptible to abrasions than synthetics, but unlike synthetics, its weatherproofing is usually obtained by wax, which can be re-proofed, ensuring continual water-resistance and durability.
Leather



Remember when we just said that canvas is the fabric that started it all? Well, technically speaking, that isn't entirely accurate because leather has been around a lot longer. But in today's day and age, you aren't going to see a ton of leather sling bags—especially in a travel context (they're more common on runways). Leather isn't great for travel since it's heavy, sensitive to the elements, and requires a decent amount of maintenance. We suggest sticking with a leather wallet and finding a sling bag made of basically anything else.
While this isn't a comprehensive list of all of the fabrics you'll run into while shopping (sorry sailcloth and polypropylene) a majority of sling bags will be made with one or multiple of the materials mentioned above. But the material itself isn't the be-all, end-all.
Usually, you'll see a number followed by a D associated with the material—250D, 950D, 1000D, etc. The D stands for denier, which is the unit that measures the weight or thickness of fabric. In general, the higher the number, the more durable the fabric—but higher numbers also mean higher weight.
Because every fabric has its individual strengths (nylon is inherently stronger than polyester) the denier won't help you much when comparing two different types of fabrics, or even two types of weaves within one fabric family. Instead, it helps you compare two fabrics of the same type. 500D Ballistic nylon is less durable than 1000D Ballistic nylon, for example. But the 500D Ballistic nylon will also be much lighter (about half as light, in fact!).
When it comes to sling bags, higher denier is generally better, but you start maxing out around 500D. As far as we're concerned, any fabric over 500D is a bit overkill for a sling bag. As you get up into the 500D range, the weight of the fabric will start to become more substantial, but because sling bags are small—and thus don't have a lot of fabric—you'll hardly be able to notice this difference in weight. And because sling bags don't take as much abuse as, say, a full-blown travel backpack, we don't think the extra durability of 500D+ fabrics is necessary.
Moreover, the other aspects of a sling bag, including its zippers and hardware, also have to be high-quality. It does you no good if your ballistic nylon exterior has held up if your zippers break on week three. Best to keep everything well-rounded.
03

Function
Where Fashion Meets Convenience.
Save during the REI sale
Gear up for your next trip during the REI Cyber Week Sale, now through Dec. 4. Check it out →
Choosing the Best Sling Bag for Your Use-Case
Besides keeping you trendy, sling bags are awesome because they're convenient. That convenience becomes obsolete if it's uncomfortable, hard to access, or doesn't properly fit your use-case. Here are some things to keep in mind when you're considering investing in your soon-to-be favorite new accessory.
Straps
Sling bag straps are generally made of nylon webbing, but all vary in length and width. Smaller sling bags tend to have thin straps, while heavier backpack-style slings tend to have thick straps. Pretty straightforward so far. But length and width aren't the only elements you need to pay attention to.
First of all, let's talk about padding. Some sling bags have zero padding, while others are nearly as padded as the resume of a recent college grad. Padded straps are usually—but not always—found on bigger sling bags to help make carrying that much weight more comfortable.
As a general rule, we're not too keen on thick, padded straps. They tend to give you awkward sweaty patches and can only help so much with comfort. As we already mentioned, once you reach a certain size of sling bag they become uncomfortable to carry regardless of how fancy the strap. Not to mention, bigger straps weigh more.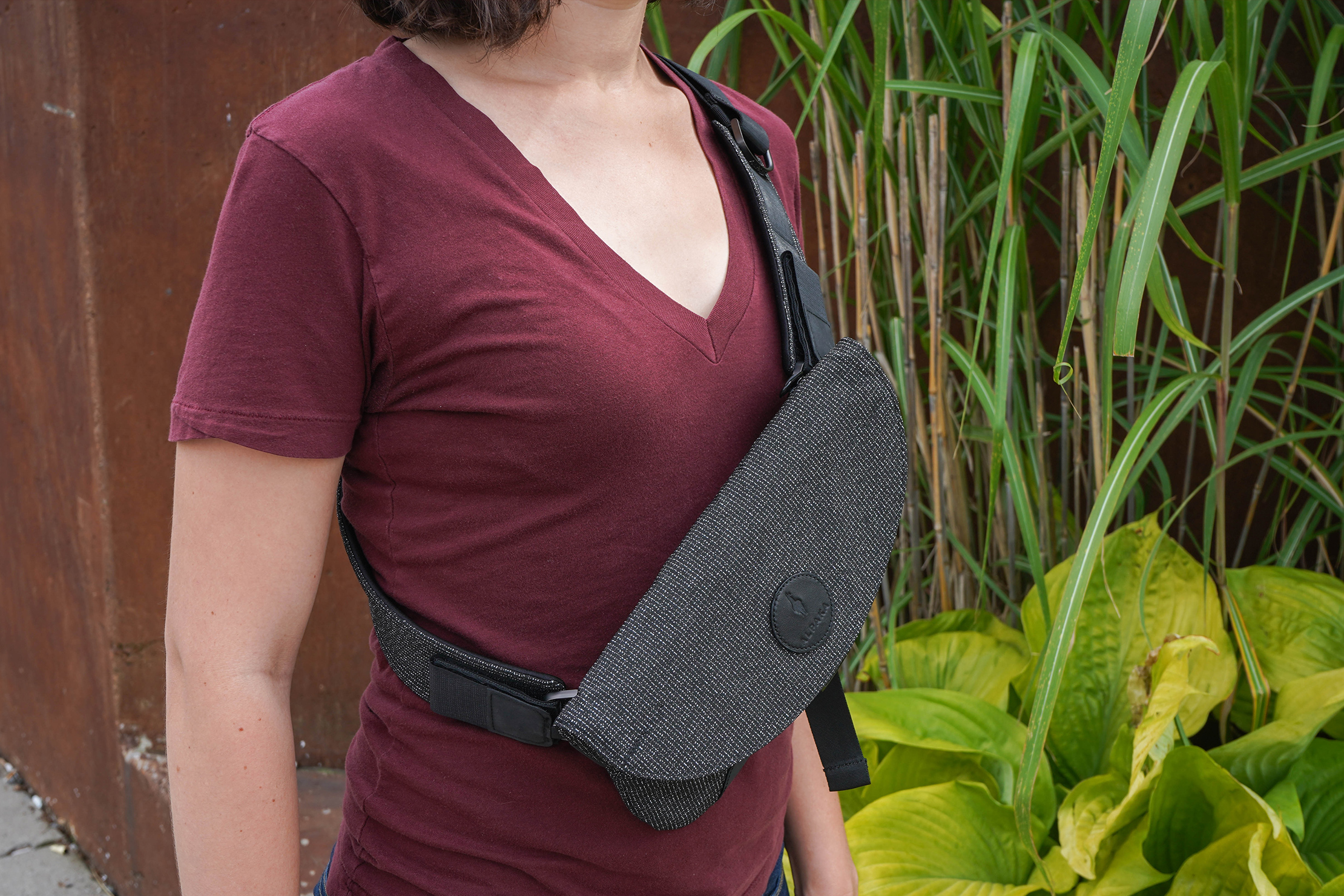 We're fans of thinner straps or ones that are somewhere in the middle of the padding spectrum. We're especially happy when straps are designed in such a way that they're thicker or more padded only on those places where it'll touch your body. That way, the sling isn't bogged down by over-specced straps as far as design and weight are concerned.

Osprey
Daylite Sling (Shoulder Sling)
The Osprey Daylite Sling knows that it's a sling bag—meaning the strap has enough padding to make the carry comfortable, but nothing overboard. The padding is soft and kind to clothing, though it can get sweaty on long excursions. There's also a small mesh pocket on the strap for items you want to access quickly and a nylon loop for attaching water bottles.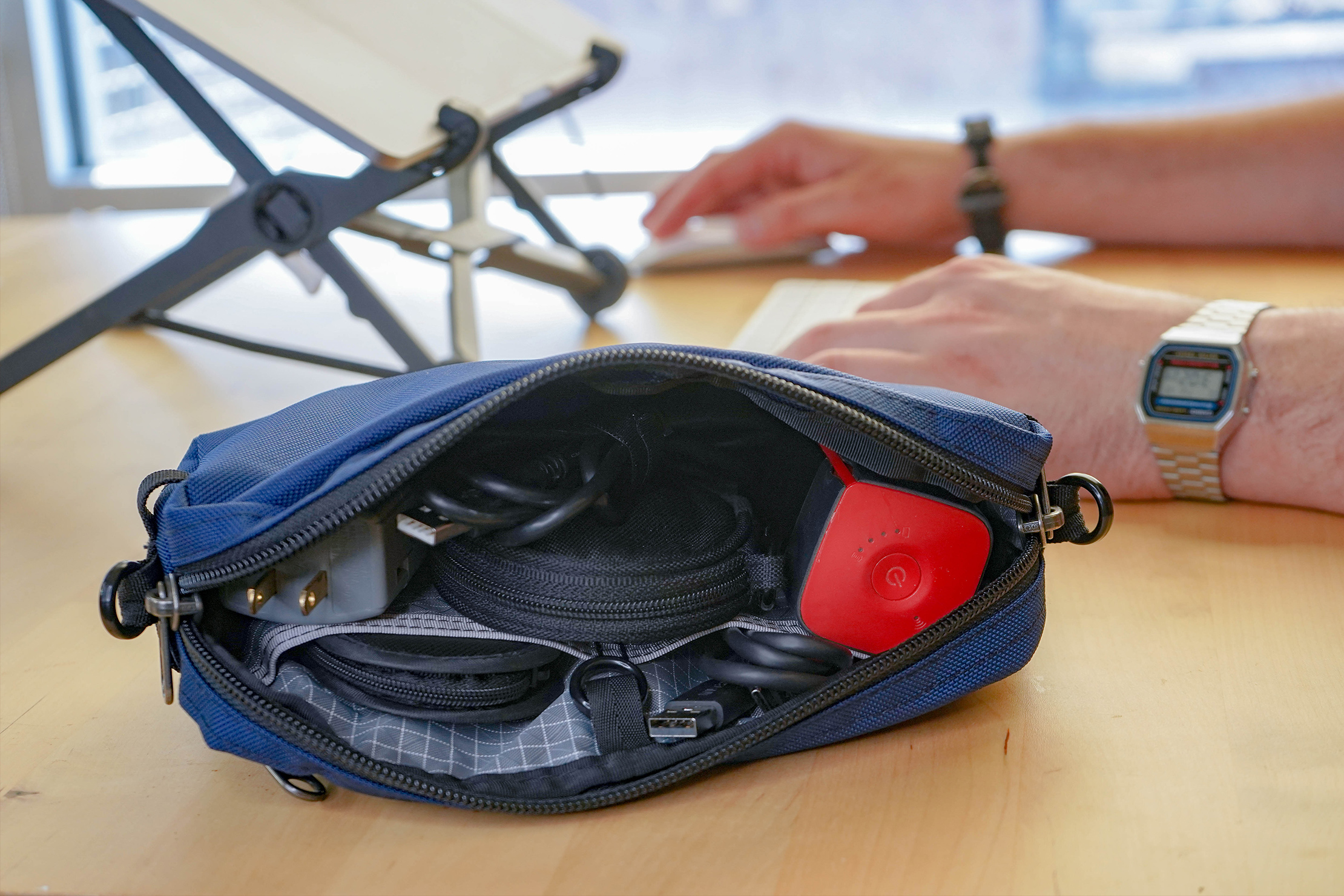 Additionally, some sling bags have detachable straps, allowing you to transform the bag into an organizer pouch for toiletries, electronics, your sticker collection, or whatever else you need to organize. We're always fans of traveling with items that serve more than one purpose to save space and weight. A pouch/sling bag combo is one great way to do that, and detachable straps are virtually identical to non-detachable straps—so there aren't really any downsides. These are particularly great for one bag travel, as you can use the pouch as a packing cube/organizer in your larger backpack and then take it out and throw a strap on for your flight or a day out.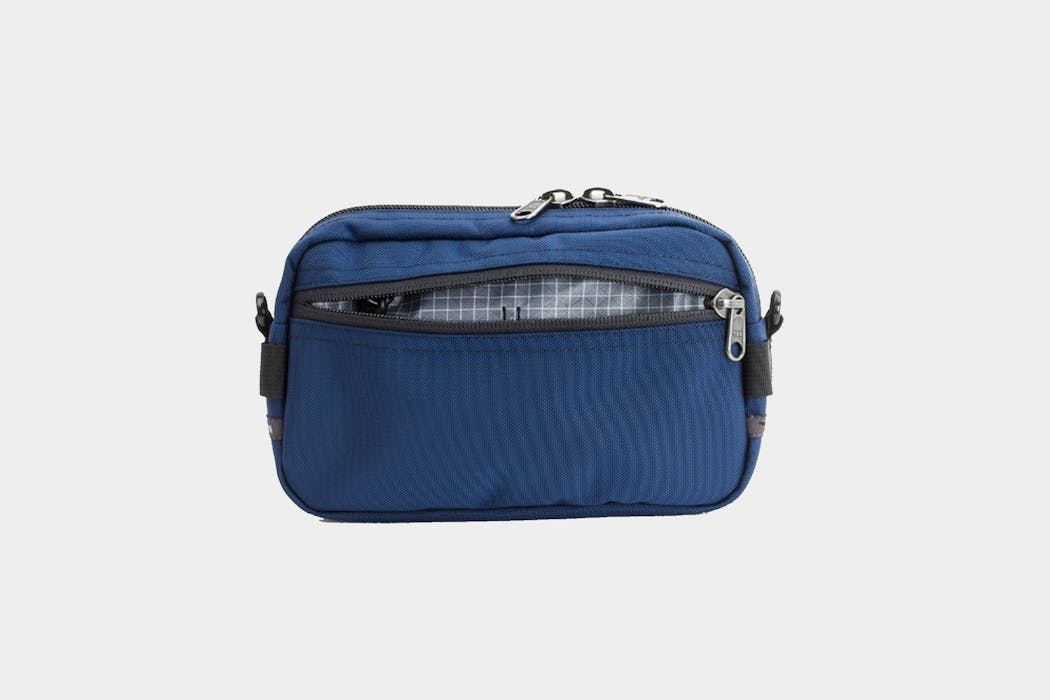 TOM BIHN
Side Effect
This sling bag is more of a 4-in-1 all-purpose pouch. It can be carried as a sling, as a fanny pack, with a handle loop, or attached to a key ring (which can then be hooked to a bag or your belt). You can also go strapless and use it as a 3D organizer in your luggage, carrying toiletries, tech, jewelry, and the like.
Types of Sling Straps
The straps on sling bags have a major influence on the style of the bag. It would be like if the only difference between a backpack and a duffel is the strap. So, let's check out the various strap styles you're likely to run into.
The Traditional Strap
You'll likely see traditional sling bag straps when you hit the trails. Major outdoor brands like Patagonia and Osprey sell these kinds of slings, which have a single, thick strap that looks like one you'd find on a backpack, but sits on one shoulder and lies asymmetrically across the chest.
A sling bag with a traditional style of strap is designed to be worn across your back and can't be worn on your chest or hips. Unfortunately, most of these straps are designed to be worn across the same shoulder every time. That means the carry can become uncomfortable on long excursions, dumping all the weight of the bag onto one side. But they're nice for quick jaunts since the strap stays in place—even as you bounce along a trail.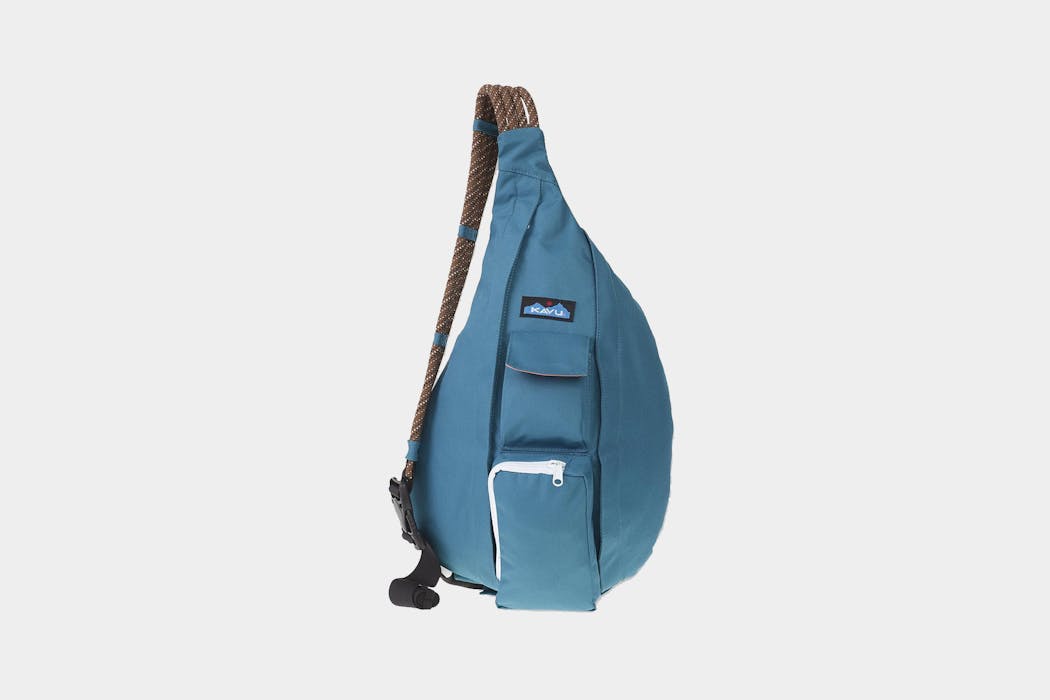 KAVU
Rope Sling
The Kavu Rope Sling has an outdoorsy look and a handful of organization for ultimate comfort on the trails. Keep bigger gear close at hand, though it does take a little practice to get the packing strategy right.
The New Wave Strap
New wave sling bag straps are usually simple, thin, and attach to the body of the sling bag at the edges width-wise (new wave straps go hand-in-hand with wide sling bags). And they're designed to be worn both on the chest or back. We've coined them "new wave" because these straps are the ones that catapulted sling bags into being a mainstream fashion accessory. They're truly the "new wave" of sling bags (aren't we clever?).
The way the straps are anchored to the bag and the way the buckles buckle make it so most new wave straps can't be worn comfortably on the hips. Sure, with some combination of magic, innovation, and true grit, you could probably force a few of them to sit on your hips, but that's not what they've been engineered to do.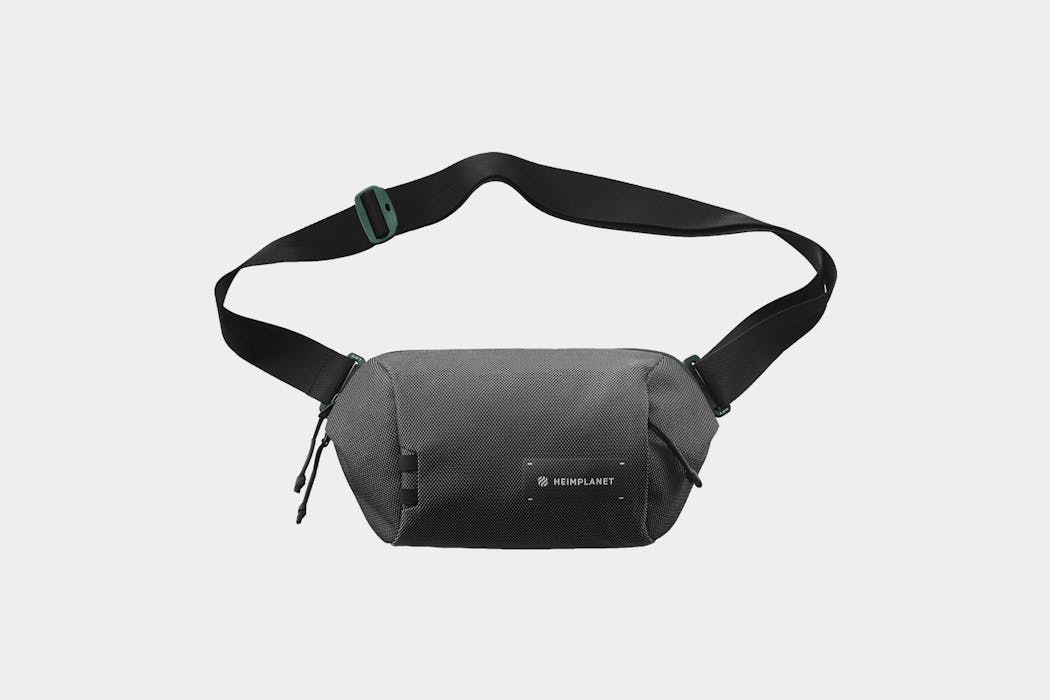 Heimplanet
Transit Line Sling Pocket
The Heimplanet Transit Line Sling Pocket looks like it's more versatile than it is. While it looks like you could sling it around your hips, the straps are anchored in such a way that it can only be worn successfully on the chest or back. Even without the ability to wear the sling as a hip pack, it's one of the best slings for travel due to its small size, internal organization, and low weight.
The Hip Pack-Style Strap
Listen up—because this part is kind of tricky. At first glance, the hip pack-style strap will look eerily similar to the new wave style of strap. The main difference is that the hip pack style of strap can be worn slung around the hips (as well as across the chest). They're the most versatile in terms of function, but they also scream "fanny pack." So much so, your dad may ask you why you busted out his old fanny pack and are now wearing it incorrectly. (Obviously, he just doesn't understand fashion.)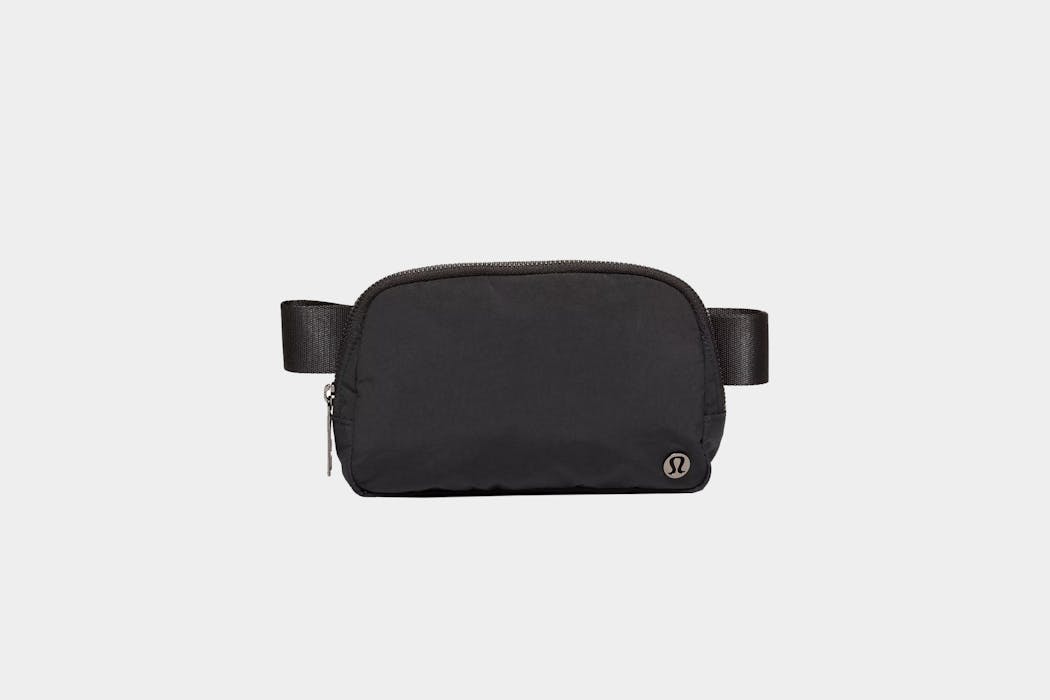 lululemon
Everywhere Belt Bag
Small and lightweight, lululemon advertises the Everywhere Belt Bag as a fanny pack, but we think it makes a comfortable sling bag too. Mainly because the strap is wider than it needs to be and the buckle is off-center to make it easier to reach. Whichever way you wear it, the bag also has some mesh pockets and a rear security pocket, making it ideal for festivals and travel alike.
Editor's Note: To be clear, we're not talking about "hip pack first" straps. These are sling straps that happen to also work in the hip position. Like we mentioned earlier, there is a lot of confusion when it comes to sling bags vs. hip packs. An easy place to spot if you have a hip pack is the strap design. Is it uncomfortable to wear across your chest? Does it look funny sitting on your chest? If you answered yes to either of those questions, you probably have yourself a hip pack (or a poorly designed sling).
The Crossbody Strap
This style of strap is a long piece of webbing that can sit crossbody or be thrown over one shoulder. It's similar to a purse strap, although usually thinner and without any decorative elements.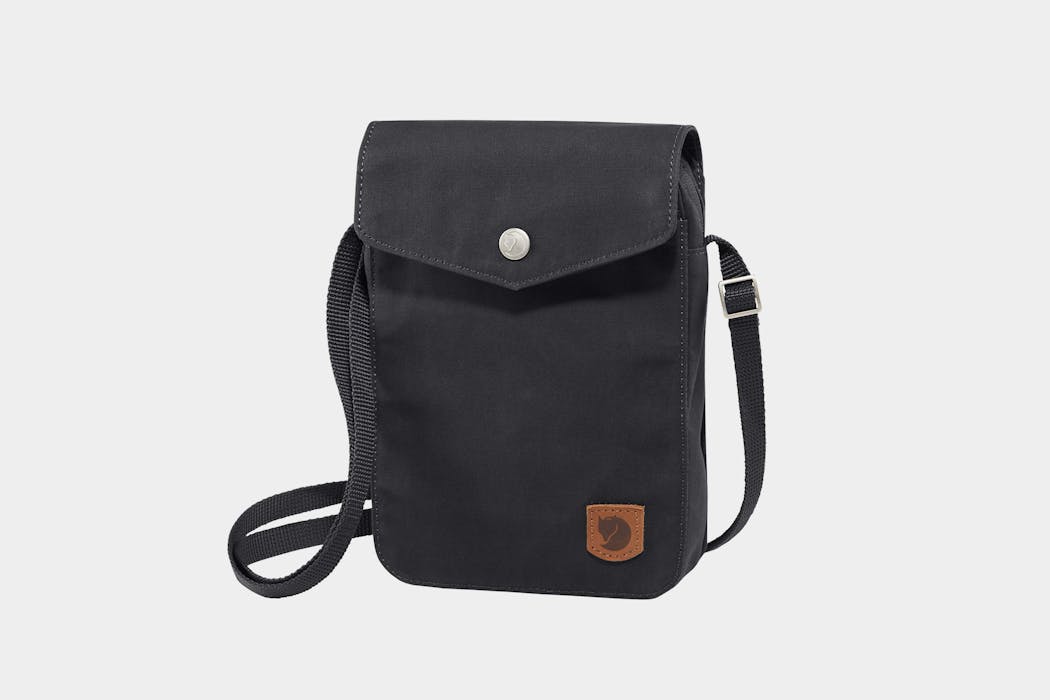 Fjallraven
Greenland Pocket
The Fjallraven Greenland Pocket has a thin crossbody strap that's super simple to tighten or loosen—so you can wear it close to your chest or let it hang, depending on where you're traveling and your mood. But the strap is rough and may damage more delicate items of clothing.
The Lefty Strap
Lefties make up only 10% of the population and thus can be ignored by companies who'd rather reach the majority of consumers (sorry, lefties. The truth hurts).
Sometimes, we've found that it's easier to adapt to the right-handed world and use sling bags designed for right-handers. That said, there are a few sling bags that may work better for those of you who are aware that left-handed scissors exist.
These lefty-inclusive sling bags have straps that can be anchored on either side of the bag, allowing you to wear it across whichever shoulder you'd like. That way, if you're left-handed, you can wear it on your left shoulder, so when you "sling" the bag forward, your left hand is ready to work the zippers.
But, these straps don't always mean a sling is ideal for lefties. Pocket orientation matters, too. It won't do you any good to wear the sling on your left shoulder if all the pockets will be facing the ground. There are some sling bags out there with either symmetrical pockets or pockets for lefties.
Thoughts on Buckles
We've talked about buckles before, but they're worth mentioning a second time. They contribute to the look, feel, function, and style of a sling bag nearly as much as the straps do.
The first question worth asking is, "Where is the buckle located?"
If the buckle is centered, that means the sling bag can almost always be worn on either shoulder or around the hips. But a centered buckle isn't ideal if you're planning on wearing your sling bag with a backpack. The backpack's weight can cause the sling's buckle to dig into your back (ouch), and you won't be able to easily detach it without first taking off your backpack.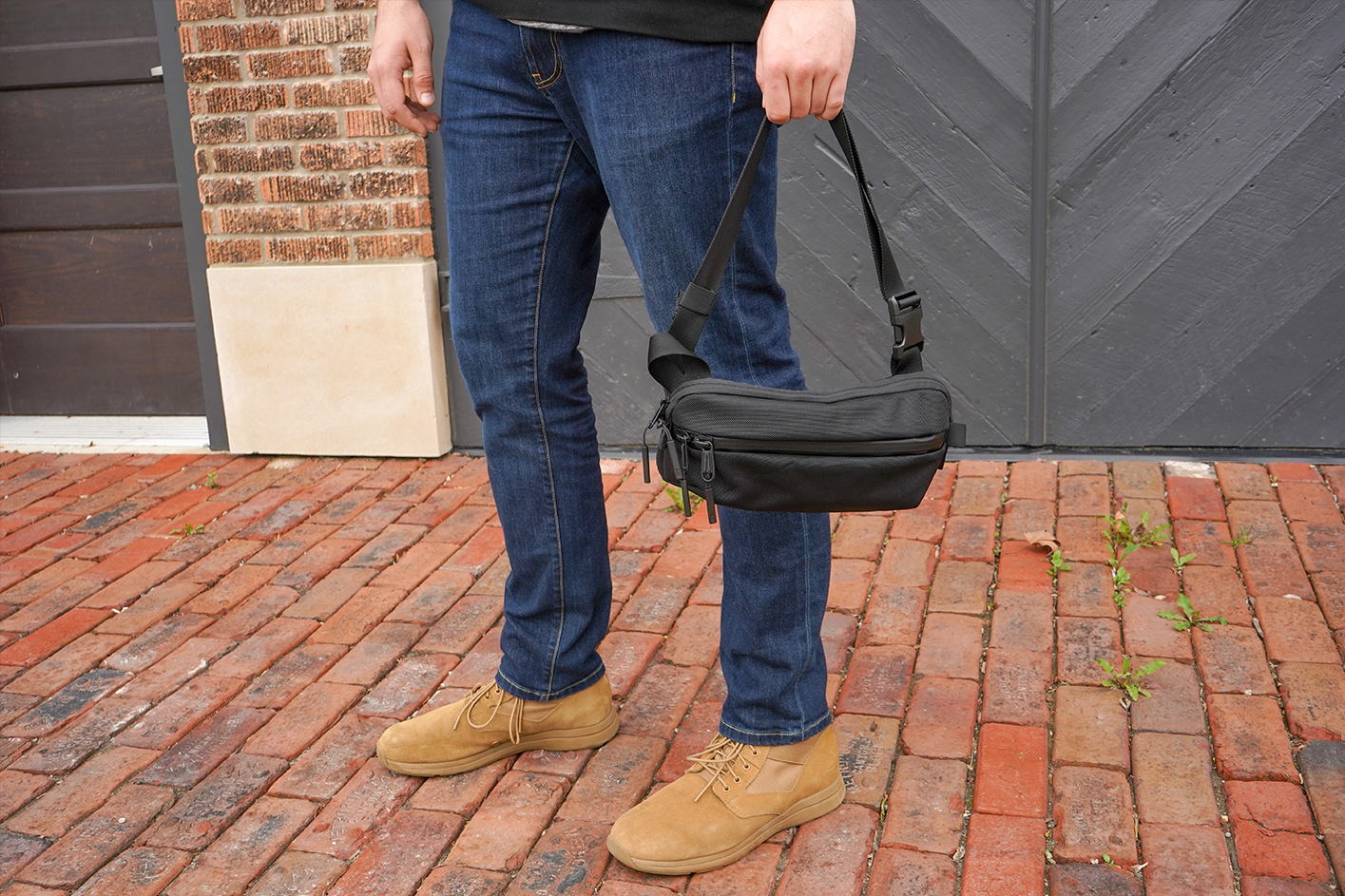 If the buckle is off-center (usually on the right side), the sling bag works best on one shoulder. Meaning you won't be able to switch between the two if one ever gets tired. In some cases, you can technically wear it on whatever shoulder you want, but it will likely sit uncomfortably on one side, or the buckle will end up in an awkward place that's hard to access with your dominant hand (sorry lefties, this one will impact you more often).
You should also pay attention to the size of the buckle. The larger it gets, the more uncomfortable it'll wear. But that's not always a dealbreaker. Larger buckles can look pretty damn fly, they'll last longer, and they're usually easier to clip/unclip for people who can't be bothered with slow buckles.
Finally, you'll want to ask yourself if you plan to wear your sling bag as a hip pack every once and a while. Some buckles don't allow for this dual functionality.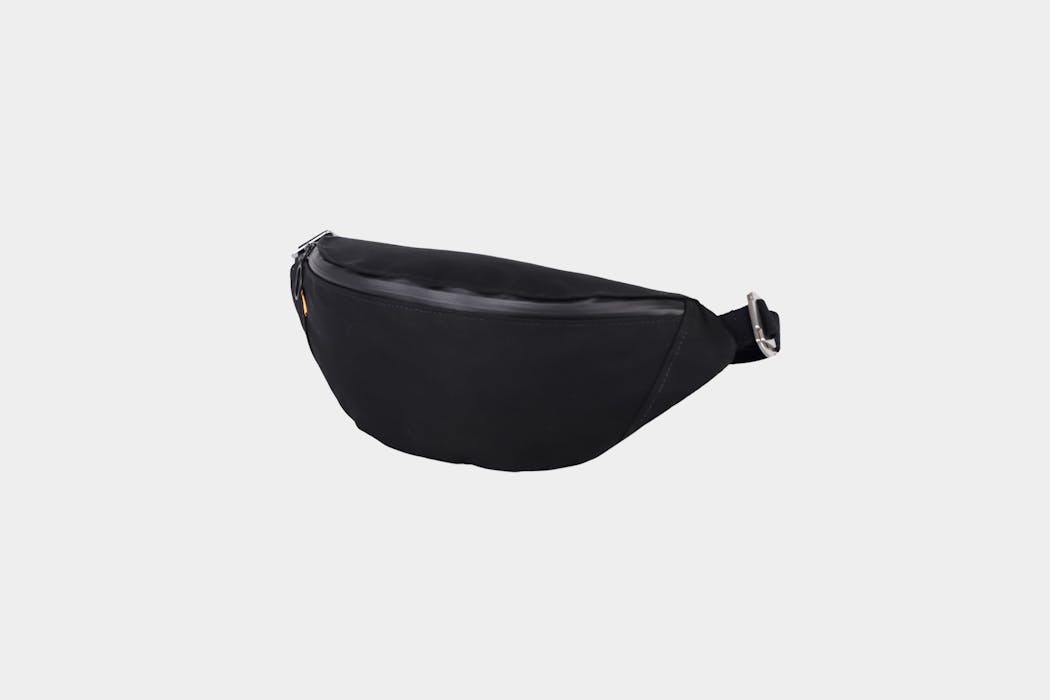 Trakke
Banana Crossbody Bag
The stainless steel buckles on the Trakke Banana Crossbody Bag could be considered slightly over-specced for a bag this small, but we're not complaining. These buckles are ultra-durable, they allow you to wear the sling bag comfortably as a hip pack, and they let you wear it over either shoulder (lefties, that one's for you!). Plus, it's a fresh look that helps give this sling its vintage vibe.
Thoughts on Back Panels
Whether or not you should care about the back panel on a sling bag depends on how it fits your body. Boxier sling bags wear more like a purse or messenger bag, so you won't want or need anything fancy. You can run into trouble, however, with sling bags that hug the body. These can leave awkward sweat patches and rub against your clothing, causing pilling.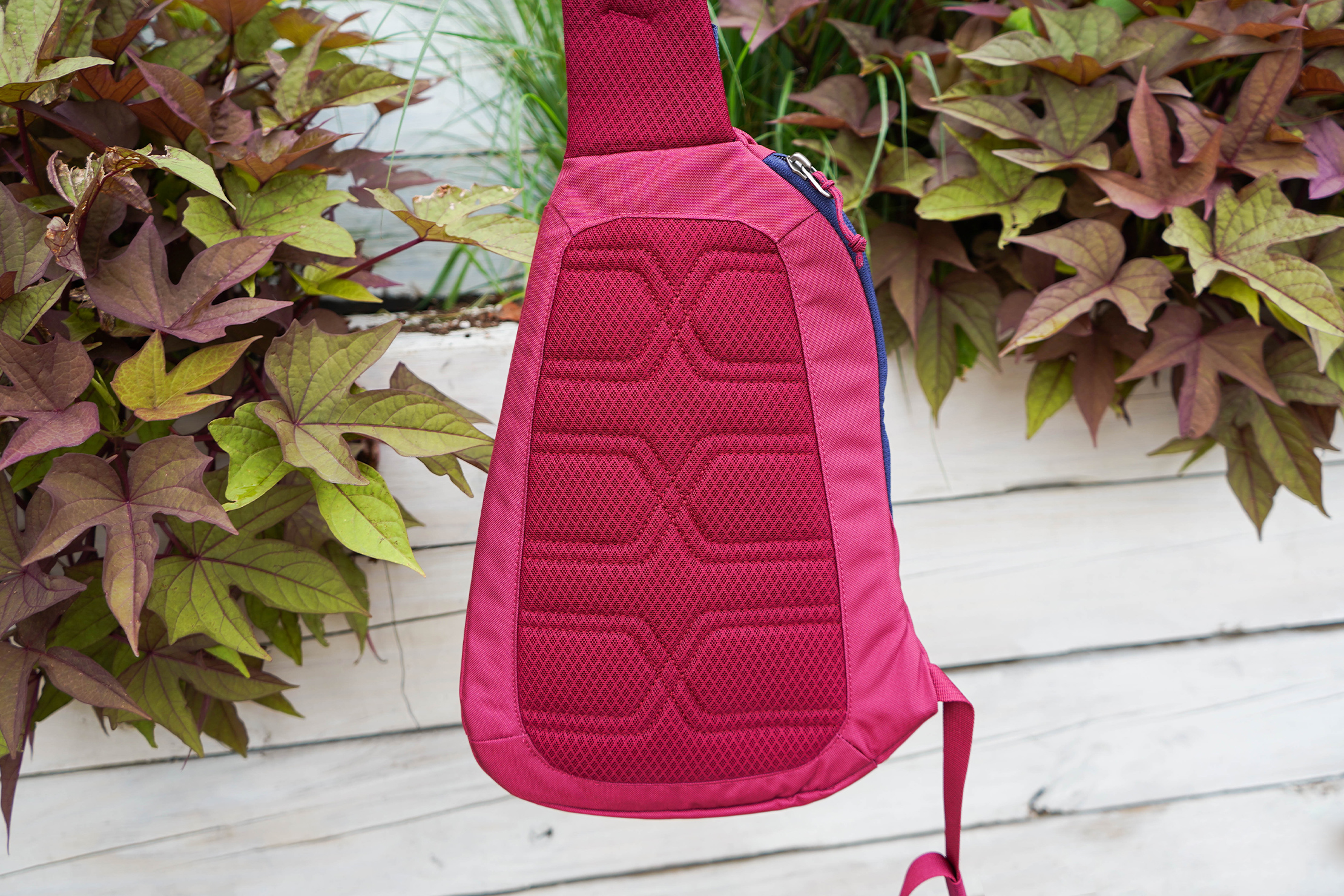 To help alleviate those issues, some sling bags come equipped with mesh back panels, most commonly found on outdoor-oriented or backpack-style sling bags.
Some sling bags don't have that fancy mesh but do have a bit of cushioning or padding for added comfort. Usually, the padding makes for a more comfortable carry but can exacerbate the sweat problem.
And some sling bags, especially the smaller ones, have neither mesh nor padding. We're alright with that—as long as the bag is truly on the smaller end.

Patagonia
Atom Sling
Typical for Patagonia, the Atom Sling has been designed to shine in the great outdoors. You'll find soft, padded, and breathable mesh on both the back panel and shoulder strap. If you're anything like us, you'll still get sweaty on your way to the peak, but it has better airflow than many slings out there (especially for its size).
Thoughts on Organization
In our years of testing gear, we've come to realize that organization is one of those things that's very personal. Some people like bags with large, empty compartments while others are offended when there's not a spot for each one of their fancy pens.
You can find sling bags all along that spectrum. Some are basically exterior pockets with zero organization, while others have pockets on pockets on pockets. Again, what's best for you depends on your use-case and what you're going to be carrying.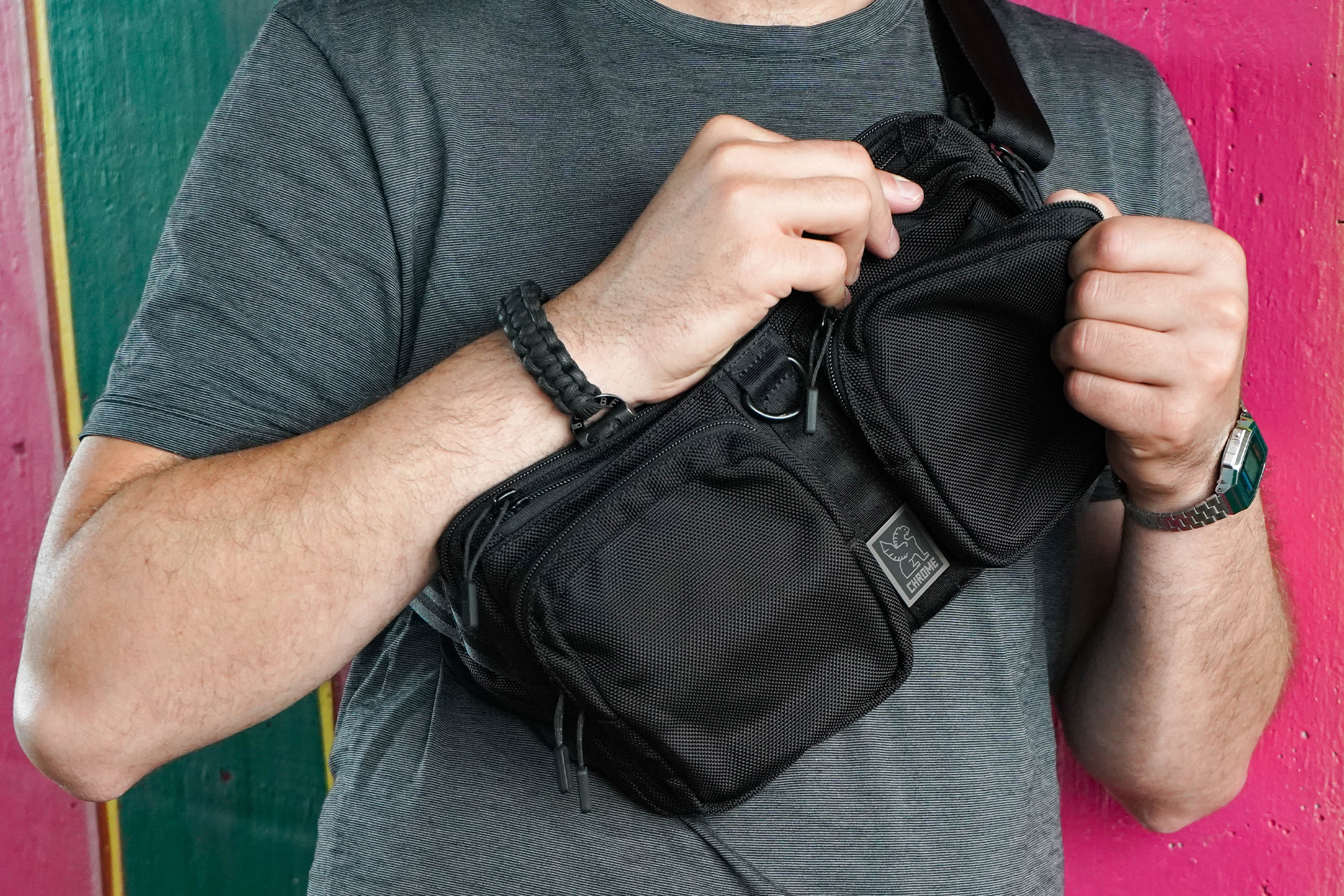 Lots of smaller items? You'll probably want those organized. A few bigger things? Too much organization could annoy you. For most people, you'll want something in the middle. We love a main compartment with two to three interior pockets and an additional front or back pocket. But, again, think through your situation.
One great feature to look for is a hidden pocket, which will usually sit on the side of the sling bag that's against your body. This pocket is the ideal place to stash essential items like your passport, credit cards, or cash.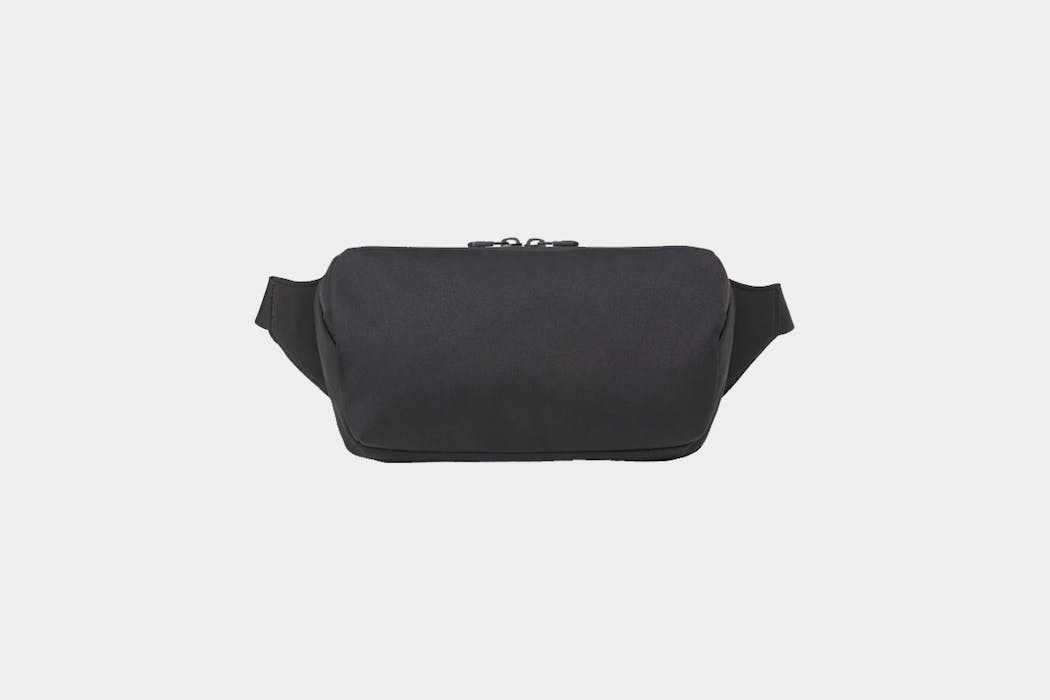 Minaal
Crossbody Bag
This Minaal sling has several pockets of varying sizes, so you'll find a spot for everything—a passport, travel sunglasses, a battery bank, wallet, snacks, you name it. There's even a security pocket for hiding cash and cards!
Specialist Sling Bags
Most sling bags fall into the travel/outdoors/EDC realm, but some have dared to be different. These specialist sling bags to work for very specific use cases (hence the whole "specialist" thing). We'll briefly run through these sling bags here, so you're not caught off-guard if you ever encounter one in the wild.
Secure Sling Bags
Chances are you're going to be carrying some pretty important stuff in your sling bag—and this time, we're not talking about snacks. We mean things like your passport, keys, and cash. While we do think some common sense can go a long way towards keeping your valuables safe on the road, we get that security features can help with overall peace of mind. Secure sling bags will likely have a number of features to prevent thieves from gaining quick access, including lockable zippers, hidden or lockable buckles, slash-proof straps, tear-proof fabrics, and RFID-blocking technology.

The trade-off here is that most secure sling bags look like secure sling bags. They also weigh more than their less safe counterparts, and they won't be quite as accessible. Still, peace of mind is peace of mind.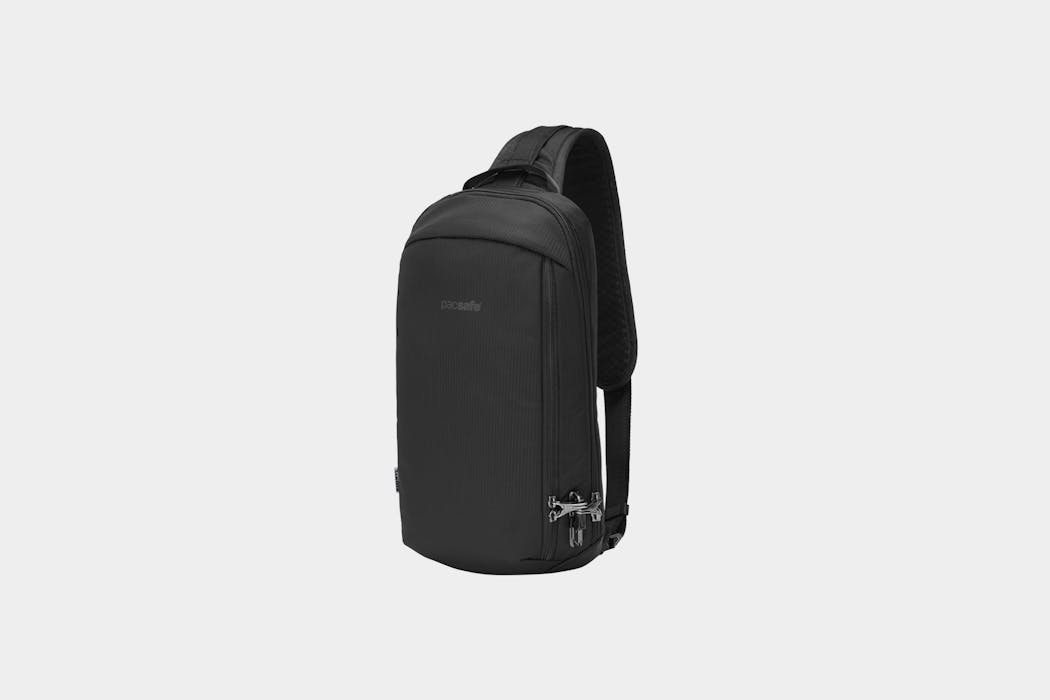 Pacsafe
Vibe 325 Anti-Theft Sling Pack
The Pacsafe Vibe 325 Anti-Theft Sling Pack is a tough sling that's slash-proof, RFID-blocking, and lockable. The strap feels a bit bulky, but it'll give you peace of mind that your stuff will be safe on the road.
Camera Sling Bags
When you want to snap pictures of your epic adventures but don't plan on lugging around a full camera kit with different lenses and battery packs, a camera sling bag could be your new best friend. These allow you to carry a good amount of camera accessories without having to be worn down by an entire backpack. If you're partial to point and shoot cameras, you can probably stick with any old sling bag, though camera-focused gear never hurts.
Camera sling bags usually have soft internal padding, durable and weather-resistant external materials, some adjustable inserts/dividers, and lots of organization. Some even have multiple access points. Plus, they're still sling bags, so getting to your gear is quick and easy. Sling the sling to your chest, zip it open, grab your camera, and you're good to go.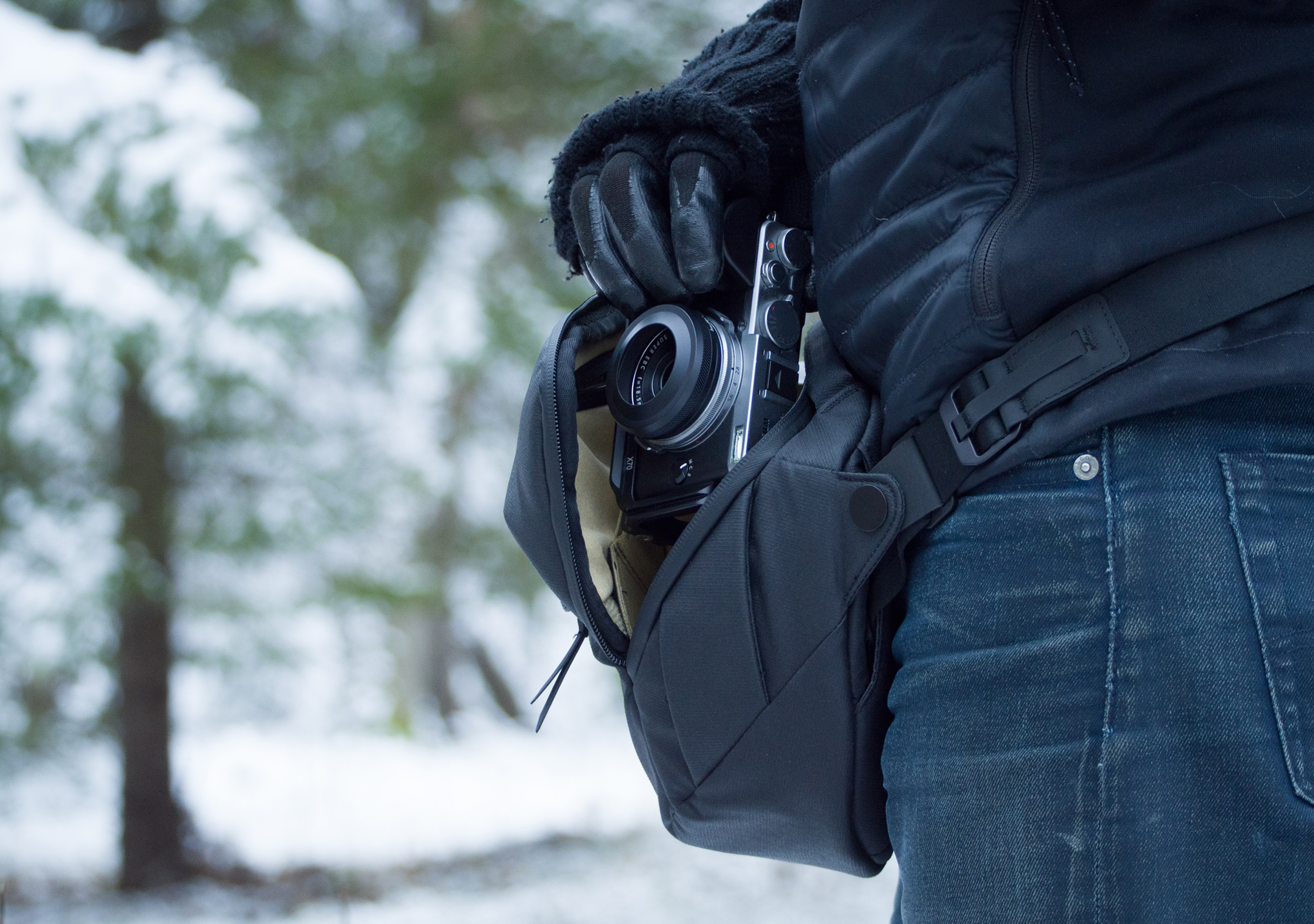 Camera sling bags vary wildly in size with some being as large as a backpack. At that point, we'd recommend just wearing a backpack for better weight distribution. Seriously, a heavy camera sling bag gets uncomfortable and bulky fast.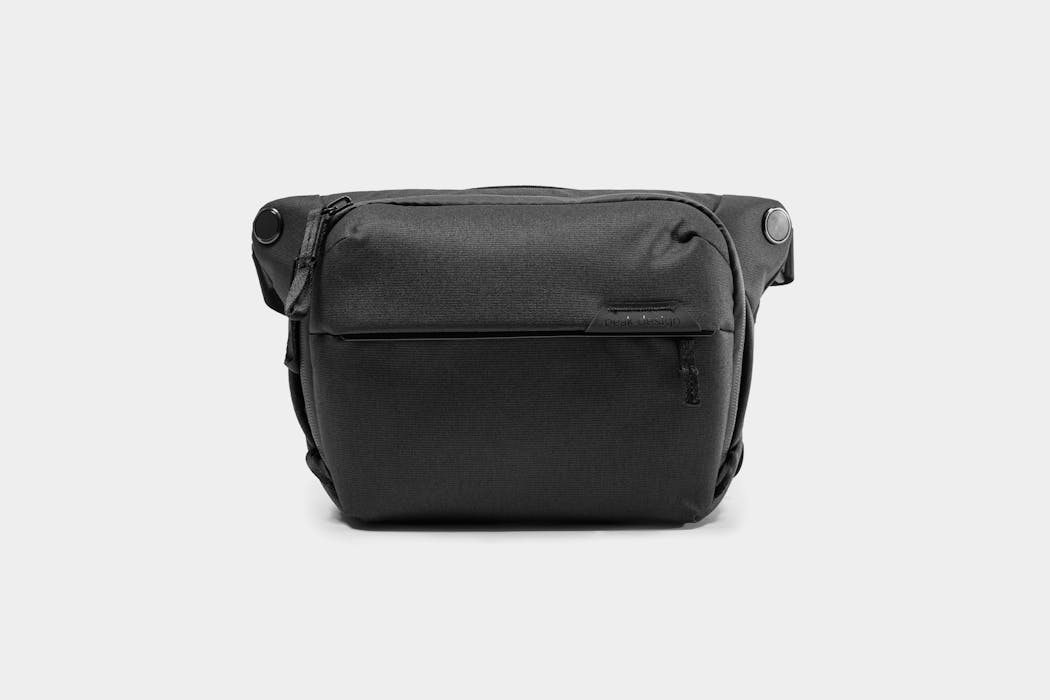 Peak Design
Everyday Sling 6L (V2)
The Peak Design Everyday Sling is a versatile, durable bag that will keep your camera and accessories safe and organized while you roam the world. Its FlexFold dividers allow you to customize the interior to suit your needs. We think it's just the right size, allowing you to carry a good amount of gear without weighing you down.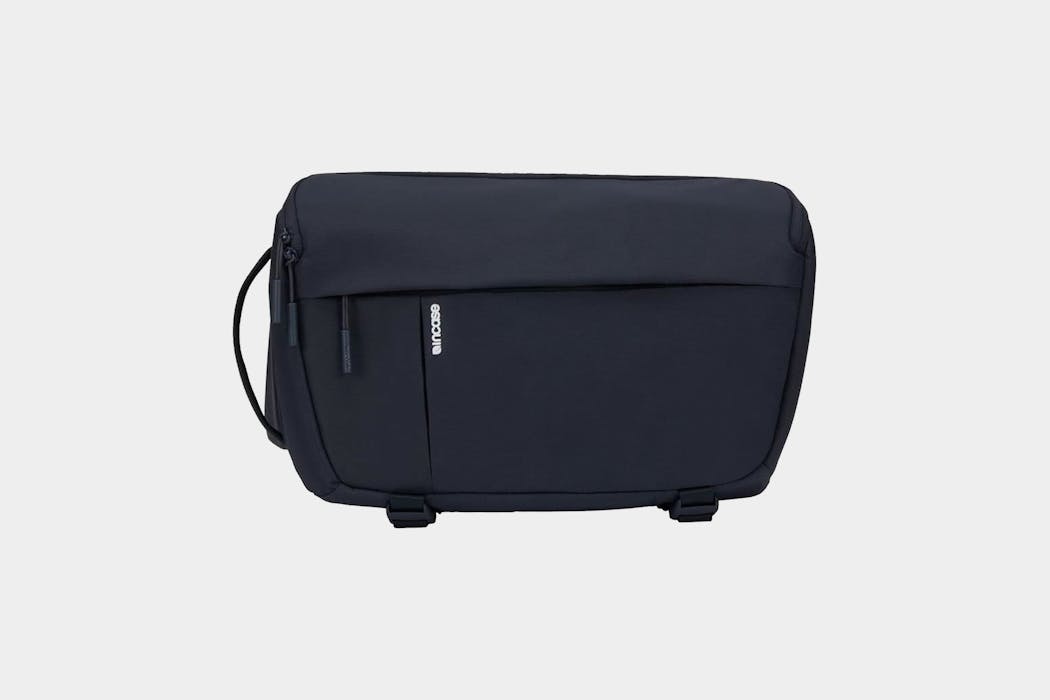 Incase
DSLR Sling Pack
Large Size: For those of you who need more space, the Incase DSLR Sling Pack is a solid choice with durable, weather-resistant materials, adjustable dividers, some serious internal organization, and a thick, mesh back panel and strap. However, it can get uncomfortable if you weigh it down too much (as the weight won't be distributed between your two shoulders) and it's not waterproof.
04

Aesthetic
Don't judge a sling bag by its cover. Wait, no, do. Definitely judge a sling bag by its cover.
Save during the REI sale
Gear up for your next trip during the REI Cyber Week Sale, now through Dec. 4. Check it out →
Navigating the Complex World of Sling Bag Styles
If you decide to wear a sling bag, even if it's only for convenience, you're making a fashion statement. What kind of fashion statement is up to you. If you're going to a festival, you might want something flashy and trendy. If you're using it for day trips abroad, you probably want something that doesn't scream tourist. If you're Paris Hilton, you probably want to opt for something fabulous and expensive. No matter who you are, we've found five common styles to look out for.
The Fanny Pack Look-Alike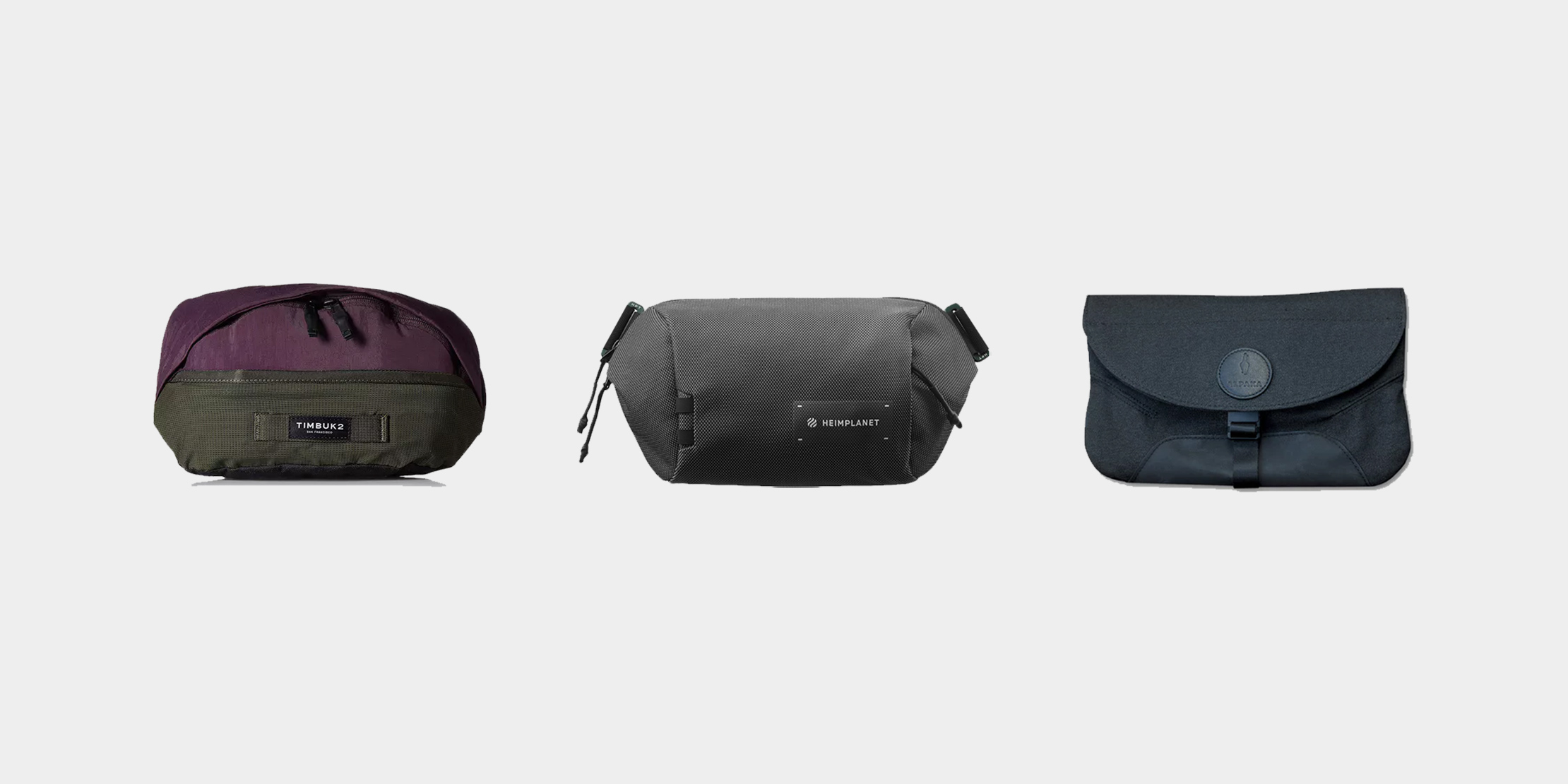 By now, you hopefully understand that a sling bag is not the same thing as a hip pack. But they do share some of the same DNA. Sometimes, you'll find a sling bag that looks identical to a hip pack with an oblong shape, simple strap, and centered buckle.
In some cases, this is purely a fashion statement, but we love this style of sling bag for travel since it tends to be the perfect size for essentials and won't take up too much space in your pack when not in use. Plus, it can be worn with a backpack. Win, win, win.
Outdoorsy & Athletic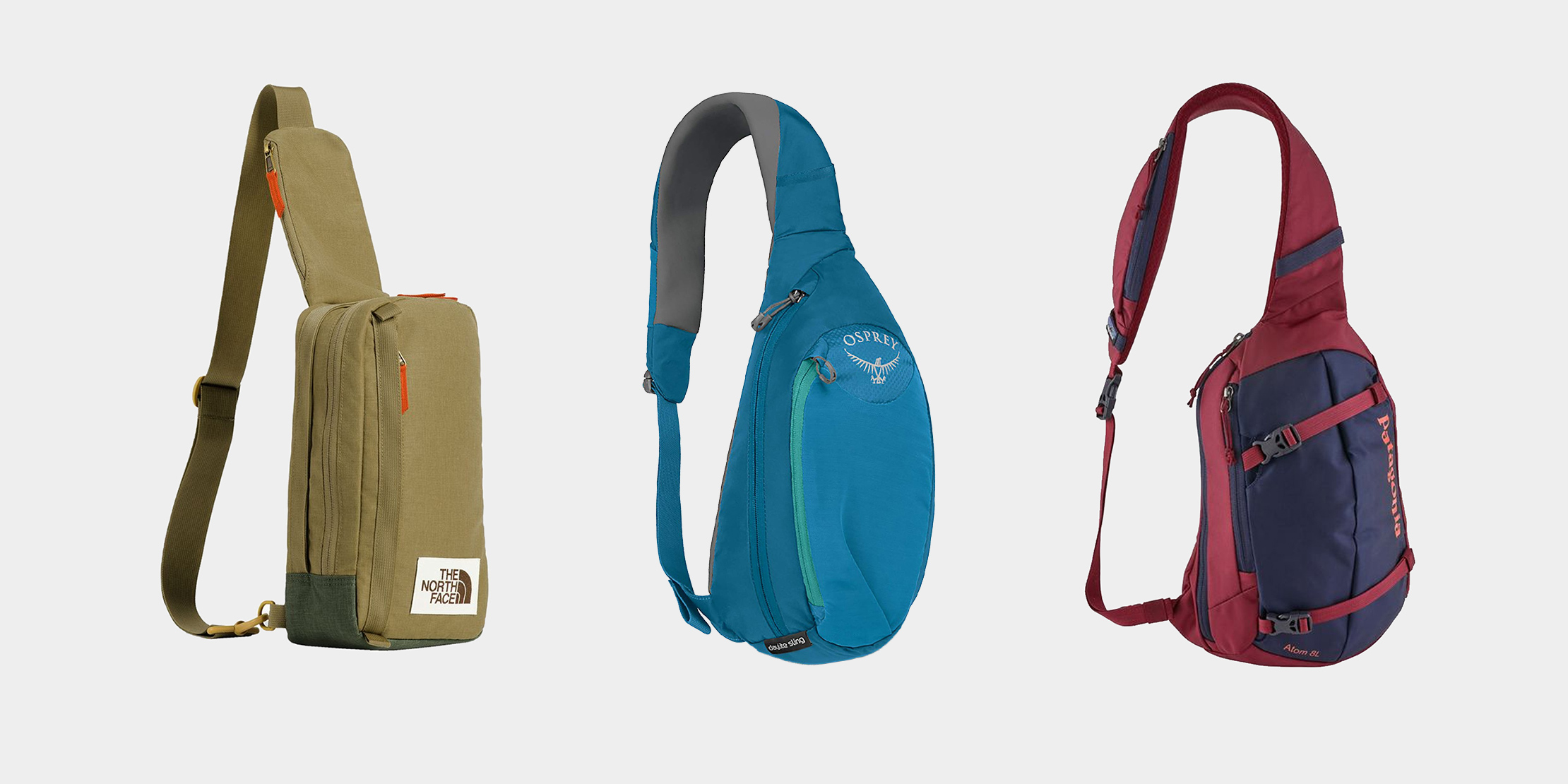 The outdoorsy sling bag looks like it wants to be a backpack, but hasn't eaten quite enough vegetables. It tends to be bigger than other sling bag styles and can only be worn on the back. Sporty and colorful, these sling bags have tourist written all over them. So unless you want to stand out, you probably won't want to take one with you on your epic tour of the world's cities. But with comfortable straps and back panels, they're nice for short hikes and outdoor excursions.
Crossbody (The Purse or Murse)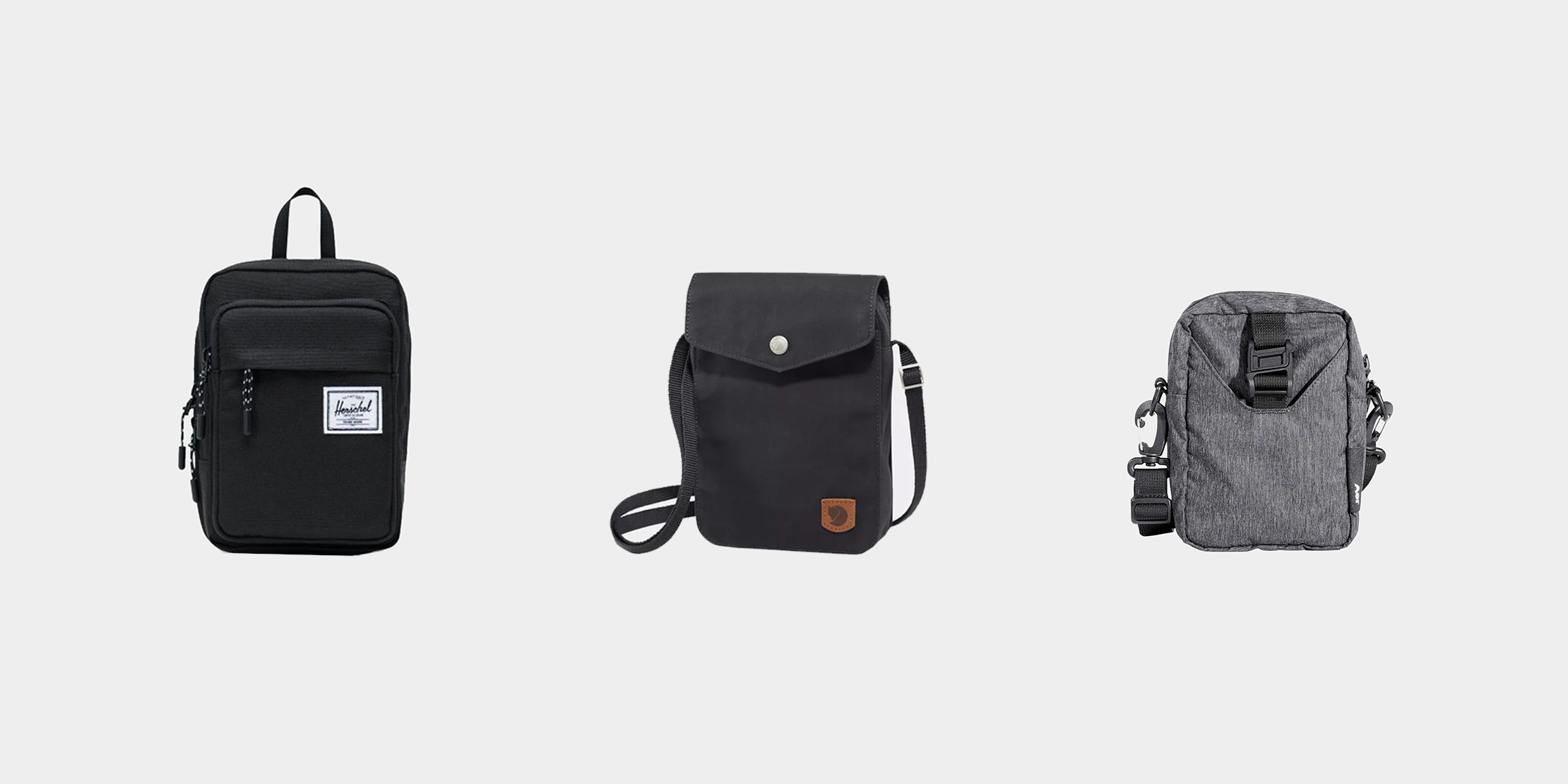 Crossbody sling bags are the reason some people say sling bags are purses for men who are embarrassed to say they own a purse. It has a similar aesthetic to a purse, but with a longer strap and smaller body. They tend to have a more vertical orientation as well. We think crossbody slings work well for travel, although since they don't sit as close to the body as other sling bags, may not feel as secure in a bustling metropolis or busy market.
Tactical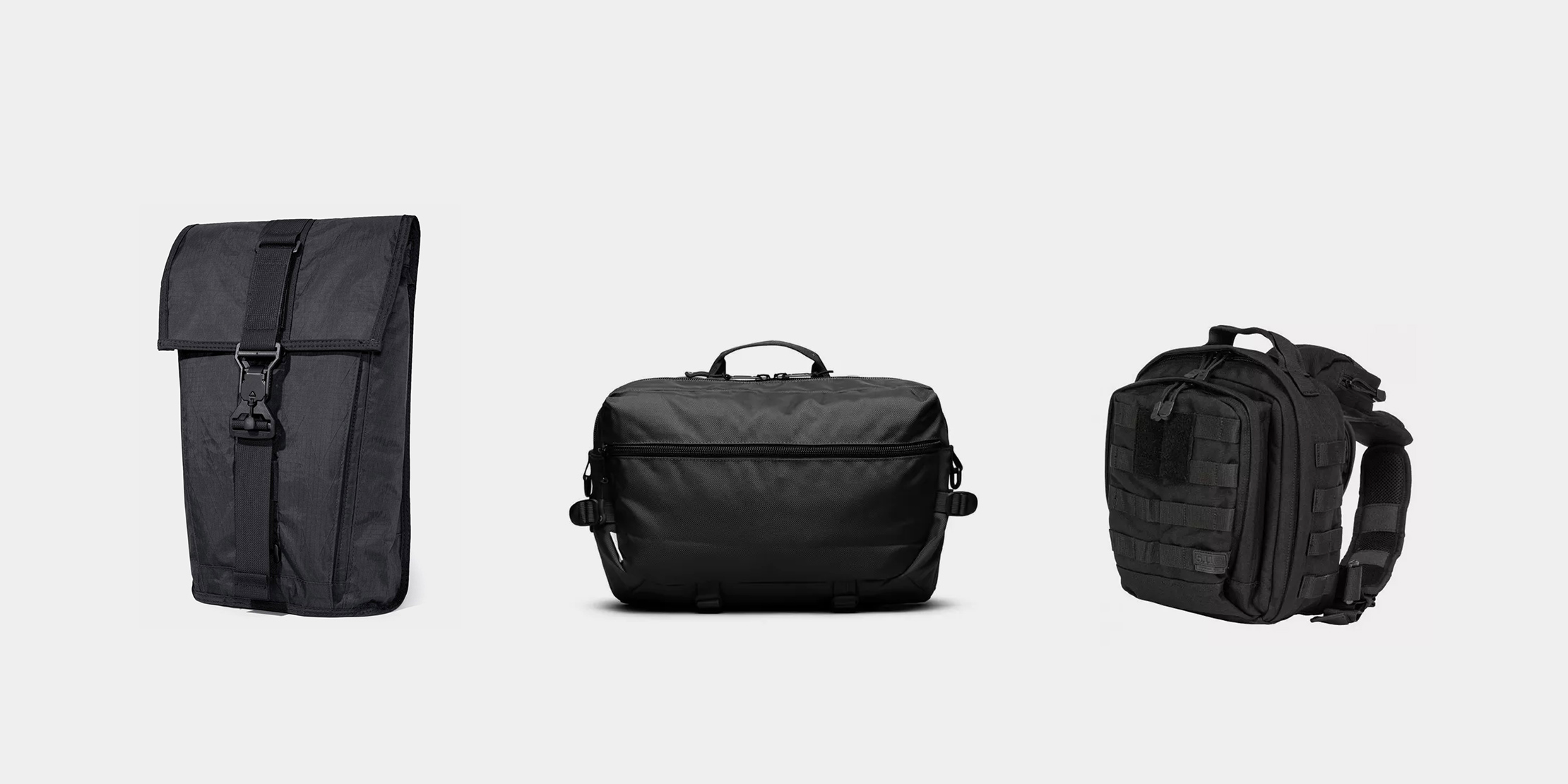 While there are some sling bags out there that are seriously tactical (think Apocalypse ready), others just look tactical. While the former is probably better suited for outdoorsy things, the latter can be great for travel. Usually made of high-quality stuff, these bags are ready for whatever you throw at them.
Fashion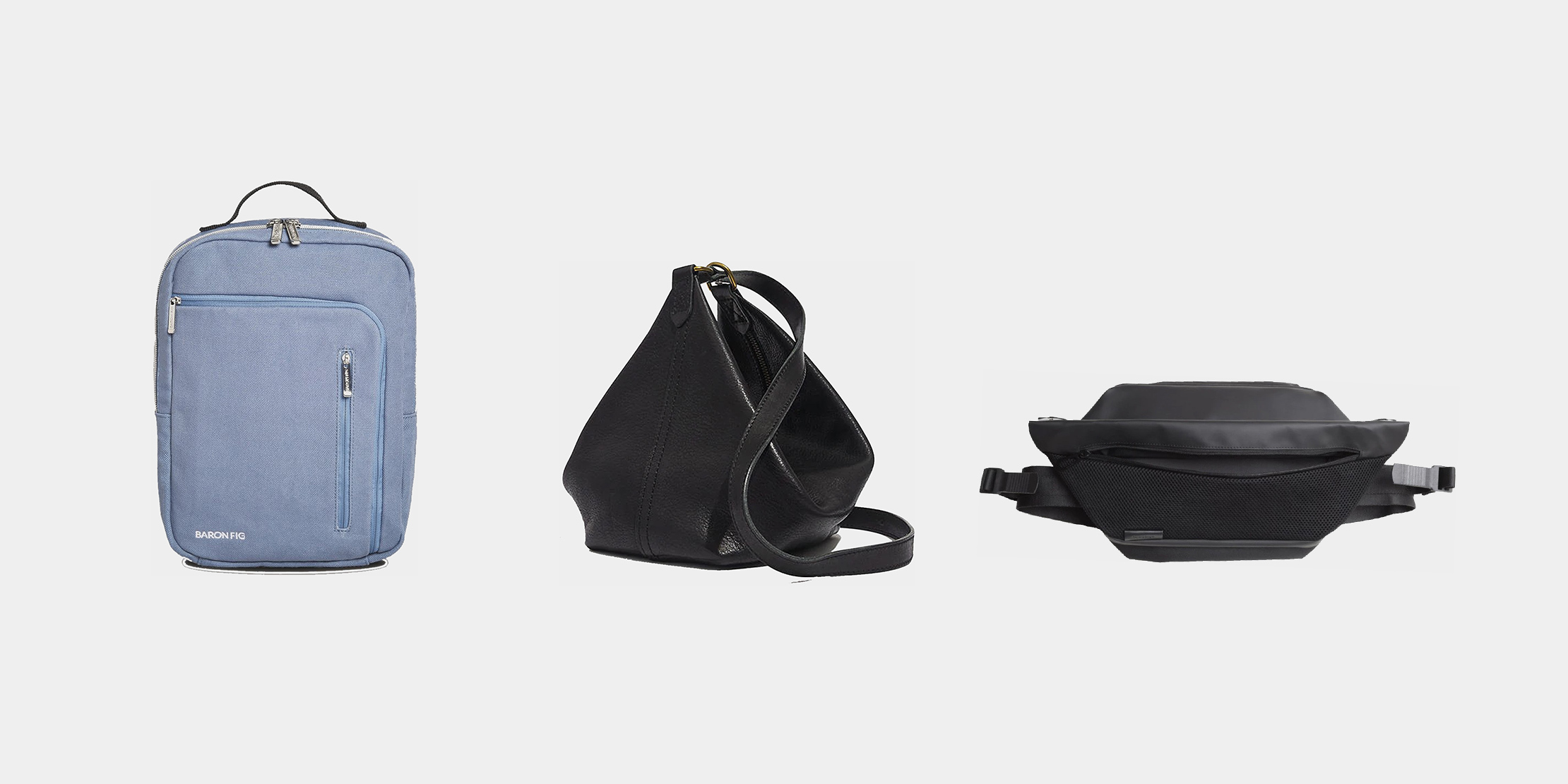 While Louis Vuitton and Prada sling bags fall under the fashion category, you don't have to break the bank here (unless you want to, of course). Fashion sling bags are designed to impress with sleek zippers, unique straps, or other sophisticated design elements. Sometimes, although not always, this trendiness comes at a price—and that price is lower durability. That's fine if your use-case is pretty low-impact, but if you're planning to use your sling bag time and again while traveling the world, you may want to opt for another style.
05

Conclusion
It's time to spread your wings and…choose a sling bag you'll love! It's as easy as one, two, three.
Save during the REI sale
Gear up for your next trip during the REI Cyber Week Sale, now through Dec. 4. Check it out →
Forget the Best Sling Bag For Travel. Find the Best Sling Bag for YOU!
We would've loved to end this guide with "all that said, the best sling bag for travel is…" because, let's be real, that would save us all a lot of time and effort. Unfortunately, there is no such thing as the best sling bag for travel. There is only the best sling bag for you. So, let's review how you can choose a sling bag you'll fall in love with. To make things extra easy, we've broken it up into three steps:
1. Decide Why You Want a Sling Bag
Planning on rocking your sling during Milan's Fashion Week? Opt for a designer sling made with less durable materials. Planning on backpacking Southeast Asia for three years? You might want a sling that'll last the entirety of the trip. Different sling bags are better or worse for different situations, so make sure to think through when you'll be using your sling bag and for what. And make sure to consider every use-case—perhaps you'll be visiting fashion week then backpacking through Thailand. Pick your sling bag accordingly.
2. Assess Quality & Function
Take a look at the elements of a sling bag and the quality of materials. Unless you get joy out of throwing things away, you'll probably want a sling bag that's going to last you a little while. Pay close attention to the sling bag's fabric, zippers, buckles, and straps. An easy tip for assessing overall quality is to take a look at the company's warranty. If a company is willing to stand behind its products and offer a meaty warranty, then you should be able to trust whatever they're selling.
3. Choose Your Favorite Style
A sling bag is an accessory. A useful accessory, but an accessory nonetheless. So make sure you love how it looks. In the end, if you're repulsed by how hideous your new sling bag is, it doesn't matter that it'll last you until 2075.
Alright! You've made it to the end, folks. You may have thought that a sling bag was only a fun twist on a resurgent trend from the '90s, but now you know it's so much more. We deem thee an official sling bag expert.
Good luck with all your slinging adventures—and make sure to share any other sling bag tips you've learned with us and the rest of the Pack Hacker community.
P.S. If you want more, check out all of our gear reviews. We're always testing and reviewing new sling bags, plus a bunch of other super dope stuff.