TOM BIHN Bantam Review
Despite its simple wallet-phone-keys design principle, the TOM BIHN Bantam provides users with multiple interior pockets and carrying styles to play with.
Our Verdict
Unlock the Pro Summary
Save time. Get access to brief summaries of our reviews so you can browse and make decisions more efficiently.
Pros
X-Pac fabric well structured
Flexible carrying styles give you options
Has interior pockets despite limited volume
Cons
Dark-colored tech accessories blend into the all-black interior
Included strap feels almost too thin
A few loose threads at the front leftover from production
Recent Pack Hacker Video
Technical Details
100 %
Carry-on Compliance
Capacity

1l

Weight (oz)

4.8 oz (136.1 g)

Dimensions

8.7 in x 5.1 in x 2.4 in (22.1 x 13 x 6.1 cm)

Notable Materials

X-Pac, YKK Buckles, YKK Zippers

Manufacturing Country

United States

Warranty Information
Full Review
The TOM BIHN Bantam is the brand's answer to customers' need for a wallet-phone-keys sling. It's a perfectly understandable necessity since your pants pockets aren't always big enough, or don't exist at all. Short of bringing cargo pants back in vogue, small slings like this are the next best thing. That said, the tinier you go, the more tempting it is for brands to shed features. So does TOM BIHN fall into this trap?

The short answer is no. True to the words on TOM BIHN's website, the Bantam is small but has a lot of spirit. The primary material on the sample we're testing is durable X-Pac fabric, there are a few options for organizing gear inside, and you even get three carrying styles. So while it's not pushing the limits of capacity, it's not necessarily lacking in the features department.
External Components
Let's get one thing out of the way: size doesn't dictate the number of external features. Case in point, see CODEOFBELL's ANNEX 360. However, TOM BIHN opted for simplicity with the Bantam, and we're inclined to agree. It has a very clean look in line with the brand's aesthetic. Anything eye-catching comes down to the shape and fabric of the gear in question. In the Bantam's case, you can choose from 400-denier Halcyon (a staple of TOM BIHN gear), recycled RX30 X-Pac, and reverse X-Pac. We're testing the recycled RX30 X-Pac, but you're no doubt intrigued at the mention of the latter-most option (we'll get there, don't worry).

As you might expect, X-Pac fabric delivers quite a bit of structure to a one-liter sling like this. Thankfully, it doesn't feel too stiff or obnoxiously crunchy every time you touch it. The level of protection is quite reassuring, and it's due to the 300-denier polyester face, X-PLY, and polyester film layers combining to form the entirety of RX30 X-Pac. Rest assured that no water is coming through this fabric, although moisture can probably still seep in through the zipper, so you should refrain from taking lengthy showers with the Bantam.
So what about that reverse X-Pac variant? It's the Bantam with X-Pac fabric, with the layers reversed. In other words, the shiny polyester film is now on the outside, and the 300-denier face is on the inside. We're not quite sure how well the polyester film will fare against external abrasions, but it makes the sling uniquely stylish. Fortunately, regardless of which version you pick, the bottom edge of the Bantam is made of heavy-looking nylon that should bear most of the day-to-day abrasions caused by setting the sling on random surfaces.

The rest of the Bantam is good quality, as well. The strap's clips and the zippers are from YKK, a brand known for reliability. If there are any issues, it's with the fabric's stitching. We found some threads that seemed leftover from the manufacturing process when we looked closely at the front. The good news is that this isn't just shoddy build quality but more of a manufacturing imperfection. No matter which way we slice it, though, we wish TOM BIHN caught this minor imperfection.
You have a few options for carrying the Bantam. The simplest way is to use the included ⅝-inch shoulder strap attached to O-rings flanking the sling. It's quite slick and thin but in proportion to the Bantam's one-liter size. It's adjustable by a single adjuster where the strap loops into itself, and here lies our chief concern. Given how thin and light the strap is, it's easy for the looped-in section to separate and get messy—not tangled, mind you, just jumbled.

Fortunately, there are also loops on the side where you can attach a wider strap. Note that the loops are quite narrow and typically used with corresponding gatekeeper-style clips. We have one such strap from TOM BIHN with the right kind of clip, though you could use any strap from any brand as long as they fit the loops.

Alternatively, you can use the pass-through on the back panel to attach the Bantam to a belt or a strap. Whether carrying it as a waist pack suits your taste or not is up to you. We will say, though, that the Bantam is small enough to use as a quick-grab pouch that simply hangs off to your side.
Fit Notes

Our preferred way to carry the Bantam is using the narrower ⅝-inch strap and letting it lie next to the hip. It's a casual carrying style in tune with the Bantam's intended use as a wallet-phone-keys mini sling. Put another way, it's the logical next step when your clothing doesn't have enough pockets or if you just don't want to have unsightly bulges beside your thighs.
You can also tighten the strap and wear the Bantam closer across your chest. However, you really need a wider strap for better comfort if you want to do this. Tighter adjustments with the ⅝-inch strap can dig it into your body, which is uncomfortable, to say the least.

Then there's waist pack mode. The only thing to remember with this carrying style is to use a belt that's not stretchy, like one made of leather or something similar. Otherwise, using a stretchy belt allows the Bantam to lean forward, which, in turn, compromises carrying comfort. This, combined with the fact that you must take your entire belt off to remove the Bantam, makes it our least favorite carrying style.
Inside The Sling
There's only one compartment on the Bantam: the main compartment. It opens via the two YKK zippers, which you can reposition anywhere along the track you want. Inside, you'll find an all-black interior. Granted, the sheen of the polyester film bounces back some lighting, but for the most part, it's still a pretty dark interior that black tech accessories like to blend into.

Fortunately, sifting through gear is not a huge issue since the Bantam is small enough that most of the interior is directly visible. There is a liner pocket at the rear, wide enough for an iPhone 13, and two pockets in front of that. Those latter pockets are a mock-woven elastane with a fair amount of stretchiness that grants them some volume to work with.
Surprisingly enough, these stretchy pockets are very low-profile when not occupied. We've seen other slings with similar pockets that tend to sag and obscure the interior even when there's nothing inside them. Kudos to TOM BIHN for paying close attention to that potential issue.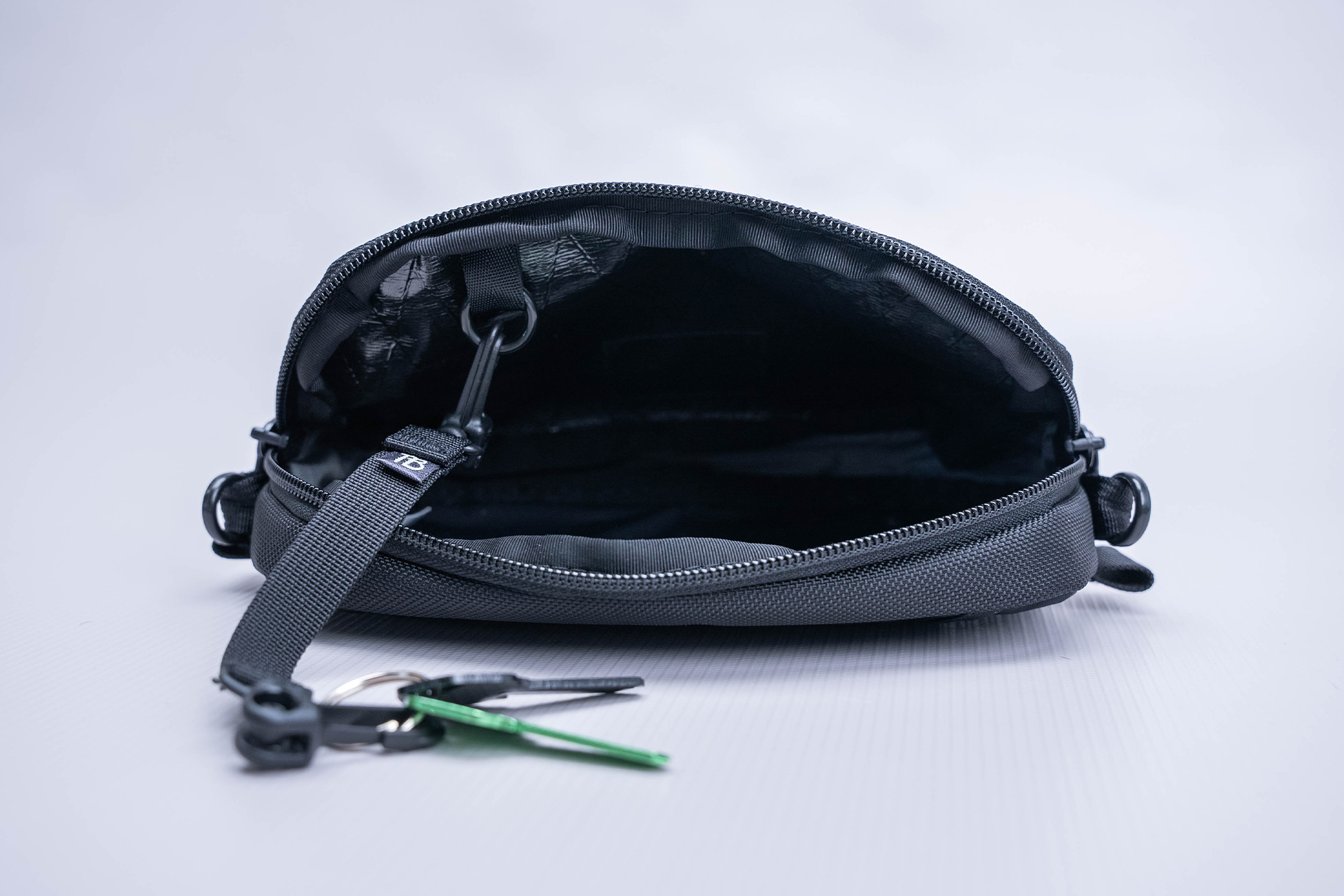 If you were wondering how many O-rings this particular TOM BIHN bag has, the answer is three. We've already mentioned two of them; the last one is in the interior, as expected. It is for the included key strap. However, when we use it for a set of keys, the lengthy strap feels a bit overkill, so using a small carabiner is also a viable alternative.

Overall, the Bantam does feel a bit sparse when it comes to organization. However, given the wallet-phone-keys use case TOM BIHN had in mind, it's more than adequate for the job. It can carry all three of those items and still has extra pockets inside for your AirPods and lip balm, too.
Usage Timeline
Initial Usage
Condition: Excellent
Jangly zippers are hard to ignore
Digging the internal organization for such a small bag
Included shoulder strap twists easily—too easily
2 Weeks of Use
Condition: Excellent
A few threads peeking out of the front stitching, though it seems to be extra thread from production, not the bag coming apart
Holds its shape well even when it's not full
Dig the multiple carry modes—we love to have options!
Access the Pro Community Discussion
Get your questions about the TOM BIHN Bantam answered from our team and the Pro Community right here on the page. Plus, join discussions with other members about gear, guides, and more.
Other Bags & Luggage Reviews