EVERGOODS Mountain Hip Pack 3.5L (MHP3.5) Review
The EVERGOODS Mountain Hip Pack's excellent harness system wears comfortably despite the bag's bulky looks—though we wish there was more internal organization.
Our Verdict
Unlock the Pro Summary
Save time. Get access to brief summaries of our reviews so you can browse and make decisions more efficiently.
Pros
Excellent main compartment accessibility
Harness system is designed to prevent snags
Comfortable to wear despite the large size
Cons
Main compartment could use additional organization
Side buckles can be tricky to put on and get used to
Relatively bulky for a waist pack
Recent Pack Hacker Video
Technical Details
Capacity

3.5l

Weight (lb)

.94 lb (0.4 kg)

Denier

420D

Dimensions

3.5 in x 16 in x 6.75 in (8.9 x 40.6 x 17.1 cm)

Notable Materials

Nylon, Polyurethane, YKK Zippers, DWR Coating, Duraflex Hardware

Manufacturing Country

Vietnam

Warranty Information
Full Review
If there's one thing we've consistently praised EVERGOODS for, it's the comfortable harness systems they've implemented on their backpacks. We've generally had good carrying experiences with their gear, so we were naturally curious to test out their waist pack: the Mountain Hip Pack.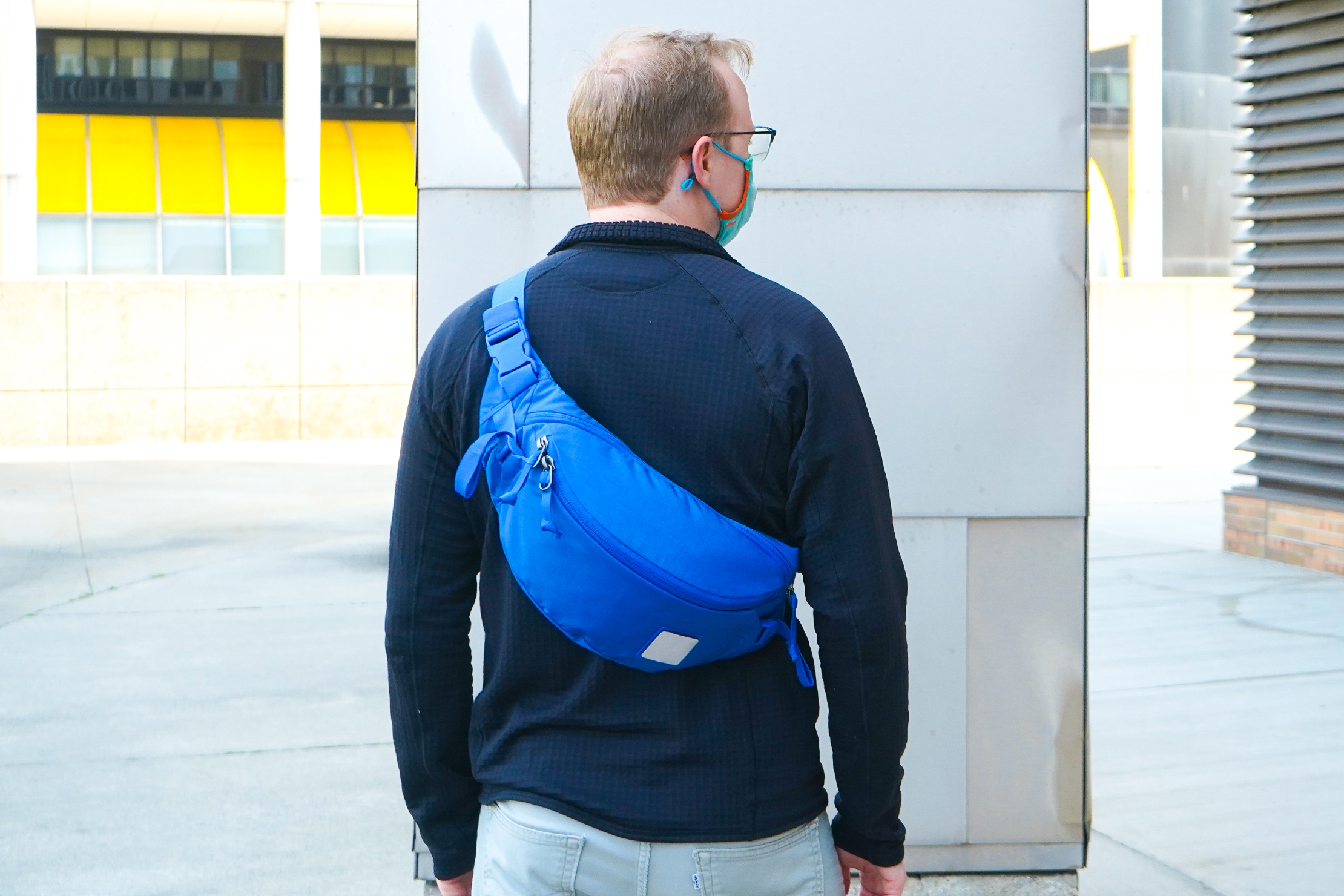 As you can see, it's a noticeable waist pack once you have it on. You can translate that as bulky, but the good news is that EVERGOODS has worked their magic to make it a comfortable carry that's on par with their backpacks. Organization can feel minimal, especially in the main compartment, but it makes up for it in thoughtful considerations in other aspects. Let's head on down to find out what these are.
Materials & Aesthetic
The Mountain Hip Pack makes a big impression right off the bat, and we mean it in a literal sense. As far as waist packs go, this one is definitely on the larger side of things. If the styling reminds us of anything, it would be EVERGOODS' own Civic Access Pouch 2L, but in a more rounded waist pack form. The colorway we have in this review is the aptly named Signal Blue, which certainly draws attention and is very eye-catching.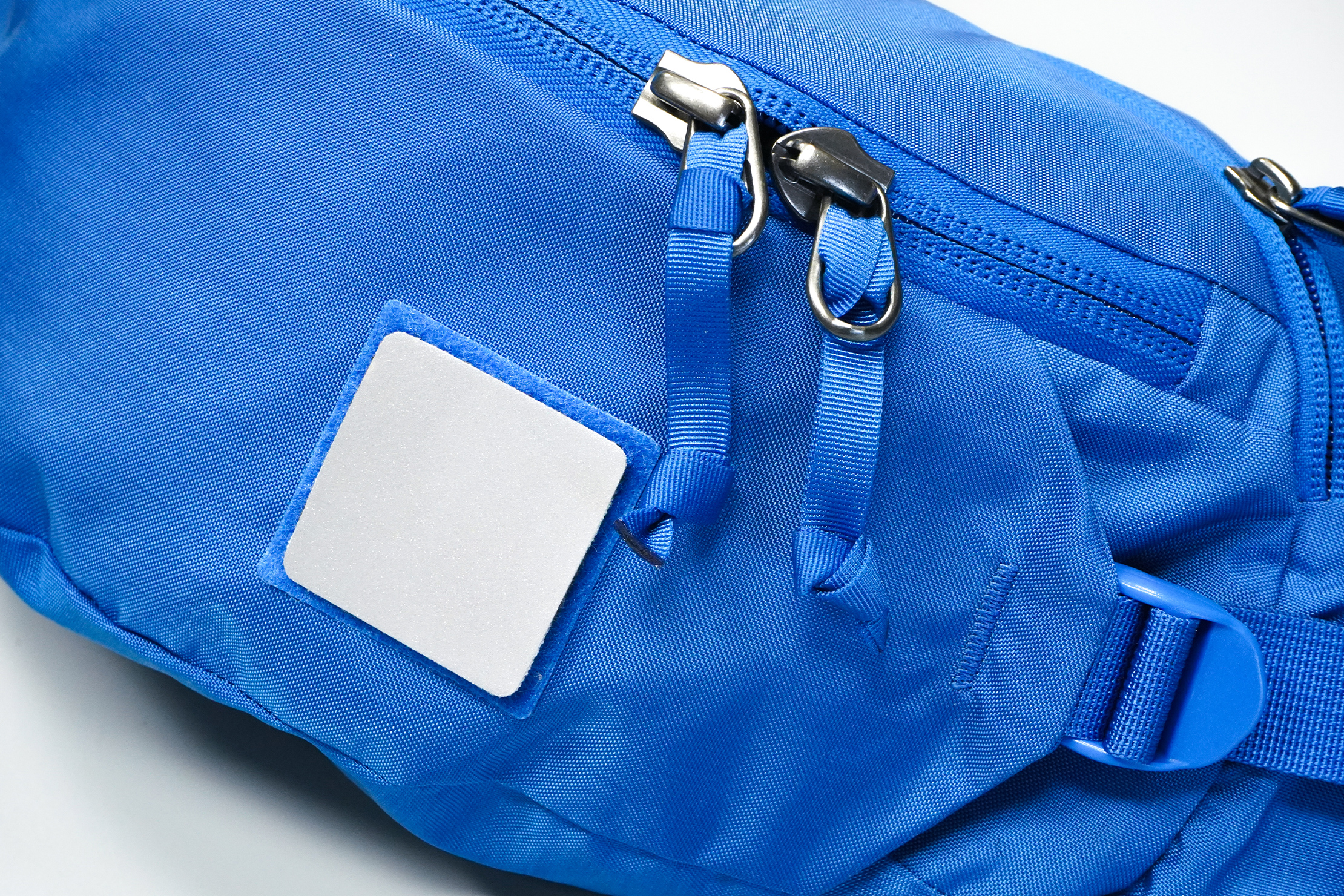 This is the part where we'd usually say to go with the black colorway if you want to keep things low-key and discreet. But to be honest, the darker color might do little to disguise the Mountain Hip Pack's size. Nevertheless, the option is there for those who want the timeless black aesthetic.
As with most EVERGOODS bags, the velcroed logo is here and ready to take on custom patches either purchased separately or even ones you made yourself. Without a patch, the logo blends well with the rest of the fabric and does not distract from the other more noteworthy landmarks on the bag's exterior.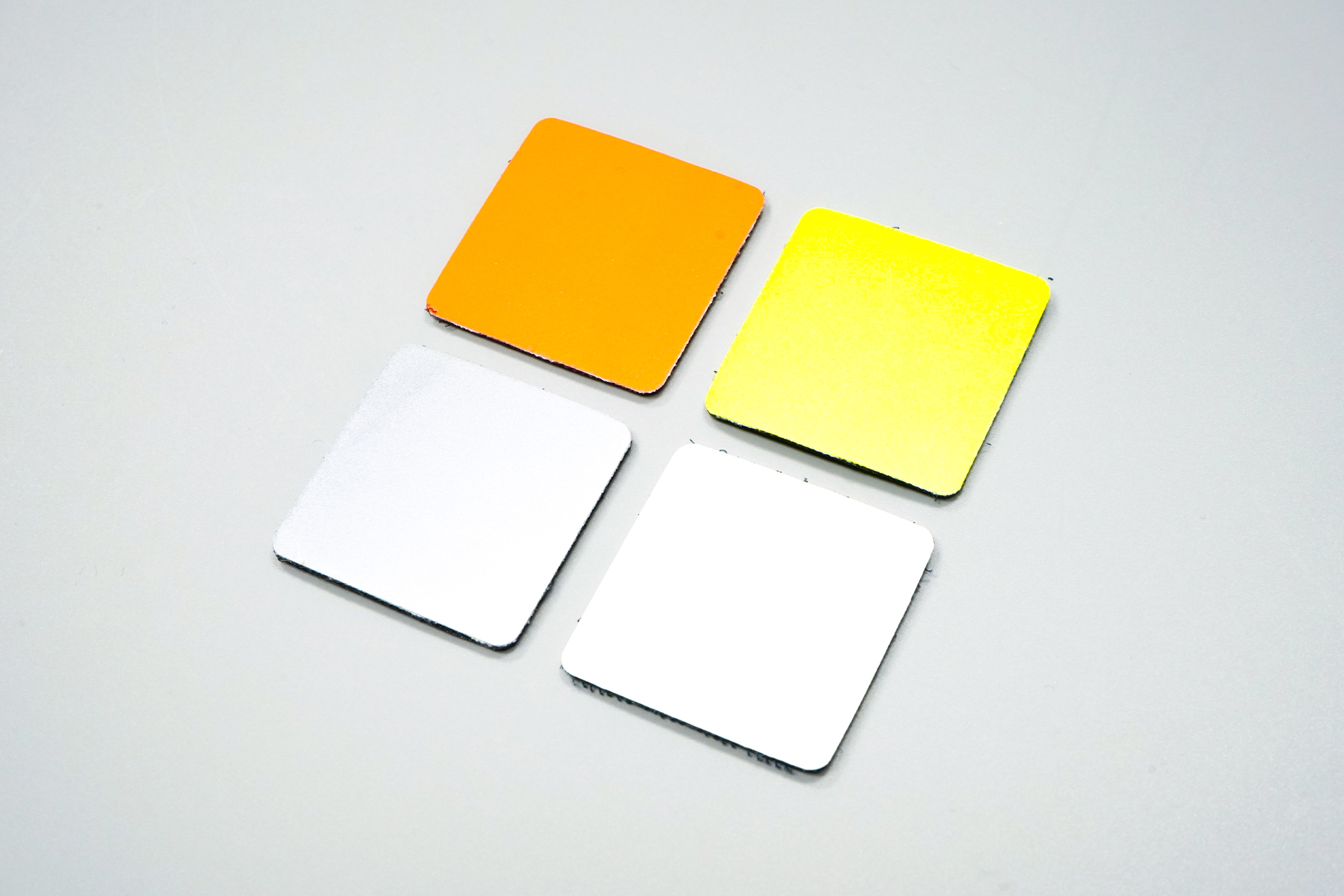 The materials used here are nothing short of excellent in terms of quality. The Mountain Hip Pack's fabric is made out of strong 420D nylon, while the lining is 210D nylon—both come with PU coating for a touch of water resistance. Equally important are the YKK zippers and Duraflex buckles, neatly rounding up the Mountain Hip Pack's overall build quality.
The looks can be polarizing, and it might not be your thing despite the very capable ingredients behind it all. But EVERGOODS put in some clever design choices and thought into the design that might just sway you yet.
External Components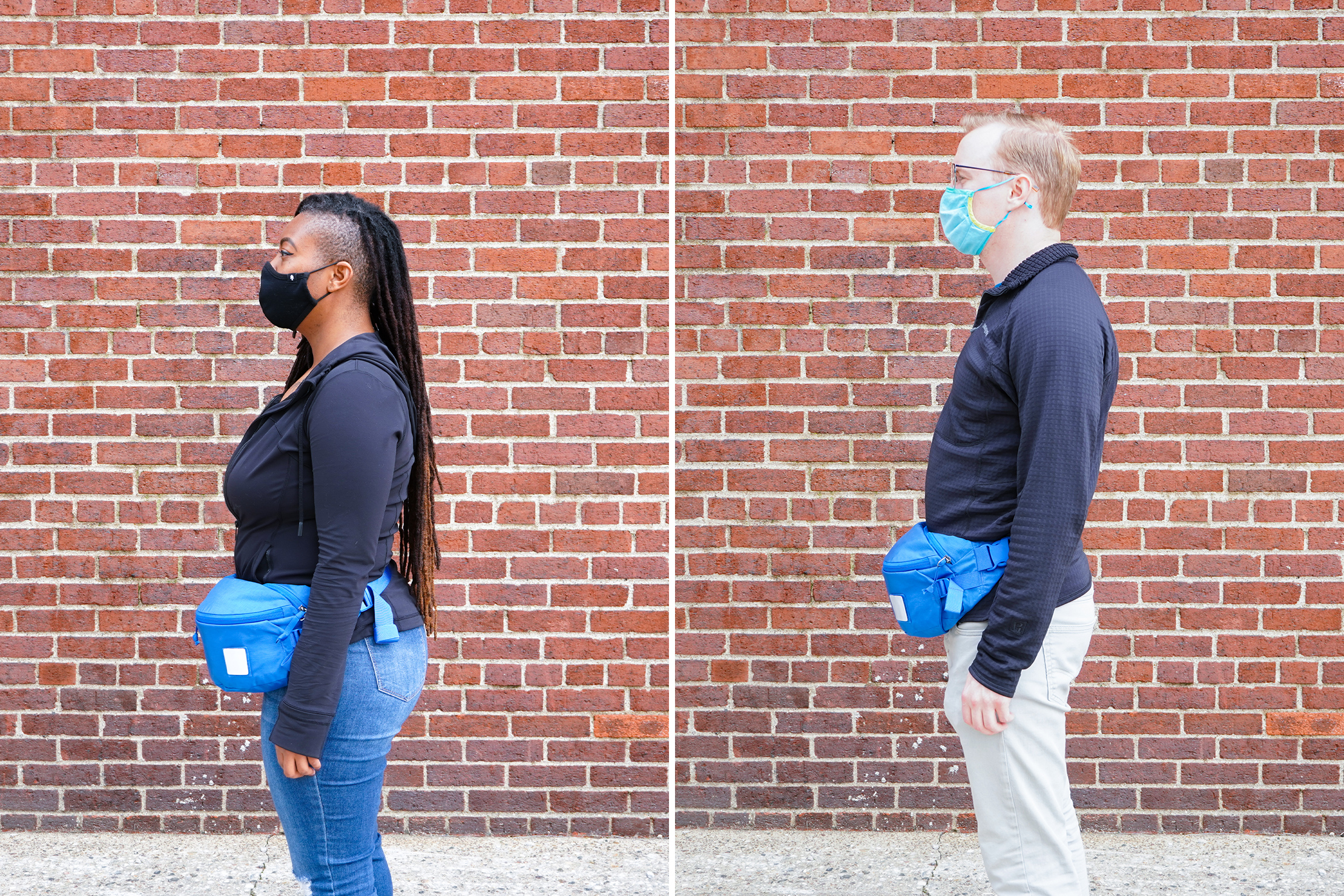 Starting with the strap, it's nylon that wraps around your hip. Simple enough, but unlike the straps on similar bags where the buckle is in the middle, the strap on the Mountain Hip Pack terminates near each end. The biggest advantage of this approach is that it keeps the buckles in areas where they won't snag on your clothes if you want to switch the bag to and from your back or front. EVERGOODS even went through the trouble of bar tacking the straps on the wings of the main body instead of at the ends, avoiding any unnecessary snags.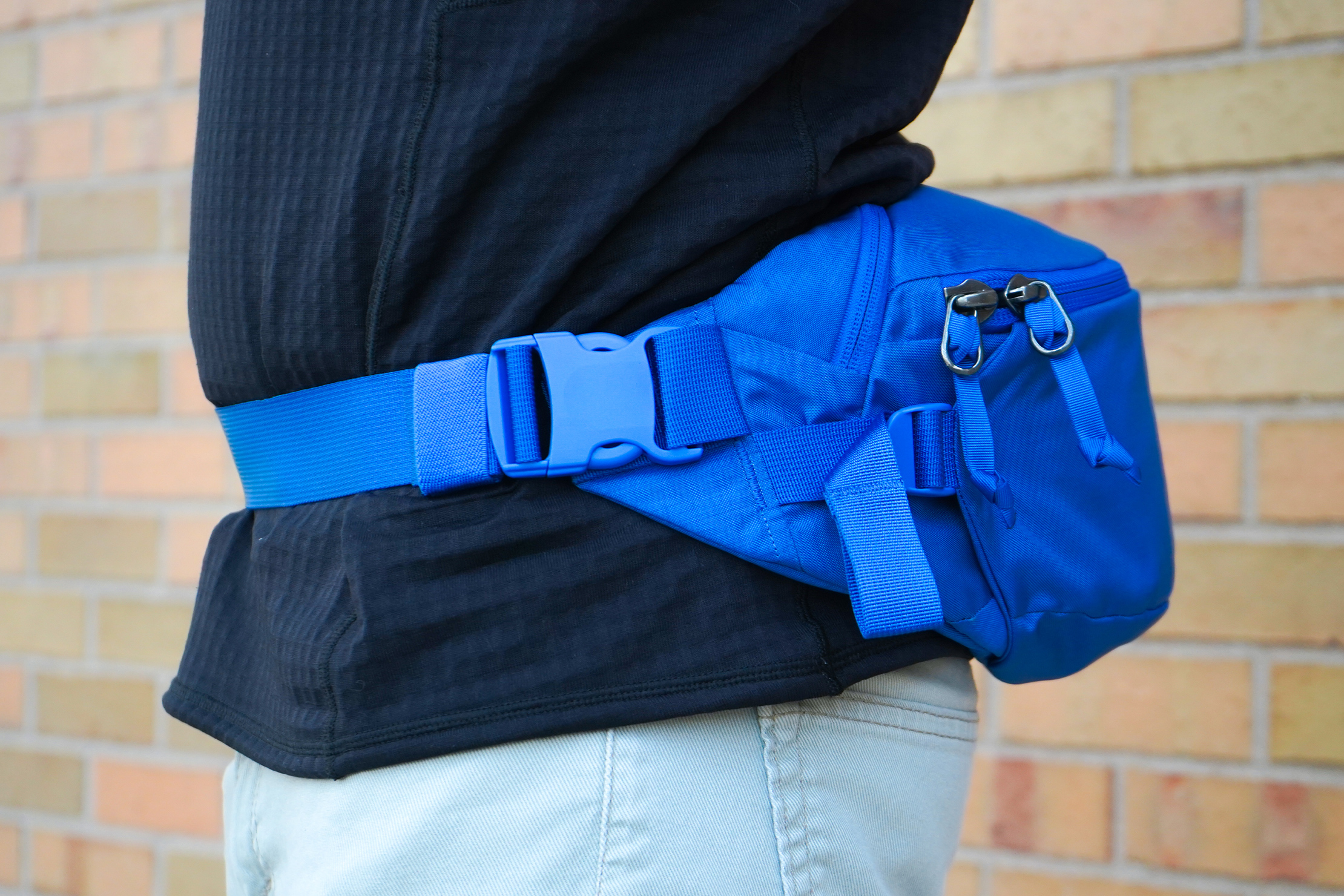 There are also elastic strap keepers to keep any extra slack in check. These are the same elastic strap keepers found on EVERGOODS' MPL30 (V2); we were fans of them there, and we're still fans of them now. Roll up the extra slack and thread it through the elastic keepers—simple, effective, and they help keep your trip dangle-free.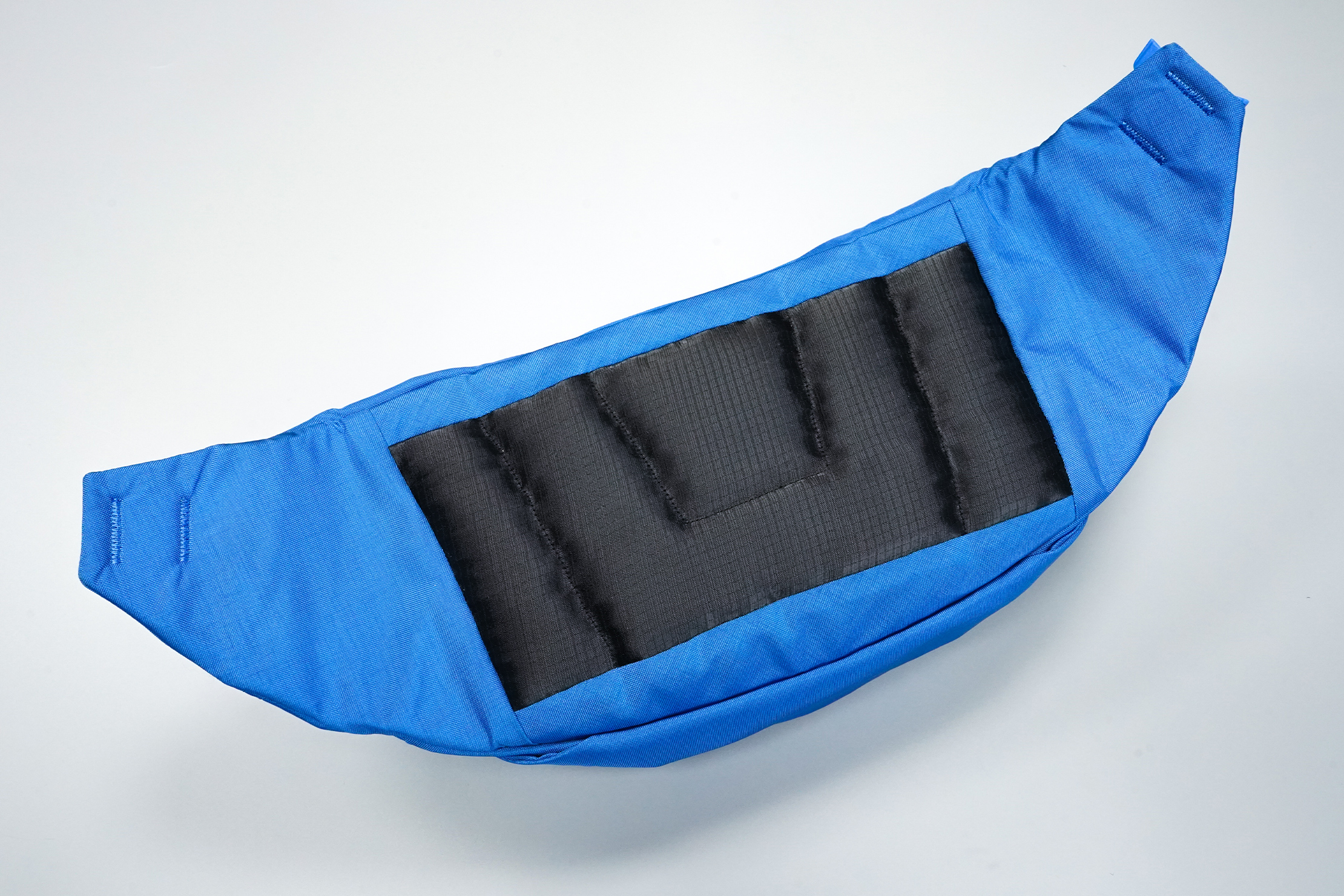 The overall result is a seamless harness system that sits on your body. Coupled with the well-padded back panel, the Mountain Hip Pack comfortably sits against you. Whether we were carrying it sling bag-style or waist pack-style, it never felt too cumbersome to wield despite the size we emphasized earlier.
All of that said, due to the buckle placement, the Mountain Hip Pack can be trickier to put on compared to bags with more typical center-positioned buckles. It requires a bit of balancing and getting used to, but we eventually got used to it with time.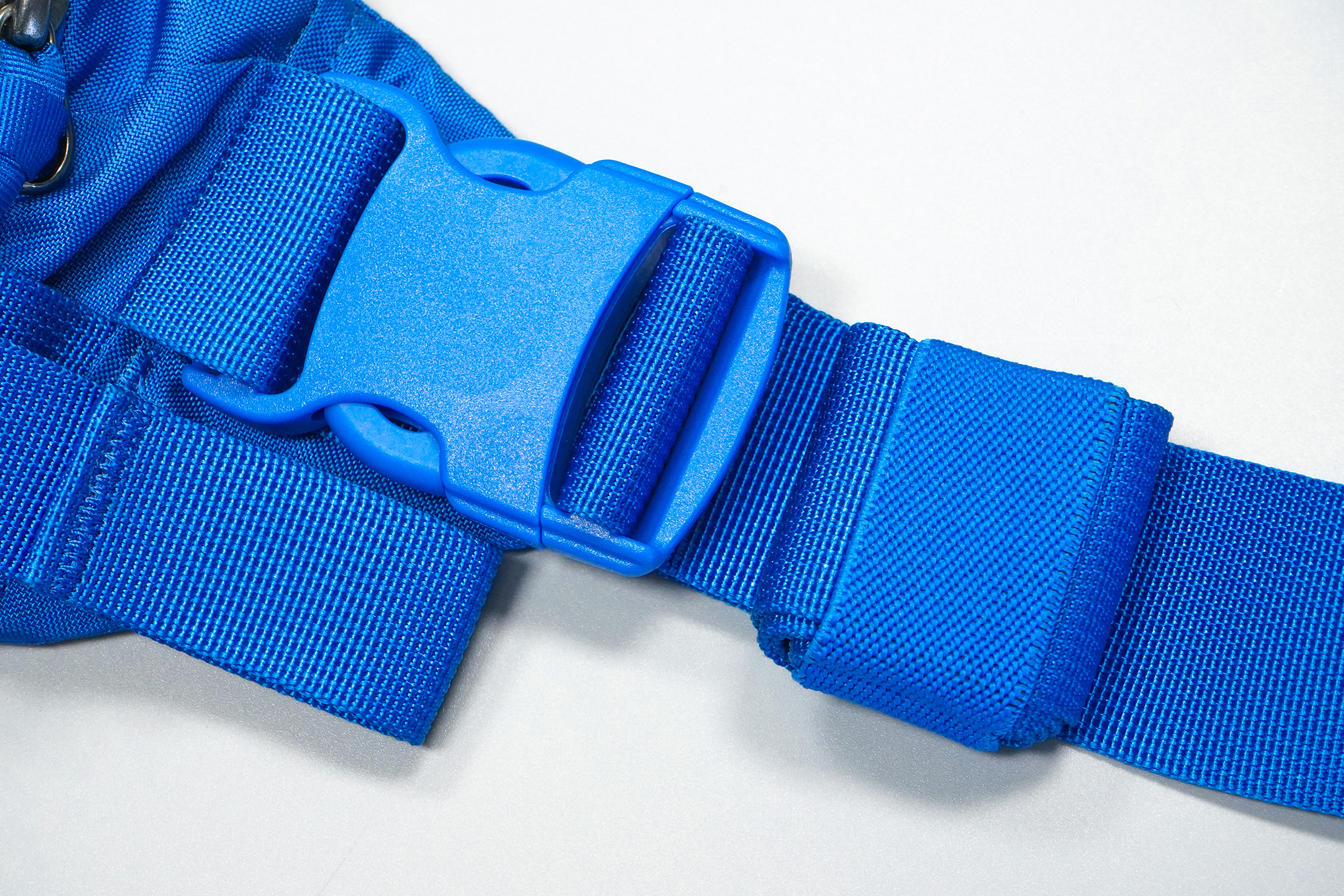 At each side are compression straps that help the 3.5L Mountain Hip Pack keep its profile down. If you compress it while fairly empty, the front folds into the body once you begin to tighten down the compression straps. These came in handy whenever we had our compressible jackets with us. There are just times when we didn't feel like folding and compressing our jackets meticulously, so compression straps are a fast and convenient way to compress them after stuffing them inside.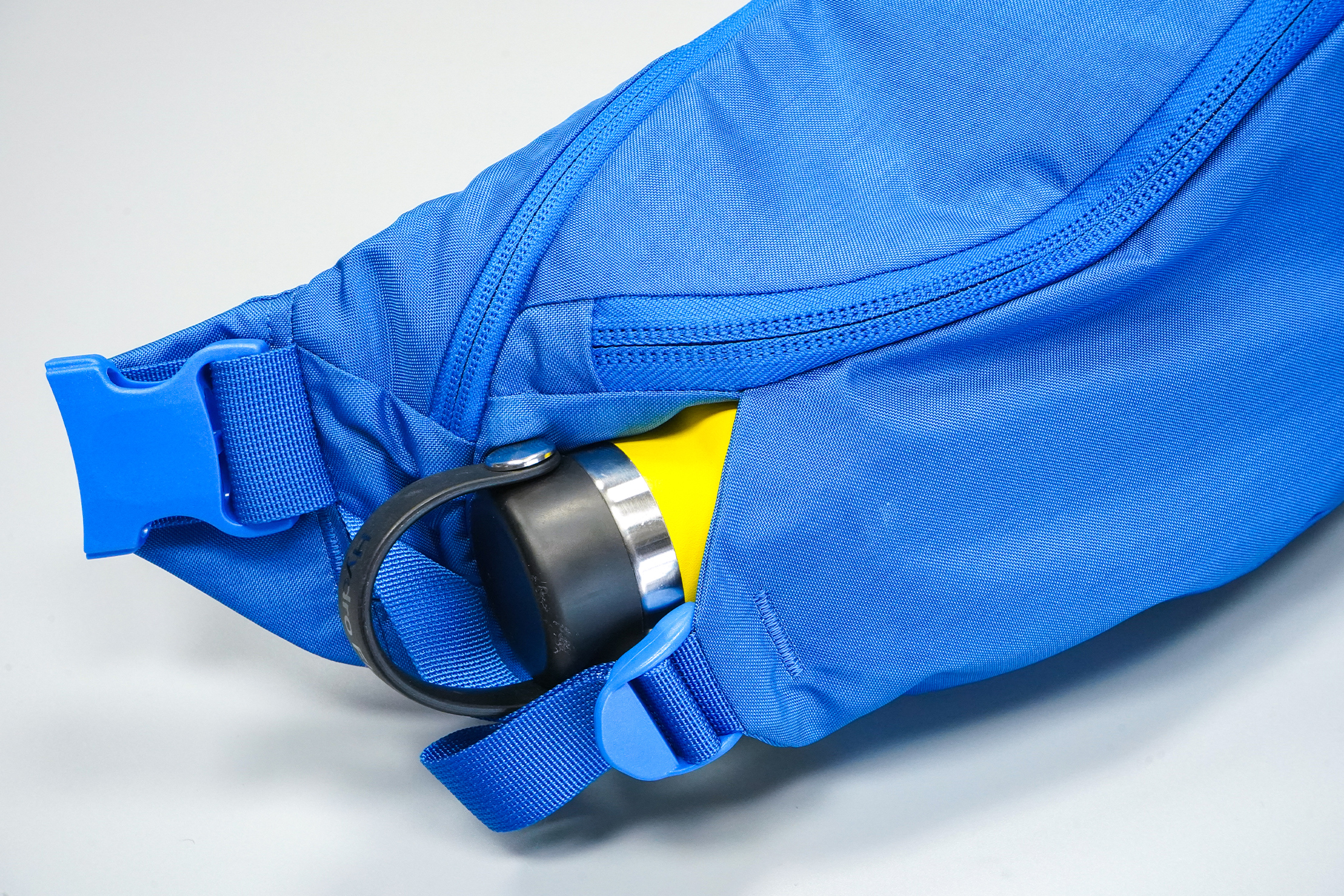 Secondary to compression duties, the compression straps also act as stoppers for the pass-through channel at the front. This is similar to the NOMATIC Navigator Sling 1L's pass-through, but this one is located towards the front and without zippers. You can use it to thread through light jackets if, for example, they're wet, so they can dry off as you go along. Slim water bottles and folding umbrellas also slot in well, and the compression straps help keep them in there and prevent them from slipping out easily.
Inside The Pack
Starting with the rear compartment, it's the quick-access pocket, so to speak, and it gets the bulk of the organization. Think of it as the equivalent of a tech compartment if this were a daypack. But instead of a laptop sleeve, you get liner pockets for your smartphone, wallet, sunglasses, and some pens.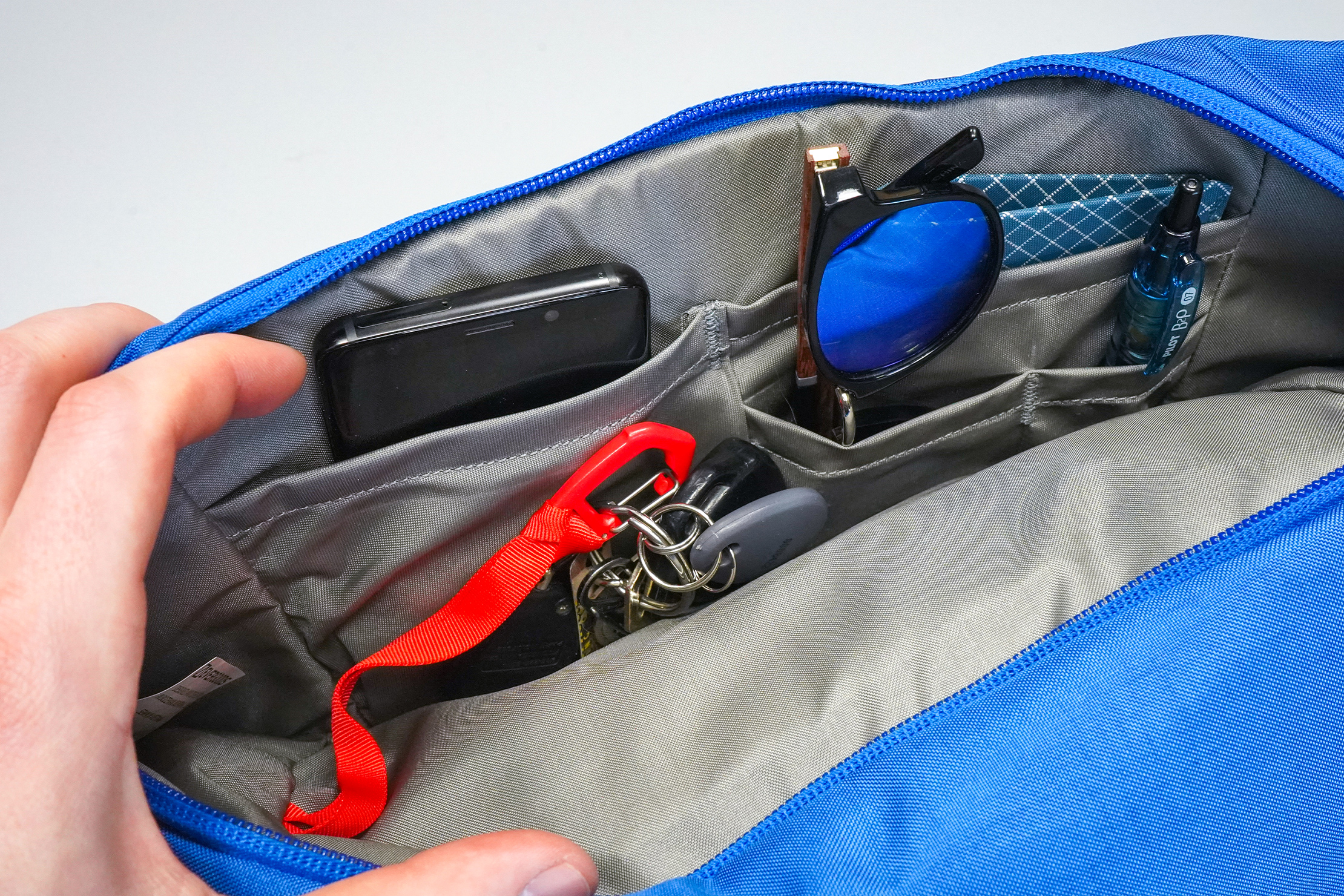 There's also a key leash provided, a bright red one if you needed the extra visibility. Not that the interior of the Mountain Hip Pack is dark by any means. The silver fabric is fairly bright and reflective, making it suitable for use outdoors, where it can catch sunlight and help you find what you're looking for. Depending on how tightly packed the main compartment is, the rear compartment can feel a bit cramped, though you should not have any problem fitting in even high-capacity power banks.
We observed throughout the test period that once we had the rear compartment opened, the front would sag forward depending on how heavy that part is. That would usually be a red flag, but in this case, the small amount of sag was helpful in the accessibility of the rear compartment, keeping it wide open.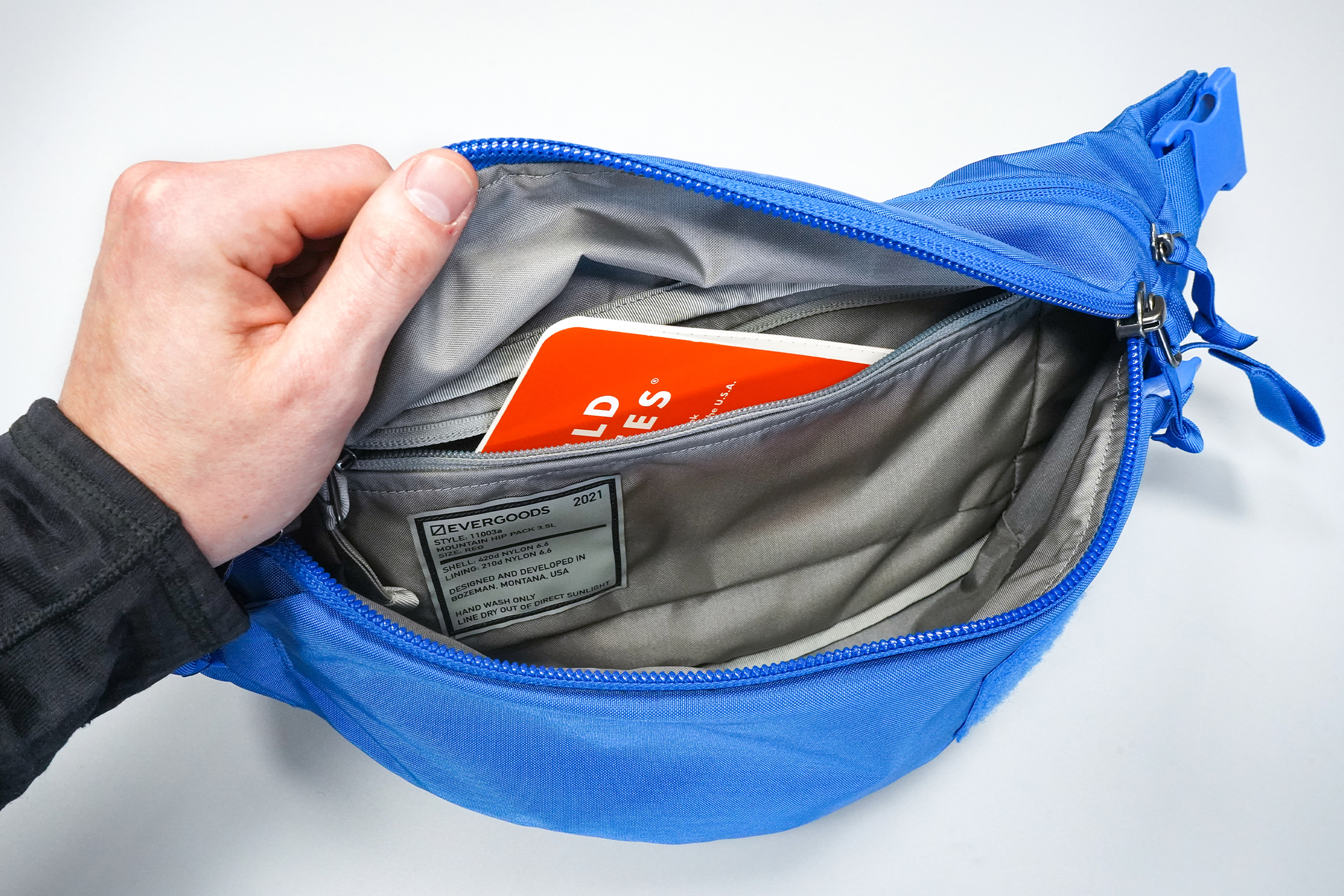 As for the main compartment, this is where your bulkier items, like light jackets or packing cubes, will go. The inside feels one of the most cavernous interiors we've come across. The top opens up like a lid, providing great top access, and we had no problems getting our jacket in there even with our haphazard folding and rolling. We were even able to squeeze in our 18-ounce Hydro Flask, though the bag was noticeably bulked up at that point.
At this point, you're probably asking if there are any zippered pockets inside. Indeed there is one inside the main compartment. Located towards the rear, it acts as the security pocket of the Mountain Hip Pack. Though looked at another way, it simply means it's not very accessible. Therefore, this zippered pocket is best left in charge of important travel documents like passports and airline tickets or priceless photos you've taken on your adventures.
Wrap Up
So that wraps up our review of the EVERGOODS Mountain Hip Pack, and we walk away rather impressed, and with one aspect in particular. The attention to detail they've put into the harness system is commendable, and it translated well during use. Despite the relatively large size and how tightly we've kept it packed, it was nonetheless a comfortable carrying experience.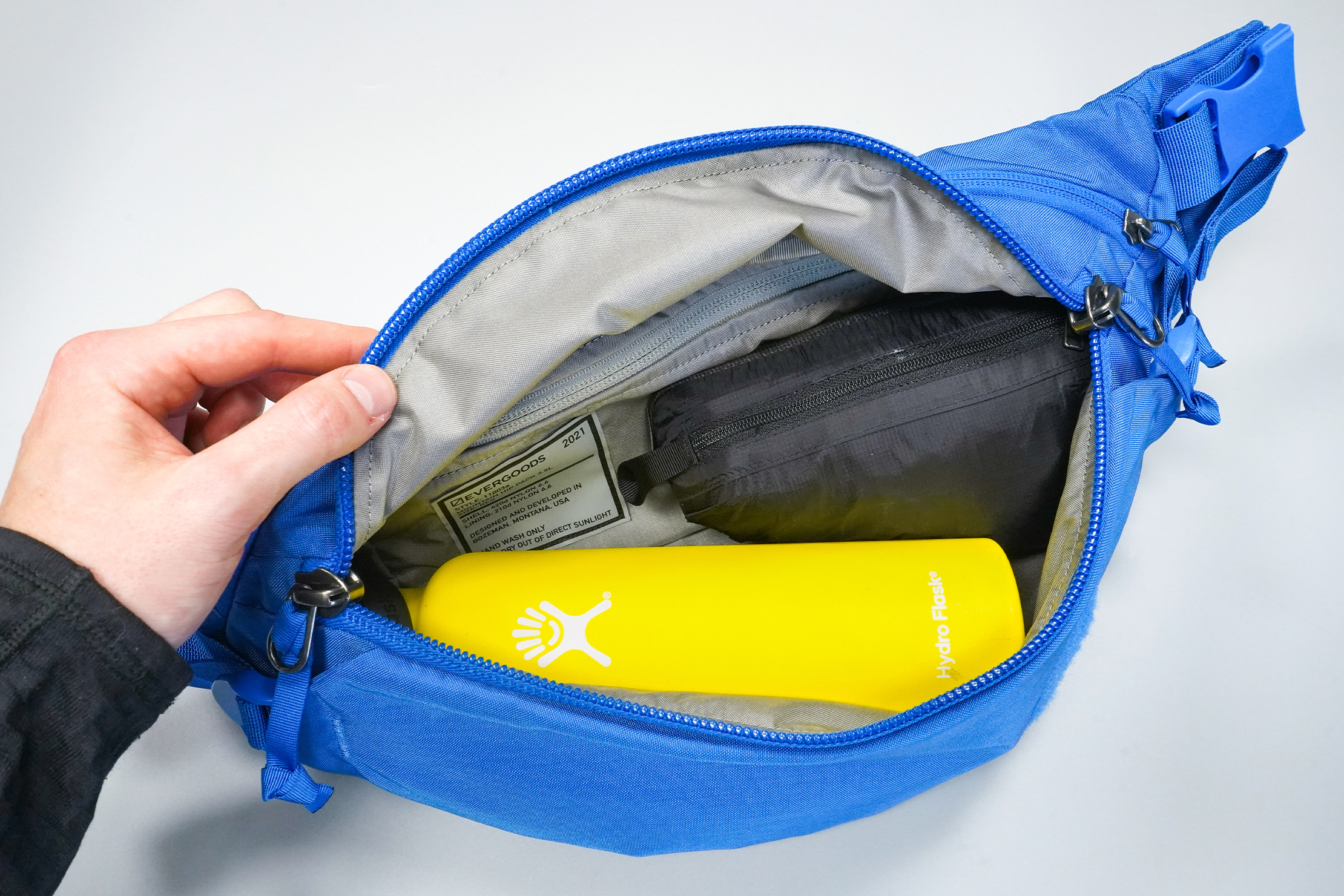 Where the Mountain Hip Pack falls a bit short is in terms of organization. The rear compartment is well-provisioned with liner pockets, but we wish that the main compartment had maybe a mesh pocket or two for smaller items like thumb drives and memory cards. The pass-through is a neat addition, and fortunately, the Mountain Hip Pack has plenty of space and excellent accessibility. Hence, a small pouch or two is a good complement for additional organization.
Usage Timeline
Initial Usage
Condition: Excellent
Side compression straps hunkers the pack down tightly
Breathable back panel does the job keeping things cool against our body
Flexible organization and space makes it great to take on bike trips
2 Weeks of Use
Condition: Excellent
We definitely got some looks while wearing this giant, blue hip pack, but there are a lot of great features once you get past that. The strap is uniquely designed with two covered side buckles instead of one central one to avoid snags on clothes when you move it from the front to the back. It can feel off-center and awkward to put on without a central middle buckle, but it's very comfortable once you have it on. The organization is pretty minimal but versatile with open space to store larger items, a few small sleeves to keep tiny gear organized, a passthrough to store a jacket or water bottle, and compression straps to adjust the profile of the entire hip pack. Overall, it is perfectly suited for outdoor adventures and great for urban settings if you can get over the size.
Access the Pro Community Discussion
Get your questions about the EVERGOODS Mountain Hip Pack 3.5L (MHP3.5) answered from our team and the Pro Community right here on the page. Plus, join discussions with other members about gear, guides, and more.
Other Bags & Luggage Reviews