NOMATIC Navigator Sling 1L Review
The NOMATIC Navigator Sling 1L has a great layout that adds versatility with an expanding compartment feature, but a rigid design can make the sling feel bulky.
Our Verdict
Unlock the Pro Summary
Save time. Get access to brief summaries of our reviews so you can browse and make decisions more efficiently.
Pros
Expanding pocket also doubles as a security pocket
Solid structure provides a consistent look
Internal cable pass-through adds battery bank organization options
Cons
The rigidness of the sling can make it feel bulky
Strap keepers can snag and bunch up while flipping from front to back
Pen holder feature uses soft fabric that may wear out
Recent Pack Hacker Video
Technical Details
100 %
Carry-on Compliance
Capacity

1l

expands up to 3L

Weight (lb)

0.83 lb (0.4 kg)

Dimensions

6.25 in x 9.75 in x 2.25 in (15.9 x 24.8 x 5.7 cm)

Notable Materials

Tarpaulin, Polyester, Nylon, Zoom Zippers

Manufacturing Country

Vietnam

Warranty Information
Buying Options
$79.99
$79.99
Full Review
Get up to 20% off NOMATIC • Join Pack Hacker Pro
The first time we laid eyes on NOMATIC's Navigator lineup, the clean, techy design got our thumbs up almost immediately. Like we always say around the office: You can never go wrong with a clean, black design. Thus, a sling donning this look was something we could get behind.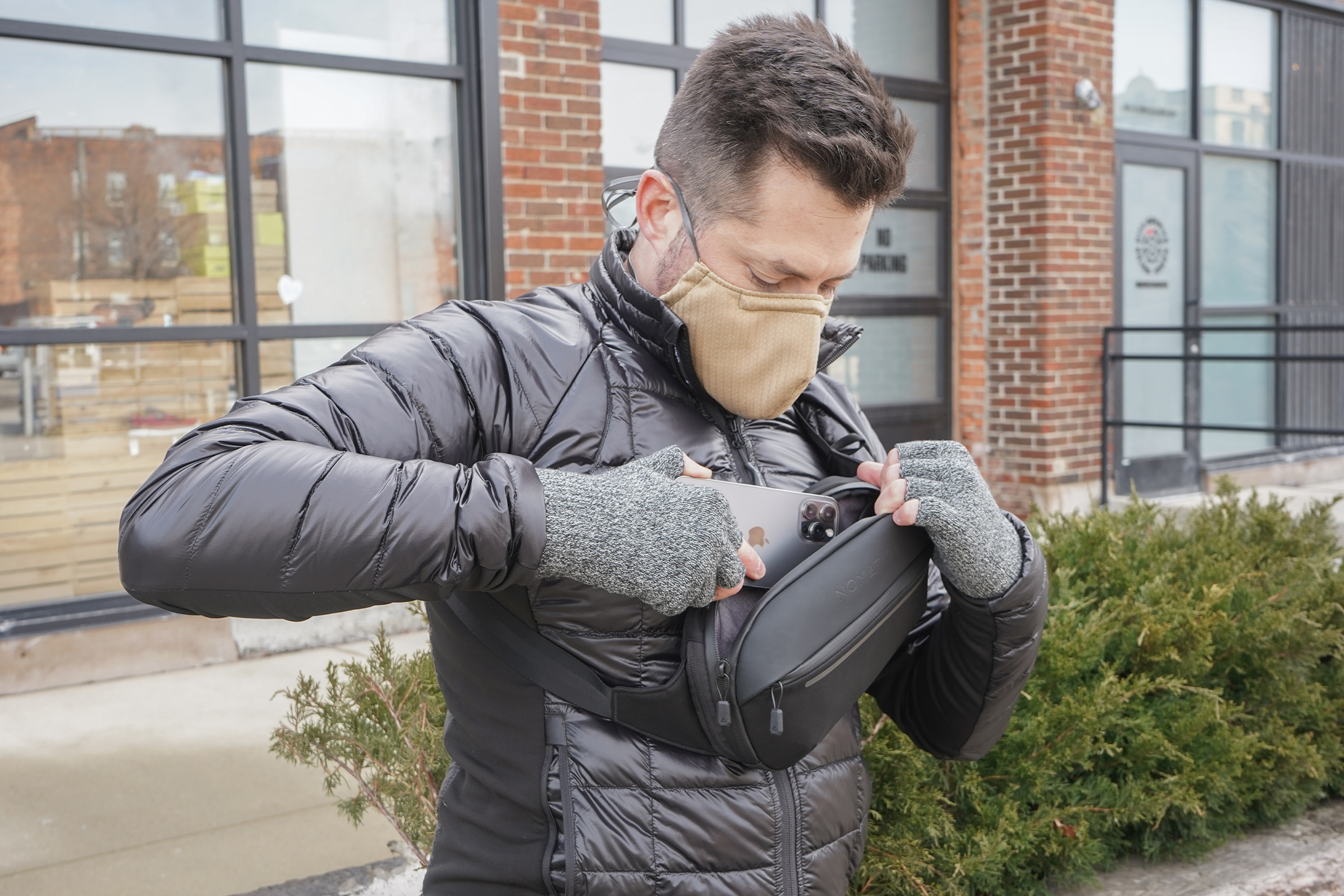 In this review, we're taking a look at the runt of the litter in NOMATIC's Navigator line: the 1L Sling. Before you dismiss the smallest member of the Navigators, this sling's got some features to dish out that made us go, "Oh yeah, that makes sense"—and maybe you will too.
Materials & Aesthetic
As stated, NOMATIC has a distinct design for their Navigator lineup, and the Navigator Sling 1L gets the same treatment. This design language features mostly black colors—the only available color by the way—rounded corners, clean lines, and just an overall structured and solid look. Flip it around, and you'll even find a well-padded back panel, patterned with polygons, to complete the contemporary look.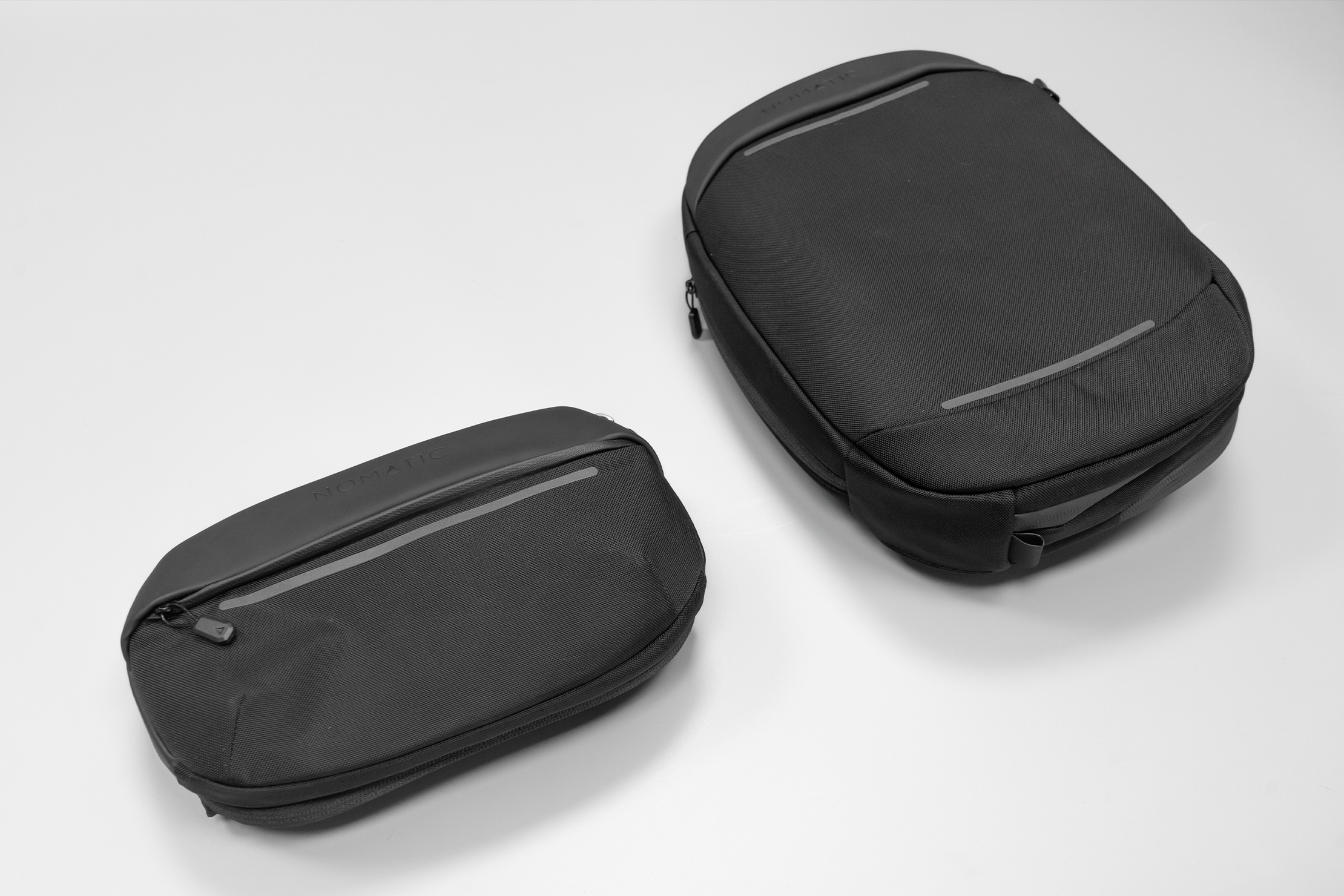 We dig the futuristic look NOMATIC is going for with this lineup, and the Navigator Sling 1L reminds us of a techy VR headset. Oh, and If you've ever seen the 2014 RoboCop reboot, these bags have a similar look to officer Alex Murphy's helmet too.
A large part of that structured look can be credited to the tarpaulin material at the front that looks like a visor and bears the NOMATIC name. Compared to its other Navigator siblings, the Sling 1L's relatively small size emphasizes the tarpaulin's proportion to the nylon. Both materials play a role here, with the tarpaulin providing weather protection and the nylon giving all-around toughness. There's also a gray stripe running across the front that's a reflective material for extra visibility at night. Very neat since it's a subtle gray during the day but visible in low-light conditions as well.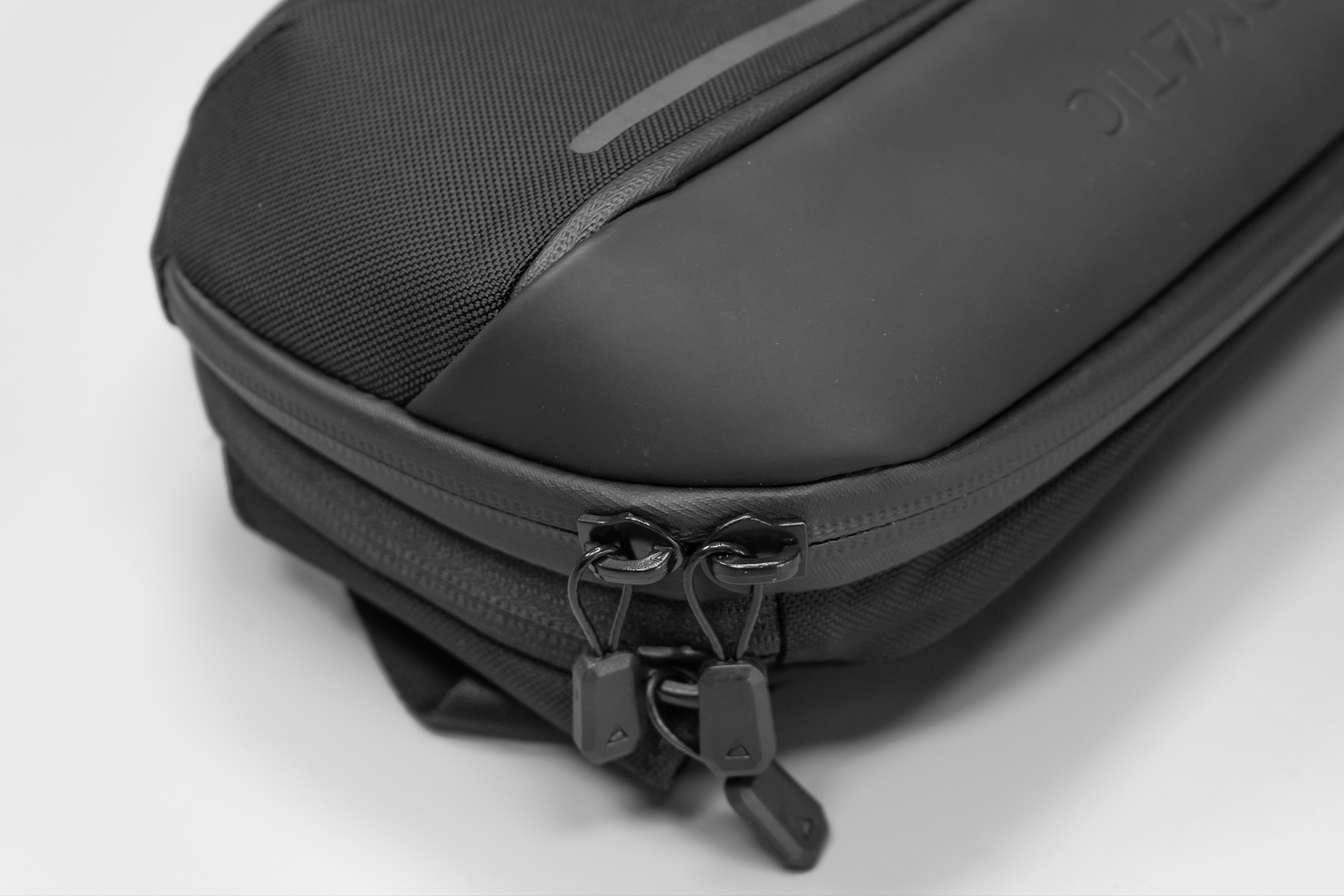 The Zoom Zippers are also reinforced and equipped with metal wire pulls for extra security. You might be familiar with these as they are typically found on luggage and suitcases. A tad overkill for a sling, but at least you'll have peace of mind that your candy bar's safe while you doze off on the plane. It seems like security is near the top of NOMATIC's priorities, as you'll see later on in another feature.
External Components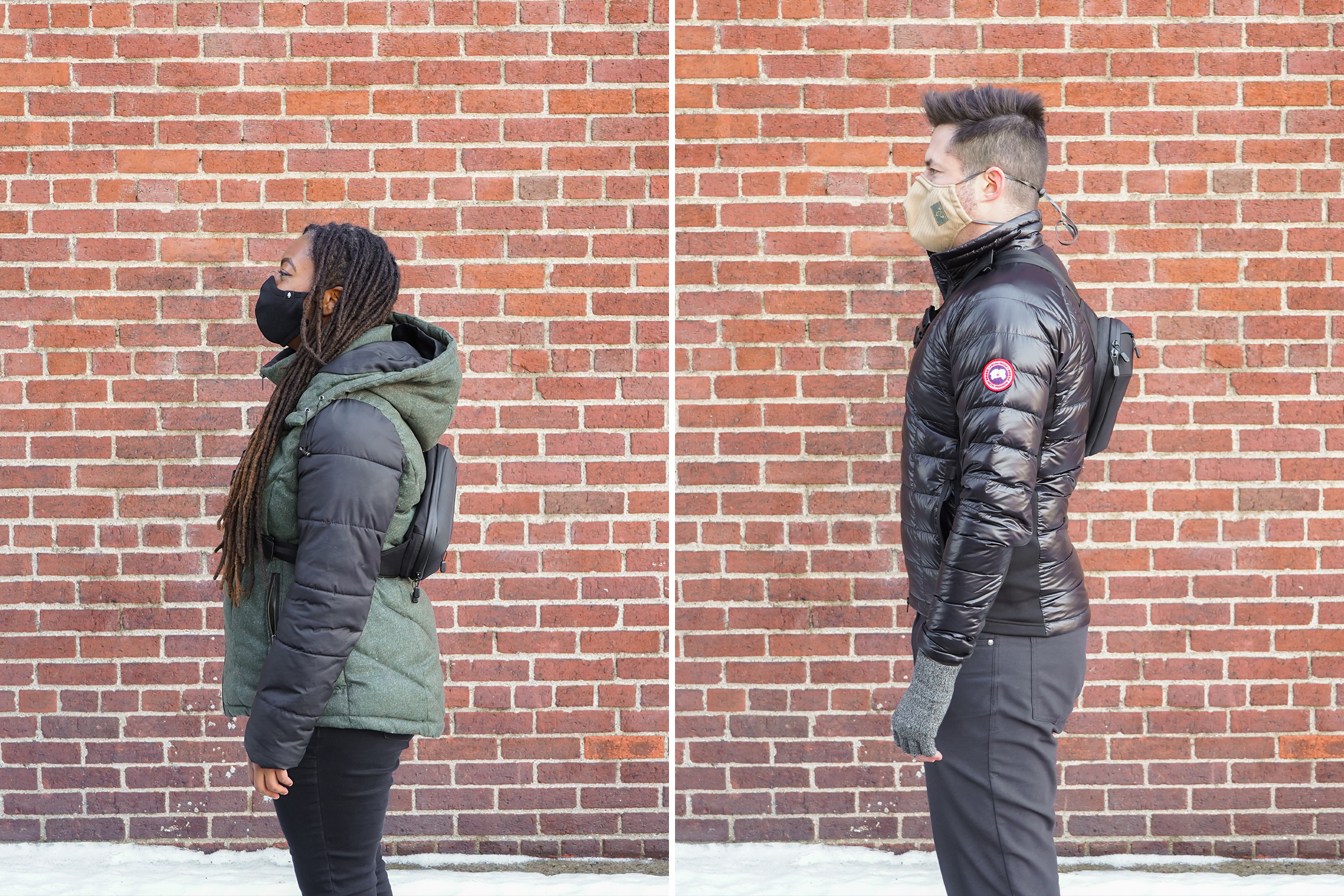 The Navigator Sling 1L has a relatively straightforward and simple-to-use length-adjustable strap. It's non-detachable, unfortunately, and it's stitched to a pair of wings on each side of the main body. These wings also feature a loop where you can hang keychains and accessories off of, like a small bottle of hand sanitizer.
The quick-release buckle in the middle of the strap works great, and we dig these kinds of buckles since it saves us the time of untangling straps when we just need to take this one sling off, among other things we're carrying. There's also a pair of strap keepers to help manage the extra slack. Unfortunately, these clips are somewhat bulky and can snag on your shirt and move if you're not careful. They're not sharp enough to cause any damage to your shirt's fabric, but it's something to be mindful of when you're adjusting the sling front to back and vice versa to avoid bunching up the strap's slack.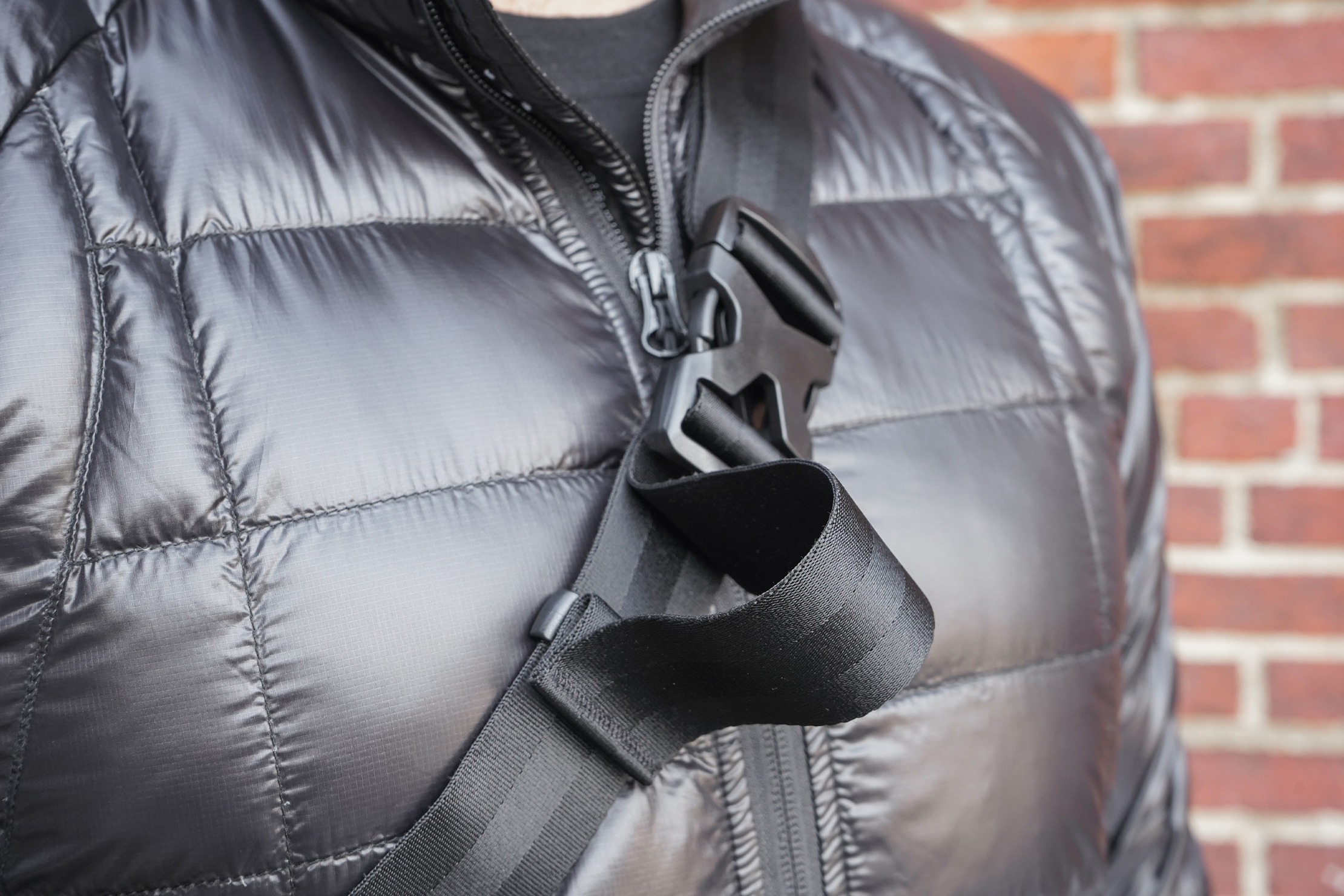 Next, we flip over to the back panel with a patterned foam arrangement. Just like the metal wire pulls on the zippers, we find this a bit overkill for a sling since the surface area covered is not that much compared to, say, the bigger 6-liter version. This design philosophy of well-structured and rigid materials works in some sling cases—like camera slings—but for the small 1L size, it seems like a bit of bulky overkill. But there's definitely aesthetic and practical merit to NOMATIC's approach as well, as mentioned earlier.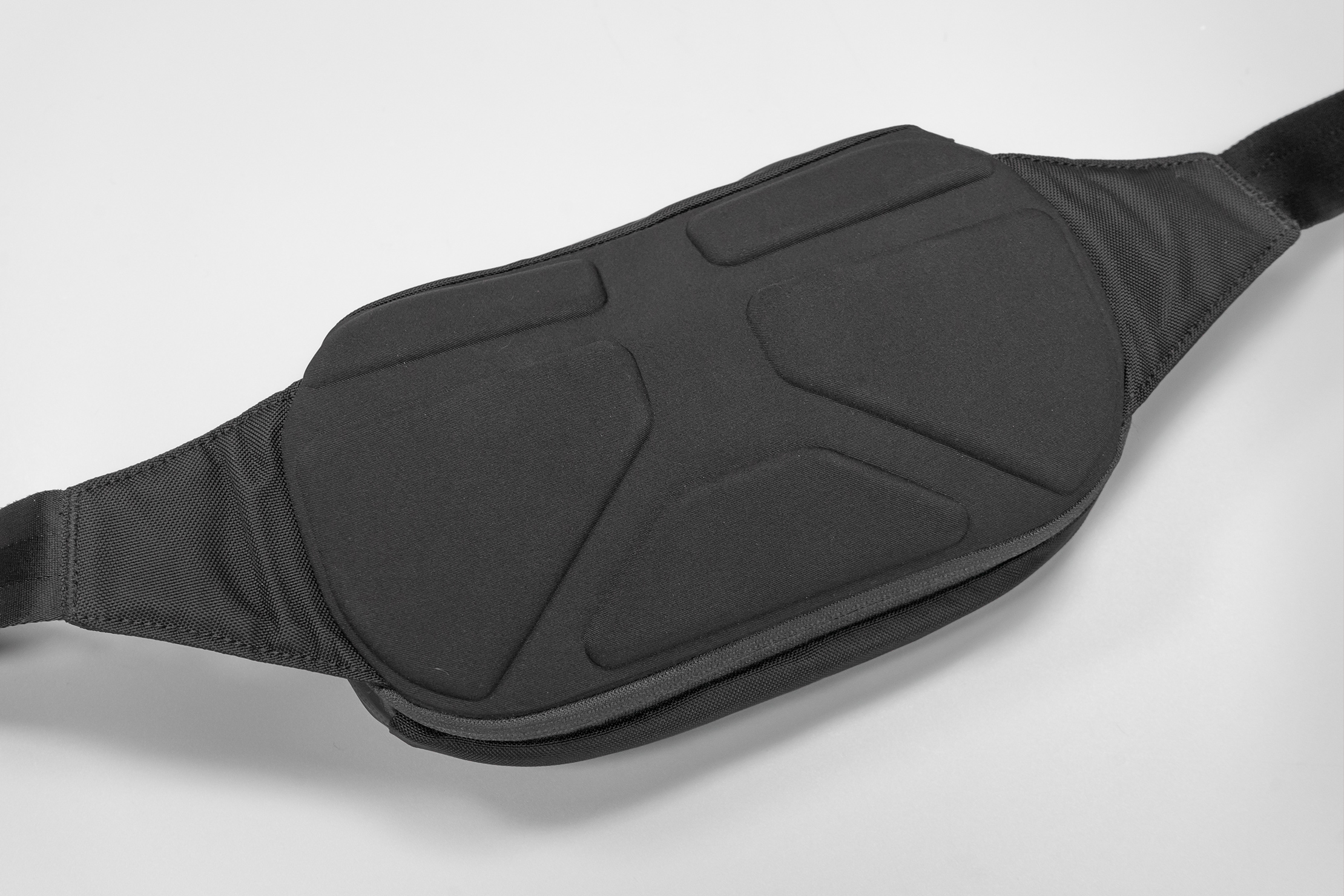 The overall feel of the Navigator Sling 1L when we were strutting around with it was fine, but we did notice that there's a noticeable forward tilt when wearing the sling on the front. This tilt will depend on how you pack and what you pack, but the anchoring on those wings is also a factor. It's not uncomfortable by any means, but it's noticeable once you feel it.
Inside The Pack
Now we come to the front pocket, where we find a fair amount of organization in the way of two subdivided mesh pockets. We're huge fans of mesh pockets since they hold things together well enough due to their elasticity, and having two of them in a front pocket is a nice inclusion. Though we wish the ones here were a little bit taller since the opening is located comparatively higher. This pocket's got a fair amount of "lip" at the top, so you'll have to squeeze taller stuff in to maximize the available space. That's not to say that space is an issue because you can fit a decent size power bank in this pocket, and you'll want to since there's a cable pass-through.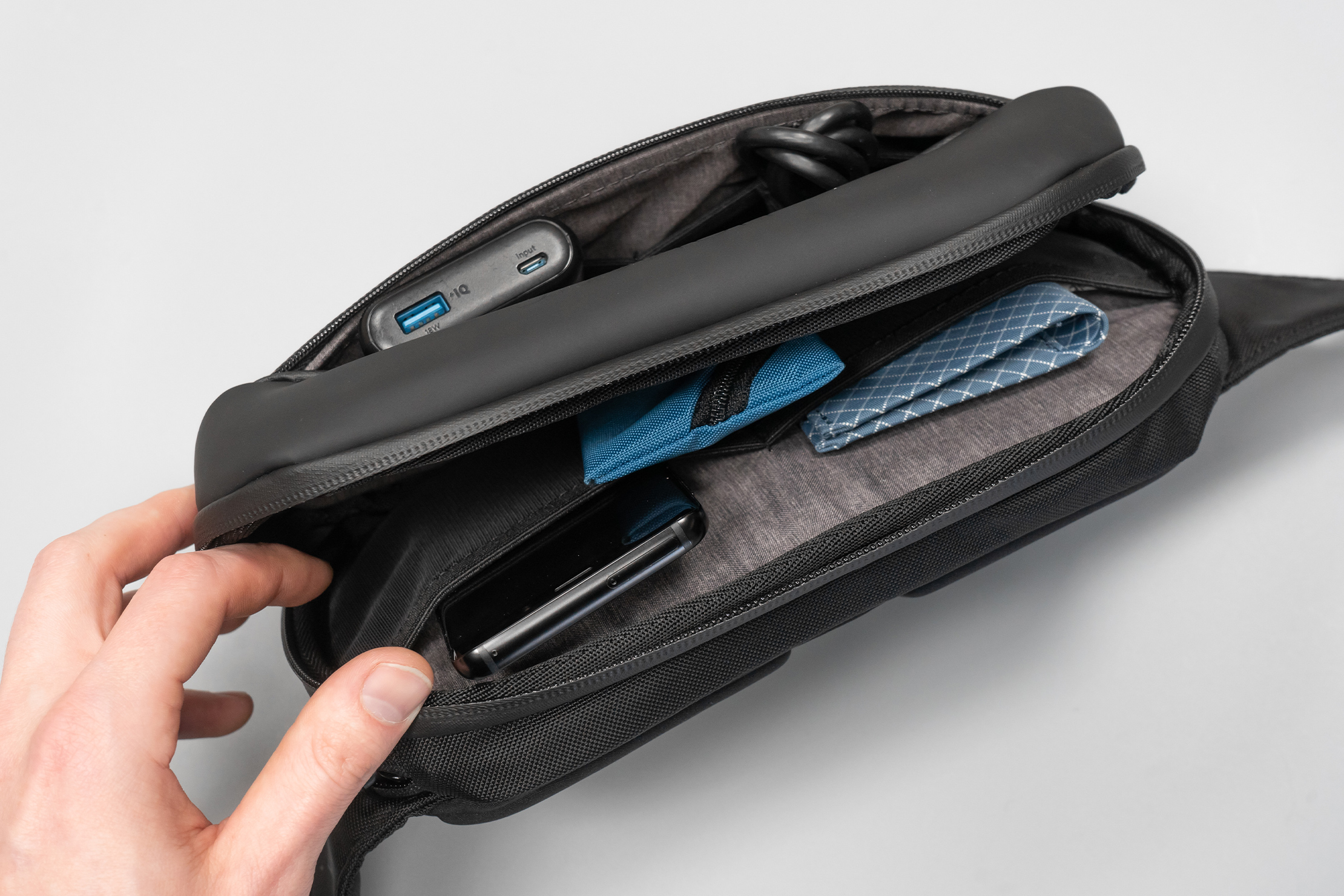 Yes! Thanks to that cable pass-through, you won't have to clutter the main compartment further with another bulky thing. You can instead leave this main compartment for your smartphone, wallet, and wireless earbuds case. There's another set of mesh pockets here as well, so you can chuck in your many SD cards or extra medicine. Interestingly, NOMATIC has embedded a pen holder onto the soft liner fabric. Even though the edges are reinforced with stitching, we're not exactly confident that the fabric will fare well over time, though that remains to be seen after a long-term test.
Now, the label might say "1L", but NOMATIC has jumped on the expanding sling trend and equipped theirs with an expanding compartment as well. Running along further back of the body is another zipper that, when opened, reveals a hidden compartment with left and right zippered openings.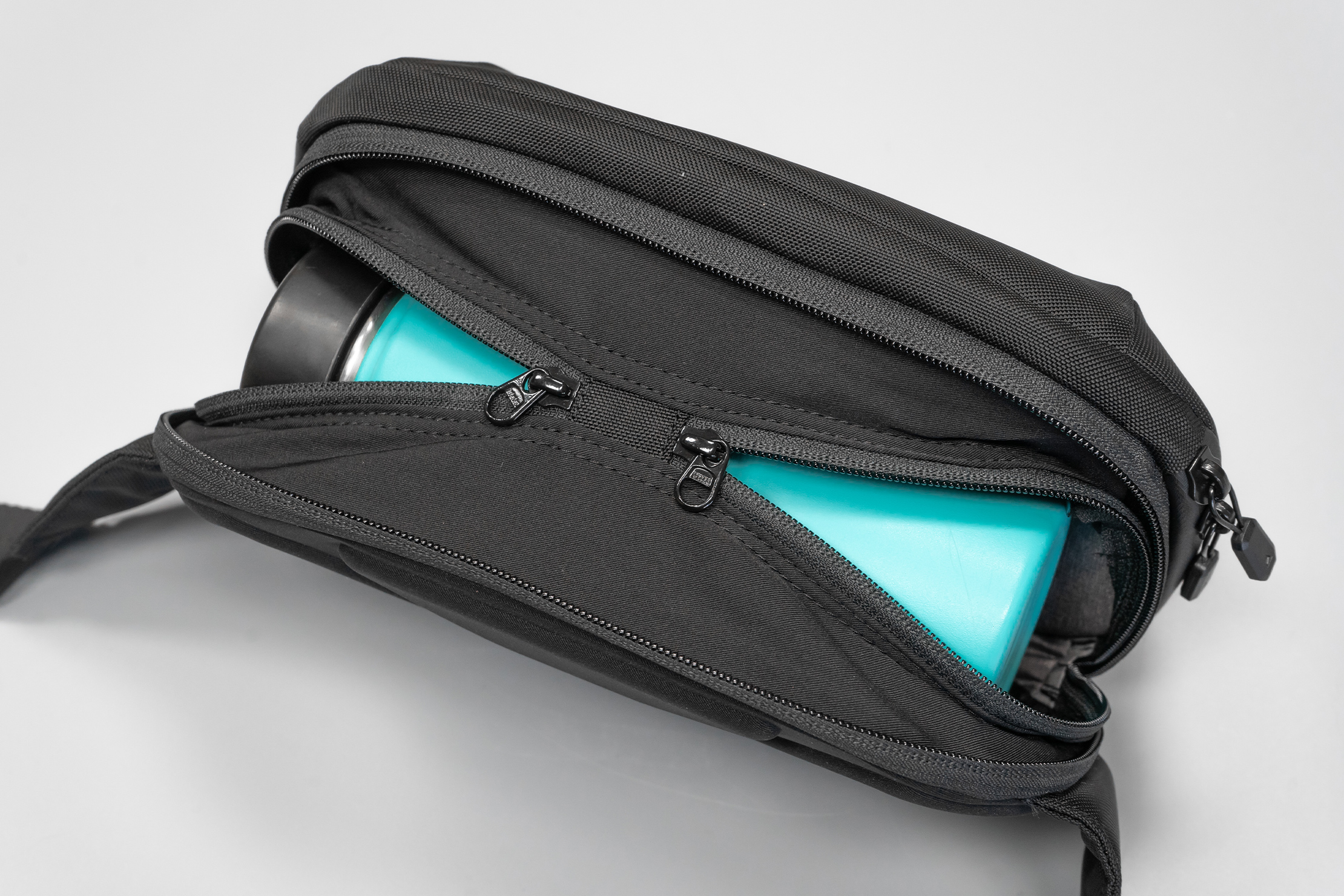 It's an interesting contrast in terms of placement compared to the CODEOFBELL ANNEX CARRIER, which has the expanding front pocket at the front. Both designs allow their respective slings to accommodate a water bottle, but we're leaning more towards NOMATIC's approach here for two reasons. Firstly, the pocket's rear placement means a lot of the bulk is nearer to you and prevents further forward sag. Second, since it's at the back, it also acts as a security pocket hidden away by two layers of zippers.
Quite the versatile compartment then, and you can get inventive with it as well. When we were not carrying a water bottle with us, we used the compartment to carry a compressible Helly Hansen Loke Jacket, which fits inside no problem despite not being the most compressible jacket out there. Furthermore, if you open up both the left and right opening of the compartment, you can thread a jacket through if you don't feel like packing it in completely and want quick access to it during unpredictable weather. Just be careful not to hang off something too heavy since there's not much nylon between the left and right opening.
Wrap Up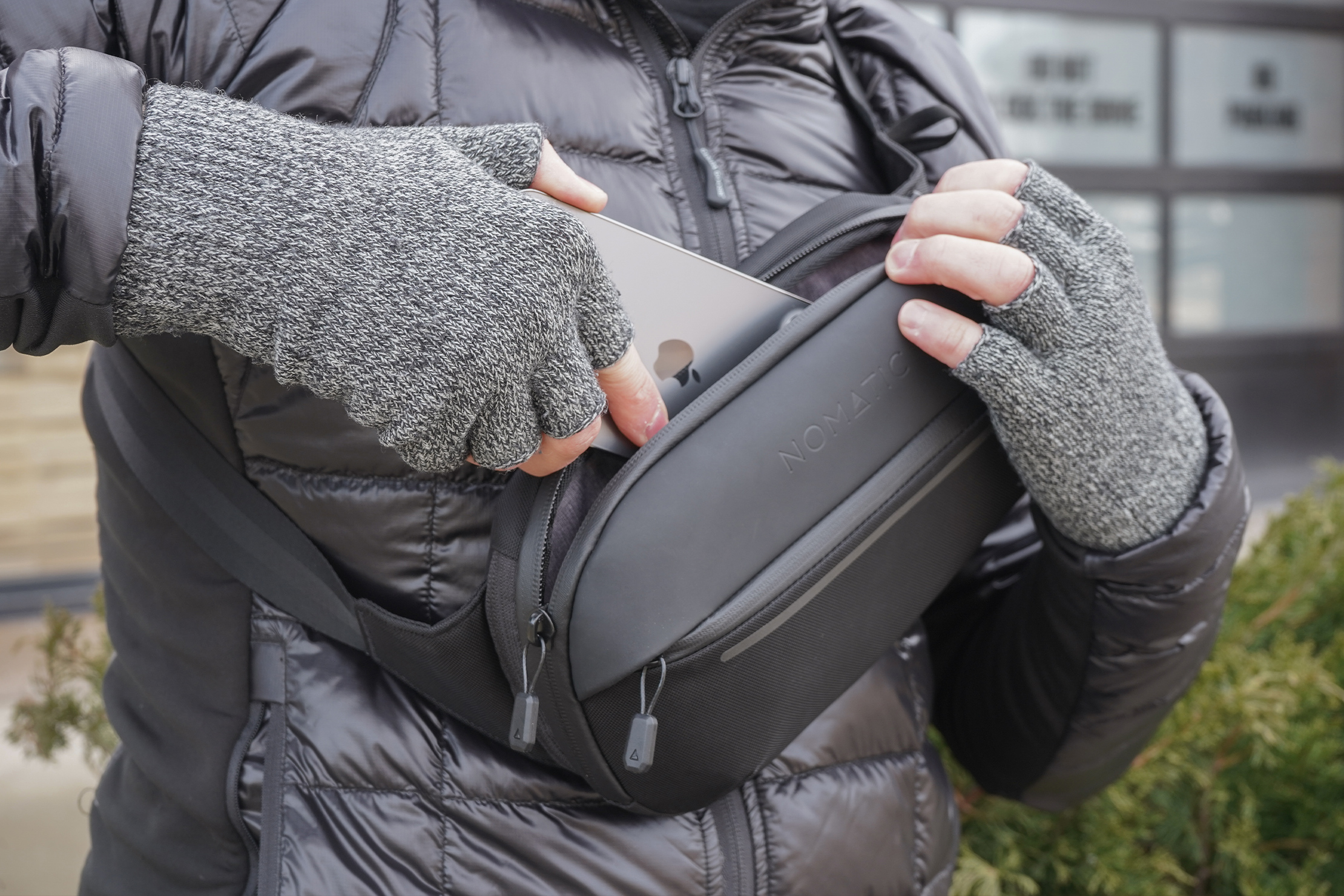 We dig the expanding/hidden compartment NOMATIC has implemented here on the Navigator Sling 1L. Taking an existing idea and adding more versatility and functionality to it is always a huge win in design. Doing more with what's out there? Always a plus in our books.
In terms of comfort, the strap keeps things in order despite the inevitable forward tilt when worn on the front. However, NOMATIC's Navigator design language and use of rigid materials make it somewhat bulky to wield even at its base one-liter capacity, although it's down to personal taste if you like your sling more structured this way.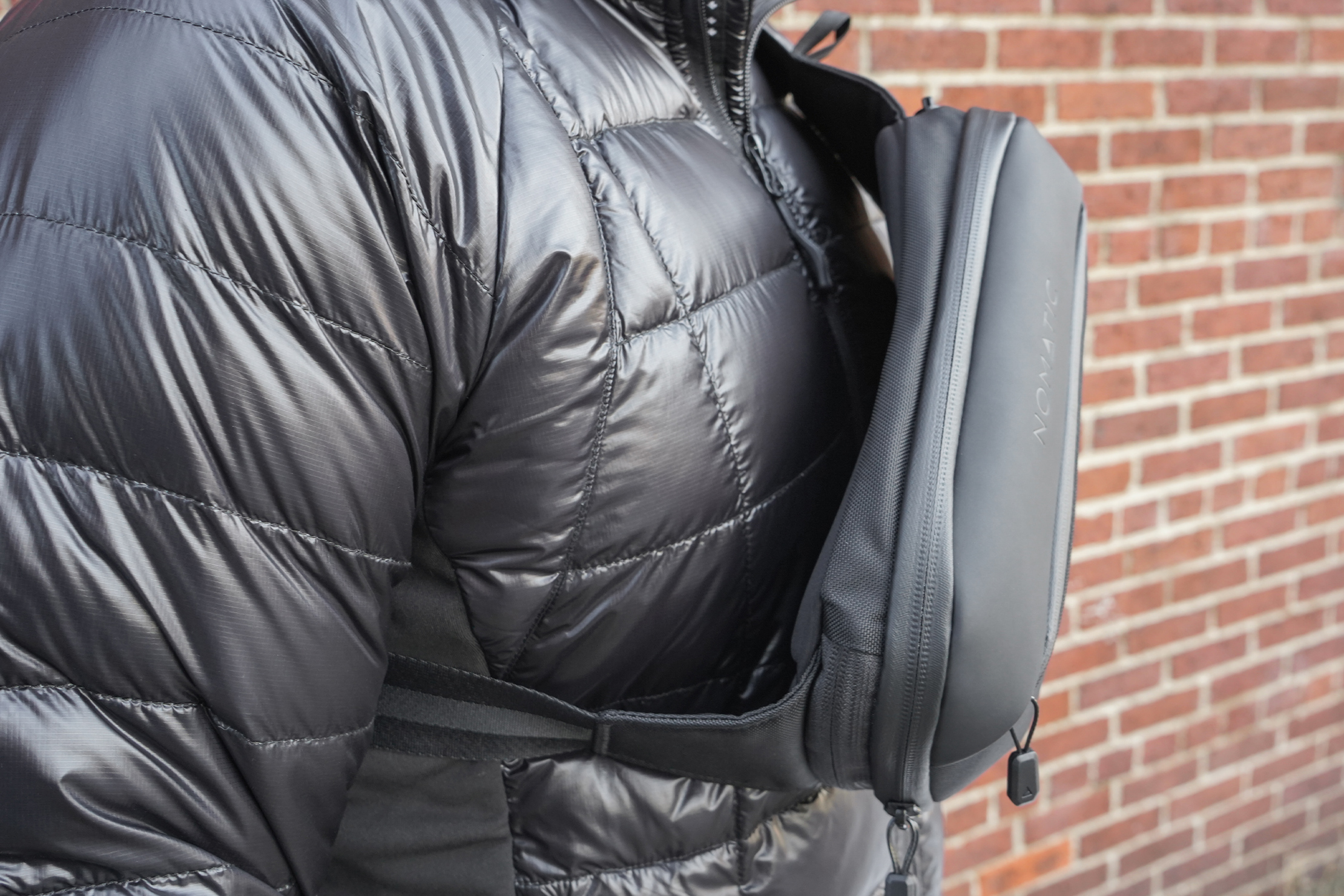 The Navigator Sling 1L's organization deserves huge credit as well. More so than the mesh pockets or pen holder, the cable pass-through is a neat inclusion since it allows you to really maximize space by having your power bank and phone in separate compartments.
Usage Timeline
Initial Usage
Condition: Excellent
The accordion-style expansion is a neat, sneaky little trick
Quality and feel in the hand is promising
We're digging the dark and sleek aesthetic that looks like it came straight out of Batman's workshop
2 Weeks of Use
Condition: Excellent
Didn't feel like we needed such a rigid structure in a sling—we prefer a little more flexibility
Love the hidden pocket for either hiding items or weaving a lightweight jacket through to hang securely off the sling
Goes well aesthetically with the rest of the Navigator line by NOMATIC
Not sure of pen pocket's longevity in durability compared to the more robust mesh pockets on the interior
When flipping the sling around from front to back, the strap keepers can bunch up excess strap
Again—love the hidden pocket functionality
Access the Pro Community Discussion
Get your questions about the NOMATIC Navigator Sling 1L answered from our team and the Pro Community right here on the page. Plus, join discussions with other members about gear, guides, and more.
Other Bags & Luggage Reviews