CODEOFBELL ANNEX CARRIER Review
The compact CODEOFBELL ANNEX CARRIER 3-Way Sling punches above its weight with great versatility and helpful features, with a few minor flaws.
Our Verdict
Unlock the Pro Summary
Save time. Get access to brief summaries of our reviews so you can browse and make decisions more efficiently.
Pros
Excellent build quality despite the handle
Expanding front pocket significantly ups the capacity
Wide array of carry options
Cons
The handle has a cheap feel compared to the rest of bag
Three-point strap tends to twist and tangle
Internal organization could use an additional pocket or two
Recent Pack Hacker Video
Technical Details
100 %
Carry-on Compliance
Capacity

4l

Expanded

Weight (oz)

6.4 oz (181.4 g)

Dimensions

10 in x 4 in x 6 in (25.4 x 10.2 x 15.2 cm)

Expanded

Notable Materials

X-Pac, Polyester, YKK Zippers, Hypalon®, Nylon, Woojin Hardware

Manufacturing Country

United States

Warranty Information
Full Review
Get up to 10% off CODEOFBELL • Join Pack Hacker Pro
The ANNEX CARRIER 3-Way Sling is yet another member of CODEOFBELL's unassuming family of gear. Though as per the usual, there's a hidden trick or two up the proverbial sleeve.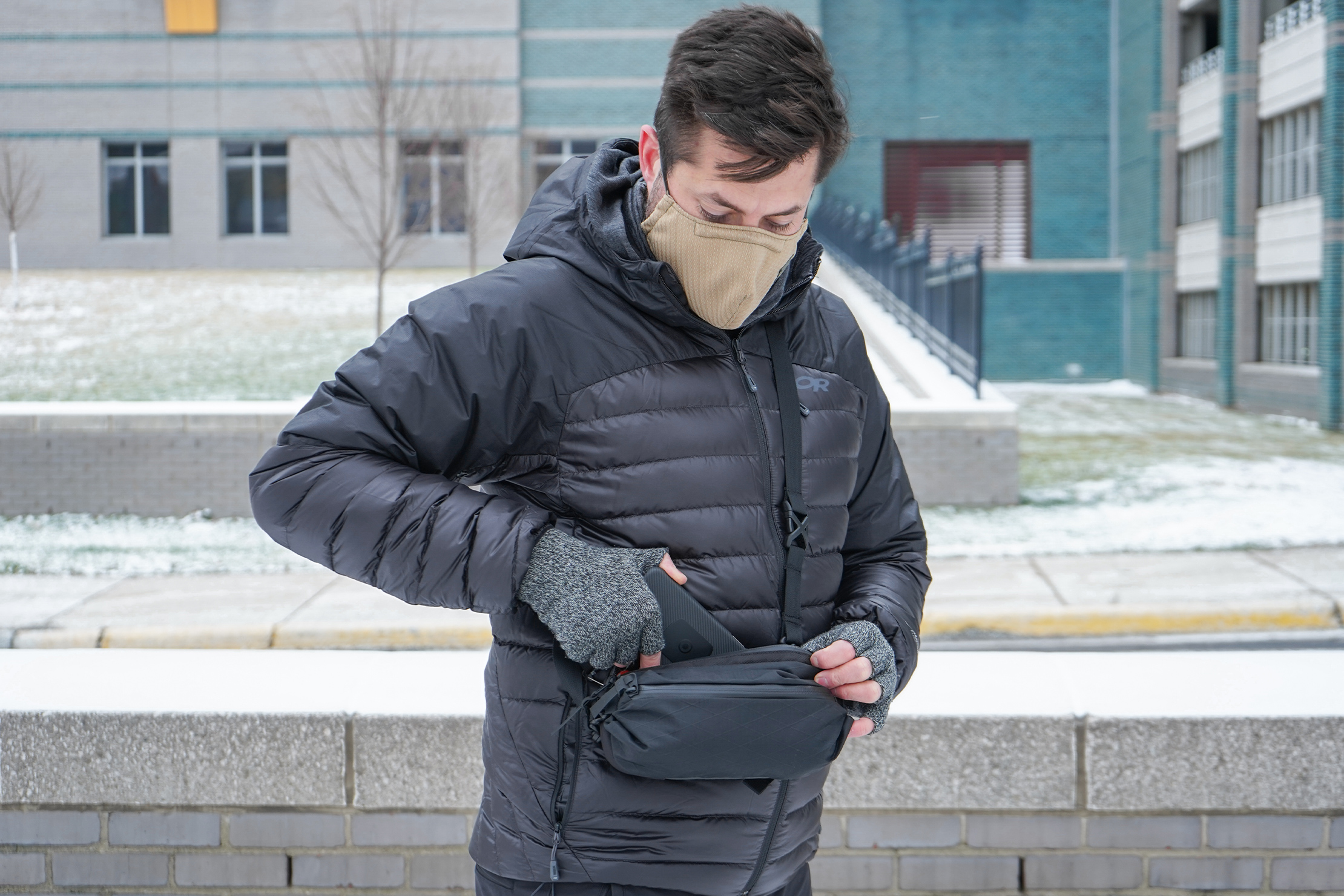 These clever features include a three-point strap, PALS and MOLLE-compatible nylon webbing, and a front pocket that—wait for it—can hold your bottled drink. Has this piqued your interest? It certainly had ours, so let's dive in and learn more.
Materials & Aesthetic
True to their penchant for the color black and weather-resistant materials, CODEOFBELL has put plenty of both into the ANNEX CARRIER. The black X-Pac's texture covering the entire face of the sling gives it a futuristic and durable look from the 23rd century.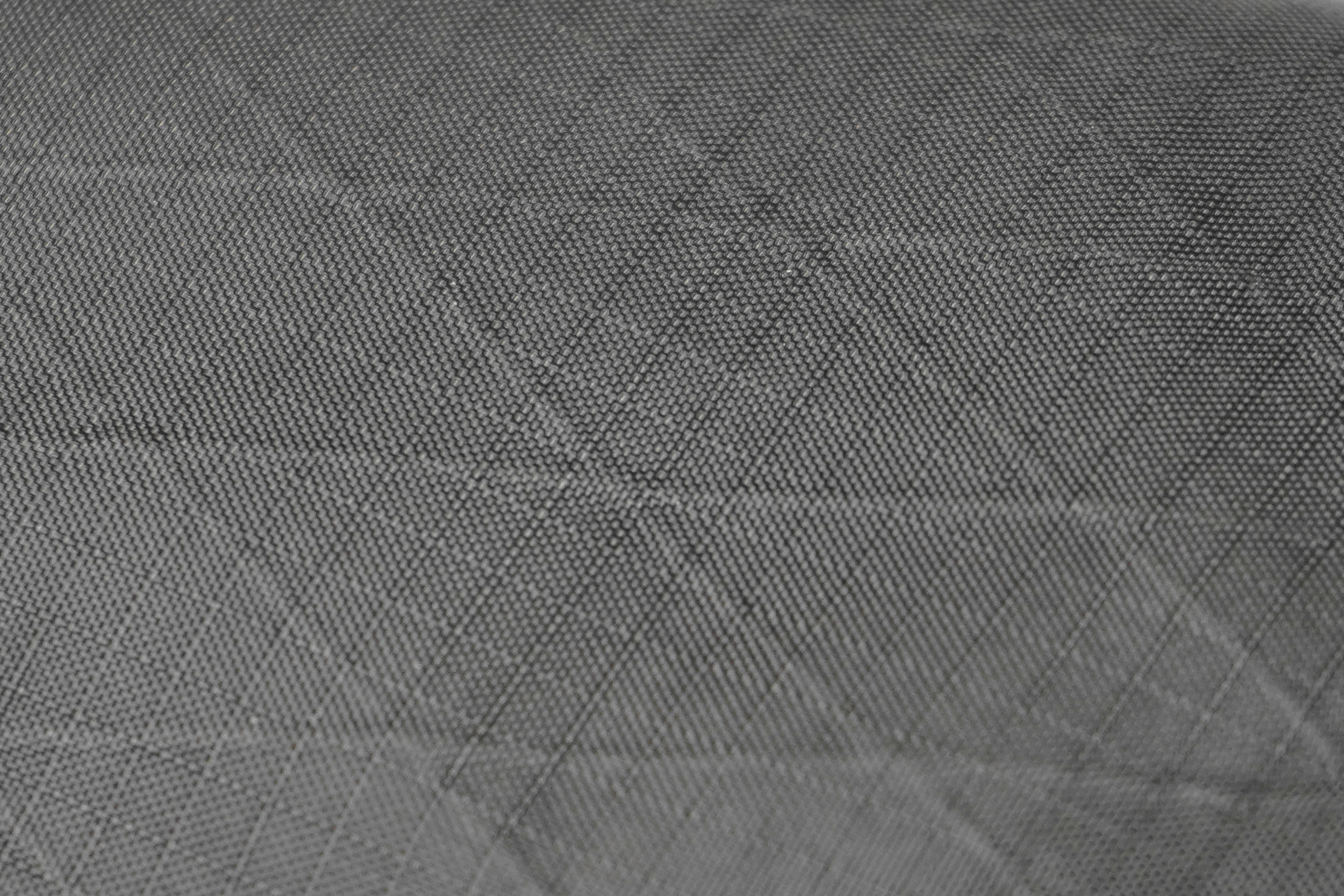 We like the futuristic vibe we're getting from the ANNEX CARRIER. The X-Pac's texture and pattern go well with a techier vibe. We know the black and futuristic aesthetic isn't for everyone, so be sure to let us know what you think by taking part in our future Instagram polls.
One thing's for sure; you'll have little trouble pairing the black fabric with differently colored gear or keeping it low-profile if you don't want your sling to draw too much attention. At the time of this review, there's also a MultiCam Black option available if you want a more eye-catching design, as ironic as that may sound.
The X-Pac fabric covers the expanding front pocket—more on that later—but we shouldn't forget the 1680D CORDURA Nylon used for the rest of the body. It's as strong as the four-digit denier suggests. The nylon's from CORDURA, after all, so no big surprises there. A few more familiar names can be found here, including the YKK water-repellant zippers with Hypalon pulls and Woojin clips—all commendable choices by CODEOFBELL.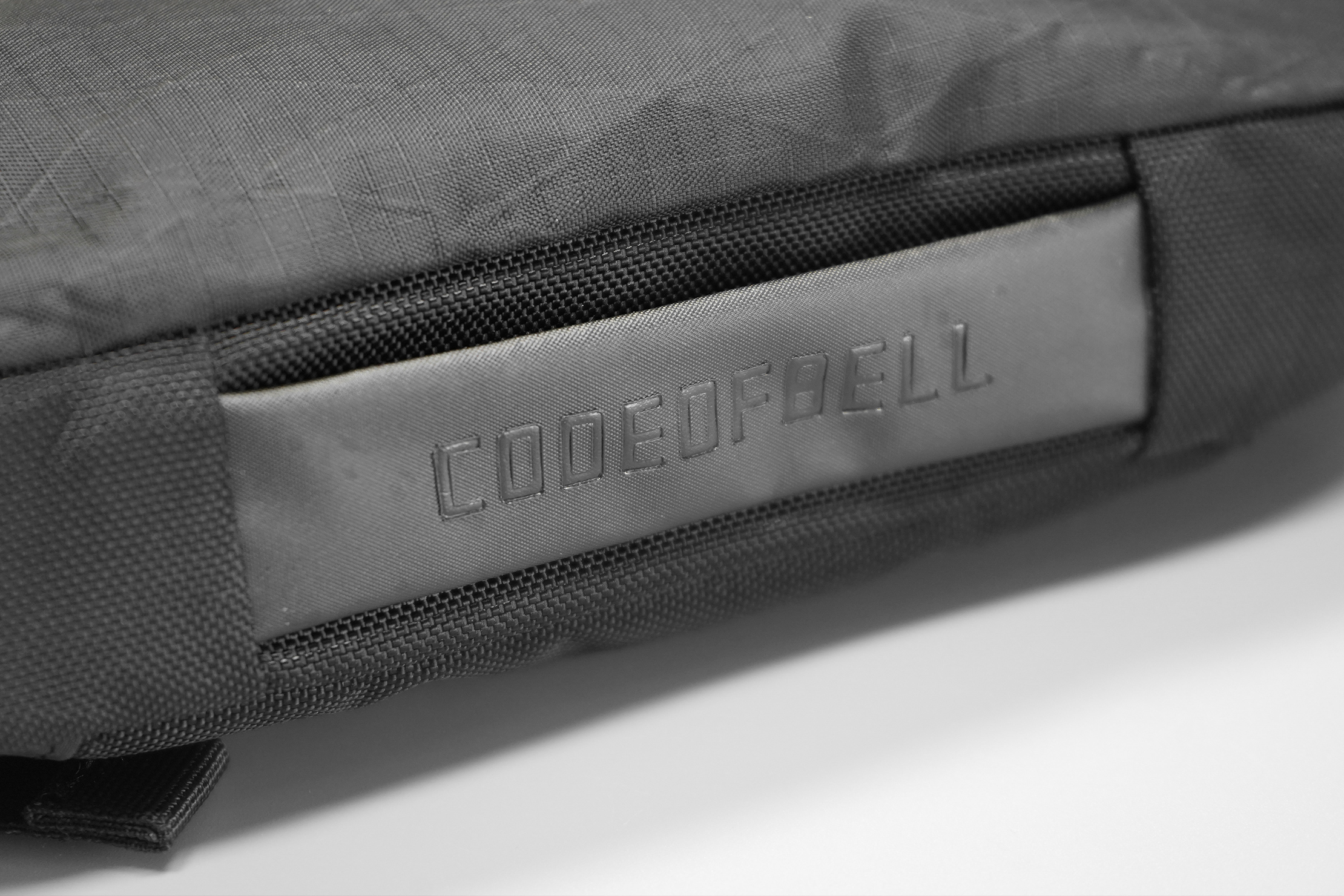 Then there's the handle located at the bottom. Unfortunately, it falls short of the satisfying feel we got from the other materials. It has a rubbery texture not similar to the Hypalon zipper pulls, and the rigidity is almost paper-like. It works as a handle, but we think the quality here is one of the ANNEX CARRIER's weaker points.
External Components
One of the main selling points CODEOFBELL is pushing with the ANNEX CARRIER is the three-way carry options: as a sling, as a clutch, or as a pouch.
Flip the sling around, and you'll find four mounting points, one on each corner. The strap, though, doesn't have two clips for attaching to the body. Instead, it has three: two to provide the balance—as you do with typical shoulder-carried bags—and a third one to keep it from spinning along the two anchor points. Sounds complicated? You can check out our Quick Hit right here—it'll make a lot more sense once you see how it works.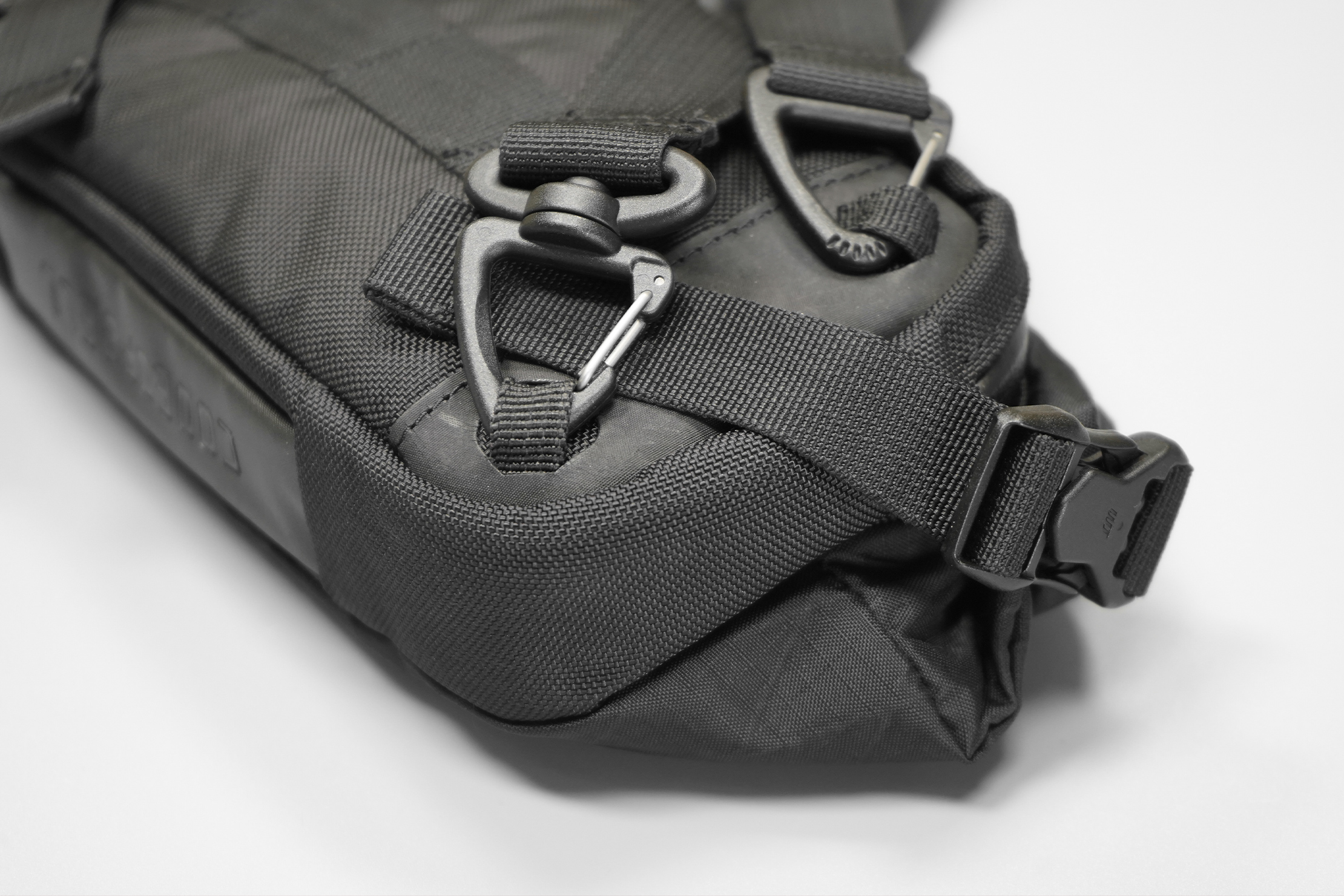 It's a long strap. A bit too long, if anything, but we'd rather have too much slack than too little. In any case, the generous amount of length adjustment meant that we had no issue getting the sling settled and ready for action.
Interestingly, there's also a side release buckle on the single end of the strap. What for? If you've ever gone trekking on a trail burdened with all sorts of stuff hanging off your body, chances are you know how it feels when all those straps get tangled. To avoid that, CODEOFBELL thoughtfully included this quick-release mechanism if you need to take the sling off in a hurry. So no more awkward dances of untangling each time you need to pass this thing to your friend.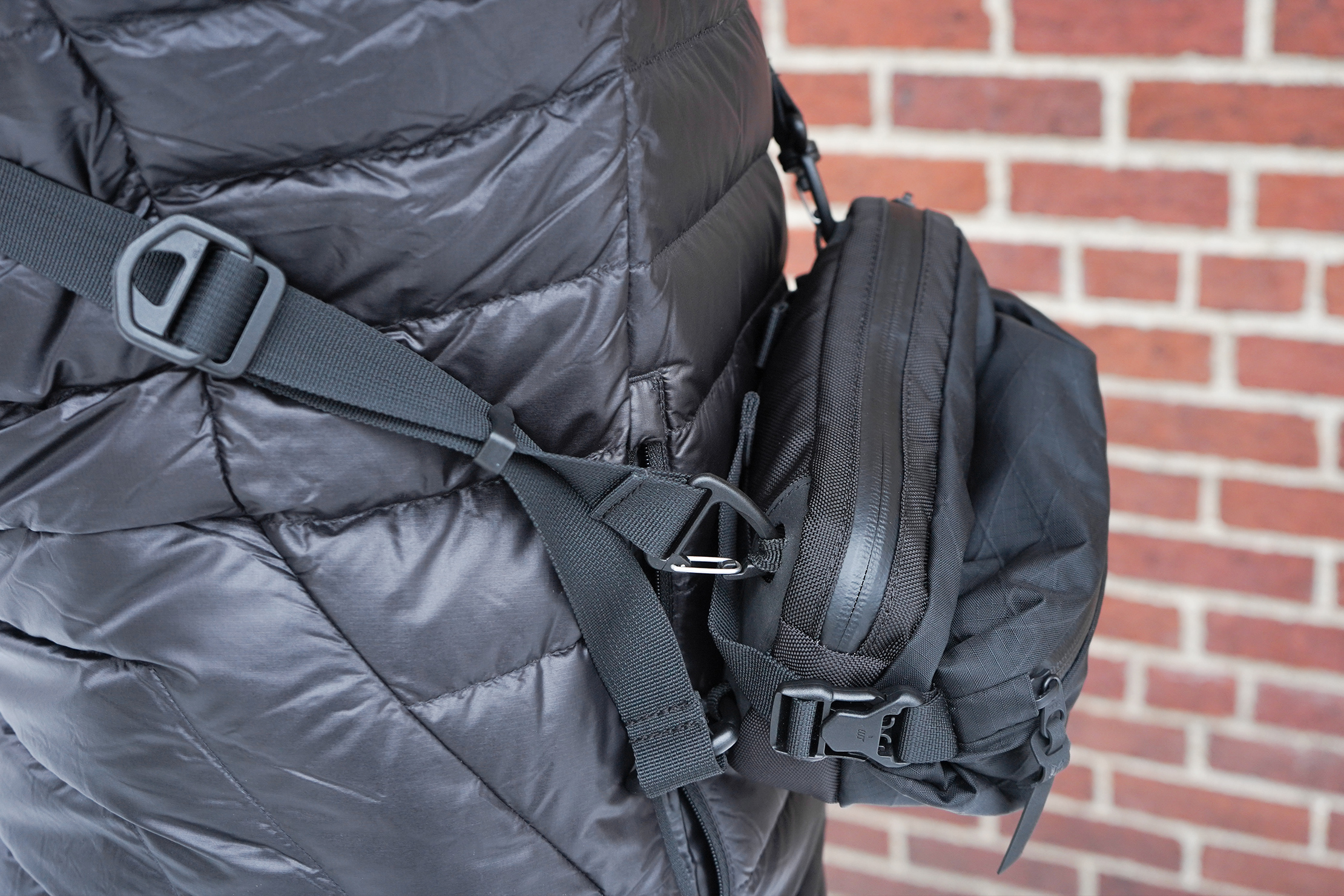 We did encounter some twisting on the other end, though. On this end, with the two clips, one of them does not feature a swiveling hinge. Thus while the non-swiveling part remains straight, its swiveling twin can still twist. A fastener helps keep the two ends straight, but the twisting still occurred from time to time during our testing.
Also along the back are nylon webbing, the same kind you'd find on travel backpacks with PALS arrangements for MOLLE accessories. If you have some MOLLE sticks, you can attach the ANNEX CARRIER externally to bags such as the 5.11 Tactical RUSH24 or GORUCK GR2.
There's also the top handle you can use to carry it around by hand, making the ANNEX CARRIER a truly versatile sling. With the nylon webbing and four-corner attachment points, we'll leave it to you to get creative.
Inside The Pack
Packing more useful features into smaller vessels is what we're all about, and CODEOFBELL has delivered. The ANNEX CARRIER's mission is to maximize space & versatility in the form of an expanding front pocket.
From the front, there seems to be nothing special going on. But once you unbuckle the side compression straps, the front pocket loosens up like an accordion. From a numbers perspective, it's impressive. The ANNEX CARRIER goes from a 1.2-liter capacity up to 4 liters. In more practical terms, the front pocket now fits a typical 500 mL bottle. Be careful not to drop your bottle, though. Once expanded, the pocket's zipper now faces outward, so whatever you've put inside could spill out if you're not careful when opening it.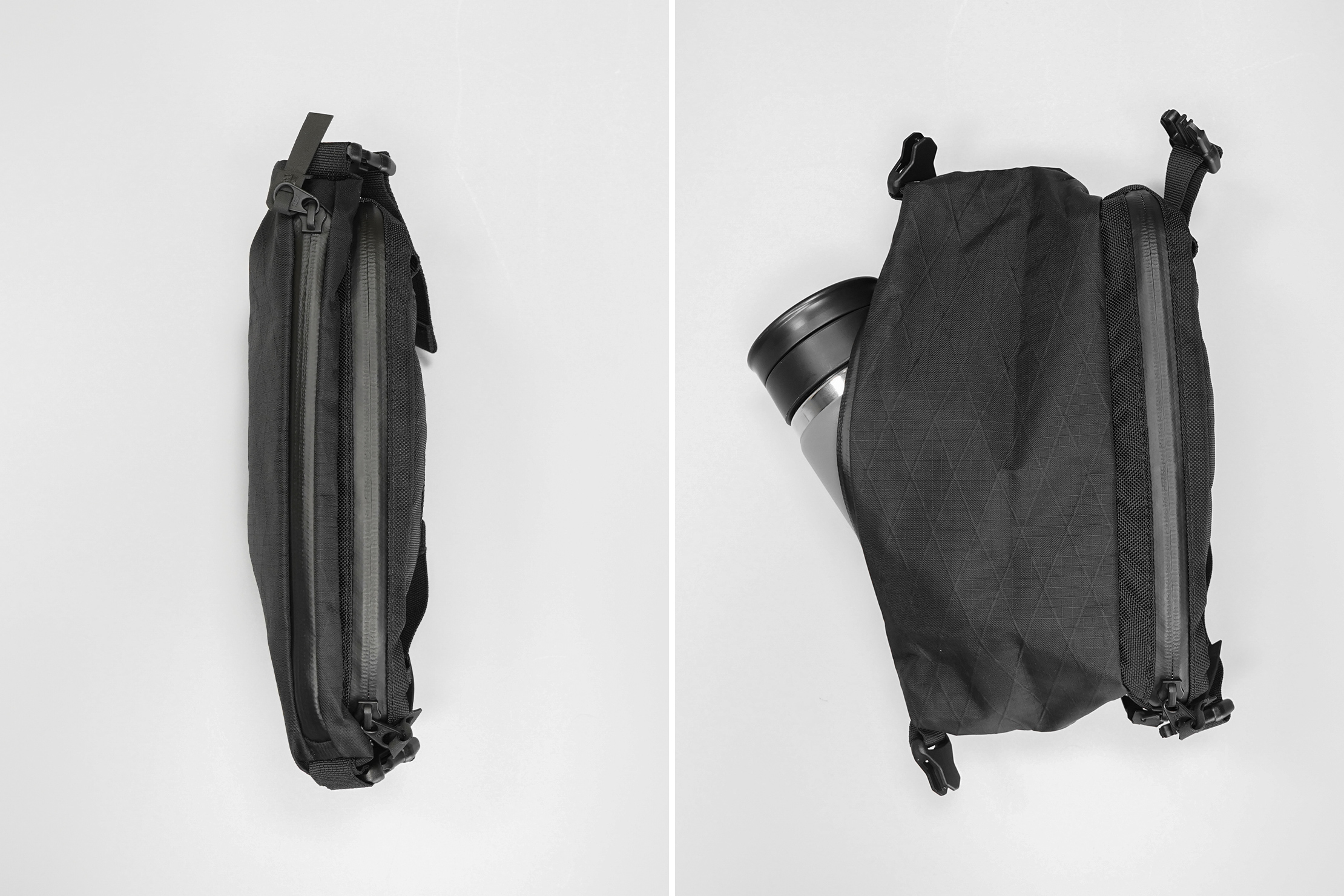 Despite the 3-point attached sling and side compression straps, there's no defying the laws of physics here. A fully topped-up bottle still causes a bit of sag for the sling, and you might feel the bottom part of it dig into your body. However, it's nothing unreasonably uncomfortable for a relatively small sling. Plus, it progressively gets less noticeable any time you take a sip from your bottle. Remember to stay hydrated!
But don't think that this pocket exists solely for bottles. We used the expanding pocket to store our winter gloves whenever we were indoors during our time with the ANNEX CARRIER. You can even step it up and fit an entire jacket in there, provided it's one of those compressible ones like the Helium II Jacket from Outdoor Research which, coincidentally, compresses down to the size of a soda can.
The inside of the pocket itself is bare, with no liner pockets or organization of any kind, so you just chuck your stuff inside—good thing it's lined with white and orange fabric for good visibility. But otherwise, organization is not this pocket's strong point. For that, let's move on to the pocket behind it.
The rear pocket is more typical of what you'd expect from a sling. There are two mirrored mesh pockets, each with a zipper for loose items like lighters or thumb drives. Having two zippered mesh pockets is quite generous for a sling this size, and it means you can keep a lot of items separated even during rigorous movements. A good amount of sunlight gets reflected by the bright orange fabric as well, so you'll have no problem locating even tiny microSD cards during the day.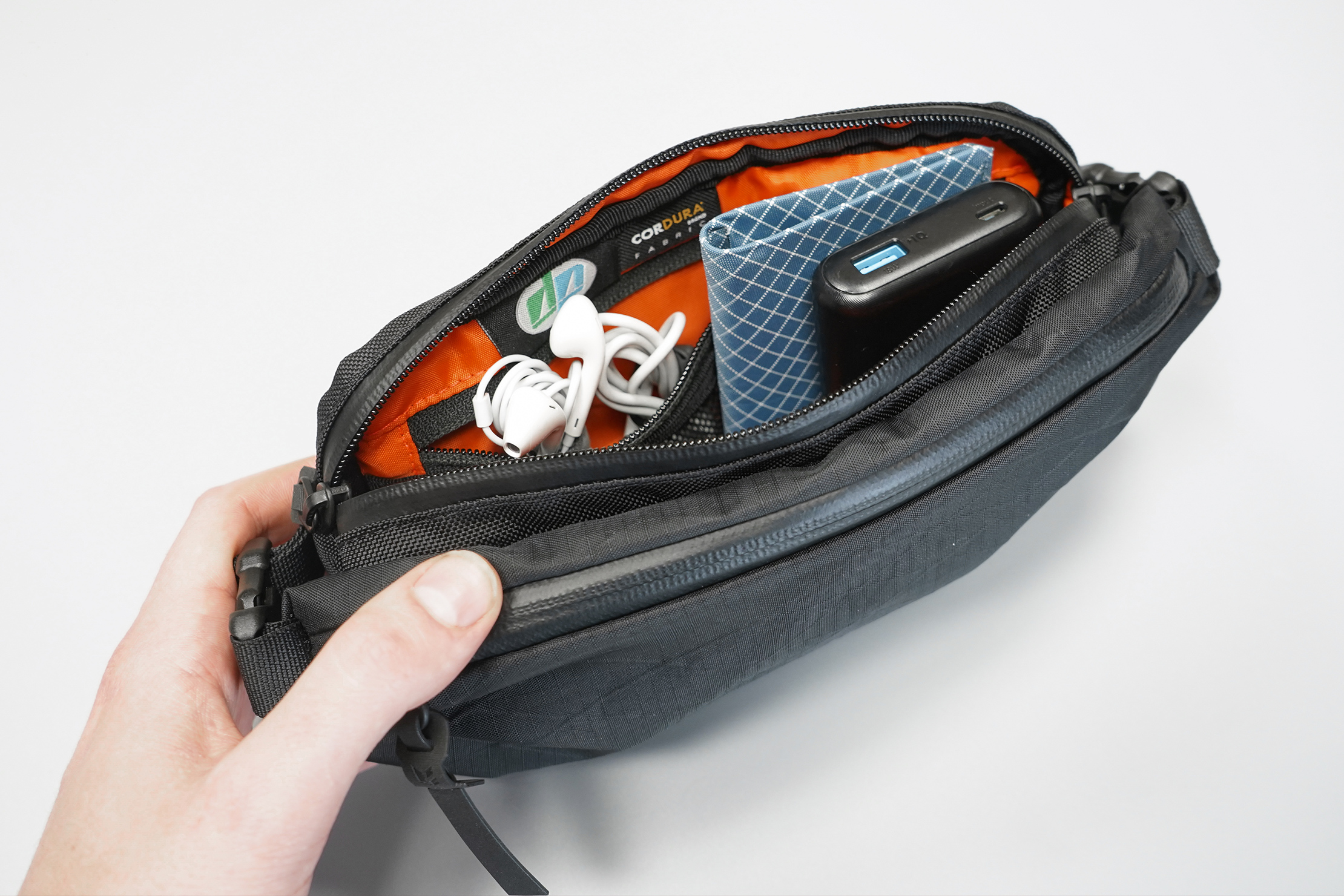 And you'll be able to fit a lot of memory cards in here too if you so desired. There's plenty of space for everyday carry items like your wallet, smartphone, keys—things that you'd typically keep in your pocket.
We still would have preferred a couple of additional segments for even more organization. We think having two mesh pockets is a bit redundant, though it's a good configuration, especially for those who like to keep things locked down.
Wrap Up
The overall experience with the ANNEX CARRIER has been a versatile one. The build quality was top-notch thanks to the durable materials. Only the feel of the handle and a somewhat twist and tangle-prone strap were the lowest points of the sling, though neither are far from deal-breakers.
The expanding front pocket gives tons of room for bulkier items and extra baggage you might pick up along your adventures. Factor in the wide array of carrying options, the ANNEX CARRIER 3-Way Sling is an easy fit even among an established set of travel gear.
Usage Timeline
Initial Usage
Condition: Excellent
Can be worn cross-body style, over single shoulder, or as a clutch
Fully expanded, it can fit a 500 ml water bottle
Durable construction and materials
2 Weeks of Use
Condition: Excellent
Digging the expandable pocket—we've fit a Hydro Flask 12 oz Coffee Bottle inside with ease (though it adds weight to the front of the bag pulling away from your body)
Straps can get tangled up easily in use
The material combination of Nylon and X-Pac is great & durable
We wished there was a little more organization in the main zippered pocket
Access the Pro Community Discussion
Get your questions about the CODEOFBELL ANNEX CARRIER answered from our team and the Pro Community right here on the page. Plus, join discussions with other members about gear, guides, and more.
Other Bags & Luggage Reviews