Outdoor Research Helium Rain Jacket Review
The Outdoor Research Helium II is one of lightest rain jackets available, packing down into the size of your fist. Plus, it'll keep you as dry as a desert.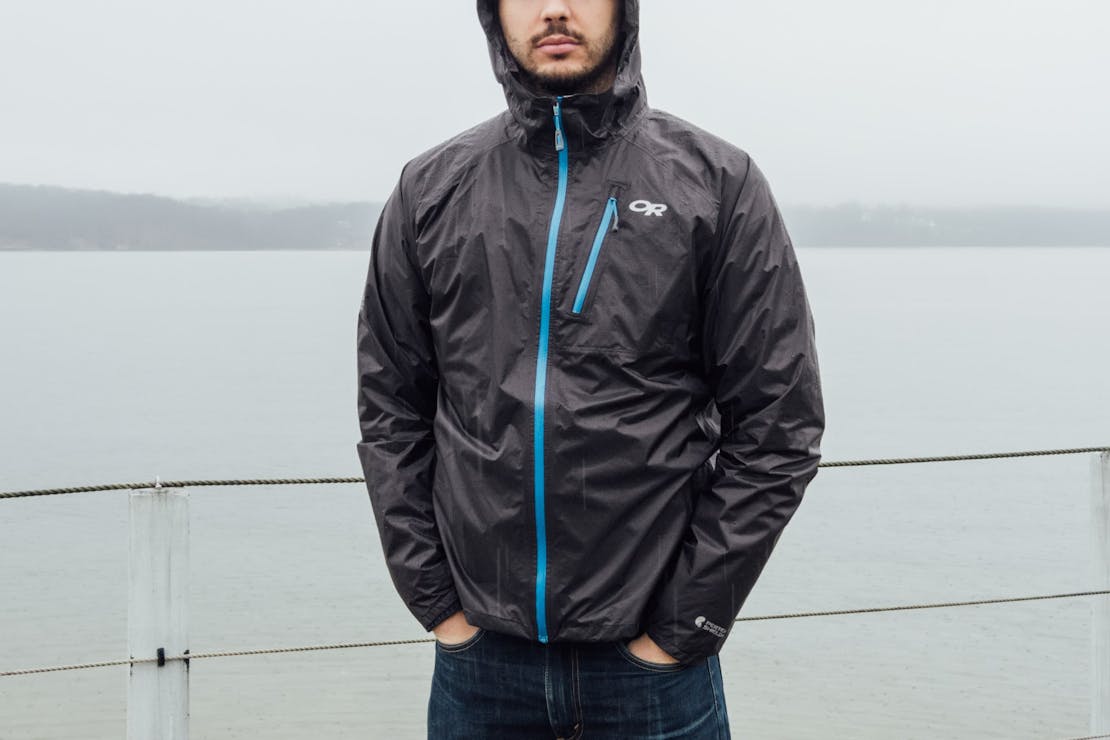 Our Verdict
Unlock the Pro Summary
Save time. Get access to brief summaries of our reviews so you can browse and make decisions more efficiently.
Pros
So very light. You'll forget you've packed it.
Quite breathable, even when tested in a very hot and humid climate.
Adjustable elastic on the back of the hood keeps it secure on your head.
Cons
No lower hand pockets.
A little bit short for taller wearers.
No ventilation zippers.
Recent Pack Hacker Video
Technical Details
Weight (oz)

5.93 oz (168.1 g)

Denier

30D

Dimensions

3 in x 4 in x 5 in (7.6 x 10.2 x 12.7 cm)

Dimensions are for when jacket is compressed.

Notable Materials

Pertex Shield, Ripstop Nylon

Manufacturing Country

China

Warranty Information
Full Review
When it rains, simmering feelings in our subconscious are evoked and brought to the fore. Memories can flood the mind, bringing us back to childhood experiences or adult recollections. These could be times or places when we experienced a rain that left an impression on us. We may remember something amazing, terrible, or anything in between. A detail most likely left out of these memories is what rain jacket, if any, you were wearing at the time. And as this detail isn't ingrained into the threads of your past, a rain jacket isn't an item often remembered when packing a bag for an adventure. But the opposite should ring true. This is a staple one should always include in their packing inventory, and the Outdoor Research Helium II rain jacket is an excellent choice.
The Helium II is a minimalist rain jacket built for storm protection. It's packed with features that make it an ideal selection for a world traveler who craves lightweight gear that packs down to the size of a soda can. Weighing in at 6.4oz (180g) for a men's large and 5.5oz (156g) for a women's medium, these jackets are some of the lightest around. They're 100% waterproof, windproof, and breathable. The material feels thin. Though it seems weak, it isn't, thanks to its laminated construction, being fully seam-taped, and the YKK AquaGuard zippers. Rounding out the features are an adjustable hood, reflective logos, a carabiner loop, zip chest pocket, and internal pocket that doubles as a stuff sack.
The last feature in that list, the internal pocket/stuff sack, is great. While not groundbreaking or particularly novel, it's a detail that comes in handy and shows a high level of thought by the company. Rather than having a separate stuff bag you'd have to keep track of or having to fold it down and secure/stuff the jacket in your luggage between other packed items, the coat becomes totally self contained. This feature, combined with the carabiner loop, form a harmony. Clip the jacket to your daypack or the outside of your suitcase. You won't need it quickly until you do, and when you need it, it'll be right there, easy to access and deploy. What use would a turtle's shell be if it was detached but suddenly needed for shelter at a moment's notice?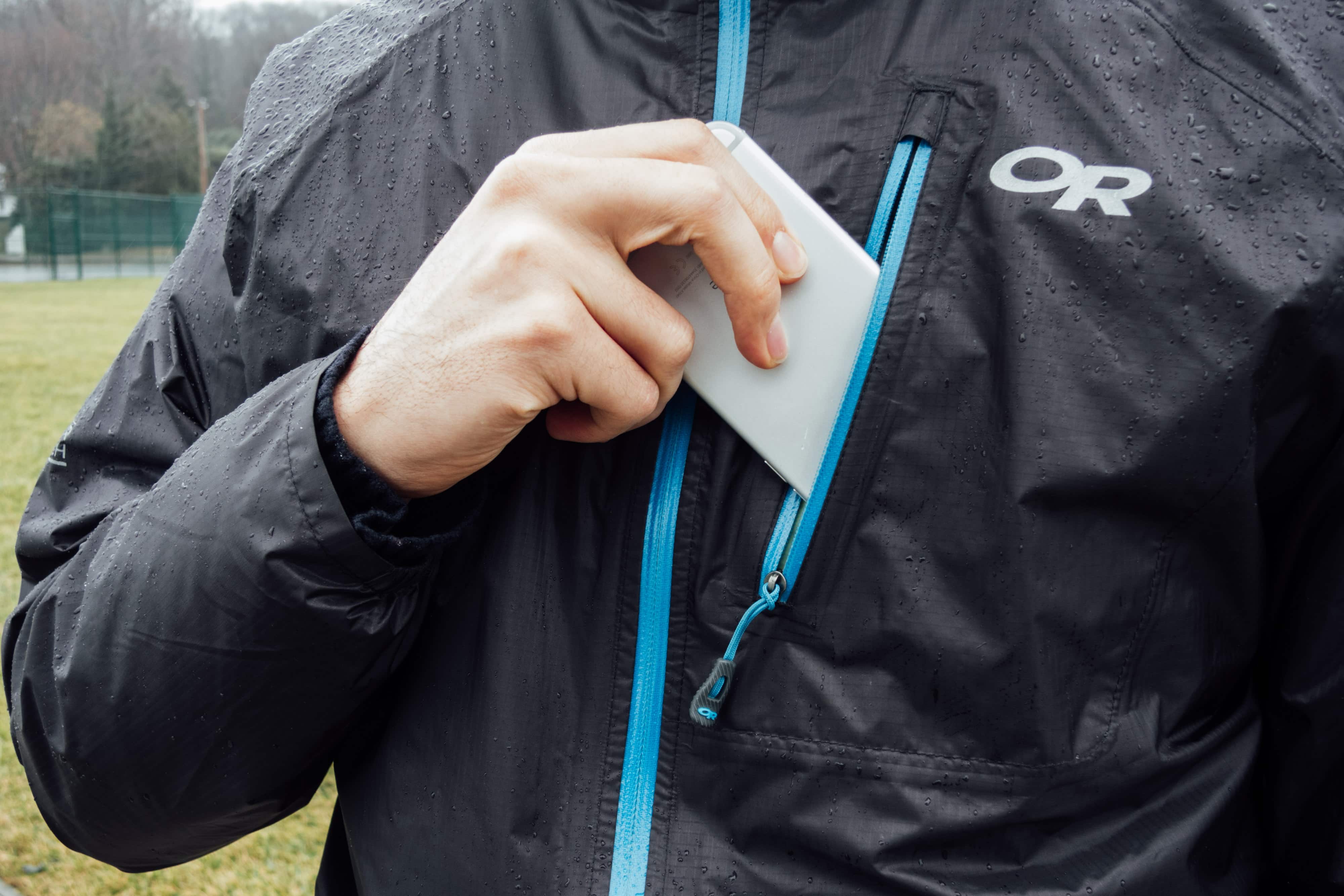 That moment transpired during real-world testing in Thailand. Riding along on a moped, the rain-threatening sky opened up and drenched everything below. Pulling over, unclipping and unpacking, then throwing on the Helium II took all of two minutes. The adjustable hood was a winner here, too. There's an elastic cord on the back that can be tightened, securing it to your head so it won't blow down in the wind. Without that, the hood certainly wouldn't have stayed on once back on the mopeds.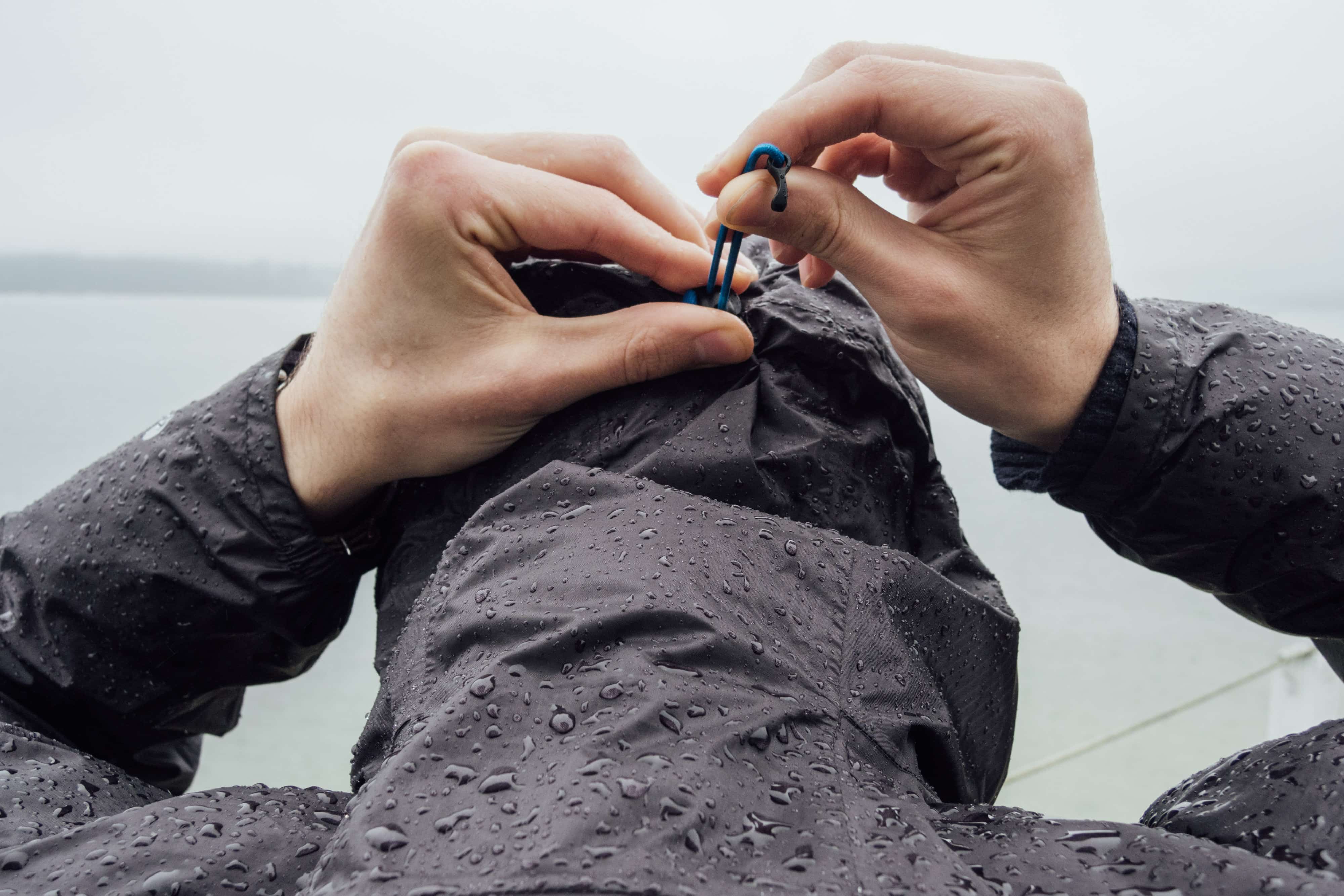 Additionally, though the humidity and temperature at this time were supremely high, the jacket was quite breathable, even without ventilation zippers or the like. Never was there any sense of suffocation or anything akin to a cheap plastic poncho or black trash bag. Nor was there any hindrance of movement with the jacket on. Sometimes this is a concern. Rain jacket material can often be stiff, sometimes even heavy. That's not the case here. The lightweight construction and flexible material provide supreme mobility.
The jacket performed admirably out in the real world. Nevertheless, one thing that would've been nice to have in this same moped-riding-downpour situation would've been more pockets. Items were moved from cotton shorts into the one outside zipper pocket for protection from the rain. Everything in there was safe and dry, but this pocket is the only one of its kind. The inside pocket doesn't zip and didn't seem like a great place to store an iPhone or wallet in a downpour while driving a moped. If there were two lower, zippered hand pockets, that would've been great, but probably would've increased the overall weight of the jacket, so it's understandable why they were left out.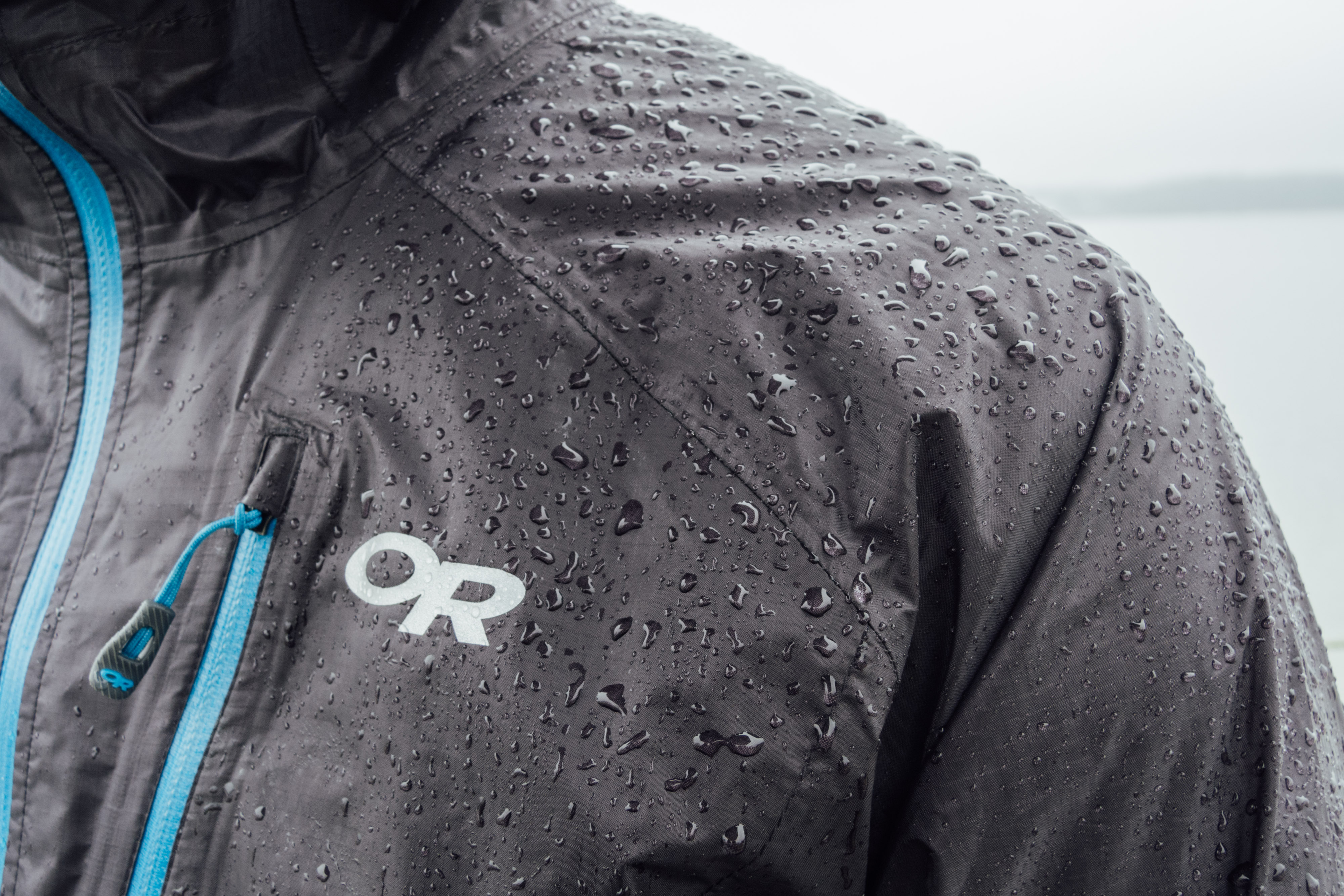 One additional anomaly we found was the size of the main zipper. It's tiny! Though it does have a small string attached to it, it was still difficult to grab at certain times. Being so small, it sort of feels cheap, even though it's a YKK zipper. It's so small that even if somehow it was detached and found its way into the hands of an infant, it probably wouldn't be a choking hazard.
In sum, the Outdoor Research Helium II jacket is an ideal choice for a globetrotter who's looking for a minimalist rain jacket to toss into their bag and forget about until the need arises. The featherlight weight and poptart-box size make it tough to beat. And while it may not be indestructible or have built-in ventilation capabilities, it does have impressive mobility, a great hood, and the aforementioned weight and size specs that solidify it as a great all around travel rain jacket.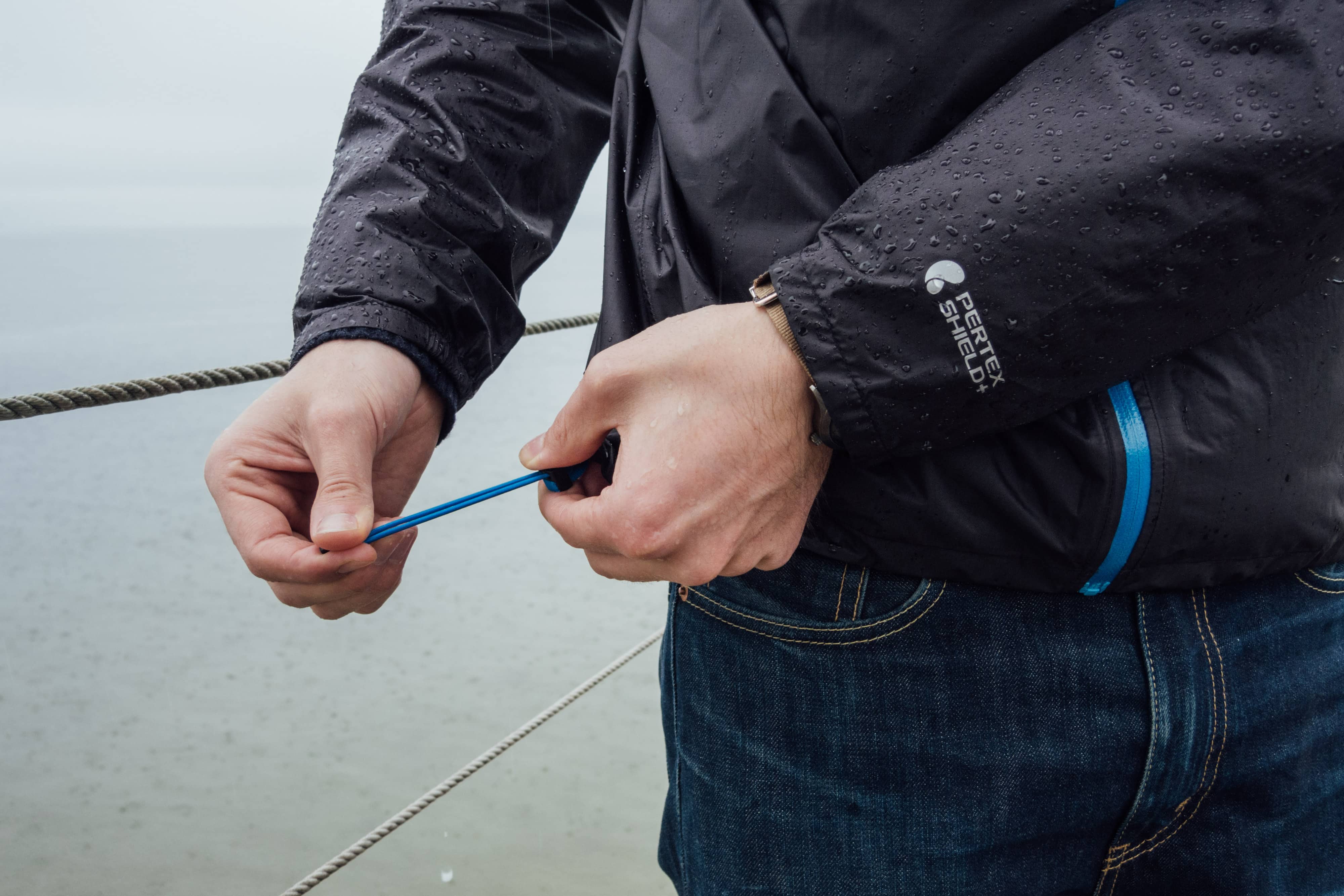 Usage Timeline
Initial Usage
Condition: Excellent
Flawless. Holding up well and keeping out the rain.
2 Months of Use
Condition: Excellent
Excellent. No wear and tear from usage. Still keeping the rain out.
Access the Pro Community Discussion
Get your questions about the Outdoor Research Helium Rain Jacket answered from our team and the Pro Community right here on the page. Plus, join discussions with other members about gear, guides, and more.
Other Clothing & Accessories Reviews