How To Choose The
Best Daypack For Travel
The minimalist's guide to selecting the best travel daypack for one bag carry-on travel and beyond.
01

Introduction
Think you know all there is to know about daypacks? Think again.
Choosing the best Daypack for Travel and Beyond
The humble daypack: simple in form, but oh so valuable in function. Daypacks are the bread and butter of the backpack world, allowing us to enjoy all of what life has to offer while keeping the essentials handy.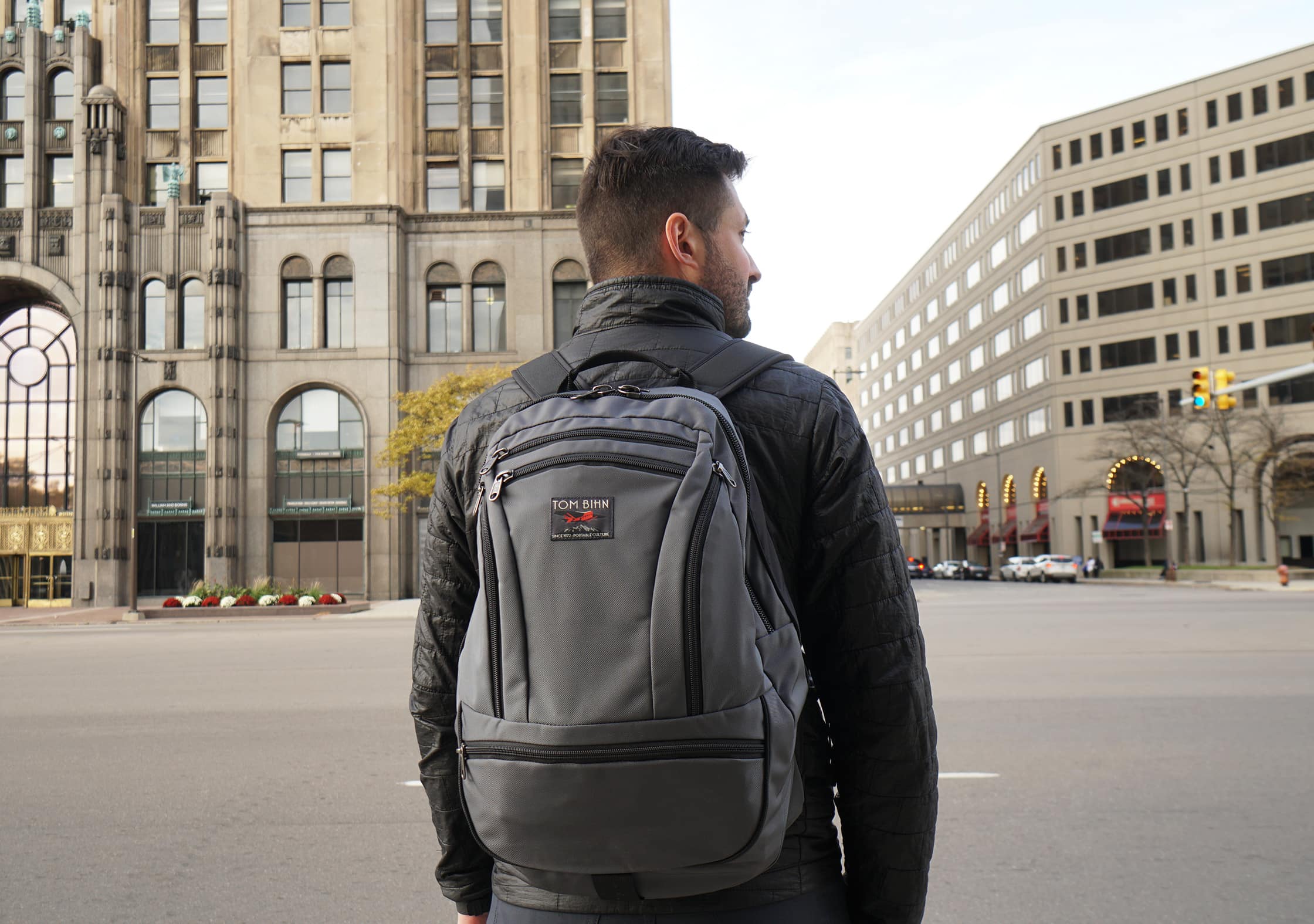 Unlike travel backpacks—which are at home in airports, buses, and hotels—daypacks are found in nearly every facet of life and travel. From daily commutes to grocery store trips, coffee shops, and dog walks—daypacks are an essential part of most people's lives. (Even if they might not realize it!)
In a travel sense, daypacks are ubiquitous with adventure and intrigue. From waterfall hikes in Thailand to exploring Portuguese side streets or relaxing with a few beverages on an Australian beach—daypacks are ready to hold all of your essentials as you live life to the fullest.
So, that begs the question… How do you choose the right one?
(Spoiler alert: You read this guide!)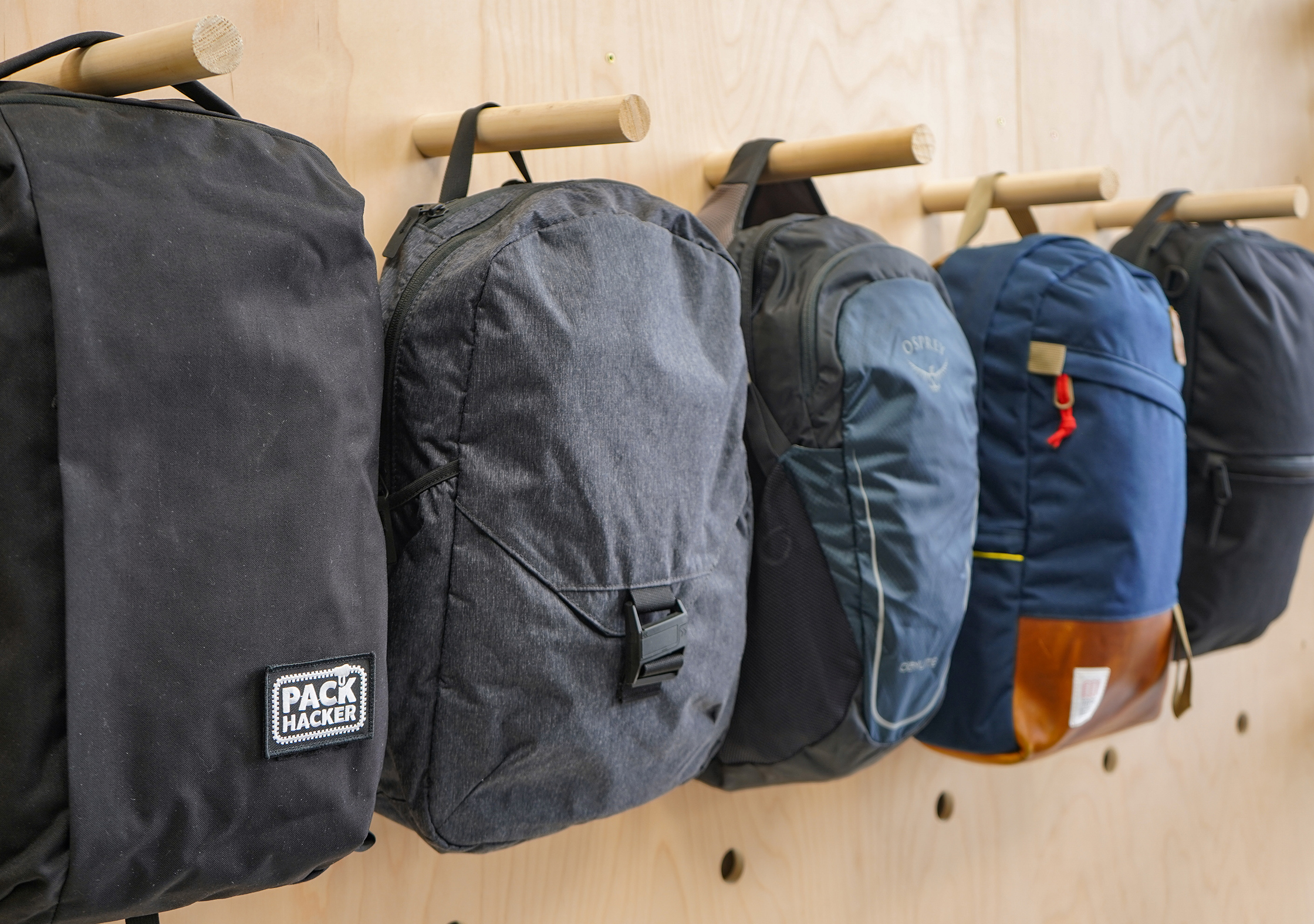 Choosing the best daypack is a tricky—and loaded—question that doesn't have one definitive answer. Much like travel backpacks, there are many different options that all get the job done. But in the end, we're fairly confident there is no "best" daypack for everyone. It all depends on your personal preference and what you're planning on doing with it.
If you want to skip ahead and just see some options already, check out the video below.
Here's what you can expect
In this guide, we're going to help you figure out how to choose the best daypack for your situation. We're going to dive into all the different "categories" of daypacks and explain what you can expect with each as well as the pros, cons, and recommended use-cases.
We're also going to provide some specific recommendations for each category, in addition to going over what you'll want to look for and avoid in each case.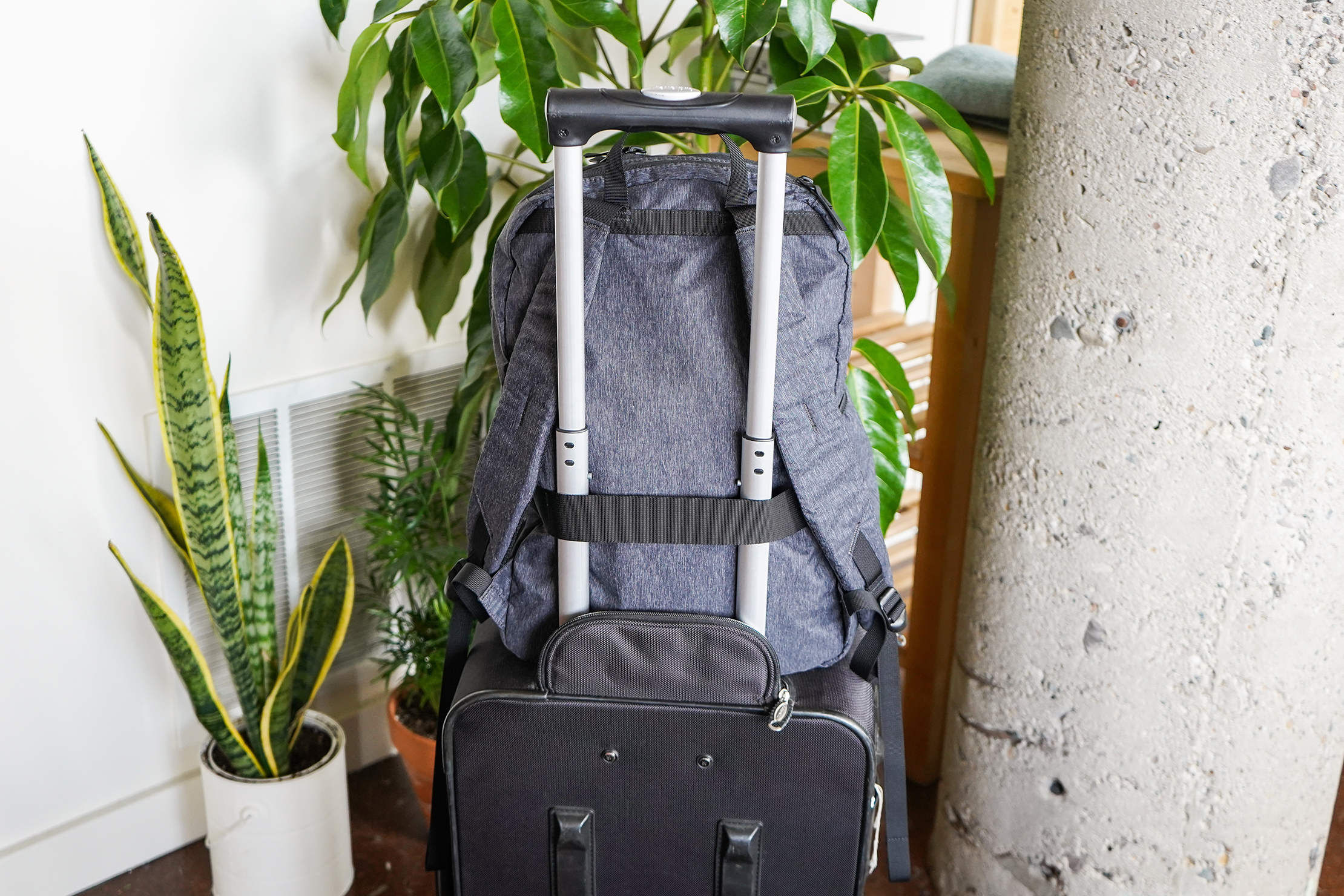 Finally, we'll be going over some more general "pro tips" like how to efficiently pack a daypack, how to travel with a daypack and other luggage, and how to travel like a pro in a more general sense. (Although, we like to think that all of our content covers that last point.)
02

Considerations
Forget the "best" daypack. What kind of pack do YOU want?
Let's get a few things straight before we dive into finding the best daypack for your situation. There are a few key considerations you should be thinking about when choosing a daypack, which we've outlined below. As we progress through this guide, we will continue to come back to these questions. If you can get clear on your answers here, we are confident you will be able to find the perfect daypack for your needs.
So, the first question you should be asking yourself is…
What type of activities will I be using this daypack for?
This is the most logical place to start in your quest for the perfect daypack. Choosing what daypack to buy will be most influenced by what you're going to use it for! Here are some common examples of daypack-related activities that will require different types of packs:
Traveling the world with a carry-on travel backpack and a personal item.
Going on a day hike.
Traveling with roller luggage.
Bringing your laptop and tech gear to work every day (although we have a separate laptop bag guide for this).
Holding groceries on your way home from work.
Having a stylish accessory for travel or days out with friends.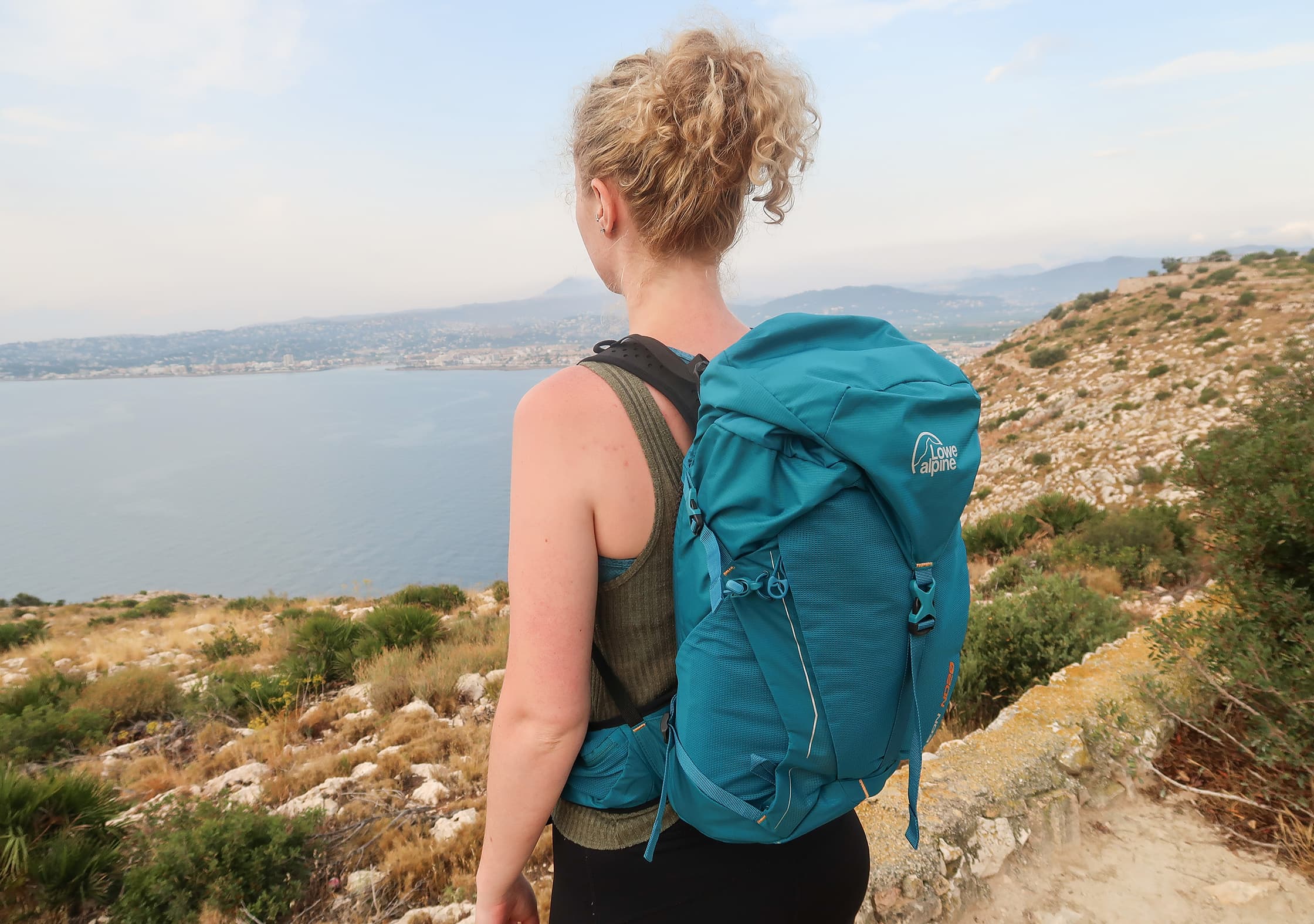 The type of activities you plan on doing with your daypack will have a massive effect on what kind of bag is best for you. Obviously, there are many additional scenarios you may find yourself in outside of the ones on this short list, but we hope that by the end of this guide you'll have the knowledge to make an educated decision on your own.
We should also mention that we are strong advocates for having multiple daypacks for different scenarios. As a bunch of self-proclaimed minimalists, we don't tend to endorse consumption for consumption's sake, but having two to three specialized daypacks can be enough to cover just about any scenario you find yourself in. You could get by with one versatile pack for every occasion, but you're going to have to make some compromises. (But we don't particularly like compromises.)
The next question you should be asking yourself is…
How much stuff do I like to have on hand?
While your answer to the first question may heavily impact the answer to this question, we still think it's worth discussing on its own. Think of this in more general terms—are you the type of person who likes to have everything they could ever need for a day out? Do you love being prepared for any kind of weather that may hit? Are you "that person" who is prepared to spend a night in the woods every time you go for a hike?
Additionally, consider how many people you tend to be around. If you're more of a solo adventurer or if you need a bag for commuting by yourself, you can probably get by with a smaller daypack. But if you tend to travel with large groups of people or you'd consider yourself a "social butterfly," you may want to consider going for a larger daypack. You'll thank us when you become the hero of the group after carrying everyone's water bottles and jackets. Hell, you may even get a free beer or two out of it if you play your cards right.
The gist here is that if you think you'll be carrying a decent amount of stuff while you're out and about, you'll want to opt for a daypack that has a larger capacity and an ample harness system to handle that extra weight.
If you're a bonafide minimalist or you hate the idea of carrying a pack over five pounds, you'll want to opt for a smaller and lighter bag. In this case, you can also get away with a more minimalistic harness system. We'll get into all that (and more) later.
What about all the other things?
Yes, yes—there are certainly more things you'll need to consider when choosing a daypack. Here's a quick run-down…
Budget: Obviously, you'll want to consider how much you're willing to spend. In a general sense, as you spend more, you can expect to see higher-quality materials, better craftsmanship, more accessories, and better styling.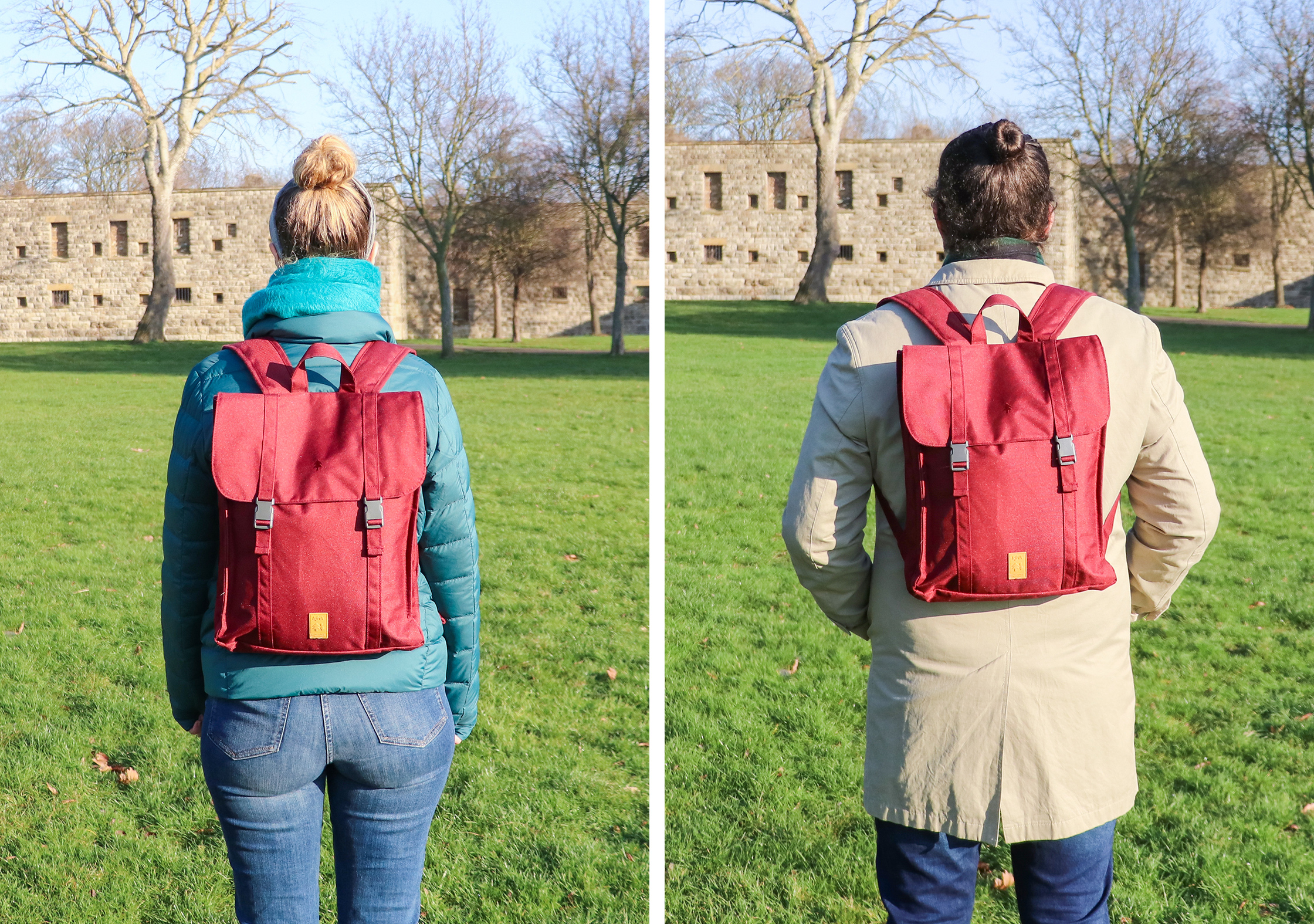 Body Type: Your height and torso length will dictate what type of bags fit you best—and the fit is crucial. Some daypacks come in men's (larger) and women's (smaller) versions. Regardless of gender, you'll want to make sure the pack fits your body type. Luckily, this doesn't tend to be as much of a problem with daypacks as it is with larger travel backpacks.
Durability: This can change depending on personal preference or the type of activity you're doing. Daily commuting is going to be tougher on your pack than quick trips to your neighborhood coffee shop. You'll want to consider how often you plan on using this pack, and how long you'd like to have it.
Weight: If you're concerned with the overall weight of your pack, certain types of daypacks will be drastically lighter than others. Drastically. Lighter.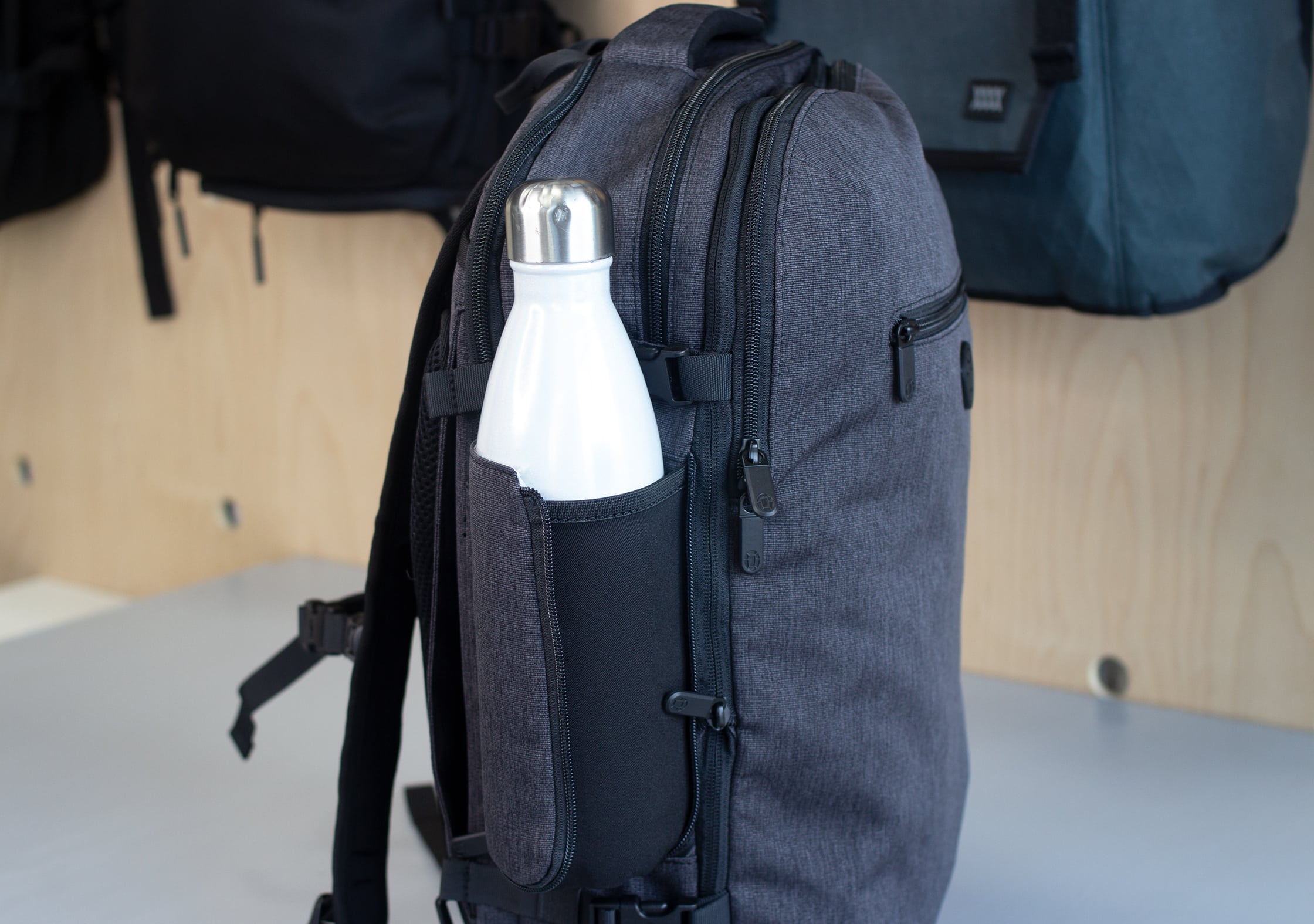 Extras: Between hip belts, compression straps, water bottle pockets, laptop compartments, and a slew of other add-ons…there's a lot to consider here. If there are certain backpack features that you feel like you can't live without, it might restrict you to certain types of daypacks.
03

Traditional
The daypack we've all come to know and love.
What is a traditional daypack?
The traditional daypack is just what you'd assume—a daypack that functions well for daily use. This is the O.G. daypack. Remember that JanSport pack you and everyone else brought to school as a kid? Well, that would fall into this category. Although we're happy to say there are plenty of alternatives nowadays, and of varying qualities.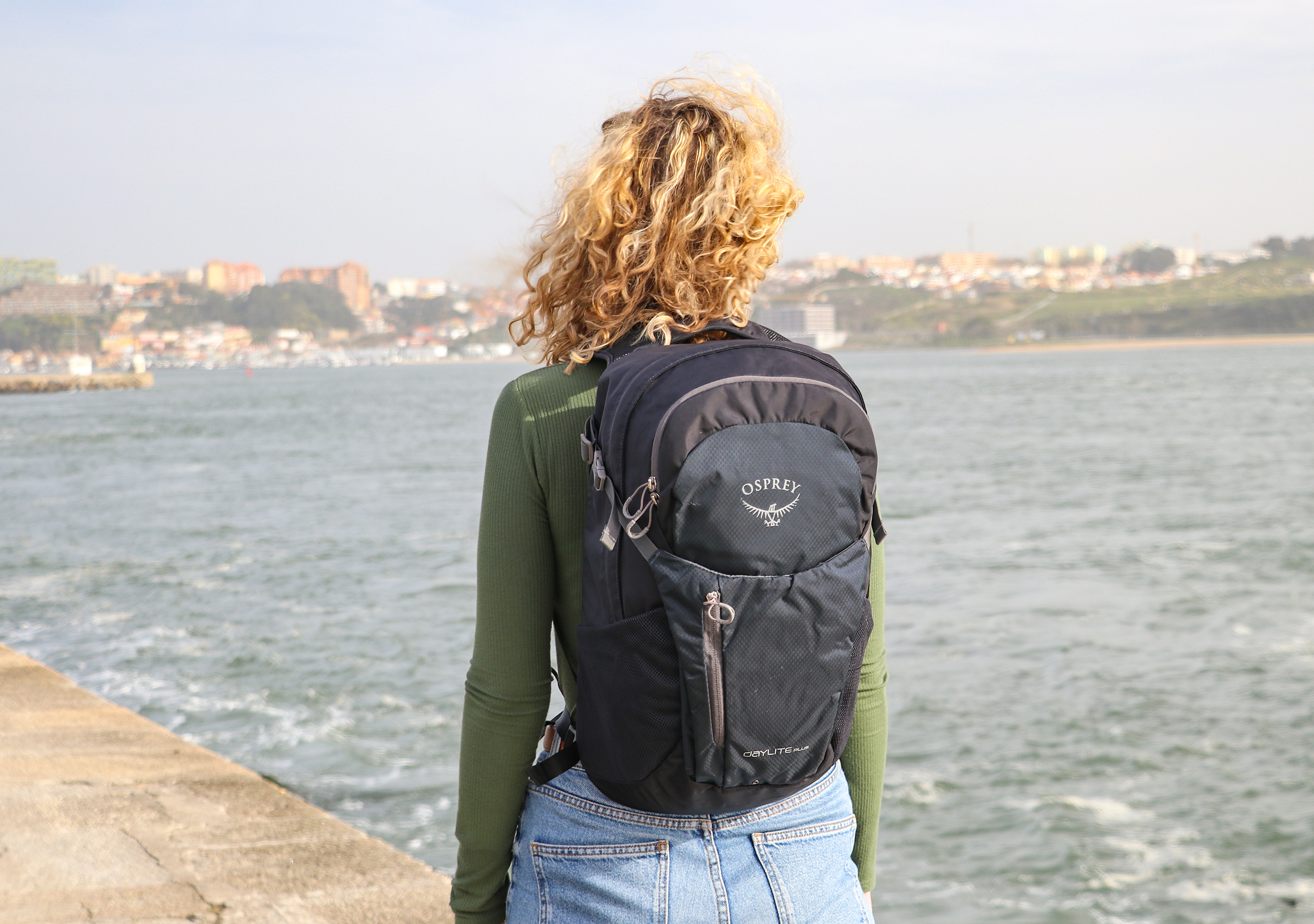 These types of daypacks function well and offer a ton of variety—this is actually the category where you're going to see the most variety by far. We're pretty confident even the pickiest gear nut could find something that fits the bill here. With a wide array of materials, color schemes, and styles—there's something for everyone.

Aer
Pro Pack 24L
The Aer Pro Pack 24L is a prime example of efficient allocation of space. Whereas a lot of daypacks struggle with gear settling at the bottom of the main compartment (leaving the top unoccupied), the Pro Pack lets its other compartments fill that void. You can either use that otherwise wasted space by packing its valet pocket and admin panel or stacking as much gear as its roomy main compartment can handle—the choice is yours.
Traditional daypacks can come in a wide variety of sizes but, in general, most packs will have a capacity between 10 and 25 liters. Usually, you'll find one large compartment with a few other smaller pockets around the bag. But there is a ton of variety in the traditional daypack department, so that's not all you're going to find—there are plenty of traditional daypacks out there that offer loads of organization. Really, you can find bags at any end of the spectrum—from zero organization to a boatload to a happy medium.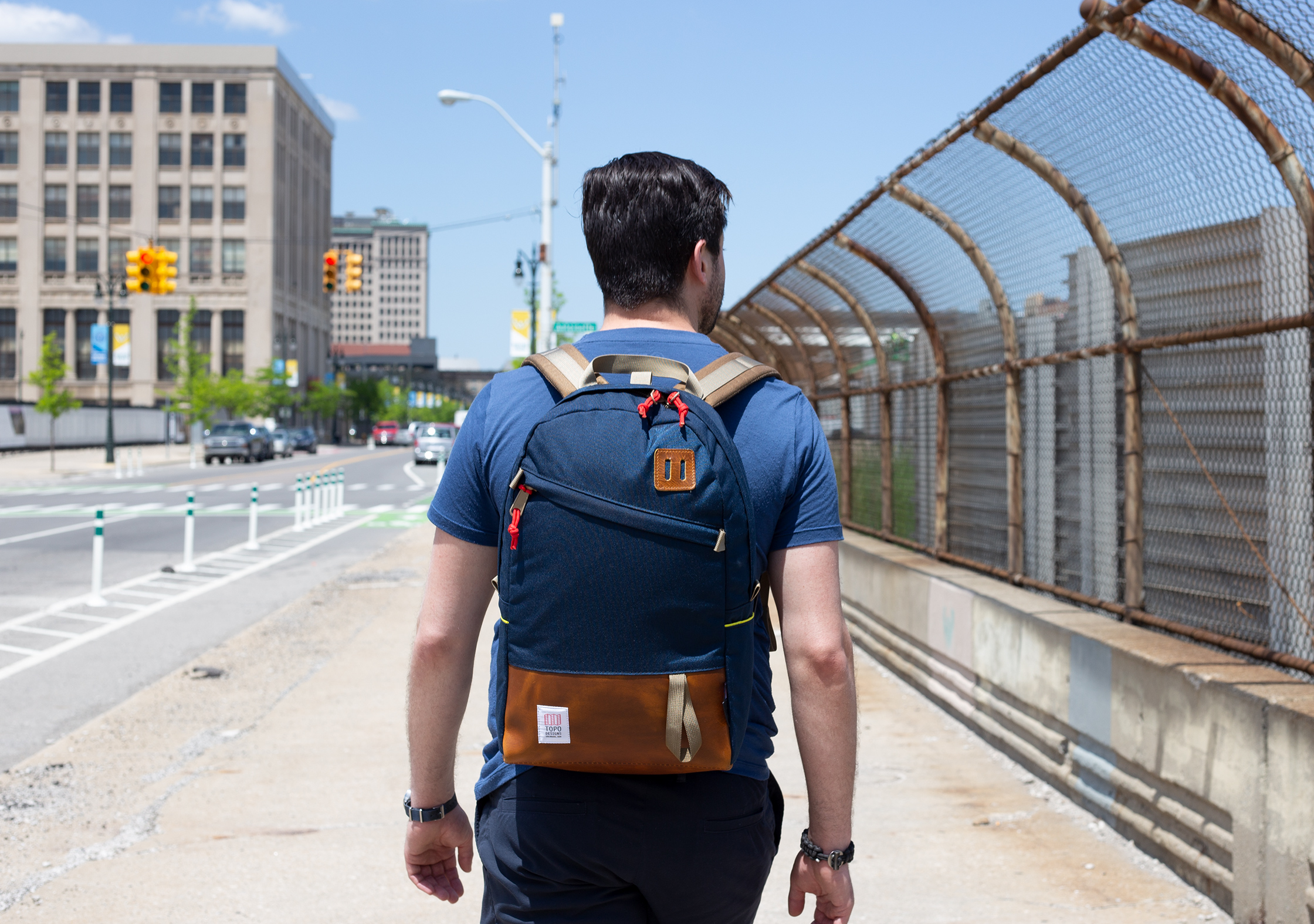 Now, we should clarify that while we love ourselves a good old-fashioned daypack, they do have their drawbacks. In fact, we'd argue that the drawbacks encountered on traditional daypacks are what eventually caused backpack manufacturers to start looking into other types of daypacks (like the ones you'll find in the rest of this guide). More on that later. For now, let's get into the nitty-gritty.
Materials & Durability
These types of daypacks have by far the most extensive variety of fabrics and materials. In fact, you can find a traditional daypack made with just about every backpack material out there. Here are some common examples of fabrics you might encounter on a pack like this:
Ballistic Nylon
Ripstop Nylon
Various types of CORDURA® branded materials
Polyester
Standard Nylon
Canvas
Sailcloth
Dyneema Fabric
Leather
And everything else under the sun…
If we had to recommend a few of these fabrics, we'd probably point out Ballistic and Ripstop Nylon. These are the heavy hitter backpack materials that we love to see because they're incredibly durable over the long term, they're rip- and abrasion-resistant, and they're mostly weather-resistant. The CORDURA® name also tends to be a good one to look for, as it signifies that the fabrics have been held to a certain level of quality. In terms of specific CORDURA® materials, you'll mainly find polyester and nylon.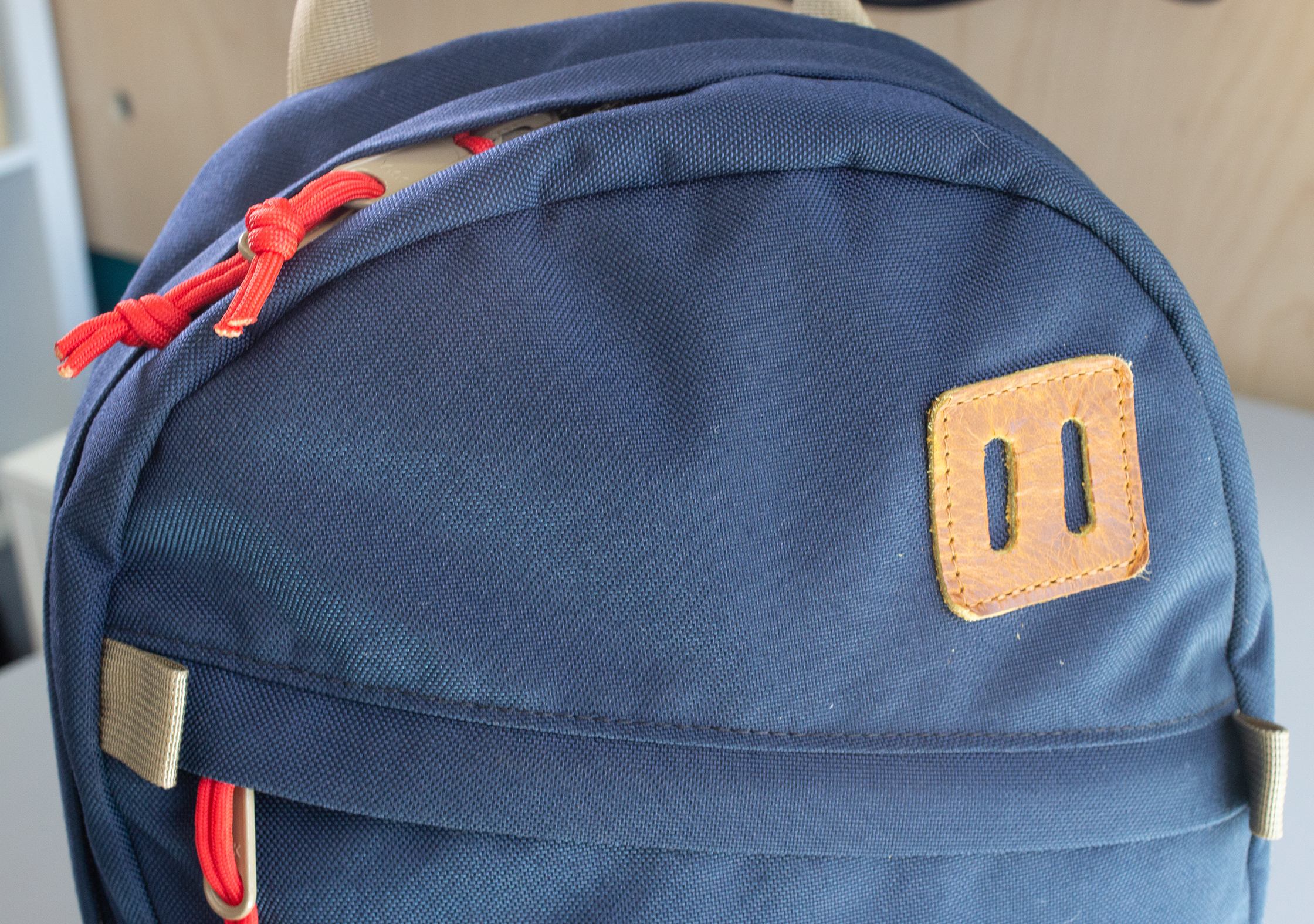 We generally recommend avoiding polyester, canvas, and leather for travel. Polyester is lightweight but it lacks long-term durability, and it can rip and scuff easily. Canvas and leather can certainly be high quality, but they tend to be very heavy. Don't get us wrong, we've seen great packs that use these materials, but if you're looking for the "best" materials out there, we'd recommend opting for some of the other options on this list.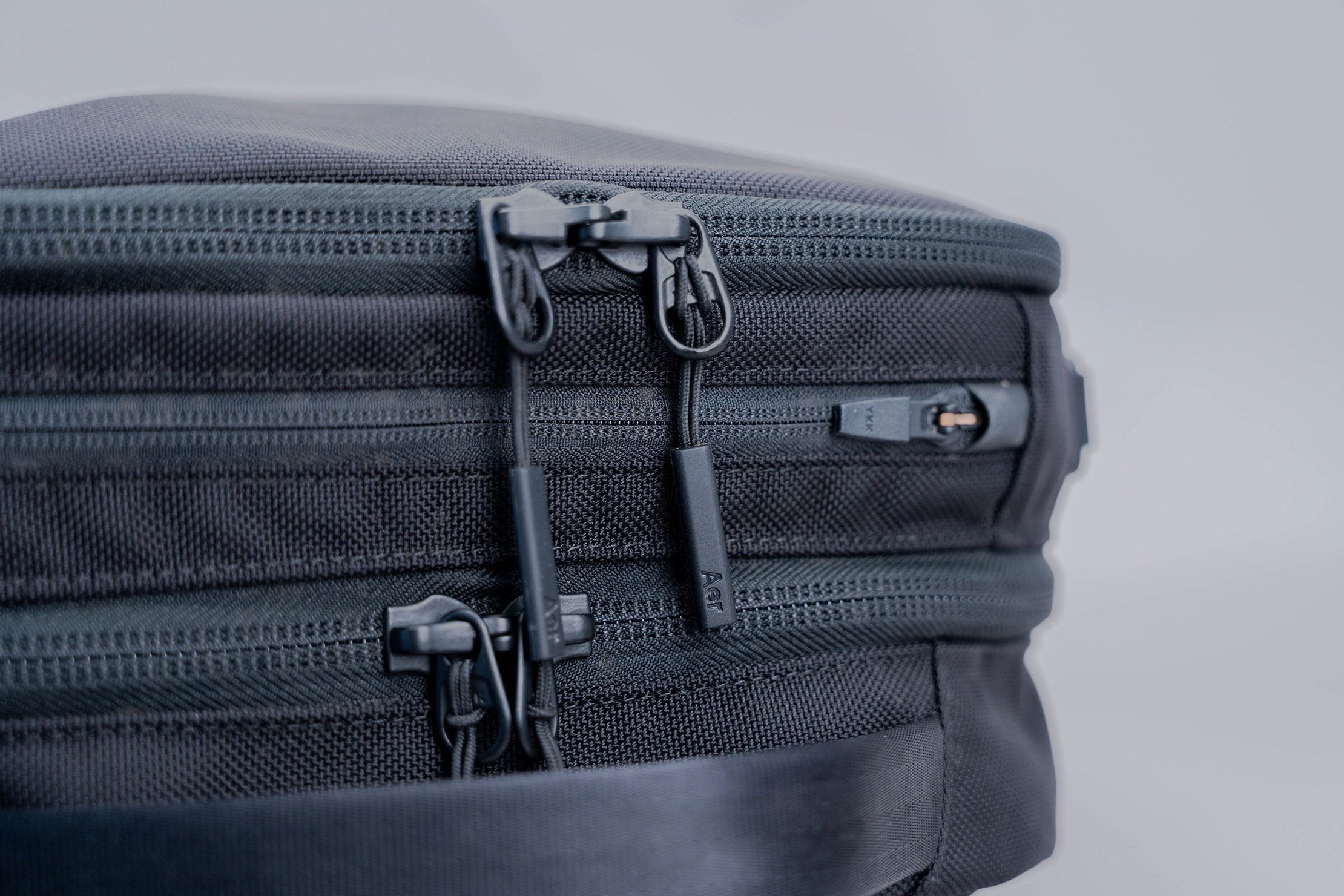 Outside of fabrics, you'll likely find a variety of other hardware and zippers on these types of packs. We always recommend YKK or SBS branded zippers as they have long track records of providing high-quality zippers that stand the test of time. Zipper sizes range on a scale from one (small) to ten (large), and most of the packs in this category will have at least a #5. We'd recommend looking for something a bit higher, though—some of our favorite daypacks have #10 YKK zippers, which are super beefy. In general, anything between #8 and #10 will be sturdy enough that you won't need to worry about anything breaking anytime soon. (By the way, this should go without saying, but avoid plastic and unbranded zippers at all costs!)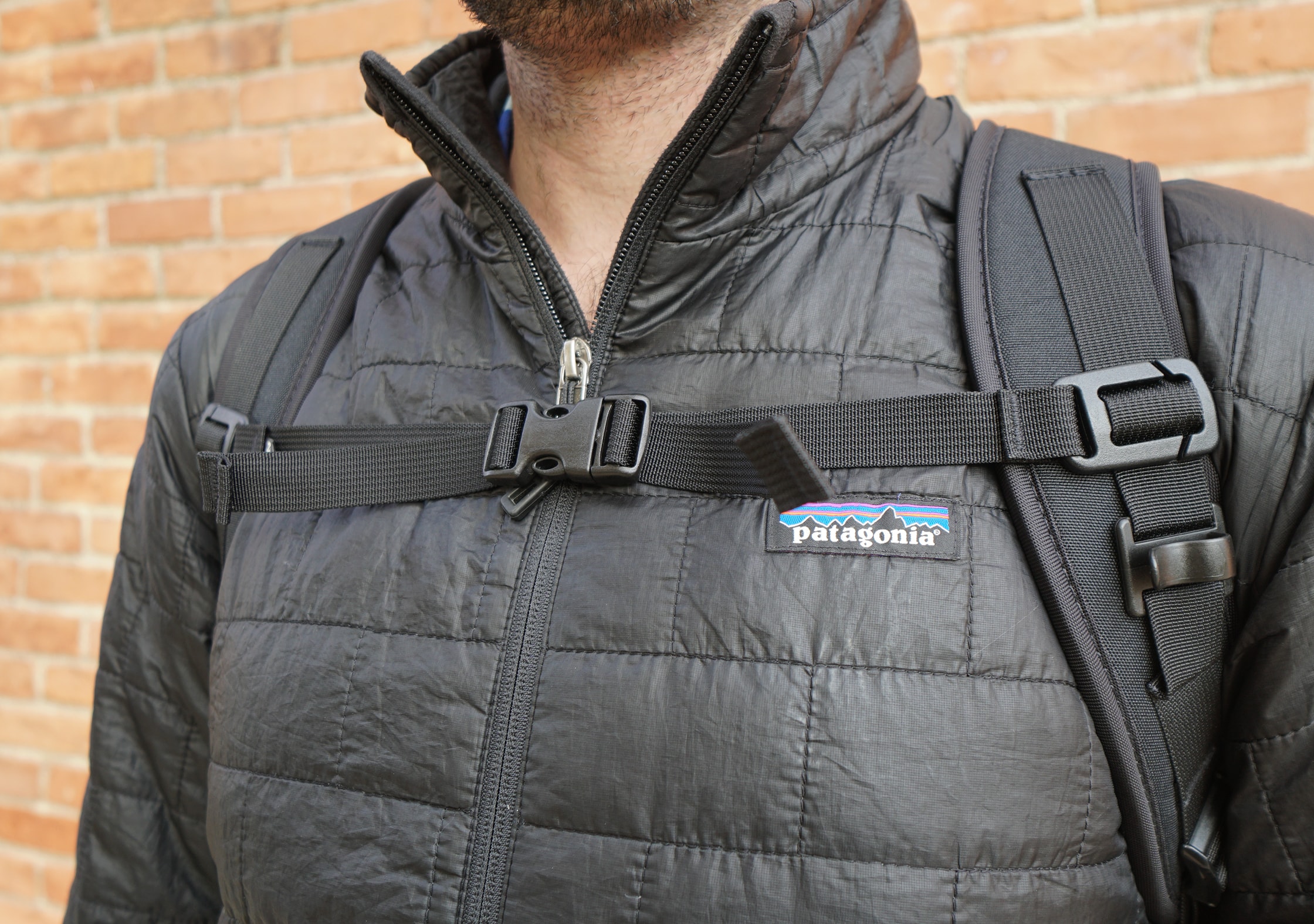 Additionally, you'll find various types of hardware—in the form of buckles, adjusters, and straps—on these packs. Duraflex, Woojin, and ITW are good brands to look out for. If you don't see a brand name on the buckles of a daypack, you might want to look elsewhere. The reality is that plastic buckles are one of the easiest things to break on a bag—you can easily snap one in half just by setting the pack down abruptly—so sticking with a high-quality, trusted brand here is absolutely worth the extra couple bucks you'll likely have to throw down.
Curious about what other materials you can expect on a pack like this? Here's a quick overview:
EVA foam: This is high-density foam that you'll find in shoulder straps and hip belts. Comfy stuff.
Nylon webbing: Often used for adjuster straps and minimal sternum straps or hip belts.
Metal buckles: Metal buckles—specifically, aluminum buckles—are fantastic. We'll almost always opt for them in place of plastic buckles, even if they do add a bit of weight. Look for Cobra or Fidlock brands here.
DWR coating: This is a coating that can be applied to many fabrics which increases water-resistance. It will by no means make the pack completely waterproof, but it will help quite a bit by providing some added weather-resistance.
Who (and what) is it good for?
The traditional daypack is useful for people who need a pack for daily use and aren't concerned about traveling light. We're of the firm belief that any commuter or city-goer who does a lot of walking or regularly takes public transit should have a traditional daypack they love. Actually, scratch that—everyone should have a traditional daypack they love.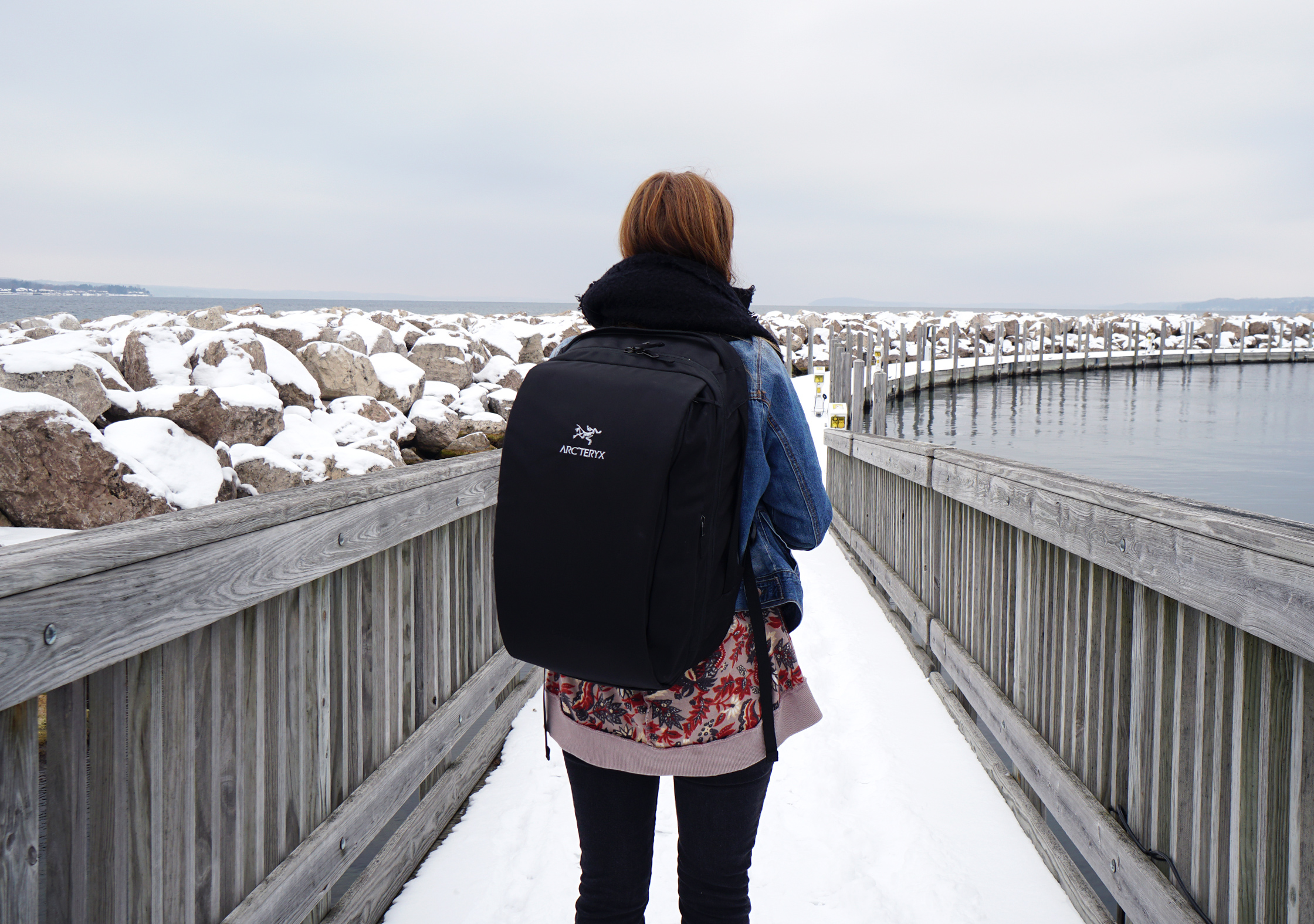 This type of pack is excellent at holding tech gear, groceries, clothing, and everything in between. It'll hold everything you need for those longer-than-expected days at work, short hikes, weekend trips, and whatever else you may encounter in your day-to-day life.
As far as travel goes, this pack does hold some value, but it's not exactly "optimized" for travel. If you're looking for a pack that you can cram into your one bag travel pack, this isn't going to be your best bet. It might be doable, but there are way better options out there (which we'll get into soon).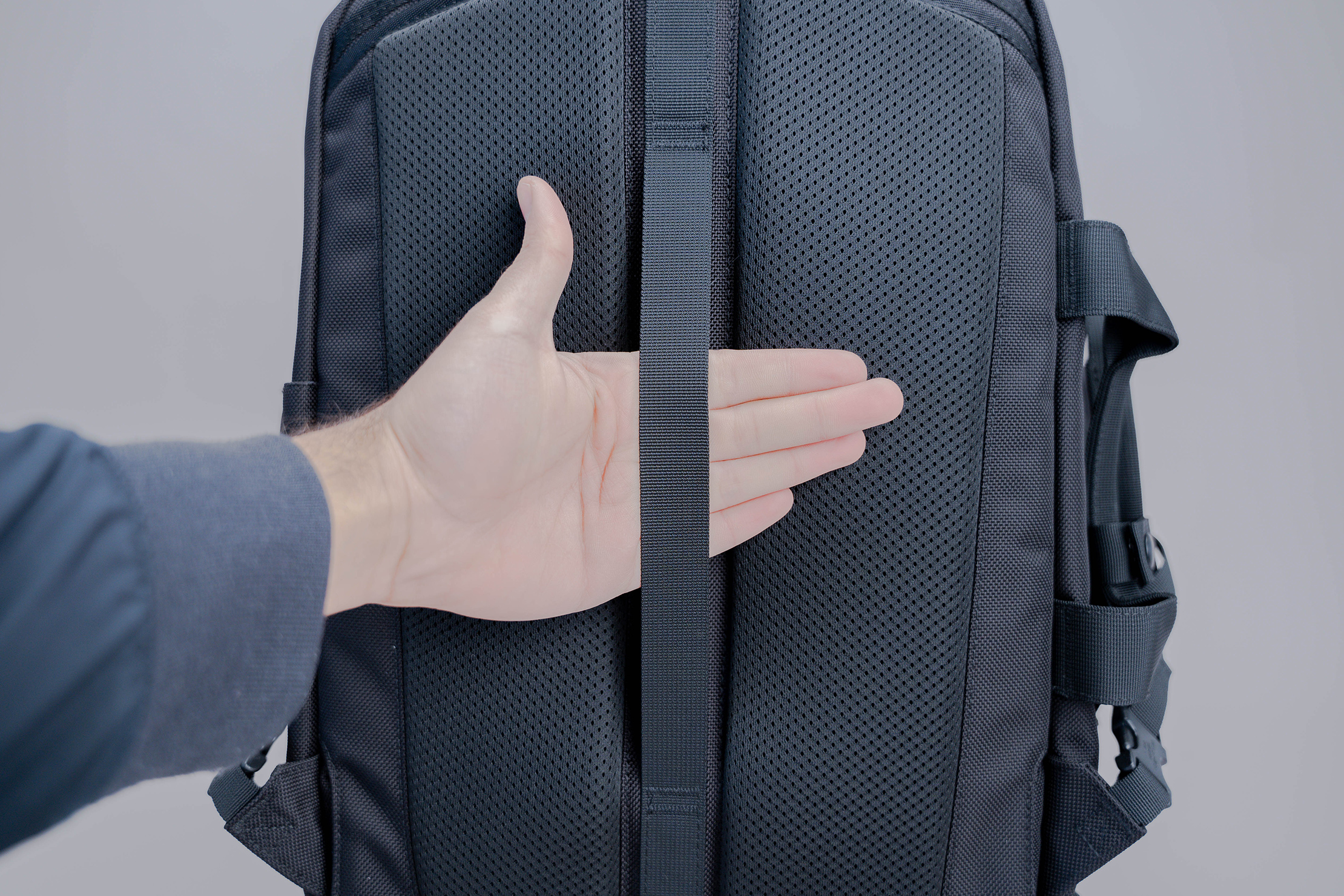 However, if you plan on using roller luggage or a duffel, a daypack like this can be a perfect addition to your travel kit. If roller luggage is your style, we'd recommend grabbing a pack that has a luggage pass-through, like the Aer Flight Pack 3, so you can toss your pack onto your suitcase and stroll through the airport like a total boss.
This is a pack that we think virtually everyone should have in their closet. Even if you don't plan on using it regularly, it's great to have for quick trips and days out of the house. It can replace totes, duffels, and reusable grocery bags while offering a whole lot more functionality because, like all backpacks, you can have both hands free while wearing it!
Once you grab one that fits your style and has some quality materials, you'll wonder how you ever lived without it.
The Good
This backpack is good at most things, but it's not quite as specialized as some of the other packs we'll highlight in this guide. Essentially, Traditional Backpacks are versatile packs that will function well in 8 out of 10 situations. But for those other two instances, you'd be better off with something else.
Traditional backpacks offer impressive materials and harness systems that allow you to comfortably carry heavy or bulky gear for long periods of time. They also offer the most purchasing options, meaning you can opt for a pack that provides a boatload of additional functionality, a pack that is sleek and minimal, or something in between. The same goes for style and size. One crucial point is that you'll see longer-lasting and more durable materials on these types of packs because weight and bulkiness aren't as much of an issue.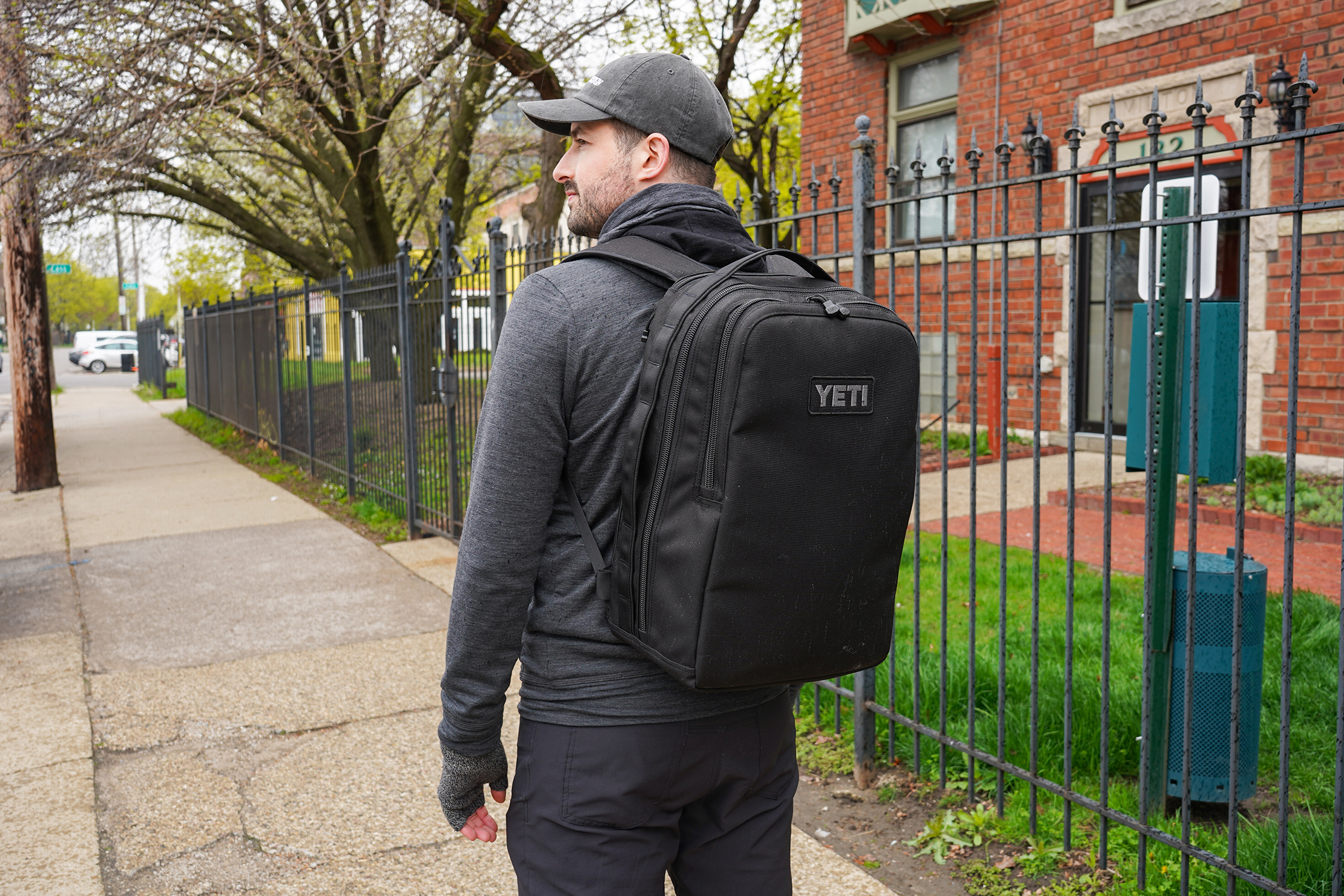 These bags also tend to have the most "structure," which means they'll be good for holding more valuable or fragile gear and you can easily organize the contents inside. Because they have more structure and lots of accessories, you'll also find that these types of daypacks often have multiple carry options—allowing you to carry the pack in "briefcase mode" or "duffel mode" or some other mode entirely. That provides some nice versatility that can be good for some use-cases or specific situations.
And finally, the wide variety of packs in this category means you can spend as much or as little as you'd like. There's something for every budget, which isn't entirely true for the other categories on this list.
The Bad
If you're looking for something extremely lightweight and minimal, this type of pack isn't going to be your best bet. You can find light daypacks here, for sure, but a packable daypack may suit you better. Traditional daypacks also tend to be a bit on the bulkier side, so if you're looking for a pack that you can toss into your larger travel pack, there are better options out there.
As we've mentioned, the traditional daypack is king when it comes to versatility—but, by definition, that means it's not king when it comes to specialized use-cases. As you'll see later in the guide, there are a variety of packs for specific niches that will go above and beyond what a traditional daypack is capable of.
The Verdict
If you're looking to carry stuff efficiently or you want a versatile pack that will last a lifetime, this is what you need. In fact, even if you don't think you need this type of pack you should still probably have one on hand. It'll come in handy more often than you think.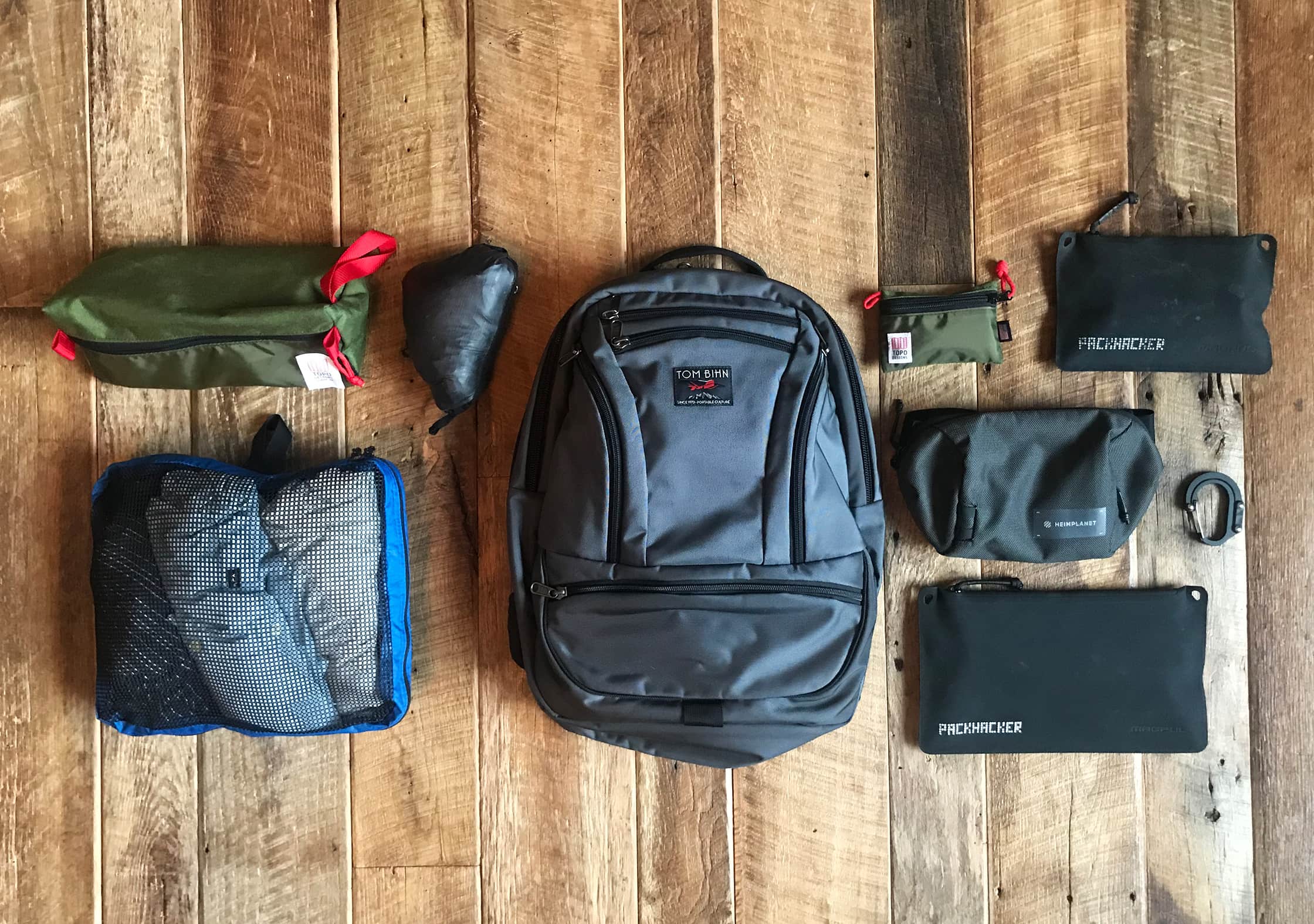 But if you have other, more specific considerations, you might want to keep reading…
Recommendations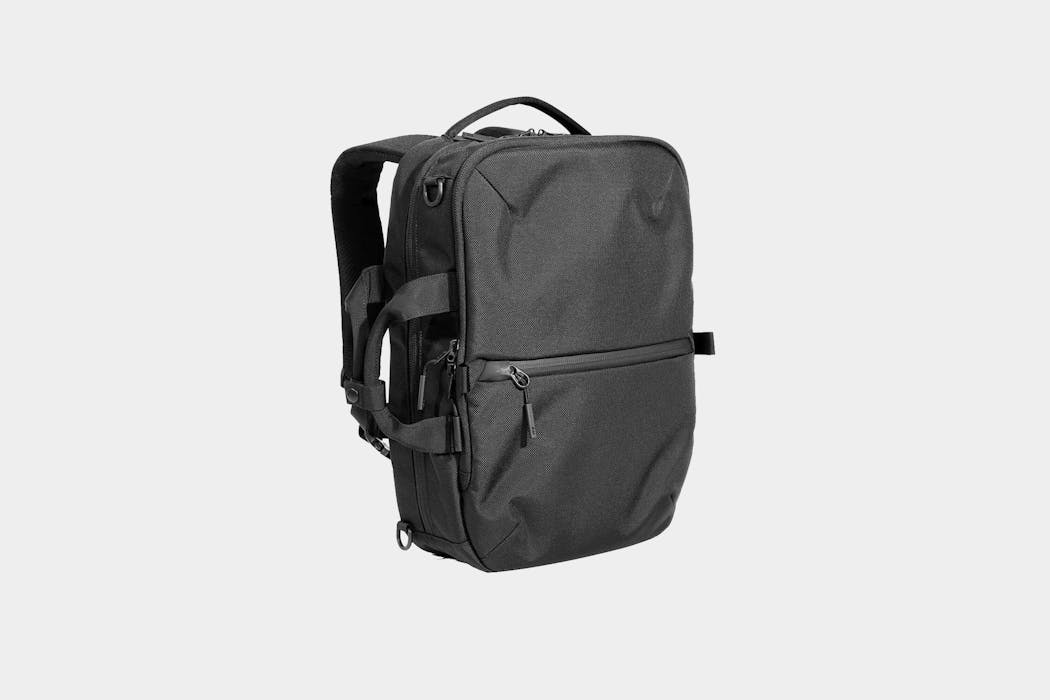 Aer
Flight Pack 3
The Aer Flight Pack 3 is a reliable and functional mid-sized daypack from a trusted brand. It's got a sleek, minimal look and it uses high-quality materials that have held up well during our testing. If you're looking for the ultimate daypack, you'll want to check this one out.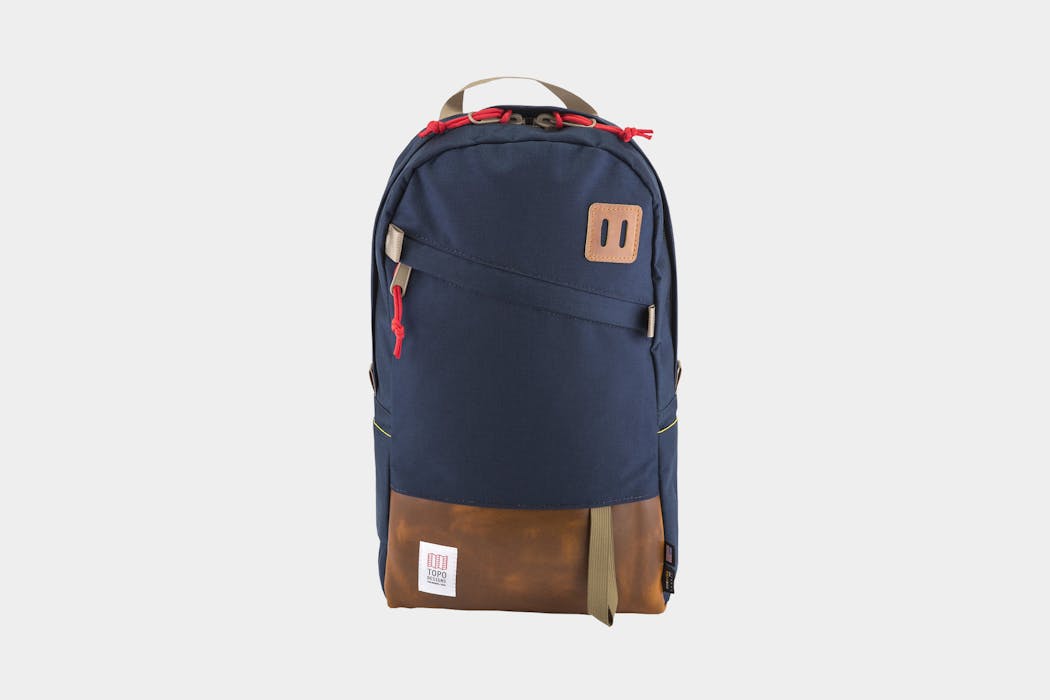 Topo Designs
Daypack
The Topo Designs Daypack is a stylish little backpack that isn't really so little. At 20 liters, it's a reliable daypack that can handle weekend trips or bulky items with ease. Although it might look simple, there's a lot going on inside this heritage style pack—including some high-quality, durable materials.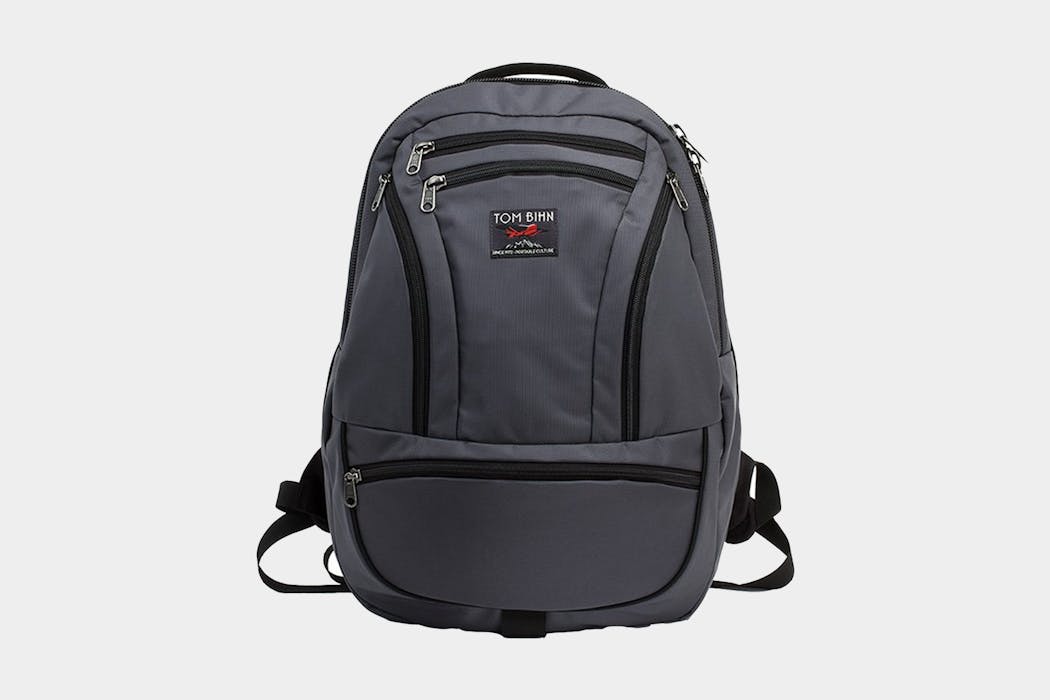 TOM BIHN
Synapse 25
We love Tom Bihn because they put a ton of care, effort, and detail into the decisions they make when creating packs. The Synapse 25 is no exception. With some excellent organization, customization options, and great materials—this bag is a winner and could be a great option for longer trips.
04

Packable
Are packable daypacks the future of the backpack world? We're not sure, but we're definitely into them.
Video Overview: 9 Packable Daypacks For Minimalist Travel & Why You May Need One In Your Carry-On Backpack
Feel free to watch this guide overview in video format. We'll go more in-depth in the written content and keep this page up to date.
Be sure to subscribe to Pack Hacker on YouTube and never miss a video.
What is a packable daypack?
Packable daypacks are the latest, greatest, and most innovative item to hit the daypack market for some time. Over the past few years, we've seen packable daypacks explode in popularity, and for good reason. They're ridiculously lightweight, super compressible, and they solve a problem that almost everyone has faced at some point in their lives.
If you've ever arrived in a new city with a big ole' piece of luggage and thought, "If only I had a smaller bag I could use for the day," then you are in luck. The packable daypack was built to solve that problem, and for that, we love it.
The way packable daypacks work is pretty straightforward (it's also, like, in the name—but we'll clarify). They're usually built with extremely thin and lightweight materials, which allows you to compress the bag into a small ball, just like you might do with a plastic disposable shopping bag. But it's not just thin materials we're talking about here. Everything on a packable daypack is light—from the shoulder straps to the zippers to the buckles. It's all purpose-built to compress, so you'll rarely see thick shoulder straps, beefy zippers, or extra features on these bags.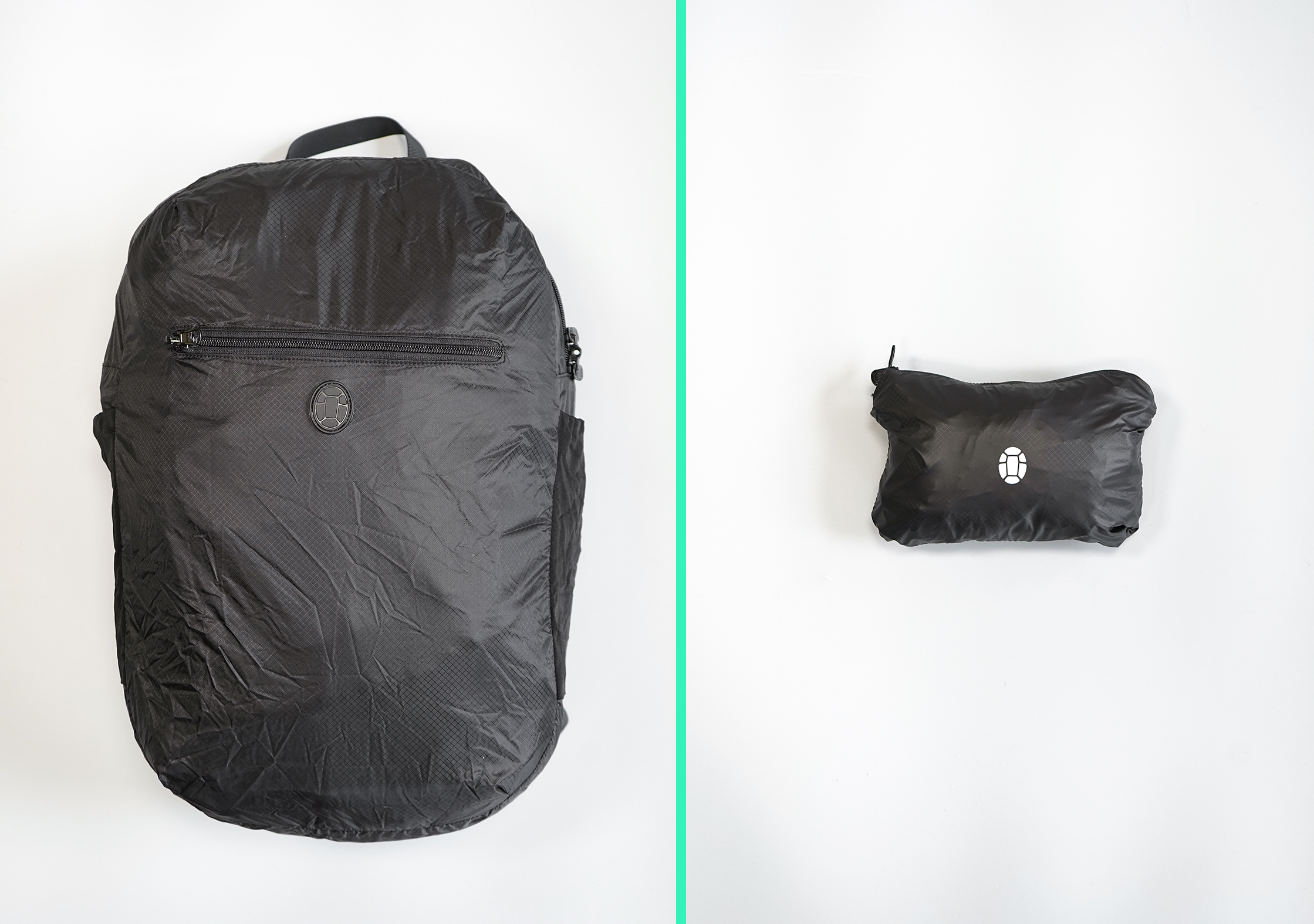 Most bags compress into a pocket on the pack or a small compression pouch. Basically, you pack the bag into the pocket or pouch, zip it up, and you've just compressed a backpack down to the size of a soda can (or sometimes, even smaller).
From there, you can toss that can-sized pouch into your larger travel bag, your desk at work, your car, or just have some fun and play a game of catch with your friends! There are no rules when it comes to packable daypacks, people.
Packable daypacks can vary in size, but you can generally expect them to fall between 10 and 25 liters in capacity when expanded. When compressed, smaller-sized packs will take up less room, but the materials and design also play a significant factor. We've seen 24-liter daypacks that compress smaller than 15-liter packs. So it's vital to do your research on each bag before you purchase and consider how important the expanded and compressed sizes are to you.
As far as compartments go, you'll be hard-pressed to find a packable daypack with more than two or three pockets. The majority of these bags have one large compartment with a small quick-grab pocket—and that's about it. As you'll see, these types of bags are pretty barebones (because they have to be).
Materials & Durability
When it comes to packable daypacks, thin and light is the name of the game. Everything on a packable daypack is purpose-built to allow the pack to compress to less than a quarter of its initial size. But let's be honest, compressing is the easy part. After all, you can compress a plastic grocery bag or a Ziploc bag pretty easily.
The hard part is creating a bag that can do all of that while still holding up for years to come. Using a backpack to carry heavy or bulky items can put a lot of stress on it, but even more importantly, compressing a bag can put an incredible amount of pressure on the seams and materials. So, how do you create a backpack that is strong enough to hold up to all of that while still being extremely thin and lightweight?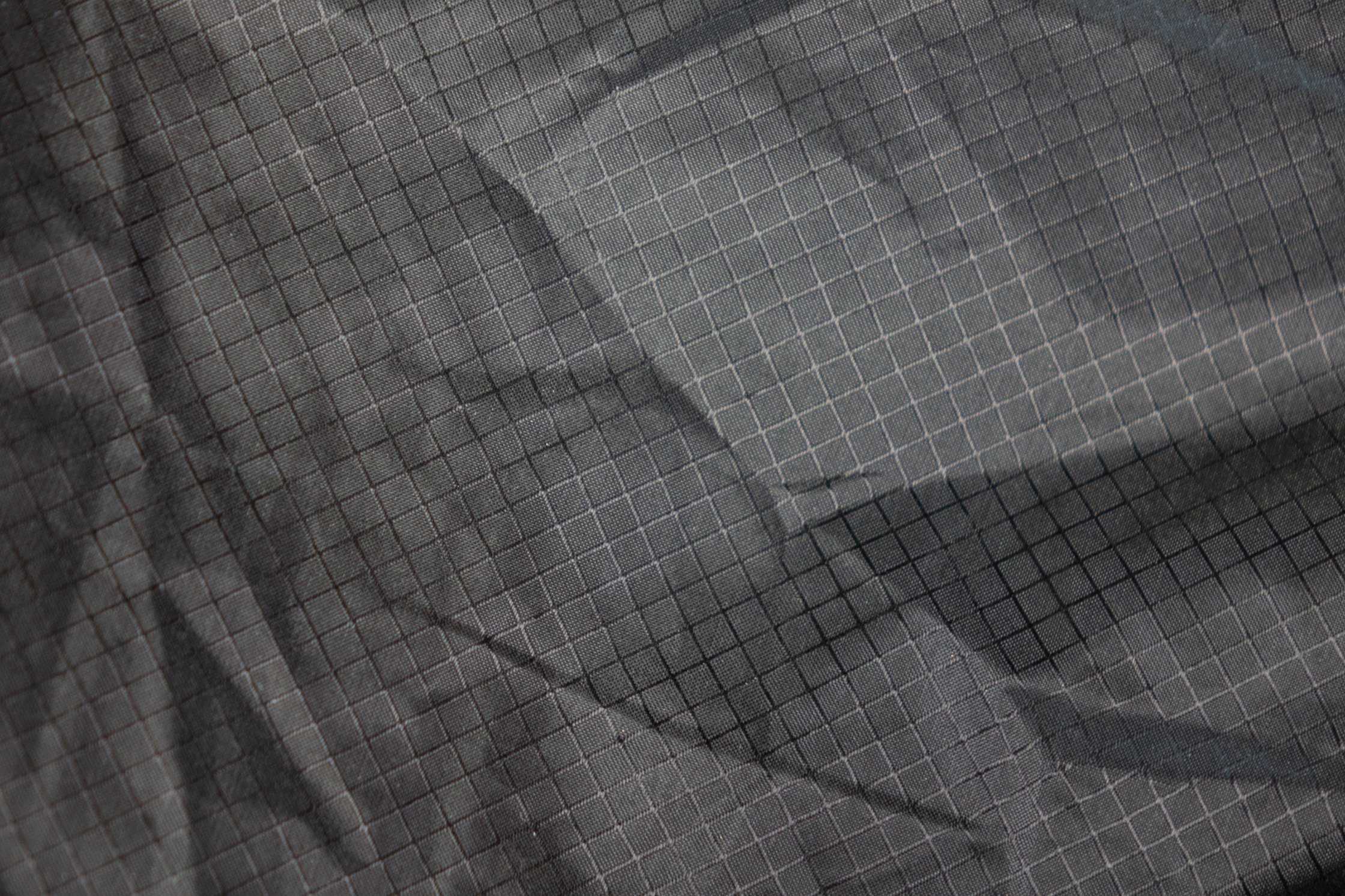 Well, thanks to #science and years of fabric innovation, we now have a handful of materials that are up to the challenge. Here are some of the most common materials you'll find on a packable daypack—and keep in mind that these materials are similar to what you'd find on other backpacks, they're just going to be much thinner versions of the same fabric.
Ripstop Nylon
CORDURA® Nylon
Dyneema®
Various types of "Sailcloth"
…and that's about it!
As you can see, there's a pretty select number of materials that you can use when making a packable daypack. And really, all of these materials are incredibly similar—they're all thin, lightweight, and have an extremely high strength-to-weight ratio.
Now, with all this talk about super thin, super durable materials… we know what you're thinking. "Okay, but how durable can these things ACTUALLY be?" Well, if you're skeptical, you should be.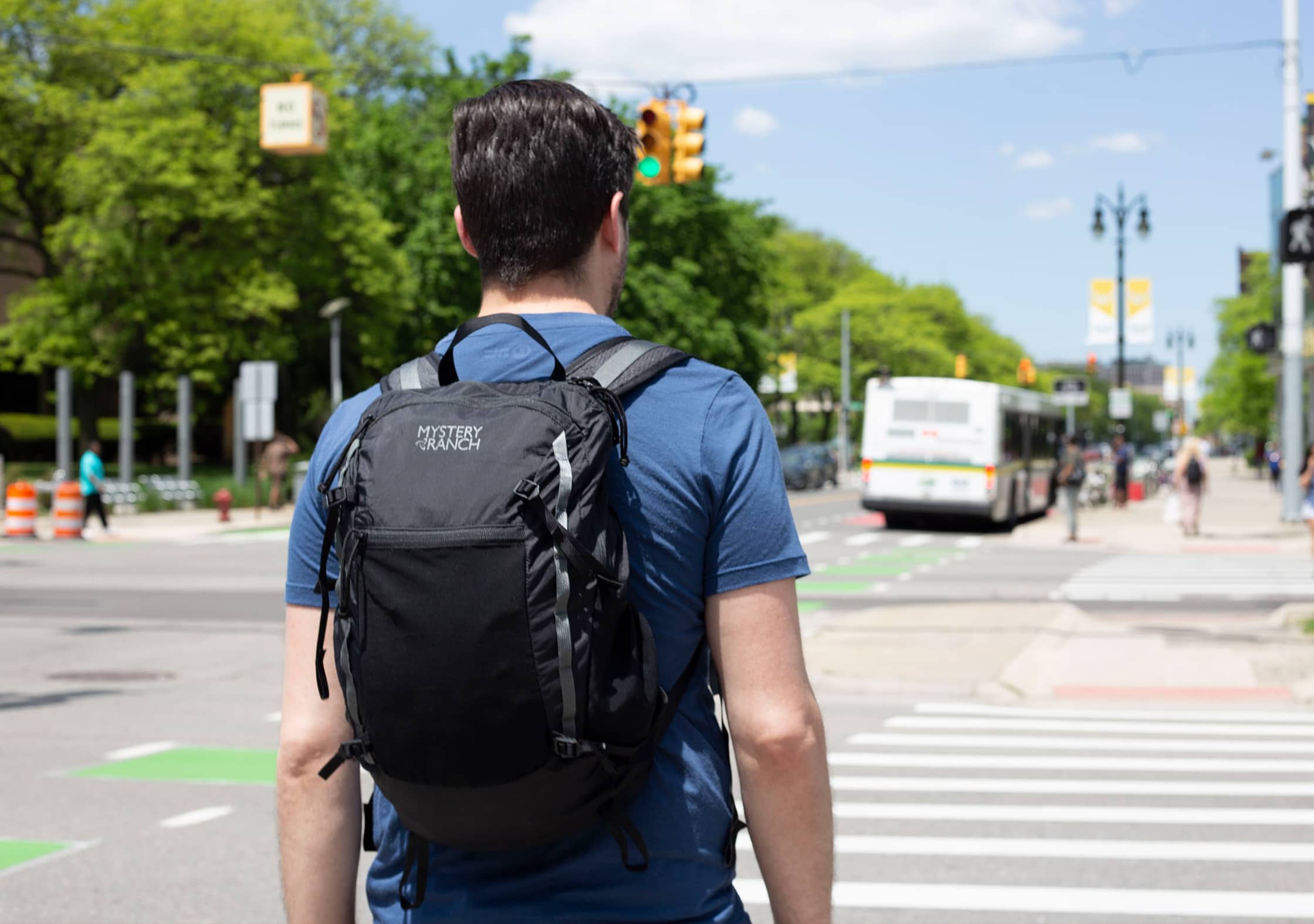 Here's the deal. A packable daypack is likely never going to be as durable as a full-fledged, traditional daypack. With materials this thin, you're always running the risk of creating small punctures, abrasions, rips, tears, and more. While 30D Ripstop Nylon is exceptionally durable given its weight, that's just the thing—it's so thin and light that it's never going to be as durable as, say, 1000D CORDURA® Nylon.
What we're trying to say here is that given the limitations of packable daypacks, they're incredibly durable. Let's not beat around the bush here—they're certainly not the most durable packs money can buy. In fact, you'll want to be careful with your packable daypack—even putting bulky items in can be cause for concern.
But as far as we're concerned, as long as you put some thought into how you pack your bag and you treat it well, you're going to be okay. And the pros of a packable daypack truly cannot be understated.
Who (and what) is it good for?
Packable daypacks are extremely small when not in use, but still quite functional when in use. As you can imagine, there are a lot of situations where this can be helpful!
We mainly use packable daypacks for travel. If you're traveling with one large travel backpack, you can bring along a packable daypack to use once you arrive at your destination. The benefit here is that it takes up little to no space in your pack while you're traveling, and then you don't have to use your enormous travel backpack for a day out in a new city.

Some packable daypacks are even small enough where you can toss one in your jacket pocket and carry it around with you just on the off-chance you might need a backpack at some point during the day. Pretty awesome, right?
There are many uses for packable daypacks outside of travel, as well. You may want to keep a packable pack in your desk at work, in case you need to hit the grocery store on your way home. You could keep one in your car or a saddle bag on your bike. Or, for the ultra-minimalists and tiny apartment dwellers, you may want to just save space in your closet and use one of these as your only daypack!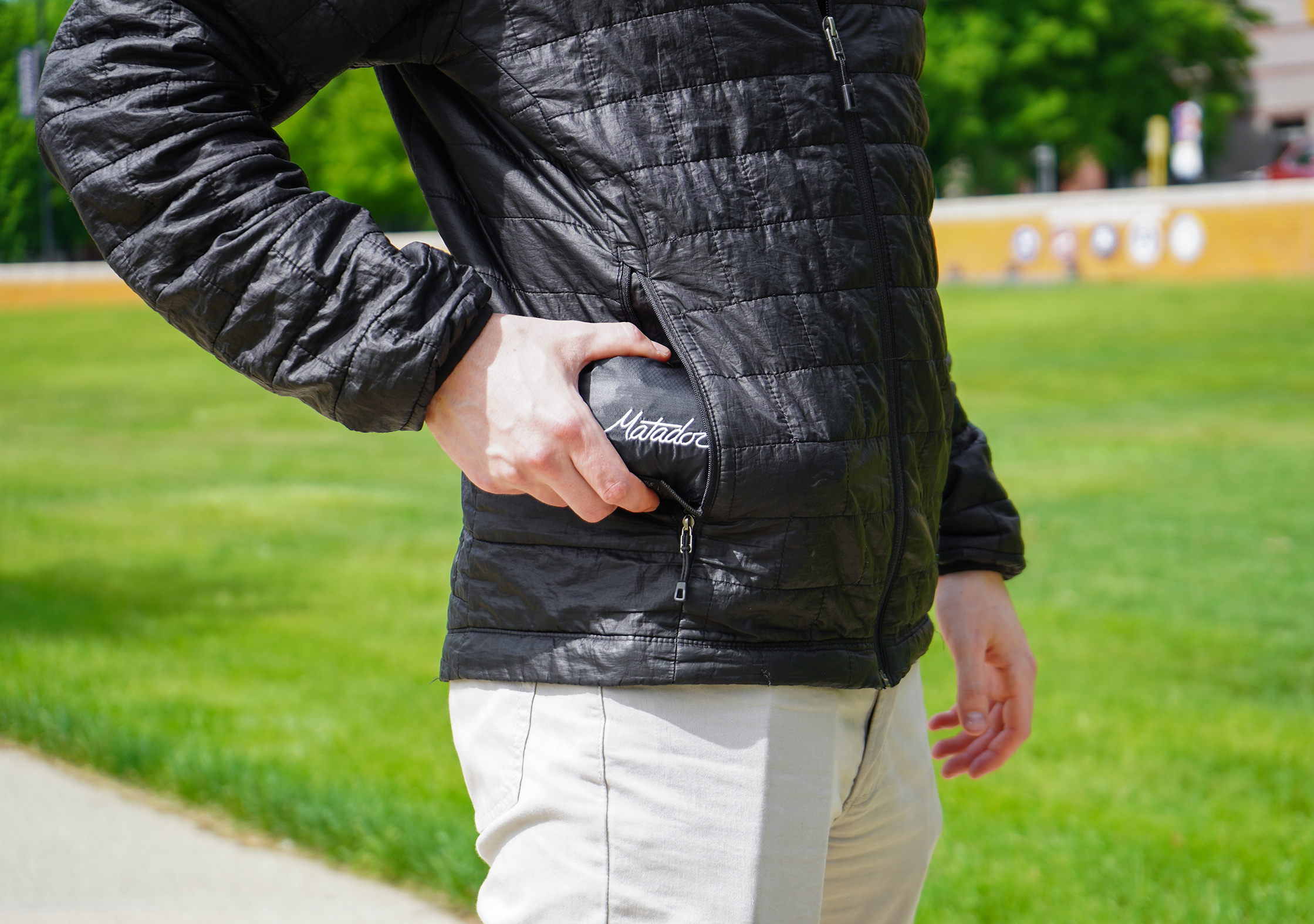 Packable daypacks are great for anyone on the go. They allow you to be prepared to carry
"stuff" (whatever that may be) at any moment, without having to lug around an empty backpack. They're also great for minimalists, or anyone who's looking to remove bulky items from their life.
The Good
Alright, this won't take long (we promise).
Packable daypacks are thin, light, and allow you to be prepared for anything. …And that's why they're great! We really cannot understate how nice it is to have a backpack that compresses to the size of your fist. It's truly awesome.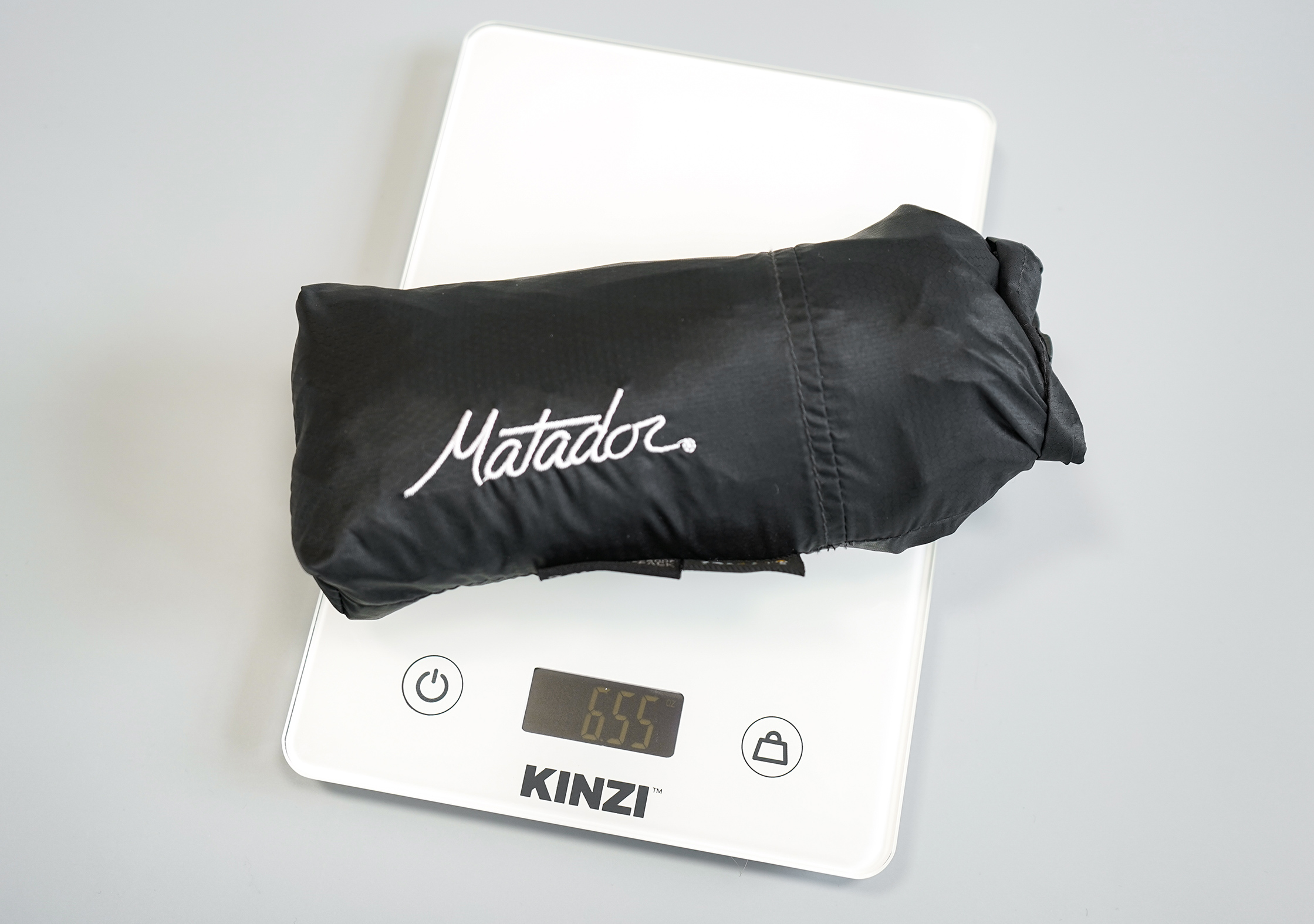 But, let's be honest, there are some downsides…
The Bad
Now that we've talked at length about why packable daypacks are amazing and everyone should have one, let's get real for a minute. There are downsides to these bags—quite a few, in fact. And while none of them are necessarily dealbreakers, you should be aware of them.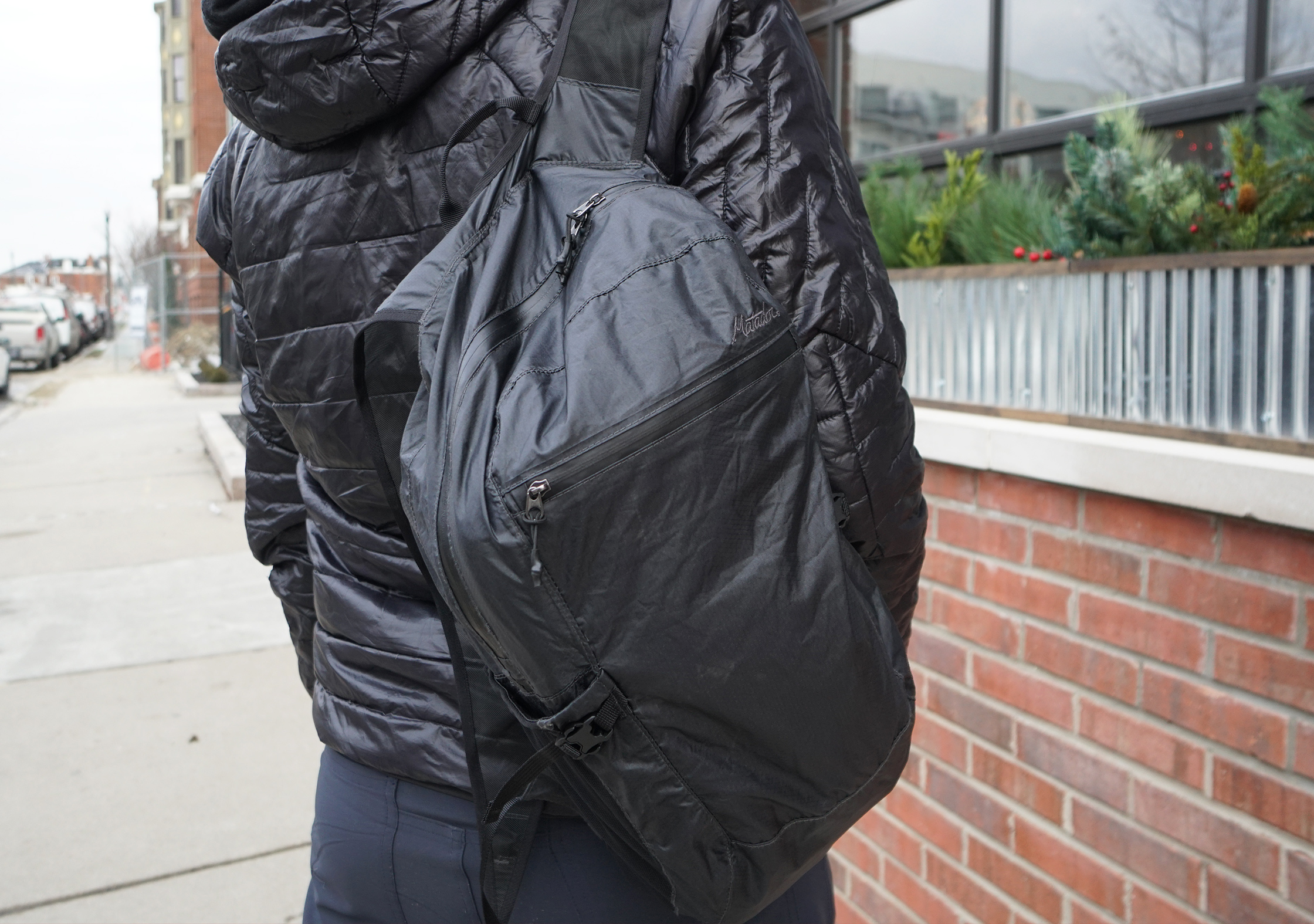 A packable daypack is likely never going to have as much structure and rigidity as a traditional daypack or any of the other daypacks we'll be mentioning in this guide. That is, unless some new, amazing fabric technology comes out. The reality is that because these bags are so thin and so lightweight, the material is not going to stand up straight or hold its shape like a regular backpack would.
As a result of this and some other factors, packable daypacks do not carry nearly as well as a traditional daypack. Because they have to be so thin and light, they generally have extremely minimal harness systems (although we've tested a few that excel in this department, they're few and far in between). Usually, you'll find extremely thin straps—which tend to get twisted as you're using the bag—with minimal zippers and buckles. No matter how you slice it, packable daypacks aren't great for carrying heavy loads over long distances.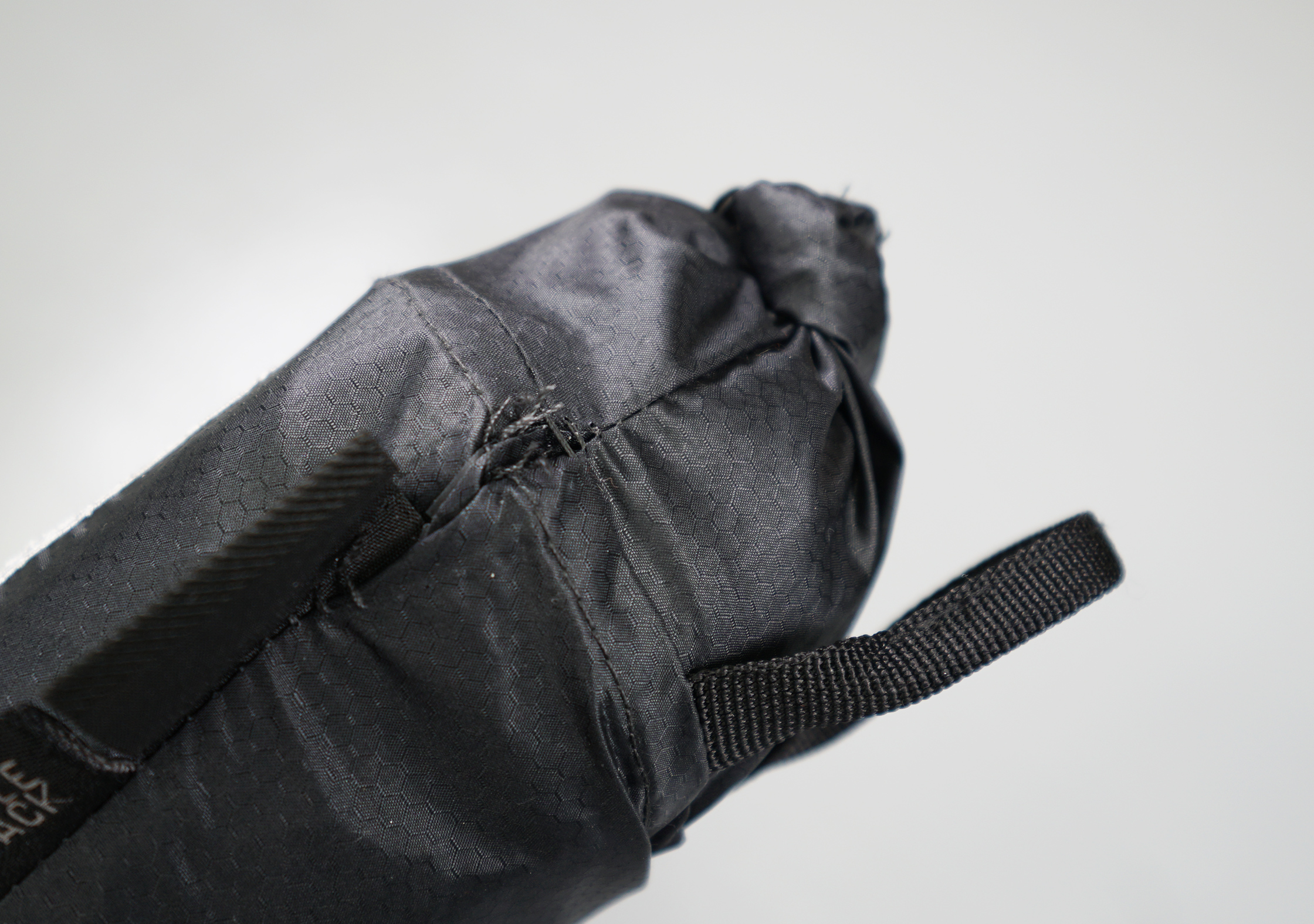 As we mentioned earlier, durability is another thing to consider with packable daypacks. Super-thin ultralight materials are never going to be as durable as the thick, heavy stuff. You are far more likely to experience a puncture, tear, or rip with a packable daypack than with a traditional one. Although, if yours is made with ripstop nylon, those rips won't get any bigger, which is nice. For this reason, they're not the best for sustained, heavy use.
The Verdict
Packable daypacks serve a specific purpose, and they do it very well. They allow you to be prepared for anything—whether that's in the travel context, at work, or on your commute. If you need something that will take up virtually no space when not in use while still being functional when in use, there's nothing better. But all that comes with downsides. A packable daypack is not suited for heavy, daily use—and it's not the most comfortable thing to wear, either.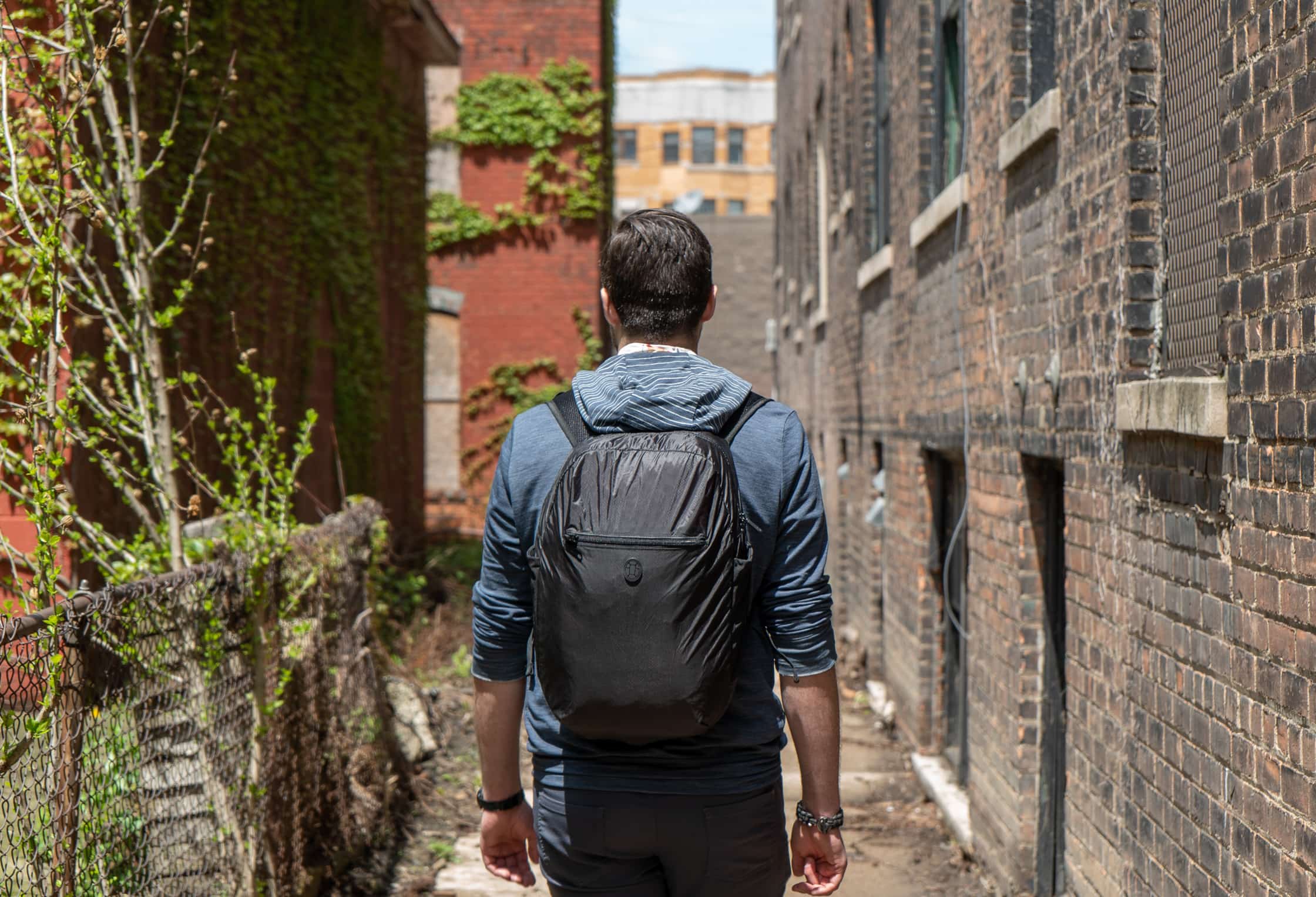 As far as we're concerned, those aren't dealbreakers. In fact, if we could only choose two packs off this list, a packable daypack would surely be one of them. For one bag travel, they're practically indispensable. And for everything else, they're pretty damn convenient.
Recommendations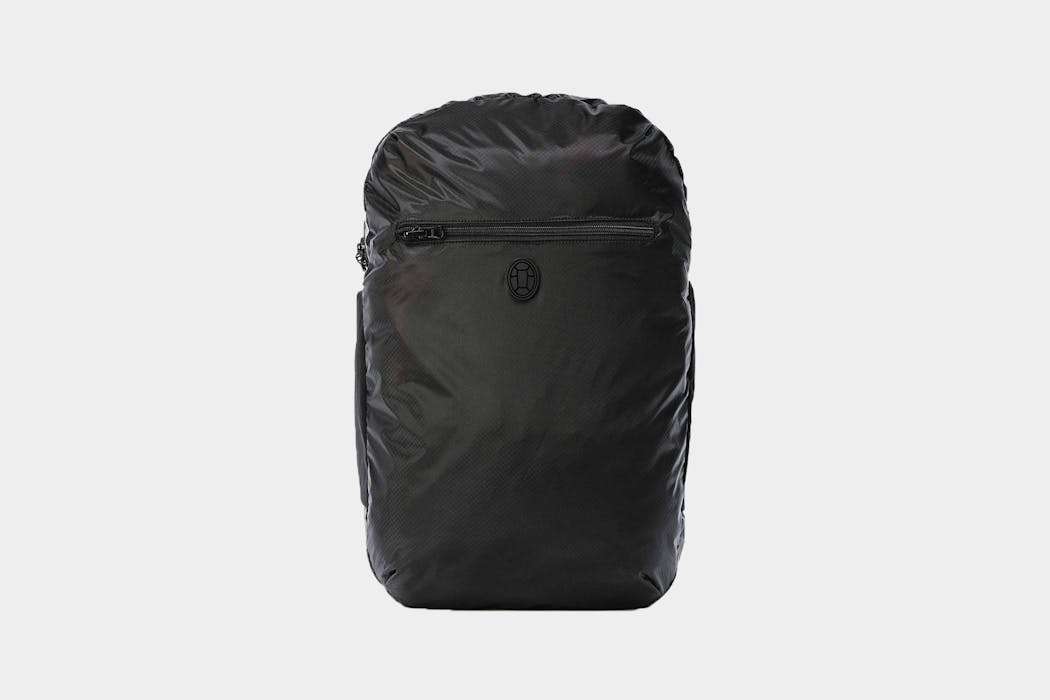 Tortuga
Setout Packable Daypack
The Tortuga Setout Packable Daypack is a classic. It's lightweight and compresses to the size of an aluminum can, but it's still got a 19-liter capacity when expanded. It also pairs well with other gear in the Setout line.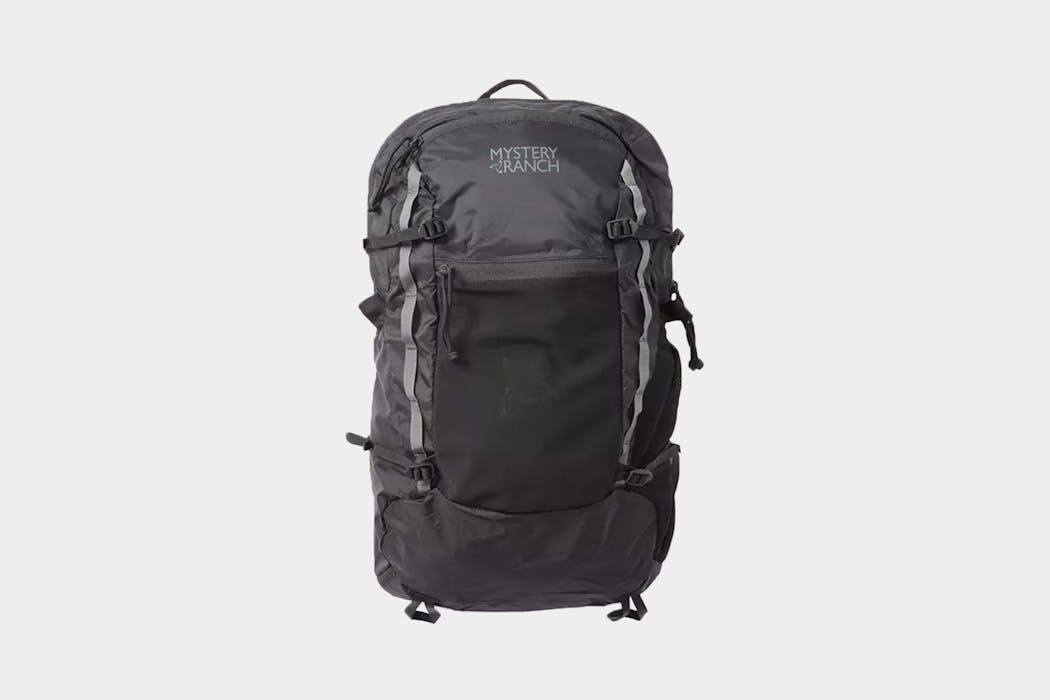 Mystery Ranch
In and Out Packable Daypack
This is the packable daypack that is the exception to the norm. Why? Because it looks and feels like a regular backpack! It's got robust materials, a bunch of pockets, and some accessories that you just never see on packable daypacks. But it's also heavy and bulky as a result.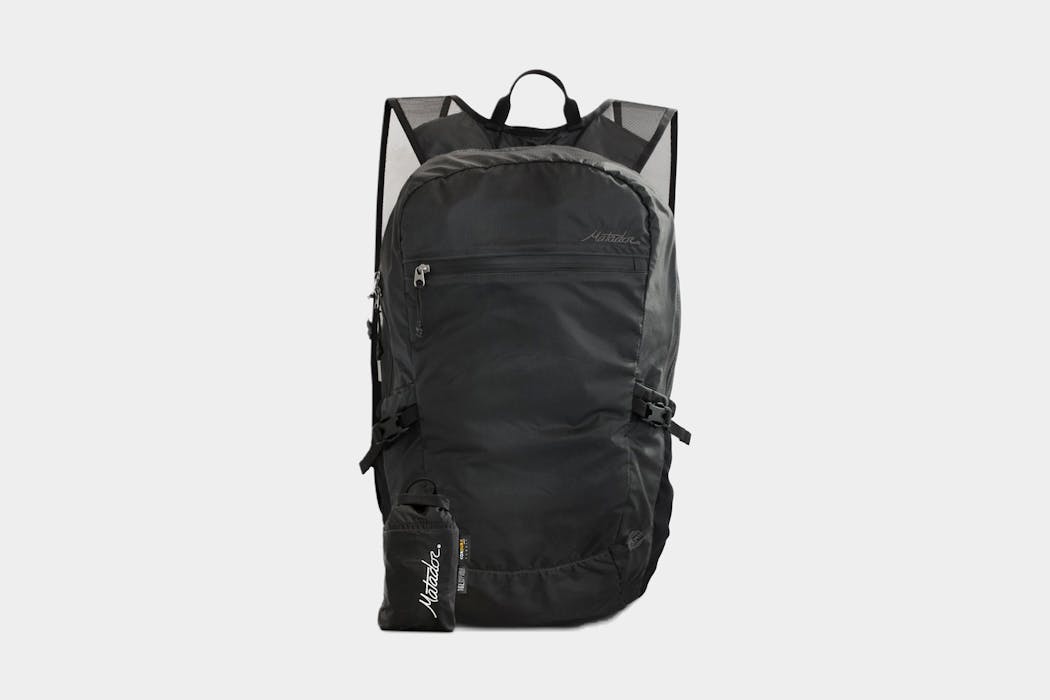 Matador
Freefly16
Matador is known for making extremely packable gear, and the Freefly16 is just one of their packable daypacks. We like this one because it's pretty versatile and offers a decent harness system without sacrificing space when compressed. That being said, we've had some durability issues during testing.
05

Expandable
It's a travel pack! No, it's a daypack! No, it's an expandable backpack! (And it's the best of both worlds.)
What is an expandable backpack?
If you've been reading carefully, you may have noticed something different about this section. Here, we're not going to be discussing a daypack, specifically, but an expandable backpack.
What's the difference, you ask? And why is this thing that is supposedly not a daypack in a guide called The Daypack Guide?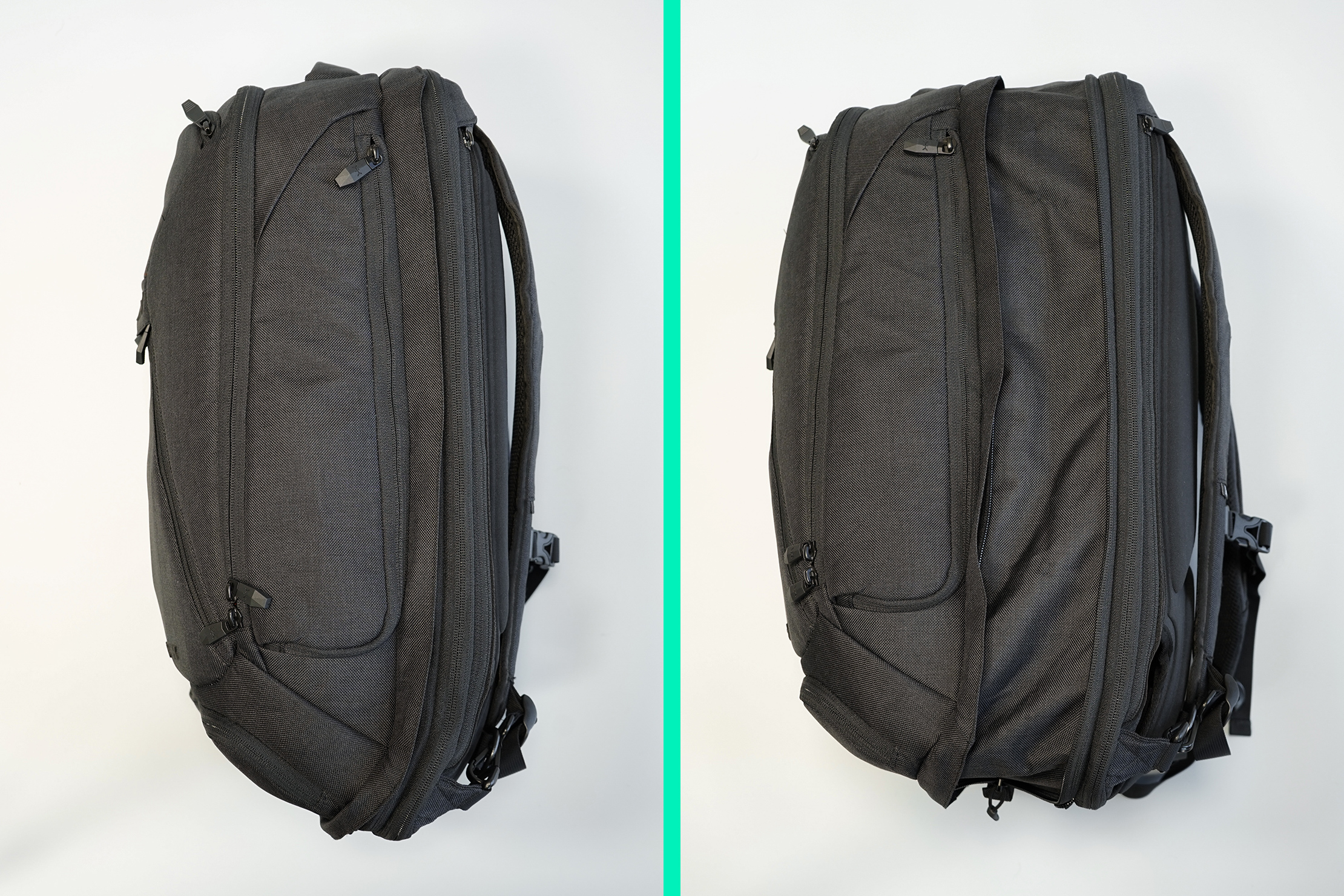 Well, an expandable backpack is part daypack, part travel backpack. This is a bag that can function as either, and it does so by expanding or compressing accordingly. Does it compress as much as a packable daypack? No, not even close. And that is why it has its own category!
Expandable backpacks give you the best of both worlds (at least, in theory) by providing you with a fully-capable travel backpack that you can use for extended one bag travel. The idea is that you can use this bag for long journeys—like flights or train rides—and then remove the contents of the pack once you get to your destination.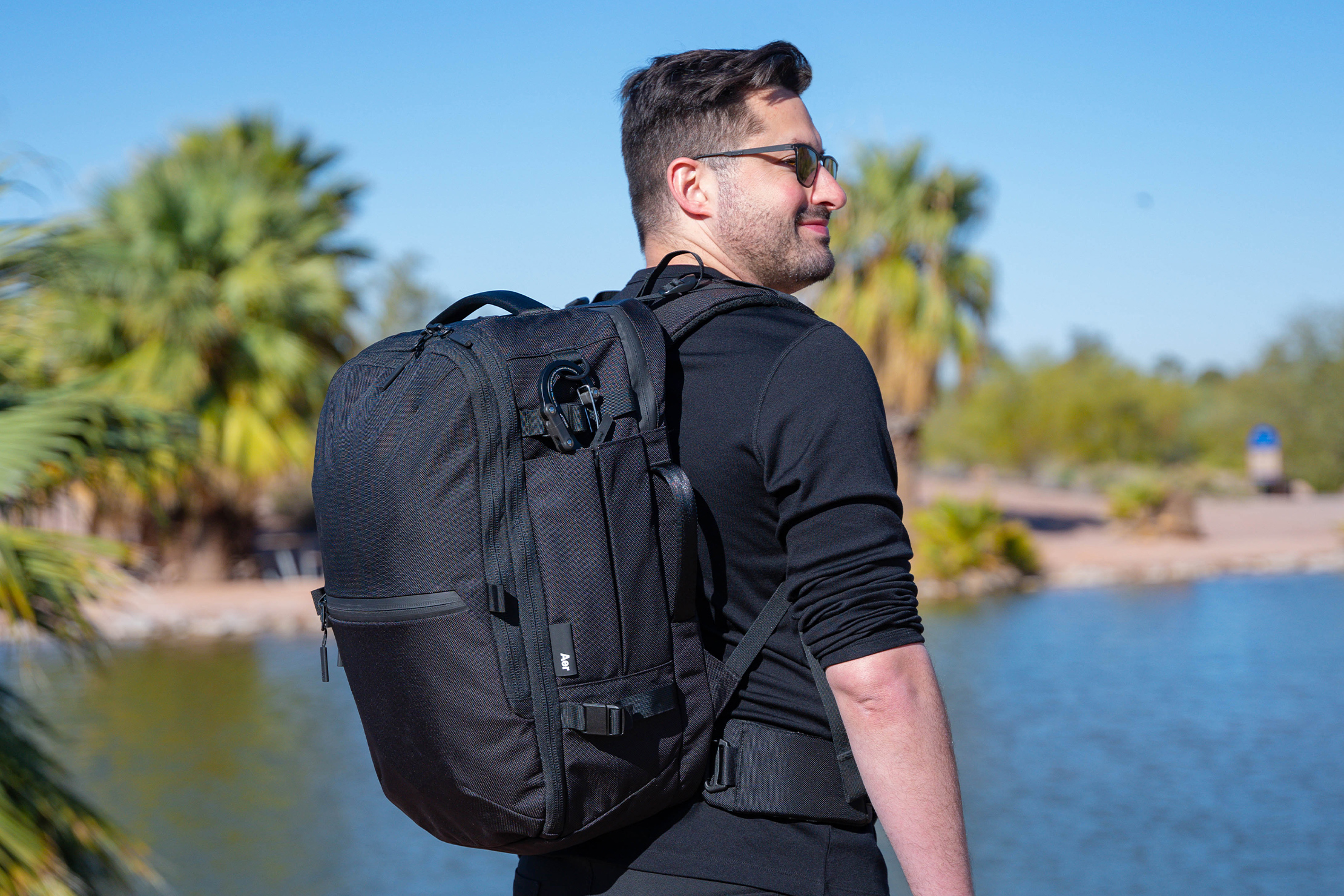 Once you've removed a majority of the contents, you can compress the bag down to daypack-size and head out on the town. You won't stick out nearly as much as you would with a massive travel backpack, although we're not going to lie, it will certainly look a bit more cumbersome than a traditional or packable daypack.
These types of packs often have high liter-capacities, up to 35 or 45 liters when fully expanded and in "travel pack mode." When compressed, the size can vary—but expect to lose between 10 and 15 liters of capacity. Some bags are built in a way that there are two different "modes" with different capacities and little to no wiggle room in between. These usually use some kind of compression zipper that will run around the length of the bag, allowing you to compress it by zipping up excess fabric.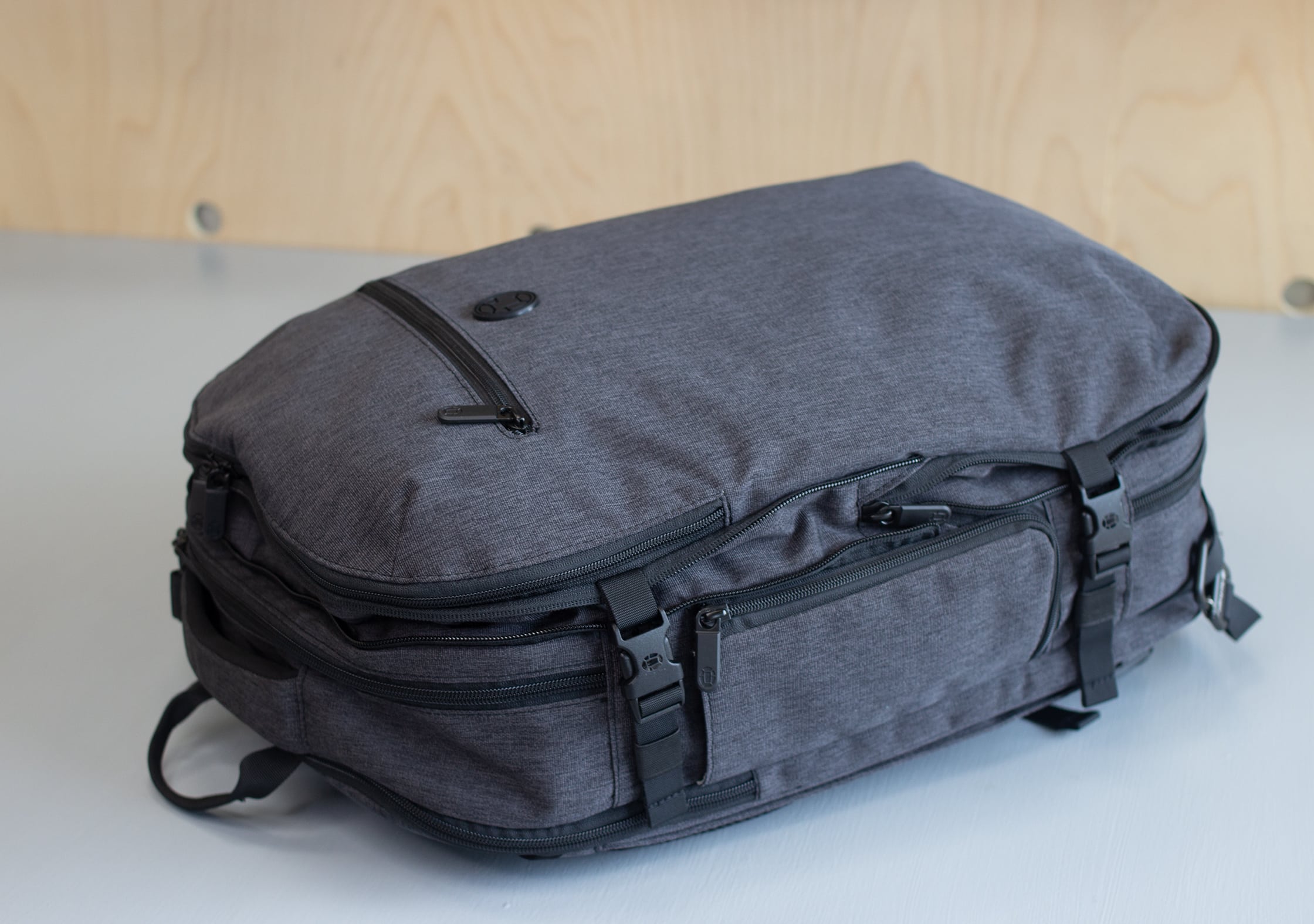 Other bags may be built in a way where you can simply compress them down to whatever size you'd like. These usually use simple compression straps, meaning you can often compress the bag to be extremely thin, or compress it just a little bit from its fully-expanded size.
Materials & Durability
Expandable backpacks tend to have the same kinds of materials you'd find on a travel backpack because, well…they are travel backpacks! This means you're going to encounter some pretty durable and high-quality fabrics.
Could you find similar materials on a traditional daypack? Absolutely. However, with expandable backpacks, you're going to see higher-quality materials across the board, as opposed to traditional daypacks where you'll find a ton of different materials of varying qualities.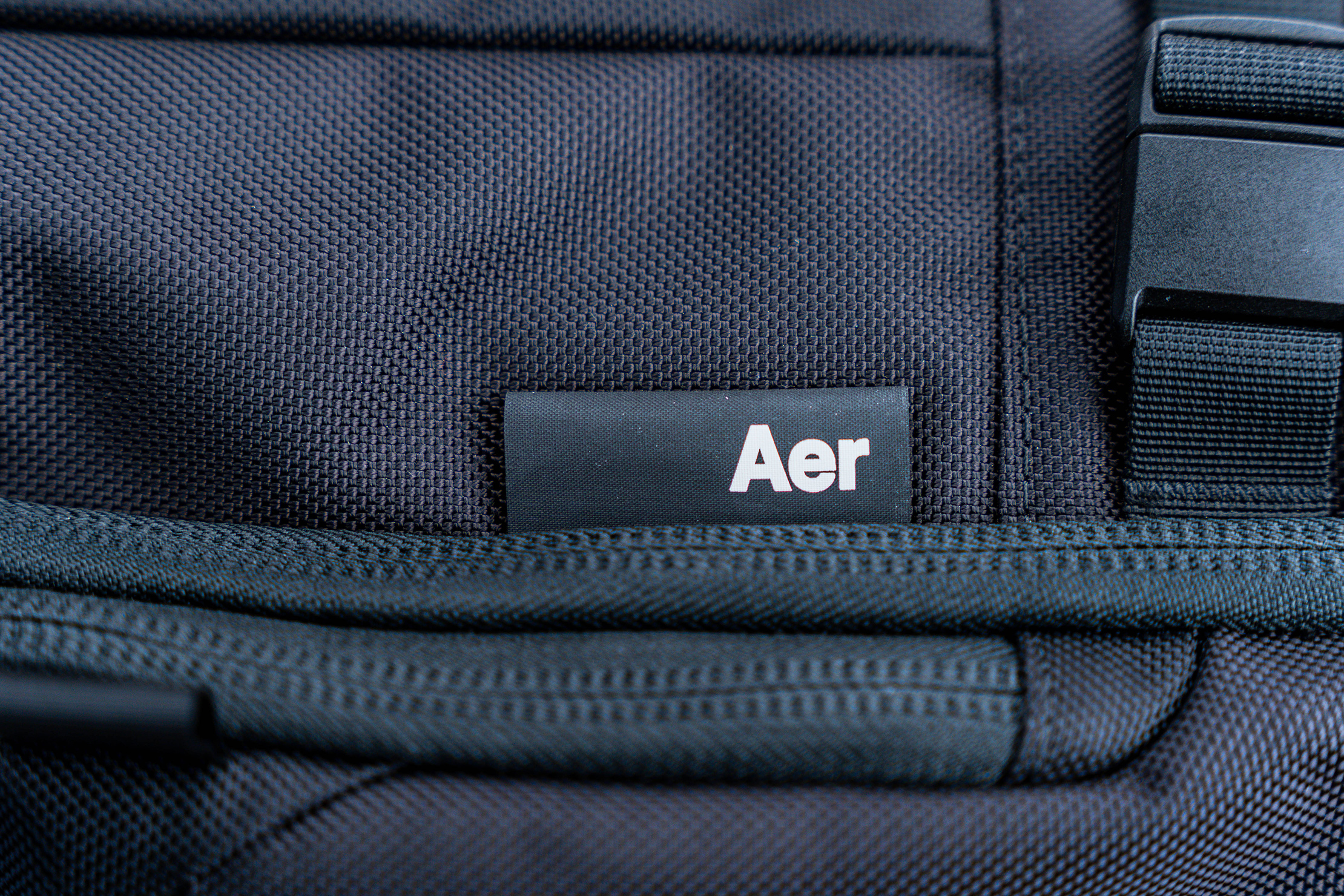 The majority of expandable daypacks are going to be made with some kind of nylon. That might be Ballistic Nylon, Ripstop Nylon, CORDURA® Nylon, or some other version. These are all super durable fabrics that can put up with daily use and long term travel for years to come. And while you might notice that these are similar to the materials we mentioned in the Packable and Traditional Daypack sections, they're generally going to be much, much thicker. A packable daypack might have 30D Ripstop Nylon, while an expandable daypack is more likely to have 1000D Ripstop Nylon.
You could still find a variety of materials here—anything from polyester to canvas, sailcloth, and more—but in general, we tend to encounter nylon on these bags. And quite frankly, given the wear and tear that is likely to occur with a bag like this, we'd recommend going for something strong like a Ballistic or Ripstop Nylon over pretty much anything else.
And just like the traditional daypacks we covered in the first section, you'll find a variety of other materials on these bags. Here's a quick run-down if you need a refresher:
YKK, SBS, or Zoom zippers
Duraflex, Woojin or ITW hardware
EVA foam
Nylon webbing
Metal buckles
DWR coating
Who (and what) is it good for?
Expandable backpacks are great for minimalist travelers. They can fit everything needed for a year of perpetual one bag travel while still functioning well as a daypack when out and about in a new city. The general concept with expandable backpacks is very similar to packable daypacks, only in this case, instead of having a travel backpack and a daypack, you've got one that pulls double-duty.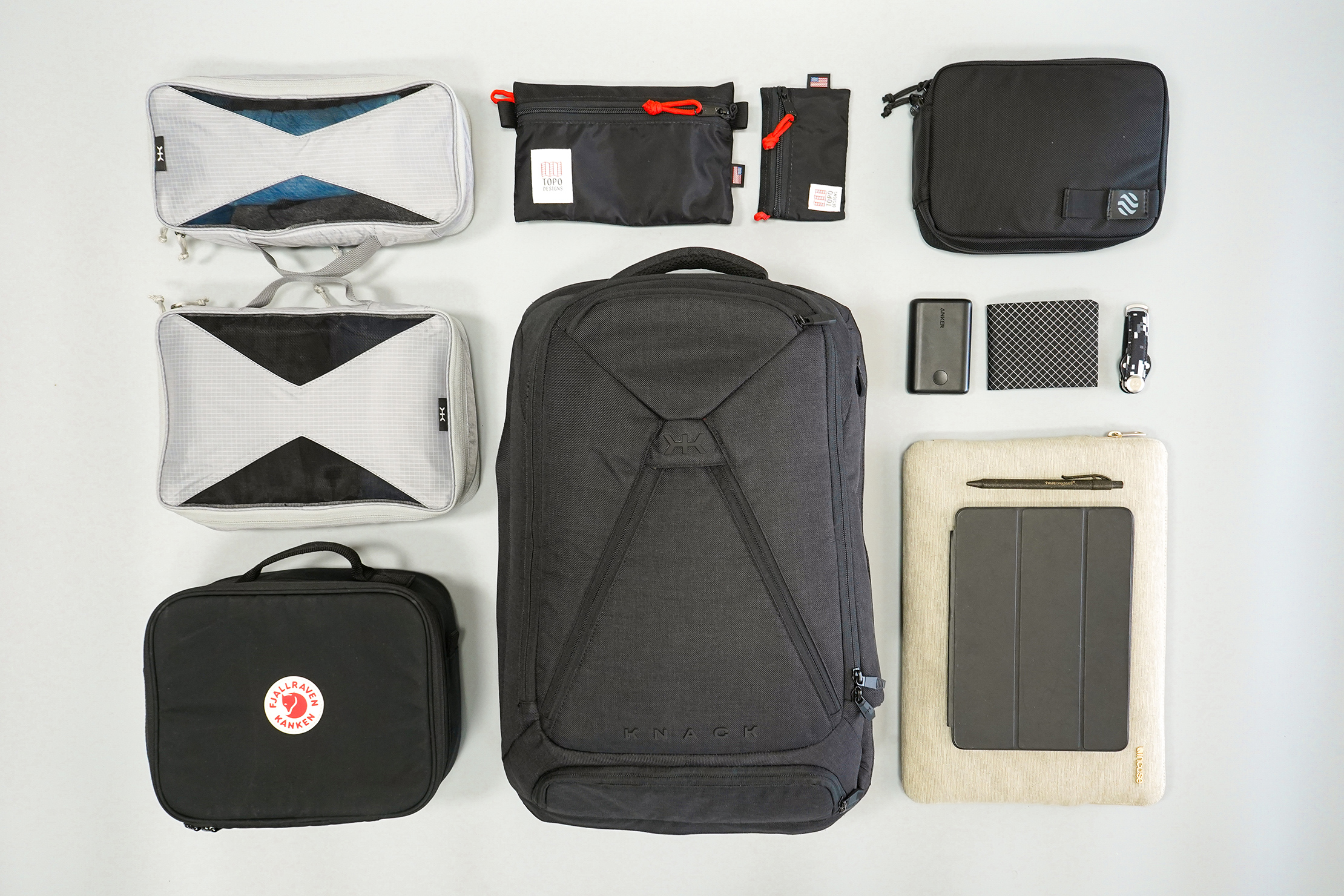 One potential problem with this system is that you do need a place to store the extra contents of your bag when not in use. Presumably, you'd be able to toss most of your stuff into a dresser in your hotel or Airbnb, or into some kind of locker at a hostel. If you don't have a place to store your stuff, that could be a bit of a problem—unless you're cool with stashing the contents of your bag in an alley, or maybe under a bridge or something. (Sorry, we don't have much experience with this.)
We should also mention that packing cubes can be a huge convenience here. If most of your stuff is packed into two or three packing cubes, you can simply pull them out, compress the pack, and you're good to go. Otherwise, you'll be dealing with a whole mess of clothes and other unorganized gear.
The Good
This type of backpack is fantastic for someone who is looking to travel minimally, or especially someone who's on a budget. Most expandable backpacks are priced similarly to your average travel backpack, so you can save a good bit of money by buying just one expandable backpack instead of both a travel backpack and a daypack.
As we mentioned in the durability section, these bags are generally going to hold up longer and be capable of handling more wear and tear than your average daypack. After all, they have to function as a travel backpack and a daypack—meaning they're going to see a whole lot of use. They also need to be able to hold up to the pressures of compression.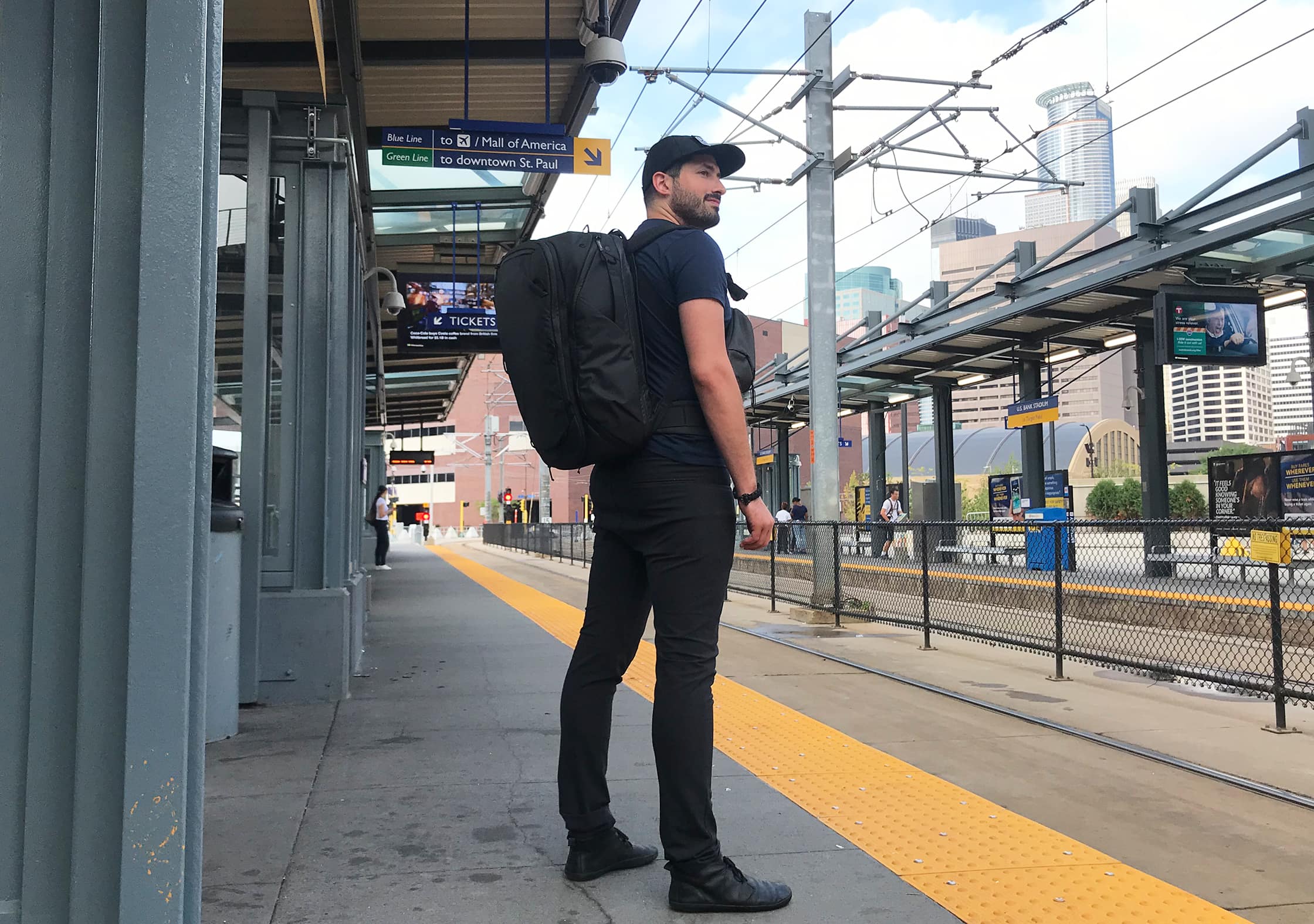 And because they need to function as a travel backpack, they also have more robust harness systems, meaning you'll be able to carry heavier loads for long periods of time while remaining comfortable. Ultimately, the best thing about expandable backpacks is their versatility. And for that, we love them.
The Bad
Throughout this section, we've been explaining how expandable backpacks can function as both a travel backpack and a daypack. But if you're anything like us, you might be wondering how well they perform in both of those roles…
We're not going to sugarcoat this—expandable backpacks rarely function as well in "daypack mode" as a bonafide daypack will. No matter how much you compress an expandable backpack, it's still going to have the length and width of a travel backpack, meaning it's going to look and feel pretty large on your back. While some packs handle this problem well, most expandable daypacks are going to look a little awkward when you're wearing them. Let's just say no one's going to be fooled by your "daypack."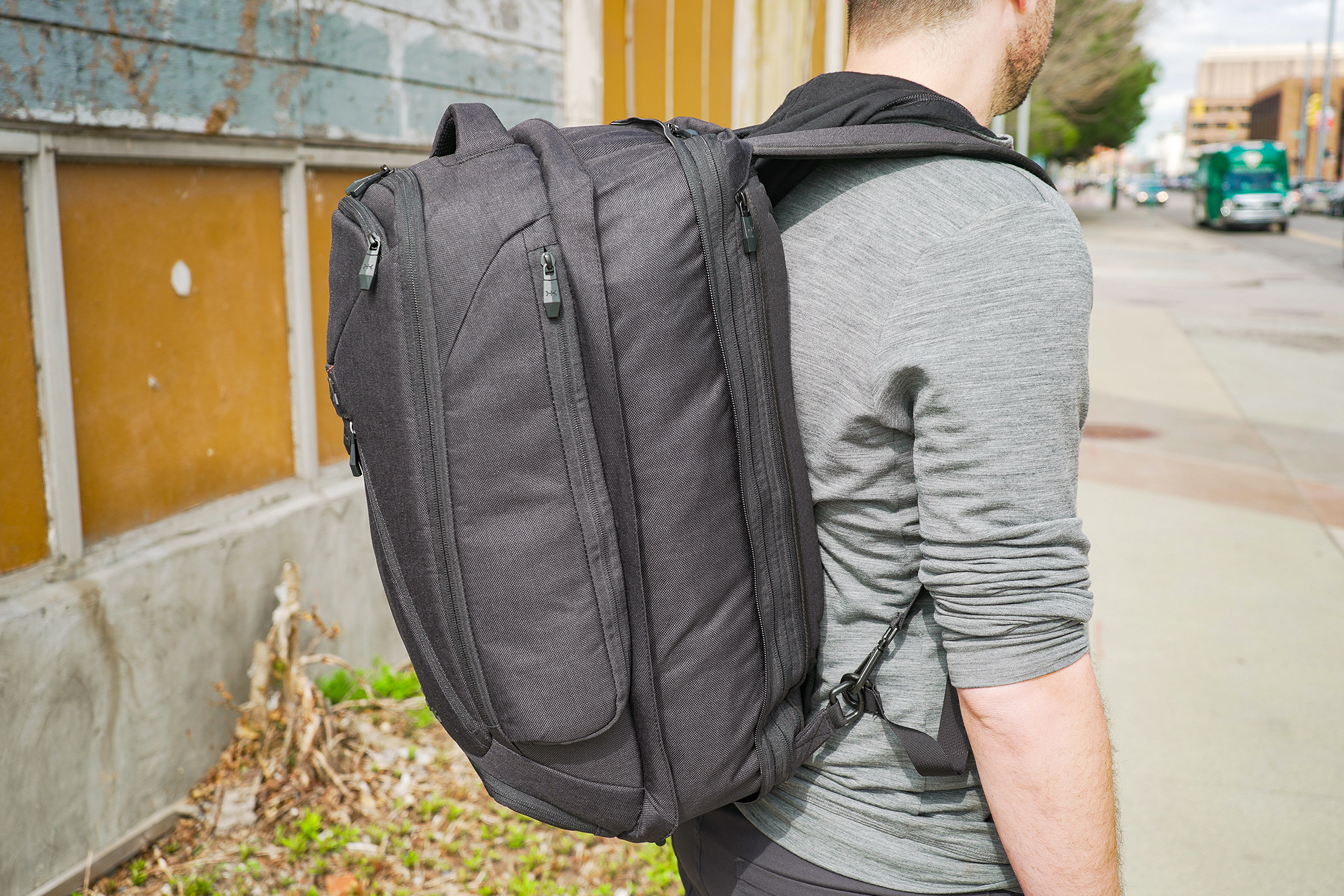 Expandable backpacks are also heavy, but that's to be expected when you've got a travel backpack and daypack in one package.
The Verdict
If you're on a budget or you hate the idea of having two backpacks, an expandable backpack is an obvious choice. It will function well as a travel backpack and pretty well as a daypack once you get to your destination. As long as you can find a place to drop off your stuff, you'll be all set for perpetual travel with one pack.
Recommendations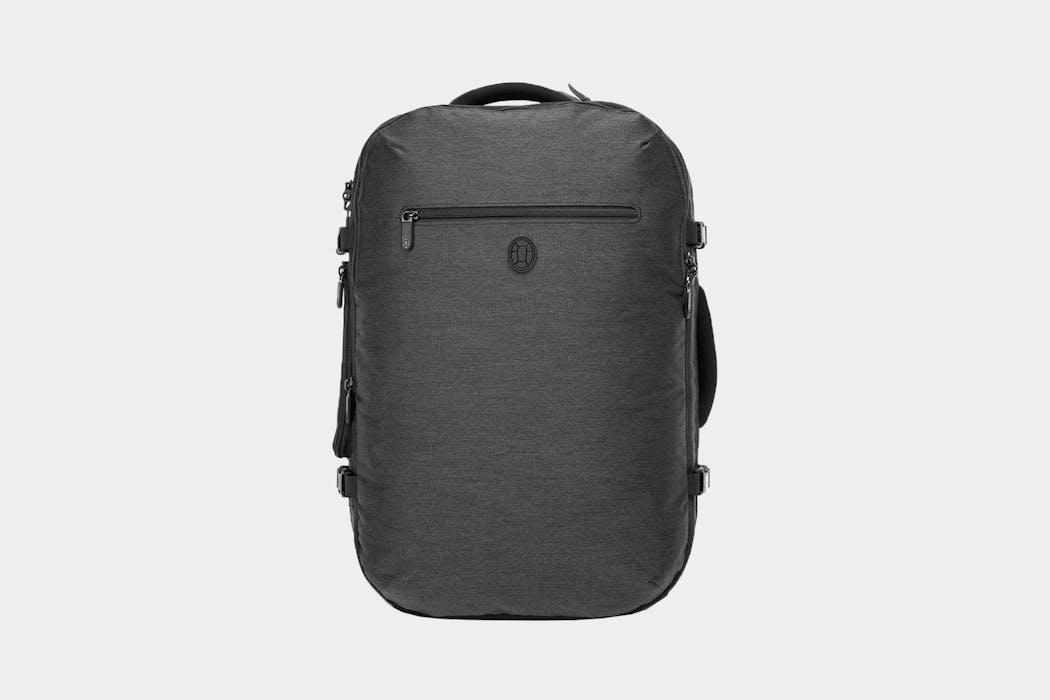 Tortuga
Setout Divide Backpack
The Tortuga Setout Divide is built specifically to function as an expandable backpack. It has two capacities—34 and 26 liters—depending on which mode you're in, and it compresses with one large compression zipper that runs the length of the pack.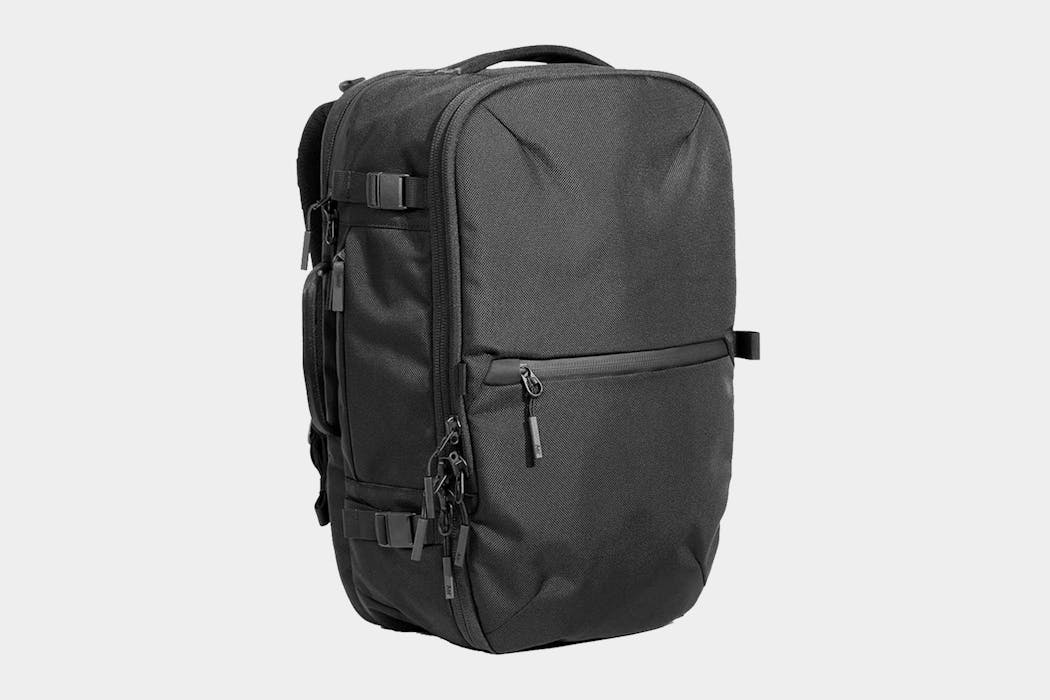 Aer
Travel Pack 3
The Aer Travel Pack 3 is one of our favorite travel backpacks, and it also happens to work very well as a daypack. With a robust set of compression straps and a design that collapses well onto itself, it's one of the few travel packs you can rock as a daypack without looking totally ridiculous.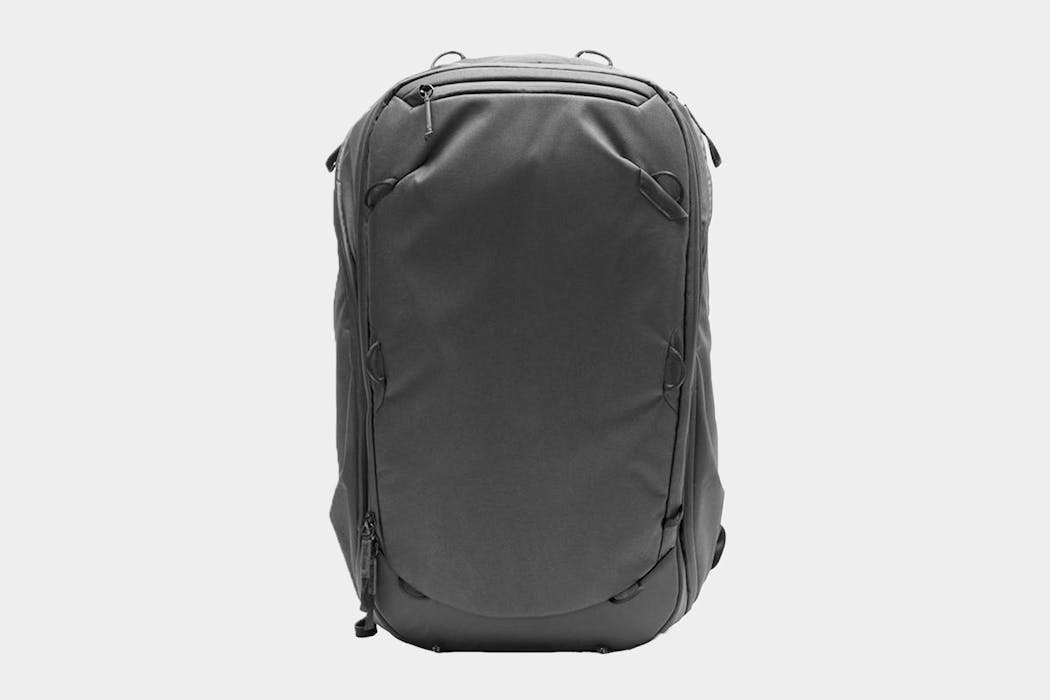 Peak Design
Travel Backpack
The Peak Design Travel Backpack is another travel backpack with a compression system that does a great job of converting the pack from travel mode to daypack mode. In fact, this is one of the more innovative compression systems we've seen—it uses a large compression zipper and several compression buttons instead of straps.
06

Alternate
There are a lot of daypacks out there. Some would say, too many. We think that's ridiculous.
We've gone over the three main categories of daypacks. But there has to be more, right?
Yes! There are many other types of daypacks. In this section, we're going to briefly run through some of the other daypacks you might encounter in the wild. These are packs that have niche use-cases or are slight variations of some of the other packs we've mentioned in this guide.
So, without further ado, let's check them out.
Waterproof Daypacks
Waterproof daypacks are pretty self-explanatory. Unlike other backpacks that may be "water-resistant" or "weather-resistant," these packs are truly impervious to water.

Waterproof daypacks usually use some type of nylon that has been coated with DWR, Hypalon, or some other waterproof coating. But what really makes these bags stand out is their waterproof zippers and closure systems. Truly waterproof zippers are much different than weather-resistant zippers, and they're pretty hard to come by.
Most bags will opt for a rolltop closure system for the main compartment, and a few waterproof zippers for other areas of the pack (if there are other areas). If done right, a rolltop closure system will be completely airtight. All you need to do is keep folding it onto itself, and then buckle it up.
If you need a waterproof daypack for whatever reason, we'd recommend testing it out before you truly put it to use. Before you bring it into the wild, throw some paper towels or toilet paper into it, close it up, and submerge it in a bathtub for a few minutes. If the paper towels are still dry afterward, you know it's totally waterproof.
Waterproof daypacks usually have just one compartment, although they may have a few smaller pockets with waterproof zippers. And we're pretty sure we don't need to tell you what these bags are good for, or who would benefit from them…right? It kind of goes without saying.
Recommendations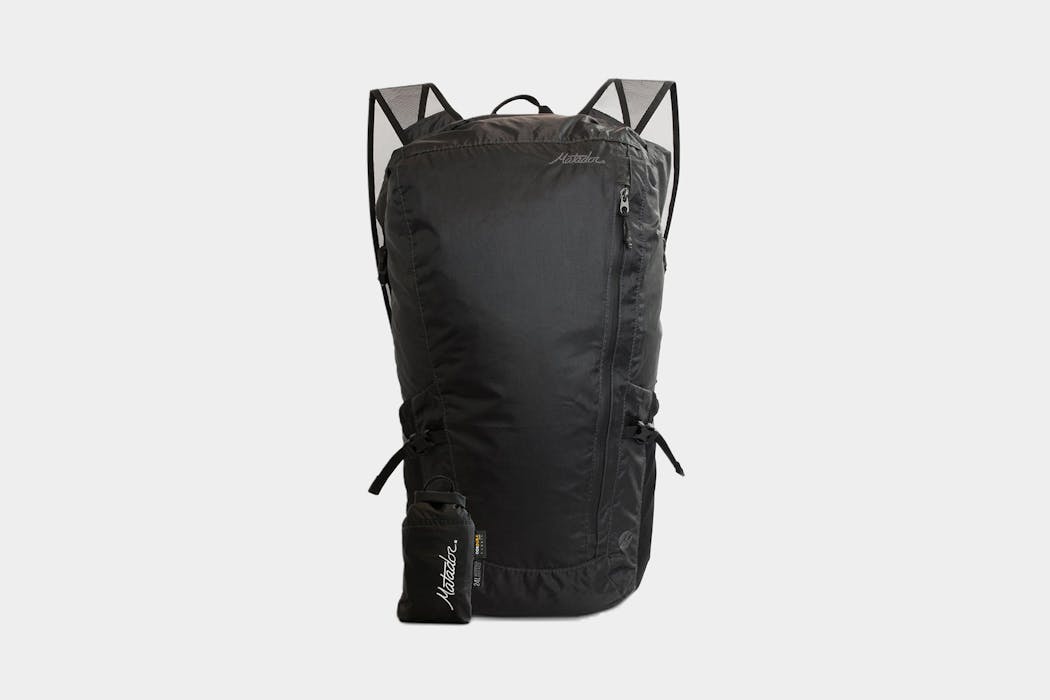 Matador
Freerain24 2.0
Matador is known for making a bunch of packable gear, and this bag pulls double-duty as a packable daypack that's also waterproof. Well, it's fully waterproof minus the front zippered pocket. And yes, we've tested this ourselves.
Mini Daypacks
There's no getting around it—these little packs are super cute. We tend to think of mini daypacks as a more stylish and slightly less-functional alternative to packable daypacks.
These packs tend to just be miniaturized (cuter) versions of traditional daypacks. You'll find similar materials, although everything's going to be slightly more minimal. You can expect a minimal harness system and only a few pockets in addition to the main compartment (or maybe none at all).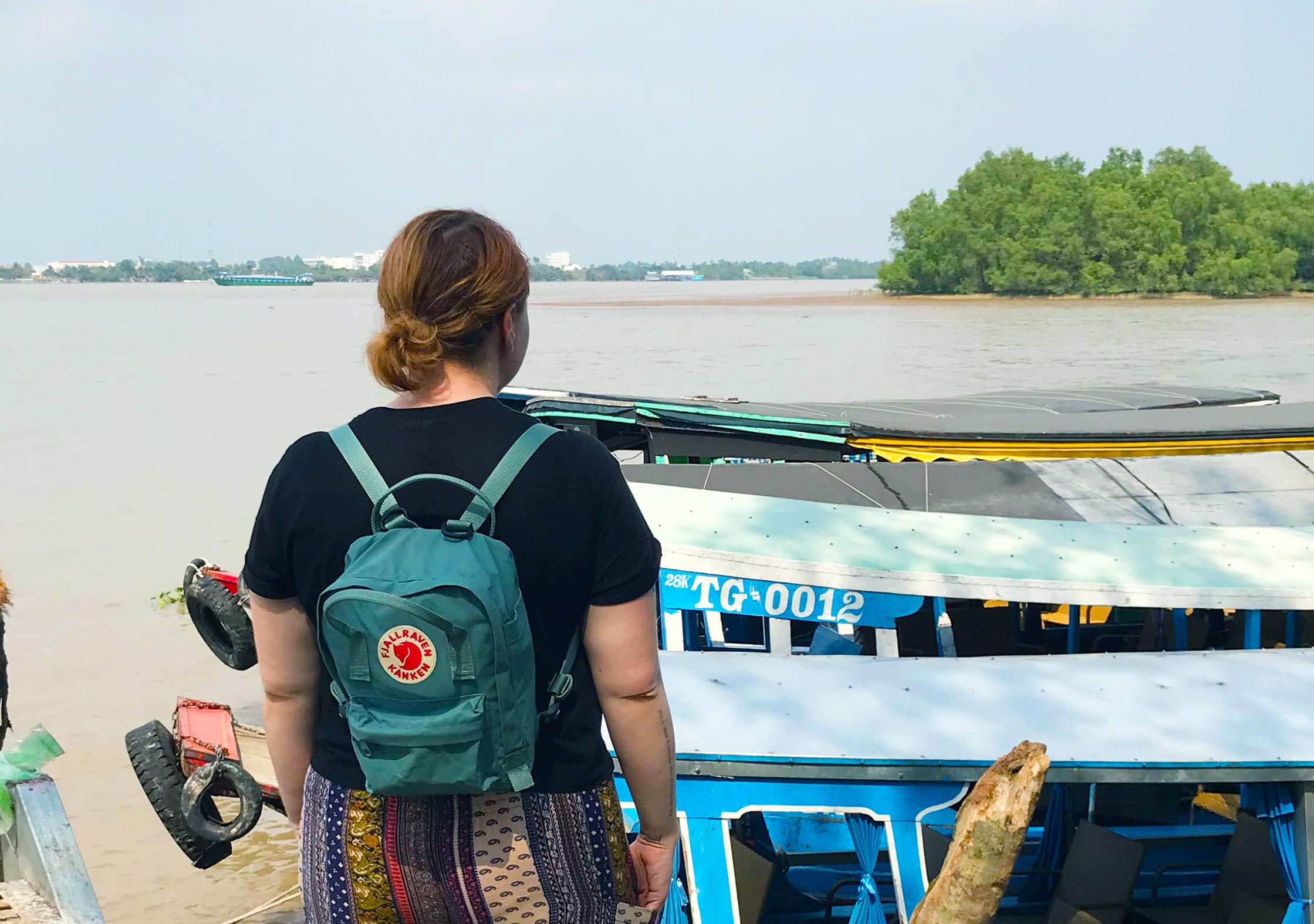 The great thing about a mini daypack is that it looks great and can still be squished down to fit inside a larger travel backpack. But you're sacrificing quite a lot with a bag like this. It's still going to take up a lot of space inside your larger bag, it isn't going to provide the best carry, and it won't be able to hold many things.
That being said, if you want a stylish little bag and you don't intend on carrying more than a few items on your days out, a mini daypack just might be the ticket.
Recommendations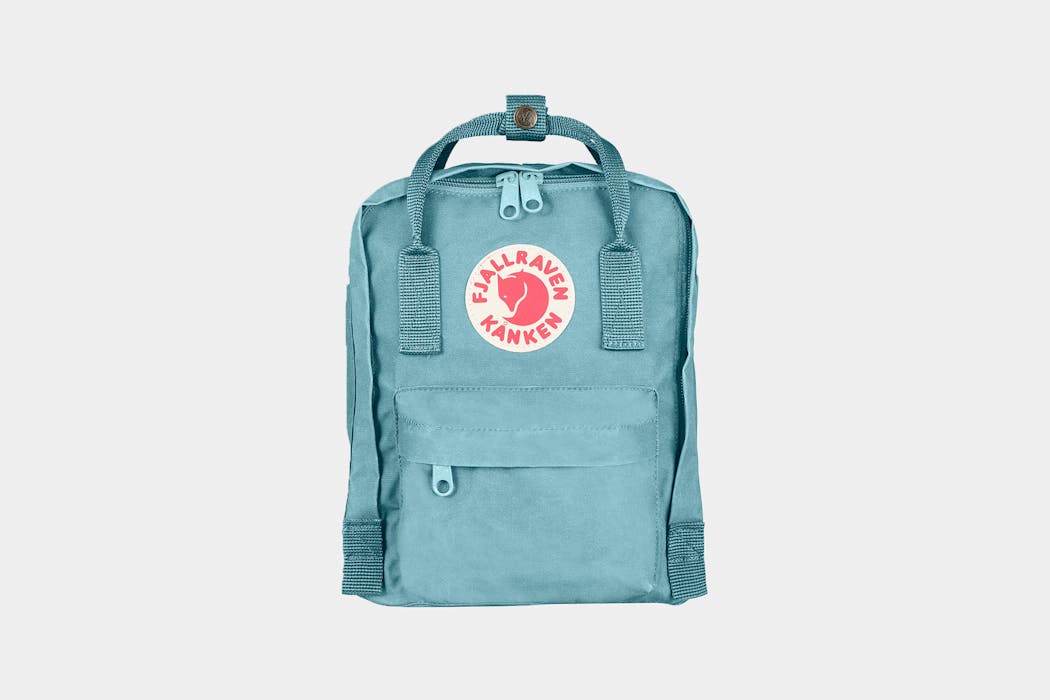 Fjallraven
Kanken Mini
This mini daypack is quickly becoming a classic. The Fjallraven Kanken Mini is stylish, cute, and comes in about a million different colors. We love the way it looks, and it functions well given its size. We'd recommend grabbing a pair of the shoulder strap pads for some extra comfort.
Lay-Flat Daypacks
Lay-flat daypacks are pretty much just traditional daypacks that you can lay flat at the base of your travel backpack or roller luggage.
We don't usually see these types of packs explicitly marketed as "lay-flat daypacks"—they're typically just traditional daypacks that happen to work well for this use-case. To lay flat, this type of pack needs to be made with somewhat "flimsy" or thinner materials. That also means that it's not going to have the rigidity and structure of your average daypack.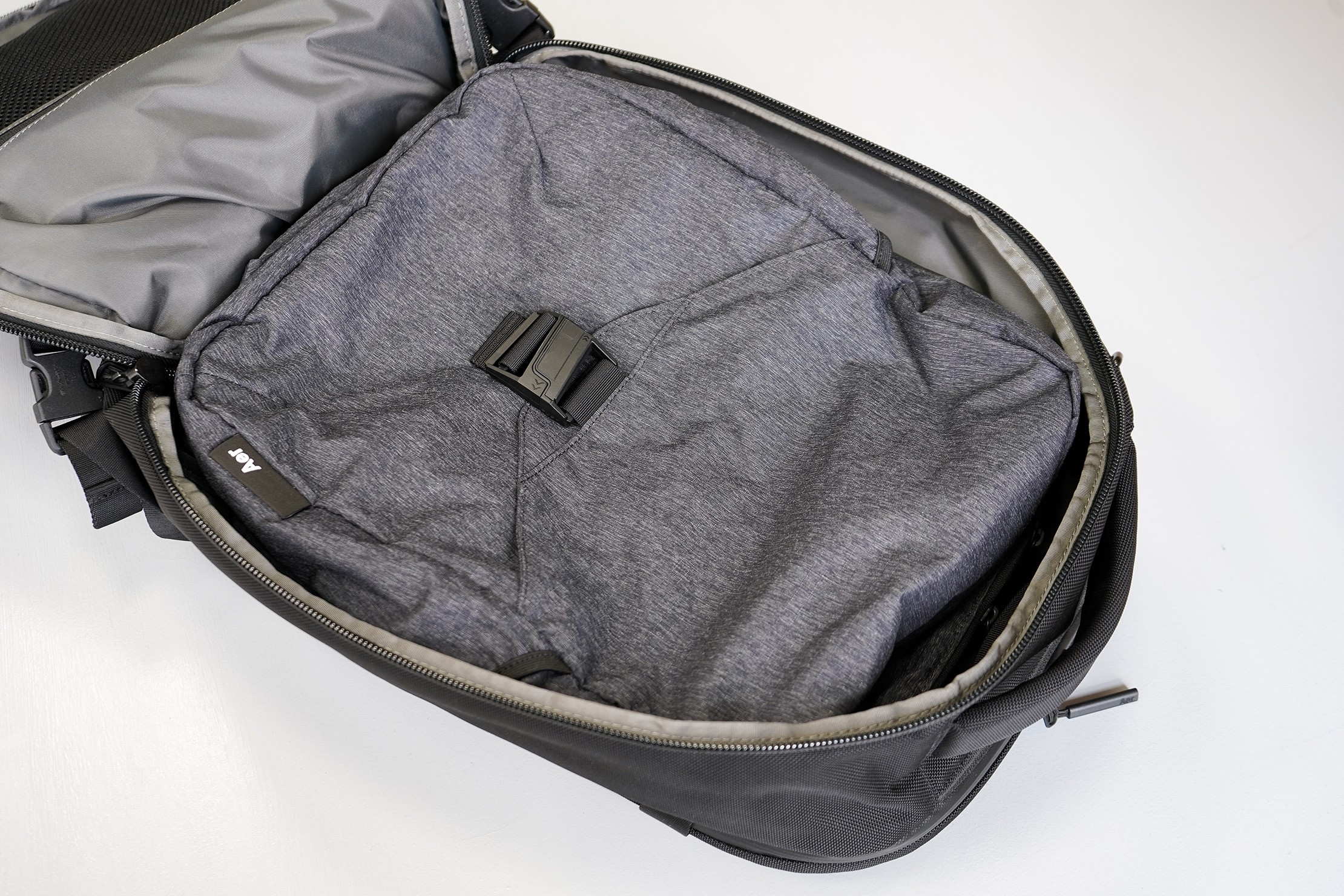 These types of packs can be useful for people who don't like the idea of a packable daypack or don't like how they look/feel. The main issue is that it will still take up a significant amount of space in your pack, even if it lays flat really well.
If you are looking for a pack like this, we'd recommend reading some reviews (like ours) before you buy. It can be pretty hard to tell how well a pack lays flat without testing it yourself.
Recommendations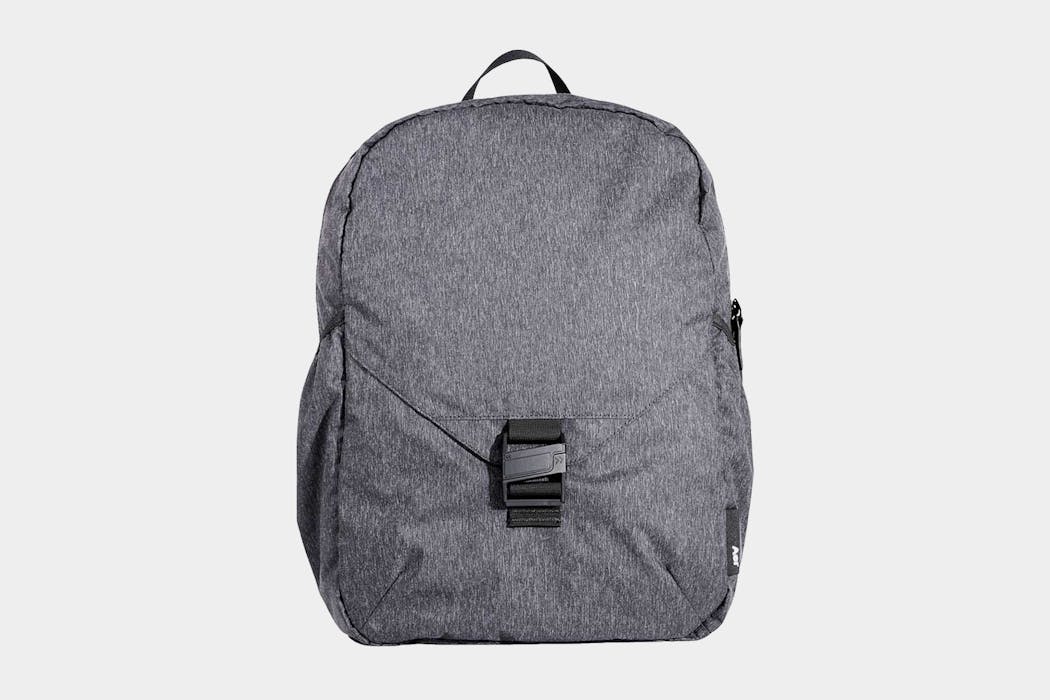 Aer
Go Pack
The Aer Go Pack is labeled as a "packable" daypack, but it's really more of a lay-flat daypack. This pack is made with thin materials and has very little structure when empty, so it will take up minimal space when laid flat in a suitcase or backpack. You also have the option to roll it up, if you are so inclined.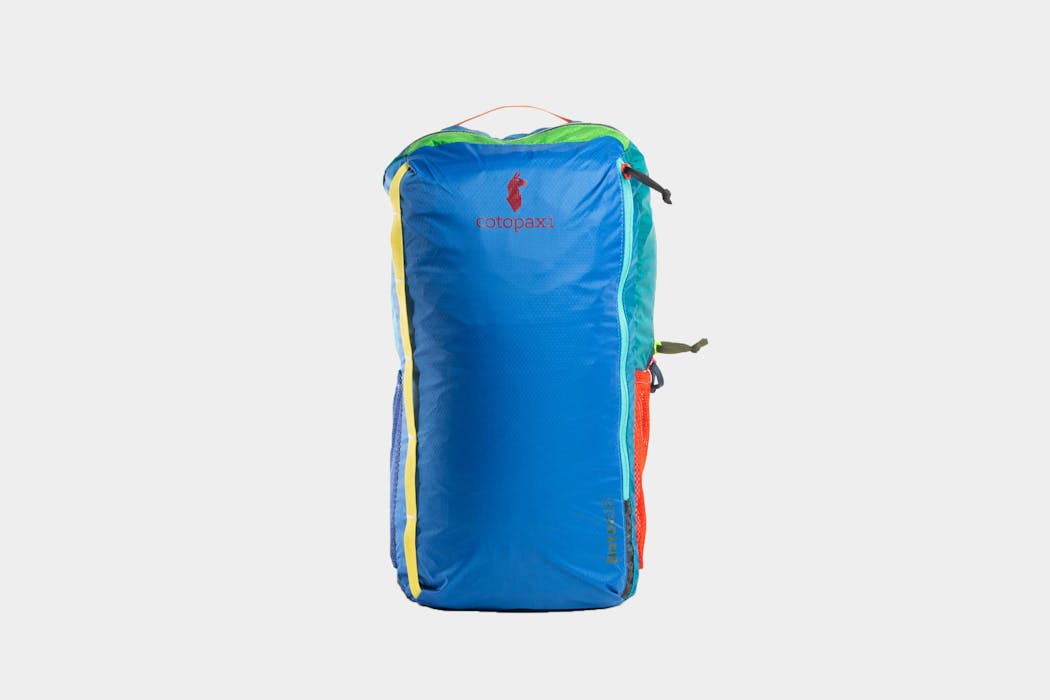 Cotopaxi
Batac 16L Daypack
A lay-flat daypack that will add a pop of color to your adventures, the Cotopaxi Batac 16L is a durable, ultra-lightweight pack you'll want to show off. It has minimal features—but has a comfortable enough carry to work well for long days out and about.
Budget Daypacks
Budget daypacks are mostly just traditional daypacks that have been made with cheaper, lower-quality materials like polyester, canvas, or even cotton. You can expect a barebones daypack with a couple of pockets, and that's about it. But that's why it's so cheap!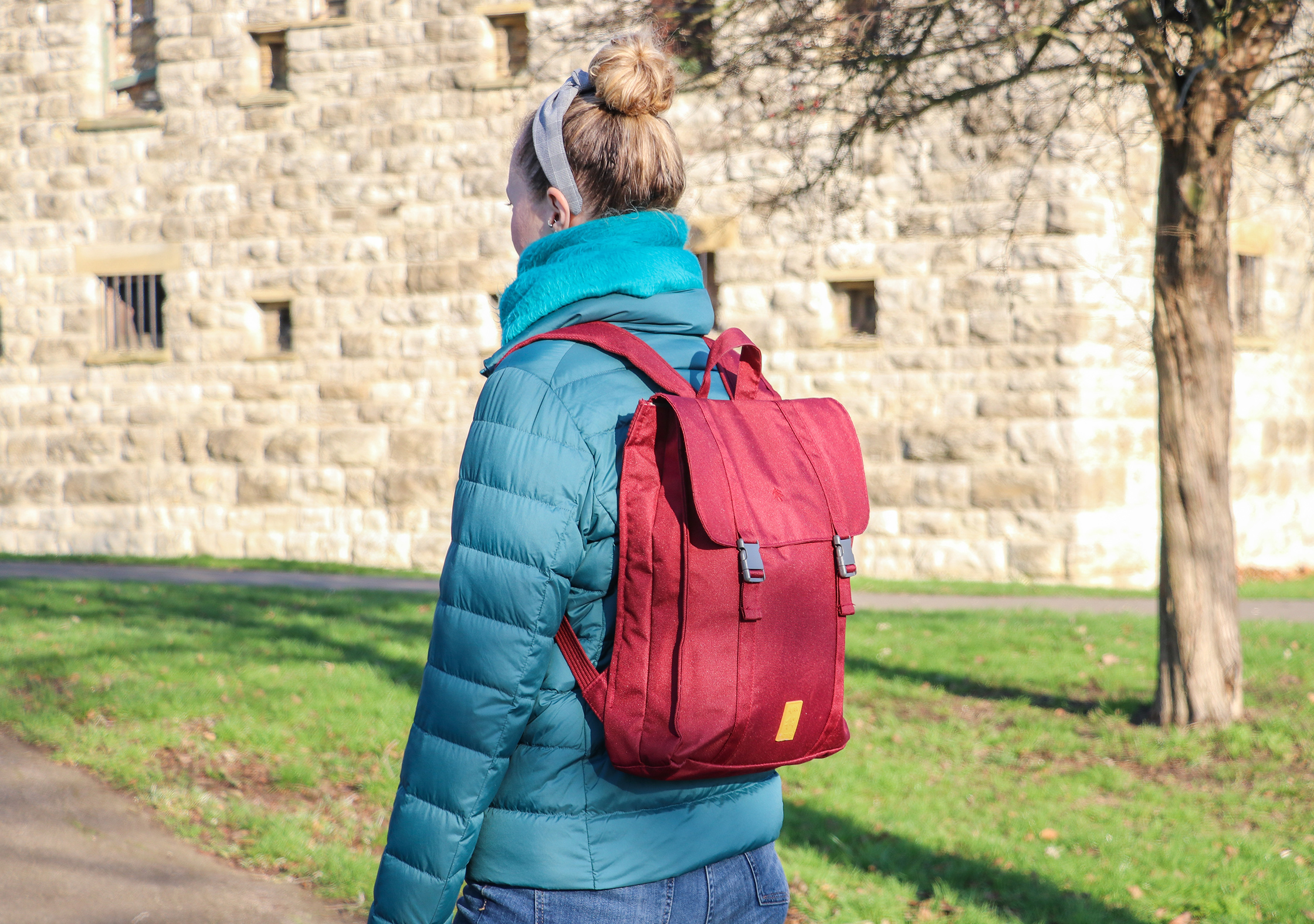 These packs are not going to last a lifetime, they may not look as fabulous as you'd like, and they're not going to carry very well. But they're cheap! If you're on a budget and need to carry stuff while still using two arms—boom! These packs will do that. But be warned—you might encounter some issues in the middle (or beginning) of your trip.
Recommendations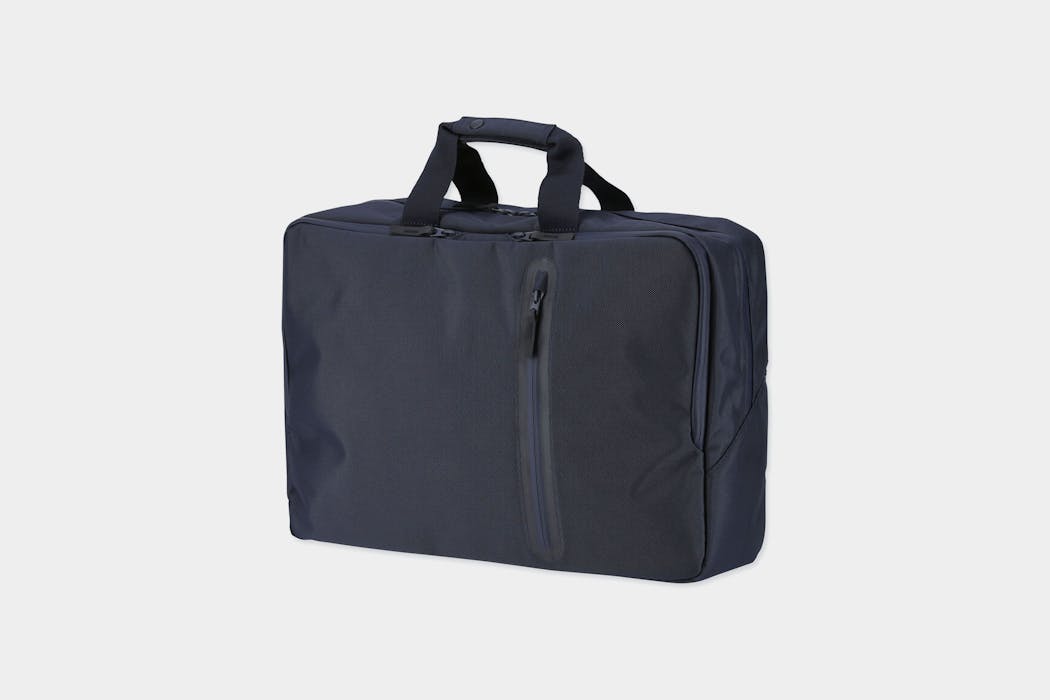 Uniqlo
3-Way Bag
Uniqlo is known for making low-priced clothing and accessories that are still stylish and fairly durable given the price. This 3-Way Bag, which can be carried in backpack, messenger, and briefcase mode, is no exception.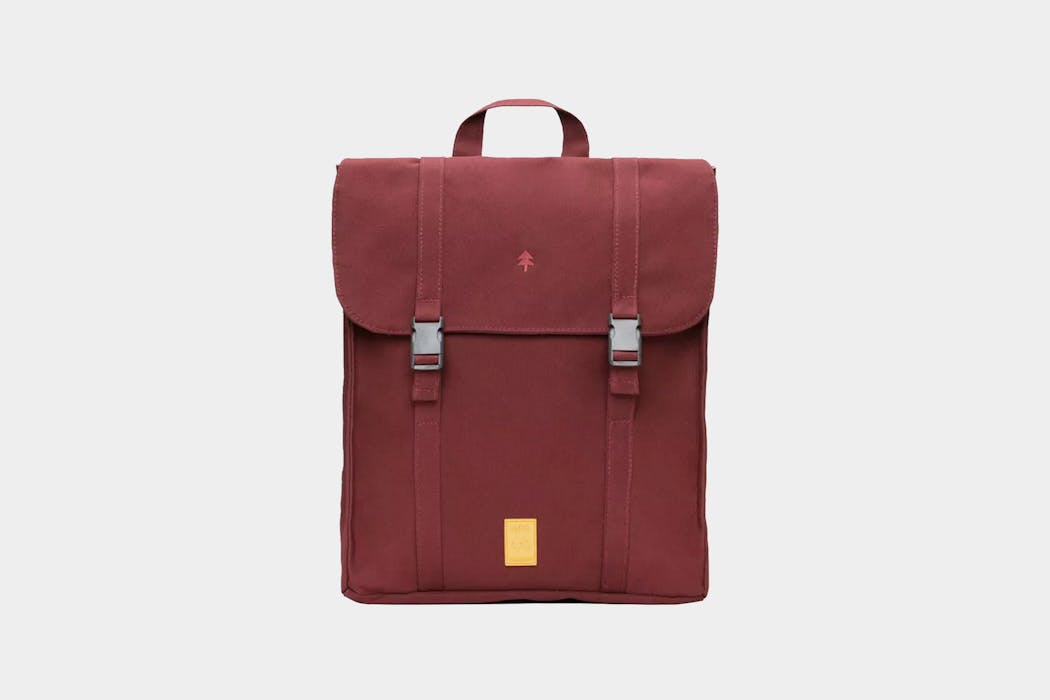 Lefrik
Handy Backpack
While not ideal for bulkier items, the Lefrik Handy Backpack is a lightweight and affordable everyday bag that will be right at home in the city. Plus this bag is made of 100% recycled polyester from discarded PET bottles—so environmentalists rejoice!
Camera Daypacks
Camera daypacks are built specifically for carrying cameras and all the accessories that come with them. From lenses to SD cards to tripods, photographers need to lug around a lot of stuff to their shoots.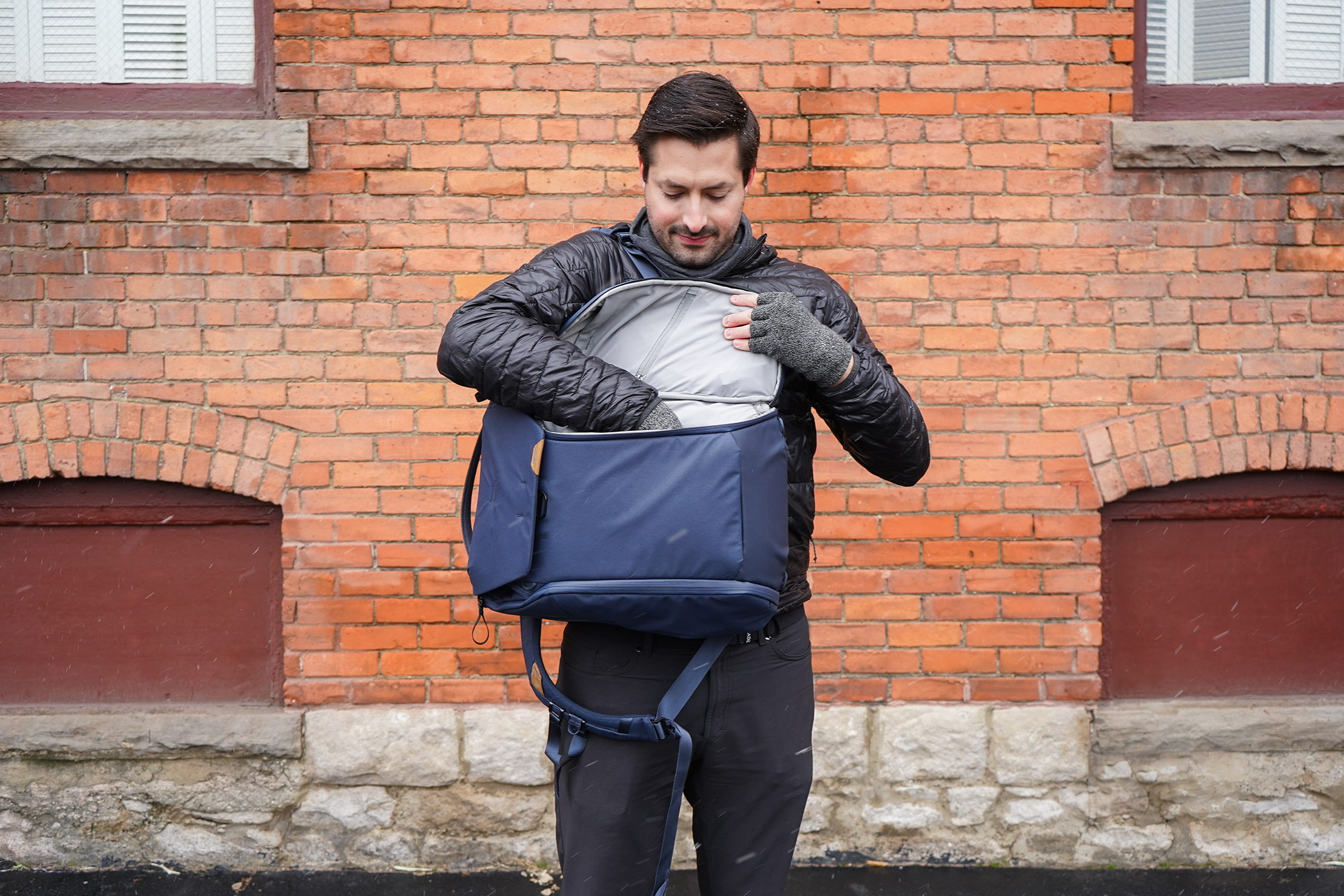 A camera daypack is going to be a bit more minimal than a full-fledged camera bag, as the goal is to hold just enough stuff for a couple hours of shooting. You can expect a bag with plenty of organization, some internal padding, and enough room to hold a camera, one or two lenses, and all the batteries, cords, and memory cards you need for a day out.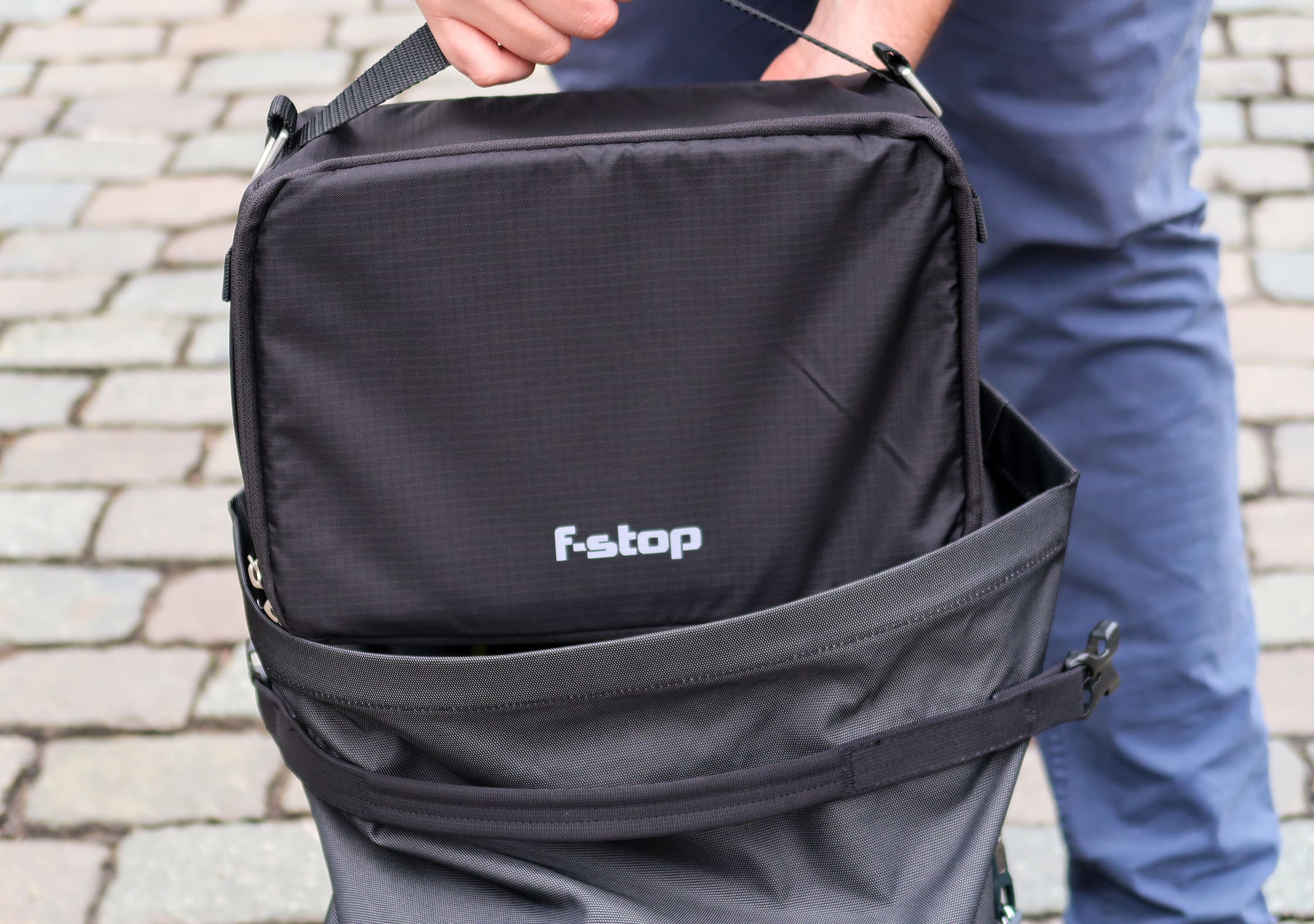 In our experience, camera daypacks aren't entirely necessary unless you're dead-set on having a daypack specifically for shooting. We tend to use camera inserts—like the F-Stop Small Shallow ICU—to convert a traditional daypack into a "camera daypack," or add a camera compartment to our larger travel pack.
Recommendations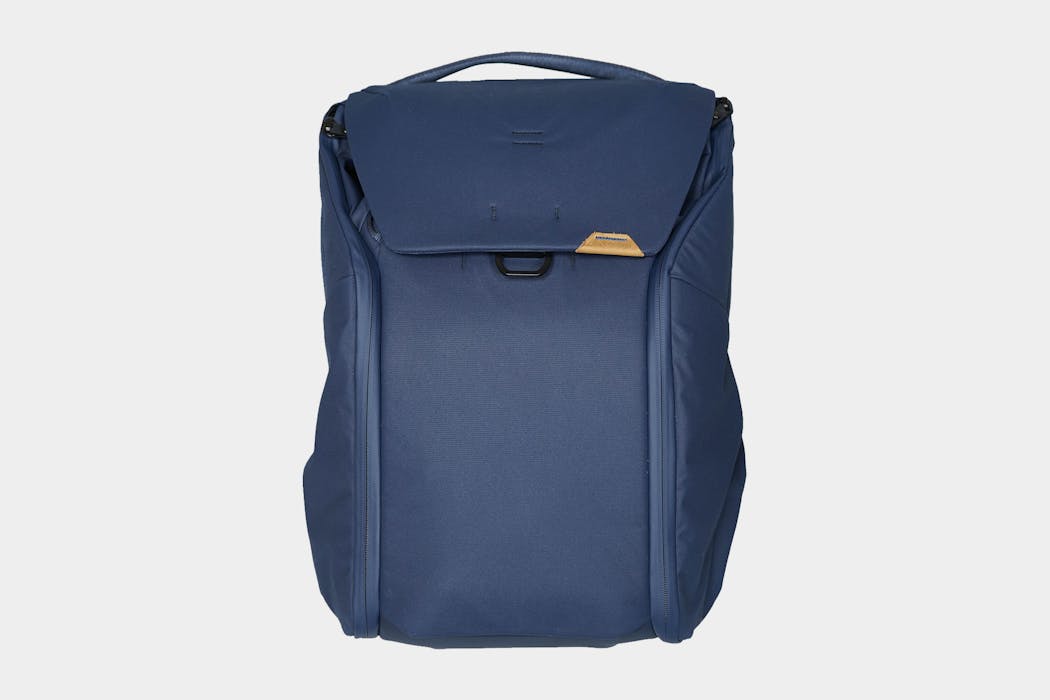 Peak Design
Everyday Backpack 30L (V2)
Made of durable materials and full of features, The Peak Design Everyday Backpack 30L (V2) is a solid choice for all photographers and videographers. But its classic aesthetic and nice internal layout will also make digital nomads and one bag travelers pretty happy too.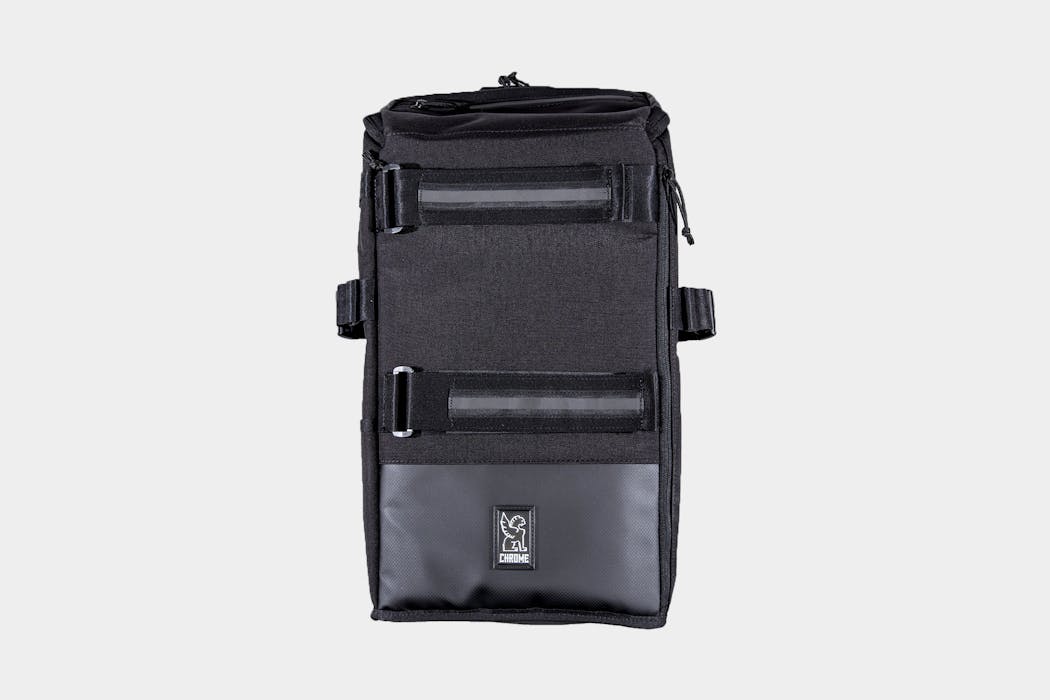 Chrome Industries
Niko F-Stop Camera Backpack
Ideal for gearheads, The Chrome Niko F-Stop Camera Backpack has enough space and organizational features to fit a few camera bodies, a handful of lenses, and some additional accessories. Chrome is known for their quality craftsmanship—and their camera pack is no exception.
Secure Daypacks
Secure daypacks might look like a traditional daypack, but they've got a whole lot going on under the hood. These packs are built to repel any potential thief and keep all of your belongings safe and sound.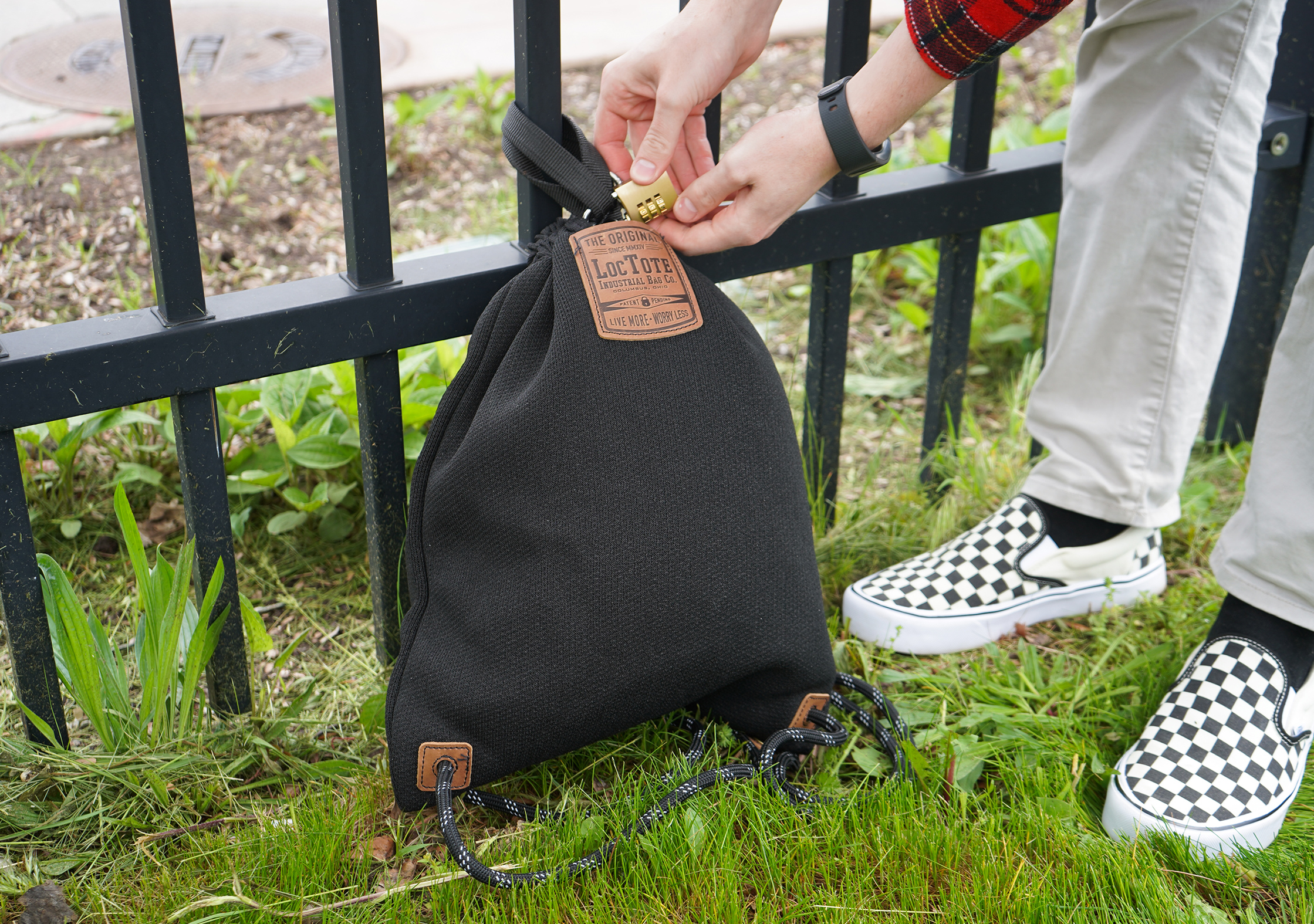 You can expect to see some pretty cool tech on these packs—from tear-proof fabrics to lockable zippers to metal cables that you can use to lock the bag to fixed objects. These bags are great for travel, where security is always an issue. Having an ultra-secure pack means you can doze off on that long train ride or walk through crowded markets without having to worry about pickpockets.
These daypacks will usually be on the heavier side, thanks to their additional security measures, and that's fine with us. Knowing your stuff is safe is pretty damn valuable, and we'll take that over a few saved ounces any day of the week.
Recommendations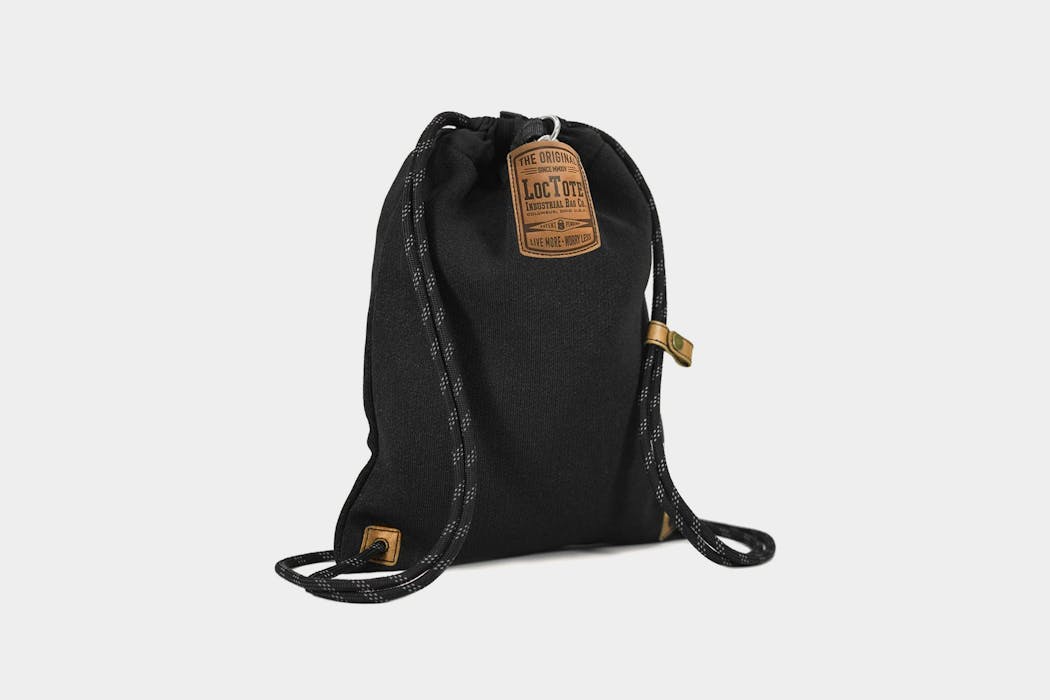 Loctote
Flak Sack II
The Loctote Flak Sack II is an extremely tough bag that's slash-proof, RFID blocking, and lockable—both to itself and a fixed object (so you can leave it behind without worrying about your valuables). It is on the heavier side—but for a bag built for security, it really should be.
07

Packing It All Up
We've done our bit. Now it's your turn! Let's make this daypack thing happen.
Hooray, you've made it to the end of our guide! Congratulations, you are now a daypack expert. Hopefully, at this point, you have a good idea of what to look for in a daypack, and you've got enough knowledge to find the right daypack for you and your unique situation.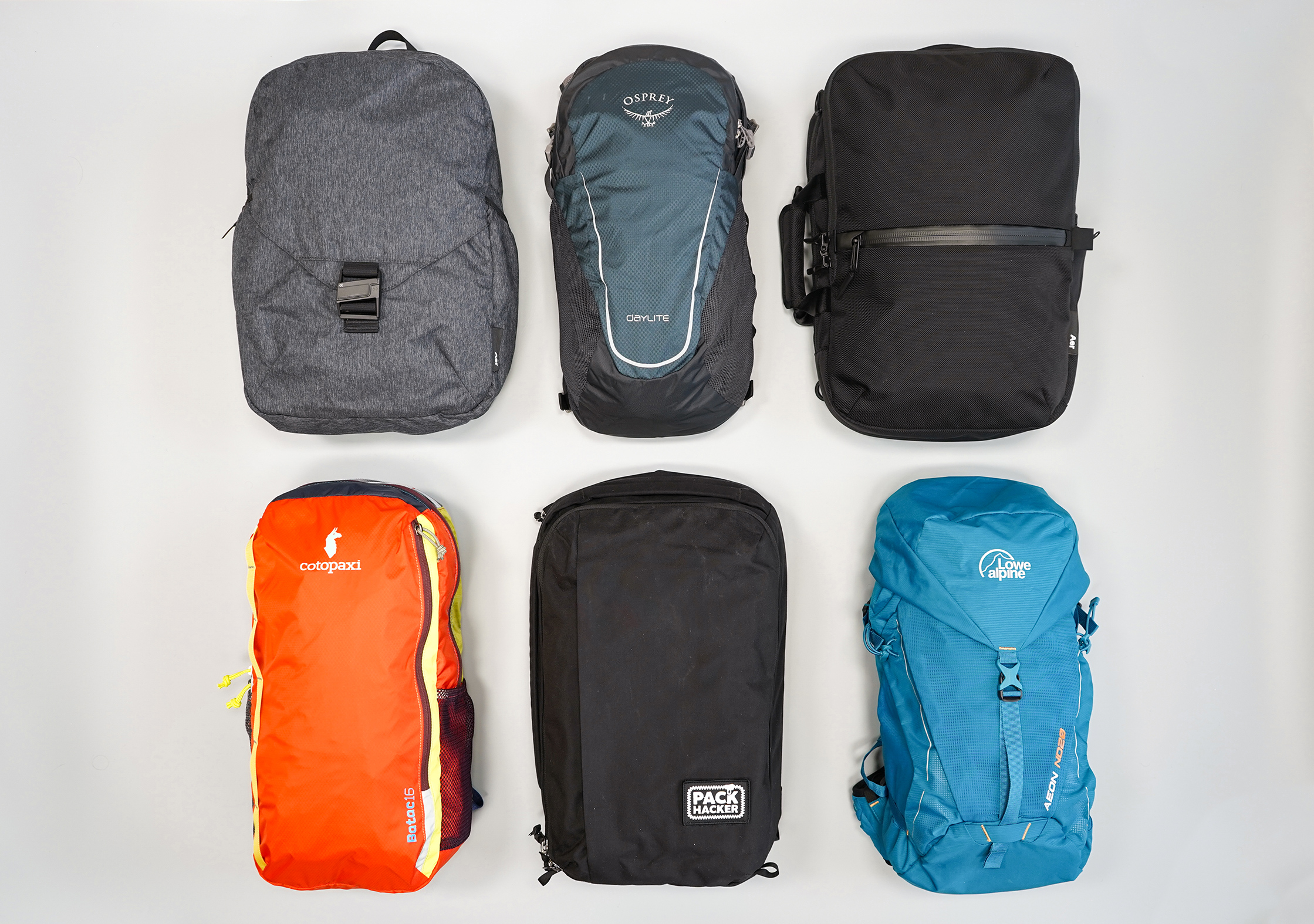 Now that you've got the daypack figured out, it's time to put it to use. We're not going to do an exhaustive guide on how to use a daypack (as much as we'd like to) because we're pretty sure it's self-explanatory. However, there are a few quick tips that we'd like to highlight before we close this thing out.
Next time you get ready for a day out in a new city, think of these tips when loading up your daypack:
Use packing cubes for larger items: We recommend using packing cubes in most travel backpacks, and the same principles apply to daypacks. A few small packing cubes or pouches let you organize all the contents of your bag and give you easy access to whatever you need. The best thing about using packing cubes with a daypack is that, if you plan right, you can grab a fully-loaded packing cube from your travel pack and toss it in your daypack. These are great for clothing and medium-sized pieces of gear.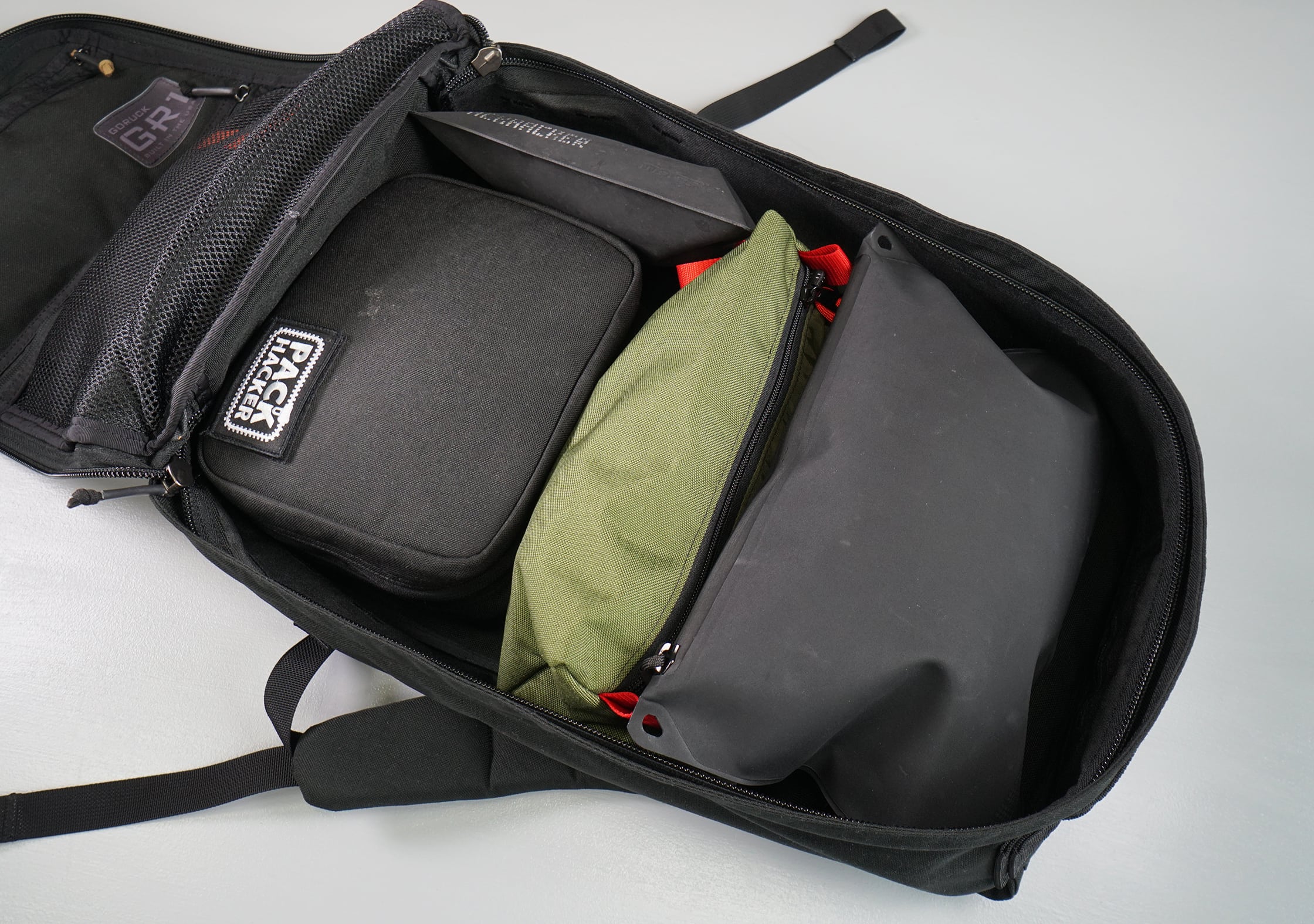 Use pouches for smaller items: When it comes to tech gear, toiletries, and other small items you'd like to keep organized—pouches are a lifesaver. Unlike packing cubes, which tend to be one large compartment, pouches tend to offer plenty of organization for smaller items like thumb drives, SD cards, and pens that you might not find on your daypack. We love using pouches in coffee shops and coworking spaces to easily pull out all our tech-related gear for the day.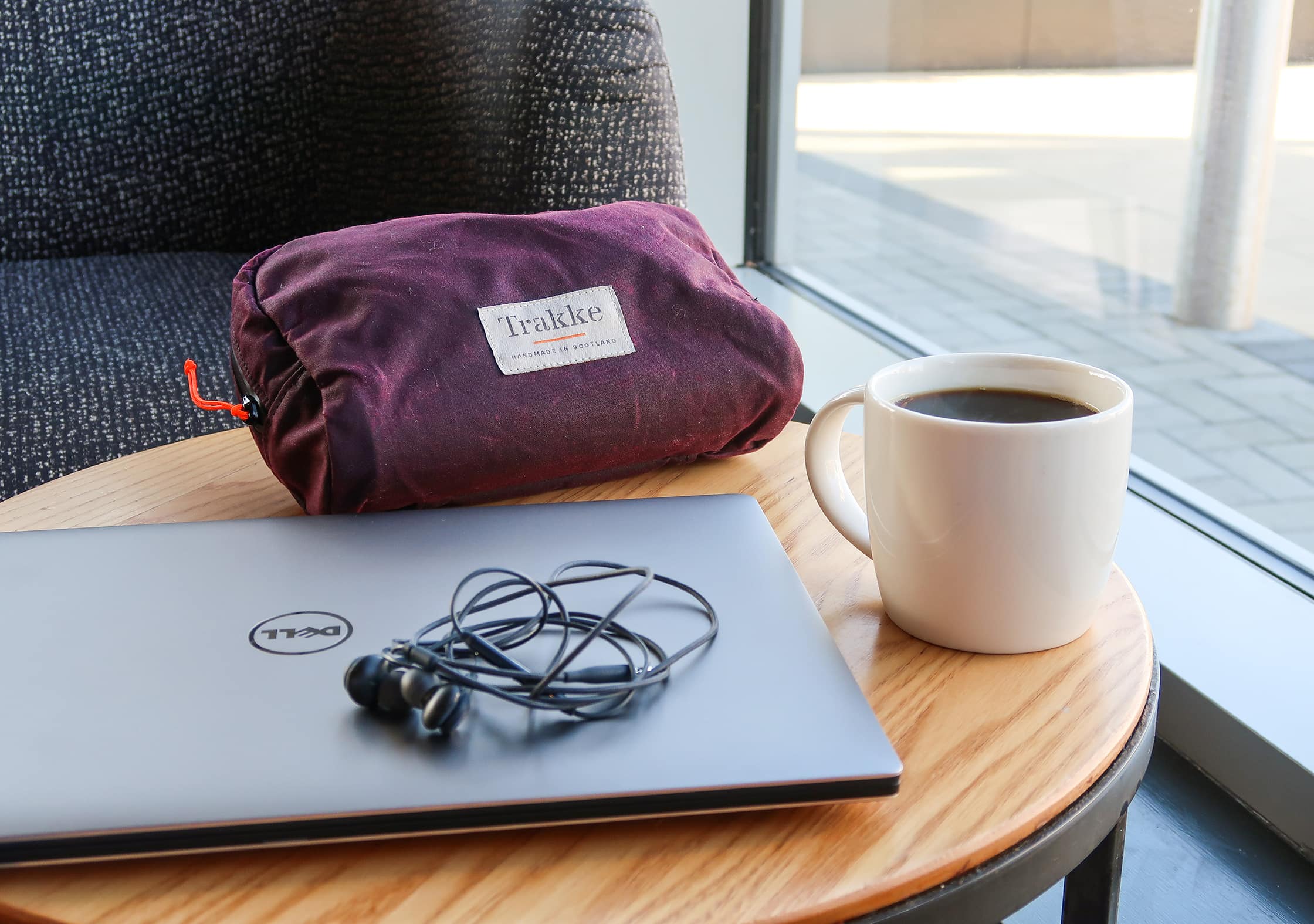 Pointy objects to the back: Most daypacks lack the dense padding that travel backpacks do. As a result, pointy or sharp objects can often poke into your back while you're wearing it. If possible, toss these kinds of items into a padded packing cube or keep them towards the back of the bag. Additionally, you can often use a laptop as a sort of impromptu frame sheet to help with this.
Keep your laptop safe: We always recommend using a padded laptop sleeve to keep your laptop safe in transit. Even if your bag has a laptop compartment—and even if it's padded—it's always worth throwing it in a padded sleeve for peace of mind.
Hopefully, these tips will take your packing to the next level. And if you have any other pro tips you'd like to share, feel free to drop us a line! We'd love to hear about them.
Concluding Thoughts
So, here we are. We've finished our long tour through the world of daypacks. We've learned some stuff, seen some interesting packs, and had a few laughs. We hope this guide has opened your eyes to what kind of daypacks are available, and why you might want to opt for one style over the other.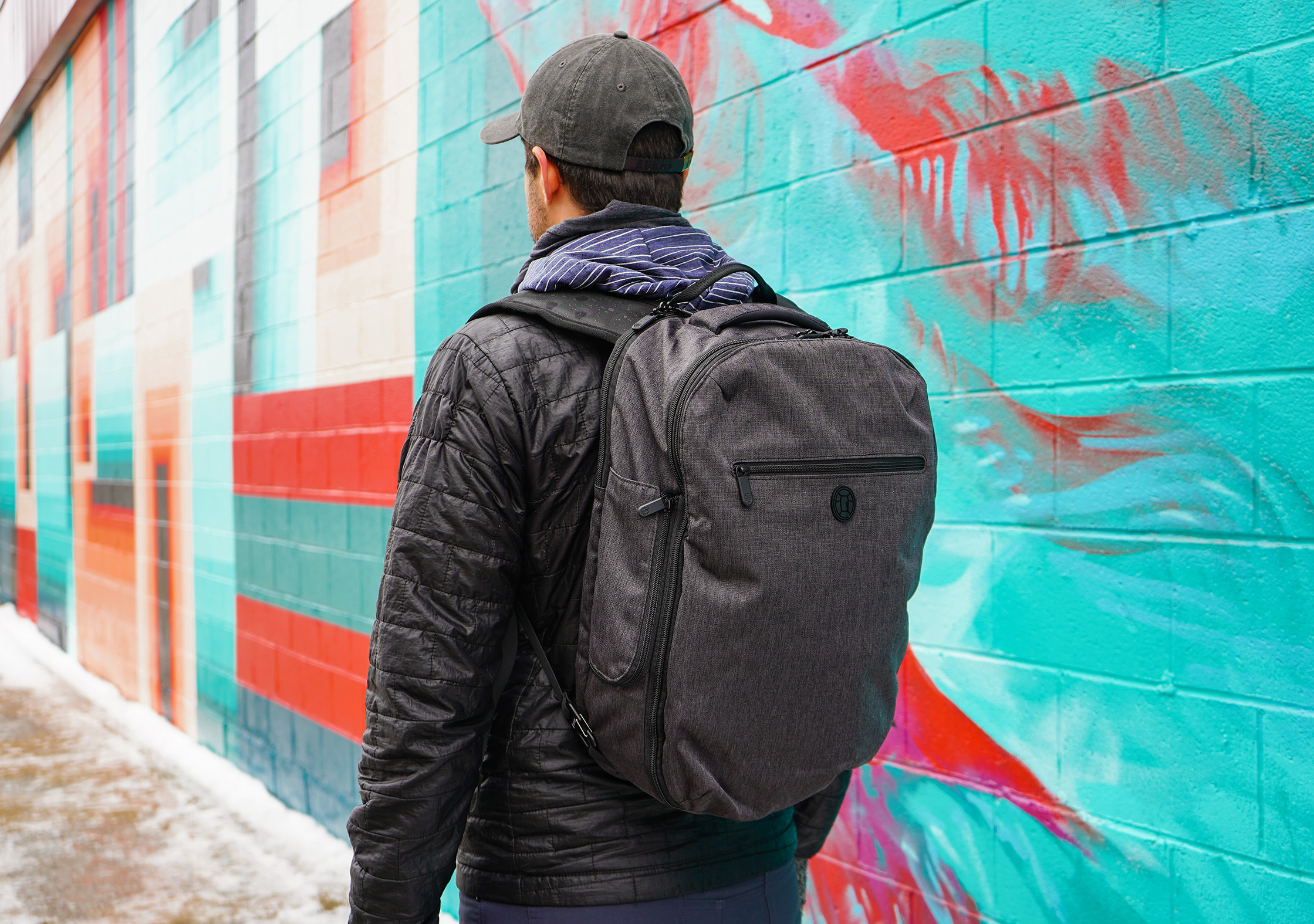 But we'd like to close this one out by reminding you that choosing the "best" daypack is not only impossible but not a big deal. At the end of the day, you should go with a bag that will not only suit your needs but that you LIKE! There's no point in buying a bag that you don't actually like, no matter how many features and durable materials it has.
So whether you opt for an ultralight packable daypack or a retro leather bag, just be sure to get out there and use it while you enjoy the world—whether that means making your commute just a bit less stressful or enjoying a day in a new city.