Topo Designs Daypack Review
Despite a few minor nitpicks, the Topo Designs Daypack is a great heritage-style pack for buzzing around the city or taking on longer journeys as a daypack.
Our Verdict
Unlock the Pro Summary
Save time. Get access to brief summaries of our reviews so you can browse and make decisions more efficiently.
Pros
High-vis fluorescent liner helps to see gear inside the pack.
Organizational features are just right and pack flat when not in use.
Durable materials, including YKK Zippers & 1000D Cordura held together with USA craftsmanship.
Cons
Water bottle pockets are a little bit rigid.
Back panel has no ventilation.
The slash pocket can be a little bit hard to use, depending on what you put inside.
Recent Pack Hacker Video
Technical Details
Capacity

20l

Weight (lb)

1.85 lb (0.8 kg)

Denier

1000D

Dimensions

19 in x 13 in x 8 in (48.3 x 33 x 20.3 cm)

Notable Materials

CORDURA® Nylon, YKK Zippers, Packcloth

Manufacturing Country

United States

Laptop Compartment Size

15"

Warranty Information
Full Review
Get up to 15% off Topo Designs • Join Pack Hacker Pro
In this review we're taking a look at the Topo Designs Daypack. It's a heritage, traditional-style backpack that has both feet firmly planted in the modern world, with its bright designs and fluorescent lining.
We found this pack to be ideal for running errands around a city throughout the day, which is exactly what we did for two months in and around Detroit during testing. And while not designed specifically as a daypack for longer trips, it does pack flat—meaning it can be stored nicely in your larger backpack if you want bring it along on your extended travels.
So, what did we think of it? All of the juicy details are, as always, revealed below… Let's jump in.
Materials & Aesthetic
As a US brand based in the outdoor playground that is Colorado, it's no surprise that Topo generally creates an outdoorsy aesthetic for most of their packs. This bag follows along in that tradition, with the exception of a few color options that are quite bright—and decidedly urban.
Editor's note: We've made the executive decision to leave off the "Designs" portion of their name for most of this review and refer to them simply as "Topo." The singular/plural thing makes for a world of grammar-related headaches that we'd rather just avoid for your sake.
The look is very similar to a Herschel bag, except the materials used are much better and more durable—the main difference between the two brands being that Topo doesn't market as heavily, and is therefore less well-known.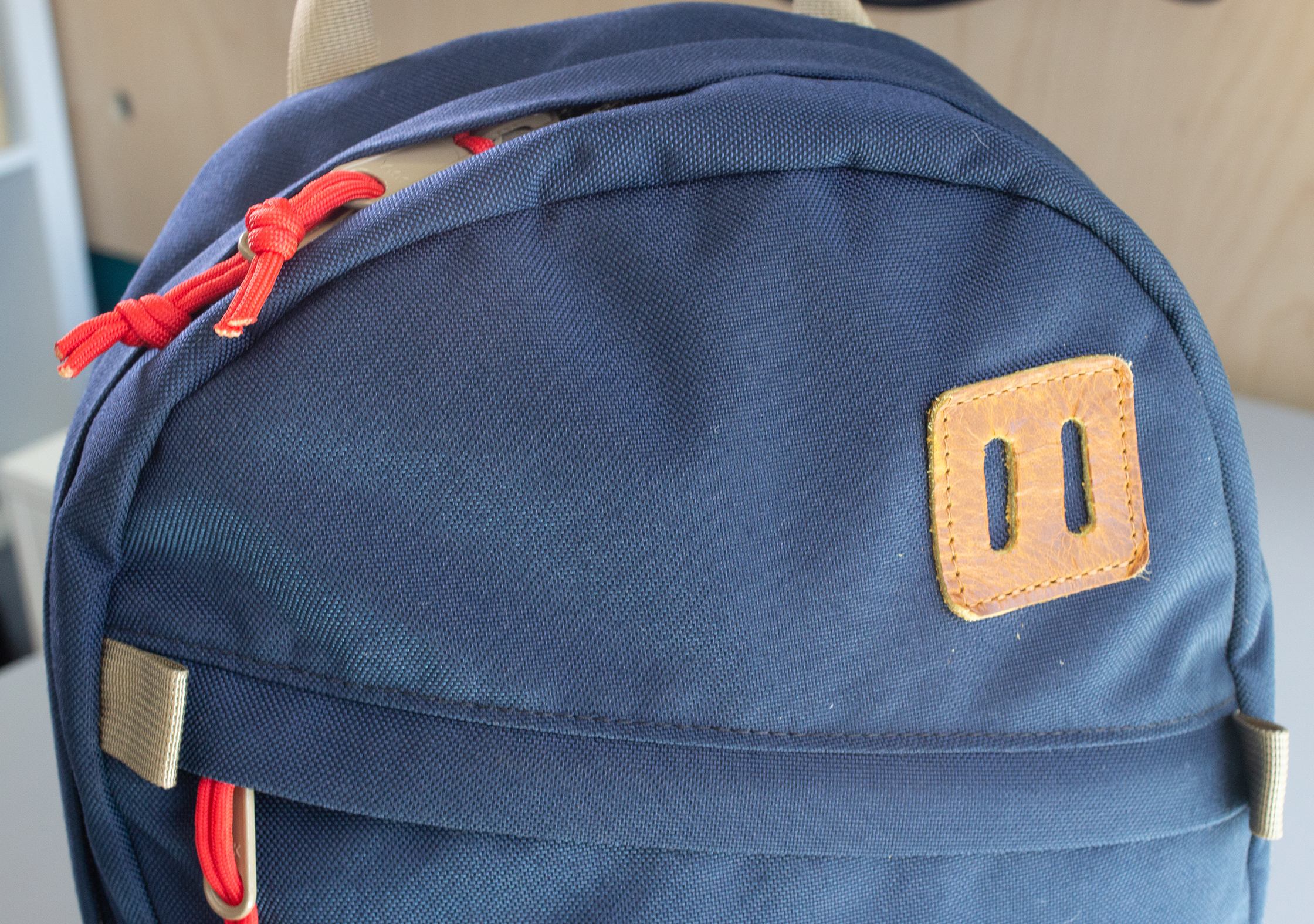 Taking a look at the materials, right away we can see this thing is built to last. The exterior of the pack is made with really tough 1000D Cordura, which is pretty much the highest standard when it comes to durable nylon. It's a great choice of material, and the Daypack is off to a good start.
This pack comes in 11 different variations of color and style, some bright and modern, some more traditional. All variations come with a natural leather lash tab on the top right of the front panel, and the version we've been testing (Navy & Brown Leather) has a reinforced leather section at the bottom of the pack.
The leather section is there mostly for the aesthetic, but it also provides a little extra durability around the base of the pack. And if the leather section isn't your thing, fear not! There are plenty of other color options to choose from—some with leather, some without.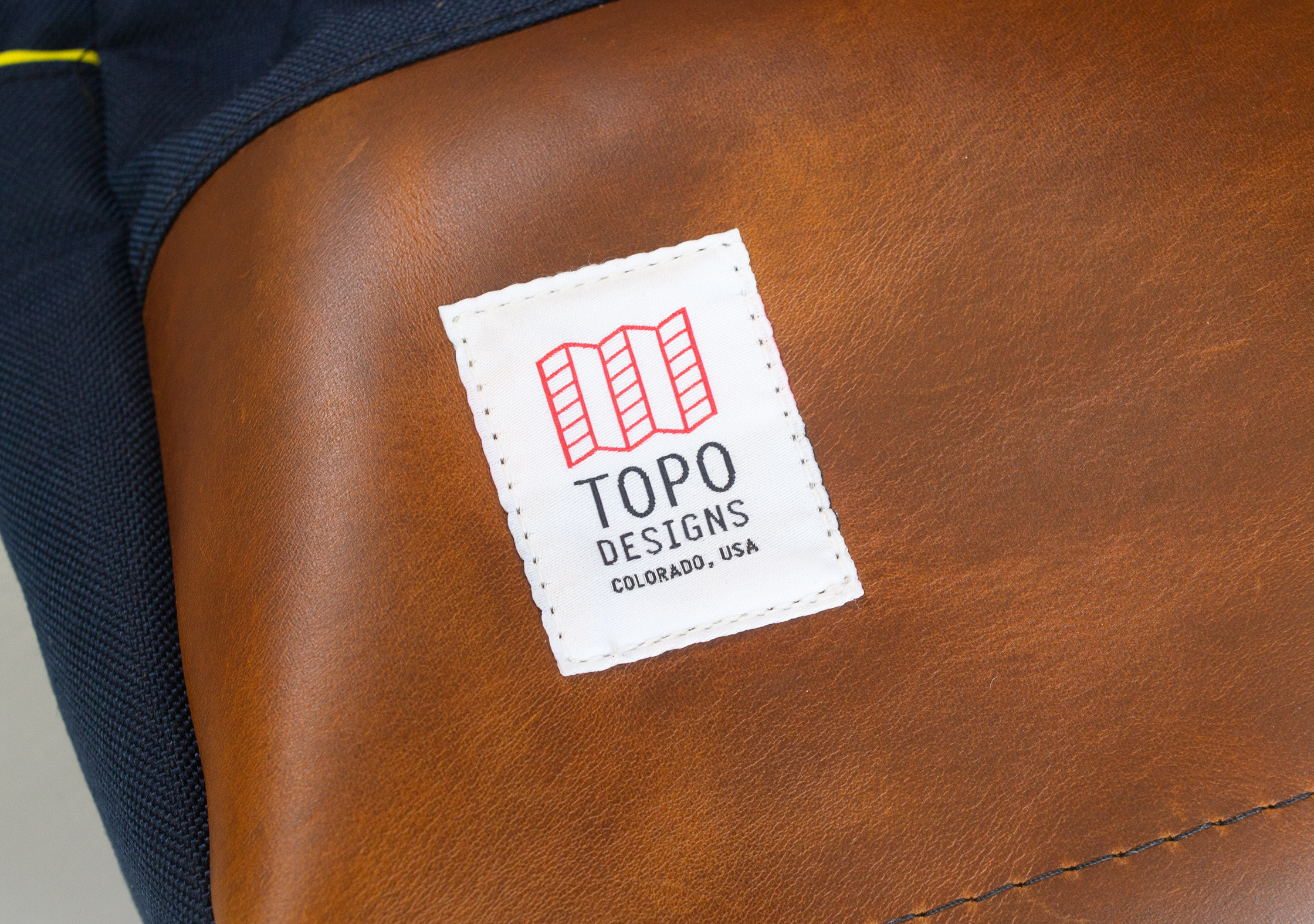 Adjacent to that latch tab, on the bottom left corner there's a Topo Designs logo. It's small and tasteful—just enough to know that you have a Topo Pack without screaming it from the rooftops. We think it's a pretty cool, minimalistic logo as well.
Jumping ahead to the interior of the pack, we have some packcloth lining. The version we have features high-vis fluorescent liner sections, which really helps you to see your gear in lower light situations—particularly, dark items that contrast strongly against the bright fabric.
There's also a little of that high-vis liner on the interior of the water bottle pockets. The liner shows around the edge of those pockets as a kind of trim, giving this version of the pack a little aesthetic flair, which we like.
Wrapping up the components, there's an Exposed Coil #5 YKK Zipper on the main compartment. It's a seriously massive zipper for a pack of this size—almost unnecessarily huge—but it provides a lot of durability and is easy to grip, so we're all for it.
All zippers on this pack are YKK (which, at Pack Hacker translates to "tough, reliable and always appreciated") and they each feature a short length of brightly-colored paracord. That means if you do somehow end up missing that giant zipper (… seriously, how?) then you'll have that cord to grab as a back up. On a serious note, they do help with opening and closing—especially in cold weather, when you've got gloves on—so they're a welcome addition in our book.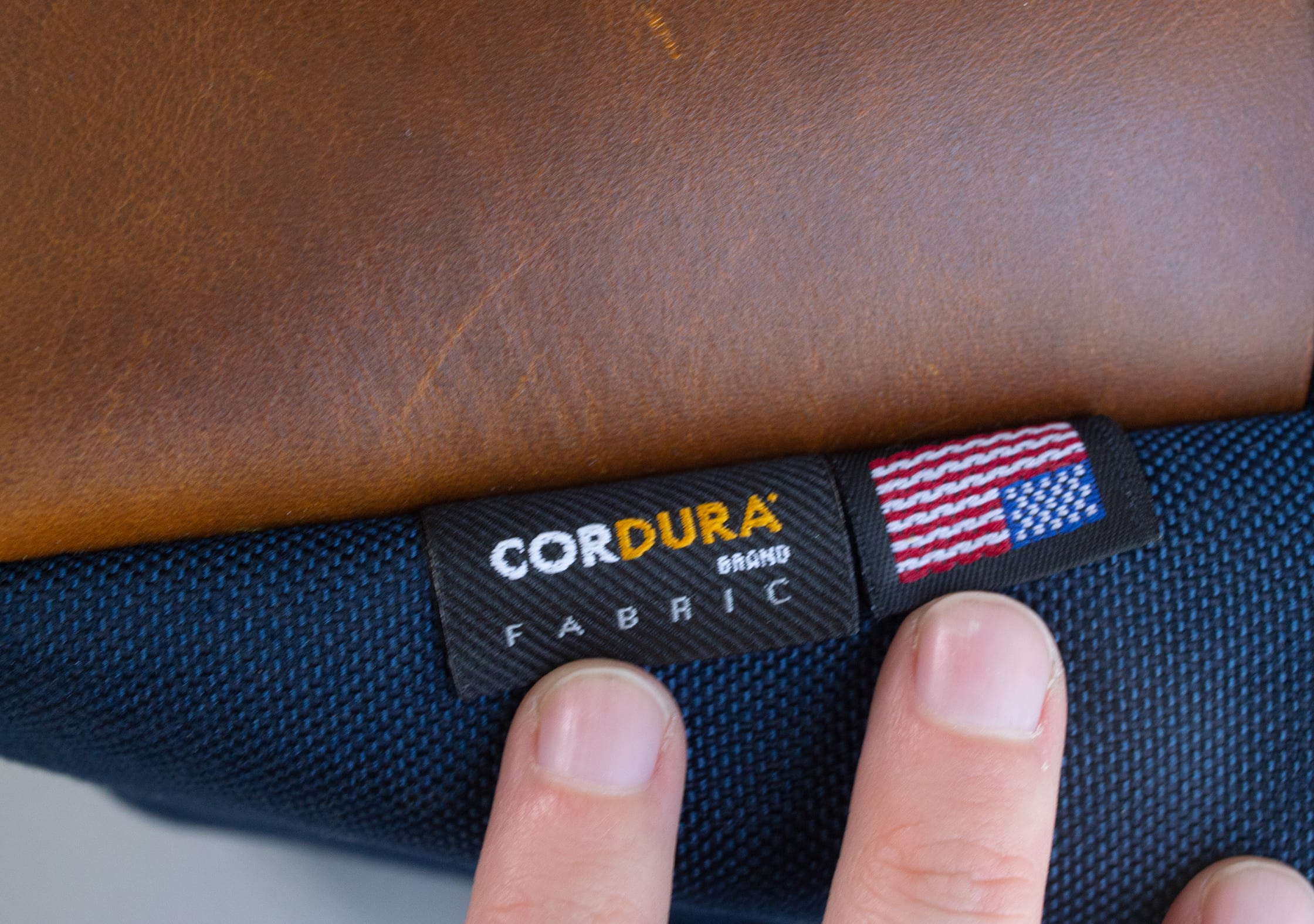 It's also worth noting that Topo produces this pack in the United States—the craftsmanship is top notch and it just feels really well made.
Obviously picked for durability and performance, the materials chosen are a major plus point of this pack. With that covered, let's take a look at those external components.
External Components
Starting in the upper right-hand corner of the front of the pack, there's the leather lash tab. We think it's there partly for function but mainly for the aesthetic, because it really adds to that vintage look.
If you do put it to use, you'll find it strong and versatile. It's basically a leather patch held down by reinforced stitching, with a loop cut into it. You can use this loop to hang anything you like, as long as it can be threaded through the loop. Shoes work perfectly if you hang them from the laces, as does any extra gear that clips on with a carabiner, such as the Matador Nano Dry Towels. If you're a cyclist, this is a perfect place to attach a rear bike light. (Or if you're not a cyclist and just want to be highly visible at all times!)
As an interesting point of reference, this lash tab is sometimes referred to as a "pig's snout," depending on which circles you move in. We're just going to leave that information out there, should you want to make use of it. Some people will get you, some will give you funny looks. You've been warned!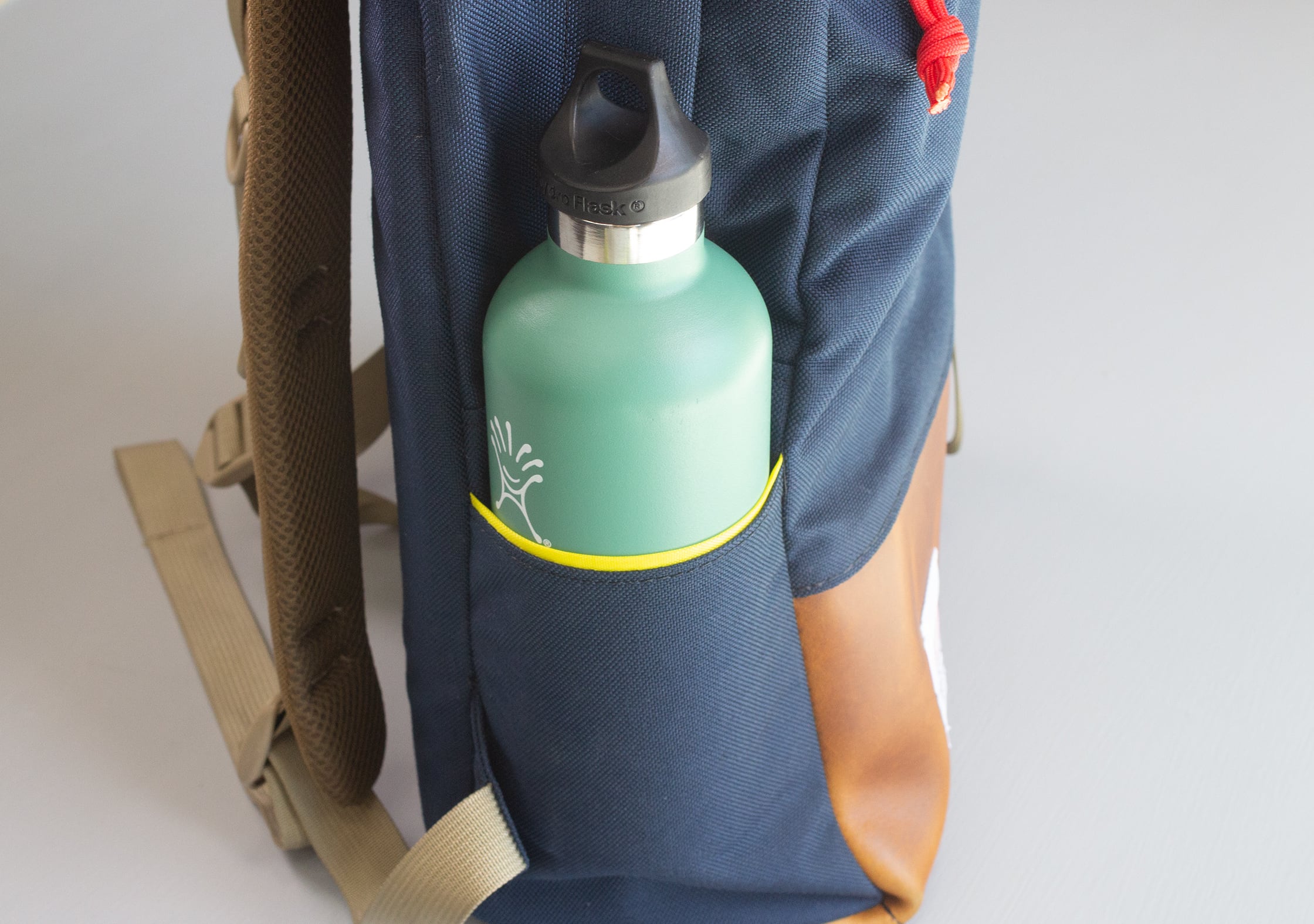 There are two water bottle pockets on here—one on either side of the pack—that are made of that sturdy 1000D Cordura. They're large enough to fit big water bottles, which we love to see, because it's always good to have the option to bring plenty of fluids on a day trip.
One small issue with these water bottle pockets is that they're not very stretchy. In fact, there's almost no stretch at all. That means you're somewhat restricted in terms of which water bottle sizes you can use in here—smaller bottles will slip right out.
One option is to bring along a couple of smaller bottles and stuff them into the pockets together, wedging them in against each other. You could even get creative and see what combinations of items you can stuff in there to make it fit tight—a small water bottle and an umbrella, a can of soda and some tissues, thirty sharpies and a banana… the possibilities really are endless. So go crazy and let us know what you come up with!
At the end of the day, the water bottle pocket flexibility isn't a huge issue, it's just a nitpick worth noting when discussing this pack.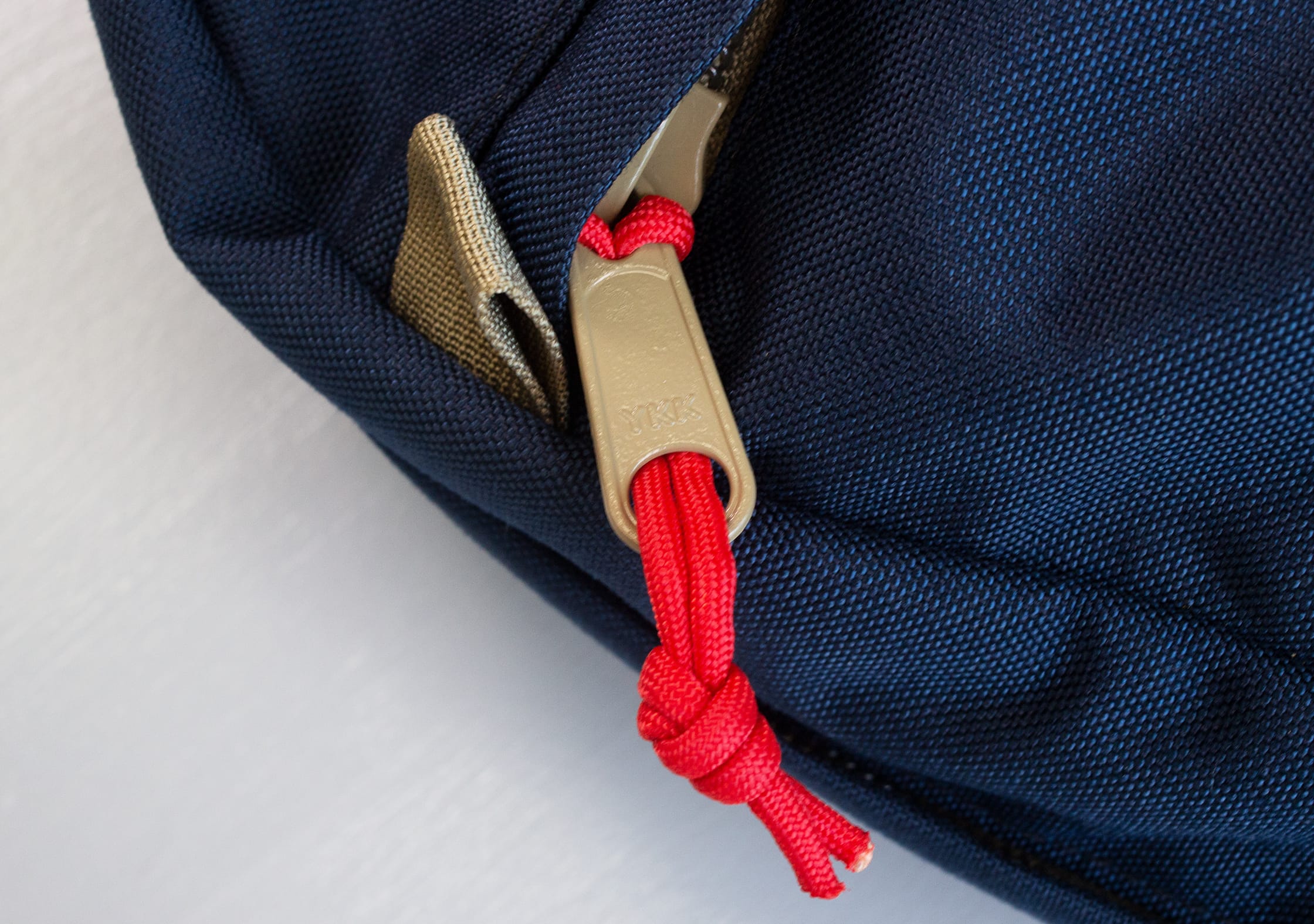 Back to the feature list, there are six nylon loops placed at strategic locations around the pack. These are useful if you need to grab the pack in some awkward way. We can't say with 100% certainty what they are all for, but the ones on the side of the pack are definitely useful for pulling the zippers open.
These nylon loops add to the overall heritage look of the pack—it's a nice way to prevent the pack from looking generic, without creating over the top or in your face designs. They also provide options for hanging gear off of various parts of the bag, using carabiners or other clips. A good blend of function and aesthetic.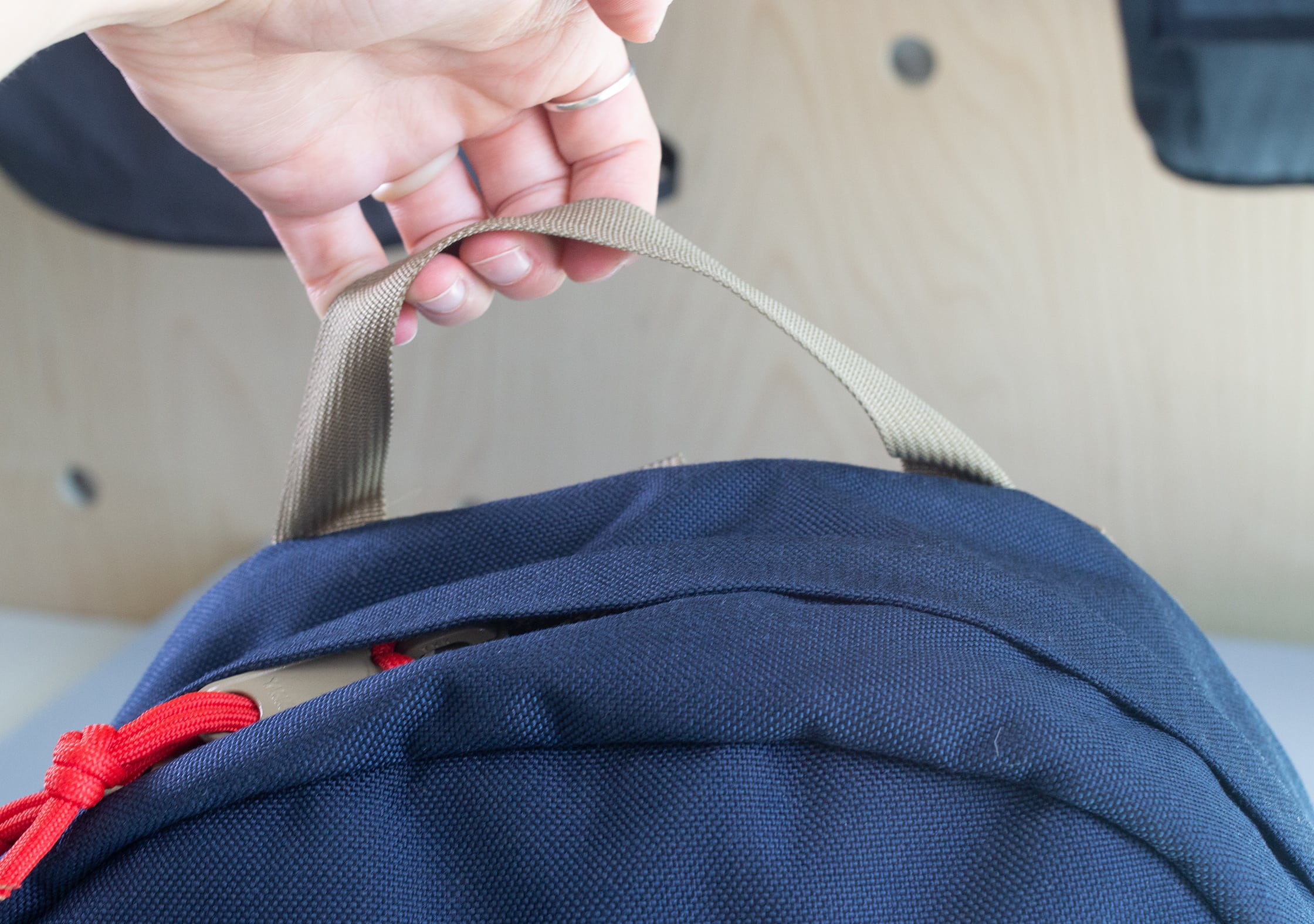 There's a standard hanging loop at the top of the pack. It's strong and well placed, allowing the bag to hang flush against the wall. It's perfect to hang the pack on a branch if you're outside or a hook inside of your apartment, hotel or Airbnb. It's nothing worth writing home about (even though we are kind of doing exactly that right now…), but we'd certainly miss it if it wasn't there. Long story short—Topo got this hanging loop just right.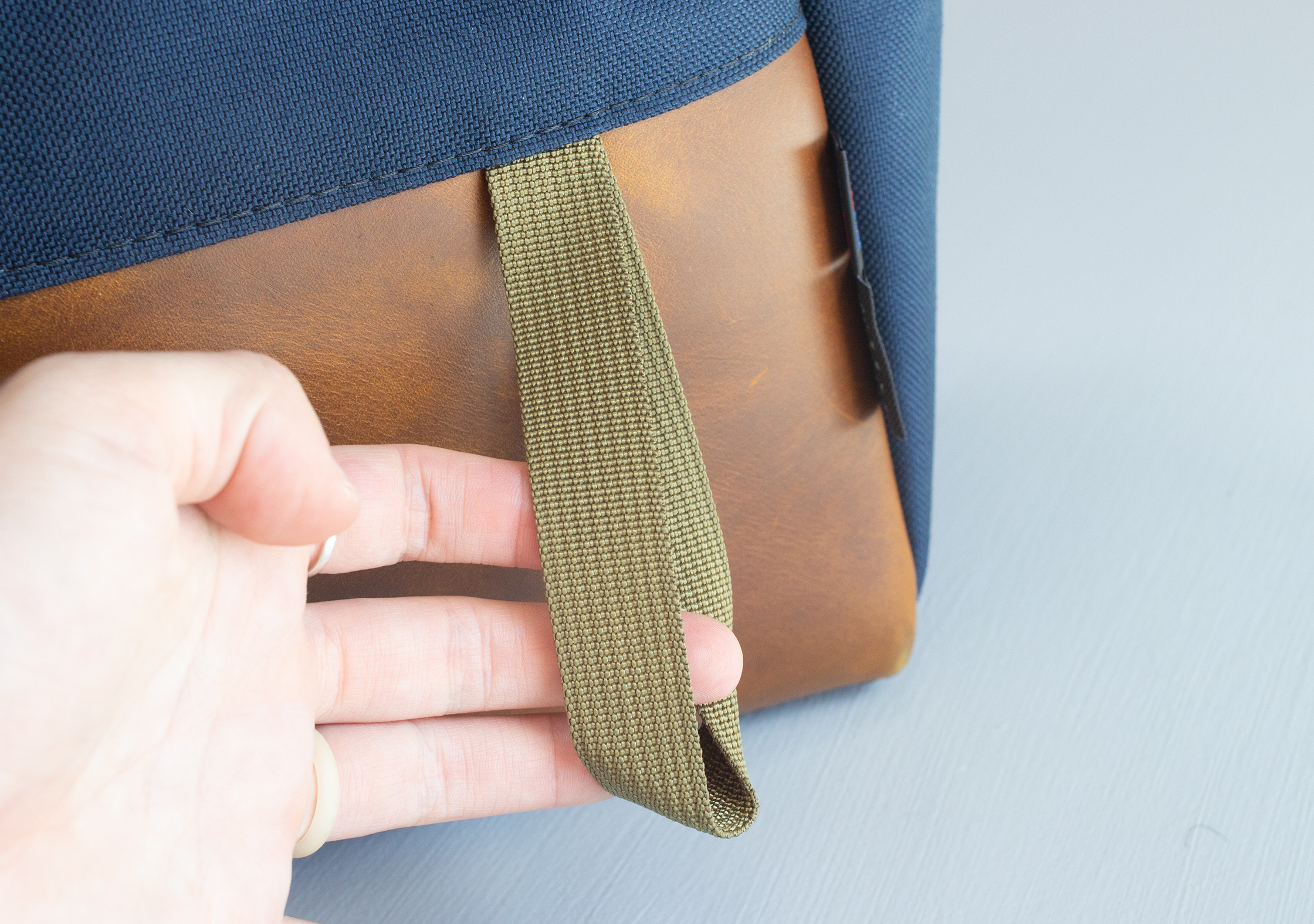 Lastly there's a nylon loop about half way down the front of the pack. At Pack Hacker we're currently referring to this as "the mystery loop," since we honestly have no clue what it's for.
Of course, we could ask Topo directly, but we've already bugged them with a million questions about this bag and they've been super patient with us. We decided not to email them yet again to ask about this. Plus it's kind of fun to guess what it might be used for.
Right now it's just hanging there… staring at us… almost like Topo put it there to test us. Will we use it? What will we use it for? Are you watching us Topo? Is this amusing to you?
Jokes aside, it's about the same size as the hanging loop at the top of the pack, but it's fixed at a single point halfway down the front of the pack. If you know what it's for (or have fun suggestions), please get in touch because we'd love to know!
Moving on to the harness system, the shoulder straps are pretty decent for a pack of this size. The straps are mesh-lined and padded, giving the bag a comfortable carry with some nice ventilation for those hot days in a busy city, hopping from café to café.
Right on the straps there's also a couple of D-Rings, providing yet more options to lash or clip additional gear to the outside of the pack.
Now, this isn't a nitpick at all—but we have to mention there are so many options for clipping extra gear to this thing that if you were to utilize all of them you'd end up looking like a pack mule on the way to market. But hey, if that's how you roll…
It is great to have so many options on a little pack like this, so we applaud Topo for including them all.
Finally, let's take a look at the back of the pack. Disappointingly, there's no mesh on the back panel. A little extra ventilation here would really compliment the mesh on the shoulder straps and help to keep your back cool and breezy.
We're sad to see that it's not there, although this is redeemed by the fact that it does have some padding, upping the comfort level if you decide to pack bulky items like cameras or other photography gear.
Speaking of which, let's open this little pack up and see what packing options we have on the inside.
Inside the Pack

Diving into the pack, the only external pocket available is the "slash pocket" located on the front panel. The zipper is slanted at a slight angle, and opening it up we're greeted with that high-vis fluorescent lining. It's a deep pocket that runs all the way down to the bottom of the pack, and then right back up to the top.
That means there's packable space both above and below the zipper. It's an interesting feature, but actually makes it a little hard to pack items in an organized way. We found it's more useful to just toss random things in here that you want to access quickly, rather than trying to stuff too many things inside or keep any kind of order. There is a little 3D capacity in this pocket, but it works out better to pack small, flat items like notebooks or your phone. For bulky items, it's best to pack them into the main compartment, which is much more easily accessible and easier to organize.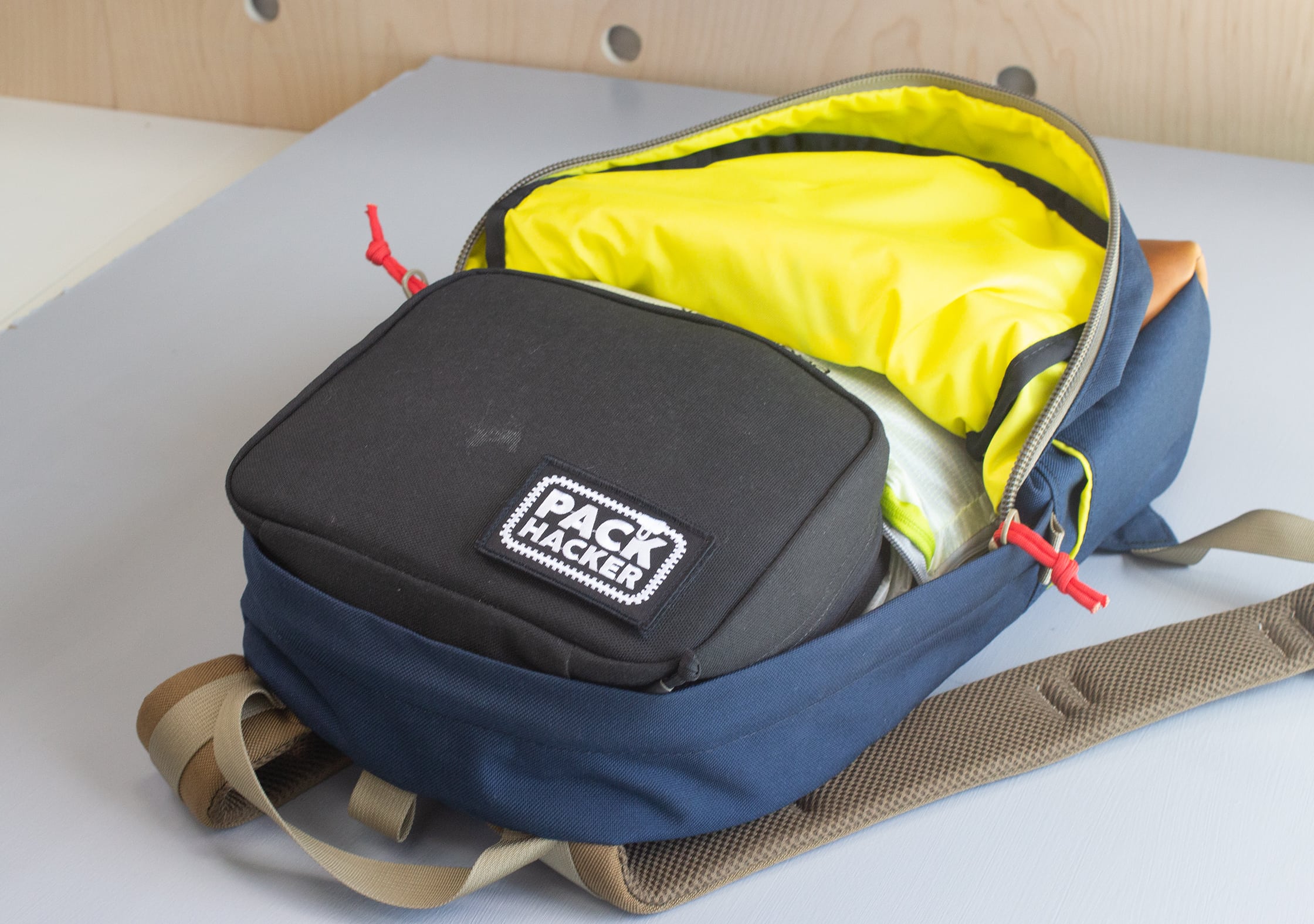 Unzipping the horseshoe-opening of the main compartment we're greeted again by that high-visibility pack cloth interior. The lining isn't just a gimmick—it's actually pretty useful for seeing what's in your pack in low light situations. If you've ever been rummaging around in your pack in the middle of the night (yes, we know it's you keeping the rest of the hostel awake…) searching endlessly for that one illusive item, you'll know how useful a little extra visibility can be.
For a small pack of only 20 liters, the main compartment feels pretty roomy and we've found that it's big enough to easily carry a 15-inch laptop. A few packing cubes improves organization, and there's some decent flexibility with what you can pack since there aren't too many other pockets eating up the space.

There is one organizational system on the back of the interior. It lays totally flat, meaning it doesn't take up any extra room if you choose not to use it. In fact, we found it to be pretty much perfect—providing just enough options to be useful if needed, with minimal impact on packing space when not in use.
Taking a closer look, there's a full-width zippered compartment that goes right down to the bottom of the organizer section (which is about one third of the height of the pack). It's a flat pocket, making it ideal for tickets, receipts or other small documents you want to keep organized (like your passport or driver's license).
On the front of that zippered compartment there are three open-top pockets, which are also flat. The right hand pocket is about the width of a credit card. In the middle is a slim pocket to fit a pen or stylus, and to the left of that is a wider pocket that runs to the edge of the pack.
No bulky items will really fit in these pockets, but if you have small personal items you'd like to keep separate this will provide some options. We've found the organization system to be pretty useful when moving around the town, using it for every day items such as phones, credit cards, keys and, cash.
Overall, the interior of this pack is simple, with just one front pocket, a main compartment, and a few organizational features thrown in for good measure. We like the simplicity and the flexibility to pack it in a way that suits our needs in the moment.
Durability & Testing
At the time of this review we've been testing the Topo Designs Daypack for about two months in our daily movements around Detroit.
Ideally, we prefer to take all packs on at least on one trip out of the city, allowing for a more "complete" test of the function and durability before writing a review. In this case, we didn't get the chance to leave the city, but we've still given this bag plenty of varied use.
We can say with confidence that it's really well put together and we don't see it failing any time soon. The materials chosen by Topo are high quality and strong, plus there's that reliable USA craftsmanship holding it all together. This as a solid little pack that you can rely on for daily use around the city or as a daypack to bring along on your next extended travel.
Usage Timeline
Initial Usage
Condition: Excellent
Great choice of materials that are well put together.
2 Months of Use
Condition: Excellent
No major damage and no signs of failure any time soon.
Access the Pro Community Discussion
Get your questions about the Topo Designs Daypack answered from our team and the Pro Community right here on the page. Plus, join discussions with other members about gear, guides, and more.
Other Bags & Luggage Reviews