Matador NanoDry Towel Review
The Matador NanoDry Towels are super lightweight travel towels. The silicone case is unique, though not quite as compressible as other towel cases on the market.
Our Verdict
Unlock the Pro Summary
Save time. Get access to brief summaries of our reviews so you can browse and make decisions more efficiently.
Pros
Unique aesthetic compared to other towels on the market.
Silicone case stays dry when needed, and keeps wet towels contained.
Towels are lightweight, not adding much weight to your luggage.
Cons
The snap loop button is quite weak, meaning it pops open easily.
The silicone cases aren't as "compressible" as other towels on the market.
There's a knack to packing the towels up, which you'll need to get used to.
Recent Pack Hacker Video
Technical Details
Weight (oz)

1.15 oz (32.6 g)

For the trek size, with the silicone case. Shower size 5 ounces (141.7 gm)

Dimensions

15 in x 15 in (38.1 x 38.1 cm)

For the trek size, uncompressed. Shower size is 47" x 24" (119.38 x 60.96 cm)

Notable Materials

Silicone, Polyester, Polyamide, Nanofiber, Antimicrobial Coating

Manufacturing Country

China

Warranty Information
Full Review
Get up to 20% off Matador • Join Pack Hacker Pro
In this review we are taking a look at the packable NanoDry Towels from Matador, which come in two sizes—the smaller Trek and larger Shower. Matador promote these towels as being ultralight, super-absorbent and quick drying.

At the time of review we have tested both sizes for about 3 months, so let's dive in to see how they've performed.
Materials & Aesthetic
First off, these towels immediately stand out from other towels on the market because of the original design of the carrying case. Rather than a ripstop nylon or traditional mesh bag—which is common with most travel towels—Matador has opted for a silicone case.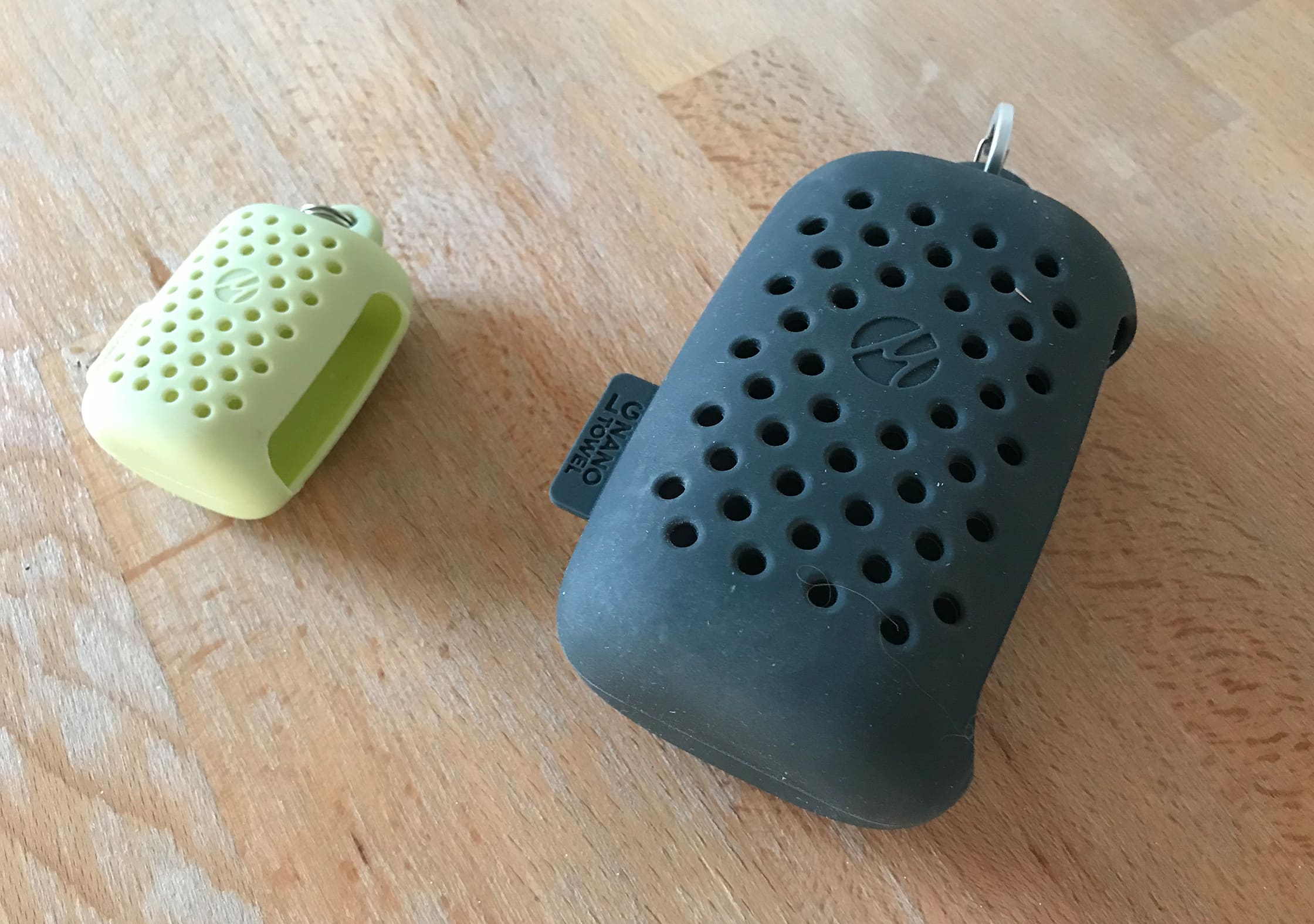 The cases have air holes on all sides, except one side which is completely open, allowing you to insert and pull out the towel.
We're always fans of low key branding, so we were happy to see some subtle, minimalistic branding on these things. It's just enough to see that it's Matador without being too 'in your face' about it.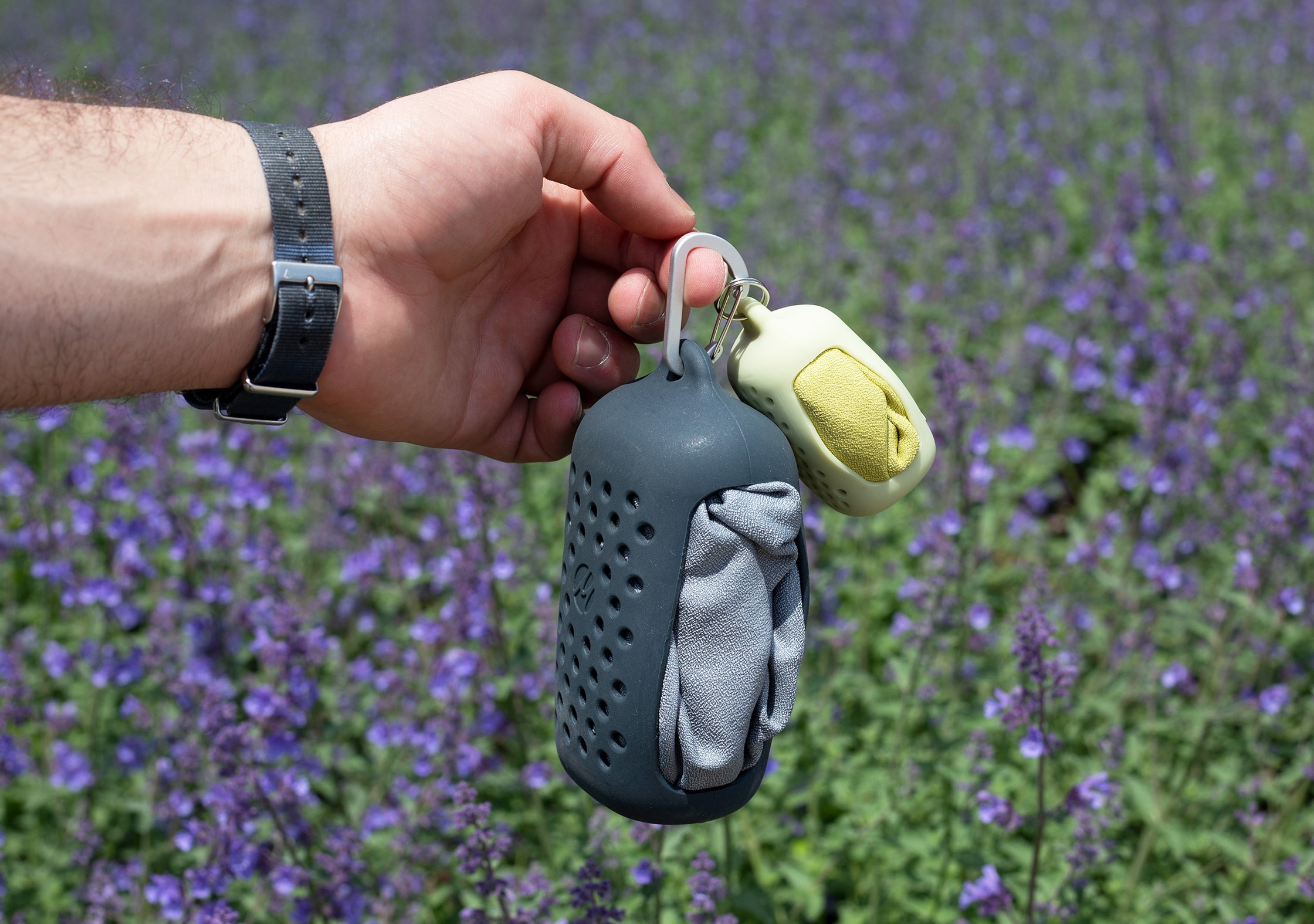 There's a sturdy carabiner clip on the outside of the Shower size case, and the smaller Trek size has a stainless steel key chain. These allow you to hang your towel up in a hotel room or hostel, but also clip it to the outside of your pack (or anything else) while on the move.
The towels themselves also have a fabric snap loop attached in one corner, which snaps open and closed with a plastic clip. It's designed to allow you to hang the towel directly on a hook, or clip on to any kind of rail.
There are two sizes here, and two colors—Moss Yellow and Charcoal Grey—available for each. The cases match the color of the towels, for which the OCD in us is grateful to Matador for keeping things consistent.
The larger size is known as the "Shower" and is 47 x 24 inches, which is pretty much the size of an ordinary bath towel. The towel and case together weigh 5 ounces (142g).
The smaller size, known as the "Trek" is essentially a hand towel. Unpacked it's 15 x 15 inches, and Matador tells us it weighs in at 2 ounces (56g). Although, we weighed it ourselves and found that it actually comes in lighter than Matador claims, at just 1.15 ounces! We don't know exactly why it works out this way, but it's a plus for the NanoDry Trek Towel and another nod towards ultralight travel.
Several of our Pack Hacker team members have described it as "cute"—especially when it is packed away in it's tiny carrying case.
The towels are made from a nanofiber material. "Nanofiber" is essentially just marketing-speak designed to sell more towels and make these things appear high tech. What we actually have here are towels made from 85% polyester and 15% polyamide.
So why the "Nano"? The polyamide, while common in a lot of synthetic fabrics, technically classifies as a "nanofiber." It's stretchy and strong, and saying "nanofiber" just sounds way better than boring old polyamide.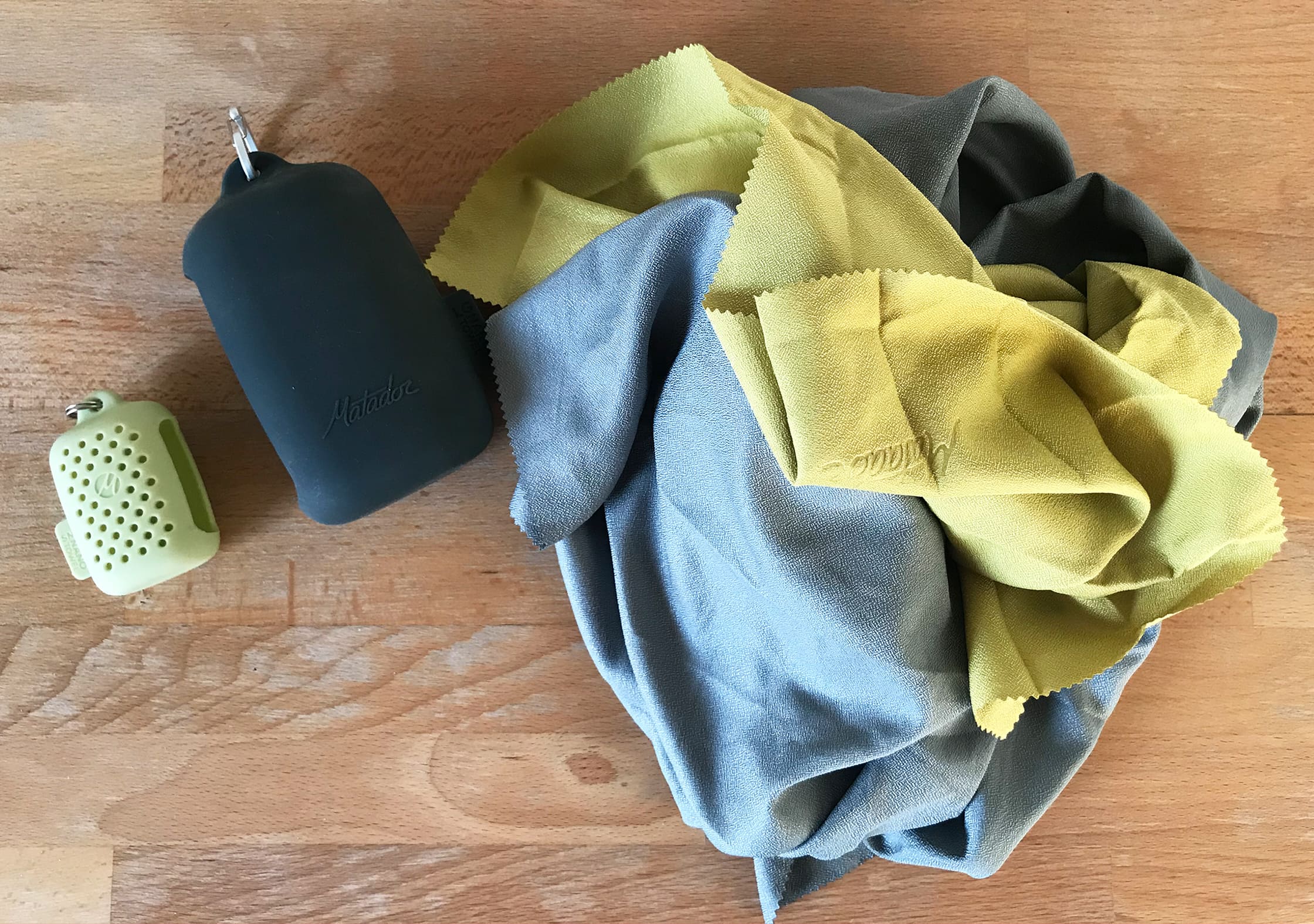 Both towels are approximately the same thickness as a glass cleaning cloth you'd use for your glasses or computer screen, and the edge is serrated in a similar style to those cloths too. They feel light and minimal, and fold up small which is great for traveling light.
The texture is rougher than a glass cleaning cloth though, and this presumably helps with the drying process. If you've ever tried to dry yourself with a microfiber glass cleaning cloth, you'll know it doesn't work super well. You need a little roughness to help absorb the water.
Not that we've tried to dry ourselves off with glass cleaning cloths, or anything… Okay, there was that one time. But we don't talk about that. Never again.
One issue we've found with many microfiber packable towels is that they can feel "sticky" and tend to cling to your body while you are drying. We're happy to report the NanoDry towels don't feel quite as sticky, and are actually quite nice to the touch, which is a plus.
Benefits & Features
Keeping towels dry on the road can be a pain. We all know what's it's like to shower quickly in the morning, then stuff your towel hastily into your bag, only to pull it out several hours later when you arrive at your destination and find that it's still wet and smells like a wet dog.
The folks over at Matador have done a great job to help avoid this with that silicone case we talked about earlier. It's super breathable and hangs on the outside of your pack, which helps dry out your towel when not in use and prevent that moldy smell we all know and dislike.
The large opening along the side of the carrying case is designed to make it easy to stuff the towel into the carrying case. The correct way to insert the towel is to fold and roll, but if you're in a hurry you can quickly shove the towel in there. We did find the towels slightly tricky to put in the cases, however. There seems to be a knack to doing it correctly, which we had to get used to over time.
One downside of the rigid silicone case is that you don't have much control over the size of it when packing your gear. There is a little flexibility to it, but compared to a drawstring stuff sack or mesh case these are quite rigid. If you pack these inside your case, you'll need to pack around them.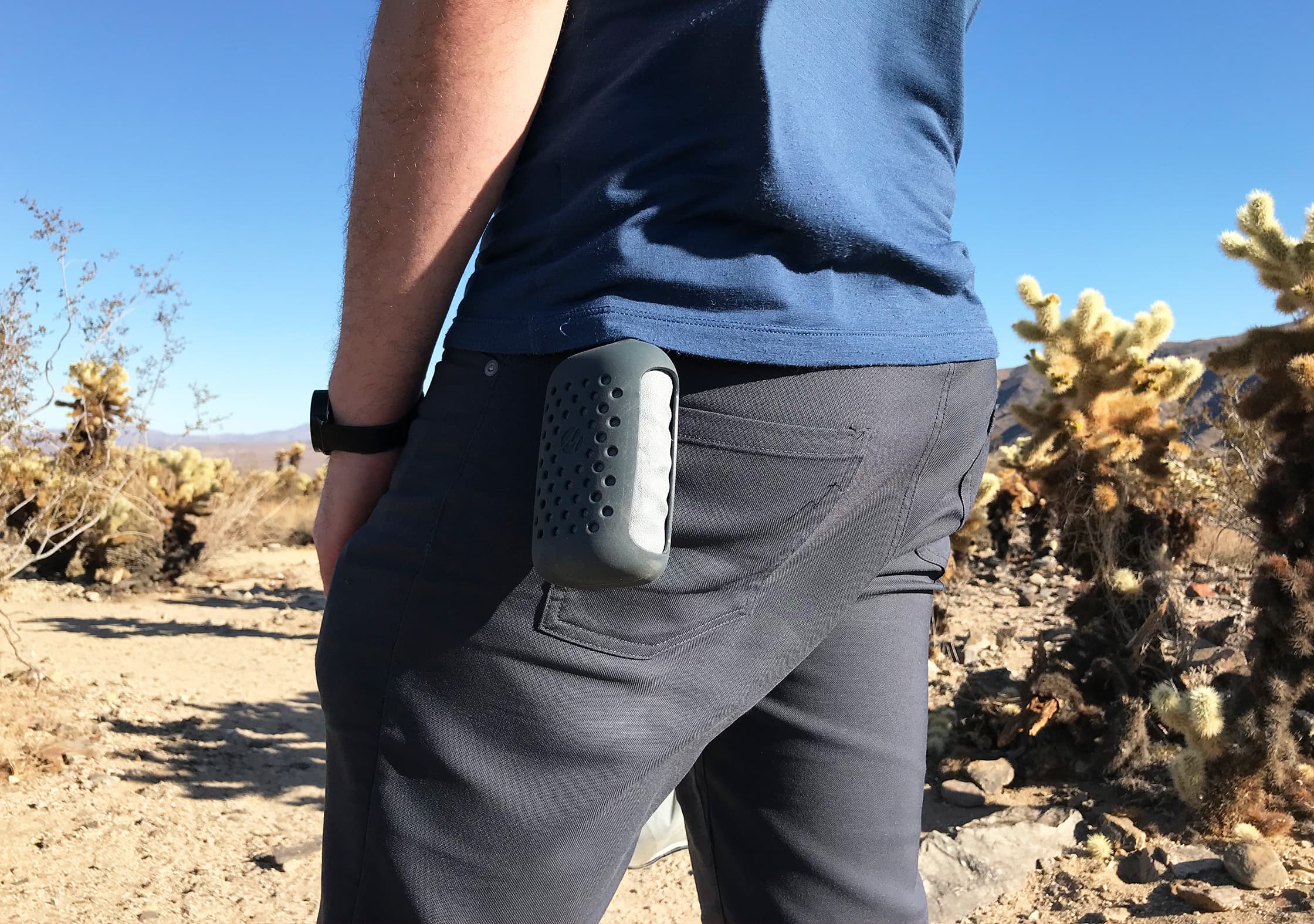 To counterbalance the lack of flexibility, we like the convenient clips on the top of the carrying cases (the larger Shower has a carabiner, and the smaller Trek has a stainless steel keychain). They make it super convenient to clip your towel on the outside of your pack, or just hook it up some place around your hotel or hostel.
We even clipped it to our pants and took it out on a hike. Do you think we're setting new fashion trends?
As we already mentioned, the Shower is 47 x 24 inches, which is a convenient size to use as a multi-purpose towel for most kinds of trips. It's slightly smaller than ideal, but that's balanced with the fact that you feel really comfortable traveling light because of the savings on space and weight this thing offers.
If you use it at the beach, you won't get as much cover-up as a normal beach towel will offer. But if you're dedicated to going super minimal—and don't mind showing off your legs in public—you can probably pull it off.
The Trek is smaller at 15 x 15 inches—about the size of your average washcloth—and weighs just 2oz (34g). Matador markets this as being good for workouts, and we think that's about right.
If you really want to go super minimalist, it could be used as a main towel after a shower or when getting out of the pool. We've found that if you do use it like that, it will most likely get saturated mid-dry and you'll need to wring it out a couple of times.
We think this is more suited for a hand towel, but if you're pushing to pack as light as possible and want to take the Trek as your main towel then we say it can just about be done. This isn't the kind of towel you want to take skinny dipping—unless that's your thing?—in which case, more power to you and props for pulling it off!
Note: to compare size and weight with another towel we've reviewed, the PackTowl Personal Towel is 6.9 oz and 25 x 54 inches. It's definitely more bulky than the Matador towels, although Packtowl does offer a more minimalistic towel in their range that we haven't tested yet.
Durability & Testing
At the time of this review, we've been using the Matador NanoDry Towels for about 3 months. They've been through a few trips from California, Minnesota and Michigan to New York, plus some use at home. We've found the towels hold up well with regular, daily use.
One of the only issues we've found is that the button on the snap loop is pretty weak. When you go to clip it on, you don't even get the feeling that it's clipped on. A light tug on the loop pulls it apart easily, meaning this feature is a bit delicate.
So if you want to hang the towel, you'll need to put it on a hook, over a balcony or rail. You can also pack it up in the carrying case and hang that on a hook, but the towel won't dry as quickly that way.
Time will tell how long the thinner material on these continue to hold up. It's been a good start for the towels though, as we haven't seen any signs of wear and tear in the first three months. Plus, both towels definitely smell more fresh than an average cotton towel smells after repeated use.
The silicone carrying cases are super resilient, and with the exception of the weak snap loop clips, the towels feel robust, dry quickly and seem to resist smelling too funky—even with the smaller size and low weight in comparison to other towels.
Usage Timeline
Initial Usage
Condition: Excellent
Good quality, comfortable to use.
3 Months of Use
Condition: Excellent
Materials hold up well, no issues, smells good compared with average cotton towels.
Access the Pro Community Discussion
Get your questions about the Matador NanoDry Towel answered from our team and the Pro Community right here on the page. Plus, join discussions with other members about gear, guides, and more.
Other Toiletries & Personal Care Reviews