Peak Design Everyday Backpack 30L (V2) Review
The Peak Design Everyday Backpack 30L (V2) is packed with thoughtful design details that work well for camera kits, EDC, and minimal travel—in that order.
Our Verdict
Unlock the Pro Summary
Save time. Get access to brief summaries of our reviews so you can browse and make decisions more efficiently.
Pros
High-quality materials and thoughtful design throughout
Versatile organization using Peak Design's origami dividers
Plenty of ways to access the bag's main capacity
Cons
Bag is only 30L when fully expanded
Top is not secure when using the highest MagLatch
Sternum strap is not easy to adjust or customize
Recent Pack Hacker Video
Technical Details
Capacity

30l

Total size depends on which MagLatch is used

Weight (lb)

3.88 lb (1.8 kg)

Without dividers

Denier

400D

Dimensions

20.5 in x 14.2 in x 7.8 in (52.1 x 36.1 x 19.8 cm)

Using the bottom MagLatch

Notable Materials

Recycled Nylon, DWR Coating, Polyester, Polyethylene, Polyurethane, YKK Zippers, Aluminum, Leather, Zoom Zippers, Hypalon®

Manufacturing Country

Vietnam

Laptop Compartment Size

15"

Warranty Information
Full Review
Get up to 10% off Peak Design • Join Pack Hacker Pro
Versatile and packed full of thoughtful details, the latest iteration of Peak Design's Everyday Backpack 30L is a strong contender for photographers, videographers, and commuters alike.
The Peak Design Everyday Backpack 30L (V2) is part of the California-based brand's Everday Line refresh—hence the "V2" in its name. This new version has all of the features we dig about the original, plus some updates that make it even better. In addition to the 30L pack we're reviewing, this revamped Everyday Backpack also comes in a 20L version.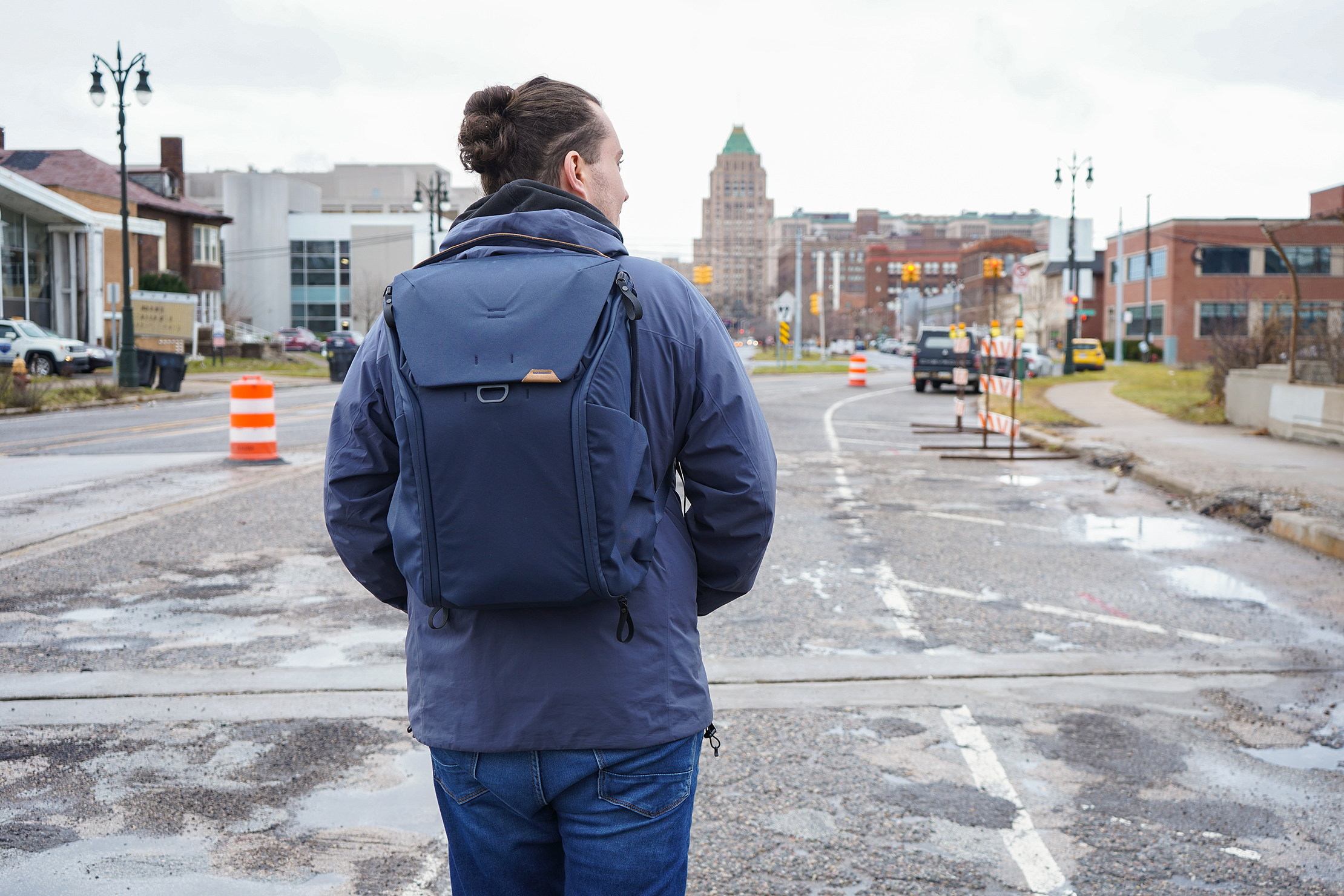 Now, this bag is a camera bag first—built around "access, organization, expansion, and protection." But we've also found that it's solid for daily carry (especially if you carry a lot of tech) or minimal one-bag travel.
We've been testing the Everyday Backpack 30L (V2) for the last three weeks in Detroit, Michigan, both as a camera bag and an everyday carry backpack.
So, without further ado, let's get into it.
Materials & Aesthetic
Peak Design makes some pretty slick-looking bags, and this one is no exception.
At the time of this review, the Peak Design Everyday Backpack 30L (V2) comes in three different colors: Black, Charcoal, and Midnight (dark blue). Each colorway except for the black is made of 100% bluesign®-approved recycled material, which lines up well with Peak Design's Climate Neutral initiative.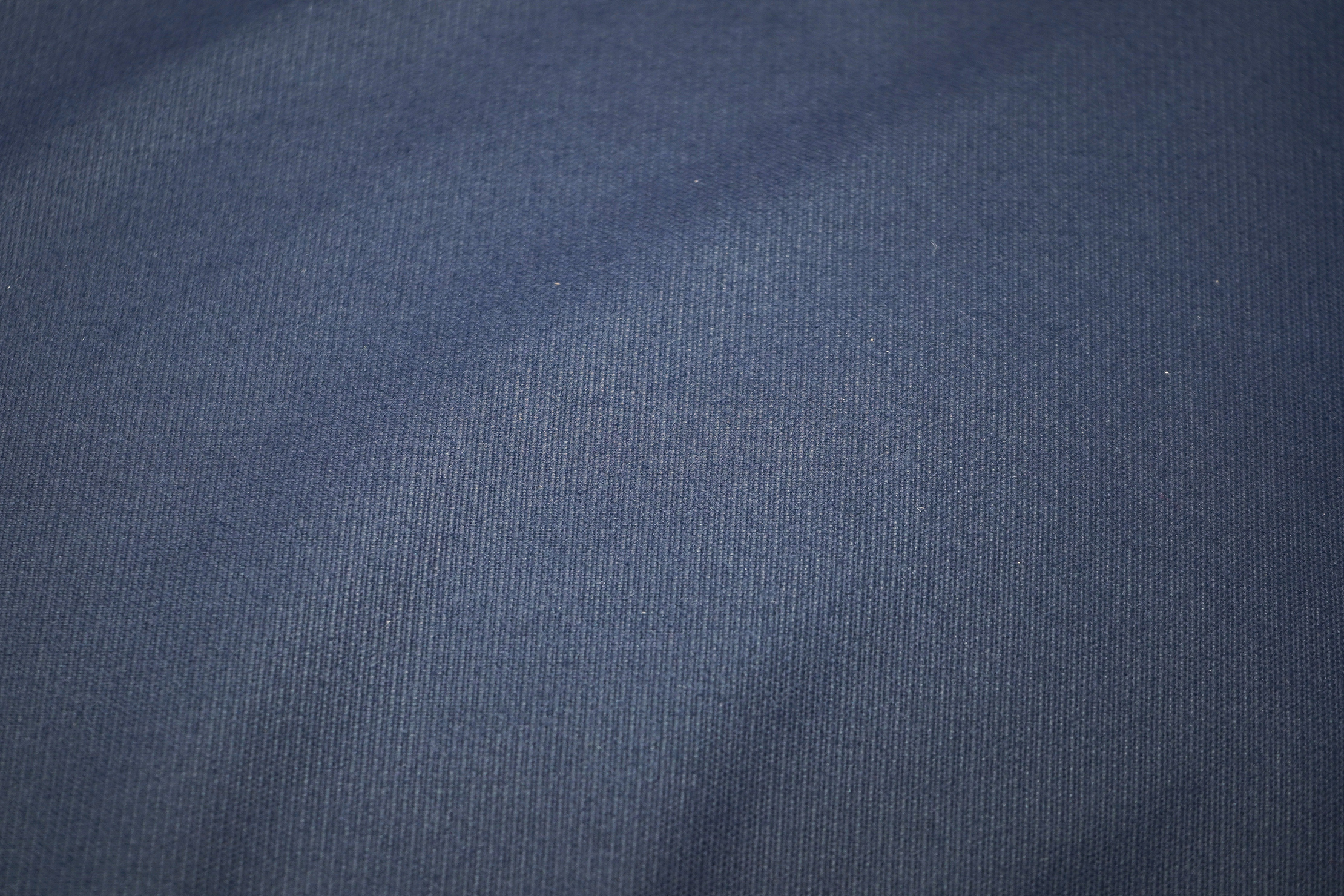 The main fabric on the backpack is a 400D double-poly coated, DWR-impregnated nylon canvas. Basically, that just means it's some pretty tough stuff. The fabric's ripstop qualities make it more durable, while the DWR coating helps with weather-resistance and gives it a slightly more rubbery feel.
Overall, we think the new material feels better than the coarser Kodra that was used on V1. And it's been holding up better during our testing (we've found fewer scuffs and marks, so far). We made a whole video comparing the Everyday Backpack V1 and V2, so if you want more nitty-gritty details, make sure to check that out.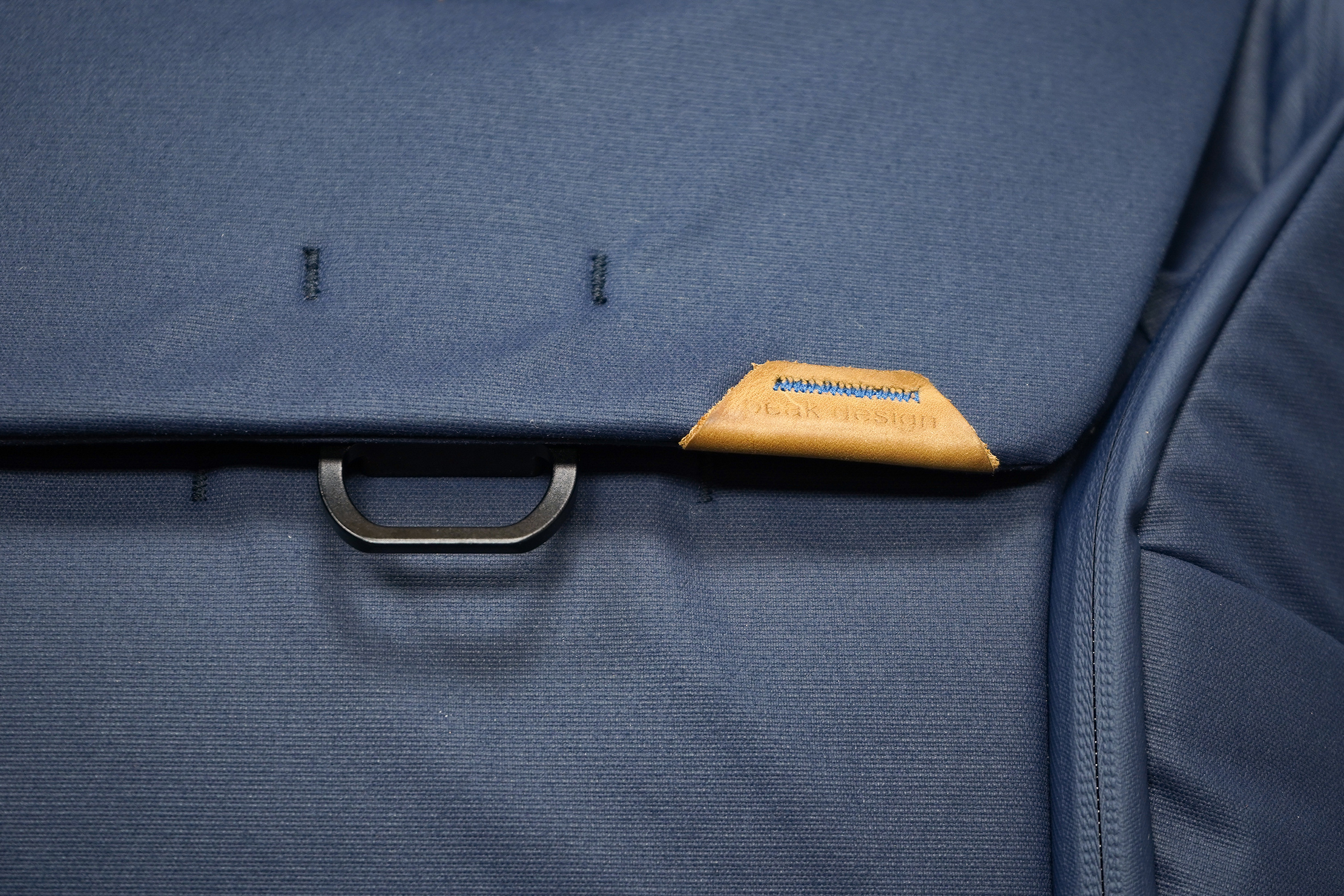 From a visual and branding perspective, the Peak Design Everyday Backpack 30L (V2) has a small Peak Design logo on its front tab, plus a logo on the back leather strap. You can also see the PD mark on other minor components of the bag, including the aluminum hardware.
Most of the team at Pack Hacker HQ is digging the Everyday Backpack's sleek, modern aesthetic. We checked in with our Instagram audience and you (mostly) agreed.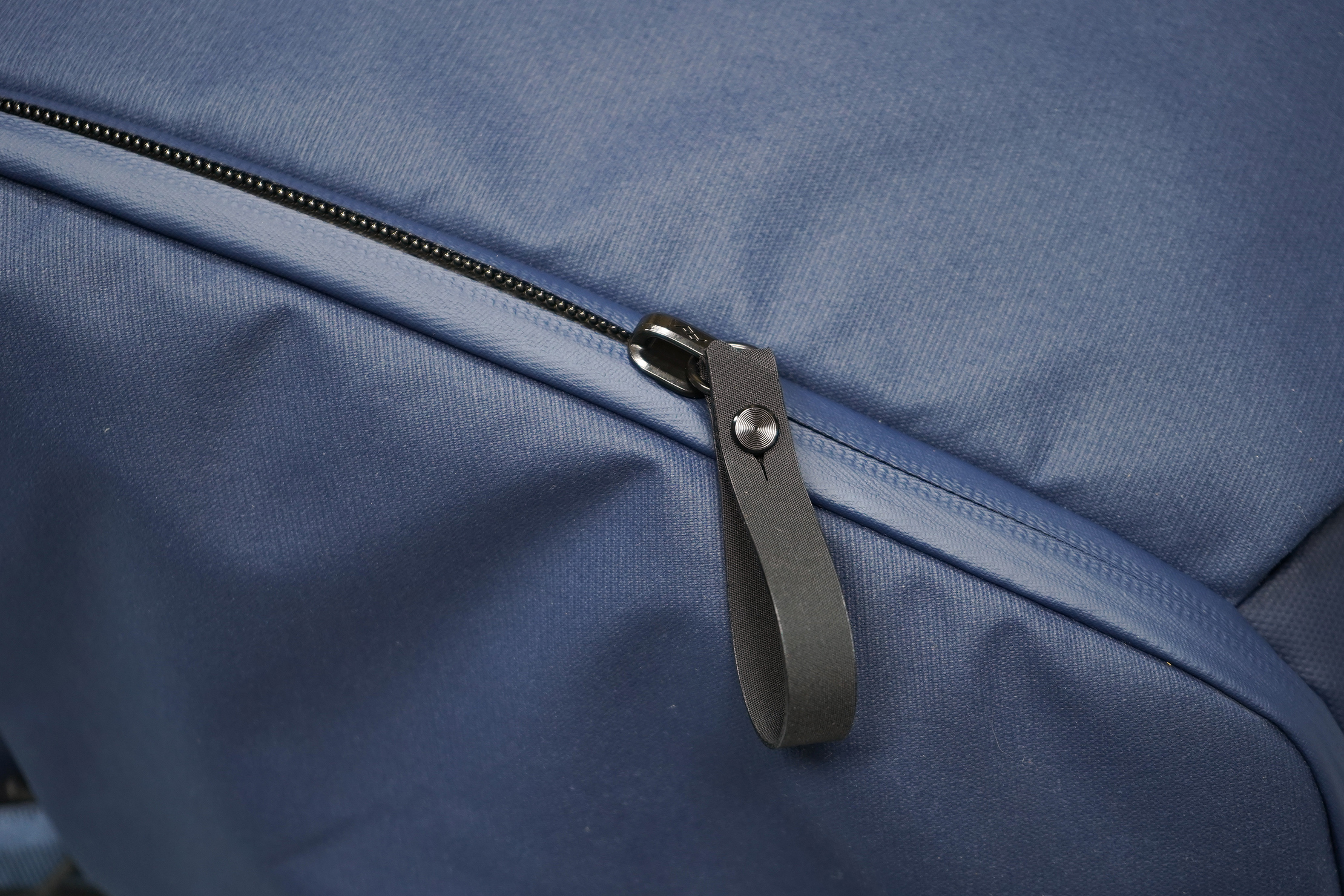 Okay, are you ready for some brief Zipper Talk? This backpack features Peak Design's proprietary UltraZips, which they developed with Zoom Zippers. These UltraZips not only look great (those beveled edges!) but are smooth to operate. They glide around the corners of this pack effortlessly—and that's not something we can say for a lot of bags.
We have our concerns about the durability of Zoom Zippers, but we've had no issues so far during testing this bag and others from Peak Design's new line. Only time will tell how they continue to hold up—don't worry, we'll keep you updated in the Usage Timeline below.
Wrapping up the rest of the materials on the Everyday Backpack 30L (V2), you'll find aluminum hardware on places like the sternum strap and shoulder strap adjusters. There's also some nubuck leather on the handle and other design accents. Finally, Hypalon is used on the zipper pulls and reinforcement areas like the back of the strap.
Exterior Components
As per usual with Peak Design, there's a lot of external components hidden in a sleek package. There's a lot to cover. So, get comfy, we're going in.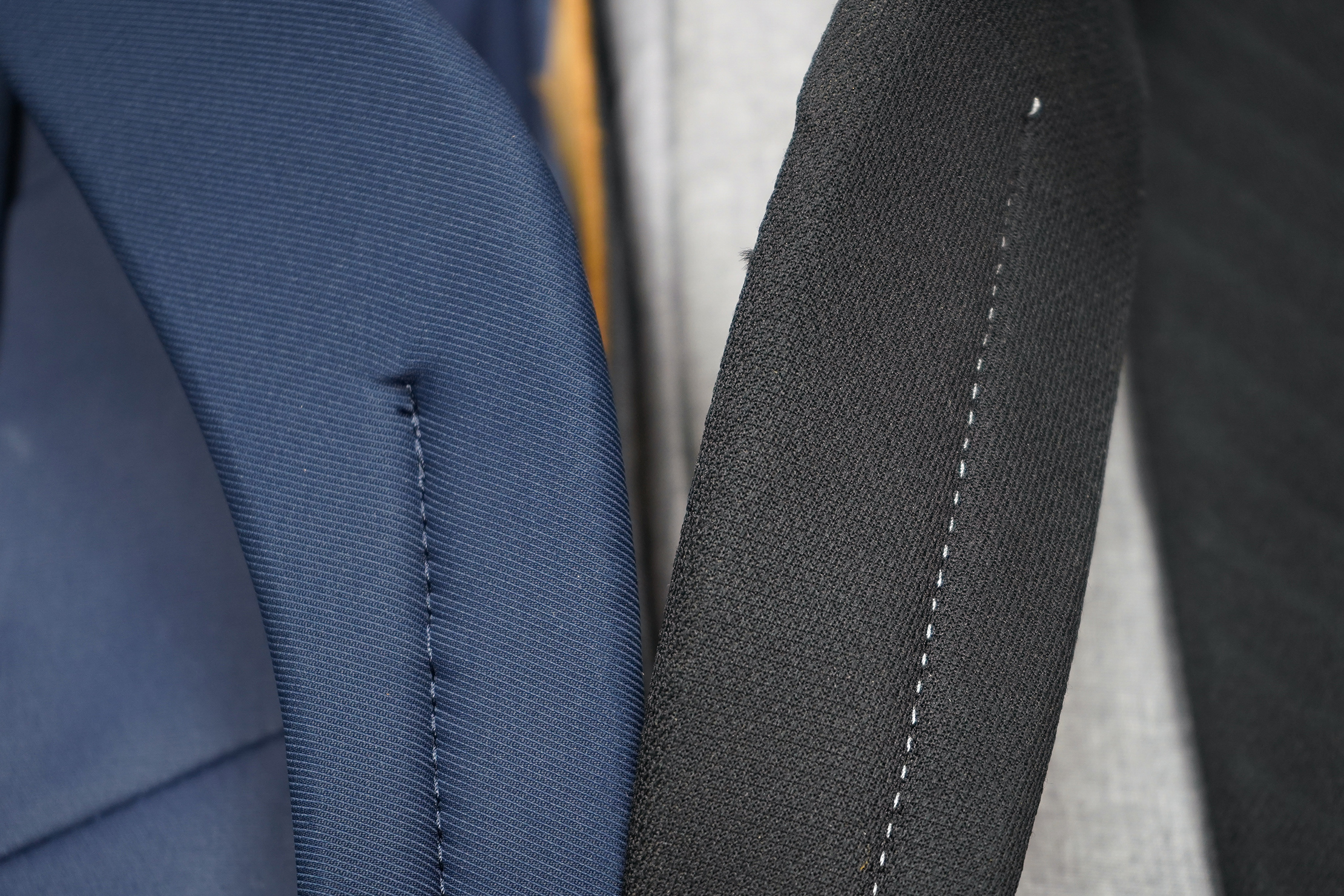 Let's start with the harness system—it's been a hot topic in the Pack Hacker community. To summarize our findings, Peak Design has improved the harness system on the Everyday Backpack (V2) quite a bit compared to V1, but it's still not the best harness system out there.
At the top of the harness system, there are swivel points that make the shoulder straps easy to move. You can swing the bag out in front of you to access the side pockets or main compartment (more on this later) to grab any gear you may need without skipping a beat.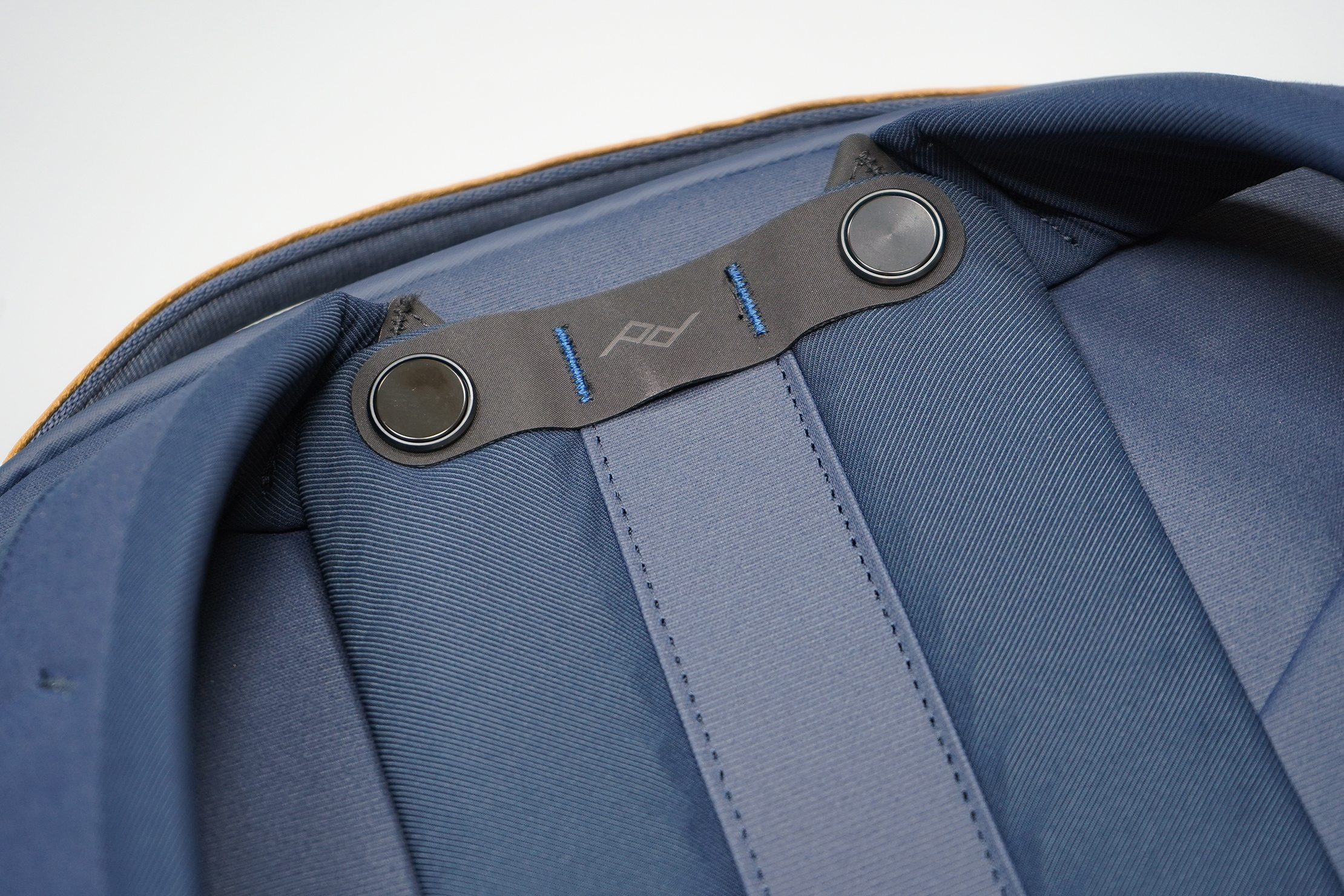 The shoulder straps themselves are dense, spongy, and comfortable, which is the biggest improvement when compared to the V1 line. The stretchy mesh on the back of the straps has more of a ripstop design, compared to the ballistic-style straps of the V1. We've heard some reports that the back of the straps on the original Everyday Backpack get chewed up and start pilling—this small design change should help with that. Of course, time will tell.
Moving down the shoulder straps, there's nubuck leather that not only looks good but can serve as an attachment point for a carabiner or other small items. At the bottom, some smaller nylon webbing can function in basically the same way.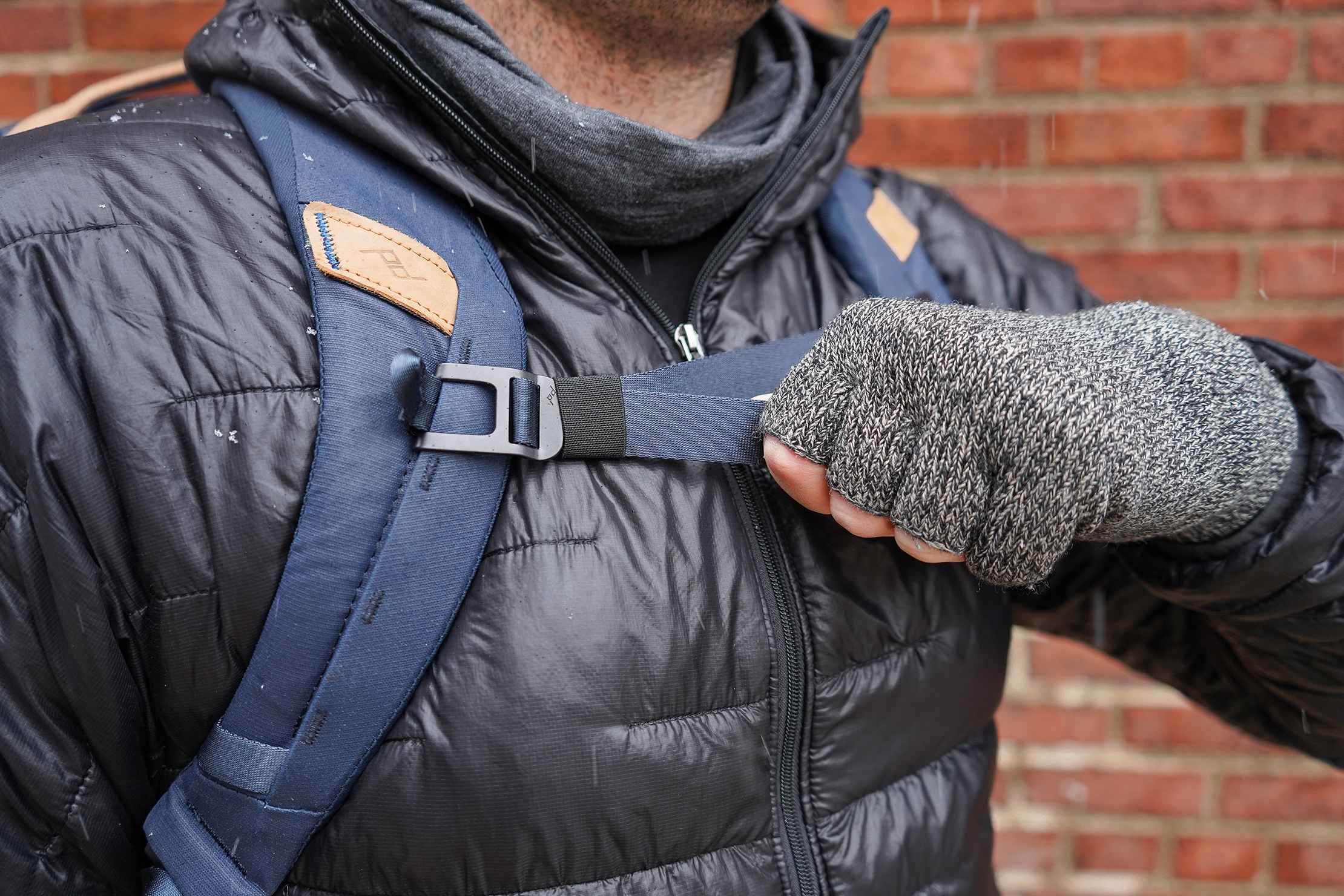 Between those two points is the removable sternum strap, which offers three different areas for adjustment. The aluminum hardware is great to look at (are we the only ones who get googly-eyed over beautiful buckles?) and the design is unique, but unfortunately, we do have some concerns with its functionality.
After three weeks of use, it still takes a lot of effort to fasten and unfasten—definitely longer than a traditional Duraflex buckle. We expect this will break in over time and/or get easier to use once you get the hang of it, but so far, it's still pretty tight. Also, there isn't a permanent style of attachment here, so there's a chance it could get lost. At least the stiffness helps with that, right?
To adjust the height of the sternum strap, you can pop the aluminum clips into one of the three slots. Most bags offer at least four adjustment slots. Some of the best sternum strap adjusters we've seen have a sliding rail that allows you to put it wherever it fits best on your body. So, this sternum strap is fine, but it's not the best we've seen.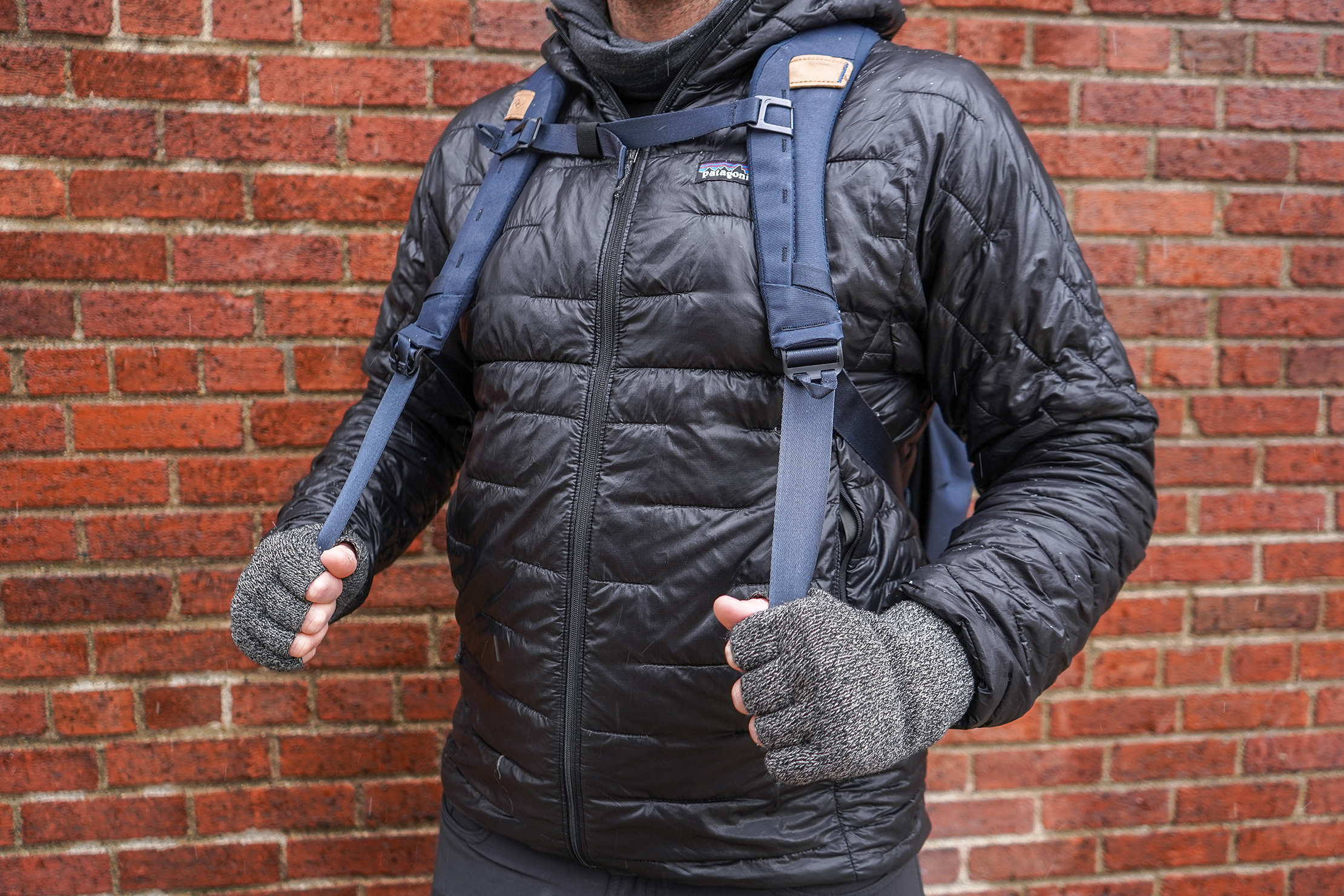 Almost done with the straps—we told you there was a lot to cover. The hardware at the bottom of the Everyday Backpack V2's shoulder straps is super easy to adjust. Just grab the small nylon loop and pull—the straps glide like butter.
Finally, the shoulder straps on the Peak Design Everyday Backpack 30L (V2) have magnets in them. Those magnets line up with magnets in the back panel so you can criss-cross and stow them—not exactly a necessary feature, but we always like the option to stay low-profile and keep straps out of the way, especially when jamming the bag under an airplane seat or in crowded places and where they could get snagged.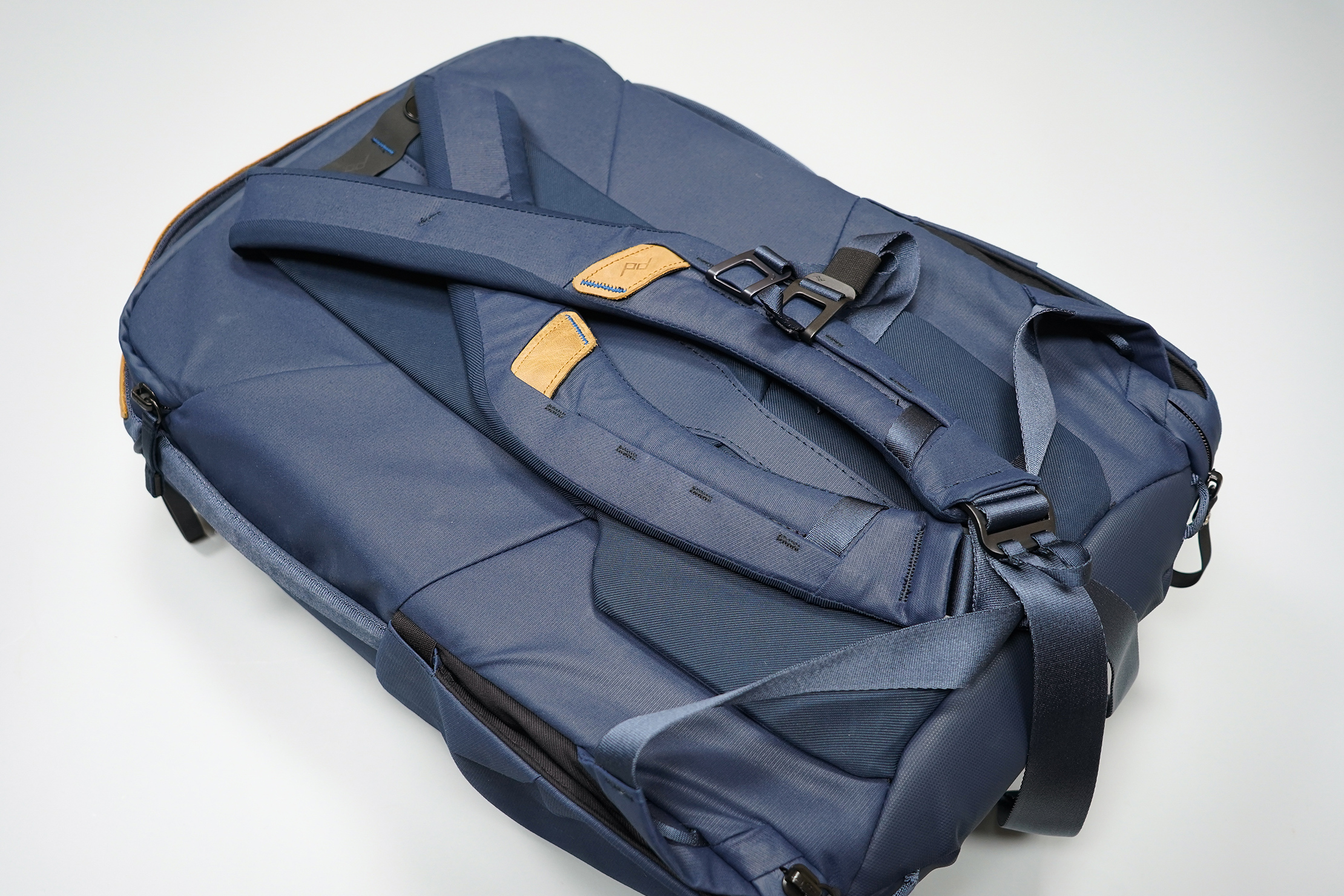 Speaking of the back panel, it's decently padded and will help with airflow to some degree. Behind the back panel is a luggage passthrough, which is also magnetized—a sophisticated improvement over the velcro used in V1. This new version feels a lot cleaner.
Behind the back panel is another improvement over V1 of the Everyday Backpack—a small, velcroed slot at the bottom that allows you to slide in a removable hip belt. A hip belt for a bag this size isn't necessary, but if you're hauling around a bunch of heavy lenses and camera gear, it can be nice to have.
The first version's hip belt was more like a waist strap. With this attachment point, the new hip belt should be more functional and comfortable to use. Although we haven't tested it yet, the way it's structured makes a lot more sense than what Peak Design had going in V1.
Overall, we believe the harness system on the Peak Design Everyday Backpack 30L (V2) is a big improvement on the original—especially when it comes to the straps. They're more robust, cushy, and seem more durable. Still, this isn't our favorite harness system that we've ever tested.

Next up, the Everyday Backpack's water bottle pockets. There's one on each side the bag that lay flat with magnets (are you sensing a theme?). They stretch out nicely thanks to the elastic loop at the top, and mesh along the back allows you to have a little bit more room. We're digging that these water bottle pockets lay flat but can stretch out if you want to fit bigger bottles or accessories like a tripod.
At the bottom of each side pocket, there's a drain hole. Now, a drain hole is a nice feature, but we're surprised that there's no eyelet or additional reinforcement here.
Without that reinforcement, we've found that these holes can stretch out and become misshapen—which has already happened to some degree in our three weeks of testing, even with the 400D fabric being pretty robust. It's a super-minor detail, but still surprising given all the other design considerations and attention to detail going on with this bag.
We're totally nitpicking—but hey, that's what we're here for. That said, the side water bottle pockets are great overall.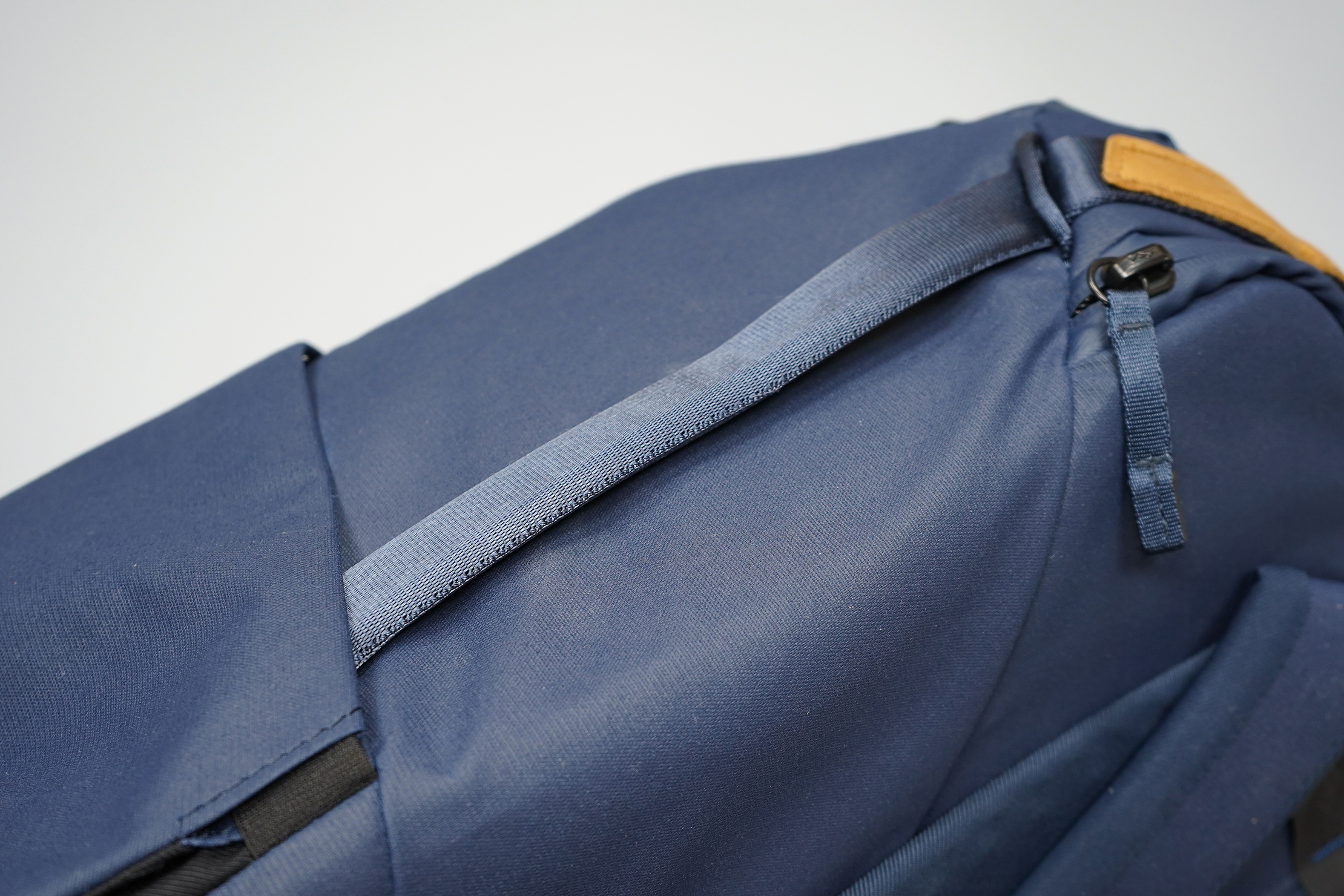 There are three handles on the Peak Design Everyday Backpack 30L (V2). The two on the sides are functional, nicely padded, and easy to grab—although if you have a taller water bottle or a tripod on the side, you may not be able to take full advantage of the side handle.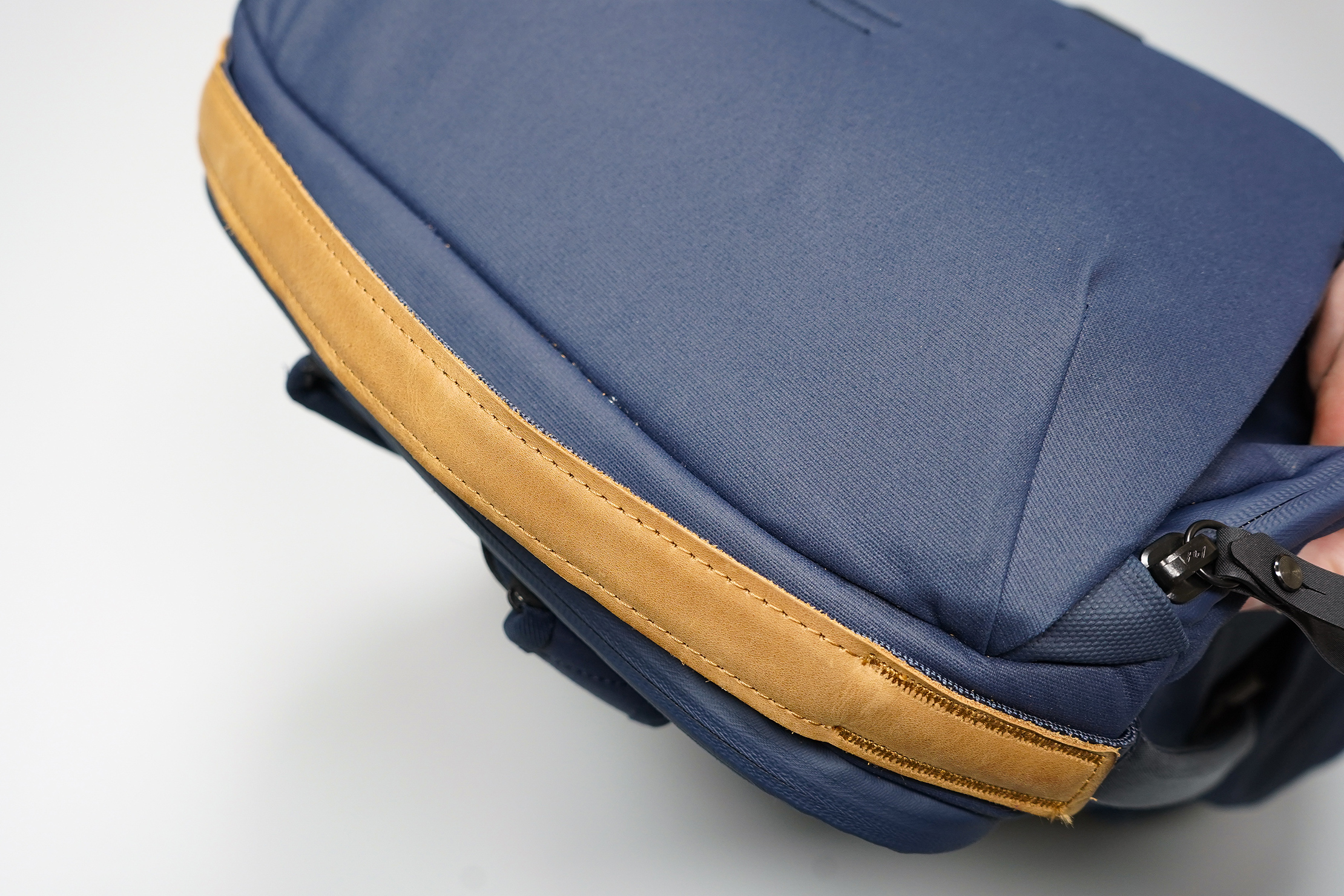 The top handle is also padded and easy to grab. And we dig that nubuck leather accent. Some of the color combinations may seem a bit clashy (is that a word?) when you factor in these leather and Hypalon accents, but it's a matter of personal preference.

If you like security, you'll probably appreciate that every external zipper on the Peak Design Everyday Backpack 30L (V2) is lockable thanks to the Hypalon pulls and small attachment loops around the bag. Simply unhook the zipper pull, thread it through a loop, and hook it back together.
If you have zippers at the bottom of the pack, they can attach to a small loop near where the strap meets the bag. If you have zippers positioned toward the top, there are loops up there as well. You can also fasten the laptop compartment zipper to one of the main zippers for some added security.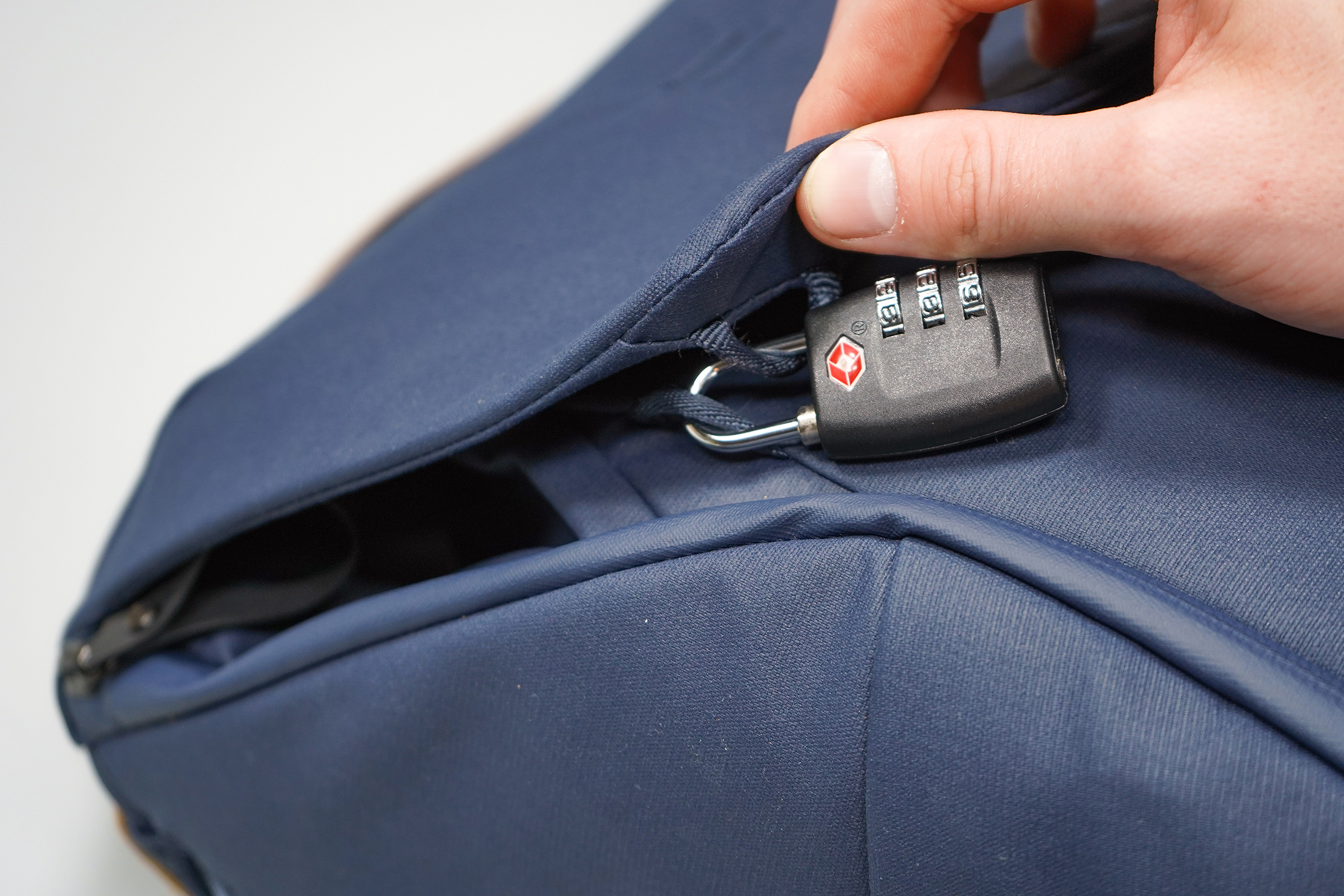 While you can also lock down the top flap with TSA-approved locks at the lash points, we're surprised Peak Design hasn't created an integrated way to secure the top flap as they have with the zippers. There may be a way to do this integrated with the bag, but, at the time of this review, we haven't been able to spot it.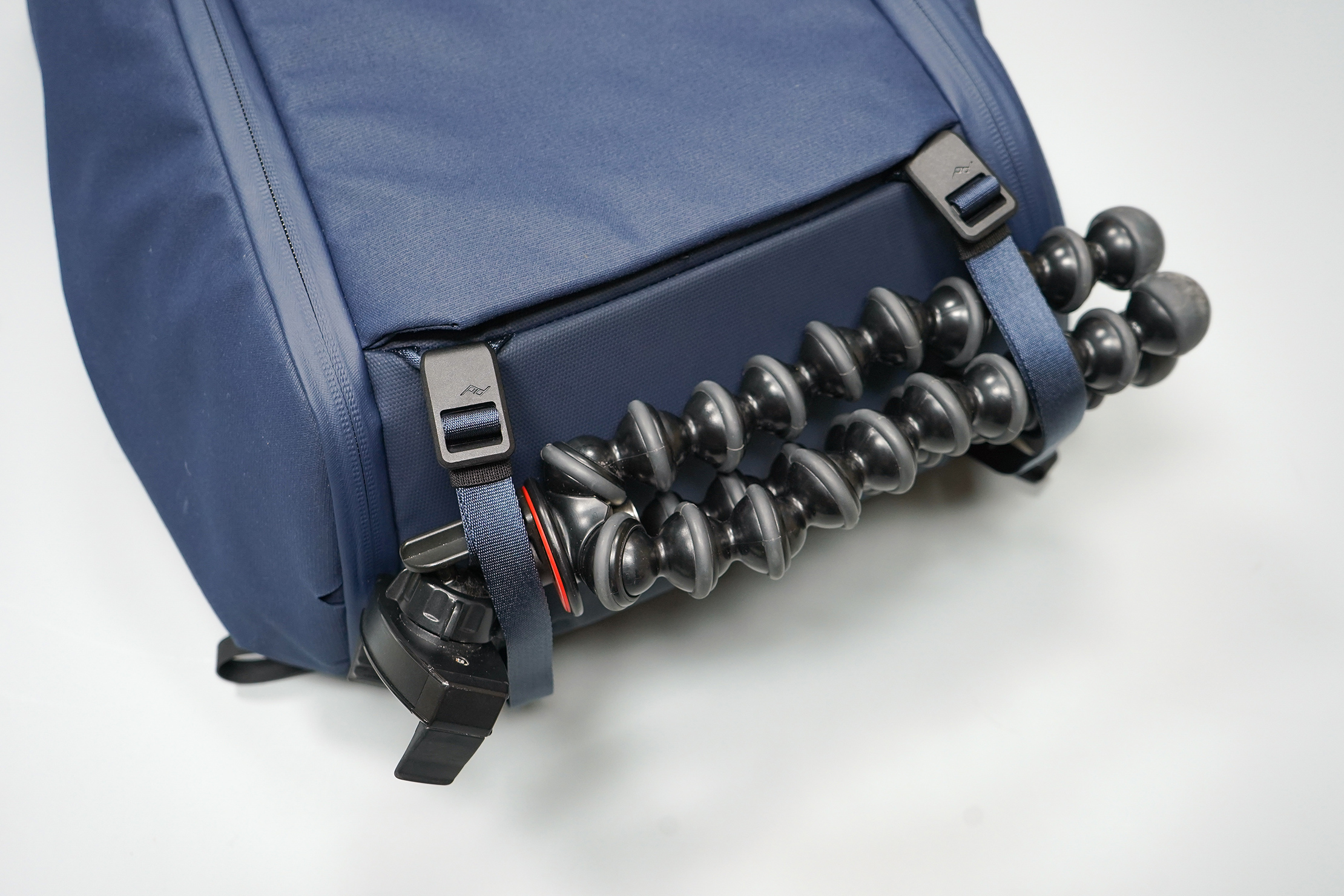 Two lash straps deploy from a magnetic pocket at the bottom of the Everyday Backpack 30L (V2). You'll also get two other lash straps included in the side pockets on the interior of the bag. The front lash straps can be used to attach something like a jacket, and the bottom ones for something like a tripod. These detachable straps are an effective way to keep a minimal and clean look on the outside, while still adding some additional carry functionality to the bag should you choose to use it.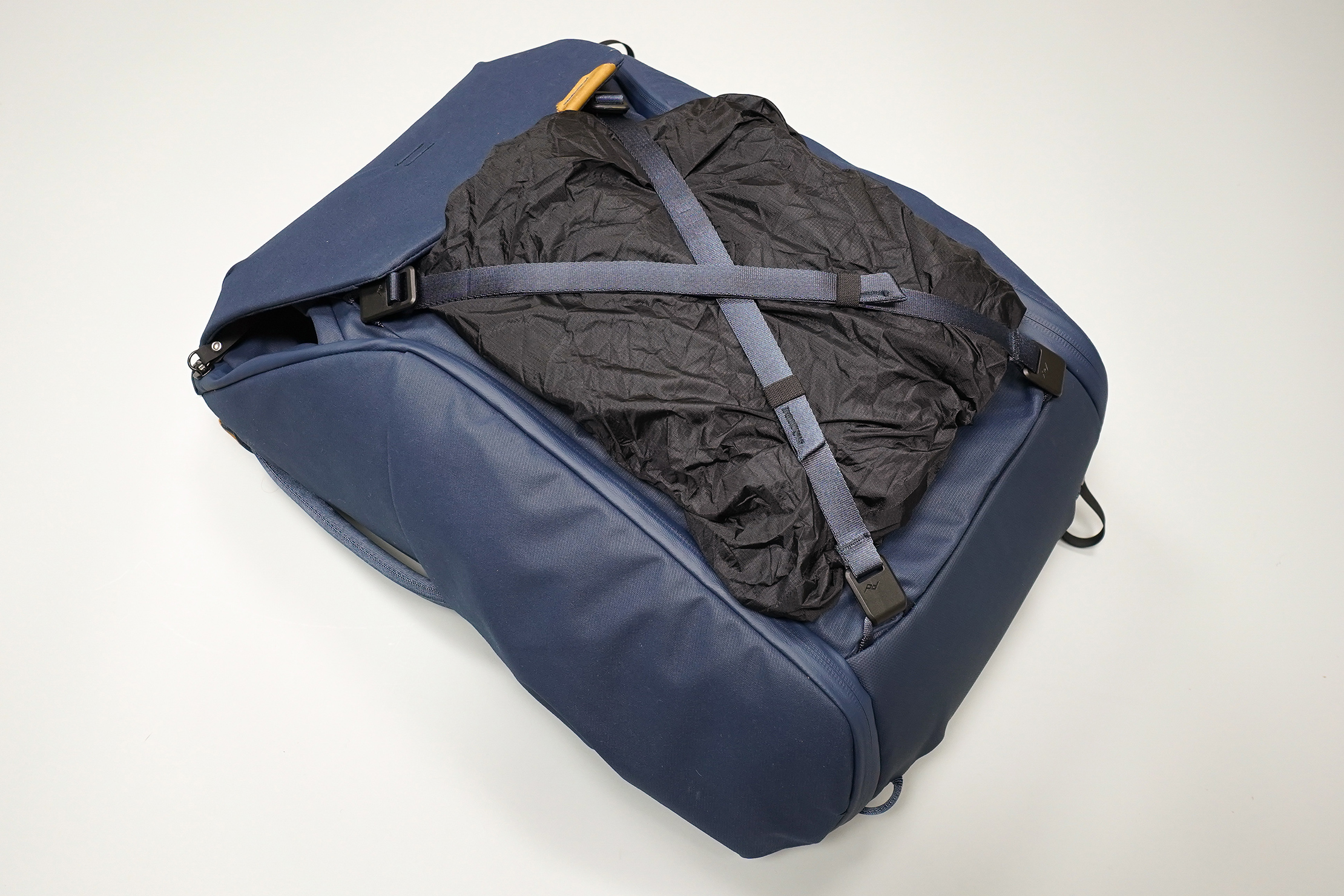 A bungee-like stretchy key leash also comes with the Everyday Backpack 30L (V2). We have to say, we prefer the V1's material for this key leash—it was a robust seatbelt-like nylon webbing that felt sturdy. The V2 key leash feels a little, well, cheaper and more like an afterthought since it's not integrated with the bag at all.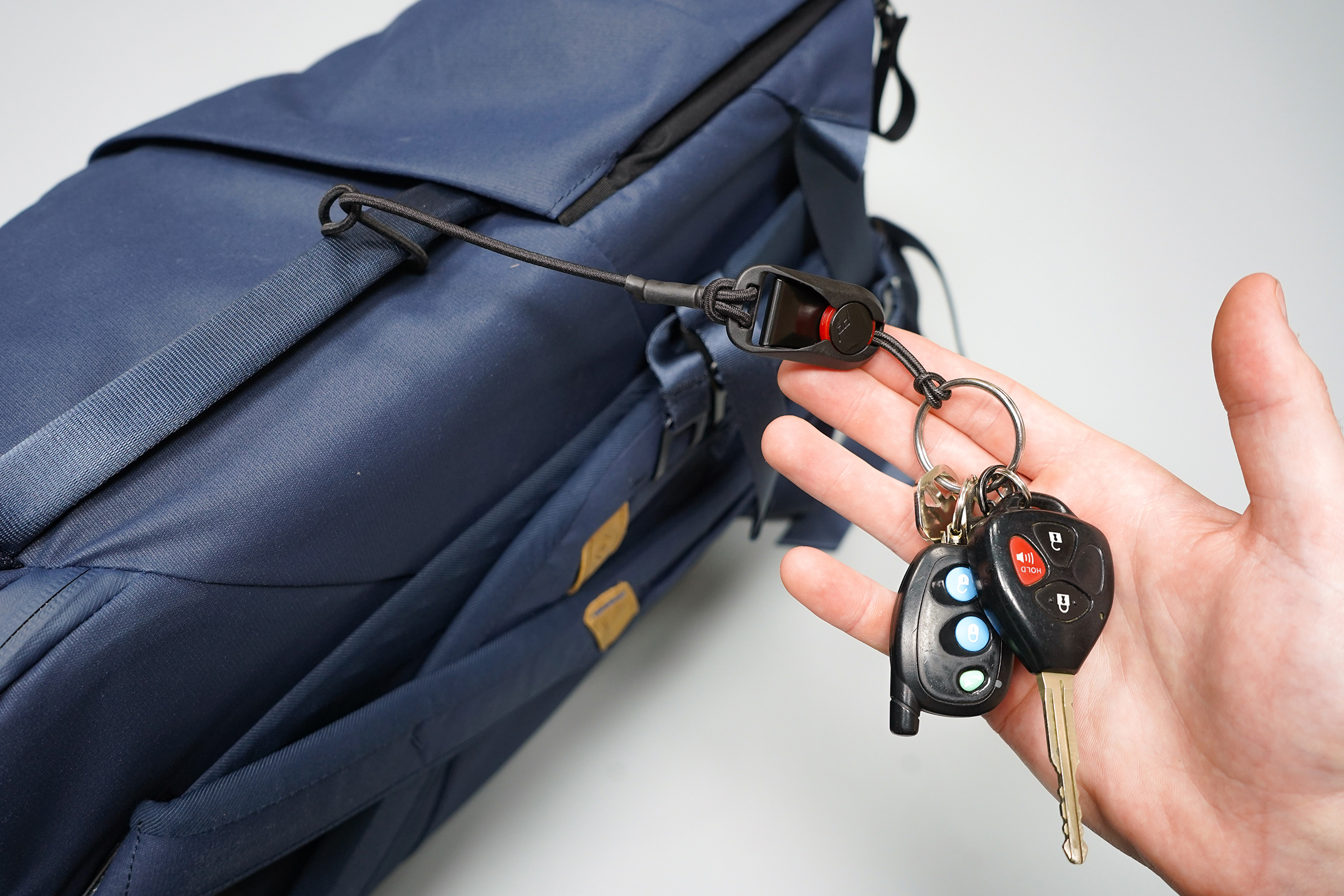 Inside the Pack
Alright, folks. We've made it inside the pack. If you need to take a break, we totally get it. Still with us? Let's dive in.
The laptop compartment sits at the back of the Peak Design Everyday Backpack 30L (V2) and features a pretty slick adjustable laptop sleeve—it's like a laptop hammock. You can reposition the height of the sleeve to fit different size laptops. Lower it for a 15″ laptop, for example, or adjust it up so a 13″ laptop sits higher in the pocket.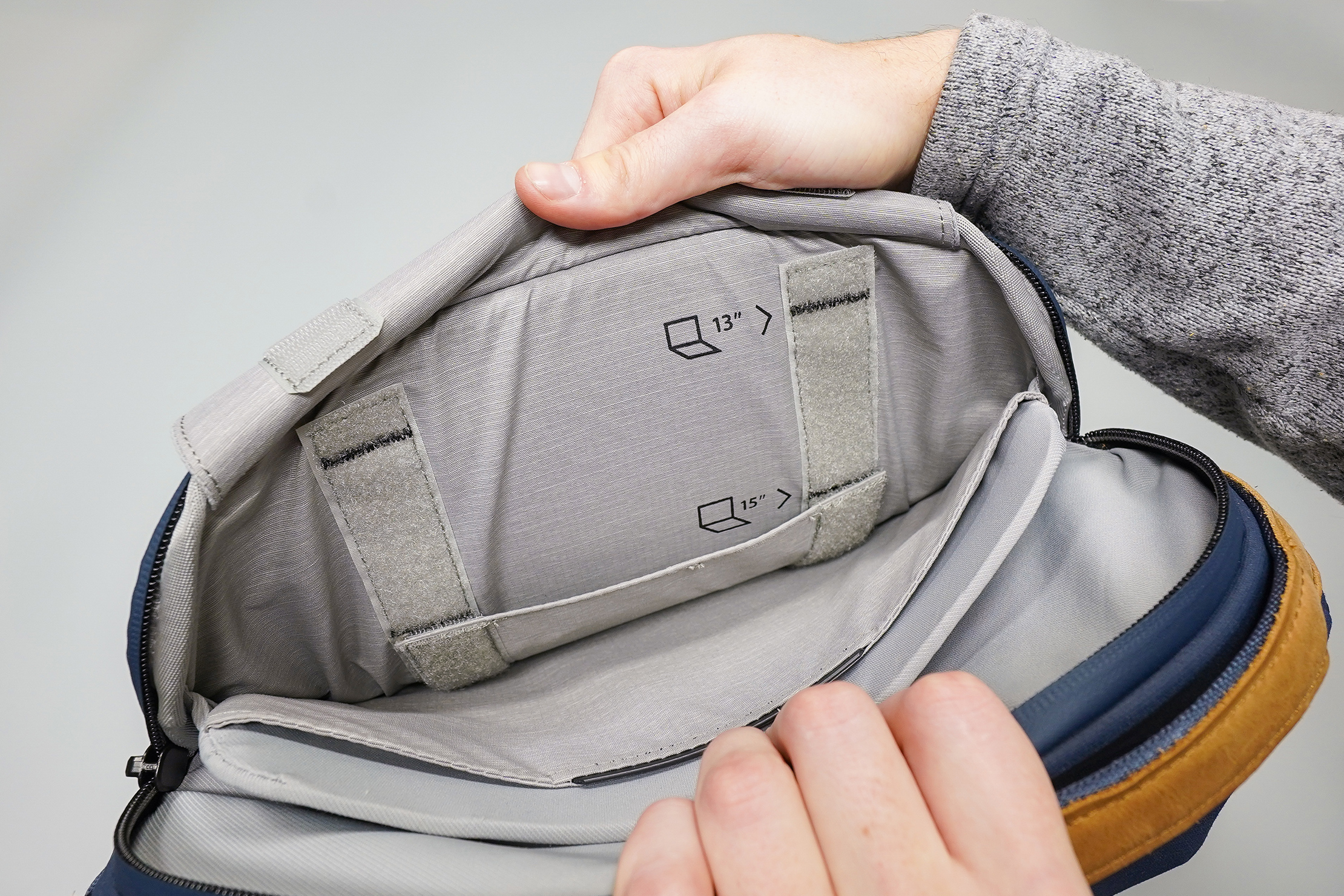 This laptop sleeve can be a little tricky to adjust and the velcro tends to get stuck, but once you set it you can pretty much forget it—unless you get a new laptop. We like that the laptop is suspended in the back, protecting it from unexpected drops of the bag.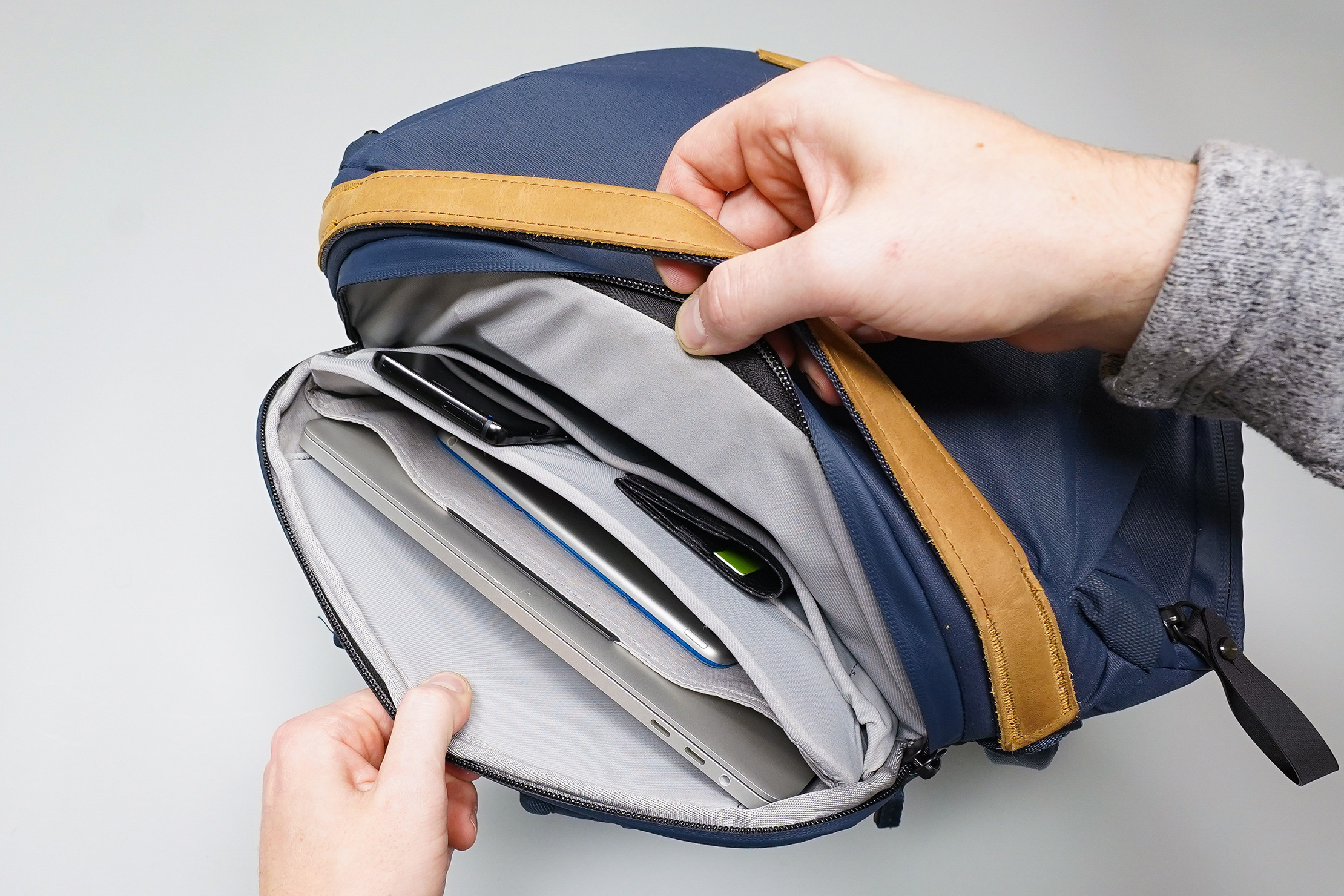 In the laptop compartment, you'll also find a tablet sleeve and a stretchy mesh section that's great for your tech accessories. The tablet sleeve closes with (you guessed it) magnets to keep your tablet or documents in place.

The stretchy mesh drop pocket has two divider pockets made from the same material—which feels soft and strong. This pocket is a good place to stash your phone, wallet, keys, and any tech accessories that you carry on the daily. Just keep in mind that the more you fill up this tech pocket, the more it will cut into the main compartment of the bag.

Whew, okay. It's (finally) time to get into the main compartment of the Peak Design Everyday Backpack 30L (V2). There are three ways to access the main compartment—the top flap that opens up in a top-loader style and the two side zips.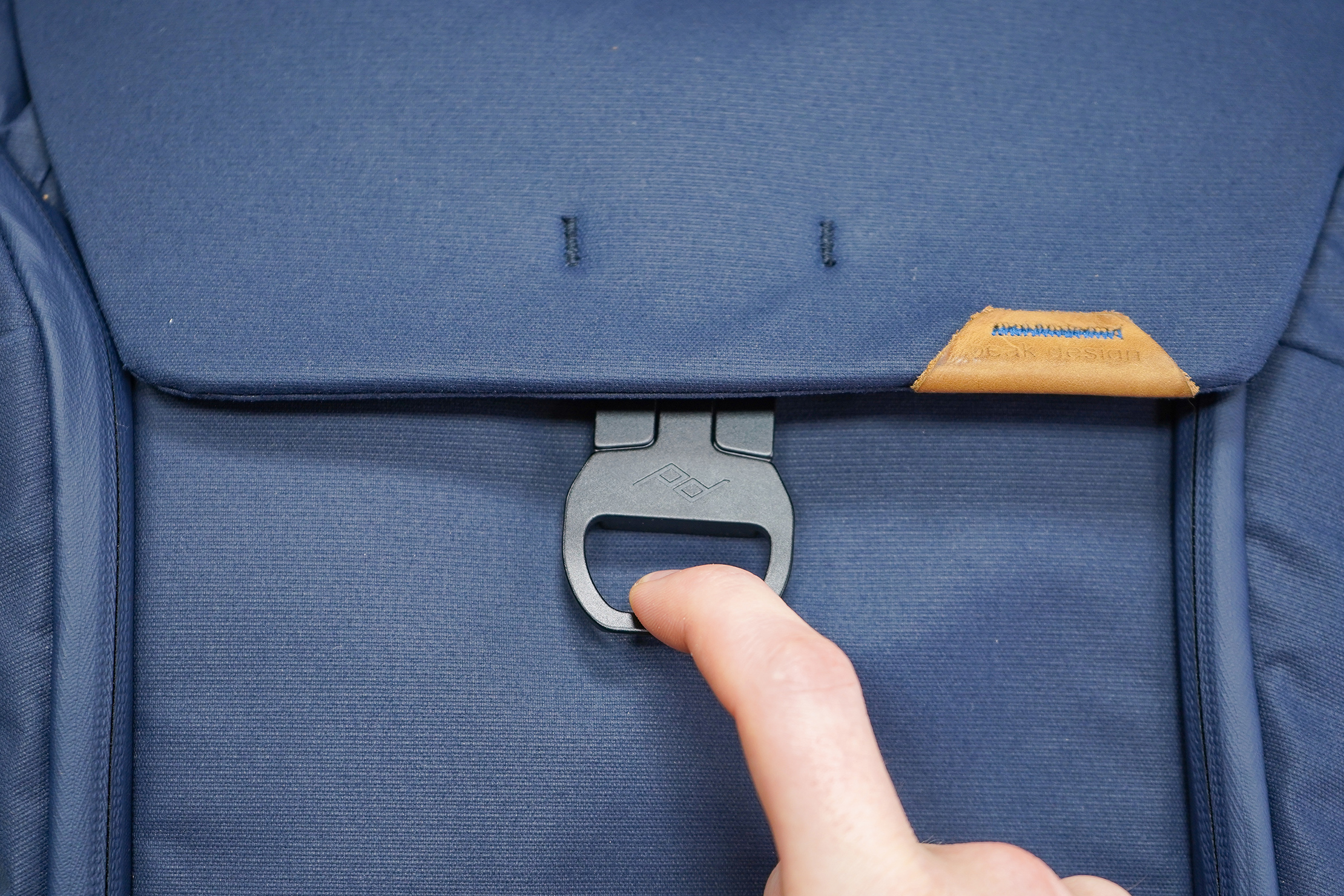 Starting at the top, we dig the MagLatch design on this bag. It's slick to use and fast to access. Pull down on the metal loop to disengage the magnet and open the bag. When you've got what you need, simply pull that loop below the desired rung and let the magnets do the rest. Plus, if you find yourself waiting in the airport lobby or stuck on a long bus ride, it's great to fiddle with.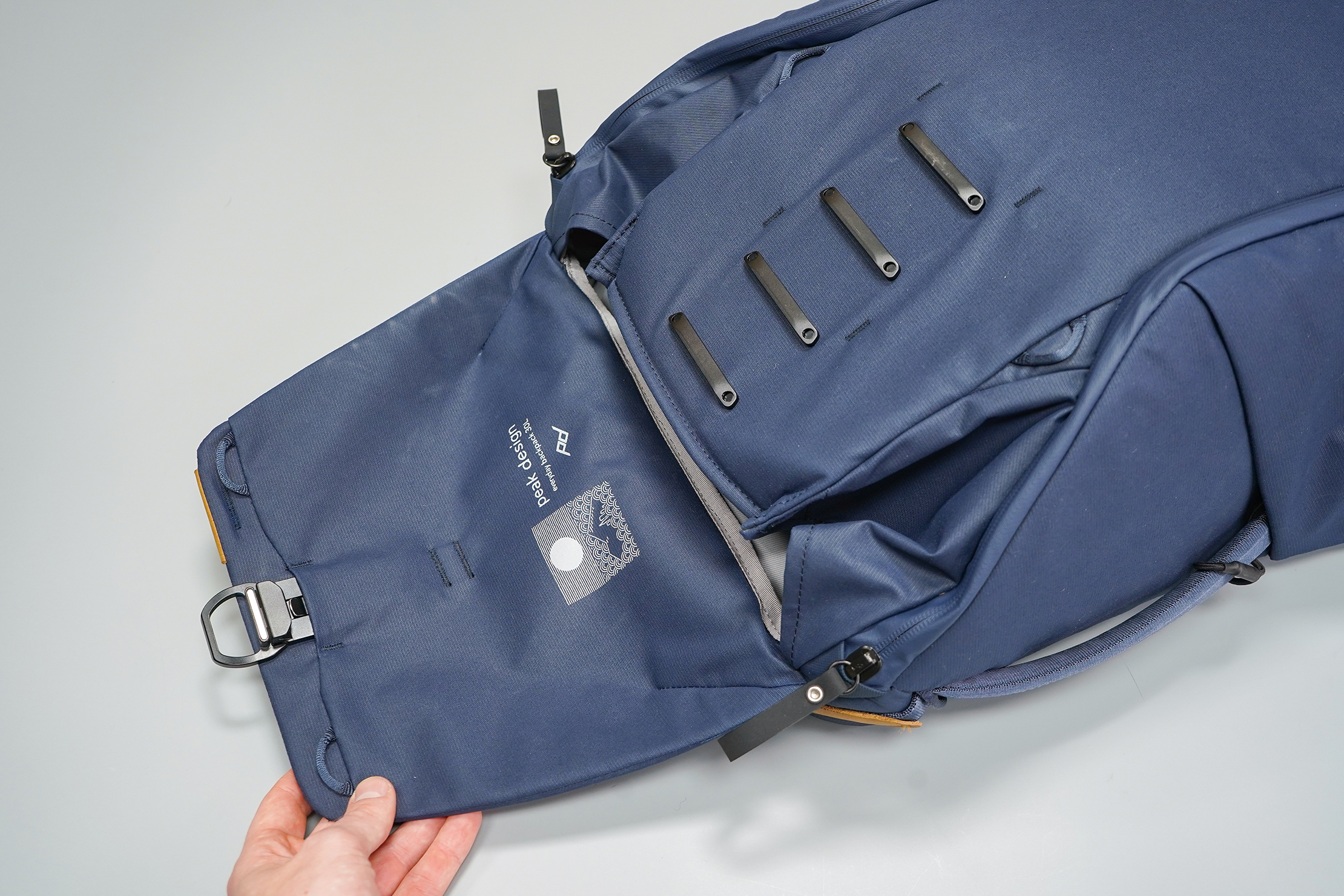 Now, you should know that although Peak Design calls this Everyday Backpack the 30L version, it's actually only 30L when the MagLatch is fully at the top. The brand's marketing is a bit misleading in this regard—it's kind of an unsexy way to use the bag if the MagLatch is always at the top.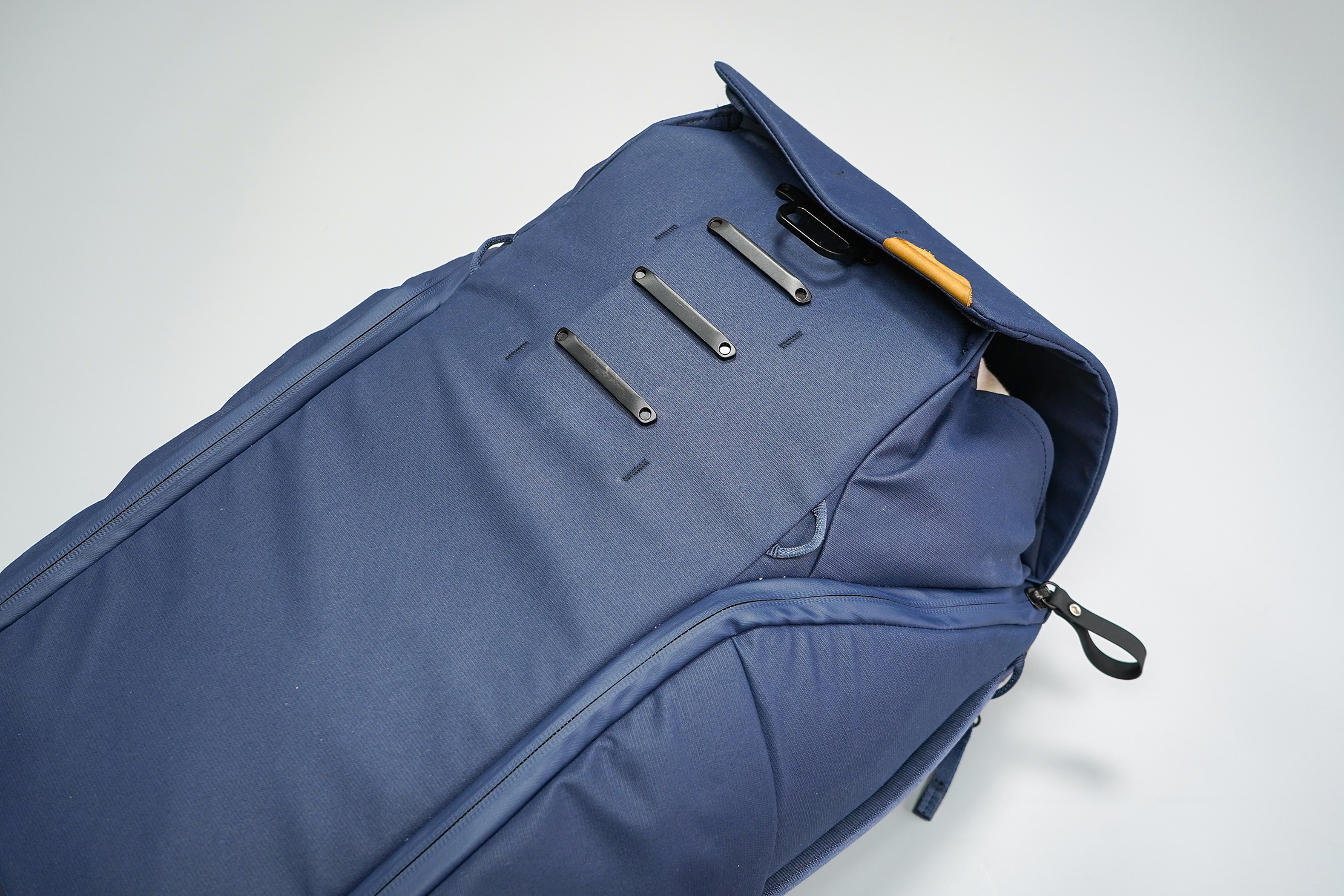 Also, when the MagLatch is attached in the top position, the fabric on the top of the bag can stick out on the sides and potentially allow rain, snow, or sneaky pickpockets inside. The weather-resistance of the Everyday Backpack's material is great, but it doesn't do too well if it's left open.
We found this gap to be a problem with V1 as well. While V2 is an improvement (the gap is a lot smaller), it's still an issue. We've found the Maglatch is best used on the lowest bar—so if you truly have a full 30 liters worth of stuff, you might want to consider a slightly larger bag.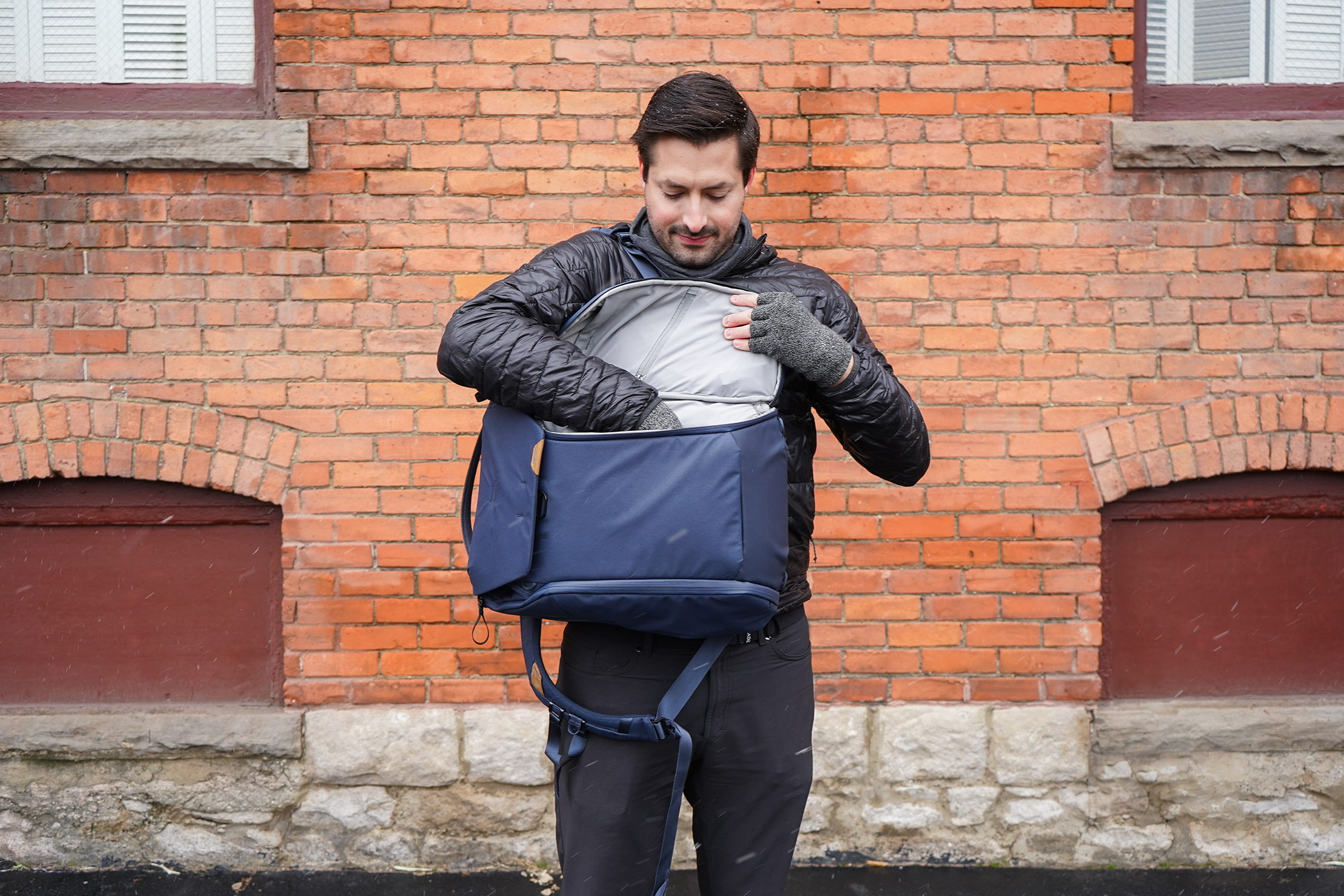 Like we mentioned at the beginning of this section, you can also access the Everyday Backpack's main compartment from either side of the bag. Remember those UltraZips we talked about earlier? Well, there are four of them (yeah, four) around main access of the pack. With the four zippers, you can keep one the top and one the bottom on each side. That way, you'll have easy access to both sides, the top, and the bottom of the main compartment.
If you're using the Everyday Backpack 30L (V2) as a camera bag, this feature is awesome. You can have all your travel camera gear organized inside (more on this shortly), swing the bag around to your front, and get exactly what you need—without taking everything else out of the bag.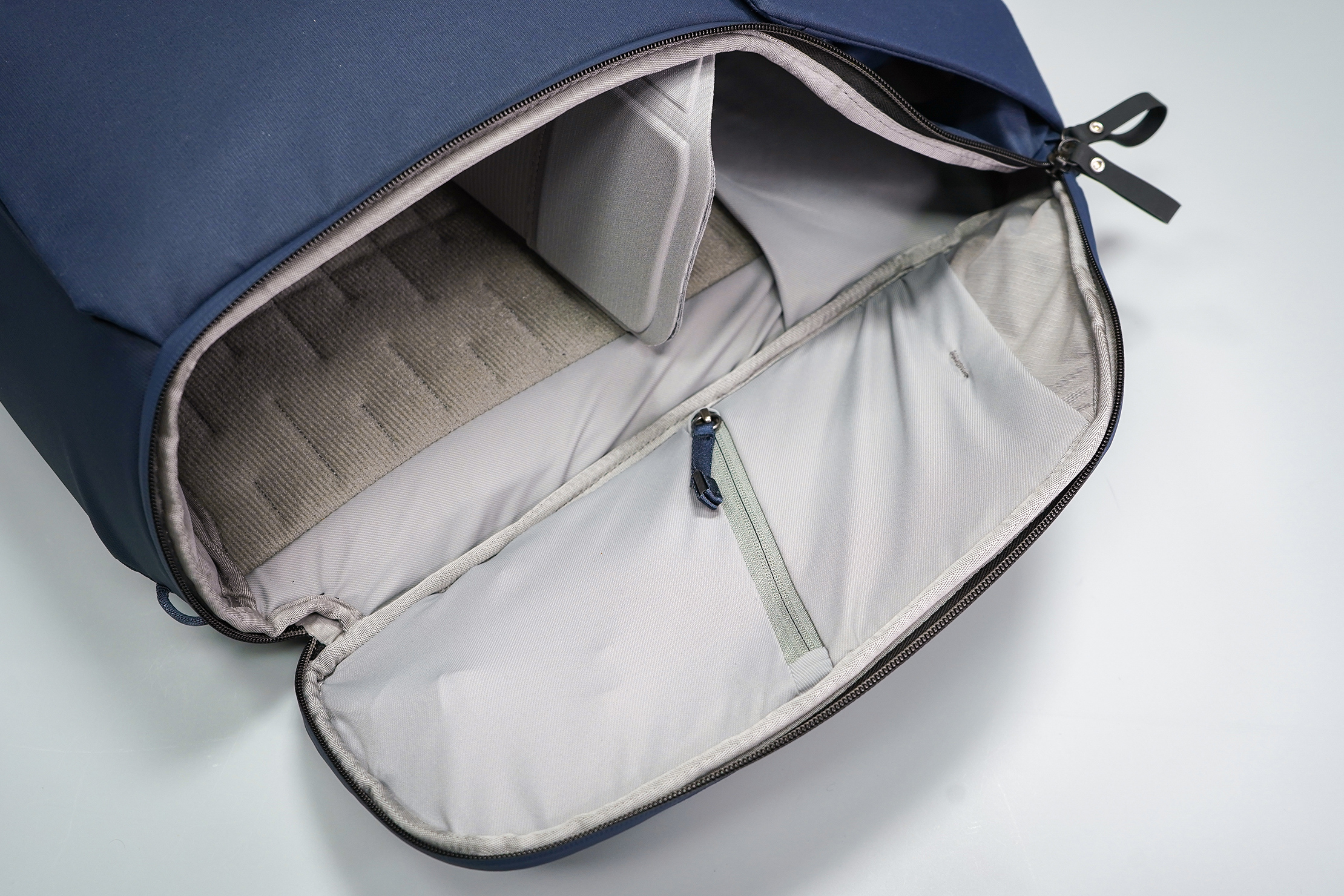 Each side flap opens up to reveal some simple, solid organization. A pocket on top that closes with—yep, more magnets—and a zippered pocket below. Both are made with that same stretchy material.
Inside the bottom zippered pockets, you'll find two small divider pockets which are a good size for SD cards, dongles, or other smaller bits. This is also where Peak Design stashes the other two lash straps that come with the bag.
Both side flaps are the same, with one small exception. The stitching used on the top pocket is gray on the wearer's right side and black on the left. Why? So you can keep your charged batteries on one side and your dead ones on the other. Whether or not that's useful is totally up to you, but we like it. You can use those colors to organize your bag, keeping a mental note about what's in which pocket—whether it's camera batteries, sunglasses, a power bank, or anything else. And the black and gray looks cleaner than the red and blue stitching in V1.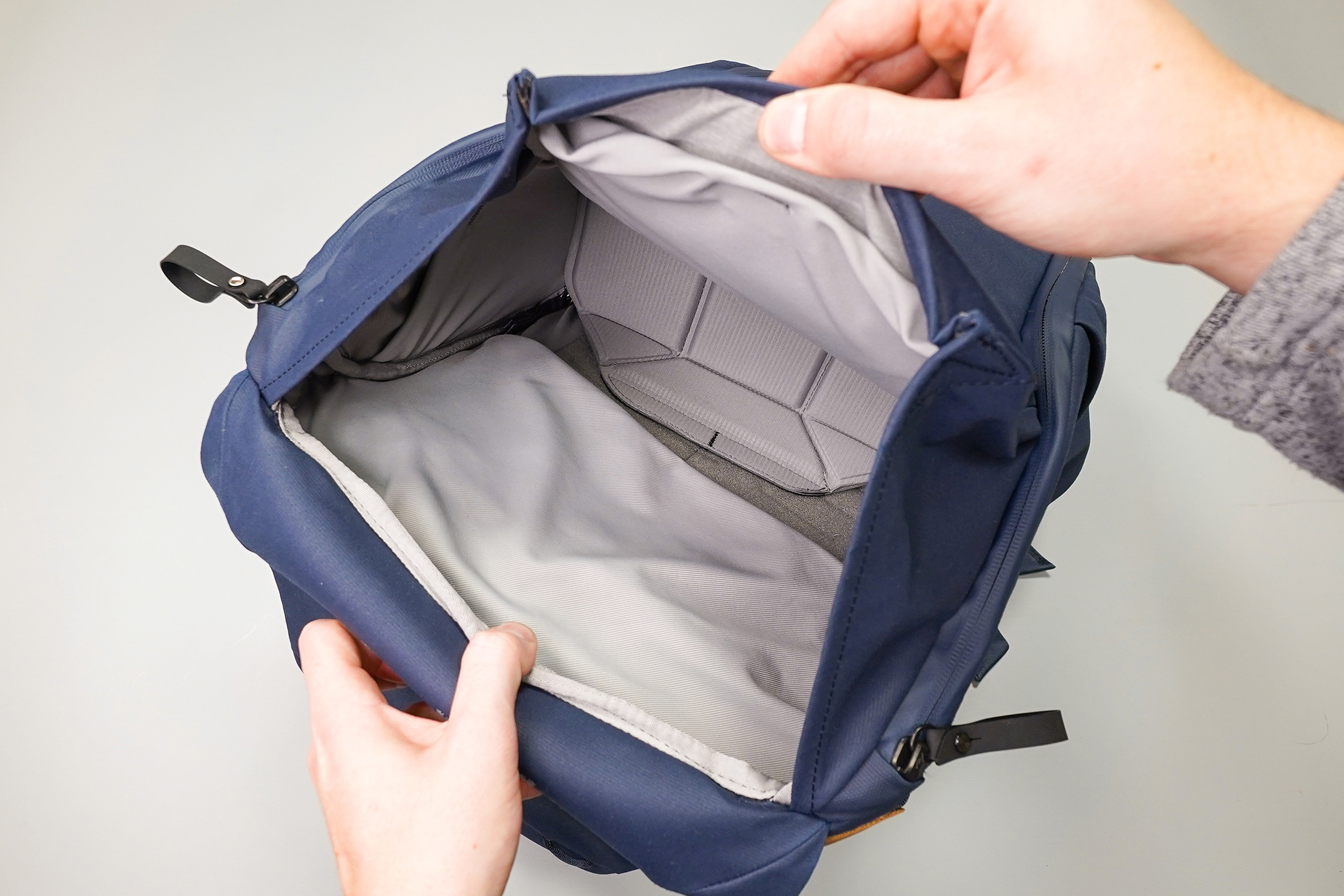 The Everyday Backpack 30L (V2) comes with three of Peak Design's signature FlexFold dividers. These origami dividers can be put in all kinds of positions so you can fit your lenses, camera bodies, and any other accessories exactly how you want them. If you're an organization nerd, you're going to love these things. They're great for travel—specifically travel with a camera kit—but they work for your everyday carry needs as well.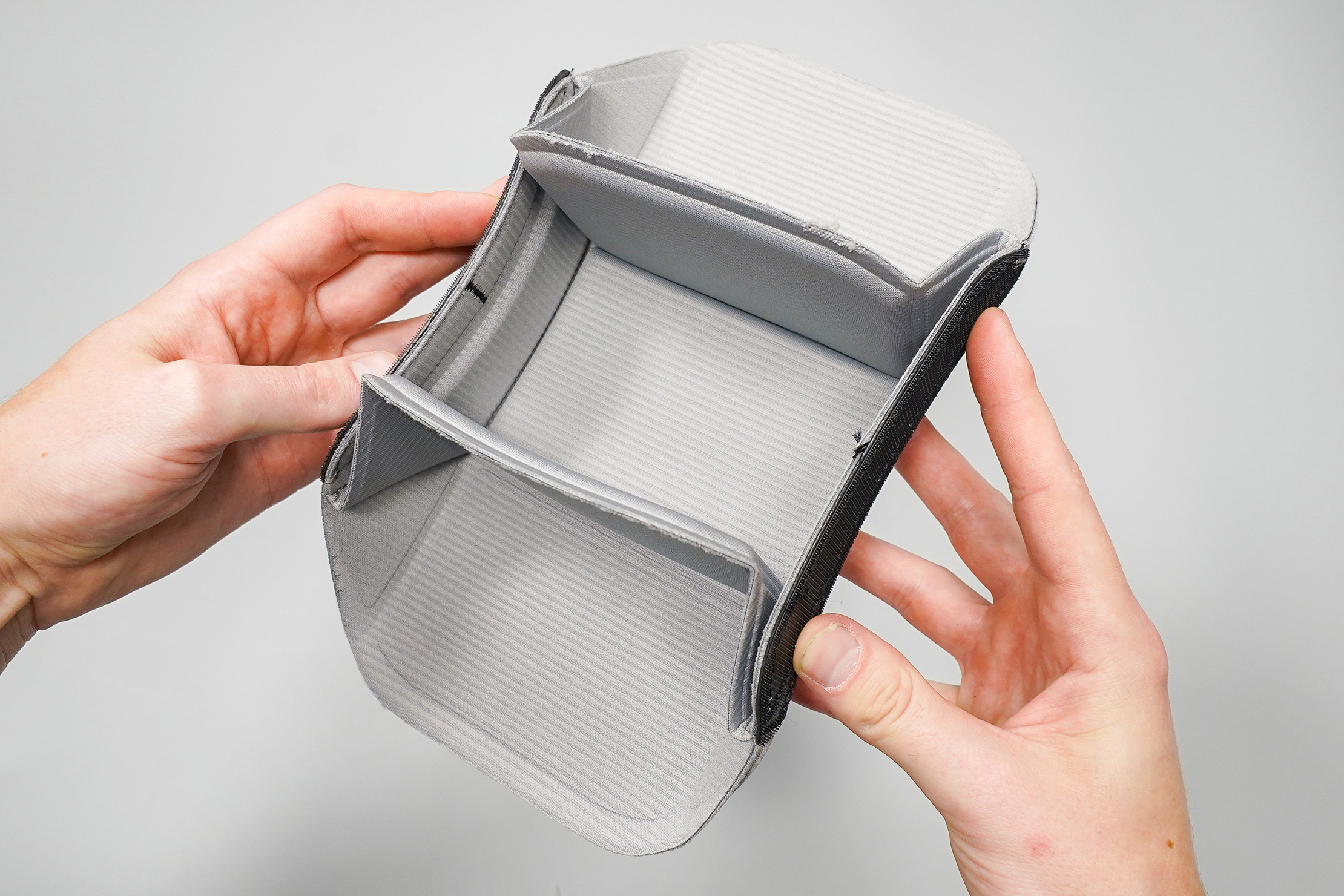 We've been using a divider in the middle of the bag as a shelf and separator between the top and the bottom of the compartment. The top flap can be used to access anything on the top, and the side zippers for anything from the bottom compartment.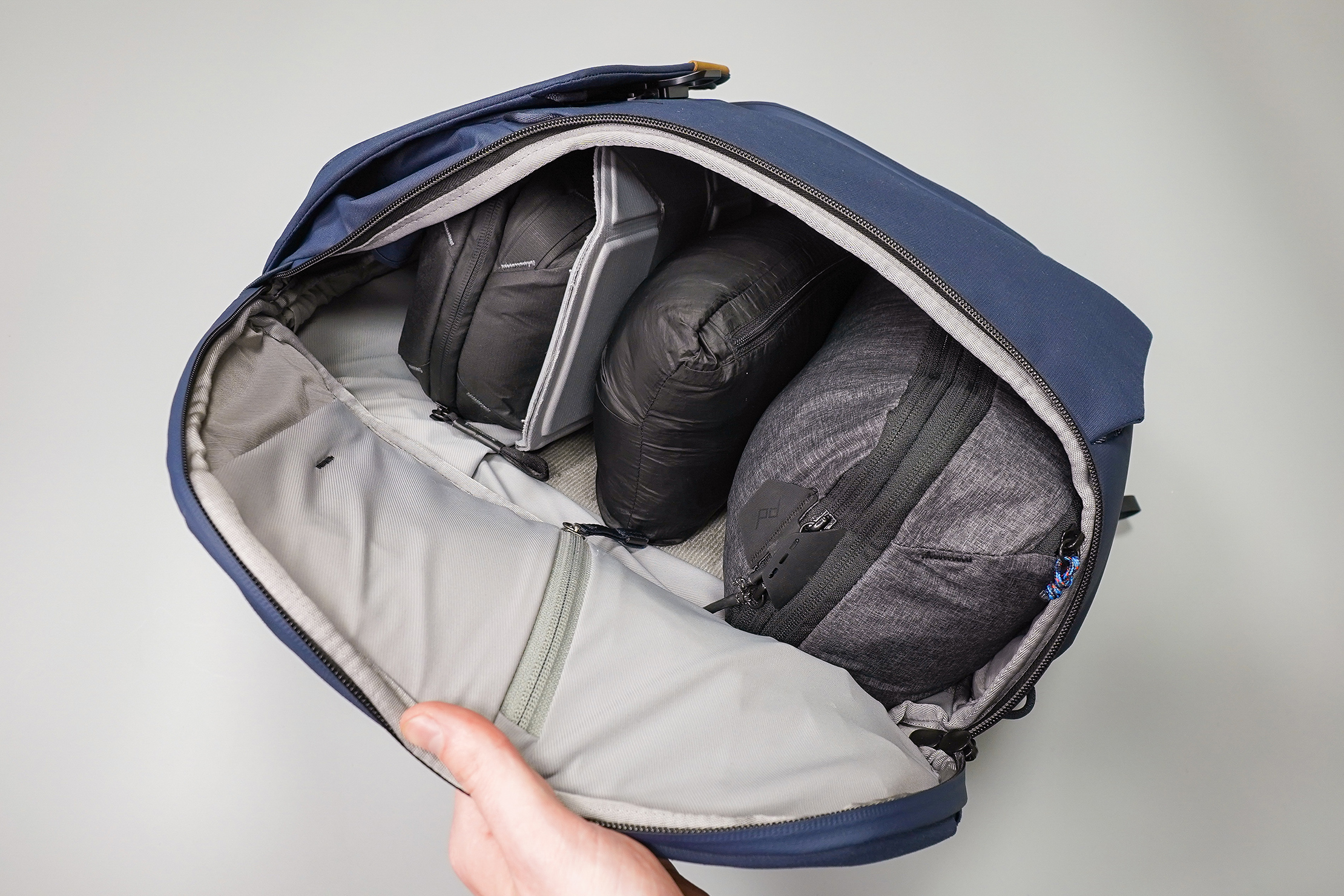 The front and back of the interior are lined with velcro, so you can secure the FlexFold dividers just about anywhere. And they stay in place really well. We also dig the lines on the inside paneling, which help you line things up and get the dividers straight across. It's the little things, you know?
Finally, there's one pocket on the Peak Design Everyday Backpack 30L (V2) that's so sneaky we almost forgot to write about it. It's basically a smaller version of the stretchy, magnetic pockets on the top of the side panels—but this one is tucked into the inside of the front flap. This secret pocket is perfect for something like a small notebook, passport, or your wallet. It's similar to the pocket found in V1 but designed a little better and nicer to use.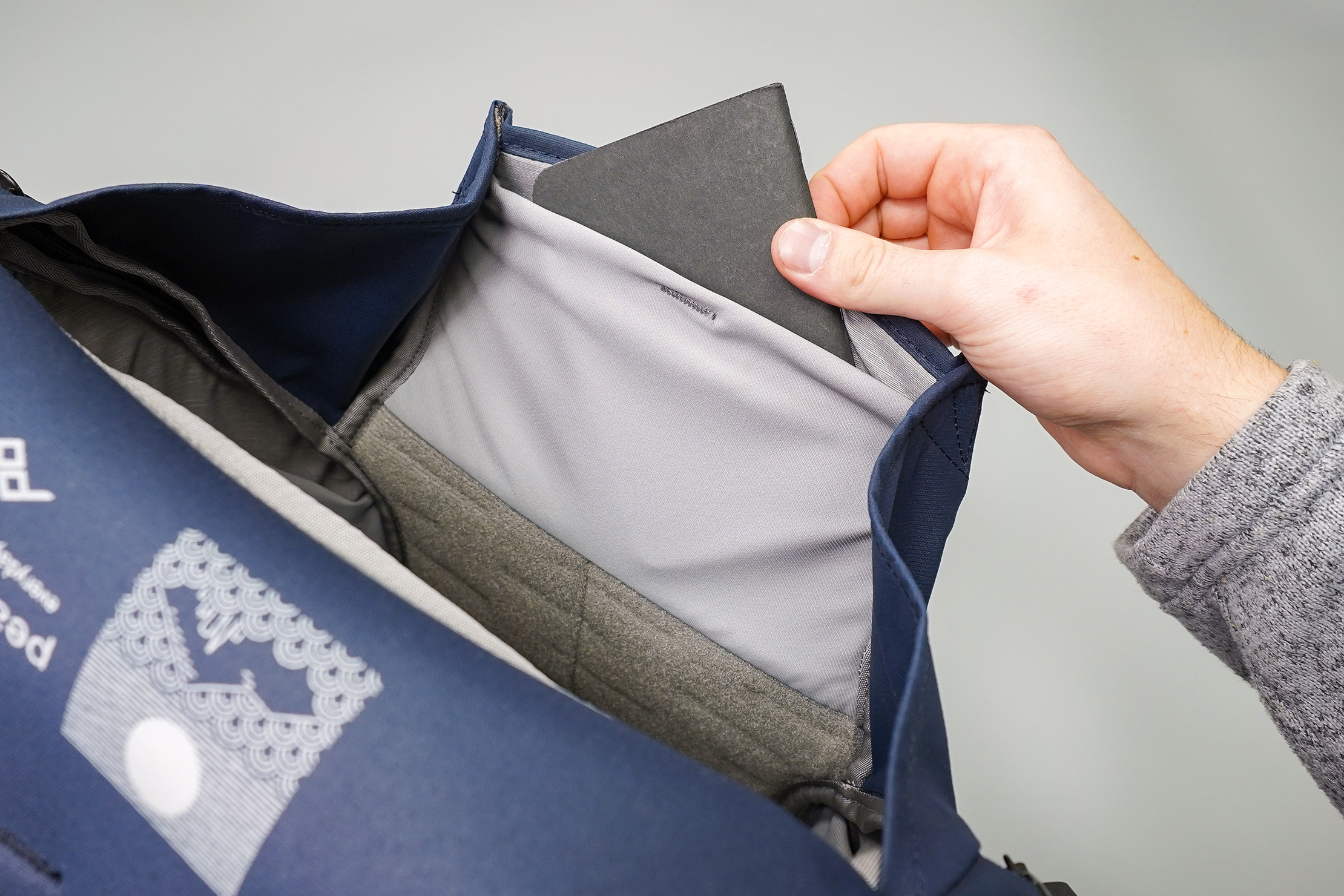 Actually, while testing V1 of the Peak Design Everyday Backpack, our founder Tom forgot his passport in this pocket, lent the bag to another tester who took it on a trip around the U.S.—his passport was still tucked in there when they returned after a month without even knowing about it. We aren't kidding when we say this pocket is easy to forget (though we recommend keeping better track of your passport).
Durability & Testing
We've been testing the Peak Design Everyday Backpack 30L (V2) around Detroit, Michigan for the last three weeks as both a camera bag and an everyday carry backpack. It's a versatile bag that can be used in a lot of different situations, however, we think it's best for video and photo equipment.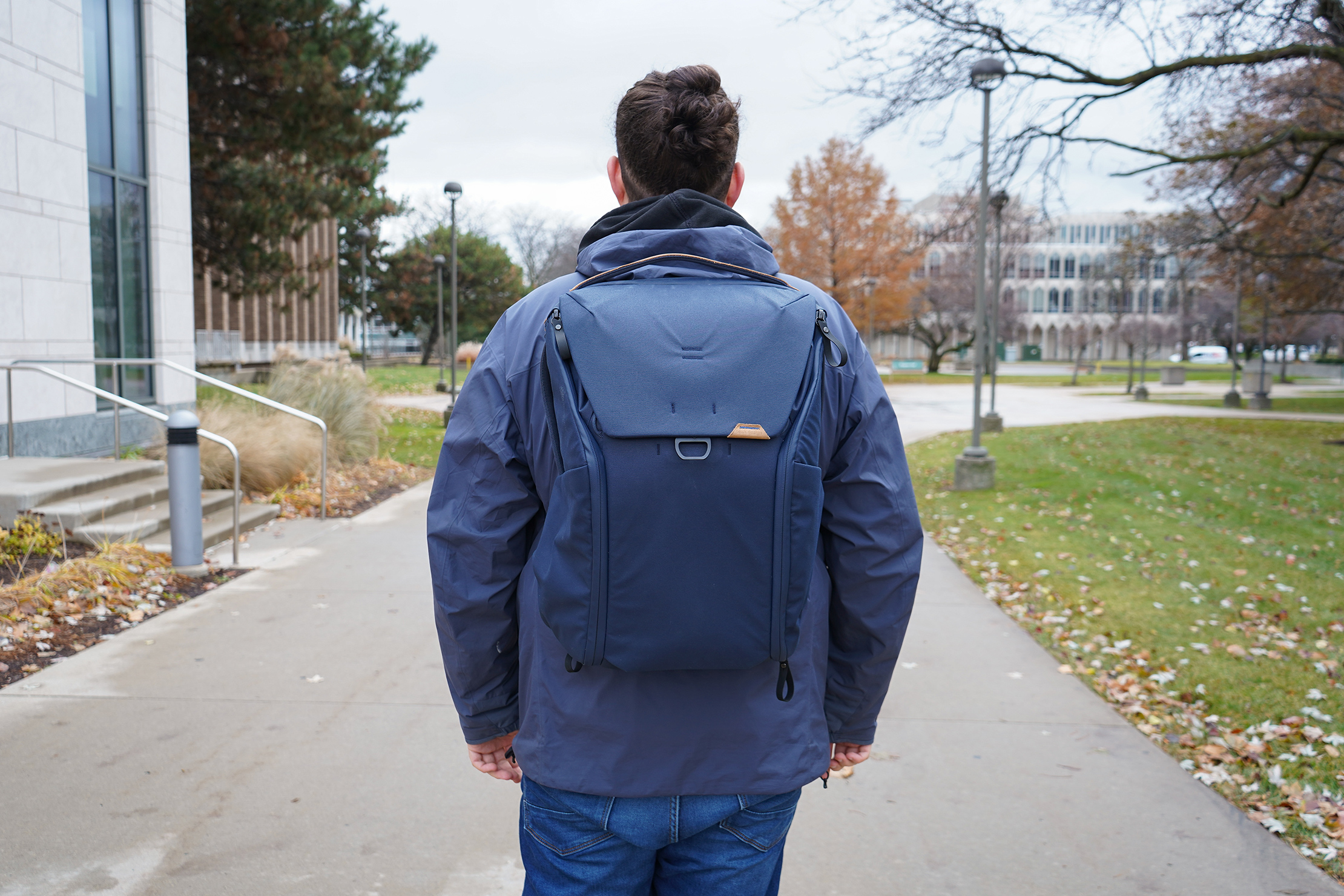 Using this bag for travel depends on your style and how much you want to bring along with you. Our friend Jon, who we interviewed over in the Pack Hacker Travel Styles section, has used the original Everyday Backpack 30L as a one-bag travel backpack long-term—and it's worked great for him.
We think most people will get the best use out of this bag as an everyday carry backpack or paired with a smaller piece of luggage, or Peak Design's duffle.
Throughout our testing and usage, we've been impressed with the Everyday Backpack 30L (V2) overall—especially all of the little design details that go along with it.
We've had no durability issues with the bag itself, but we've found a lot of loose threads and fraying edges on included FlexFold dividers. They've been getting a lot of use—switching around camera gear and organizing the pack—but still, we're shocked. It's never a good sign to see this much wear and tear after such a short testing period. We'll make sure to keep you updated in the Usage Timeline below.
Usage Timeline
Initial Usage
Condition: Excellent
Tons of great organization all over this bag
Smart use of magnets on this bag keep straps and flaps tight to the bag
Harness system is greatly improved from the original Peak Design Everyday Backpack 30L
2 Weeks of Use
Condition: Excellent
The bag is solid, but we've already noticed a lot of wear and tear on the edges of the FlexFold Dividers—not a good sign after only a few weeks of testing.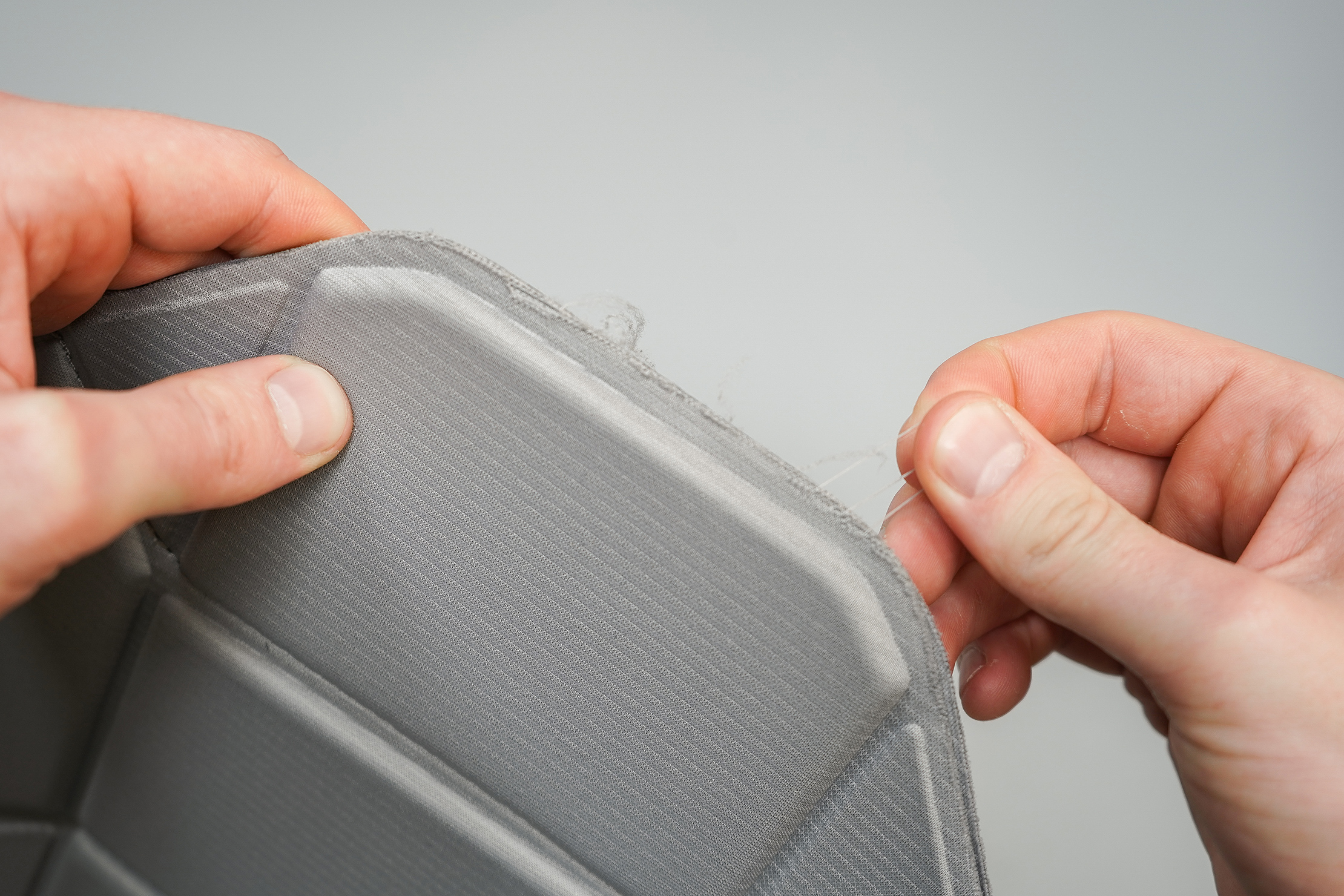 Access the Pro Community Discussion
Get your questions about the Peak Design Everyday Backpack 30L (V2) answered from our team and the Pro Community right here on the page. Plus, join discussions with other members about gear, guides, and more.
Other Bags & Luggage Reviews