YETI Rambler 18oz Bottle Review
The YETI Rambler 18oz Bottle is a great size for both hot and cold beverages—although we've found its tall, slim design makes it easy to knock over.
Our Verdict
Unlock the Pro Summary
Save time. Get access to brief summaries of our reviews so you can browse and make decisions more efficiently.
Pros
Great insulation
Good size for most situations (and beverages)
Made with quality, durable materials
Cons
Easy to knock over (the Cup Cap we've been testing with it adds to this issue)
Heavy
Doesn't offer the best grip
Recent Pack Hacker Video
Technical Details
Weight (oz)

16.3 oz (462.1 g)

Dimensions

9.4 in x 3 in (23.9 x 7.6 cm)

Notable Materials

Stainless Steel

Manufacturing Country

China

Warranty Information
Full Review
If you're looking for a reusable everyday water bottle, you'll be pleased to meet the YETI Rambler 18oz Bottle which may satisfy the Goldilocks-standard for an everyday bottle. At 18oz it's a bit larger than the average disposable water bottle (16–16.9oz) without being too big. It's that just-right size for your daily routine—whether you're drinking water, tea, or coffee—and it keeps your drink at that just-right temperature throughout the day.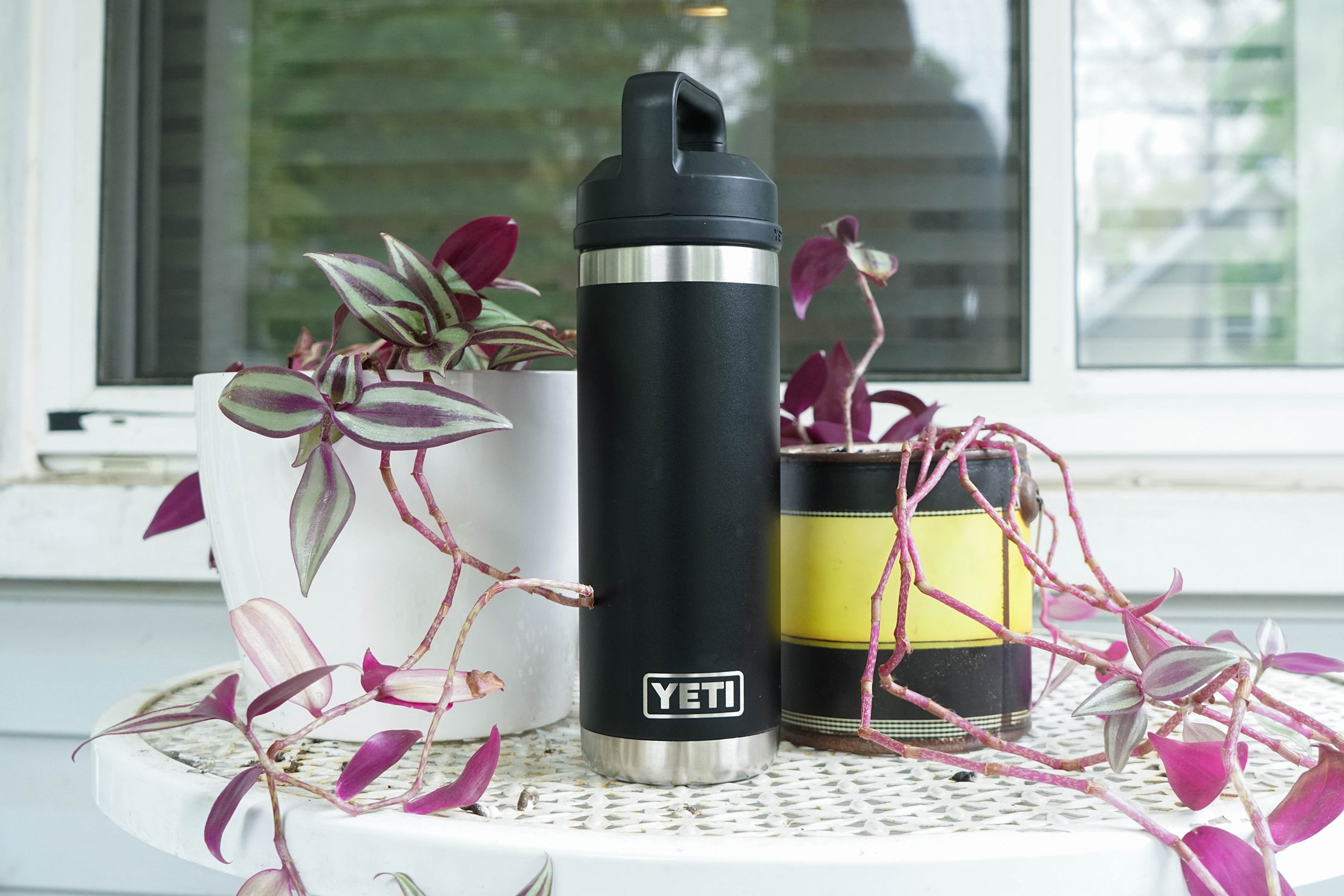 YETI has more than established itself as a key player in the cooler and drinkware arena—you've probably seen their products just about everywhere you go. We've been testing this YETI Rambler to-and-fro and around Detroit for the past month. And after consistent, daily use, we're ready to share out thoughts.
Shall we?
Features & Usage
One of the main features of the YETI Rambler 18oz Bottle is its double-wall vacuum insulated stainless steel construction. The double-wall vacuum insulation keeps hot beverages (like our daily dose of tea) hot and cold beverages cold. The stainless steel is rust-resistant and doesn't add that battery flavor you get with some other metal water bottles. (We can all agree that's a big positive, right?)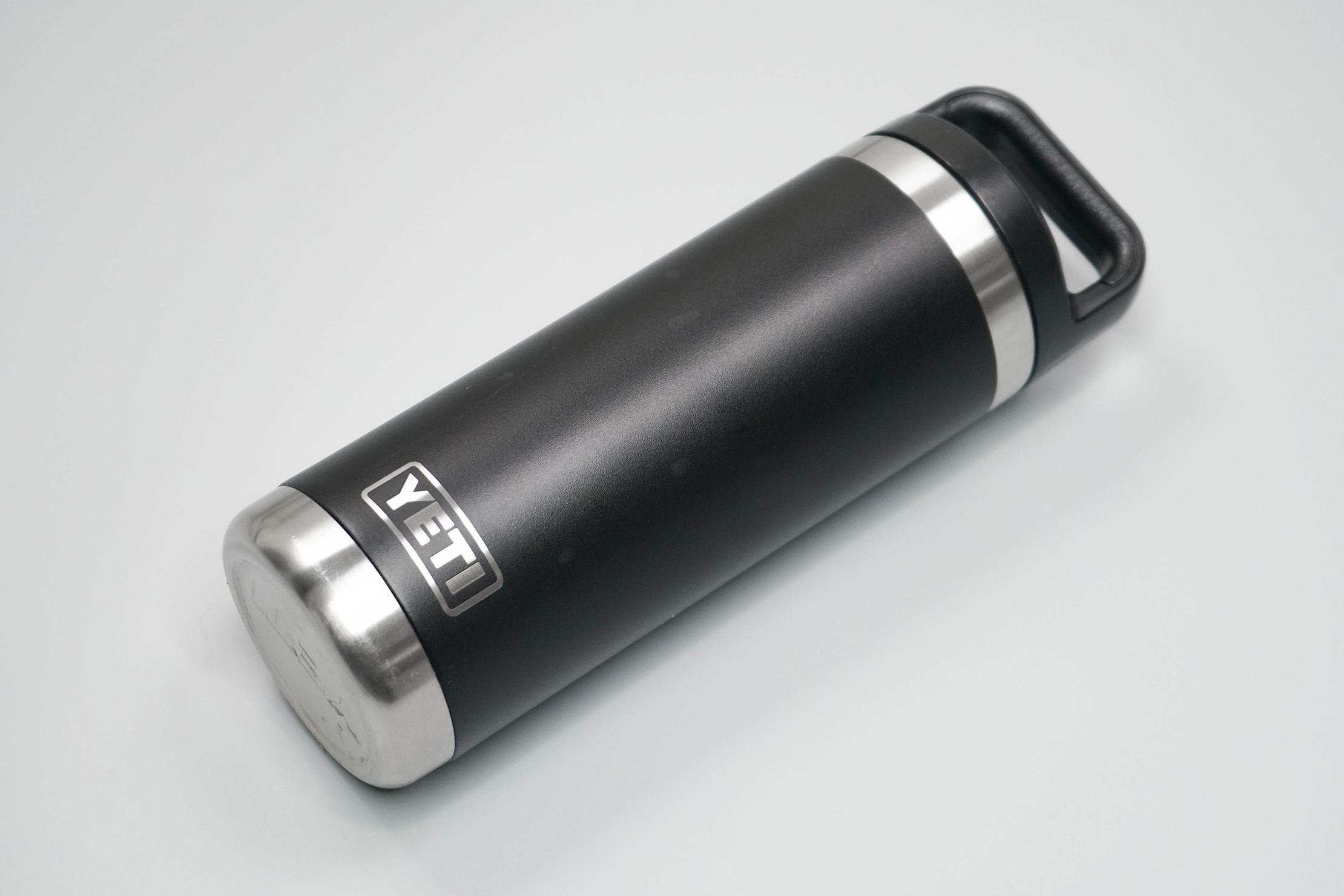 And, it's dishwasher safe. Anytime this bottle starts to get gross, just toss it in the dishwasher. Of course, if you don't have access to a dishwasher (or you prefer to hand-wash) the wide mouth on this thing makes cleaning easy. Especially if you don't have a bottle brush—no more trying to squeeze your hand, rag, or sponge through a tiny mouth opening. Either way, it's easy to clean.
It's also heavy, coming in at roughly a pound empty (16.03oz to be exact). Fill it up, and you're looking at just over two pounds. While this added weight is not ideal for minimalist one bag travel—every ounce counts when you're trying to save space and weight—it's not a big deal for the everyday. You know, going to work, hanging out at home, maybe a leisurely afternoon hike.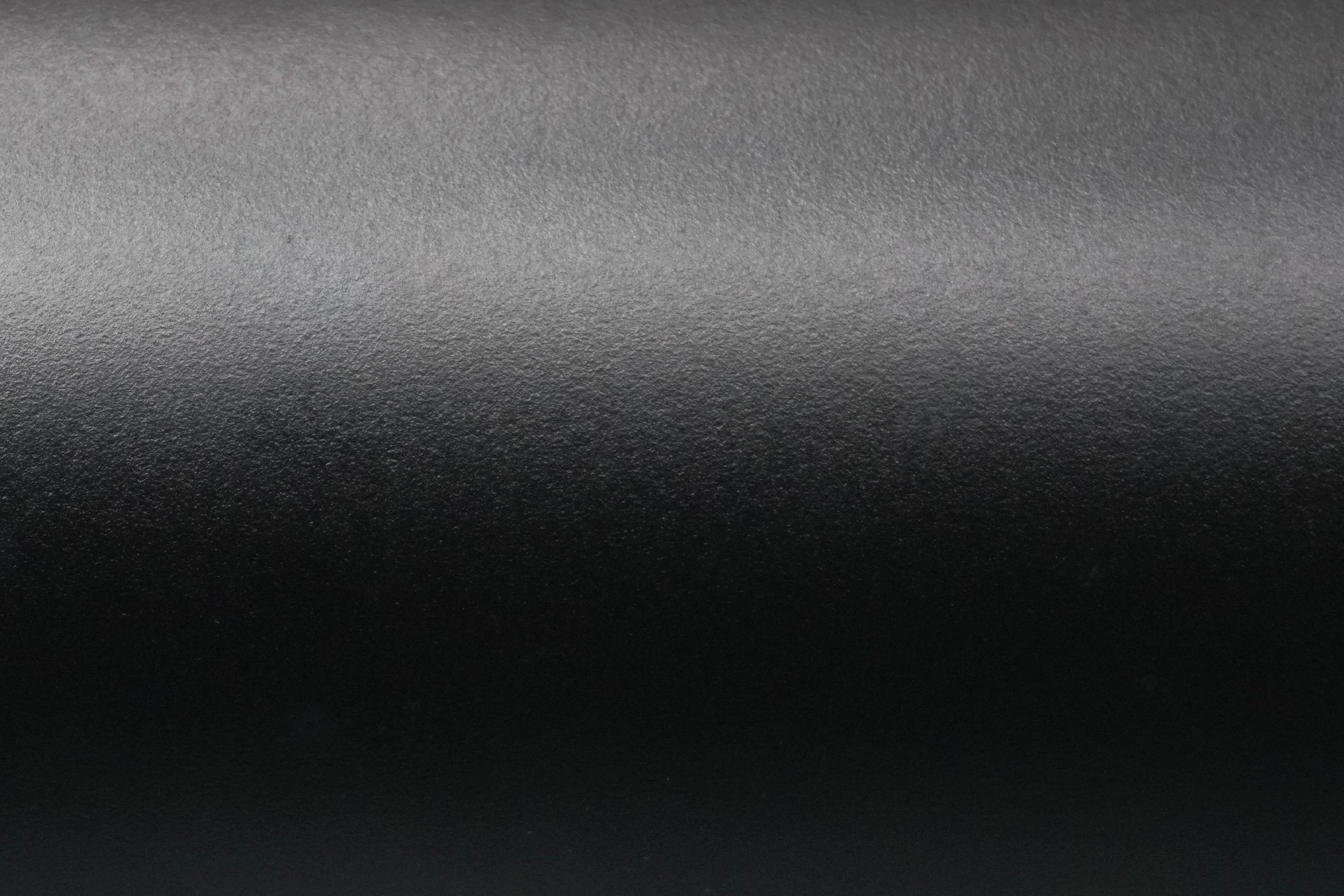 At the time of this review, the YETI Rambler 18oz Bottle is available in eight different colorways—including several in the DuraCoat™ like the Black colorway we've been testing. DuraCoat™ is a powder coating that helps protect this bottle from scratches and the like. It has a matte-esque finish which gives this bottle a sophisticated, yet functional look. Especially in Black.
Now, we want to note that the DuraCoat™ is not grippy. It's not so slippery that it'll fall through your fingers when you try to pick it up, but you won't be sticking to this bottle like Spiderman either. This is not really a pro or con, just something we wanted to note.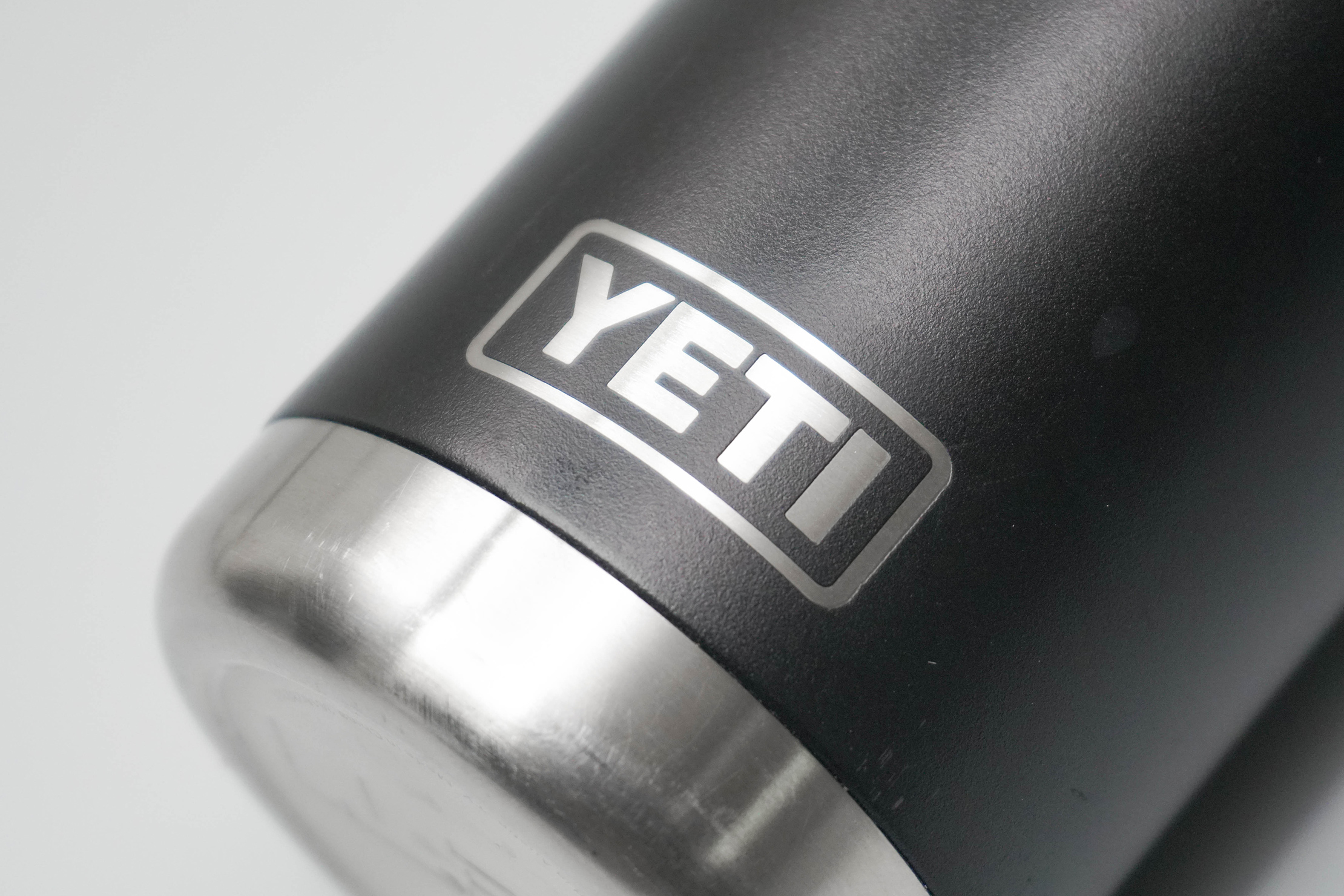 As far as branding is concerned, you'll find two YETI logos toward the bottom of the bottle on opposite sides. One logo is debossed, while the other is embossed. On the stainless steel version, both logos blend right in—you'll barely notice them. On the different powder-coated colorways, the debossed logo is more obvious. Regardless of what color DuraCoat™ you opt for, it remains a stainless steel cutaway. While it's not huge, it's definitely noticeable. That said, we don't mind it. It has a simplicity—like it was stamped into the bottle—that we dig.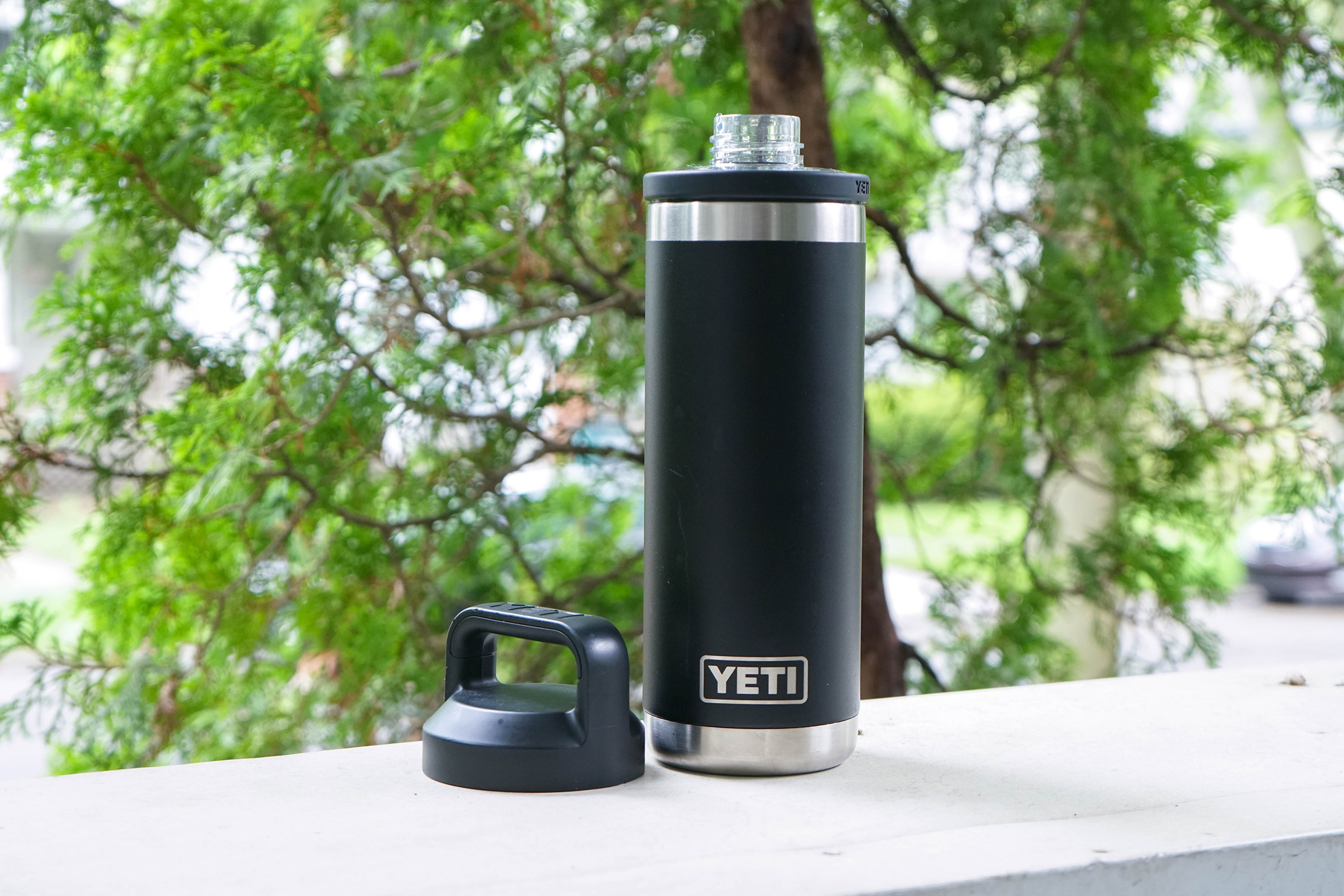 YETI also boasts a No Sweat™ Design, which means the outside of the Rambler won't develop condensation. And, so far, it's held up to its name in our testing. No matter how hot or cold the drink we put in it, or how long we leave it, there's none of that pesky perspiration (maybe YETI should get into the deodorant game?).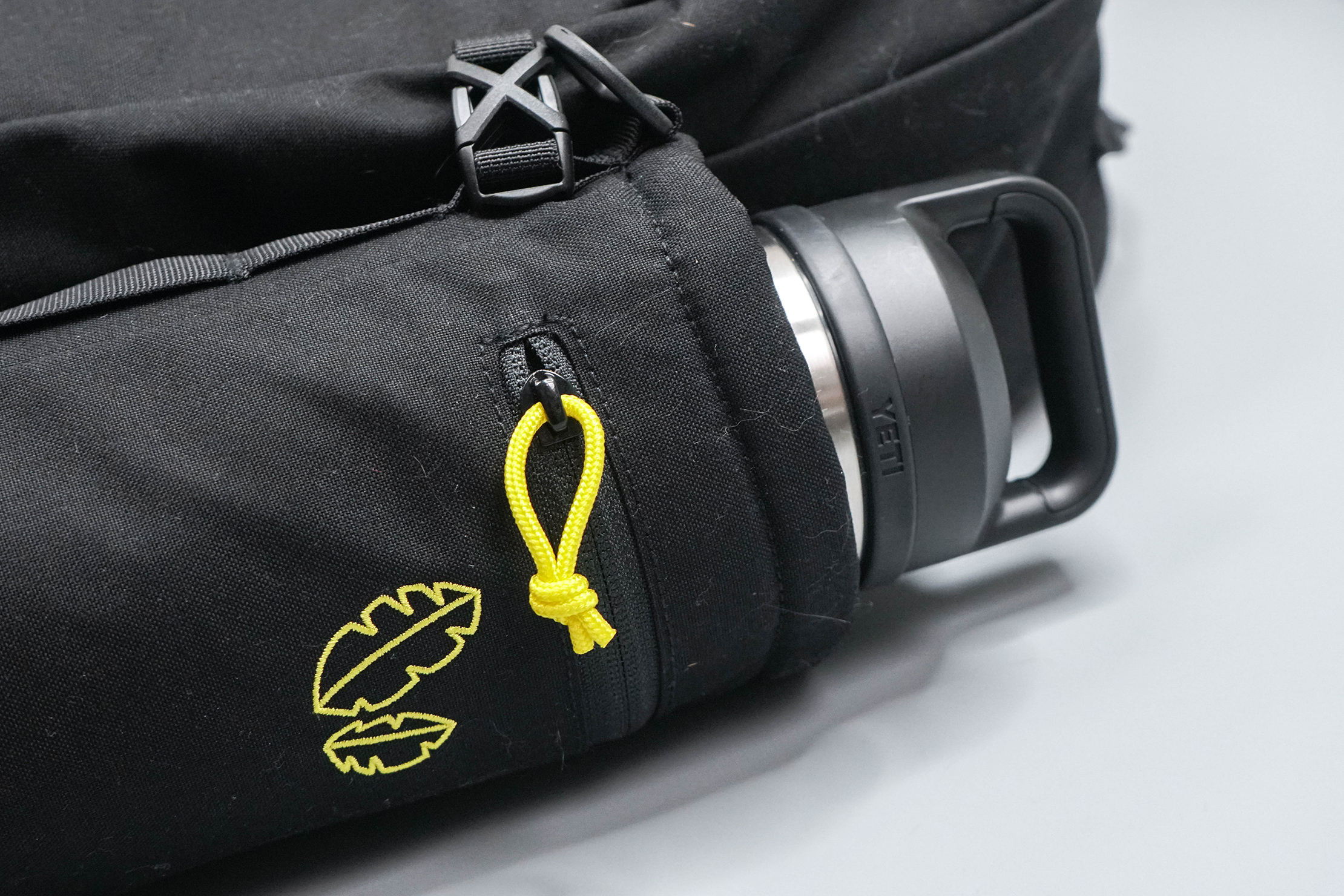 As far as shape is concerned, the YETI Rambler 18oz Bottle is on the tall and slim end of the spectrum of bottles we've tested. Its shape means it'll fit in most cup holders and water bottle pockets on backpacks—so it's no fuss on your commute.
It's also relatively easy to knock over. Especially with the 5oz Cup Cap we've been testing it with. The Cup Cap not only adds height but makes it top-heavy as well—something to be wary of.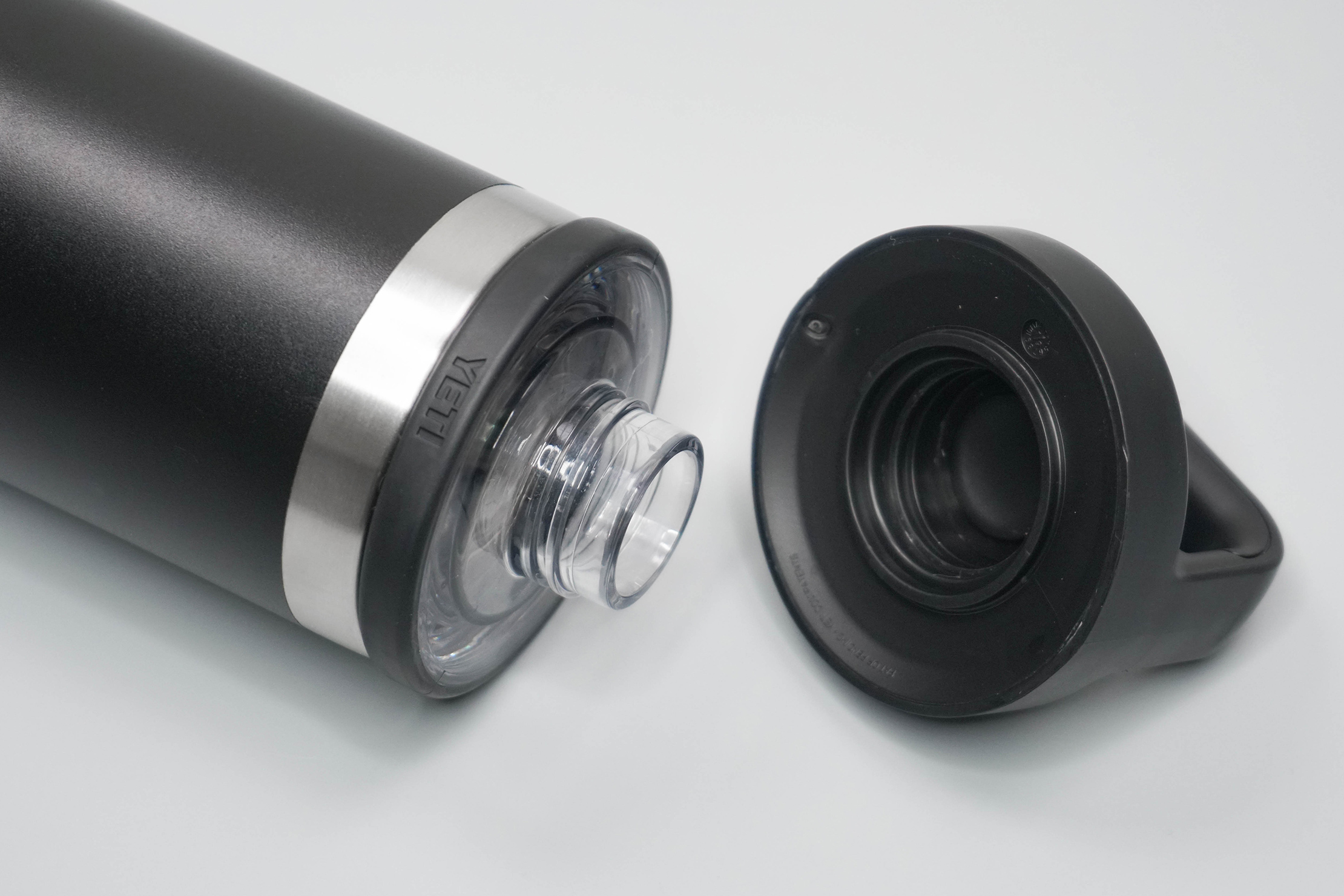 We won't go too in-depth about the Cup Cap here (check out our usage notes if you're interested) since this is a review about the Rambler bottle. We will say that we've enjoyed using this combination overall. Also, the 18oz Rambler comes standard with the Chug Cap which gives you the ability to drink from the wide mouth or a smaller opening. It also has a handle that makes it easy to carry or attach directly to your pack when needed.
Being able to mix and match caps is a great feature of the YETI Rambler line. There are plenty of interchangeable caps you can choose from, which has been handy throughout our testing of various sized bottles. We've made a whole video going through the Rambler line so you can check out all those bottle-and-cap possibilities to find a combination (or two) that works for you.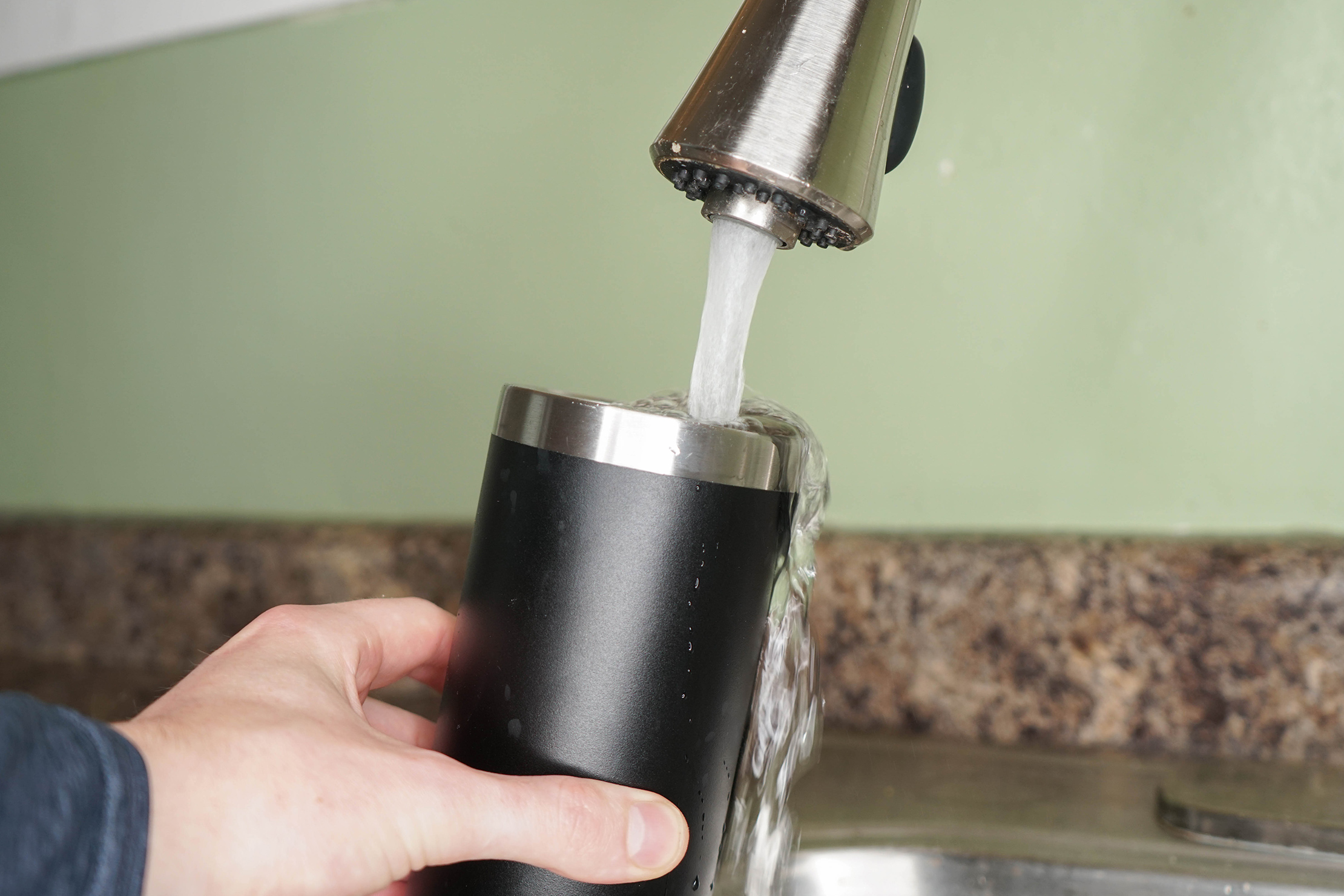 We mentioned at the beginning of this review that the 18oz size is just right for the daily grind. And it has been pretty spot-on for use during testing. However, if you're digging the features of this bottle but are looking for either more or less capacity, don't worry. YETI makes other sizes of Rambler bottles that may be better suited for your need. We've found the Rambler 12oz Bottle with HotShot Cap to be a solid daily coffee mug, for example. Plus, if you're really looking to hydrate, they offer 26oz and 36oz sizes as well.
Durability & Testing
As we mentioned before, we've been testing The YETI 18oz Rambler Bottle every day for a month, primarily with the 5oz Cup Cap and a whole lot of tea. The 18oz size of the bottle matches the capacity of our teapot, so we can brew one kettle and use the Cup Cap to sip on our tea all morning. We tend to savor our tea around here and the insulation does a good job of keeping it warm. (We typically brew a kettle around 7AM or 8AM and sip on it until around noon.) It does start to cool down some into the afternoon, which is typically when we switch to water anyway—not a huge issue, but worth mentioning.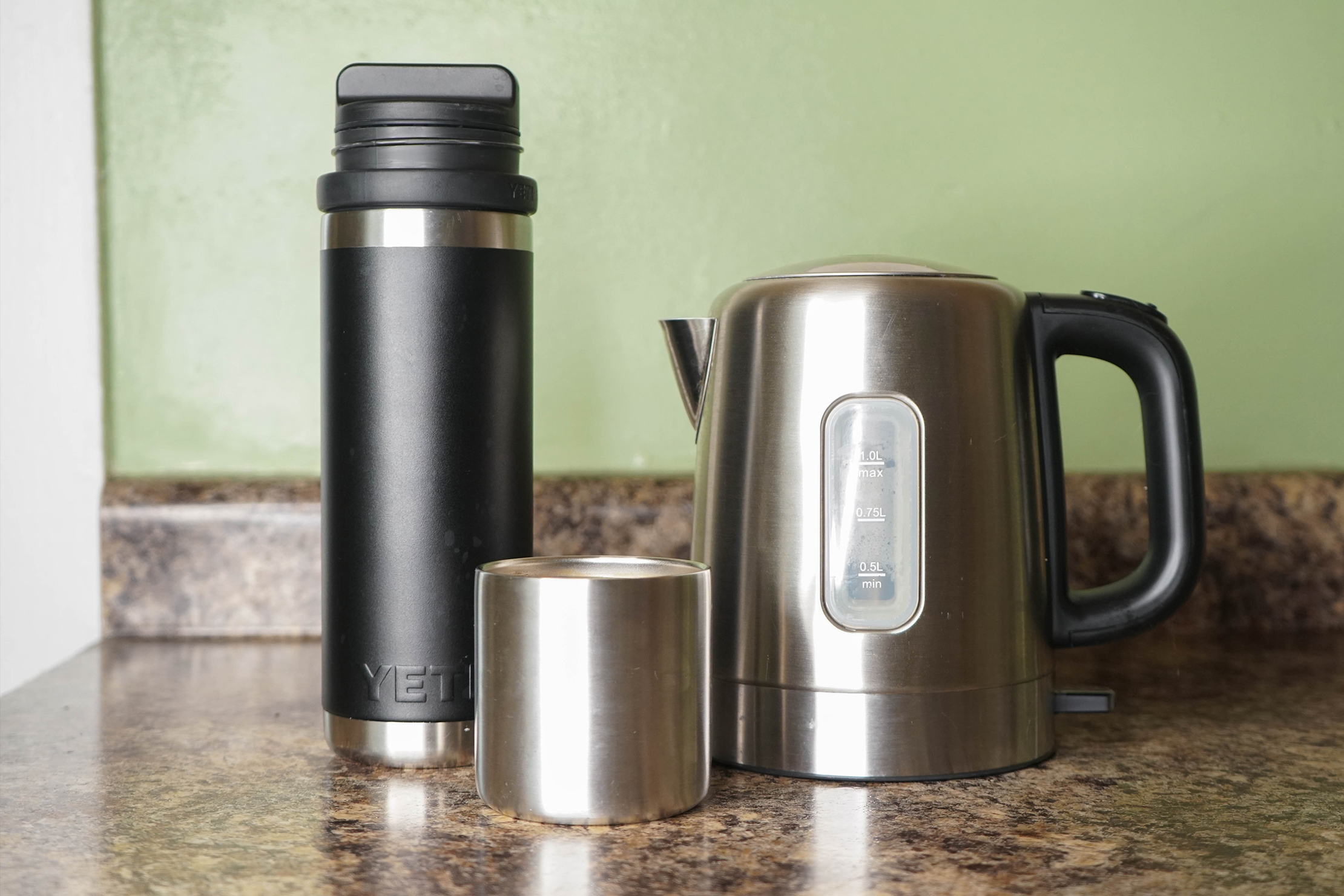 We do recommend keeping the cap secured—especially near tech or important documents—as the bottle's height and slim shape make it an easy target for the accidental knocking-over. Trust us. The Cup Cap makes this issue worse since it's pretty tall and adds quite a bit of weight to the top of the bottle. Your mileage may vary with different caps. But the YETI Rambler 18oz Bottle is a tough cookie⁠—it hasn't sustained any dents or scratches so far. So, gracefulness is not a prerequisite for purchase (cue the sigh of relief).
Usage Timeline
Initial Usage
Condition: Excellent
Does a great job at regulating the temperature
The lid has a useful handle for carrying or attaching to your pack
Dishwasher safe and the wide mouth makes it easy to clean by hand as well
2 Weeks of Use
Condition: Excellent
We've been testing this bottle with the 5 oz Cup Cap and it's a great pairing. You can get 4 "Cup Caps" of tea or coffee from a single 18oz bottle.
1 Month of Use
Condition: Excellent
Still going strong—one small note is that the bottle is easy to knock over since it's tall and skinny—especially with the Cup Cap. Other than that, no complaints.
Access the Pro Community Discussion
Get your questions about the YETI Rambler 18oz Bottle answered from our team and the Pro Community right here on the page. Plus, join discussions with other members about gear, guides, and more.
Other Miscellaneous Reviews