YETI Rambler 12 oz Bottle with HotShot Cap Review
Although it's on the heavier side, we're digging the YETI Rambler 12oz Bottle with HotShot Cap as a portable coffee mug. The lid is a real game-changer.
Our Verdict
Unlock the Pro Summary
Save time. Get access to brief summaries of our reviews so you can browse and make decisions more efficiently.
Pros
Keeps cold drinks cold and hot drinks hot
HotShot Cap is a game-changer, allowing you to sip from every direction
Durable stainless steel body
Cons
Heavy
12oz isn't an ideal size for water
Hotshot Cap has no handle or way to attach to a bag
Recent Pack Hacker Video
Technical Details
Capacity

12oz

Weight (oz)

16 oz (453.6 g)

Dimensions

7.125 in x 3 in (18.1 x 7.6 cm)

Notable Materials

Stainless Steel

Manufacturing Country

China

Warranty Information
Full Review
If you're a coffee junkie, you're going to love the YETI Rambler 12 oz Bottle with HotShot Cap. Sure, you can use it for other beverages: water, tea, or lemonade, or any other non-carbonated liquid, but this bottle shines as a portable coffee mug.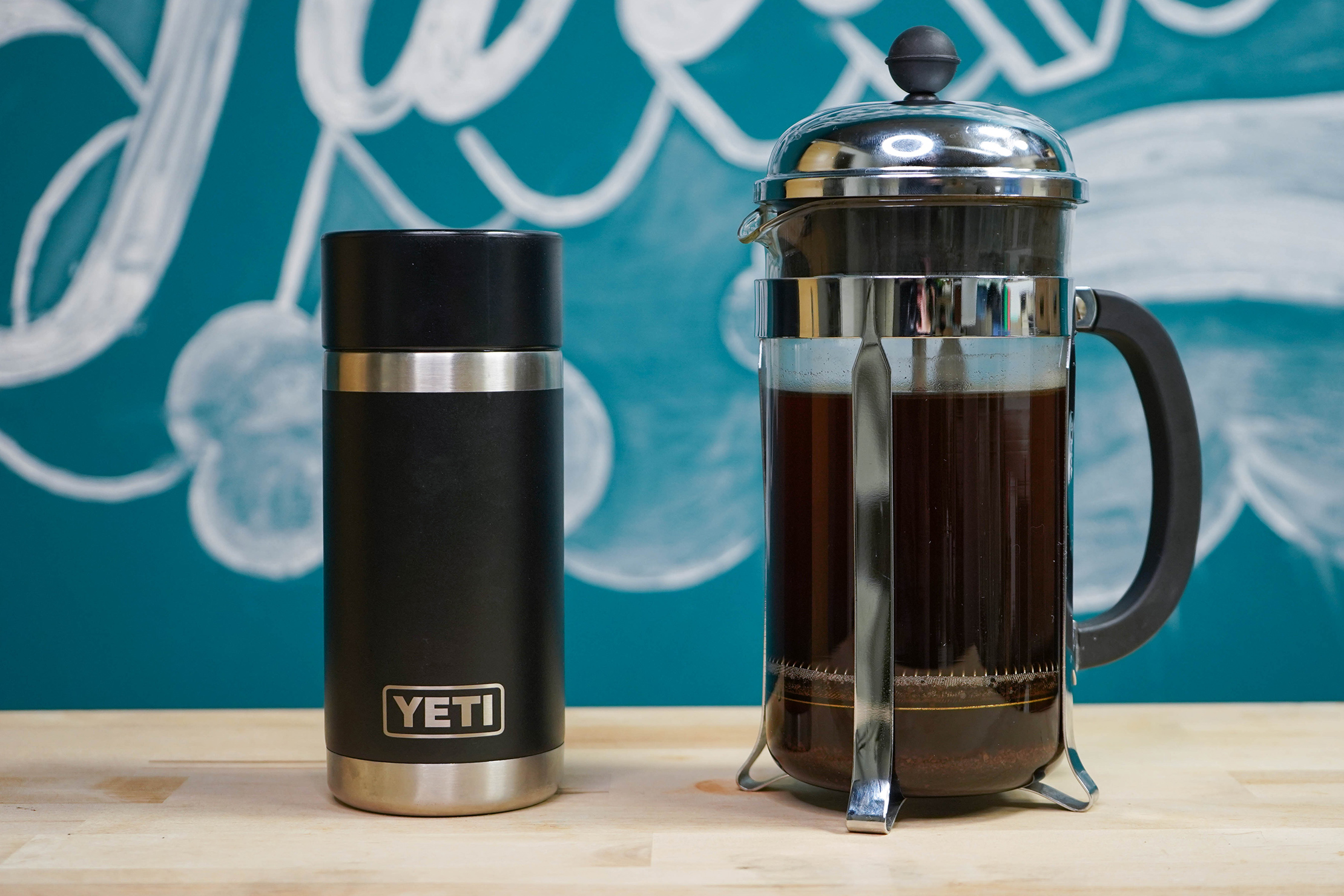 We've been testing the 12oz YETI Rambler for approximately a month during which we've easily given up on traditional coffee mugs. The Rambler with HotShot Cap is all we need.
So let's check it out.
Features & Usage
If you're not familiar with YETI where have you been? The company made a name for itself a few years ago with essentially indestructible coolers that are great at regulating temperature. So it's no surprise YETI's double-wall vacuum insulated stainless steel bottles excel at keeping hot things hot and cold things cold.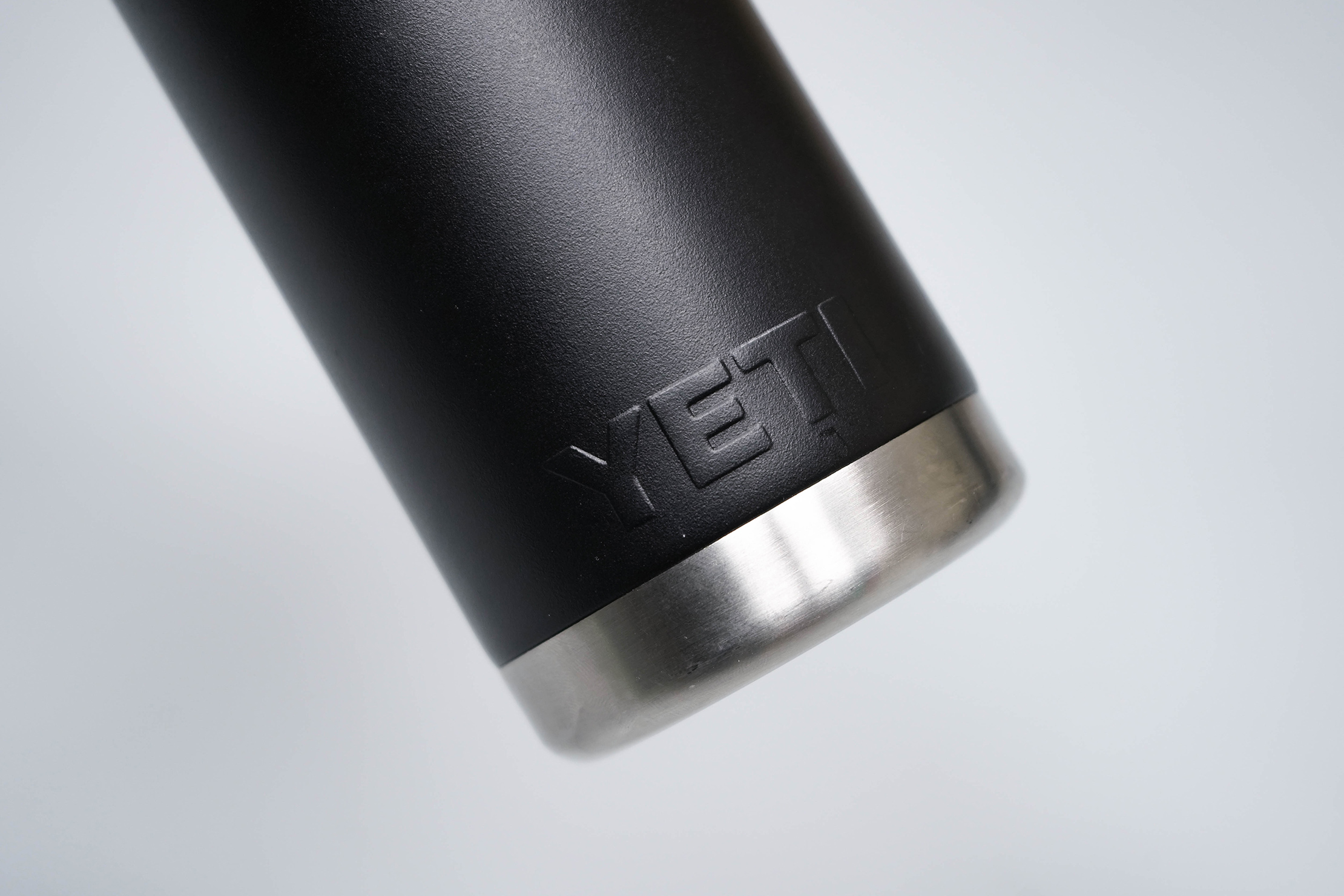 Fill the mug with hot coffee and trek through the streets of Detroit during the frigid winter months and the coffee will stay hot. Fill the mug with iced tea and stick it in a hot car during Miami's sweltering summer and it'll stay cool for hours. Plus, the bottle never gets too hot to hold when filled with hot beverages nor does it sweat when filled with cold ones.
The stainless steel also makes the Rambler bottles extremely durable. You can be the clumsiest person in the world and this bottle should be able to handle it.
That said, this indestructibility and insulation come at a price…and that's just our dramatic way of saying that the bottle is heavy. The 12oz Rambler clocks in at 16oz (1lb) when empty. That's alright if you'll be taking this thing from home to work to coffee shops and back again, but it's not great for one-bag travel when every ounce counts.

With a 12oz internal capacity, the YETI Rambler we're reviewing today isn't ideal for water. We tend to want more than 12oz of water when out and about. If you're looking for a YETI water bottle, we'd suggest grabbing one of the larger options—18oz, 26oz, or 36oz. (Although note that 36oz is massive.)
Another great "feature" of the YETI 12oz Rambler is that, at the time of this review, it's available in a wide variety of colorways—eight to be exact. So you can find a color that speaks to you.
Now all of those benefits are well and good, but the main reason we're digging this bottle is due to the HotShot Cap. It really sets the YETI Rambler apart from the crowd.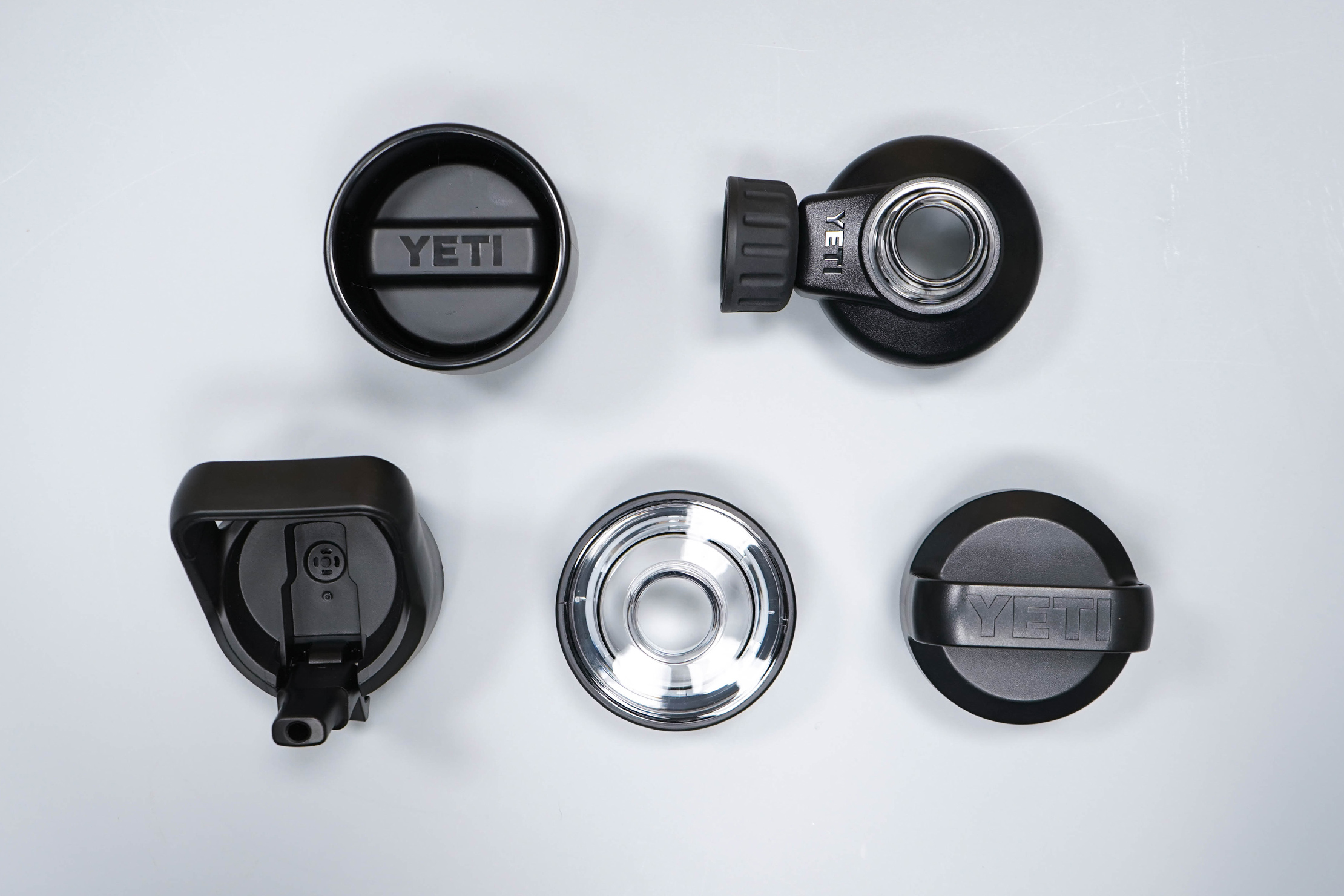 YETI makes it so most of its caps are interchangeable, so if you ever need to, you could switch out the HotShot Cap for one of the other options—the MagDock Cap or Chug Cap for example. But we're not sure you'd ever want to. If you go through a lot of coffee or tea, you could also pick up the HotShot Cap for a larger Rambler.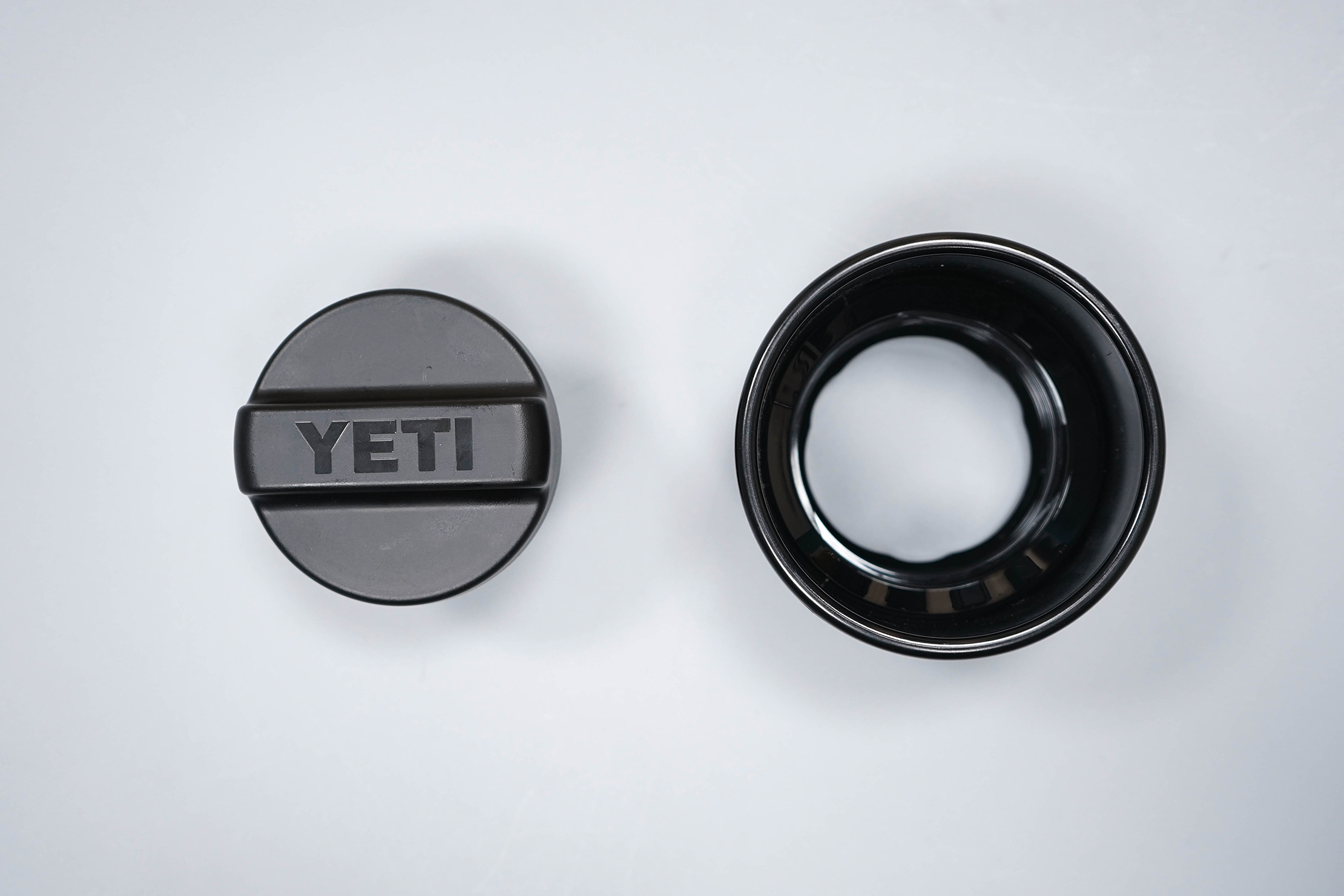 The HotShot Cap screws onto the bottle like normal, but once secured you can unscrew the middle bit. You can unscrew the middle all the way if you'd like to take a big gulp of something or if you'd like your piping hot coffee to cool off to an appropriate drinking temperature.

You can also give it a half-turn, which locks it in an open position ideal for sipping—similar to traditional coffee mug lids. Unlike those lids, however, you can sip from any direction. You don't have to go searching for the opening. It may sound small, but once you experience the HotShot Cap, it's hard to go back (trust us).

And, when you close the lid, it locks everything in. You can toss it in your bag and not worry about spills. When closed, the lid also locks in the temperature for hours and hours. We've found our coffee will stay hot for an entire day. Usually, we don't want it to stay pipping hot for an entire day—coffee is meant for drinking after all—so we appreciate that it will cool when the lid is off.
Now, the HotShot Cap doesn't have a handle to attach it to bags or for easy carrying like some of the other lids YETI offers. Not a dealbreaker by any means, but something to note.
Durability & Testing
We've been testing the YETI Rambler 12oz Bottle with HotShot Cap for about a month now—almost exclusively for coffee. It's great to take in the car, to have at our desks, or while strolling the streets of wherever.
As we mentioned earlier, it's extremely durable. We haven't acquired any dents, scratches, or rust. Plus, it's dishwasher safe. So whenever it starts to get overrun by that old coffee smell, we can toss it in there for a clean slate.
Usage Timeline
Initial Usage
Condition: Excellent
Durable materials and construction
HotShot cap allows you to drink without completely opening the bottle
Keeps hot drinks hot and cold drinks cold
2 Weeks of Use
Condition: Excellent
The HotShot Cap is a game-changer—you can drink from any direction!
1 Month of Use
Condition: Excellent
Not a single scratch or dent to be found.
2 Months of Use
Condition: Excellent
Some coffee staining going on but comes off with some tough scrubbing. I'm probably not cleaning it as much as I should be
3 Months of Use
Condition: Excellent
Spilled all over my bag because I forgot to twist the lid closed, lesson learned. Always check before you put it away.
6 Months of Use
Condition: Excellent
Still loving it. I haven't touched a coffee cup in six months.
Access the Pro Community Discussion
Get your questions about the YETI Rambler 12 oz Bottle with HotShot Cap answered from our team and the Pro Community right here on the page. Plus, join discussions with other members about gear, guides, and more.
Other Miscellaneous Reviews