Peak Design Everyday Backpack (30L) Review
The Peak Design Everyday Backpack is full of smart features. Although intended for photography, it works well for digital nomads & one bag travelers, too.
Our Verdict
Unlock the Pro Summary
Save time. Get access to brief summaries of our reviews so you can browse and make decisions more efficiently.
Pros
Made of excellent materials—highly water resistant.
Extremely customizable and versatile.
Great style without compromising function.
Cons
When full, the top of the bag pokes out a little bit, exposing the inside.
The pockets on the outside of the pack pull a lot of duty, making them a bit complicated with the hole, elastic, straps, and hip belt.
MagLatch can sometimes be tricky—it can sometimes "Mag" but not "Latch".
Recent Pack Hacker Video
Technical Details
Capacity

30l

20L also available

Weight (lb)

3.4 lb (1.5 kg)

Dimensions

21 in x 13 in x 7.75 in (53.3 x 33 x 19.7 cm)

Notable Materials

Kodra Nylon, Leather, DWR Coating, Aluminum

Manufacturing Country

China

Laptop Compartment Size

17"

Warranty Information
Full Review
Get up to 10% off Peak Design • Join Pack Hacker Pro
The Everyday Backpack from Peak Design was originally designed as a camera bag, but we've found it to be an incredibly capable backpack for traveling, and especially for the photographer on the go. This backpack is loaded with features that you won't find anywhere else—which really puts it in a league of its own. So "strap" yourselves in, this is going to be a long "haul." Okay, we'll stop with the backpack puns, but in all seriousness, this is a long review—we could talk about this thing for hours.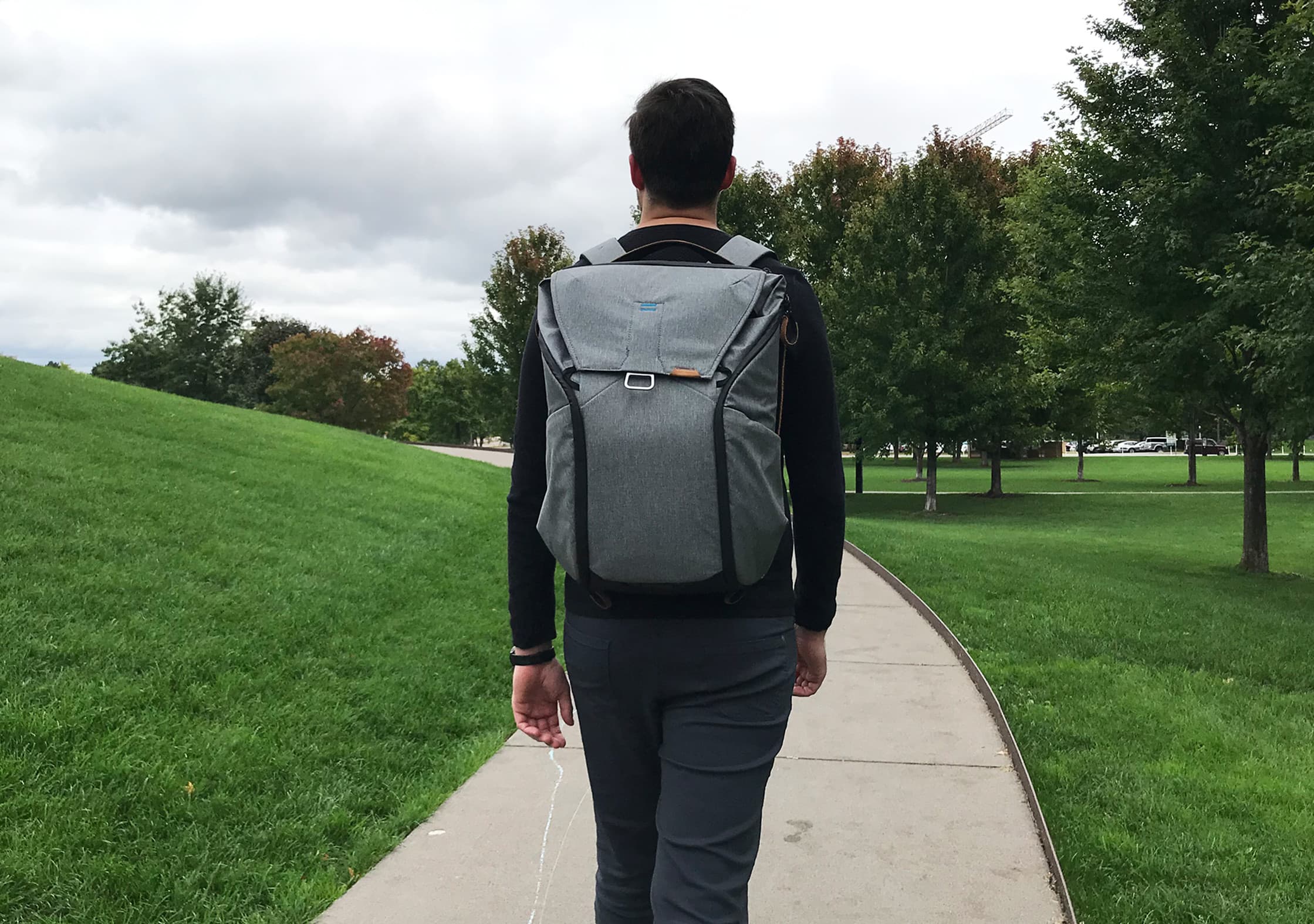 The bag itself doesn't look like a camera bag, which is a great theft deterrent. It looks like a stylish, fashionable bag—great for walking around a city, but still durable enough for camping.
Now before we get into the features on this thing, let's talk about what it's made of. These guys are serious about their fabrics. They claim that a lot of the fabrics on this pack were specifically designed for them—and we don't doubt it. Just take a look at this list of materials from their website…
"Ultralight waxed Kodra synthetic canvas with DWR coating for weatherproofness, poly-spun mixed twill interior, compression-molded high-density EVA foam dividers and protective panels, die-cast and stamped anodized aluminum hardware with sandblasted finish and protective clear coat. Charcoal bags have Hypalon touchpoints, Ash bags have natural leather touchpoints."
Wow. We're pretty sure they made up a few words in there. But we can attest to the fact that the whole bag is made of weatherproof material, along with the zippers. And everything else on the bag feels really great—from the metal buckles to the soft interior fabric.
Speaking of Ash & Charcoal, those are the two colors offered for the 30L size at the moment. If you're looking for the 20L (which may be a bit small for one bag travel), you can also grab the Everyday in tan, or black with the Huckberry Exclusive, which we think looks pretty great.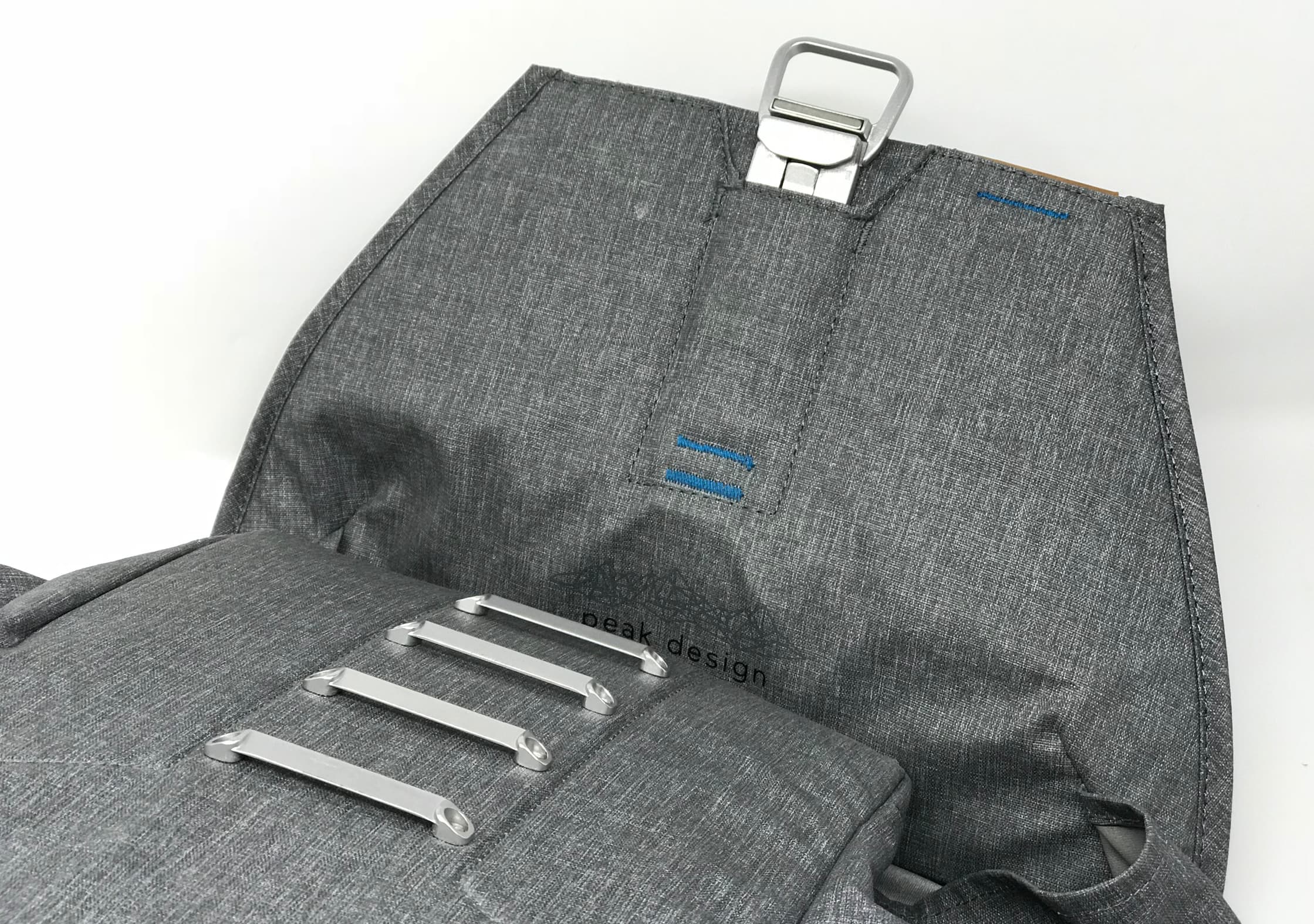 When you first look at this bag, you'll notice that the main compartment has an interesting flap system. It looks just like a traditional "flap over" backpack—but with no zippers or drawstrings. Peak Design has actually developed their own latch system, called the MagLatch™. The flap has a magnetic, metal clip that latches onto one of four anchor bars on the pack. This means that you can adjust how tight the top flap is, depending on how much is in the backpack—this allows for another eight liters of storage. So, to note, the pack will be 22L when using the bottom latch, and 30L when it's cinched to the very top bar.
There is one problem with this system, though. When the bag is really full, the sides will stick out a bit from the flap—meaning there is a potential for rain to get in. Sure, the bag is made of weatherproof material, but that doesn't do much good if part of the main compartment is exposed.
Now back to the clip, it magnetically latches onto the anchor bars and then mechanically clips in—hard to explain, but it feels really satisfying to buckle. Peak Design also says this system adds another layer of security, which is sort of questionable. It may be a little bit confusing to open for someone unfamiliar with the system, but it's certainly not impenetrable. The metal clip also has their logo nicely etched onto it, which looks really slick.
The Everyday Backpack is super convenient for anyone who finds themselves needing to go in and out of their pack a lot. It has three points of entry—the main MagLatch flap, and two side flaps—meaning you can access it from a ton of different angles, and there is no need to rummage through your stuff to find buried items.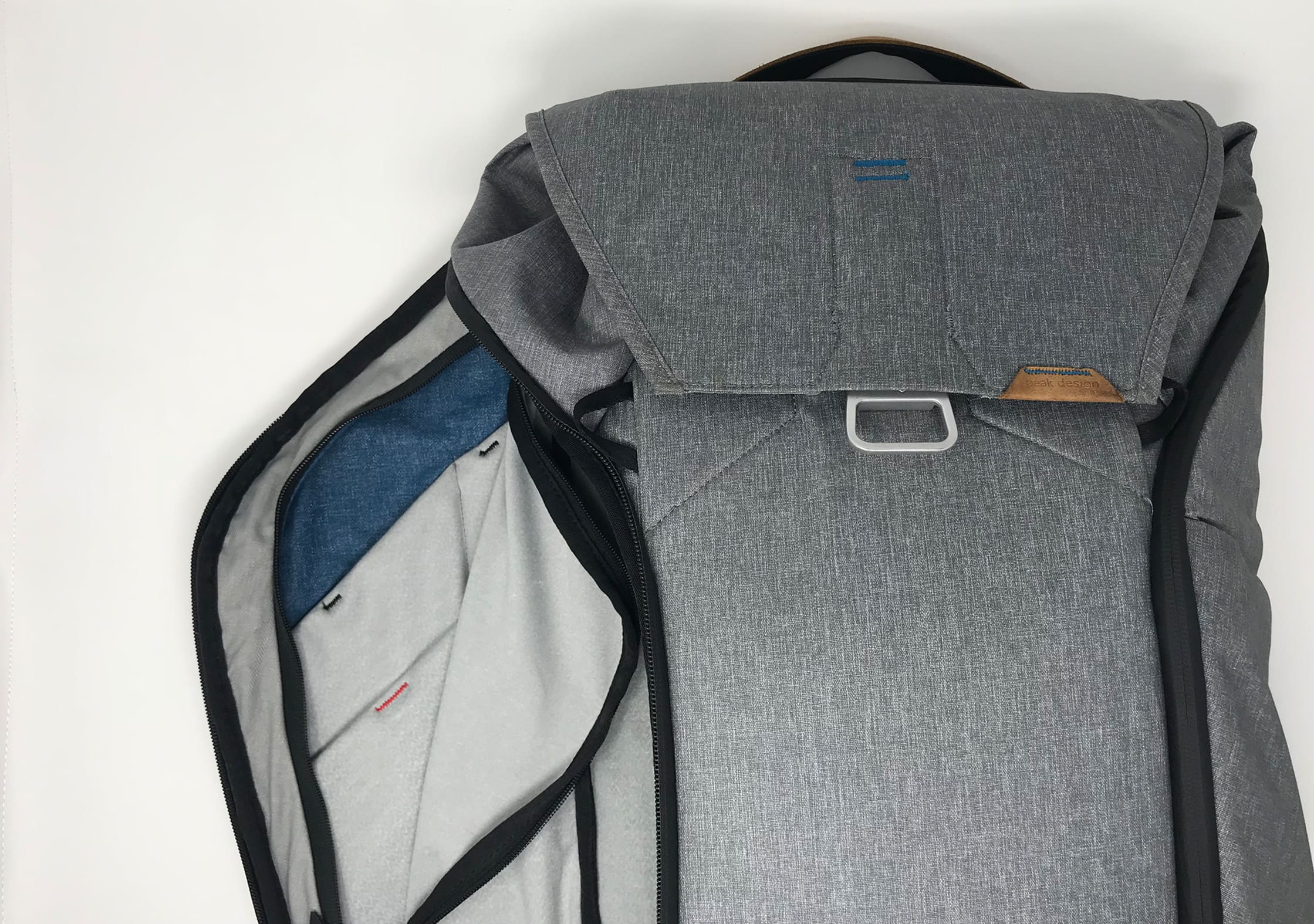 The flaps on the side open with zippers and provide quick access to the bottom of the main compartment. The flaps themselves have little pockets on the inside and everything is encased in water-resistant material and zippers. The pockets are intended for SD cards, spare batteries, and other photography accessories—but you could fit a ton of little items in here, and they are really easy to access. We've used these for earbuds, thumb drives, pens, that sort of stuff. They are also labeled with red or black stitching, which can help with organization. One cool trick for photographers is to use the stitching to differentiate between fresh and dead batteries.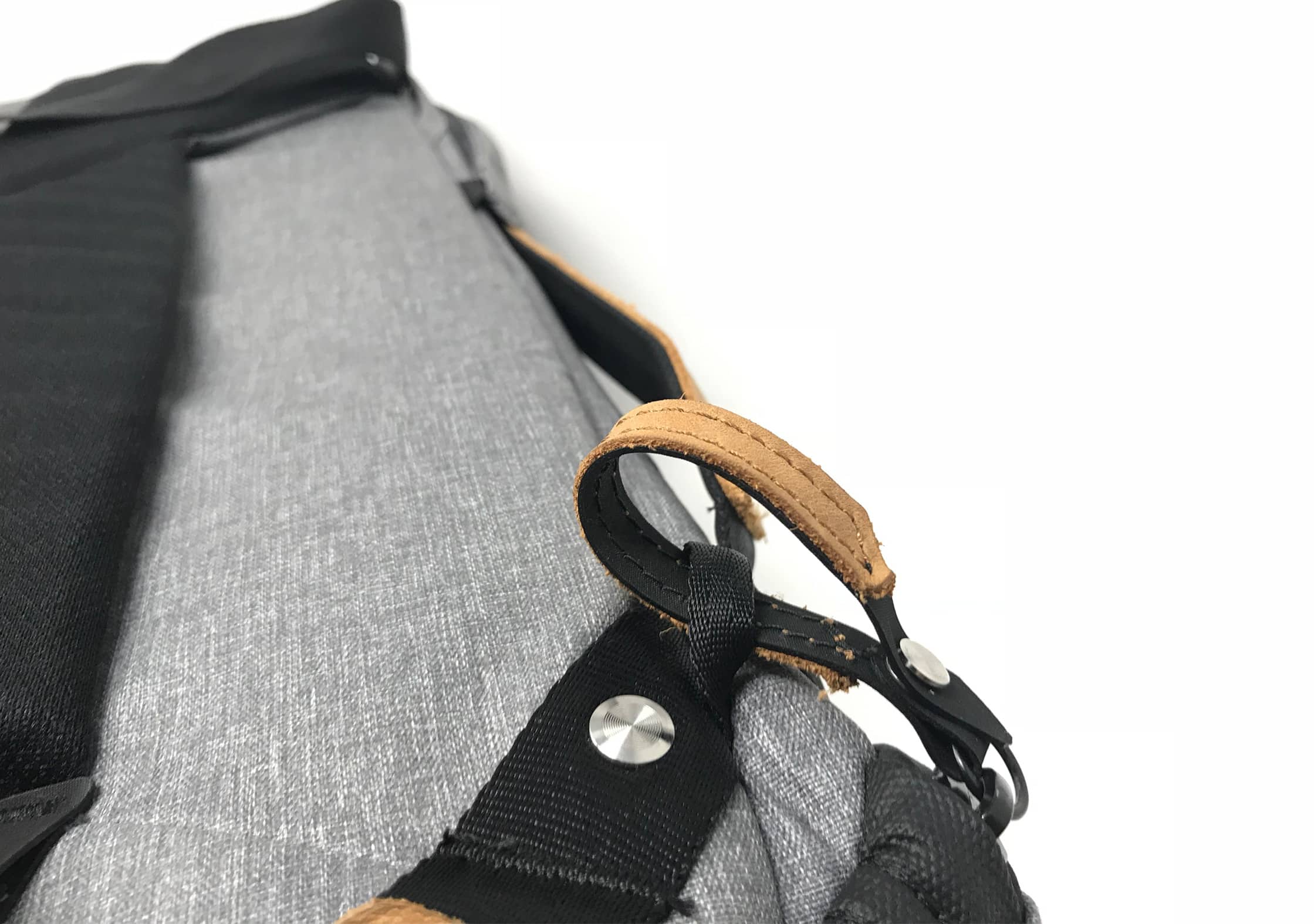 Also, the zippers on these side pockets are great. Not only are they water resistant, but they have these nice little leather loops on them. The loops can be undone, and then wrapped around the top section of the bag—preventing the zipper from being opened easily and providing some extra security. Not totally foolproof—but it will stop any quick thieves.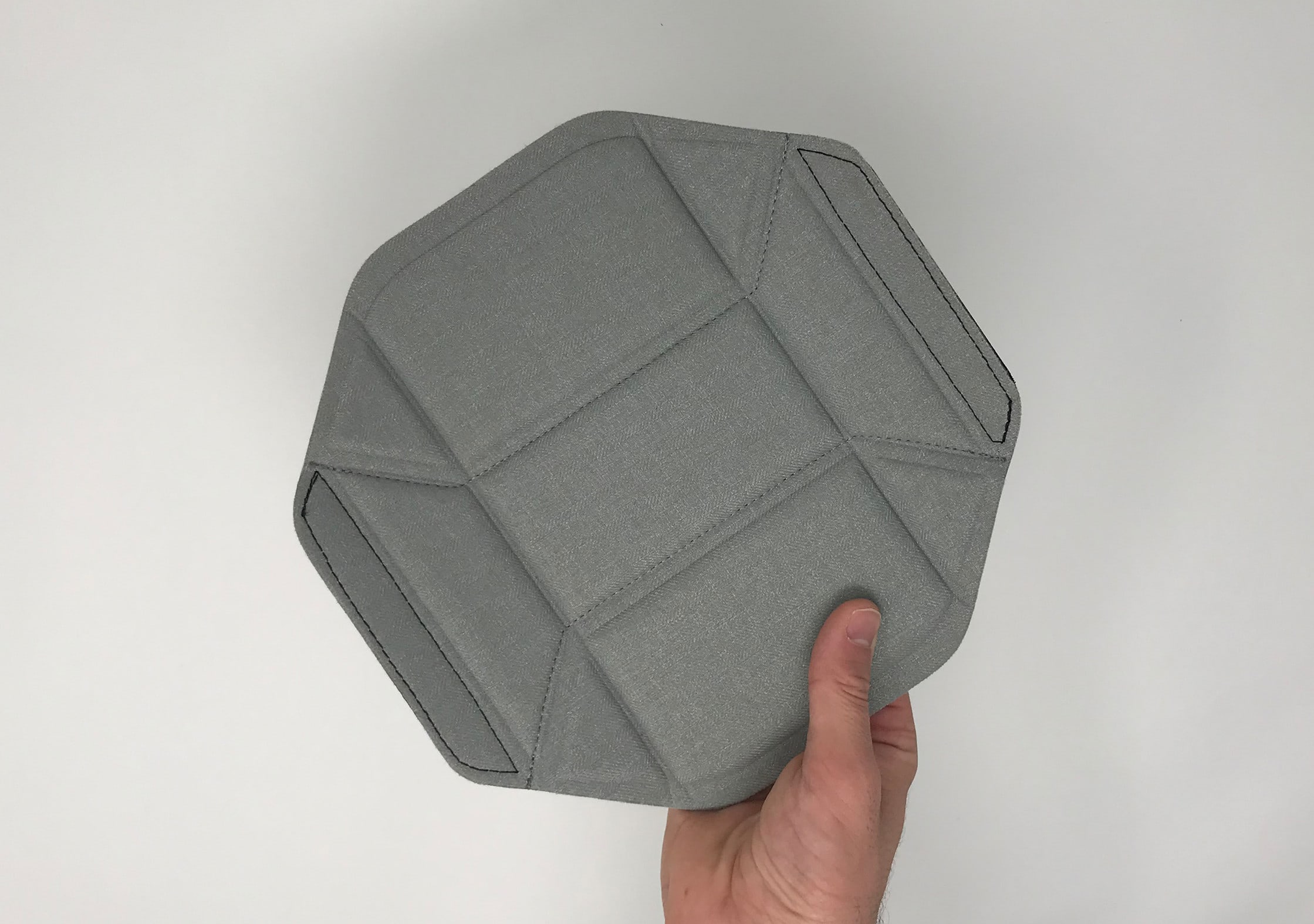 The pack comes with three padded dividers that will be essential for photographers, and super convenient for everyone else. They also look like ninja turtle shells—which is how we like to refer to them. Anyway, the ninja turtle shell dividers strap to the inside of the main compartment, creating shelves. If you are accessing the pack from the top, this isn't very useful. But if you are accessing the pack from the side, it is incredibly useful. When accessing the pack from the side, they nicely divide up the main compartment—and you can totally customize how they are arranged. For photographers, these dividers are great for organizing expensive, fragile gear—but they can be used to organize pretty much anything.
They can even be manipulated to create smaller shelves within the shelves—shelfception. If you have a ton of camera lenses or other things that need to be organized it could be useful.
In addition to the main compartment, there is a laptop compartment with three sleeves. Accessible from a zipper at the top of the pack, this compartment lays flat when not in use, and expands into the main compartment when full. But it really doesn't take much space away from the main compartment, which we like. There is a small sleeve for random essentials, a slightly larger sleeve that is perfect for a tablet or notebook, and the main sleeve for a laptop. The 20L pack fits a 15" laptop easily, and the 30L will fit a 17" laptop.
There is also a small, concealed pocket on the inside of the main compartment. It closes magnetically and is a great little pocket for stuff you need to keep secure, like passports, ID's, wallets, or cash.
So that pretty much covers the compartments. But this bag offers a ton of other awesome features that really set it apart from other backpacks. The shoulder straps, for example, are attached with a metal piece that lets them swivel and rotate, which provides some added comfort depending on what position you are carrying the bag in and what body type you have. These swivels also make it incredibly easy to swing the pack around and access one of the side compartments.
We've never really thought about backpack adjustment straps before this bag. Seriously, have you? They're usually just sort of "there." But all of the adjustment straps on this pack are really awesome—nice metal buckles that just work really well. The shoulder straps are ridiculously easy to adjust, probably the slickest system we've ever seen on a backpack. You can easily loosen one of the straps and swing the pack in front of you to access side pockets with minimal effort.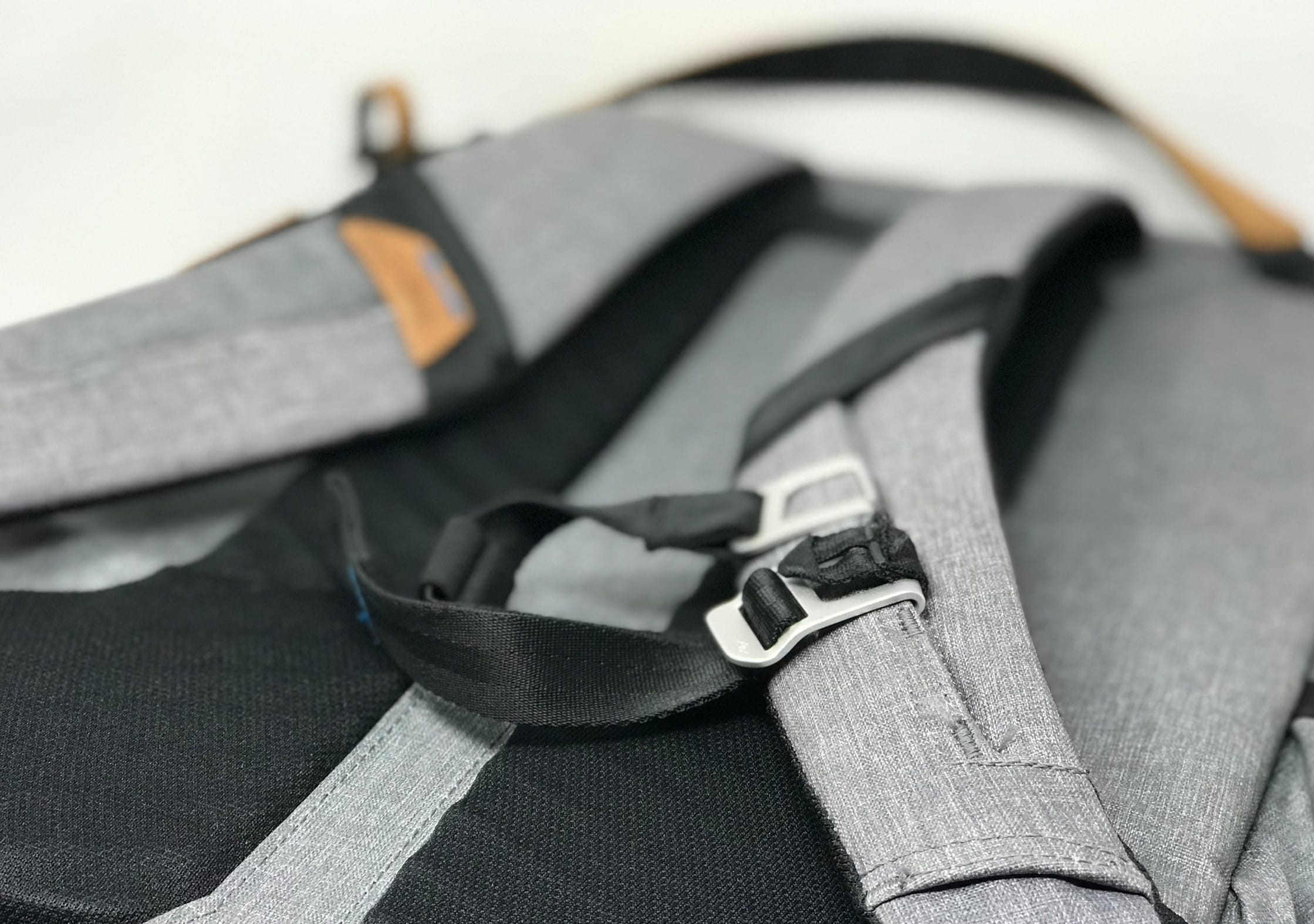 The sternum strap is super cool as well—it has a really unique clip system that lets you clip it onto various parts of the shoulder straps. This also means you can easily clip both parts to one shoulder strap, so you don't have a dangling sternum strap when not in use.
The hip strap is also really clean, in that it packs up nicely into the side pockets when not in use. But it is kind of a pain to pack it up and adjust it with everything going on in the side pockets. We understand why they did it—hanging hip straps are super annoying—but it isn't the most convenient system, as the pockets are pulling a lot of duty holding a bunch of straps.
On the backside of the pack, there is a nice foam pad that adds some extra comfort, ventilation, and is supposed to limit sweat points. It also doubles as a strap to attach the pack to luggage handles, which is really convenient for traveling.
On the side, you will find pockets that are totally flat when not in use but can expand to fit large water bottles or whatever else you might need quick access to. They do this by using some elastic straps, which we weren't super thrilled about. The other problem we found with these is that, when full, they hinder your ability to access the main compartment from the side. Still good for holding a water bottle, we just expected it to be executed a little better.
There are still more straps on the side—similar to the sternum strap, they can attach to a bunch of different places on the bag. These can go across the back of the pack to be used as compression straps, lowering the profile of the bag and making it less bulky. You can use the straps to attach larger objects, like tripods, to the side of the pack—just be careful that everything is securely strapped on if you do try this.
There are some external storage straps that really add a lot of functionality to the backpack. Yes, lots of backpacks have external straps. But these ones can be attached to a bunch of different points on the outside of the pack, adding another layer of customizability. They can really hold a lot of extra gear—hiking poles, sleeping pads, yoga mats, the Peak Design guys even strapped a full grocery bag on there! The best part, though, is that all of the external straps are easily stored away in a small, magnetically sealed pocket at the bottom of the bag, and in the side pockets. Pull them out when needed, otherwise keep them hidden away for a nice clean look.
Finally, there are three carrying straps—a leather top strap, and two fabric handles on either side—meaning you can easily carry this thing, however, you'd like. This, combined with the luggage sleeve, makes it a great travel bag. You can easily pick up the bag without actually strapping it to your back.
If you can't tell by now, this backpack offers a lot. In fact, this is one of the most functional backpacks out there. It can tackle pretty much anything you could need, plus you'll look great while doing it. At the time of this review, the Everyday Backpack is listed at $259.95 for the 20-liter option, and $289.95 for the 30-liter option. This is one of those pieces of gear that is definitely worth the price tag. If you want a highly functional, versatile backpack with some great durability, this is it.
Usage Timeline
Initial Usage
Condition: Excellent
Looking great out of the package.
3 Months of Use
Condition: Excellent
Still going strong. All of the many features are still intact and kicking.
6 Months of Use
Condition: Good
Very slight discoloration on the pack. Very minor aesthetic wear & tear on the grey Kodra fabric, and Peak Design offered to fully replace the pack.
Access the Pro Community Discussion
Get your questions about the Peak Design Everyday Backpack (30L) answered from our team and the Pro Community right here on the page. Plus, join discussions with other members about gear, guides, and more.
Other Bags & Luggage Reviews