How To Choose The
Best Laptop Bag
The ultimate guide to selecting the best laptop backpack, tote, messenger, and more.
Table of Contents
Updated:
December 2, 2022
01

Introduction
There's more to a laptop bag than simply being able to carry a laptop.
Finding the Best Laptop Bag for You
If you want to leave your house with your laptop, then you're probably going to want a laptop bag. Of course, you probably already know this. But you may not know which laptop bag you should buy. There seem to be a million (approximately) options out there.
Unfortunately, we can't tell you what the best laptop bag is. We wish we could, because let's be real, it would be a lot easier to simply write the name of a single bag than an entire guide about a bunch of them. Unfortunately, there is no such thing as the "best" laptop bag because everybody has different needs and preferences.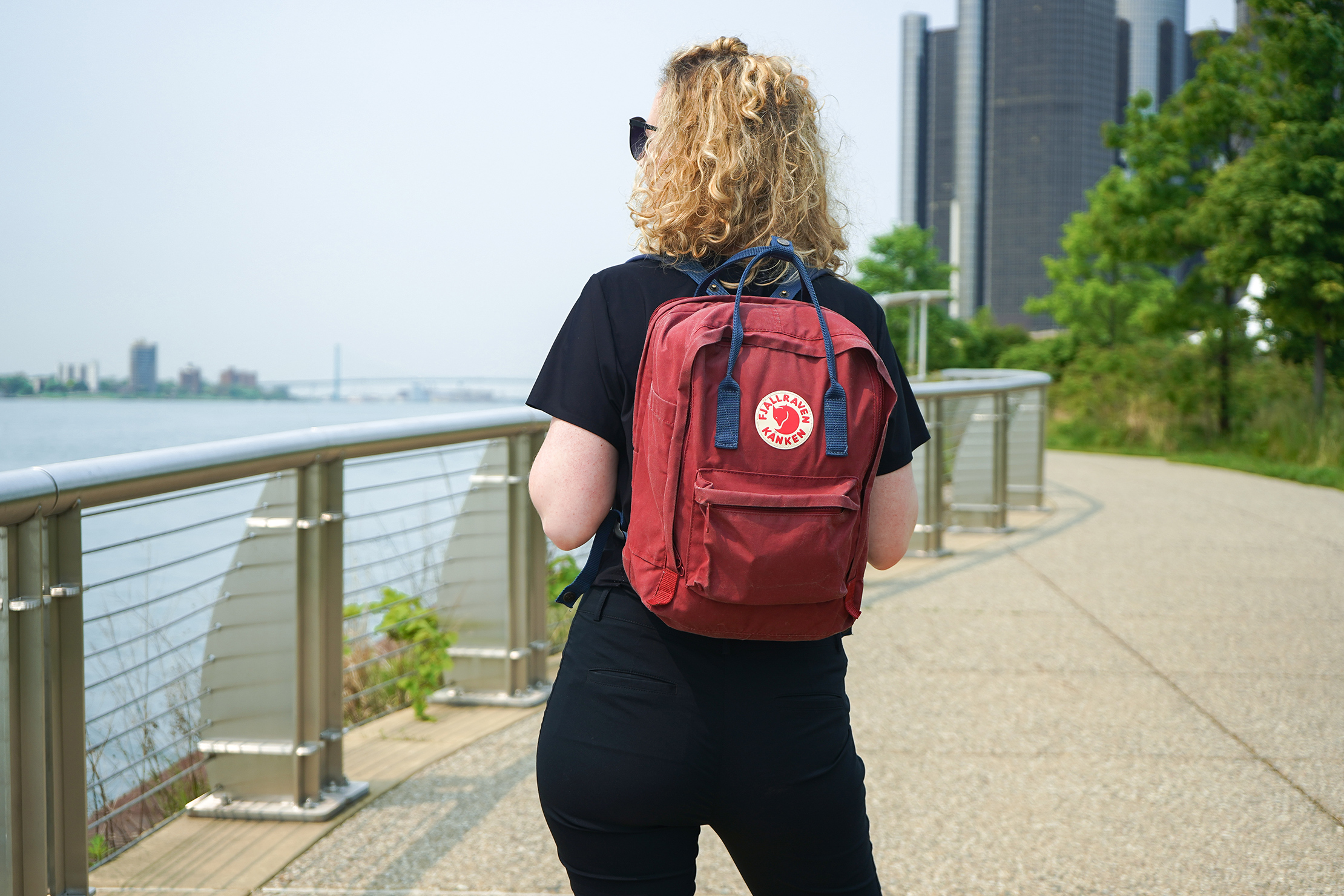 So, in this guide, we're going to walk you through how to choose the best laptop bag for you.
What You Can Expect From This Guide
Here at Pack Hacker, we're all about putting gear to the test, noting all strengths and weaknesses as we go. (We've written about
our testing and reviewing process here
if you would like to learn more.)
For this guide, our team of gearheads has gotten our hands on over 100 laptop bags. We've looked at each one, even fully testing and reviewing several of them. Based on months—sometimes years—of using these bags, we're going to take you through everything you need to consider when choosing the best laptop bag for you. That means diving into all the different components of laptop bags and explaining what works best for a variety of situations. Throughout this guide, we'll also provide laptop bag recommendations that are, once again, based on our rigorous testing.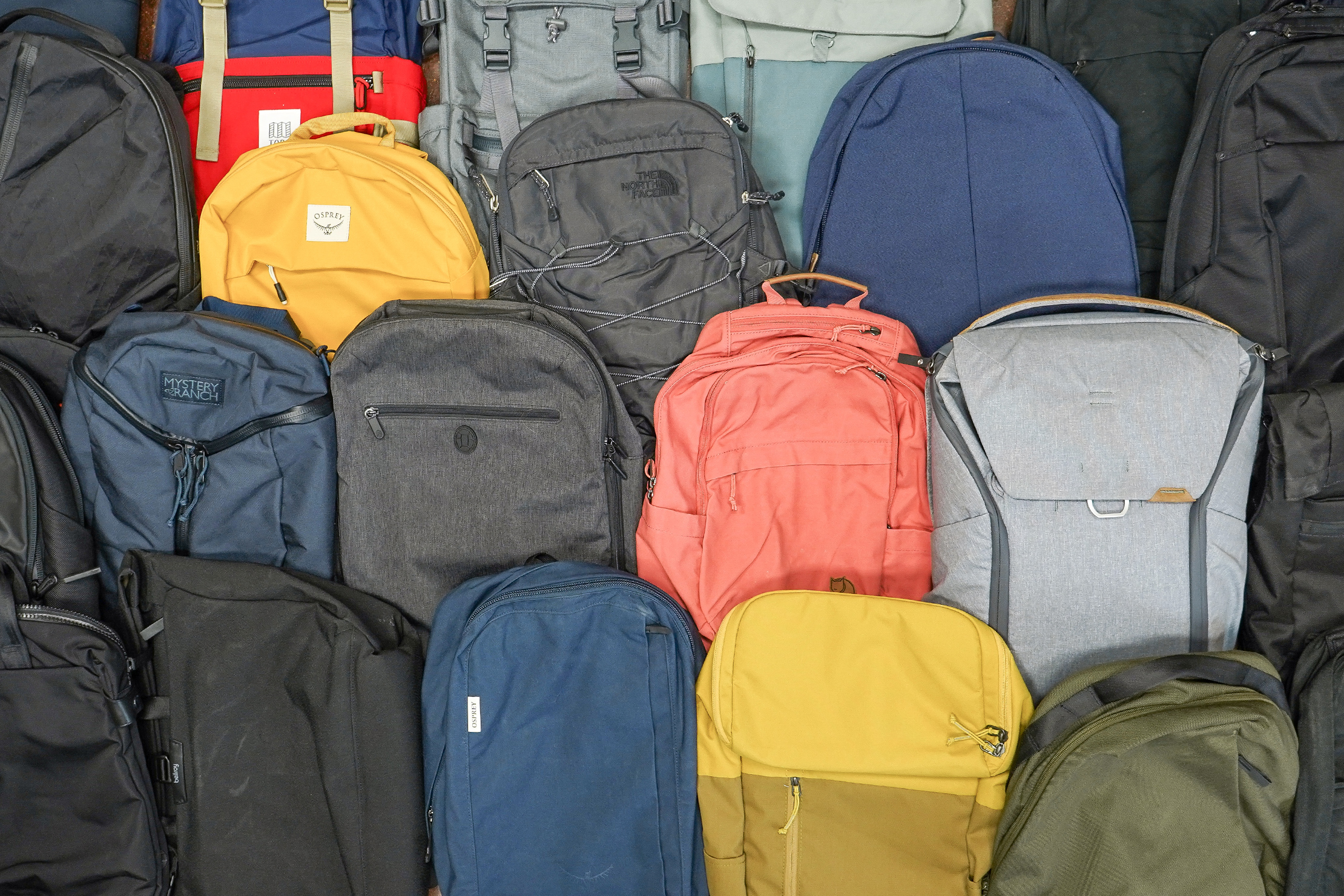 Now, we understand that you're a busy person and may not have time to read every single word of this guide. So, we've recommended ten laptop bags below that cover a wide range of use cases. Keep in mind, everybody has different needs and lifestyles, so your future favorite may not have made the list. That's why we recommend you read the full guide—or, at the very least—skim it while enjoying your morning cup o' joe.
A Preview of Some Great Laptop Bags
What is a Laptop Bag?
Before we get going on this guide, let's make sure we're on the same page about what a laptop bag is. Sure, you can shove a laptop into whatever you have on hand and call it a laptop bag. We're not going to stop you.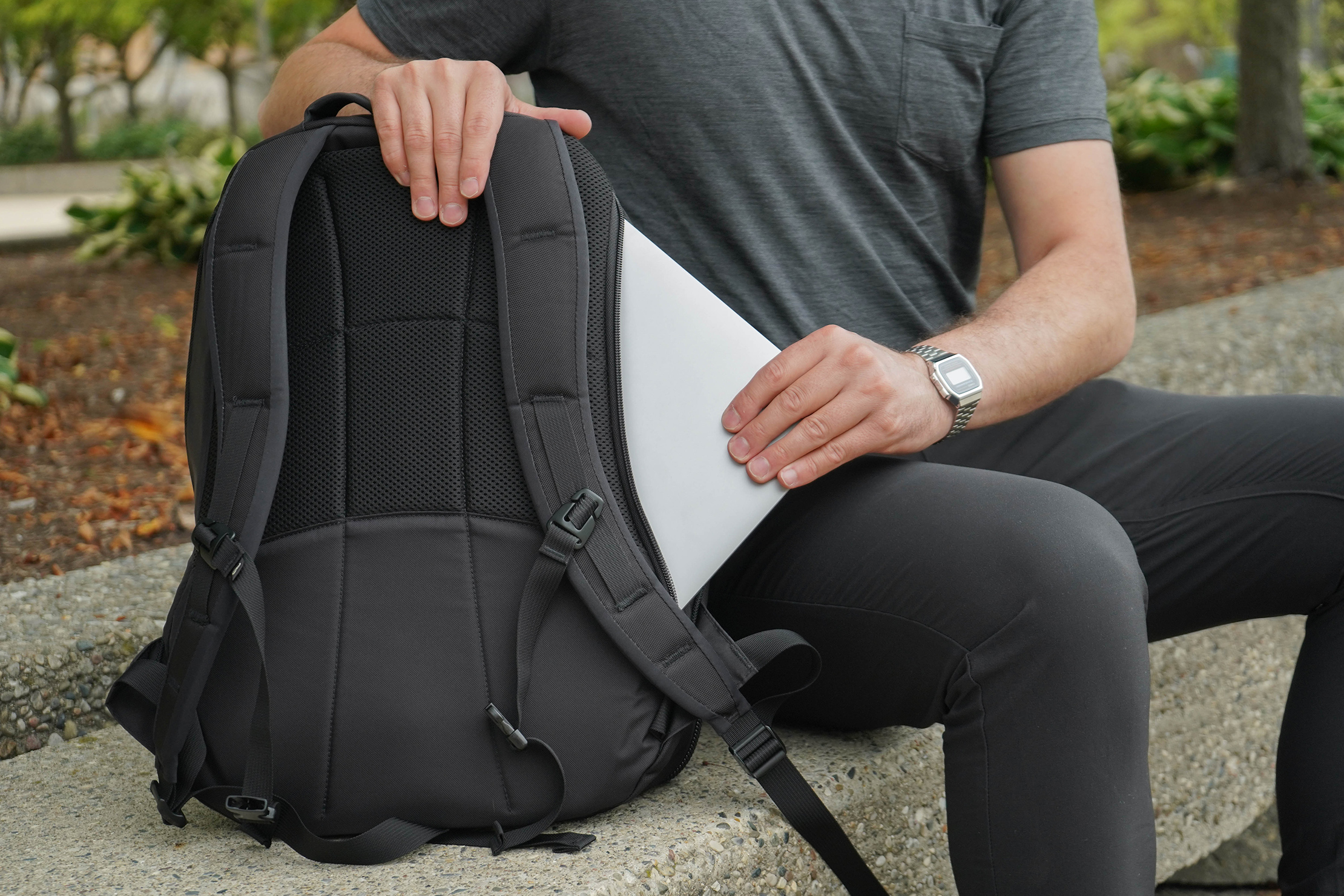 That said, we define a laptop bag as a bag that has specifically been designed to hold a laptop. To put it another way: a laptop bag is a laptop bag first and a camera, travel, hiking, makeup, dog, etc., bag second.
Conversely, you can have a bag that just so happens to be able to hold a laptop. Take travel backpacks—they're designed for travel, but many of them have a laptop sleeve, too. See the difference?
02

Considerations
Overwhelmed by all of the laptop bags out there? We've got your back.
What to Consider Before You Buy a Laptop Bag
Finding the perfect laptop bag can be as overwhelming as finding the perfect pasta sauce. There are just so many options. Marinara, pesto, Alfredo, vodka, oil, and garlic…Whoops, went off on a tangent there. The point is there are so many laptop bags—and pasta sauces—to choose from.
The best way to combat overwhelm is to think through a few key considerations, which we've listed below. If you're able to think through these points and clearly understand your needs, you'll be well on your way to finding the perfect laptop bag for you. So, let's get into it.
Use-Case
You may be thinking to yourself, "Obviously, I'm planning on using my laptop bag to carry my laptop. Next consideration." But we challenge you to dig a little bit deeper here. Consider:
Your Commute
It's worth spending time figuring out the challenges of your commute and how your bag will meet those challenges. Take public transportation, for example. If you ride the subway to work, school, or wherever else you want to bring your laptop bag, a challenge may be limited legroom and space. If that's the case, you'll want a bag that's compact enough to not crowd your legs, annoy your seat partner, accidentally whack people in the face while you're standing, or take up a whole extra body's worth of space.
Or maybe you take a bus that has plenty of legroom, but your bus stop is over a mile away from your destination. You'll want a bag that's comfortable enough to carry that distance.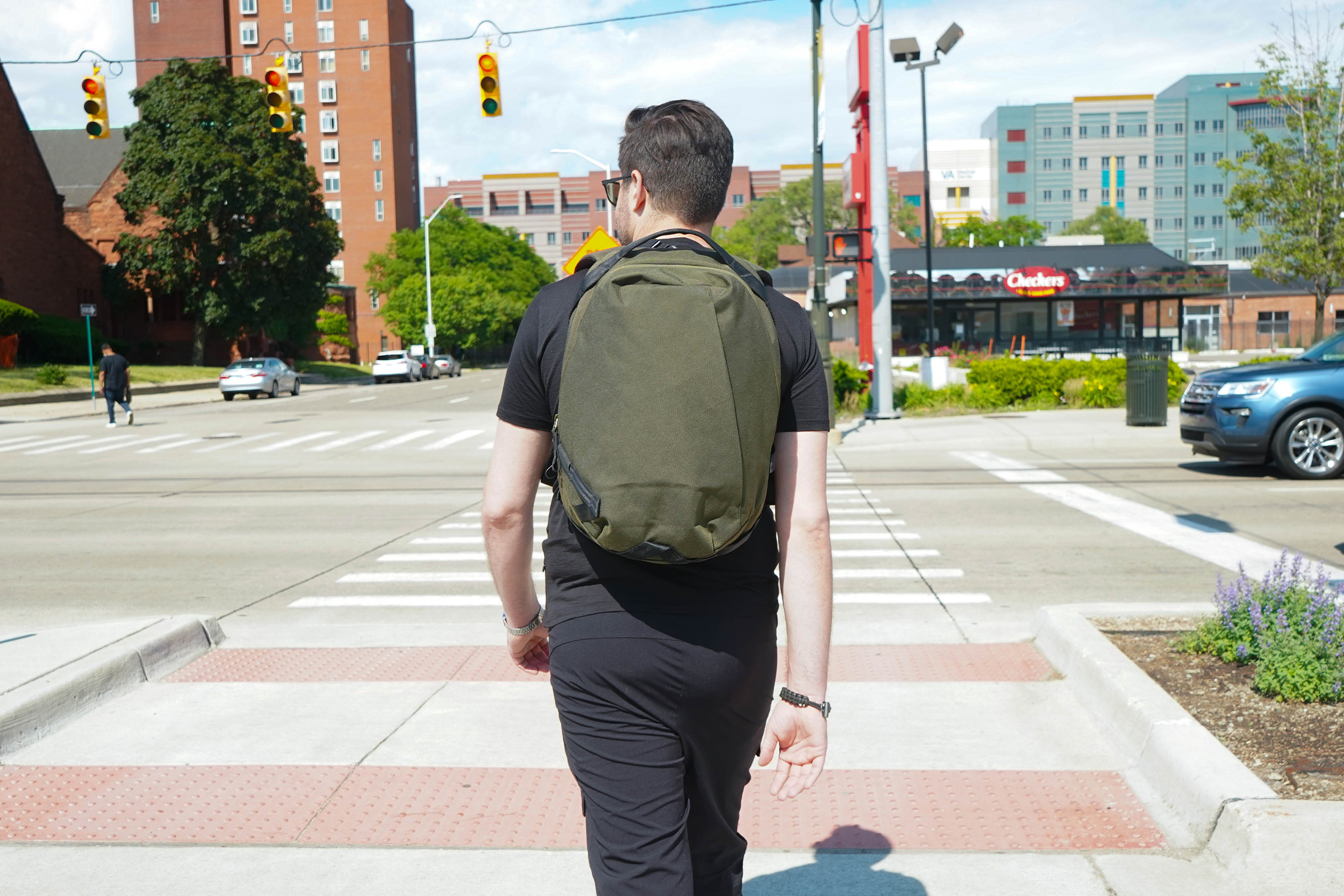 If you ride a bike to work or school, you'll want something with solid weather resistance, whereas if you drive, you may want a tote or briefcase for convenience and accessibility. You can easily grab something from an open tote hanging off of your shoulder, which isn't necessarily true with a backpack. You get the idea.
Now, make sure you think about all of the ways you get to the office/coworking space/coffee shop/school/laptop bag convention. Even if you only scooter to work for the summer months, you'll want a laptop bag that can keep up with your epic scootering.
Your Workspace
You may work at a traditional office, a coworking space, a coffee shop, the pool at your apartment complex, your father-in-law's attic, and so on. In the modern world, it seems like you can work anywhere (particularly if you work on a laptop).
Different laptop bags work better or worse for different workspaces. For example, if you regularly work at a coffee shop it's nice to have a laptop bag that stands up on its own. That way, it won't slide down the table legs to the floor and get in everyone's way. If you work in a cubicle at a traditional office, it's nice to have a laptop bag that's small enough to easily slide beneath your desk. If you go to school, you'll probably appreciate a laptop bag that's comfortable enough to carry between classes.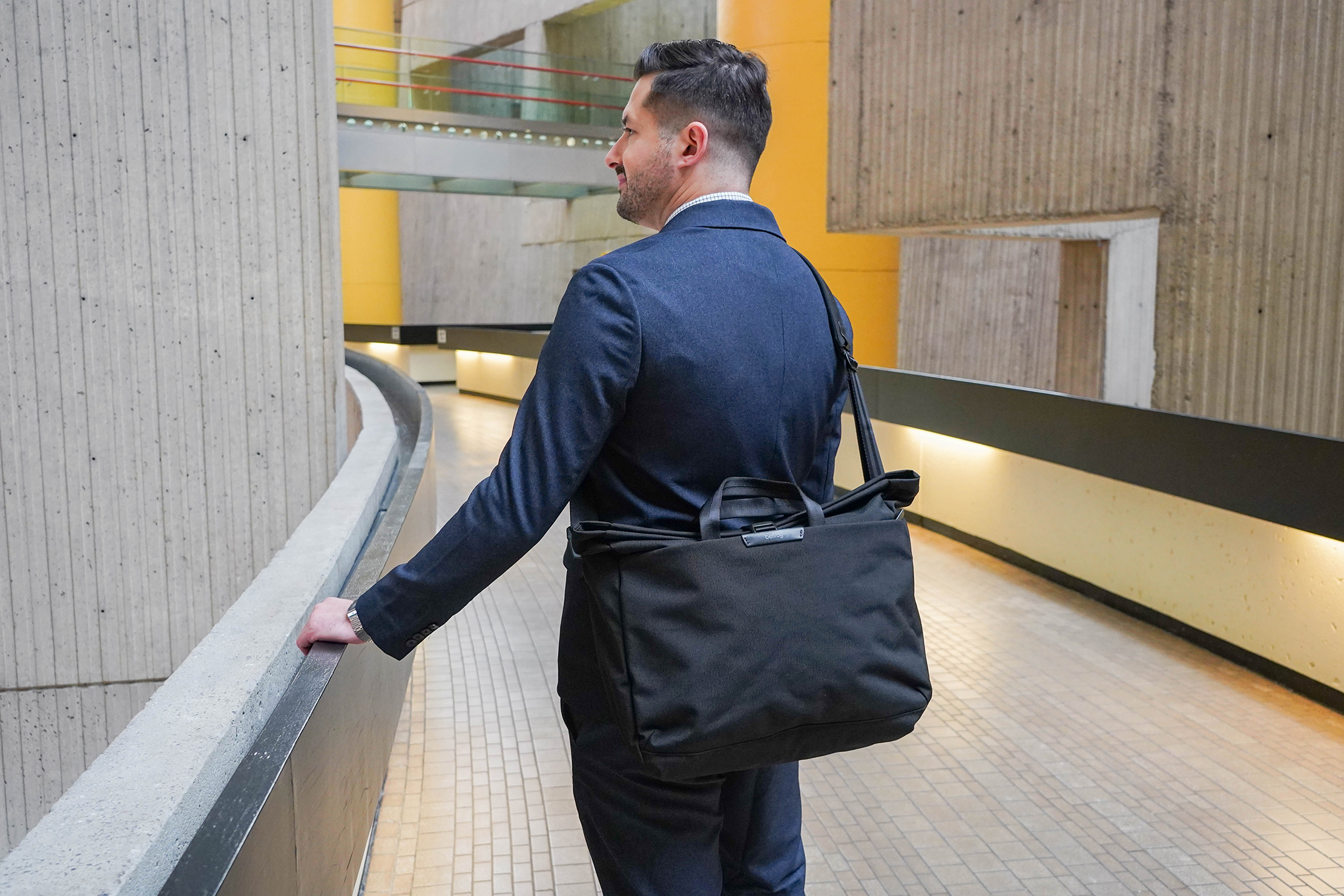 Also, consider the dress code at your work. Some workspaces are dressier than others and may prefer more professional messenger bags or briefcases over laptop backpacks. That's important to keep in mind unless you're a #rebel who likes to break the rules.
Additional Activities
A laptop bag can do more than hold a laptop so consider any secondary activities you would like to use your it for. They may include:
You may find yourself in other scenarios outside of the ones on this list, but we hope that we've sparked your imagination. Of course, laptop bags won't work for every single occasion. Activities like backpacking or long-term travel will likely require that you pick up a separate bag. But some versatility is a plus, so look out for:
A larger size: Increasing the capacity gives you more space to work with, allowing you to use it for short trips, groceries, beach excursions, etc. Of course, the downside to a larger laptop bag is that it will be more cumbersome to carry for everyday life. (We'll discuss size more in a bit.)
Minimal organization: A big bucket of a compartment will fit a larger diversity of gear than one that's filled with pockets or otherwise sectioned off. Too much organization—especially specific organization designed for specific gear—can feel limiting.
A separate laptop compartment: If there's a specific compartment for your laptop, you can use the remaining compartment(s) for other stuff. We'll talk about this concept more in the Organization section of this guide.
Size
You should take into consideration not only the size of the laptop bag, but the size of its laptop compartment, sleeve, and/or pocket. Brands call the dedicated laptop spot inside of their bags by different names. For simplicity's sake, we're going to refer to these spots as laptop sleeves throughout the rest of this guide.
Sleeve Size
This goes without saying, but make sure to choose a pack that has a laptop sleeve that will fit your laptop. You don't want a sleeve that's too small, and you don't want anything too big, either. Your laptop may move around during transit, which opens up more opportunities for damage.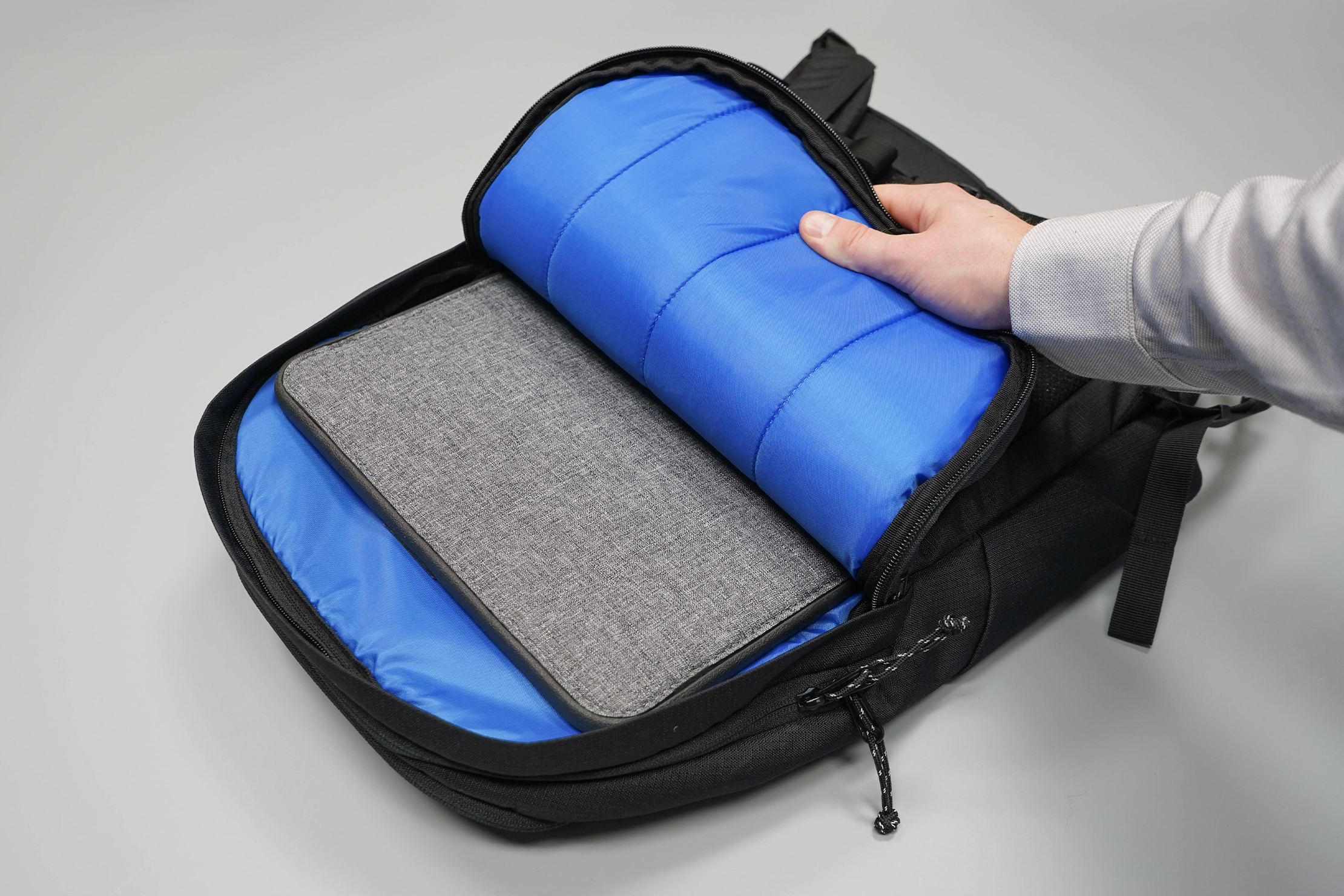 Unfortunately, this isn't as simple as it sounds. The advertised laptop sleeve size can vary from company to company. One brand's 13'' sleeve will easily fit a 16'' laptop while another's 13'' sleeve will barely fit a 13'' laptop. (Exasperating, right? Get it together, brands!). To be extra sure, it's probably best to size up. If the sleeve ends up being too big, you can always stick your laptop inside of a case or an additional padded sleeve first. We'll talk about laptop protection more in the Protection section of this guide.
On a similar note, if you plan to put your laptop inside of a separate sleeve or case before putting it into your bag, make sure you consider that when looking at the laptop size limitations. If your additional protection is too bulky, it may not fit inside.
Bag Size
By our definition, laptop bags are usually between 15 and 30L. Keep in mind, that 1) there are many exceptions to this "rule" and 2) there is no standard backpack liter measurement. One company's 20L can be another company's 15L. (Again, get it together, brands!).
You may want a laptop bag that can hold your lunchbox, change of clothes, and go-to encyclopedia as well as your laptop. As we mentioned earlier, larger capacities do tend to make for more versatile bags, but they can be a pain to carry around.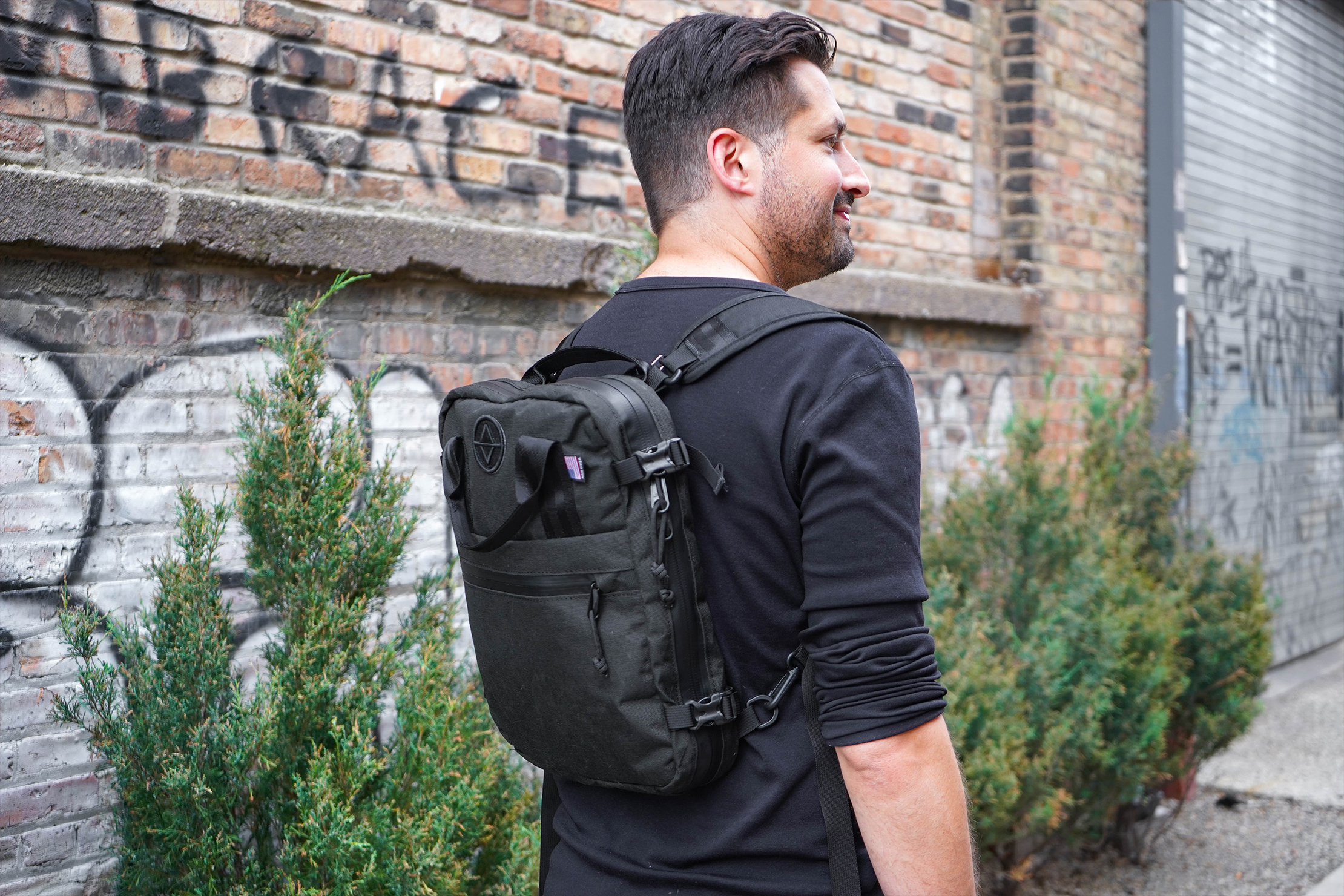 Or, you may want a laptop bag that will hold a laptop, a pen, and nothing else. If that's the case, you could probably even size down to an 8L bag. Smaller laptop bags tend to be easier to lug around and can work as lightweight daypacks when you want to carry a little more than your pockets allow. But, if you ever do need to haul your go-to encyclopedia to work, you may run into problems.
Style
We probably don't need to tell you that aesthetic is a key factor when it comes to choosing a laptop bag. You'll likely use it frequently—maybe even daily—so you should love how it looks. Luckily, there are so many high-quality laptop bags that you should be able to find one that's not only your style but also durable with thoughtful organization and adequate laptop protection.
We're not here to tell you what a fashionable laptop bag looks like—beauty is in the eye of the beholder, after all—but we've noticed the most common styles you're likely to come across, including:
Techy
Heritage
Business Casual (the bag version of a button-down and khakis)
Sporty
Classic (a slightly elevated version of your elementary school bag)
Fashion/Slick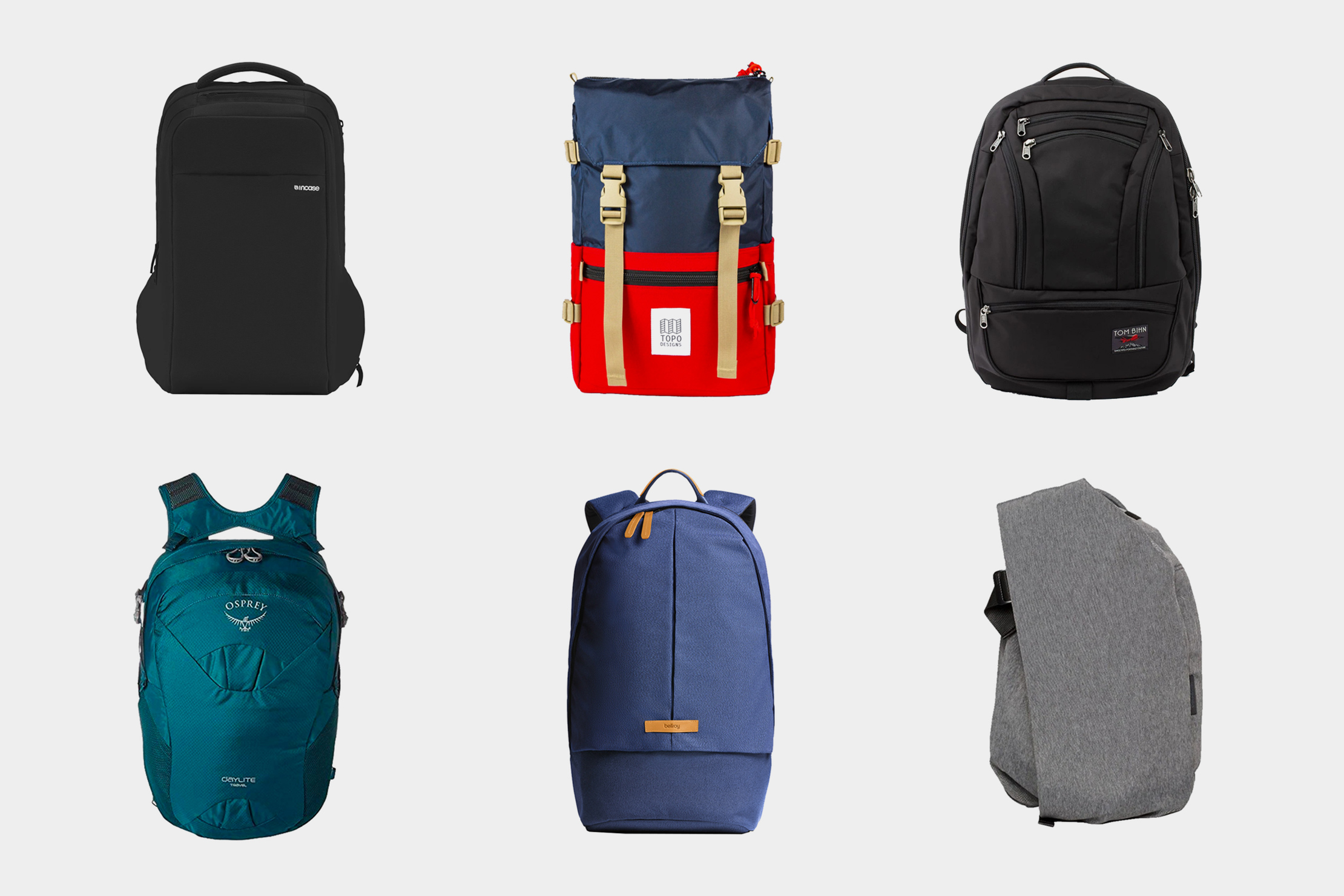 Materials, Durability, & Craftsmanship
We suggest investing in a bag that's made from high-quality materials with excellent craftsmanship. In your search for a laptop bag, you'll probably come across materials like:
Standard Nylon
Ballistic Nylon and/or Ripstop Nylon
Polyester
Various types of CORDURA® branded fabrics
Canvas
Leather
Tarpaulin or TPE Fabric Laminate
And more
We're not going to take a deep dive into all of these fabrics in this guide (check out our Travel Backpack Guide if that's what you're looking for.) As a general rule of thumb, Ballistic and Ripstop Nylon as well as CORDURA® branded fabrics are going to be your most durable. Leather and canvas laptop bags look classy and professional, although they'll be heavier and more susceptible to the elements than the synthetic options. For that reason, we don't generally recommend them for travel or if your commute involves a lot of walking. But, if you'll primarily be driving to and from work, a leather or canvas laptop bag could treat you well (and impress your fashionista coworkers). Bags made from Tarpaulin or TPE Fabric Laminate will be highly water-resistant but will also pick up marks and scratches quite easily. Finally, Dyneema and X-Pac provide some nice weather resistance and are typically lighter weight, but they tend to be expensive fabrics.

Of course, the durability of your laptop bag should depend on personal preference and/or how often you'll be using it. Daily use is going to be tougher on your bag than if you work from home and only go to the neighborhood coffee shop occasionally.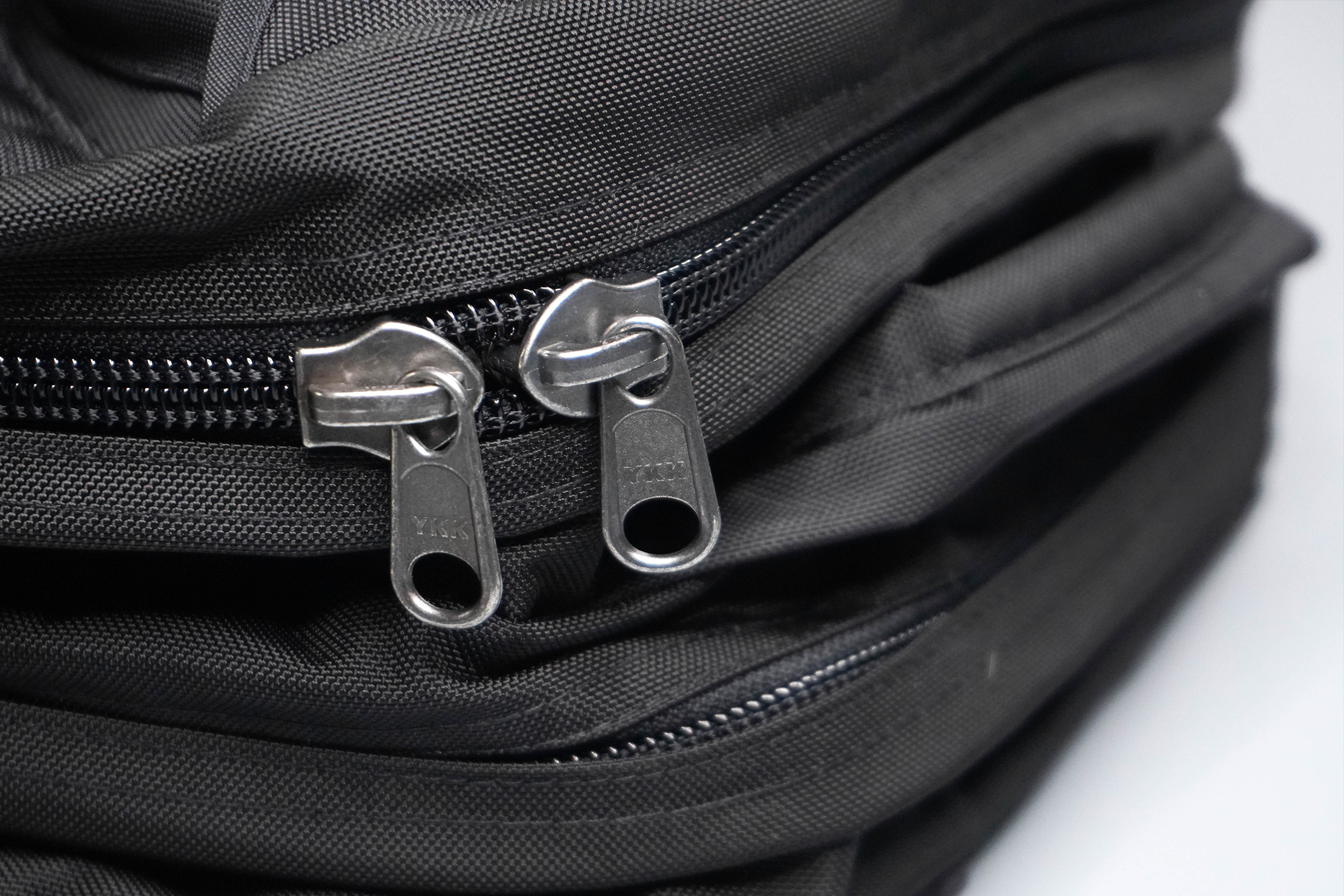 Also, consider zippers and hardware. They may seem like a small thing, but a broken zipper or buckle can render some bags inoperable. Do your best to avoid unbranded zippers and hardware (we've had some bad experiences). We've had great luck with YKK and Riri. Zoom and SBS zippers are decent, but we've generally found them to be less desirable. Duraflex, YKK, Woojin, Nifco, and ITW are all solid brands when it comes to other hardware on bags like buckles and strap-adjustment sliders. Note that zippers come in sizes on a scale from one (small) to ten (large). We'd recommend looking for something above a #5 for all exterior zippers, although #8-#10 will treat you the best. Smaller sizes work fine for internal pockets.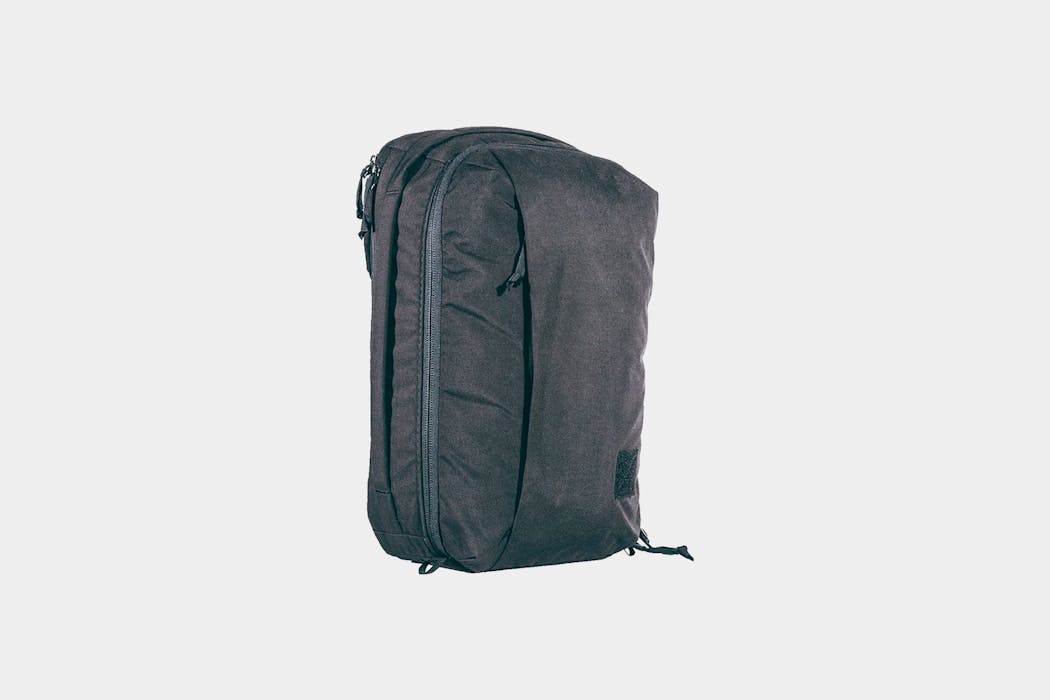 EVERGOODS
Civic Panel Loader 24L (CPL24 V2)
The EVERGOODS CPL24 V2 feels like it has been built to withstand a hurricane. That's to say, it's super durable with exceptional craftsmanship. The exterior of the pack is made of some durable stuff—500d High Tenacity Nylon 6,6 to be exact—that has been finished with a DWR coating for water and abrasion resistance. While the massive zippers can be a little sticky around the corners, they will (probably) last you decades to come. In fact, we wouldn't be surprised if you passed your EVERGOODS CPL24 V2 down to your favorite grandchild.
Budget
You should keep your budget in mind. If you can afford it, we suggest investing in a laptop bag that will last you for years instead of continually needing to replace a cheaper one. In the long run, purchasing a more expensive, yet higher-quality bag will probably save you money. Plus, it'll have a better environmental impact, keeping broken bags out of the landfill. As the saying goes, "buy nice or buy twice." Of course, this requires that you have the initial money to invest in a pricier bag, which we understand not everyone has.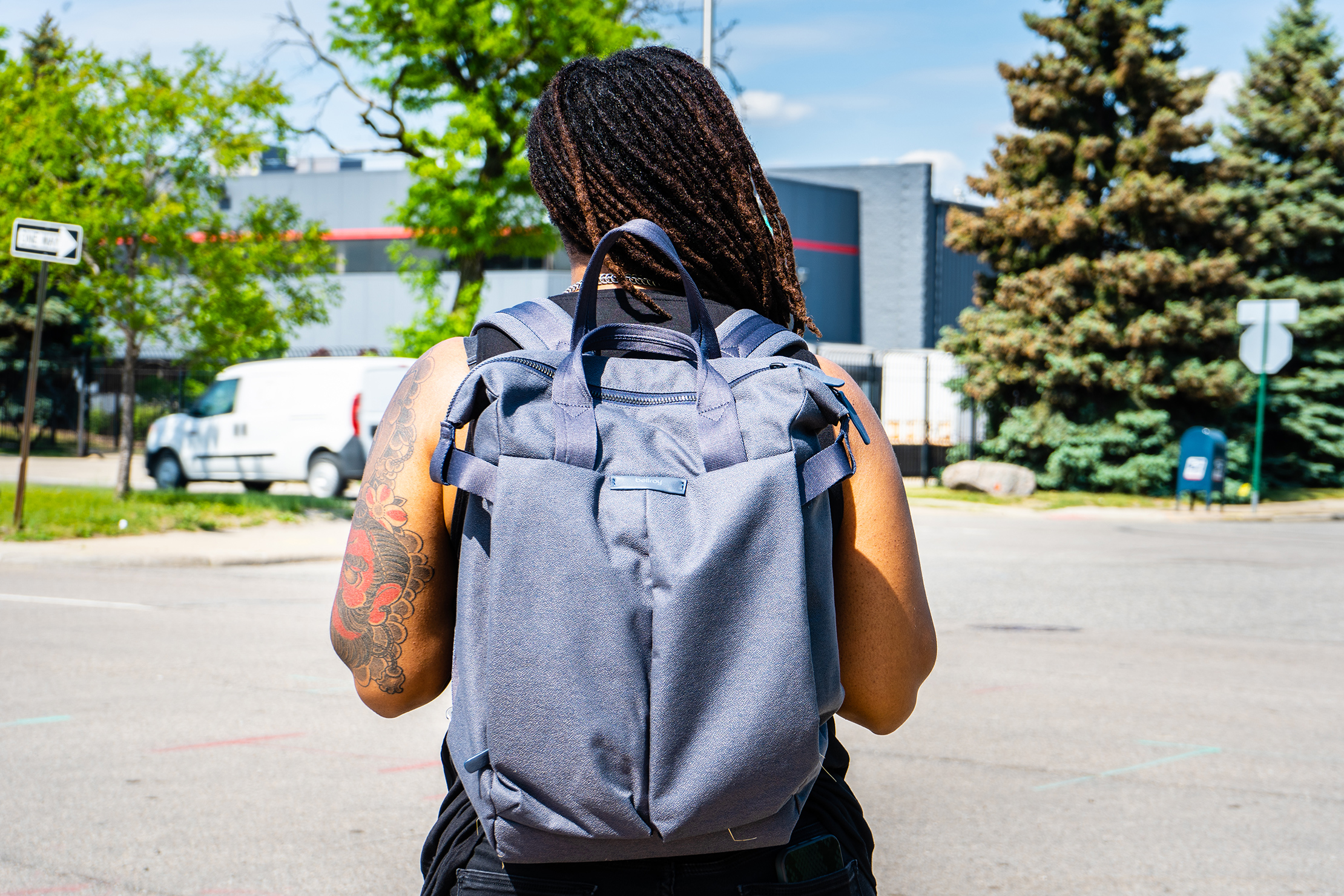 Now, keep in mind that expensive doesn't always translate to durable. Sometimes, you're paying for style, brand, or clever marketing. A good rule-of-thumb is to look for brands that proudly back their gear with generous warranties. That usually means a brand makes quality products that they're happy to guarantee. You can also read through our detailed reviews, as we're dedicated to helping you decide whether or not a bag is worth the money.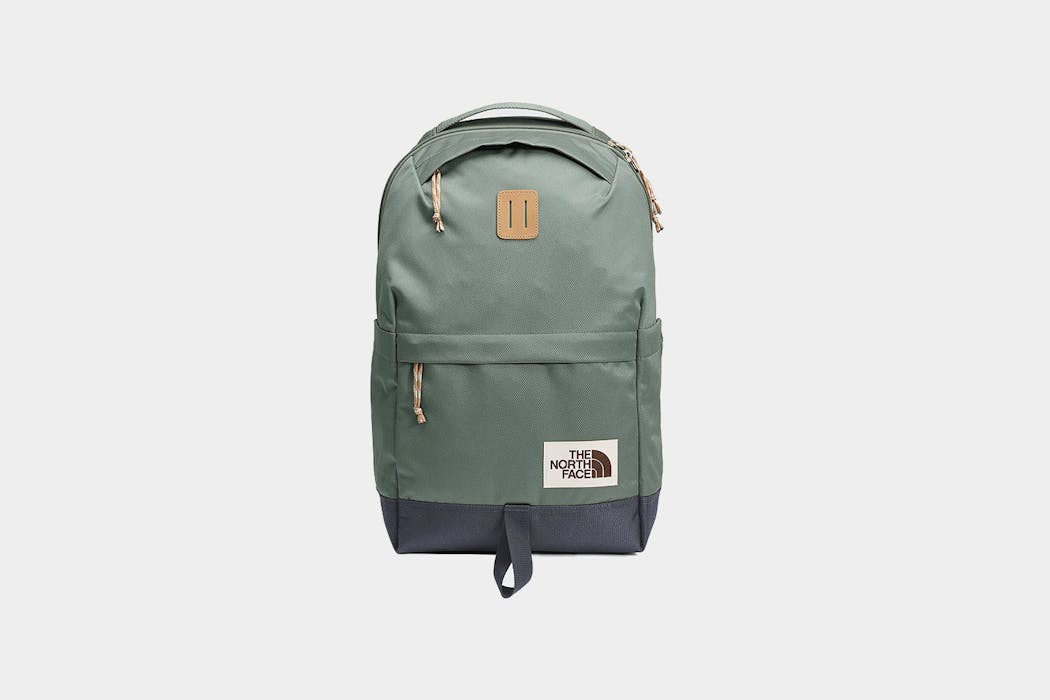 The North Face
Daypack
The North Face Daypack is a great budget laptop bag as it's intelligently designed and durable enough, yet clocks in at an affordable price point. It's solid all around—good harness system, good organization, and good laptop protection. Plus, it's available in several fun colorways to give your daily routine a splash of style.
03

Carry
A question of the ages: should you carry a laptop messenger, tote, or backpack? Let's break it down.
Laptop Backpack, Tote, or Messenger? How to Choose the Right Laptop Carry for You.
While searching for the best laptop bag, you'll probably run into the same modes of carry again and again. There are different pros and cons to each mode—which we'll discuss below—but it's also one of those things that's a personal preference. Maybe you're a huge fan of tote bags, although you can't put your finger on why. If that's the case, don't let us stop you from buying a tote. You do you.
Backpack

The Good:
First of all, if you haven't already gathered from what you've read thus far, there are a ton of laptop backpacks on the market these days, so, you have a ton to choose from.
Two straps also evenly distribute weight better than a single strap, meaning backpacks are likely going to be more comfortable to carry over long distances than other styles. Additionally, wearing a backpack frees up both of your hands, allowing you to do all sorts of two-handed activities (juggling, miming, and hand-clap games, to name a few). Backpacks can also be more versatile than some of the other options—you can take your laptop backpack on a hike, whereas a laptop briefcase probably won't hold up so well on the trails.
The Bad:
Compared to some of the other styles in this list, a backpack may look the least professional. Of course, you can find polished and stylish laptop backpacks, but they may not scream "office" as much as a tote or briefcase will. Additionally, backpacks can sometimes feel cumbersome if your commute primarily involves driving; throwing a backpack over your shoulder(s) for a 30-second walk into the office or your house can be annoying. Finally, getting inside a backpack may take a little bit longer than getting inside one of the other bag styles. You can't just leave the top of the backpack unzipped (unless you want to risk things falling out) like you can with a tote so it may be frustrating if you need to frequently get in and out of it.
Tote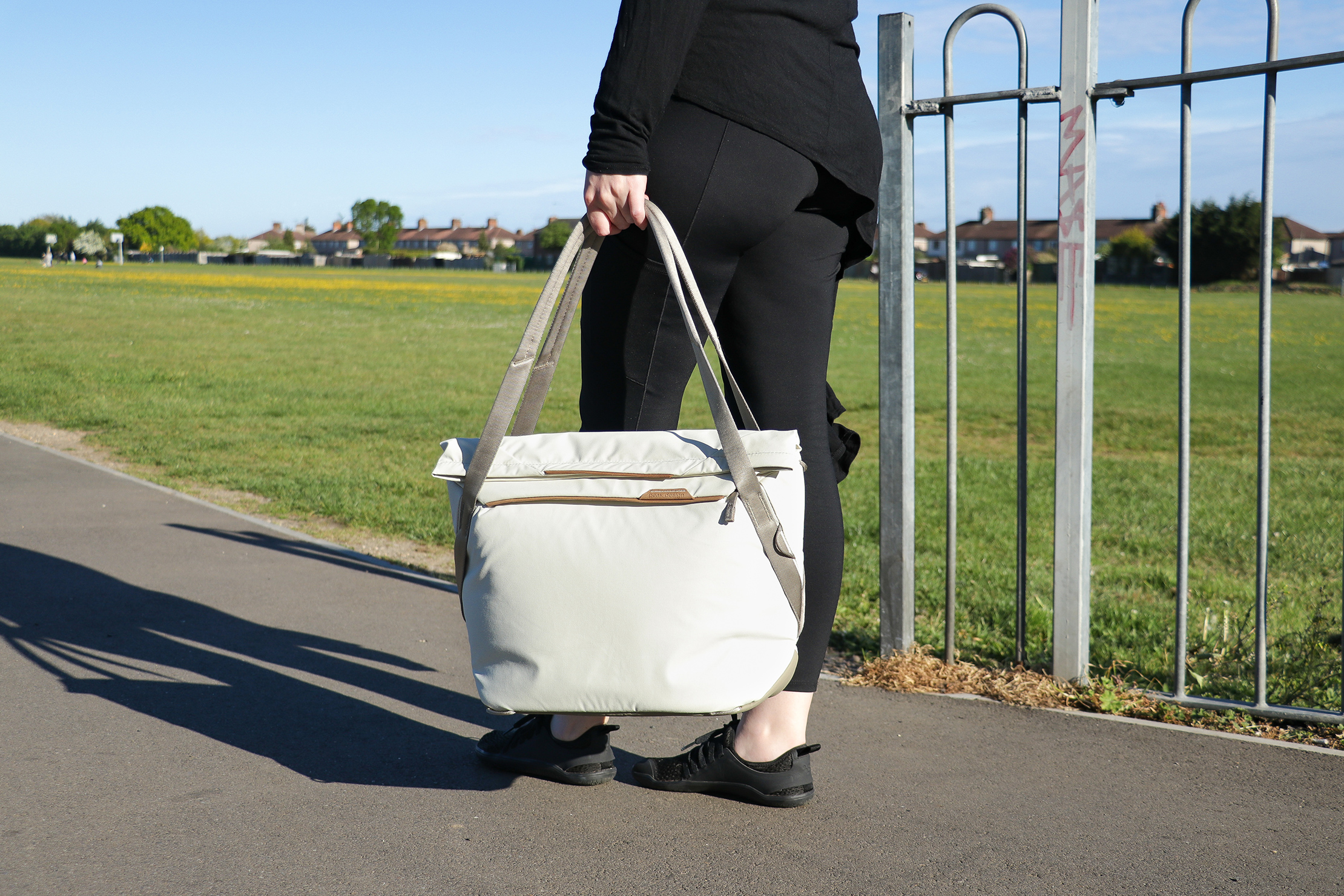 The Good:
Some totes close at the top, while others don't have a closure at all. Even totes that do close can usually be left open, so they're a great option if you're always pawing through your bag. And because of the possibility of an open top, you can stick in longer items whenever the need arises—say if you need to pack a tripod or want to pick up a baguette on your way home. Plus, they're a step up from a backpack as far as professionalism is concerned. (Of course, you can find an unprofessional tote. We're speaking in generalizations here.) The handles on a tote are also frequently large enough to toss over your shoulder, so you can have the hands-free carry that we love.
The Bad:
Totes can be uncomfortable to carry over long distances or when you load them up with heavy gear. Even well-padded handles can't stop your shoulder from aching after an hour of lugging your tote around. And, while you can toss those handles over your shoulder for that hands-free carry as we mentioned above, they can easily slip off your shoulder as you walk or bend down. Finally, when it comes to totes that don't close, it only takes one accident for all of your gear to be splayed all over the ground. So, clumsy folks beware.
Tote Pack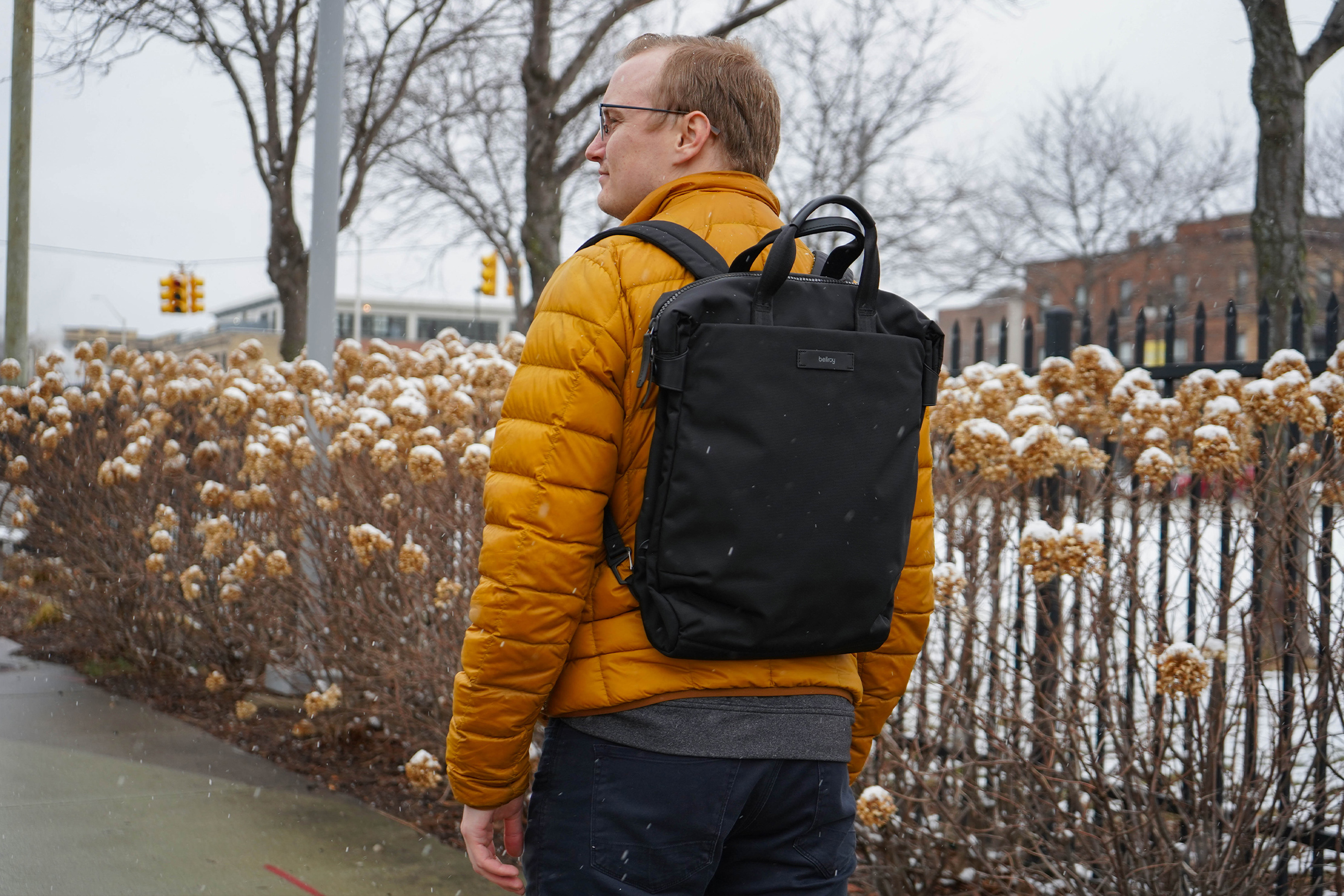 If you're not familiar, a tote pack is the combination of a tote and a backpack (tote pack, get it?). Basically, it's a bag that has stowable straps you can pull out whenever you'd like to have a backpack and hide whenever you'd like to have a tote.
The Good:
Tote packs combine the professionalism and accessibility of a tote with the comfort of a backpack. You can walk into a meeting with a tote pack in your hands and then when the business talk is over, throw it on your back and ride on home. Getting in and out of them is usually quick and easy, although not as much as with a regular tote.
The Bad:
While tote packs are more comfortable to carry long distances than a regular tote, they usually aren't as comfortable when worn as a backpack. That's because the harness system often isn't as robust or breathable. The back panels of tote packs frequently don't have any air channels or mesh for ventilation (this helps give the bag a clean look, but isn't ideal if you're a sweaty person). Moreover, they can also be cumbersome to convert from tote to backpack and back again. This isn't a huge deal if you don't need to convert between modes frequently, but it can get annoying if you're doing it every day.
Messenger Bag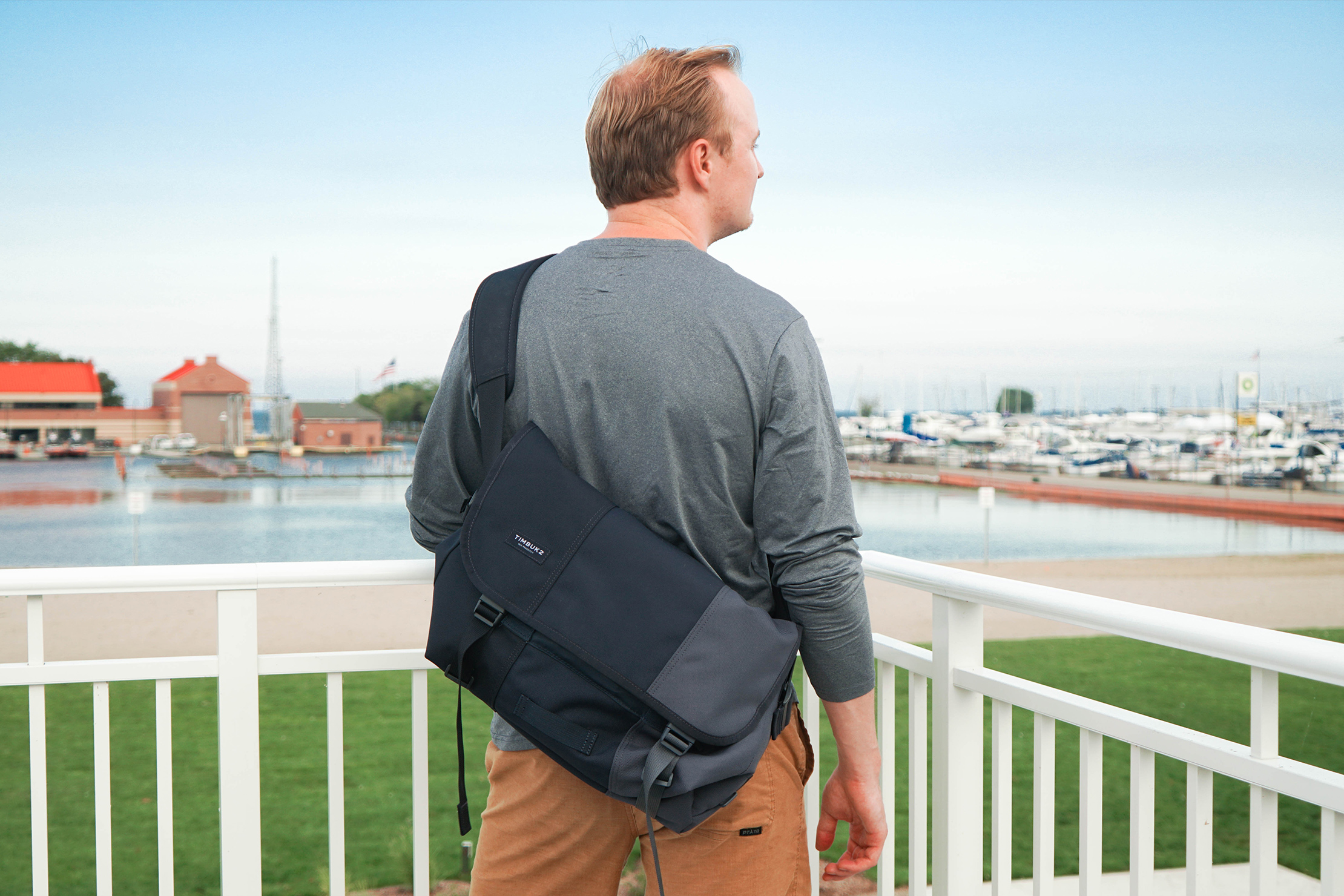 The Good:
Typically, messenger bags have been designed for laptop and office gear, meaning they're usually more mindful of organization and aren't often too bulky or oversized. They're also professional. You can easily find messengers sophisticated enough to rock at your law firm. Of course, you can also find more casual messengers.
Though they're not often as comfortable as a backpack, messenger bags can be enjoyable to carry for short periods. Just look for a well-padded shoulder strap that's properly anchored to the bag. Some messengers even have an extra stability strap to secure the bag to your body for better weight distribution and security while commuting. Lastly, like a tote, it's easy to get in and out of a messenger. You can simply reach into your bag hanging at your side instead of swinging a backpack off of one shoulder.
The Bad:
Yes, messengers can be comfortable to carry, but they're still dumping a ton of weight onto just one shoulder, which gets painful with time and can also make you walk unevenly. They're also generally more unwieldy and less secure than other bags, swinging around when you're walking or biking. (Unless a messenger bag has a stability strap, it's not ideal for bike commuting.) Finally, wearing a fully-packed messenger can wrinkle up your shirt, which may impact the professional aesthetic you're looking to achieve.
Editor's Note: These days, there's not a hard line between briefcases and messengers. There's quite a bit of overlap, and some people use "briefcase" and "messenger" interchangeably. While a traditional briefcase carry is a top handle you hold in the hands, modern briefcases tend to have a crossbody or shoulder strap as well. They often have more structure than messengers and are a little bit smaller and square-er. Of course, you'll find many exceptions on both sides. Because of these similarities, we're not going to have a separate section on briefcases. The pros and cons are the same.
Alternative: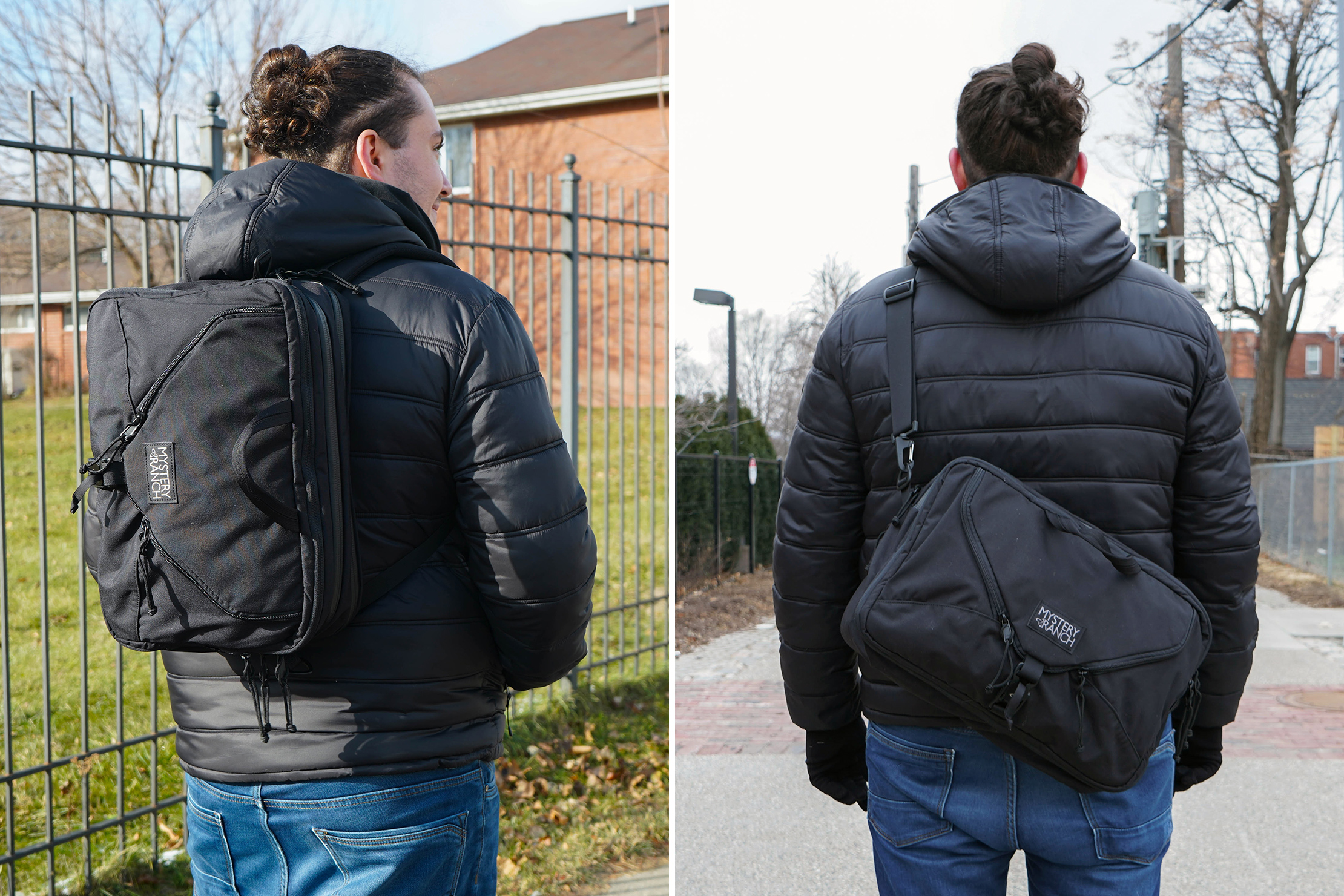 There are some laptop bags available that don't fit neatly into the above categories, including hybrid bags that you can carry in multiple ways. We're not going to take a detailed look at these bags—since they have pros and cons unique to the specific bags—but we wanted to point out that they exist in case you're less than impressed with the above options.
04

Protection
Padding is only the beginning.
Choosing a Laptop Bag That Will Protect Your Laptop and Fragile Gear
Arguably, one of the most important aspects of a laptop bag is how well it protects your laptop. Here's what you should look for:
Padding
Padding will protect your laptop from other items in your bag, but our team is split on how important we think padding is. Some of us prefer to stick our laptop in a separate case or sleeve before putting it in a laptop bag, which means it's not as important to have a heavily padded internal sleeve. Members of the Seperate Laptop Sleeve Club say that they give extra peace-of-mind, plus they're portable from bag to bag and add protection when you're carrying the laptop by itself.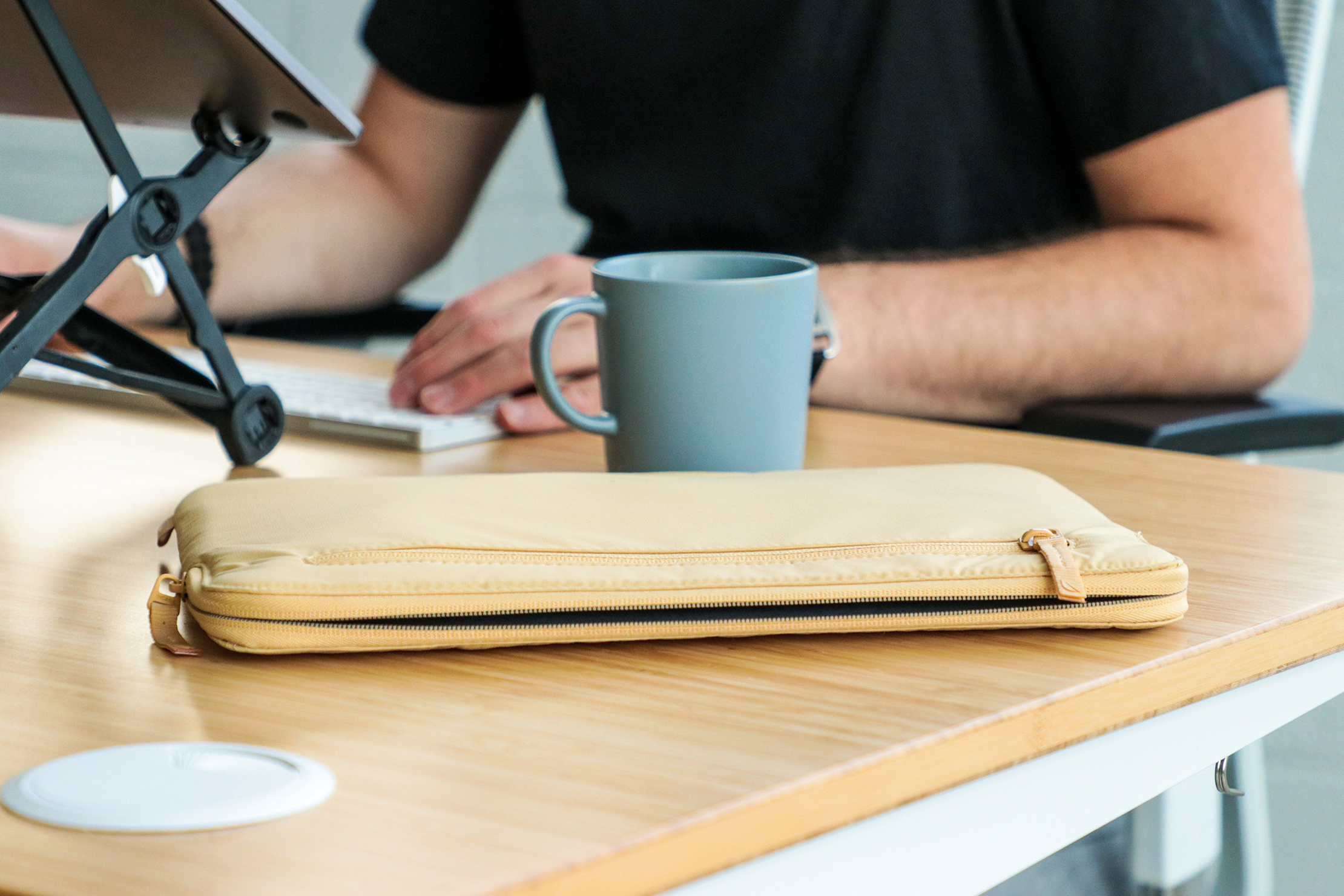 On the other hand, some of our team members appreciate laptop bags that feature enough padding that you don't feel like you need to put your laptop in a separate sleeve and/or case first. These members of the Dedicated Laptop Sleeve Club like bags with consistent, dense padding on all sides of the internal sleeve.
Now, all of us here at Pack Hacker think that an optimal laptop bag has more than just padding. In fact, we think that too much padding can lure you into a false sense of security. So, look out for other security features, which we'll talk about next.
False Bottom
A false bottom is exactly what it sounds like—the laptop sleeve or compartment ends before the bottom of the backpack. Basically, it suspends your laptop off the bottom of the bag. Why is this important? Because this means that if your pack hits the ground abruptly, your laptop won't smack the ground as well, which goes a long way in protecting your tech. Unless you can guarantee that you will never drop your laptop bag—or set it on the ground with a little too much oomph—then you're going to want a false bottom.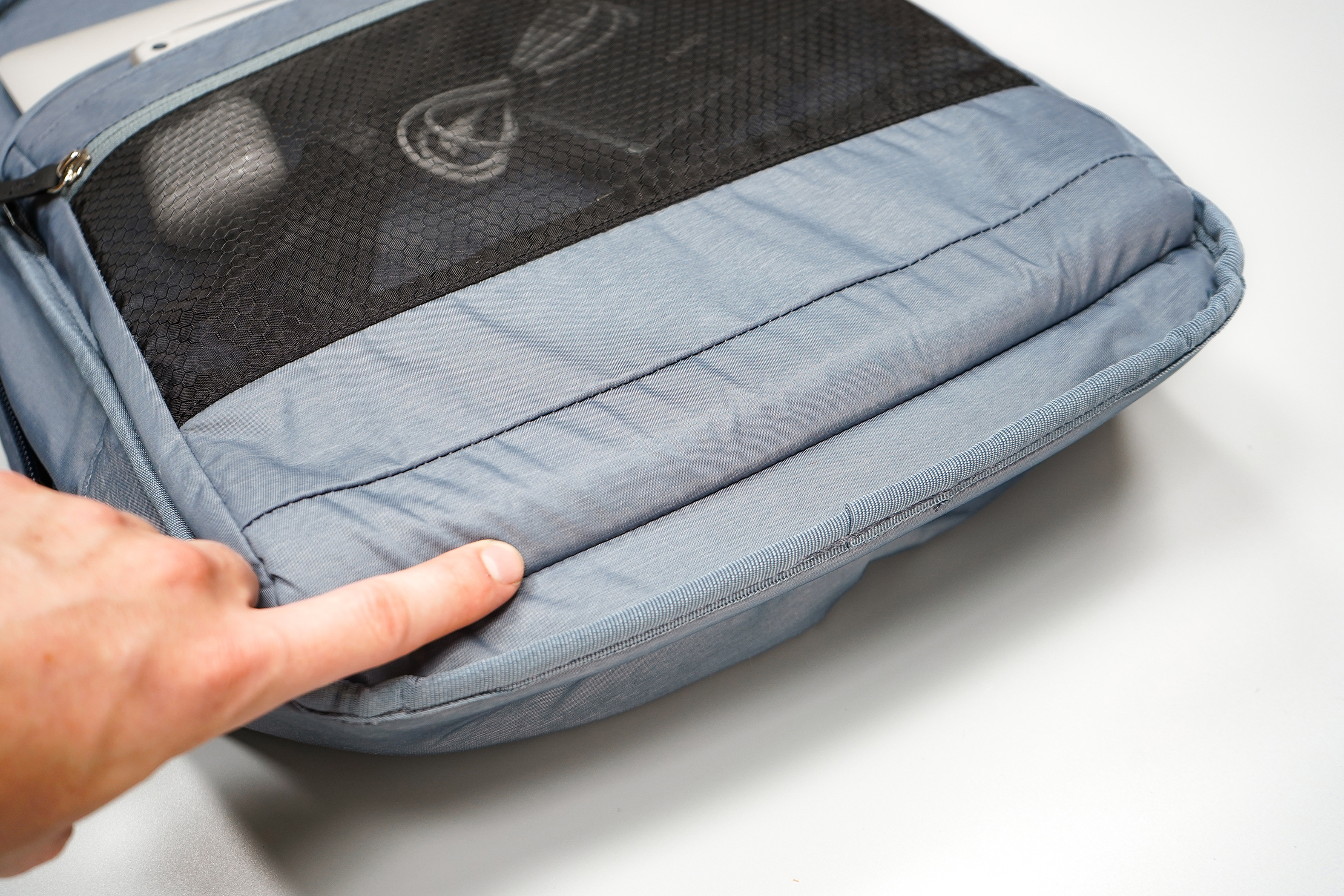 Now, not all false bottoms are created equal. Some laptop sleeves will have a very small one, which is basically like not having it at all. We recommend looking for a false bottom that sits approximately an inch minimum off of the bottom of the bag.
Soft Lining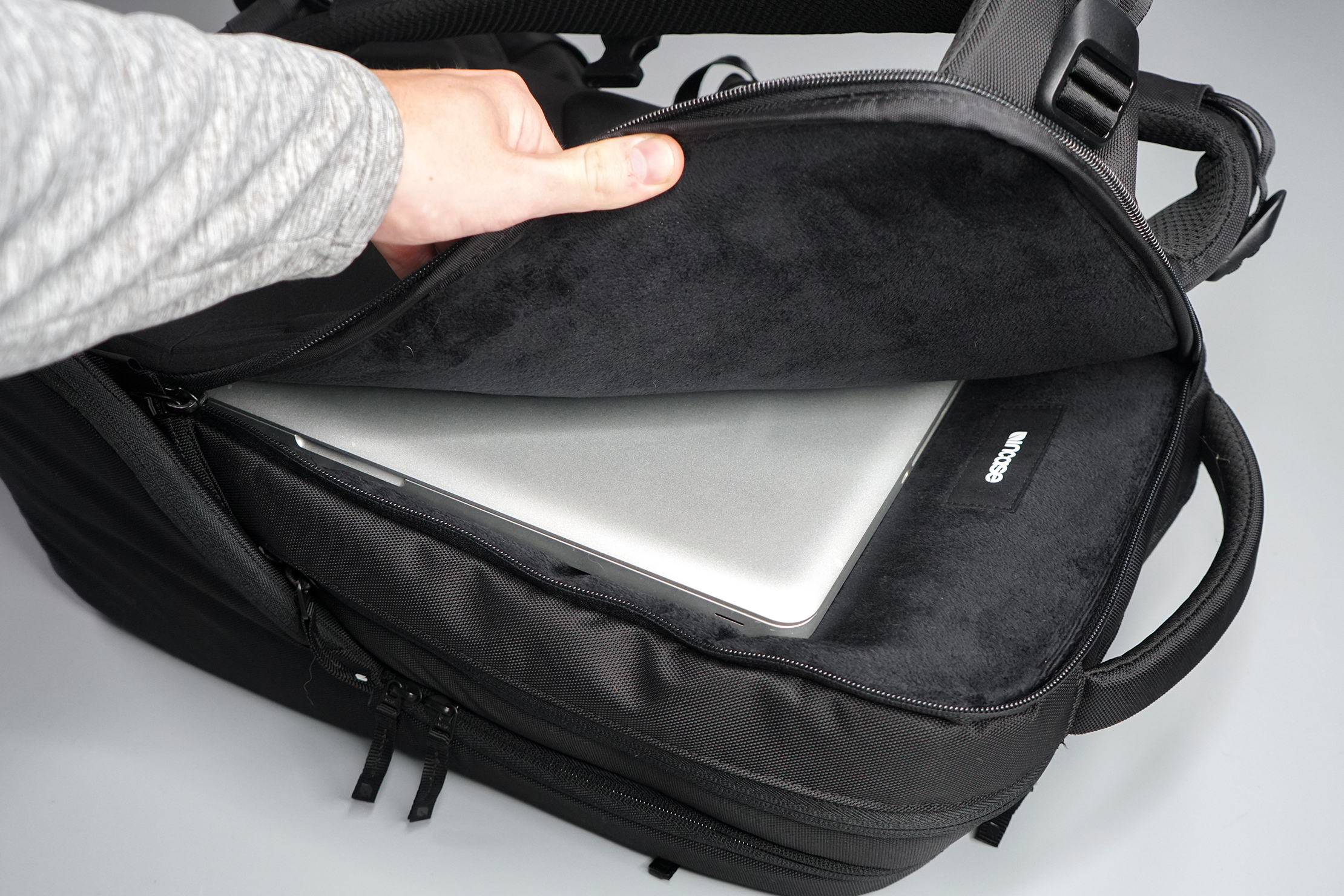 We appreciate laptop sleeves that feature a soft lining, which will help prevent your laptop from getting scratched up. We don't think this is as necessary as a false bottom or padding, but it's just one of those things that's nice to have. Like one of those mini cocktail umbrellas. Do you need it? No. But is life better with it? Absolutely.
Alternative Protection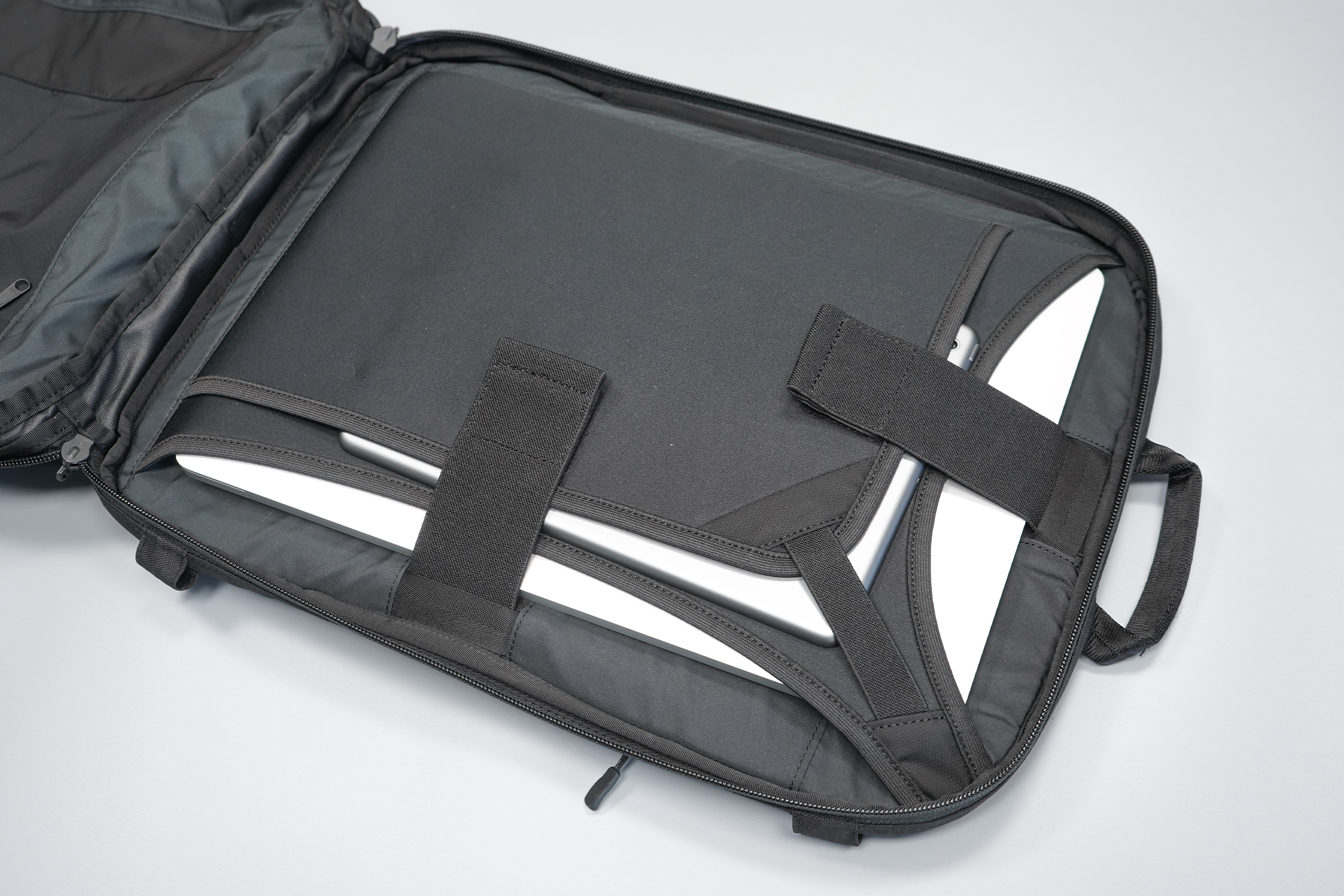 Some bag brands are starting to get clever with how they design their laptop compartments, going beyond padding and even false bottoms. Brands like Minaal and Tom Bihn have nests and caches respectively that suspend your laptop in the center of the sleeve and are adjustable to the exact size of your laptop. This means that your laptop is not only securely held in place, but lifted away from all sides of the bag, which adds protection no matter what angle you drop your bag at.
Weather Resistance
A little bit of weather and water resistance is nice to have—after all, laptops + water = not a good time (to put it lightly). But you don't need anything overkill. We tend to look for bags that are weather-resistant and designed to hold up in ordinary inclement weather (think rain shower, not hurricane). Note that we said weather-resistant, which is not the same thing as waterproof. You can find both—and there's a big difference between them!
If you plan to go whitewater rafting with your laptop bag—maybe that's your commute?—then you'll want a waterproof bag. Most people should be okay with a water-resistant laptop bag as opposed to a completely waterproof bag. Here's what to look for when scrutinizing a laptop bag's weather-resistance:
Coatings
Weather resistance is almost always achieved through some kind of coating. Whether that be a DWR (durable water repellent) coating, waxed canvas, polyurethane, or something else. These coatings will wear off with time, reducing the water resistance of your bag, but there are some things you can do to help with longevity. These care tips differ from coating to coating, so be sure to look into the specific care tips of your bag—and follow them!

Weather-Resistant Zippers
There are water-repellent zippers on the market—YKK AquaGuard® zippers, for example—which repel water with a polyurethane coating. These water-repellent zippers tend to be stiffer and harder to zip, so we only recommend a bag with these if you really need that protection. Some laptop bags only feature water-repellent zippers on the laptop and/or tech compartment(s), which is nice as it'll protect your expensive equipment, but not slow down access to the other areas.

You will also find bags with covered zippers (i.e. there's a strip of fabric over the zipper track), called a fabric welt, which gives the bag more water protection.
Roll-Tops
As zippers tend to be the first place water will leak through a bag, choosing a laptop bag with a roll top will help add water resistance to that compartment (as long as the fabric is weather-resistant too). Keep in mind that a roll top backpack isn't as quick to get in and out of as traditional zippered compartments.
Rain Shells
Some laptop bags may include a packable rain shell that you can throw over your bag when you need serious weather protection. They're usually small enough to stick in your bag on the daily, which comes in handy if you get caught in a storm on the way home from work. Looking for a laptop bag with a rain shell—or buying one separately—is great if you need hefty water protection sometimes, but not always. If you walk to work every day, but live in a climate that rarely has inclement weather (lucky you!), you may want to look for something with additional weatherproofing as we mentioned above.
05

Organization
Hint: It's somewhere between 0 pockets and 1,000.
Finding the Best Laptop Bag Organization for You
As gear reviewers, we've concluded that organization is personal, like how you take your coffee (or don't). You may like a laptop bag with large, empty compartments, or you may like to have a spot for everything. Even our team differs.
Laptop bags run the gamut of organization—simple, complex, or anything in between. Plus, you can find bags with exterior organization if that's your thing. But beyond how much organization a bag has, there's the question on how easy said organization is to access. There's a lot to unpack here, so let's break it down.
Interior Organization
Simple
As we mentioned oh-so-long ago (read: toward the beginning of this guide), bags with simple organization tend to be more versatile. You aren't limited by all of the pockets and can use the bag for travel, picnicking, carrying around your rock collection, etc.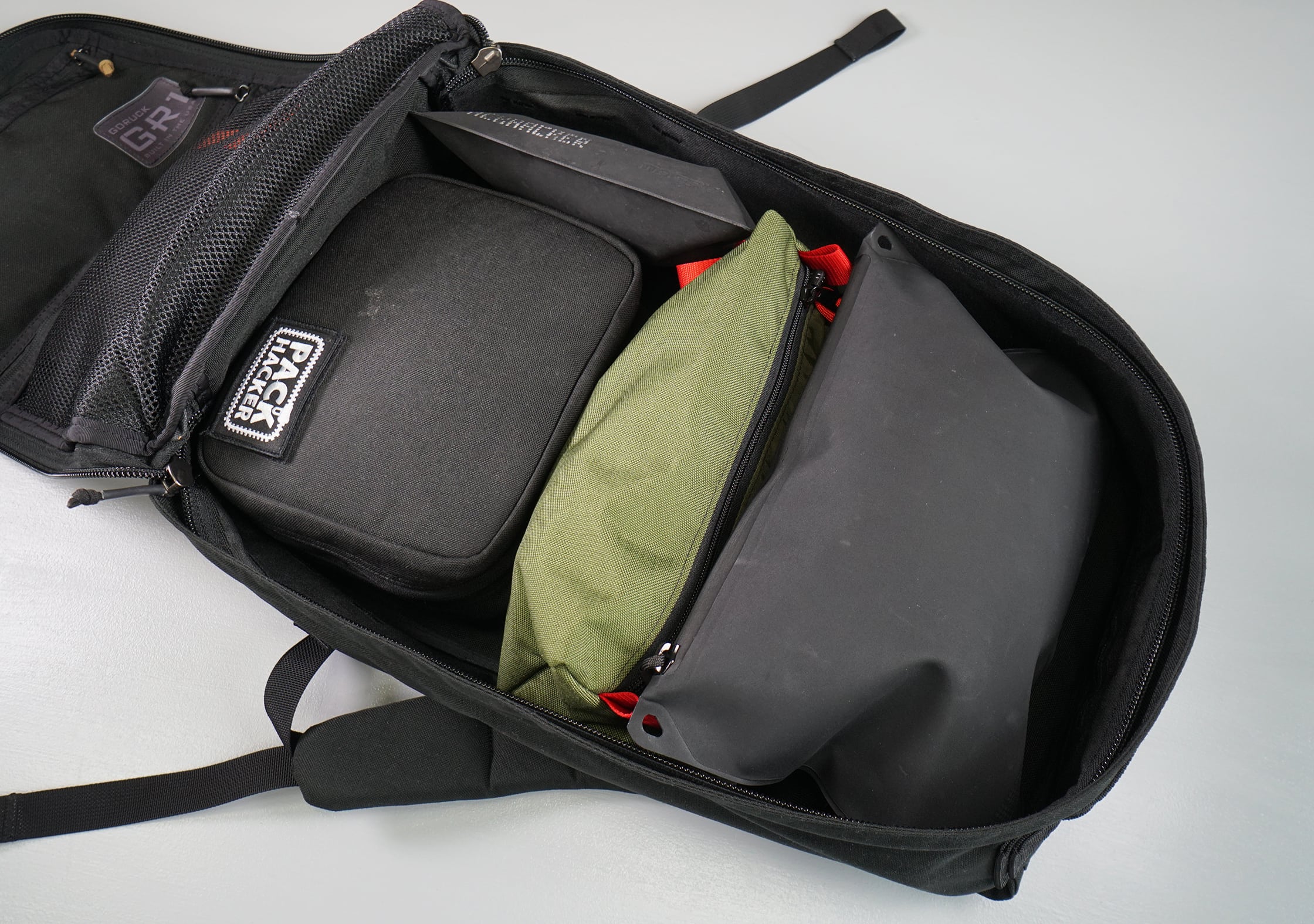 These bags also allow you to take organization into your own hands by utilizing packing cubes and pouches. You can get as intense as you want here, organizing your gear in color-coded pouches that you evenly distribute throughout the various compartments in your bag, or just throw most of your gear into one pouch, toss it in the main compartment, and call it a day. Plus, you can take the whole thing out of your laptop bag and keep it on your desk for easy access too all your tech.
Modular
Some bags make it super easy to customize your organization, going beyond simply having empty compartments where you can dump accessory pouches. You'll see things like hooks where you can attach a MOLLE panel to strips of velcro to connect sold-separately organizers to dividers you can fold up to create a unique interior layout. Another example comes from the brand Tom Bihn. The folks there put O-rings in most of their bags—a lot of O-rings—so you can create a complex organizational system with pouches and other accessories. Note that most brands who design bags with modular organizational systems sell accessories and pouches they think would work inside the bag.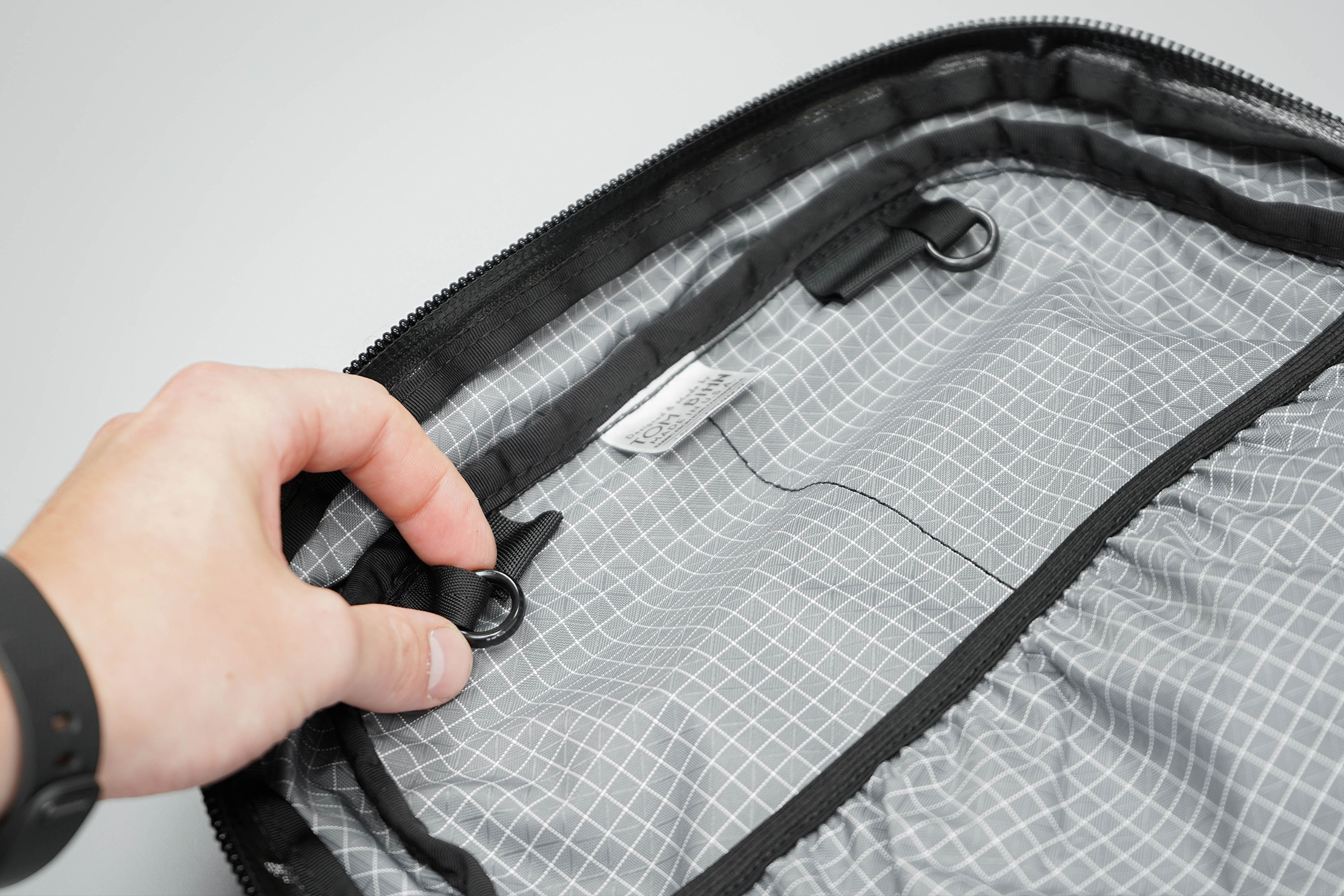 While these bags are great if you want to really optimize your organizational setup, they aren't as cost-effective as having a bag with built-in organization already. Plus, you'll have to put a lot of time and thought in to creating your modular system.
Complex
You may prefer more organization if you like to have a dedicated spot for all of your gear, including notebooks, pens, and love letters from your crush. If you opt for a laptop bag with a more robust amount of organization, then you don't need to buy tech pouches separately, which can be more cost-effective. It's also nice when bag companies do all of the thinking for you. The organization is already there; you don't have to think about it and plan a system of your own.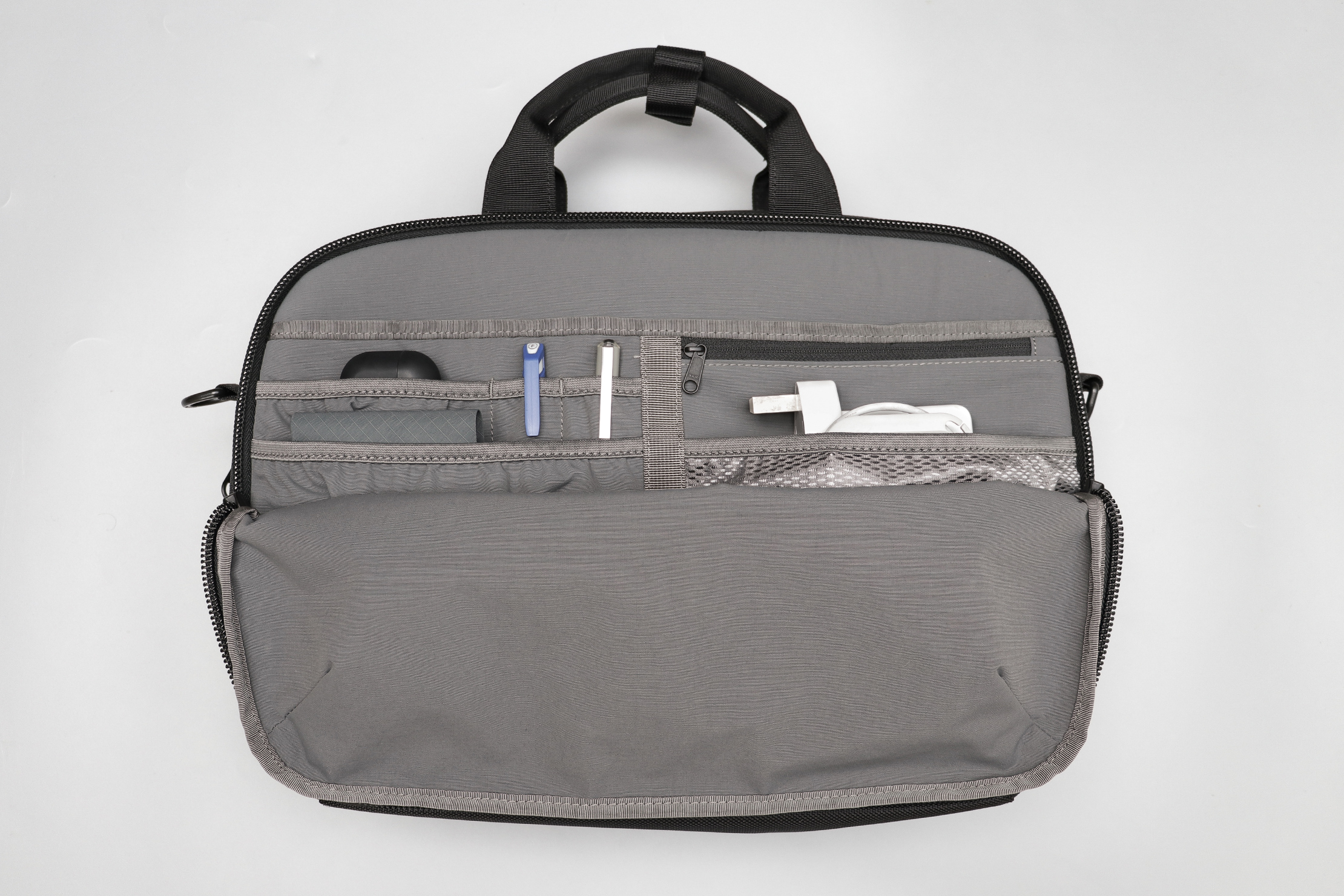 Note that the organization inside of these laptop bags has been designed for the average person (and thus for average gear). It's great at organizing pens and notebooks. But if you carry things that vary in size and shape from product to product, like a battery bank, you may feel limited by built-in organization.
All that said, most people will probably want organization that's somewhere between simple and complicated with a few specific pockets, but nothing over the top.
Exterior Organization
Some people prefer bags that have a more minimal, sleek look without much going on externally, while others don't care about that clean aesthetic and prioritize external pockets or attachment points for quick-and-easy access. External attachment points also allow you to carry gear externally that you wouldn't want to put inside your bag, like a rain jacket, which could get all of your other stuff wet.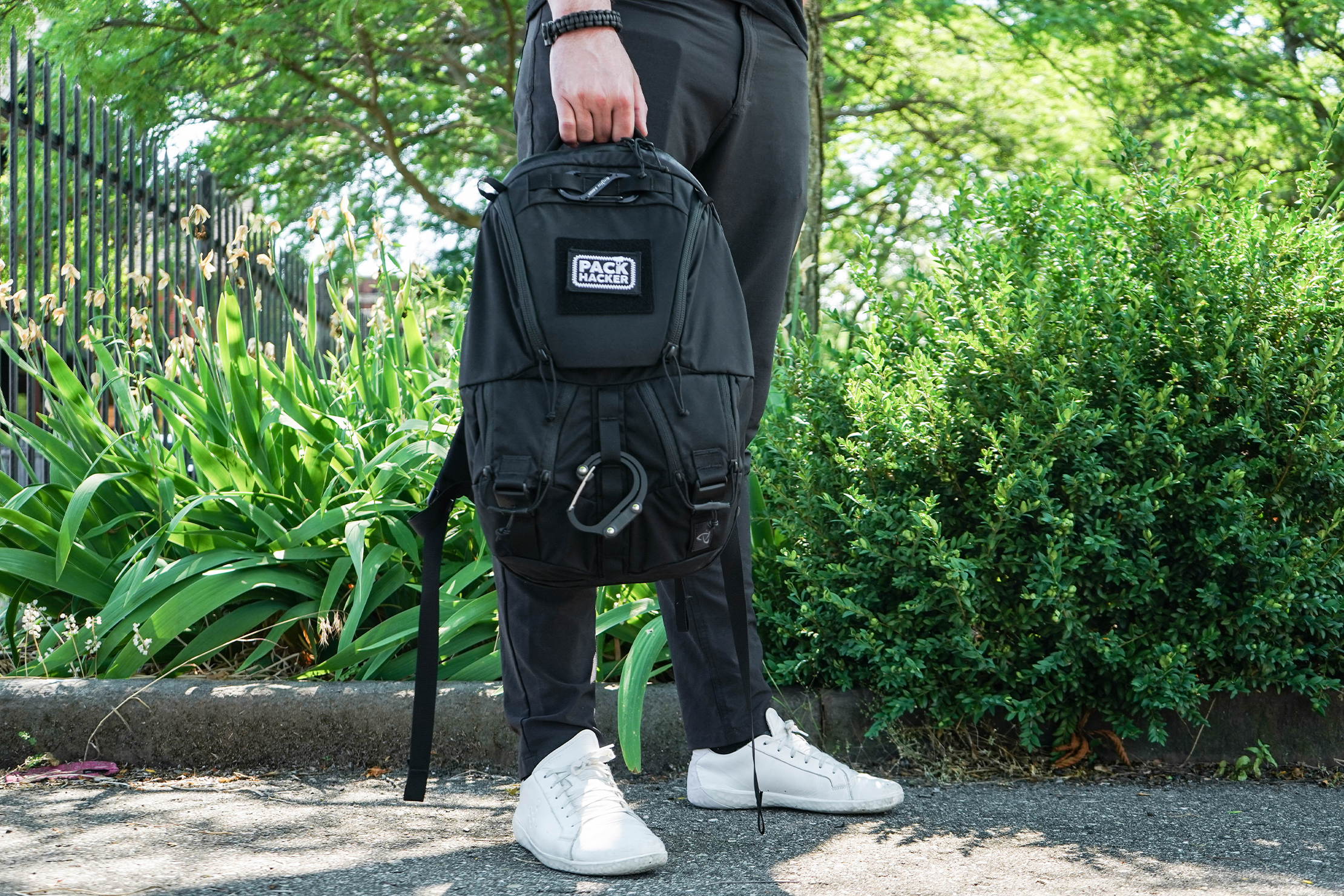 Your use-case comes into play here. Do you have a long commute on a bus or train? If so, you might want more external pockets to be able to quickly grab a book or a snack. Do you walk to work? You might appreciate having easy access to water via external water bottle pockets. Do you frequently find yourself outside while it's raining? Keep an eye out for external attachment points.
Access
You're likely going to be accessing the laptop sleeve/compartment at least twice a day, so it's worth paying attention to how easy it is to get to. We prefer quick access because time is money and all that. Plus, it's just a huge hassle to have to work your laptop around tough angles or annoying straps.
You'll usually find one of two things: the laptop sleeve is inside the main compartment or the laptop sleeve in its own compartment accessible from the outside of the bag. Let's take a closer look.
Laptop inside the main compartment
First of all, you need to consider how easy it is to get inside the main compartment. Are there compression straps that block the zipper? Rounded edges that make it difficult to zip a square laptop inside? Roll tops will slow down access, although they add water-resistance and expandability, as we mentioned earlier.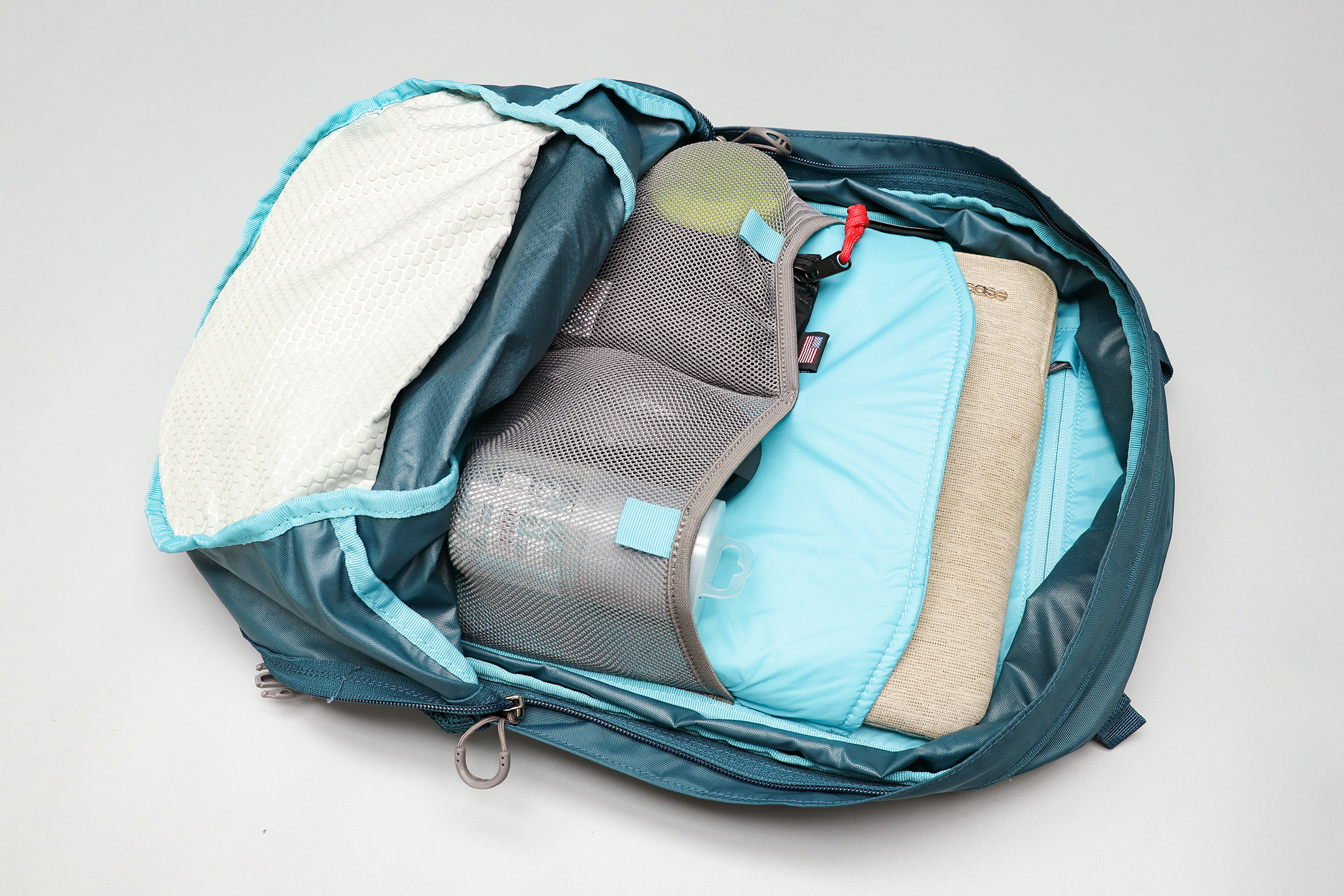 Additionally, look for side access points that give you direct access to the laptop sleeve in addition to the top access via the main compartment. We're fans of secondary access points as they make it easy to quickly grab your laptop. Plus, you don't have to sort through all your stuff to get to it.
Next, look at the laptop sleeve itself. Is it tight to the back compartment? Does it close with a buckle, velcro, or magnets? A closure may help keep your tech firmly in place, but it will take longer to grab if there's a flap in the way.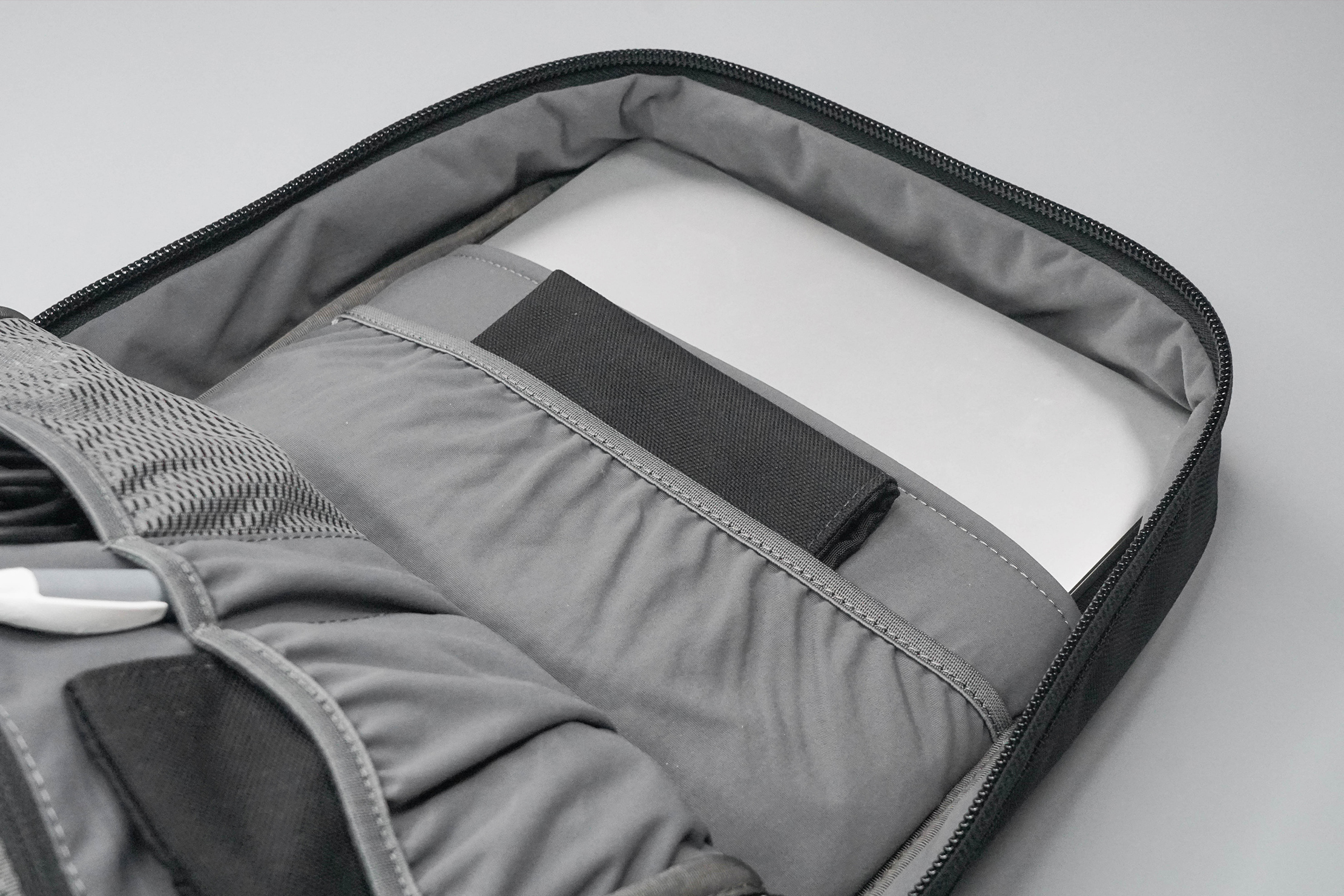 We know that these may seem like small details, but they matter. Put on your glasses, pull out your calculator, and let's do some math. Let's say it takes 15 extra seconds to grab and put away your laptop because of a quirk in the design. If you access and put away your laptop twice a day that's 15 x 2 = 30 seconds per day. Multiply that by 5 days a week = 150 seconds per week. Multiply that by 50 weeks—taking into account two weeks of vacation— and you get 7,500 seconds. That's a lot of seconds, people! Not to mention all the frustration it will cause you.
Laptop inside its own compartment
With a dedicated compartment, never again will you have to slowly and discreetly unpack your random assortment of gear onto the floor of a coffee shop while trying to grab your laptop from its interior sleeve (or is that just us?). And you can easily slide the laptop into its compartment while the rest of the bag is stuffed to the brim. What we're trying to say is that we're usually fans of laptop bags that have a dedicated laptop compartment.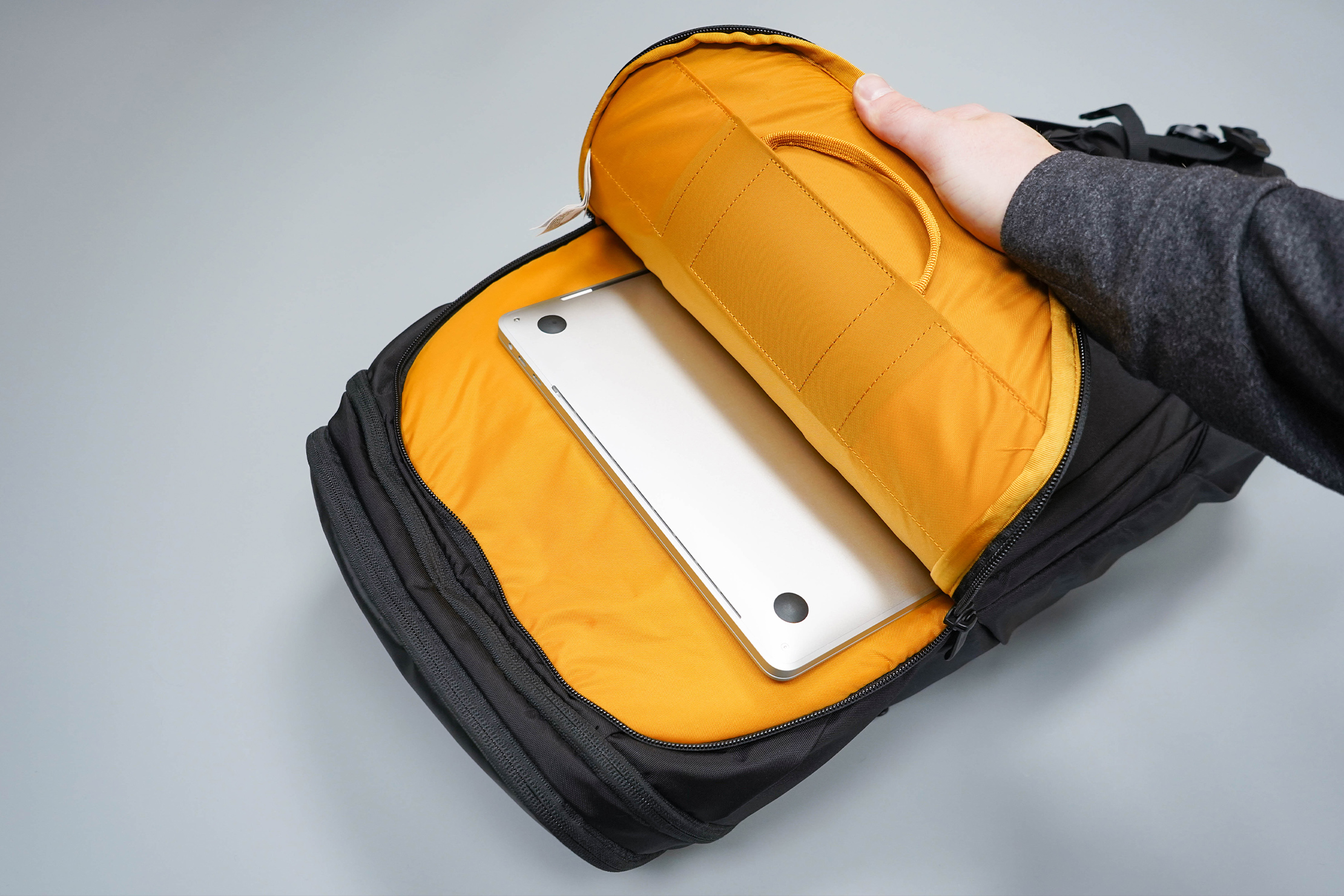 The way these compartments are implemented on bags differs from company to company, of course. Some are designed only to fit a laptop, while others have a little more room and bill themselves as a "tech compartment."
Be sure to look at the access to this compartment. Can you get to the compartment from the top, side, or both? This seems like a small thing, but it matters in context. Take plane travel, for example. Side access will be annoying if you frequently fly. That's because if your bag is underneath the seat in front of you, you'll have to fully pull it out to grab your laptop—a problem you wouldn't have with top access.
Look for a bright lining
Regardless of whether or not a laptop sleeve is in its own compartment, we appreciate laptop bags that have bright interior linings.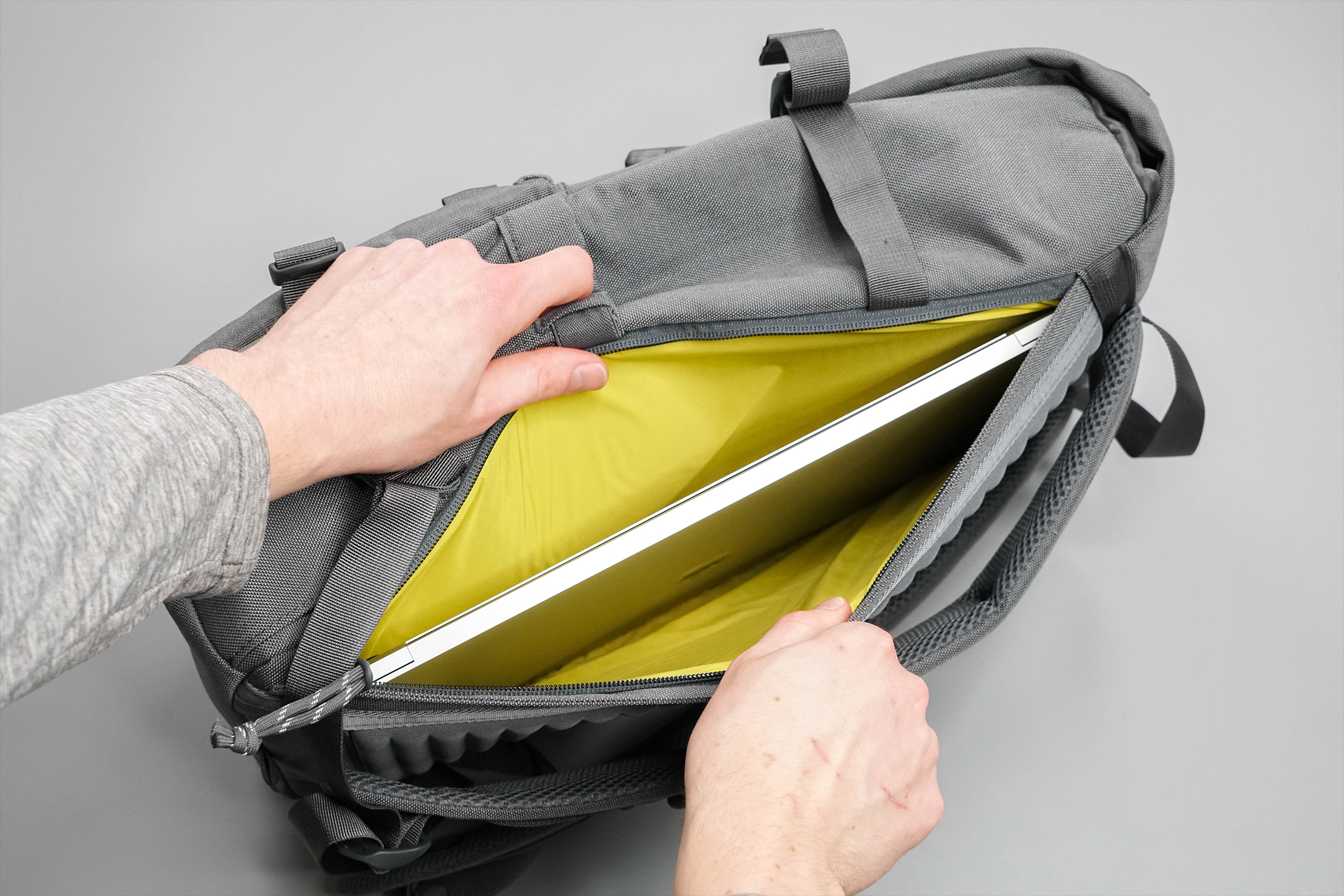 A bright lining really "turns on the lights" inside of a bag, helping you see what's going on (anyone else start singing Marvin Gaye? No?). These linings are particularly helpful with bags like roll tops that can often become a deep, dark pit of gear.
06

Conclusion
That's a wrap, folks.
Congratulations. You're Ready to Choose the Best Laptop Bag for You!
Phew, you've made it to the end of our guide. Congratulations on becoming an official laptop bag expert! Hopefully you know enough to go out into the world and find the best laptop bag for you. If you do find The One, snap a picture and tag us @packhacker on Instagram. If you haven't already guessed, we love looking at and obsessing over bags. And if you need more information, be sure to check out our gear reviews and Youtube channel.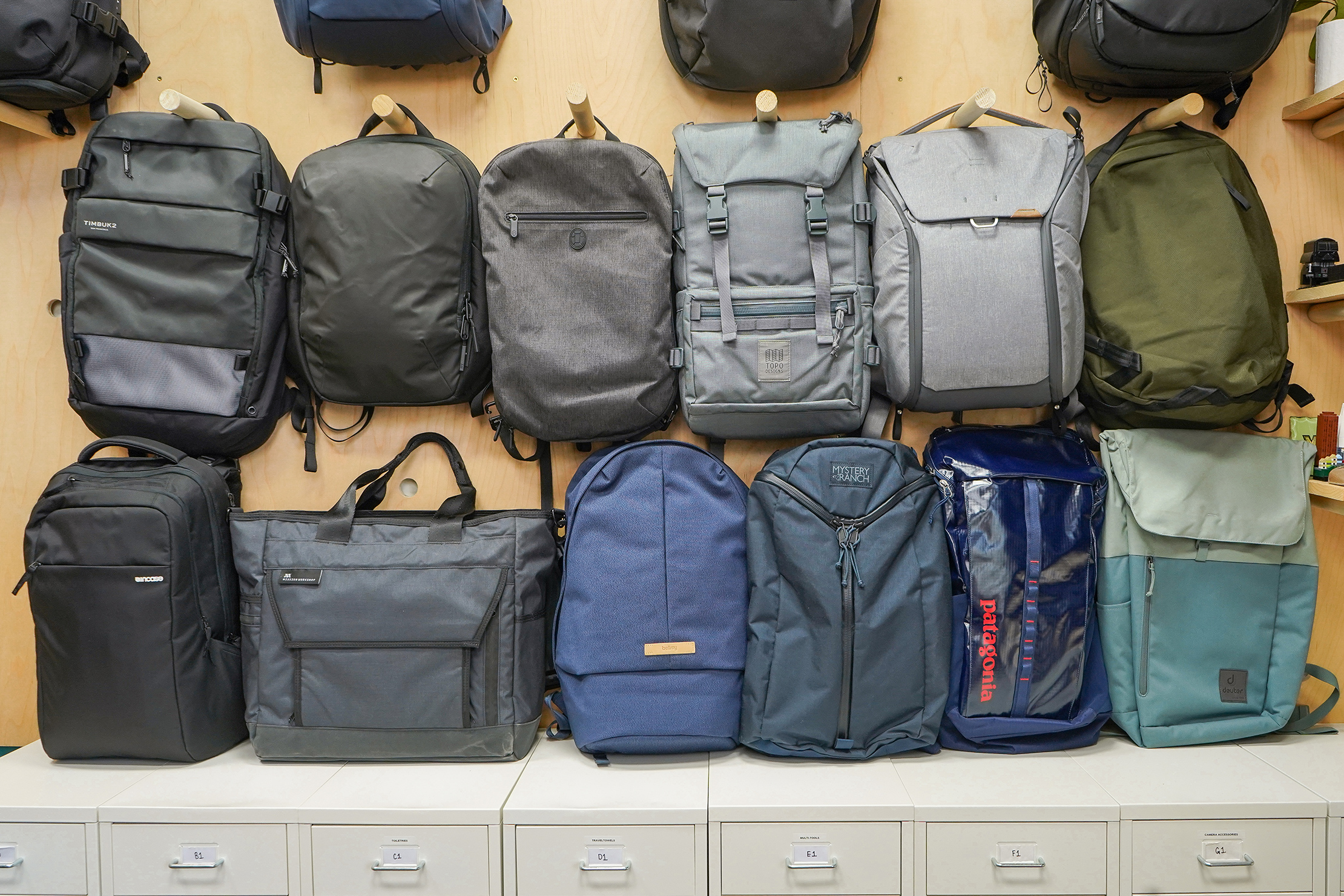 We'd like to close by reminding you that there is no such thing as the best laptop bag. Remember, it all comes down to personal preference and use-case. Of course, you'll also want to assess quality, laptop protection, and organization (which is why we wrote this guide in the first place.) So, good luck, and happy shopping!