Mystery Ranch 3 Way Briefcase Expandable Review
Durable and innovative, the Mystery Ranch 3 Way Briefcase (Expandable) is not only a solid daily driver, but works well for quick trips too.
Our Verdict
Unlock the Pro Summary
Save time. Get access to brief summaries of our reviews so you can browse and make decisions more efficiently.
Pros
Digging the front compartment's "Rip Zip" style of opening
Excellent craftsmanship and quality materials
All three modes of carry work well
Cons
A lot of internal organization
Laptop sleeve won't fit a 15'' laptop with a case
Tactical aesthetic may not be professional enough for your work situation
Recent Pack Hacker Video
Technical Details
Capacity

22l

Weight (lb)

2.6 lb (1.2 kg)

Denier

500D

Dimensions

12 in x 17 in x 10 in (30.5 x 43.2 x 25.4 cm)

12 in x 17 in x 12.5 (When Expanded)

Notable Materials

CORDURA®, YKK Zippers, Fidlock Hardware, Duraflex Hardware

Manufacturing Country

Vietnam

Laptop Compartment Size

15"

Warranty Information
Full Review
Born beneath Montana's big sky, the 3 Way Briefcase (Expandable) is classic Mystery Ranch. Impeccable craftsmanship. Tacticool aesthetic. And a clever overall design.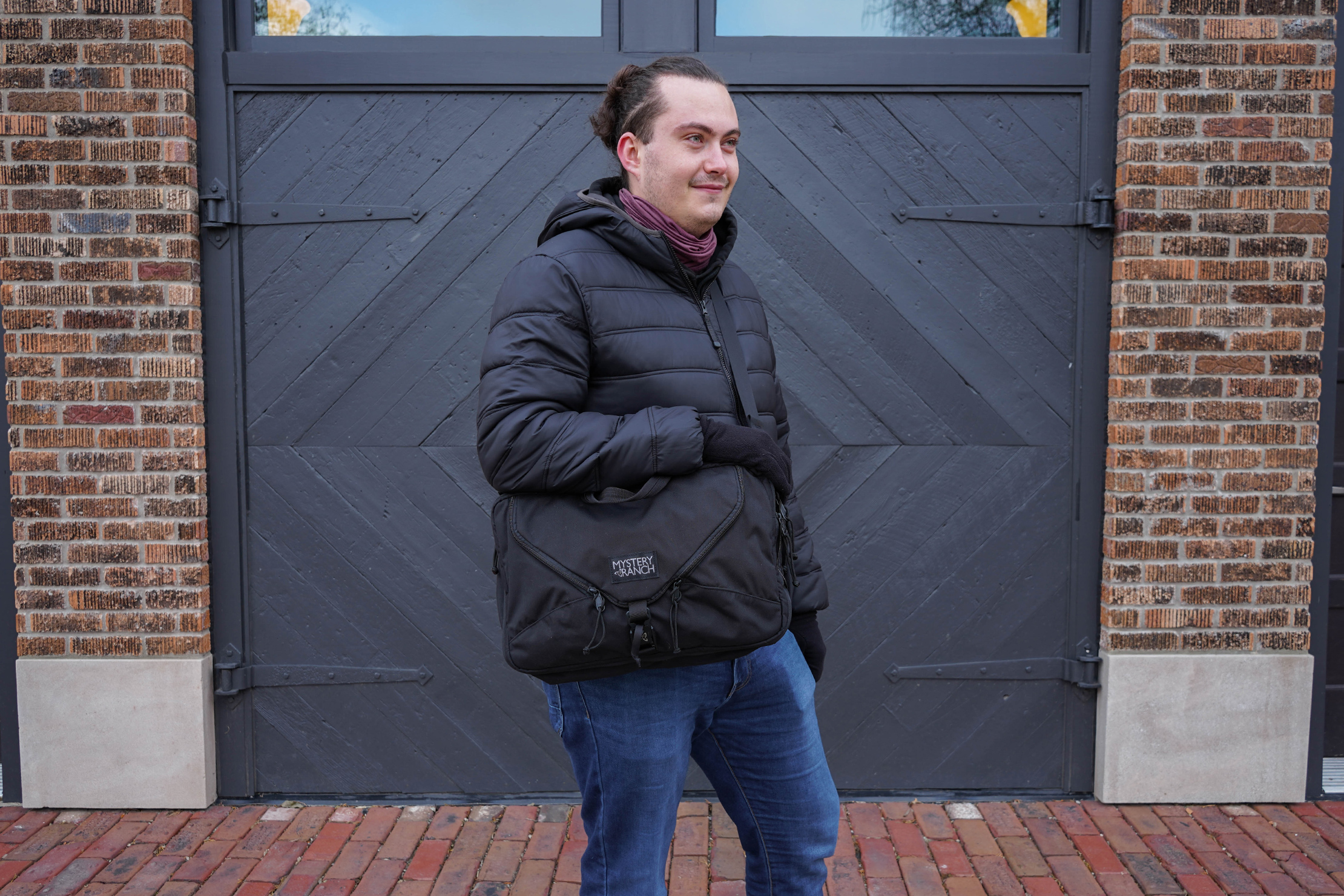 Named after the three ways you can carry it (briefcase, messenger, and backpack), this bag has been surprisingly useful throughout our three weeks of testing. While it's built to be a daily driver, its expandability means it works alright for quick trips too.
So without further ado, let's jump right into it.
Materials & Aesthetic
First and foremost, the Mystery Ranch 3 Way Briefcase is a briefcase. And—not surprisingly—it looks like one. Albeit a slightly more tactical one. Depending on where you work, it may be a little too casual for your situation.
At the time of this review, the 3 Way Briefcase comes in four different colors that are pretty standard for Mystery Ranch: Coyote (brown), Gravel (gray), Galaxy (blue), and Black (you should be able to guess that one), which is what we've been testing.
Also standard for the brand—a large, centered Mystery Ranch logo that leaves no question as to whether or not you're sporting a Mystery Ranch product. Some people are put off by such obvious branding, which we can definitely understand.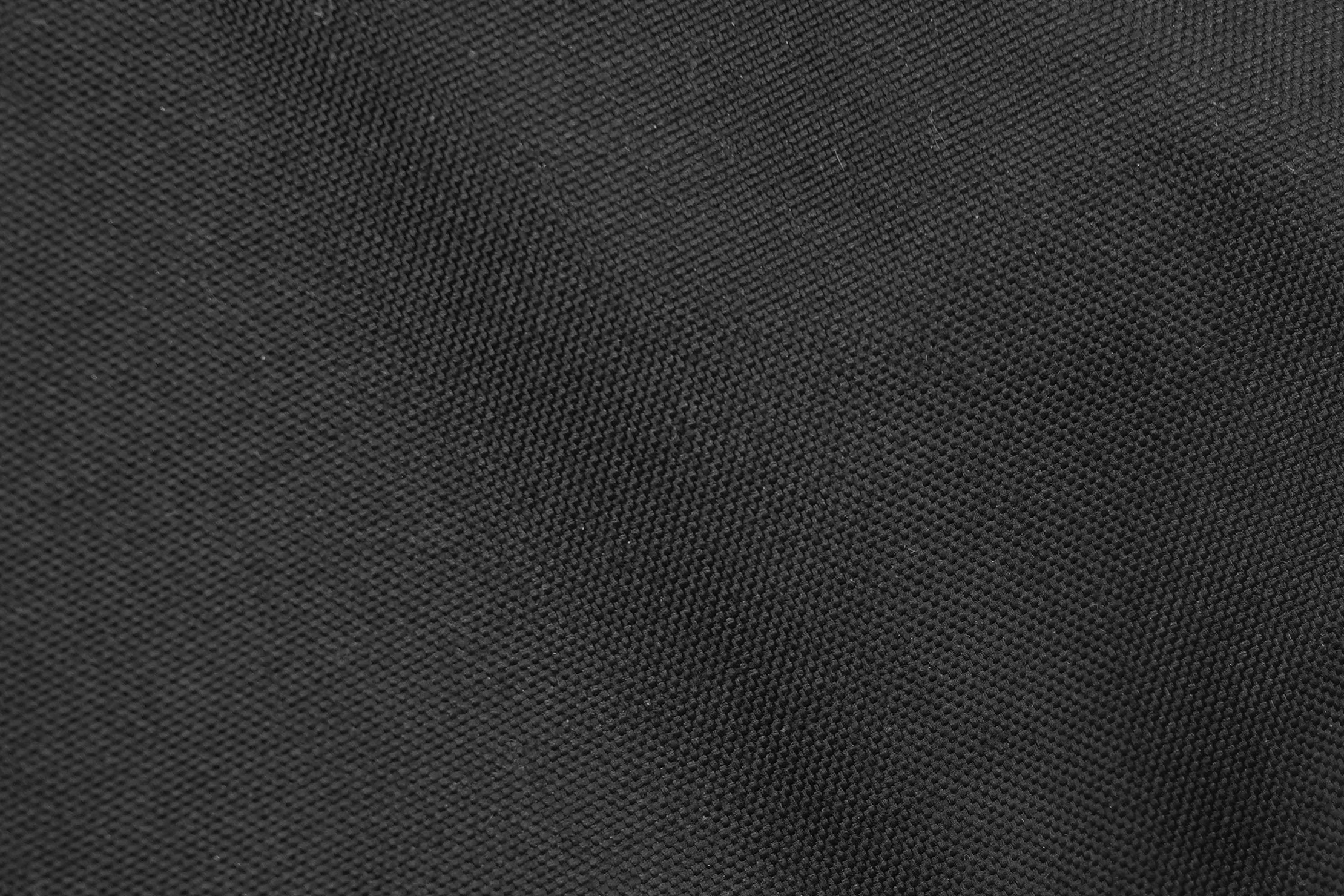 To risk sounding like a broken record, the materials on this briefcase are also standard for Mystery Ranch. The main material is 500D CORDURA® Nylon, making it tough and durable.
The zippers are YKK AquaGuard®, which are strong, durable, and provide solid weather-resistance. The latter of which is a huge plus for a bag that's built to hold expensive tech. So you're free to have a Gene Kelly moment and burst out singing in the rain without worrying about drowning your laptop.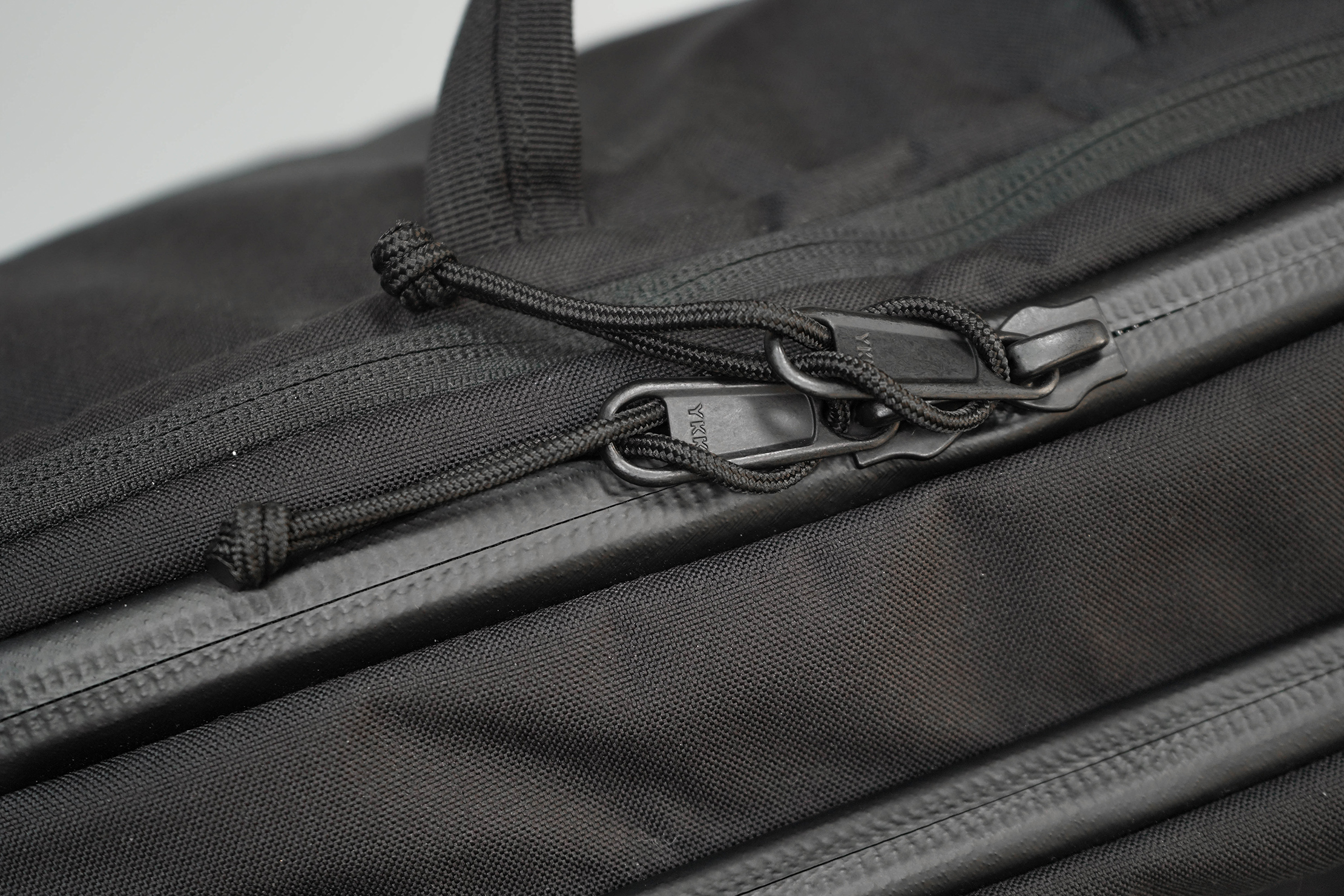 Finishing off the materials, you'll find Duraflex hardware and a Fidlock buckle. We've had good experiences with these brands in the past—they should treat you well.
External Components
We love it when companies accomplish what they've set out to do. And Mystery Ranch has nailed the 3 Way Briefcase—at least regarding the three modes of carry.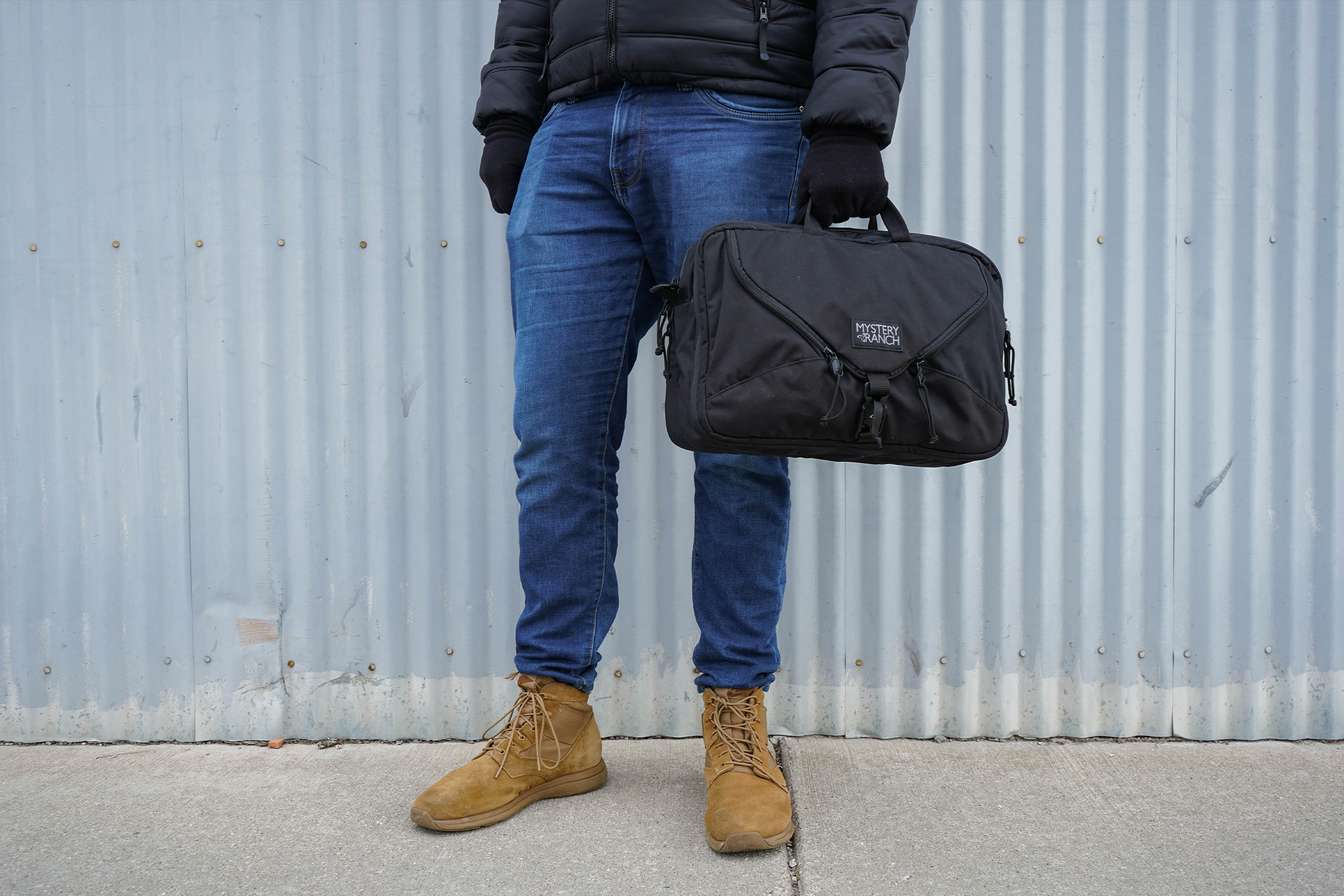 The first way is by using the top handle and holding the bag like a briefcase. The handles are smooth and strong, making it a pleasant experience. Although it gets uncomfortable once you start to pack this bag out. You can also use these handles to maneuver the bag—grabbing it from the trunk of an Uber, tossing it in the overhead bin on a plane, swinging it around while you're singing in the rain.
The second mode is carrying it as a messenger bag, which is the style we've been digging the most. To get into messenger mode, just attach the strap to the loops at the top of the briefcase and you're good to go. You can toss it over one shoulder or across your chest. Either way is super comfortable and convenient.
The strap is wide and soft but has no padding. This hasn't been that big of an issue in testing, but it gets more uncomfortable the heavier you load the bag or the longer you have to carry it. A mile-long walk from the bus stop to your co-working space—no big deal. A few hours exploring downtown—not ideal.
Enter backpack mode.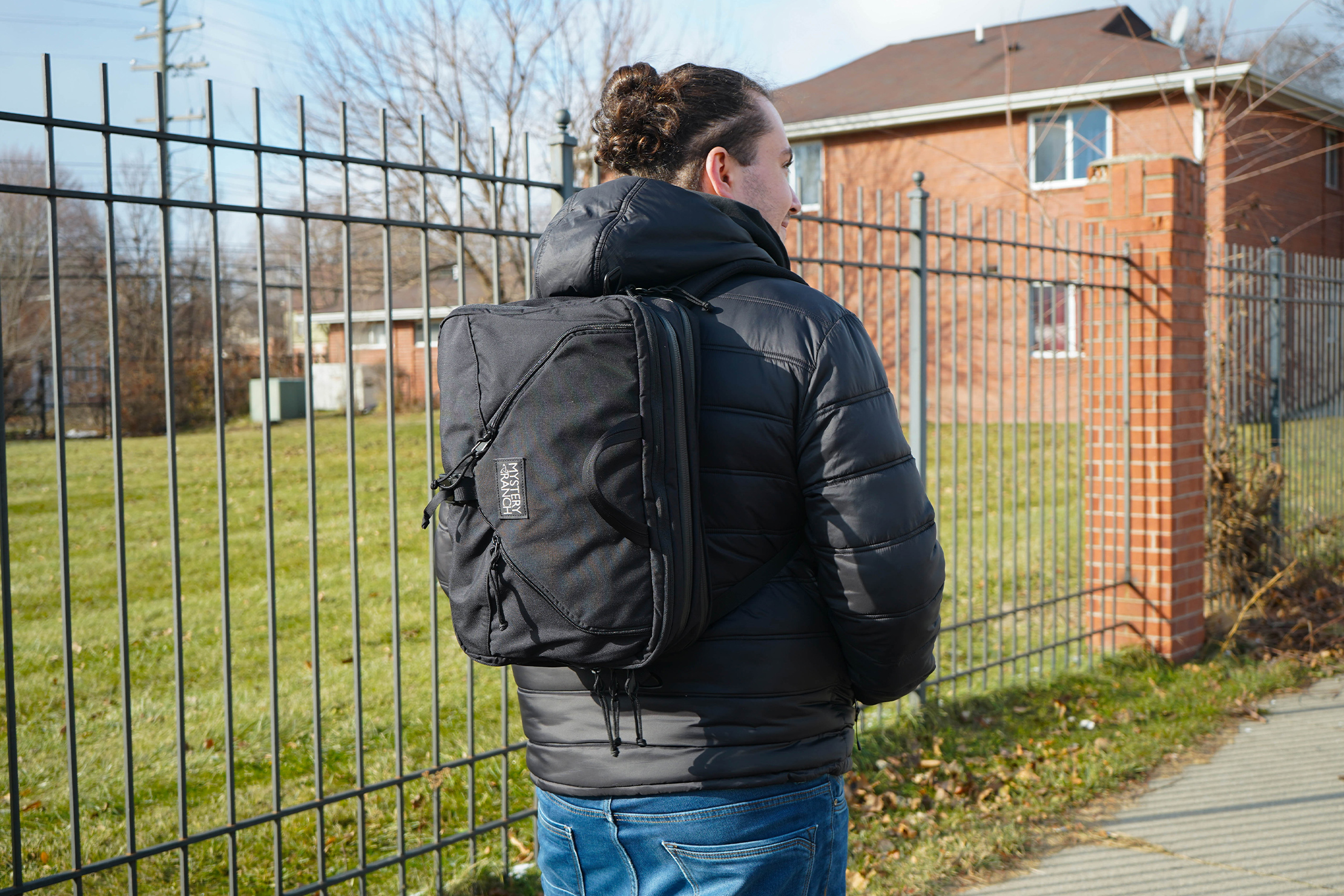 When you're not using the backpack straps, they stow beneath a back panel. We're impressed with the design here. The backpack straps are well hidden and don't detract from the overall look of the briefcase. You probably won't notice they're there until you need them. When that time comes, simply untuck the shoulder straps from the panel, clip them in, and voilà—backpack mode.
We don't recommend carrying this thing as a backpack unless you need to (for the aforementioned weight and time issues). And that's because of the orientation of the pockets, which we'll discuss in a moment.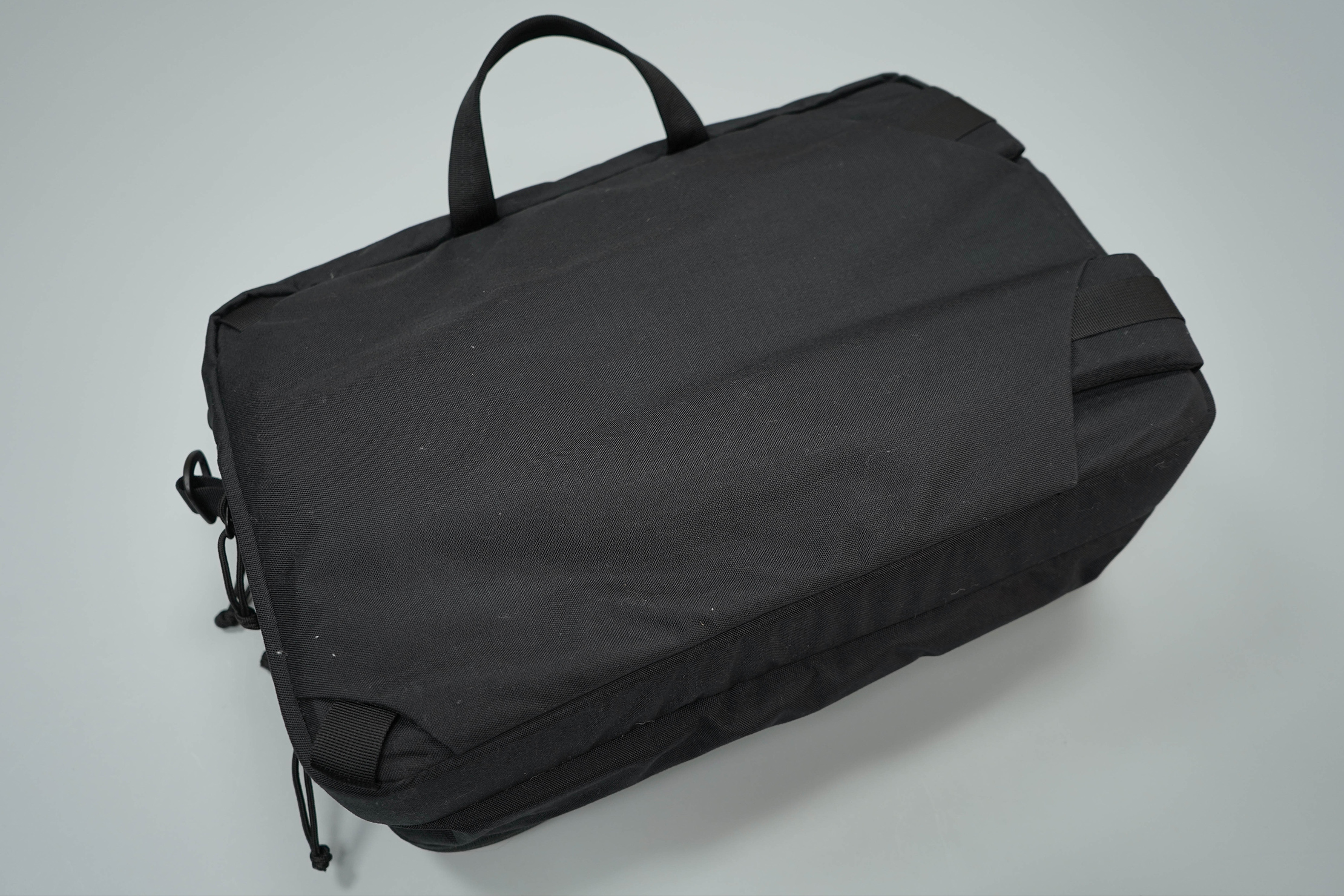 The shoulder straps themselves are great—nicely padded and layered with mesh for added breathability. They also have PALS-like webbing you can use to attach any gear you want to carry externally. The back panel is nothing to write home about—there are no air channels or breathable mesh—but works just fine.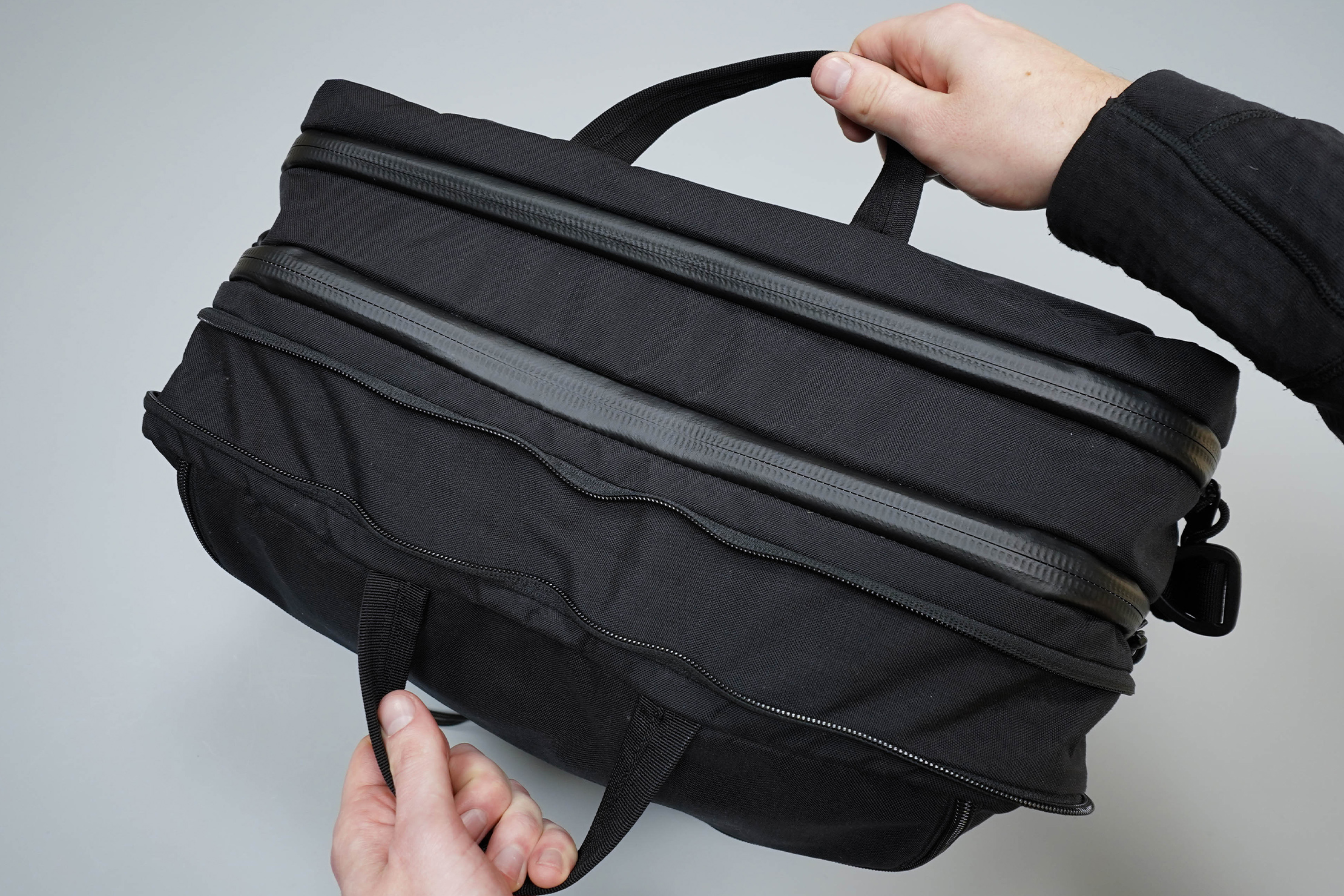 Finally, there's the compression zipper that you can unzip to expand the Mystery Ranch 3 Way Briefcase. It adds 5 liters to the bag's capacity. As a daily driver, you likely won't need this extra space. But we like that it's an option because it allows you to turn this briefcase into a minimal travel bag.
Expanded, you can fit all you need for quick trips and weekends away.
Inside the Bag
Looking inside the Mystery Ranch 3 Way Briefcase, you'll find a fair amount of stuff going on. While it's a little too much organization for our tastes, it's also not overly done. The pockets lay flat when not in use, so you can ignore them if you prefer to use your own accessories pouches or if you like to walk on the wild side and throw things in compartments sans any organization.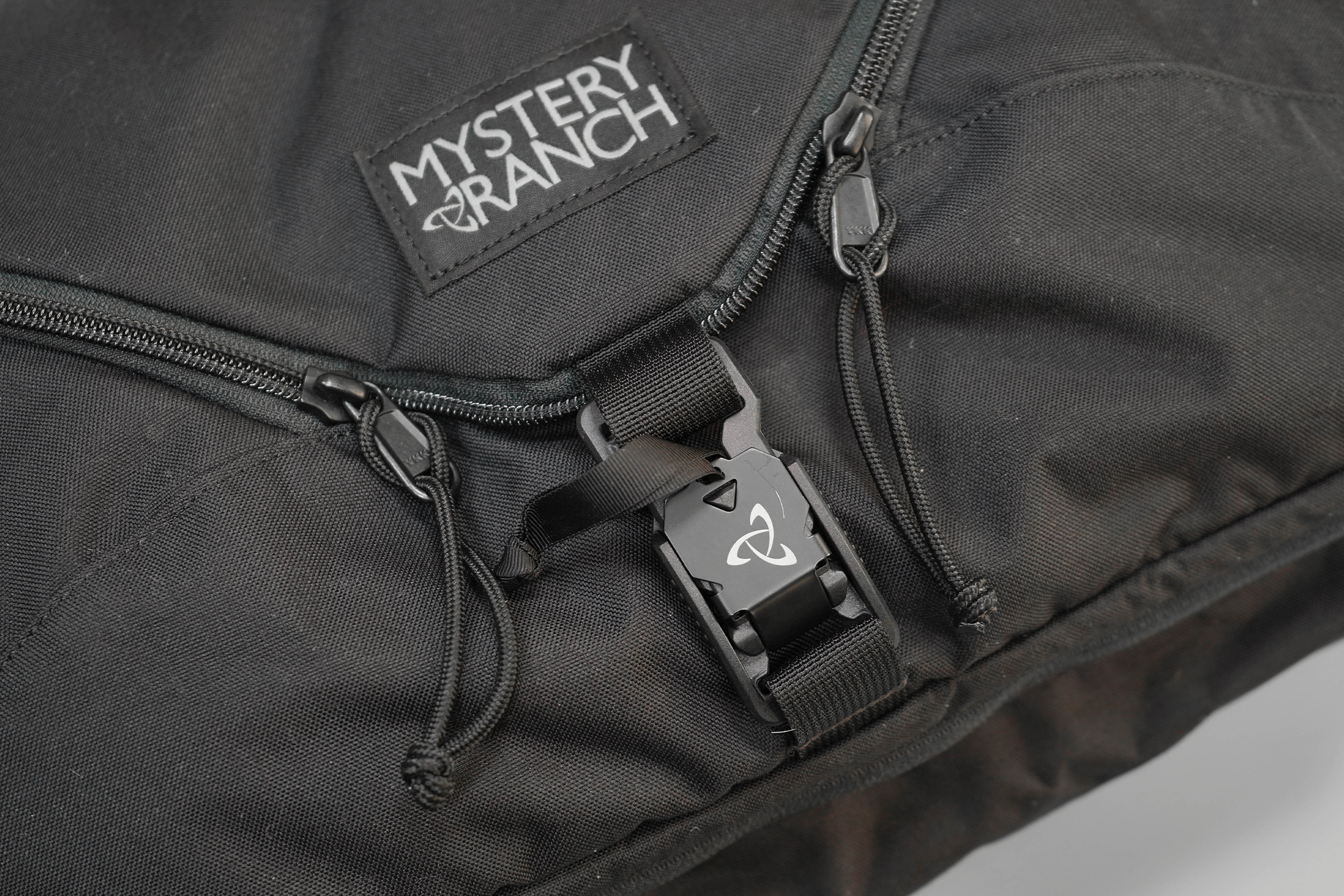 Let's start with the front compartment. It has a "Rip Zip" style of opening. Simply unlock the nifty magnetic buckle and pull—the triangular-shaped zipper will rip open, allowing easy access to the pocket. It takes seconds and can be done with one hand. We're really digging it!
Inside this compartment, you'll find an organization panel with a zippered mesh pocket, an elasticated pocket, and three stylus/pen/marker pockets. The compartment itself has a decent amount of depth—you can toss a notebook, a Nintendo switch, a toiletry bag, etc, here.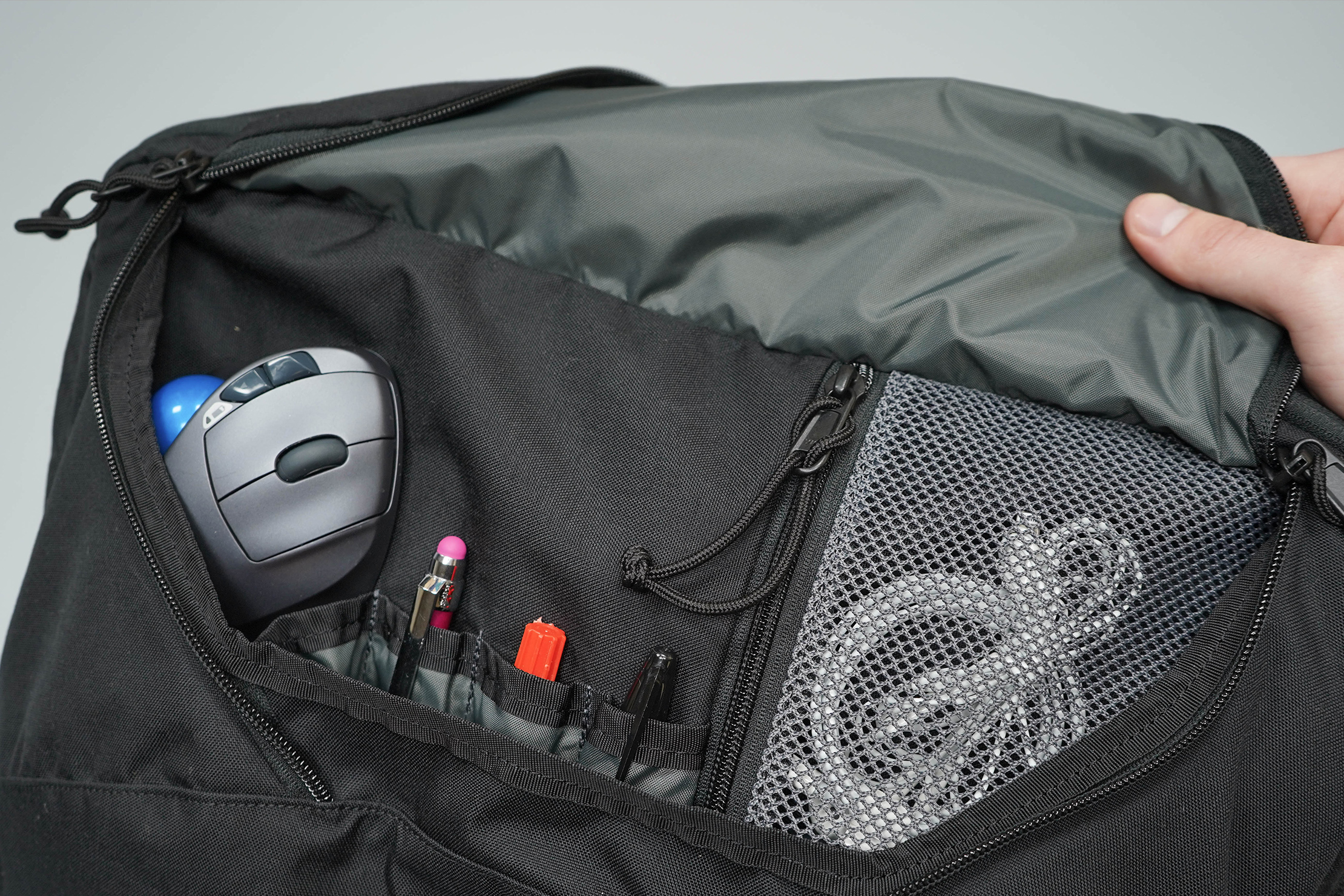 Now, this compartment will be flipped vertically whenever you switch to backpack mode. If not tucked into the organization panel—or if incorrectly tucked into the organization panel—your stuff may end up all jumbled. Not a deal-breaker by any means, but worth pointing out.
One other quirk about this compartment is that in between the buckle and triangular-shaped zipper, there's a small gap. We're not too worried about it, but it is possible that some of your smaller items—think AirPods—may slip out. We doubt this will happen, but it's something to be aware of.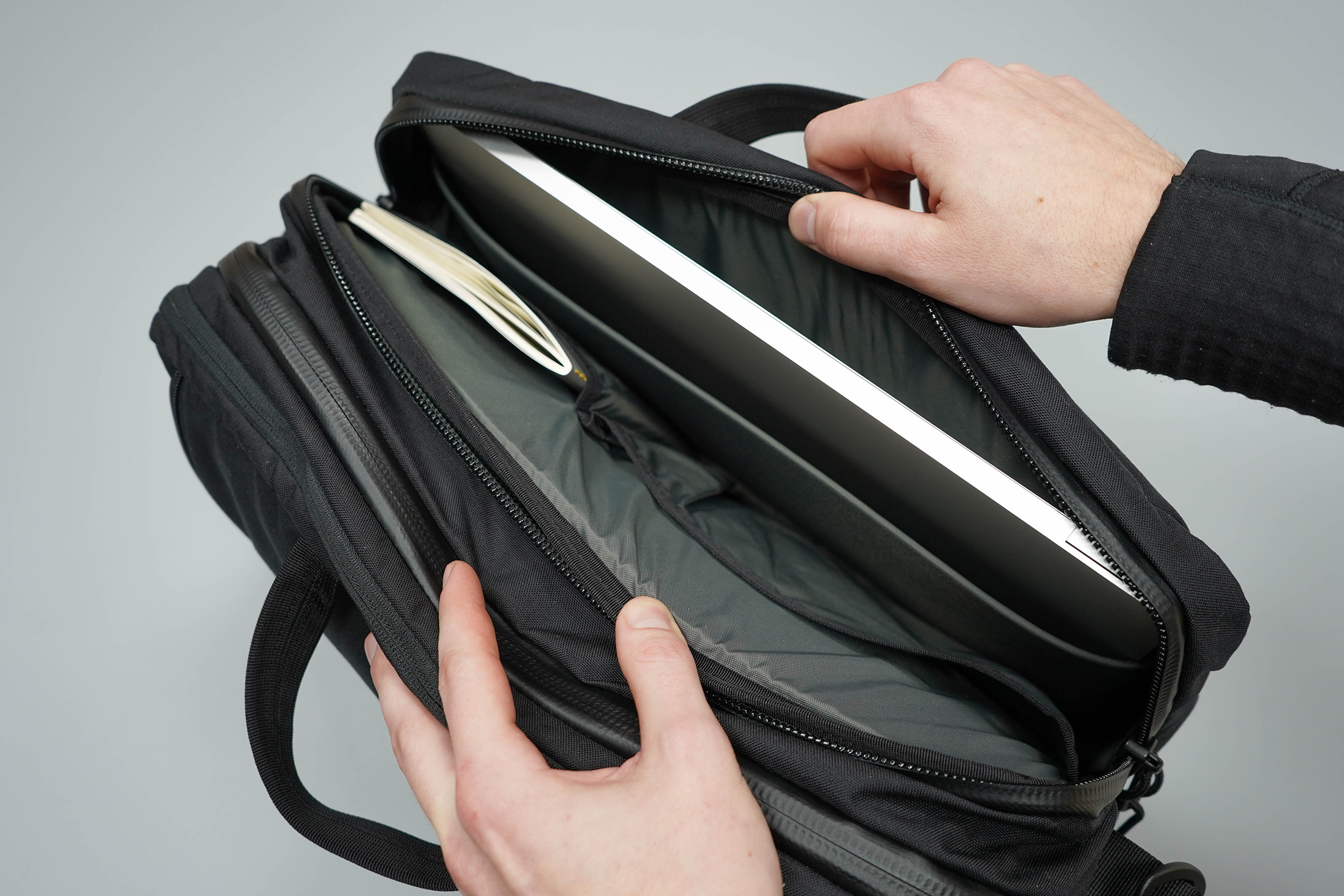 On the opposite side of the briefcase is the laptop compartment. Against the back of it, you'll find a padded sleeve. The folks at Mystery Ranch claim you can fit up to a 15'' laptop here, which you can, but only if it doesn't have a case on it. Since we prefer to keep our laptops protected with a case while traveling, we slide it into the compartment outside of the sleeve, which works great. That said, the sleeve is padded enough you should be able to trust it to protect your laptop sans case.
There are also two large divider pockets inside of this compartment to further organize your stuff.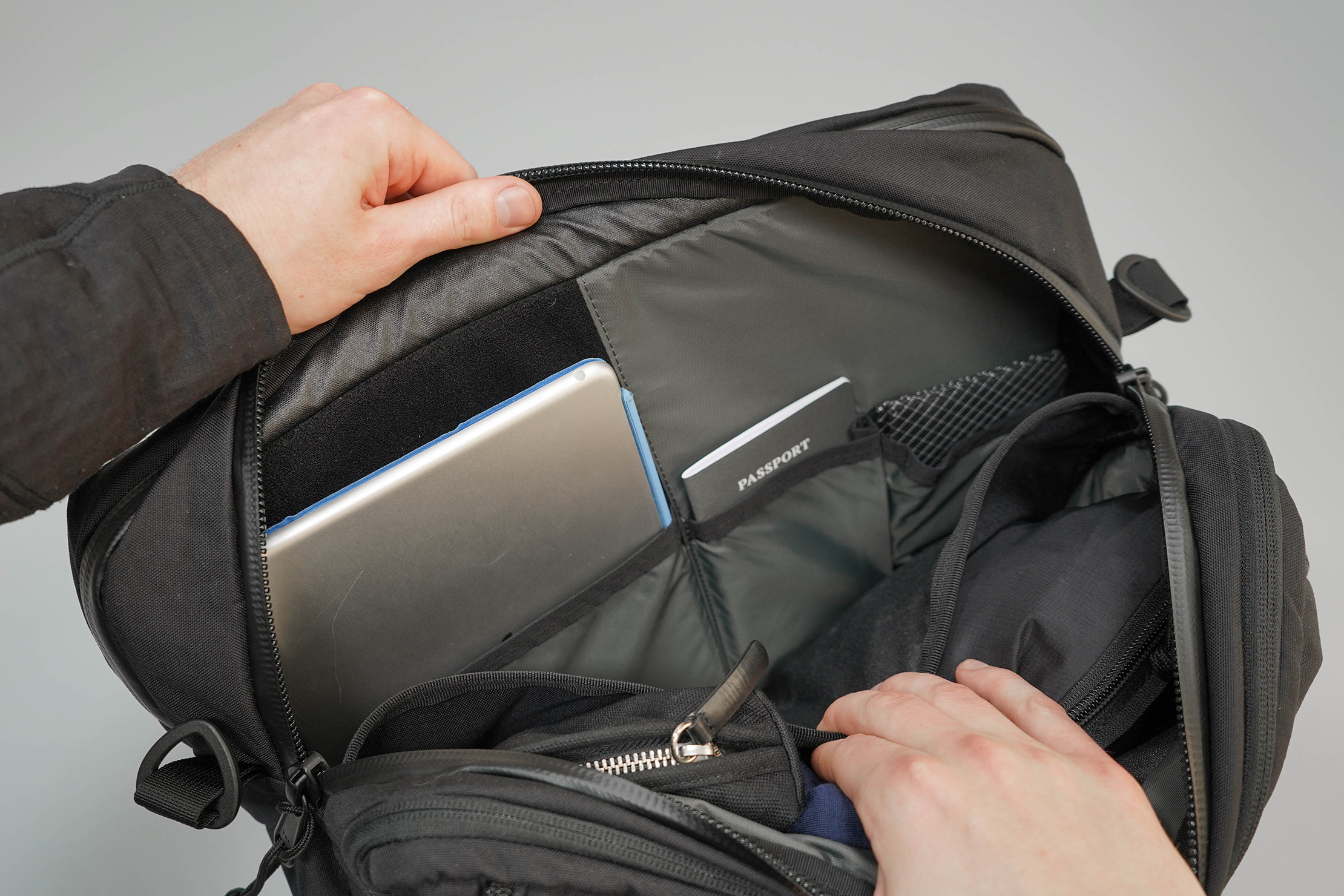 And that brings us to the main compartment. Even when not expanded, there's plenty of room inside to keep business things—you know, miscellaneous papers, stock market reports, fake glasses that make you look smarter. It also has enough space for an extra shirt or pair of pants—if you're a messy enough eater that you like to carry around an extra shirt for daily life, or short business trips.
There's a divider through the center of the compartment and three organization pockets, one of which has a soft felt lining.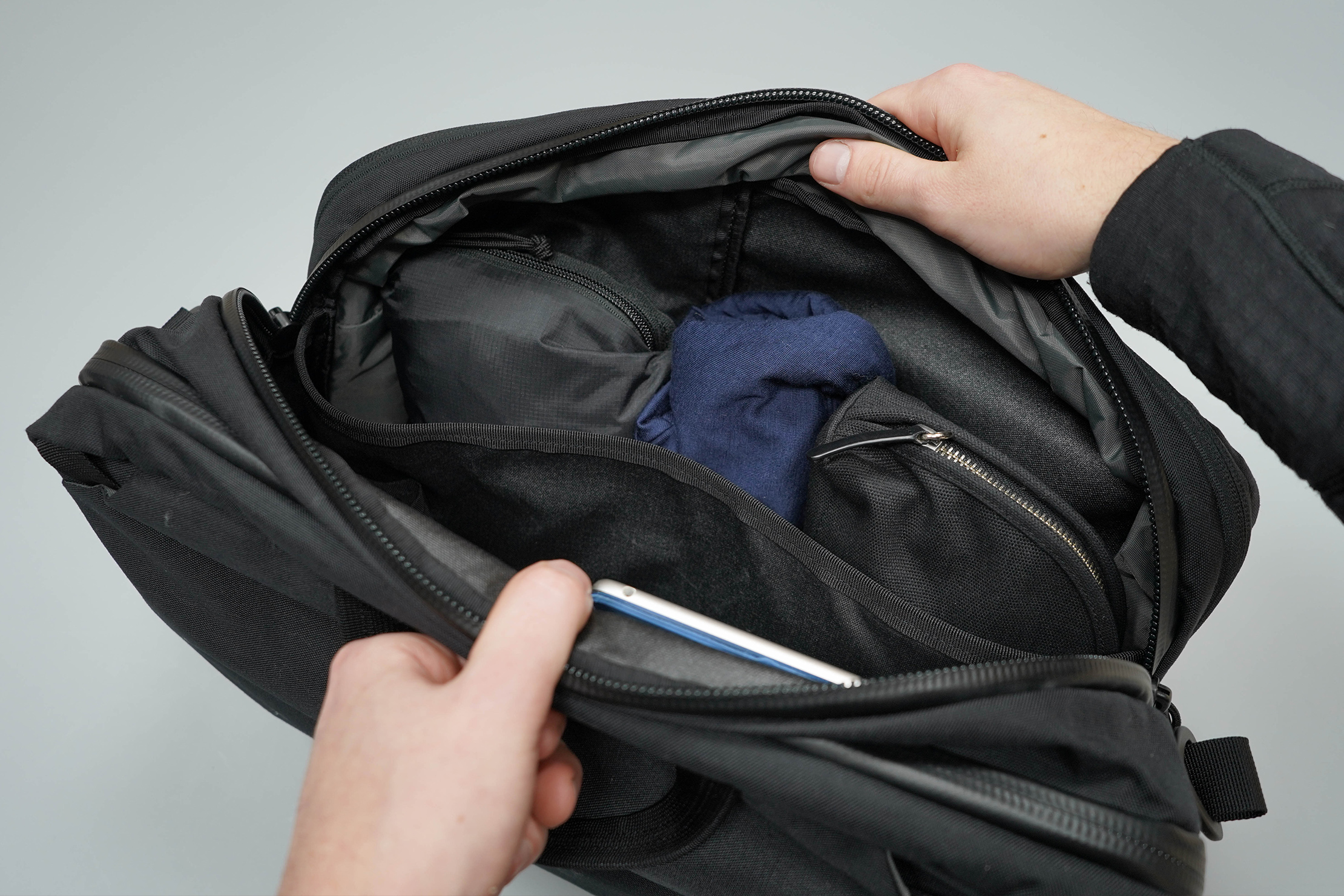 When expanded, you'll get an extra 5 liters of capacity in the main compartment. It doesn't make a huge difference, but it's handy if you need room for even more clothes—great for weekends away.
Again, we don't need so many pockets for our travel and lifestyles. But they aren't that annoying as they stay out of your way when not in use.
Durability & Testing
We've been testing the Mystery Ranch 3 Way Briefcase (Expandable) for approximately three weeks in Detroit, Michigan. And we've been digging it. It's been a great daily driver—holding all we need for a productive day at the co-working space. Plus, we're pleasantly surprised by all three modes of carry. It's definitely a briefcase first but works well as a backpack whenever we need it to.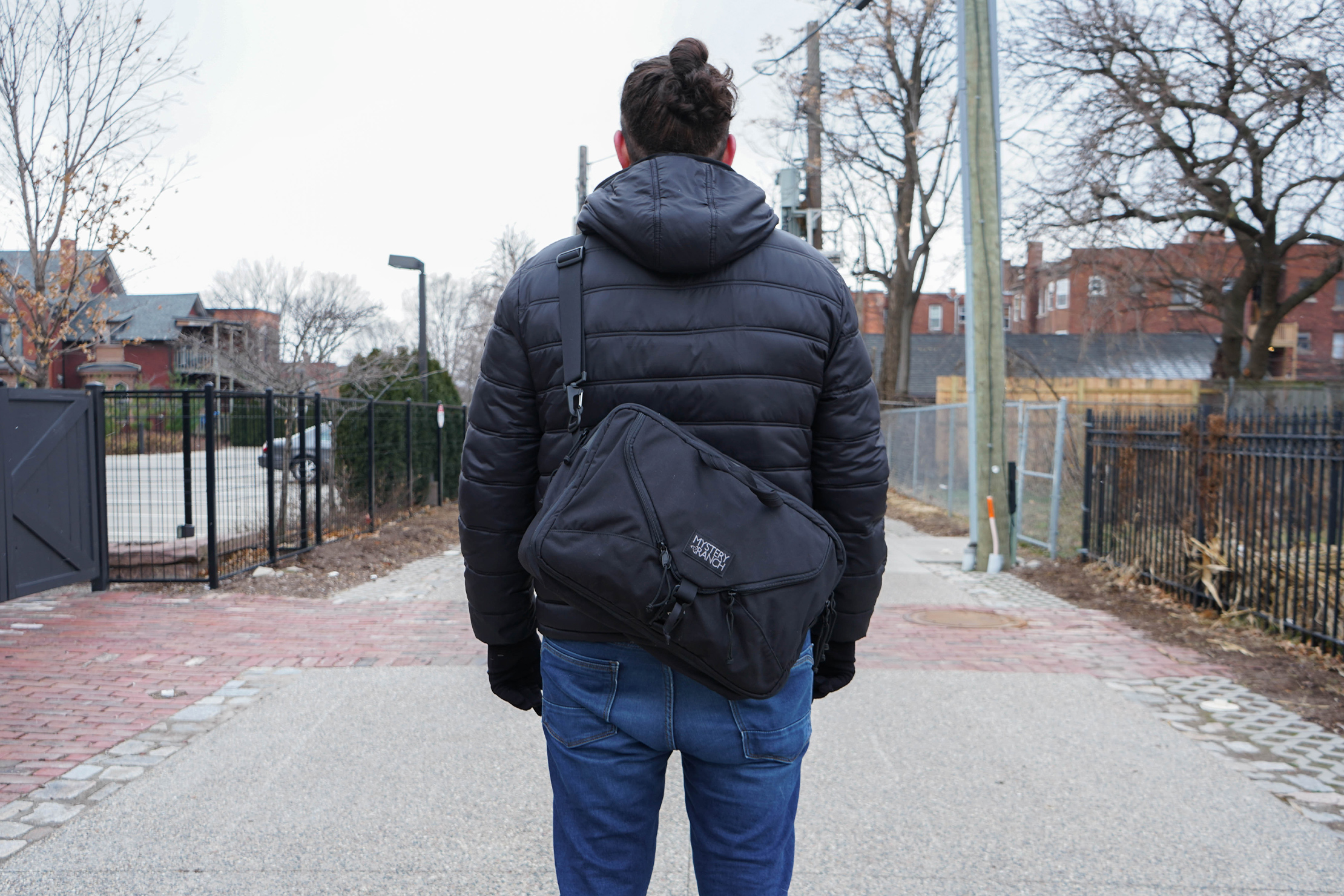 We're not surprised by how well the 3 Way Briefcase has been holding up. It's from Mystery Ranch after all—a brand known for its solid quality and craftsmanship. This briefcase has been built to last.
Usage Timeline
Initial Usage
Condition: Excellent
Great EDC bag for carrying your laptop, tech accessories, and other gear
This bag is very versatile with its expandable compartment and three ways to carry
Lots of good organization all over this bag
1 Month of Use
Condition: Excellent
Looks great! Not surprising coming from Mystery Ranch.
Access the Pro Community Discussion
Get your questions about the Mystery Ranch 3 Way Briefcase Expandable answered from our team and the Pro Community right here on the page. Plus, join discussions with other members about gear, guides, and more.
Other Bags & Luggage Reviews