The North Face Borealis Backpack Review
The North Face Borealis Backpack is a great bag for your buck, offering ample storage and a slew of external features some may find a bit much for everyday use.
Our Verdict
Unlock the Pro Summary
Save time. Get access to brief summaries of our reviews so you can browse and make decisions more efficiently.
Pros
Well-built, flexible harness system
Great value—good bag for your buck
Convenient external storage
Cons
Waist strap is more like a stomach strap
Only a slight false bottom in laptop compartment
No elastic keepers to manage dangly straps
Recent Pack Hacker Video
Technical Details
Capacity

28l

Weight (lb)

2.69 lb (1.2 kg)

Denier

420D

Dimensions

19.75 in x 13.25 in x 9.75 in (50.2 x 33.7 x 24.8 cm)

Notable Materials

Nylon, CORDURA® Nylon, Polyester, YKK Zippers, ITW Hardware, Duraflex Hardware

Manufacturing Country

Cambodia

Laptop Compartment Size

15"

Warranty Information
Buying Options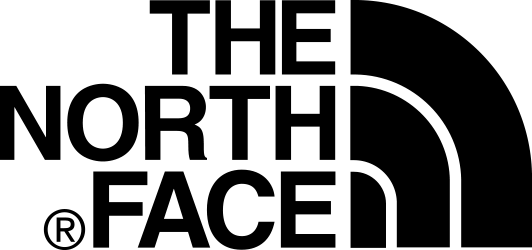 $99.00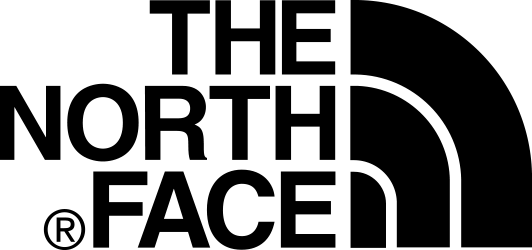 $99.00

$99.00

$99.00
$98.95
Full Review
A very popular bag with bag lovers and everyday users alike, The North Face Borealis Backpack can be seen everywhere from hiking trails to public transport—and we understand why.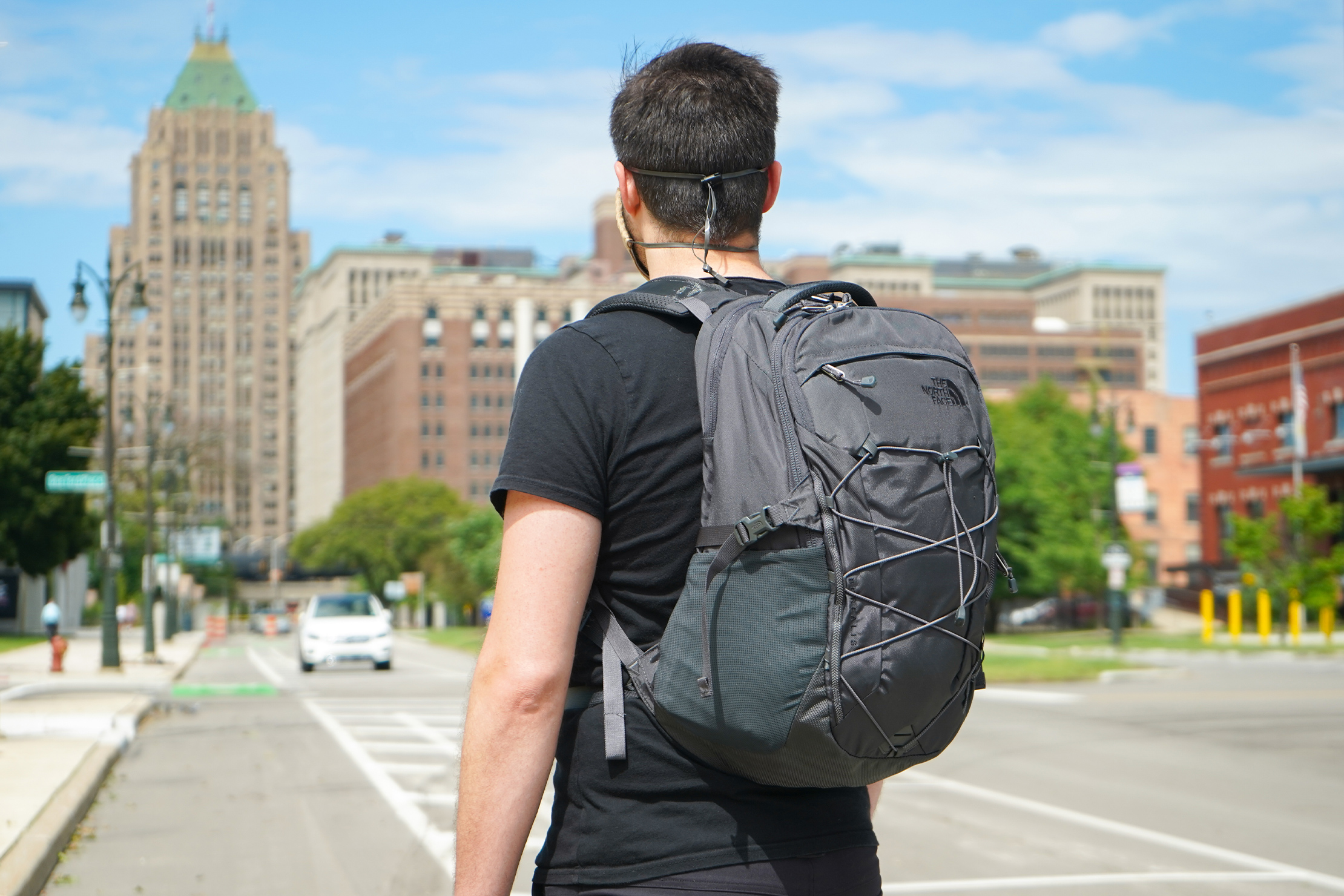 This bag offers versatile storage that you can utilize for everything from your daily commute to a multiple-day trip. If that's not enough space, you also have tons of external storage at your disposal.
We've been testing this bag for two weeks now, and we have a lot to cover—so let's go!
Materials & Aesthetic
The North Face Borealis Backpack touts a more outdoorsy aesthetic, which 76% of you are fans of, according to our Instagram poll. It looks right at home on all your hiking, bike-riding, and trail-blazing adventures, but can still work as an everyday bag, especially if you have a larger daily lineup of gear.
You can pick up this pack in tons of different colorways at the time of this review, from brighter to more muted shades, so you're sure to find one that works for you. We've been testing the Asphalt Grey/Silver Reflective colorway ourselves and are digging its casual, subdued vibe.

The North Face's logo can be spotted on the front of the bag and a tag on one of the shoulder straps. This branding makes itself known, but not in an obnoxious way.
This bag features a slew of different fabrics, including 600D polyester toile, 500D nylon Oxford Slub, 420D nylon, 210D CORDURA Ripstop nylon, and even polyester Jacquard Camo on the camouflage colorways. We have noticed a loose thread or two, but overall, this fabric has held up well during testing.
Some #5 reverse coil YKK zippers make an appearance on this pack, which we've had the pleasure of testing on a lot of bags in the past. They make for a clean look, and as expected, these zippers have been working smoothly during testing so far—no issues to report.
To finish up this section, we also want to point out the bag's Duraflex and ITW hardware, two more brands that we have tons of experience with. All the buckles have stayed secure, all the adjusters are adjusting just fine, and everything is working as it should be.
External Components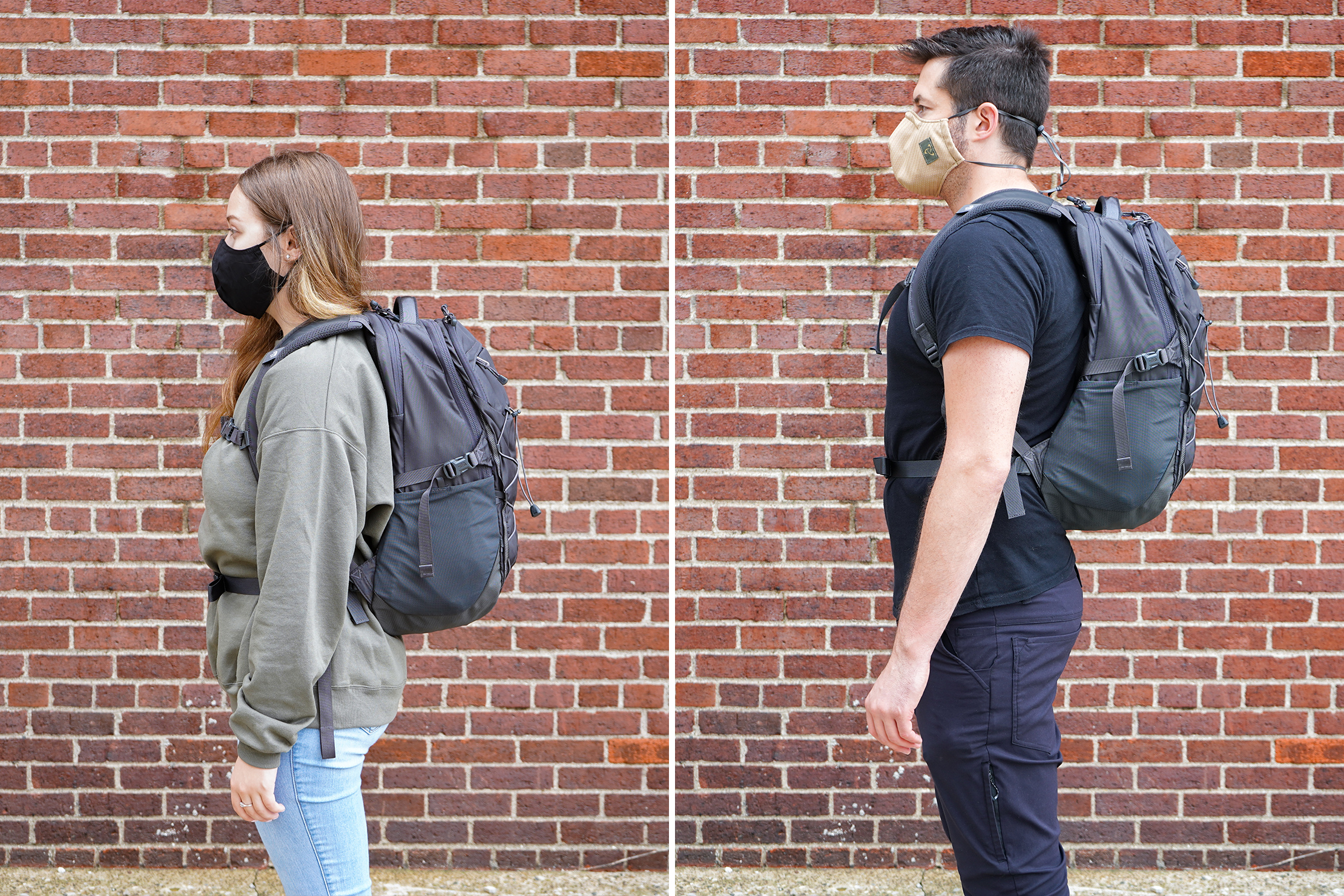 Before we go any further, let's talk about this bag's harness system. It's well-built for a pack of this size and has made for a super comfortable, breathable carry during testing—and it all starts with the flexible shoulder straps.
With many bags we've tested in the past, the shoulder straps can feel somewhat stiff toward the top and often dig into the shoulders or back of the neck. These straps, on the other hand, have an extra piece of nylon webbing at the top that attaches to the bag and allows them to easily flex to the body. This offers more mobility and helps the straps contour nicely to the shoulders.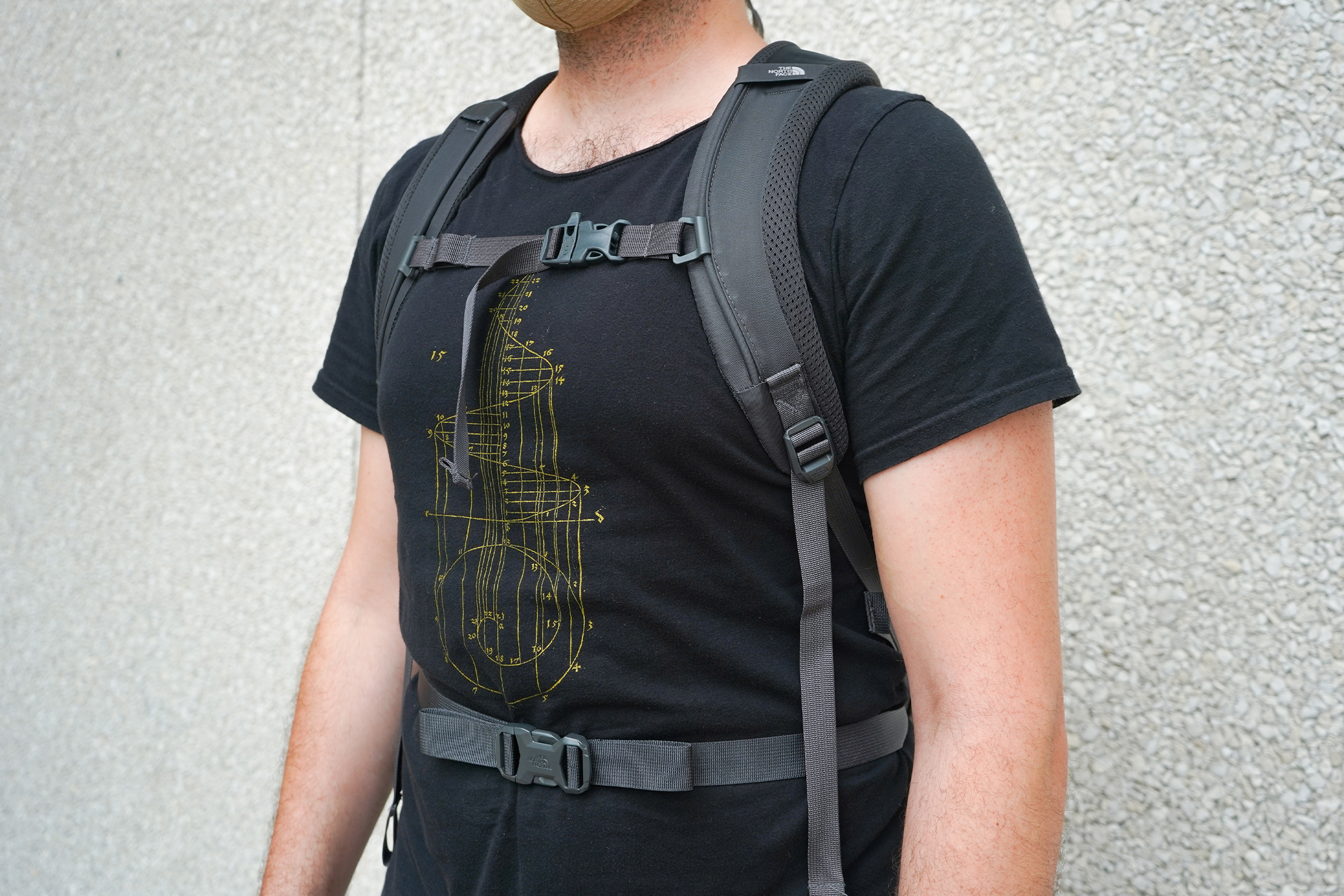 This flexibility extends the length of the straps via FlexVent technology, which creates small openings that allow for ventilation and make the foam inside the straps more malleable. They're also lined with a layer of mesh on the underside that adds even more breathability, which is always appreciated. This has been a lot more comfortable in testing than we thought it would be.
Plus, you have an attachment point on each strap to clip on a carabiner and use for external storage, so your gear is always nearby and not taking up space inside the pack. You won't find any elastic keepers to help manage excess strap, so the one thing you aren't getting is a #DangleFreeExperience.
The sternum strap attaches to the shoulder straps via a rail system that feels secure, so we're not worried about it coming disengaged and losing it. When we need to adjust the position of the strap, we can easily glide it up and down the rail with on hand to wherever it feels comfortable. There's no strap keeper here either, so it can get a little dangly when tightened.

Then there's the back panel, which is densely padded and also lined with mesh to keep you comfortable the whole time you're wearing the bag. The air channel down the middle also serves to keep air flowing and help mitigate that dreaded Swamp Back when you're out in warmer weather or have the bag on for an extended period.
The hip belt on this bag is more of a waist strap and an unhelpful one at that. It sits pretty high up on the stomach rather than the waist and doesn't have any comfortable padding. We do like that this strap is adjustable from two places—at the buckle and where it attaches to the bag—so that the strap is more easily managed than other ones we've tested that just add more dangle.
It does a decent job at keeping the bag close to the body, but this strap really isn't a necessity for us on a bag of this size—we typically look for it on bags 35L+, so we've mostly just been cinching it flat during testing. The buckle doesn't stick into the back too uncomfortably, but if you plan on wearing this thing for a lengthy trip, you may want to remove it altogether, which you have the option to do.
You also have a handle at the top of the bag that's convenient for grabbing and picking it up when you need to get inside, or even hanging the bag when and where possible. Like the harness system, it's also nicely padded and comfortable.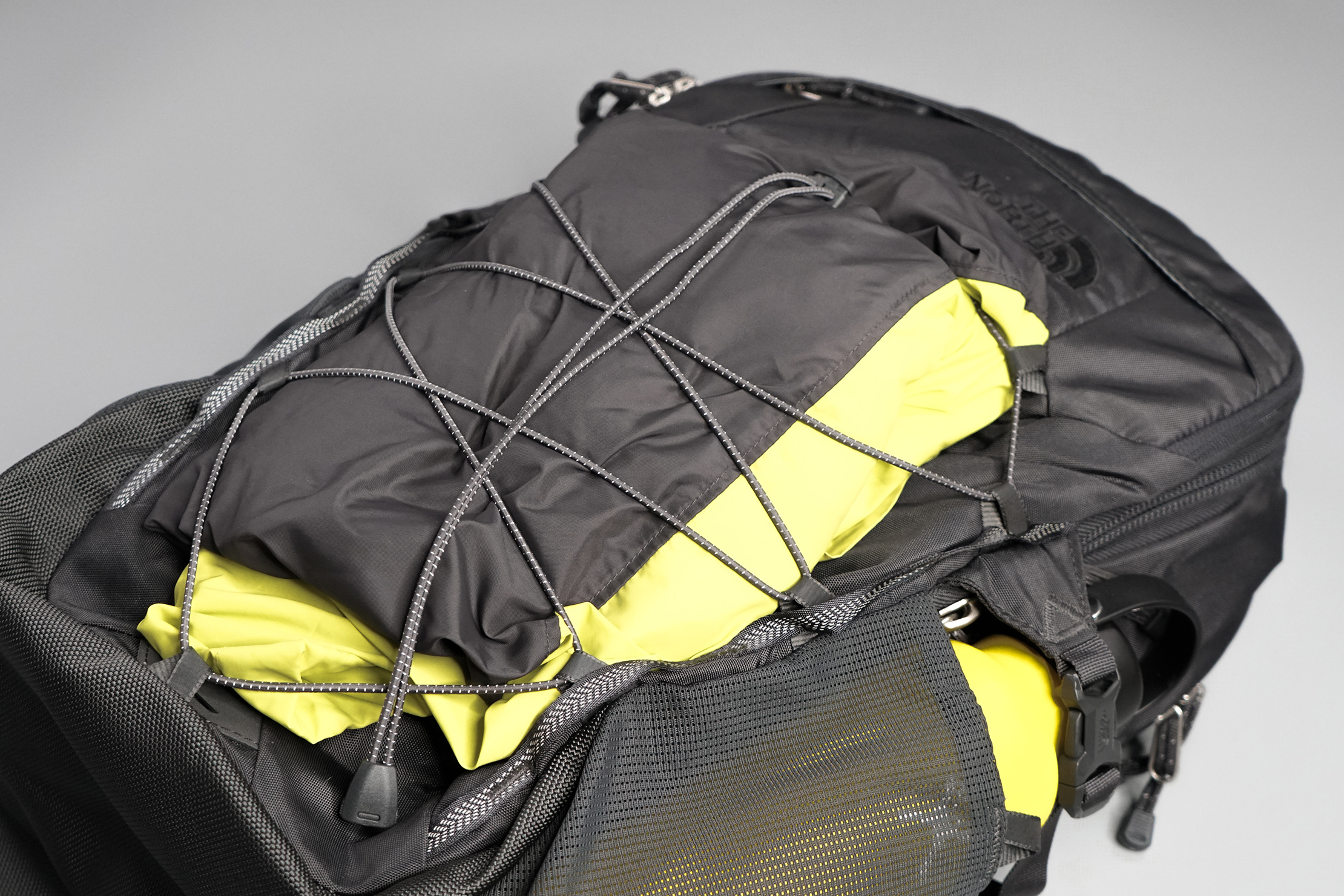 There's a bungee system on the front of this bag that works for external storage and is easy to loosen and tighten to fit your gear, whether you're looking to slip in a jacket to save space in the main compartment or want to keep an umbrella handy. It doesn't give this bag the cleanest look, but it's functionality more than makes up for the array of cords.
On either side of this bungee system, you'll find daisy chains where you can attach a carabiner and clip any gear you want to keep close by. You also have some reflective fabric toward the bottom of the bag with a bonus attachment point to secure a bike light for some added visibility when you're out for a ride later at night or earlier in the morning.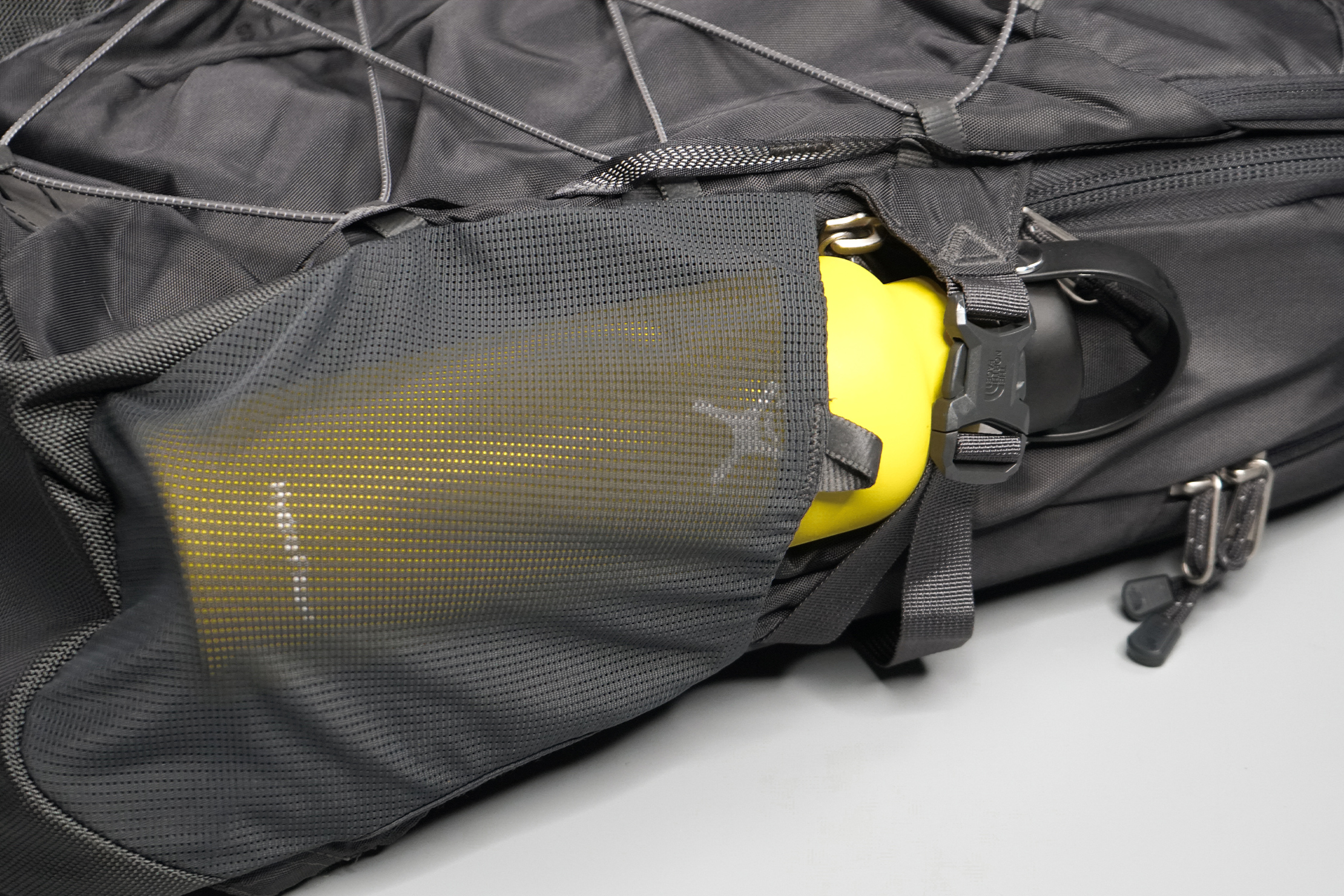 You also have two water bottle pockets—one on each side—made with some super stretchy mesh that can accommodate a 32 oz Nalgene bottle or larger if you carry one. If you're not carrying two bottles with you at a time, use the leftover pocket to store an umbrella, some snacks, or anything else you might need a spot for.
Above these pockets are compression straps that you can tighten to cinch the bag down when you're carrying a lighter haul. This helps keep the bag as minimal and low-profile as possible since it's pretty wide. They also don't have any elastic keepers, so they do add some dangle when maxed out that you'll have to deal with.
Inside The Pack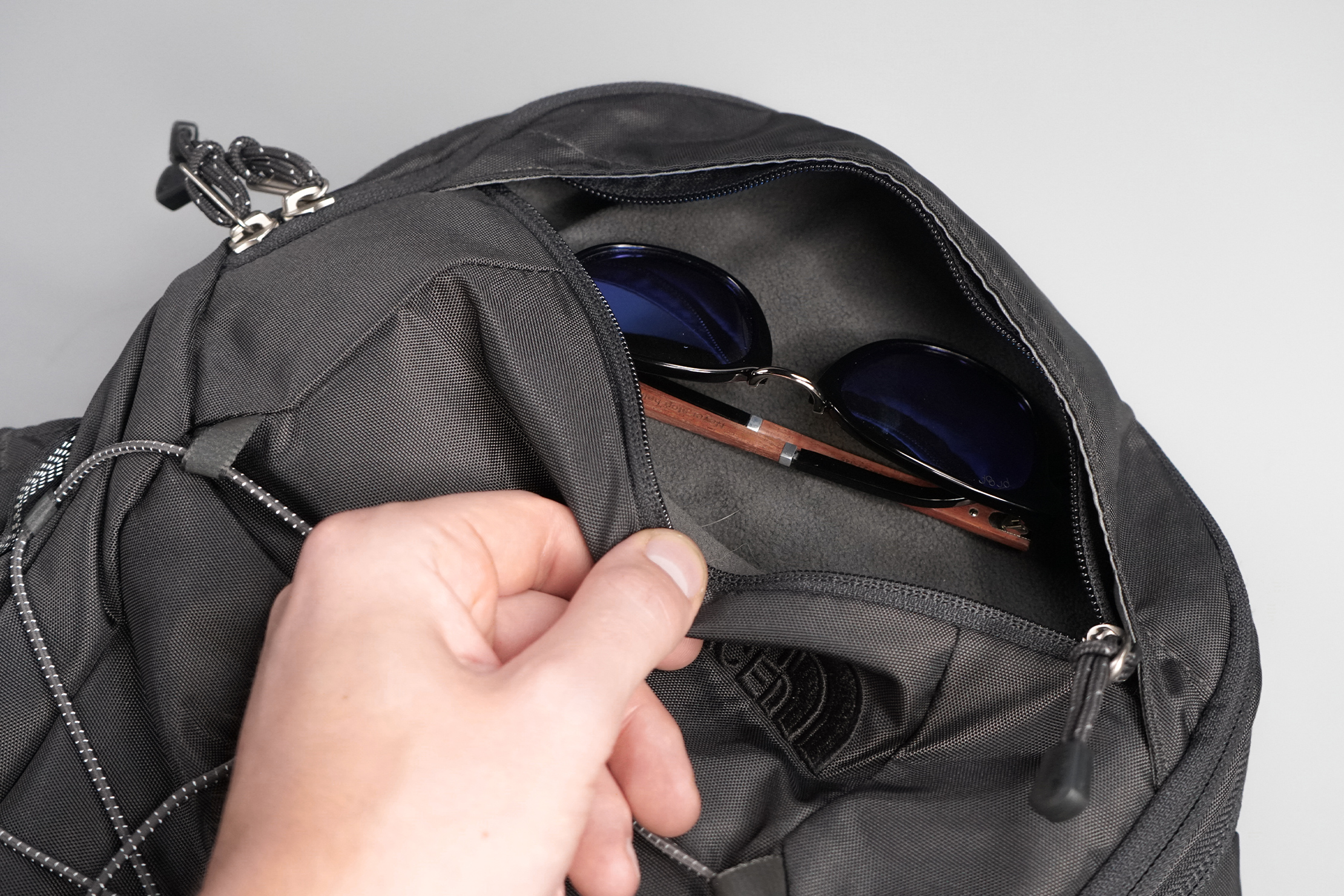 We know, there was a lot to cover on the outside of this pack. Don't worry. In this section, we're finally going to get inside this thing. But first, we want to mention the quick-grab pocket on the front of the bag.
This pocket ends where the bungee system starts and has a super soft lining material that makes it great for stashing items like your phone or a pair of sunglasses, so you don't have to worry about any scratches damaging your gear. It also works for any other frequently-used gear you want to keep close by. For us, that's meant a pair of Felix Gray Nash Glasses, but feel free to keep your wallet, keys, or even some snacks up here.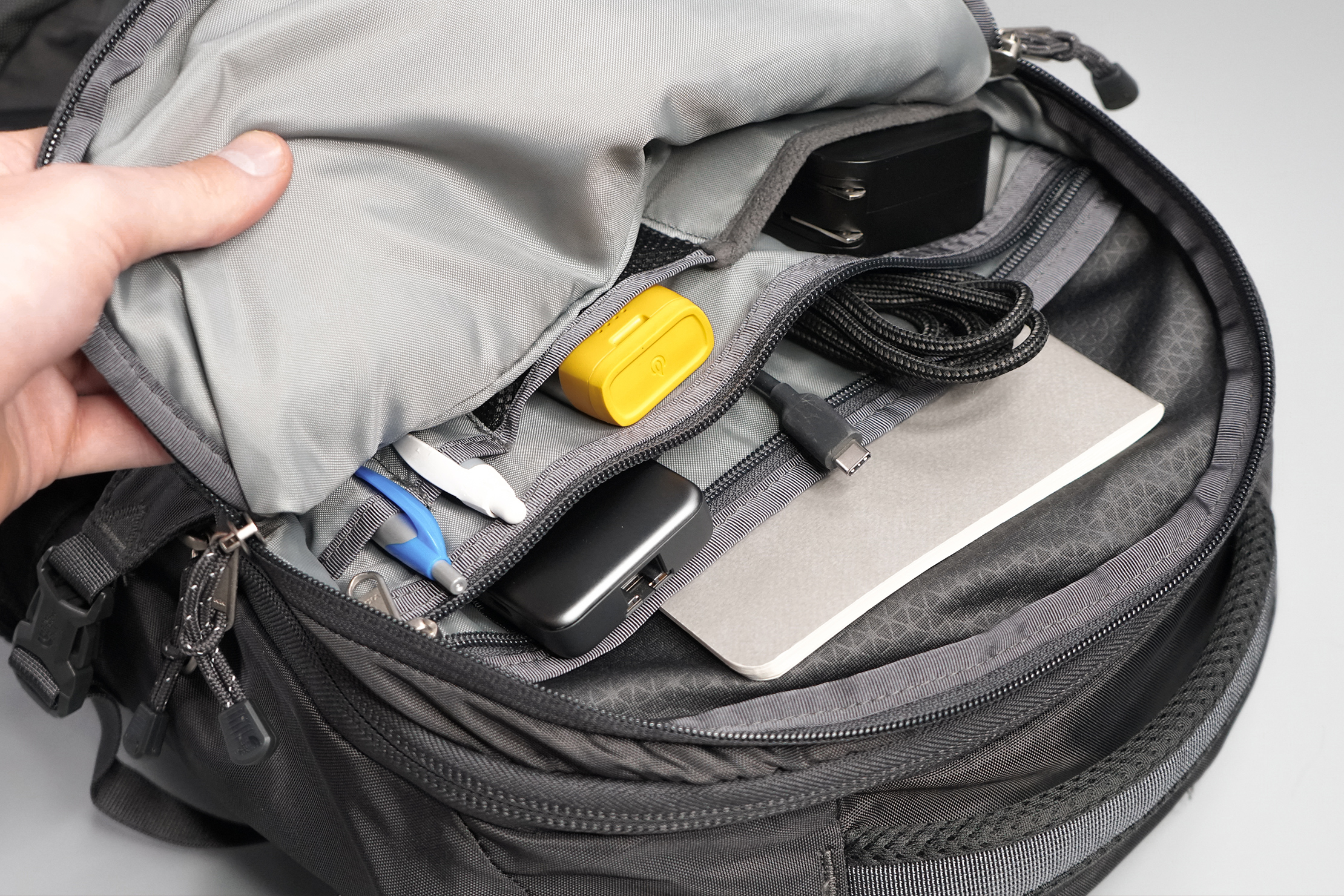 Next, we have the front compartment. It has a horseshoe-style opening that still offers some nice visibility of your gear and features lots of helpful organization for your tech accessories. There's a sleeve against the back wall that fits a medium-sized notebook nicely, or a tablet if you carry one with you.
In front of this sleeve is a zippered pouch where we've been storing most of our miscellaneous tech gear, from dongles to charging blocks, to extra cables. There's also a key leash inside with a plastic clip where you can attach your keys and keep them in the pocket as well. That said, you have to go through two zippers to get to them, so this leash's location doesn't offer the quickest or easiest access.
Below this pouch are two smaller pockets, one of which is lined with the same soft material as the quick-grab pocket on the front of the bag. This is another great spot for a pair of glasses, as the fabric will protect them from any scratches.
The pocket beside it is made with mesh, but it isn't very stretchy, so what you see is what you get in terms of storage. Both of these work for smaller items like the Apple Magic Mouse 2, while the pens sleeves next to them are convenient for stashing a pen, marker, or stylus.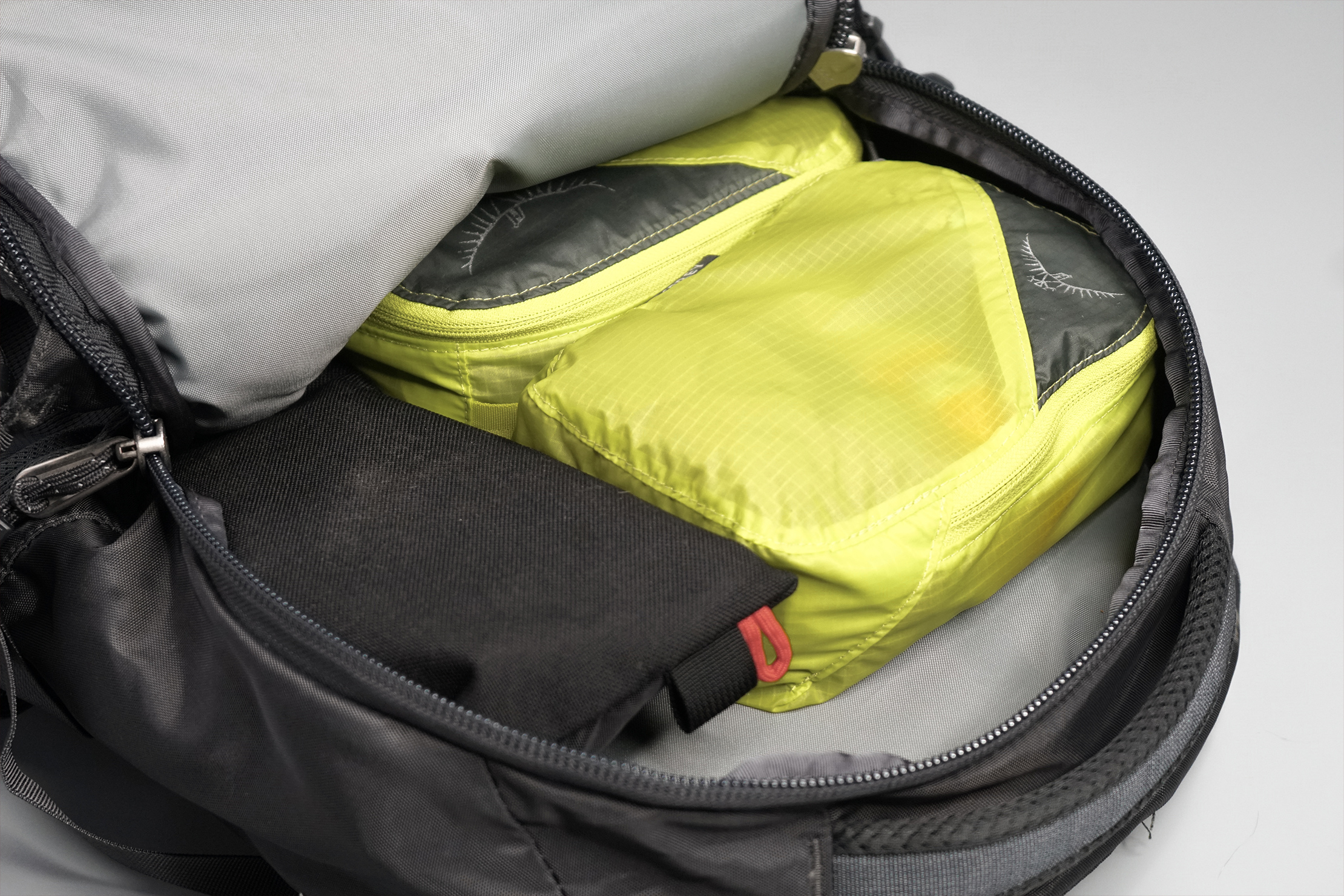 Then we have…drumroll please…the main compartment! Like the front compartment, it also opens up horseshoe-style and unzips about halfway down the bag to where the water bottle pockets start. We would've liked the opening to be just a little bit wider—closer to a full clamshell—for the most visibility and ease of access, but we've still been able to get gear in and out just fine.
This bag holds up to 28L of gear, so it has all the space you need and more to pack it with your everyday gear or load it up for a weekend trip. There's no organization inside, so you'll want to integrate some pouches or packing cubes if you're looking for some segmentation. We've been using the Peak Design Shoe Pouch ourselves to stash some sandals, along with a sweatshirt and some more clothing inside the Peak Design Packing Cubes.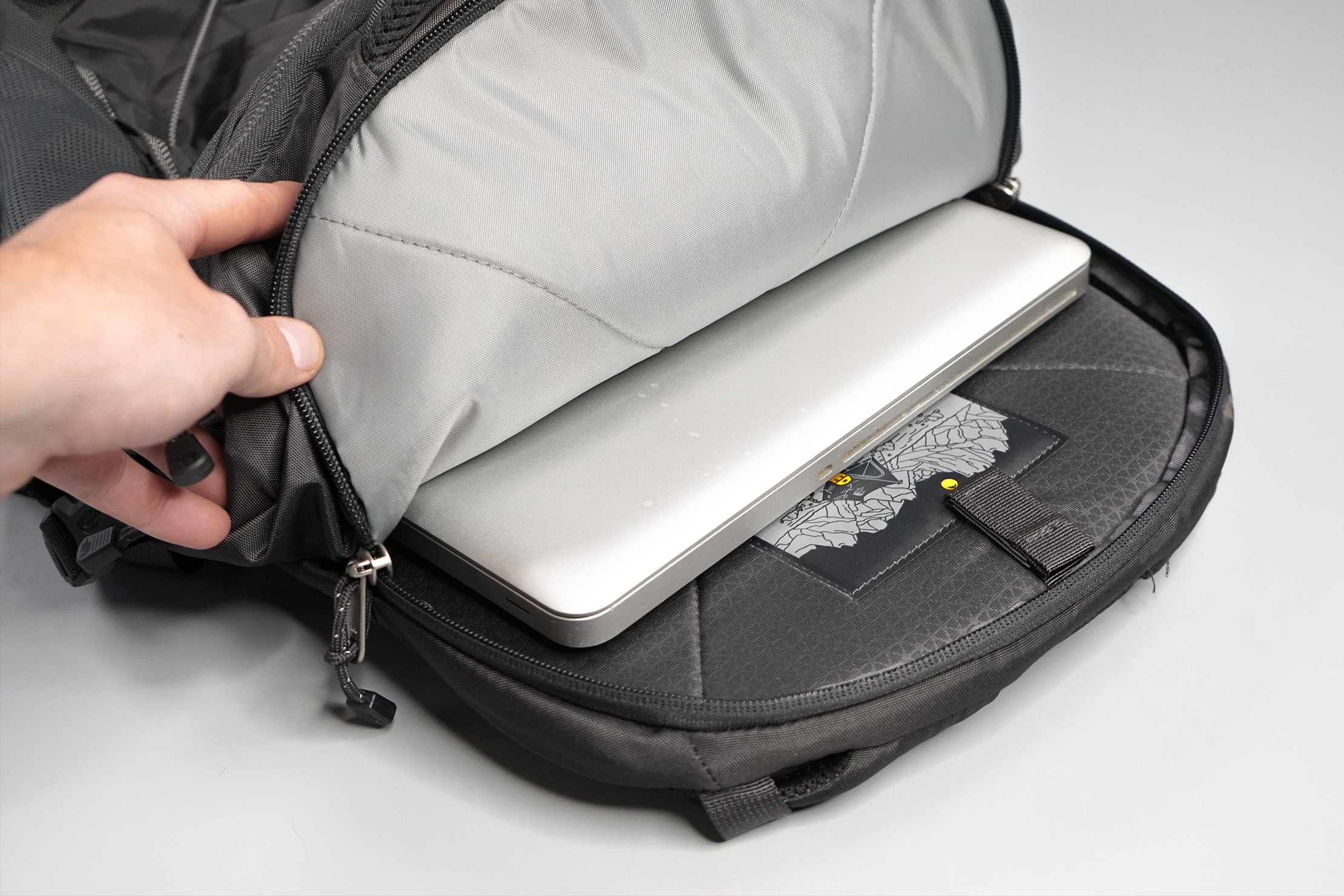 Last, but certainly not least, you have the laptop compartment at the very back of the bag. It can accommodate up to a 15″ laptop in a protective case, along with a keyboard and a Roost Laptop Stand 2.0. There is a false bottom in this compartment, but it's slight—the frame sheet extends at the bottom of the bag, which helps some, but you're really not getting that extra protection for your tech when it gets jostled around or dropped as you would in a suspended sleeve (hence the protective case).
Also in this compartment is a velcro strap toward the top that you can use to attach a water bladder when you're not keeping a laptop inside for that hands-free hydration while traveling. You can then feed the hose through the passthrough on the top so you can keep your pack fully zipped. This is another one of those features that really showcase this bag's outdoorsy vibe and functionality.
Usage Timeline
Initial Usage
Condition: Excellent
Casual look that doesn't stand out in urban environments but is built with the outdoors in mind
Laptop compartment only has a slight false bottom, but is well-padded
Harness system is dense but still breathable for a comfortable carry
2 Weeks of Use
Condition: Excellent
The bag has been comfortable to wear even with it filled up for a weekend trip—the harness system is flexible and wears comfortably on many body types
We can see the appeal of the exterior elastic bungee system, but we didn't get much use out of it
The bag isn't necessarily low profile, but the compression straps help keep things slimmed down
We've enjoyed using the variety of interior organization and thoughtful pockets
Access the Pro Community Discussion
Get your questions about the The North Face Borealis Backpack answered from our team and the Pro Community right here on the page. Plus, join discussions with other members about gear, guides, and more.
Other Bags & Luggage Reviews