Peak Design Packing Cubes Review
Between the quick zipper access, compressibility and rock-solid materials, the Peak Design Packing Cubes are easily some of the best on the market. Plus, they come with Peak Design's signature innovative thinking. We do have a few minor gripes—mainly the lack of other sizes and a small issue with the compression zippers—but overall, we've been loving these cubes.
Our Verdict
Unlock the Pro Summary
Save time. Get access to brief summaries of our reviews so you can browse and make decisions more efficiently.
Pros
Innovative quick zipper access.
Clean and dirty pockets allow for easy separation of clothes.
Easily compressible.
Cons
The compressing zipper can get stuck easily.
Can be hard to tell apart—only one color.
We wish there were more sizes.
Recent Pack Hacker Video
Technical Details
Denier

70D

Weight (oz)

3.99 oz (113.1 g)

small, 5.1 oz (144.59gm) medium

Dimensions

12.6 in x 6.7 in x 6.7 in (32 x 17 x 17 cm)

(small expanded) | 12.6 in x 6.7 in x 3.1 in (small compressed) | 12.6 in x 12.6 in x 6.7 in (medium expanded) | 12.6 in x 12.6 in x 3.1 in (medium compressed)

Notable Materials

Nylon, Polyester, YKK Zippers, Hypalon®, DWR Coating

Manufacturing Country

Vietnam

Warranty Information
Full Review
Get up to 10% off Peak Design • Join Pack Hacker Pro
In this review, we are taking a look at the Peak Design Packing Cubes. If you've arrived here because you've been reading through some of the other Peak Design Packing Tool reviews—welcome! You know what you're getting yourself into. If not, you might want to check out the other items in the greater Peak Design Travel System: The Travel Backpack, Camera Cubes, Tech Pouch, and Wash Pouch.
And so, without further ado, let's get into these packing cubes. (Not literally inside of them, they're far too small for a human.)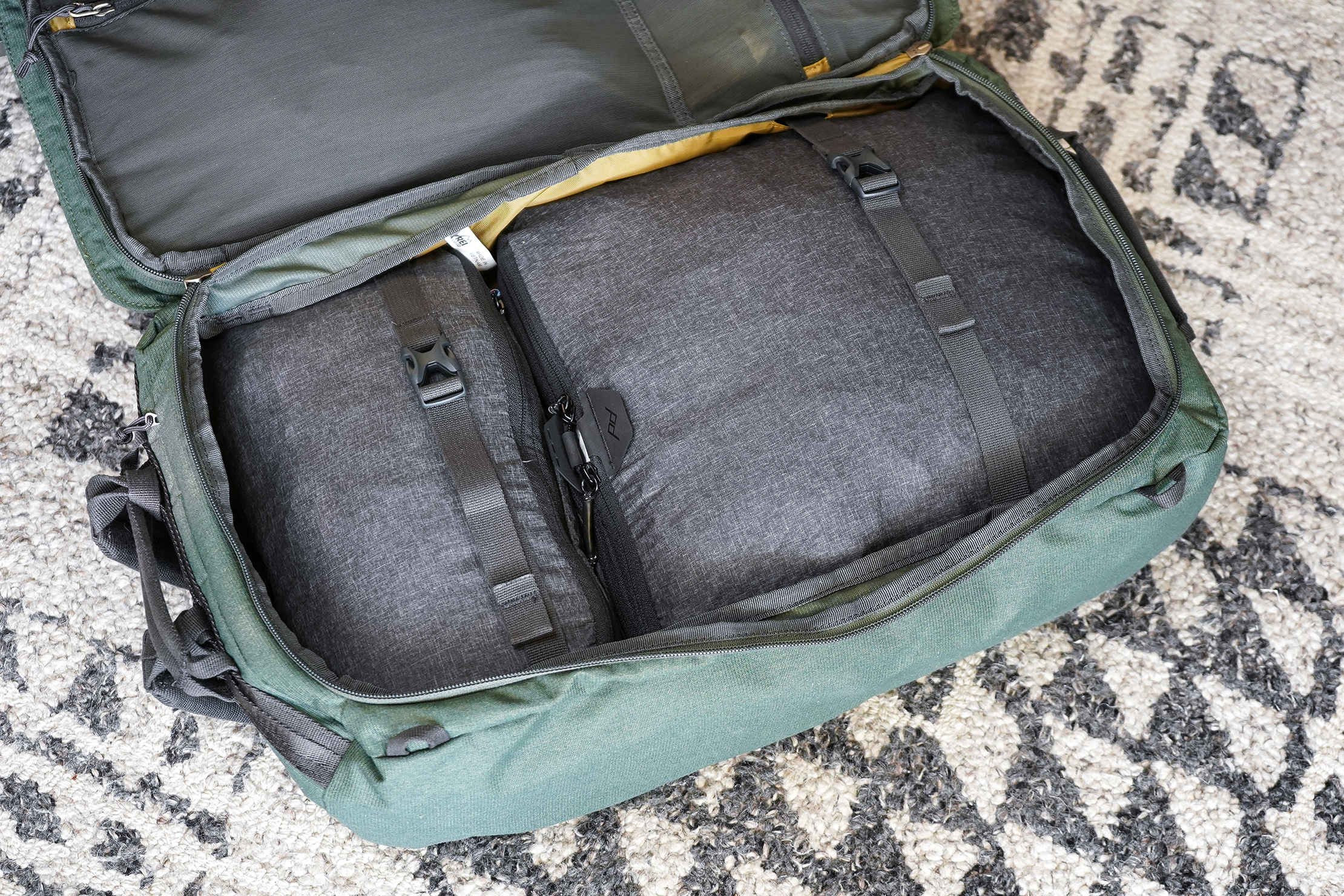 In general, there are a lot of things going on with these packing cubes that we haven't seen in many other cubes on the market—which, at this point, isn't a huge surprise. That has been a common trend in most of the Peak Design stuff we've tested.
The main exterior fabric of these cubes is a 70D nylon and polyester blend. The zippers are YKK brand, which is actually a bit odd. Most of the Peak Design gear uses Zoom zippers, so we're not really sure why they opted for YKK here—but regardless, these are some high quality zippers.
And while the fabric is a bit lower denier than some of their other packing tools, we think it makes perfect sense for a packing cube. You don't really need excessively strong or thick materials for a packing cube, and 70D is still pretty solid while remaining lightweight.
There are also Hypalon pull-tabs on the zippers and the quick-tear area that we're going to get into in a second. But first, a quick refresher on the sizing and Peak Design's "Packing Unit System."
Basically, the small packing cube is 1 unit, the medium cube is 2 units, and the large cube is 3 units. The Peak Design Travel Backpack can fit 3 units in the main compartment, so with some basic math you can easily figure out a combination of cubes that will work for you while still fitting nicely into the pack.
We should note that these units are really only applicable if you have the cube(s) totally filled. If you don't have these things filled to the brim, you can easily fit a couple on top of each other, allowing you to fit more than just 3 units of cubes into the Peak Design pack. For example, we've been able to easily fit 2 loosely-packed medium cubes (which would technically be 4 packing units) in the main compartment.
One really innovative feature on these cubes is the Hypalon pull tab "quick access system." Basically, you can grab the two pull tabs and quickly pull them apart, which will instantly open the whole cube. This is 1) really satisfying to use and 2) easily the most convenient and quick access to a packing cube we've seen. How have we not seen this before? It's brilliant!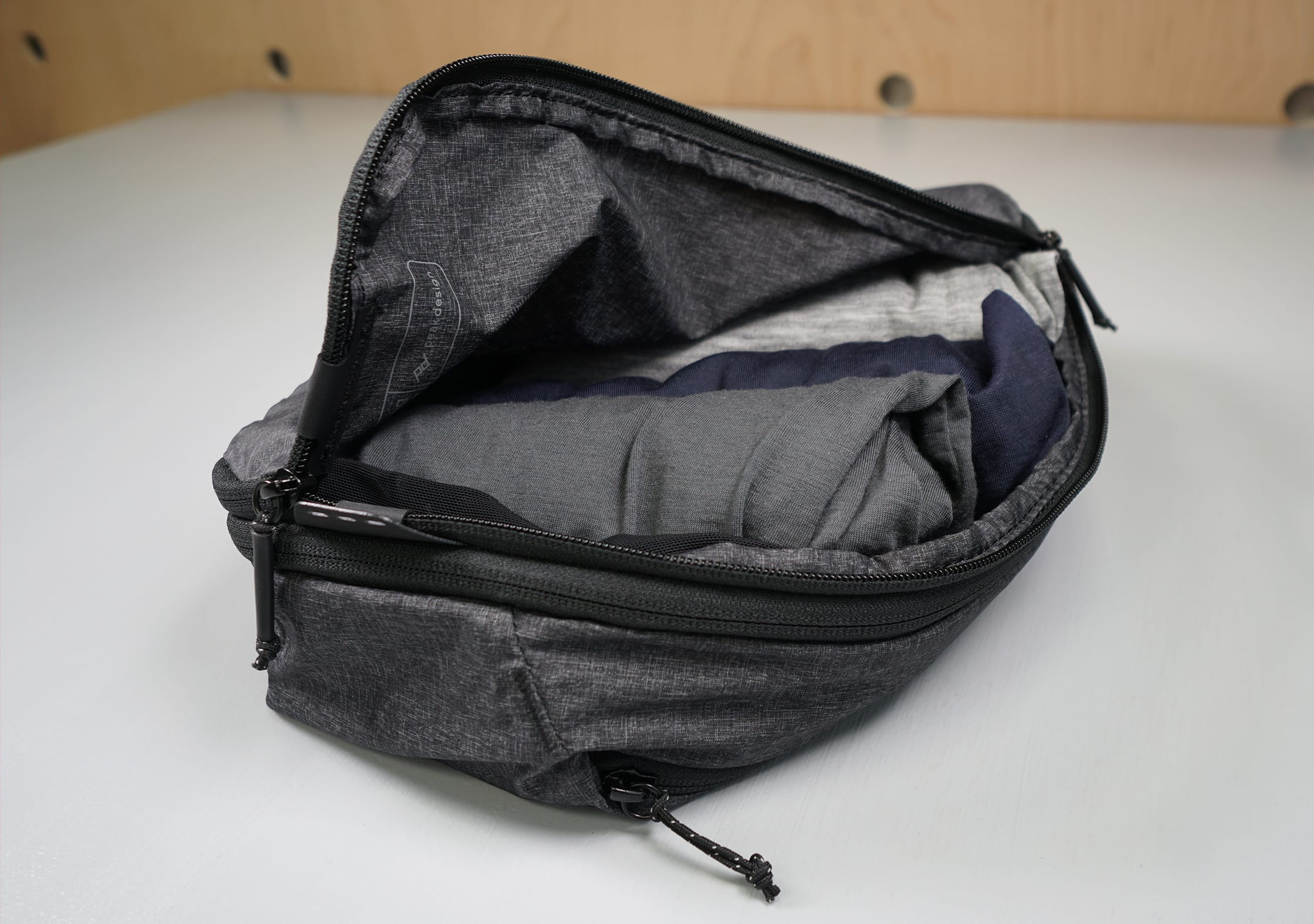 One potential drawback is that this system could be fairly brutal on your zippers. Pulling zippers "apart" (as in, perpendicular to the teeth they run on) is kind of a recipe for disaster—the zipper "slider" is bound to become separated from the teeth at some point if you're doing this frequently with any sort of gusto. However, these are some high-quality zippers that should, in theory, be able to take the punishment. Plus, we think the convenience is worth it.
(And really, as long as you're not going full-on Hulk mode when opening these things, we think you'll be fine. Sorry, Mr. Hulk. You might want to look for a different set of packing cubes. Maybe the Patagonia Black Hole Cubes?)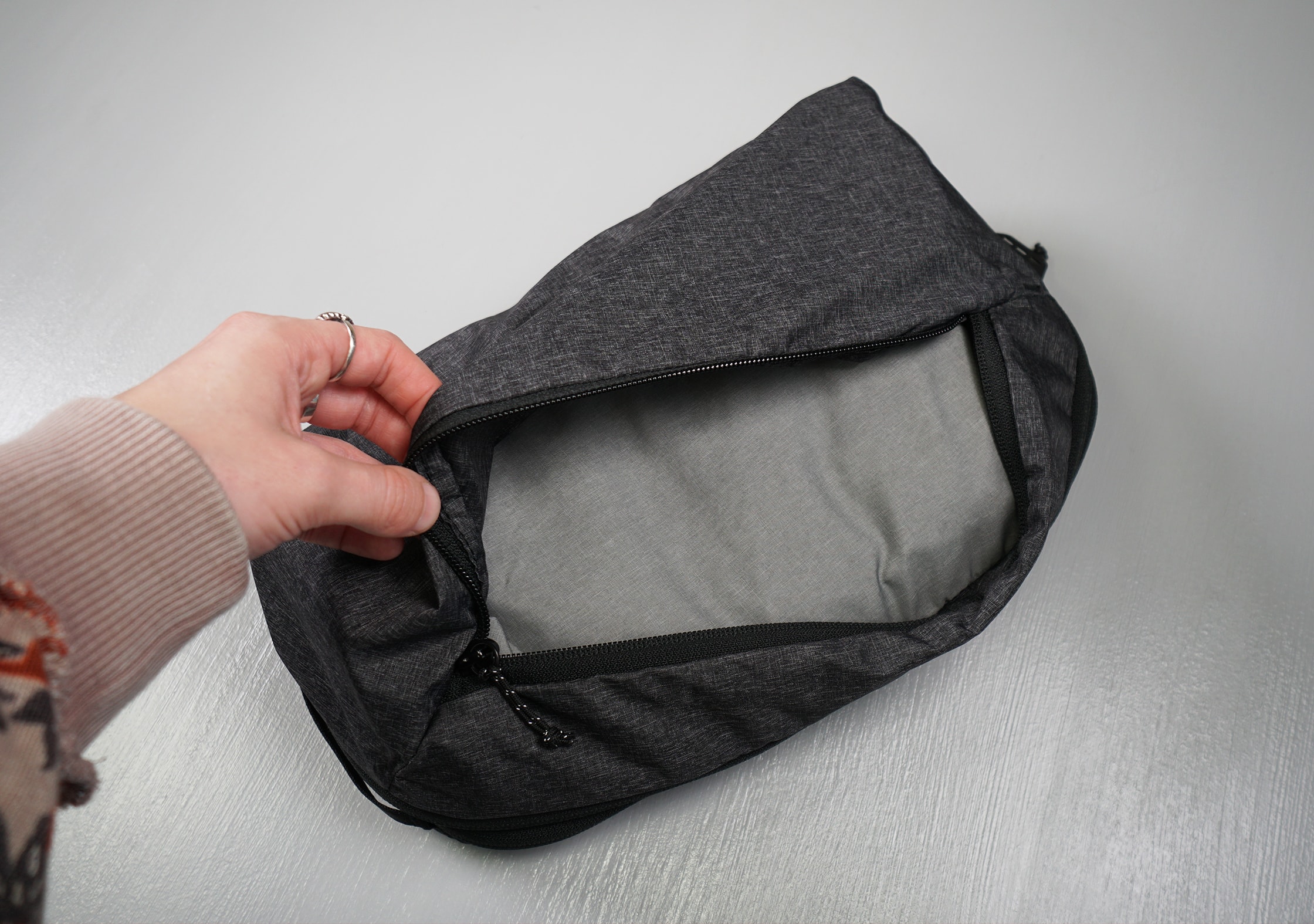 Opposite of that big clamshell opening is a separate compartment to hold your dirty clothes, which works just as intended. When your clothes get dirty, just stuff 'em in the backside and you're good to go.
These cubes are also compressible, which we've found to be really useful. You can easily fill this thing up and compress your clothing down, which saves some space and allows you to cram in a lot more clothes without wrinkling them.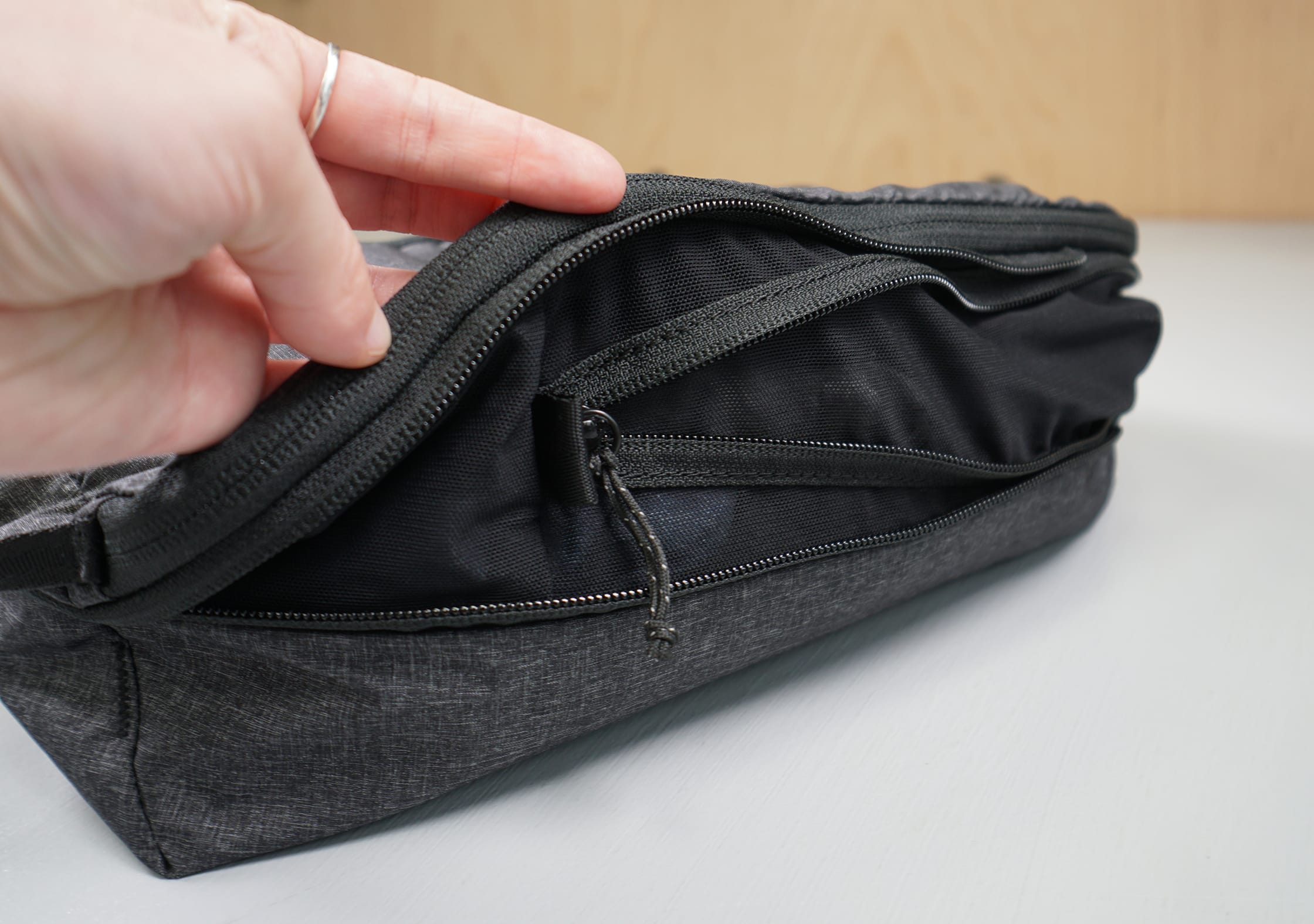 On a couple occasions, we have had the stretchy mesh part get caught on the compression zipper, so just keep this in mind—you'll want to be careful when you zip this thing up. If you do catch that mesh a lot, it'll definitely start to get ripped up and it could also affect the zipper itself. Another nice touch is the small piece of nylon webbing you can grab onto as you're zipping the compression portion of the cube and the small grab handles on the outside. Peak Design gets it—it's all about the little things.
From a sizing perspective, we think these cubes can totally work—especially if you've got the Peak Design Travel Backpack—however, we do have a couple other packing cube lines that we truly love. We've been using the Eagle Creek Specter Cubes for some time now, which are very similar to these but a bit lighter. They also offer a bunch of different sizes, so you can kind of play around with them and figure out what works best for you.
And while these cubes are optimized for Peak Design's Travel Backpack, you can absolutely use them in other packs and, vice versa, you can use other cubes inside the Peak Design pack. If you do have the Peak Design pack, you shouldn't feel like these are the only packing cubes you can use. They are, however, pretty sweet—so you may just want to pick them up.
Usage Timeline
Initial Usage
Condition: Excellent
Working well out of the box. Looking forward to testing these out!
1 Month of Use
Condition: Excellent
No complaints! They're working nicely with the Peak Design Travel Backpack, although we think they'd work well with plenty of other packs.
2 Months of Use
Condition: Good
Still going strong, although the mesh has taken a slight beating due to the compression zipper.
Access the Pro Community Discussion
Get your questions about the Peak Design Packing Cubes answered from our team and the Pro Community right here on the page. Plus, join discussions with other members about gear, guides, and more.
Other Organizers & Pouches Reviews