Eagle Creek Pack-It Specter Cubes Review
Pack-It Specter Eagle Creek packing cubes are a great lightweight solution to organizing your gear and reducing clutter in your luggage.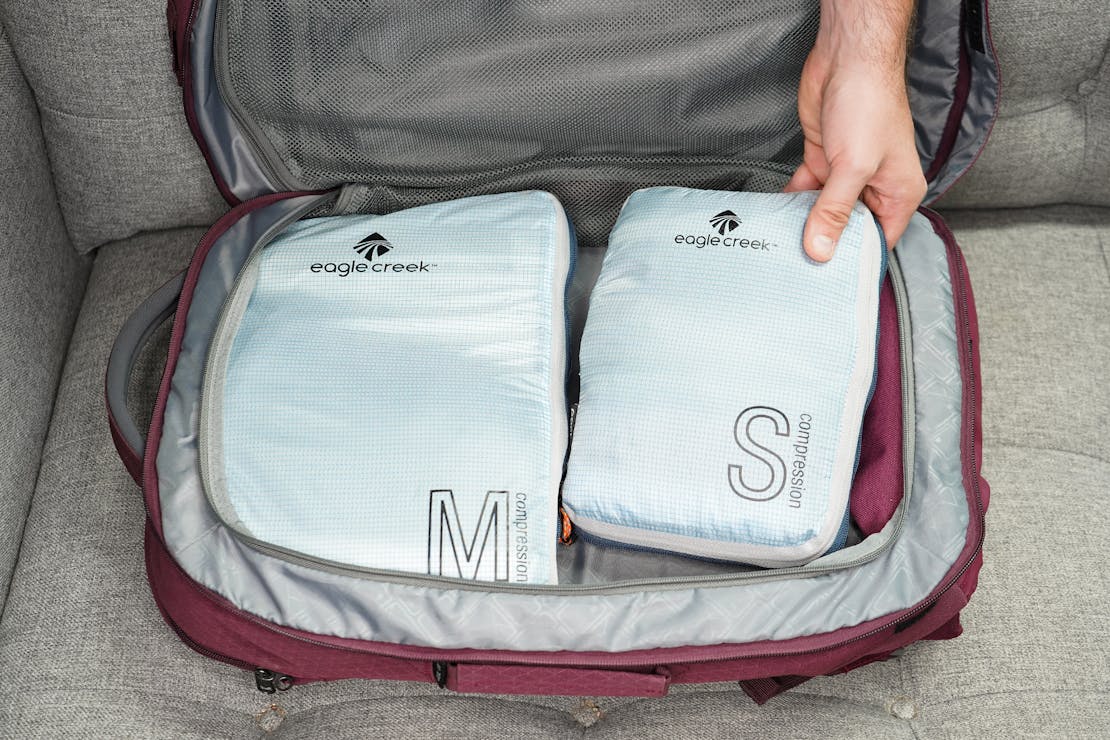 Our Verdict
Unlock the Pro Summary
Save time. Get access to brief summaries of our reviews so you can browse and make decisions more efficiently.
Pros
Virtually no added weight to your luggage
Lots of color choices
Handles for easy grabbing and hanging
Cons
Zipper can snag on occasion
Some versions: zippers only open halfway
Some versions: handles sewn on topically, rather than enclosed in a seam for reinforcement
Recent Pack Hacker Video
Technical Details
Capacity

5l

For the small Specter Tech Cube

Dimensions

9.75 in x 4.25 in x 3.25 in (24.8 x 10.8 x 8.3 cm)

For the small Specter Tech Cube

Manufacturing Country

Vietnam

Some Specter products are made in Indonesia

Warranty Information
Full Review
Get up to 20% off Eagle Creek • Join Pack Hacker Pro
Eagle Creek are a bunch of packing professionals, so if you're looking to up your organization game, its not a bad idea to invest in the lightweight Pack-It Specter product line. These guys stand by their products, offering a Lifetime Warranty on all their cubes. The description of the warranty is a little vague, but basically if anything goes wrong beyond normal wear and tear, they'll replace the goods. We've actually tested the warranty after a small rip after 1.5 years of continuous use with success. You can check out the official jargon here.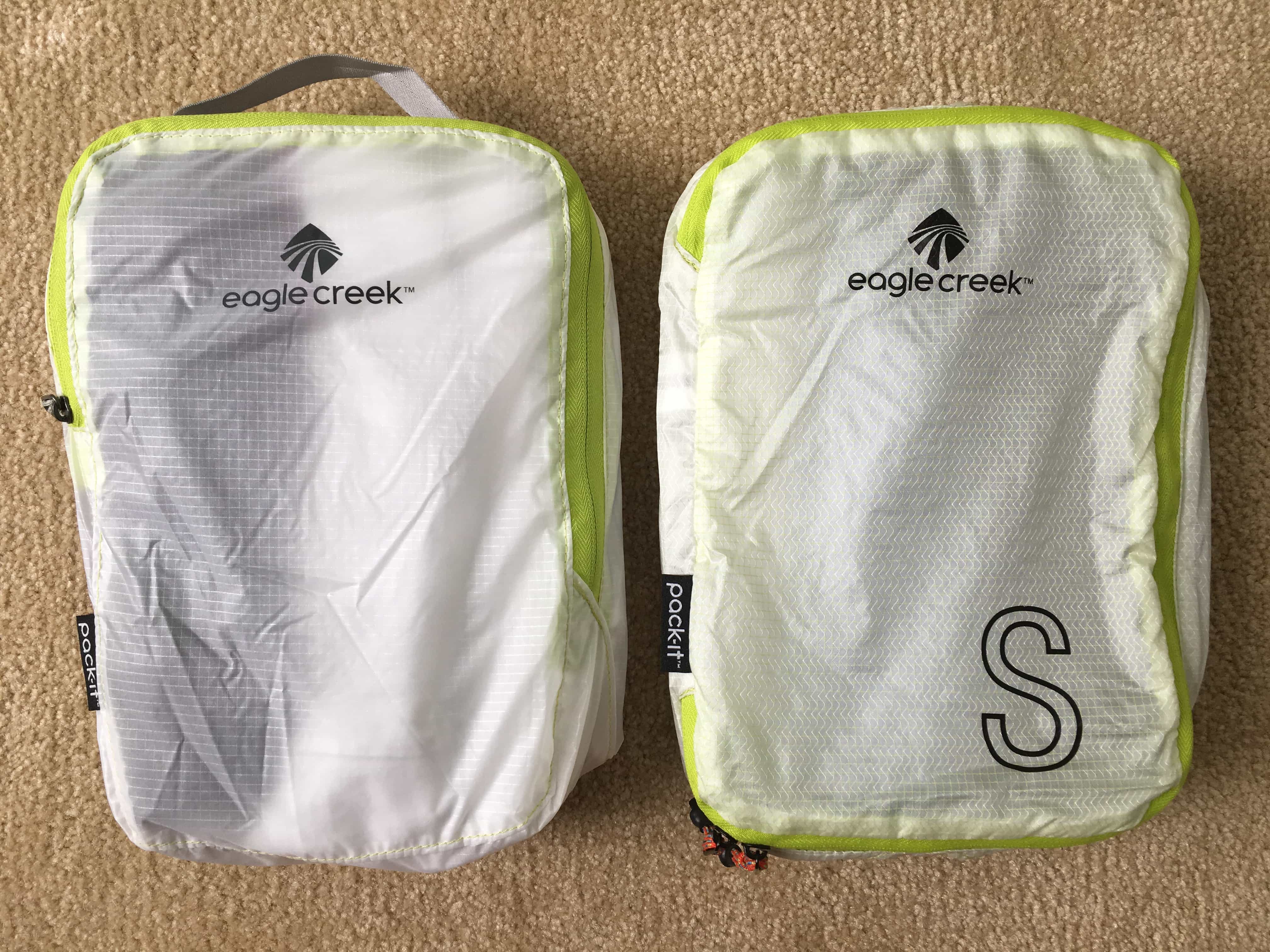 All the packing organizers fall under Eagle Creek's Pack-It System, but within this category are five niche lines for your needs. If you check out the company's packing organizers section, the sheer volume of items on there can be confusing, as can the names they've assigned each product. We've debunked the deets on the Pack-It Specter and Pack-It Specter Tech lines because they're made from one of the most durable AND lightweight materials: ripstop nylon. One quick way to spot the difference between the two lines is that the Tech products are all labeled with a giant size letter.
Pack-It Specter Cubes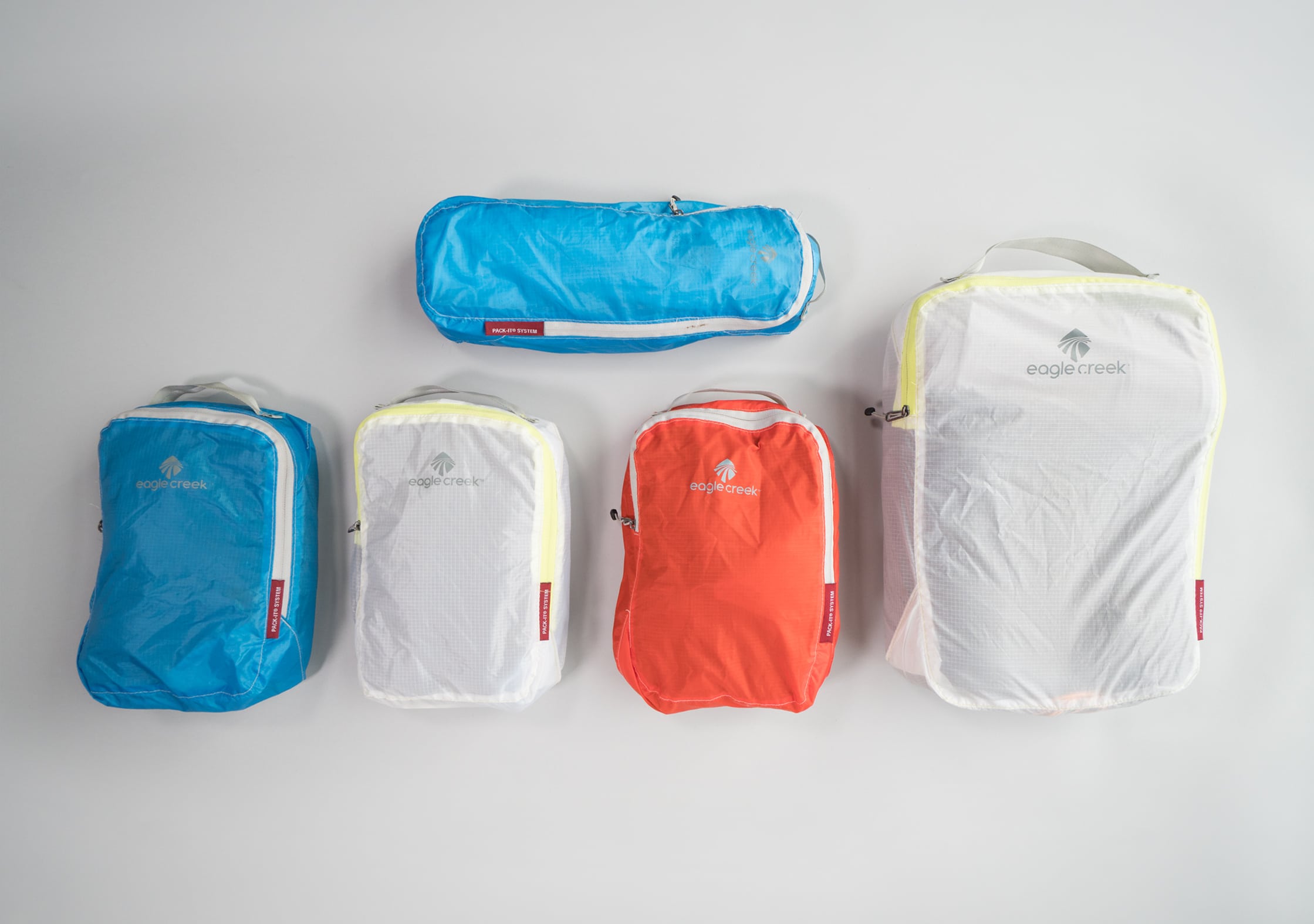 These Eagle Creek packing cubes come in three sizes: medium, small and extra small, but they are also referred to as full cube, half cube and quarter cube respectively. Confusing already, right? Then there's also the Compression Cubes and the Slim Cube. We'll get to those later.
Pack-It Specter Half Cube (Small)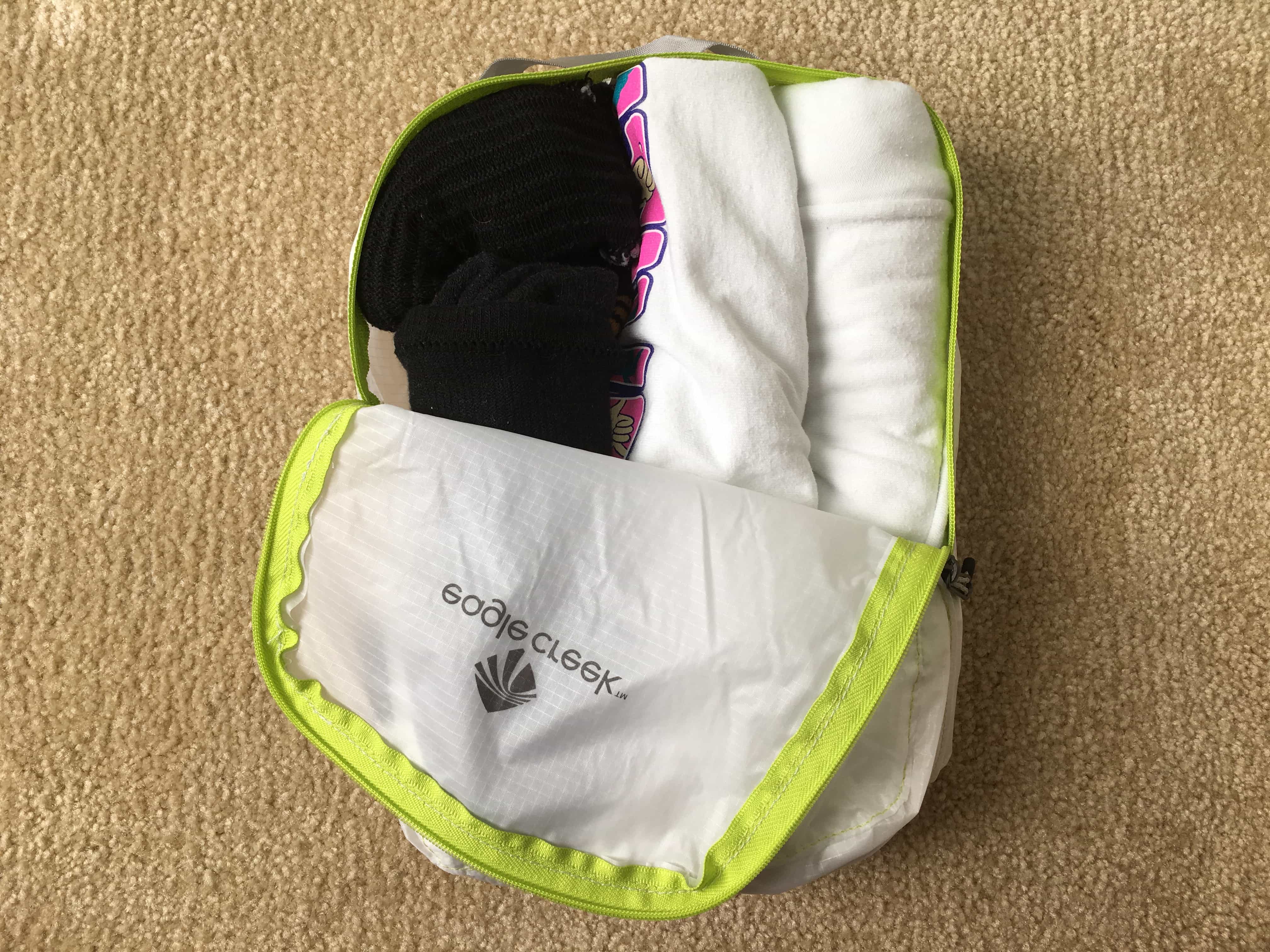 We've been using the size small Pack-It Specter cube and loving it. This is about as small as we would go. The extra small size would certainly fit underwear, but at that point we would prefer to go with the small and combine garments. These Eagle Creek Packing cubes come in psychedelic colors like brilliant blue, flame orange, and strobe green that are easily spotted in the abyss of your bag, as well as classic black or white.
Coming in at about the size of an iPad Air, they will hold 5L of clothes. Stuff in all your undergarments, pack a full change of clothes, or at minimum three shirts or pants in these babies. Roll your clothes up and they truly stay less wrinkled than placing them folded in the cube—plus everyone knows you can fit more when you roll! And if you're caught in a jam, they make for a great pillow on the go!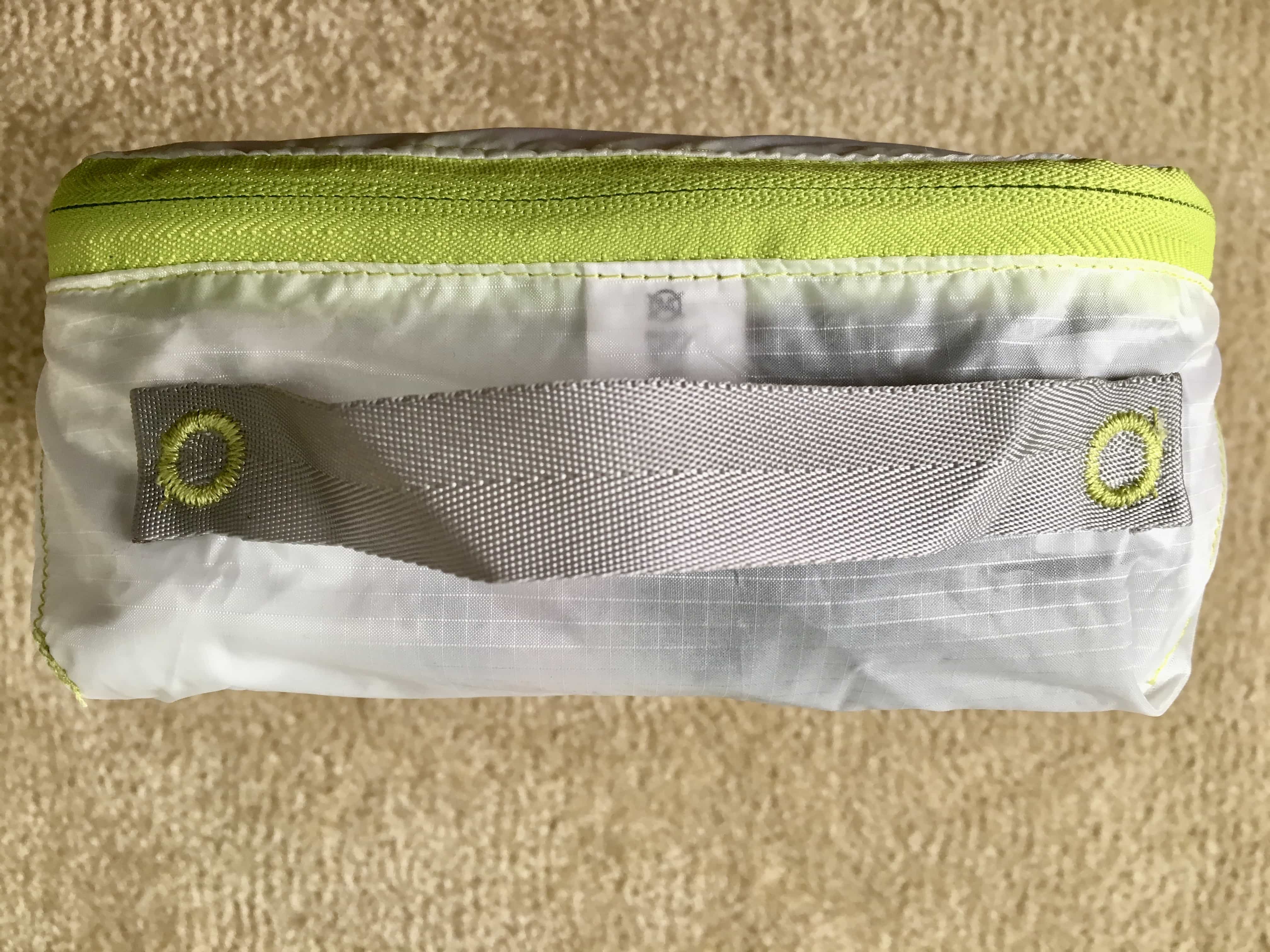 Empty, the cube only weighs 0.6 ounces, so it definitely won't tip the scale even if you have five of them in your luggage. We know, you're thinking, how does such a lightweight bag hold all that stuff without tearing? It's made from ripstop nylon, that's how. Silnylon ripstop is the same fabric as lightweight tents, which also makes it super durable, and water and stain resistant. Once, we spilled a water bottle in our daypack and thankfully our dinner clothes stayed dry inside the cube.
The biggest downside to the Specter Cubes is the zipper. There's only one zipper, making it tough to shut all your shirts in there if you've stuffed it like a turkey, occasionally snagging your clothes in the process. Then when you open the zipper, it only unzips about half way, making it difficult to quickly retrieve items or leave it unzipped in a hotel drawer for easy access.
Pack-It Specter Tech Cubes
On to confusing line item #2: the Tech line. No, it's not specifically made for your technology items. Essentially, the Tech line is the exact same concept of space saving and guaranteed lightweight materials, but with some new and improved benefits.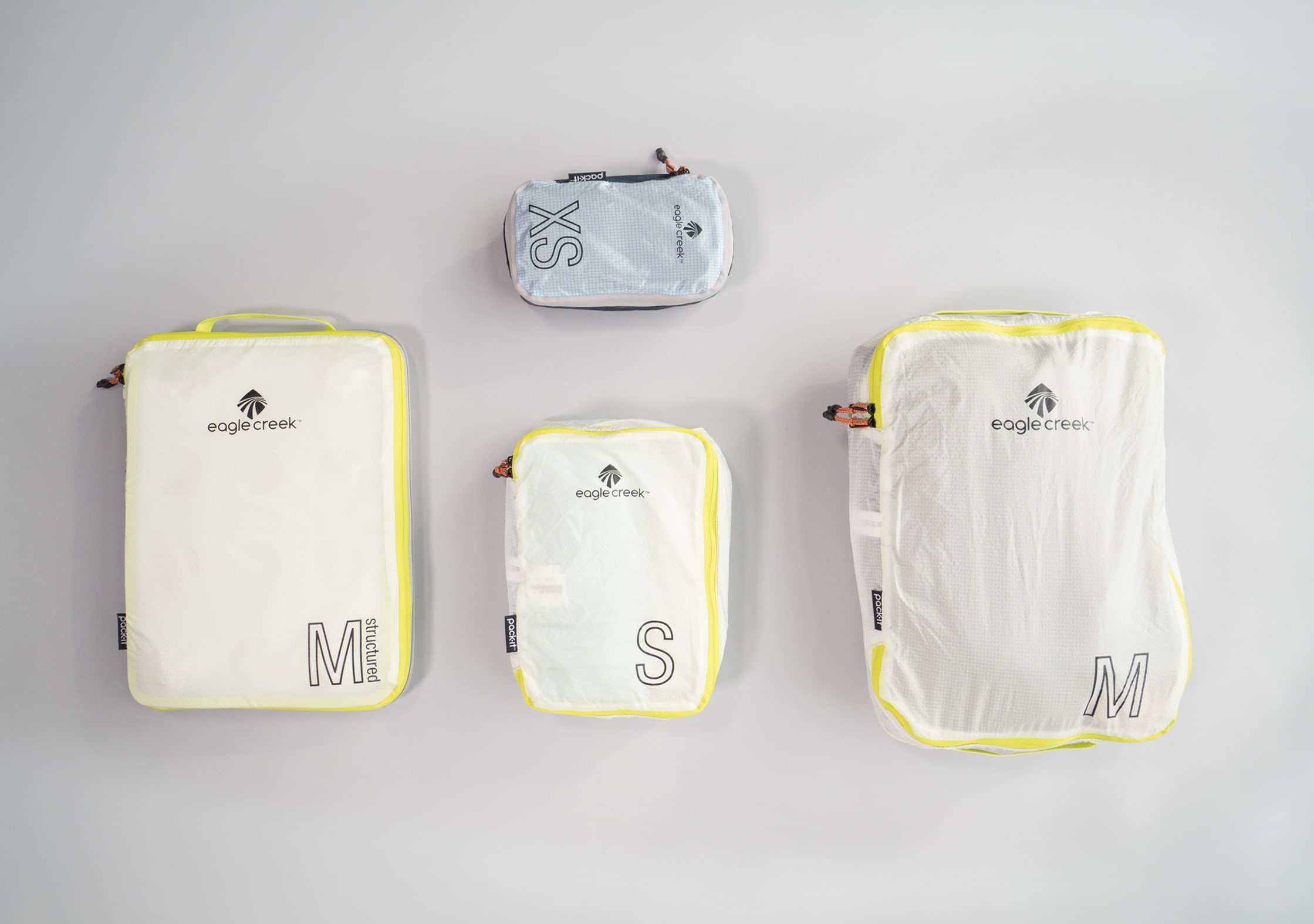 The Small Pack-It Specter Tech Cube is about the same size as the Specter half Cube, give or take about a ¼ inch. What differs here is the material and its manufacturing process. These Tech Eagle Creek packing cubes are made in Vietnam, rather than Indonesia like the Pack-It Specter Cube, however, we have no idea why. Quality? Price? Preference for Pho over Nasi Goreng? This product is made from 30D ripstop nylon, which is commonly used for parachutes and hot air balloons, so you best believe this baby isn't going to rip. Like its Specter cube sisters, it is also water and stain repellent.
Eagle Creek has partnered with bluesign for all the go-green gurus out there. What's bluesign? It is a solution to creating sustainable textile production by eliminating harmful substances from the entire manufacturing process. This means the Specter Tech Cubes are environmentally safe and there are no PVC coatings applied. The Tech version visibly has more fibers weaved into the top layer to enforce its strength. However, because of this, the bag is actually 0.4 ounces heavier than the Specter line. Eco-friendly for the weight price of your kombucha cap—not a deal breaker for us.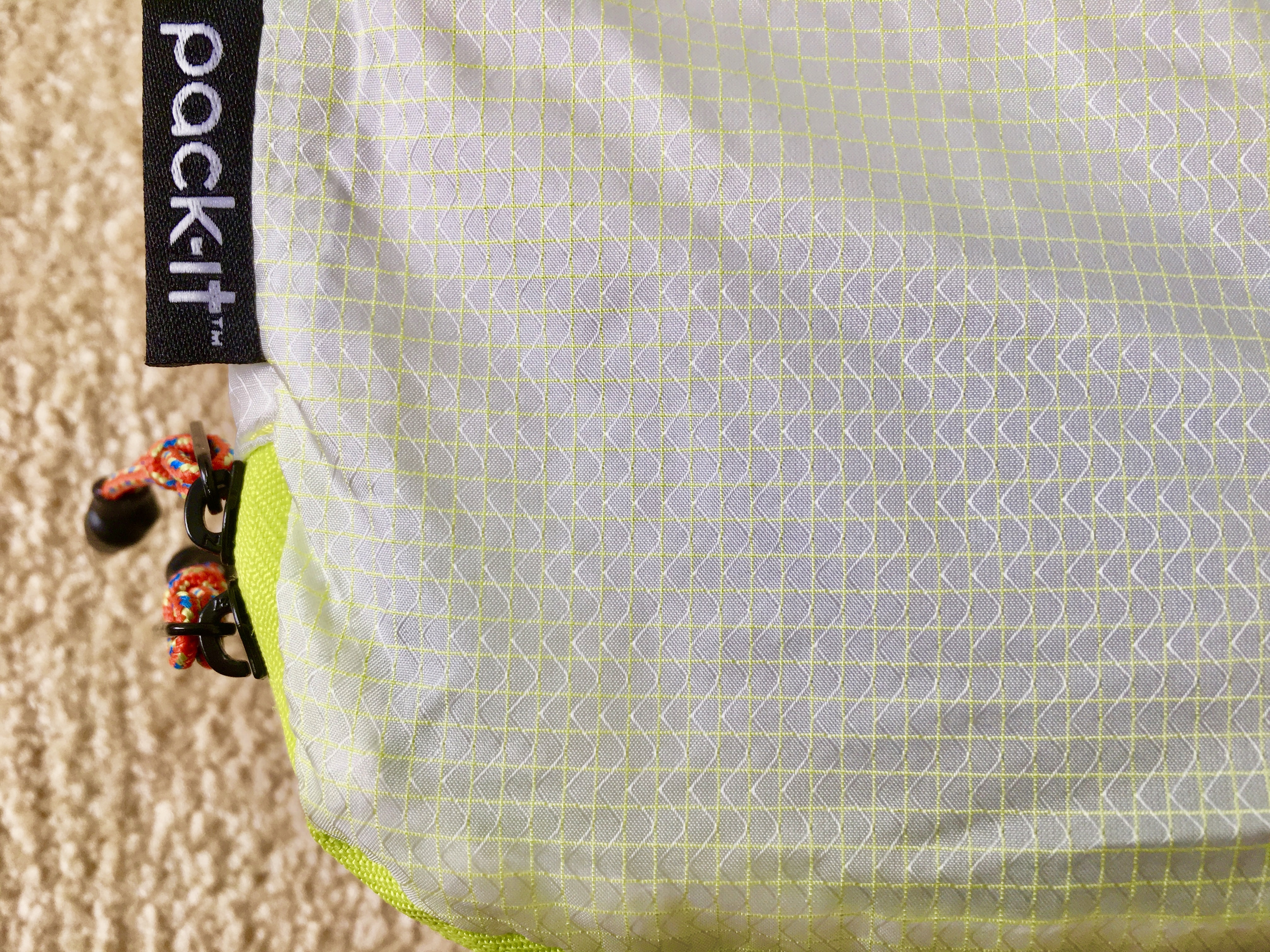 Eagle Creek's online description pushes the transparency of the fabric, allowing you to eyeball what you've got inside before unzipping. What we noticed is that the white version of the Specter non-tech cube is also transparent, though it wasn't marked as a selling point for the purchase like the Tech cube is. We don't feel the bag is transparent enough for it to be the reason why we buy, but we'll consider it a bonus.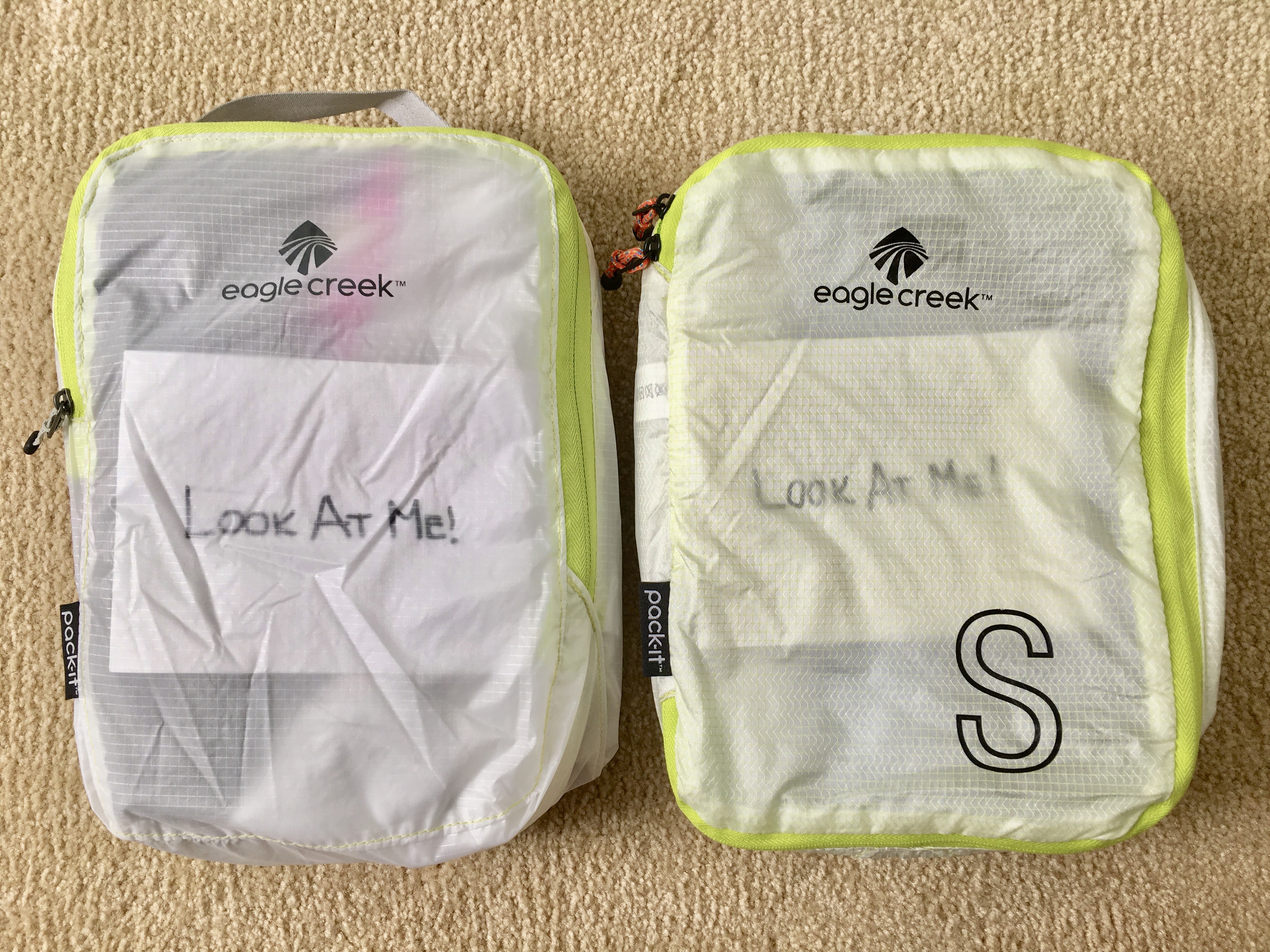 New zipper design is the big draw for the Pack-It Specter Tech line. There are two self-repairing zippers on this bag with climbing rope pulls to avoid snags. The ability to have the zippers meet in the middle rather than pull all the way to one end makes us jump for joy—an opportunity to squeeze in more stuff! Another win here is the full book open zip making it super easy to grab your undies in a hurry.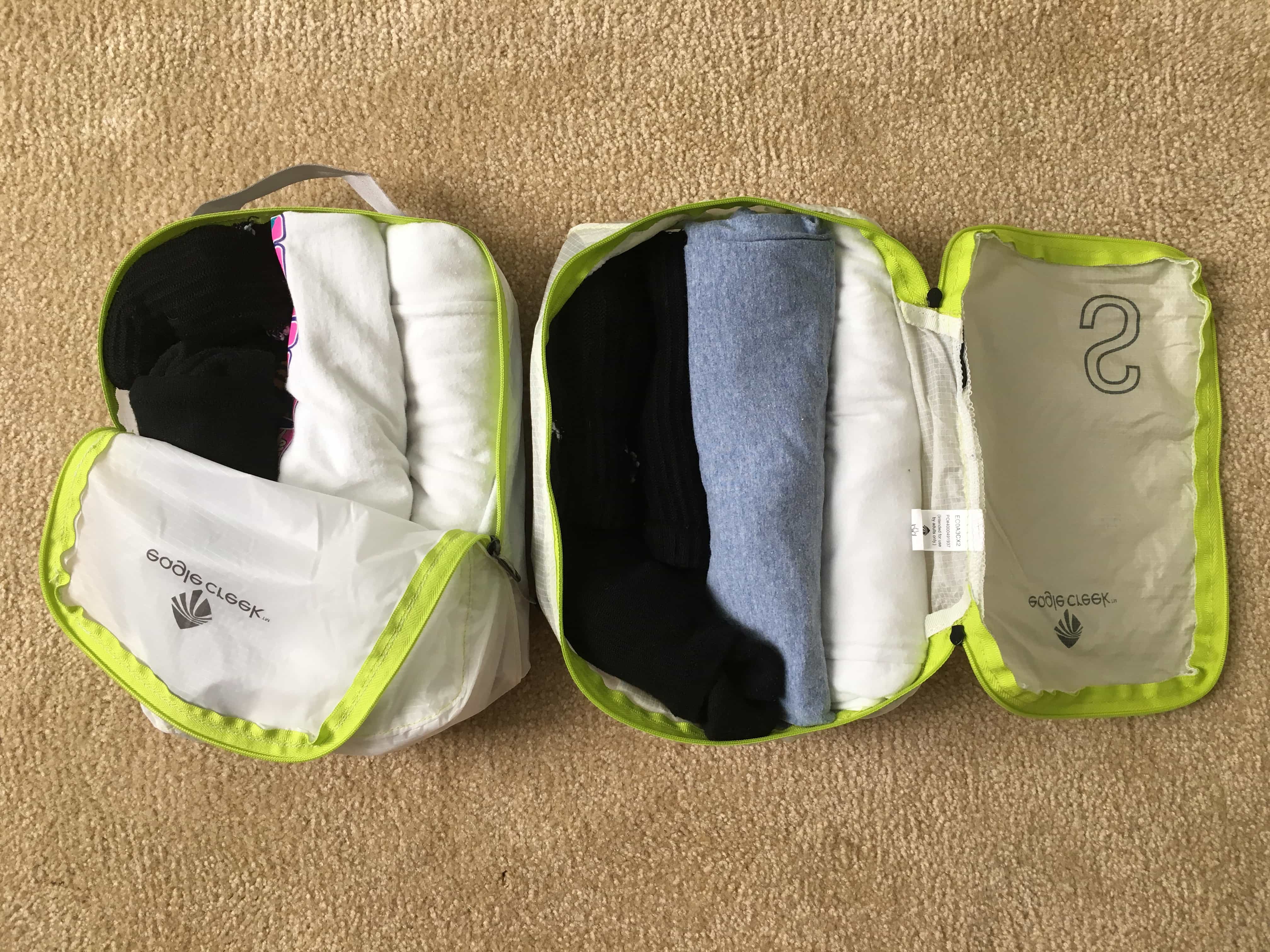 The Pack-It Specter Tech cubes also come in extra small, small and medium for the same cost as the Specter versions. With the new zippers and eco-friendly processing, it seems like a no brainer to go with the Tech line to get more ba(n)g for your buck.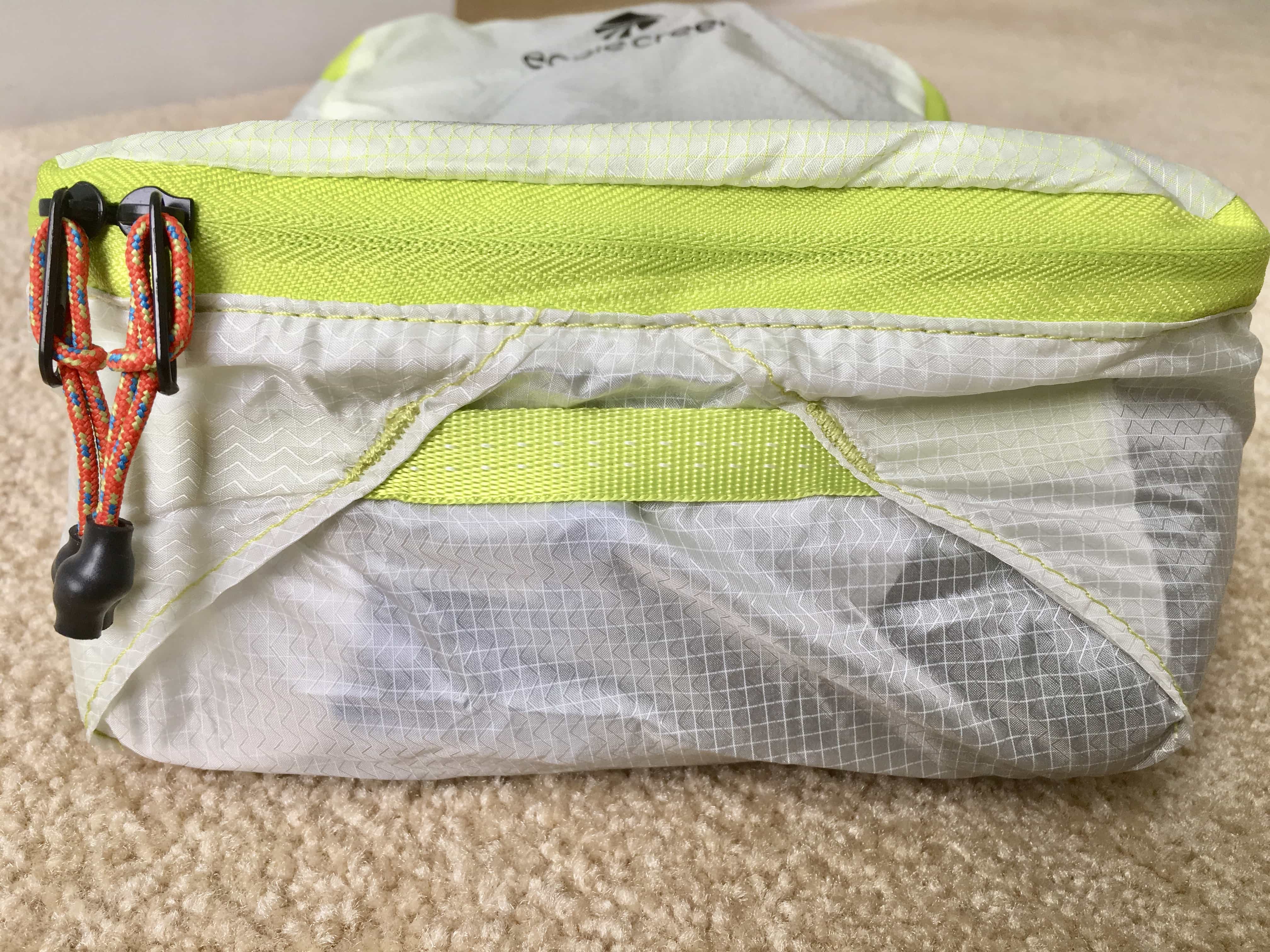 Pack-It Specter Tech Clean/Dirty Medium Cube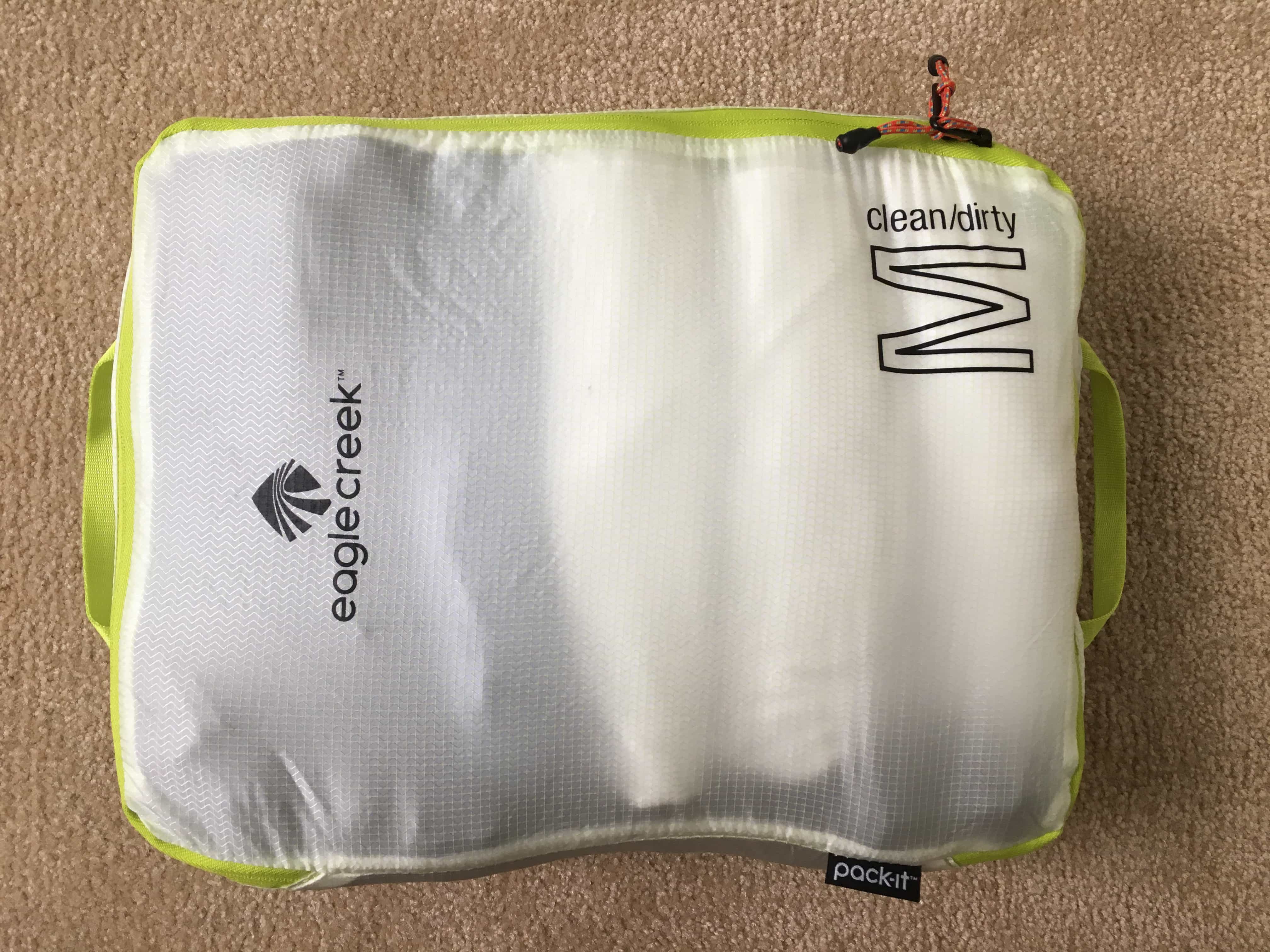 The Eagle Creek masterminds have created a great solution to putting off laundry even longer—the Clean/Dirty cubes! These come in both the Specter and Specter Tech lines, but we tested out the Tech given its eco-friendly nature. Unfortunately, the Tech line only offers the bag in the white/strobe color.
Essentially, this bag is a medium sized cube, with dual two-way, self-correcting zippers, but it has an additional divider inside the bag to separate the fresh and clean from the smelly and dirty. At first glance the divider looks like it's just a piece of mesh. How the hell is that going to keep your shit from stankin'?! Well, look closer and the underside of the mesh is treated with a clear coating to seal the compartment, as well as keep moisture with the dirty laundry. The coating does a pretty good job at containing any smells while waiting for laundry day.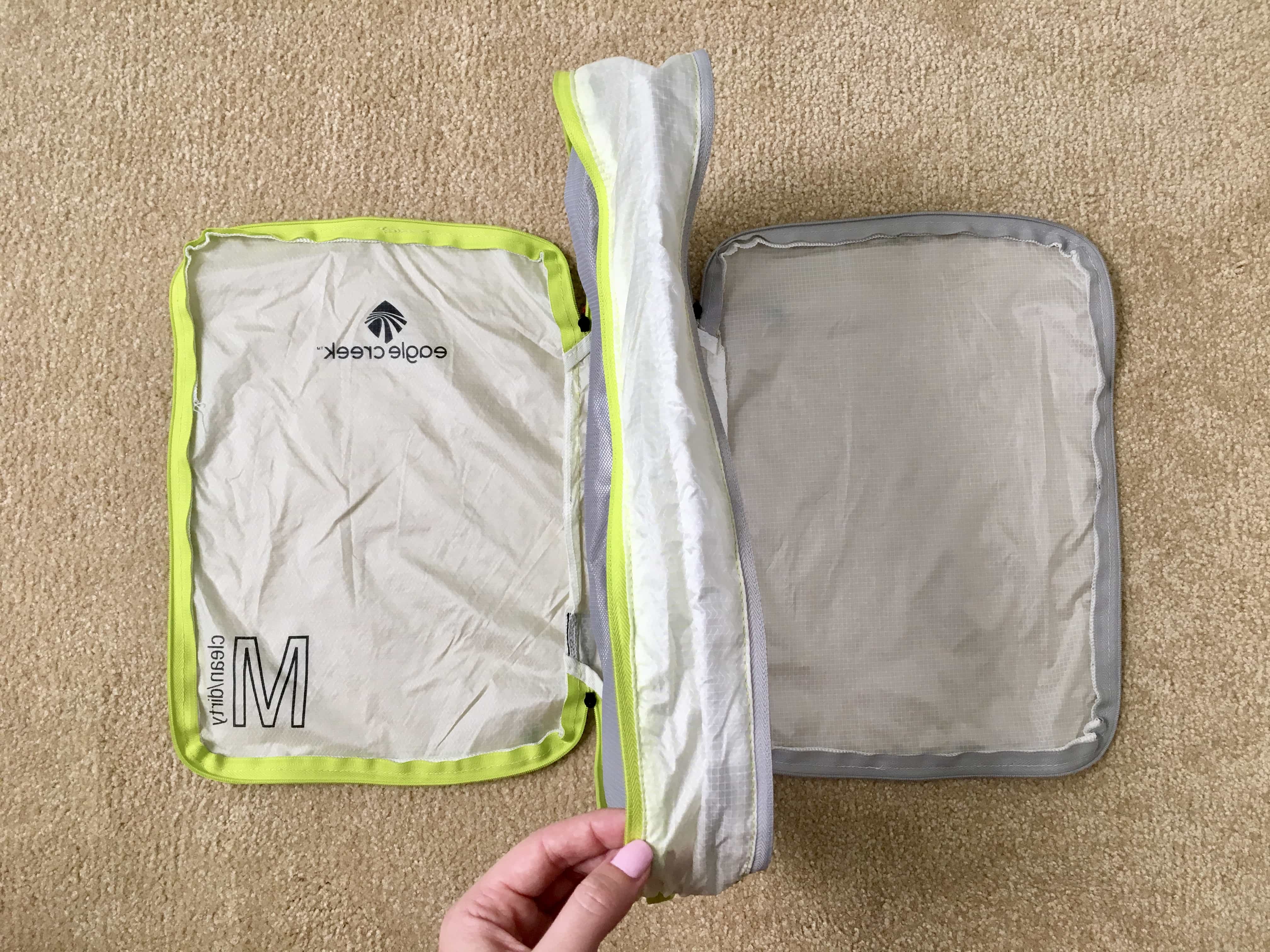 When packing this puppy, you have to pack one side at a time, then flip and repeat. We can comfortably fit five clean tee's and four pairs of socks (all rolled, of course) on the top side and on the dirty side a pair of sweatpants, two pairs of smelly socks and a t-shirt.

Pro Tip: If you use cedar chips (the ones that old people use in their closets to keep bugs away from their clothes. Old people are smart.) it'll keep your clothes fresh and keep bugs away.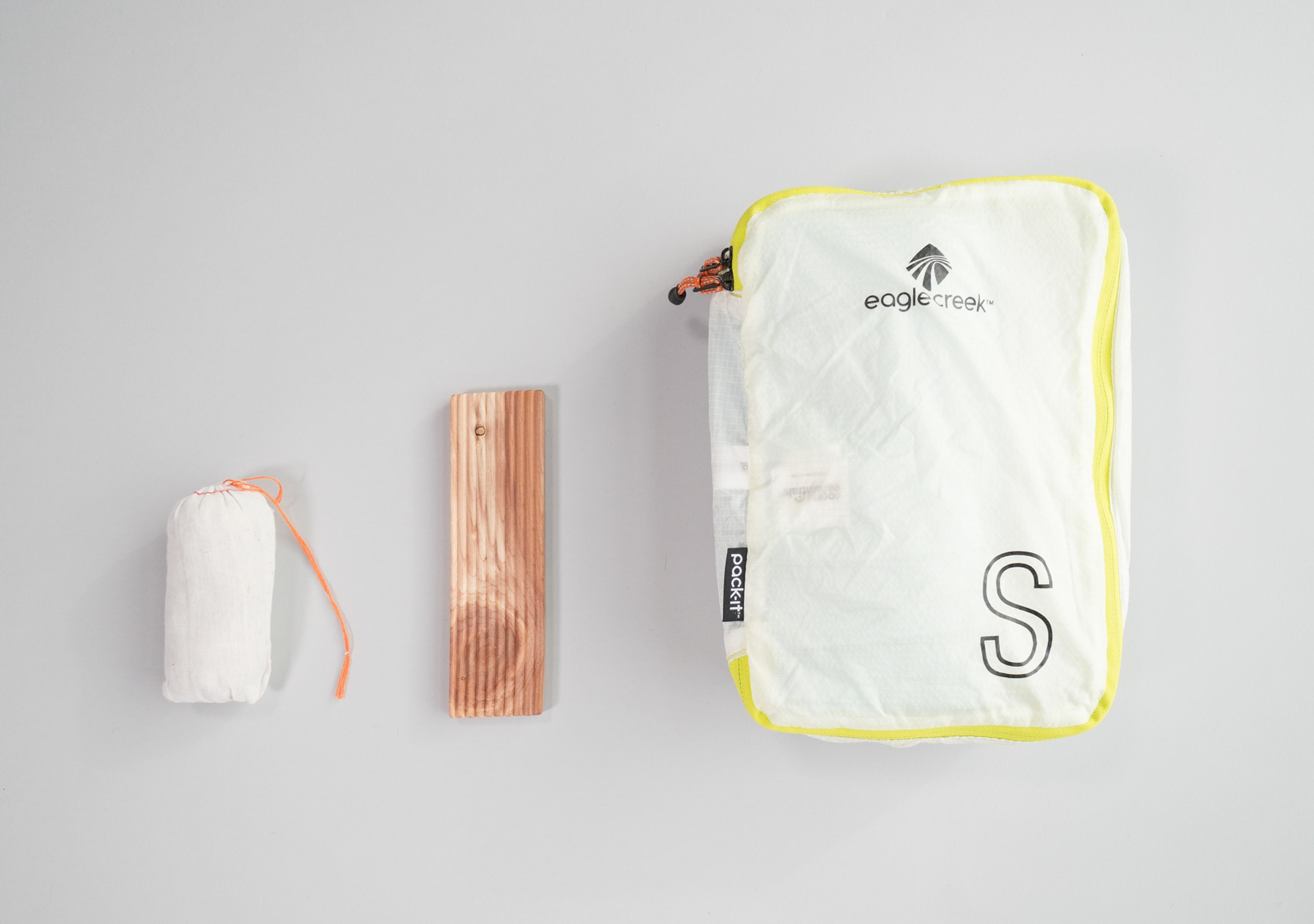 The Rest of the Lineup
We looked into some of the other Eagle Creek packing cubes and additional products and have some thoughts that could save you some time and money.
Pack-It Specter Tech Compression Cubes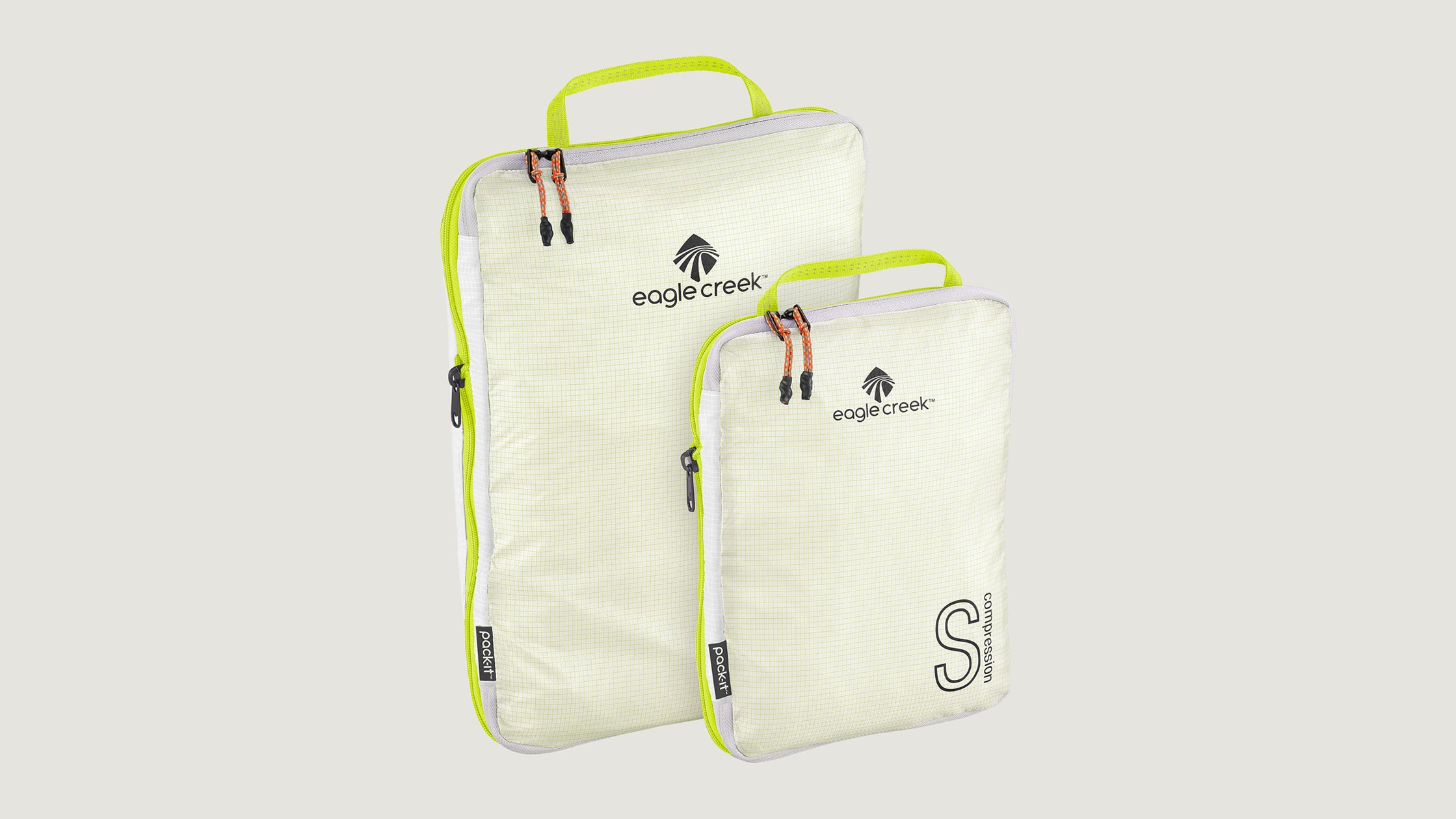 We love the ability to shove as much stuff as possible into the Pack-It Specter Tech Compression Cubes and then compress them to ⅓ of their size without needing to sit on the bag to do it. However, the cube really only shrinks to a predetermined size due to the zipper system and the zipper often gets caught on itself and the excess fabric. We've found that other drawstring compression sack systems work better from the perspective of overall compression.
Pack-It Specter Slim Cube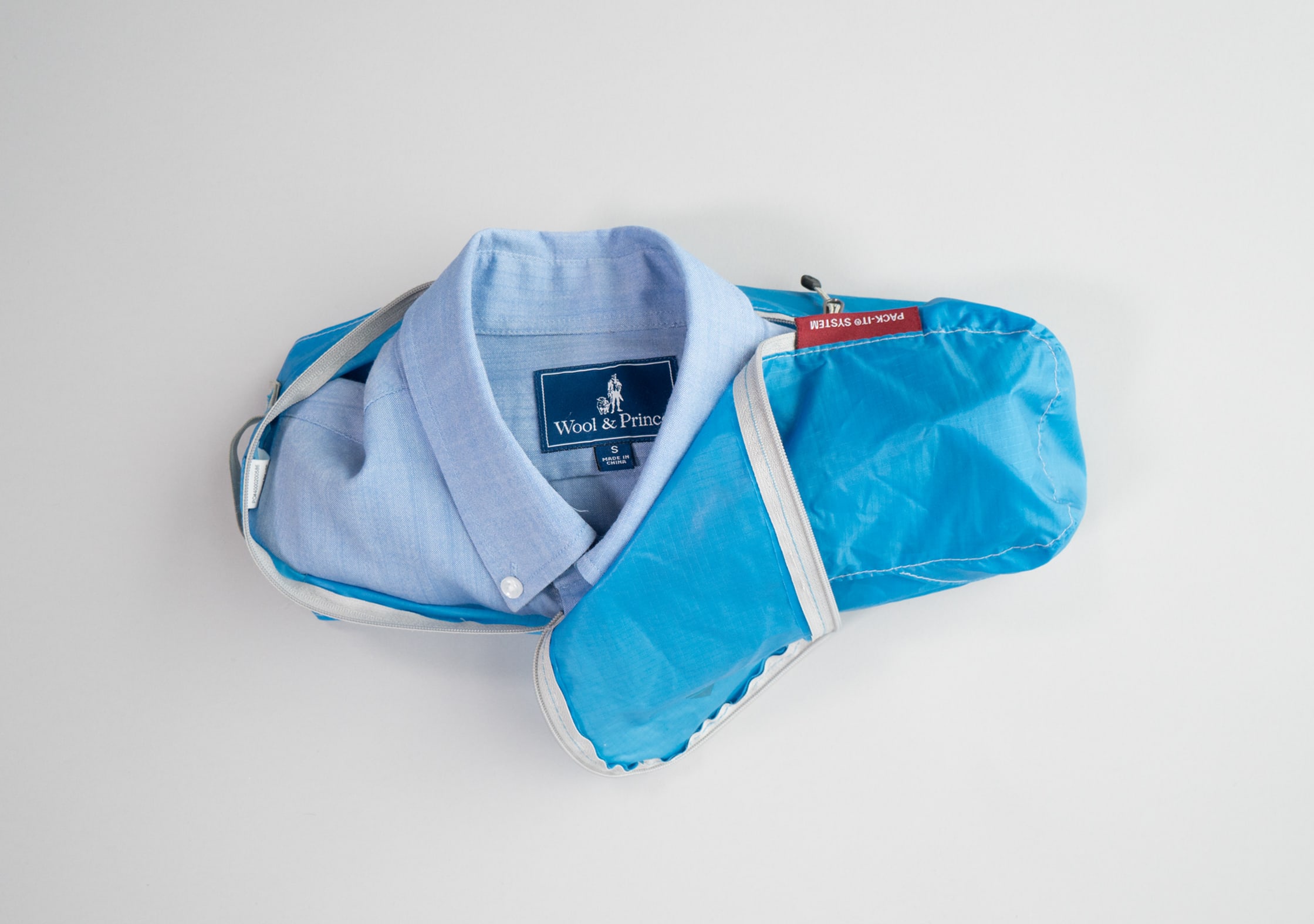 The Pack-It Specter Slim Cube is great for keeping a rolled up dress shirt or two in when you're on the go—never know when you need to have an impromptu business meeting or treat yo self to that fancy dinner.
Pack-It Specter Garment Folder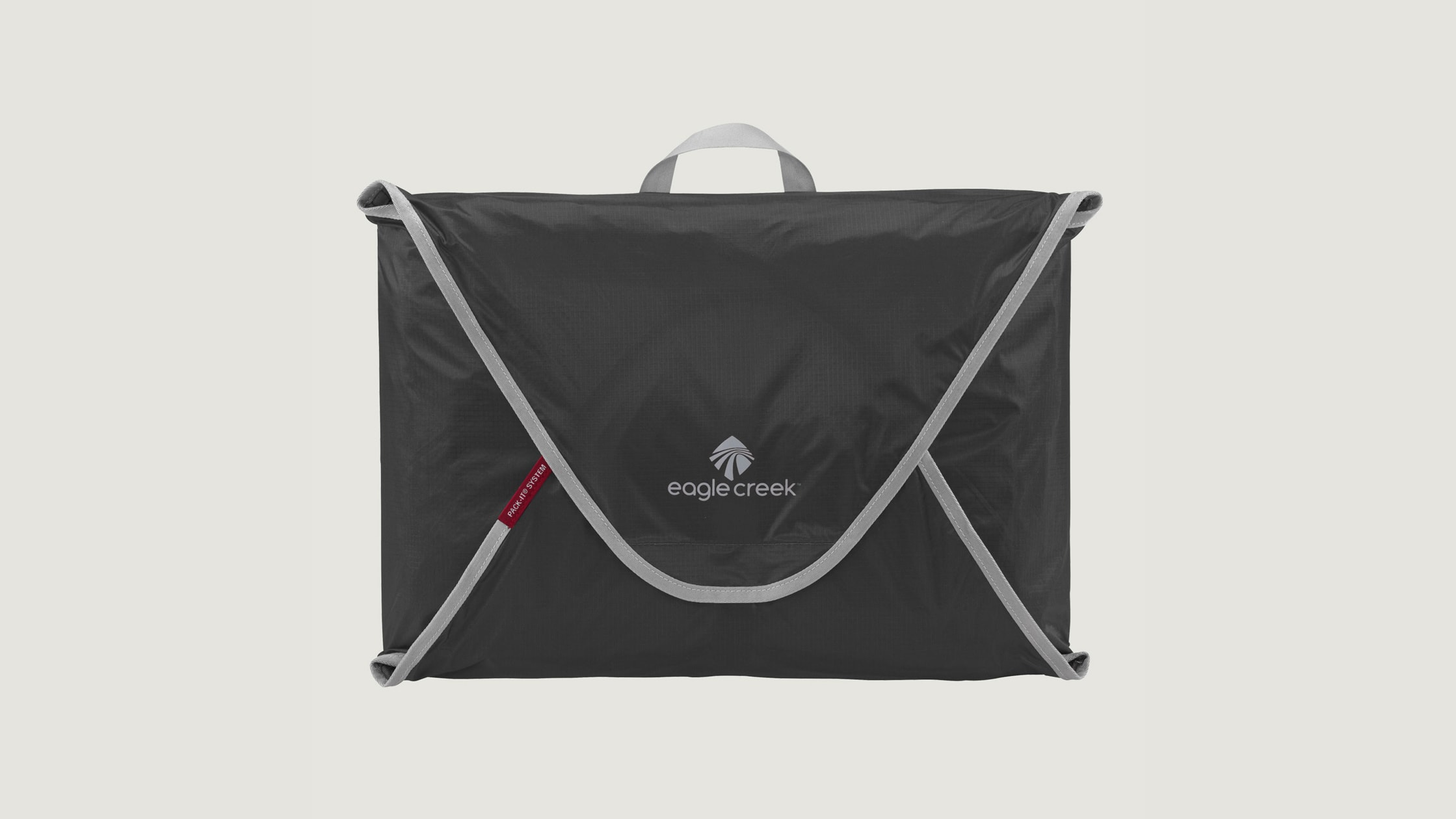 Everybody knows the best way to pack your clothes is to roll them—don't waste your time with this folding trap. No one wants a crushed shirt collar anyway.
Pack-It Specter Structured Cube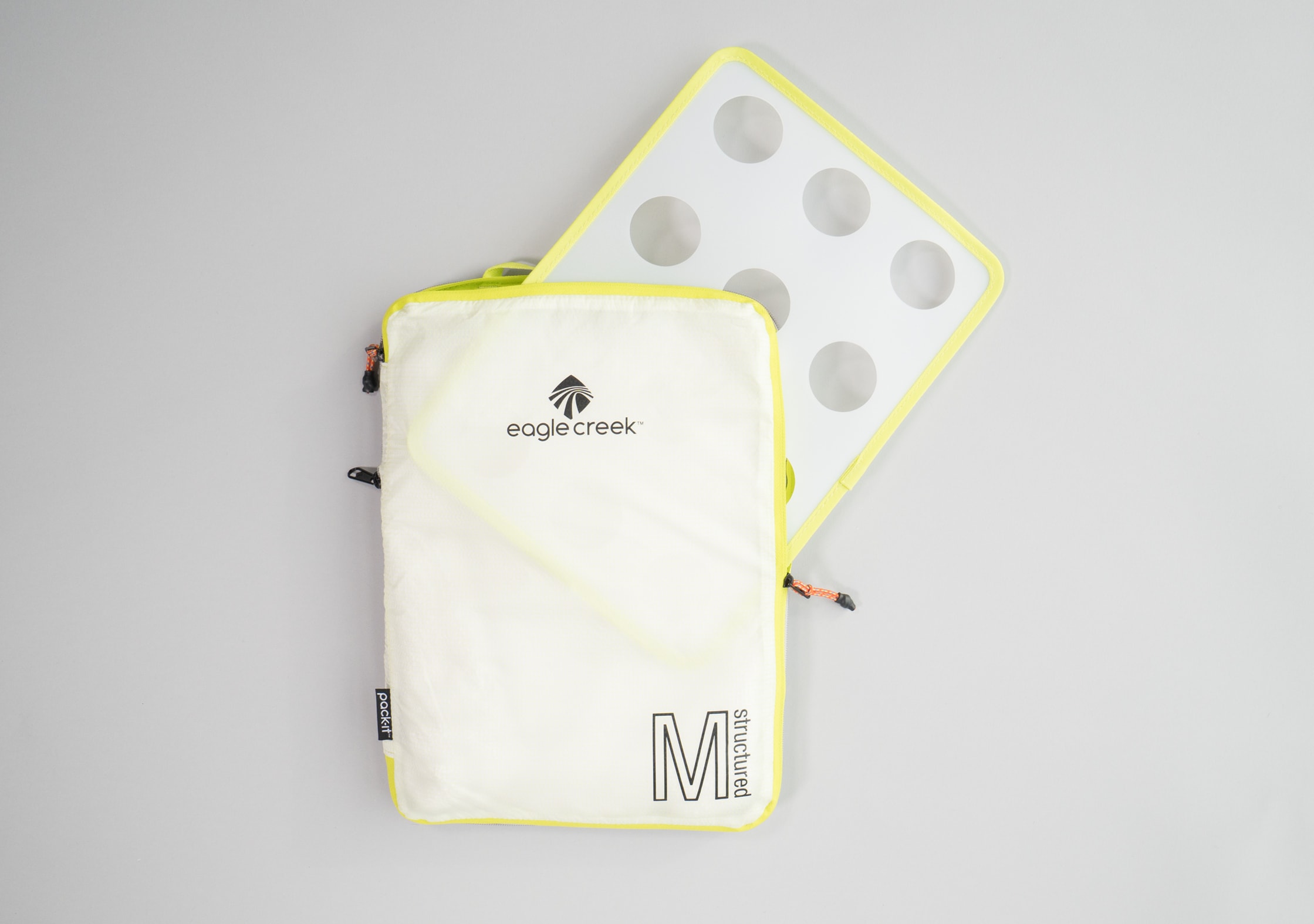 Essentially the Structured Cube is the same as the regular cubes, but it includes a shirt folding board that looks like a giant cheese grater to give the cube structure. Save the weight and your money. You'll get more in the regular cubes. If you're looking for structure, your best bet is to buy a hard case structured container or grab something like the GORUCK Padded Field Pocket for added protection.
Pack-It Specter On-Board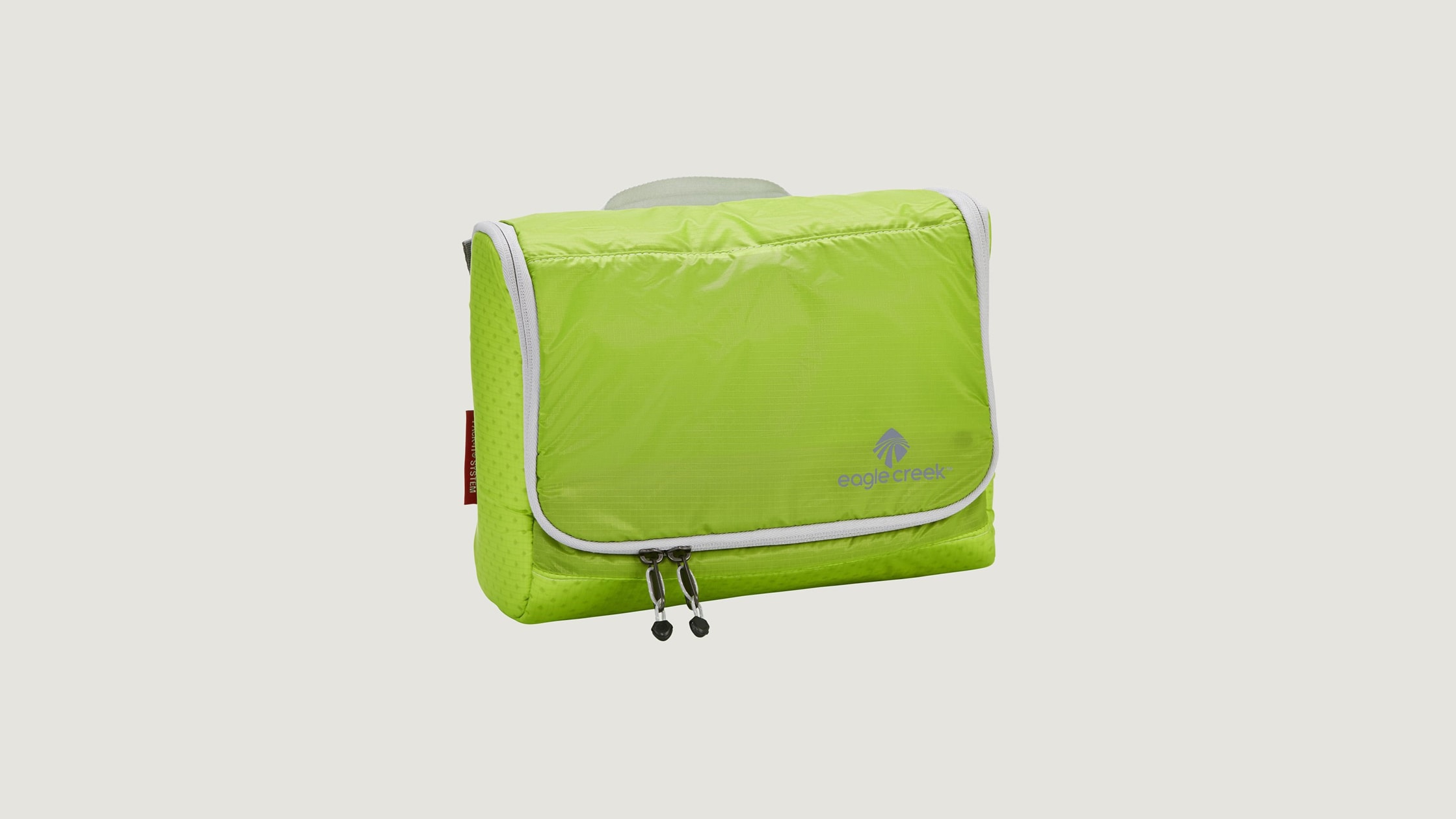 With seven slip pockets and two zipper pockets you can fit almost your whole bathroom in the On-Board, but it's not great for organization in the middle of the bag. The built in hook is awesome for hanging from the towel rack, but the bag also takes up a lot of space in your suitcase. It's resistant to stains and water so when your shampoo explodes, it won't leak onto your clothes. Overall, it's an average buy and for the cost, we think there are better toiletry bags / dopp kits out there. Take a look at our review of the Muji Hanging Travel Case.
Pack-It Specter Tech Shoe Sac Set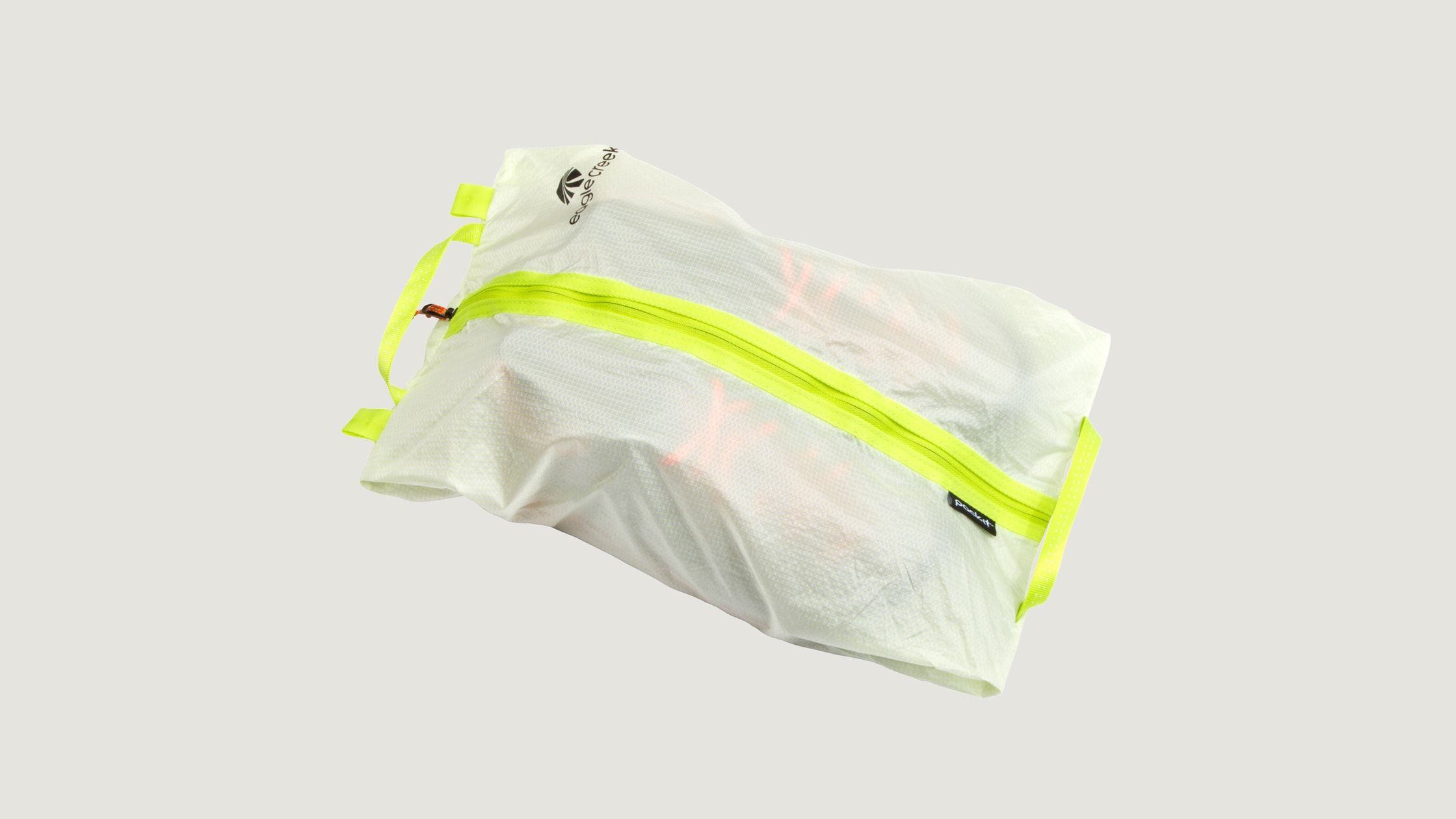 If you stuff your shoes in the extra nooks and crannies in your bag at the last minute, then no need for the Shoe Sac. Need to keep your shoes from smelling up your bag or getting dirt on your clothes? Try using the more versatile small cube just for your shoes. We also dig backpacks with separate, separated shoe compartments. Check out our reviews on the Aer Travel Pack and the Mammut Seon Cargo to see what we're talking about.
Usage Timeline
Initial Usage
Condition: Excellent
Pack-It Specter Tech: Handles are a bit small, but seem like they are sturdy.
Pack-It Specter: Fabric feels almost cheap to the touch, but definitely durable and the lightest thing we've purchased for organization.
3 Months of Use
Condition: Excellent
Pack-It Specter: Clothes fit well. Rolling clothes reduces wrinkles and 100% saves space in your backpack and full size luggage.
6 Months of Use
Condition: Good
Pack-It Specter: Extensive use almost daily.The fabric has torn away from the seam next to the zipper on the compression zipper, however the material itself has not ripped. The hole started at about 1".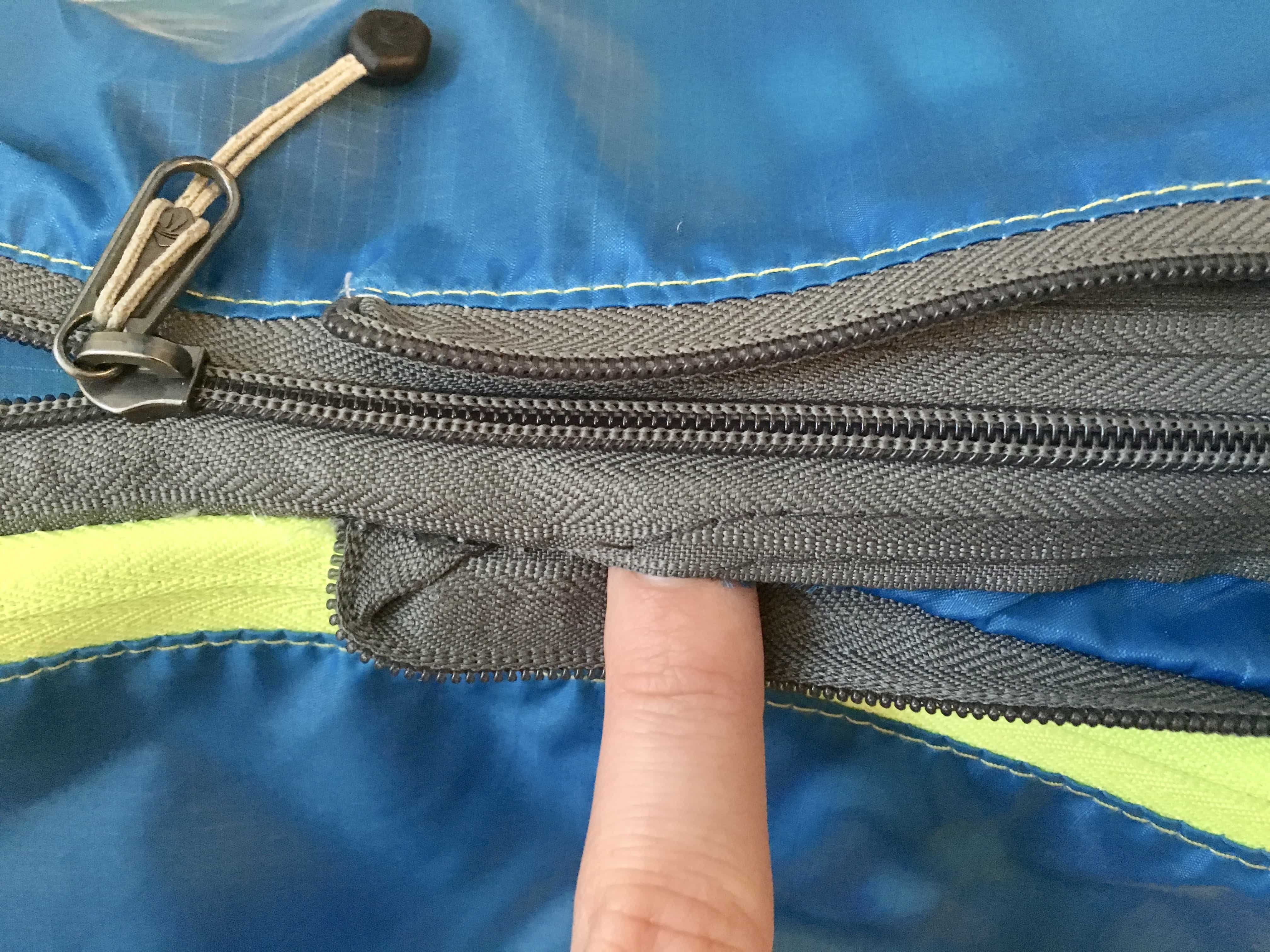 9 Months of Use
Condition: Good
Pack-It Specter: The hole is growing, but it is important to note that the fabric itself is not ripping or fraying.
1 Year of Use
Condition: Fine
Pack-It Specter: The hole at the seam has grown to about 3 ¼". There is an additional hole on the opposite side of the zipper along the seam. The bag still functions well, but may need to be replaced soon.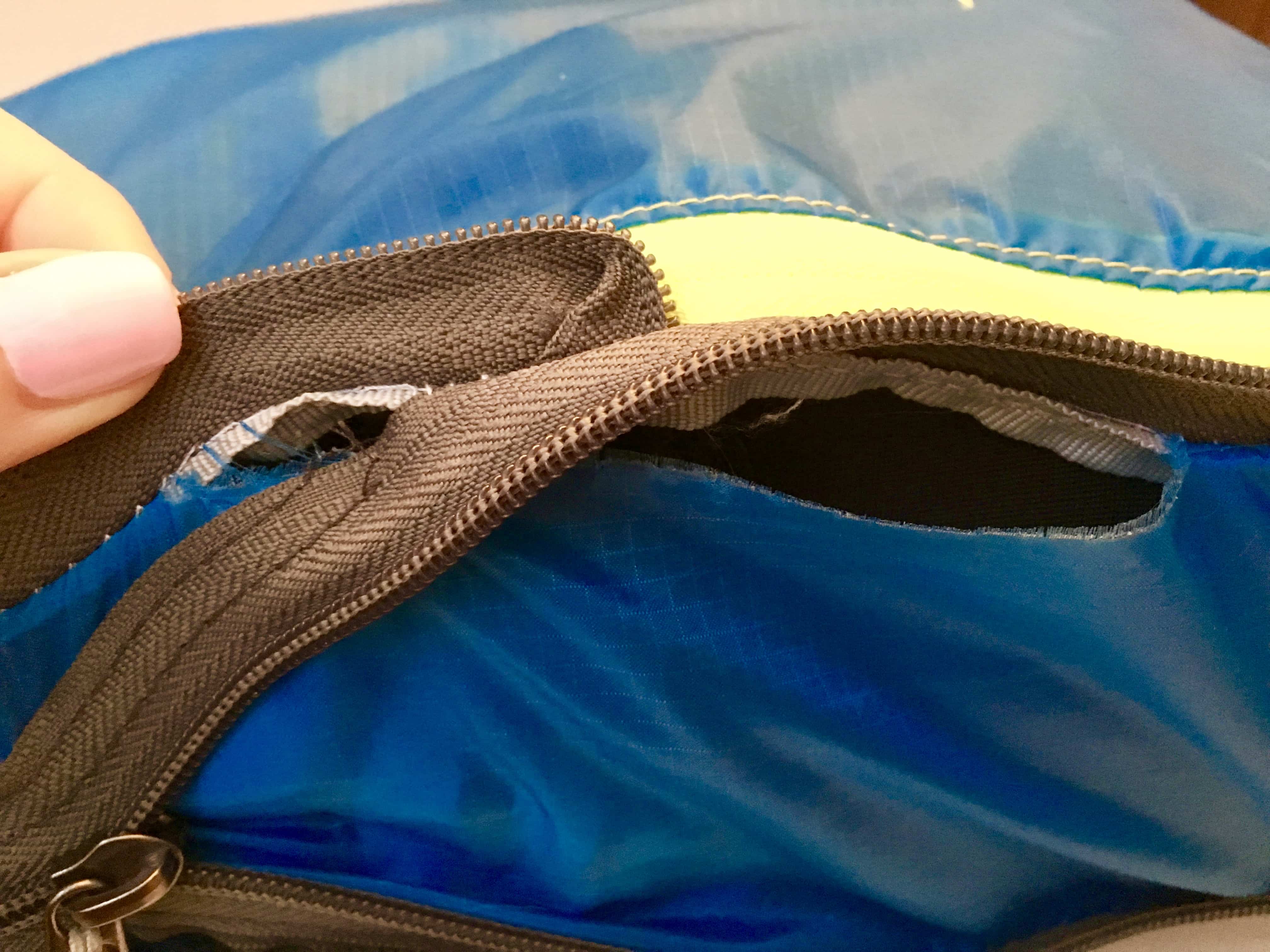 1.5 Years of Use
Condition: Fine
Pack-It Specter: We have sent the cube back to Eagle Creek to be repaired under the Lifetime Warranty. Since the fabric itself is not ripped and the tear is a production weakness, they will cover it. The repair takes about 2-3 weeks.
Access the Pro Community Discussion
Get your questions about the Eagle Creek Pack-It Specter Cubes answered from our team and the Pro Community right here on the page. Plus, join discussions with other members about gear, guides, and more.
Other Organizers & Pouches Reviews