Mammut Seon Cargo Review
Bridging the gap between workaholic and weekend warrior, the Mammut Seon Cargo proves to be good for photographers, climbers, and one bag travelers alike.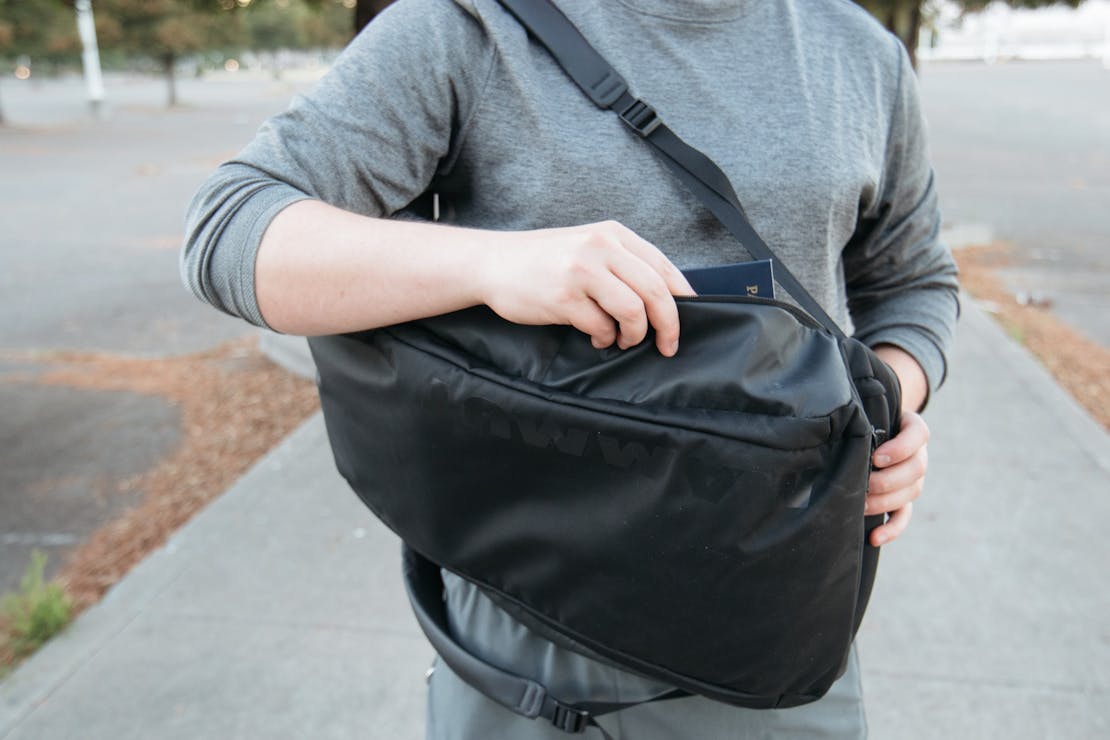 Our Verdict
Unlock the Pro Summary
Save time. Get access to brief summaries of our reviews so you can browse and make decisions more efficiently.
Pros
It's comfortable no matter how you load it—although it always helps to put a little thought into it.
The camera block/electronics storage area gives you quick access to accessories. Tip: putting heavier electronic gear on top makes for a comfortable daily commute.
The right-side storage area is super convenient for travel. You can rotate the cargo to access your passport/loading documents without having to open the whole bag.
Cons
Lack of external storage. This may be a deterrent for some—there is no external water bottle holder, no straps for hiking poles etc.
While the wet bag/shoe storage area is a plus, items stored there will interfere with overall storage in the main compartment. Something to think about when packing your bag.
Recent Pack Hacker Video
Technical Details
Capacity

35l

Weight (oz)

33.5 oz (949.7 g)

Dimensions

24 in x 13.75 in x 9 in (61 x 34.9 x 22.9 cm)

Laptop Compartment Size

15"

Warranty Information
Full Review
The Mammut Seon Cargo 35 may just be the perfect all-in-one backpack. This thing will seamlessly get you through your commute, extracurriculars, and a weekend trip in style. The Cargo has been meticulously designed by Mammut for efficiency, comfort, and style—and it shows.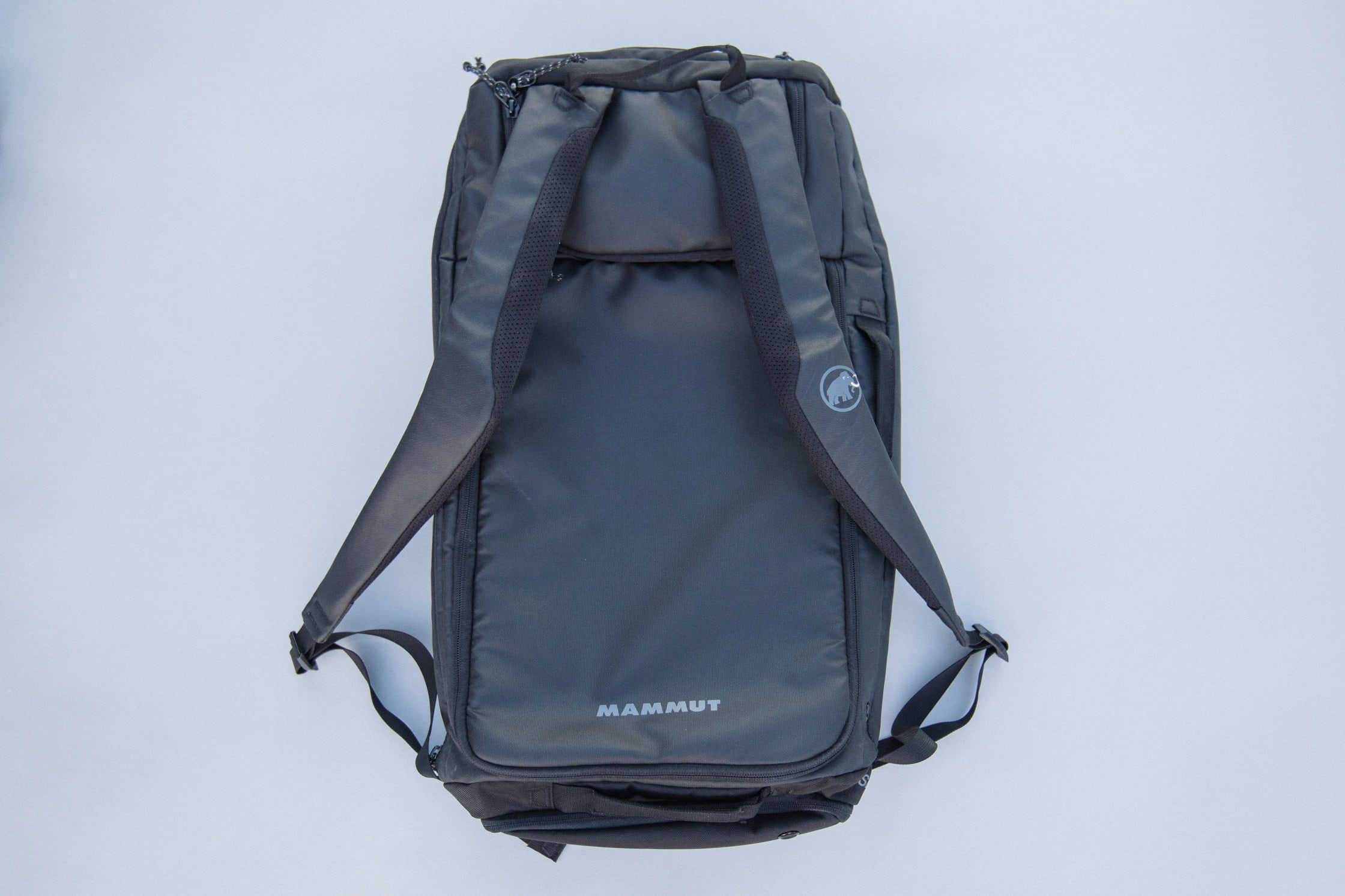 The first thing you will probably notice—there are no visible access points while you're wearing the bag. Access to the main compartments is only available through the backside of the bag—the portion that is in contact with your back. Not only is this a fantastic security feature, but it makes for a great "on location" bag. Have you ever thrown your bag into a car seat, only to have to wrestle with it to find a zipper when you need to open it? This bag can constantly be "face-down," whether at the crag, under your desk, or on the plane; it never has to be turned over or rotated to access a zipper.
The bag is made of 600D polyester waterproof fabric. We quickly found that, in addition to being waterproof, this fabric seems to be immune to the normal scrapes and abrasions that would degrade any other average bag. You won't have to worry about throwing it on some rocks as you suit up for a belay, for example. The portion that is in contact with your back is a slightly different fabric, something called 840D Nylon JR Ballistic — it is very comfortable & nearly indestructible.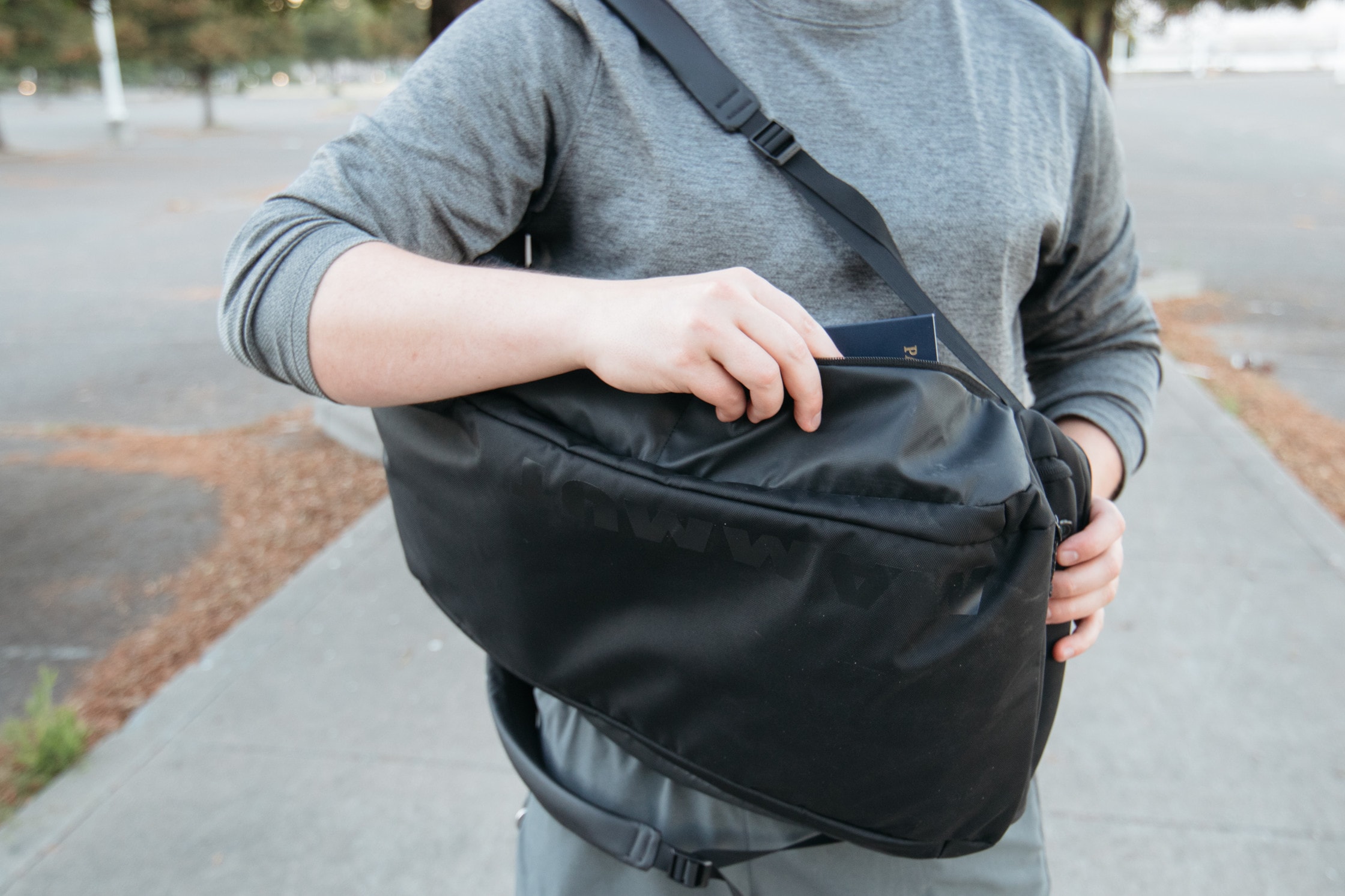 Mammut claims that this bag is ideal for gym climbing, which it is. But it is also one of the best and most versatile work and/or play bags we've found to date. There is a ton of storage, and Mammut has done a great job organizing the various areas so that they can most efficiently hold your items.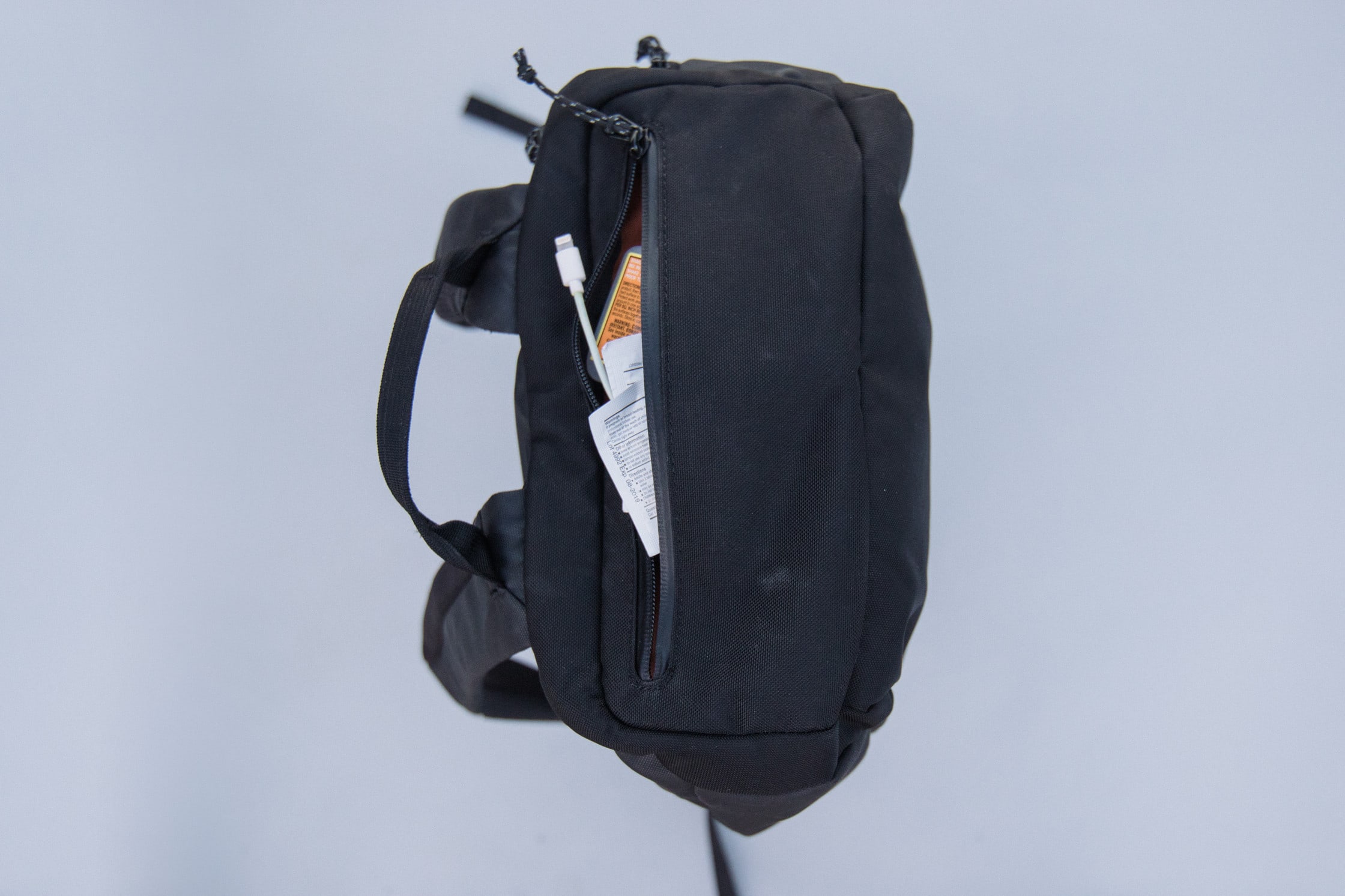 The top of the bag contains a small accessory pocket, with a taped zipper seam. This means that in addition to being incognito, it is waterproof—perfect for your phone and any other electronics you want to keep dry and accessible.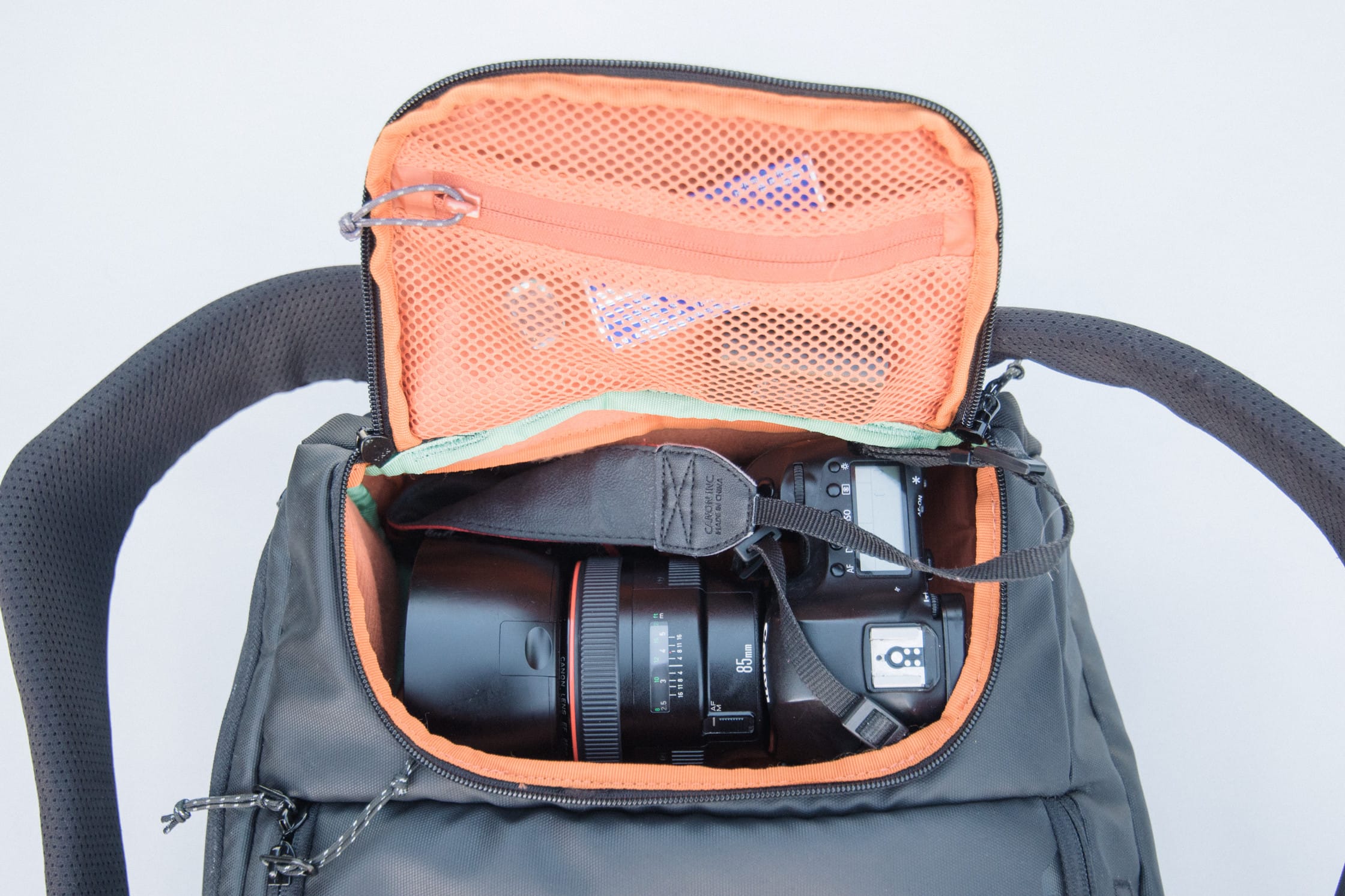 Moving to the backside of the bag… There is a top "camera block" area. This pocket is big enough to hold a DSLR with a medium size lens attached, and still have some room to spare. The entire area is padded and comes with padded dividers to separate whatever gear you want to put in here. Plus there is a small mesh accessory area for cords or battery packs. If you are a photographer—this will be your favorite part of the bag.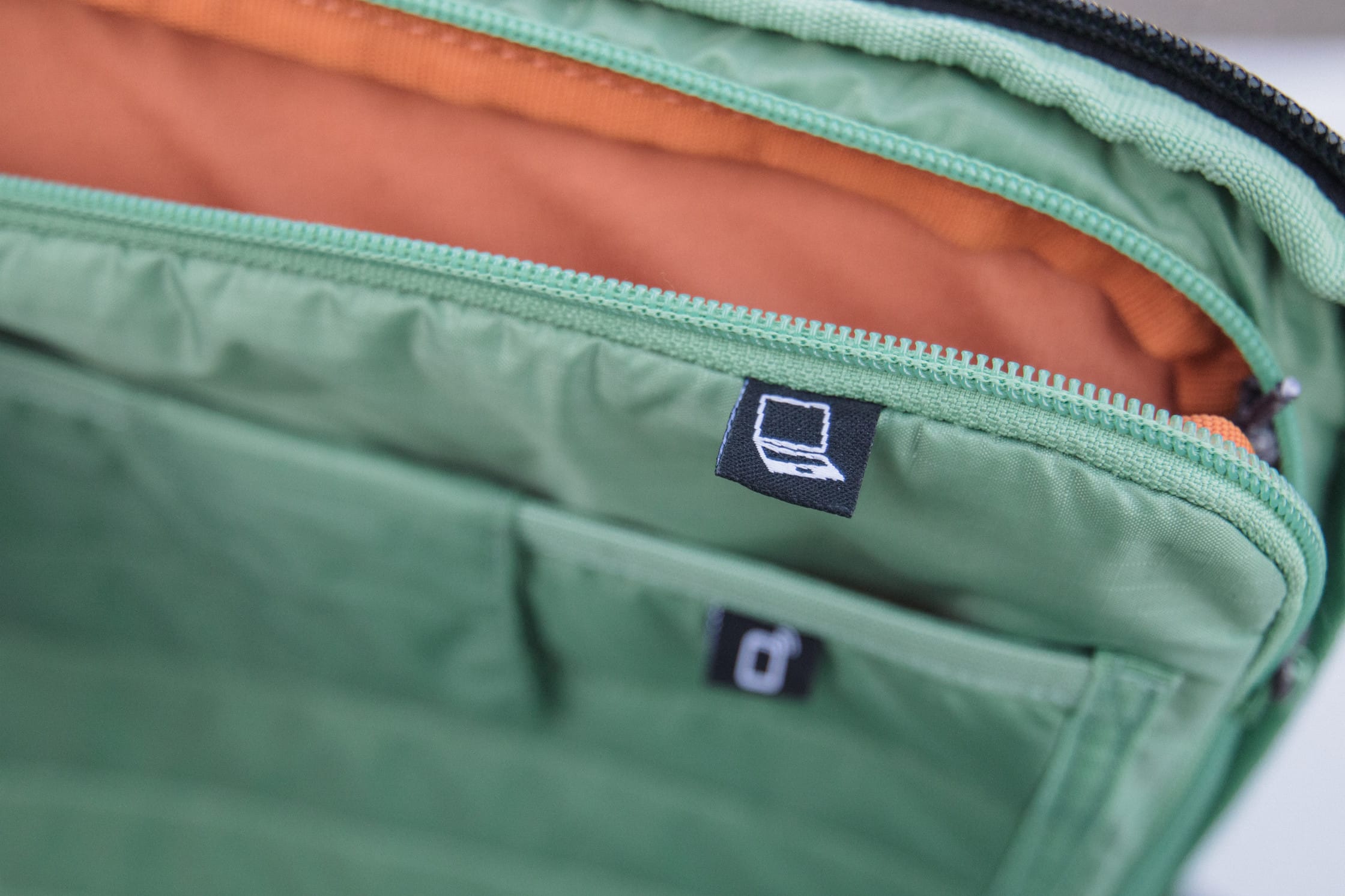 Underneath the camera block is the back-flap, which gives access to the main storage area. The back-flap itself is basically a large padded laptop compartment, with a smaller velcro compartment for an iPad or smaller laptop. You could also put in a few magazines or books here.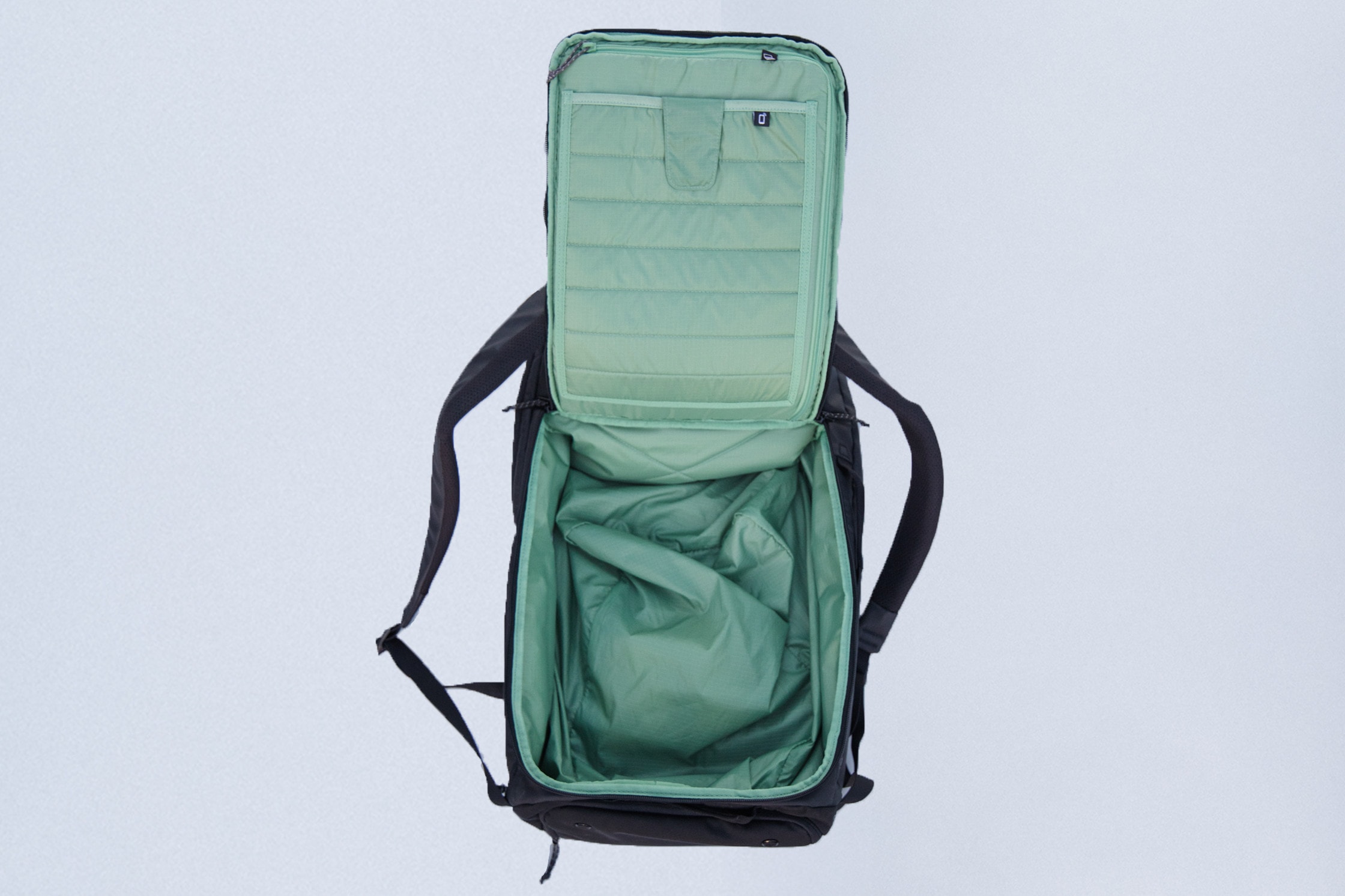 The main storage area is pretty straightforward. It is deep enough for a few small stacks of clothes—good for a weekend trip, longer might be pushing it. It's pretty much your catch-all "stuff" area. The beauty of it is that it barely changes the overall shape of the bag, so you can toss whatever you want in there without too much thought.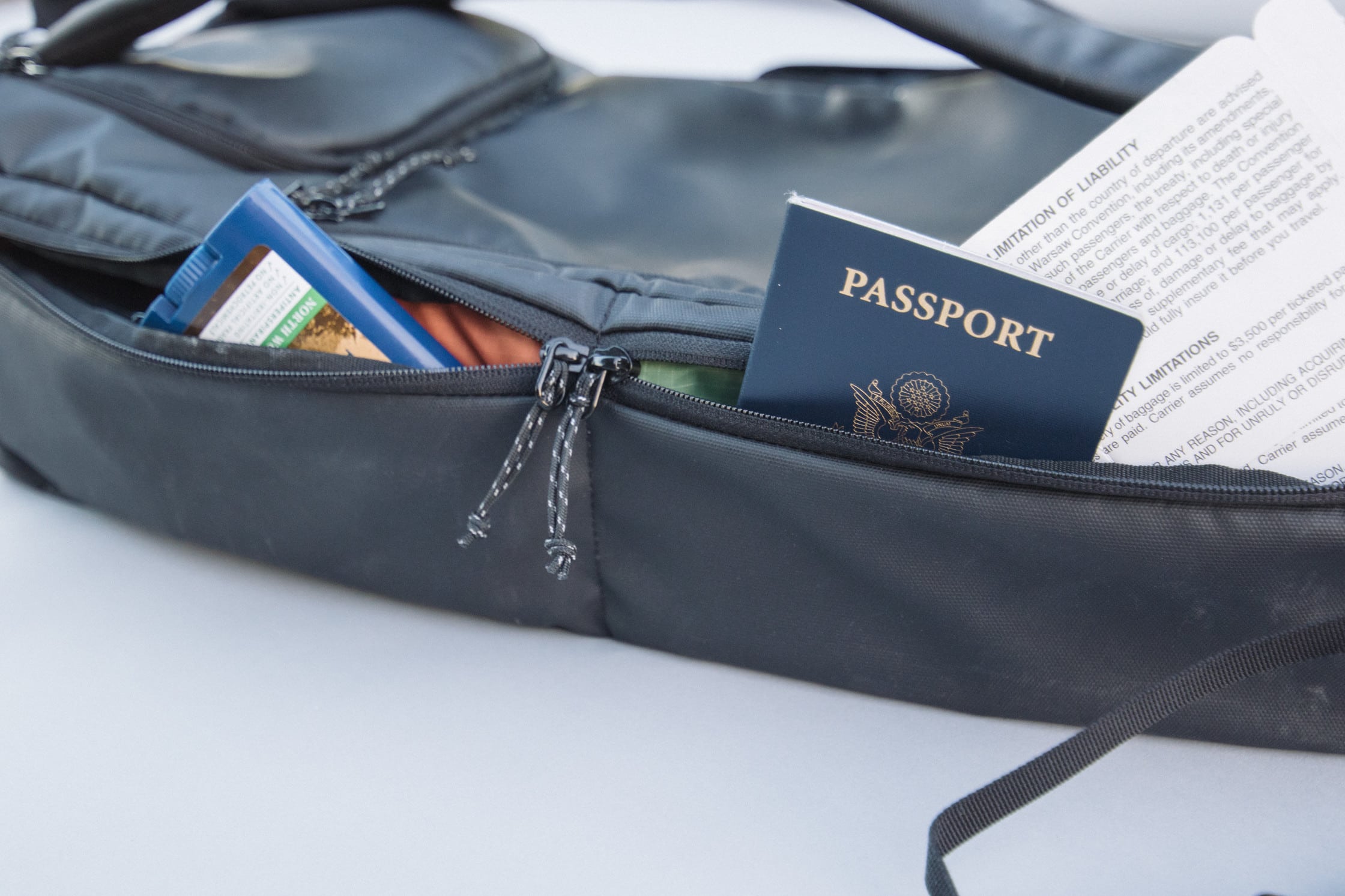 Along the right side are two long skinny zipper areas for holding stuff like keys, passport, wallet, boarding passes, etc. The bottom area also has a key holder cord. This little area is perfect for stuff that you need quick access to while traveling—we think you could fit about eight Pop-Tarts in here, so it can pretty much cover all of your needs. It is super easy to access while wearing the bag, or from almost any angle that your backpack may be at.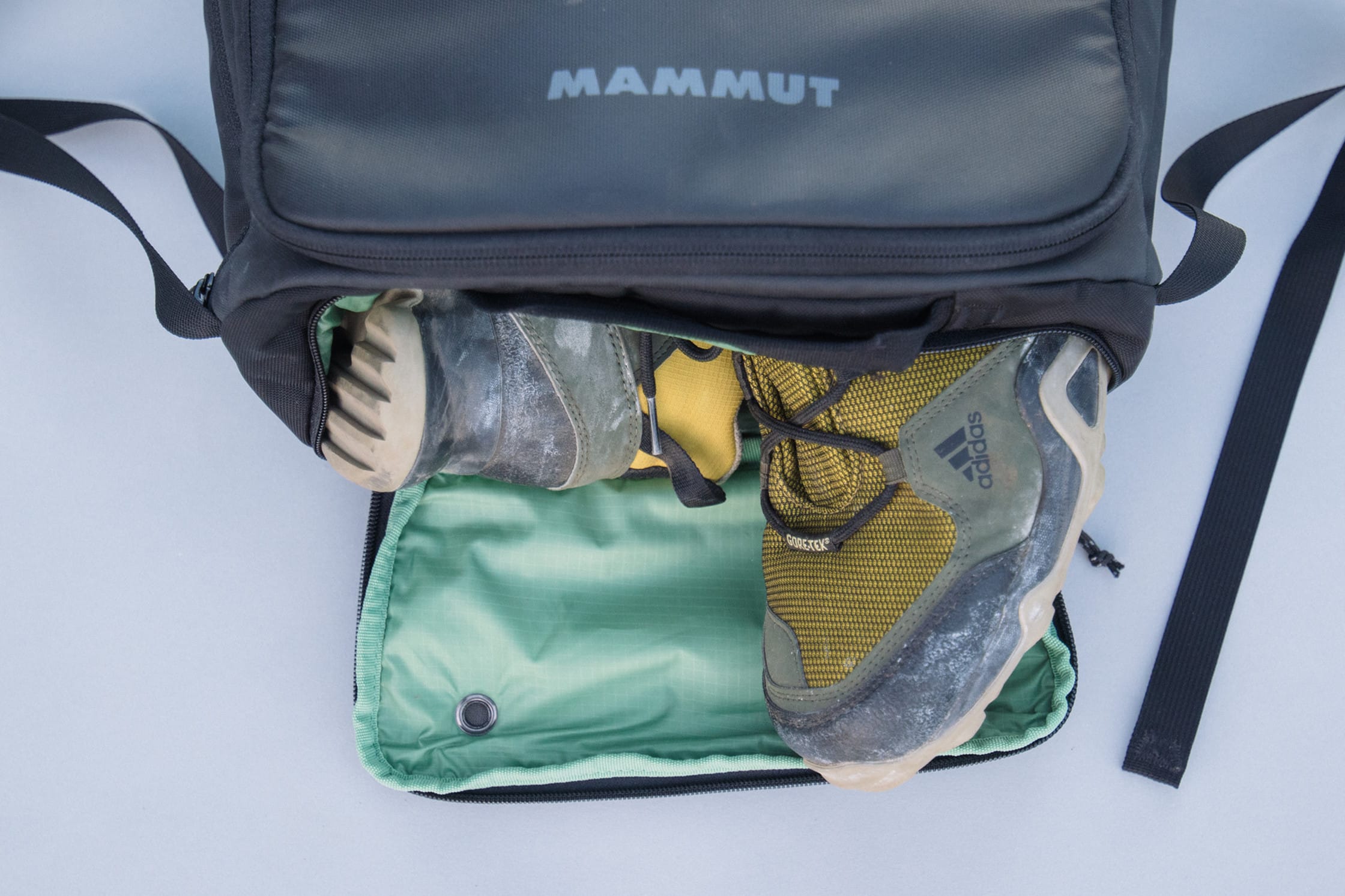 The bottom area is definitely one of our favorite parts of this bag. Although Mammut says this is an area for storing climbing shoes—which it is certainly good for—it is also great to use as a general "wet bag" area. Gross, dirty boots? Throw em in. Wet towel and boardshorts after a swim? Yep. Dirty clothes from a long weekend of travel? Perfect. Wet surf fins?! It'll fit. Seriously, this pocket is a game changer. The only caveat—depending on how much you store in this area, it will intrude on the overall storage in the main compartment.
Usage Timeline
Initial Usage
Condition: Excellent
The straps are nice and long and the overall carry is quite comfy. Virtually no "break-in time" at all.
3 Months of Use
Condition: Excellent
No visible wear yet, still loving the stealthy design.
Access the Pro Community Discussion
Get your questions about the Mammut Seon Cargo answered from our team and the Pro Community right here on the page. Plus, join discussions with other members about gear, guides, and more.
Other Bags & Luggage Reviews