Patagonia Black Hole Cubes Review
The Patagonia Black Hole Cubes are a solid option for organizing your life in any travel bag. We've found them to be incredibly durable and love the various methods of organization they offer—although they're not as compressible as other cubes we've seen.
Our Verdict
Unlock the Pro Summary
Save time. Get access to brief summaries of our reviews so you can browse and make decisions more efficiently.
Pros
Very useful organization
The large grab handle came in handy many times! (Get it?)
Incredibly durable materials
Cons
Not as compressible as other packing cubes we've seen
Lighter colors may show blemishes
Interior tag is kind of annoying
Recent Pack Hacker Video
Technical Details
Capacity

2l

Medium: 6L, Large: 10L

Denier

450D

Weight (oz)

4.3 oz (121.9 g)

Medium: 7 oz., Large: 8.7 oz.

Dimensions

8 in x 5.5 in x 4 in (20.3 x 14 x 10.2 cm)

Medium: 11" x 7" x 5", Large: 13.5" x 8" x 6"

Notable Materials

Ripstop Polyester, Thermoplastic Polyurethane (TPU), DWR Coating, Recycled Polyester

Manufacturing Country

Vietnam

Warranty Information
Full Review
Here at Pack Hacker, we're always looking for the latest and greatest items to fill backpacks in the most strategic way—either for long term travel or an afternoon at your local coffee shop. So we were pretty pleased to finally take a closer look at the Patagonia Black Hole Packing Cubes.
These little guys are durable, offer some great organization, and are a solid option for one bag travel. We've tested out both the small and medium versions for about three months now and we've been left with only a couple minor gripes. To find out what those little gripes are—along with everything else you could ever need to know about these little cubes—check out the rest of our review below.
Materials & Aesthetic
Patagonia decided to spice up the packing cube world by gracing us with these bad boys. Seriously though, they've selected some incredibly durable materials to create the Black Hole Cubes and the Black Hole® line overall.
They've opted to use 100% polyester ripstop (50% solution-dyed) with a TPU-film laminate and a DWR (durable water repellent) finish. YEAH, we know it's a mouth-full. Basically all you need to know is that this stuff is durable and environmentally-friendly; and we expect it to last a long long time. PLUS, it's bluesign® approved—meaning Patagonia provides fair wages and safe working conditions for all the employees who are putting these together behind the scenes.
You can always count on Patagonia to create ethical products. Cheers to them!

They've also added a splash of branding that differs between which color you choose to purchase. Each option has a small stitched Patagonia logo on one side and either their signature fish logo or brand name written out in alignment with the YKK main compartment zipper placement.
Components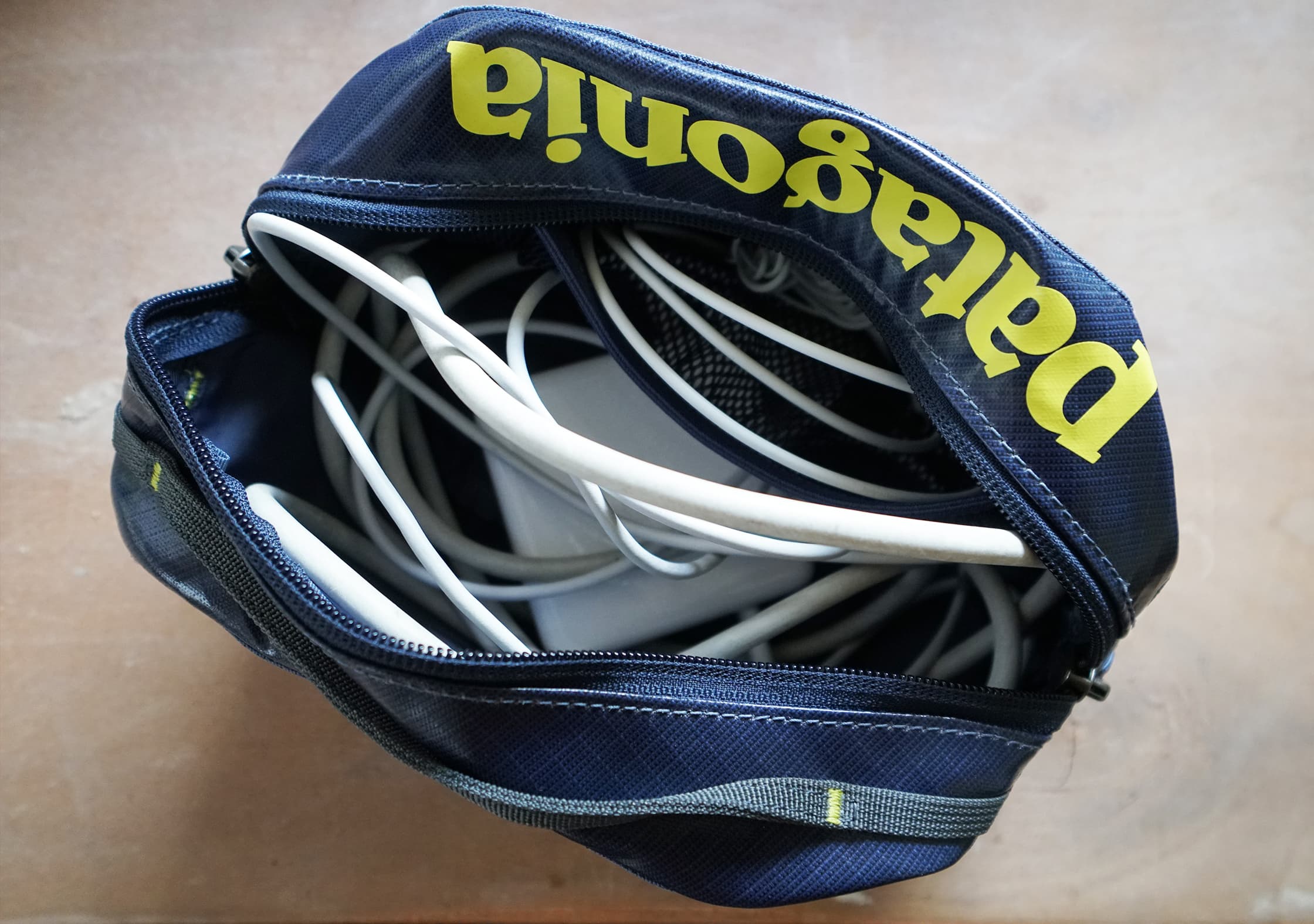 As far as usage goes, we've found the small version to be useful as a dopp kit or small organizer. It's great for keeping either toiletries or tech accessories (charging cords, etc.) tidy. The exterior has daisy chains (a webbed loop system) for attaching the cube to the exterior or interior of packs. It also has two small loops on the interior for securely attaching items that you don't want bouncing around inside—although this thing is pretty small and we don't think items will be sloshing around much. When in doubt, utilize these!
Near the horseshoe opening between the daisy chains there is also a large grab handle that we've found to be handy when grabbing the cube out of a fully loaded pack. Patagonia notes that this is glove-friendly, so if you happen to be caught in a snow storm, your gloved hand can still utilize this handle! Ta-da!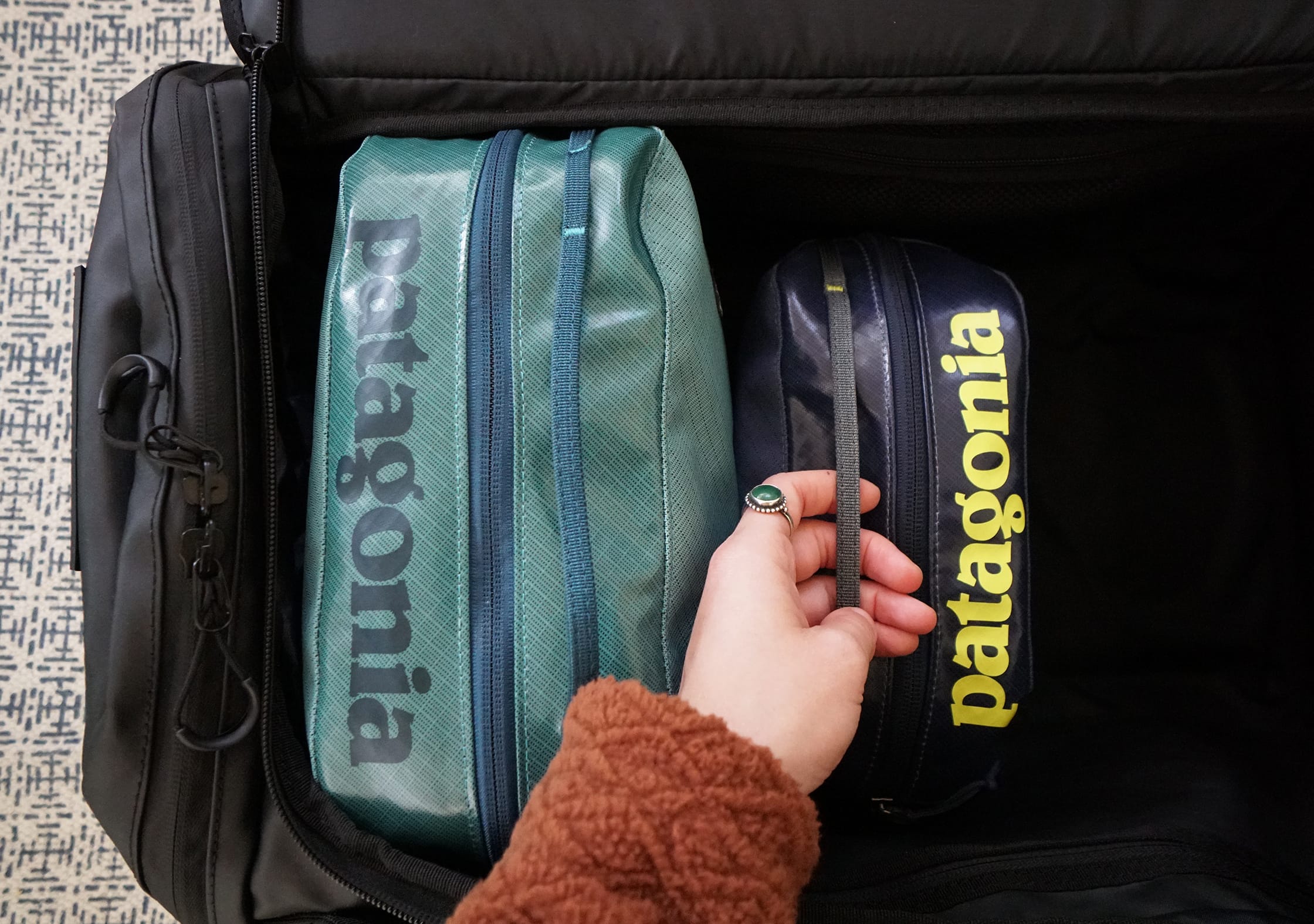 The two main zippers each have a small Paracord zipper pull for quick zip access. The simple zip opening allows ample access to your items, along with easy access to the side mesh pocket. We've found this to work
The manufacture tag is located directly at the center bottom of this cube, and we have to admit that we've found it to be a bit annoying. Really, it's a very minor gripe—but of course, we had to go ahead and mention it because that's just what we do. Pro tip: Just snip that little thing out with some scissors if you don't want to see it any longer!
The medium version has been a real crowd pleaser here at Pack Hacker. With it's clamshell design and zippered mesh dividers, we've been very pleased with both the organization options and ability to pack in tons of stuff. Typically, we've been using it to organize clothing items such as socks and underwear, or thinner items such as t-shirts and tank tops. You can definitely cram a lot of stuff into this thing if you're really trying to get the job done.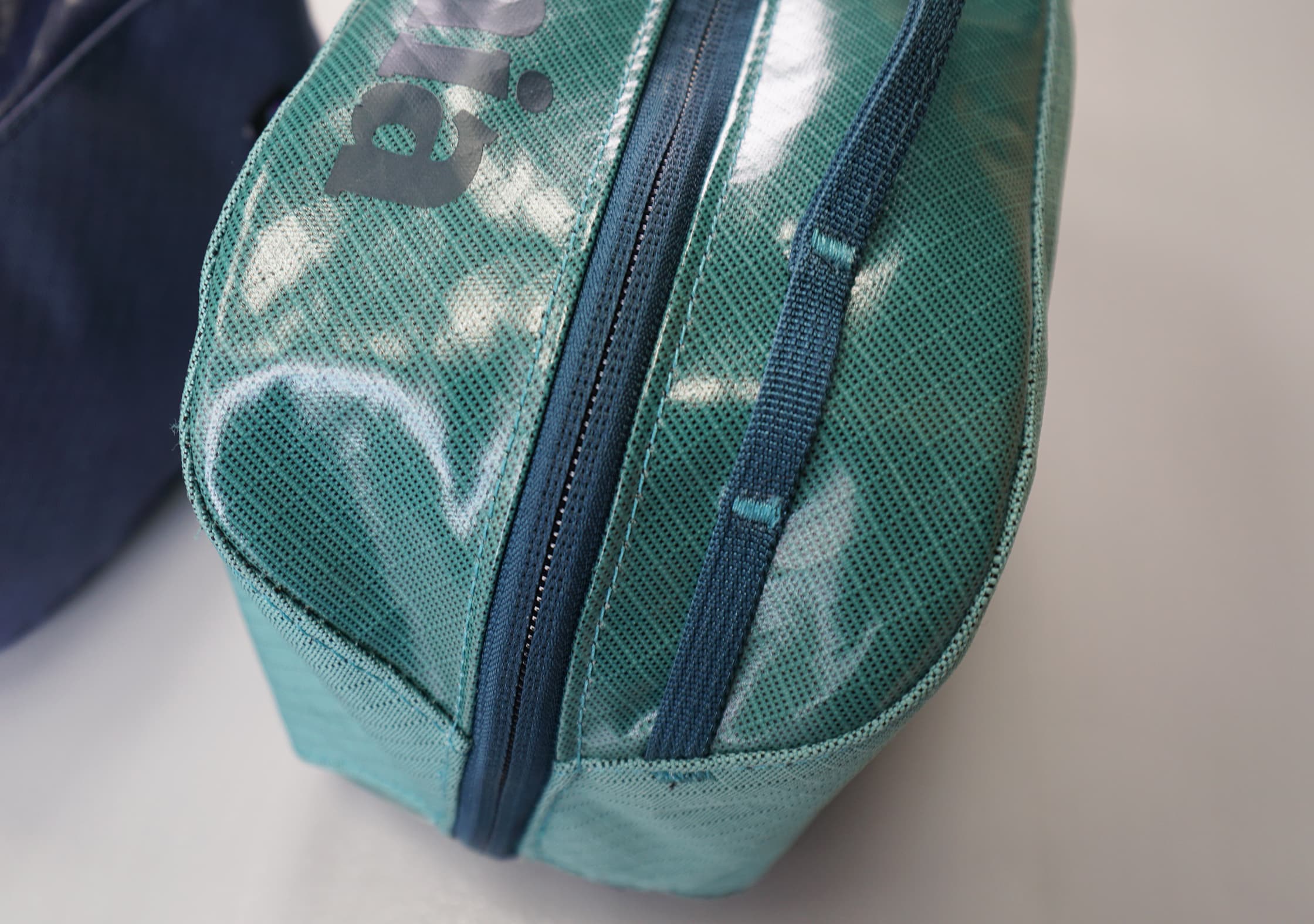 Similar to the small version, there are daisy chains for attaching the cube onto or into backpacks and duffels. It also has four interior loops for securely attaching items inside the cube on one side of the mesh dividers. Also similar to the small version is the glove-friendly grab handle—however, the medium has two of these, one on each side which allows for easy grab access either way you load it into your pack. And just in case we aren't being repetitive enough here, the medium version also has a manufacturing tag that can be a bit annoying. And just like the small version, you can snip this right out if you're pulling your hair out over it.
While we haven't tested the large version out, it looks like a large version of the medium—makes sense, right? We expect it to hold up just as well as the other two.
Durability & Testing
As Patagonia puts it, these "super-burly gear cubes" are really just that—super-burly. They've helped us get extra organized on the road while giving quick-grab access to whatever we need in our bags at the moment. We've also found it helpful to keep one of these filled with your airport essentials, so if you're stowing your bag underneath the seat in-front of you, you can just utilize the grab handle, pull it out from your pack and keep things neat for the remainder of your flight.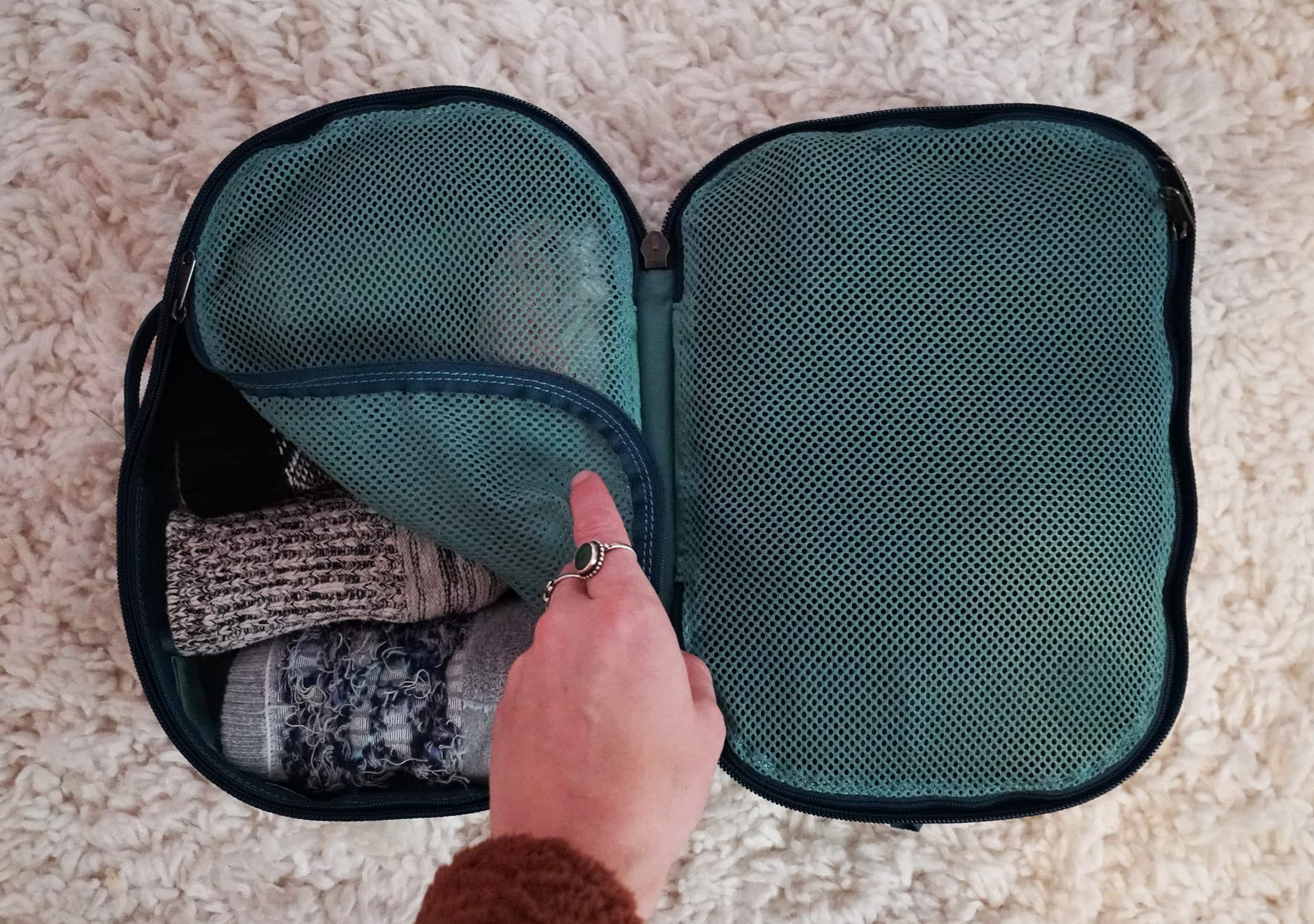 One thing we did notice after about three months of use is that our medium cube—in Beryl Green—started to show a couple small stains on it. If you don't enjoy seeing small visible stains on your gear, we suggest going with the darker colors such as their Dolomite Blue. We got our small version in this color and everything looks like new, even after some heavy use!
One other small gripe we have is the fact that these cubes don't compress very well. They're created with ample space and rigid materials so they're great if you plan to use them all of the time. If you don't think you'll want to use them all the time, you might want to look into something more compressible, such as the Eagle Creek Pack-It Specter Cubes.
Usage Timeline
Initial Usage
Condition: Excellent
Looking forward to seeing what we can pack into these things!
1 Month of Use
Condition: Excellent
Really digging the organization options with these.
2 Months of Use
Condition: Excellent
3 Months of Use
Condition: Good
Just a small fabric blemish on the exterior of our medium cube, but everything else looks good as new!

Access the Pro Community Discussion
Get your questions about the Patagonia Black Hole Cubes answered from our team and the Pro Community right here on the page. Plus, join discussions with other members about gear, guides, and more.
Other Organizers & Pouches Reviews