How To Choose The
Best Packing Cubes for Travel
From compression packing cubes to ultralight and budget, we're here to help.
Table of Contents
Updated:
January 24, 2023
01

Introduction
Packing cubes are used to compartmentalize your items and organize your pack.
Why Packing Cubes?
When you open your bag, do you prefer a neatly organized system that's easy to navigate or a jumbled mess of creased clothing? If you're the former, great! We're going to get along just fine, and you're definitely in the right place. If you're the latter—don't head off just yet, because we may have changed your mind by the end of this guide. (And we're still going to get along fine. We're very friendly.)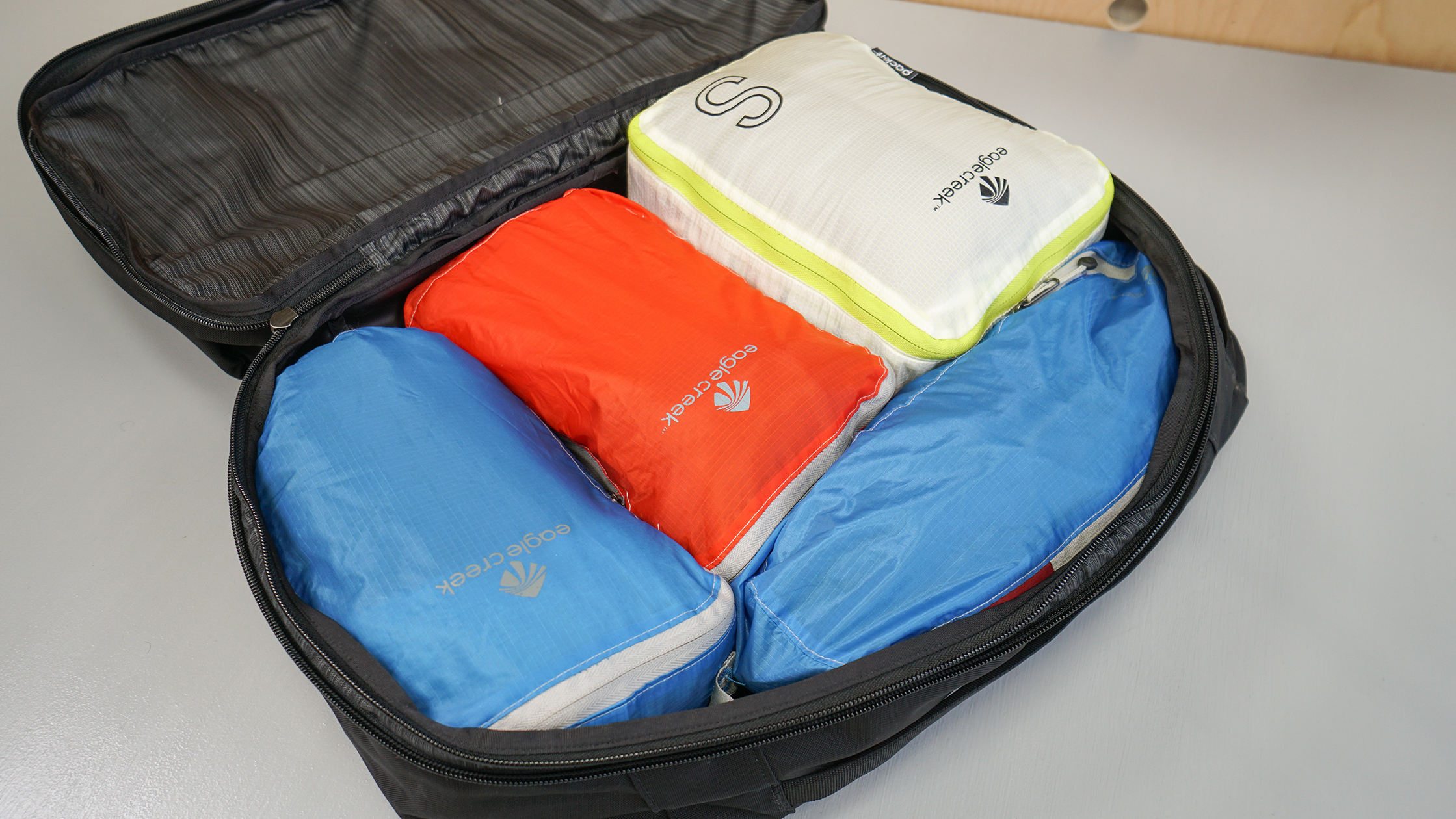 All travel backpacks and roller luggage intended for travel have a large main compartment for you to fill up. Some will take this to the extreme, like the GORUCK GR3 and Heimplanet Monolith Weekender (which are essentially large buckets), and some will offer a bit of internal organization, like the Tom Bihn Synapse 25 and Fjallraven Travel Pack. But regardless of what you're lugging around, you're going to need to figure out the best way to fill that main compartment.
This is where the best packing cubes come into play.

First and foremost, packing cubes for travel are used to organize the contents of your bag. But they can also help save space, as a cube will compress your clothes together. There are even specific "compression packing cubes" that take this a step further, which we'll get into a bit later. The point is, when you're cramming your life inside a carry-on sized backpack, you'll want to save space where you can—and packing cubes are one of the best ways to do that.
And if you're still thinking packing cubes are a waste of time, we should mention that these nifty things make packing and unpacking way easier. Whether you're an ultra-minimalist, an "I need absolutely everything for any situation" packer, or something in-between—being able to just swap a few bags in and out of your pack is a dream.
Video Overview: How To Use & Choose The Best Packing Cubes for Travel
Feel free to watch this guide section in video format. We'll keep the written content on this page up to date.
Be sure to subscribe to Pack Hacker on YouTube and never miss a video.
What Will This Guide Help You With?
There are hundreds of packing cubes to choose from, and it can get pretty confusing if you're new to the market. Every cube will offer different benefits at a wide range of price points, and some of them aren't even cube-shaped! (Right?! Infuriating.)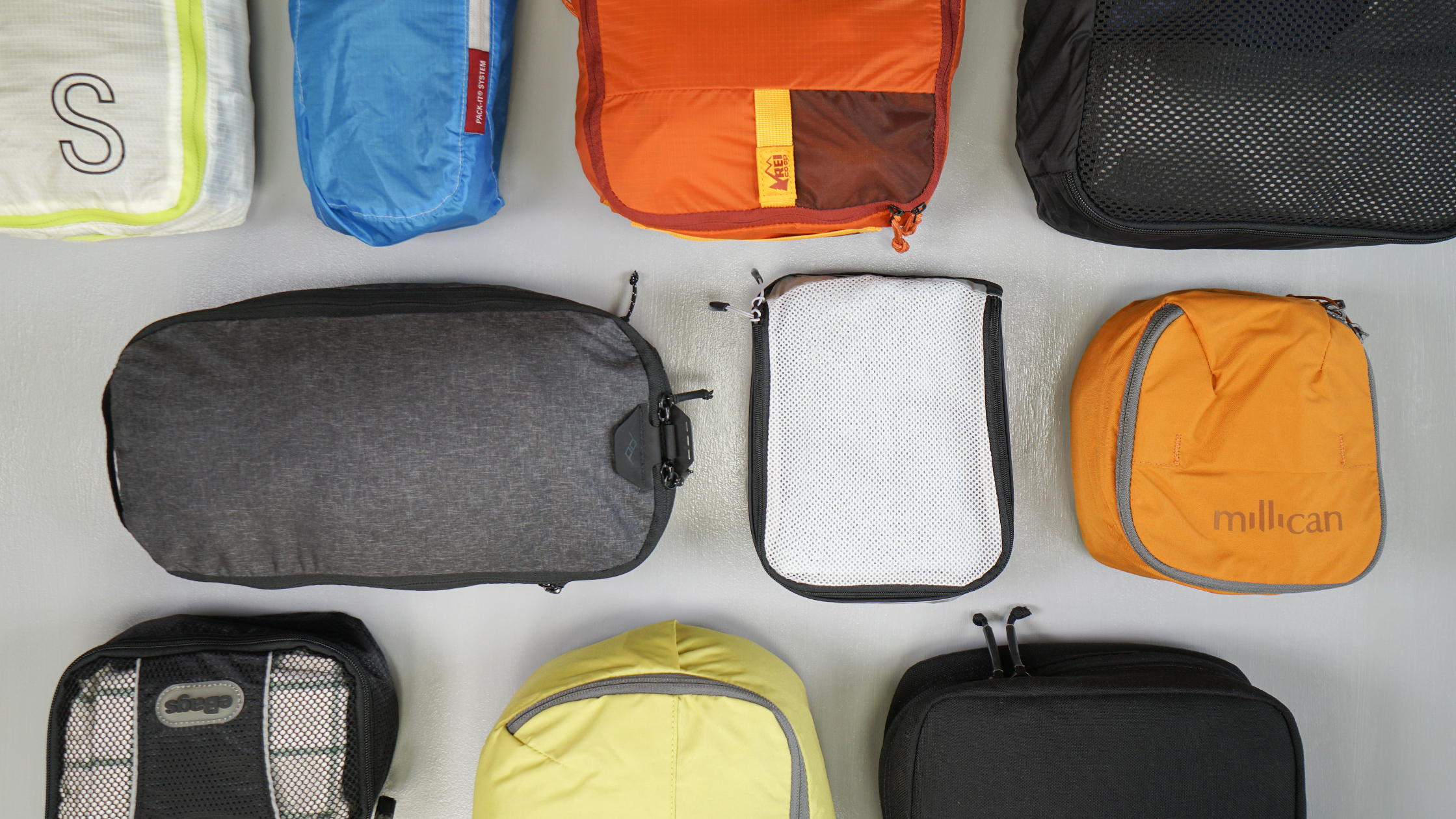 Fear not, because we're here to help. In this guide, we'll be breaking down each style and showing you some of the best packing cubes (all tried and tested by us, of course). We'll also give you the low-down on budget, materials, packability, and the best ways to actually use these things.
We'll also be going in-depth on what considerations to make before you buy. What are the best packing cubes for your destination? Your budget? What size packing cubes do you need? Are you carrying around a humble laptop bag and just need an extra pair of clothes for the office, or a full-fledged 80L duffle bag? We've got you covered.
And we'll end with the disclaimer that everyone is different. No, we're not going into some rant about how you're all amazing human beings just the way you are (even though you are). What we're getting at is that the best packing cubes for you may be the worst packing cubes for someone else. It all depends on personal preference and use-case. But by the end of this guide, you'll have all the knowledge you'll need to pick the right packing cube for you.
JUST A NOTE: We won't be covering any dopp kits or tech pouches in this guide, as we're strictly focusing on packing cubes that are designed for clothing. However, we plan to publish guides for these products in the future.
How To Use Packing Cubes
If you haven't caught on by now, a packing cube is simply a fabric pouch with a zippered opening. Using one is pretty straightforward—you just unzip the opening, put your clothes inside, zip it back up, and place the cube inside your pack. It's not rocket science.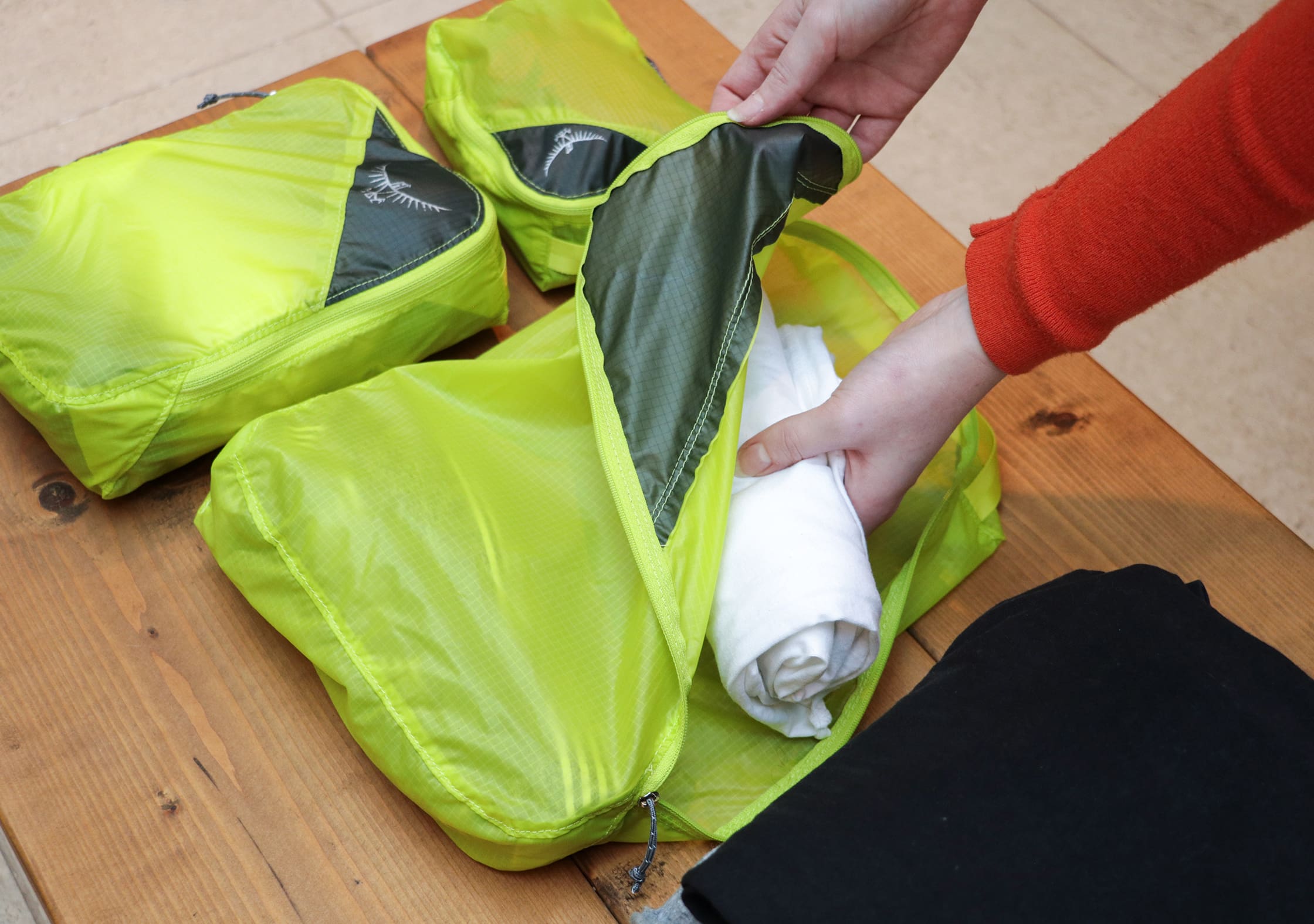 PRO TIP: Roll your clothes before putting them inside a packing cube. You can fold your clothes, or cram them in, but we found rolling to be the best. It's easier to organize them inside the cube, your clothes are less likely to crease, and it's easier to fill all the space inside.
That said, figuring out the optimal method for using packing cubes for travel is a bit trickier. A typical example of how packing cubes can be used in the real world is to use a small cube for underwear, a medium cube for t-shirts and shorts, and a large cube for sweaters and pants. It can be that simple, but you can also get as creative as you'd like. For example, you can…
Pack specific outfits in individual cubes. One cube could be for your gym wear, while another could hold a nicer outfit you'll be wearing to a meeting.
Pack climate-specific clothes in separate cubes. You could put all your warm weather gear in one cube and cold weather gear in another.
Utilize a variety of sizes. You can choose to use eight small packing cubes, two large ones, or four medium ones. The combinations are almost limitless, but it's really up to you. The only rule? They have to fit inside your luggage.
Pick up different colored cubes. This will help quickly identify what stuff is where and help further organize your pack.
Use a selection of different packing cube types. Depending on your use-case, you can choose to pick up a couple ultralight cubes, a large compression cube, and a padded packing cube. (More on that later.)
02

Ultralight
These cubes aren't light…they're Ultralight!
Why Ultralight Packing Cubes?
These are the lightest and most minimal cubes around. They're great for when you want to minimize weight as much as possible and save space within your pack.
Materials
Whether a packing cube is ultralight or not comes down to materials. And while there are no set rules on what constitutes an ultralight packing cube, there are some industry standards to look out for.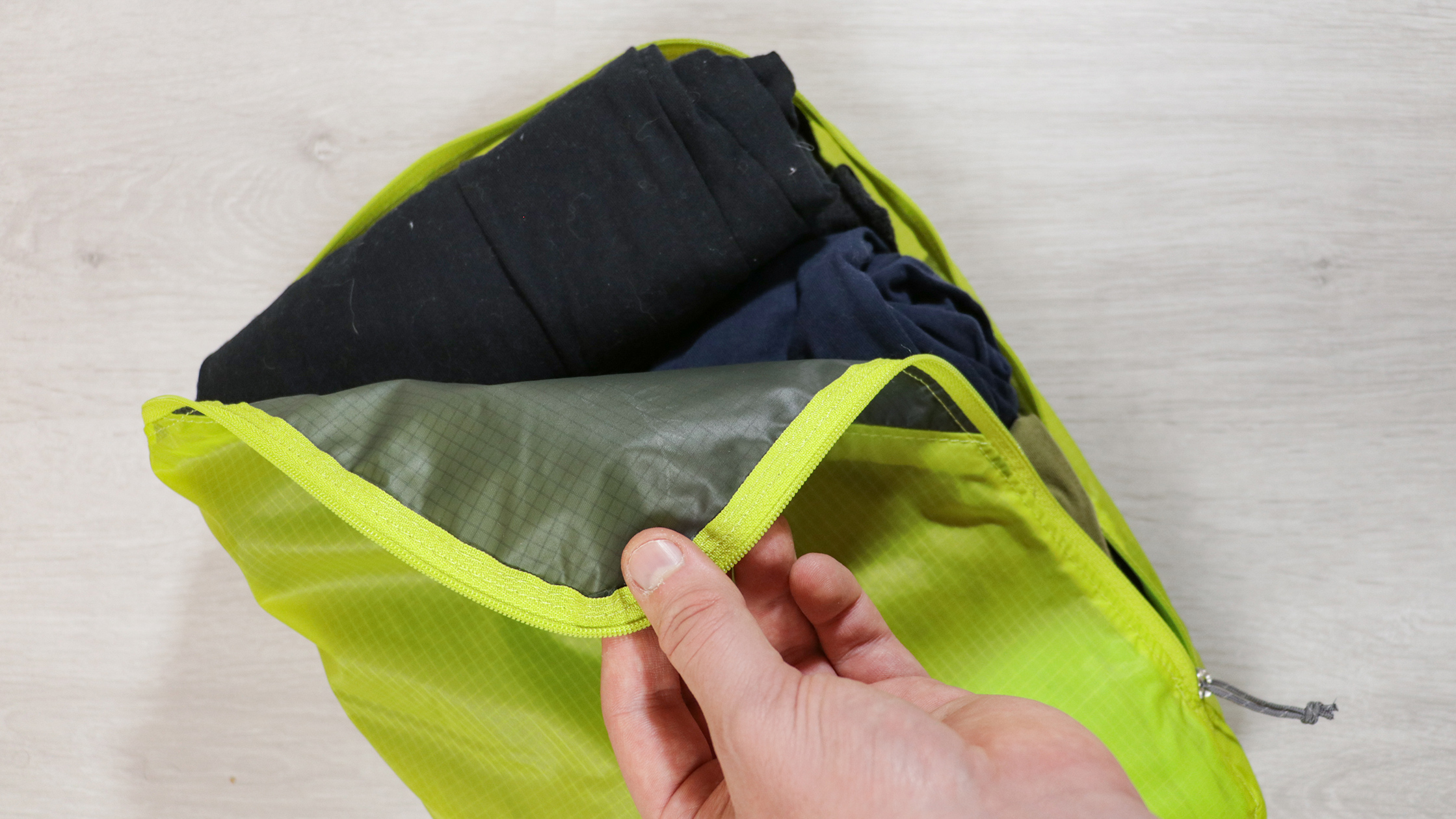 Ultralight packing cubes are almost exclusively a low denier. Usually, you're looking at 30D or 40D Nylon—which is a lightweight (obviously), durable, and tear-resistant fabric that has continued to perform well for us in testing. Some cubes may use a low denier polyester instead, but we'd stick with Nylon if possible as it tends to be a stronger fabric and it's softer to the touch.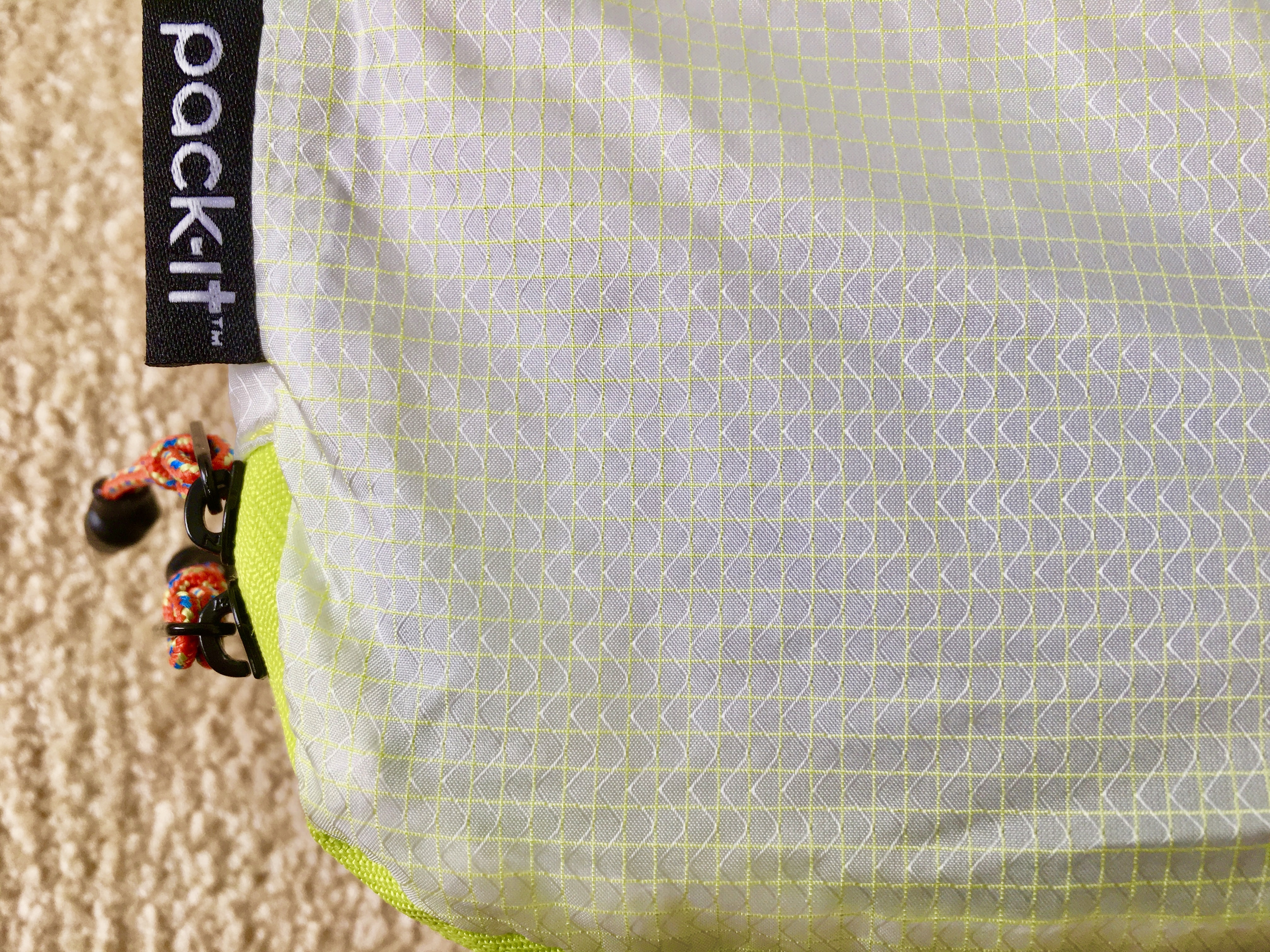 Because ultralight packing cubes use such a thin fabric, it will likely be reinforced with ripstop, which increases its resistance to rips and tears. Additionally, if a hole does appear, the ripstop will stop it from getting any bigger, which is great. This is an essential feature for ultralight packing cubes because the materials are so thin, and we'd recommend making sure your cube has this incorporated within its materials.
PSA: We mention ripstop a few times in this guide, so we thought we'd briefly explain exactly what it is. Ripstop is a reinforcement technique that increases a material's resistance to rips and tears. Slightly thicker threads are woven intermittently throughout a thinner material, which in turn makes the thinner fabric stronger without substantially increasing its weight, and if you look closely, you can see a crosshatch pattern on the fabric.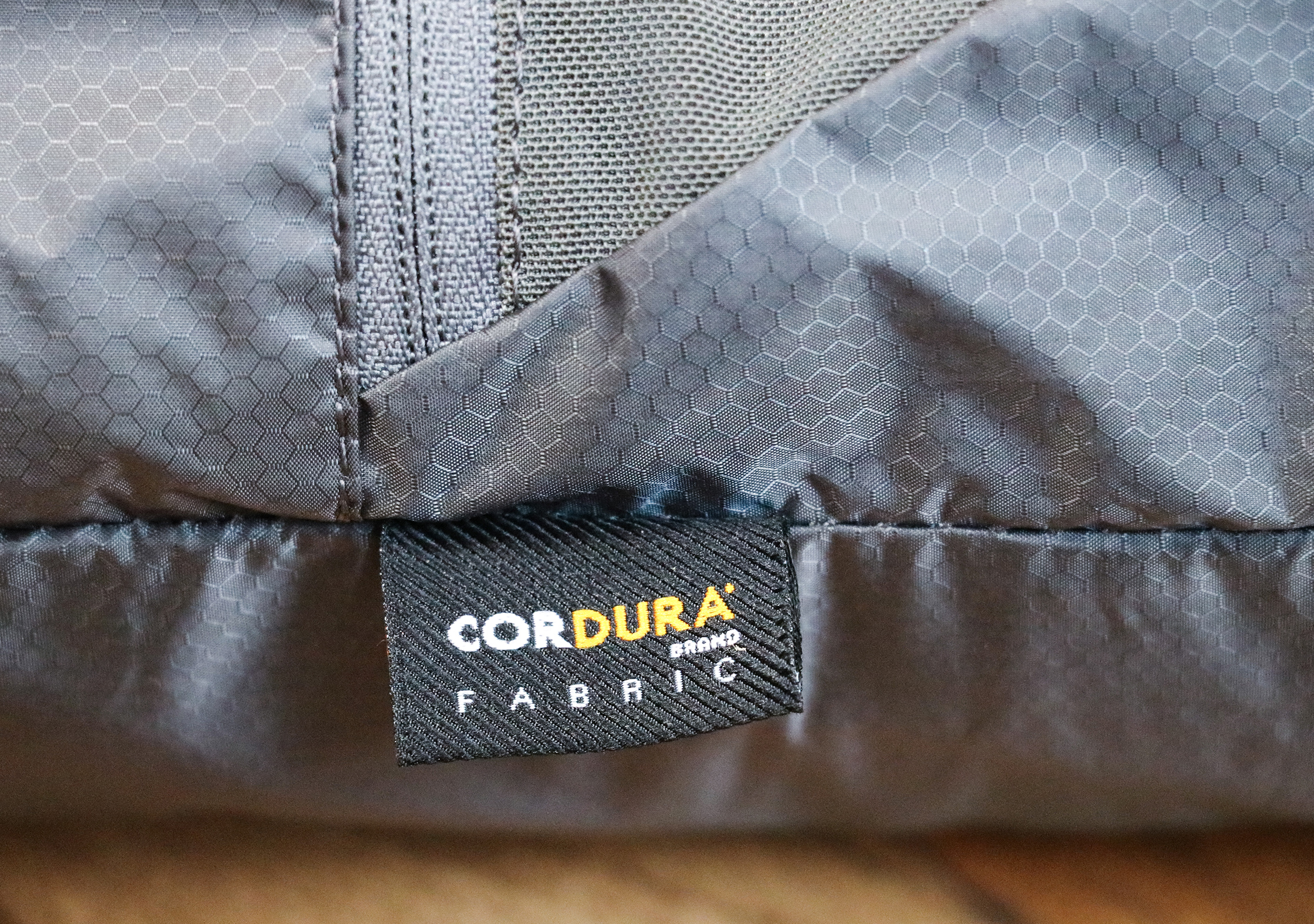 Some companies will use CORDURA® brand fabric for their cubes, who are highly regarded for their quality control and testing. While a 30D CORDURA® Nylon isn't necessarily better than another brands 30D Nylon, it is a sign of quality and you can be assured of its durability.
JUST A NOTE: We usually include zippers when we talk about materials. However, since a lot of packing cubes use very similar zippers, we didn't want to repeat ourself too much. Instead, we cover zippers in the "Considerations" section towards the end.
Durability
Because of their thin materials, it would be easy to think that ultralight packing cubes aren't that durable. Fortunately, this isn't the case and they've proven themselves over years of testing.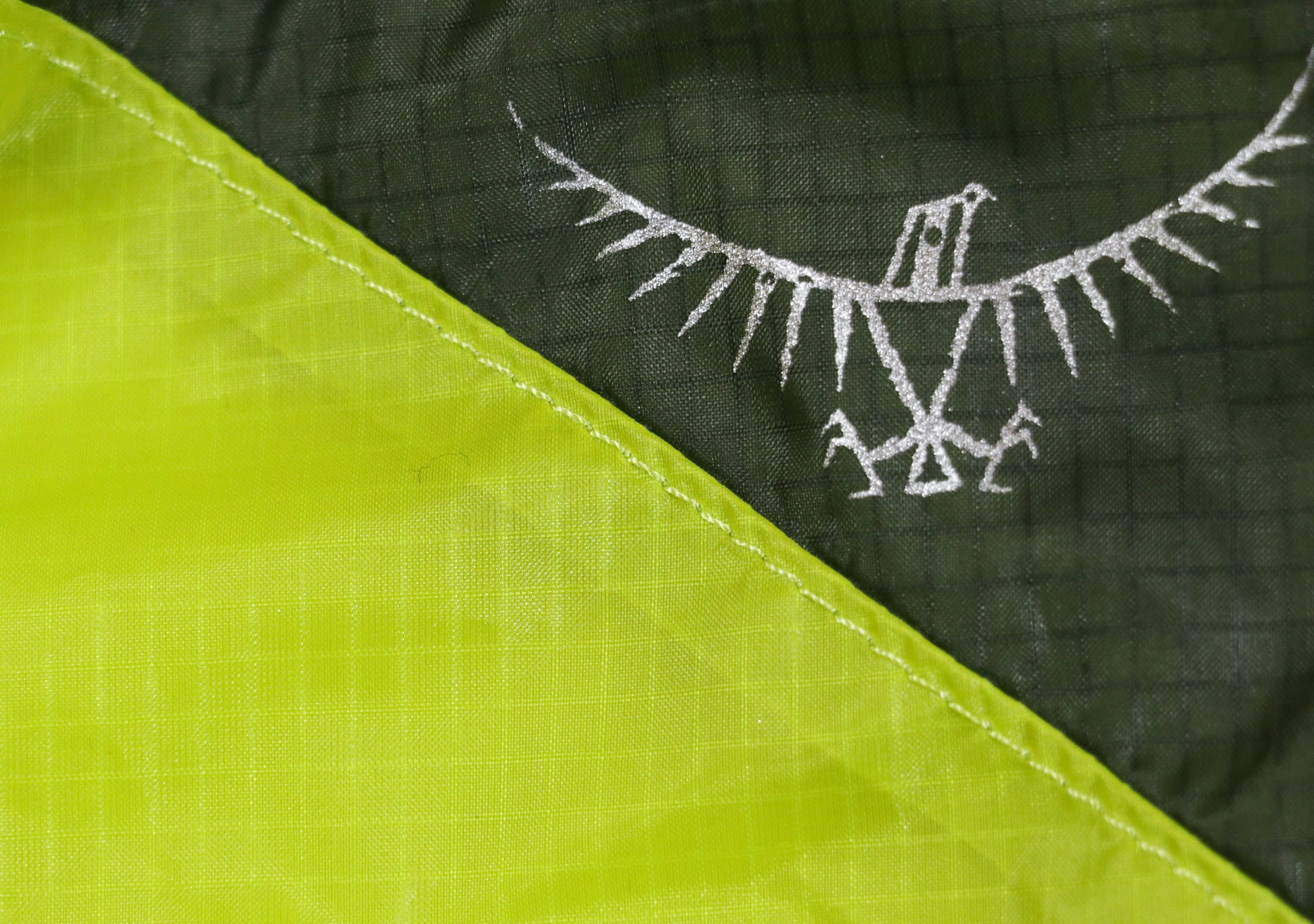 The most significant durability factor for ultralight packing cubes is the craftsmanship—and in particular, the stitching. No matter how high-tech the materials are, if the stitching holding a cube is shoddy, it's not going to hold up. The best packing cubes have clean lines of stitching that hold the materials tightly together, no loose stitching or fraying ends. If the stitching is loose before you buy it, imagine what it will be like after a few months of use. It's hard to see the level of craftsmanship if you're buying online, but we'd recommend buying from a well-respected brand with solid reviews (like ours).
One small thing to note is that low denier Nylon isn't incredibly abrasion resistant. This is mostly a non-issue, since your packing cube will be protected inside your bag, but it's something to be wary of.
Packability
Ultralight Packing Cubes won't take up much room in your pack because of their minimalist style. Plus, they're the lightest cubes around so that they won't increase your overall load by much either.
PSA: We've found that the thin fabrics used on these cubes can make them a bit slick, and while this helps with pulling them out, it also increases the possibility they will slide around inside your pack when in transit. Interestingly, some brands will add a siliconized coating to make them even more slippery, and others will add a polyurethane coating to make them less slippery.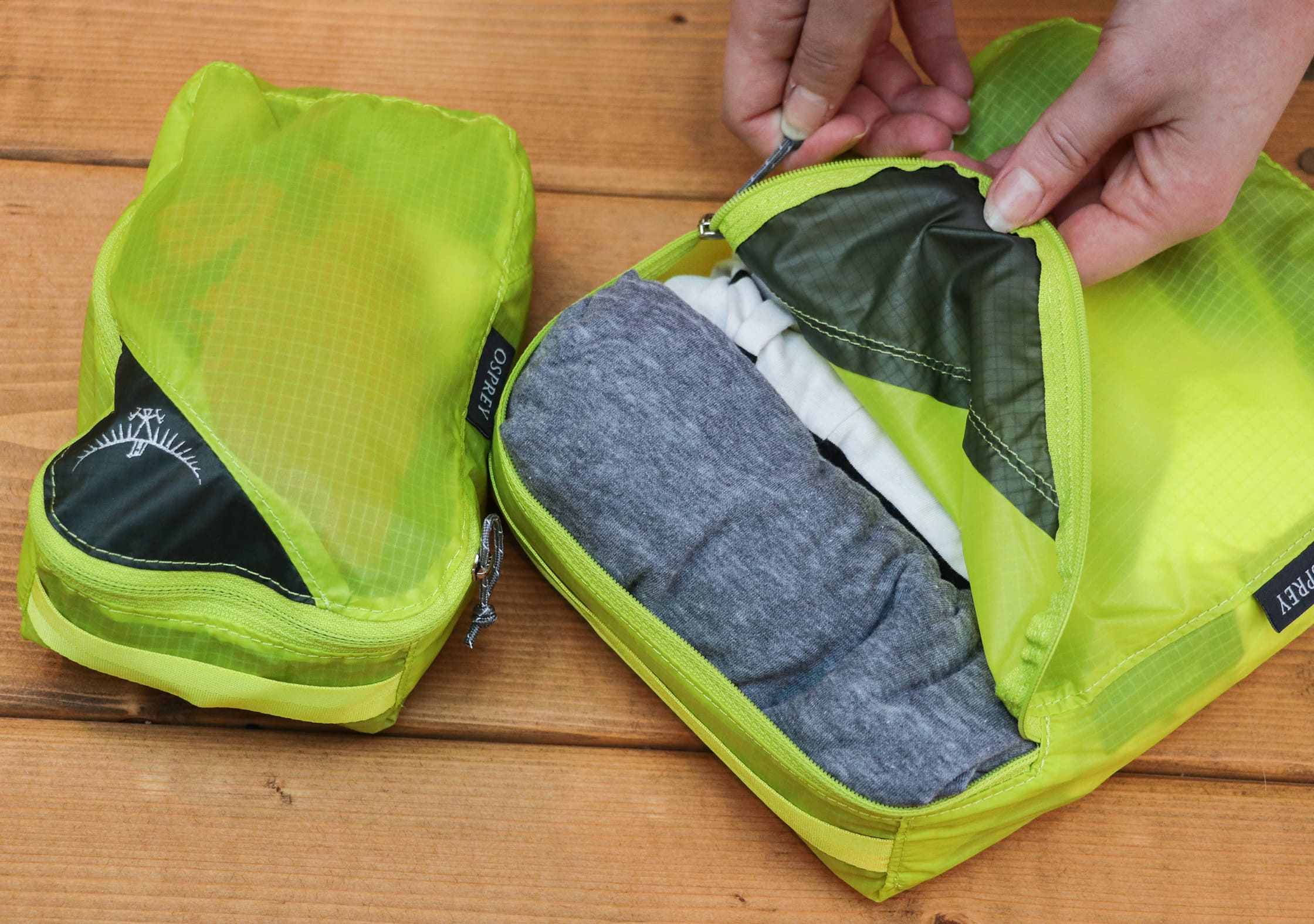 An important thing to note is that ultralight packing cubes don't provide any structure since they're usually just two pieces of fabric stitched together with a zip in the middle. This means that even if your clothes are rolled neatly, they will likely come out of an ultralight cube a bit creased. It's a pain, but it's the price you pay for ultralight-ness, and the severity of this issue largely depends on your use-case.
Recommendations

Eagle Creek
Pack-It Isolate Packing Cubes
We've tested the Eagle Creek Pack-It Isolate Packing Cubes all around the world for a number of years, and they're our one of our highest rated cubes. They're made from 50D polyester ripstop with Zoom zippers and come with a lifetime warranty that actually works (we've tested it ourselves).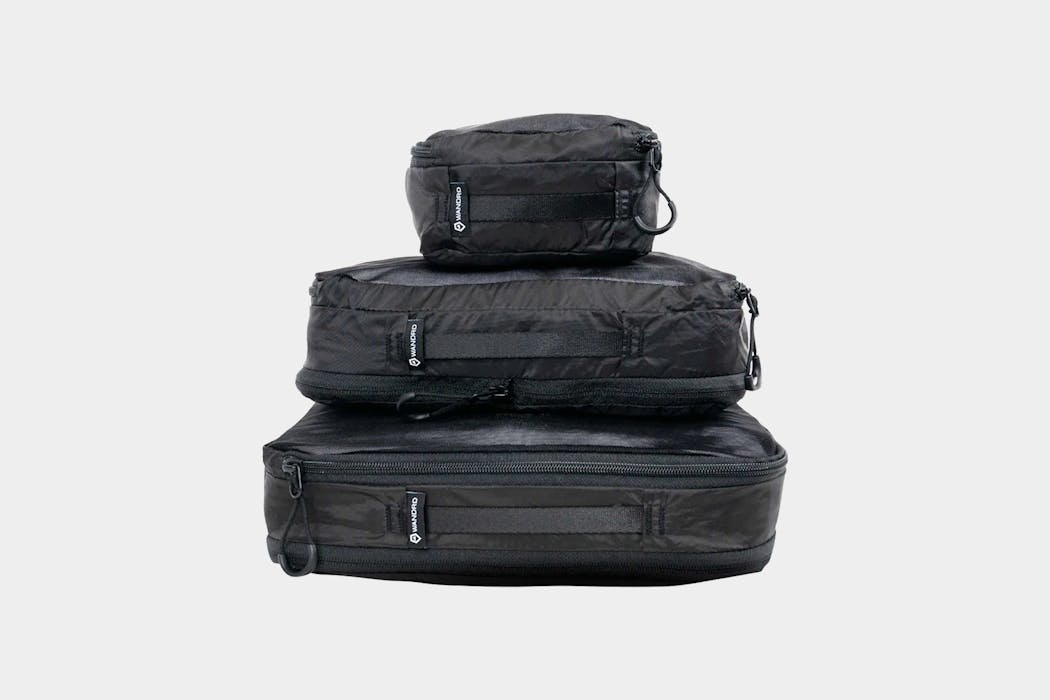 WANDRD
Packing Cubes
WANDRD Packing Cubes' Perfect Fit System takes a lot of the guesswork out of mixing and matching differently sized cubes by scaling their cube's size with one another, so the large is the size of two mediums, and so on. They feature a mesh top, so it's easy to see what's going on inside, YKK zippers, and a 70D Nylon shell.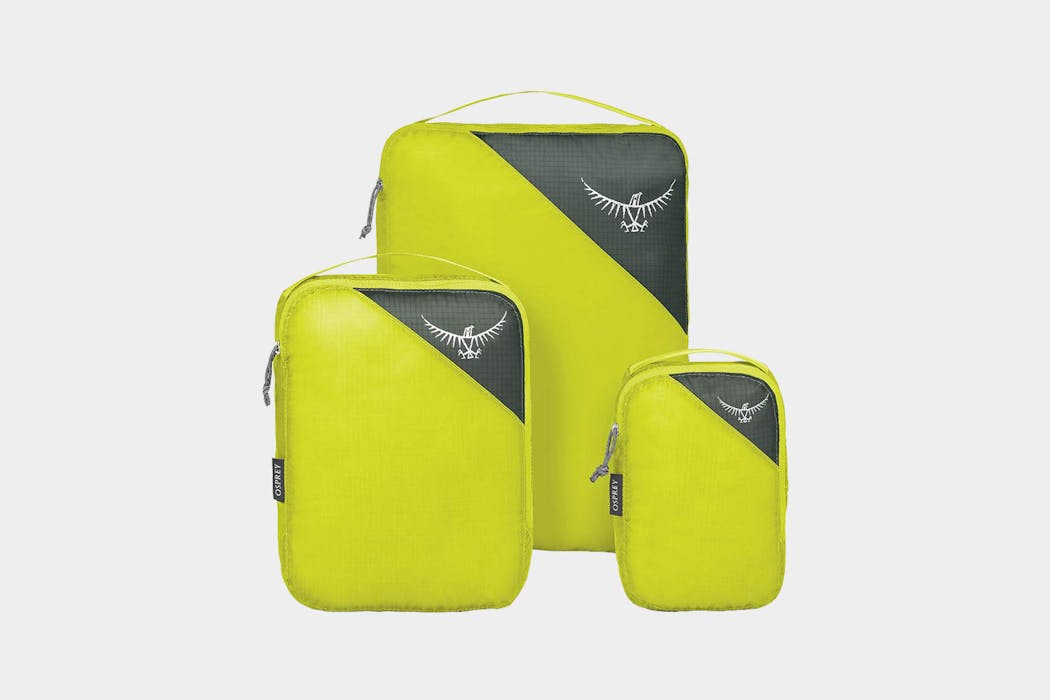 Osprey
Ultralight Packing Cube Set
If you're looking for ultralight packing cubes from a reputable brand that won't break the bank, the Osprey Ultralight Packing Cube Set is a fantastic choice. The range of sizes are ideal for one bag travel, the craftsmanship is superb, and we've been impressed with their durability. The 40D ripstop Nylon material features a siliconized coating too, so they're easy to pull out of your pack.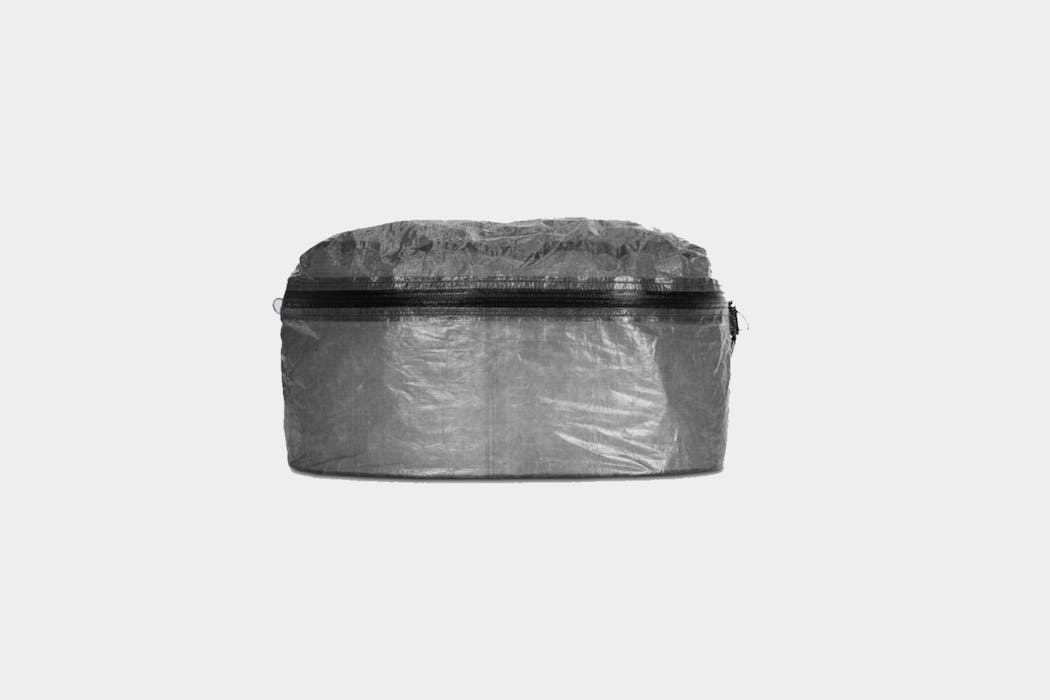 Hyperlite Mountain Gear
Pods
These cubes are the lightest of the light. So light, in fact, that you can toss them in the air (when empty) and they'll practically float there. The Dyneema fabric is a bit crinkly and it doesn't really stretch, but it's allegedly stronger than Kevlar. We haven't tested that ourselves because we don't have many Kevlar vests lying around, but we can tell you it is strong as hell and extremely thin.
Ultralight Packing Cube Pros
Incredibly lightweight
Don't take up much room
Reasonable price-point
Ultralight Packing Cube Cons
Hard to stack on top of one another
Can move around inside your pack
Don't provide any structure
03

Compression
Packing cubes will help save space inside your pack, but compression cubes take it to the next level.
Why Compression Packing Cubes?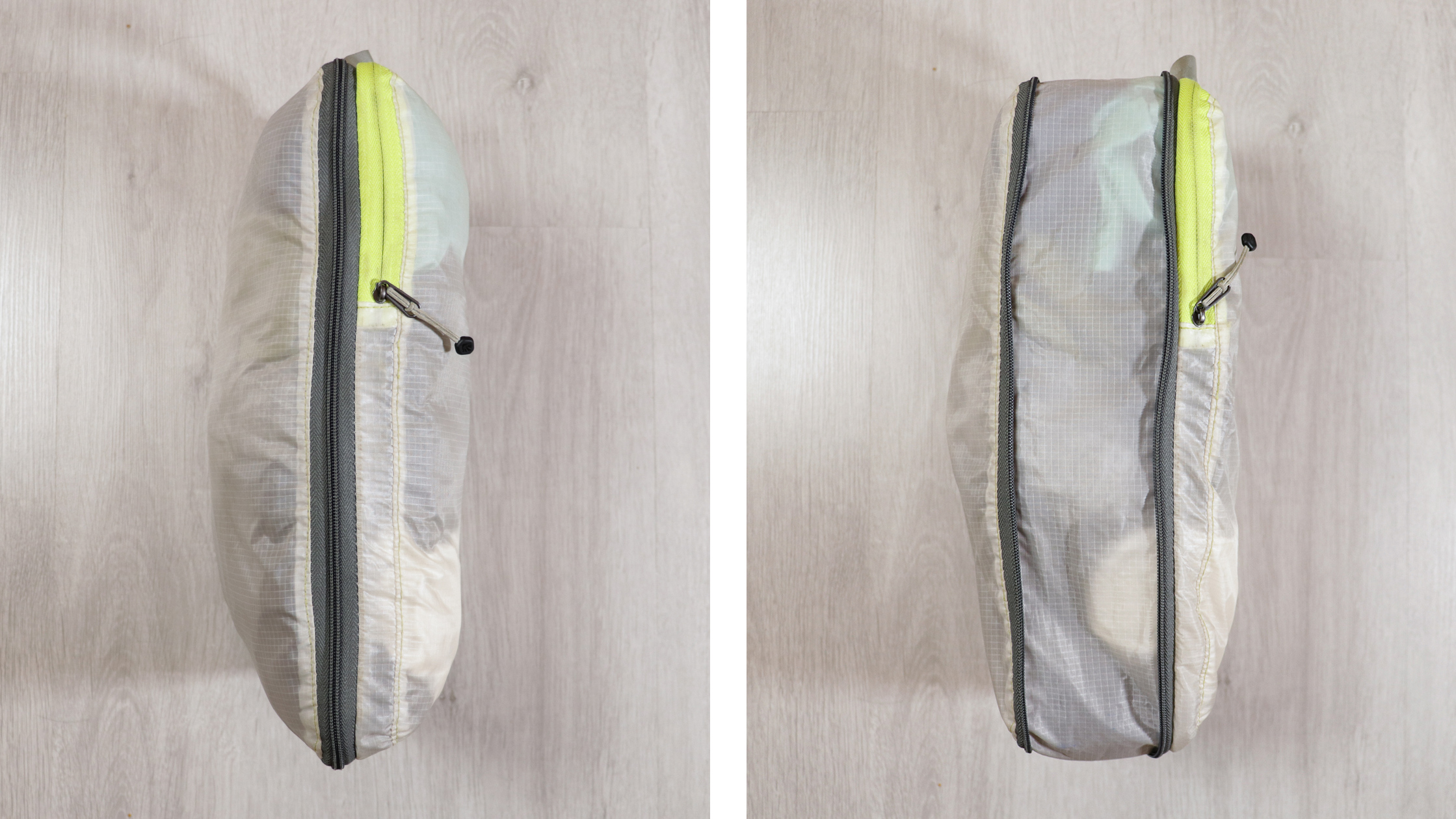 Compression packing cubes are for people who want to save as much room in their pack as possible. Every packing cube will compress your items to a certain extent, but a compression cube takes it to the next level. This is done by adding an extra zipper around the outside that can be zipped up to minimize the space inside—kind of like how a vacuum sealer works—and it's remarkable how much of a difference they can make.
JUST A NOTE: If you're in the market for compression packing cubes, make sure to double check there is an additional zipper around the side. Some brands may refer to their packing cubes as "compression cubes" even if they're not.
Materials
There is a bit of variety in this category since a compression packing cube isn't determined by its materials. However, there are some reoccurring themes.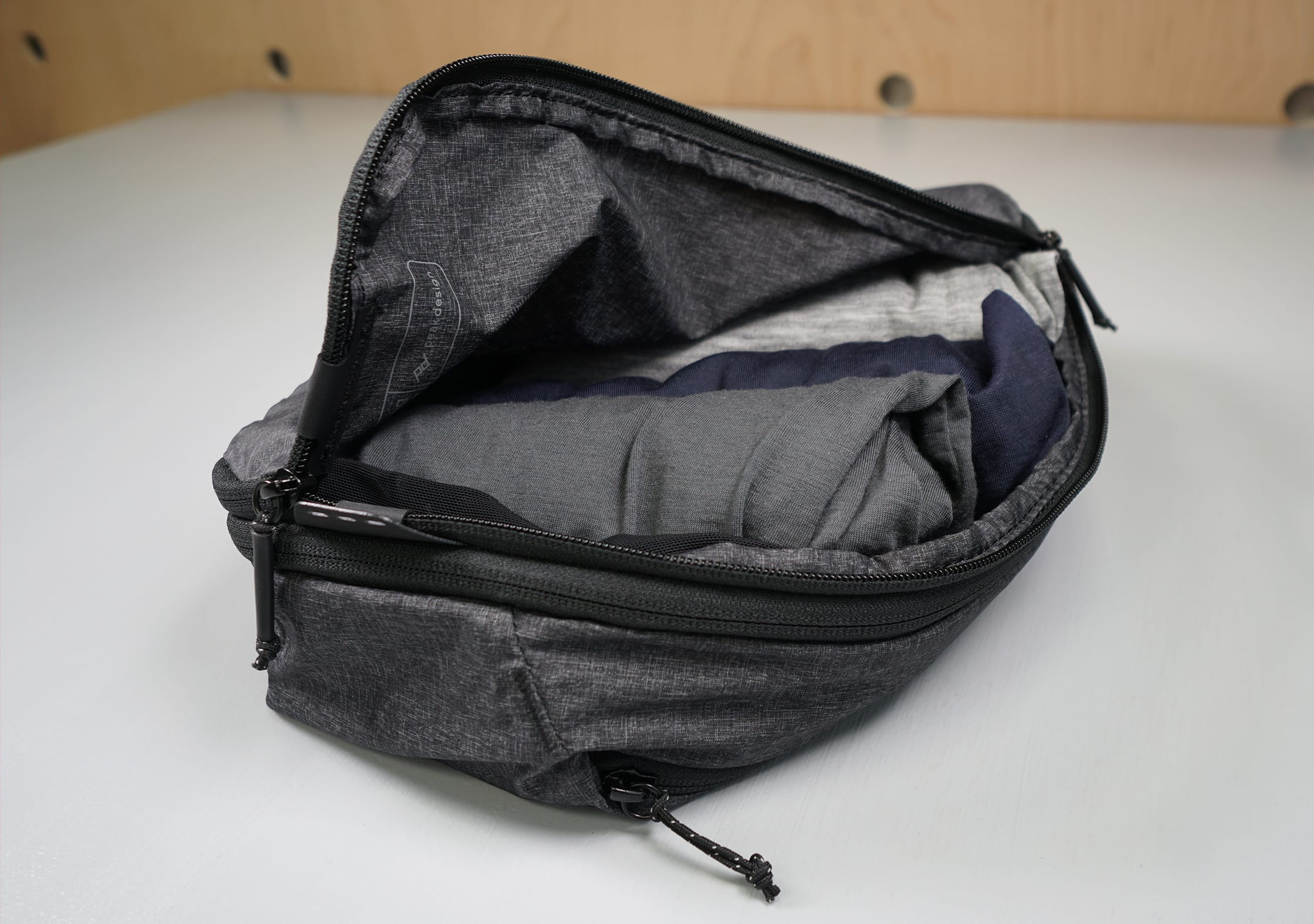 The materials have to be flexible, because these cubes stretch and compress—so most compression packing cubes will be made of a low denier Nylon or polyester (under 100D) fabric. We tend to prefer nylon over polyester for compression cubes as you really need the added durability. That said, some compression cube fabrics will even go as low as ultralight cubes (30D or 40D), which makes them both an ultralight and compression cube. We're big fans of these as you get two significant benefits in one.
JUST A NOTE: You may be wondering why anyone would opt for a basic ultralight cube when you can buy one that compresses too. While you've got a good point, there are a few factors worth considering. First, they are slightly more susceptible to breakage because of the added stress of compression and the additional zipper. Second, compressing your clothes together will crease them more. And finally, a cube that's ultralight and has the ability to compress will be more expensive than a basic ultralight cube.
Durability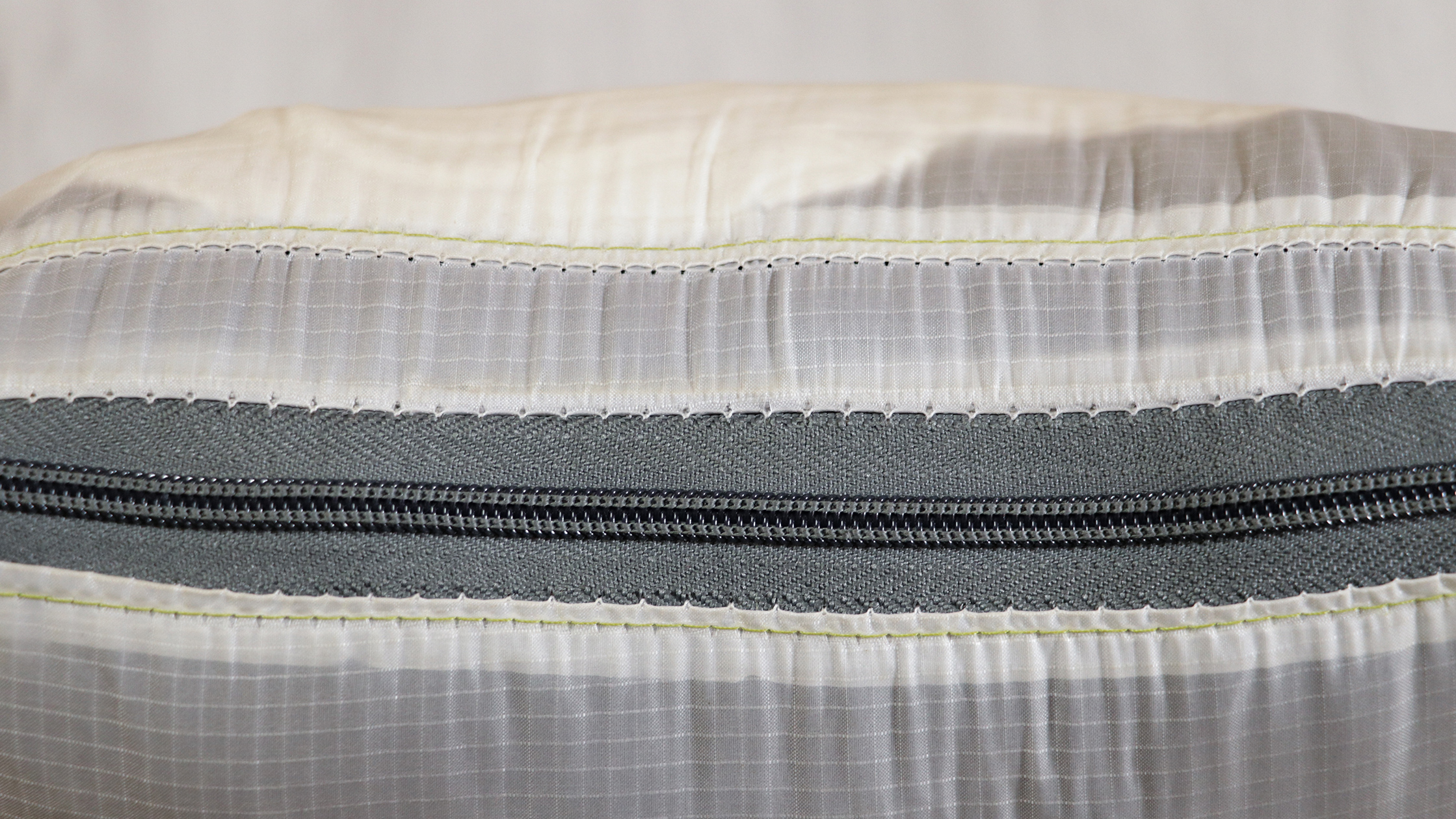 A compression packing cube is put under considerably more stress than other cubes, as the material stretches and the cube becomes tight when you compress it. Because of this, they can be more vulnerable to wear and tear. So you'll want to make sure you get yourself a quality cube that won't break within a few months.
Here are a few things to look out for:
Make sure the fabric is Nylon or at least a Nylon-polyester blend. Some cubes will use 100% polyester, but it's typically not as strong as nylon. While polyester can be a fine choice for other cubes, you'll want the added strength of nylon for a compression cube.
Ripstop technology increases a material's resistance to rips and tears and dramatically enhances durability. Nearly all compression cubes will use some form of ripstop, but it's important to double check. If you're struggling to find information on whether it has ripstop or not, look for small hexagonal or cubed lines in the material.
We discussed how vital craftsmanship is for ultralight packing cubes, and it's even more so for compression cubes. The stitching is put under great strain when you compress a cube, so one loose thread can easily compromise its integrity.
The zipper around the side that compresses the cube is put under a lot of stress, so make sure it's a good zip from a quality brand. We go deep into zippers and what to look out for specifically at the beginning of the considerations section below.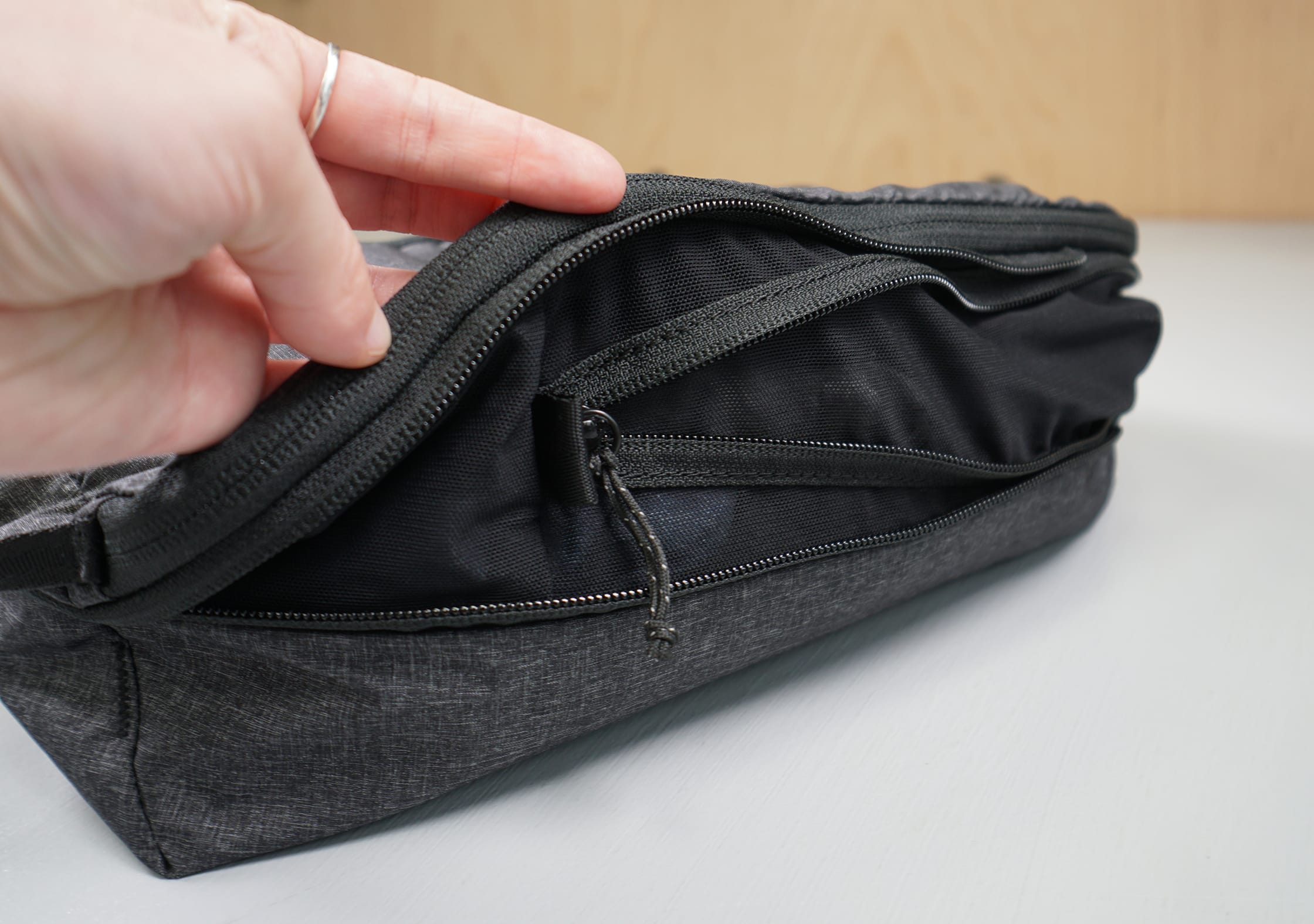 It may sound like compression packing cubes are a recipe for disaster, with all the added stress on the fabric and zippers…but that really isn't the case. We've come across plenty of highly durable compression packing cubes in our day. And as long as you buy a quality cube made with top-notch materials from a reputable brand, durability shouldn't be an issue.
Packability
There's no getting around it, compression cubes take up the least amount of room inside your pack. (It's kind of what they're built do to.) This is a significant check in their packability score, but there are a couple things you should be aware of too.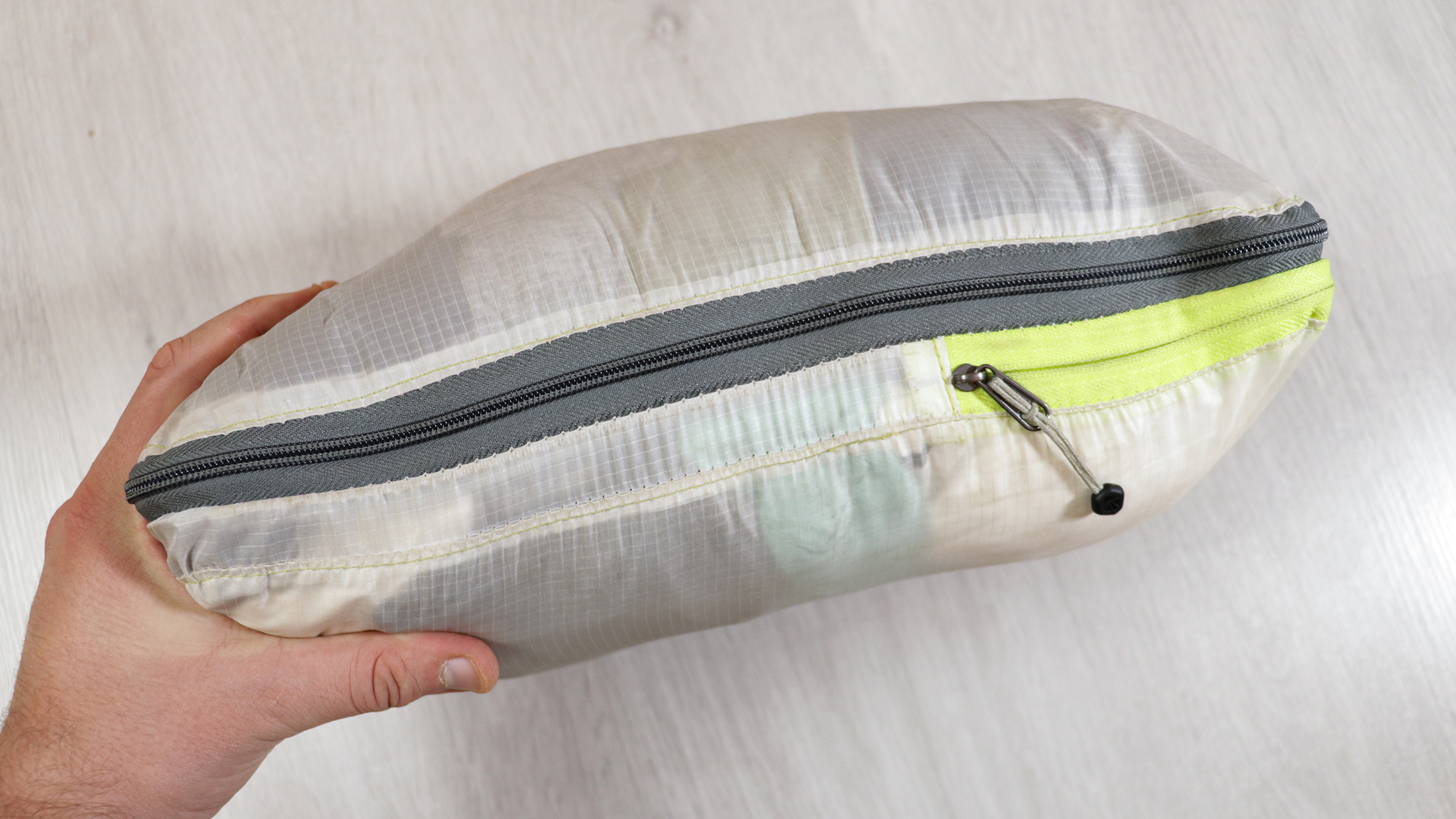 Compression cubes can become slightly rounded when you compress them. This means they can't be easily stacked on one another, and you might lose space in your pack because of it. Plus, this increases their tendency to shift around in your pack.
A compression cube can also crease your clothes. This likely isn't a concern if you're hitting the beach with a pack full of tank-tops and shorts, but if you've packed a few shirts for fancier establishments then it can be a real pain. You can minimize creases by neatly rolling up each item of clothing, but at the end of the day, they are impossible to avoid entirely when you're compressing your clothes tightly together.
JUST A NOTE:
We often get asked about compression sacks (those cylindrical top-loading bags, like the
Sea To Summit Ultra-Sil Compression Sack
), and whether they are a good option for compressing your clothes on the road. While they can be useful for camping and other outdoor activities where wrinkles are a non-issue, they're not great for urban-focused one bag travel. Clothes will crease a bit inside a compression cube, but a compression sack takes this to another level. It's a bit too much for us in a real-world environment. They also don't fit quite as nicely inside travel packs as a cube does.
Recommendations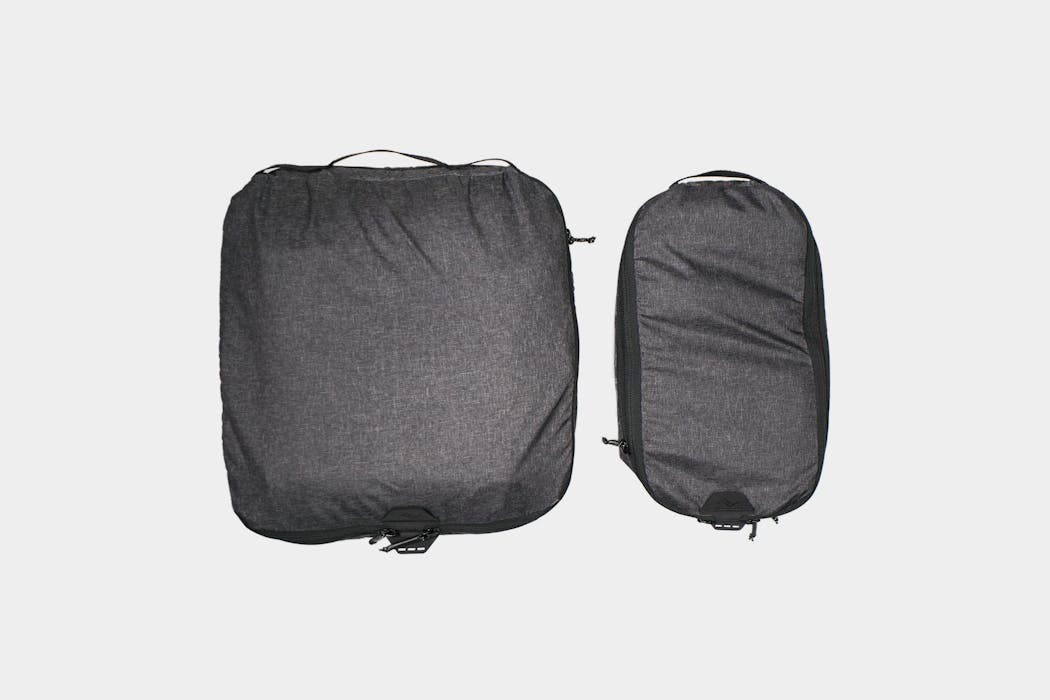 Peak Design
Packing Cubes
The Peak Design Packing Cubes are made to fit the Peak Design Travel Backpack, but we've found them to be fantastic cubes no matter what pack you put them in. We dig the innovative quick access system, and while the material isn't "ripstop" per se, it is a self-healing 70D nylon/polyester blend, which is pretty rad. We're not 100% sure how self-healing fabric works, but the fibers are threaded in such a way that you can puncture the material and it will go back to normal if the puncture is small enough.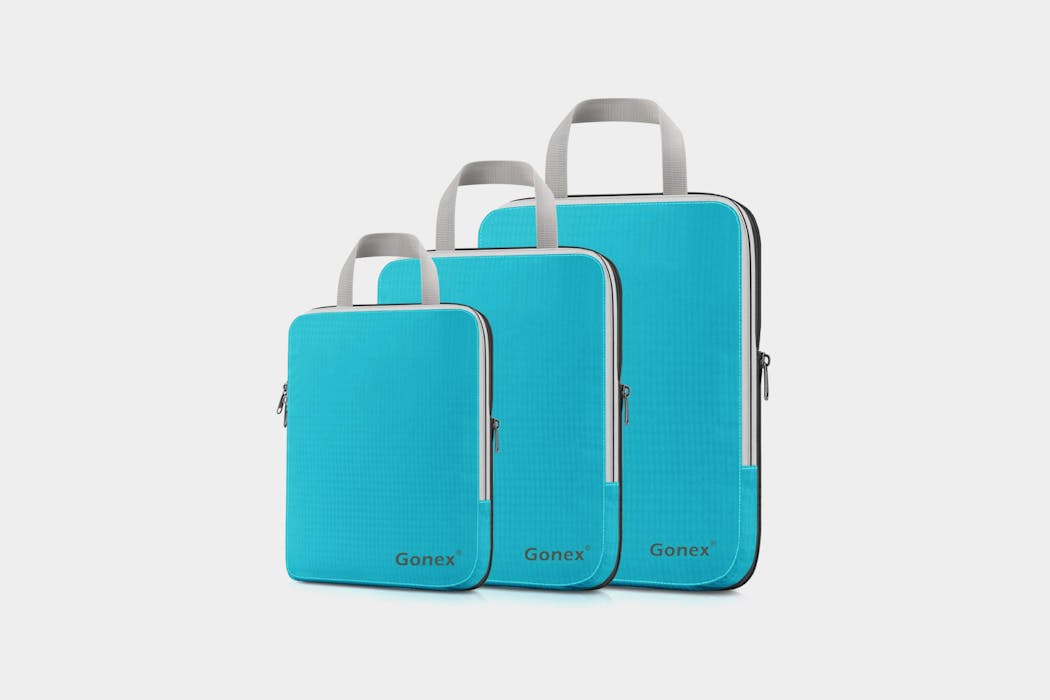 Gonex
Compression Packing Cubes
The Gonex Compression Packing Cubes are incredibly lightweight and have held up well throughout testing around the world! Made of nylon, with SBS zippers, they're water-resistant to protect your stuff and are ideal for people looking to save as much space inside their pack as possible.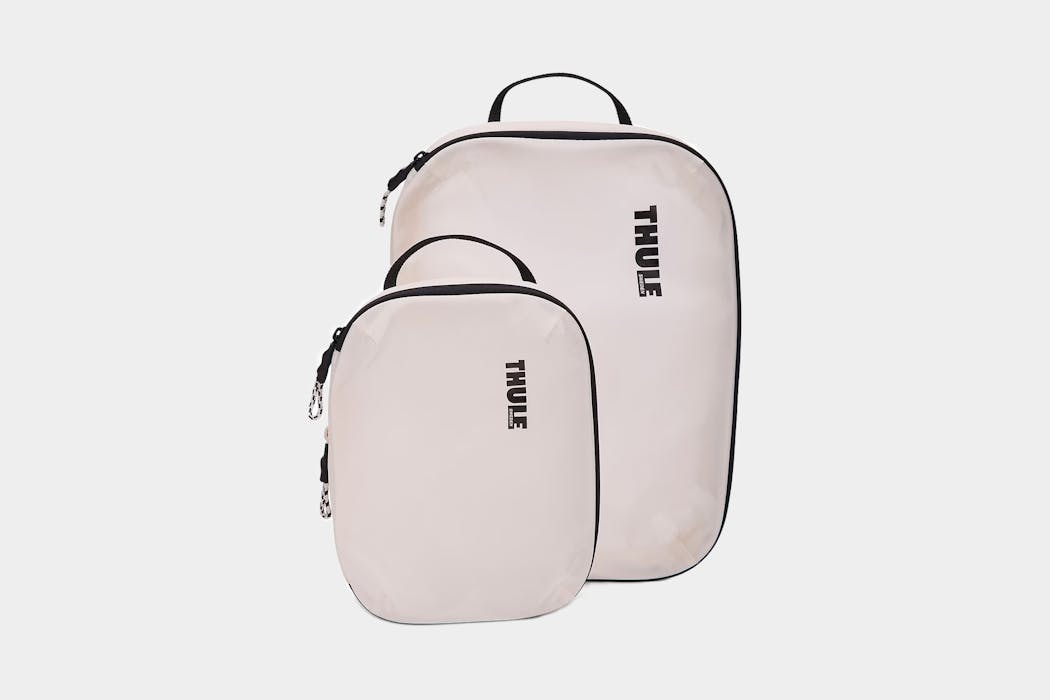 Thule
Compression Cube
The Thule Compression Cube Set will help you save space in your pack—they compress from 4 inches deep down to just 1.25 inches! Thule uses YKK zippers to get the job done. They're slightly see-through, too, so you can remember which cube contains your favorite T-shirt.
Compression Packing Cube Pros
Compresses your clothes to save room inside your pack
Lightweight
Can be used in two different capacities (compressed and uncompressed)
Compression Packing Cube Cons
Can crease your clothes (even if you roll them neatly)
Pricier than non-compression packing cubes
Hard to stack on top of one another
04

Budget
On a budget? Fear not! These packing cubes won't break the bank.
Why Budget Packing Cubes?
Why would you get budget packing cubes? Well, the clue is in the name. They're cheap!
JUST A NOTE: While it's hard to define a product by price, it's easy to spot budget packing cubes. They are typically sold in sets for around $20.
Here at Pack Hacker, we tend to focus on high-quality, good looking, and extremely functional gear. But there are instances where buying budget just makes sense. Perhaps you're only traveling for a month and don't need something that will last a lifetime. Maybe you're working on a limited budget and picking up the best packing cubes is less of a priority than other, more expensive gear you need to buy. Or maybe you're simply just not interested in all the bells and whistles of other packing cubes.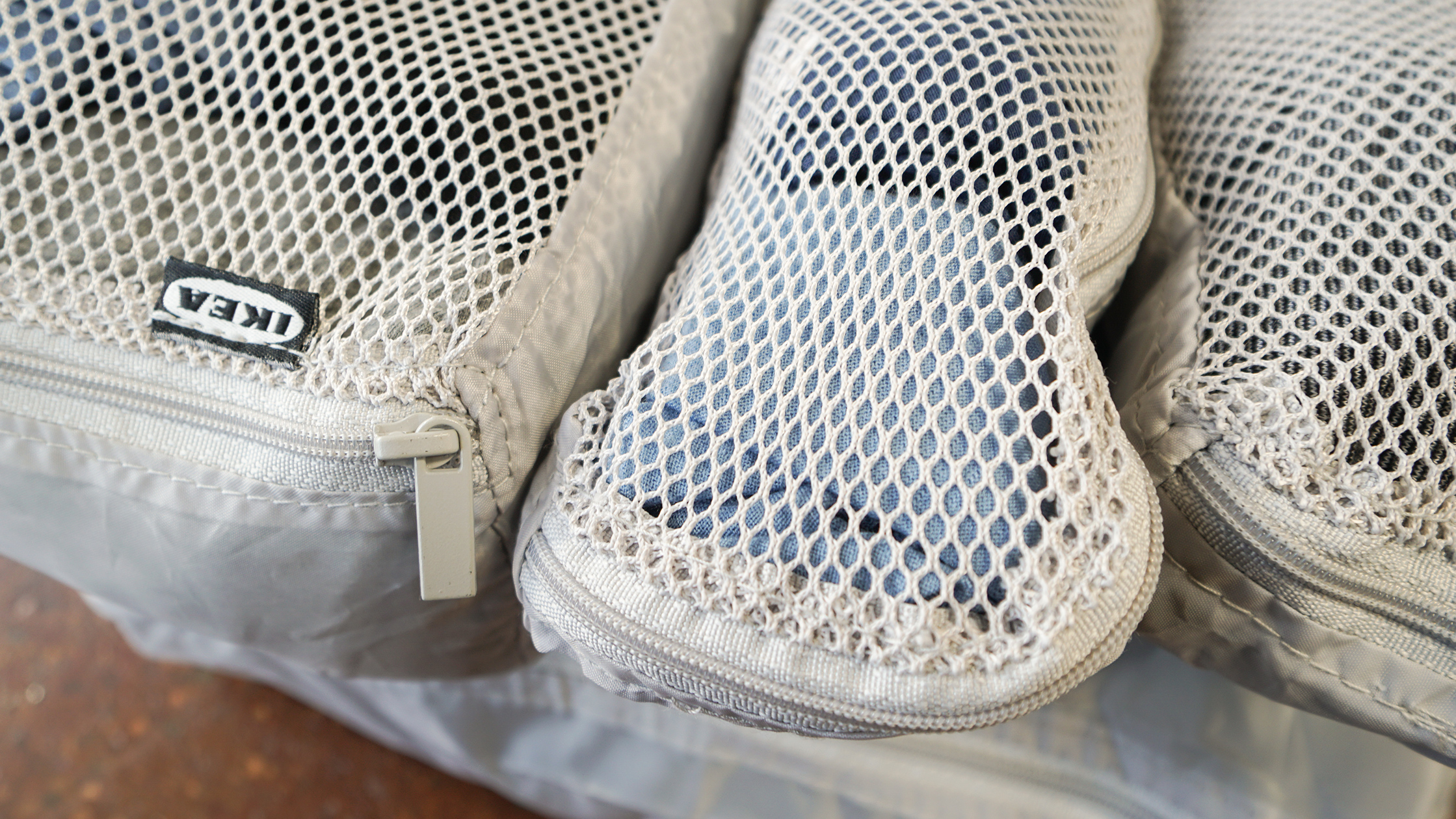 The bottom line is, depending on your use-case, budget packing cubes can be a great choice. And they're also incredibly easy to get your hands on, with places like IKEA and Target now making their own. Not forgetting the gazillion packing cubes for travel available on Amazon. We're all suckers for that free two-day delivery on Prime right?
JUST A NOTE: Budget doesn't always mean bad! As long as you're mindful of what you're buying and you're careful with how you use them, a set of budget packing cubes can still be durable, functional, and save room inside your pack.
Materials
Budget packing cubes are cheap because they use inexpensive materials. However, while the materials won't be as high-quality or as high-tech as others on the market, they should still be up to the task at hand. After all, a packing cube is just a small container for your clothes, it doesn't have to be be indestructible.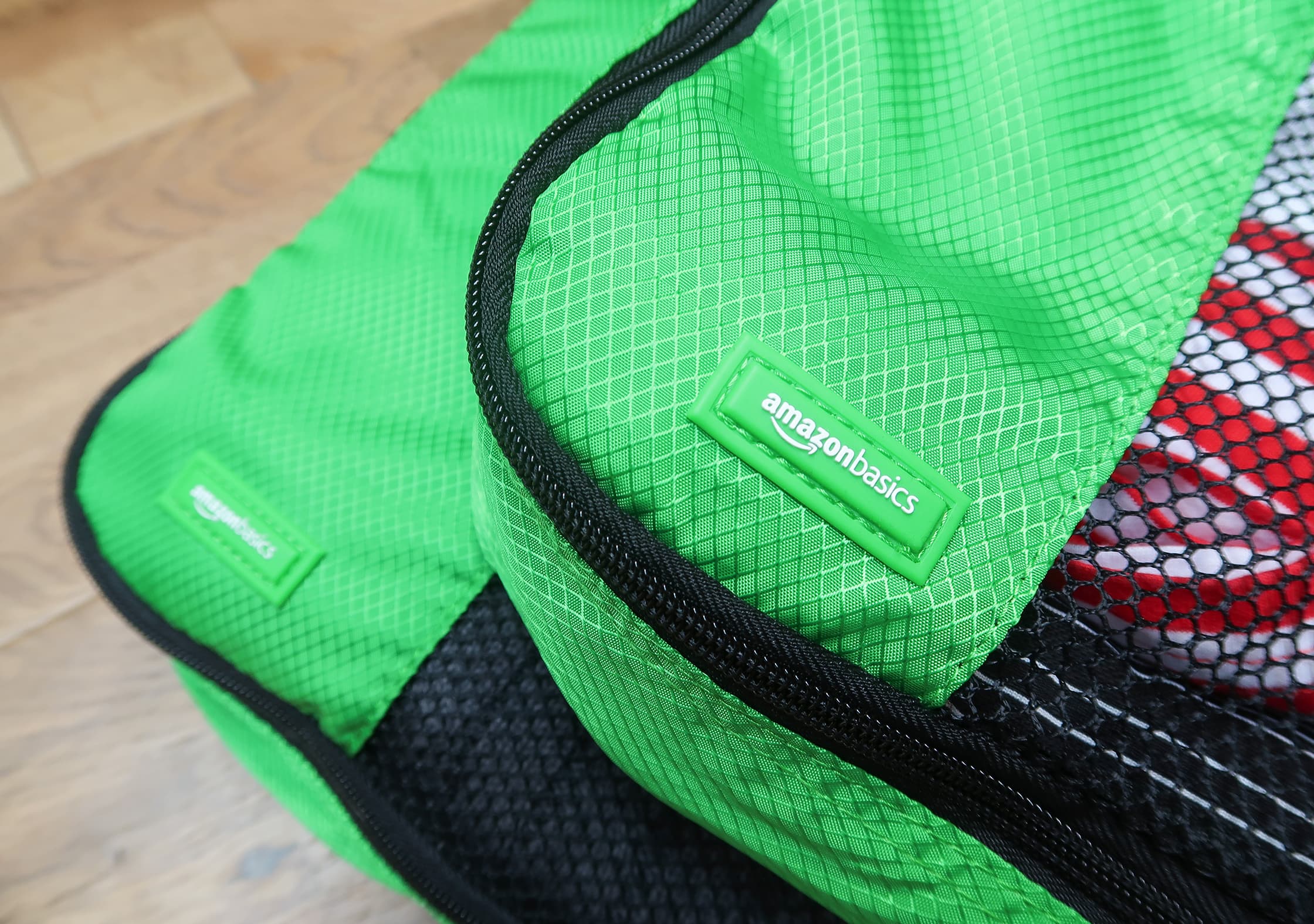 Budget packing cubes are typically polyester, and while we prefer nylon because it's stronger and softer to the touch, it's by no means a bad material. Polyester is still lightweight, wrinkle-resistant, and fairly durable. Plus, it's even more abrasion resistant and quicker drying, so there are pros.
While ripstop technology isn't overly common in budget cubes, it can be found. If your only concern is to find the cheapest cubes possible, you could forego it. But, if a rip does appear it will inevitably get larger and render your cube unusable over time. Ripstop can stop this from happening (it's in the name after all). So, if you're planning on using these cubes for longer than one trip, it could prove a vital addition.
Durability
It will come as no surprise that budget packing cubes aren't heralded for their durability. However, this doesn't mean they'll all break one week into your trip around the world. In fact, we've tested a set of AmazonBasics Packing Cubes for over a year of perpetual travel, and they're still going strong. While we can't guarantee every budget packing cube will survive a year of everyday use, it is possible.
But we should clarify that budget packing cubes are, of course, less durable than higher-quality and more expensive cubes, and buying budget will always increase your chance of something going wrong at some point down the line.
Also, when something does go wrong with a budget cube, you're most likely going to be out of luck in terms of warranty or repairs. While some of the higher-end brands—like Peak Design or GORUCK—will offer lifetime warranties or handle repairs for you, chances are you won't find any of that with budget cubes.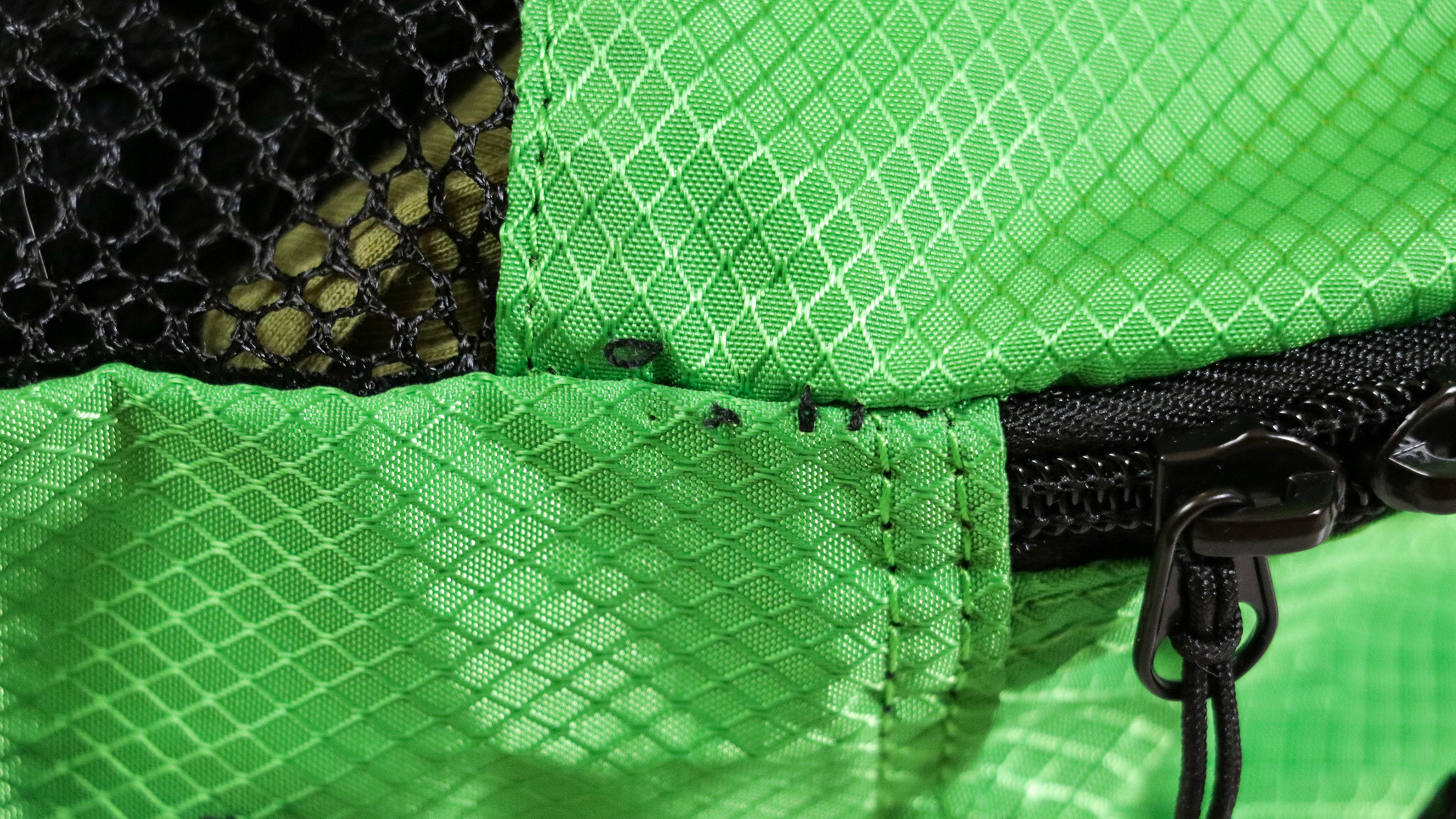 We'd recommend treating budget cubes with a bit of care, as they may not be able to handle everything you throw at them. The craftsmanship may not always be impeccable, and stitching may start to loosen if you continuously fill these things to the brim.
Packability
The majority of budget packing cubes for travel are surprisingly easy to stack on one another inside your bag. This is because they tend to be a basic rectangular cube shape that holds its form and structure well.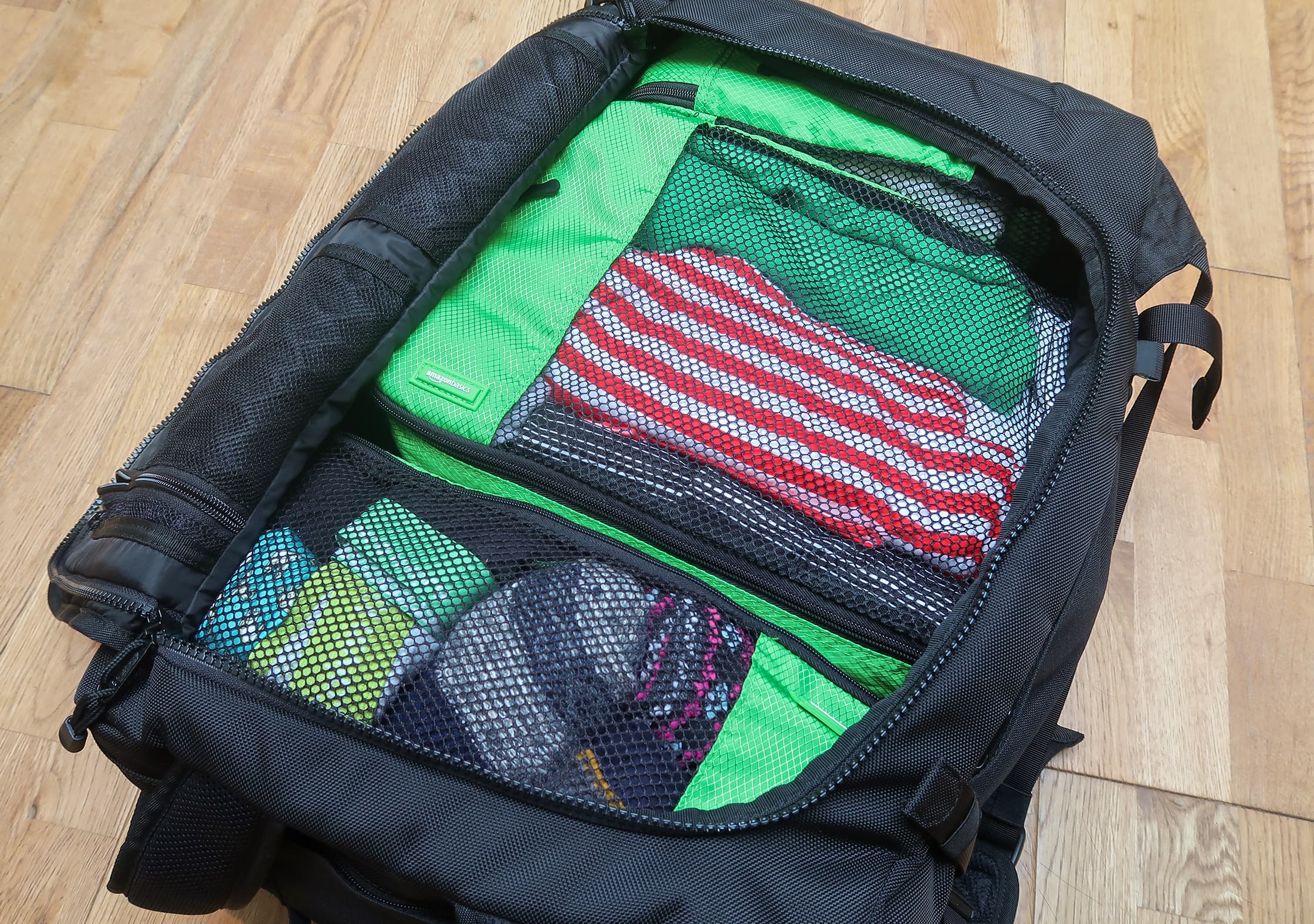 On the other hand, they will take up more space inside your pack than compression cubes, and they will be heavier than ultralight cubes. This is the trade-off for cheaper cubes, and it's a decision you'll have to make depending on your situation. If you're looking to save as much space inside your pack as possible, then it may be worth spending a bit more on ultralight or compression packing cubes.
Recommendations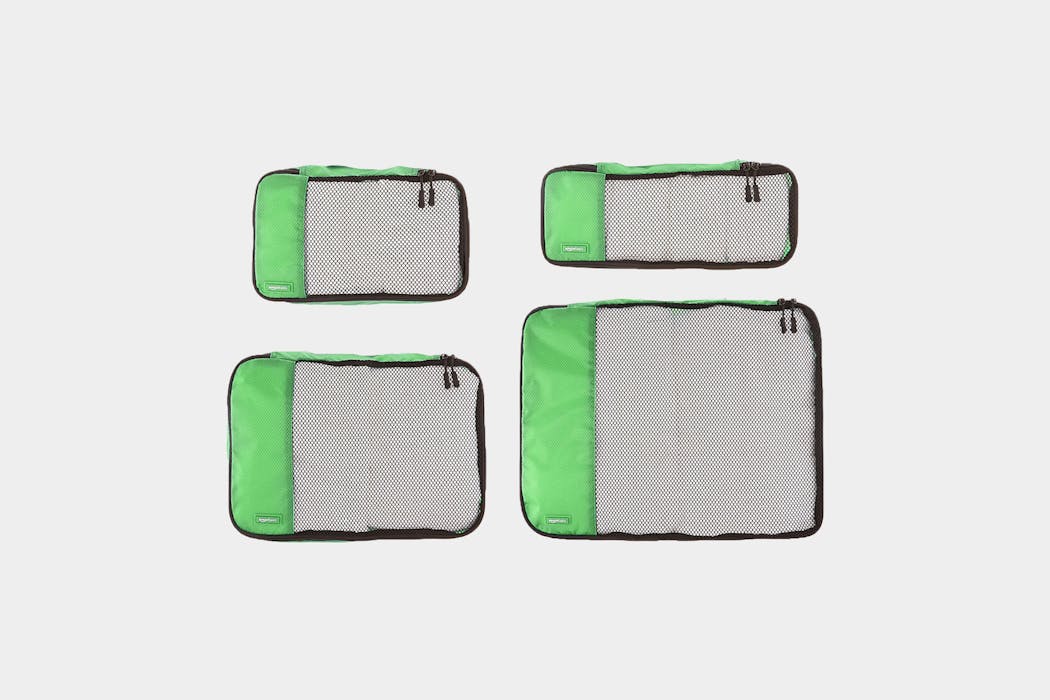 Amazon Basics
Packing Cube Set
These cubes are a tad bulky and they're not great at compressing your clothes. But we've tested them for over a year of perpetual travel and they're still going strong! That's some awesome durability for a set of budget cubes. Plus, they're rocking ripstop technology too.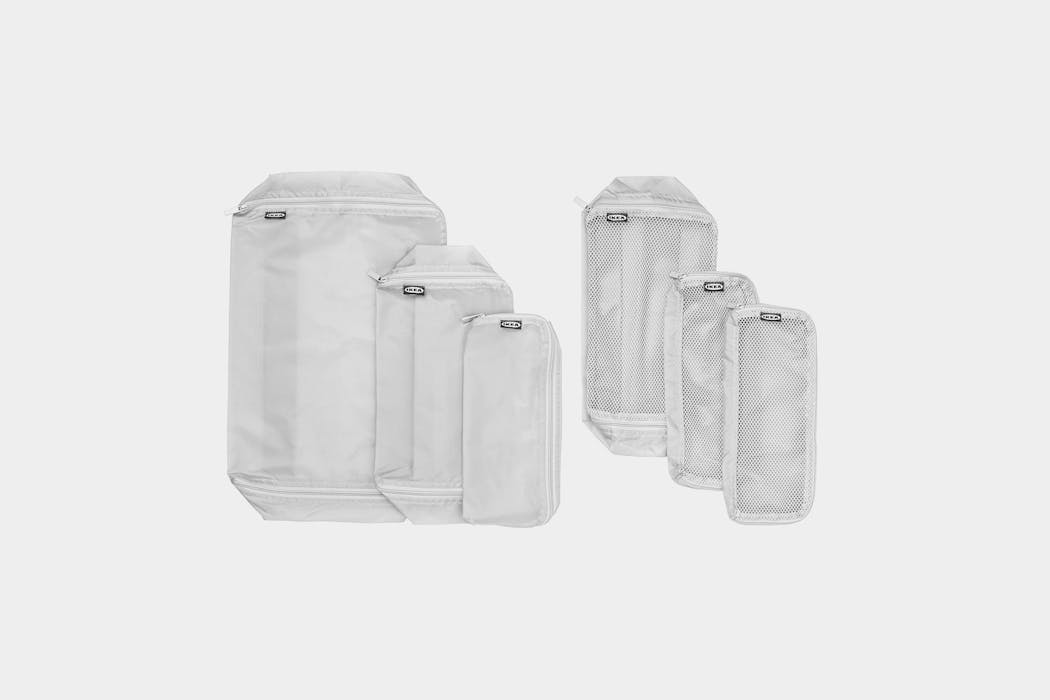 IKEA
FORFINA Packing Cubes
This set of packing cubes is one of the cheapest we've come across. While they're 100% polyester and don't have ripstop or branded zippers, they are ideal for anyone looking to spend as little as possible.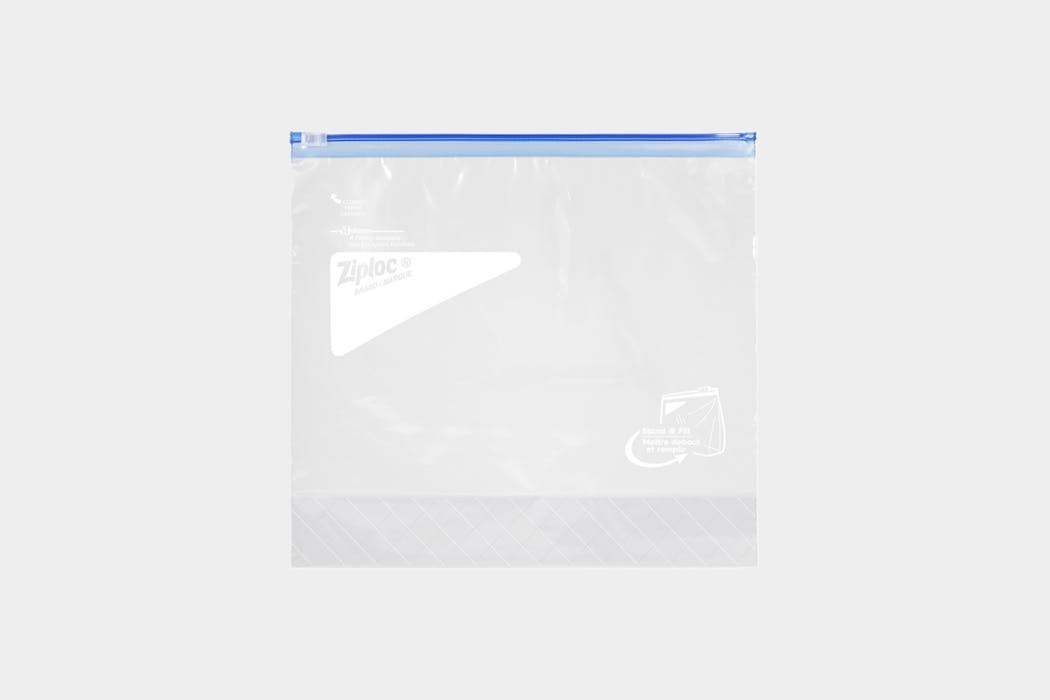 Ziploc
Quart Sized Bag
We're getting pretty budget now. You don't even have to buy specific packing cubes if you don't want to, as you'll likely have a Ziploc or plastic grocery bag laying around the house already. While we would advise packing cubes, these can work if you're in a pinch.
Budget Packing Cube Pros
Cheap
Seriously, they're really cheap
Readily available
Budget Packing Cube Cons
They can take up more room inside your pack
Craftsmanship can be sloppy
Not the most durable
05

Specialist
Looking for something special?
Why Specialist Packing Cubes?
While we've already covered the best packing cubes for most situations, there is a chance you may need something more unique for your use-case. Thankfully, there are a few brands that manufacture specialist packing cubes to fill specific niches in the market.
Padded Packing Cubes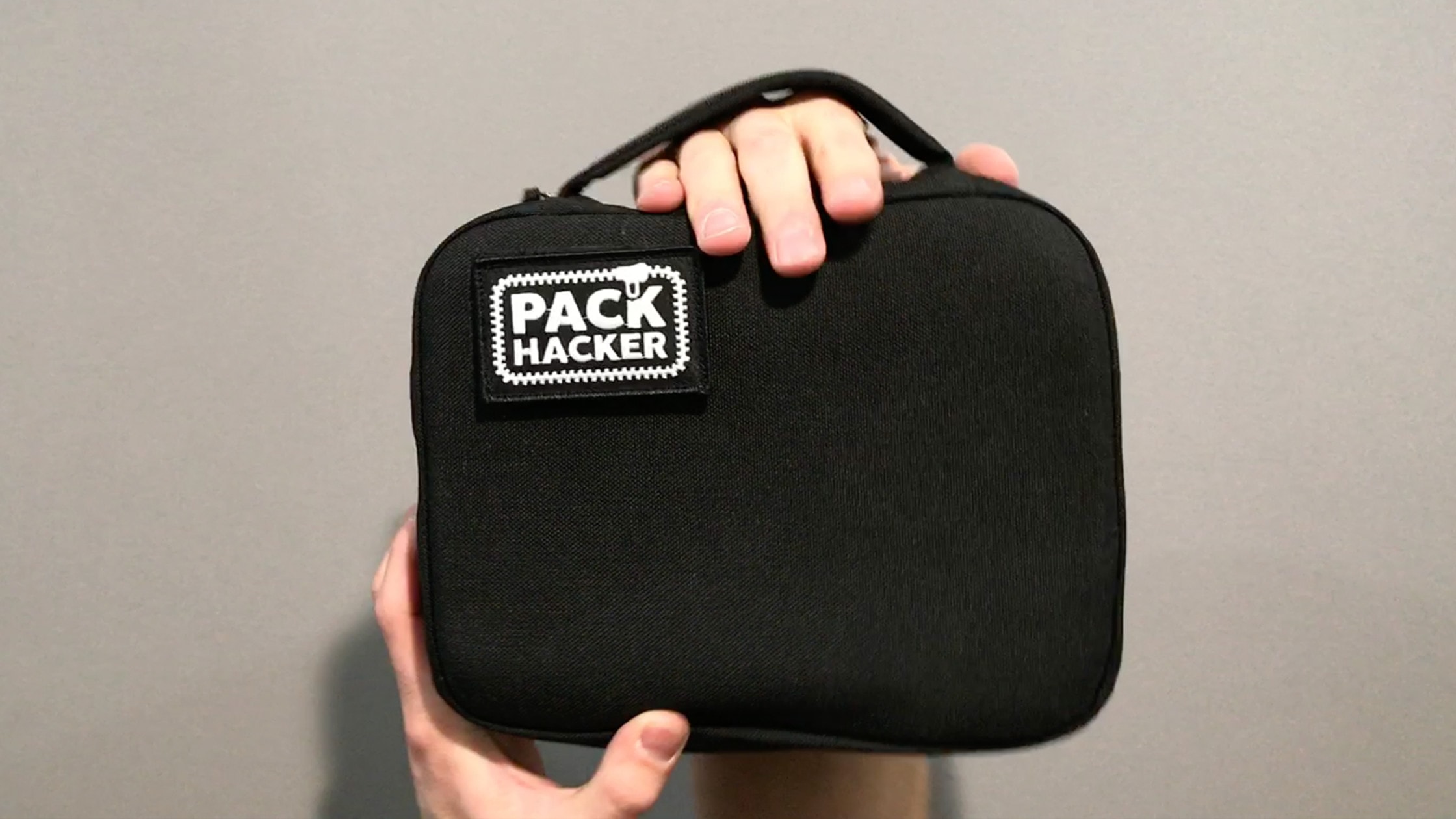 Padded packing cubes are like every other cube on the market, just padded for further protection. While you don't necessarily need added protection for your clothes, these cubes do have a unique set of benefits that could come in handy depending on your use-case.
Versatility: A padded packing cube can be used solely for clothes, but because of the padding, you can also use it for your tech gear too. If you're in a pinch, you could even put a combination of both inside, like t-shirts and a travel camera.

There are even some padded packing cubes that feature MOLLE/PALS, a modular system that enables you to attach items to a backpack. For instance, you could attach a padded packing cube to the outside of your pack for quick access or because the inside is full. While this won't be beneficial to everyone, the versatility is pretty rad.
JUST A NOTE: If you plan on using a MOLLE/PALS attachment, make sure you pick up a backpack that has it too.
Structure: A padded packing cube is more structured than others on the market, which can be beneficial for a couple of reasons. First, they are easy to stack inside your pack, and it's easy to utilize all available space when the main compartment of your backpack is rectangular. And clothes are least-likely to crease inside of a padded packing cube, because of the structure inside and padding on the exterior.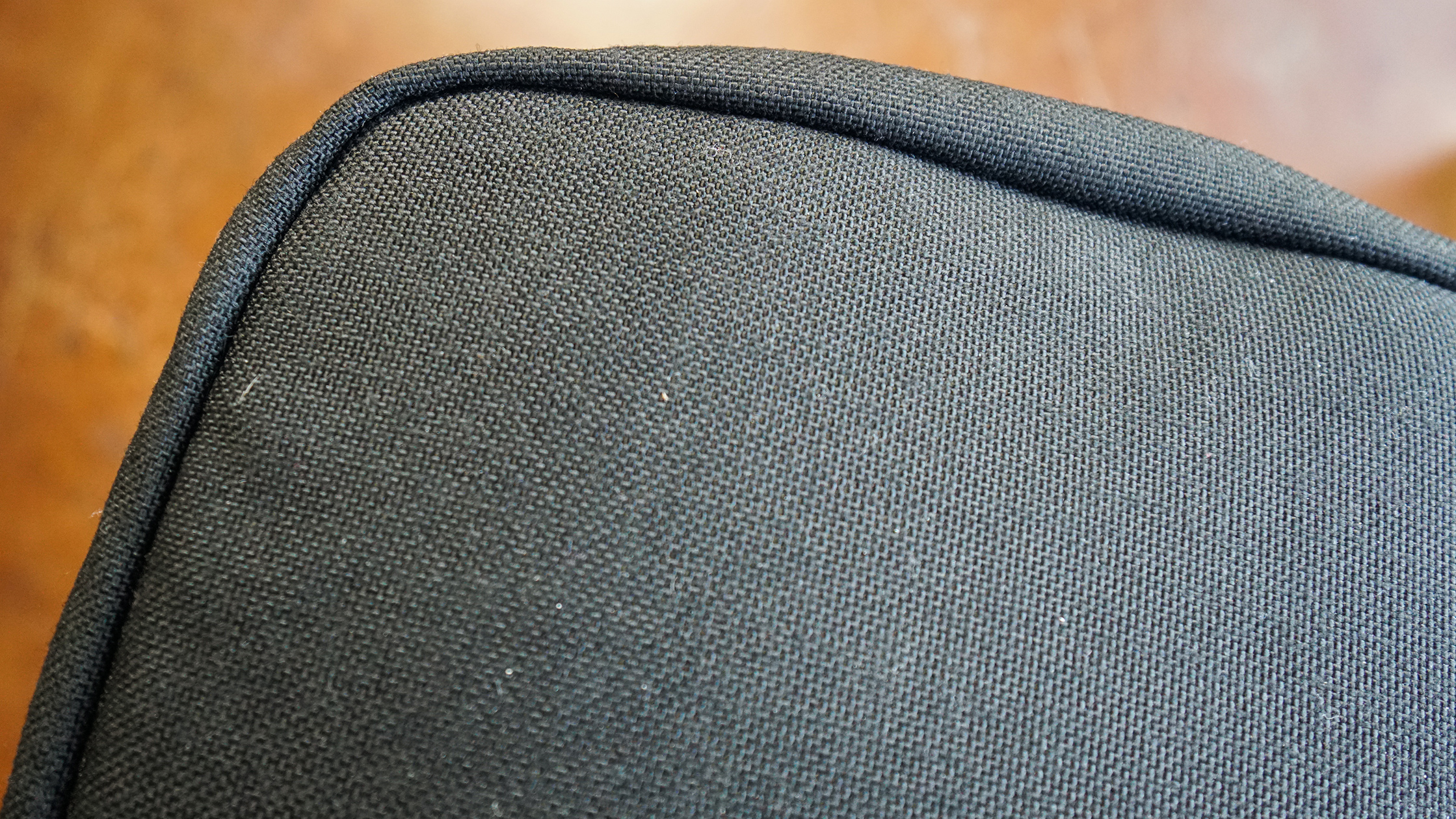 Durability: These are some of the most durable packing cubes you can buy. This is because they're usually made from high-quality materials and high denier fabrics, similar to what you'd find on an actual backpack. If you're all about durability and want your gear to last a lifetime, these could be the best packing cubes for you.
This all sounds great! BUT, there are a few significant trade-offs you'll have to make.
Weight: Padded packing cubes weigh a fair bit more than others on the market, especially ultralight cubes. Because of this, it may not be a good idea to fill your pack up exclusively with padded cubes, but one or two are worth considering if they make sense for your use-case.
Size: Because they are padded, these cubes take up a lot more room than necessary. If space is at a premium and you're solely picking up cubes to save space inside your pack, padded packing cubes may not be the best option for you.
Cost: The price of padded packing cubes can really creep up, and these certainly aren't the most cost-effective on the market if you're working on a budget.
Recommendations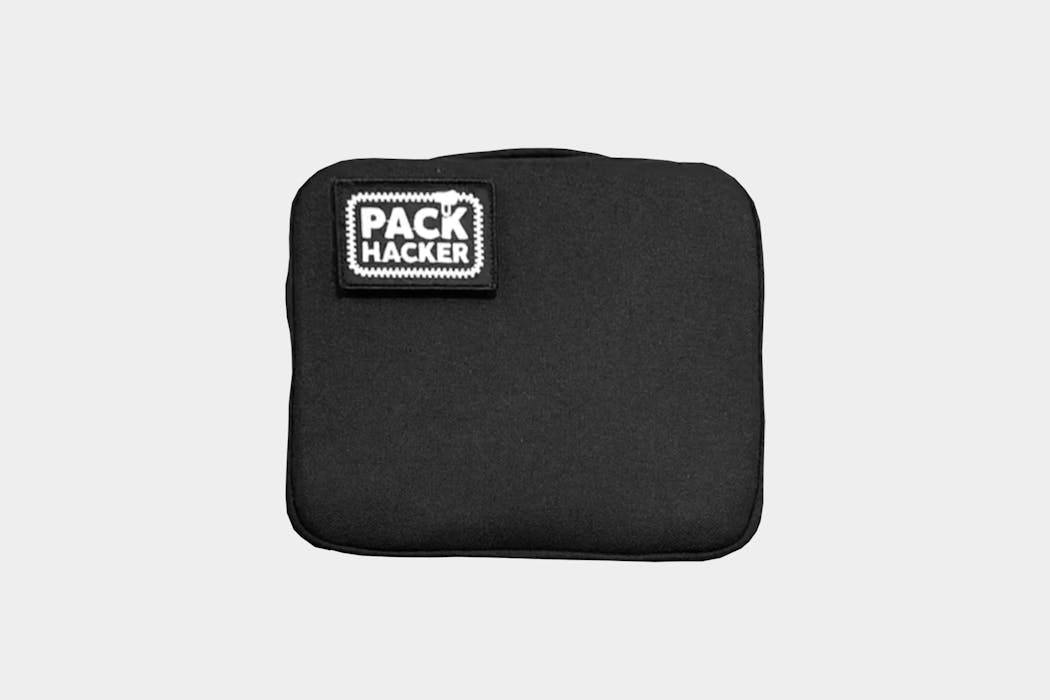 GORUCK
GR2 Field Pocket
The GORUCK GR2 Field Pocket is one of the most durable packing cubes on the market. It's handmade in the USA with 1000D CORDURA® Nylon and it comes with a lifetime warranty. There's also MOLLE so you can attach it to the inside, or outside, of a compatible backpack.
Padded Packing Cube Pros
Versatile and can be used to store more than just clothes
Structured and easy to stack on one another
Incredibly durable
Padded Packing Cube Cons
Can be expensive
Adds a lot of bulk inside your pack
Heavy and will increase the weight of your bag
Weather Resistant Packing Cubes
If you're traveling somewhere prone to a downpour, or you like to buy over-spec gear for all potential scenarios, you could consider weather-resistant packing cubes for travel. While not overly common because most people just don't need them, they can be found, albeit with varying degrees of weather resistance.
JUST A NOTE: Be very cautious when a company refers to their packing cubes as "waterproof." We've come across "waterproof" packing cubes even though they're made from mesh… which obviously isn't weather resistant at all, let alone fully waterproof!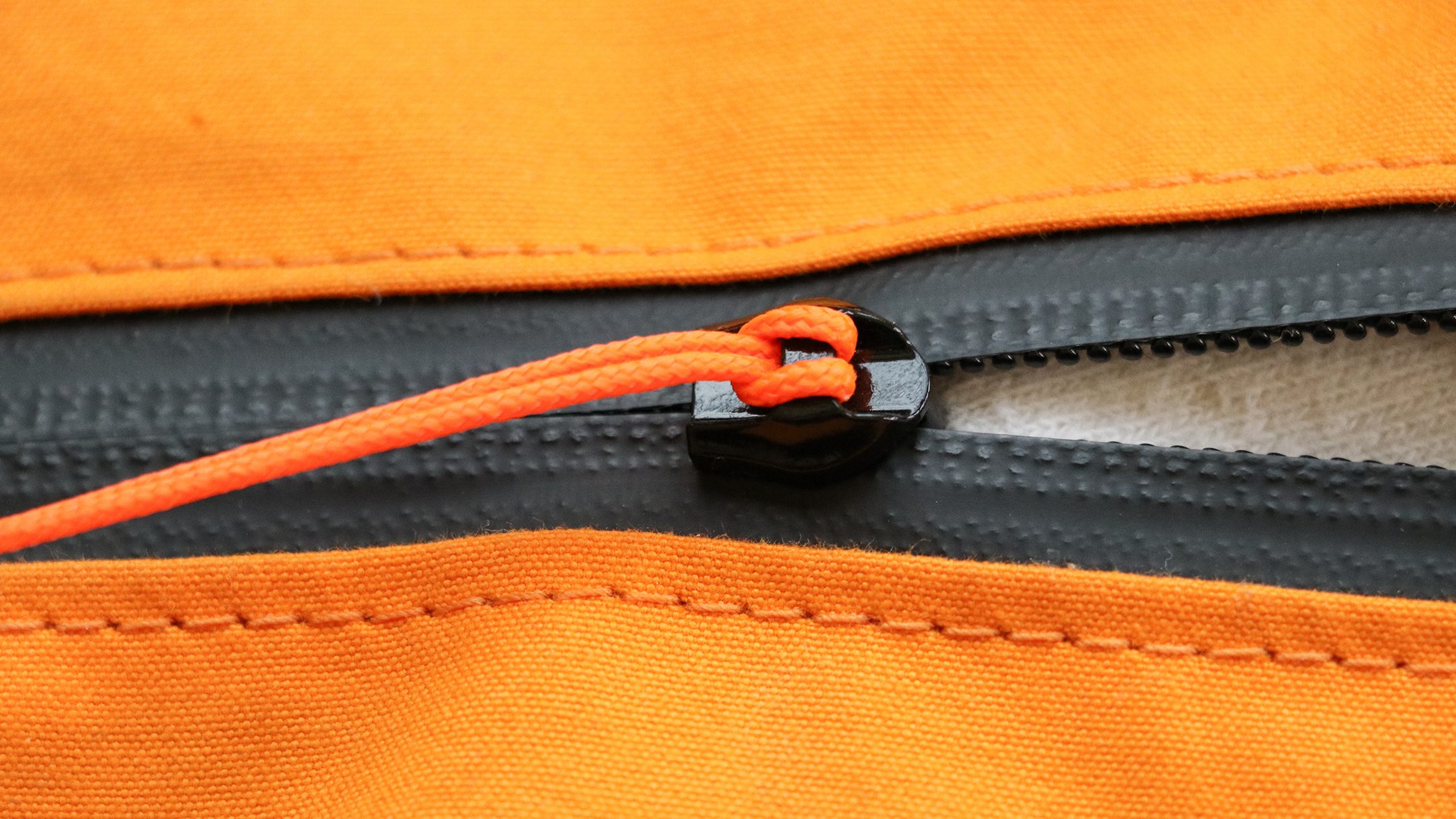 For a packing cube to be considered weather resistant, the material and zippers must be resistant to water. We say this because the latter is so often forgotten. It's all well and good having a material that won't let water through, but if the zippers offer no protection, water is going to get inside anyway.
PRO TIP:
If, for whatever reason, you need a 100% waterproofed compartment for your clothes, you could consider a dry bag, like the
Sea To Summit Lightweight Dry Sack
. They aren't technically packing cubes, but they can work in the same way. While a dry bag will take up more room inside your pack and its shape isn't ideal for packing in a bag, it will keep your clothes dry no matter what.
However, weather-resistant materials and zippers don't come cheap, so expect to pay a fair bit more for these cubes. And you'll have to ask yourself, "do you really need weather resistant cubes?" Probably not.
Recommendations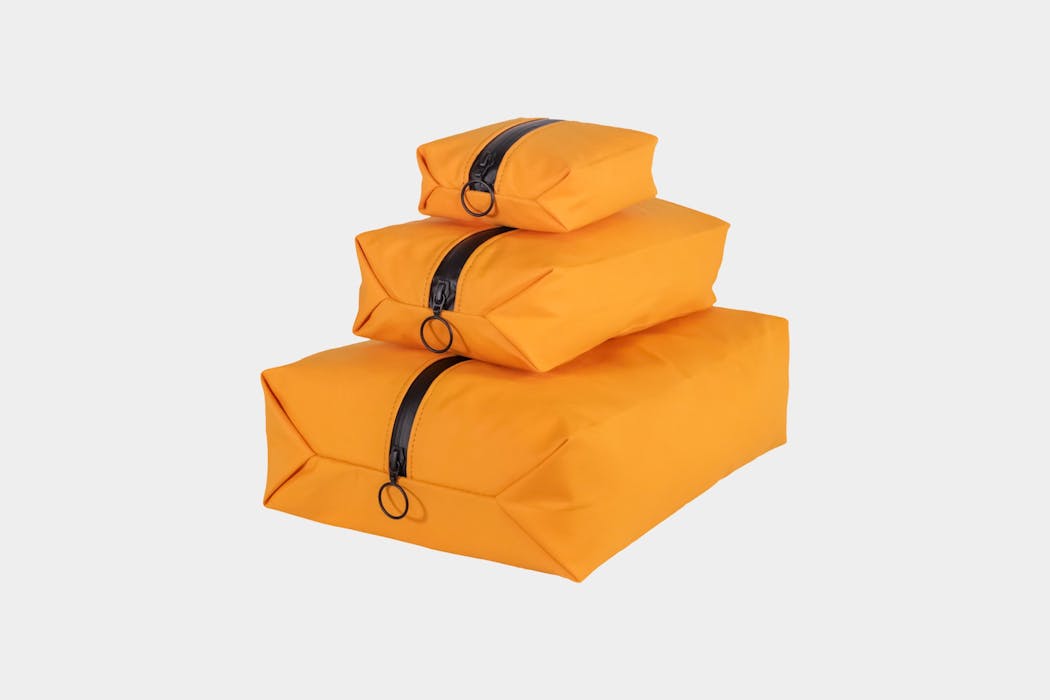 Trakke
Foulden Packing Cubes
Some of the most weather resistant cubes we've across. They're made from a dry-finish waxed canvas that won't let any water through, and the #5 YKK AquaGuard® zipper is the perfect finishing touch. Plus, they're bright orange so they're easy to see inside your pack.

Nite Ize
RunOff Waterproof Packing Cubes
If your travels involve a lot of water, you'll love these packing cubes since they're waterproof with RF-welded seams and a toothless waterproof zipper. We're huge fans of the toothless design, and they compress your clothing to help you save space. The sticky zipper and required maintenance make them best suited for those who really need waterproof packing cubes.
Weather Resistant Packing Cube Pros
Highly weather resistant
Tend to be durable and well-made
Weather Resistant Packing Cube Cons
You probably don't need weather resistant packing cubes
Can be pricier than other packing cubes
Integrated Packing Cubes
Some brands will make packing cubes to fit and integrate specifically within their own backpacks. Plus, sometimes it's just nice (and aesthetically pleasing) to have all your gear match.
JUST A NOTE: While integrated packing cubes are certainly worth checking out if your backpack brand offers them, they may not always be the best packing cube for your use-case. Make sure to do your research first, and don't buy them just because they were made for your backpack.
Here are a few of our favorite brands that make integrated packing cubes;
Peak Design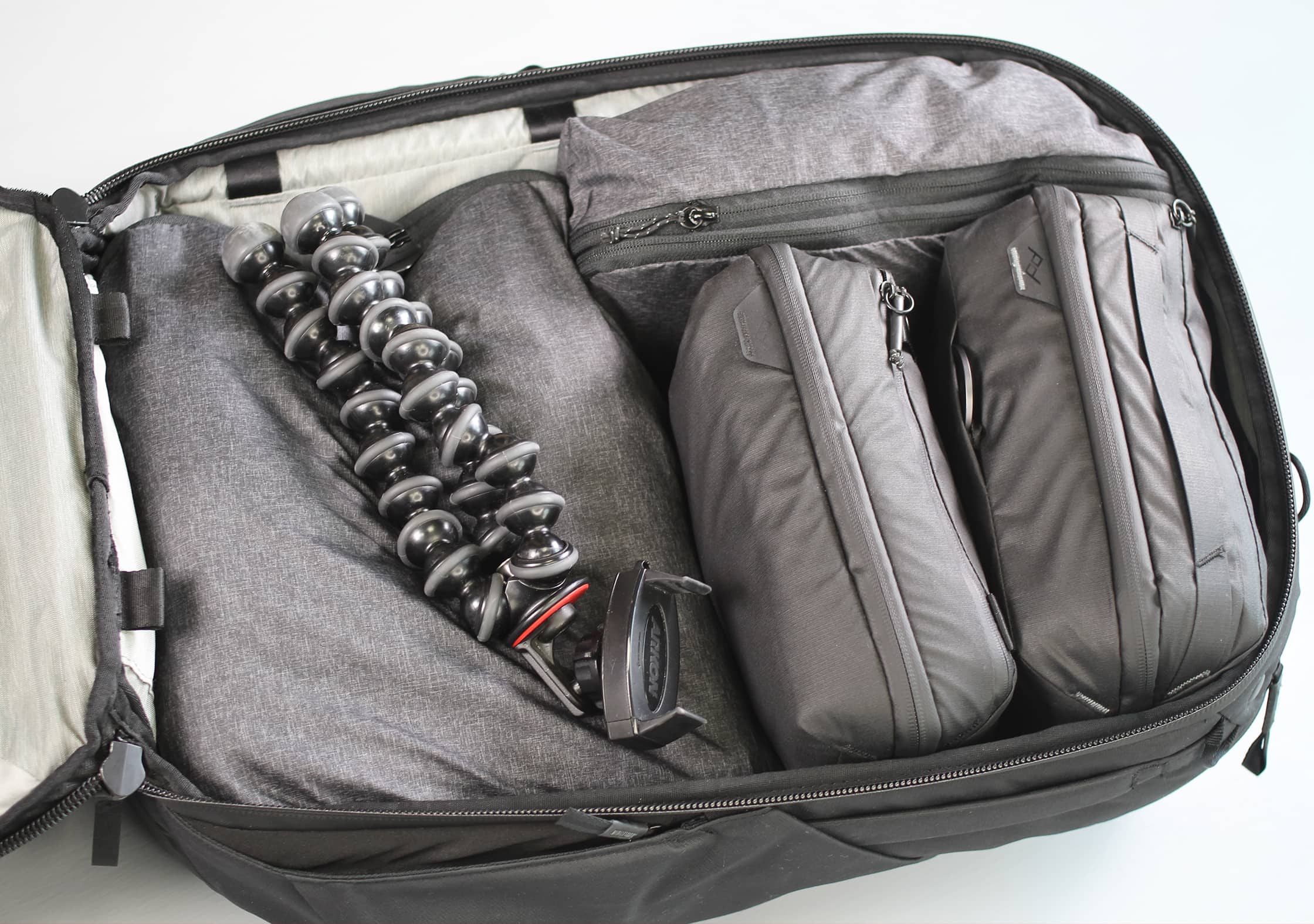 The Peak Design Packing Cubes are made specifically for the Peak Design Travel Backpack. While they're only available in two sizes, they are compressible and feature a neat self-healing 70D Nylon and polyester blend material.
Tom Bihn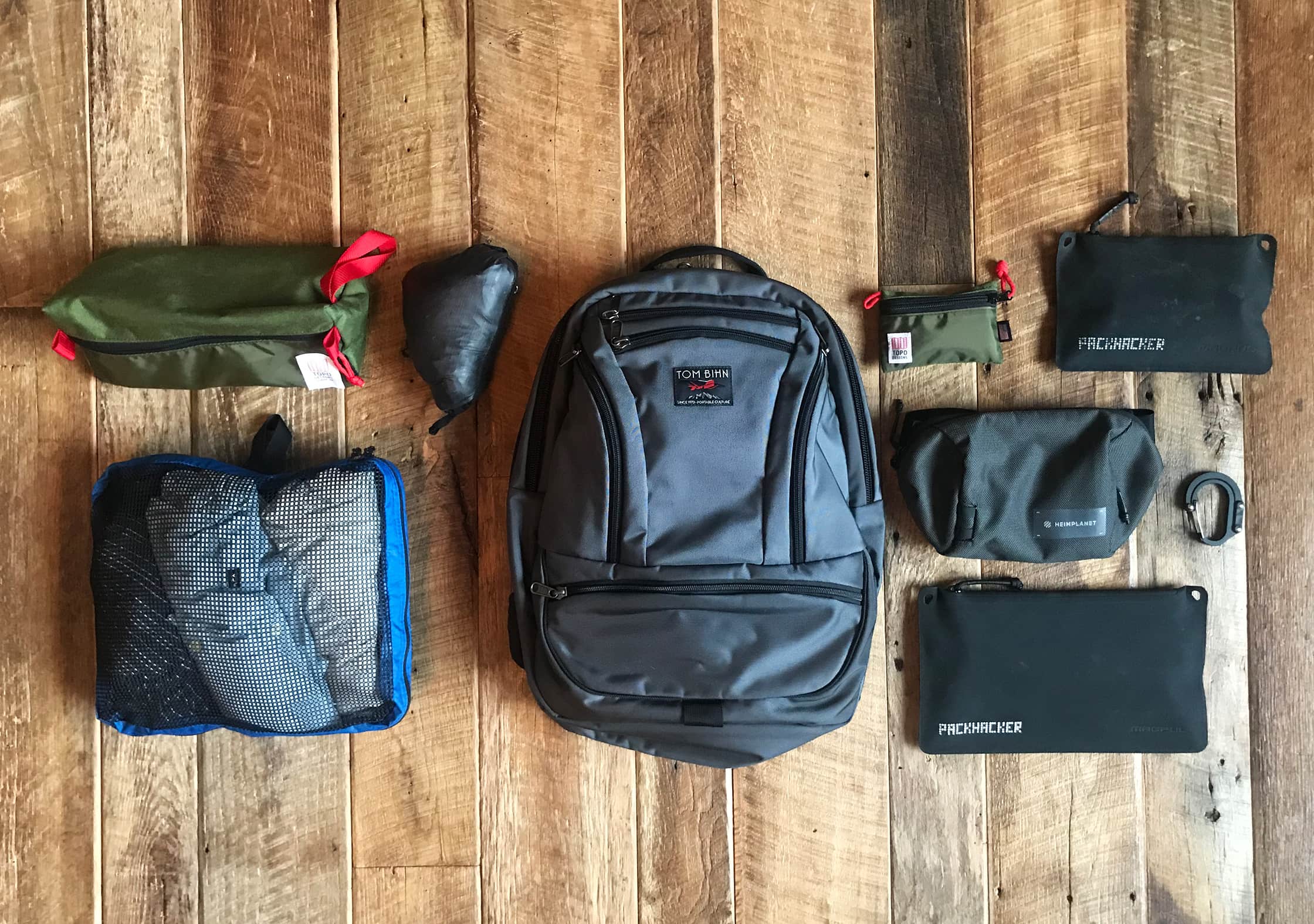 Tom Bihn make a wide range of packing tools that integrate perfectly with their backpacks. And we're digging the Tom Bihn Packing Cube Backpack that's designed specifically for the Tom Bihn Aeronaut 45. You can use this thing as a large packing cube for travel and take it out to use as a daypack when you're at your destination.
Tortuga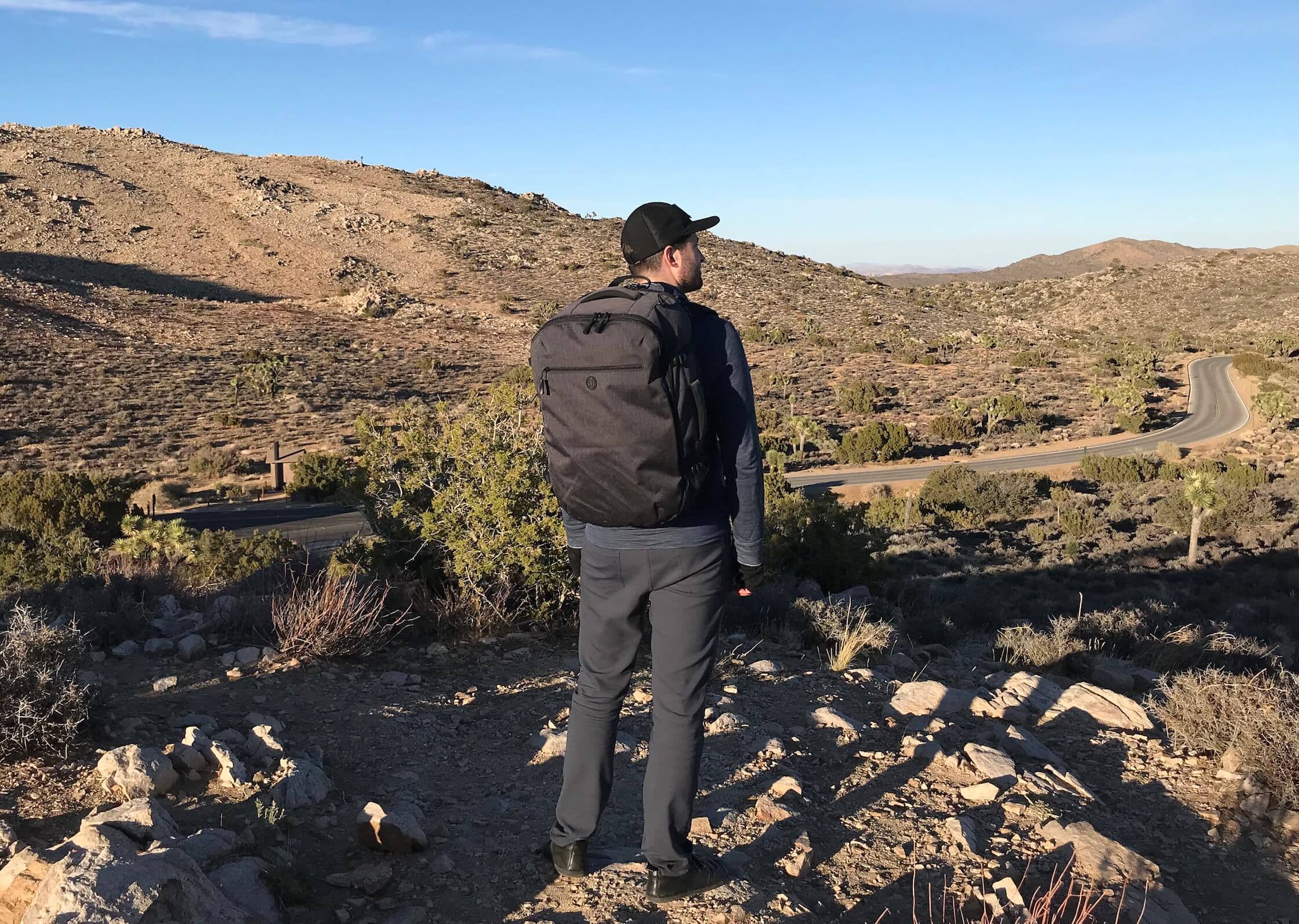 The Tortuga Setout Packing Cubes come as a set of three and the curved corners utilize all the space in the Tortuga Setout Backpack perfectly. They're not the sleekest packing cubes available, but the 900D Polyester is plenty durable, and the mesh top makes identifying what's inside nice and easy.
Aer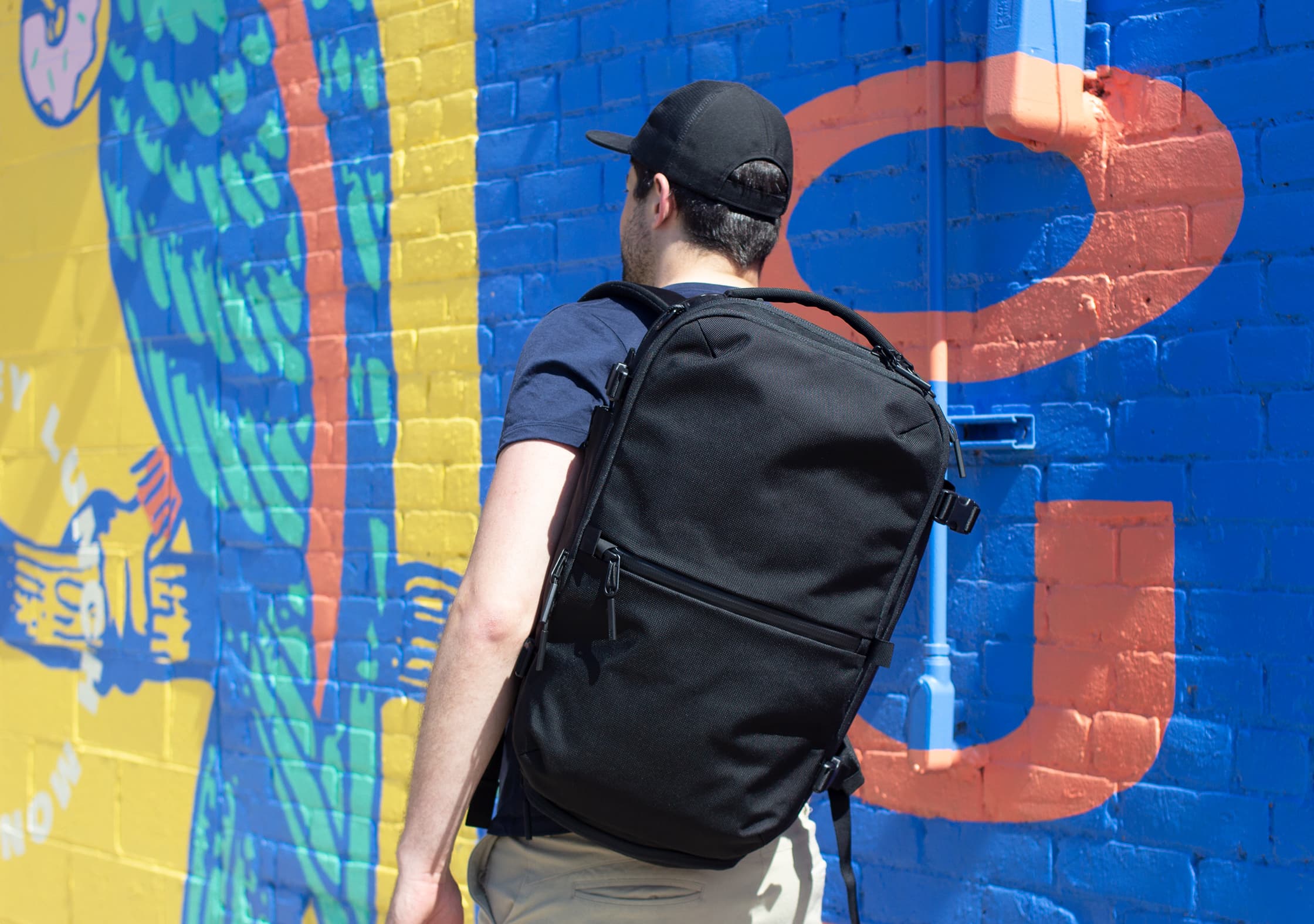 The Aer Packing Cube is a lightweight, durable, and pairs perfectly with the Aer Travel Pack 3, both in size and aesthetics.
Integrated Packing Cube Pros
Will fit your compartment perfectly
You can save money if they're sold in a bundle with the pack
Integrated Packing Cube Cons
They may not always be the best packing cubes for you
They may not be as interchangeable as other packing cubes
Luxury Packing Cubes
If you're a fashionista looking to make a statement regardless of where you are in the world, luxury packing cubes from high-end fashion brands should be calling your name. While we can't guarantee these will be the most functional, space-saving, or versatile cubes on the market, if you want to blow your pay check on a Gucci Off The Grid packing cube, then who are we to stop you?
Luxury Packing Cube Pros
Stylish and fashionable
Great way to spend money if you've got too much laying around
Luxury Packing Cube Cons
Expensive
Heavy
The materials may feel nice but they're likely not adventureproof
06

Considerations
Make sure you buy the best packing cube for you
Things To Consider Before You Buy
We've taken you through all the different types of packing cubes, but there's still a fair amount to consider. Let's dive right in.
Zippers
Broken zippers will render your packing cube useless, so it's essential to have one you can rely on. And though they may look alike, zippers can range in quality and durability dramatically. You may not think you need anything special, but zippers on packing cubes can take quite a beating when you're yanking them shut after filling your cube to the brim.

The first thing to consider is the brand—YKK, SBS, Zoom, and Riri are some of the biggest and most reputable. In our opinion, you can't go wrong with Japanese manufacturer YKK. They are well-regarded in the industry for making quality gear and have performed remarkably well in testing, even after years of use. Popular brands such as Patagonia, Eagle Creek, and Osprey use them on just about all of their gear, which should say something.
While we believe YKK to be the best, the Chinese manufacturer SBS has become quite the juggernaut as of late. Overall, SBS zips have performed well for us in testing and we've never had one break, but they're not as solid as we'd like them to be. You'll typically find them on more budget-friendly cubes. The bottom line is, as long as your zippers are from a reputable brand, they should have you covered. But, we'd recommend opting for YKK when you can.
JUST A NOTE: Try to stay away from unbranded zips. If it's not good enough to put their name on, it's not good enough for your packing cube.
It's also important to take the size of the zipper into account, which will range on a scale from one (small) to ten (large). Typically, zipper sizes on packing cubes will range from three to five. A number three will be perfectly fine, but we'd opt for a number five when possible for the added durability. Anything larger than a five may be a tad too cumbersome and simply isn't necessary for most use-cases. That said, we'd strongly recommend staying clear from anything less than a number three for durability reasons.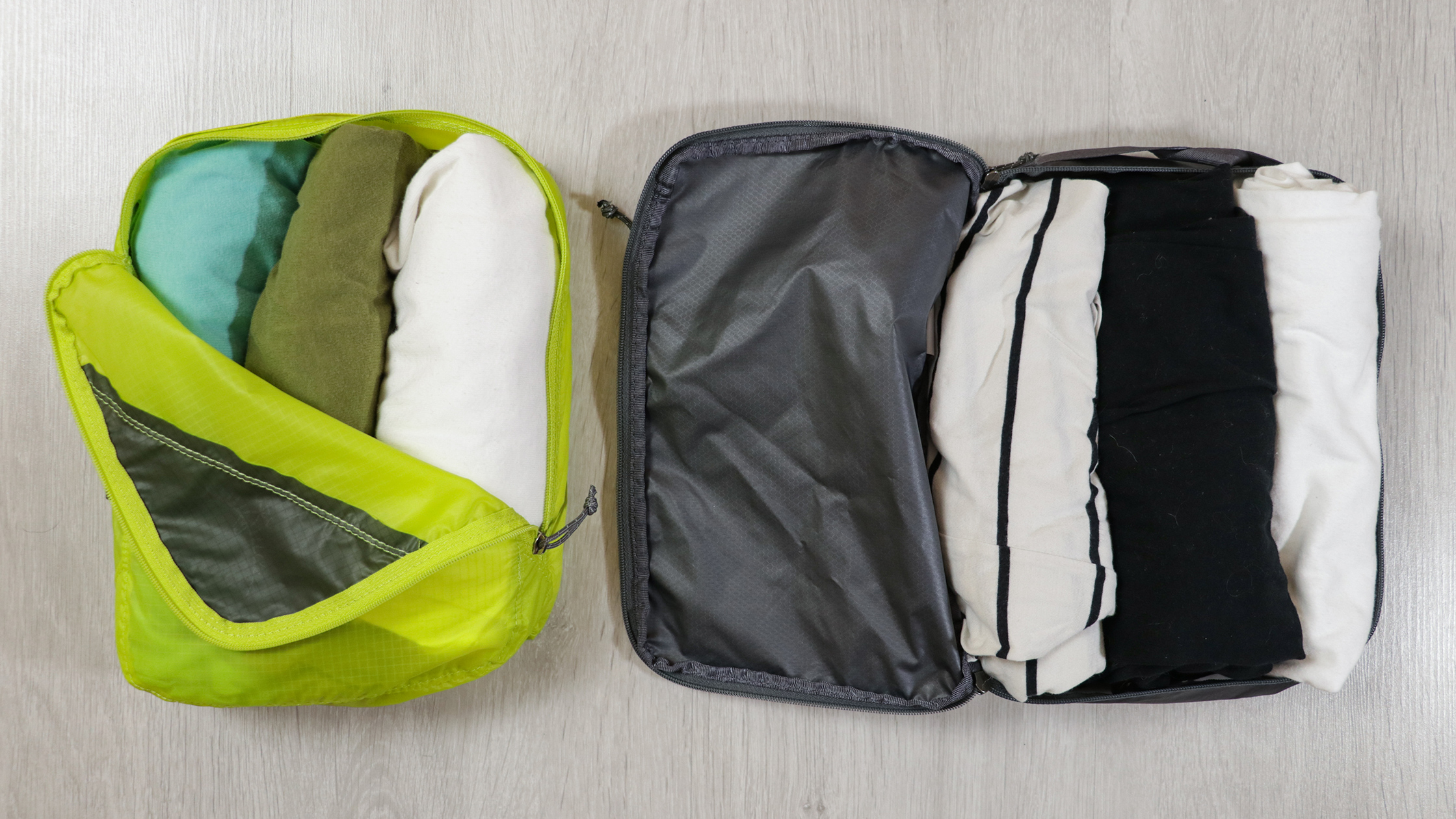 Something else to consider is where the zipper is located on the packing cube and how it opens. Generally, there are two options—a full clamshell-style that opens all the way, and a half opening. A clamshell-style packing cube will give you direct access to the entire cube and enables you to place and position everything neatly—but we have found it can be tricky to zip up if you're filling it to the brim. In contrast, a half opening style cube is a lot easier to cram a load of stuff into and zip up—but if you want to pull something out, you will likely have to take everything else out too.
Both styles have their merits, but we tend to think that since you can simply close the clamshell zipper halfway—to act as a half-opening, making it easier to stuff clothes inside—it takes the cake.

Finally, keep an eye out for zipper pulls and how many zippers a packing cube has. If you fill your cube to the brim, a zipper pull can be helpful to grab hold of and pull shut, but it's by no means necessary. You could also just attach your own if you wanted to. And if possible, we recommend opting for a packing cube with two zippers as opposed to one. This is because if one does break, your packing cube is still functional. We've also found that two zippers make opening and closing the cube a little bit easier, and you can open it from whichever side you'd like, which is great.
Handles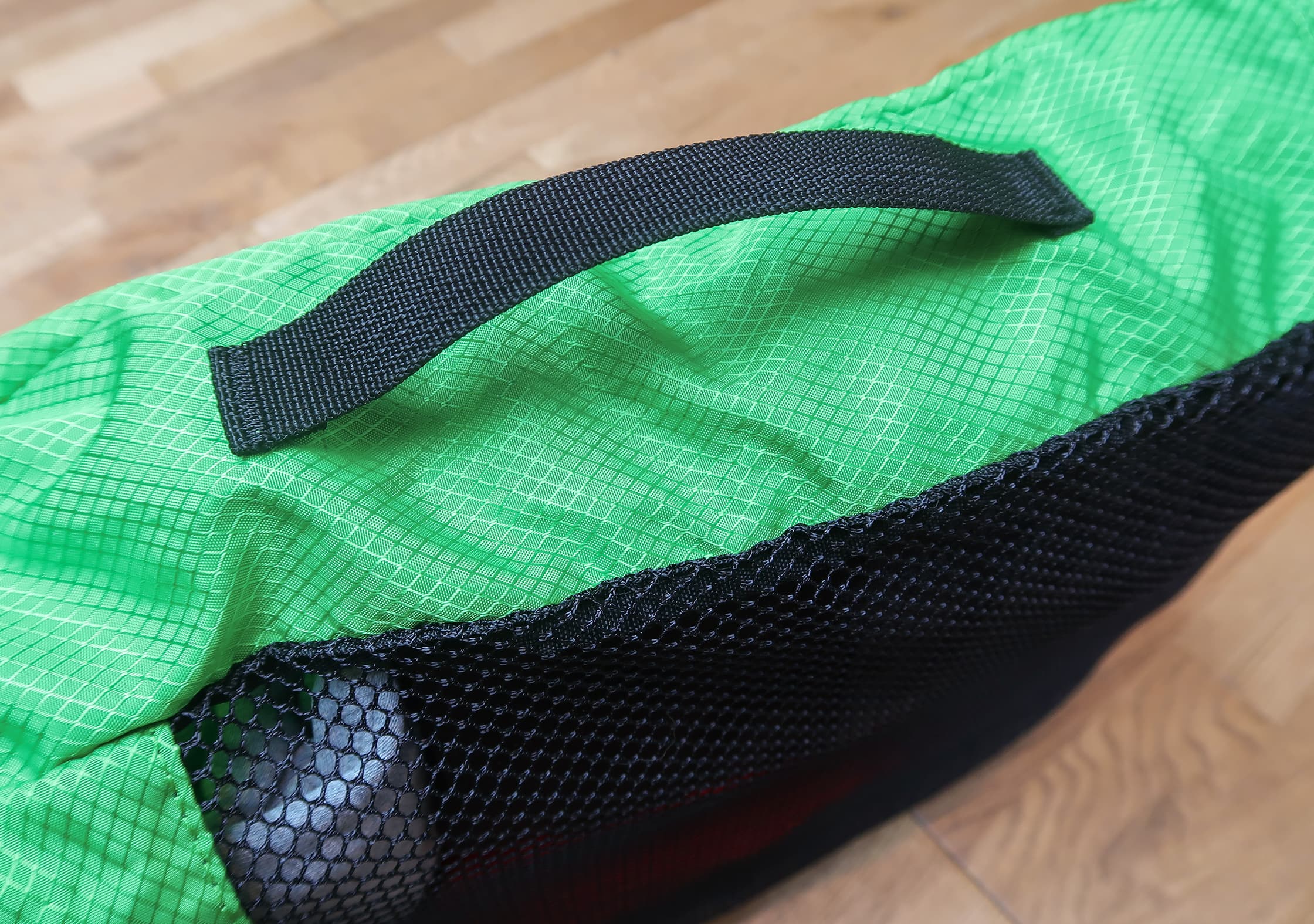 A handle is by no means a vital component on a packing cube—considering they're designed to be placed inside a bag—but most manufacturers do include them. If done right, it's a nice feature that can provide some useful benefits. However, they can also get in the way if they're not implemented well.
Pointing out the obvious, a handle is helpful when grabbing hold of a packing cube. However, we've found that most of the time it's easier to grab the whole cube with your hands. That being said, we have found a handle can be useful when lifting a cube out of a top-loading backpack, specifically. So if you're rocking one of those, you may want to make sure your cube has one.
PRO TIP: If you plan on using the handle to grab the cube from within your bag, be mindful of where it's located, and make sure it's accessible.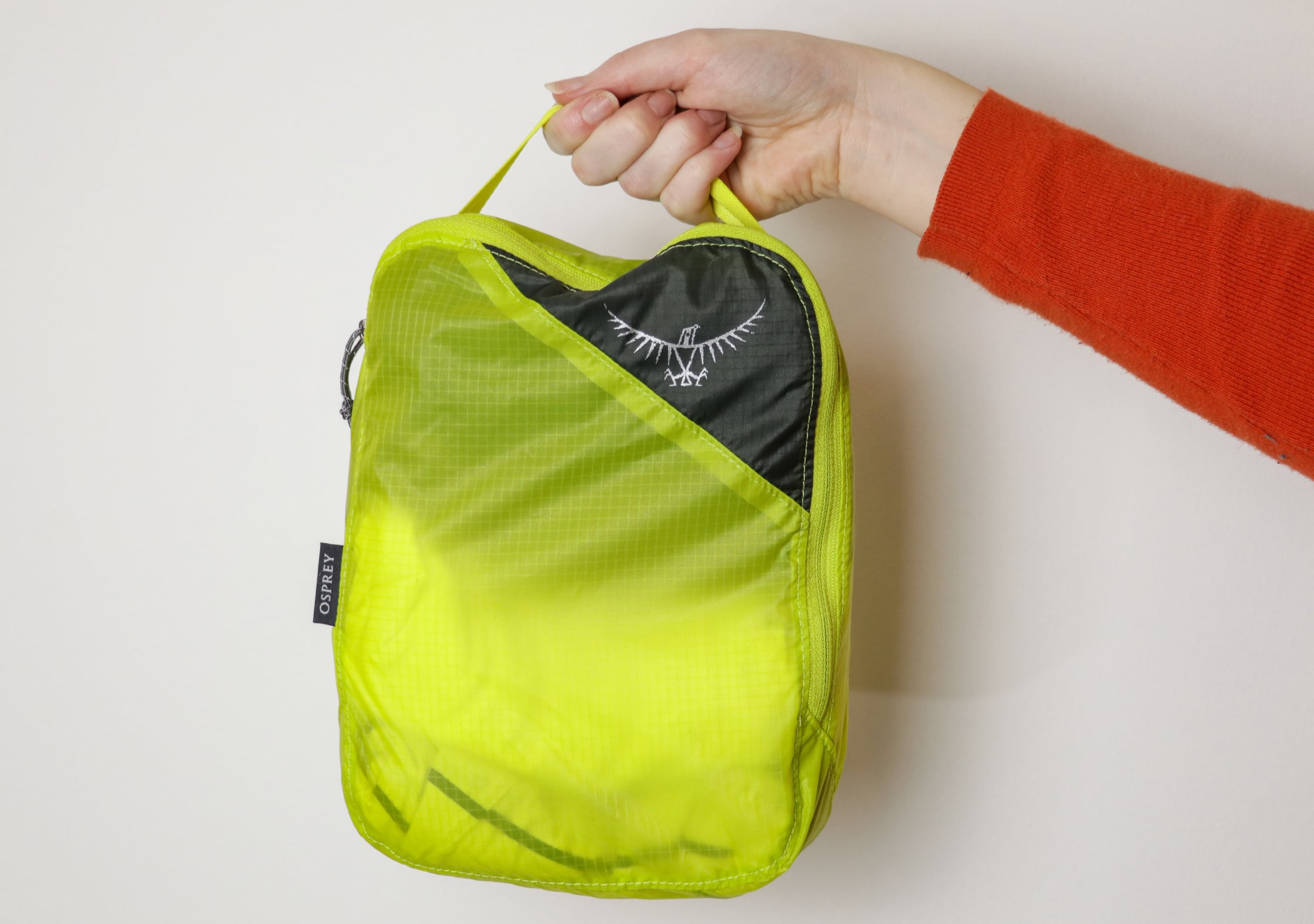 Other than being used to take your cube in and out of your pack, a handle can be utilized to carry your cube around, hang it up, or attach it to the outside of your bag with a carabiner clip. These aren't things we find ourselves doing often, but it's worth bringing up. It could help you out in a pinch.
In testing, we've found handles that sit close to the packing cube to be best, as they don't get in the way when not in use. But remember that a handle isn't essential, and certainly don't discount the cubes that have opted not to include one.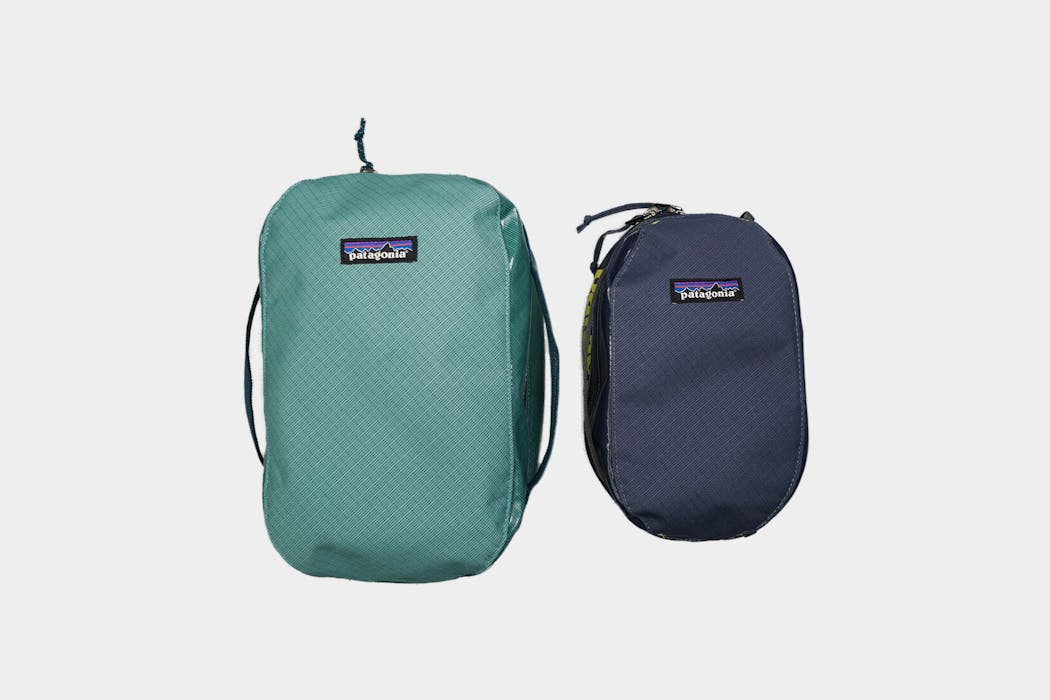 Patagonia
Black Hole Cubes
We're digging the large grab handle on the Patagonia Black Hole Cubes, which is great when pulling the cube out of a fully-loaded pack. It's large enough to grab with gloves on, too!
Pockets & Compartments
The majority of packing cubes are just an empty cube, which is perfectly fine. However, some brands like to think outside the box, and they've brought some nifty ideas to the party.
Internal Organization: Some manufacturers will include a "clean and dirty" cube in their range. This is a packing cube that's split into two compartments designed to keep your clean and dirty clothes separate, which is beneficial for obvious reasons—that is, unless you don't see a problem with your stinky socks touching your clean t-shirt.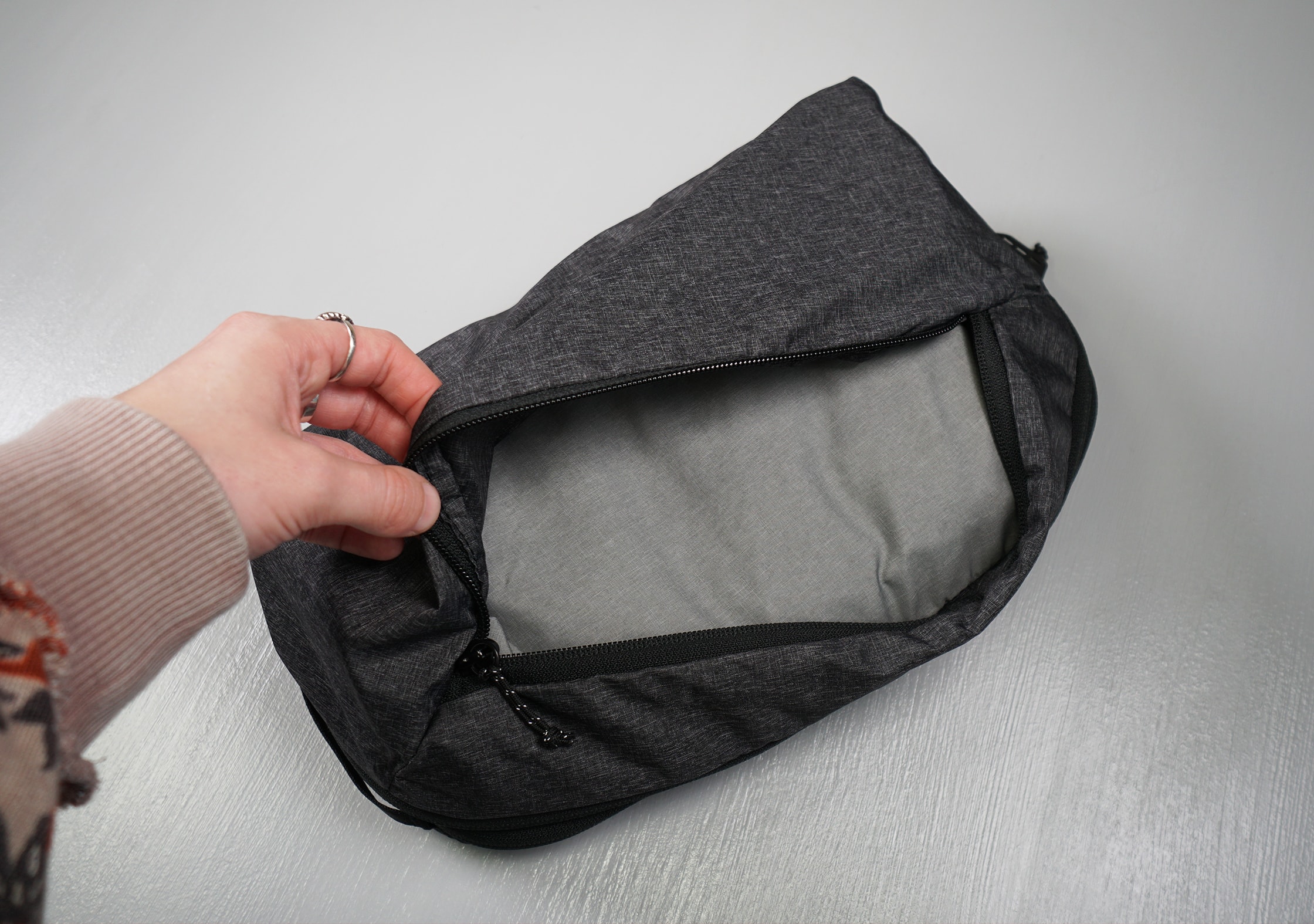 You don't have to use these cubes specifically for this reason, though, and they can come in handy for additional organization. For instance, you can separate your t-shirts and shorts in one cube.
You probably won't need every cube you own to split into two compartments, but picking up one to complement the rest of your set could be a nice touch.
External Pockets: A quick-grab pocket on a one bag travel pack is a vital addition, and it's the perfect place to store your passport, phone, and other essentials you need fast access to. So why not have one on a packing cube? Well, you don't really need one, and you do lose the whole "quick-grab" factor since they're packed away in your bag.
However, if you do come across a cube with one, don't discount it straight away, as they can come in handy. You could use an external pocket on a packing cube to hold some cords or small tech accessories. Maybe you just want to be able to find your lucky underwear at a moment's notice. Who knows. We don't find these pockets terribly useful, but some might.
Destination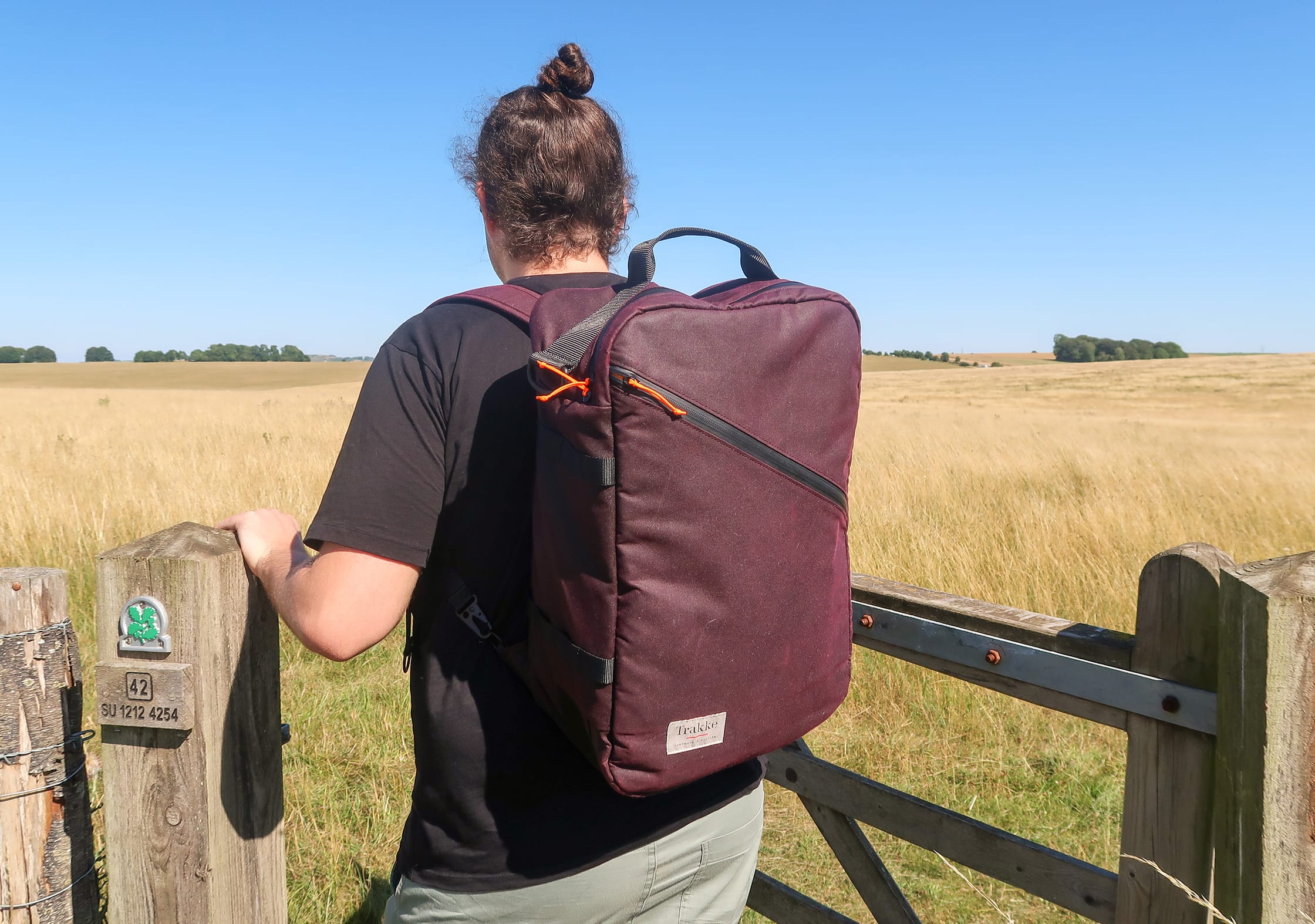 The world is a big place, and choosing the best packing cubes will depend on where you're going and what you're doing. Most packing cubes will be fine for most destinations, but there are some locations where certain styles of packing cubes will be a better choice.
If you plan on spending most of your time wandering along sandy beaches, then mesh packing cubes could be an issue. Sand really does get in everything, and the last thing you want is it mixed up among all your clothes.
If you're traveling to a humid location, like SE Asia, breathable packing cubes are highly recommended. There are some high-tech materials available now, but simple mesh cubes will work too. These will help keep your clothes fresher for longer.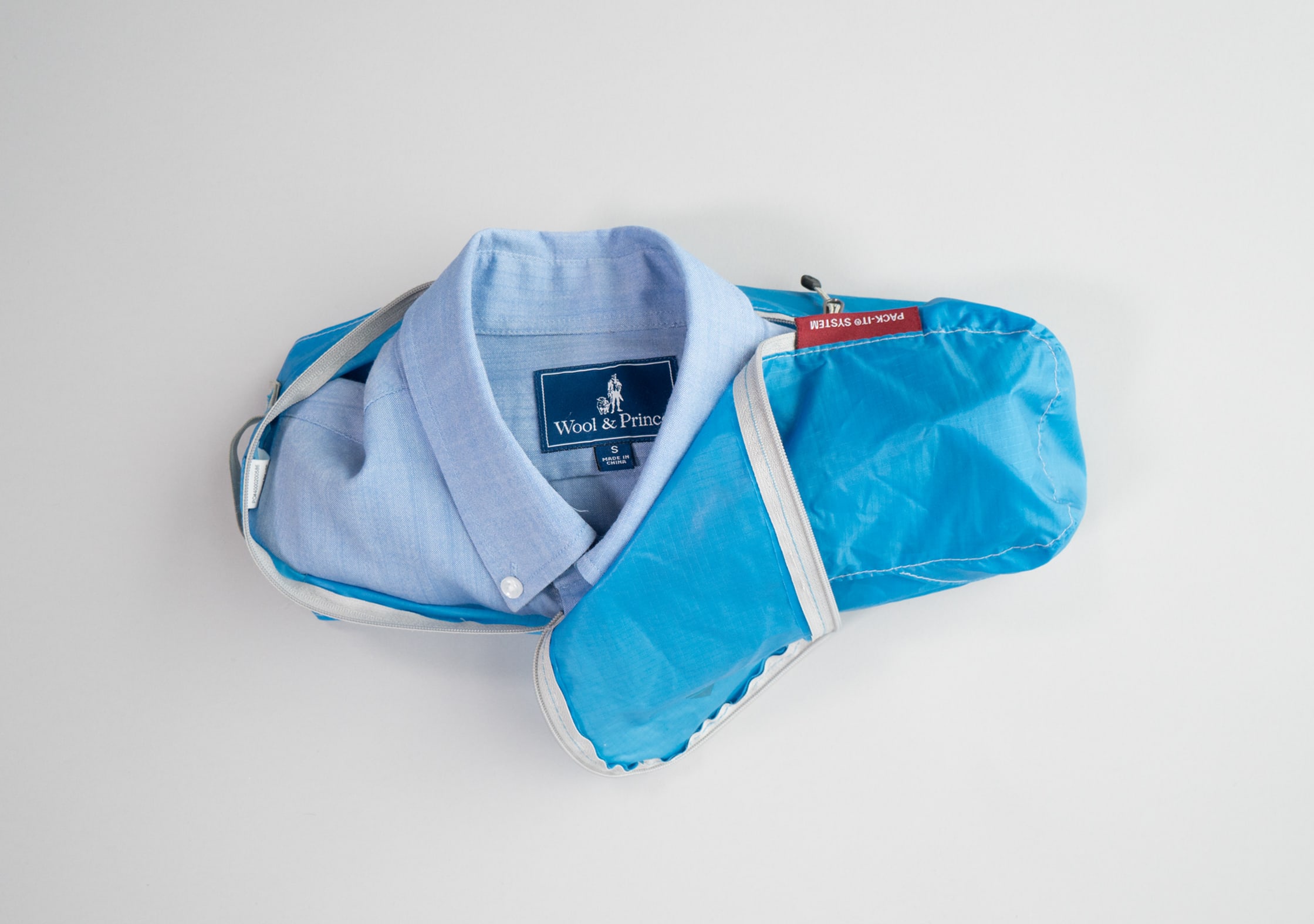 Finally, if you're headed on a business trip, you're not going to want any wrinkles. Cubes with a bit of structure are your best bet here, just make sure to neatly fold your clothes before placing them inside.
Color
We prefer packing cubes that contrast in color to the inside of your backpack. For instance, if your main compartment is black, try to source colorful cubes. And if your main compartment is a bright color, try to find black, gray, or darker colored packing cubes. This is by no means a necessity, but it can make finding and grabbing specific cubes from inside your pack a lot easier.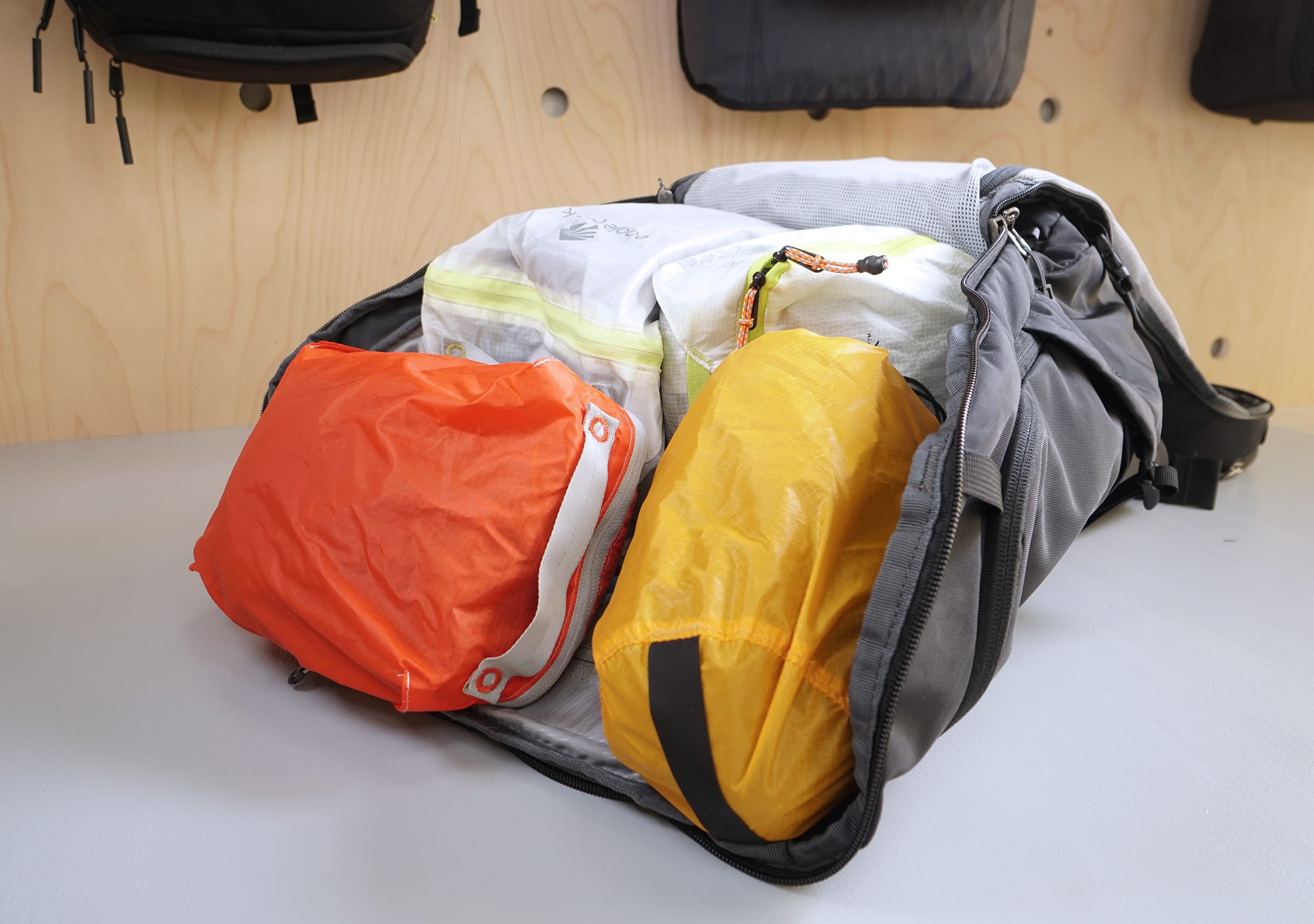 We've also found that having a selection of different colored cubes can help further organize your pack. For instance, you could put all of your warm weather gear inside a blue cube and your cold weather gear inside a red cube. However, most companies tend to sell sets of cubes that are all the same color, and it can be more expensive to purchase them individually in a range of colors.

Away
F.A.R. Organizational Cube
These packing cubes come in four sizes, each in a few bright and saturated colorways, along with black. The nylon pack material is exceptionally lightweight, and the cubes are compressible, too. All four sizes have a handle, a nice inclusion that makes grabbing the cube out of the pack easier.
Sizes
Packing cubes are available in a vast range of sizes, and you'll want to consider how much gear you're taking and what shape your pack is to find the right cubes for you. Most manufacturers will sell a set of their packing cubes that contains a small, medium, and large cube. Using the small for underwear, the medium for t-shirts and shorts, and large for sweaters and pants is a tried and tested method that has worked well for us. But we'd recommend laying all your gear out in front of you in different piles before choosing what size packing cubes to order.
PRO TIP:
Packing cube sizes aren't universal, so one brands small, may be another brands medium. Make sure to check the sizes of each cube before you buy them. If you're really stuck on what size to get,
drop us a line
! We're happy to help.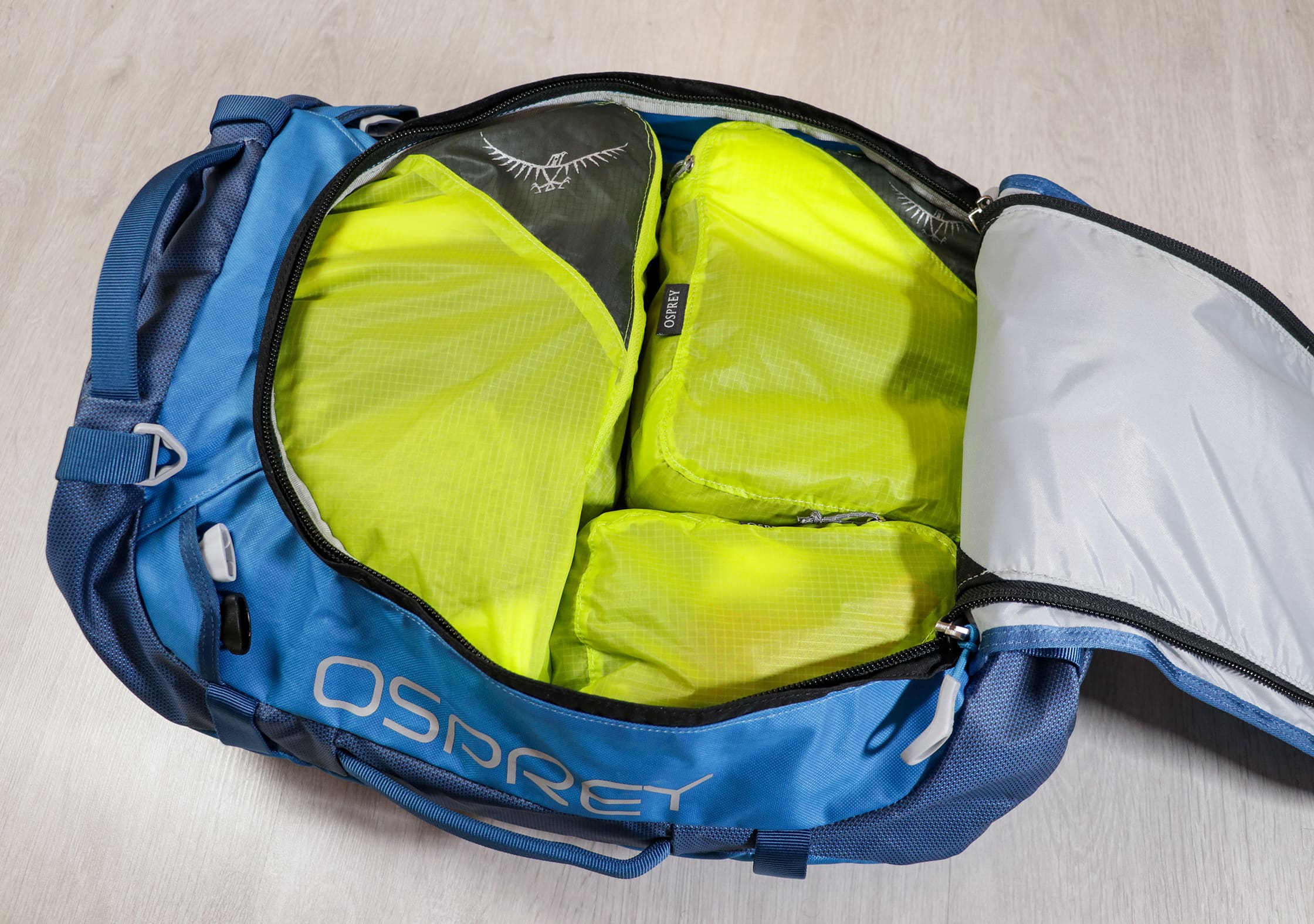 It's also important to consider how much room you have to fill in your pack. The last thing you want is a large packing cube that's wider than the pack itself. We've found multiple smaller cubes—as opposed to one large cube—can help maximize the space inside of just about any pack.
Finally, take note of what shape your backpack is. If it's rectangular, try to find cubes with straight edges. If it's rounded, try to find cubes with curved edges. This will help utilize all the space inside your pack.
Budget
We think the cost of packing cubes are reasonable considering the benefits they bring. Price is always a factor though, and luckily, there are cubes for every budget. It's also important to note that the most expensive ones aren't necessarily the best packing cubes for you.
First, you'll want to consider how much and for how long you're going to need packing cubes. If you're going on a one month trip to Europe, and don't plan on traveling much after, you may not want to splurge on expensive cubes, and that's fine. Whereas if you're planning on perpetually traveling the world, you'll want to consider spending a bit more on top-notch cubes that are built to last.
Warranty
Make sure to check the warranty on your packing cubes, especially if they've set you back a fair amount. Take a look at what it covers—such as craftsmanship defects or general wear and tear—and how long it will cover you for. Even if a brand says they have a "lifetime guarantee," it's worth reading the fine print to see if that is relegated to just manufacturing defects or wear and tear. With brands like Patagonia or GORUCK, we've found their "lifetime guarantee" is actually just that.
A good warranty usually means that a brand stands behind its gear, and you can be assured of its quality and durability. We recommend skimming reviews on product pages to assess a brands warranty, as people who have had a really good or really bad warranty experience are likely to write a review about it.
Finally, be aware of where they will deliver your cube if you do have a successful claim. It's no good getting a replacement delivered to your home address if your cube breaks halfway around the world.
Conclusion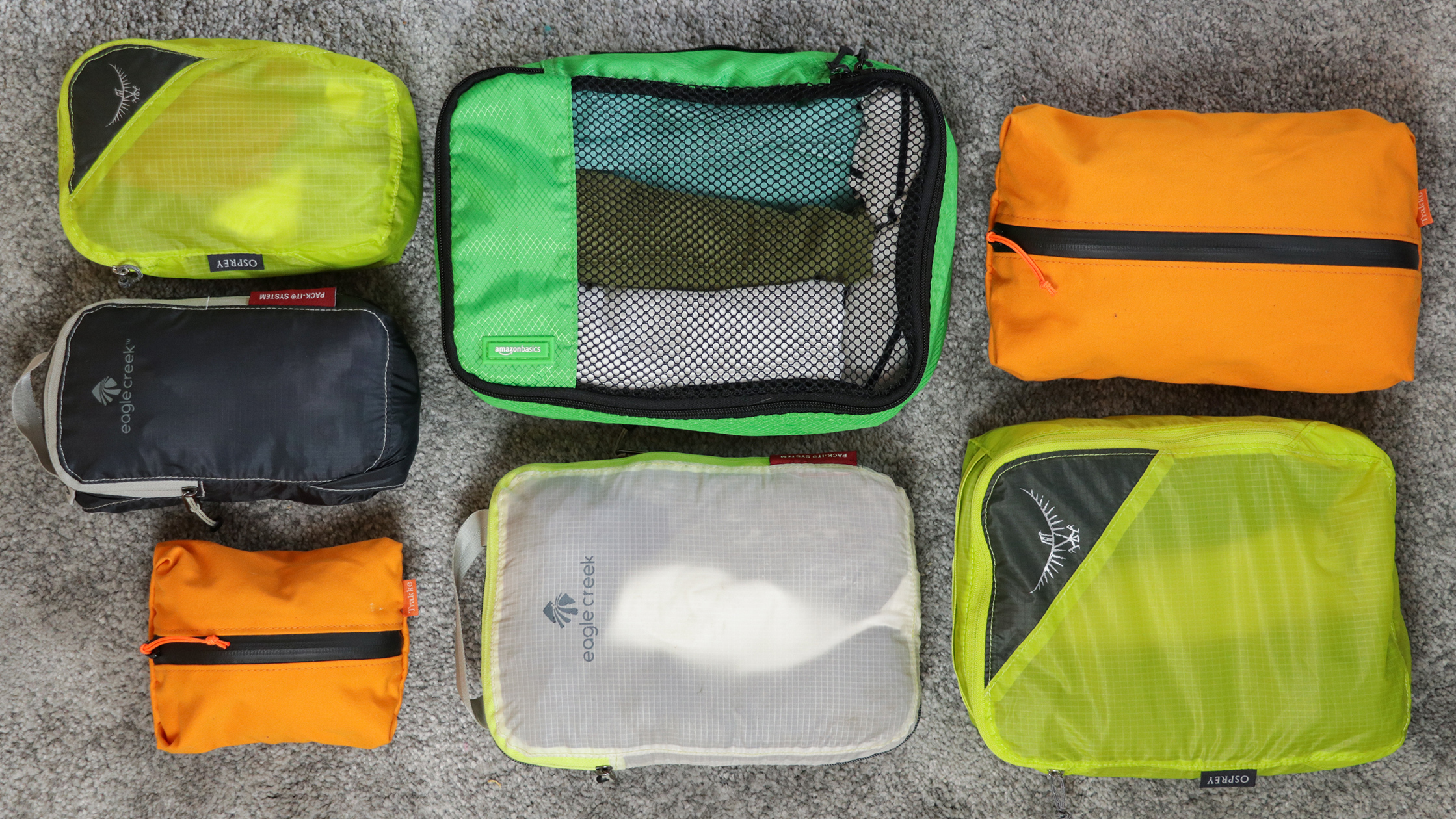 If you've made it this far, congratulations! You're likely into packing cubes as much as we are, and can see just how brilliant they are at organizing and compartmentalizing your pack.
At the end of the day, there is no "best packing cube," but hopefully this guide will help steer you in the right direction to pick up the best packing cube for you. It all comes down to personal preference, travel style, and personal use-case. You may not get it right the first time, and that's okay! Sometimes you need to iterate.
And as always, if you have any questions or suggestions, feel free to drop us a line. We'd love to hear from you.