Amazon Basics Packing Cube Set Review
Need some new packing cubes but don't want to blow your entire budget? This set of four by AmazonBasics may be just what you're looking for.
Our Verdict
Unlock the Pro Summary
Save time. Get access to brief summaries of our reviews so you can browse and make decisions more efficiently.
Pros
A great budget option
Stood the test of time
Nice color options
Cons
No compression
Zips feel cheap (but they do last)
Not the most fashionable
Recent Pack Hacker Video
Technical Details
Weight (lb)

0.85 lb (0.4 kg)

For all four combined

Dimensions

11 in x 6.75 in x 3 in (27.9 x 17.1 x 7.6 cm)

For the Small AmazonBasics Packing Cube

Notable Materials

Ripstop Polyester

Manufacturing Country

China

Warranty Information
Full Review
When it comes to buying the right accessories for travel, there are specific brands that are worth investing in. But what if you don't need to pay a hefty price to get good quality travel gear? At around $20—for a set of four packing cubes—AmazonBasics has indeed raised that question. Having tested them for the last two years, and putting them through the ringer in trips to over twenty countries, we've gotten to know them pretty well. But can these affordable packing cubes hold up against the more expensive brands? Let's find out.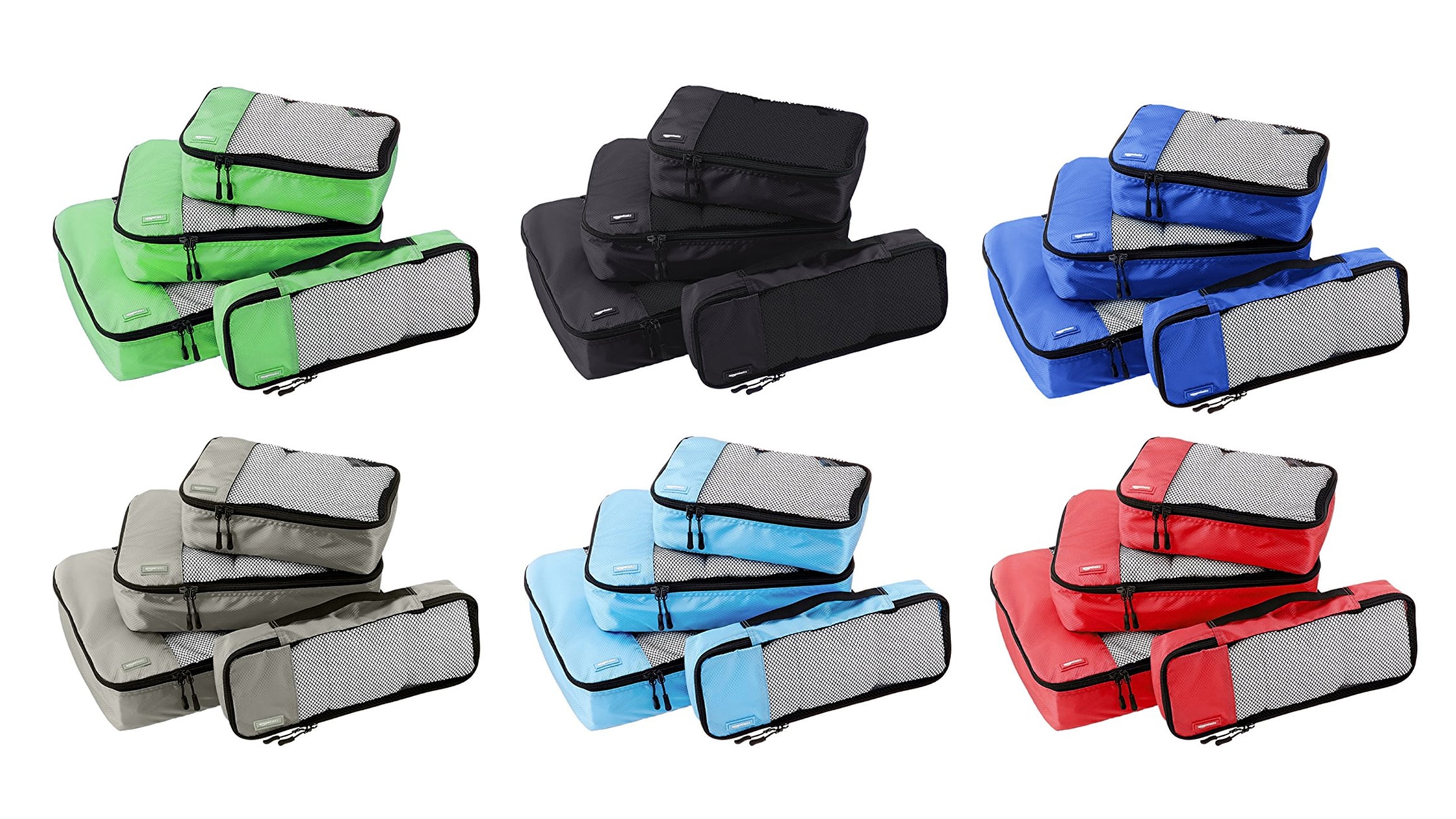 The AmazonBasics packing cubes are available in six colors—black, gray, green, red, blue, and sky blue. The wide variety is quite nice, and there should be at least one color to your fancy. The brighter and more vibrant colors—like the green and red—may seem a bit garish if you typically go for darker or more subdued tones. But these more vivid colors do have one big plus when you're going through your pack. You can easily see what's going on and where everything is, and it's for this reason we ended up going with the green version.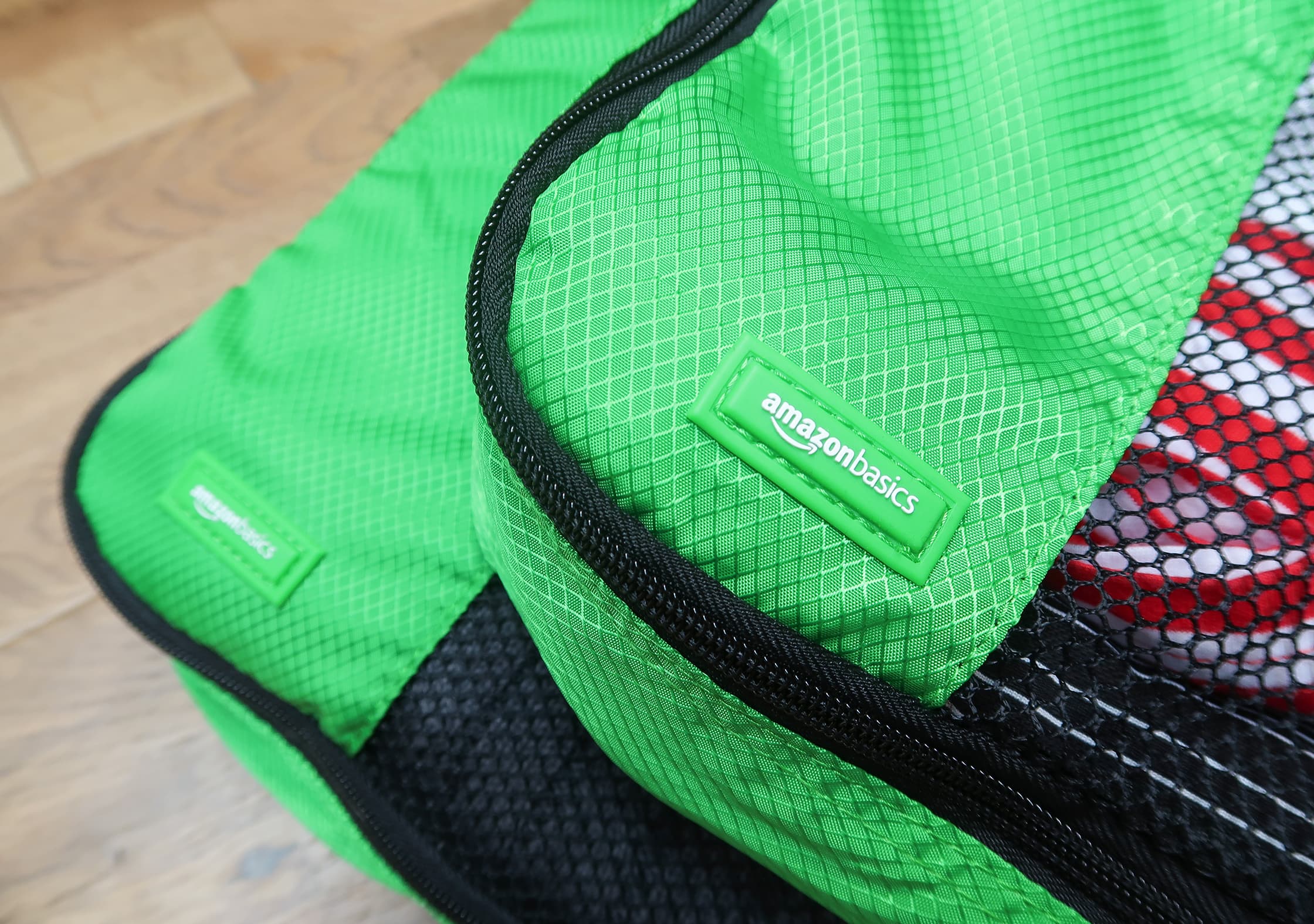 Amazon states on their website that the packing cubes are made of Nylon, however after inspecting our set, the label says they're 100% Polyester. Hopefully this statement didn't just cause someone at Amazon to lose their job. If so, please accept our deepest condolences.
That being said, we did buy these packing cubes over two years ago, so perhaps they've change the fabric since then. Regardless, the material is excellent and has stood the test of time—nothing but positives here. Even after two years of use on the road as a digital nomad, they still look brand new. Seriously, they look like they've just come out of their packaging for the first time, which is pretty impressive. The material is ripstop too, so if you are unlucky enough to find a rip or tear in the fabric, it shouldn't get any larger.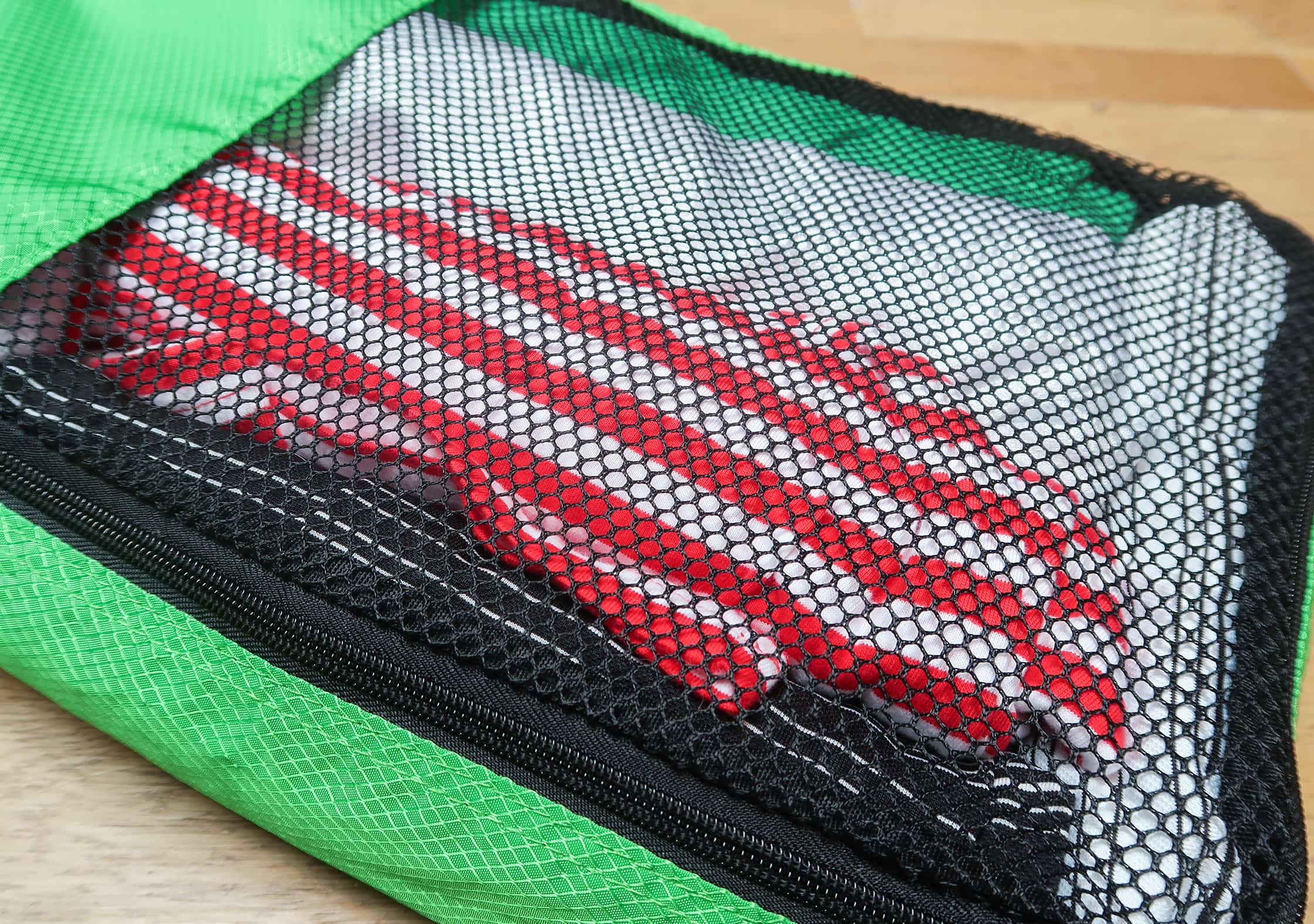 The mesh on top of the packing cubes comes in very handy and makes it easy to identify a particular item quickly if you need to grab something specific. It will also help with ventilation, keeping your clothes fresh. The mesh does have its downsides, however.
Due to the mesh, there is a serious lack of compression offered by these packing cubes. And the shape of the cubes is more apt to change and bulge in certain areas. If you use packing cubes to compress as many items into one small space as possible, the AmazonBasics probably aren't for you—and if that is your style, take a look at our review of the Pack-It Specter Cubes by Eagle Creek.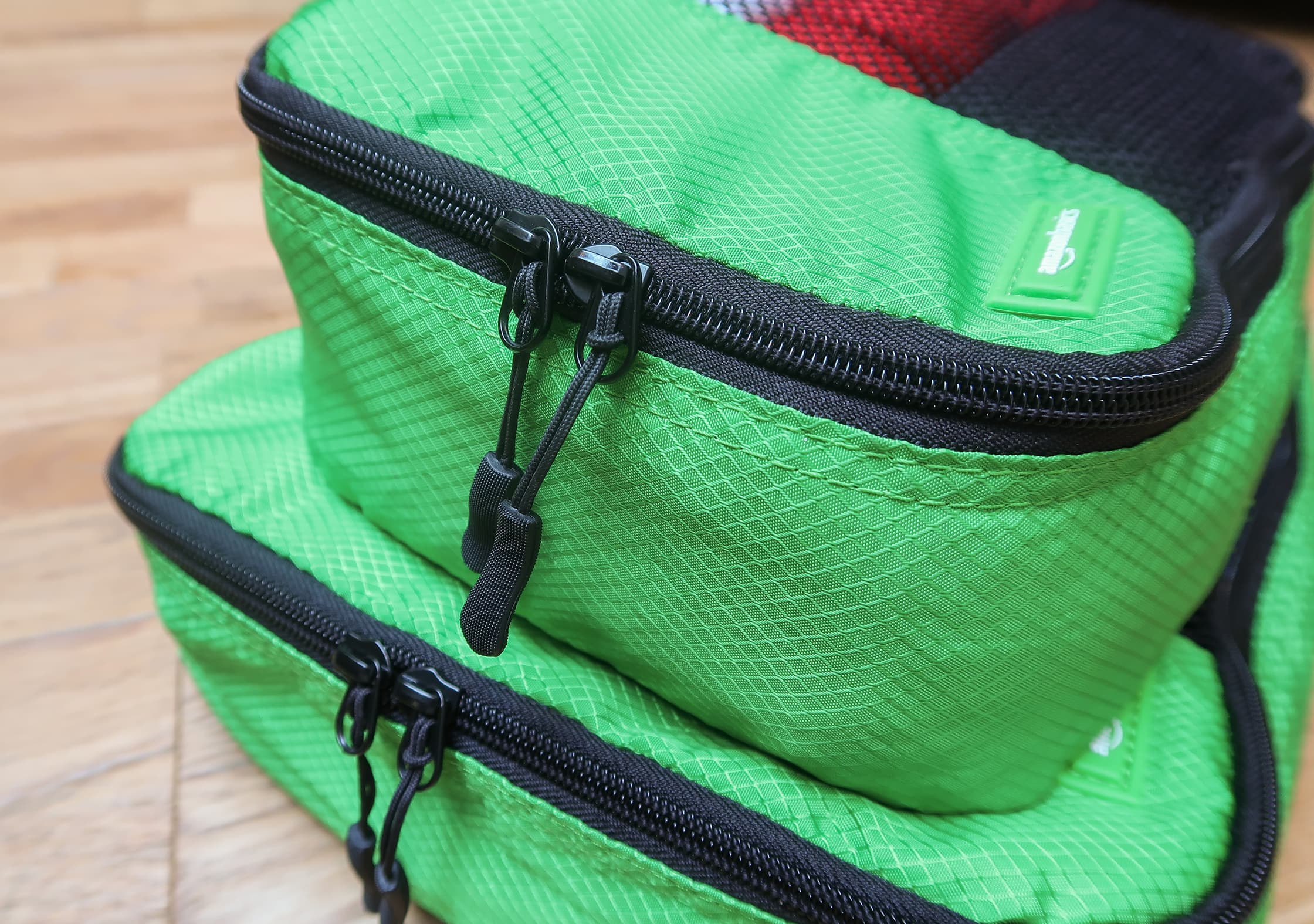 The zips on these cubes are in no way heavy duty (we are sad to announce that they are not YKK), and in fact they feel a little bit cheap, though they are still metal. That being said, we've been incredibly surprised with how well they've held up to the task. When traveling, there isn't always time to be careful, and these zips have had their fair share of being yanked, pulled, and tugged.
Nevertheless, they've stood their ground and remain in perfect condition to this day. On every cube there are double zips, which may seem like a small thing to add, but it makes a big difference when trying to get all of your possessions packed tightly away. A great, often overlooked feature.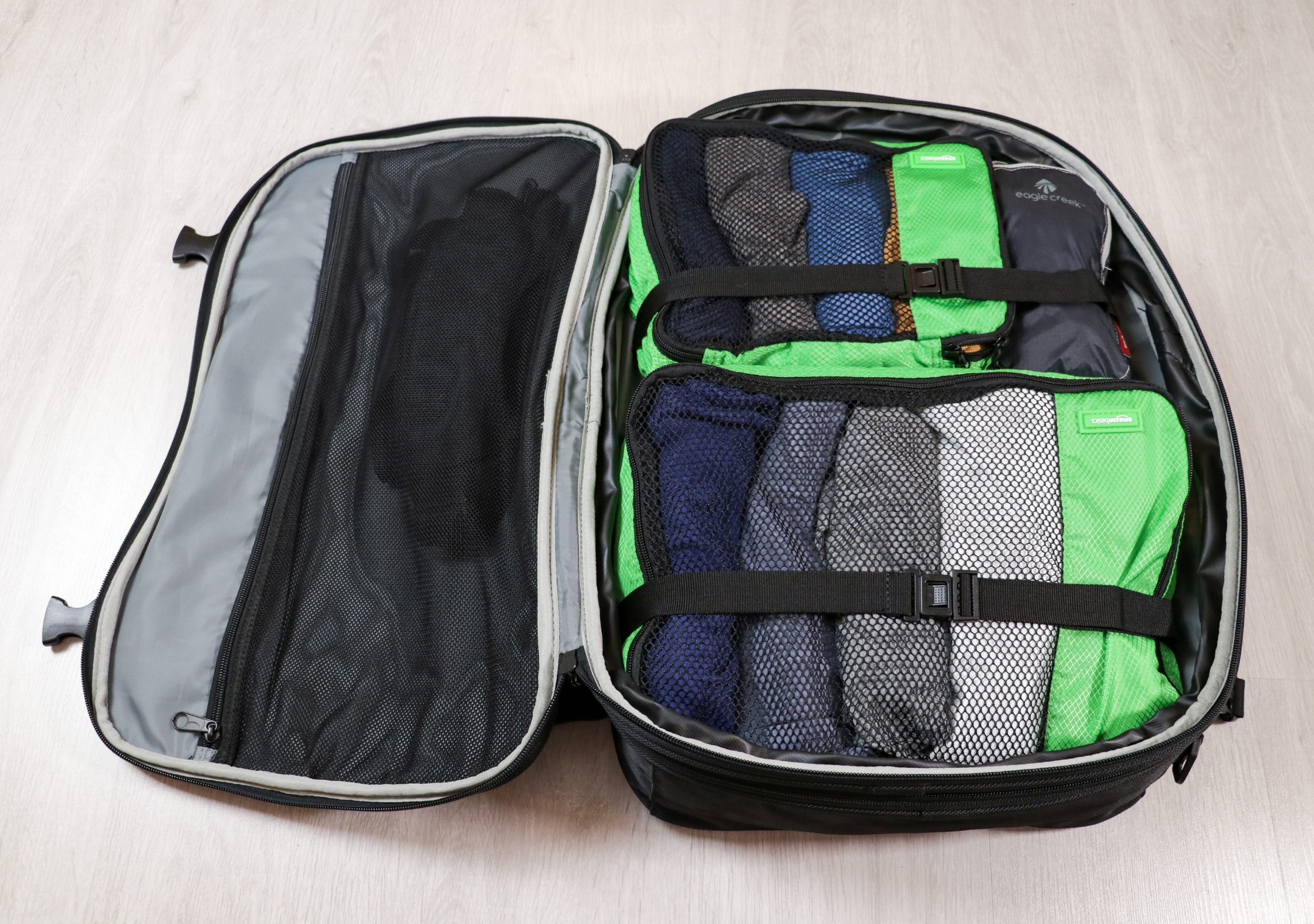 The AmazonBasics packing cubes are available in a few different sets and sizes. We've been testing the four-piece set that includes one of each size—small, medium, large, and slim. In general, owning a wide variety of sizes should have you covered in every scenario, whether you're packing a daypack or maximum legal carry-on. We've found that by utilizing the different sizes, we're able to pack our bags in a Tetris sort of fashion, making use of all the space we have—which is vital for one bag travel.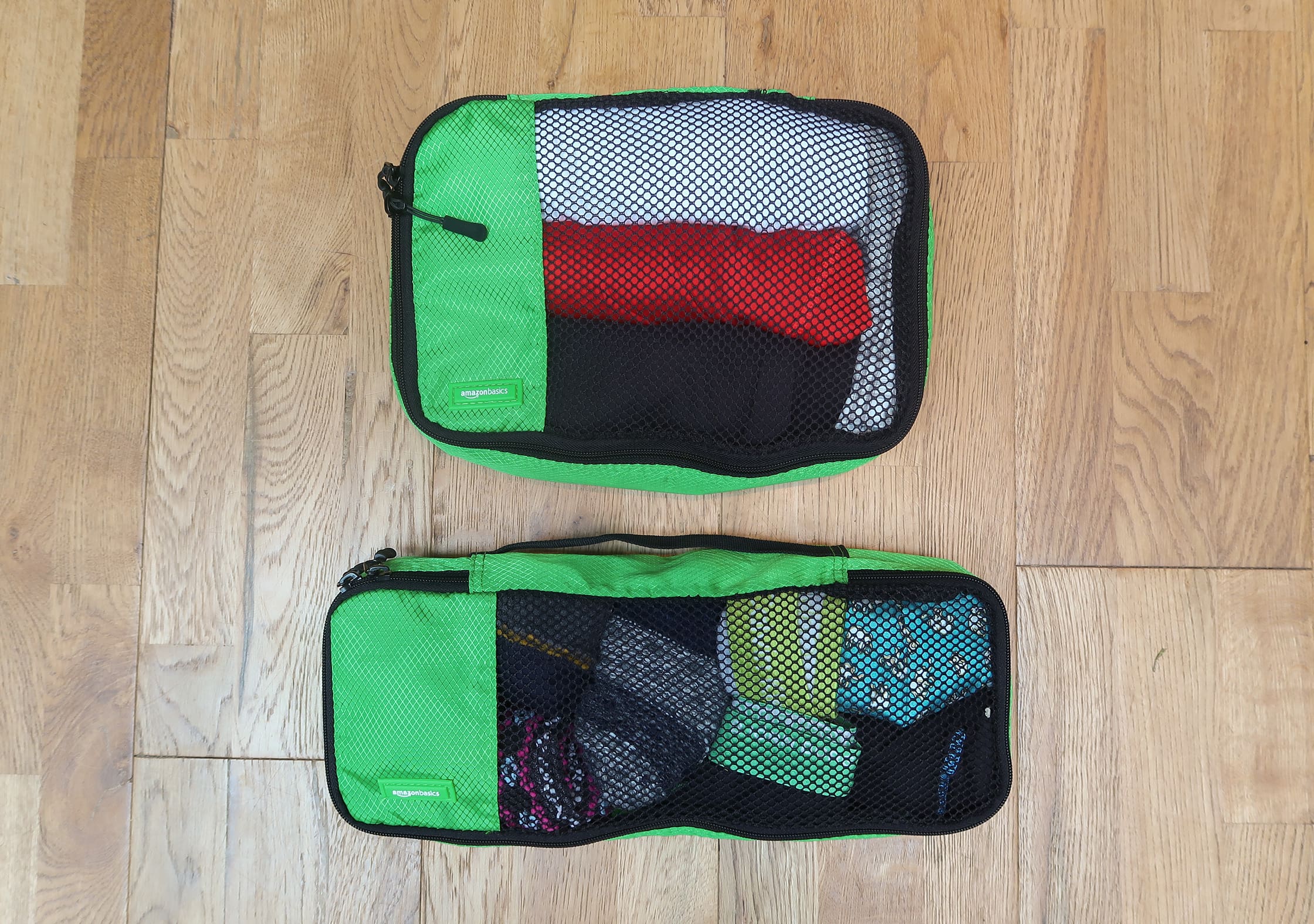 We have found ourselves using the small and slim sizes a lot more than the medium and large. If you like to compartmentalize (like we do), you're probably going to find the two larger sizes just a bit too big—but this is all down to preference, your style of packing, and of course the climate and what kind of clothes you need. The slim, at 14 x 5 x 2.8 inches, is ideal for your smaller items like underwear, socks, and thinner t-shirts—while the small, at 11 x 6.75 x 3 inches, is great for shorts, pants, dresses, and so on.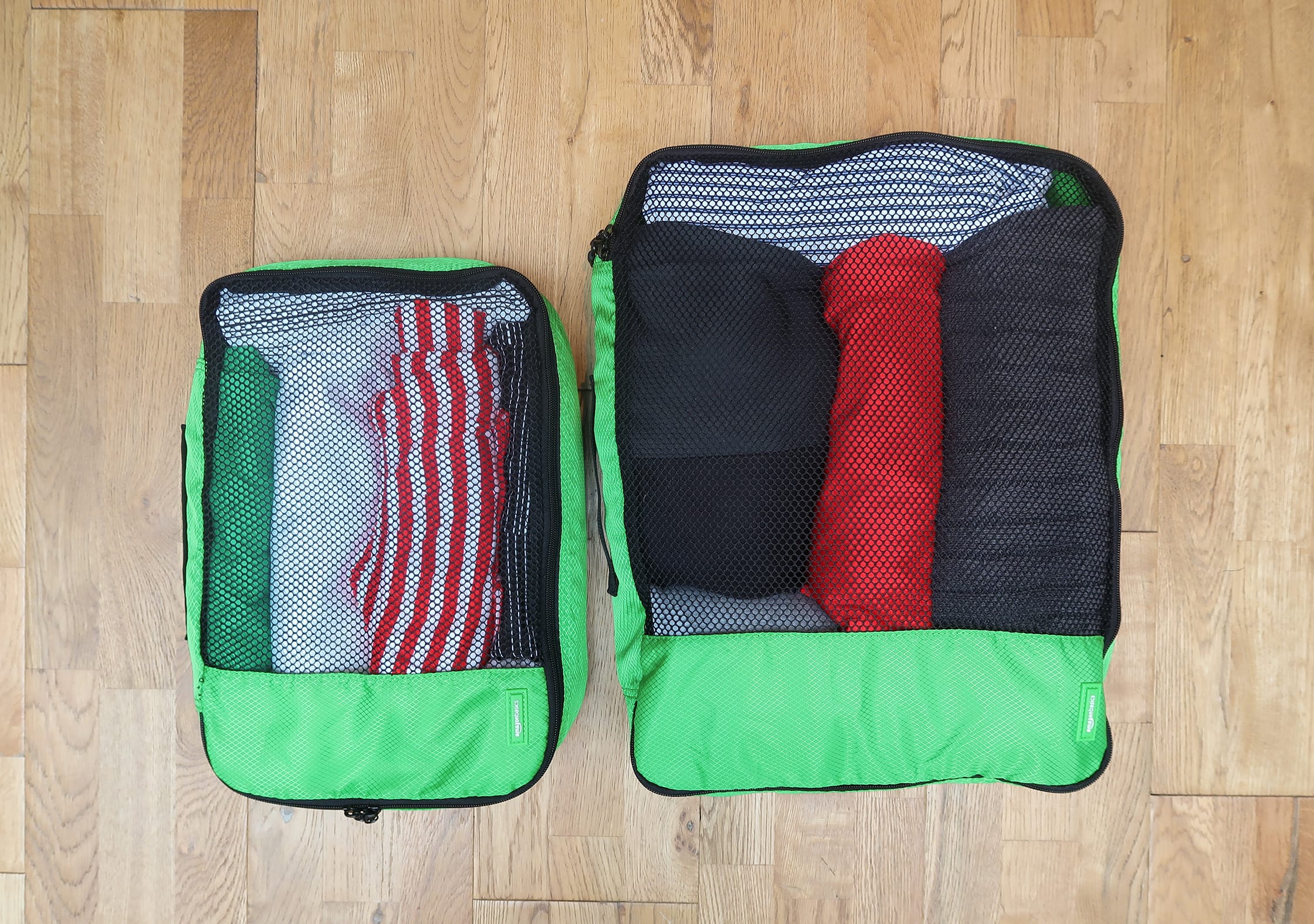 If you're in a cooler climate and need thicker sweaters and woolly socks—or like to put all of your clothes into one cube—then the medium and large packing cubes will be right up your alley. The medium, at 13.75 x 9.75 x 3 inches, is an excellent size for pretty much everything. It will roughly hold the same capacity as the slim and small sizes combined. The large, at 17.5 x 12.75 x 3.25 inches, is a HUGE packing cube. When packed to the brim, this thing is going to take up nearly all of the room in your carry-on bag. We prefer multiple packing cubes and added organization, but if you're an "everything I have is in this one large cube" kind of person, you'll love this size.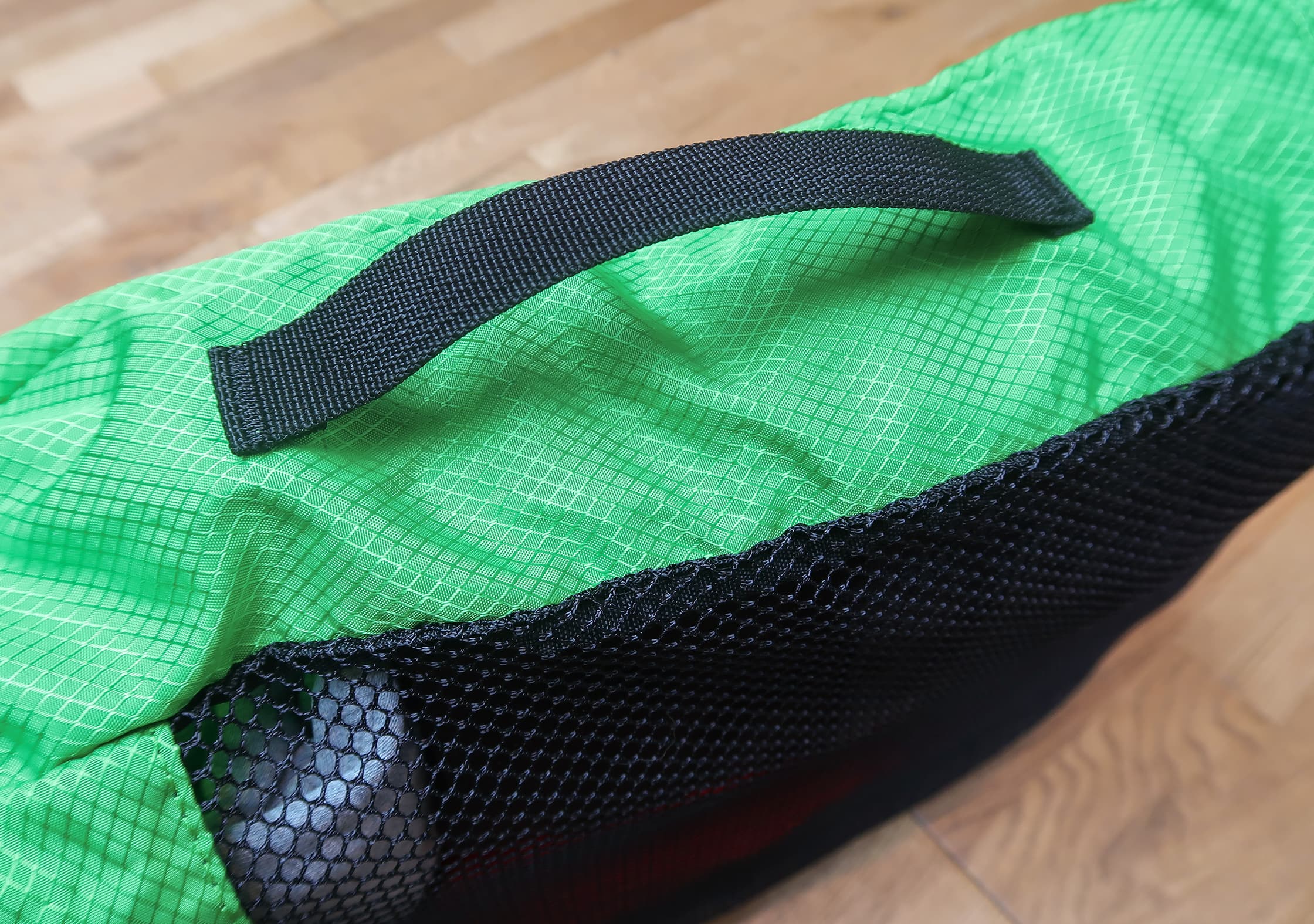 Though we rarely use them, each AmazonBasics packing cube has one handle attached to the side. The majority of the time you're going to use these solely as packing cubes that sit within your pack, but if you ever needed to carry one of these things on their own, the handle will come in… handy. Get it? We're cracking ourselves up over here.
The handle can also come in useful if you've got a toploading backpack—it makes the cubes a lot easier to grab hold of and pull out.
In regards to cleaning these packing cubes we've found another contradiction between the Amazon website and the label on the cubes themselves—the website states they are machine washable, whereas the label says they're not. That being said, we've never needed to wash these cubes, even after two years of perpetual travel around Asia. They don't smell at all—which is pretty impressive—and because they're in a bag 90% of the time, they've never gotten dirty. For whatever reason you do get some dirt on them, they'd be pretty easy to hand wash.
Usage Timeline
Initial Usage
Condition: Excellent
Like the different sizes, they don't look too cheap.
6 Months of Use
Condition: Excellent
The mesh allows the shape of the cubes to bulge in places, but other than that they do exactly what they're supposed to.
1 Year of Use
Condition: Excellent
These things still look brand new, no faults at all.
2 Years of Use
Condition: Excellent
Still working great, pretty impressive.
Access the Pro Community Discussion
Get your questions about the Amazon Basics Packing Cube Set answered from our team and the Pro Community right here on the page. Plus, join discussions with other members about gear, guides, and more.
Other Organizers & Pouches Reviews