Hyperlite Mountain Gear Pods Review
Lightweight and durable—if a bit pricey—the Hyperlite Mountain Gear Pods are great for keeping your gear organized on the road.
Our Verdict
Unlock the Pro Summary
Save time. Get access to brief summaries of our reviews so you can browse and make decisions more efficiently.
Pros
Made of quality, durable materials
You can fit loads of stuff inside
Super lightweight
Cons
Fabric is crinkly
Not budget-friendly
Recent Pack Hacker Video
Technical Details
Capacity

6.8l

Weight (oz)

1.2 oz (34 g)

Dimensions

6.5 in x 12.9 in x 4.5 in (16.5 x 32.8 x 11.4 cm)

Notable Materials

Dyneema®

Manufacturing Country

United States

Warranty Information
Full Review
If you want to fully utilize the space inside your backpack, we suggest investing in some packing cubes. Not only do packing cubes keep your stuff from congregating into a giant pile at the bottom of your bag, they usually help you fit more stuff inside your pack. It may sound like we're exaggerating, but seriously once you go packing cube, you'll never go back. Trust us.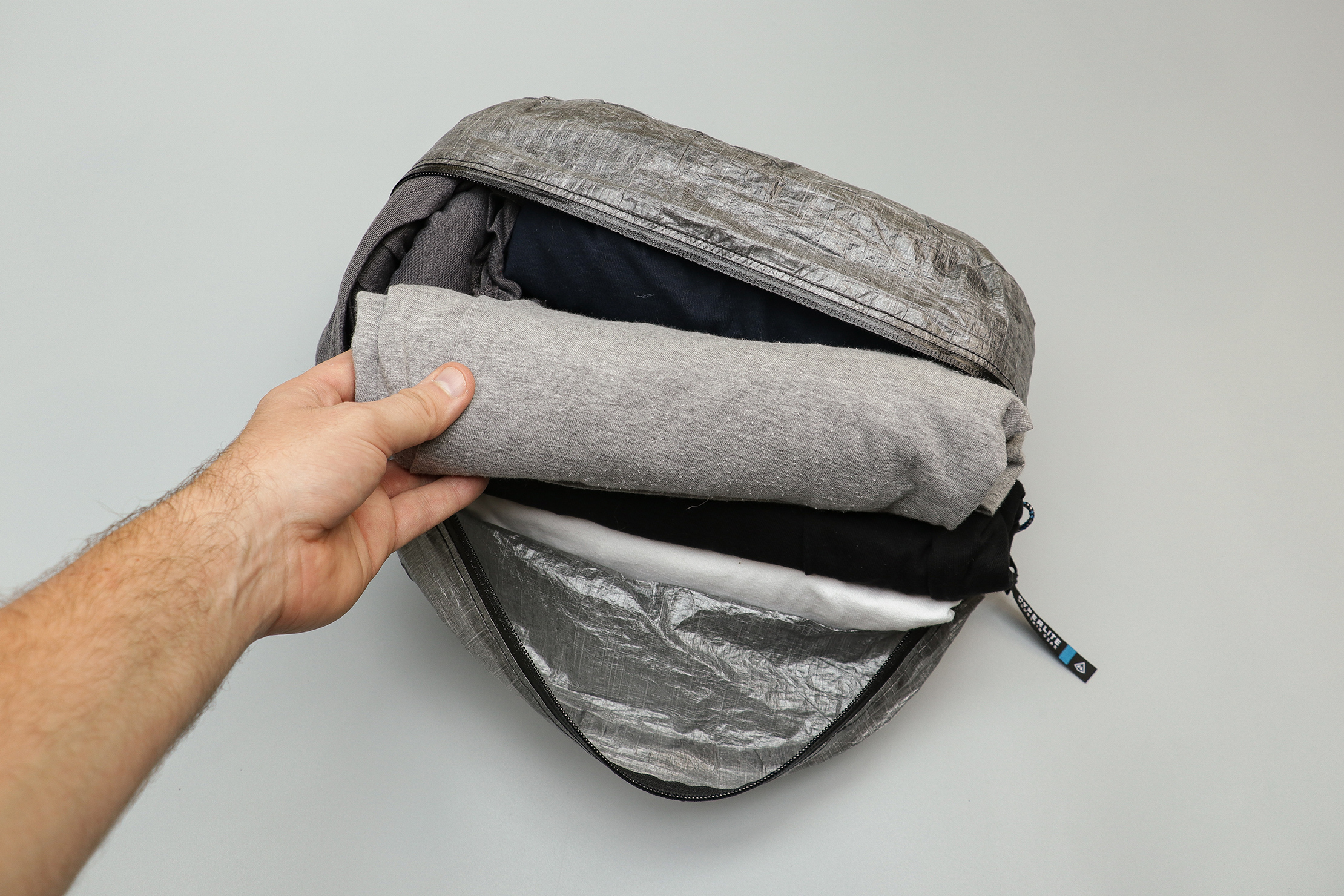 And while the folks at Hyperlite Mountain Gear call their packing cubes "pods" they're more or less packing cubes. They're more outdoor-focused than some other packing cubes we've tested, but they work exceptionally well for urban travel too.
We've been testing the Hyperlite Mountain Gear Pod for over a month now and have a lot of good things to say. So let's jump into the review.
Materials & Aesthetic
The Hyperlite Mountain Gear Pods are available in four sizes—small and large for both the 40-55L and 70L Hyperlite Mountain Gear packs. We've been testing the small for the 40-55L pack. As the sizing suggests, these pods have been designed specifically for Hyperlite Mountain Gear backpacks, though they'll work in basically any pack.

At the time of this review, it's only available in one colorway—a silvery gray that reminds us of space operas…in a good way, of course. We always appreciate when packing cubes come in a multitude of colorways, as you can create a color-coded organizational system to find what you're looking for at a glance. For example, your undergarments may be in the purple bag, your t-shirts in the gray bag, and your outer layers in the green bag. The fact that these pods only come in a silvery gray isn't a deal-breaker by any means, but it's something to note—especially if you're all about that backpack organization.
Alright, let's discuss the elephant in the room. Yes, the Hyperlite Mountain Gear Pod looks like a plastic bag (the silver colorway doesn't help on that front). It even drifts along air currents like plastic bags do when tossed into the air.
But it's a lot more innovative than a plastic bag. (Understatement of the decade, folks.)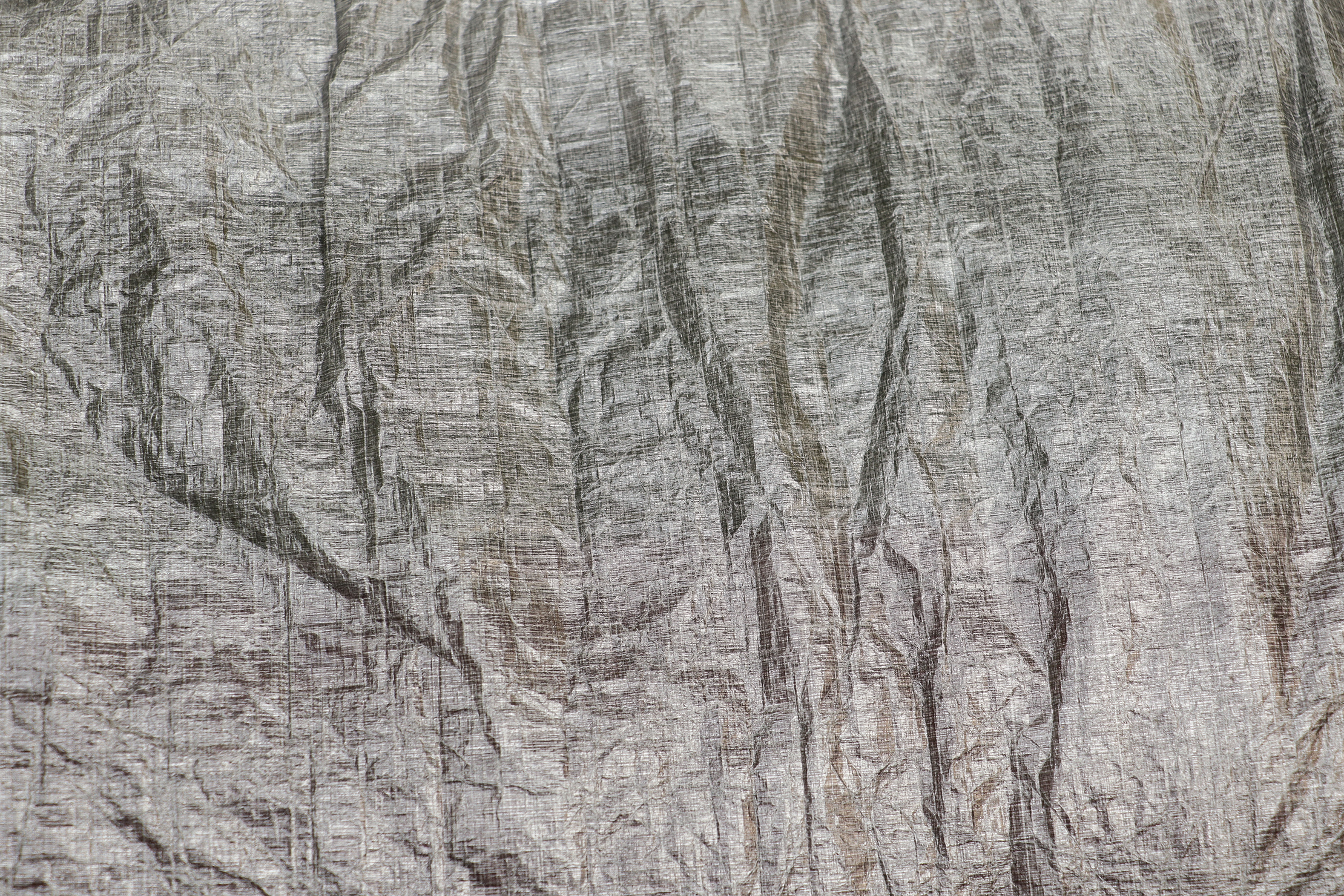 One of the reasons this bag is so awesome is the fabric from which it's made, called Dyneema® Composite Fabric. Dyneema® is the fiber of the future. Seriously. It almost looks like the exterior of those space jumpsuits everyone always wears in cheesy sci-fi movies.
It's known for its exceptional strength-to-weight ratio. As Hyperlite Mountain Gear touts on its website, Dyneema's®, "tensile strength is 15 times greater than high-quality steel." That's ant-level strength right there.
The fabric is also waterproof, resistant to UV light and chemicals, durable, and lightweight. Now, these pods are made of Dyneema® Composite Fabric which is slightly different than plain ole Dyneema®. Essentially, Dyneema® Composite Fabrics are made of Dyneema fibers sandwiched between polyester laminates. The process is different for different brands and products, but in this case, the DCF has been built with outdoor enthusiasts in mind—so it should keep up with almost anything you throw at it.
That said, it's rather crinkly. If you're sensitive to the sound a tarp makes when being balled up, you're not going to like this pod.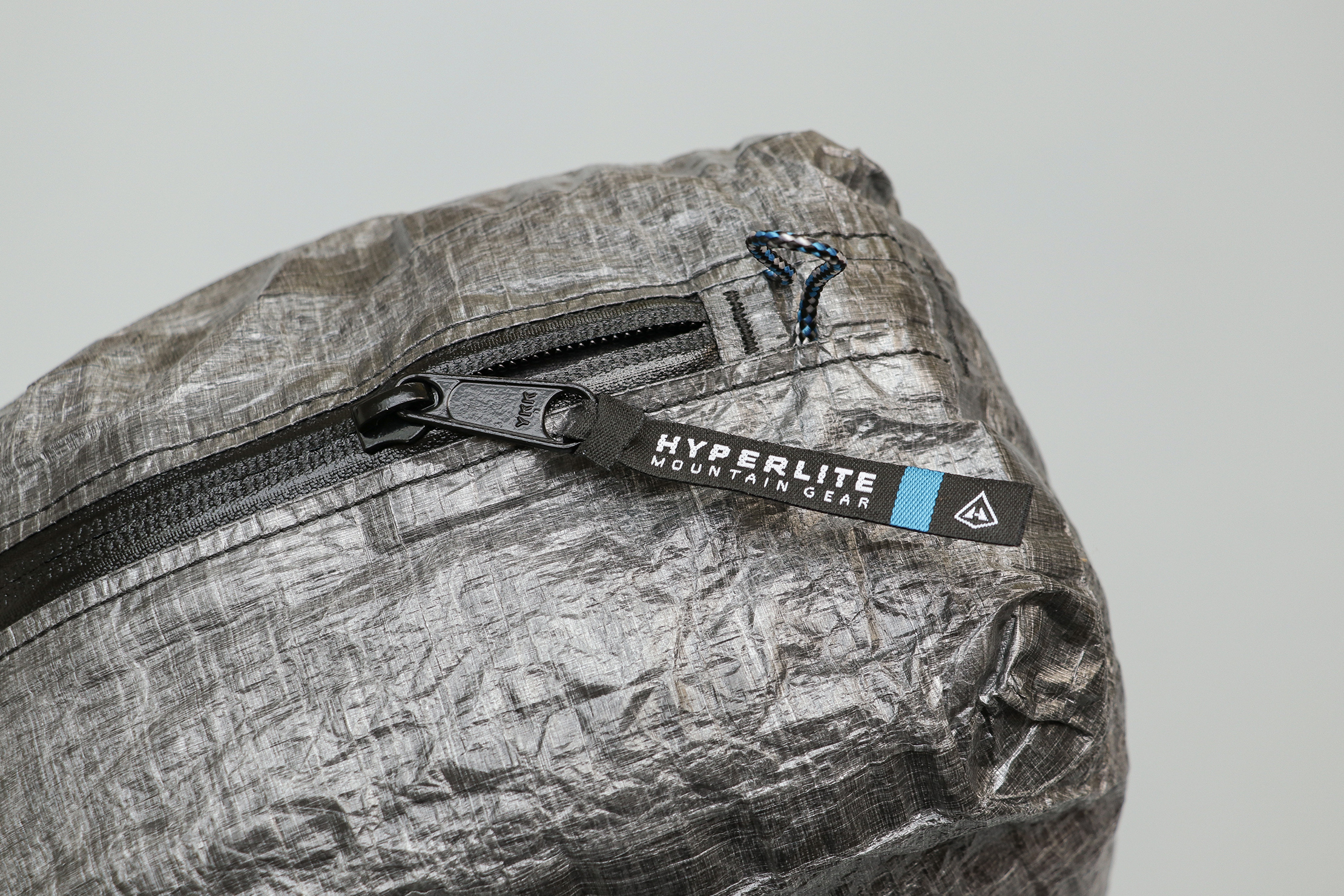 The water-resistant zipper is from YKK, so it should also keep up with your adventures. And there are pull-tabs on either side of the zipper to help make the zipping process a breeze. You could also use these tabs to hook the bag to the interior of your backpack, to a tree while you're setting up camp, or wherever.
In addition to the water-resistant fabric and zipper, the seams are also fully-taped, making this bag super water-resistant. While it's definitely not built with submerging in mind—probably not the best for your next scuba-diving adventure—it'll protect your gear from the elements rather effectively. This is great for tech or warm clothes you'd rather not get wet. Especially if you'll be camping or backpacking where you'll be more affected by the whims of Mother Nature.
Features & Usage
We've been loving the Hyperlite Mountain Gear Pods for two main reasons—its weight and capacity.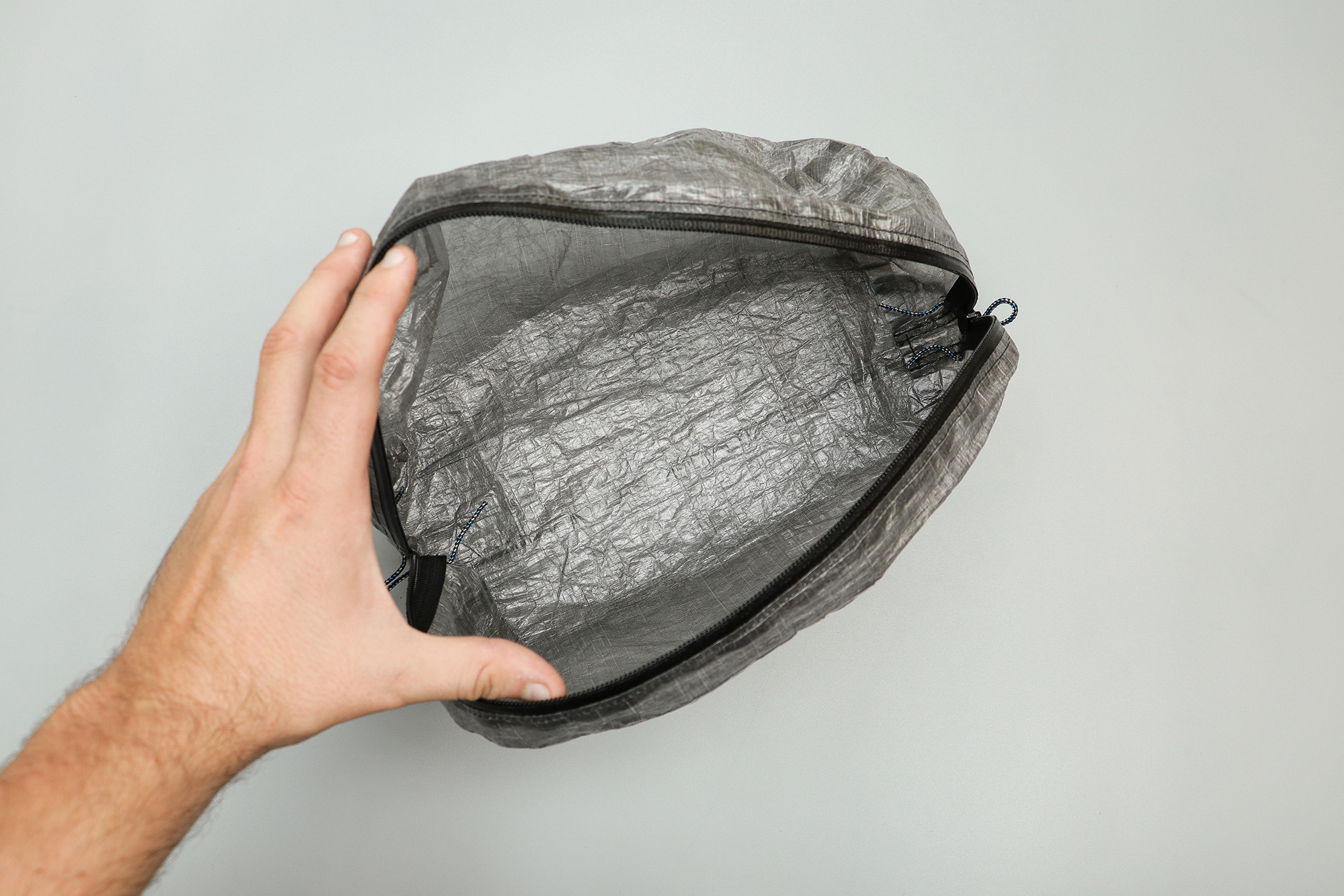 This thing is called Hyperlite for a reason—the small clocks in at 1.2oz. To put that in perspective, it's only slightly heavier than the average donut. When traveling the world out of one backpack, it's always ideal to cut weight when you can. Not only for airline restrictions but for the health of your back and shoulders. So its tiny weight is a giant plus (see what we did there…)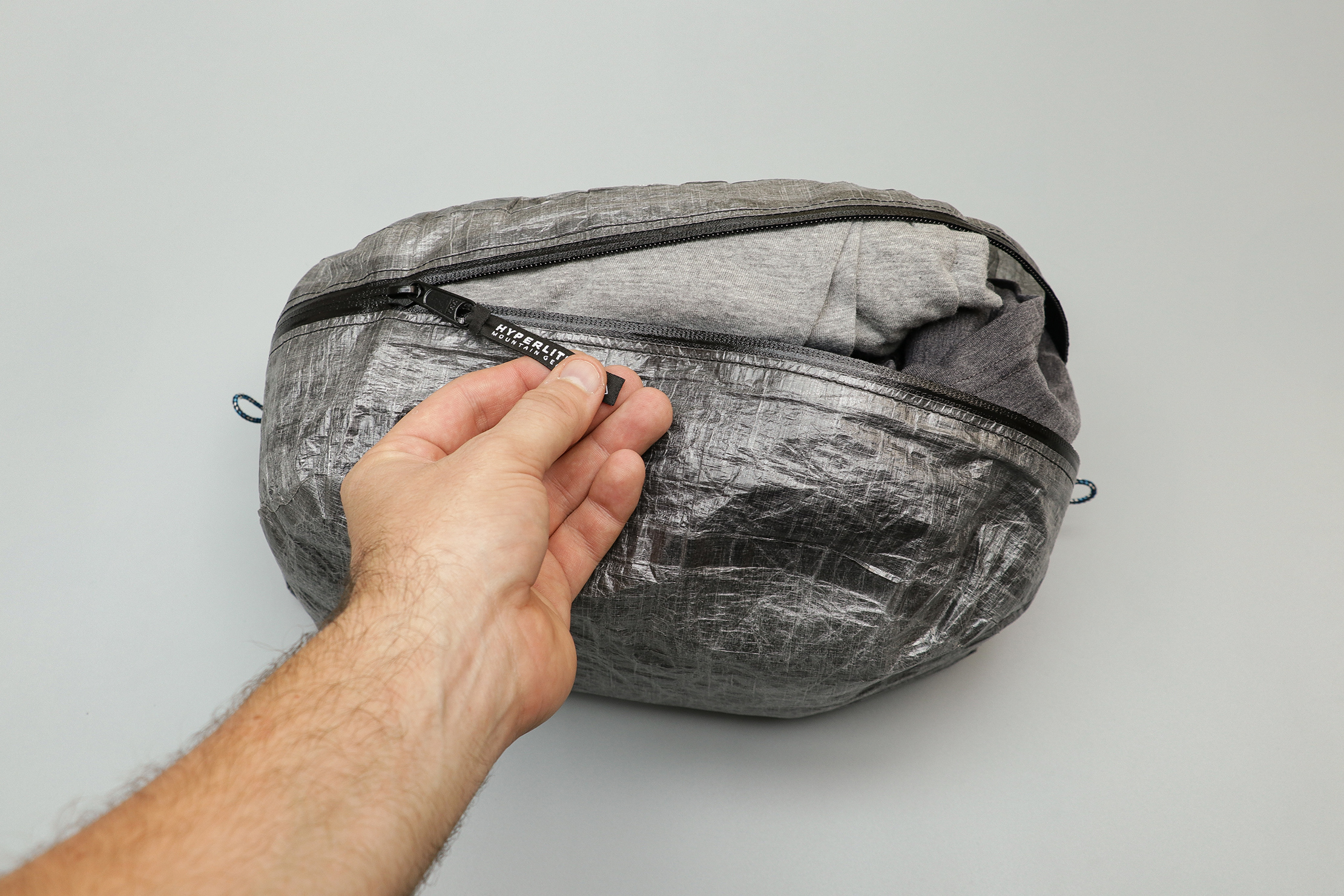 And for being so lightweight and small, this pod holds a lot. It has a different style of opening than a number of packing cubes on the market. You sit it upright, unzip the mostly-clamshell opening, and stack your stuff inside. This helps you fully use the interior space. We've been able to cram up to eight t-shirts inside, but you can also use it for whatever gear you need to organize—tech, toiletries, camping equipment, sporting stuff, your Beanie Baby collection. This pod will hold it and compress it, making packing that much easier.
Now, we already talked about the water-resistance, but it's worth mentioning again. Water-resistance can definitely be overkill for some people, but it's provided nice peace-of-mind for us in this case. We've been able to protect our clothing from any leaking toiletries. And, as we already mentioned, it's also great for all of you outdoorsy folks out there.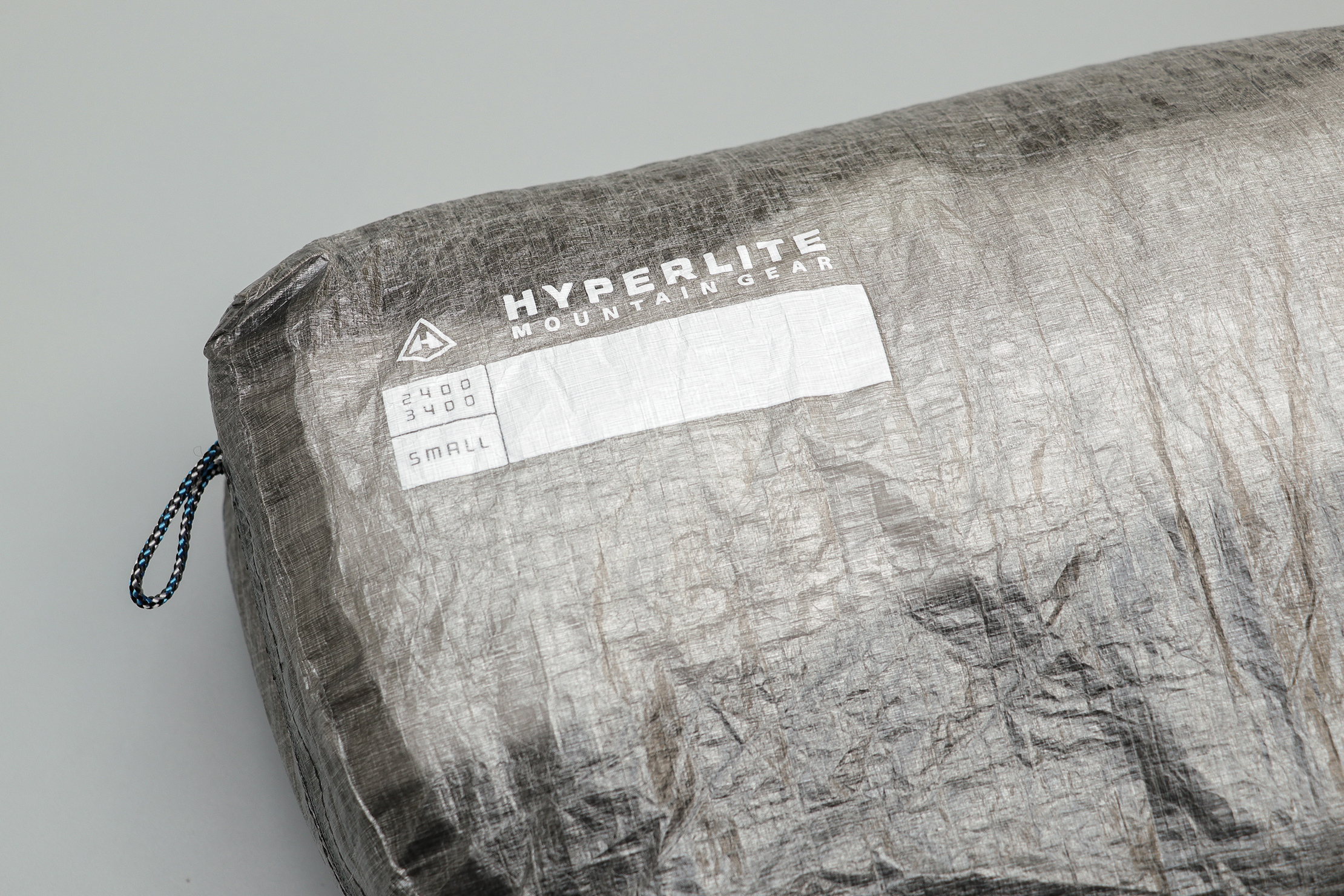 The last feature worth noting may be small, but adds another level of organization. The folks at Hyperlite Mountain Gear have provided a screen-printed area for you to label whatever you've got inside. Or you could write a funny note to yourself if that's more your style. You do you, ya know?
Durability & Testing
We've been testing the small Hyperlite Mountain Gear Pod for over a month in the U.K., Spain, and the U.S.—and we've been loving it. It's easy to use, super lightweight, and you can fit loads of stuff inside. We couldn't ask for more from a packing cube (or pod).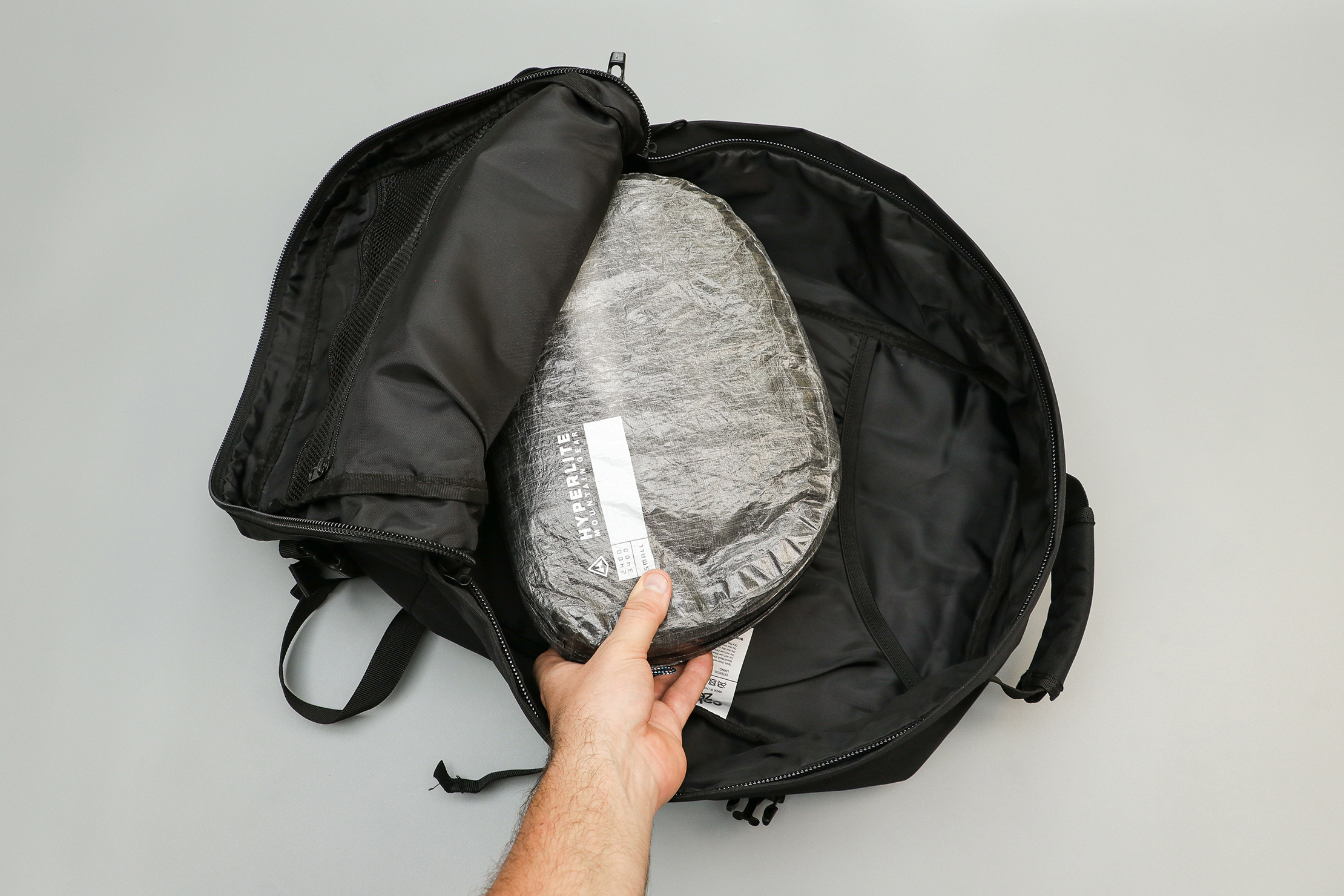 As far as durability is concerned, we're happy to say we have nothing to report. Everything is looking as good as the day we got our hands on it.
Usage Timeline
Initial Usage
Condition: Excellent
Insanely Lightweight
Not much structure at all to the pods when empty
The zippers have a really nice seal on them that looks like it is very water-resistant
1 Month of Use
Condition: Excellent
Access the Pro Community Discussion
Get your questions about the Hyperlite Mountain Gear Pods answered from our team and the Pro Community right here on the page. Plus, join discussions with other members about gear, guides, and more.
Other Organizers & Pouches Reviews