YETI Crossroads Packing Cubes Review
The YETI Crossroads Packing Cubes have sturdy walls for easier packing, but the double-layer material adds a little extra weight.
Our Verdict
Unlock the Pro Summary
Save time. Get access to brief summaries of our reviews so you can browse and make decisions more efficiently.
Pros
Outer shell and inner liner increase durability
Low-profile handles keep out of the way
Small mesh stripe adds ventilation
Cons
Individual cubes are pricey compared to similar products
Hard to see through the mesh; easy to forget what's in each cube
Double layer of material adds extra weight
Recent Pack Hacker Video
Technical Details
Dimensions

6.5 in x 5.25 in x 4 in (16.5 x 13.3 x 10.2 cm)

for small | 10.5 in x 6.5 in x 4 in for medium | 13 in x 10.5 in x 4 in for large

Notable Materials

Ripstop Nylon, YKK Zippers

Manufacturing Country

Philippines

Warranty Information
Full Review
When you get to your destination in the middle of the night, the last thing you want to do is sift around in your bag for your pajamas. Or, when you finally board that red-eye flight, quickly getting to your headphones, eye mask, and a pair of fuzzy socks is critical. This is where packing cubes come in handy.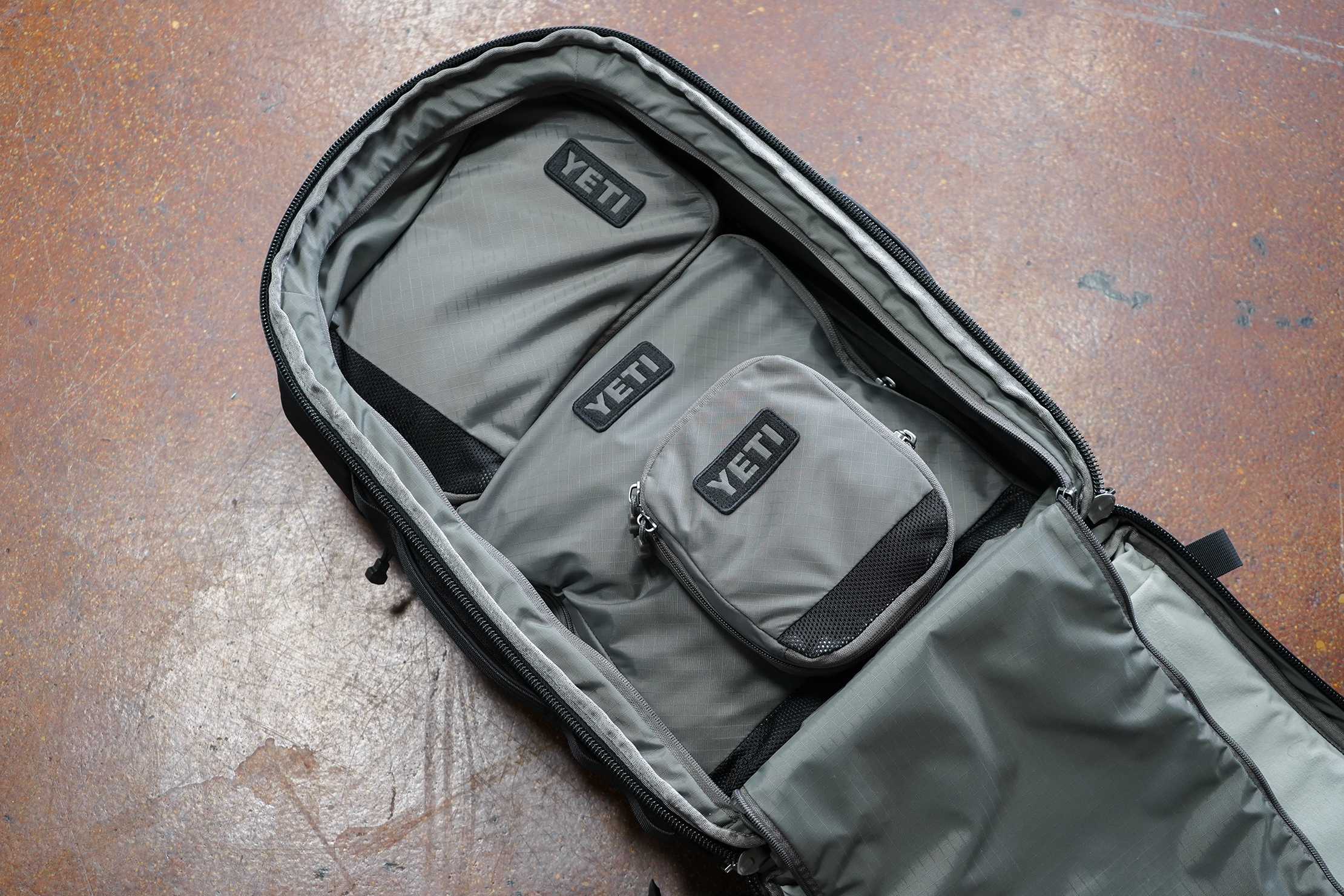 The YETI Crossroads Packing Cubes add organization so that packing and unpacking are less of a headache and makes it easier to find things within your bag. They're sized to integrate with YETI's Crossroads daypack, travel backpack, and other luggage. However, the sizes are versatile enough to fit in nearly any brand you desire, no YETI required.
For those who jump on any chance to be tidy, these packing cubes are durable and make it easy to keep an orderly bag, even for disorganized travelers. But how did they hold up, you ask? That's what we're here for, so read on to find out.
Materials & Aesthetic
Made with a ripstop nylon outer shell, a flexible inner liner, and YKK zippers, these cubes will give you peace of mind as you travel. Though they'll largely stay in your bag, it was nice knowing that we didn't have to tread lightly to avoid causing them damage. If you get a little messy on the go or want to give them a nice-smelling refresh, just flip the packs inside out, zip them up, toss them in the washing machine, and dry them on low heat.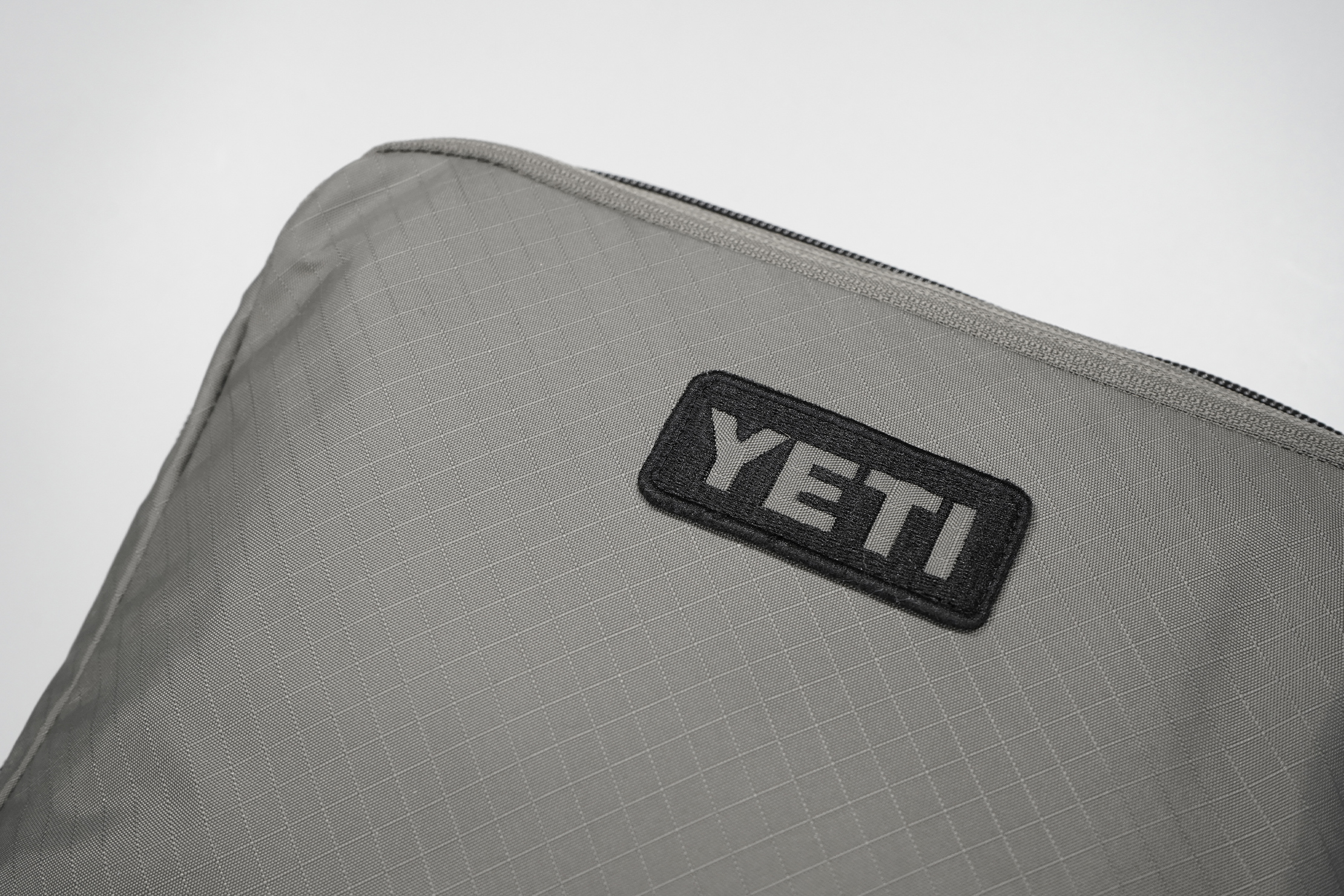 Though we didn't have an issue with the YETI patches on the front of each cube, the edges do stick up a bit, and we can definitely see it pulling up over time like it did on the Crossroads 35L Backpack. We also had no issues with any of the zippers. No matter how tight we packed the cubes, we were able to zip these suckers up with minimal to no catch.
Unlike the backpacks and luggage in the Crossroads line, these cubes currently only come in one colorway. It's light enough to stand out within your pack in low light, which helps with quick grabs, but it would be nice to have a few more options.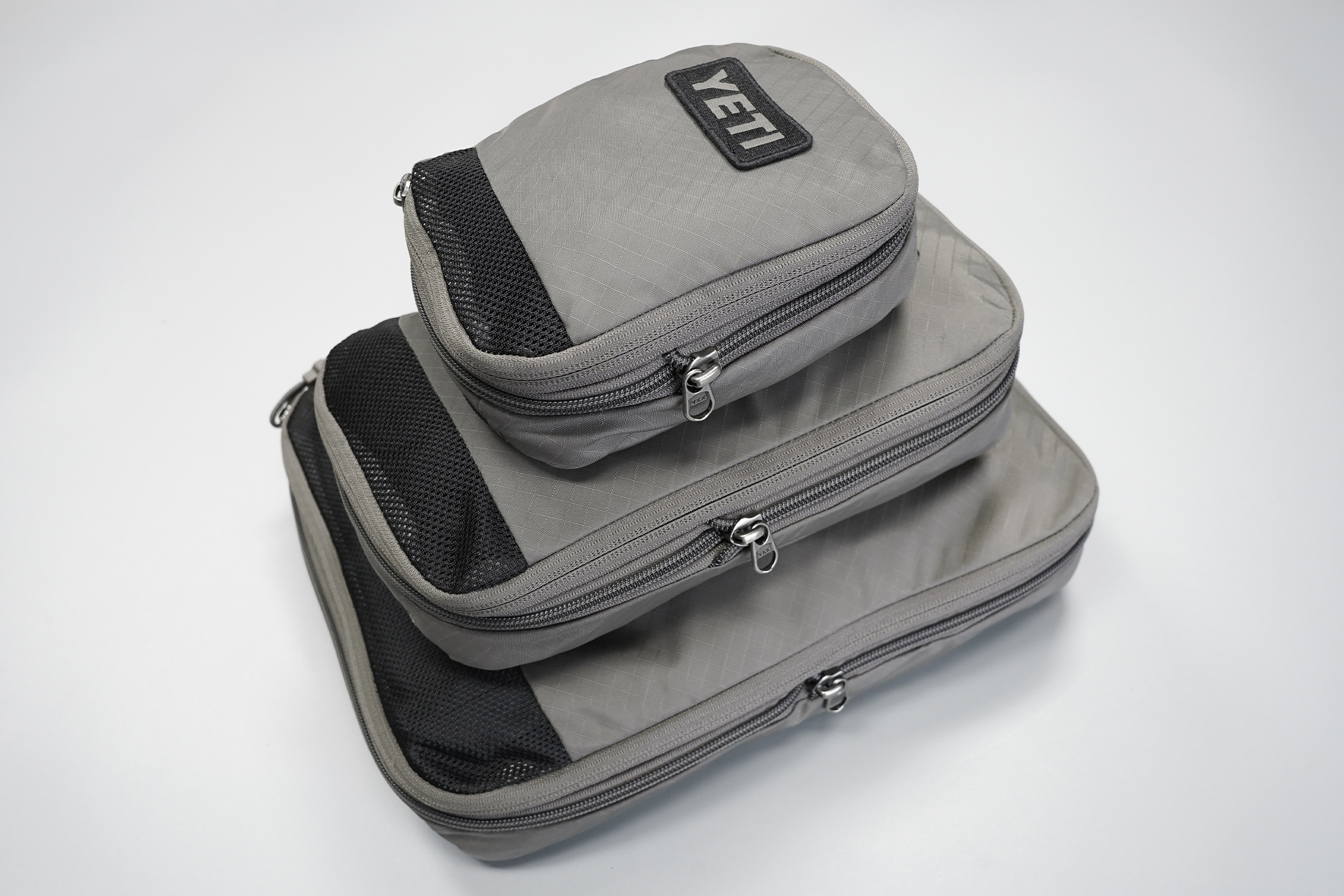 All three cubes – small, medium, and large – fit together kind of like Tetris. If you put the large on the bottom, the medium fits horizontally across the base so that one or two small cubes can fill up the remaining space on top. This makes it easy to create a sort of packing hierarchy, with stuff you want to access often in the small size, bonus layers in the medium, and chunky items in the large.
External Components
A mesh stripe covers the bottom inch and a half or so, which seems to act as ventilation more than anything else. It's a nice touch to have, and it feels durable, but the mesh is pretty tight, so you can't always use it to get a quick look inside the cube if you've packed darker colors or are in bad lighting. Be sure to remember what cube has what if you don't want to waste time searching for that long sleeve shirt or sun mask.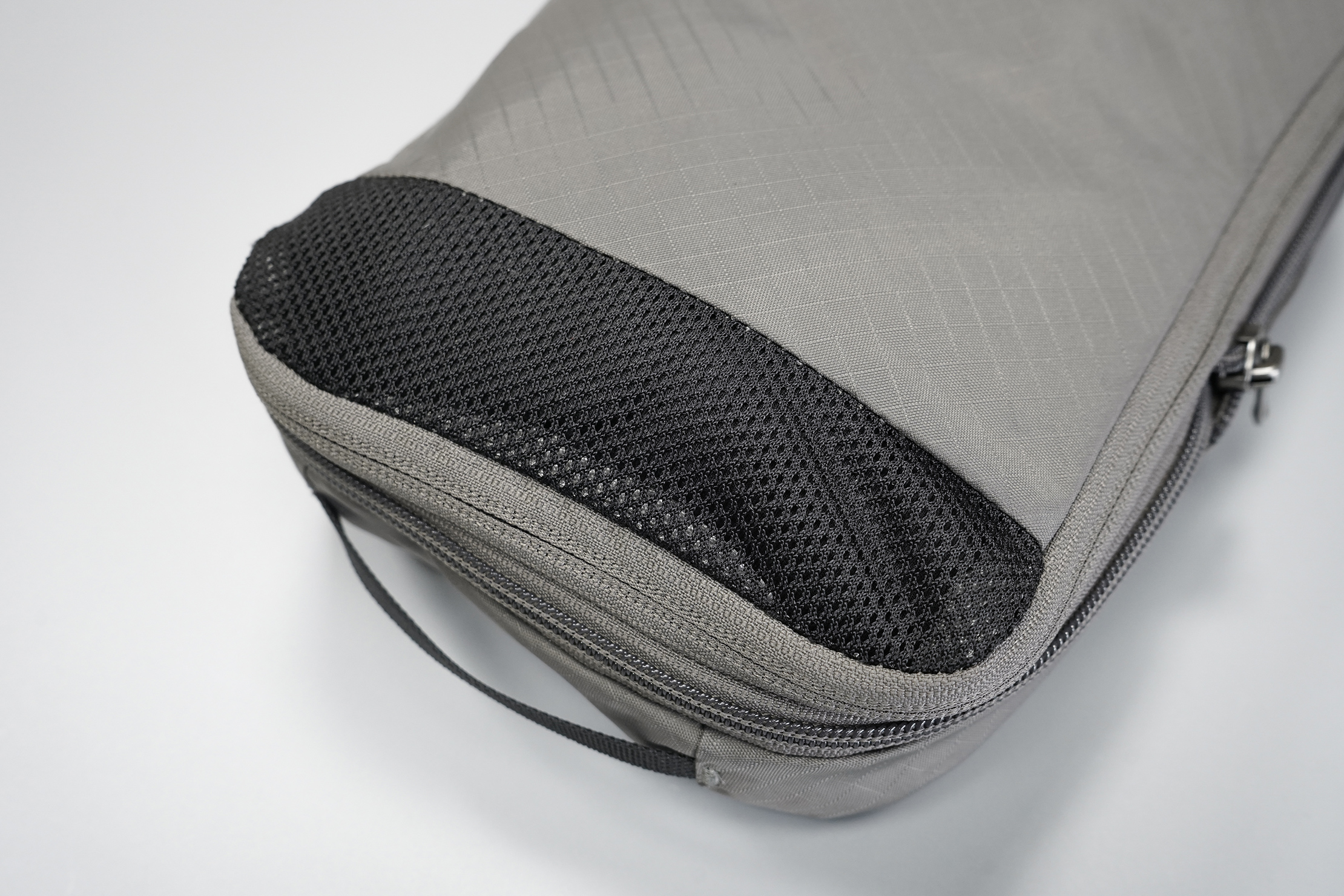 The only feature we didn't find necessary is the top and bottom handle on each cube. It's nice to have just in case, but they're super thin and taut, so we found ourselves just grabbing the entire edge of the cube instead—especially the smaller ones. On the plus side, since they don't stick out, they're less likely to get caught on other items in your pack.
Inside The Cubes
At this point, you're probably itching to know how all the stuff actually packs in there. After all, if you're going to be using a packing cube, you don't want to have to decide between your favorite t-shirt or three extra pairs of socks.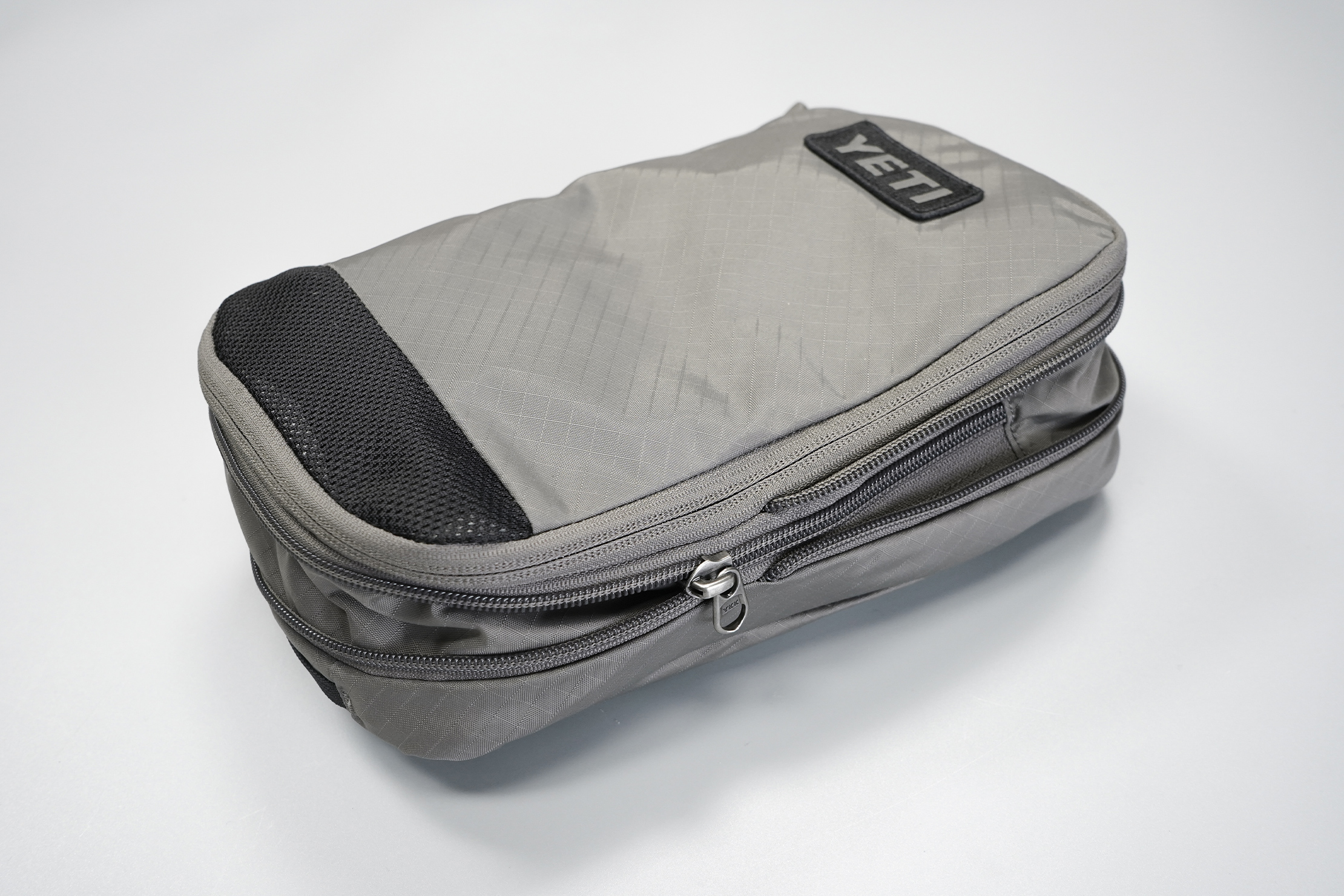 Each cube has an expansion zipper—yes, even the small. This makes it easier to neatly pack all of your stuff in while you have as much room as possible, zip it closed like normal, and then zip it down to be extra compact. Think of it like a vacuum-seal, but without any vacuum. And, with or without the cube expanded, the edges create a stable bucket-like shape so that the sides don't collapse in as you're trying to pack.
There was occasional catching with the expansion zipper as we zipped, but that's bound to happen because of how the flexible material folds in, and it was never a major issue. The clamshell opening provides full top-down access to the cube for easy organization, so whether you're a roller or a folder, there's ample space to organize chunky clothes or tiny tech how you'd like. As for the sizing options, your own preferences will best help you decide which size(s) works best for you.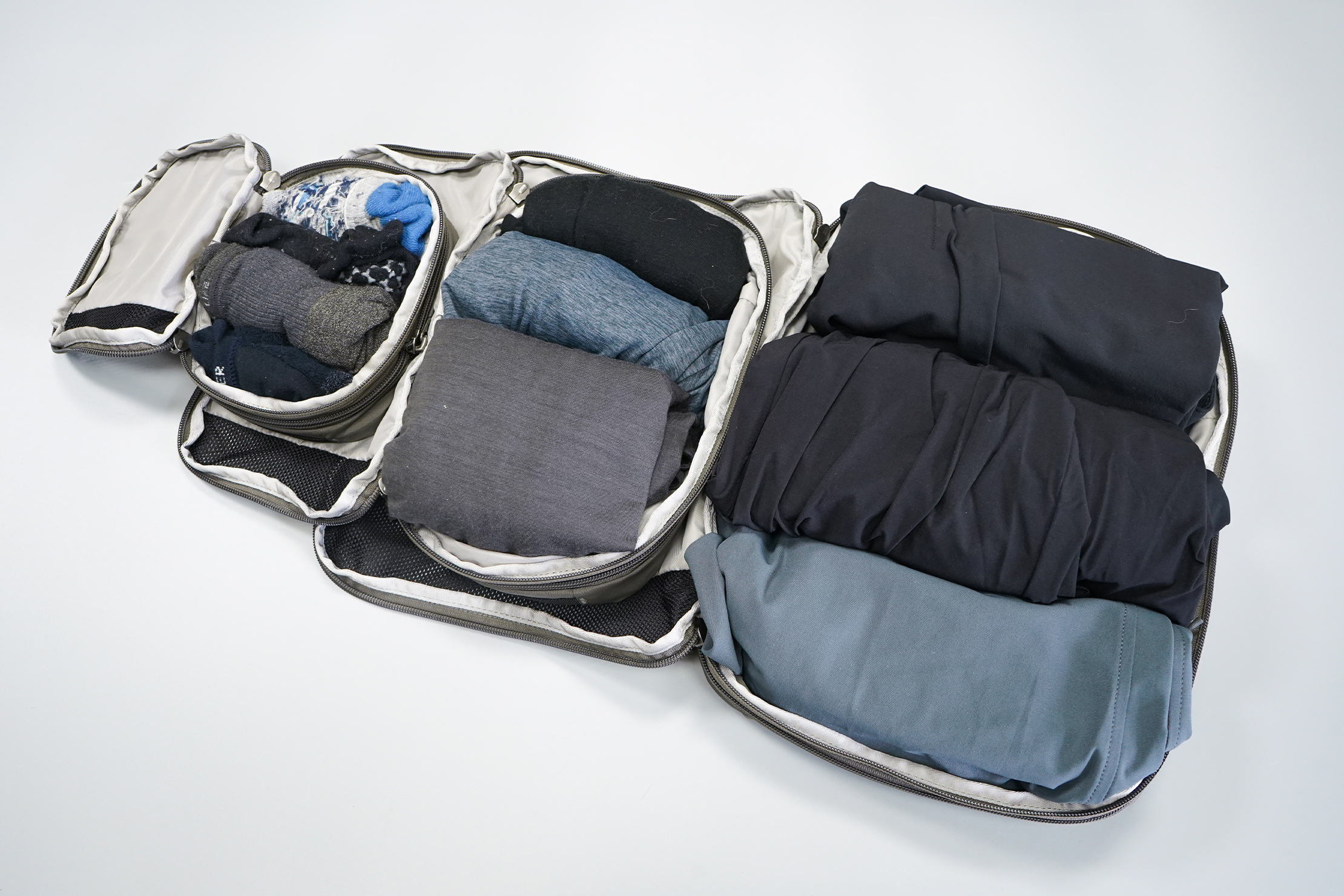 The large is plenty roomy, acting as storage for your bulkier items or a slew of smaller items. If you use it for things like jeans and sweaters, it frees up more space in other cubes to pack t-shirts, toiletries, and tech. The three T's, if you will. Or, if you're looking for more of a solo-cube vibe, there's enough room to pack sleepwear and your entire outfit for the next day — underwear, socks, and all. Pro tip: Wear the same pants two days in a row and save yourself even more space.
The medium is definitely the most versatile. We used it for thinner shirts and a packable jacket, but we could also see it coming in handy for a change of clothes on a beach day. Because it's smaller than the large (obviously), it leaves more space in your pack for other things not in a cube, like your lunch or a handful of those flyers people hand out on the street because it's kind of hard to say no to them. You have room to play around with it depending on where you're headed, but the medium found a perfect balance of size that would give Goldilocks sticky fingers.
The small is a bit of an odd size. It's big enough to hold errant cords or small items like socks and underwear, but unless you pack the cube entirely full, the items inside will move around quite a bit. That means that if you've got tech inside, you run the risk of some stuff getting scratched. This cube is great to have because it gives you a place to put any loose items that don't have a designated spot to go, but you can usually fit those things in the larger cubes if necessary, so you won't die without it.
The YETI Crossroads Packing Cubes give you plenty of space to keep all of your gear organized so that you spend less time wondering where your clothes went and more time enjoying every moment of your trip. That being said, there are more budget-friendly options out there that do a similar job.
Usage Timeline
Initial Usage
Condition: Excellent
Work as standalone pouches
The construction is thick and structured
Has a top and bottom handle for easier carrying
2 Weeks of Use
Condition: Excellent
Material has held up like-new
Main zippers don't stick, but the expansion zipper can if the cube is super full
Size range covers pretty much every packing need
Mesh doesn't really serve a purpose other than ventilation
All three cubes fit nicely together when packing
Top and bottom handle are nice to have but aren't a go-to when grabbing the cubes
Access the Pro Community Discussion
Get your questions about the YETI Crossroads Packing Cubes answered from our team and the Pro Community right here on the page. Plus, join discussions with other members about gear, guides, and more.
Other Organizers & Pouches Reviews