Eagle Creek Pack-It Isolate Packing Cubes Review
Eagle Creek's Pack-It Isolate packing cubes are lightweight, no-frills & solid. We dig the compression option but it can be tough to zip when packed tightly.
Our Verdict
Unlock the Pro Summary
Save time. Get access to brief summaries of our reviews so you can browse and make decisions more efficiently.
Pros
Lightweight & flexible
Angled zippers create small "tub" shape, which is easier for packing
Good range of sizes and colors
Cons
Rounded edges can make it challenging to pack the cubes in layers within your bag
Compression cubes can be hard to zip when packed tightly
Roll top shoe sac isn't airtight
Recent Pack Hacker Video
Technical Details
Weight (oz)

0.60 oz (17 g)

Small size

Denier

50D

Dimensions

7.25 in x 10 in x 3.25 in (18.4 x 25.4 x 8.3 cm)

Small size

Notable Materials

Polyester, Zoom Zippers

Manufacturing Country

Vietnam

Warranty Information
Full Review
Get up to 20% off Eagle Creek • Join Pack Hacker Pro
After such a positive experience with Eagle Creek's Pack-It Specter cubes, we were stoked to try the upgraded Pack-It Isolate packing cubes. We're happy to report that the Isolate line had everything we loved about the Specter line. They are just a bit nicer.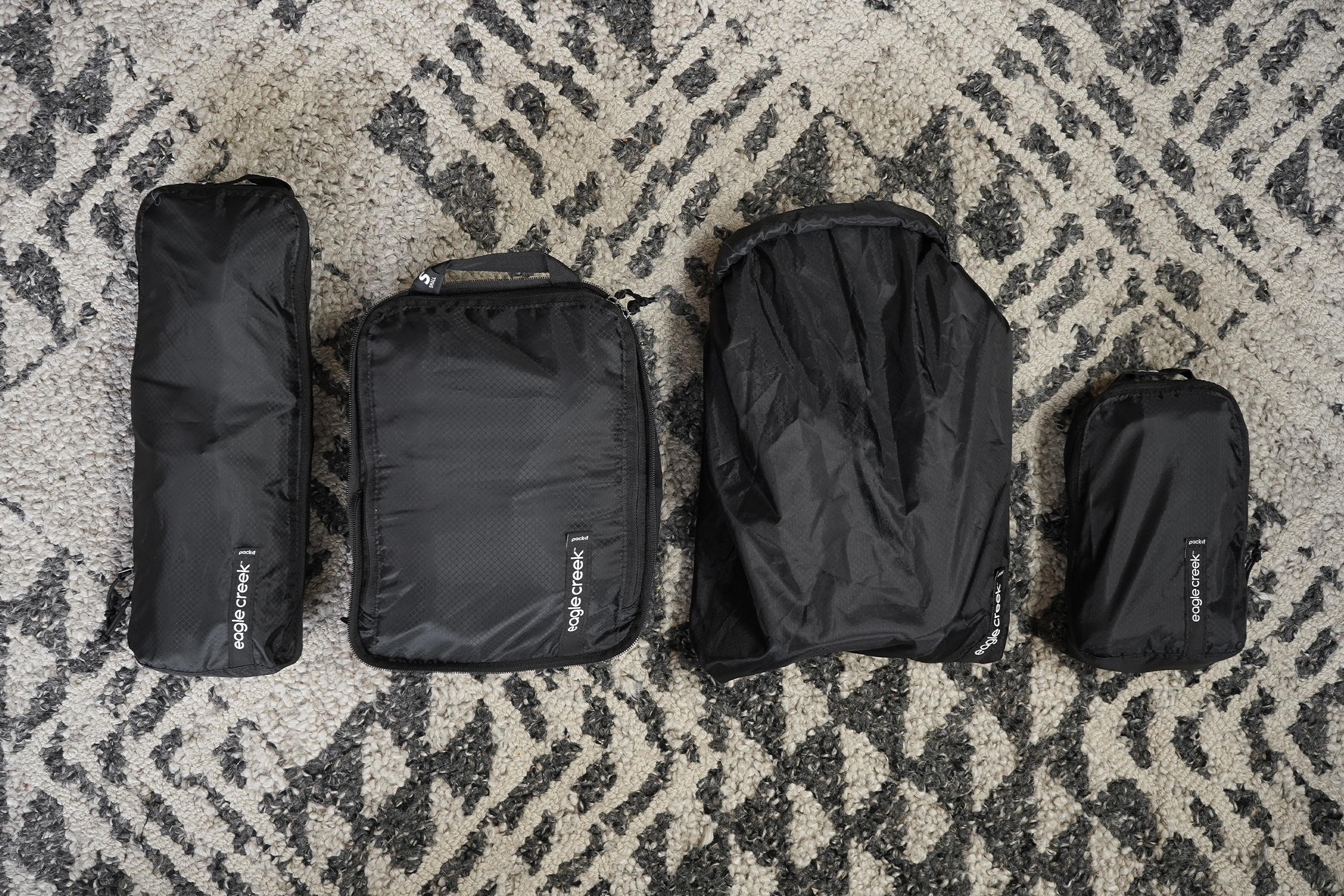 It's like upgrading from regular pizza crust to garlic pizza crust. We will never say no to traditional pizza crust, but we'll gladly take the garlic upgrade if it's available—no offense to any vampires out there who can't eat garlic.
The Isolates are lightweight and come in a nice range of sizes from x-small to a laundry bag. You can also choose to get them in either "cube" or "sac" shape. Cubes are, obviously, shaped like a cube, while the sacs are flatter (think of an oversized pencil case). We went with the cubes for this review, and we'll talk about the sacs towards the end.
Eagle Creek's Pack-It packing cube system comes in two other lines: "Reveal" with mesh material to reveal what's inside, and "Gear," which is more robust for cameras and other gear. Of the three, we like the Isolate line best because it's the most versatile.
"Eagle Creek Pack-It Isolate packing cubes" sure does make for a fun tongue twister, but the products themselves are far less complicated. Let's check 'em out!
Fabric & Features
The Isolate packing cubes are made out of a washable and water-resistant polyester ripstop. The material is exceptionally lightweight and thin, but we didn't have any issues with holes or tears over the two weeks we used them. If you get a small rip, the diamond ripstop pattern should prevent them from getting too big.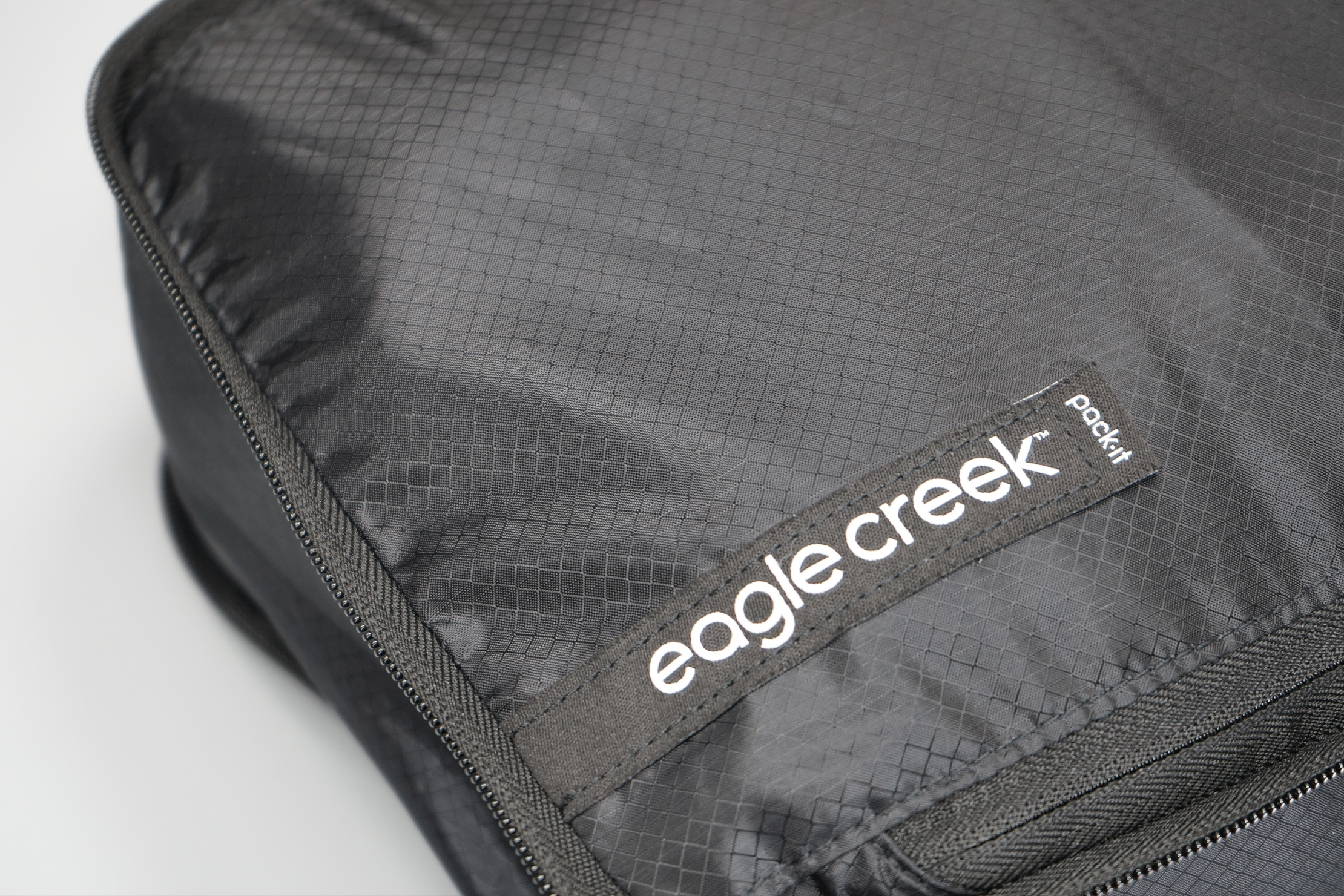 The material feels a bit slippery, which isn't a terrible thing as they will slide in and out of your bag pretty easily. That said, it can be challenging to stack them on top of each other if you're traveling with a taller bag, and they will shift around a bit inside.
All of the Isolate cubes use Zoom zippers. While gear enthusiasts may be disappointed to see anything other than YKK zippers, we haven't had any issues with these. They also have paracord zipper pulls, so you can get a good grip on them.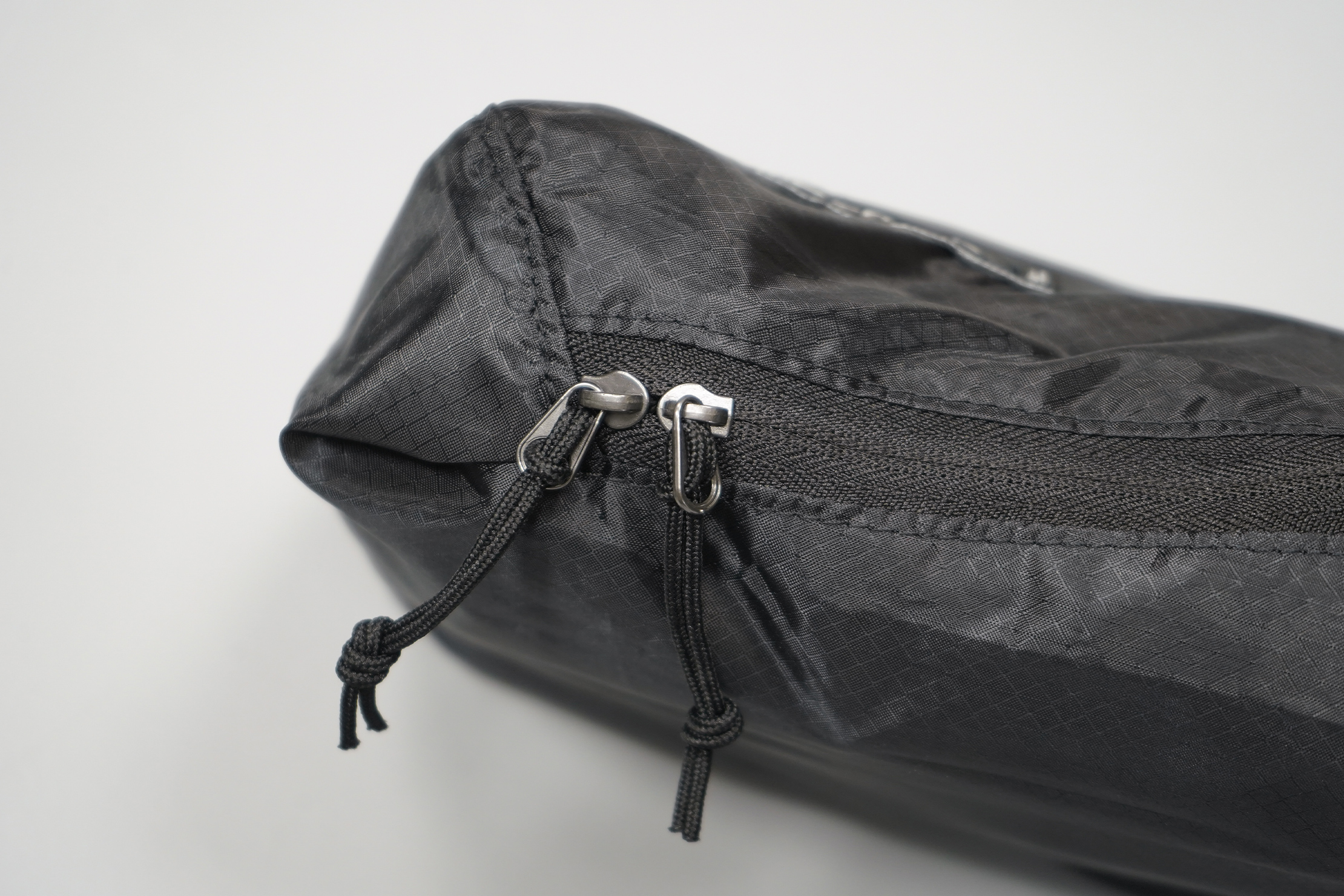 The zippers are angled a bit so that the top flap of fabric doesn't have any dimension, and a small "tub" is created for easier packing. The cubes open up fully clamshell-style, and the top just kind of flaps open and out of the way so you can clearly see everything inside. We didn't mind this at all, but some people may prefer zips that only open halfway, so you start with a small pocket to stuff your clothes in. A very small nitpick, but your mileage may vary on whether this bothers you or not.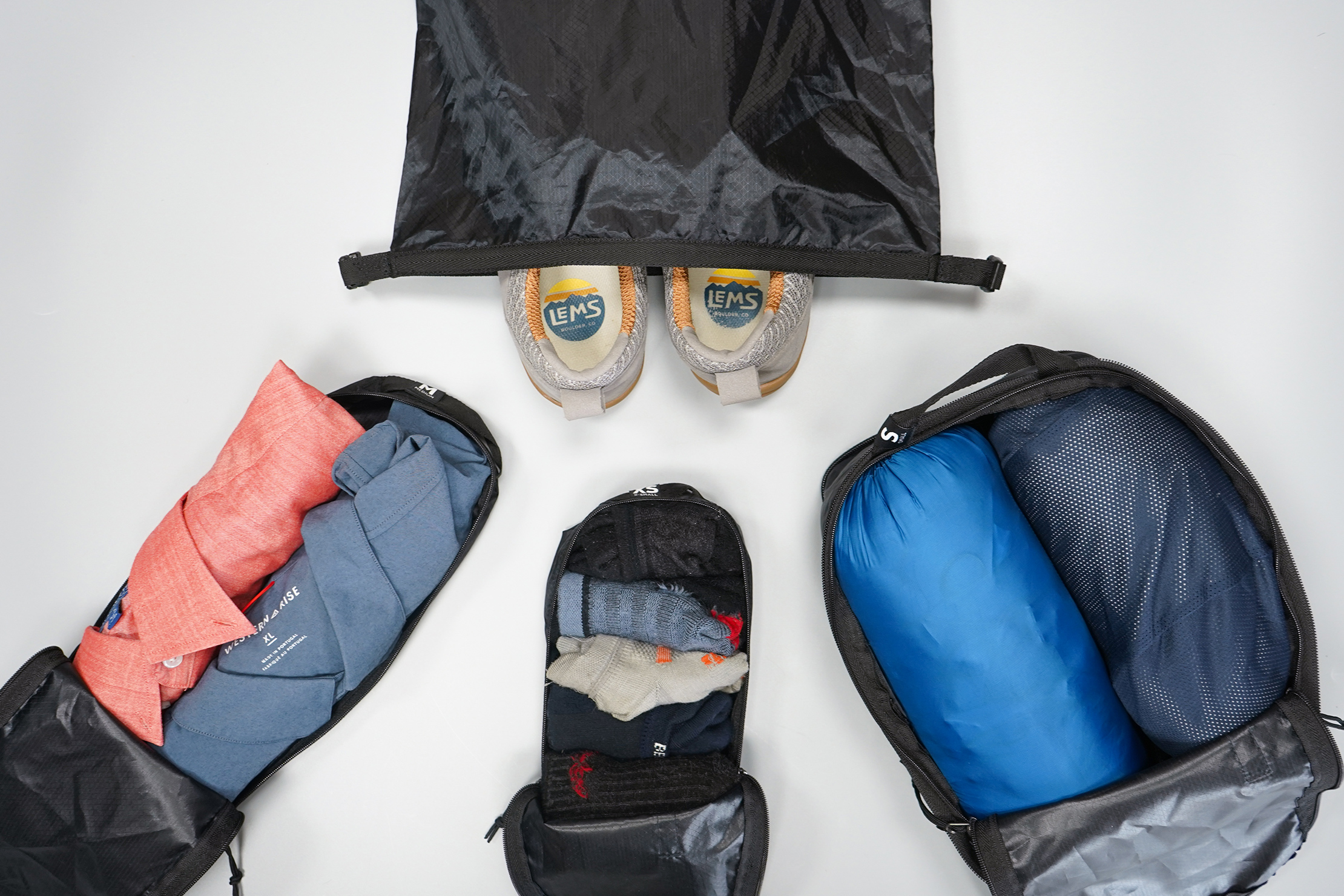 Each cube also has a little handle at the top to make it easier to grab or hang up when dresser or countertop space is limited. These handles work well for the larger cubes but don't seem necessary on smaller ones that you might only put a few pairs of socks in.
We do like how all of them have tags with a letter indicating their size (S for small and so on). This will help you differentiate between them and remember what size you've got if you lose one or find one to be really awesome and want to buy more.
They're available in various sexy colors like Sahara Yellow, Ocean Currents (Blue), and a Hawaiian shirt print called Aloha. Of course, we just went with classic black.
We tested the x-small, small, medium slim, and roll top shoe sac from this line for two weeks, including a trip through the Smoky Mountains in North Carolina.
X-small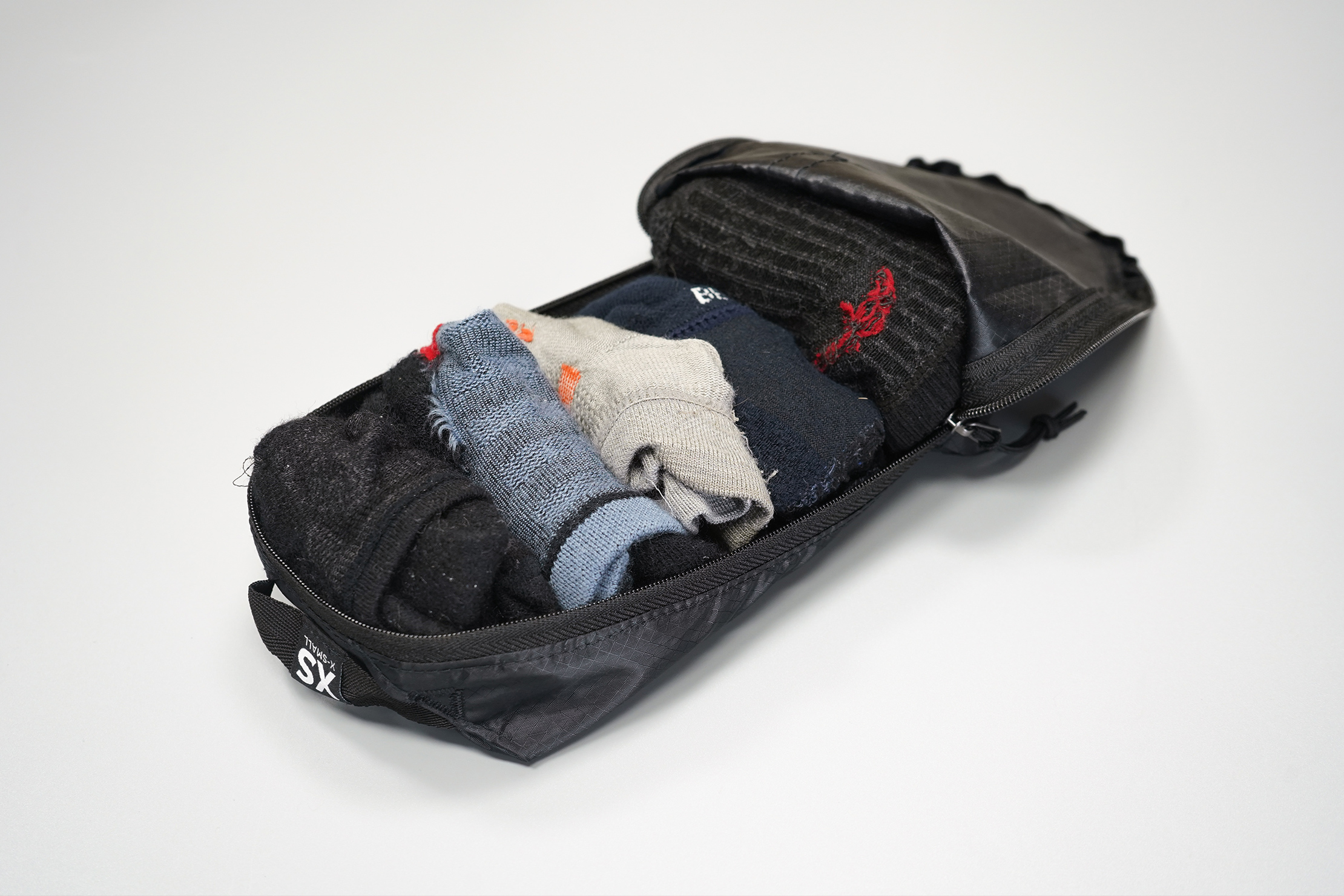 We liked using the X-small Eagle Creek Isolate packing cube best for socks and underwear. It fits about four pairs of thick socks comfortably, or up to six if you really want to cram them in. It's great for isolating your underwear from your other stuff. Get it? Isolate?
Small
This one is a compression cube and has a lot of depth to it. When the cube is empty and in compression mode, it doesn't seem like very much will fit inside. Start with it uncompressed, however, and you'll realize the surprising amount of clothing that you can pack in here. Then, when you close the magical compression zippers, boom—it shrinks down incredibly small. It's a true testament to the sorcery of compression packing cubes as if they were made by Gandalf himself.
These even fit our warmest packable puffer jacket. It was a bit of a tight squeeze and felt like an overstuffed balloon getting ready to pop. But guess what? It didn't!

You probably wouldn't want to stuff it with a puffer jacket on every use, but we just wanted to give you an idea of the capacity. It's kind of our job, after all. Note that the compression zippers do not have paracord zipper pulls. It would be nice to have some extra help when you've got this thing packed in tight, as it can be a bit hard to close. You'll just have to give it a bit of elbow grease.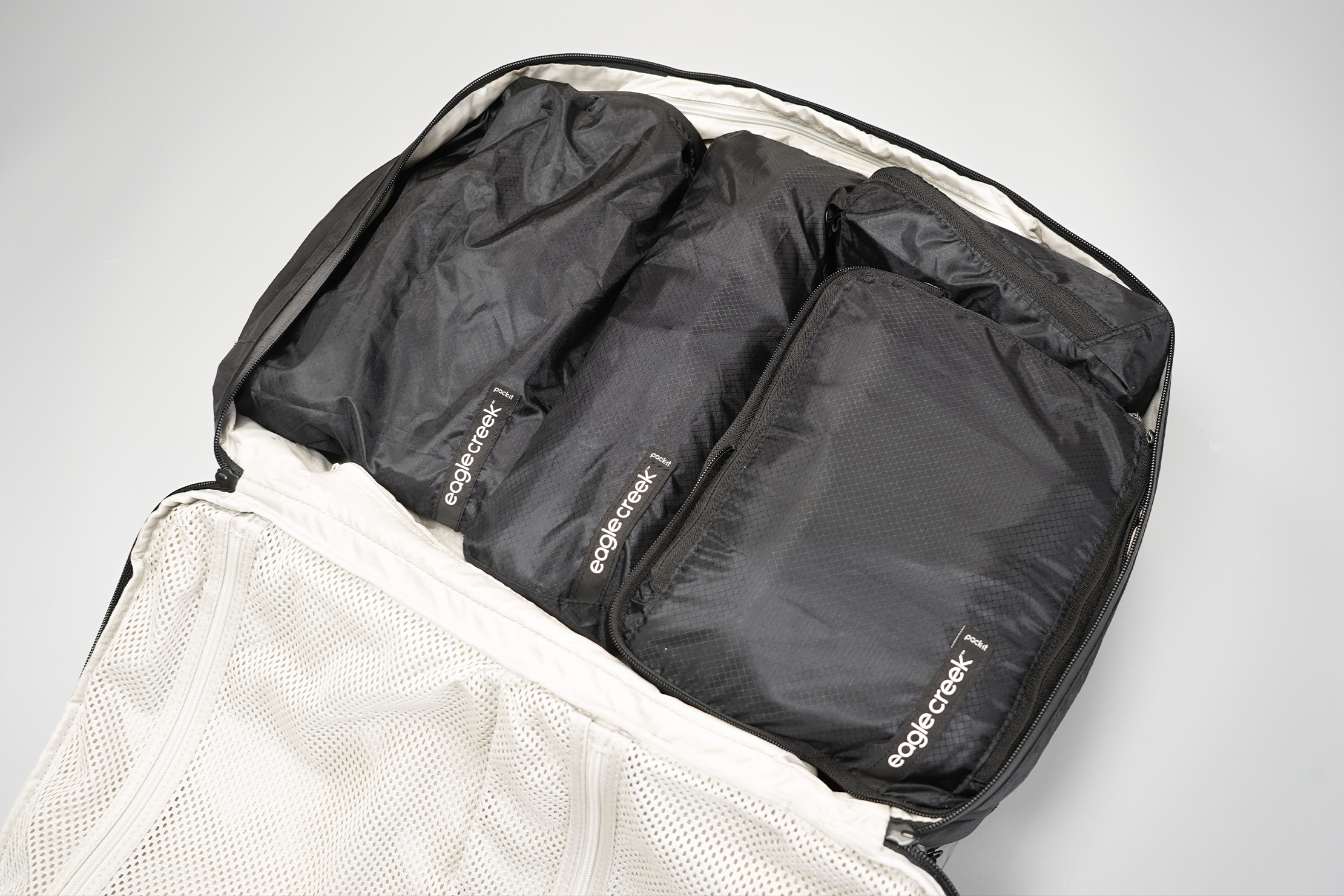 If you're using a bunch of these, it can be slightly challenging to arrange them in your bag since the edges are rounded and bow in at the sides when compressed tightly compared to other cube-like packing cubes with thicker materials. This is the price we have to pay for lightweight fabrics and compression functionality!
That said, packing two of the x-small Isolates side-by-side takes up about the same amount of space as one small (compressed). It's nice that they have some uniformity when you pack them into your bag, and you can make your own customized system using a combination of sizes based on your carry and compression needs.
Medium slim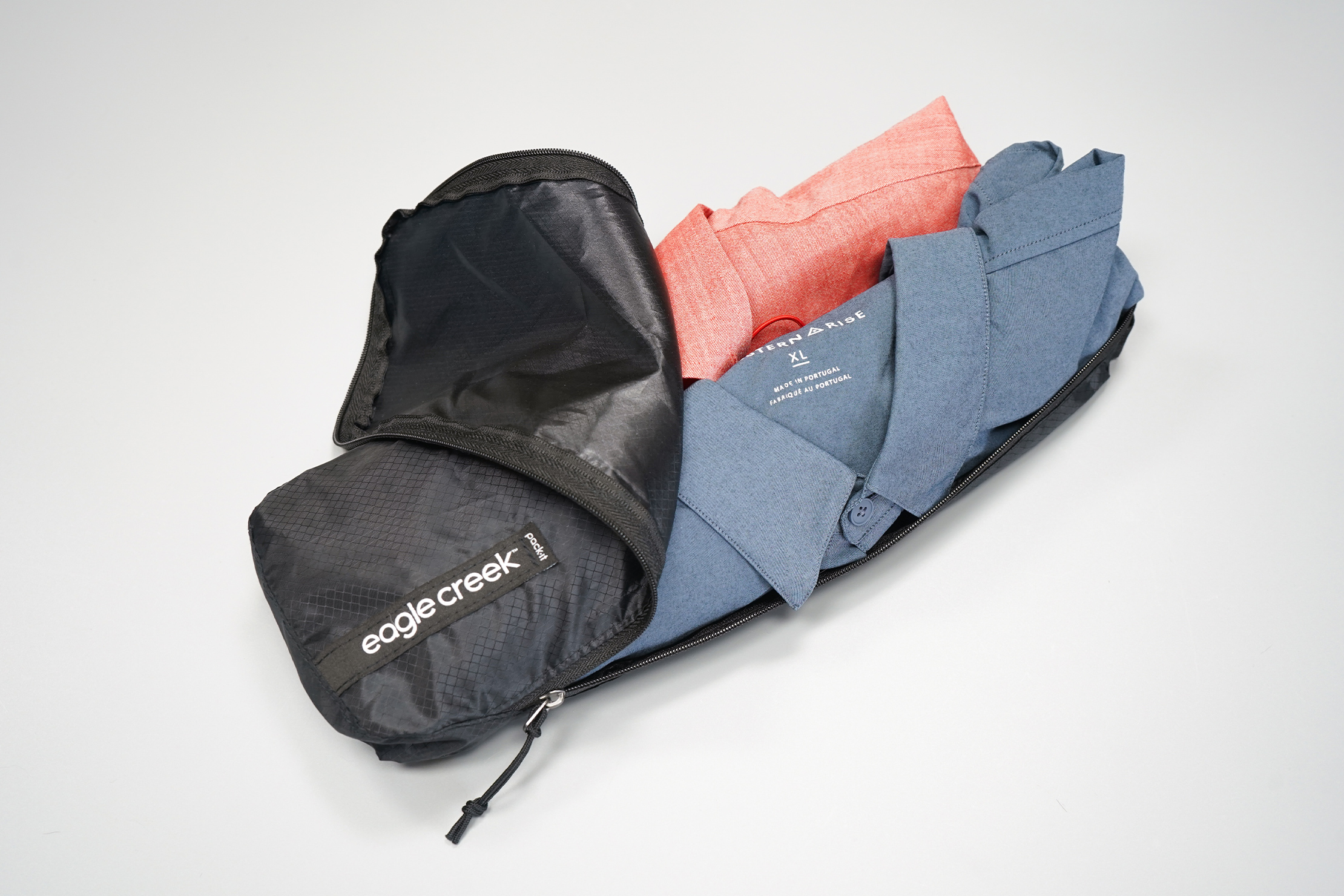 The medium slim is tall (long), dark (if you opt for black), and indeed handsome. It can also be used to stack up socks, but we rolled up a few button-downs that we wanted to keep isolated and somewhat wrinkle-free. We promise that's the last time we'll make the isolate pun.
Roll top shoe sac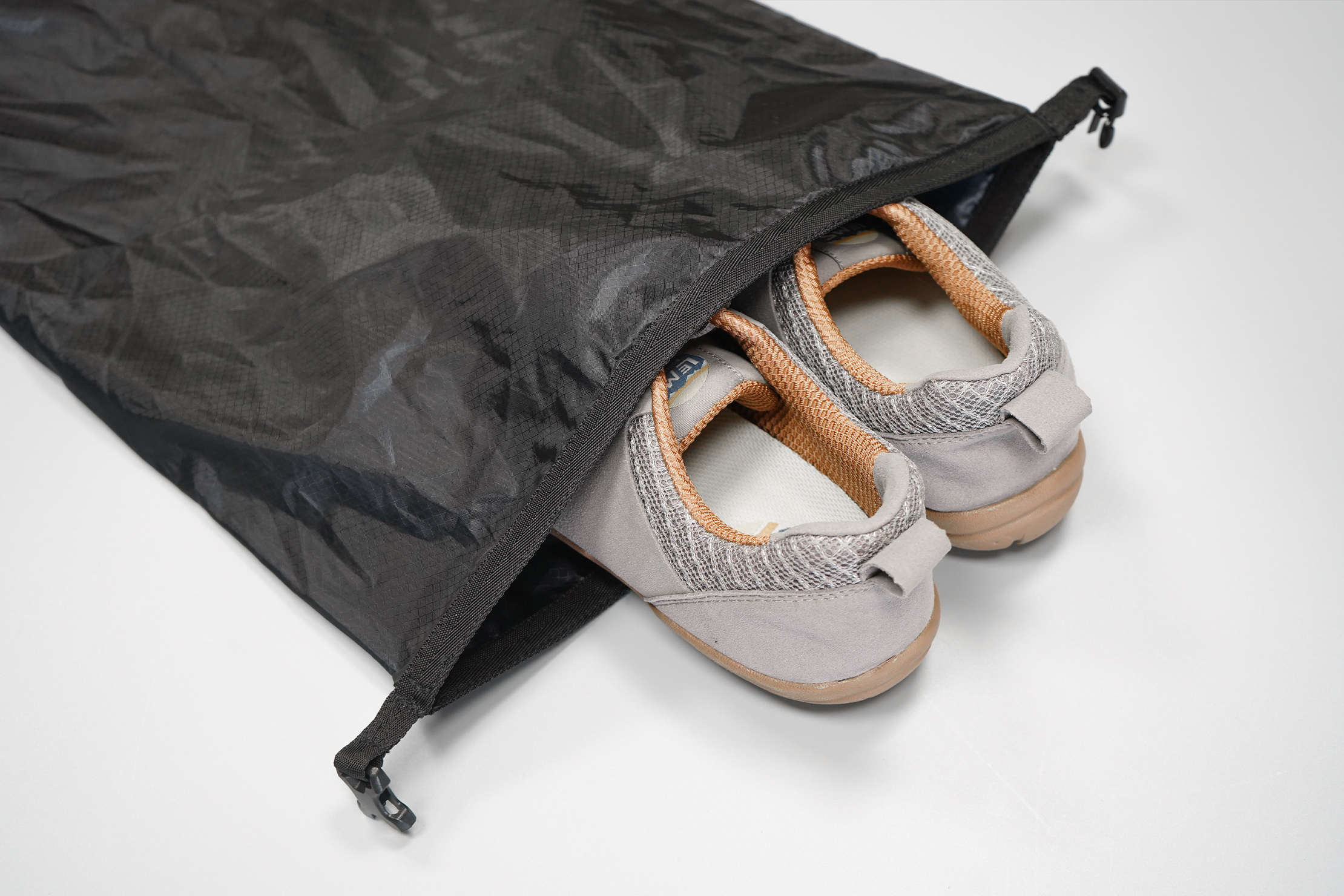 The name pretty much says it all. It's a sac for your shoes with a roll top. Having a bag to put our muddy shoes in after hiking through the Smoky Mountains was pretty boss. Dirt had accumulated at the bottom of the sac by the end of our trip, but at least it was isolated and didn't get on the rest of our clothes. Okay, that was the last time, for real.
Eagle Creek touts these as having "Protx2 antimicrobial treatment." We're not entirely sure what that even is, but it's supposed to keep the funk from sweaty shoes contained. As there's no way to really test the funk-cutting ability of this "antimicrobial coating," we can't speak on that. We didn't really notice that much of a difference in stink during testing, but we did enjoy it using it on our hike.
Just so you know, this shoe sac is not a dry bag, even though it looks like one. It isn't airtight, so you should probably avoid submerging it unless you want whatever's inside to get wet. It is easy to compress, however. Just roll it down, clip the buckle together at the top, and press out the air. If you don't like the roll top idea for your shoes, you can opt for the regular zippered version.
There are a few more sizes of the Eagle Creek Pack-It Isolate packing cube system that we didn't test out. At the time of this review, this includes a medium-sized compression cube and a structured folder that's supposed to keep your clothes from wrinkling. It also comes in a Clean/Dirty sac with different compartments to separate your clean and dirty clothes, but we didn't get that fancy.
Usage Timeline
Initial Usage
Condition: Excellent
Anti-microbial fabric prevents odor causing microbial growth
Lightweight but durable materials
Comes in many different sizes and a compressible version
This line also has different styles of shoe sacks and pouches
2 Weeks of Use
Condition: Excellent
We can confidently say that the "Isolate" packing cubes are our favorites in the Eagle Creek Line
Access the Pro Community Discussion
Get your questions about the Eagle Creek Pack-It Isolate Packing Cubes answered from our team and the Pro Community right here on the page. Plus, join discussions with other members about gear, guides, and more.
Other Organizers & Pouches Reviews