Away F.A.R. Organizational Cube Review
Away's F.A.R. Organizational Cubes come in four sizes clad with vibrant colors, making them easy to differentiate, though we worry about long-term durability.
Our Verdict
Unlock the Pro Summary
Save time. Get access to brief summaries of our reviews so you can browse and make decisions more efficiently.
Pros
Nylon is extremely lightweight, so it won't weigh you down
Colorful options make finding small articles of clothing easier
Combination of colorways and sizes enables easy organization
Cons
Zipper and pull feel cheap
Small size cube isn't very compact
It can be difficult to compress when fully packed
Recent Pack Hacker Video
Technical Details
Capacity

5.3l

(S) | 9.84L (M) | 12.9L (L) | 25L (XL)

Weight (oz)

1.8 oz (51 g)

(S) | 2.6 oz (M) | 3.2 oz (L) | 4.4 oz (XL)

Dimensions

10.6 in x 5.5 in x 3 in (26.9 x 14 x 7.6 cm)

(S) | 13 in x 6.3 in x 3 in (M) | 13 in x 8.3 in x 3 in (L) | 17.1 in x 10.4 in x 3 in (XL)

Notable Materials

Nylon, Unbranded Zippers

Manufacturing Country

Cambodia

Warranty Information
Full Review
Here at Pack Hacker, we love packing cubes. We nearly changed the name to Packing Cube Hacker, but we figured that would be much to narrow in scope. Anyway—if there's anything we love more than a packing cube, it's one that compresses. This enables you to save space and weight, which helps you stay more comfortable and organized on your trip. We're amped to see how these organizational cubes from Away fare, so without further ado, let's dive in!
External Components
The cubes have a nylon exterior. The material isn't super thick, but it's extraordinarily lightweight and has a poppy colorway. There are a few saturated options available and a sleek black model, too, at least at the time of writing.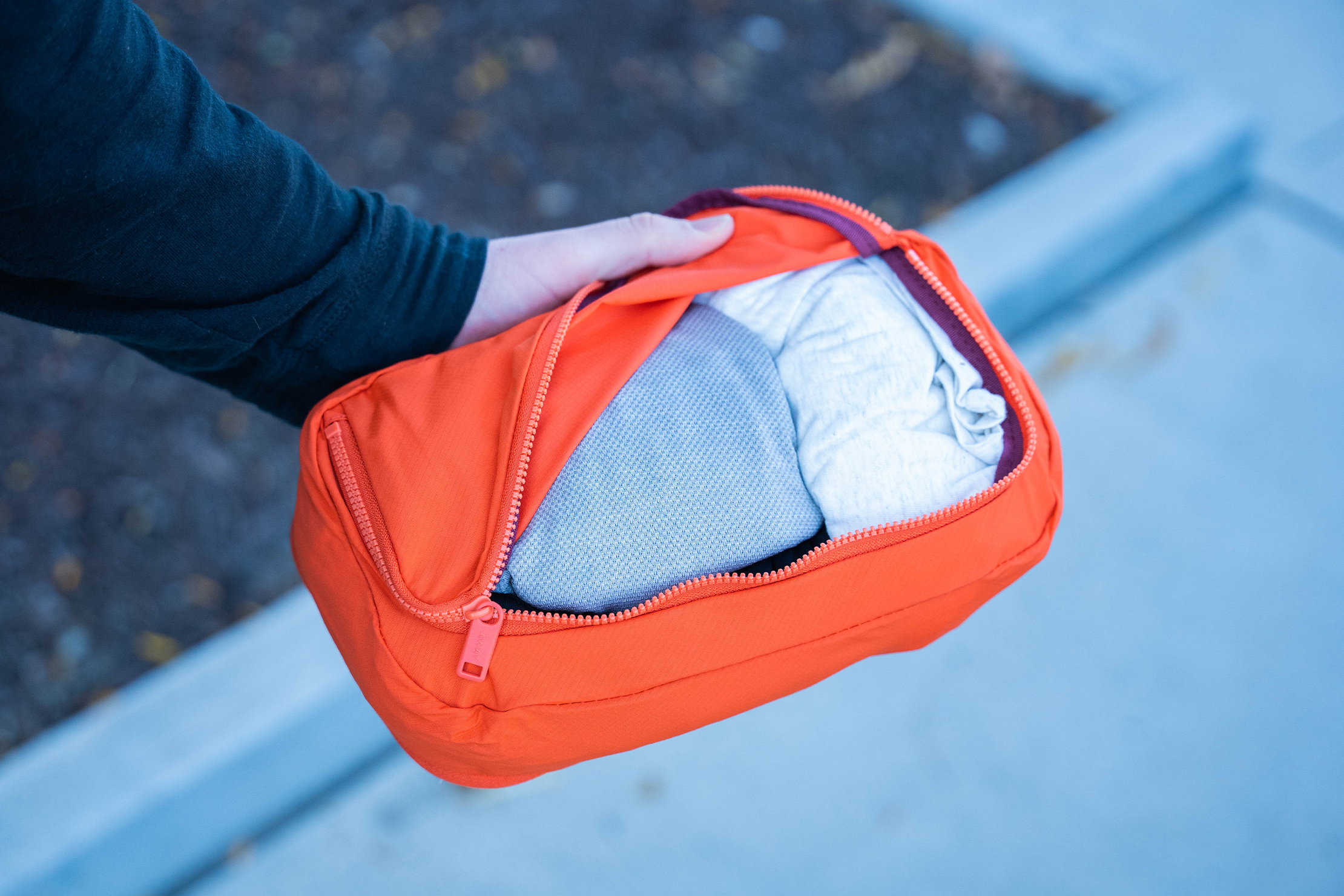 In addition to a few options for color, there are several different sizes. Away listed their capacities in gallons, which doesn't make sense, so we've assumed they meant liters (those would be some big packing cubes!).
The small size weighs 1.8 ounces and is 1.4 liters.
The medium size weighs 2.6 ounces and is 2.6 liters.
The large size weighs 3.2 ounces and is 3.4 liters.
The extra large size weighs 4.4 ounces and is 6.6 liters.
For reference, if the large size were to be 6.6 gallons as they have it listed, that would be 24.98 liters or over 70 12-ounce cans of pop.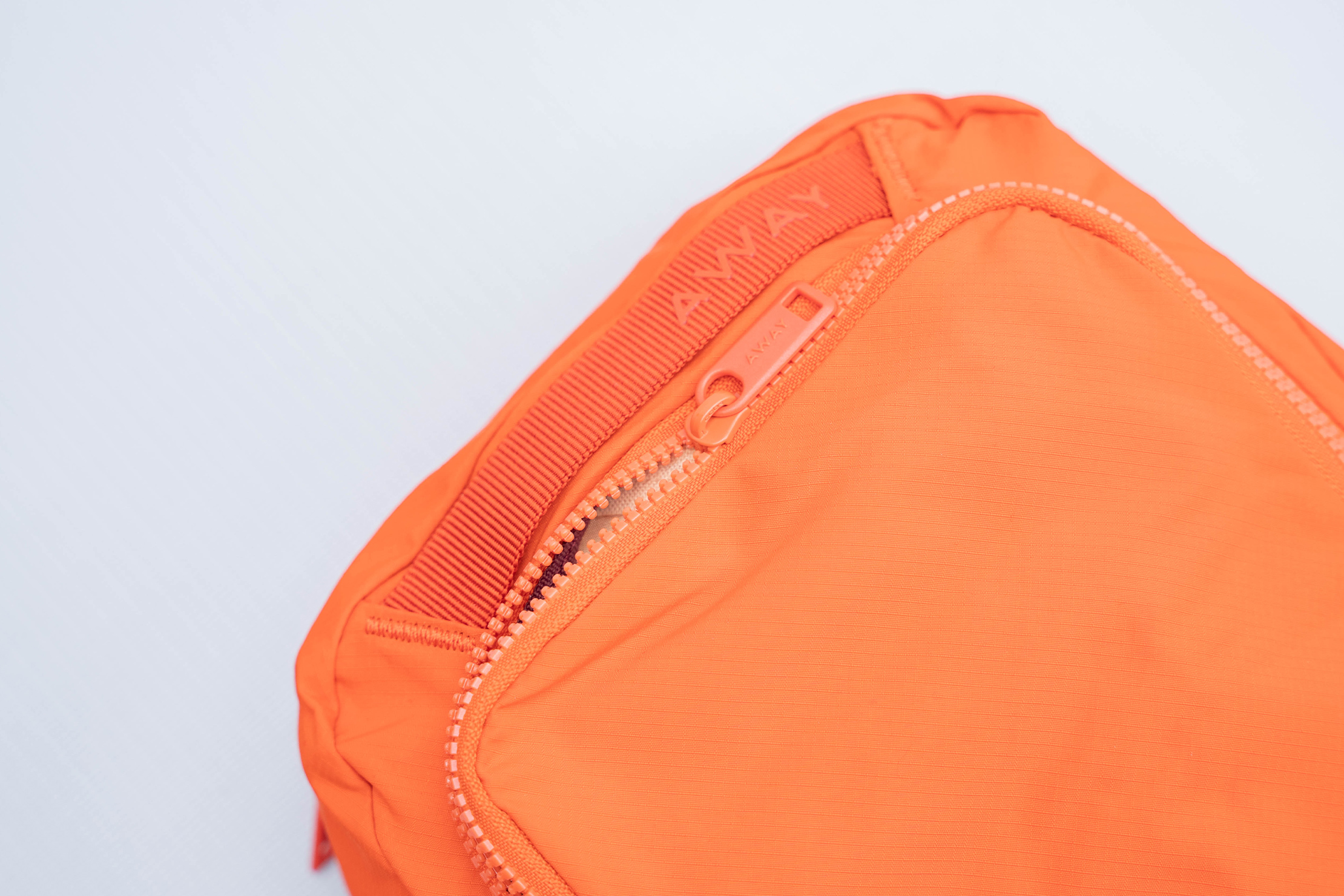 We dig the different colorway and sizing options offered by Away—it creates a unique travel system in which you have the correct size for each of your garments and can differentiate them by size or color. For instance—keep your socks and underwear in a small Red-Orange organization cube because orange you glad you didn't forget your undergarments? Then throw your pants and shorts into a large Vivid Blue cube so your jeans will match it nicely. Lastly, toss your vegetables into an extra large Atomic Celery cube because you never have enough greens while on vacation. We're only joking, but you get the picture—even if we did get a little silly with it.
The cube utilizes unbranded zippers, which aren't a team favorite. They feel cheap and as if they could break at any moment. No such issue has arisen in their defense, but they are a long-term worry. The teeth on the main compartment zipper feel like those you'd find on a toddler's backpack. As stated above, they have given us no issues but feel very breakable.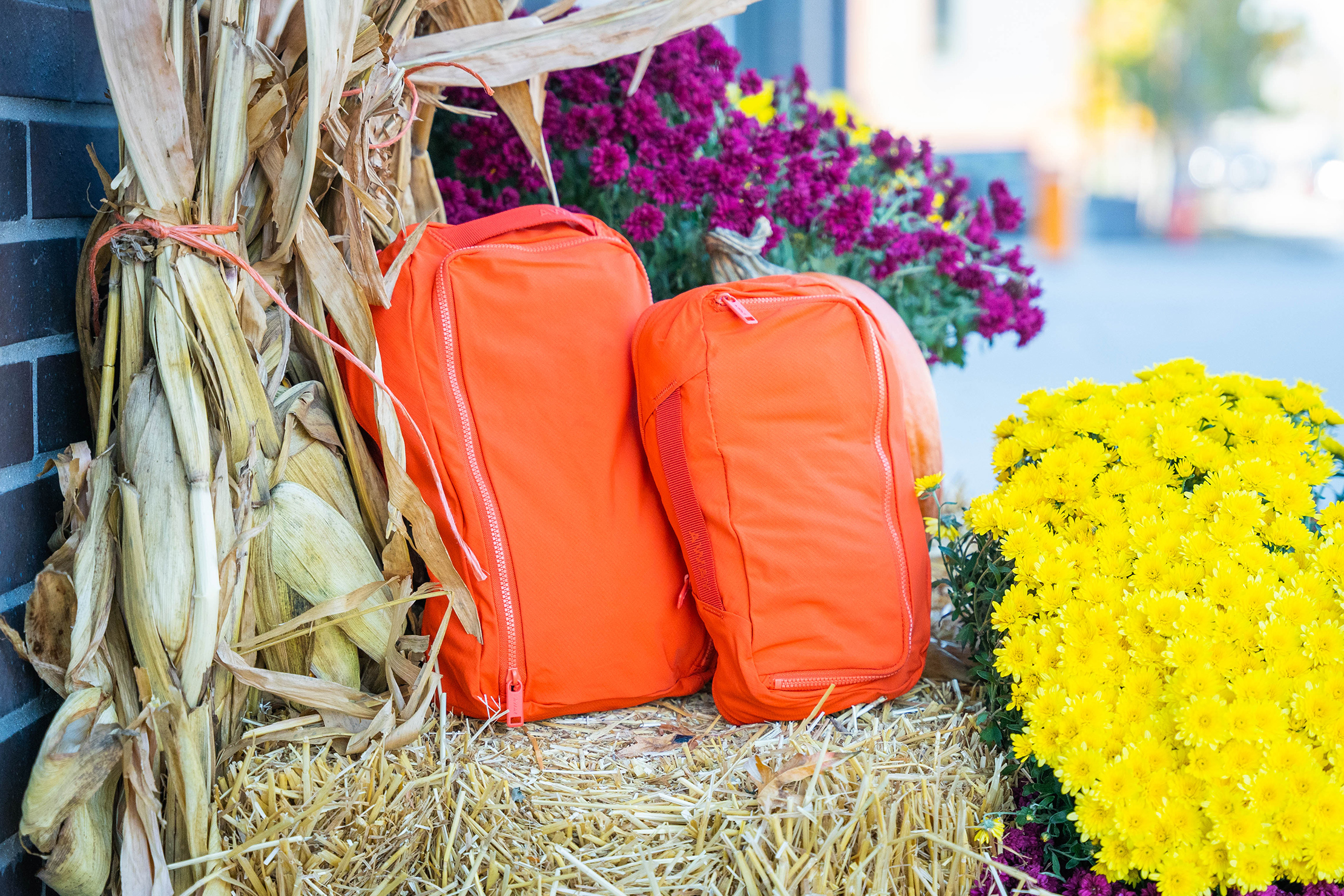 There are two zippers on the cube—one for the main (and only) compartment and one for the compression system. The latter has a better zipper track than the former, which we dig. This is doing most of the leg work when it comes to making the cubes travel-friendly, and we've had no issue with it in practice (or in how it feels, either).
All the sizes have a handle, but the small one places it in a different spot. The three larger models have a handle on the skinny end, so you can put it in your daypack or travel backpack with the handle facing the top opening of your bag. The cube is likely too wide to fit width-wise, so this makes sense. On the small cube, which will probably fit width-wise, the handle is on the long edge, so you can quickly slide it out. This is a small but smart detail from the designers at Away.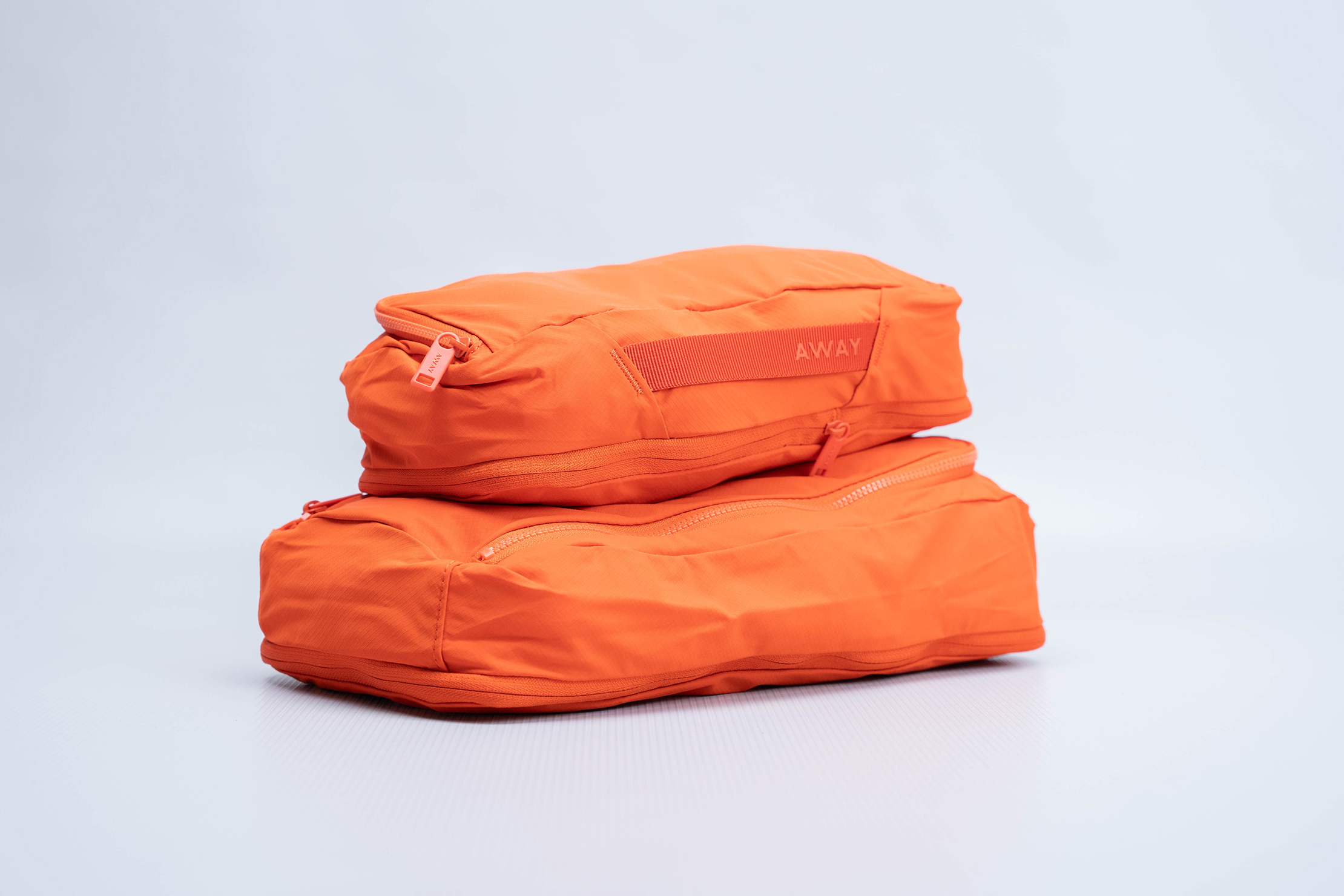 The logo is on the handle and blends in nicely. Although the colors can be a bit loud, overall, the cubes are very professional looking and are a good match for those wanting to find a specific color or vibe while packing.
Inside The Organizational Cube
As we went over before, there are two zippers on this thing. To load the cube up, first, undo the compression zipper on the bottom side of the cube. This part is easy, as there's no resistance yet.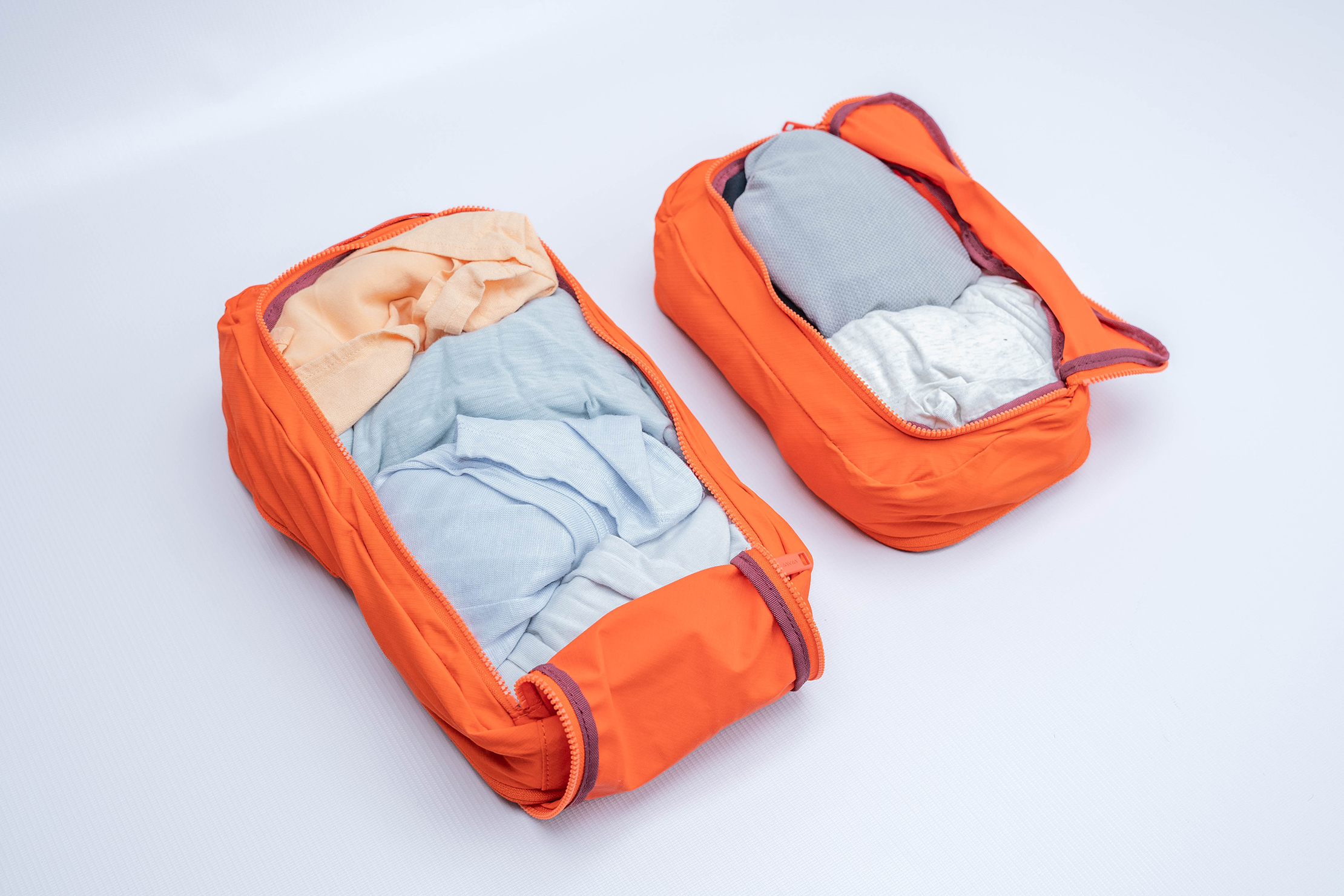 After that, open the main compartment. You'll find that there isn't any organization inside—but we don't mind that. Given the lightweight nature of these cubes, the organization would add unnecessary weight. There are enough sizes to organize the interior of your pack, so we'd instead go with that than be bogged down by supplemental organization inside the cube.
Once you've loaded your gear inside, close the main compartment zipper. If you struggle with that, this next step will be difficult, and you might think about taking an article or two out before we move on.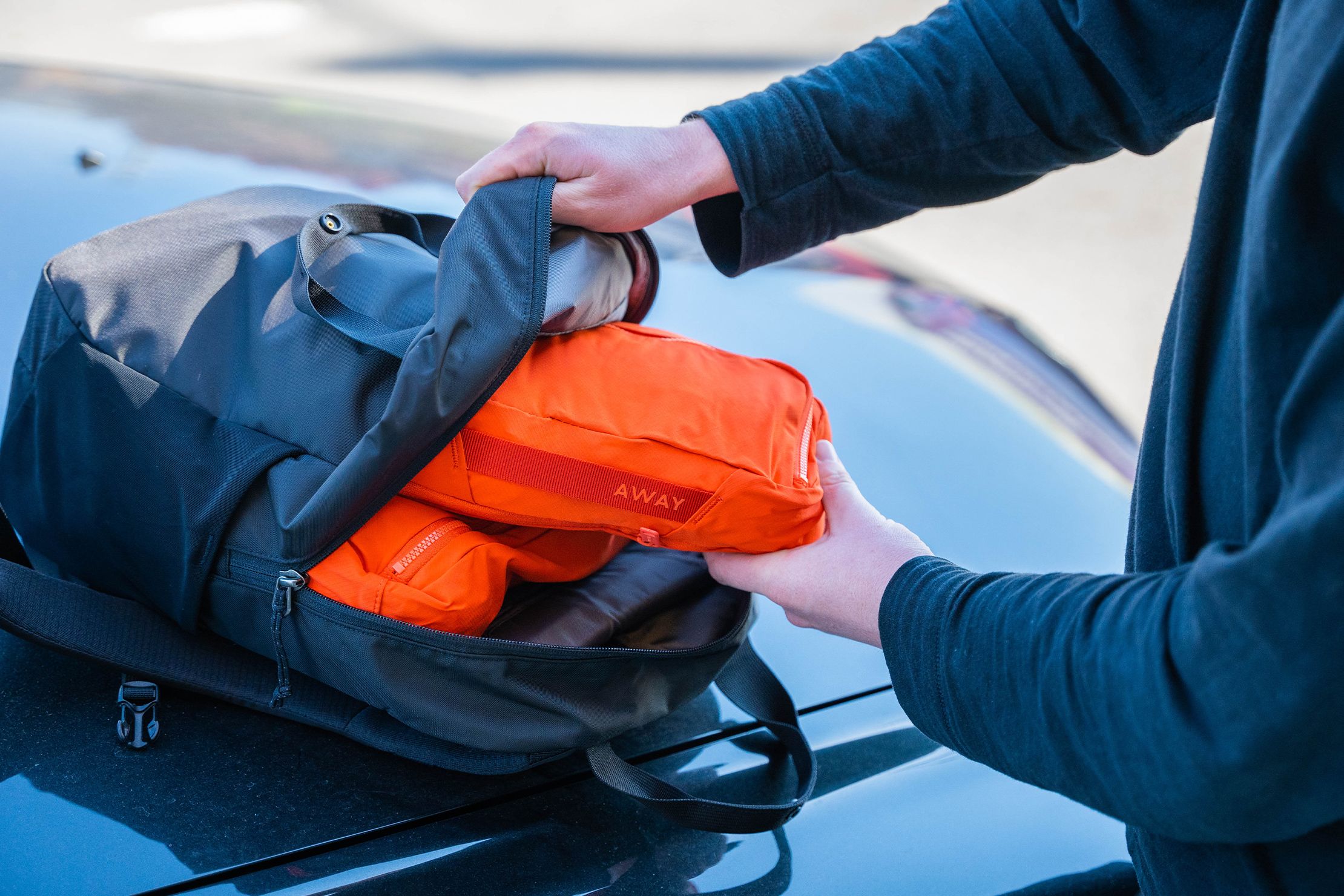 Oh, you don't want to? That's fine—let's get on with it.
Closing the compression zipper can be difficult when the pouch is fully packed and you've decided to pack it as fully as possible. We've got two methods to assist with getting the job done, so hopefully, one of them will work for you.
The first is to use one hand to push down on the top of the cube while the other hand closes the zipper. This is ideal when you have clothes that take up a ton of room but are highly compressible. The hand applying the pressure is taking the air out of the clothes so that you can close the zipper and save space in your pack.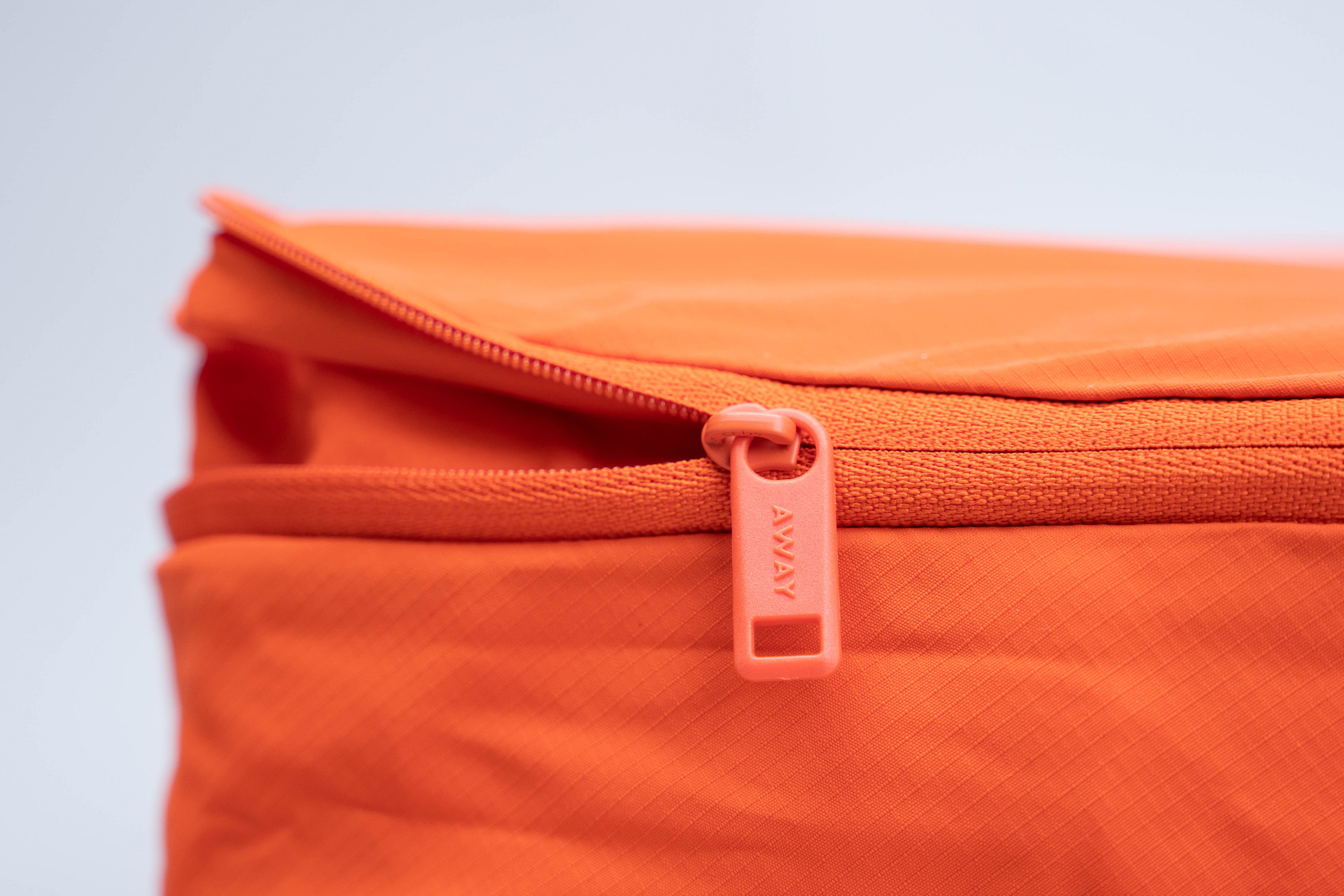 The other method is to use one hand to shove the fabric between the teeth of the compression zipper inside the cube just in front of the other hand, which closes the zipper. This method works well when you've stuffed the cube to the brim with any variety of clothing. With any packing cube that compresses, it takes some getting used to, but you'll master it within no time.
The compression zipper does a great job cinching the pack down, but the zipper pull often feels as if it's going to snap as it's made from plastic. Not to sound like a broken record, but we haven't broken any of the zippers on these cubes. They feel like they could break, which is nerve-wracking enough.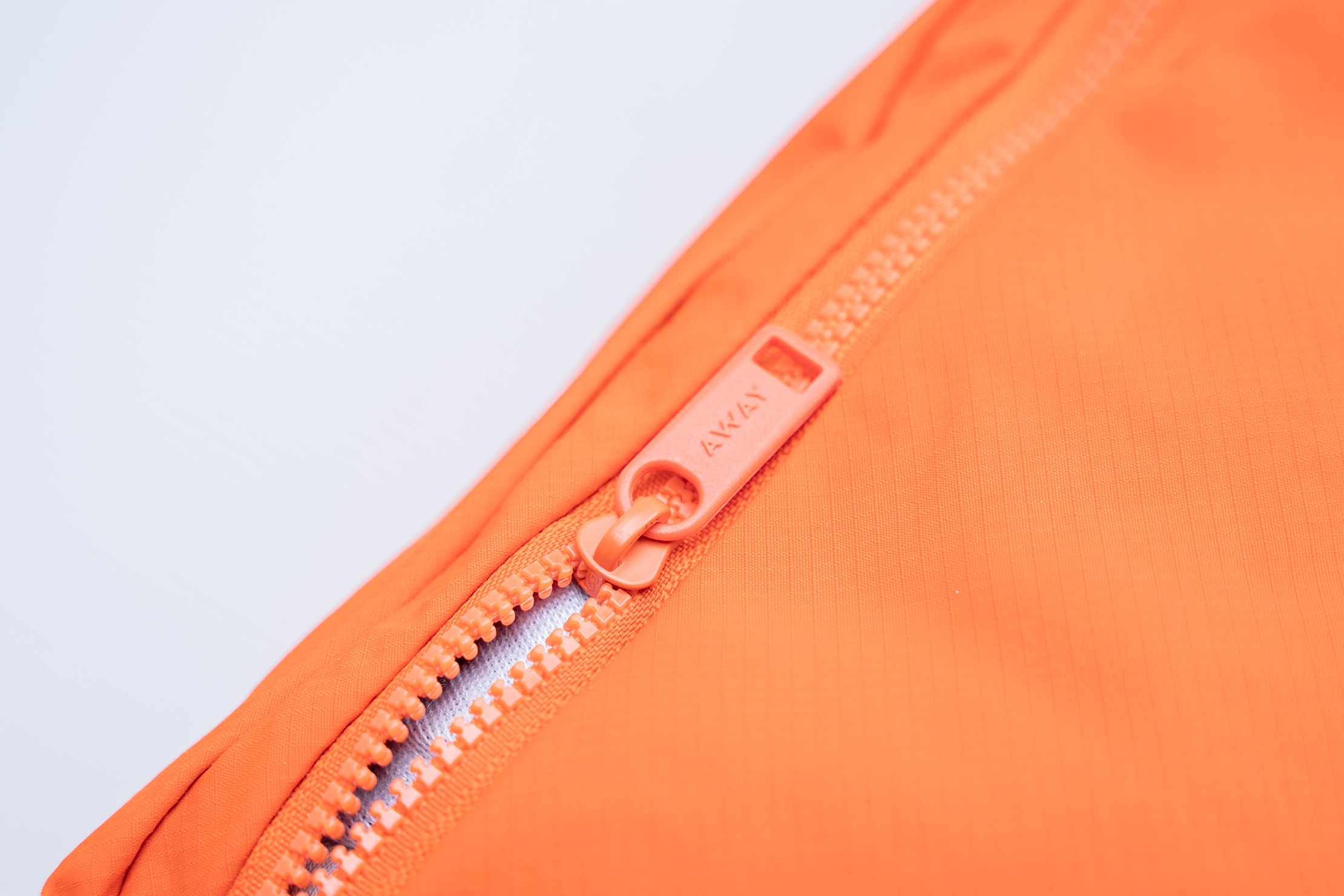 Overall, we're happy with how this packing cube has performed. They're a great shout if you're going all in and getting a few to conquer your next trip. Adding one or two for a pop of color will work too, but they will shine if they're your only packing cubes because you can save a ton of space with the compression features, and you'll know what's in every single one due to the different colors and sizes. Let's just hope those zippers hold up!
Usage Timeline
Initial Usage
Condition: Excellent
Zipper pulls feel very fragile, and we worry about their longevity
Colorways are very bright and colorful, so they're easy to see in your pack
Handle on the side is excellent for quick trips to the bathroom after your flight
2 Weeks of Use
Condition: Excellent
Main compartment zipper feels cheap, but no issues to report
Materials are lightweight, but we're still worried about long-term durability
Colorway options and different sizes are perfect for travel use
Access the Pro Community Discussion
Get your questions about the Away F.A.R. Organizational Cube answered from our team and the Pro Community right here on the page. Plus, join discussions with other members about gear, guides, and more.
Other Organizers & Pouches Reviews