What do you need to carry in your travel daypack? If you take a lot of tech gear, you have two options for toting it along (well, really three, but we don't recommend just tossing it all willy-nilly in the bottom of your bag): organized in the admin panel of your backpack or sorted in a tech pouch.
While the best laptop bag may have plenty of built-in pockets and pouches, what happens when you want to lighten your load? If your gear is in a separate tech pouch, you can toss that in your sling. Pouches are also great for organizing gear for different devices. Keep the mouse, wall charger, and USB dongle for your laptop in one tech kit and your Apple Pencil, iPad keyboard, and AirPods for your iPad in another. Then you can just grab the pouch you need instead of unpacking and repacking between bags.
How do you choose the right tech organizer for your situation? Whether you need something with water resistance because you're always out in the elements, or you're looking for one with lots of elastic loops and pockets, so everything has a dedicated spot, there's a tech kit for you.
We've taken the guesswork out of finding the perfect pouch, so read on to find the one that suits your needs and style, whether you're looking for an everyday carry or one for your next trip.
Pack Hacker Live Stream
Get a detailed look at gear in real time and have your burning questions answered by our team. Unlock access to our entire catalogue of live streams and dictate the products we cover when you sign up for Pro.
1. Bellroy Desk Caddy
Best for: Professional Travelers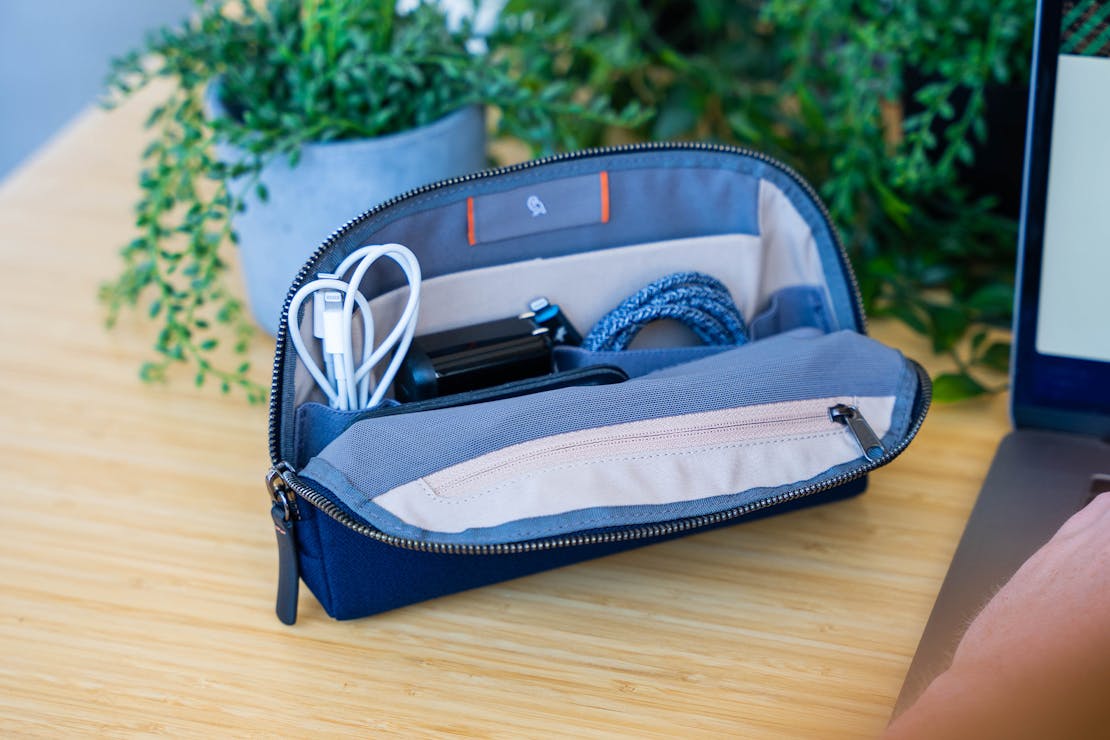 Why We Like It: You can see all your gear in front of you and access it on your desk while it's still in the pouch.
What You Should Know: Using the pen loop can obstruct the gear you store below.
Best For: Coworking spaces
We've been big fans of Bellroy pouches for a long time, thanks to their various organizational options, style, and the quality of their construction. Its unique layout sets the Bellroy Desk Caddy apart from other tech kits. Although it's perfectly at home in your messenger bag or daypack, its distinct design is easy on your eyes as it sits on your desk. Instead of having to peek in from above or the side, your gear is on display at a more natural angle when you fold the front down toward you.
The plentiful organization doesn't leave much extra open space for bulky gear, and some accessories can obstruct your view of other items, depending on how it's packed. However, we think it's still a great option if you often work somewhere other than a dedicated desk. It even has a bit of compressibility if you need to fit it into an overpacked laptop bag and you haven't stuffed it chock-full of gear.
See Full Review & Buying Options
So there you have it, the best tech pouch for nearly every situation. Whether you prefer a lot of organization in your tech kit or open space, there's a tech organizer, large or small, to fit your needs. What's your favorite? Let us know how you keep your tech organized at home and while traveling below.
You can check some of these tech pouches out in this video too!