Heimplanet Simple Pouch Review
The Heimplanet Simple Pouch offers a straightforward design that creates convenient organization within your pack—although the interior doesn't provide much visibility.
Our Verdict
Unlock the Pro Summary
Save time. Get access to brief summaries of our reviews so you can browse and make decisions more efficiently.
Pros
Handles are convenient for hanging/grabbing the pouch
Slim, square shape fits nicely inside most packs
Durable, eco-friendly fabric
Cons
No bright liner for visibility
Reflective tag not really needed on pouch
No segmentation (although we don't mind)
Recent Pack Hacker Video
Technical Details
Weight (oz)

1.8 oz (51 g)

Denier

800D

800Dx660D Nylon

Dimensions

1.6 in x 8.7 in x 4.3 in (4.1 x 22.1 x 10.9 cm)

Notable Materials

Nylon, Polyurethane, YKK Zippers

Manufacturing Country

Vietnam

Warranty Information
Buying Options

$19.00
$19.00
Full Review
Get up to 30% off Heimplanet • Join Pack Hacker Pro
Pouches may be small in size, but they're grand in their ability to spruce up the organization inside your bag, and the Heimplanet Simple Pouch does just that.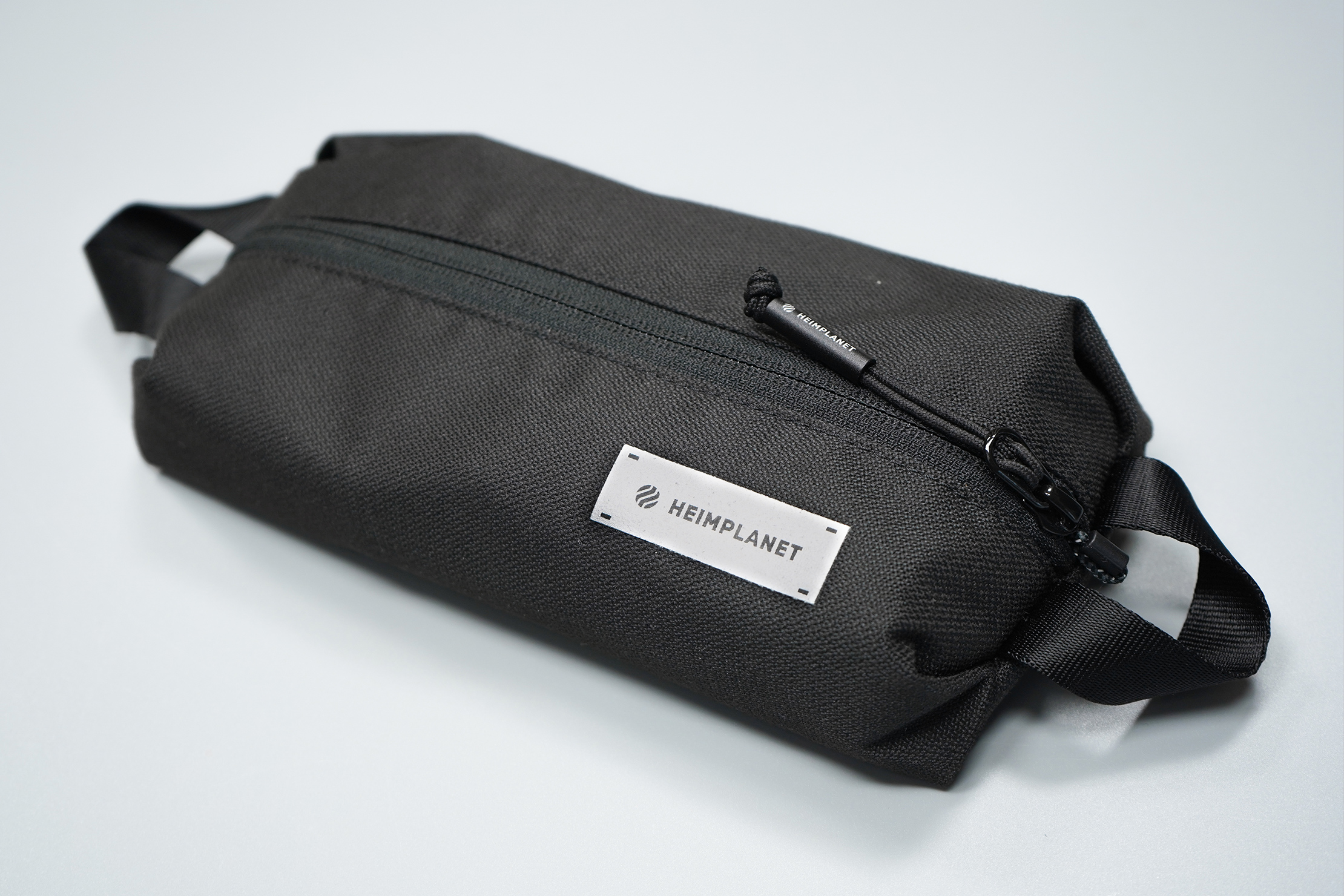 This pouch is minimal in aesthetic but, as we noted above, a handy integration inside our packs when we're looking to classify our gear. It's proven to work well for our tech items in particular, which is something to note if you're on the prowl for a tech pouch that doesn't feature a bunch of elastic loops for cords.
We'll get right into this review so that you can read all about our experience from the last month of testing!
Materials & Aesthetic
We've been using the classic Black colorway of this pouch in our testing and appreciate the look. You can also pick up the Simple Pouch in Castlerock (grey) at the time of this review.
The pouch has the reflective Heimplanet logo—a wavy-looking planet besides their wordmark—on a white, rectangular tag along the pouch's bottom-front. As we've noted with other Heimplanet gear, we're digging its futuristic look. However, we realize that some of our readers prefer simpler times and more straightforward aesthetics, so your mileage may vary. Additionally, we don't think a reflective tag is necessary on a small pouch, but it makes sense on Heimplanet's larger bags.
Another familiar aspect of this pouch is its DYECOSHELL fabric. It's a combination of PU-coated, Dope Dyed 800D, and 660D nylon that Heimplanet incorporates on many of their products. The pouch is made with just one piece of fabric, which cuts down on production time and overall waste. Plus, Heimplanet states its dope dye process additionally saves resources and byproducts associated with regular dyeing.
Not only is this material more sustainably produced, but we've also found it to be quite durable during our testing. The pouch hasn't sustained any damage, aesthetic or otherwise, after a full month of consistent use. We're appreciative of its water-resistant qualities as well, especially since we've often been keeping tech gear inside.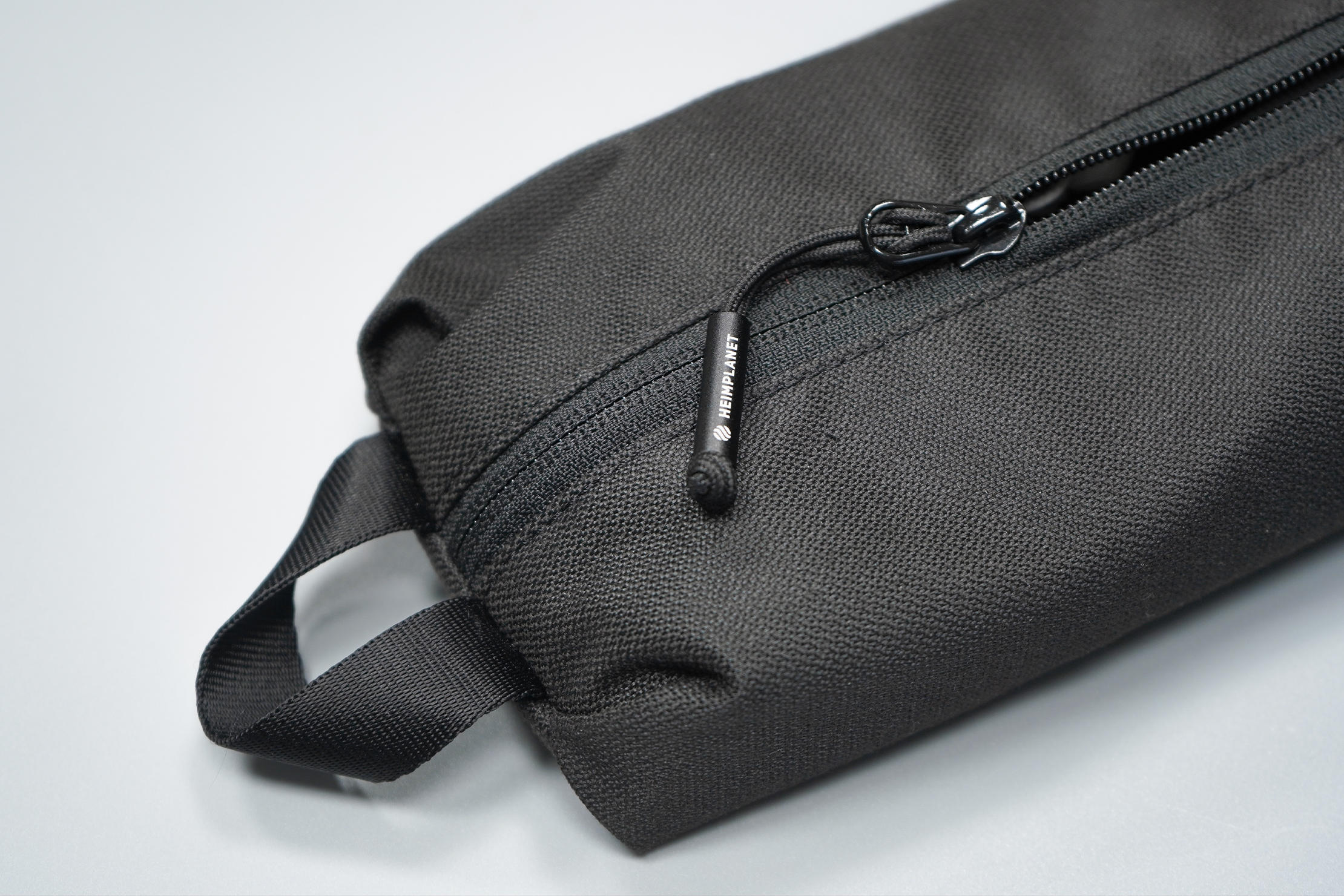 You'll also find a YKK zipper along the opening with a small, branded pull. This pull is easy to grab and helps the zipper quickly and smoothly coast from side to side when you're opening and closing the compartment. We like the simple approach with a single zipper slider, but we'd be curious to see how the pouch would function with 2 (if we're nitpicking … which we do … a lot). This hasn't been a deal-breaker by any means—more of a curiosity.
Features & Usage
Each end of the pouch features nylon webbing straps that work as handles to carry the pouch from place to place. Although, they're most convenient for when you have this thing inside your pack and need to grab it out. As long as at least one of these handles are visible, you'll have less shuffling around to do inside your bag when you need access to it. Additionally, you can grab the handle on each side and transport the pouch around while open, which is a nice touch.
As the name implies, this pouch is pretty simple. There aren't any external pockets or bonus features on this thing to cover, so we'll go ahead and jump right into the main (only) compartment.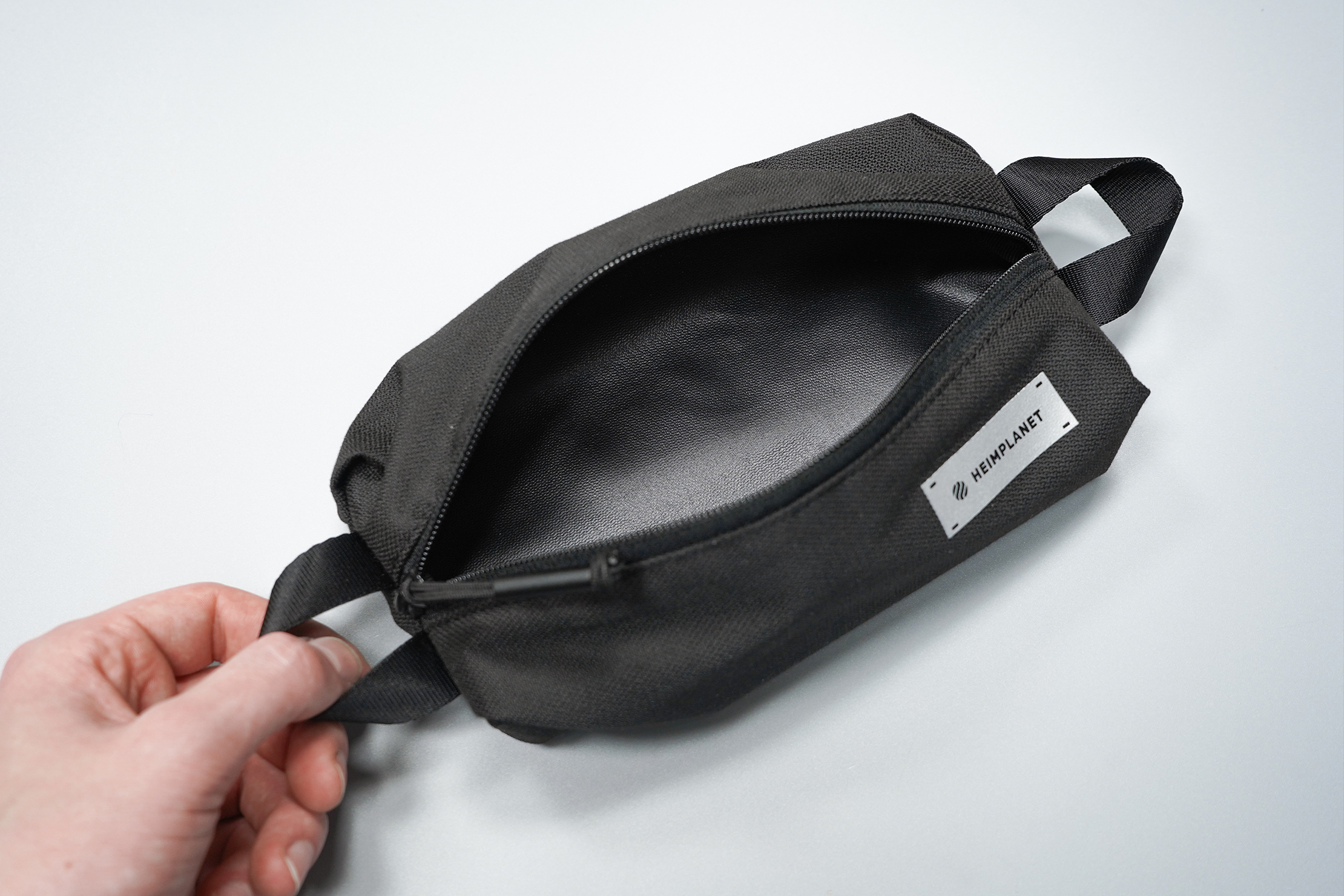 Perhaps our biggest gripe with this pouch is that the lining inside this compartment is dark, especially on our Black colorway. This lining doesn't prove problematic for the lighter-shade items we store inside, like a standard white Apple charger, for example, as they're still relatively easy to find.
However, darker gear blends with the material and requires us to do a little more fumbling around to find it. A brighter liner would solve this problem across the board and add more visibility to everything inside, which we would've liked to see incorporated here.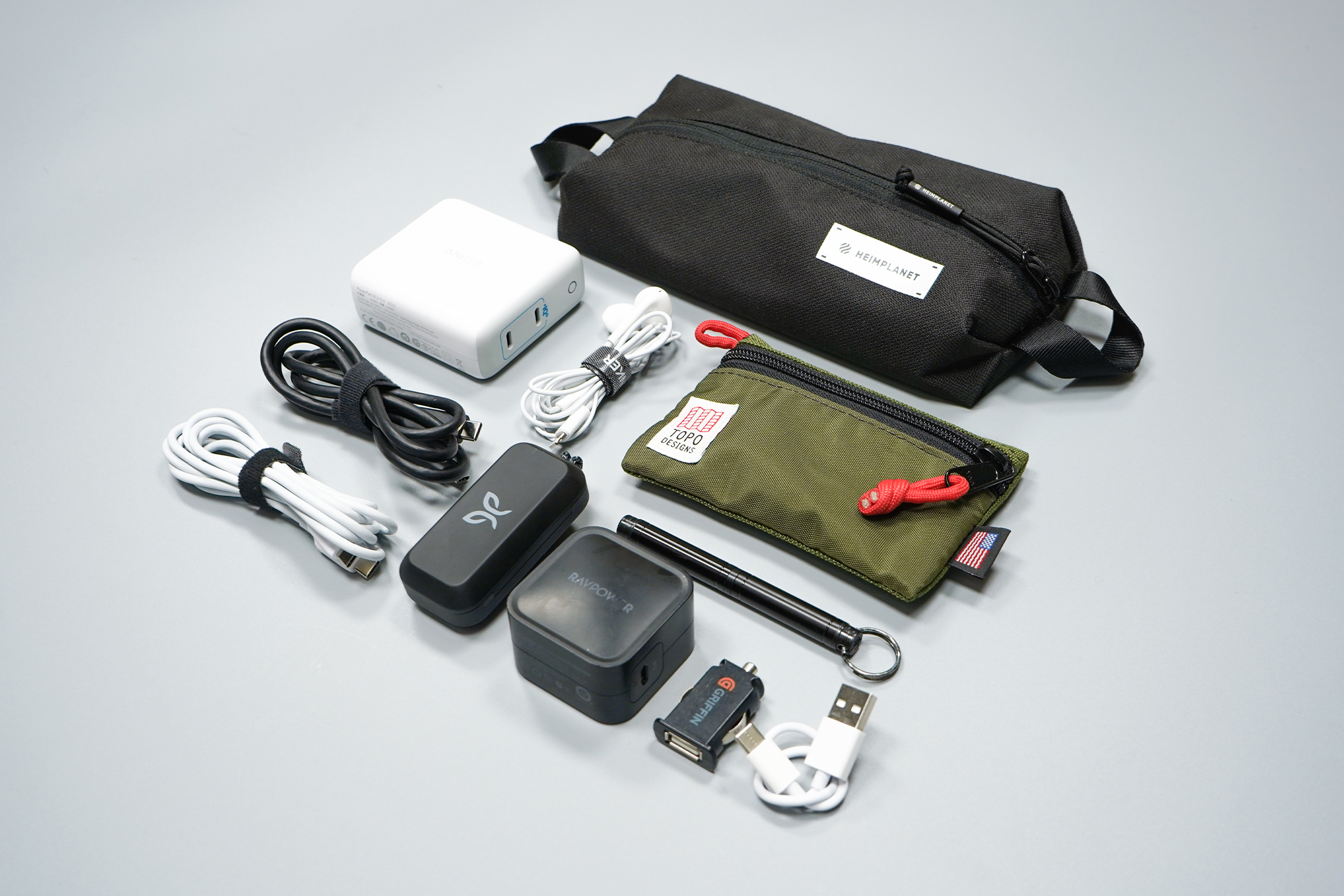 To mitigate this, we've been storing a separate Topo Designs Accessory Bag inside the Simple Pouch with our smaller adapters. This pouch features a super bright interior liner that makes even the smallest adapters stick out like a sore thumb.
Other than that, we've appreciated the organization that this product offers inside our packs. We've primarily been using it as a tech pouch to keep all of our tech accessories in one place. There's enough room to hold multiple chargers, adapters, and even a sizable power bank to keep all your devices powered and connected wherever you go.
You can keep other items in the same category as a portable mouse, headphones, or extra batteries inside if you carry them, too. Since there's not much built-in organization, we've been incorporating an even smaller pouch for tinier accessories to add additional compartmentalization.
Usage Timeline
Initial Usage
Condition: Excellent
Wide-open inside, no sleeves or dividers
Square shape fits great in most bags, especially when packed next to packing cubes
Loops allow this bag to be hung up for easier access
2 Weeks of Use
Condition: Excellent
The handle has been nice for pulling this thing out of bags
We wish there were some brighter colored liner inside of the pouch so it would be easier to see our smaller tech items—especially with the black version
This has proven to be a nice little tech kit—there aren't a ton of bells & whistles, but that's the beauty of it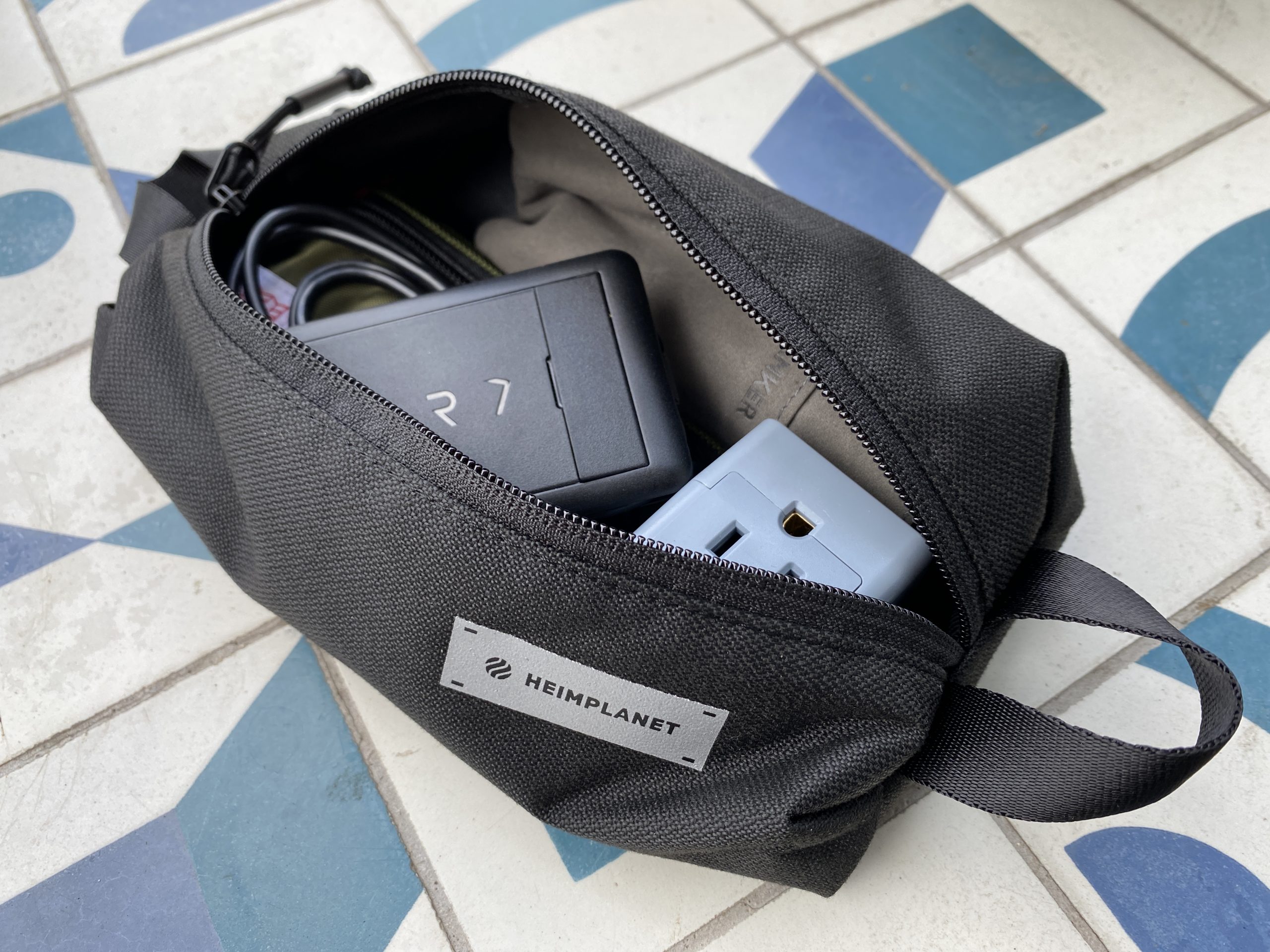 1 Month of Use
Condition: Excellent
Still digging the simplicity and simple layout of this pouch—it's holding up well, too.
2 Months of Use
Condition: Excellent
It continues to be a great, durable little pouch—still missing a brighter interior liner, though.
Access the Pro Community Discussion
Get your questions about the Heimplanet Simple Pouch answered from our team and the Pro Community right here on the page. Plus, join discussions with other members about gear, guides, and more.
Other Organizers & Pouches Reviews