Brevite Cable Kit Review
The Brevite Cable Kit has enough pockets to carry plenty of accessories and cords, though it can be awkward when expanded.
Our Verdict
Unlock the Pro Summary
Save time. Get access to brief summaries of our reviews so you can browse and make decisions more efficiently.
Pros
Expandable pocket holds a lot of gear
Sits flat on a desk to act as a caddy
Easy to clean
Cons
Floppy when expanded
Hard to wedge into bag when kit at full capacity
Zipper occasionally gets caught on liner
Recent Pack Hacker Video
Technical Details
Weight (oz)

5.35 oz (151.7 g)

Dimensions

5 in x 8 in x 3 in (12.7 x 20.3 x 7.6 cm)

Notable Materials

Recycled Polyester, Unbranded Zippers

Manufacturing Country

Vietnam

Warranty Information
Full Review
Although we're big proponents of reducing everything down to one universal cable, like the one featured in our Vacation Packing List, we know that's not always an option for everyone. Maybe there's a reason you're attached to the five cords that came with all your Apple gear—we're not here to judge. We've even got three power cables, an ethernet cord, and a mini universal cable on our Digital Nomad Packing List—plus a few wall chargers to boot. When ultra minimalism isn't the answer, something else must be, which is where the Brevite Cable Kit enters the picture.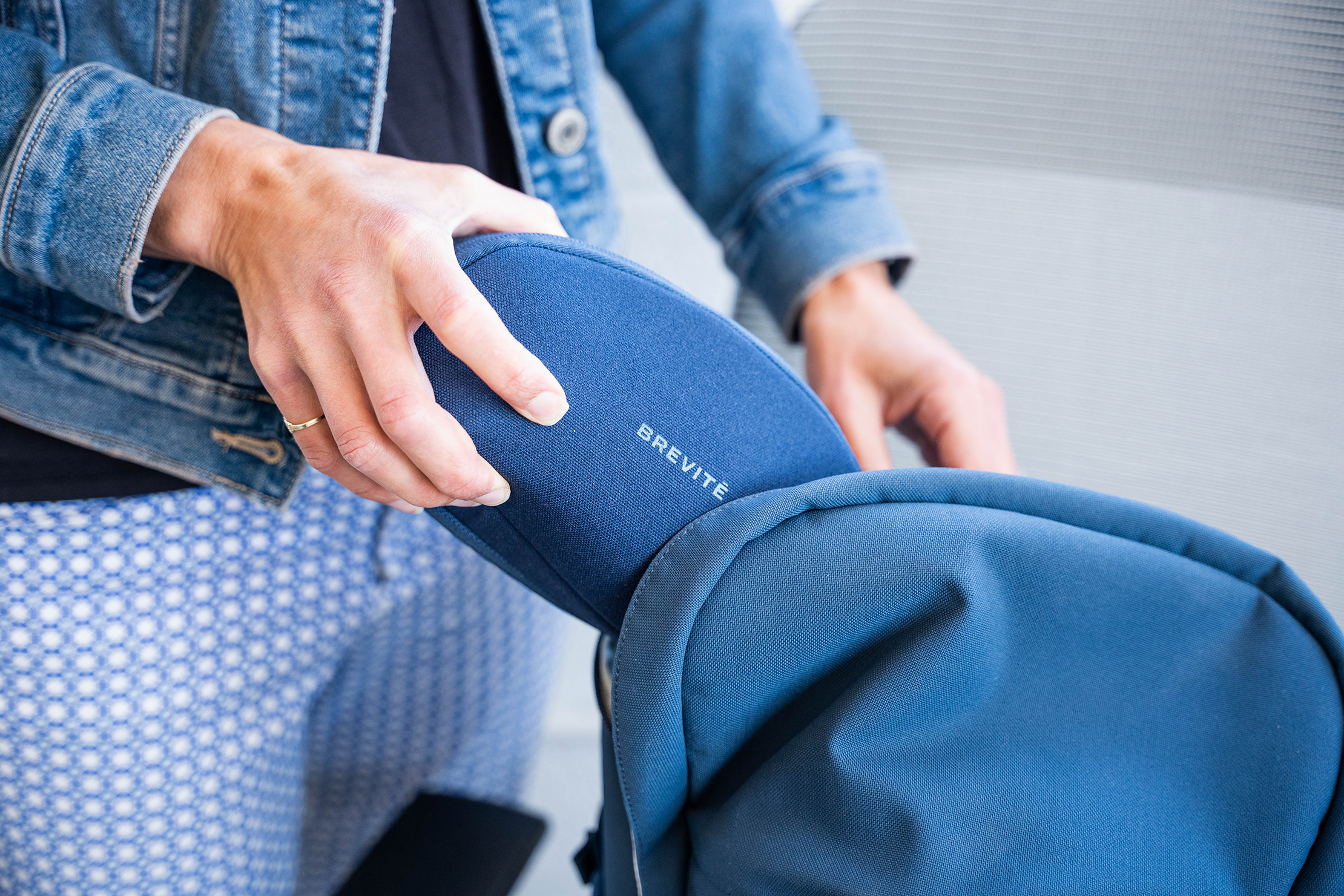 Designed to tame your cords and to provide a place for the rest of your tiny tech, the Cable Kit grows with your gear. Do we need to carry it all, and is the kit expansion worth the lost space in your laptop bag? Let's find out.
External Components
The Brevite Cable Kit has a subtle look to it. The recycled polyester used around the outside of the kit is very soft and available in a rainbow of colors. We tested the Moonlit Blue and liked the hue, though we think any of the nine available colors—from Triple Black to Poppy Red—are nice options. The wide variety of colors lets you express your personality when working remotely at the coworking space or to match or contrast with your travel daypack.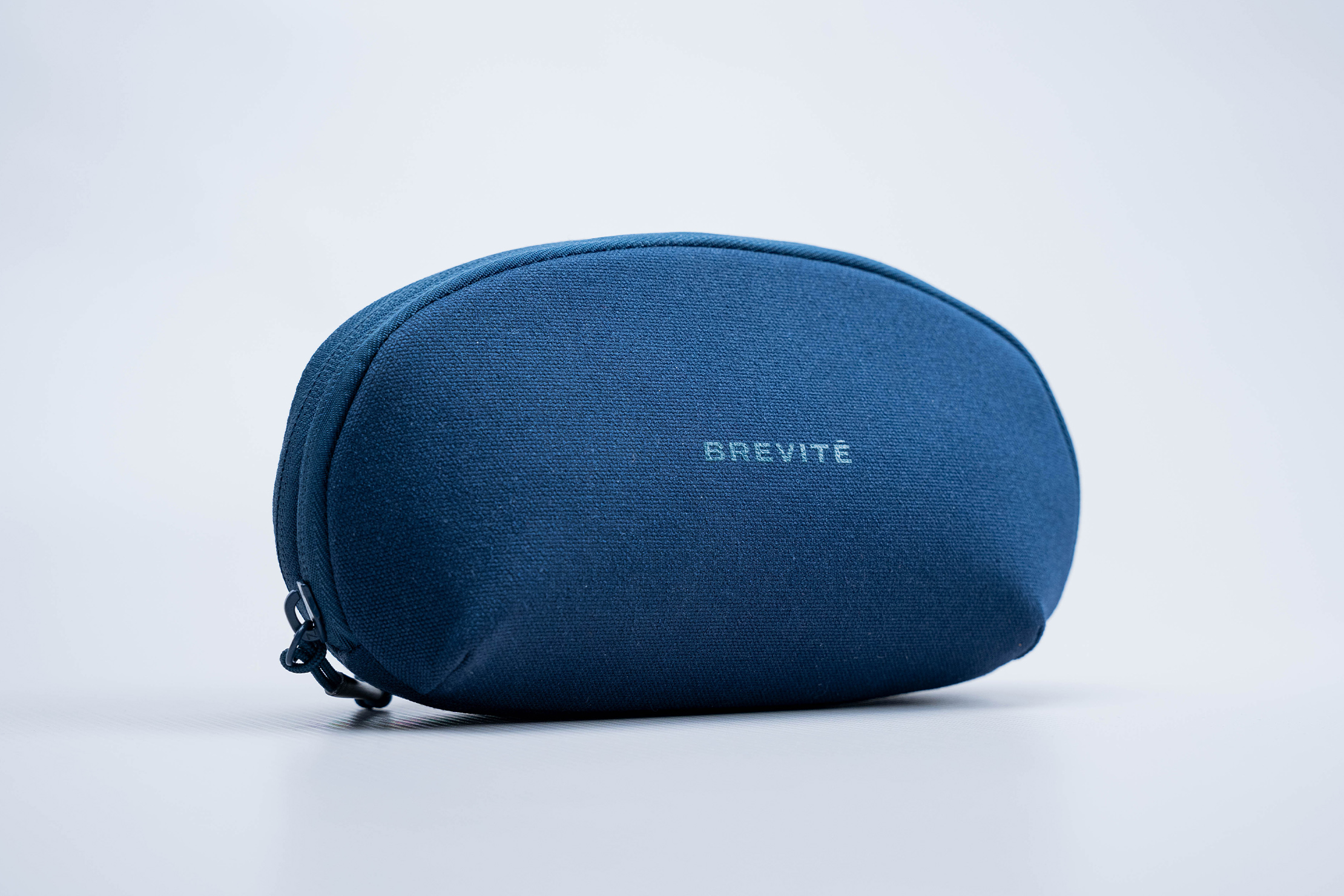 And since it's designed for you to take it on the road, it's nice that the entire kit is machine washable. Brevite says you can throw it in on low tumble—we're guessing they mean delicate here—and then let it air dry. Alternatively, you can spot clean it, which is all we've had to do during our testing period. That bit of Greek yogurt that squirted from a pita wrap? It's gone before you can say souvlaki.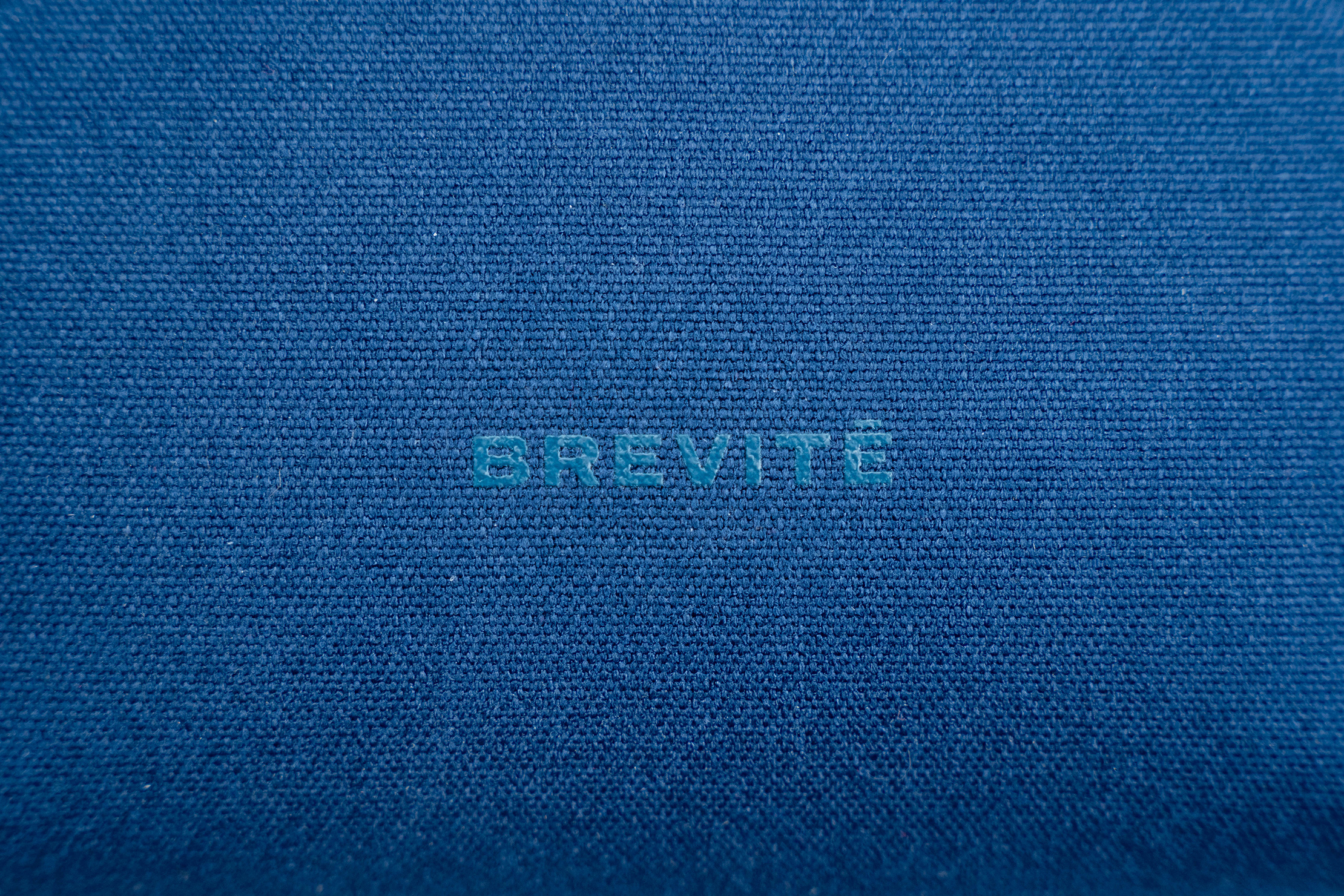 The kit is oblong with a flat base that allows it to stand on your desk, keeping everything you need within easy reach. The outside is very stiff, with some sort of sturdy material inside providing structure for the bag and protection for what's inside. Quarter-inch letters spelling "Brevite" stamped on the front of the pouch are it for branding.
Although plenty of zippers are throughout the bag, they're unbranded, though they function well. We'll keep you posted on the usage timeline if that ceases to be the case. Each zipper, inside and out, has a corded pull knotted onto it. The two external zippers also have heat-shrink wrap surrounding the cord to make it easier to grasp.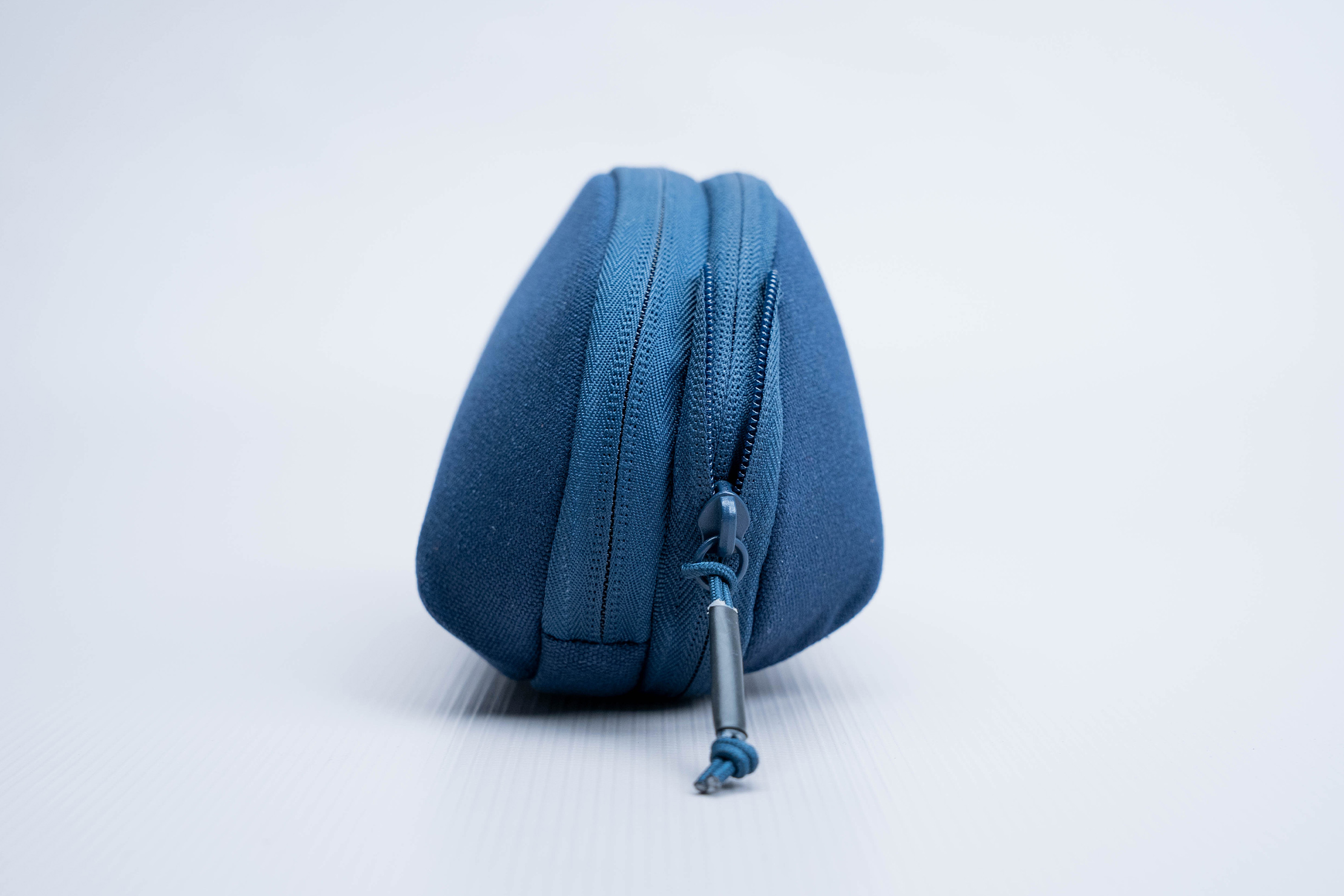 That's it for the outside. All the bells, whistles, and unique features of the Brevite Cable Kit are behind those zippers on the inside, so let's take a look.
Inside The Pouch
To get inside, you notice there are two zippers from which to choose. Go for the front one—we'll get to the second later. This zipper opens the bag in a clamshell design from left to right. In doing so, you see the entire interior of the Brevite Cable Kit, lined with a polyester material that feels a bit like those tearaway pants we rocked in the '90s. (Oh, you didn't? Good for you for avoiding that trend). Suffice it to say that it's your average liner material that makes a bit of noise when you scratch it and allows your gear to slide nicely into the pockets. It's in the same color family as whatever colorway you pick for the exterior, so for us here at Pack Hacker, that means another shade of blue. Because of the way the Cable Kit opens, you can pull the front forward to see all of the pockets at once, and there are plenty, so let's go through them.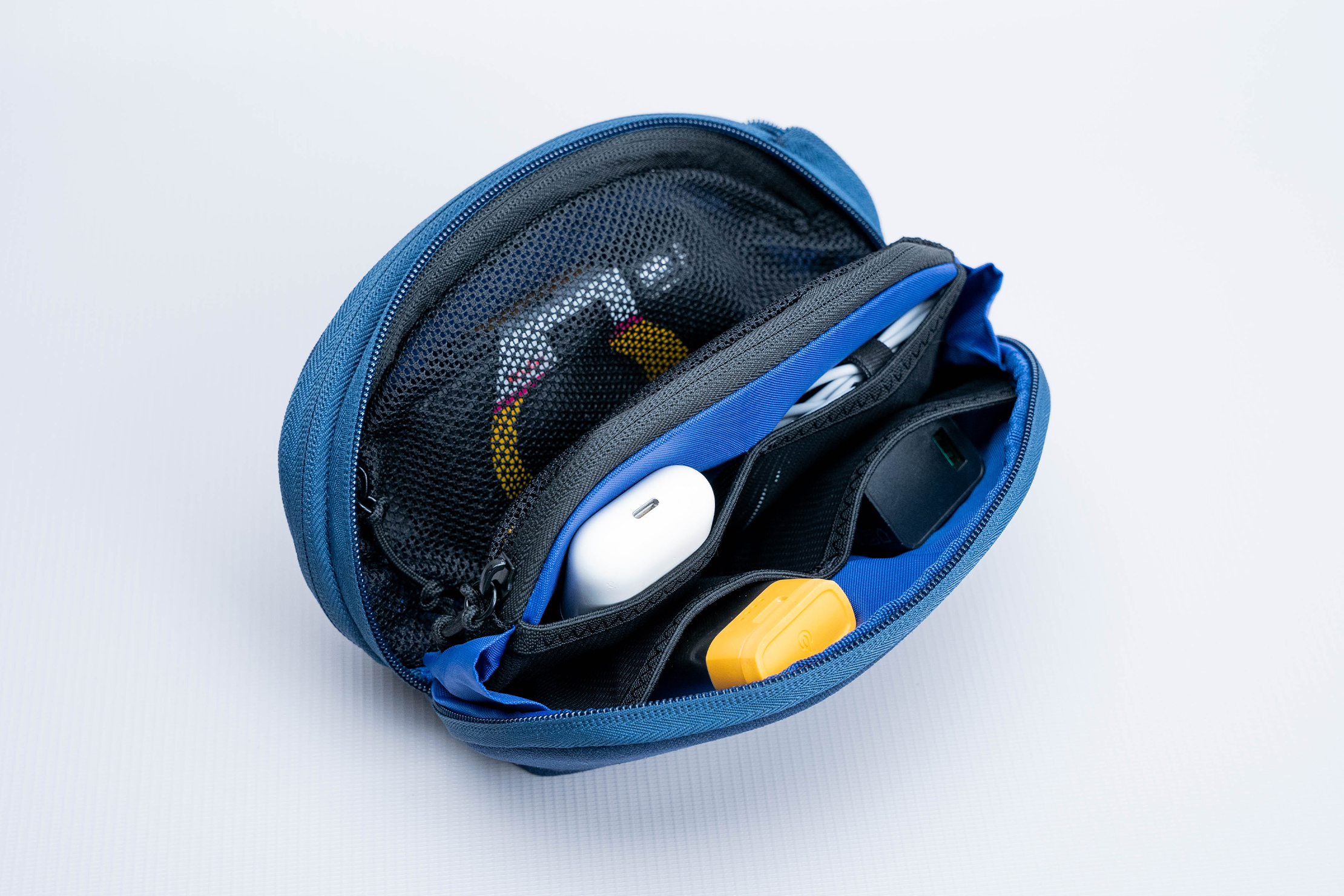 Alongside the front are two 3.5-inch wide black mesh pockets topped with elastic. Two more face them on the opposite side, against the divider, for a total of four identical mesh pockets. They're only 3 inches deep, so they fit AirPods, headphones, and the wall charger for a MacBook Air well, though they're too short for the Magic Mouse. Don't worry; there's a better spot for that elsewhere. Fabric gussets attach the divider to the front of the bag, though the fabric doesn't go all the way to the bottom, so slim gear could slide out the sides. However, we haven't had that happen, even though we've been carrying a pen in the space between—likely because we zip the kit up whenever we go somewhere. Still, it's something we want to bring to your attention. If you play your cards right, you could use the gap on the left as a cable pass-through, although the zippers don't self-lock, so the kit could come undone if you do.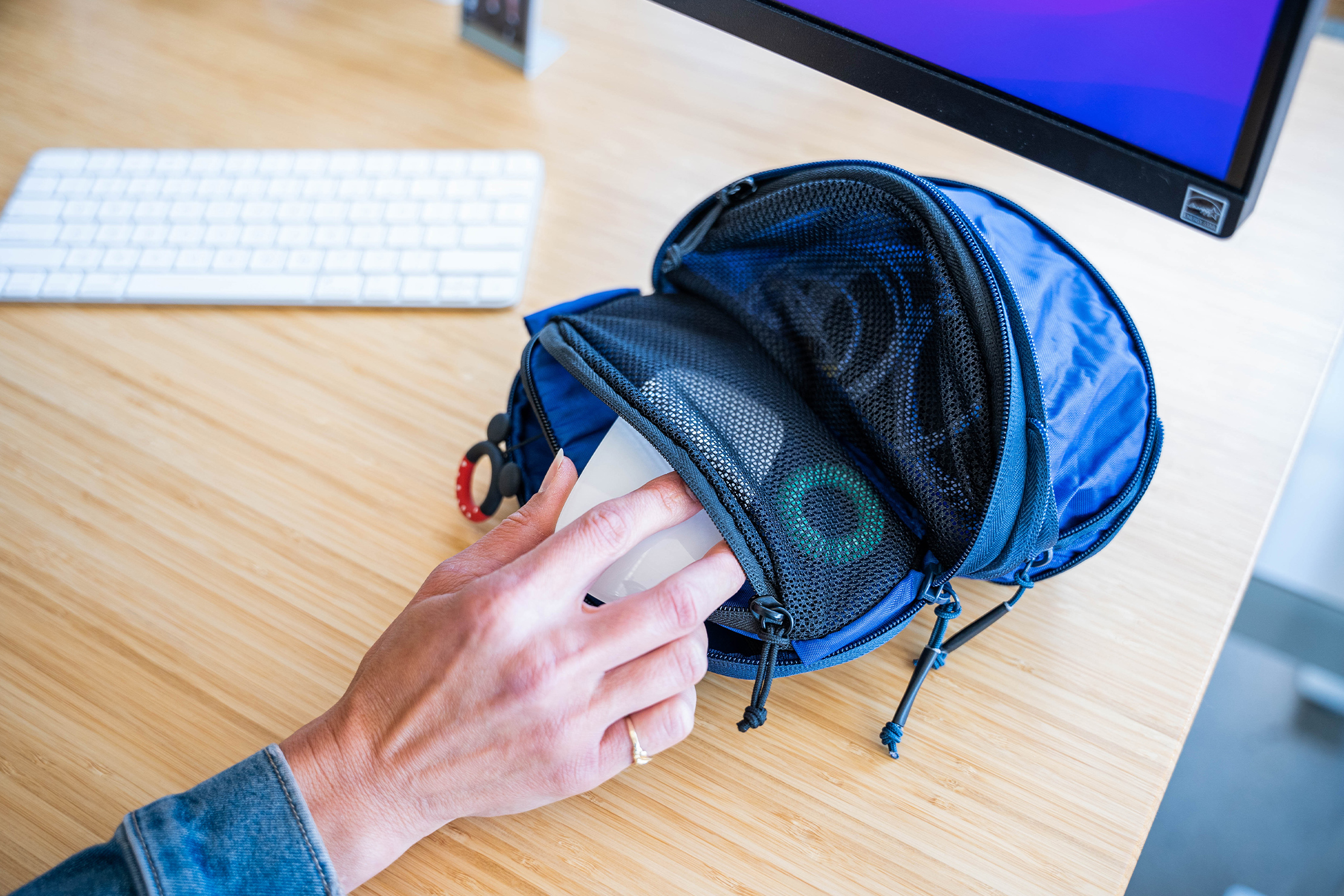 The divider itself is stiff, and, along with including two of the mesh pockets on the front side, it has a large zipper mesh pocket on the back. It's 7.5 inches wide by 4.5 inches deep and encompasses the entire backside of the divider, so this is an excellent spot for a Magic Mouse, a USB hub, or any other larger yet flatter tech accessories you want to carry.
Now we come to the heart of the Brevite Cable Kit's design. Along the backside of the kit is a mesh zippered pocket. It's got a secret, though. While it looks like the twin to the divider pocket, it's not. To see what we mean, go back to the outside of the kit. Remember that second zipper we said we'd discuss? Now is its time to shine.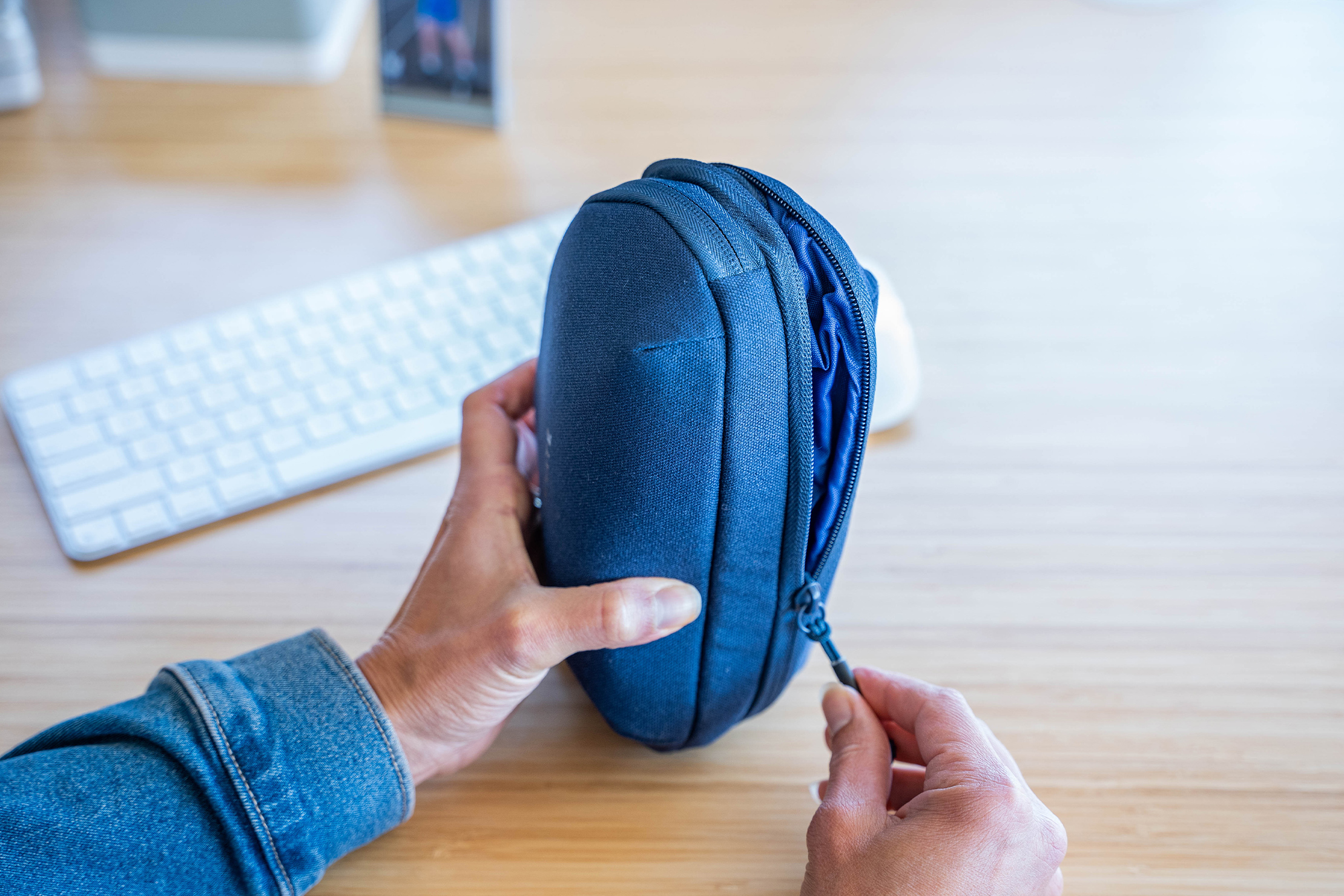 It begins on the right side of the case and unzips around the bottom and then around the kit to reveal more of that liner fabric. That fabric allows the pouch to expand from a depth of 3 inches to about 6. The extra 3 inches are for all your cables—or whatever you want to toss in here. When rocking a more minimalist bag, the Brevite Cable Kit can be more useful for daily items if you don't have as much tech to lug around. However, since Brevite designs it for tech, we put it through the paces and find we can fit the cords for a MacBook Air, iPhone, AirPods, Magic Mouse, and Magic Keyboard (yes, Apple has all our money!), along with a sizeable multiport USB hub, and we still have room to spare.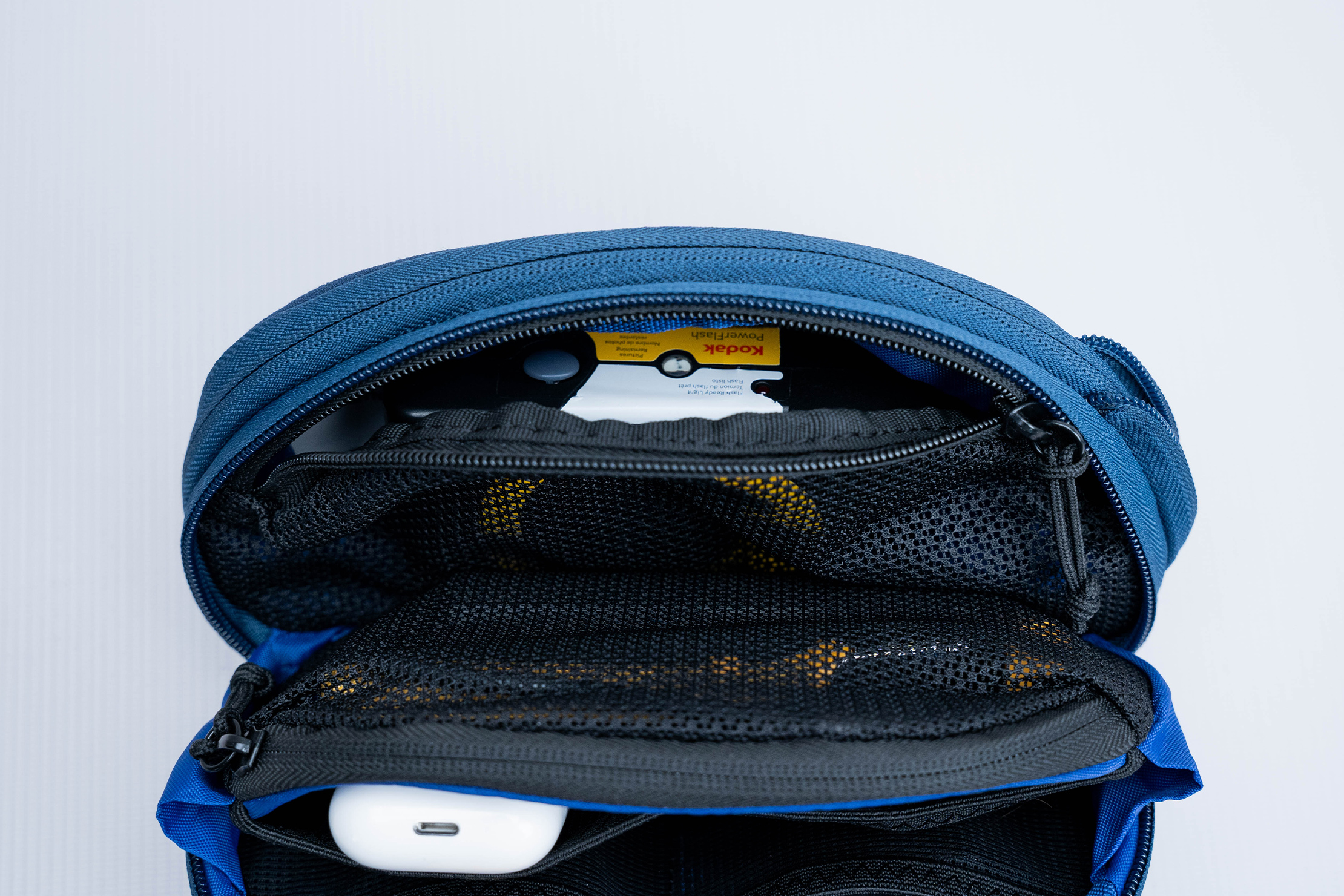 Putting that together with what we fit into all the other pockets adds up to all the small tech accessories we need to get through the day. If we pop an iPhone 13 in the space between the two zipper mesh pockets, we only need to carry a laptop and wireless keyboard separately.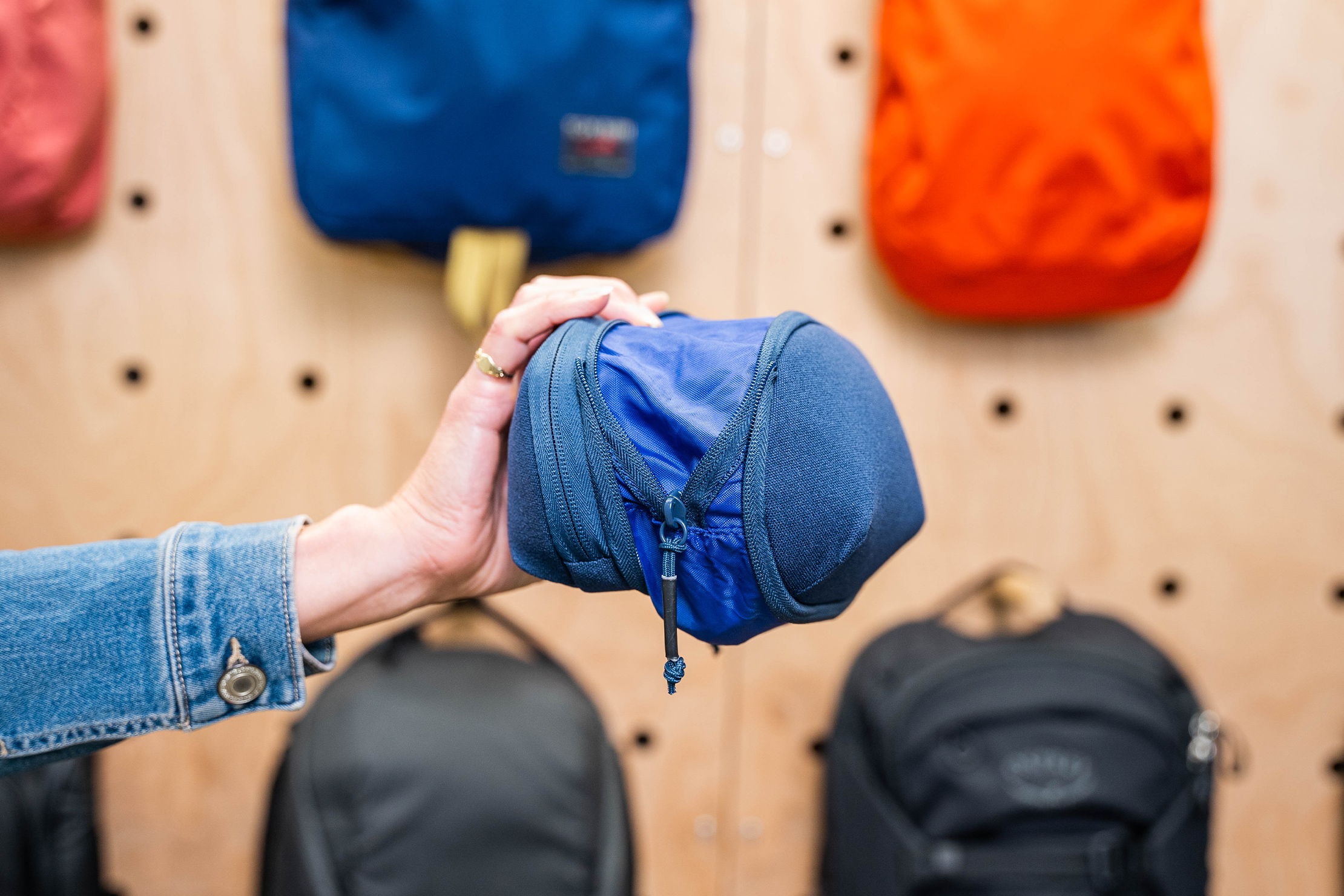 While this all sounds great, there are a few caveats in practice. Pick up the Cable Kit from the front—with the backside expanded and loaded—and you'll find the rear drops by about 2 inches since the expandable material is just the polyester liner, not the stiff stuffing providing structure for the remainder of the exterior.
OK, fine, a saggy rear end isn't the end of the world (in this case). However, where it does become an issue is trying to fit the Cable Kit into a bag lacking depth. It's unwieldy and difficult to maneuver in when it's expanded, although if you have side access, that can make it a little easier. When the excess fabric is zipped up, it's easy to pop in, and if you have a laptop bag or travel backpack with some internal organization, you may want to use that and leave the Brevite in its original shape.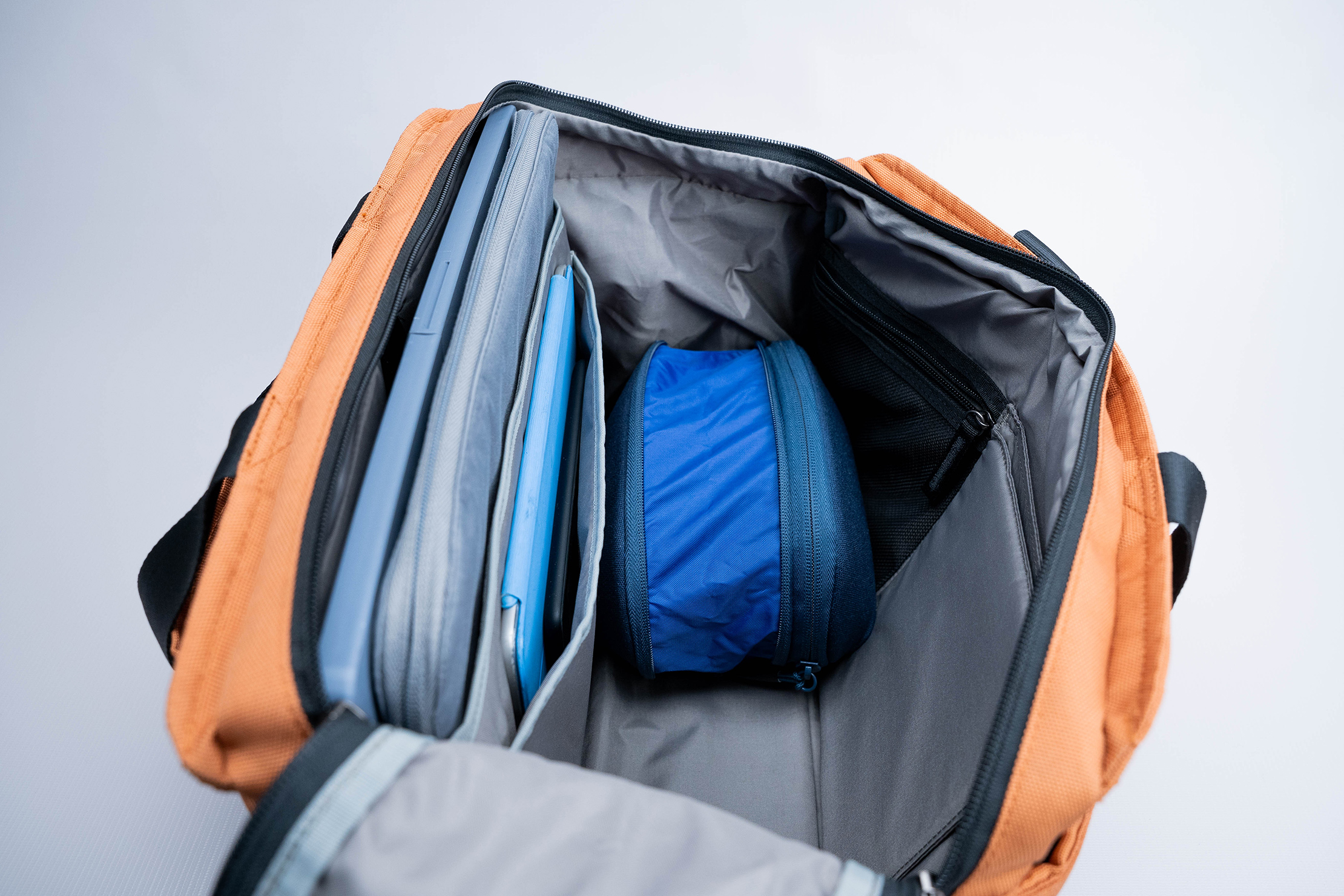 Why purchase a large, expandable kit, though, if you're not going to use the extra room? This will come in handy if you're tossing everything in a duffle bag, tote, backpack, or large sling with minimal organizational features. It's nice to have everything in one place; you just have to decide if you have space for it all to stick together.
Usage Timeline
Initial Usage
Condition: Excellent
Excited to see how the expandable pocket works in use
Stands upright
Seems like a lot going on in a small space
2 Weeks of Use
Condition: Excellent
Use it to carry more than just tech—the expandable pocket is also great for small toiletries
Can stuff the back pocket without expansion, though it may not close
Difficult to wriggle into a narrow space when expanded
Access the Pro Community Discussion
Get your questions about the Brevite Cable Kit answered from our team and the Pro Community right here on the page. Plus, join discussions with other members about gear, guides, and more.
Other Organizers & Pouches Reviews