Rolling Square inCharge X Review
Rolling Square's inCharge X is a versatile little keychain-able data cable, though it's too short for some use cases.
Our Verdict
Unlock the Pro Summary
Save time. Get access to brief summaries of our reviews so you can browse and make decisions more efficiently.
Pros
Compact, keychain-sized
Versatile connector options
USB C to USB C connection supports up to 100W charging
Cons
Too short for some use cases
Easy to lose cap
USB 2.0 speeds
Recent Pack Hacker Video
Technical Details
Weight (oz)

0.81 oz (23 g)

Dimensions

2.8 in x 0.5 in x 0.2 in (7.1 x 1.3 x 0.5 cm)

Notable Materials

Metal, Nylon, Aramid Fiber, Copper, Thermoplastic Polyurethane (TPU)

Manufacturing Country

China

Warranty Information
Buying Options

$29.00
$29.00
Full Review
Get up to 20% off Rolling Square • Join Pack Hacker Pro
The words "small and compact" don't really seem to mix well when you think about them in relation to cables. A cable is used to connect things at a distance, so being compact sounds contradictory. But, times are changing, and so do use cases. We often find ourselves with little desk real estate, and the digital nomad lifestyle keeps us busy and on the go. It's under circumstances like these where a forgotten data cable is a major inconvenience.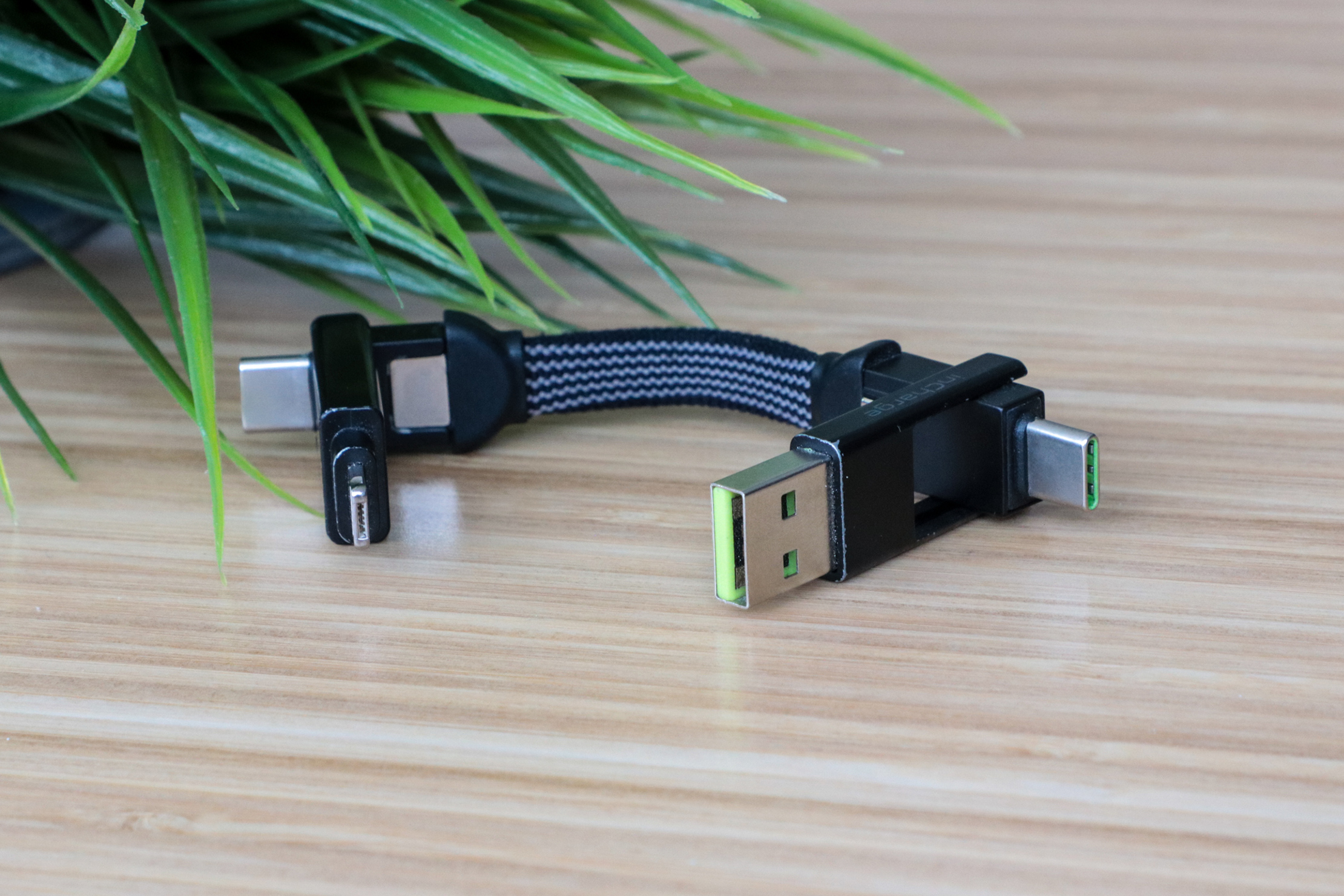 This is why we saw the value in something like Rolling Square's inCharge 6—a compact data cable that adapts to a variety of connectors. In this review, we'll be taking a look at an even better version: the inCharge X. It follows the same philosophy as the 6, being a keychain-able data cable with multiple connectors. But, with a serious-sounding moniker like "X," there's bound to be a major feature or two the inCharge 6 doesn't have—let's see what they are.
Materials & Aesthetic
USB cables have come in all shapes and sizes ever since they debuted many years ago. We even found some that light up and do neat warp-speed animations along the cable like something straight out of science fiction. No such frills here with the inCharge X, however. It's a more "classified-top-secret" aesthetic with a simple black and white braided cable. The metal housings on each end are blacked out, with only a subtle "inCharge" logo furnishing the side.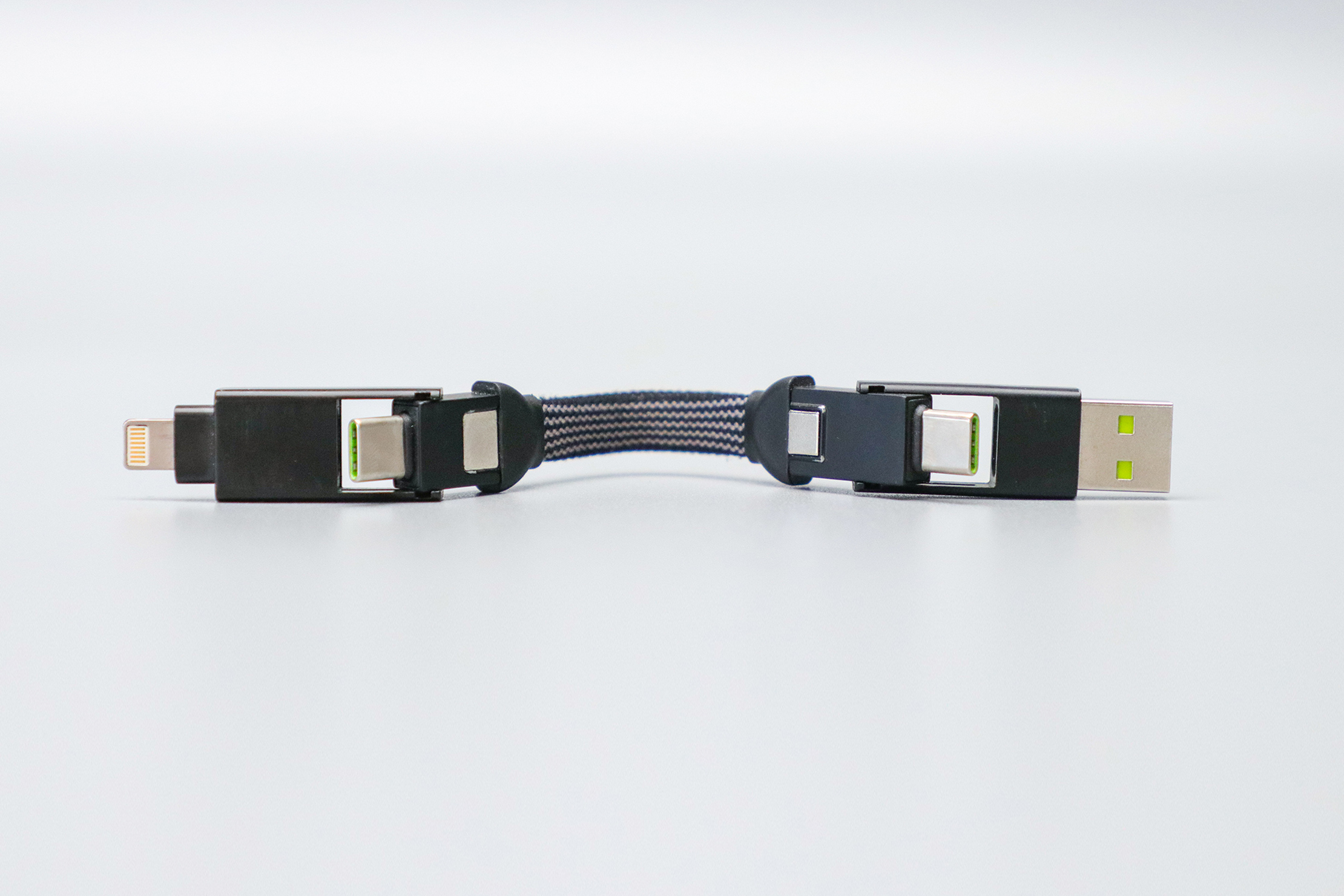 Arguably the most outstanding visual element of the design is the lime green inner components of the connectors. They give the inCharge X this rad, almost gamer-y vibe that we can certainly appreciate. Most of the time, though, you won't be able to see it because the connectors will either be tucked away behind a port or the included cap, which is also black. But keeping those neat details to yourself might not be a bad thing; a cable isn't a fashion accessory, after all.
Where it counts more is how well the cable holds up against wear and tear. Our previous experience with Rolling Square's inCharge 6 was mostly positive, with the notable exception of how the metal finish was prone to scratches. The good news is that the inCharge X fares a lot better than the 6. There are still some scratches on corners and edges, but not close to the degree that the inCharge 6 had. The TPU-reinforced, aramid fiber cable does well, too, with no fraying or looseness around the area where it meets the metal housing. The joint where the cable itself meets the head of the connector is often a point of failure for many data cables, so we're glad to see the inCharge X's braided nylon hold its own here.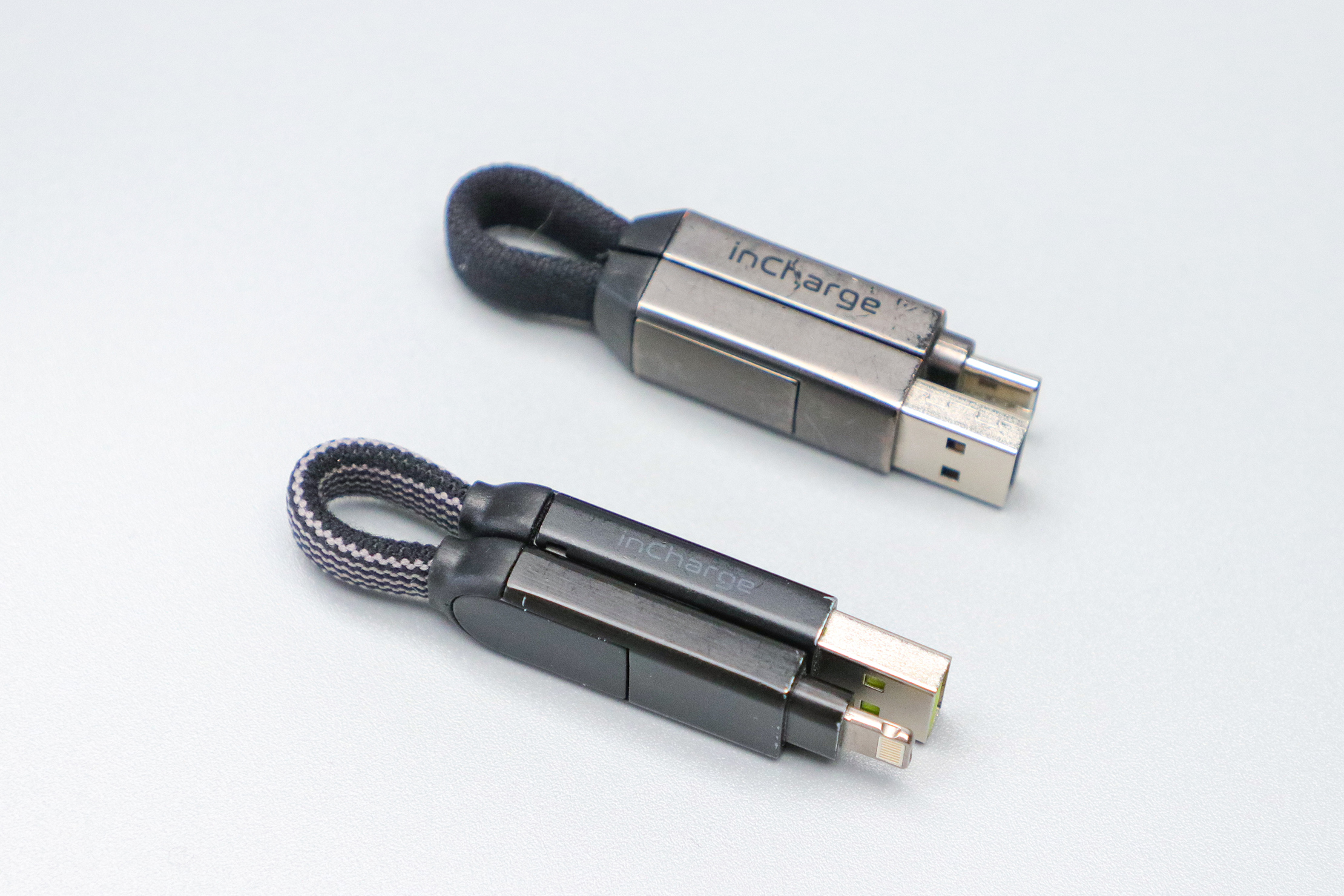 For those looking for something other than black, there's the sporty-looking Sapphire Blue that comes with a two-tone gray and blue design. Then there's the fancy-looking Marble Beige, which comes with the same braided cable our Lava Black sample has, but the metal housing is now a bling-tastic gold color. All three colors are available at the time of writing, and we think they cover a good range of design preferences.
Usage & Features
One of the biggest appeals of the inCharge X is how it easily attaches to our keyring. Simply undo the magnets, thread it through, then snap the two metal housings back together. The magnets are strong enough that they snap together with convincing authority. One neat attention to detail we noticed is how one of the magnets is a bit indented into the metal housing while the other is raised. This means that they interlock and stop the metal housings from slipping and potentially setting the cable free.
Of course, using the included cap will stop the inCharge X from opening altogether, but we opted not to use it at all. The cap is untethered, and we found it to be just another thing to pocket, keep track of, remove and put on each time we used the cable. It's a minor inconvenience in an otherwise convenient gadget. Our inCharge 6 did fine without a cap, so we decided to do the same with the inCharge X.
Your mileage may vary depending on where you're attaching the inCharge X. Because the metal housings are relatively long, it can be tricky if you have a small keyring, especially if it's already a crowded one. That said, a bit of trickiness might be a worthwhile trade-off for someone who, like us, finds the utility more than useful.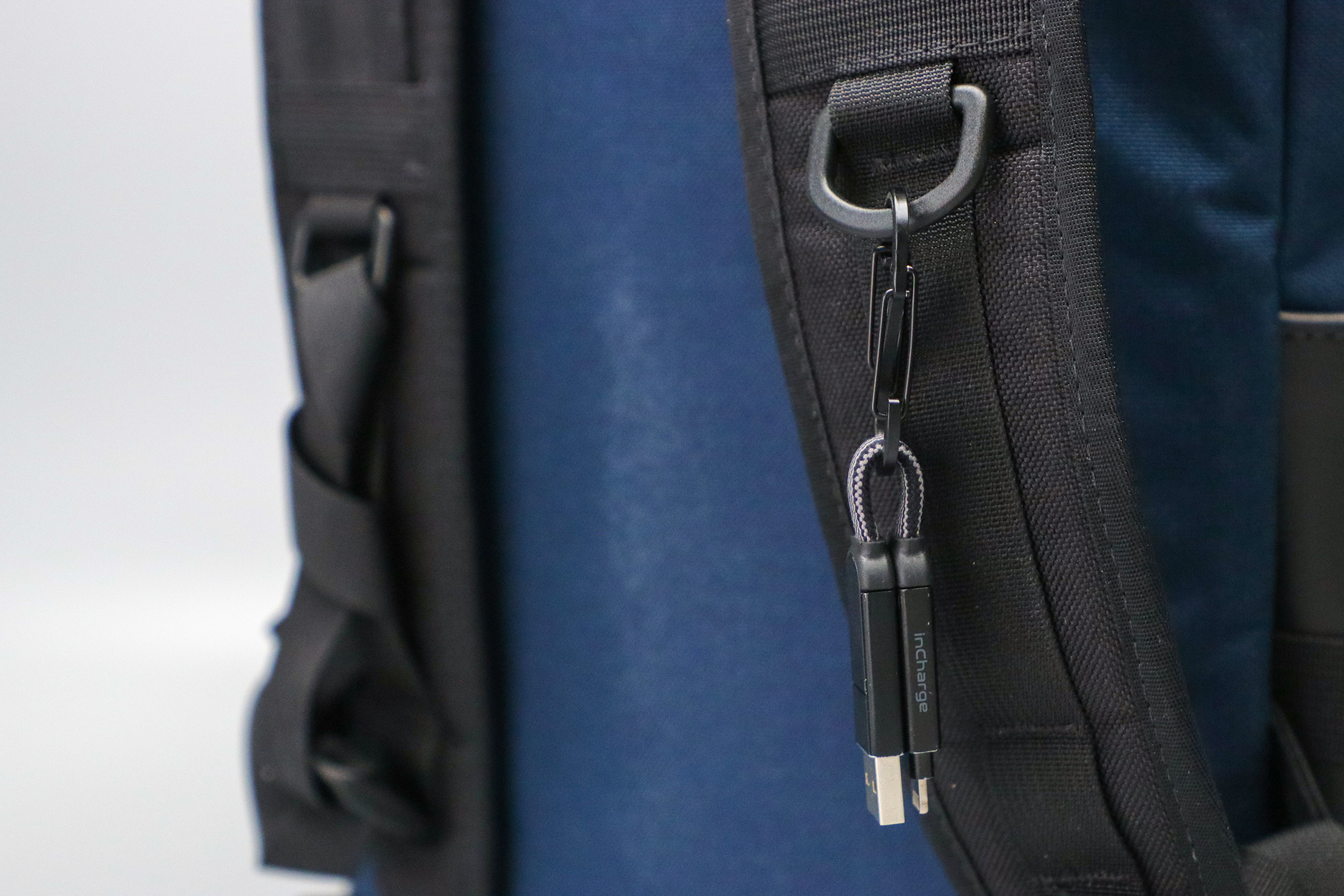 Like the inCharge 6, the inCharge X also comes with a fairly healthy amount of connector options for a compact cable. At its base—that's without any of the adaptors attached—the inCharge X is a USB C to USB C cable. One end adapts to a Lightning/Micro USB combo connector, while the other adapts to the more typical USB A connector. There's a total of six possible combinations you can play around with, supporting most Android, iOS/iPadOS, ChromeOS, and Windows devices.
The big difference from the inCharge 6 is since the base connection is a USB C to USB C, 100W charging is now possible. We're no USB experts—there's a ton of standards around—but you will need a compatible device and charger if you want to take advantage of fast charging features like USB Power Delivery and Quick Charge.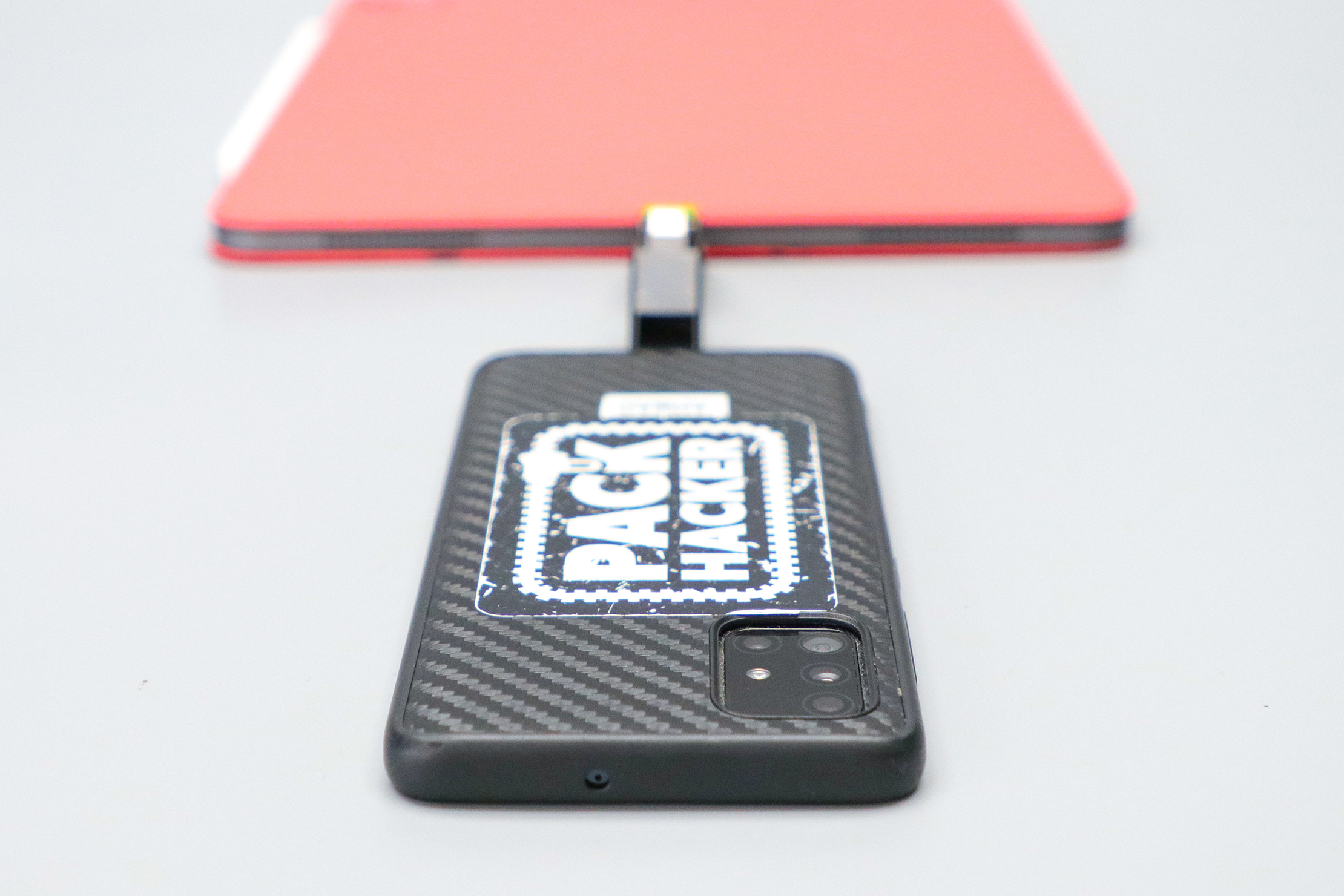 Something we had fun testing is the ability to charge smartphone-to-smartphone. It's a situation most of us are familiar with: you have a topped-off battery while your buddy is running low on juice. Provided your phone supports it through its USB C port, you can charge another device on the other end. Of course, you'll have to leave your devices connected over a short cable, but it's better than nothing.
Spanning just 2.8 inches, the inCharge X is hardly the longest cable in our collection. Thus, some use case experiences vary from "a bit finicky" to #struggleisreal. For connecting your smartphone to a laptop on a table with limited desk space, the inCharge X does great. If the USB port on your computer is located near a surface where you can rest your connecting device, it also does fine. However, while charging your laptop through a wall outlet with the inCharge X is technically possible—and we have tested it—it's not very convenient. We also frequently use our MacBooks on elevated stands and cooling pads in the office, and the inCharge X's short length means our connecting devices hang off awkwardly.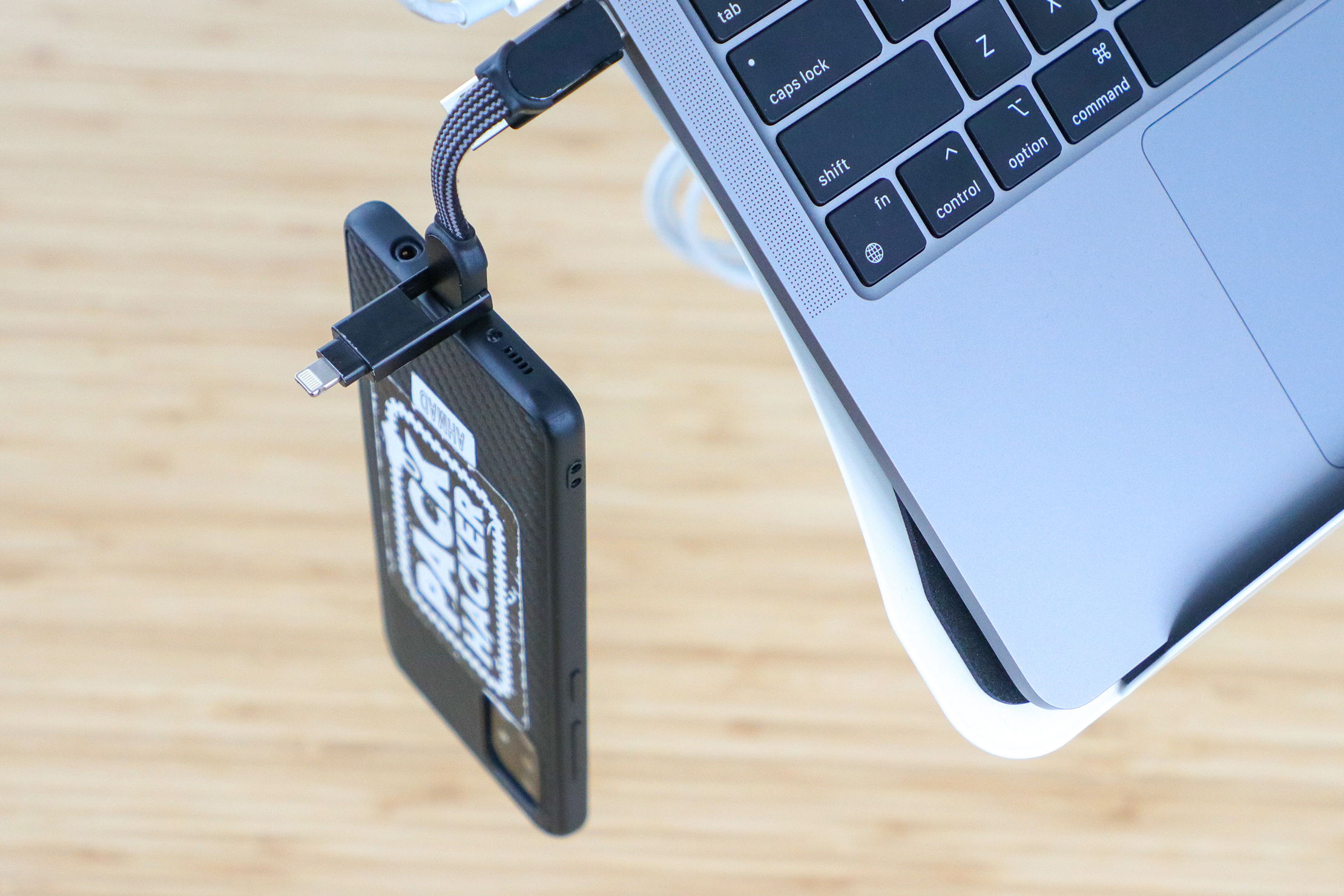 One tip we're carrying over from the inCharge 6 is to keep the adapters facing up when they're not in use so that they don't get in the way. Thankfully, USB C is reversible so flipping the entire cable is easy to do.
In terms of file transfers, we didn't notice any speed increases over our standard Lightning cables when we were bouncing photos back and forth between our MacBook Pro and iPhone 12 Pro Max. For those who like to get into the details, Rolling Square rates the inCharge X for up to 480 Mbps / 60 MBps, which is actually the rated speed for the USB 2.0 standard. Quite unfortunate, given that a lot of devices support at least USB 3.2 Gen 1 speeds. But for the casual user who just needs a cable handy with them at all times, it will do.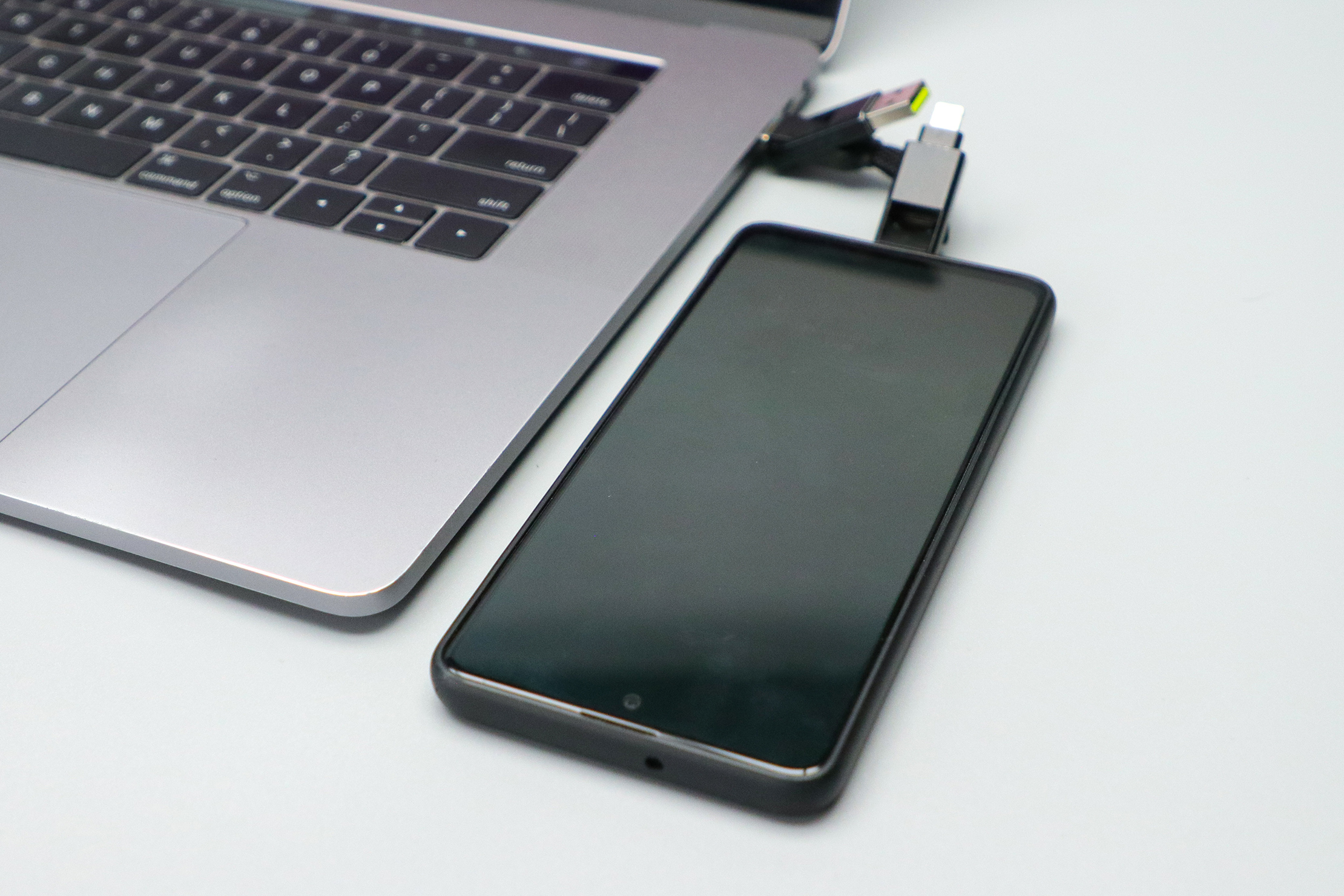 When we first looked at the inCharge 6, we appreciated the convenience of having a data cable with us—it's those times when you don't have one that really drives home the point of preparedness. The same things we like with the 6 apply with the inCharge X, with the notable improvements of supported charging speeds and better scratch resistance. The same caveats that come with a short cable also apply, but we're more than happy to forgive it in exchange for the convenience it offers.
Usage Timeline
Initial Usage
Condition: Excellent
The short length makes it ideal for keeping on a keychain
Supports up to 100W charging with compatible devices
Has USB-A, USB-C, Lightning, and Micro USB
2 Weeks of Use
Condition: Excellent
It's not scratching up quite as much as the Rolling Square inCharge 6, plus, it's faster
The Lightning and Micro USB combination works well
The magnetic clasp is strong enough to keep it securely on a keychain, though it's still possible to lose it
So much versatility in such a small package
Access the Pro Community Discussion
Get your questions about the Rolling Square inCharge X answered from our team and the Pro Community right here on the page. Plus, join discussions with other members about gear, guides, and more.
Other Productivity & Tech Reviews