Digital Nomad Packing List
The ultimate packing list for traveling the world as a digital nomad with a backpack. We cover it all: men's and women's focused items from clothes to tech to toiletries and more.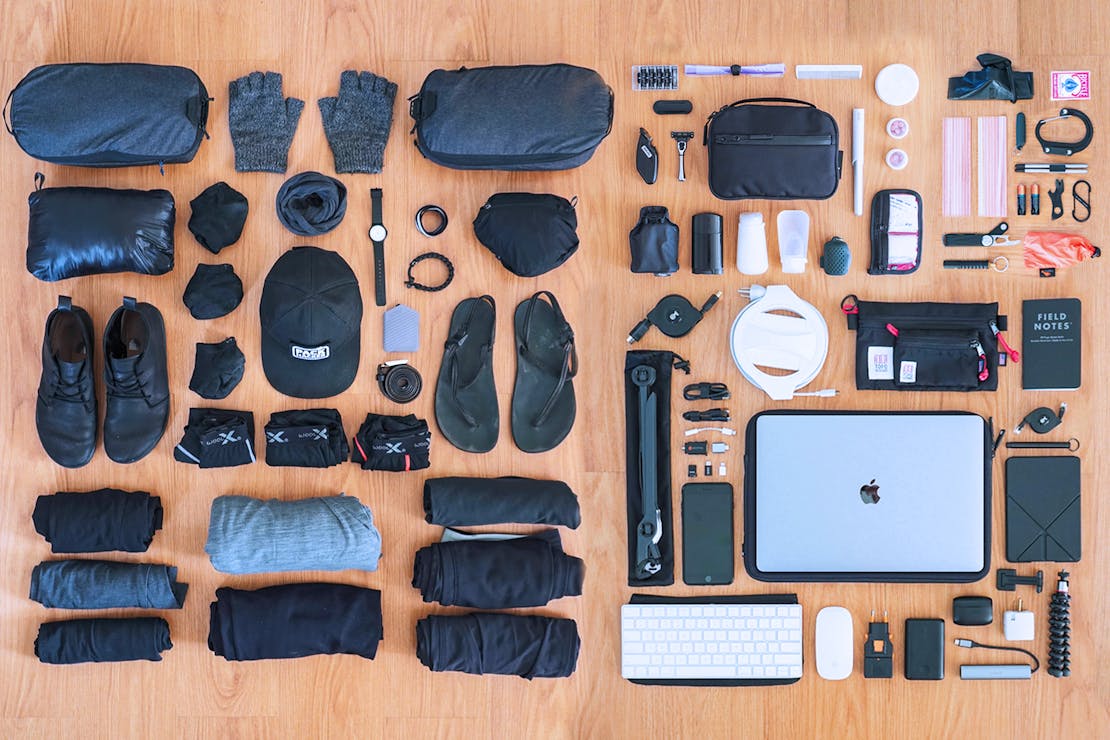 One Backpack. One Laptop. Unlimited Potential.
Welcome to the Digital Nomad Packing List. If you're a frequent Pack Hacker visitor, you probably already know what a digital nomad is. If not, here's a definition from Wikipedia: "Digital Nomads are a type of people who use telecommunications technologies to earn a living and, more generally, conduct their lives in a nomadic manner."
While a little jargony, that definition certainly fits the bill. This list has everything you need to travel the world while working remotely. (Something that many of us on the Pack Hacker team are either currently or intermittently doing.)

We're here to guide you through the ordeal that is preparing for such a journey. We've done the research, we've done the testing, we've done the traveling, and we've distilled it all down into one list with everything you need to succeed. The bag, tech & productivity and miscellaneous sections of our list are all unisex, while clothing & accessories, and toiletries & personal care are split into men's or women's focused items.
Now, before we jump into the specifics, we know that what works for some isn't going to work for others—trust us, we get it (even the Pack Hacker team differs when it comes to certain gear). So, if the items on this list aren't floating your boat, don't worry. There are plenty of other options out there—and we've still got you covered. We have more packing lists, guides, and reviews that'll help you find what works for you.
So whether you're currently traveling the world as a digital nomad, planning to, or wishing you could—it is our hope that this list will not only help you prepare for your trip but give you the confidence to know that it isn't nearly as stressful as you might think. Let's get packing.
Digital Nomad Packing List Video
Standalone Bags & Organizers
These are the big hitter bags and organizers that are going to be used to carry everything on this list. At the end of the day, these are the items you're going to be physically carrying onto the plane. In this particular packing list, we're opting for a one bag travel method—so this section is short and sweet. All the items on this list can fit into the main travel pack, although we usually opt to pull out the sling for air travel.
This is where it all begins.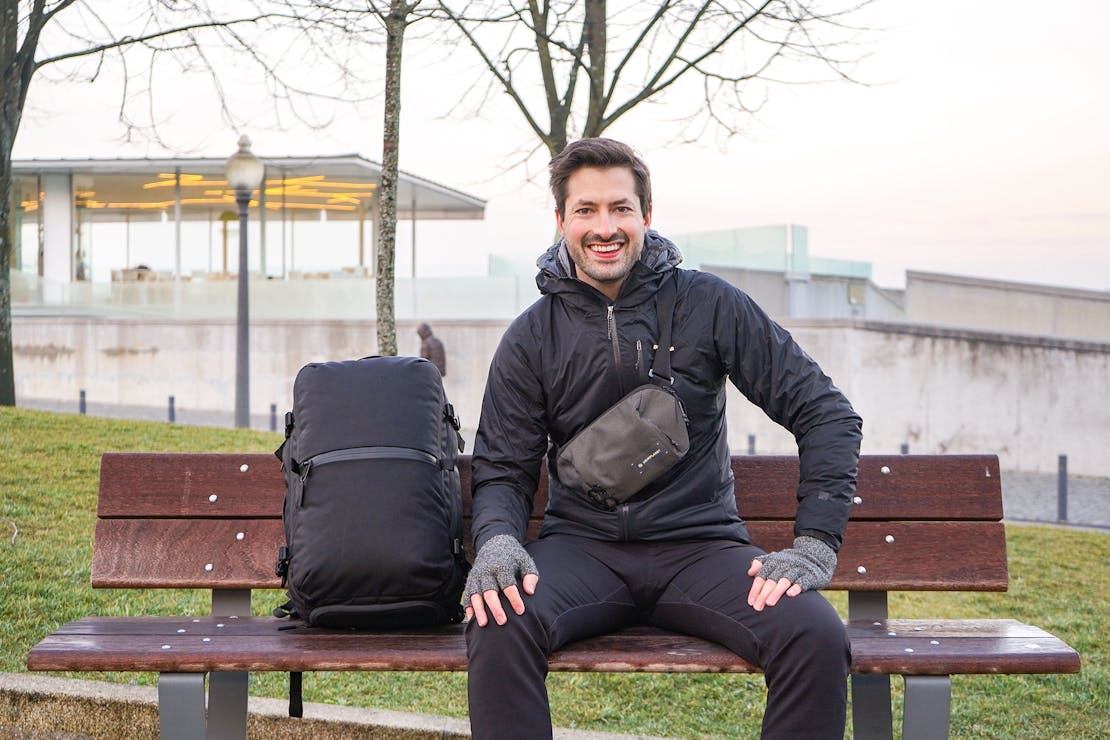 This is one of our favorite travel packs of all time. The Aer Travel Pack 2 can function well as a one bag travel pack for perpetual travel, but it can also compress down to daypack-size when you're out and about in a new city. With a solid list of materials, this thing is durable, functional, and we barely have anything bad to say about it. This holds everything.
A simple, durable sling that offers a whole lot of functionality in a small package. It's got some organization, a hidden zippered exterior pocket, and a few lash straps for attaching carabiners and other items to the outside. In this list, it's going to function as our personal item for air travel and days out on the town.
Although this sling is going to pick up dust and fluff easily, its sleek design makes it work for all occasions. Dress it up for a nice dinner out or dress it down for a casual trip to the mall—you decide. Either way, you'll be looking smart and have some solid organization to boot. Sounds like a win-win to us!
Clothing & Accessories
Well, you need to wear stuff, right? In this wardrobe, we're focused on versatile clothing with a monochromatic color scheme (AKA, all black). It was a bit of a challenge to find all the women's clothing in black—let's just say if pink's your favorite color you'll have a lot of options out there—but we persevered because we think it's worth it.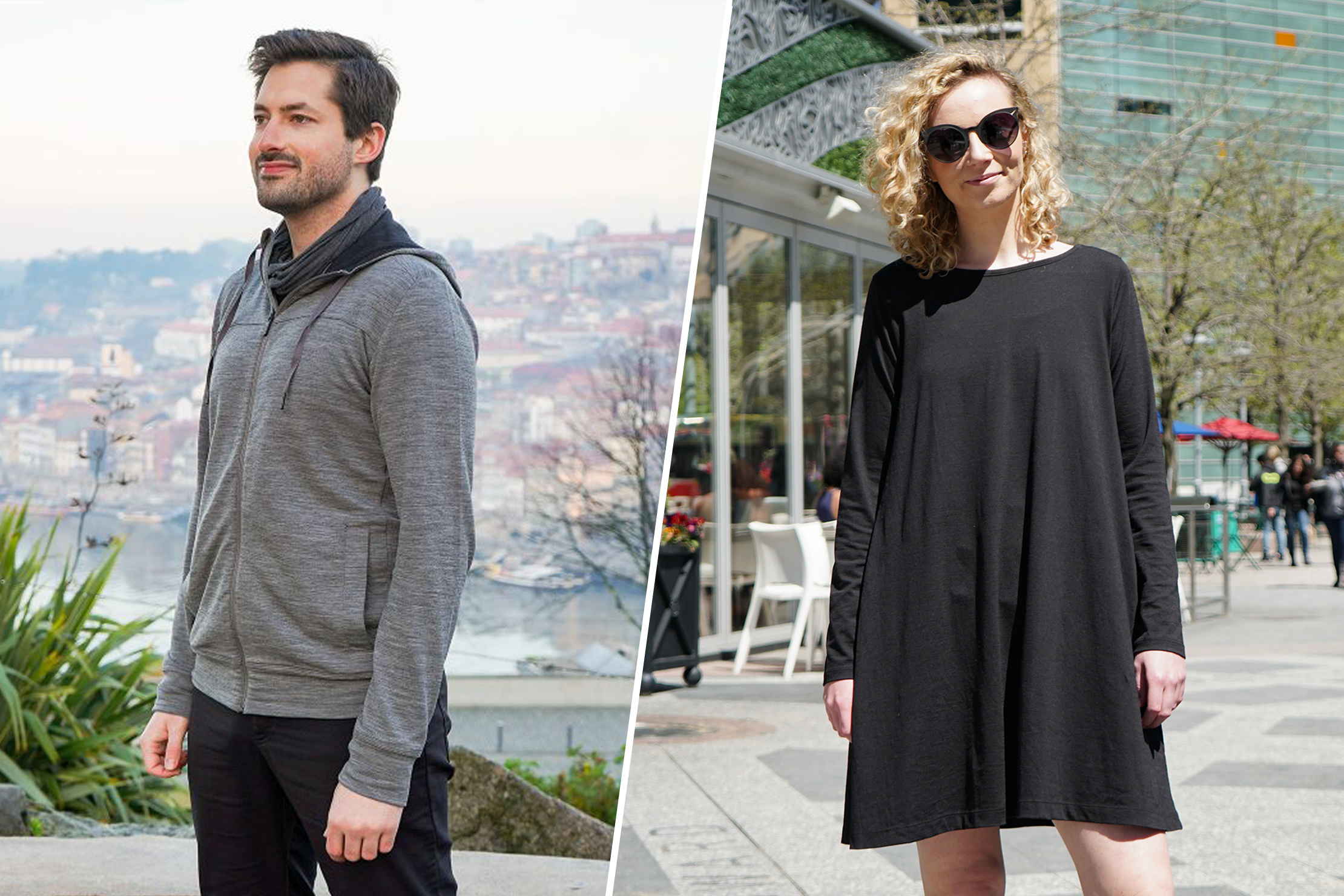 In addition to being undeniably badass, all black works well because you can use it in a wide variety of environments—from formal to casual and everything in between. It also helps conceal stains and allows you to easily swap and mix items as they get dirty or smelly.
Did we go a little overboard on the all black thing? Maybe. But come on, it's the first Pack Hacker packing list. We couldn't not go all black.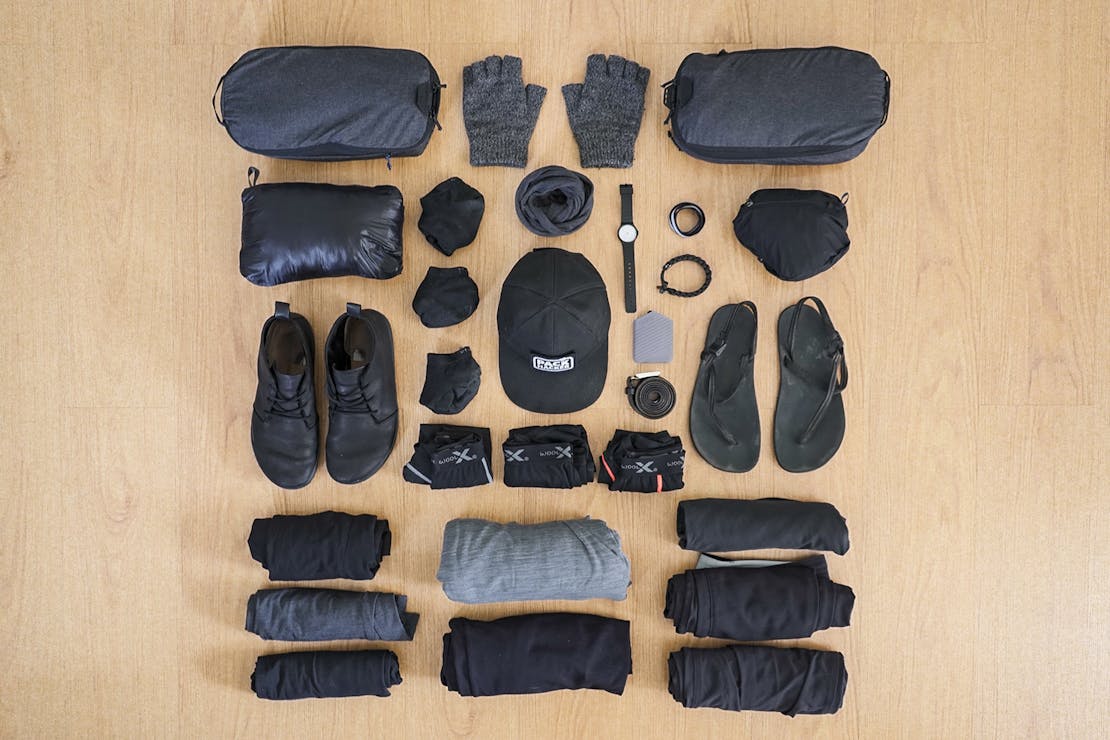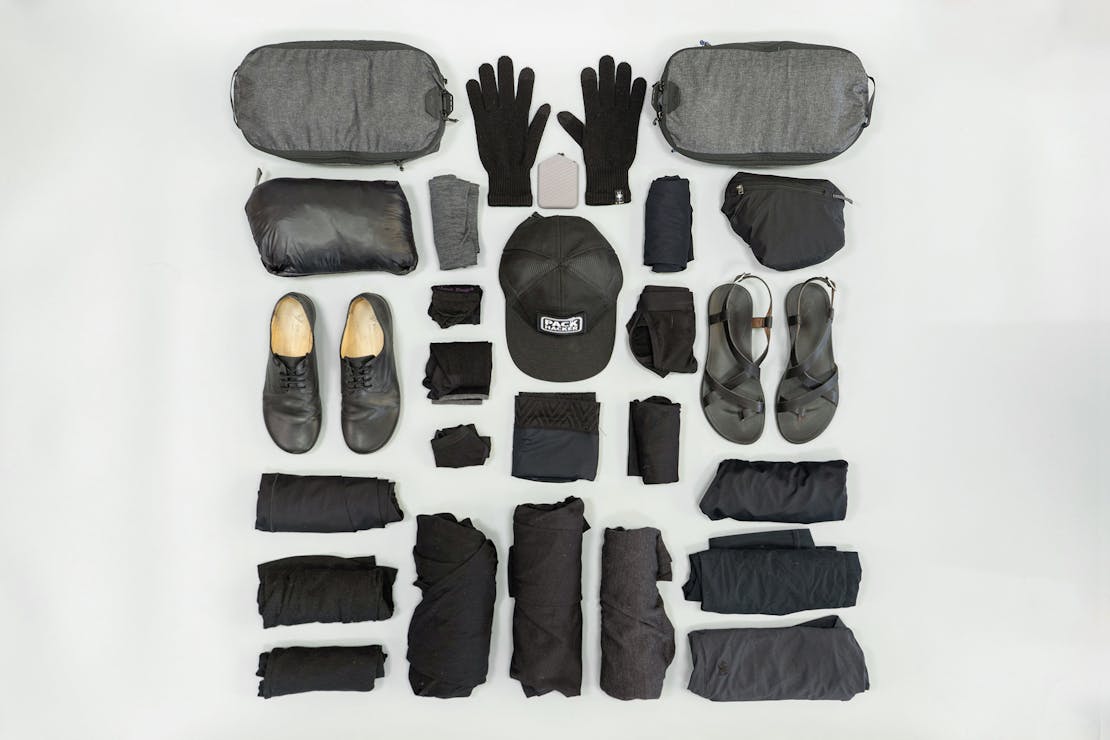 Some of the most comfortable Merino briefs out there. The inclusion of nylon and spandex paired with the Merino wool helps out with durability. These can be worn a couple of times between washes and when it is time for laundry, these air dry quickly.
Comfortable, durable Merino wool socks with a lifetime warranty? We'll take it. These are a solid pair of everyday socks that aren't too warm but offer a bit more durability and cushion than your average cotton sock. Plus, they won't smell after multiple wears. 3 pairs. It's all you need.
These pants are made with breathable, thinner fabric that has just the right amount of stretch to make them comfortable and adventure-worthy while still looking like a regular pair of pants. Plus, they dry extremely quickly. Great for travel.
These have become a staple for most of our one bag travel loadouts. The slim dungarees are a bit thicker than the Passage Pants, but they still retain that breathability and stretch you want in a pair of travel pants. Also, they're highly durable (and we don't say that lightly).
This is one pair of shorts that can do it all. They wear and feel like regular shorts, but they're also submergible and dry decently quickly. Technically, all shorts are submergible—but these really are great for the beach or pool. You could even get away with wearing them as workout shorts in a pinch.
This isn't necessarily a travel belt, and to be honest, we're not entirely sure what a "travel belt" consists of. You could probably go super minimal or get one with a sneaky money-hiding pocket—but we like this one. When we inevitably find that travel belt, we'll be sure to let you know.
A simple, super soft shirt that's good for working out, exploring, and everything in between. Although a little thicker than other t-shirts out there, it's 100% Merino wool—meaning it's breathable, durable, and odor-resistant.
This is another t-shirt that looks fairly ordinary. We like the heathered look with the pocket, as it adds some variety compared to the rest of the all-black ensemble in this list. It feels like a bit of a step up from an ordinary tee, and it's got those magical Merino properties we love.
This is a great, versatile sweater/shirt that can be worn as a base layer on colder days or as a standalone long-sleeved t-shirt. It's got just the right amount of thickness to provide warmth when you need it, but not too much when you don't.
A shirt so light it almost floats on your body. The Albini Merino Wool button up from Outlier has a nice cut and a more "drape-y" feel that looks polished while still feeling relaxed and casual. We always like having at least one semi-formal option in our travel wardrobe. This is it.
These are super versatile, minimalistic shoes. They're extremely lightweight, perform well on off-the-beaten-path adventures, and they look nice enough to wear to dinner with the other clothing on this list. The high top is a bonus for keeping sand and dirt out of your shoes in addition to offering a bit of protection as you're exploring.
Super minimalistic sandals for daily use and working out. These things basically stick to your feet. To be honest, you do need a bit of confidence to pull off these bad boys as they can look a little odd, but the benefits are worth it. (Also, you might want to think about grabbing the nail clippers we mention in the toiletries section to keep those toes looking fresh and groomed.)
A key component in the layering process, this Merino hoodie is super soft, comfortable, and breathable while still keeping you warm. It has a somewhat athletic cut, which may or may not be your thing.
We love these fingerless Merino wool gloves because they're comfortable and flexible enough to operate a phone outside on a cold day. They're also great for typing on your laptop when you're in a chilly coworking space, although people might look at you a little weird. (But who cares?)
Foldable, strong sunglasses—some of the smallest we've come across. There's no curve in the lenses, which makes it a little odd for your eyesight, but overall these get the job done in a really small form factor. Comes with a simple silicon case.
Comfort, versatility, and durability all in one. The construction of this bra gives you enough support while still maintaining a high level of comfort so that you can wear it all day long. With adjustable straps, you can find the right fit, and with the option of inserting a padded cup you can adapt this bra to your style and preference.
Being comfortable doesn't mean you have to forgo style. Made from Merino wool, this underwear looks good and functions well with its breathability and ultra-soft feel. And let's not forget that these can also be paired with the Icebreaker Siren Bra for a matching set.
This period-proof underwear is a great alternative to the usual sanitary products and will give you peace of mind knowing you've got them in your pack. We recommend getting at least two pairs so that you can alternate them. We've been super impressed with their absorbency and their stylish looks. These are also available in different styles, so you should be able to find a pair that works for you.
Darn Tough describe these as, "The toughest sock you'll never see" and we have to agree with them. These socks are durable, breathable, and naturally antimicrobial—meaning you can wear them multiple times, minimizing how many pairs you need to pack. They also stay in place with no slipping or bunching. You might just forget you have them on.
If you're looking for an everyday pair of comfortable socks these are a "solid" choice (see what we did there?). These lightweight socks will keep you cool in the summer and warm in the winter, and with Darn Tough's lifetime guarantee (tried and tested by us), they'll keep up with you and your travels too. Plus, the Merino wool properties will keep your feet fresh even after multiple wears, so you only need two pairs!
These tights provide great coverage to pair with a dress on colder days. The seam-free design make these tights comfortable to wear all day long and we've been impressed with how well they stay up too. They can even be used as an additional layer underneath your pants when the temperature drops.
This cami is small but versatile—it works well on its own and as an additional layer underneath other items. The adjustable straps enable you to find the right fit, and those magical Merino wool properties help regulate your temperature and keep you odor-free—and who doesn't want that?
These pants offer a great combination of comfort and style that you can dress up for business and dress down for everyday wear. While we would have liked to have seen some more pockets on these pants, we can't deny that they are great for travel. With their lightweight, comfortable and wrinkle-free fabric, these pants will keep you looking good and feeling great on the road.
These leggings offer a slimmer next-to-skin fit with minimal show-through, making them a great pair of everyday pants. Not to mention the practical pockets that are discreet when not in use. While these aren't classy enough to wear into a business meeting, we're willing to make that trade off for the high levels of comfort, durability, and a quick drying fabric. Ideal for travel.
The comfortable waistband and materials on these shorts make them ideal for everyday wear and even exercise, plus the professional overall look will keep you looking sharp at the same time. We were also super impressed with the amount of practical pockets these shorts have—some are even zippered!—which make them a great choice for travel.
Actually getting into this swimsuit may take a bit of getting used to, but once you've got it down you won't want to take it off. This swimsuit gives you great coverage, making it ideal for almost any location around the world. The zipper also gives you the option to adjust the style and, while this is only a small tweak, we've found it makes a big difference to the overall look.
This versatile tee is ideal for both working out and working on your laptop. The black-on-black logo and minimal style keeps this slim fit t-shirt looking sharp, and the Merino wool makes it breathable and antimicrobial so you can get a number of wears out of this thing before washing.
This t-shirt is polished enough for a business meeting and comfortable enough for everyday wear. We love how the relaxed fit and lightweight fabric allows for some versatility in your wardrobe. Plus, the wrinkle-free and quick drying materials make this tee a great travel companion.
This is our go-to dress because it has a relaxed and casual feel, but it's also professional enough for work and business meetings. The lightweight Merino wool is comfortable, breathable, temperature-regulating plus, wrinkle-free, and odor resistant. And what more can you ask for from a dress? (Seriously, that's pretty much it.)
This sweater is great to wear on its own or as an additional layer. Not only does it look super sleek, but it's also soft and comfortable to wear all day long—there's no compromise between style and comfort here.
These are a versatile, minimalist pair of boots. They're lightweight, weather-resistant, and perform well during off-the-beaten-path adventures. They also look nice enough to pair with other clothes on this list—easy to dress up for a meeting or nice dinner out.
These sandals look professional and are minimal enough to pair with any outfit. The cushioned sole and soft leather upper will give you that all-day comfort while exploring and adventuring and the adjustable strap is great for getting your shoes on and off quickly. (Pro tip: Grab the nail clippers we mention in the toiletries section to keep those toes looking fresh and groomed!)
Versatile clothing is super beneficial for travel, and this 5-in-1 top ticks all of the boxes. It's soft and comfortable enough to wear everyday, but it can be quickly adapted to smart and snazzy in just a snap (quite literally). Wear this top as a cardigan for a casual style or snap the fastenings together and place them over your head for a sleek looking blazer—easy! It gives you the opportunity to find what works best for you, your style, and your use case. And, if you're feeling particularly creative, you can probably find more than five variations.
A lightweight pair of gloves that will not only keep your fingers warm, but will keep them moving too, as these are touchscreen compatible. The Merino wool gives the comfort and warmth you need without the bulkiness so you can handle most tasks with ease.
These sunglasses fold up incredibly small while still remaining strong and durable. Using the silicone case provided, they will easily pack away in your bag, organizer, or even your pocket. Although the flat lenses will take some getting used to—they are able to reflect what's going on behind you—we've been impressed with these. They get the job done in a really small form factor, and we like the the variation in frames. You should easily be able to find a style that works for you.
Once you travel with a Buff, it's hard to leave your house without it because it's just so darn versatile. Whether you need a sleeping mask, a beanie, a scarf or a hair band—or nearly a million other uses—the Buff has you covered.
Ultra compressible and lightweight, the Storm Racer is a simple rain jacket/windbreaker that disappears into your bag when you don't need it and easily deploys when you do. Good for inclement weather or as an outer layer for your down jacket.
One of the smallest and thinnest headbands we've seen. You can easily stash this thing away in your toiletry kit—it takes up practically no space—and pop it out to use while working out or going for a run. (If you're into that kind of thing.)
A customizable hat from one of our favorite companies. It's got some mesh for ventilation, plus you can toss on & swap a velcro patch of your choosing for some added FLAIR!
These are some of the most "high tech" packing cubes we've tested to date. They've got some innovative quick access zippers, they can compress, and they're highly durable. They might be a tad heavier than other packing cubes we've tested, but the trade-off is worth it in our eyes.
Productivity & Tech
All the gear you need to rock a complete mobile office on the road. For the true digital nomad, this section is critical. Between all the cords, dongles, and different inputs you need for everyday work—this stuff gets real confusing real quick. But that's why you have us, right?
We've gone ahead and simplified everything by keeping it all to one standard Micro USB cable. This is good for redundancies and still offers some great speed. Plus, there are small adapters for everything else. You need to be prepared for anything, and this will cover it all.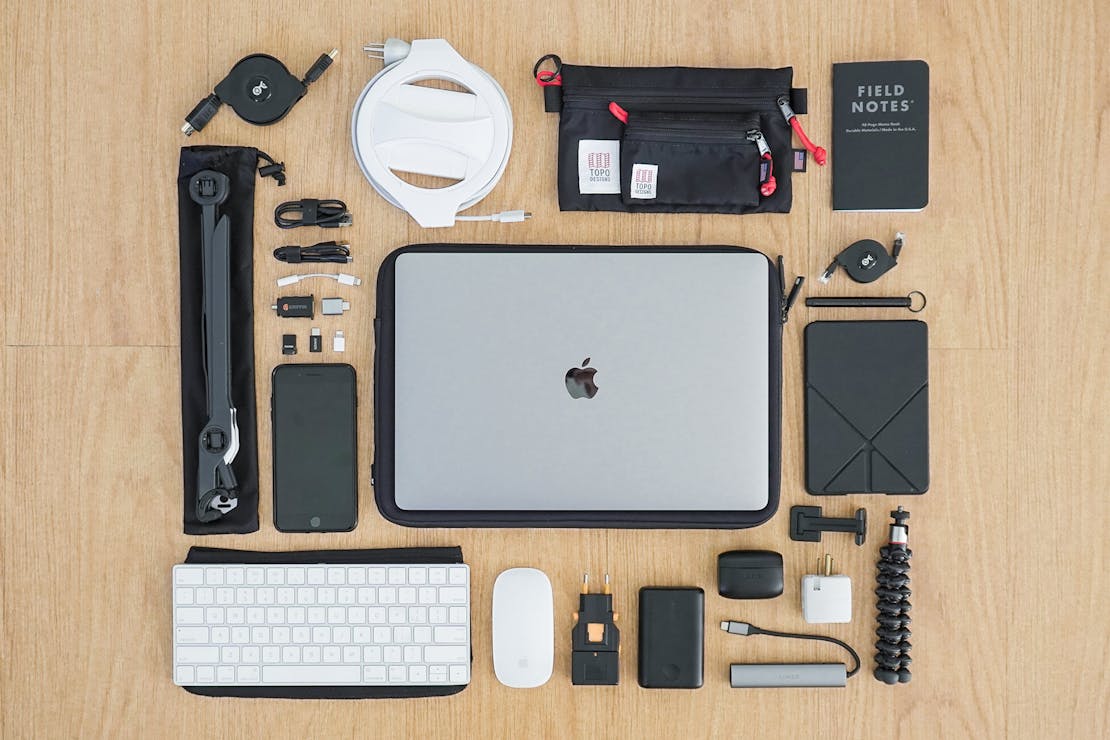 One large, one small. The small pouch is going to store our tiny dongles, flash drive, and mini tech accessories. The larger pouch will hold larger dongles, cables, our mouse, and some other knick-knacks. Once you've got them both packed up, you can even toss the small pouch into the large one to keep everything in one place.
We are huge proponents of laptop sleeves. Even if you've got some solid padding in your backpack, you can never be too careful. As a digital nomad, your laptop is your livelihood—so you should do everything you can to keep it safe. This will help.
This is a convenient little neoprene pouch—similar to the Incase laptop sleeve—that will protect your keyboard in transit. We like having this because a naked keyboard in a backpack can scratch up the rest of your tech gear or even cause some abrasions on the pack itself. Also, it'll keep your keyboard nice and safe (obviously).
We tend to opt for the classic MacBook Pro, but any laptop will work. This is one of the heaviest items in your bag, so if you can get away with not bringing a laptop, we'd highly recommend it. Most digital nomads can't make this sacrifice, in our experience.
This is one of our favorite accessories for working remotely and pretty much a must if you're going to be working on a laptop for long periods of time. The Roost is compact and foldable, making it packable, but it can still elevate your laptop nicely when in use. You and your lack of future chiropractor bills will thank you. Comes with a carrying case.
This is a pretty standard keyboard—we mainly like it because it's small, wireless, you can recharge it via a lightning cable, and it integrates nicely with a MacBook. Swap out for your desired keyboard, although we recommend going wireless and keeping it small.
We're not quite ready to say this mouse is actually magical, but it is pretty functional, minimal, and it sure looks good with a bunch of other Mac gear. No scroll wheel, but you can still "magically" draw your finger down the middle to scroll. Feel free to swap out whatever mouse you prefer here.
Thousands of books in the palm of your hand, all at a similar weight to a single paperback? This thing is key for any avid readers, and it's even small enough to keep around for the occasional reader. Plus, it's anti-glare and water-resistant. If you couldn't tell, we're big fans of eBooks over here.
A simple notebook built for use on the go. We love the dot grid on ours because it provides some structure for writing and drawing detailed sketches, while still offering a pretty-much-blank canvas for everything else. The small size is ideal for travel, although you may want to bring a couple if you're planning on doing a lot of writing.
Whether you're filling out customs documents, taking notes, or jotting down your to-do list for the day, a pen always comes in handy. The James Brand Stilwell is collapsible, lightweight, and built to take a beating—perfect for most any adventure.
One of the smallest, most useful tripods we've found for mobile phones. It's not going to take the place of your larger tripod, but it gets pretty darn close in a dramatically smaller size. The flexible legs also let you grab some shots you wouldn't be able to otherwise.
These surprisingly-small Bluetooth headphones are great for travel. They block out the noise well, which is great for the plane, and they pack down into a tiny carrying case that's easy to throw in a small pouch. They also have a pass-through audio feature, which uses external microphones to filter in noise so you can still hear yourself talk if you're on a call. Super functional.
This tiny battery bank will charge your phone to full between 2 and 4 times on one charge. It's also got a tiny LED where you can see just how much juice is left. The "charge stuff" port is USB-A, while the "recharge the battery bank" port is a Micro USB. It'll even charge your laptop in a pinch (if you have a laptop that can charge via USB-C).
This can be whatever phone you'd like, really. iPhones take pretty great photos, so this can also play the role of your camera on the road if you'd like it to. The world is really your oyster here.
This is a pretty niche item. It's a little brick covered in buttons that lets you make some beats on the road. If you're into music—especially electronic drum kinda stuff—it's worth checking out as it can be a lot of fun. If you're not into music, you're really not going to care about or need this thing.
Of course, you're going to need to keep your laptop (and other devices) charged. And this little wall charger will do the trick. It's a lot smaller—about a third of the size(!)—and a lot lighter than the charger that comes with your MacBook Pro. It has enough juice to keep up, although it can get pretty warm.
A high-quality cord is a must to keep your laptop and other electronics charged on the go. We always opt to take a longer cord with us while we travel, because you never know what kind of space you're going to be dealing with.
This is one bad mama jama. It's a very crucial piece that handles charging and data transfer for virtually all of the tech gear on this list. This connects to your computer via one USB-C input and it has 3 USB-A ports, an ethernet port, and an HDMI port. We really cannot understate how ridiculously handy this dongle is, especially if you have a newer MacBook with only USB-C ports.
With the aforementioned USB-C Hub, you're going to need some cables to tie everything together (pun intended). We opted for two very small USB-A to Micro-USB cables from Anker (our go-to for all things cables). With these two cables and the associated dongles, you can charge everything on this list through your computer.
For anything lightning, Apple is typically ideal—it's their proprietary system and we've found this little converter to be of better quality than the generic brands. You'll pay a bit more, but if you want to charge your phone and transfer data without a hiccup, spend the extra cash on the real deal.
This is a very small and very simple USB-C to Female Micro USB converter. Pretty self-explanatory. It's great for plugging directly into a MacBook.
Some redundancy in converters is good, and sometimes you want sleek conversion without needing to bust out a large dongle. This thing also has a USB indicator on it for power, and it's one of the smallest USB-C to USB-A converters we've tested. Seeing as most of the world still runs on USB-A, it's something you'll find yourself using often.
This thing is almost comically small, and it's actually pretty easy to lose if you're not careful. But that also makes it perfect for travel. This is a great backup to have on hand when things like mobile boarding passes and wireless printers inevitably malfunction. Also, 256GB in a piece of plastic the size of a pea?! What a time to be alive.
If your rental car doesn't have a USB car charger, this little guy will keep you juiced up. Even if you don't plan on using a car, there may still be some fringe cases where this could come in handy. Plus, this one has two USB slots—so you can charge two devices at once, or share with your travel companion.
Yes, there are a lot of dongles in this packing list. No, we didn't think about naming it "The Dongle Packing List." The reality is that even with wireless headphones, you still want a backup. This lets you grab a cheap pair of earbuds at your destination or in the airport if your wireless headphones are out of commission for whatever reason. We also think its one of the cuter dongles out there, so there's that. This is, of course, only needed for iPhone users.
An oldie but a goodie. This is still one of the most compact universal outlet adapters on the market. It can handle any outlet you might throw at it, plus it has the added bonus of feeling like a little Transformer toy.
You don't need an ethernet cable until you really need an ethernet cable. Whether you're on a cruise ship or at a hotel with subpar WiFi—or even worse, no WiFi—this thing is great for manually plugging in and getting some sweet, sweet internet. The retractable-ness is great for tossing in your pack, too.
Depending on your travel style, you may or may not need one of these. But as we all know, the one time you don't bring it is the one time you need it. So, best to bring it along. Great for hooking your laptop up to a hotel TV for some Netflix or conducting an impromptu presentation at a coworking space.
A small brick that splits one outlet into three, this is the longest-lasting, most durable splitter we've tested yet. Each outlet is on a different side, so it can accommodate larger plugs than your average power strip, which is super convenient. Everyone will love you when you whip this bad boy out and free up two additional slots at a coworking space or coffee shop.
Toiletries & Personal Care
Staying fresh, clean, and well-groomed on the road is an essential part of being a digital nomad (or just being a civilized person in general). If you're hitting up new coworking spaces, conducting video conferences, or just going out to dinner—you want to look presentable. Plus, you want to make sure all your stuff is carry-on compliant so you can stick with a single carry-on bag.
Alternatively, you could just be a total slob. The choice is ultimately yours, although this section will focus on all the tools you need to look fresh and feel good.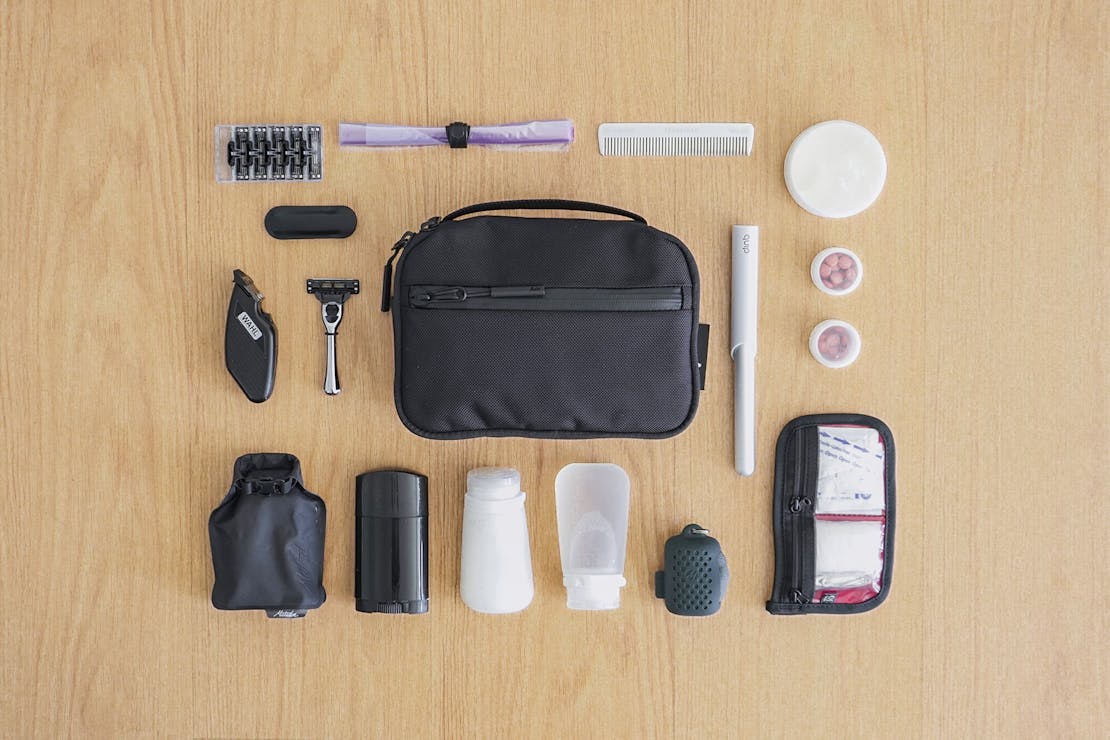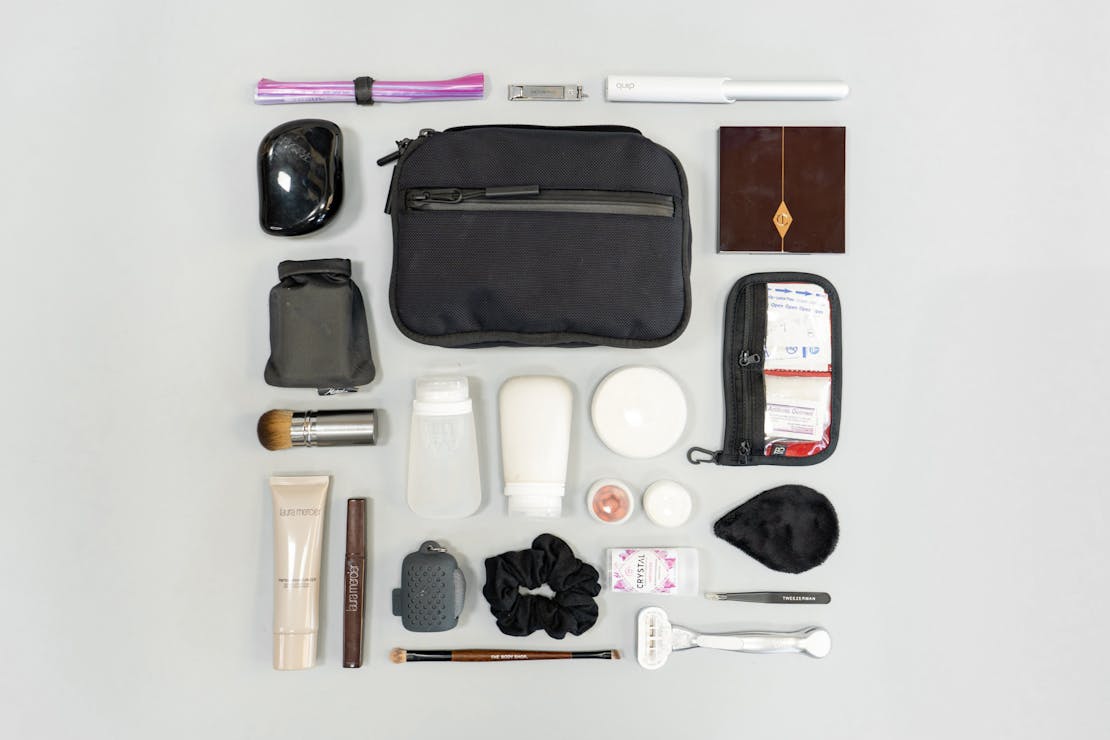 Fun fact: This is one of the first items we ever reviewed at Pack Hacker. It's also still one of the smallest, best trimmers out there. It runs off of AA batteries, although they don't last quite as long as we'd like them to. Great for keeping your scruff managed on the road. Pack two extra batteries if you'd like or just grab some wherever you are.
This is a simple comb—the main difference being that it's made of stainless steel. We like this because it can last you a literal lifetime and because it's solid metal you're a lot less likely to lose it.
We wish you could travel with a safety razor, but sadly, you can't. You're better off with a standard razor handle and some replacement cartridges. This one does the trick for us—mainly because of the "just right" form factor—but you've got plenty of other options here as well. This is also supplemented with some standard Gillette replacement cartridges.
Who would've anticipated it'd be such a struggle to find a women's razor that isn't pink? Despite that, this razor gives a super smooth shave and, while we would have preferred an included lid, it is easy to store in our Dopp kit.
This hairbrush is a joy to use—it's gentle on tangles, won't damage your hair, saves you time, AND fits inside your Dopp kit. We've been using this brush for years now and it's saved us from various bad hair days—from overnight bus rides to 12-hour flights. Even better, it works on all different hair types.
Not your average deodorant! This stuff is natural, it lasts forever, and it's really gentle on Merino wool compared to other deodorants (especially antiperspirants). It's also a literal rock, which is fun. And while the full size is kind of heavy—because it's a literal rock—the travel size is a quarter of the weight and just as effective.
Here's a great alternative to makeup wipes that are more sustainable, quick-drying, and save space in your pack. The shape of these mitts works well to remove makeup (even that stubborn mascara) and they're gentle on your skin at the same time. After use, you can hand-wash them or throw them in the machine with your laundry—you decide.
The sleek and minimal design of these slanted tweezers make them super simple to use and they can grab the hair with ease. We've also found these useful in our medical kit for those unexpected splinters that always seem to crop up on trips. A small, versatile, and handy tool for the road.
Versatile products are ideal for travel and this moisturizer works great on your body, face, lips, and even hair. Four uses in one product—we can't complain! It's also completely natural and does wonders on dry, dehydrated skin after long travel days and gives your hair some gloss after time in the sun.
A compact palette that contains a selection of eye shadows that you can mix and match for an everyday look all the way up to party mode and smokey eyes. There's also a bronzer, highlighter and two shades of blush so you can create the look you want. And let's not forget the built in mirror that comes in super handy for application. If that's not enough, it's also vegan friendly, sulfate-free and not tested on animals.
This tinted moisturizer gives you a lightweight, healthy glow that works well for that natural look. But it can also be layered up if you want more coverage. It includes a Broad Spectrum SPF 30 Sunscreen, so you can look great and take care of your skin at the same time. What do they call that? A win-win?
Long-wearing and smudge-proof, this mascara stays on well. It also applies smoothly, clump-free, and flake-free. All while giving you extra volume that still looks natural. Plus, it has built-in conditioners that help prevent dryness and hardening—great for those long travel days.
This 2-in-1 eye shadow brush applies your make up easily while also saving space in your Dopp kit. The two brushes work well together to help you create a variety of different looks.
The soft bristles on this brush will apply your blush or bronzer effortlessly, and the retractable features mean that this will keep your Dopp kit clean and stop your brush from getting damaged when it's packed away.
Created from fabric waste, this ethically-made scrunchie is great for keeping your hair out of your face when you're working hard or soaking up the sun. We've found it to be super comfortable to wear on your wrist so it's always there when you need it. We've been impressed with how gentle it is on your hair, too.
We've chosen this medium-sized toiletry kit for a few reasons. 1) It's super durable and made with nice materials. 2) It's got some great organization that accommodates small and large items. And 3) it's got a hook! Hang it up in your hotel/Airbnb bathroom and you're good to go.
It's tricky to find functional toiletry containers that will stand the test of time. So far, these are the best we've found, and we love that they carry exactly 3.4 ounces (100ml)—the maximum amount of liquid you can legally carry on to a flight. One is going to carry some Granger's Merino Wool Wash, and the other will have some toothpaste.
These convenient little tubs work well for pastes, gels, and lotions, as well as solid items like pills. We've got three in total—a large one you can fill with hair pomade or shea butter, and two small ones filled with lip balm, Ibuprofen or other meds. Mix and match with whatever essentials you need!
This thing isn't the "best" electric toothbrush you can buy, but it is the most compact best electric toothbrush you can buy (if that makes sense). It runs on AA batteries which are easy to find almost anywhere in the world, and even if it does run out of juice it just turns into…a non-electric toothbrush.
These things are ridiculously small, they lay flat, and they're TSA-approved. This is one of those toiletry items that you don't necessarily need on the road, but when you've got a hangnail or you're rocking some awkwardly long nails on the beach, you'll be glad you have it. Skip these on shorter trips if you'd like, but they're key for long-term travel.
This little first aid kit has just the bare essentials—some safety pins, tweezers, bandages, and antiseptic. We've deconstructed it and reorganized it in the Tom Bihn Double Pouchkin for maximum efficiency. Trust us, everyone thinks they don't need a first aid kit UNTIL THEY NEED IT! Stay safe out there.
A small pouch with two zips and a divider, we've opted to use this for our first aid kit. The actual contents came from a Coleman First Aid Kit, but we've rearranged them in here to save space.
This is one of those "nice to have" items that is seriously nice to have. Dealing with a wet soap bar is a pain in the butt, especially when it comes to tossing it in with the rest of your toiletries. Way better than a plastic bag, this thing contains your soap bar in a hassle-free way and it even lets your soap dry while it's inside. (We're still not really sure how it works…but it does.)
An absolute monster of a soap bar. This thing is seriously big, and since it's Castile soap you're getting a boatload (tubload?) of suds for just a bit of soap. This also fits nicely into the FlatPak Soap Bar Case. If you were going super minimal or ultralight, you could chop this up to save weight/space.
This little thing comes in handy in a variety of scenarios and, if you're a super minimalist, it can be used to towel off completely after a shower. Not ideal, but it'll do in a pinch. It packs into a tiny form factor, and the silicone case helps it dry when compressed.
Although it's an official TSA rule that you need to put your liquid toiletries in a quart-sized clear plastic bag, they don't necessarily always check it. Still, you'll definitely want to bring along a bag in case they do. You can just grab your toiletries during security and toss them in here. We like to use a velcro strap or rubber band to keep it organized.
Miscellaneous
Everything else! These are the little things that really take this list to the next level. If you're perpetually traveling the world, these are the items that will help you navigate every possible situation you might encounter—and they'll also make people think you're a total pro (because you are).
If you're not perpetually traveling, you'll still be able to save the day when someone needs a bottle opener in a pinch or you just can't be asked to walk across the airport to grab a plastic fork. Multitools, utensils, carabiners, and a whole lot more.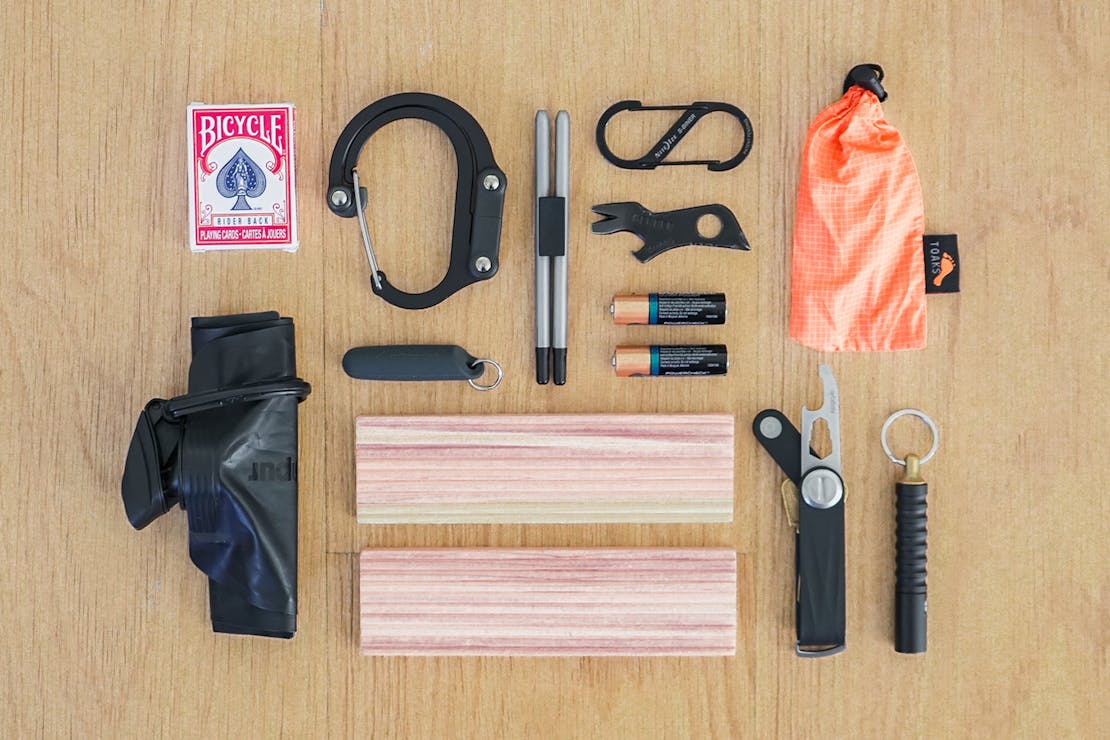 One of the most compact ways to travel with a water bottle. This one-liter bladder rolls up and compresses down when not in use. Leave it compressed in your bag during airport security or in transit, and fill it up as needed. You're saving money, saving the planet, and saving your kidneys (or something). It's a no-brainer.
Great to have when you need an eating utensil in a pinch or if you just really hate disposable chopsticks. These things are tough (made of titanium and bamboo), pack into themselves, and come with a handy carrying case.
This small double-sided carabiner is super versatile and convenient—it accompanies us pretty much everywhere. Great for hanging items off your bag, off of hooks in your Airbnb or hotel, or whatever else your little heart desires. The two sides make it easy to unhook something without removing the carabiner from whatever it's attached to.
This flashlight is tiny, but it is unbelievably bright. Although you could get by with your phone flashlight, it's nice to have a separate light source. This one is super handy because it's small, easy to maneuver, and you can hang it in places where you need a hands-free light source. We especially like the innovative quick release keychain.
Matador makes some really nice packable gear, and these earplugs are no exception. We love the small carrying case, which keeps these earplugs together and prevents them from getting covered in dust or other debris inside (or outside) of your pack. Plus, you can attach them to a keychain for safe keeping.
A mini multitool that gets the job done with seven functions. Great for tightening that loose chair at a coffee shop, and it's always nice to have a multitool on hand for other weird situations where you just need some sort of tool. (Like when the handle mysteriously falls off of your Airbnb bedroom door… Yes, it's happened to us.)
The Heroclip looks like a standard carabiner, but it is so much more. Flip out the hook and you can hang this thing off of just about any surface with an edge, keeping your bag (or whatever else you want) off of the ground and out of the way. Lots of functionality and versatility in a small package—this one's a keeper.
Super lightweight and foldable, this is a great little utensil to have when there are no other options. Also a great option for anyone looking to avoid single-use plastic utensils. As an added bonus, you can now tell everyone how great sporks are at your next cocktail party.
This is a convenient little wallet that comes with a tiny pen and has space for a few cards, your passport, and some small documents. It's got everything you need for when you arrive in front of that customs officer at the airport.
One of the best ways to make friends on the road, these cards are long & skinny making them easy to pack. We've been told they're very cute and, quite frankly, we'd have to agree.
You probably won't need a ton of keys on your trip, but this is good for keeping track of your house/apartment key, as well as any hotel or Airbnb keys you find yourself needing during your travels.
This little tool has a SIM card remover for your phone and enough room for 2 SIM cards, which is super handy.
Similar to the Key Organizer, this has a simple bottle opener that can also be used as a flathead screwdriver or simple boxcutter. It's also got a small wrench device. Just a simple tool that's nice to have on hand.
This is a super minimalist wallet (as the name implies) that is great for travel. There are multiple card partitions for each side, a see-through window for IDs, and enough space on the outside to fold your bills and put them in. Works great for any sized currency.
Packing It All Up
You've made it through our list, and that is no small feat. But there's one last thing you need to do…
Pack it all up!
Getting everything into your travel pack is going to be a bit tricky, but not if you follow our expert advice. To make it easy, just click here to see a full walkthrough of how to pack up your entire bag with everything on this list. It's pretty foolproof, if we don't say so ourselves.
Bon voyage!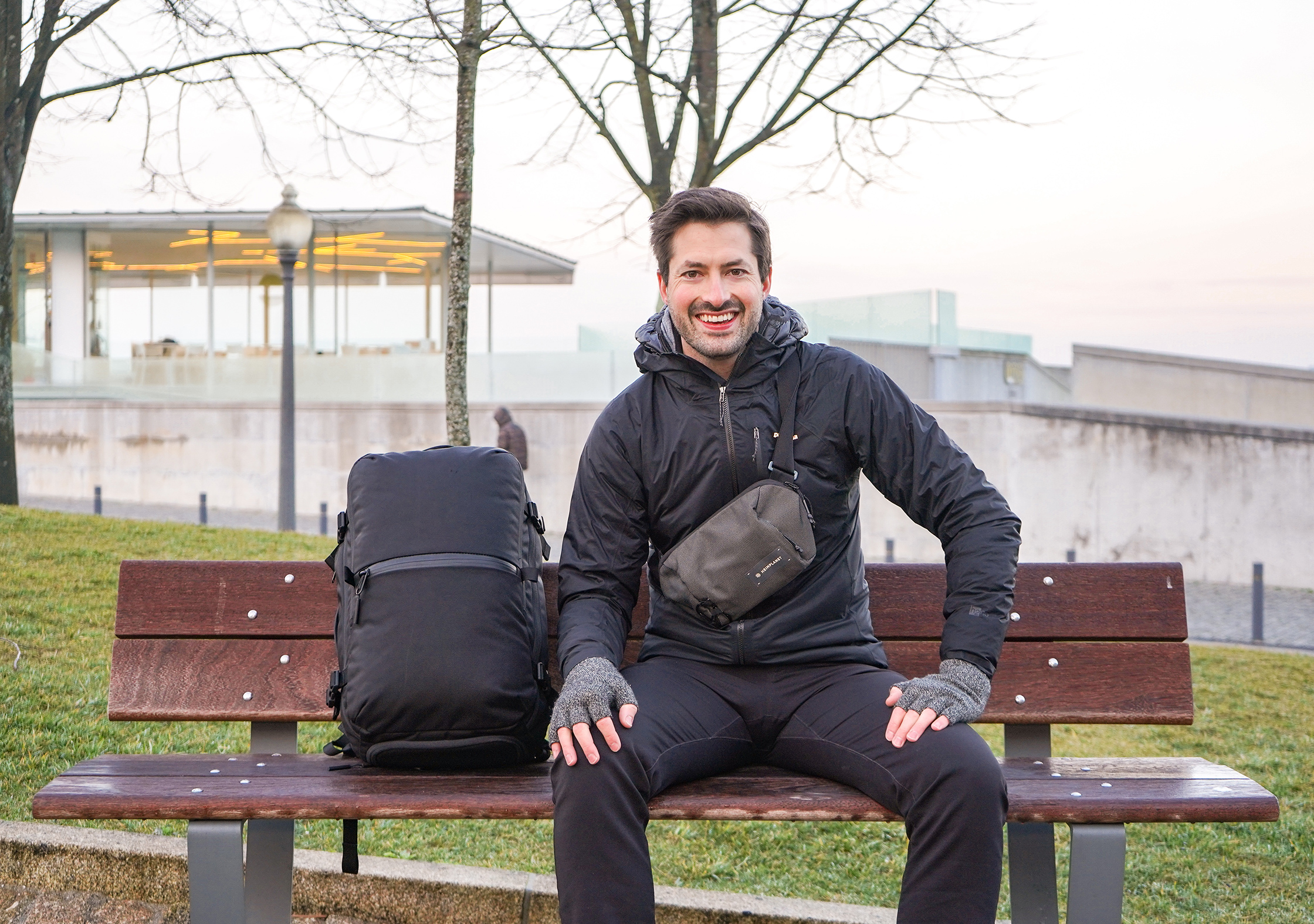 We hope this list has empowered you with the knowledge, confidence, and gear recommendations you need to get out there and conquer the world as a digital nomad. This stuff can be stressful, but it doesn't have to be—and really, it shouldn't be! We're talking about traveling the world, so have fun with it.
If you still have questions, feel free to drop us a line. And if you've been able to use this list to successfully pack your bag, CONGRATULATIONS! You are ready to depart.
Considering you just devoured all the information in this list, you might also benefit from checking out our guides page. From backpacks to coworking, Merino wool, and more, we cover just about everything you need to know to travel efficiently, effectively, and have a whole bunch of fun while doing it.
Fly on, little nomad. Fly on.
🎒 More Packing Lists!
Check out our other Packing Lists. Pro Tip: mix & match your favorite items from each to make them work for you.
Holiday Deals Page is Live!
Check out our Holiday Deals Page to save big on your favorite gear! Sale times vary so check back frequently! Check it out →