Roost V3 Laptop Stand Review
The Roost V3 - Laptop Stand elevates our workspace at the office and on the go with its clever mechanics and easy-to-use design.
Our Verdict
Unlock the Pro Summary
Save time. Get access to brief summaries of our reviews so you can browse and make decisions more efficiently.
Pros
Easy to set up
Compatible with majority of laptops
Self-locking mechanism is a nice safety feature
Cons
Relatively thin structure may feel lacking for heavier laptops
Elevated position necessitates a separate keyboard and mouse
Price tag is a bit hefty
Recent Pack Hacker Video
Technical Details
Weight (oz)

6.77 oz (191.9 g)

Dimensions

1 in x 1.5 in x 13 in (2.5 x 3.8 x 33 cm)

When folded

Notable Materials

Nylon, Polymer, Delrin, Rubber, Thermoplastic Elastomer (TPE)

Manufacturing Country

United States
Full Review
Because we're always itching to plan a trip, laptops are a natural choice for our daily computing needs. We're never really that far off from our next big destination, whether it's a new city or continent. As such, we're always looking for that extra edge to make the most out of our laptops. One of our favorite tools to bring along that gives us that is a laptop stand.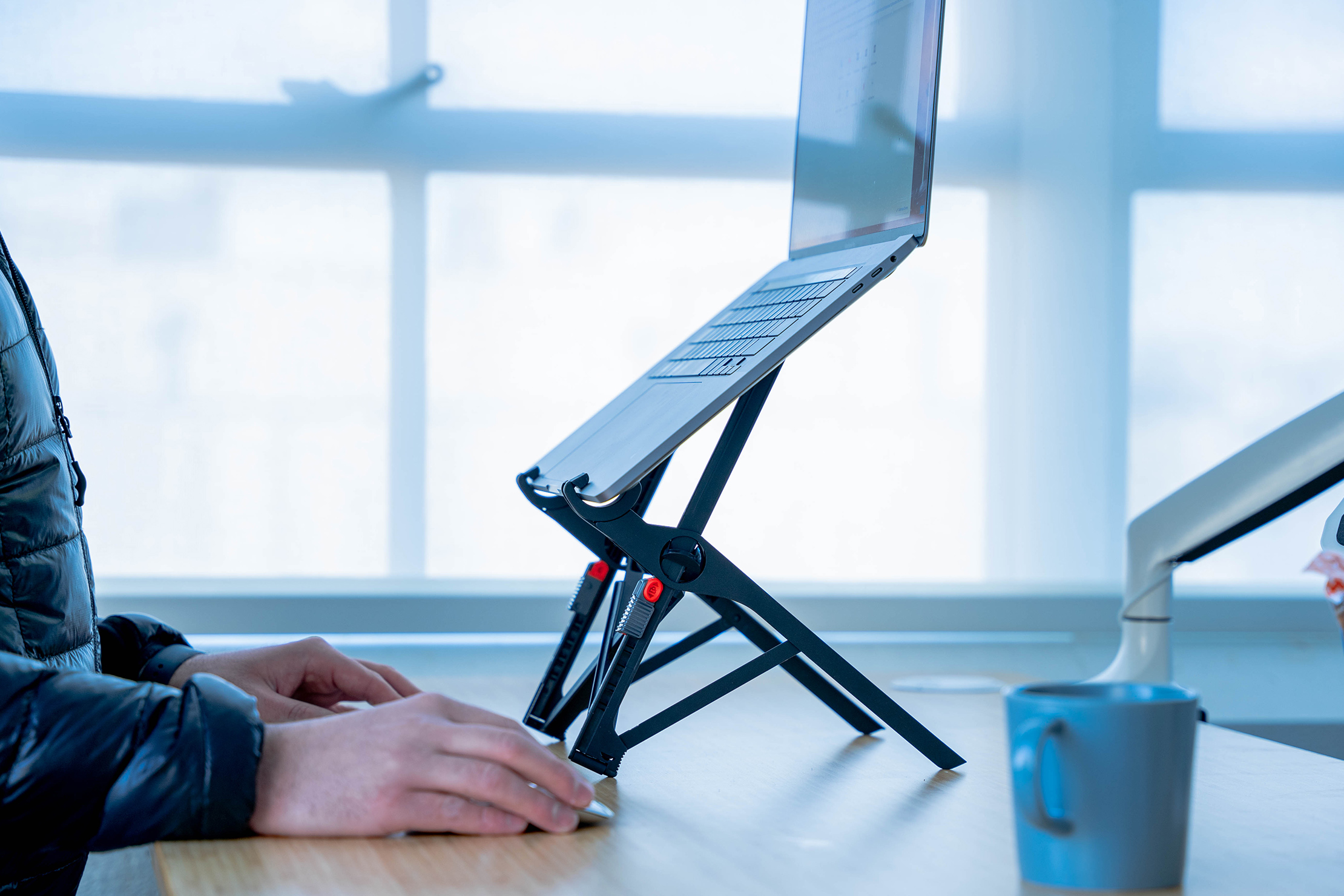 Roost's V3 Laptop Stand offers seven different height levels, going even higher than the previous version. It still retains much of what we like about the 2.0: its clever mechanics, ease of use, and compact design. It's not exactly a huge upgrade, but more of a refinement. If you're looking to give your laptop the high ground, stick around and read on.
Materials & Aesthetic
As we mentioned, the Roost V3 looks and feels more refined than the previous version. Not that the old one was a sloppy mess—we quite liked the 2.0's design, but this one looks smoother in areas like the joints and the material's finish. In both folded and unfolded forms, the stand looks very professional. Although the beams criss-cross one another, it doesn't look like we've set up some scaffolding on our desk.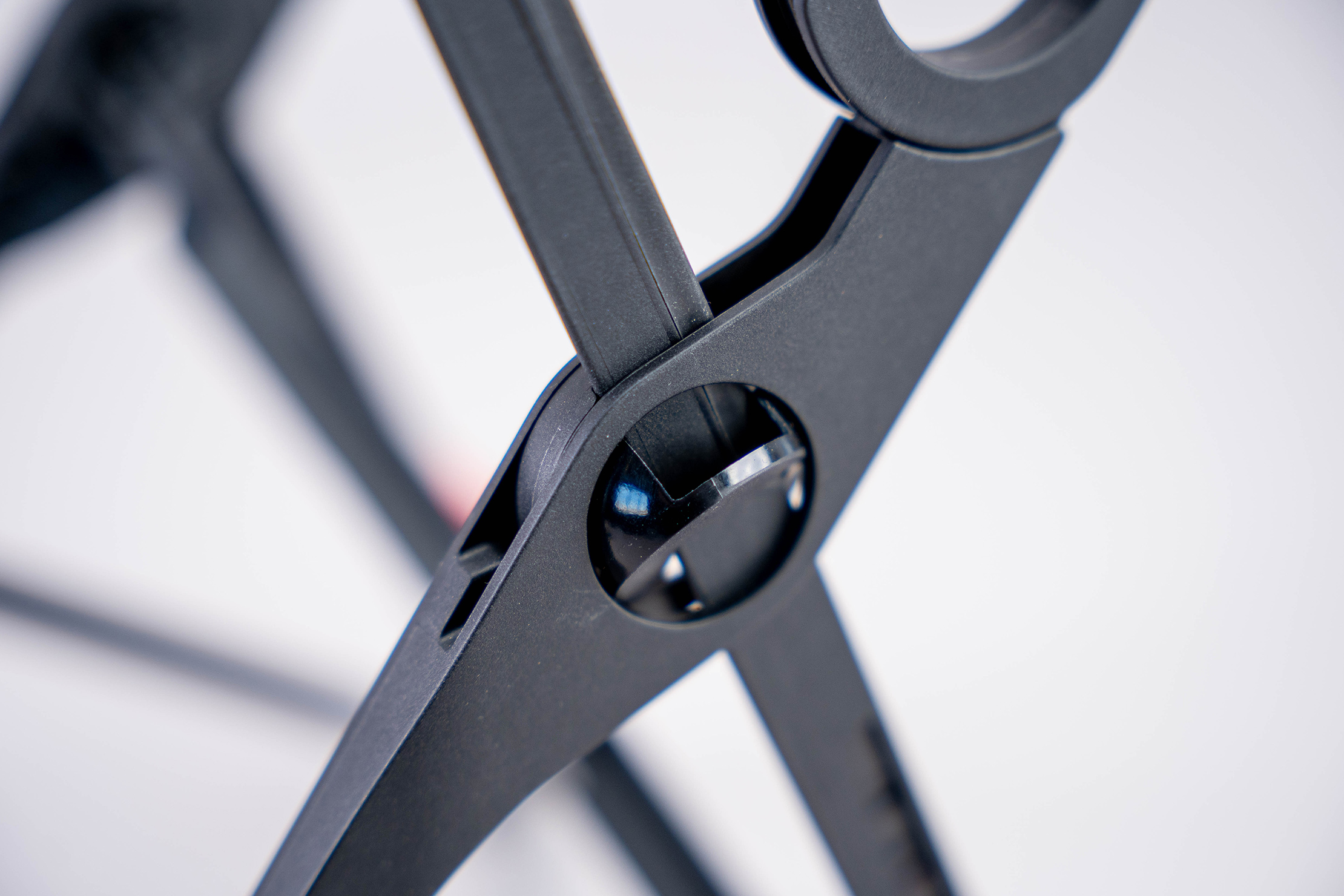 That said, using the Roost V3 in public does get the occasional odd glance from others. It's a bit much to use in a casual setting like a coffee shop, making us look less approachable. With the laptop elevated, using a mouse and keyboard becomes necessary, turning an already crowded table even more crowded. We most often use it as a portable laptop stand at home and at a coworking space. This one's definitely more for the digital nomad who creates their own workspace wherever life takes them and takes the on-the-go setups more seriously. Ultimately, though, it'll be up to you where you're comfortable using a laptop stand. After all, better posture looks great in any space.
The 2.0 is made of glass-fiber reinforced nylon and Delron resin. For the most part, the 2.0's construction feels solid and robust when handling a 16-inch MacBook Pro. The Roost V3 shares that robustness, though it's a tad more solid in the areas mentioned above (the joints and finish). Like the 2.0, the Roost V3's tips that touch the laptop and rest on the surface are all rubberized for grip and to prevent slipping.
Lastly, it's worth noting that there's a 0.5-ounce difference between the V3 and the 2.0 (6.3 ounces vs. 5.8 ounces), though the V3 does feel slightly more compact. In fairness, the difference in size and weight is mostly negligible unless you're holding the two side by side.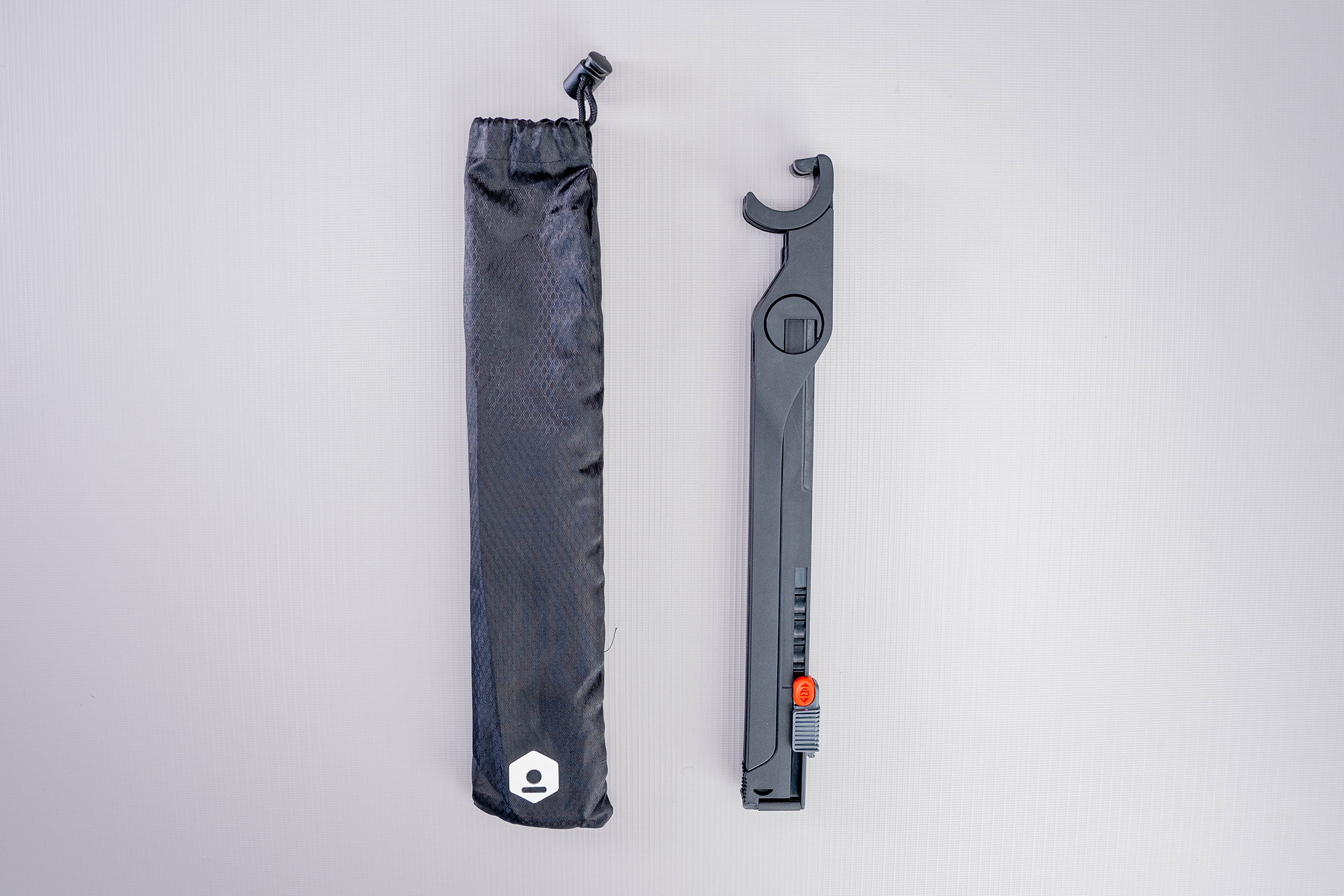 The Roost V3 also comes with its own ripstop nylon carrying bag, which makes the stand easier to slip in and out of tight pockets by adding a smooth layer around the stand's angular edges. In our experience, those edges can get caught on other gear in our bag, so covering the stand helps prevent that. The carrying bag's closure is a simple cord with a toggle, and it works just fine for its purpose.
Usage & Features
Deploying the Roost V3 is as easy as pulling the halves apart. We hold ours from the bottom as we pull, and the motion rotates the outer beams, forms the hind legs and forward-facing pivoting grips, and reveals the cross beams in the middle. That's a bit tricky to imagine, so we have it in GIF format as well so you can better visualize how simple the process is.
There are seven levels of height adjustment conveniently marked on each side. There are locks that slide up and down with a little cut out to indicate which level is selected. The Roost V3 comes with a small guide on which level to select, depending on your height. We recommend taking a picture of this with your phone in case it gets lost in the future. The red tabs of the locks push in to lock and push out to unlock. They're also cleverly designed to self-lock as the hind legs fold out—a nice safety feature that prevents the stand from just collapsing.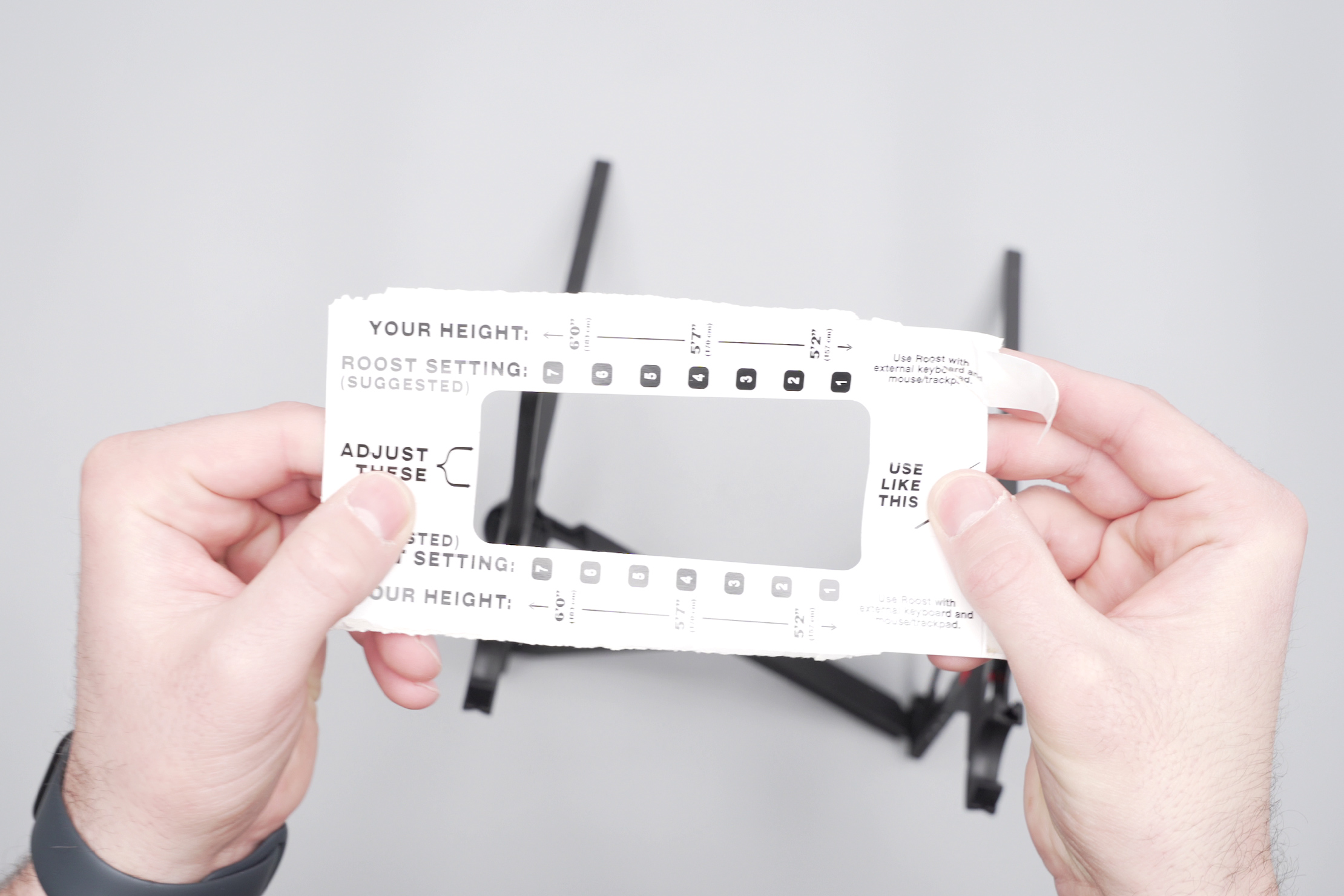 Once the Roost V3's set up, mounting a laptop to it is equally as simple. There are no clips or brackets to put up. With our 16-inch MacBook Pro open, the front edge slots into the pivoting grips. As their name suggests, the grips pivot until the laptop sits on the rests at the back. Because the grips and rests are rubberized, our hefty MacBook Pro sits fairly securely even when we tilt the stand side to side at uncomfortable angles. Your mileage may vary depending on how heavy your laptop is, though, especially if you have a heavier 17-inch gaming laptop.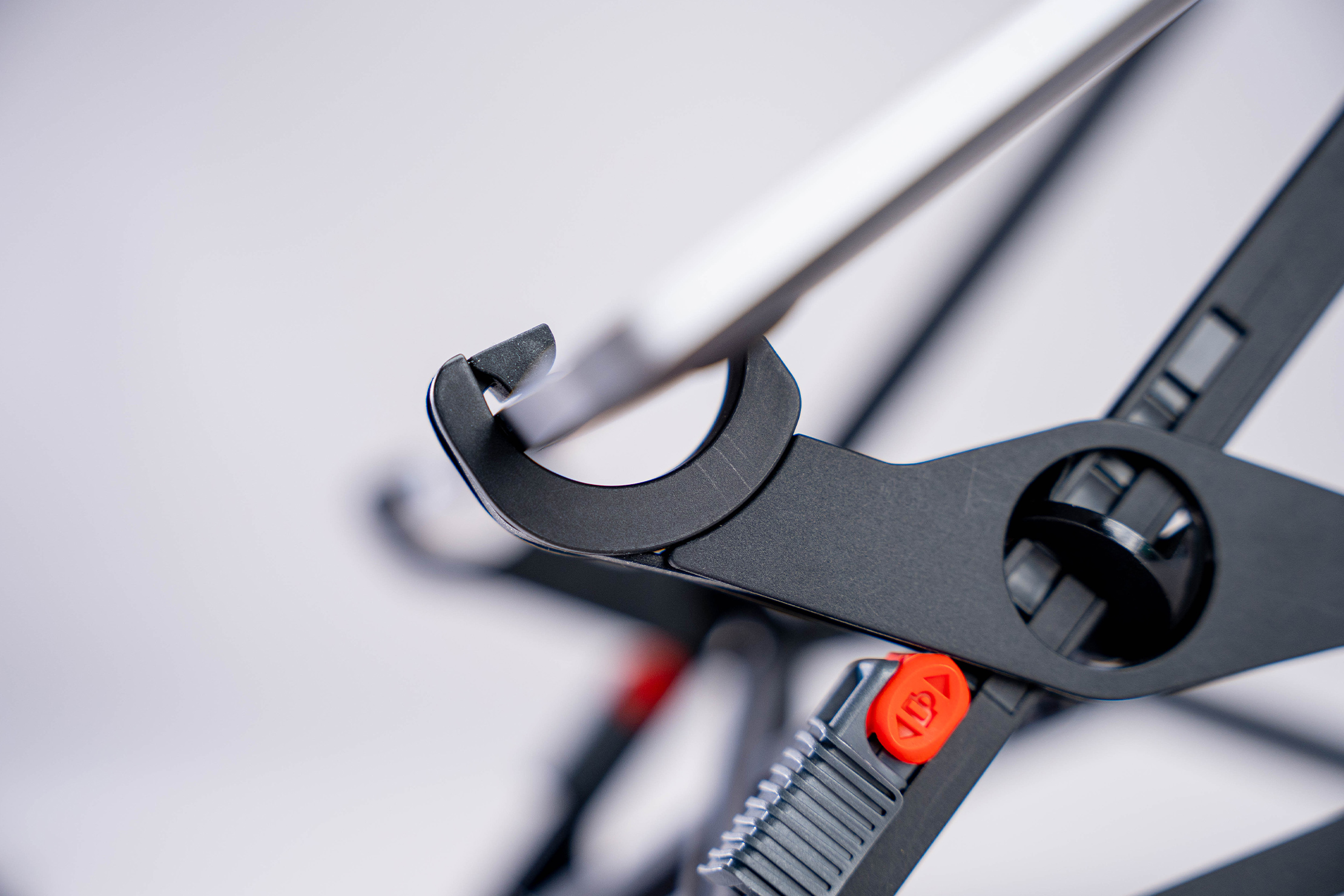 The elevation the Roost V3 provides for our use case is sufficient. It definitely helps maintain good posture since it brings our laptop's display to eye level. In comparison, looking down on our laptop is more straining on the neck, especially if we're working on a fixed-height chair and table. Those hovering around the 6-foot mark in the Pack Hacker crew found the maximum height a bit lacking. That said, it's still miles better than just tilting the display and not having any height adjust at all.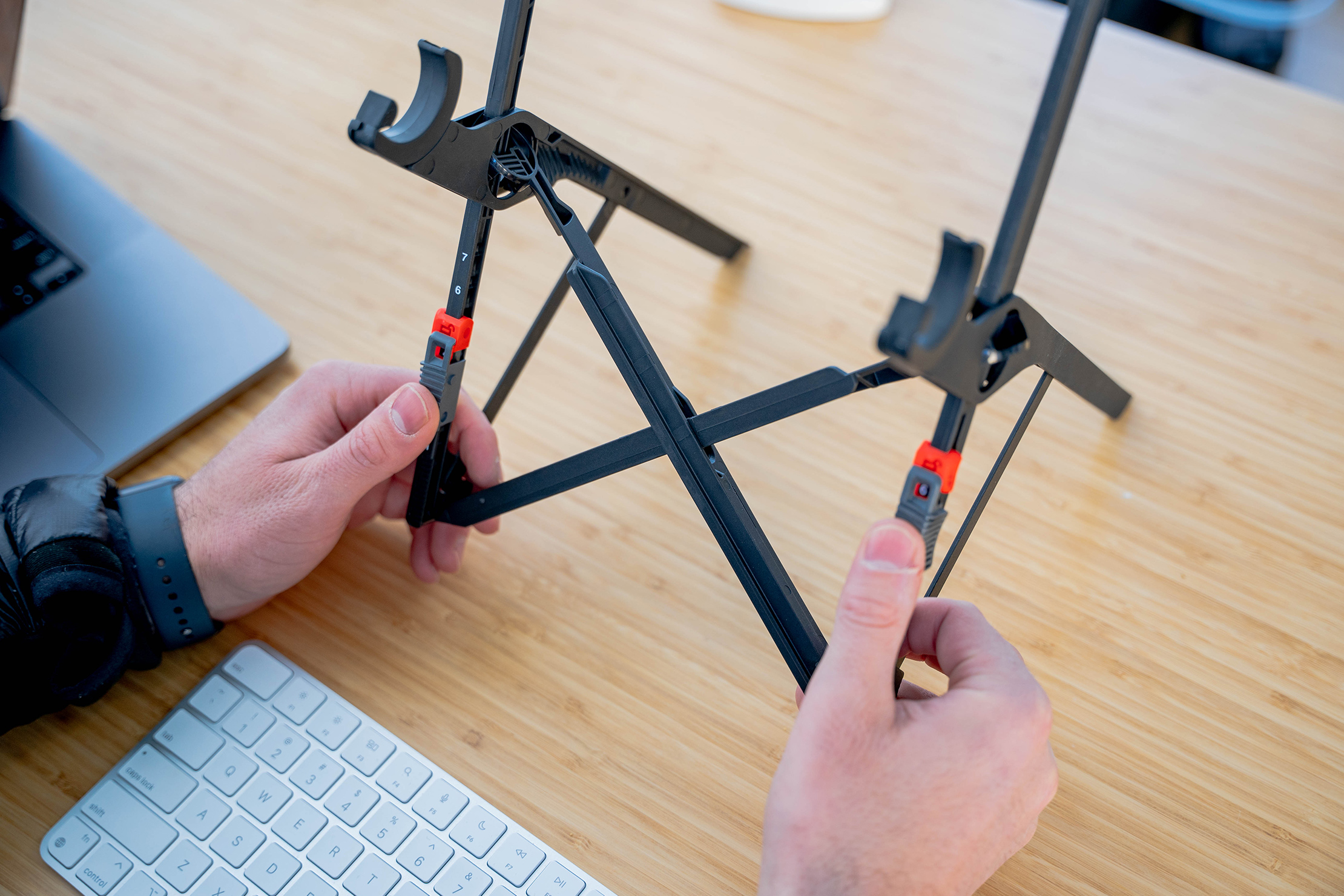 While we don't find the Roost V3 a significant upgrade over the 2.0, that doesn't make it a bad laptop stand (to be fair, the 2.0 is a tough act to follow). It's still one of our go-to laptop stands, and the design improvements—although small—make it a slightly smoother experience. The price tag is a bit hefty, but for those looking for a place to start, the Roost V3 offers improvements that make bringing a portable laptop stand all the better experience.
Usage Timeline
Initial Usage
Condition: Excellent
Forward legs feel much sturdier
A bit heavier compared to the previous version
Has seven levels of adjustment
2 Weeks of Use
Condition: Excellent
Dig the new height adjustments compared to the previous model
Nylon case is great for sliding into a packed bag easily
Excellent way to elevate your laptop stand while traveling or at home
Access the Pro Community Discussion
Get your questions about the Roost V3 Laptop Stand answered from our team and the Pro Community right here on the page. Plus, join discussions with other members about gear, guides, and more.
Other Productivity & Tech Reviews