MOGICS Super Bagel Review
The MOGICS Super Bagel's efficient use of its shape to fit five sockets, an extension cable, and a travel adapter gives a ton of functionality for its size.
Our Verdict
Unlock the Pro Summary
Save time. Get access to brief summaries of our reviews so you can browse and make decisions more efficiently.
Pros
Round shape easily fits multiple bulky wall chargers
Works as an extension cable for extra reach
Auto-resetting fuse adds protection in case of power surge
Cons
Removing and storing center adapter takes some practice
UK plug not grounded
Adapter didn't fit with South Korean outlets
Recent Pack Hacker Video
Technical Details
Weight (oz)

4.16 oz (117.9 g)

Dimensions

1.57 in x 3.57 in x 3.57 in (4 x 9.1 x 9.1 cm)

Notable Materials

Plastic

Manufacturing Country

China
Full Review
The further you are away from home, the more likely you'll find people speaking another language. Not only that, but other day-to-day aspects change as well. The currency, the cuisine, the taste of tap water, and even the toilets start to look different! Do you know what else can change? Power outlets, hence the need for travel adapters. These come in all shapes and sizes, and the more comprehensive they are, the bulkier they tend to get.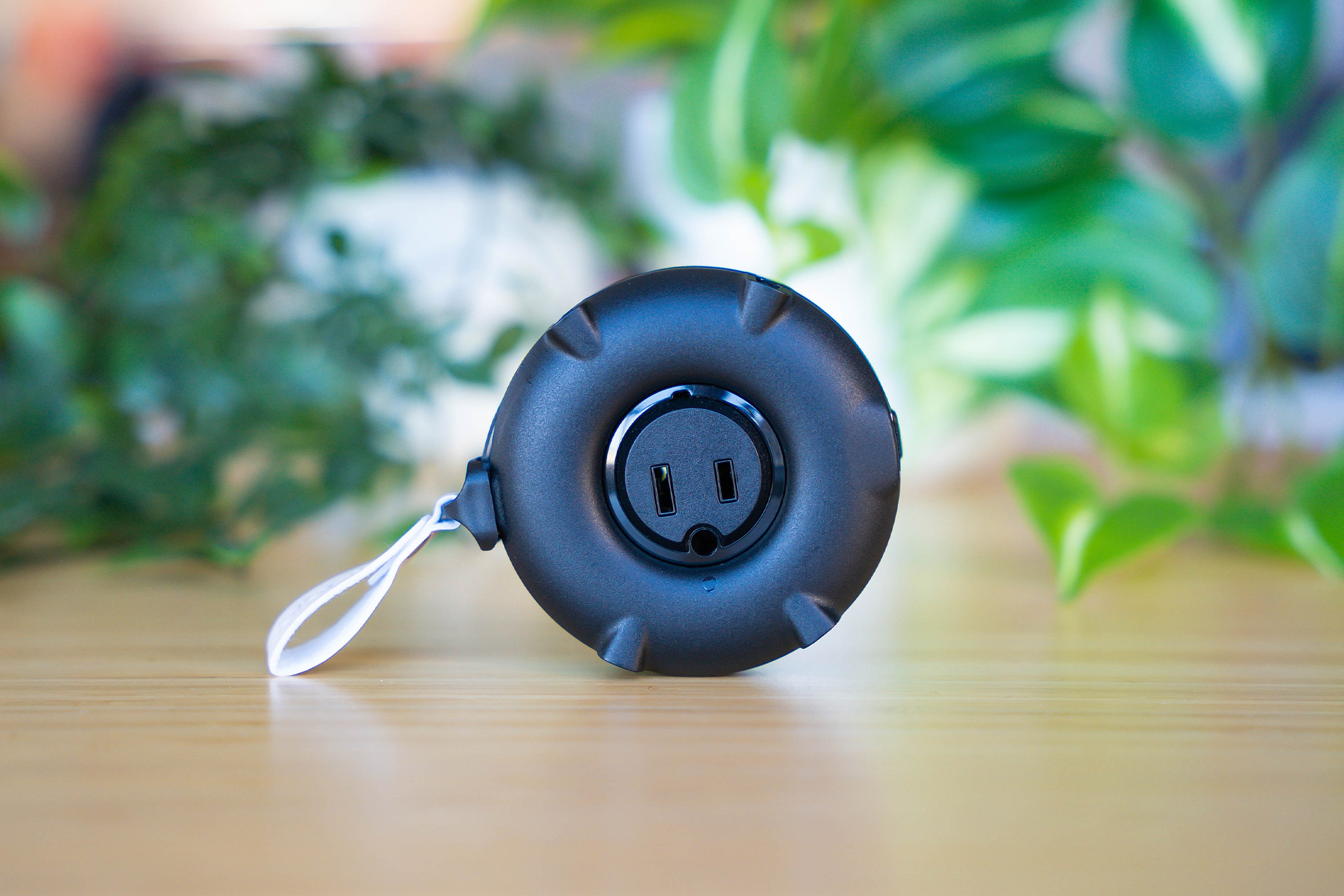 That's a problem for digital nomads trying to maximize every ounce of space they have in their bags. Furthermore, a bulky travel adapter can block neighboring sockets and can even fall off if plugged into old, worn-out outlets. One solution? The MOGICS Super Bagel. Yep, a bread-shaped adapter cleverly designed to get around all those issues and even add functionality not present in other travel adapters. The catch? Well, let's get into the review and find out.
The Rundown
You can split the Super Bagel into two separate parts: the bagel and the adapter (MA1) in the middle. The bagel portion is a hub housing five sockets compatible with U.S., U.K., AU, and EU plugs. There are also USB-C and USB-A ports capable of 18-watt (9V2A USB Power Delivery) and 10-watt (5V2A) charging, respectively. Take note that the USB-C port only charges at 10-watt speed when the USB-A port is simultaneously in use.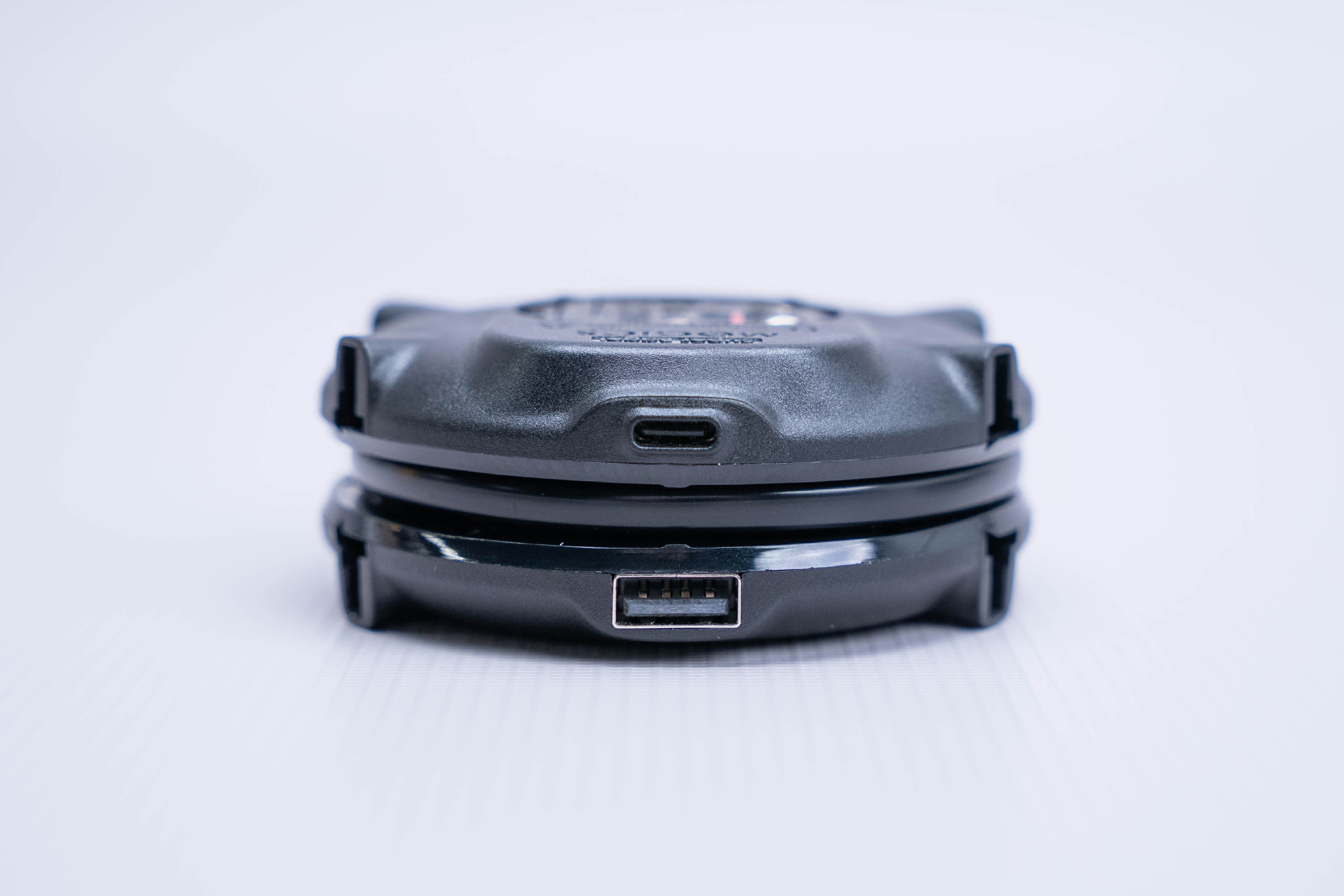 They've also cleverly designed the ground prong to insert between the bagel's center split when you connect an AU or UK-type plug. Mind you, they won't actually connect to the ground, but the attention to detail is noteworthy.
The Super Bagel party tricks don't stop there, though. The bagel includes an attached three-foot cable (92 cm), making it an extension cable in addition to a hub of sockets. While that's not extremely long, the cable wraps around the bagel when not in use, so the functionality and packability is hard to beat—especially if you factor in the length added by your devices' respective charging cables. We think it's just the right length if you're working at a coffee shop and the outlet is a little farther away than you'd like.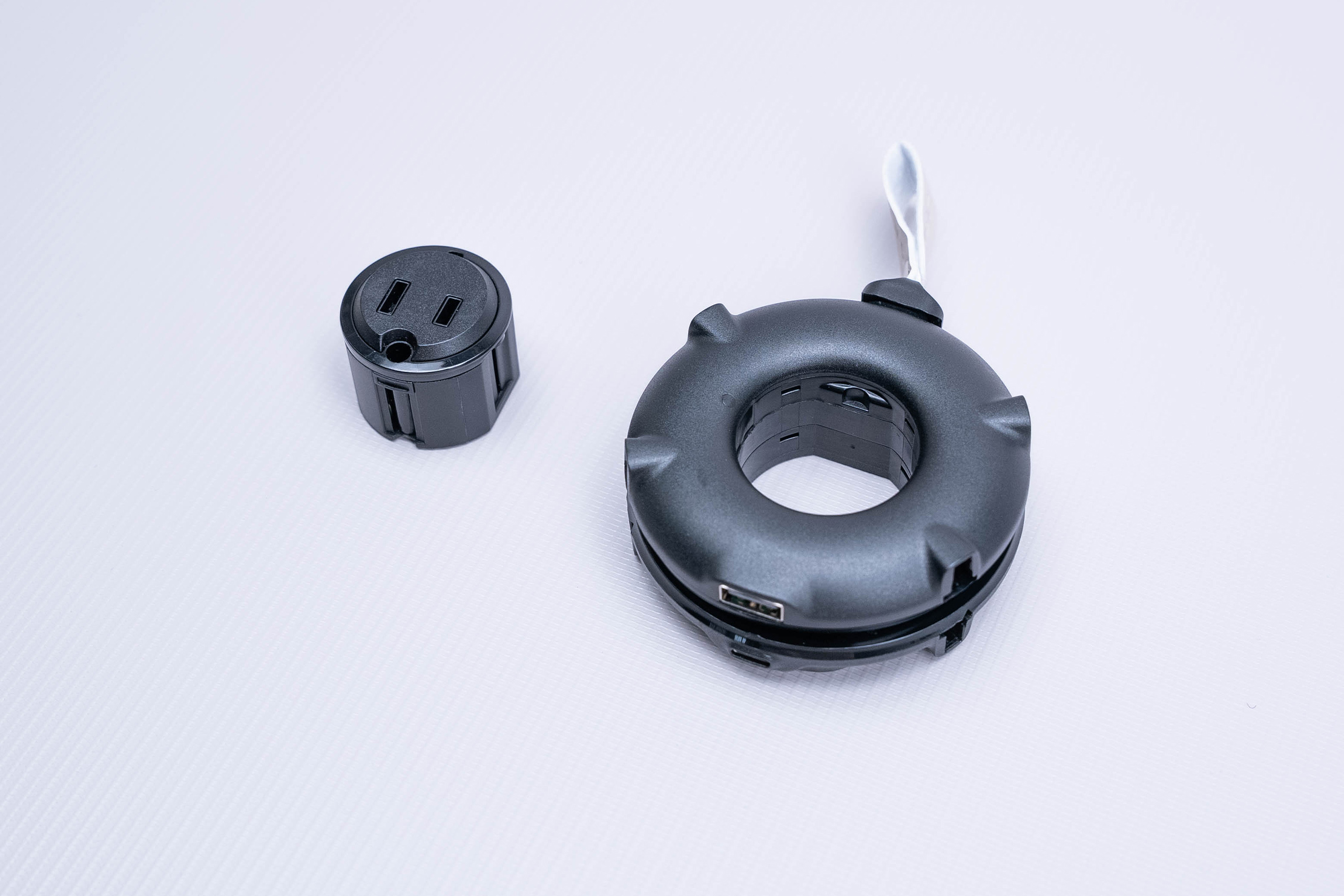 As for the included adapter (MA1 in the manual), you push it out from the side with the writing (branding, power, current specs, safety labels, etc.). To put it back in, do that in reverse, and align the divots along the circle. Trying this out the first time was a bit clunky, though the experience gets smoother the more you use it. Now, let's take a look at everything the travel adapter has to offer.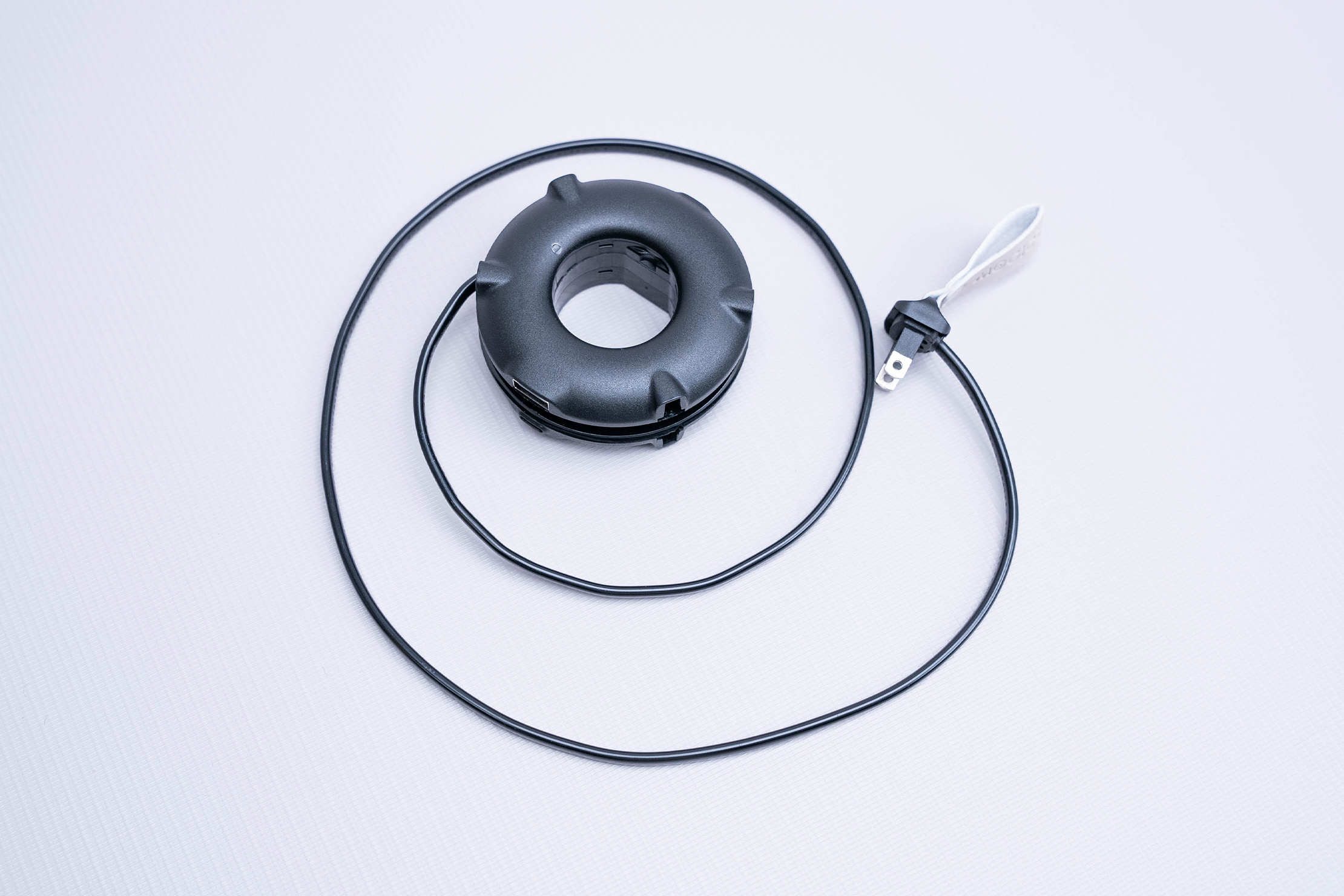 On one side is a standard U.S. socket that the bagel's extension cord plugs into. On the other side is where all the magic happens. There are tabs around the plastic housing that deploys the EU, AU, and UK prongs, and you'll know one is securely deployed once you hear a click sound. To push them back in, push a red tab at the front to disable the lock. The only exception is the UK plug's ground prong. You have to rotate it 120 degrees out, 45 degrees clockwise, then finally pull it up to click it into place.
Take note that you may need to unscrew the EU prongs to extend them for type J, L, and N compatibility. What are those, you may ask? While, colloquially, sockets and plugs are differentiated by region (U.S., EU, AU, U.K., etc.), the actual naming convention is by letter and gets even more specific. We recommend doing your own research to find out which particular type the country you're visiting uses.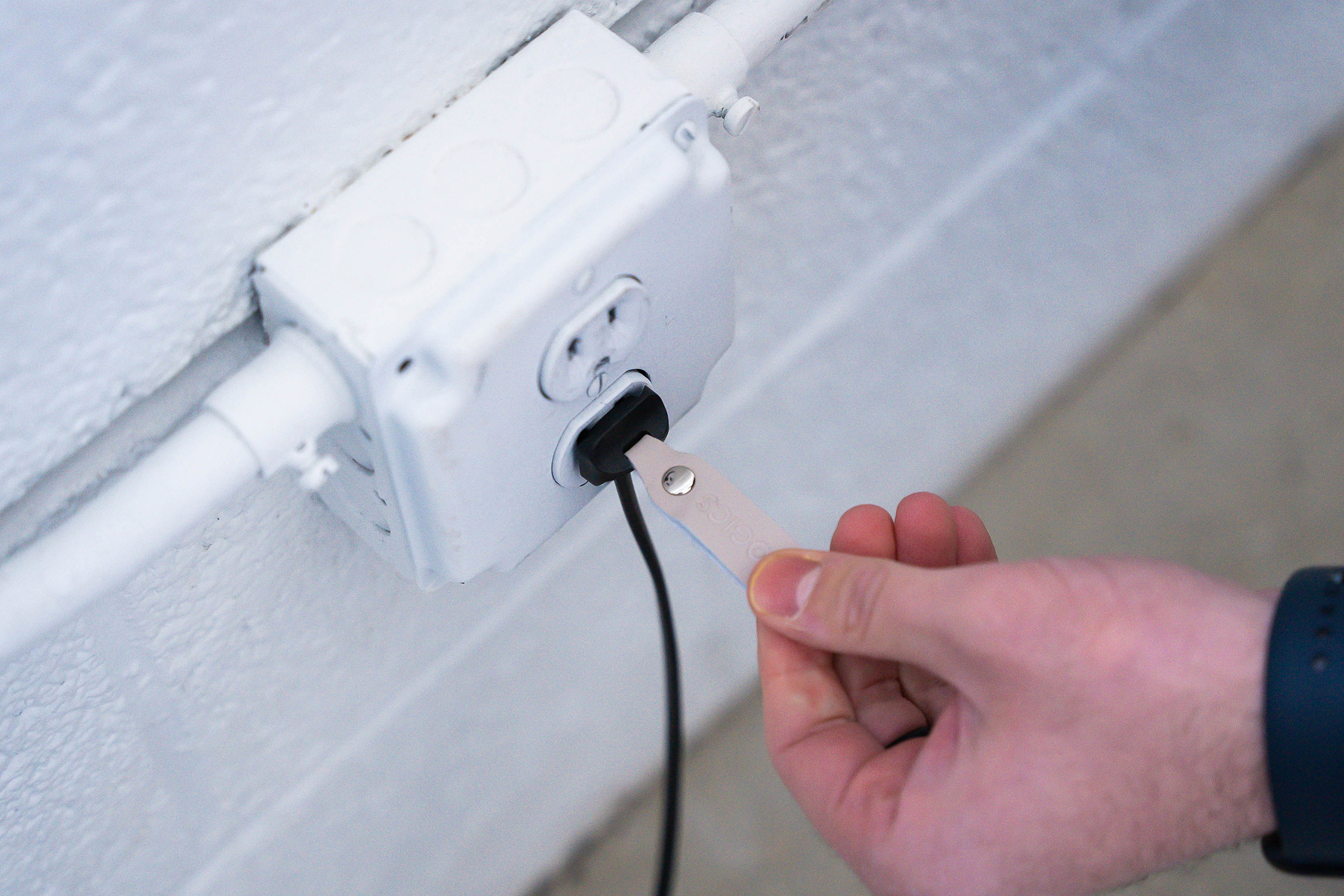 Last up, but certainly not least, is the auto-resetting fuse. In short, fuses protect a circuit from getting too much current, whether from a sudden power surge or faulty wiring. The former happened during a trip to Thailand, and it probably saved two plugged-in devices from frying—that extra layer of protection is pretty sweet in and of itself. The fuse eventually reset itself after an hour or so, and while that's longer than the few seconds advertised by MOGICS, we're glad we didn't have to rely on a fuse exchange to get back up and running. That said, if worse comes to worst and the fuse gets completely fried, there's also a spare fuse inside the adapter so you can replace it.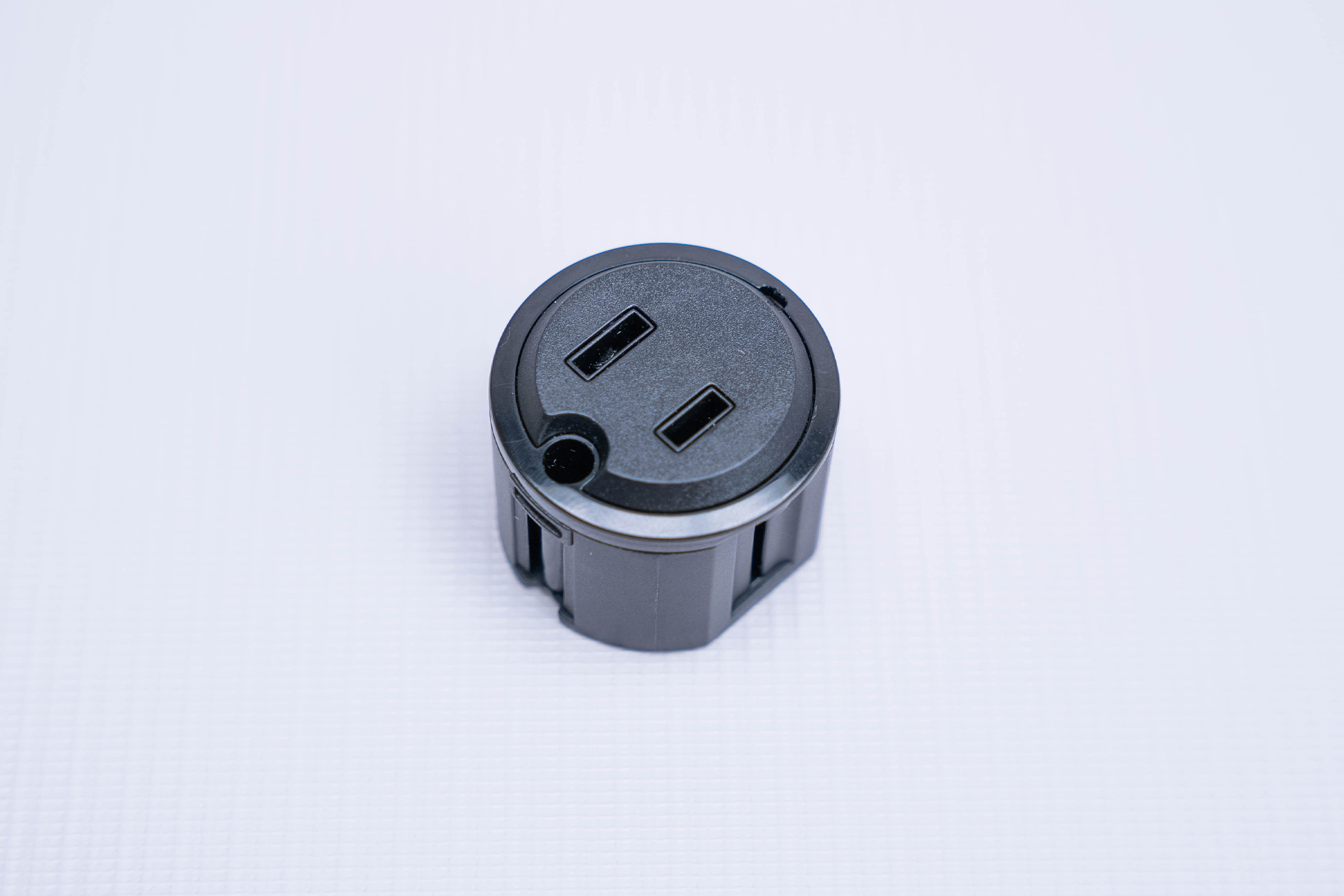 Using the Super Bagel is quite satisfying for many reasons. Setting aside its broad compatibility, it has plenty of other quality-of-life features. For example, the bagel itself doesn't plug into the wall because its plug is on the end of a cord. In contrast, other travel adapters will simply plug straight into the wall and can be so heavy that they fall out if the outlet is loose.
Then there's the shape of the Super Bagel. The round shape prevents wall chargers from blocking each other, allowing us to plug a large Anker 747 Charger, for example, alongside other devices. It's no stretch to say that it has enough sockets for you and a friend.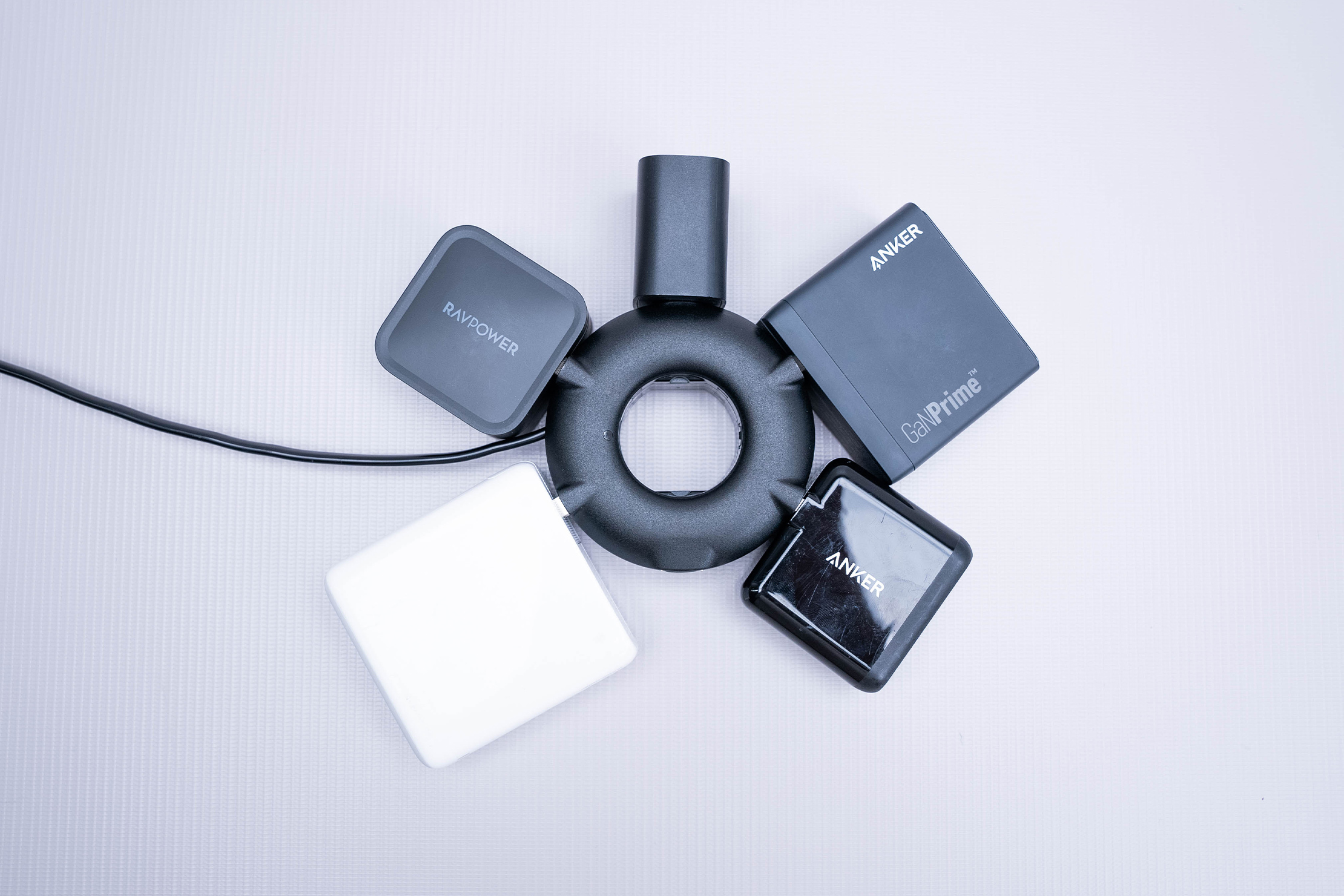 It's not all good news for the Super Bagel, though. After Thailand, we also took it to South Korea, where they use type F sockets. While the included adapter should have worked, it didn't, no matter which configuration we tested, so we had to splurge for a convenience-store adapter. We suspect it's either loose sockets or the adapter is too thin. For context, the Kikkerland Universal Travel Adapter's type F plug works since it has thicker prongs than the Super Bagel's adapter. One of our Pros mentioned that lots of travel adapters don't work in South Korea, so it can be a hit-or-miss experience regardless of what adapter you have.
Packability
The key characteristic of the Super Bagel we like above all is how self-contained it is. It's not necessarily small—as you'll see in the next section—and its circular shape isn't the most efficient, considering most pockets and pouches are rectangular. However, it makes full use of its size to pack in as many features as possible.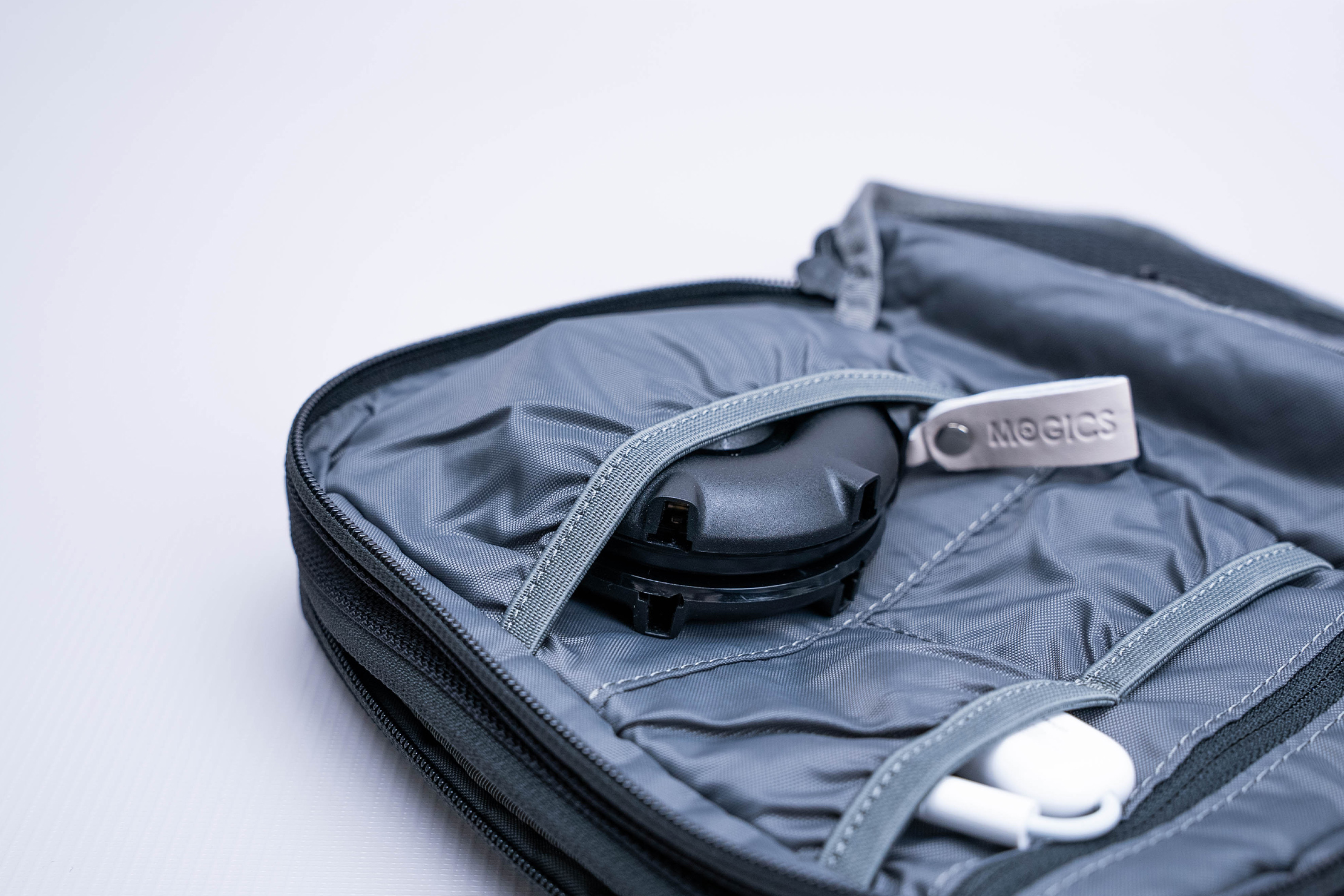 The cable rolls into its chassis, the adapter slots into the middle, and its slim profile lets it slip into travel tech pouches relatively easily. It's simply clever engineering, and we dig that.
Quick Comparison
In terms of overall size, the Super Bagel isn't the smallest travel adapter we've tested. It's absolutely massive compared to the Kikkerland Universal Adapter, for example, and has a similar footprint in terms of total dimensions as the OneAdaptr OneWorld PD and EPICKA Travel Adapter. The advantage of the Super Bagel versus the latter two is its slim profile that's easy to slip into tight spaces, like a tech pouch or backpack's admin panel.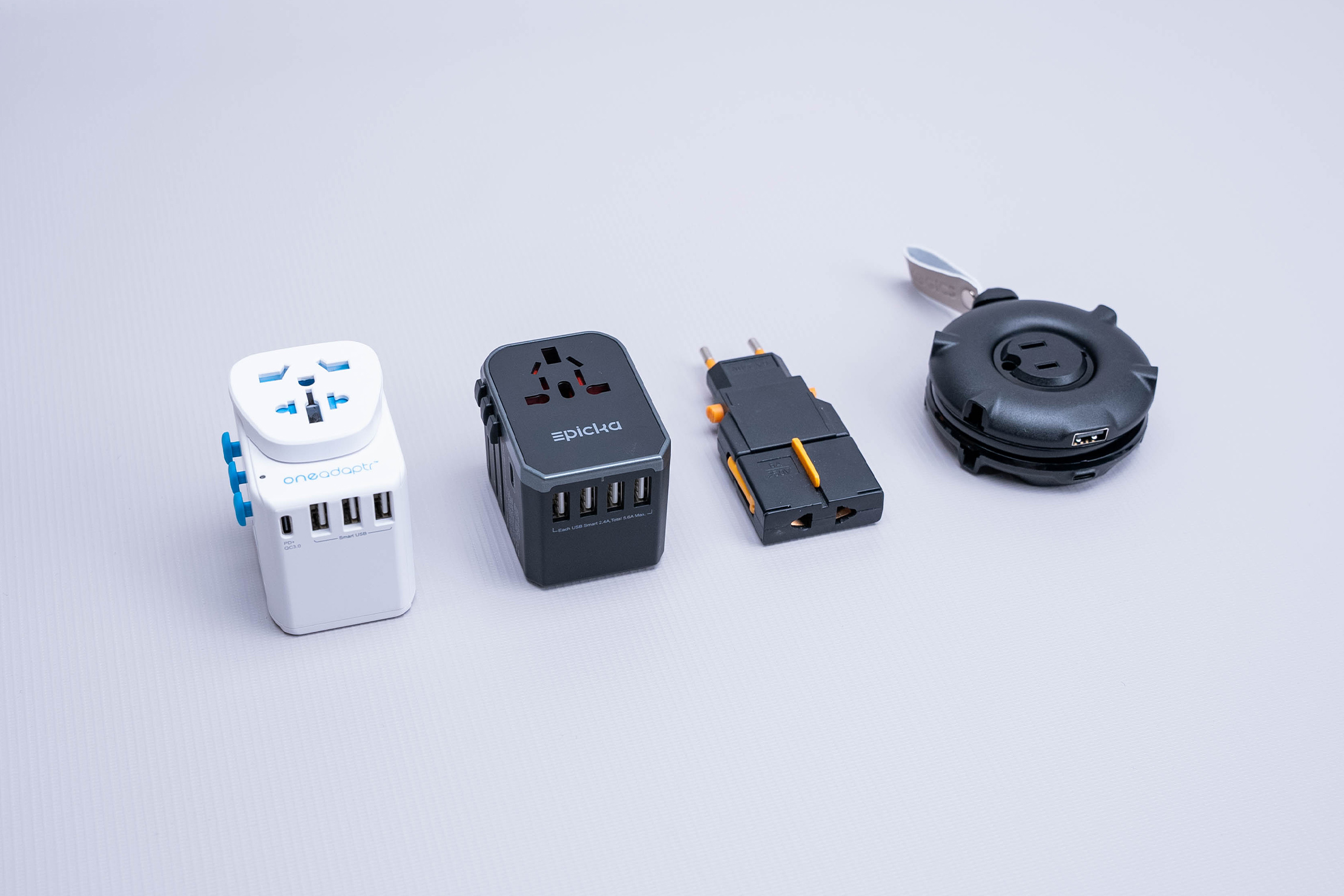 So while it's not the smallest travel adapter out there, its shape means it earns a spot in our Digital Nomad Packing List for being easy to pack and very functional. That said, the other adapters have their own unique advantages. For example, the OneWorld PD has a metal ground prong, while the others only have plastic ones which don't fully ground your device. Meanwhile, the EPICKA Travel Adapter has four USB-A ports and one USB-C port—a total of five. The OneWorld 65 has three USB-A and one USB-C port, by the way.
The Kikkerland Universal Adapter is, by far, the simplest and easiest to pack, which is why we've used it extensively on vacation trips. It's only a travel adapter, though, so you don't get extra sockets or USB ports. Plus, it can unplug when weighed down by a heavy device.
In all, the MOGICS Super Bagel provides more functionality in a package roughly the size of other adapters. With the added benefit of having an extension cable built in, we think that the convenience of this travel tech accessory is hard to beat.
Usage Timeline
Initial Usage
Condition: Excellent
Middle adapter is tricky to get out on first couple of uses
Curious to see how many devices we're able to plug in and how it handles them
Very packable in a lot of tech kits—dig the slim form factor
2 Weeks of Use
Condition: Excellent
Working well in Thailand so far. We found one outlet that tripped the bagel, but the fuse reset itself after a couple of minutes for use in a different outlet.
1 Month of Use
Condition: Excellent
The adapter doesn't work in South Korea, but we've had issues with many adapters in South Korea—it's similar to the EU plug but a little thicker. Sometimes, buying an adapter locally is the way to go and not the end of the world, though we wish this worked in South Korea! The extension cable can still be plugged into a regular outlet, so it works with the replacement adapter.
Access the Pro Community Discussion
Get your questions about the MOGICS Super Bagel answered from our team and the Pro Community right here on the page. Plus, join discussions with other members about gear, guides, and more.
Other Productivity & Tech Reviews