Buff USA Wool Buff Review
Whether you're traveling in the desert or staying warm on a cold winter's evening, this one piece of merino wool headwear from Buff USA will rule them all.
Our Verdict
Unlock the Pro Summary
Save time. Get access to brief summaries of our reviews so you can browse and make decisions more efficiently.
Pros
Keeps you surprisingly warm in cold climates without taking up much space in your pack.
Merino wool is super soft.
The wool doesn't retain odors so you won't have to wash this very often. When you do though, it dries quickly.
Cons
After nine months of use, the wool BUFF started pilling.
Doesn't do as good of a job of blocking light and fitting your face as a dedicated eye mask which isn't the product's intention anyways.
We prefer the Merino wool version to the polyester one but the wool version does come with a higher price.
Recent Pack Hacker Video
Technical Details
Weight (oz)

1.55 oz (43.9 g)

Notable Materials

Merino Wool

Manufacturing Country

Spain

Warranty Information
Full Review
When you travel, every item you decide to carry has to be truly functional. None of that packing clothes you've owned for months but haven't even taken the tags off yet business. We put the Buff Lightweight Merino Wool Multifunctional Headwear to the test because we love items that can serve more than one purpose.
The Buff serves many functions and the company has a demo video of the different ways you can use it. You can use it as a scarf, face mask or beanie to keep warm in cold climates. It also works as a great hair headband in the heat. Or if you want to wear it like a ninja mask or a pirate bandana, you can totally do that too. No judgment here.
This is one of the lightest and most compact ways to stay warm, weighing just 1.6 ounces. For context, a slice of bread weighs about 1 ounce. Carrying something with the weight of 1.6 slices of bread is going to be a lot easier than lugging a scarf around. It comes in a huge range of colors too (but we're partial to the darker ones).
Through all our travels, we discovered that the Buff can also double as a sleep mask—especially the darker colors that block the light well. So when you're on a plane, waiting for your flight, or stuck in an Airbnb where the light floods into your room in the morning, you won't lose a wink of sleep. Maybe keep a hold of your carry on as you nap in the terminal though, just in case.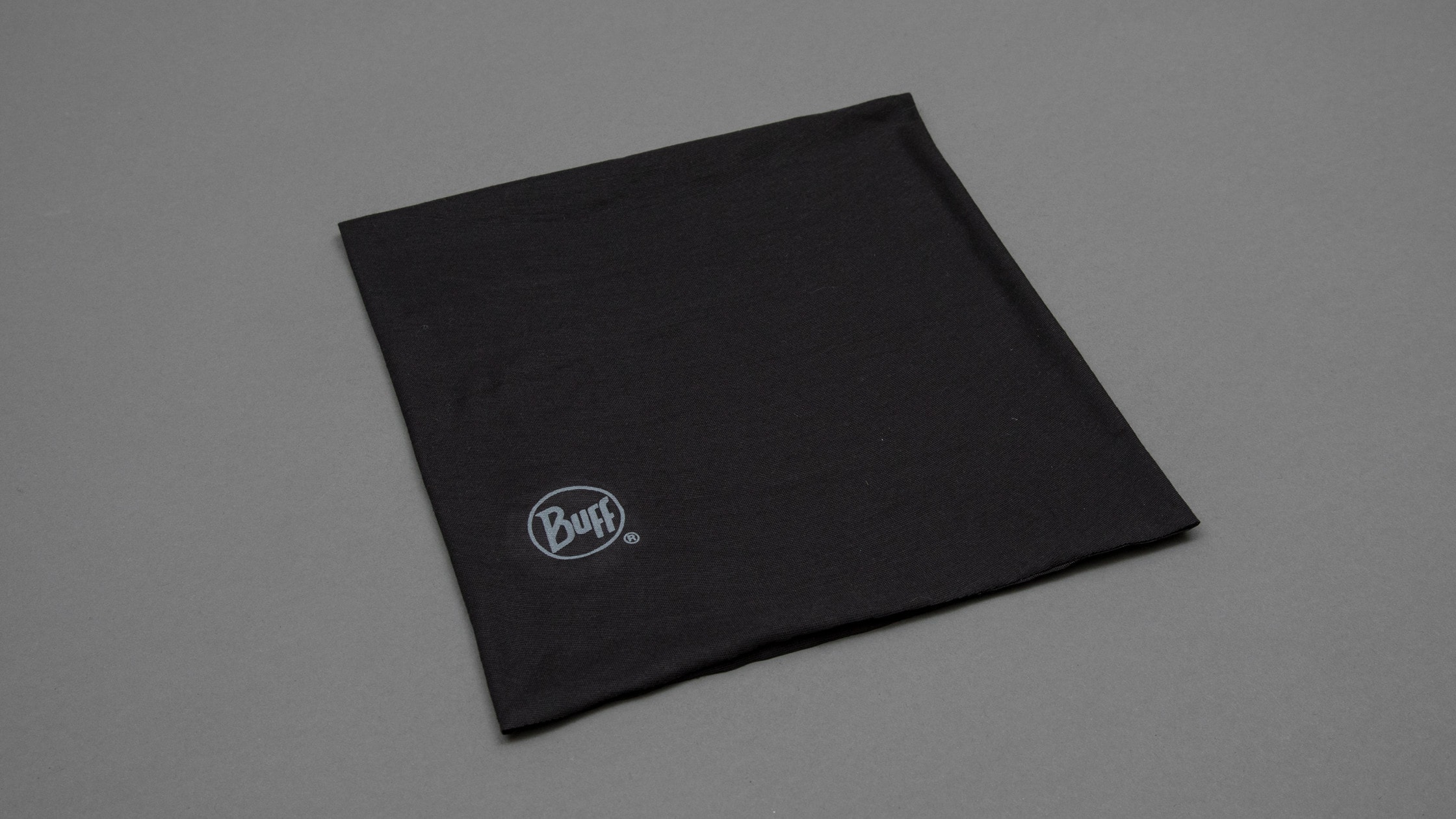 There are polyester versions of the Buff but we'd recommend shelling out a bit more for the wool version. It's Merino wool so it's super soft and doesn't retain odors. In other words, you don't have to wash it very often.
If you do have to wash it, or you get it wet while you're out, it does dry very quickly. It actually has natural moisture wicking properties which are incredibly helpful if you're out hiking or snowboarding. No one likes a wet, sweaty scarf.
Usage Timeline
Initial Usage
Condition: Excellent
It's very soft to the touch right out of the package.
3 Months of Use
Condition: Excellent
After testing all of the configurations we've gotten the most use out of the scarf in colder weather.
6 Months of Use
Condition: Excellent
Still going great. This thing is pretty much invisible inside your pack. It's easy to forget it's even there, especially in hotter climates.
9 Months of Use
Condition: Good
Noticed a very slight pilling on the wool but nothing major.
1 Year of Use
Condition: Good
1.5 Years of Use
Condition: Good
Still holding up surprisingly well. The amount of pilling is pretty much the same as it was one year ago—very minor.
2 Years of Use
Condition: Good
The Black on grey heat press logo is starting to look a little stretched and degraded after some washes, but the function is still great.
3 Years of Use
Condition: Good
Not much else to say other than this is an awesome, high value, versatile purchase!
Access the Pro Community Discussion
Get your questions about the Buff USA Wool Buff answered from our team and the Pro Community right here on the page. Plus, join discussions with other members about gear, guides, and more.
Other Clothing & Accessories Reviews