lululemon ABC Pant (Slim Warpstreme) Review
Breathable, stretchy, and versatile, the lululemon ABC pants are an ideal travel companion. Although the quality is said to be inconsistent.
Our Verdict
Unlock the Pro Summary
Save time. Get access to brief summaries of our reviews so you can browse and make decisions more efficiently.
Pros
Versatile—easy to dress up and down
Comfort is second to none
Secret zippered pocket is a nice touch
Cons
Tapered fit can be uncomfortable if you have thick calves (for the slim version)
We've heard quality/durability isn't consistent
Not much stink-resistance
Recent Pack Hacker Video
Technical Details
Weight (oz)

14.82 oz (420.1 g)

Notable Materials

Polyester, Elastane, YKK Zippers

Manufacturing Country

Vietnam

Warranty Information
Full Review
Okay, here's the thing, we didn't want to like the lululemon ABC Pants. lululemon is a gigantic, global brand that's always releasing new products. So, we didn't think these pants would be on par with other travel pants we've reviewed from smaller, more travel-focused companies.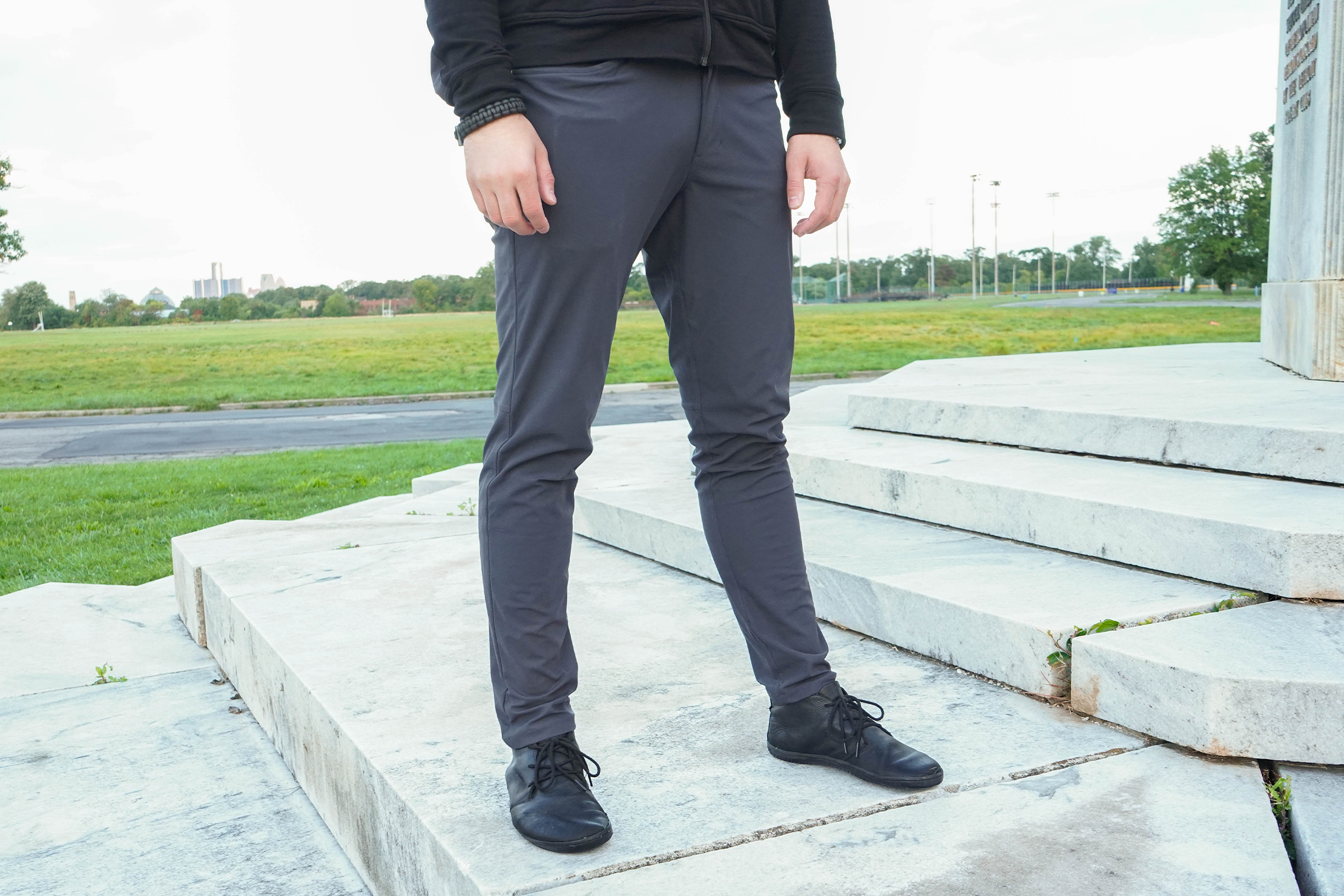 Turns out, the lululemon ABC pants are kind of awesome. And by kind of awesome, we mean really, really awesome. The comfort is second to none and we're digging their aesthetic.
We've been testing the Warpstreme™ version in a slim fit, but the pants are also available in a "tech-cotton blend" and a regular cotton blend, as well as a skinny and a classic fit. You can also pick up a pair of ABC joggers, which are more athletic-looking. Trying to find the exact pair that you're looking for could be a challenge as lululemon's product page is about as confusing as high school physics. You'll eventually get what's going on, but it may take a minute…or ten.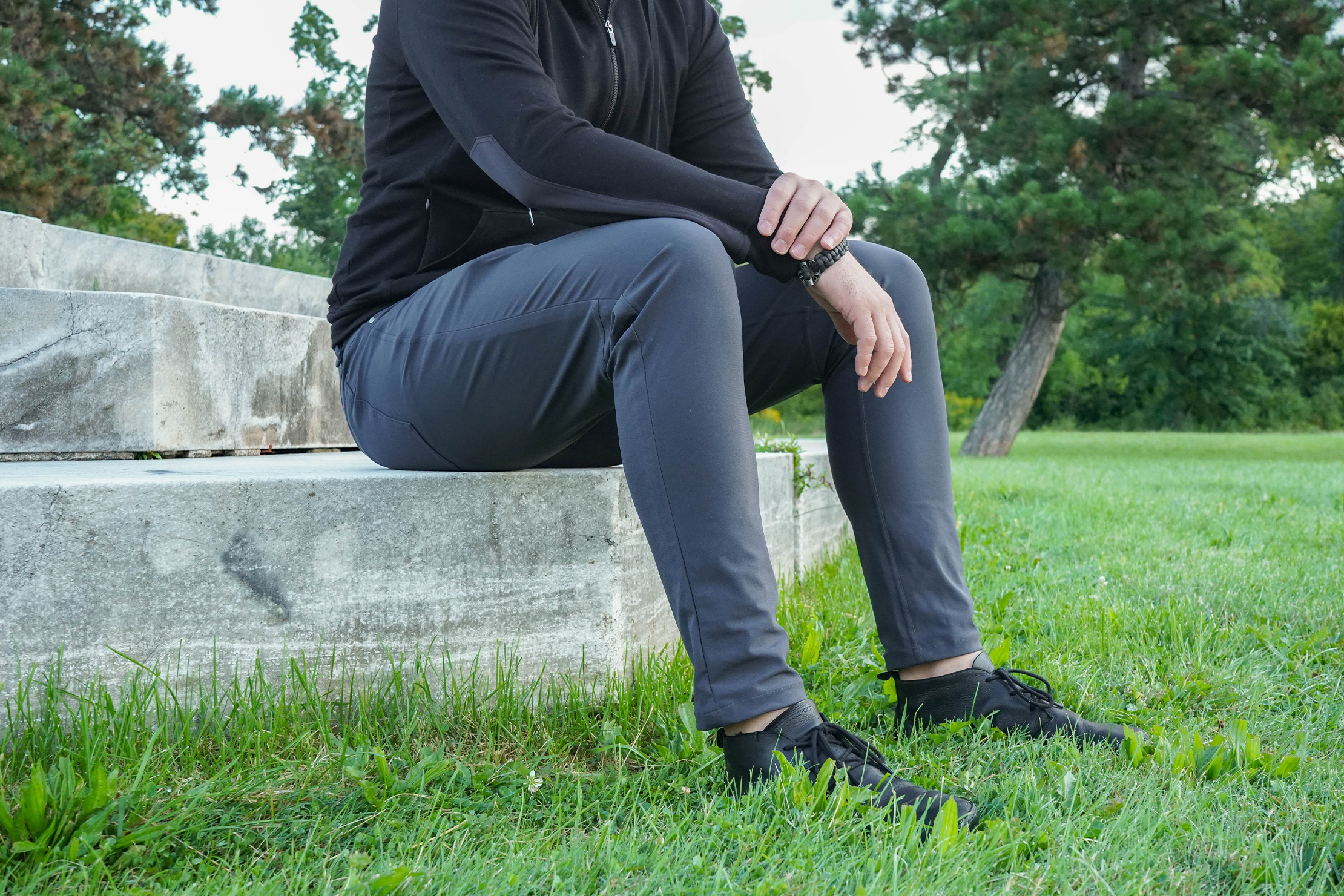 We'll discuss fabric more in a bit, but before we go further we want to point out that there's a big difference between a synthetic blend (the Warpstreme™) and a cotton blend. Since we've been testing the former, we'll be specifically reviewing the features of that fabric. If you're a cotton-or-bust kind of person, you can still read on to see how we've liked these pants, but your mileage may vary when it comes to the features.
With all that said, let's check out these surprisingly sleek pants.
Fit, Fabric, & Features
ABC stands for "Anti Ball-Crushing" so right off the bat you can tell these pants are going to be comfortable. As we've already mentioned, they're made of lululemon's Warpstreme™ fabric, a highly classified blend of Polyester and Elastane, making them both breathable and stretchy (two things your "boys" will probably appreciate…that's a sentence we never thought we would write here at Pack Hacker). It also gives you plenty of room in that region.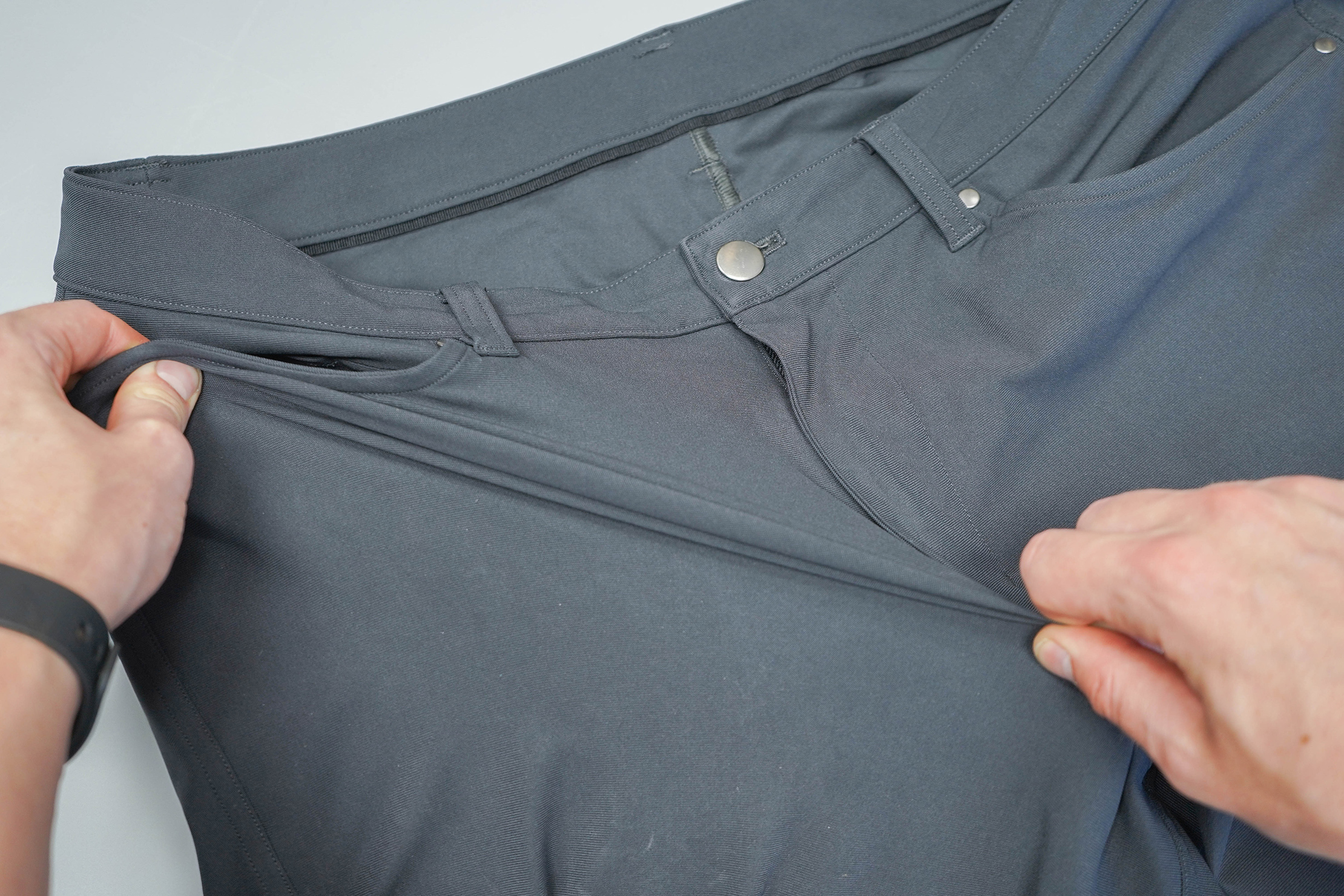 The four-way stretch means this fabric stretches both horizontally and vertically—the perfect pair of pants for practicing your round-house kicks. (Or, you know, yoga, which is lululemon's thing.) While the waistband has more structure, it's still one of the stretchier waistbands we've come across. You'll be able to eat a Thanksgiving-sized meal and still be alright. Perfect for flights when you don't want to be constricted.
As we just mentioned, these pants are breathable, but they're also sweat-wicking. You can get away with wearing them on hot days, although at a certain temperature and humidity you'll still be longing for shorts. We can't really blame these pants, though—that's just the nature of pants.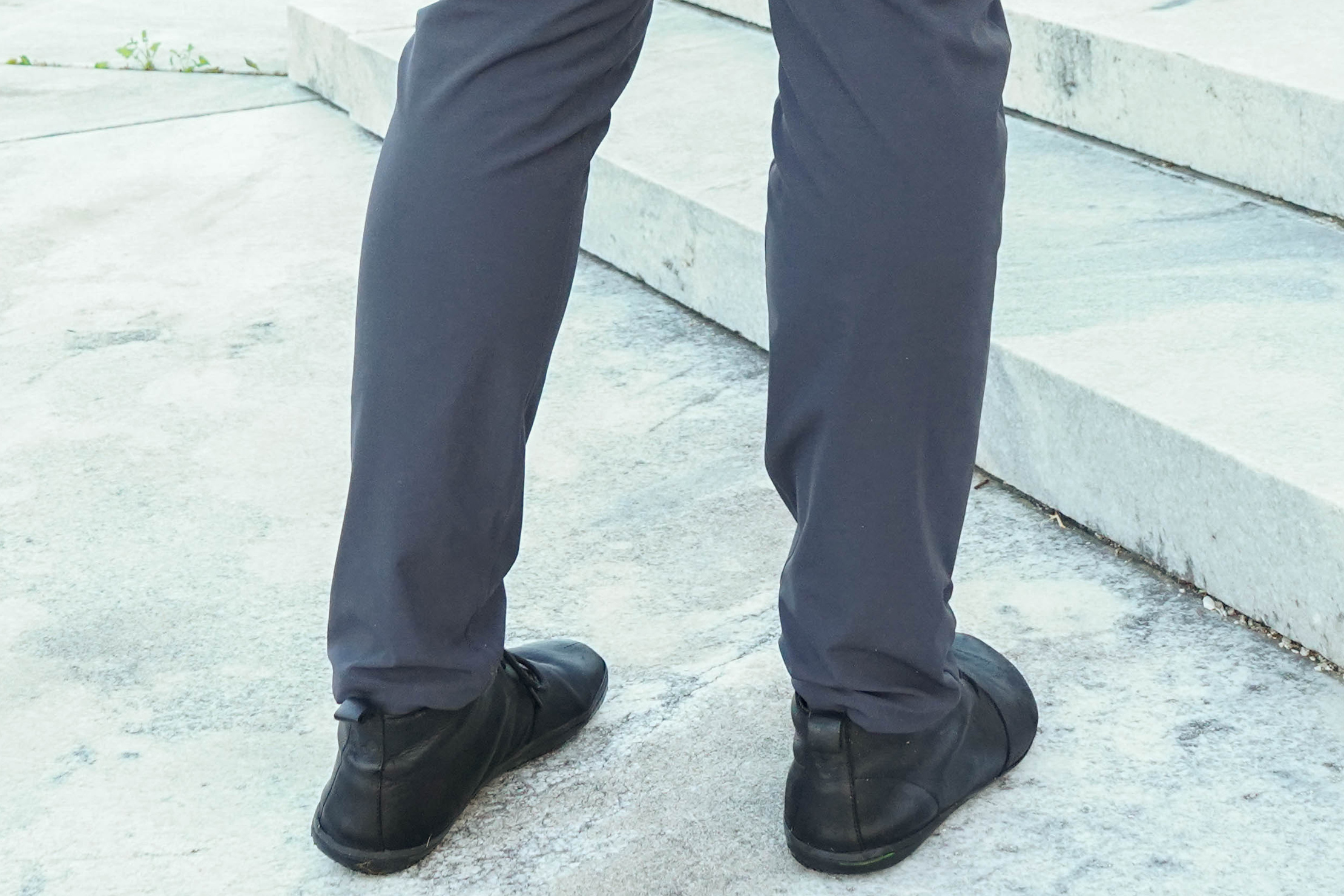 But this sweatpants-level of comfort doesn't mean they look like sweatpants. They have a chino-like style with a tapered, albeit not skinny, leg that narrows from knee to cuff. If you have thicker calves—looking at you runners and cyclists or people with thick-calf genes—the leg can get tight on your calves. Which can be uncomfortable and/or cause the fabric to bunch a little bit as it strains against your legs.
As we've already mentioned, we've been testing the slim fit. The skinny fit is even tighter—so it may be even more uncomfortable for all of you large-calved humans. The classic fit will give you some more room to breathe. But style is, of course, subjective so rock whatever fit you like best. You can also grab the ABC joggers, which have some more room in the calf-area, but essentially look like an entirely different pair of pants (think a hybrid of sweat pants and athletic wear).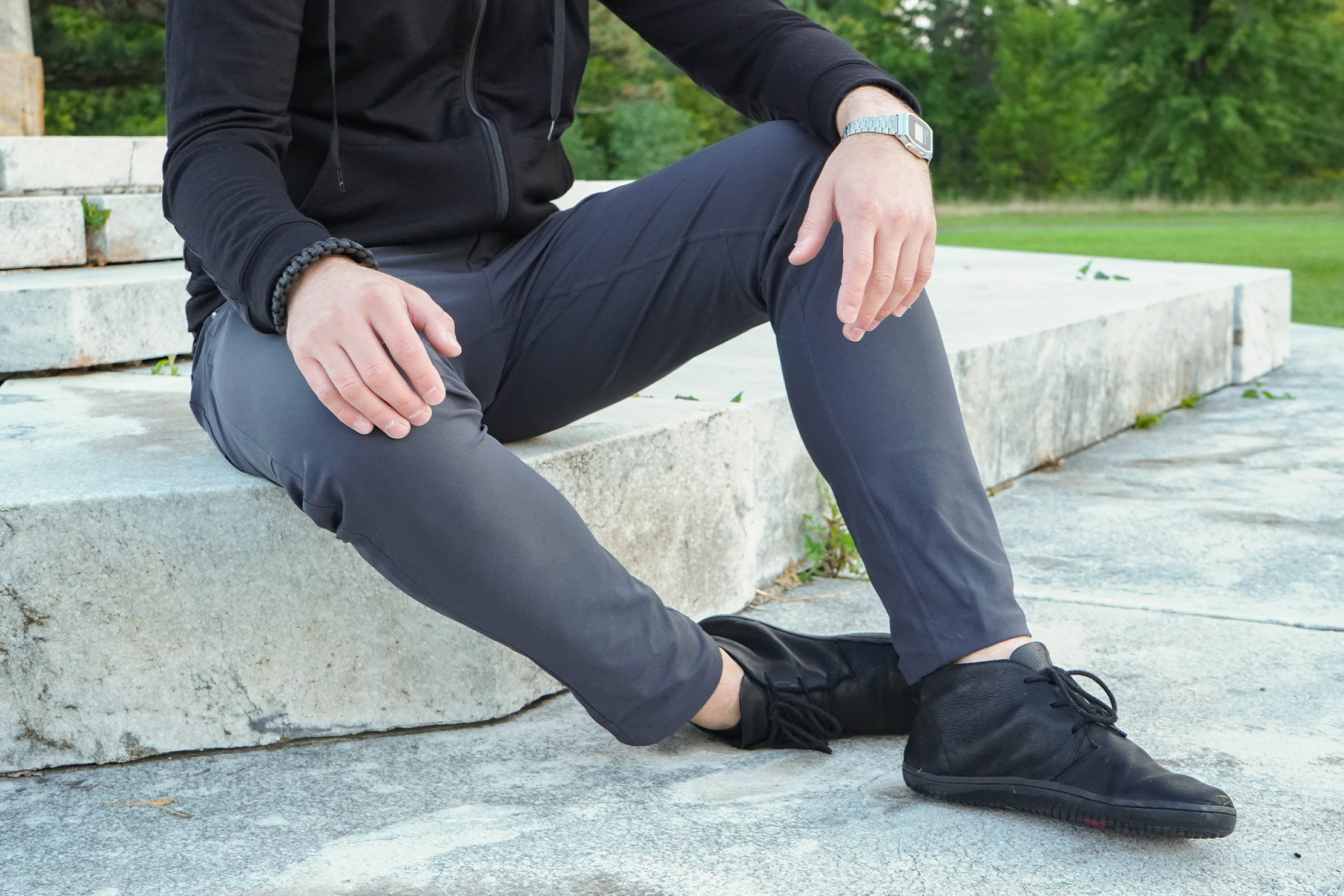 In slim fit, there aren't many off-the-shelf inseam options. Only 32″ and 34″ to be exact. If those are too long, don't worry—lululemon offers a free hemming service at their stores so you can get these pants to fit just how you like, which is pretty cool.
In any fit, the ABC pants—not joggers—are quite versatile. You can dress them up surprisingly well with a belt and nice shirt, while also having the ability to keep them as casual as you would like. (lululemon's product photos feature a man rocking these pants shirtless—so you can get real casual.)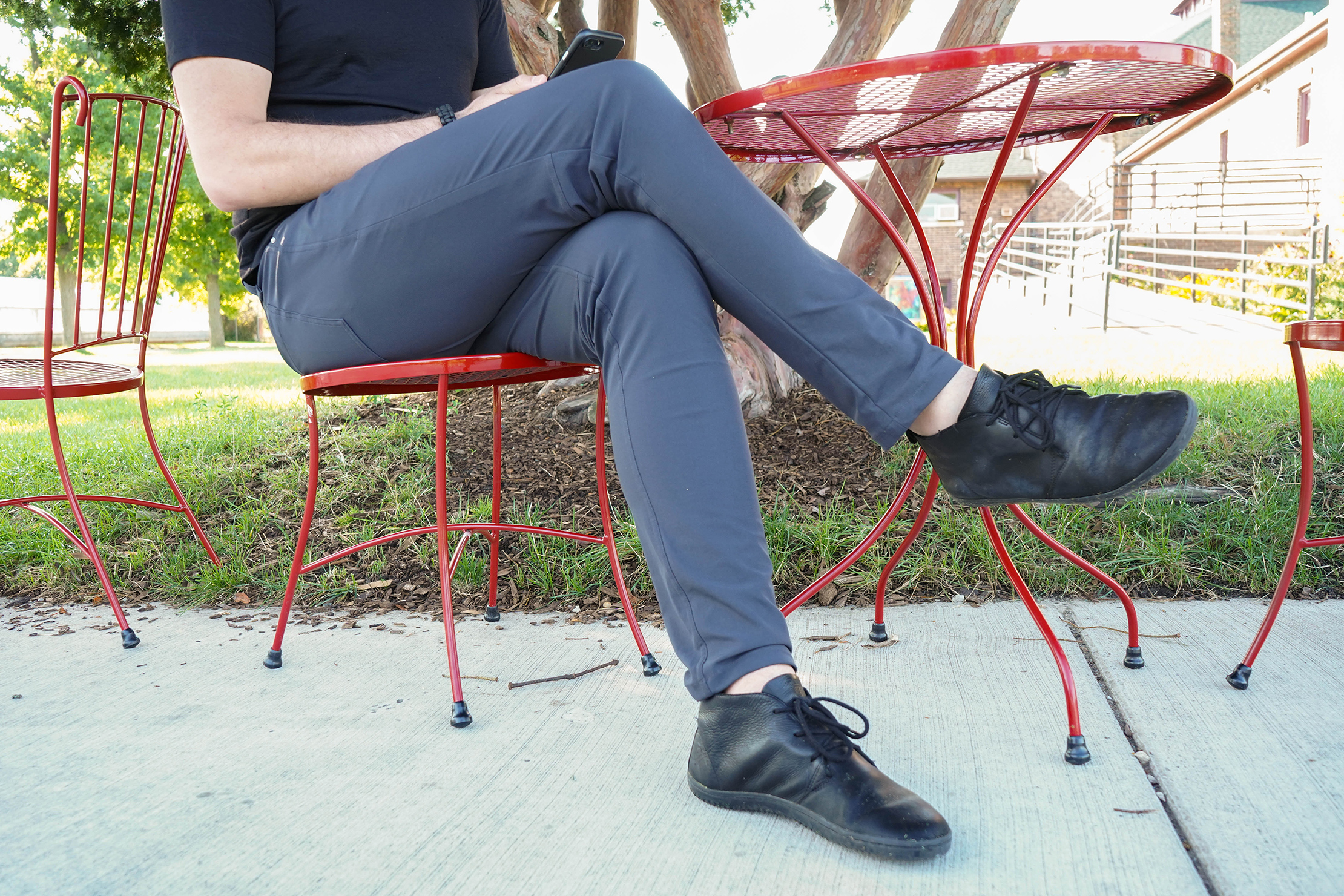 They're available in a ton of different colorways and we've been testing the Obsidian. While, yes, obsidian is usually equivalent to black, that's not the case here. lululemon offers an actual Black colorway—the Obsidian is more of a dark gray. We're digging it, although we're not sold on lululemon's name game.
Other reviewers out there have mentioned picking up these pants in multiple colorways and building a wardrobe around them. We're not that in love with these pants, but we get the temptation.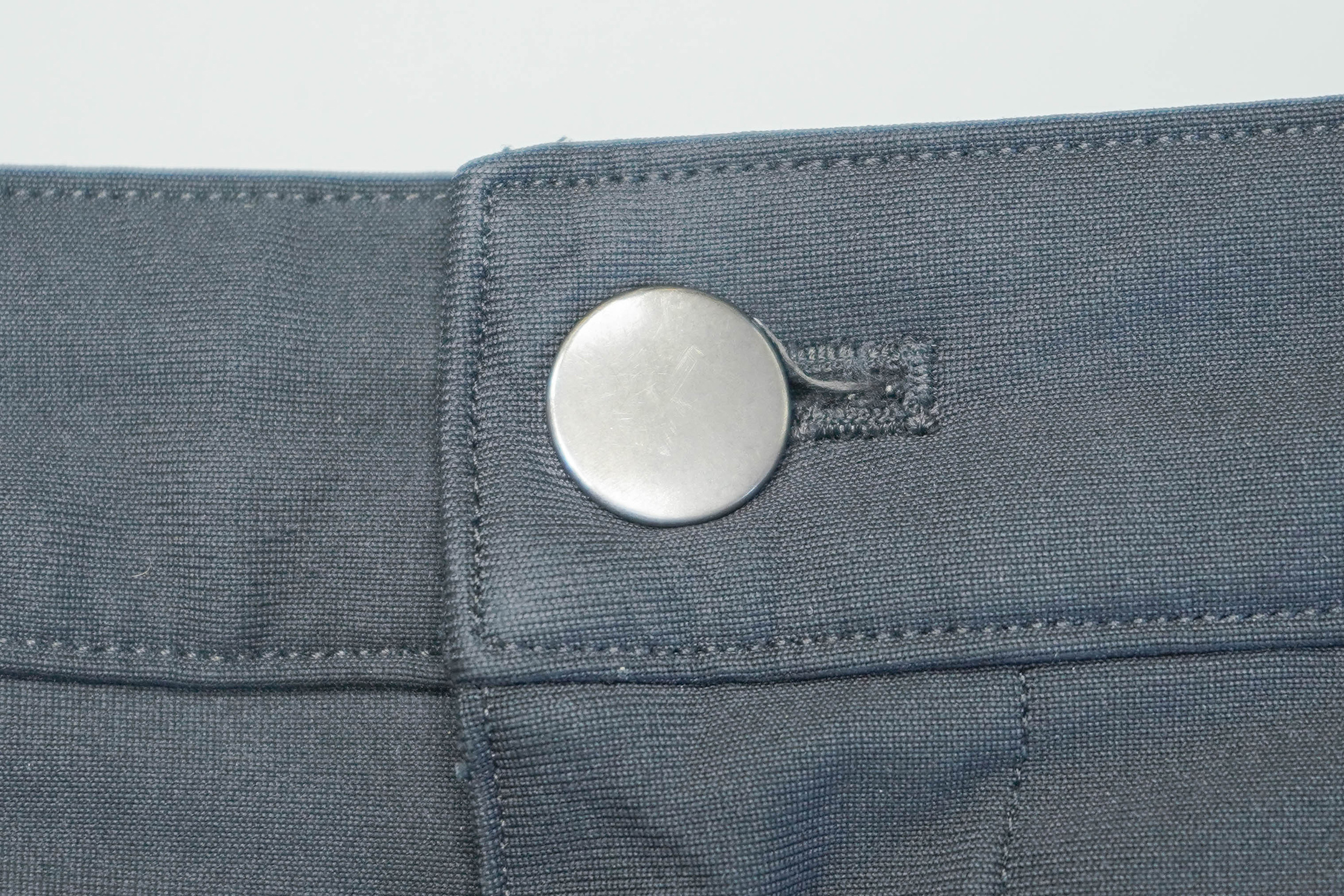 The designers at lululemon appear to have put a great deal of thought into the small details on these pants. The silver button is both quality and classy-looking, while the rivets are sturdy and sophisticated. The zipper is from YKK and is self-locking, which basically means if the zipper pull is lifted, you can move it easily, but if it's down, it'll stay locked in position. It's a handy feature and you'll likely never hear the letters "XYZ" muttered again.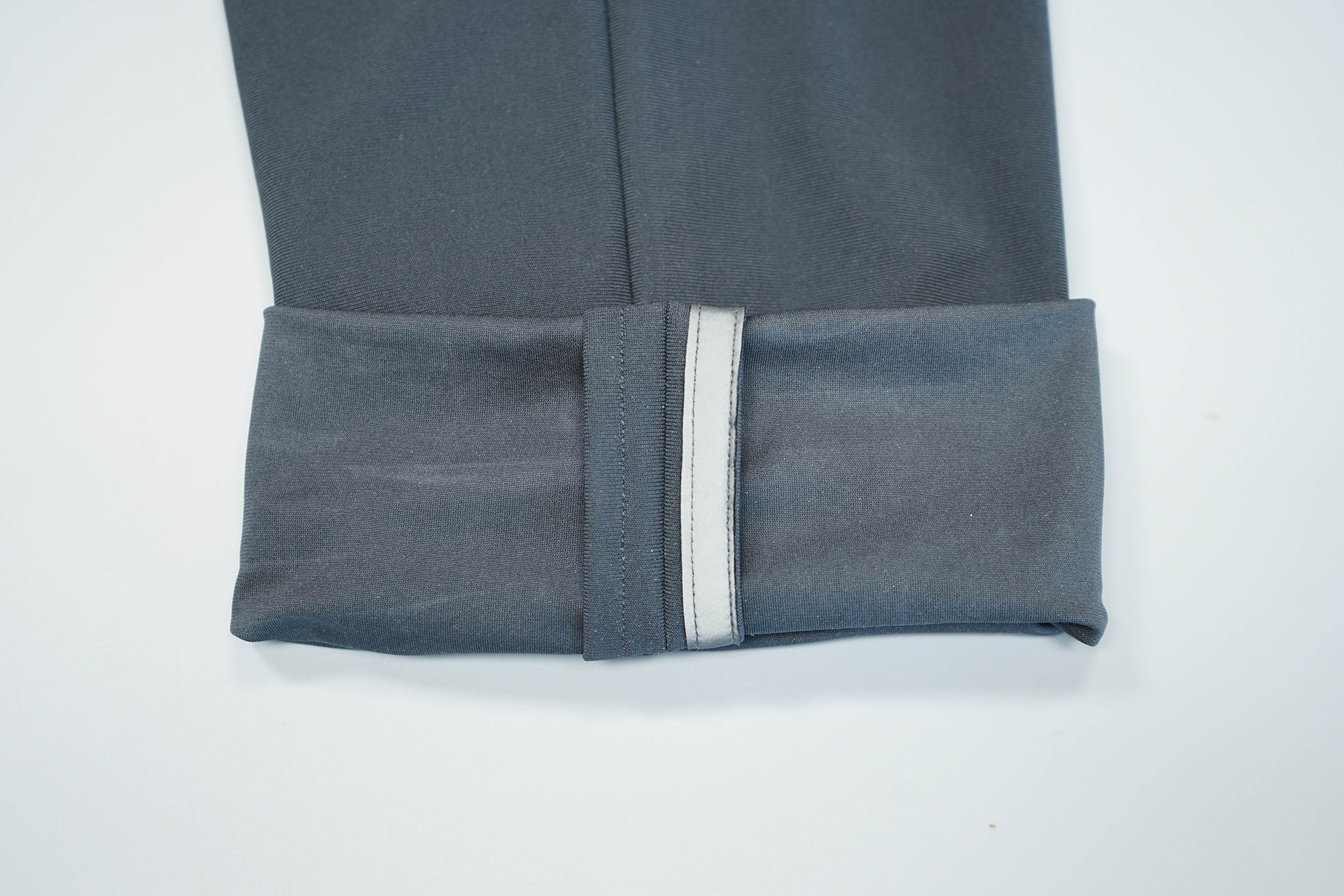 If you want, you can also roll up the cuffs for a more casual vibe. If you do, there's a stripe of reflective material but that seems to be more fashion than function (you'll probably want some other form of light if you'll be night-biking).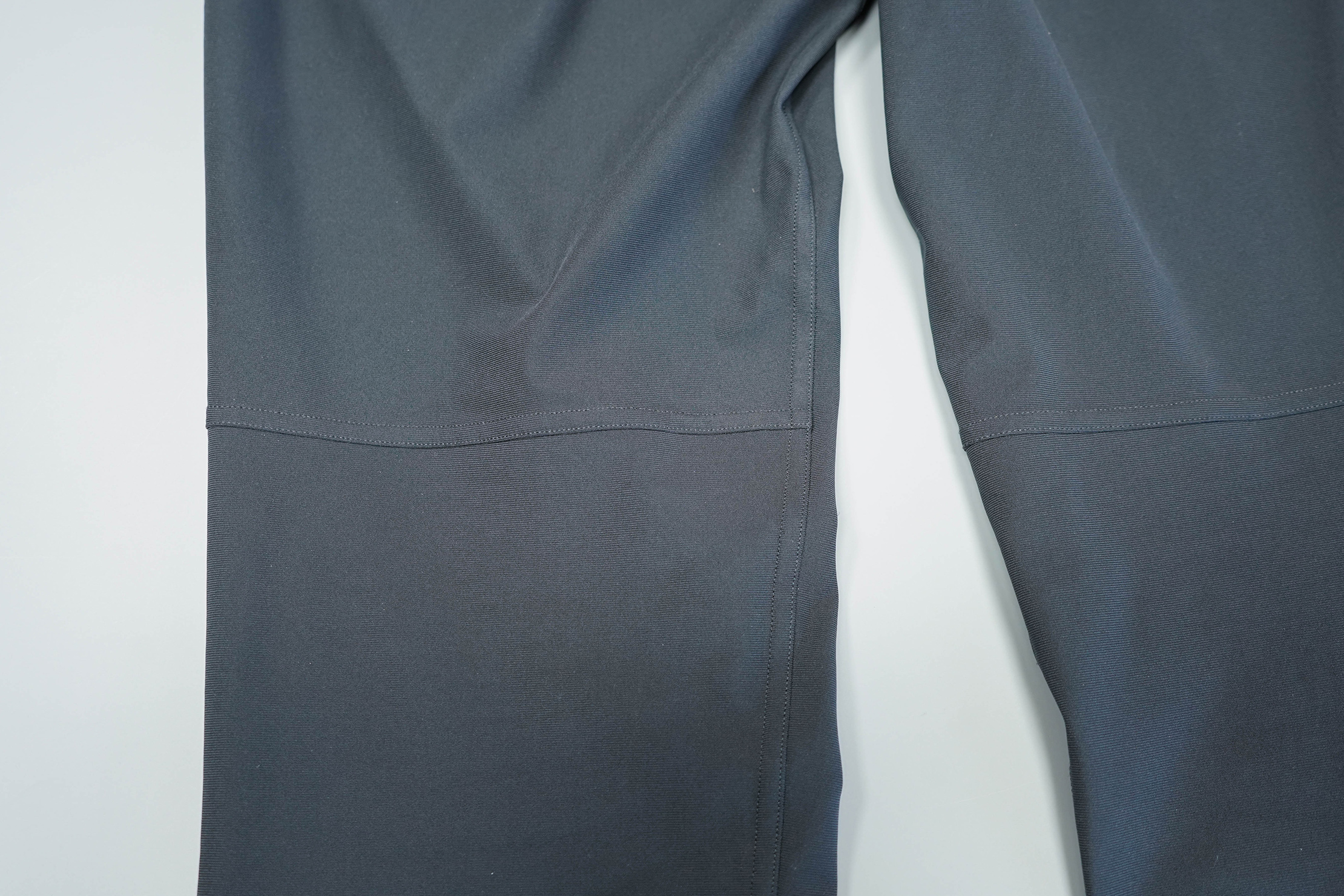 You'll find a thick seam on the back of the knees—we're not positive why. Before we got our hands on a pair we were worried it hid a secret zipper for either ventilation-purposes or for converting these pants into shorts. Luckily, it's not. The seam could be for structural integrity, helping with that stretch-factor, or perhaps style. Either way, it lets everyone familiar with the lululemon ABC pants know you're rocking some lululemon. It's like a secret handshake. A way for those around you to know you're in the club (for better or worse).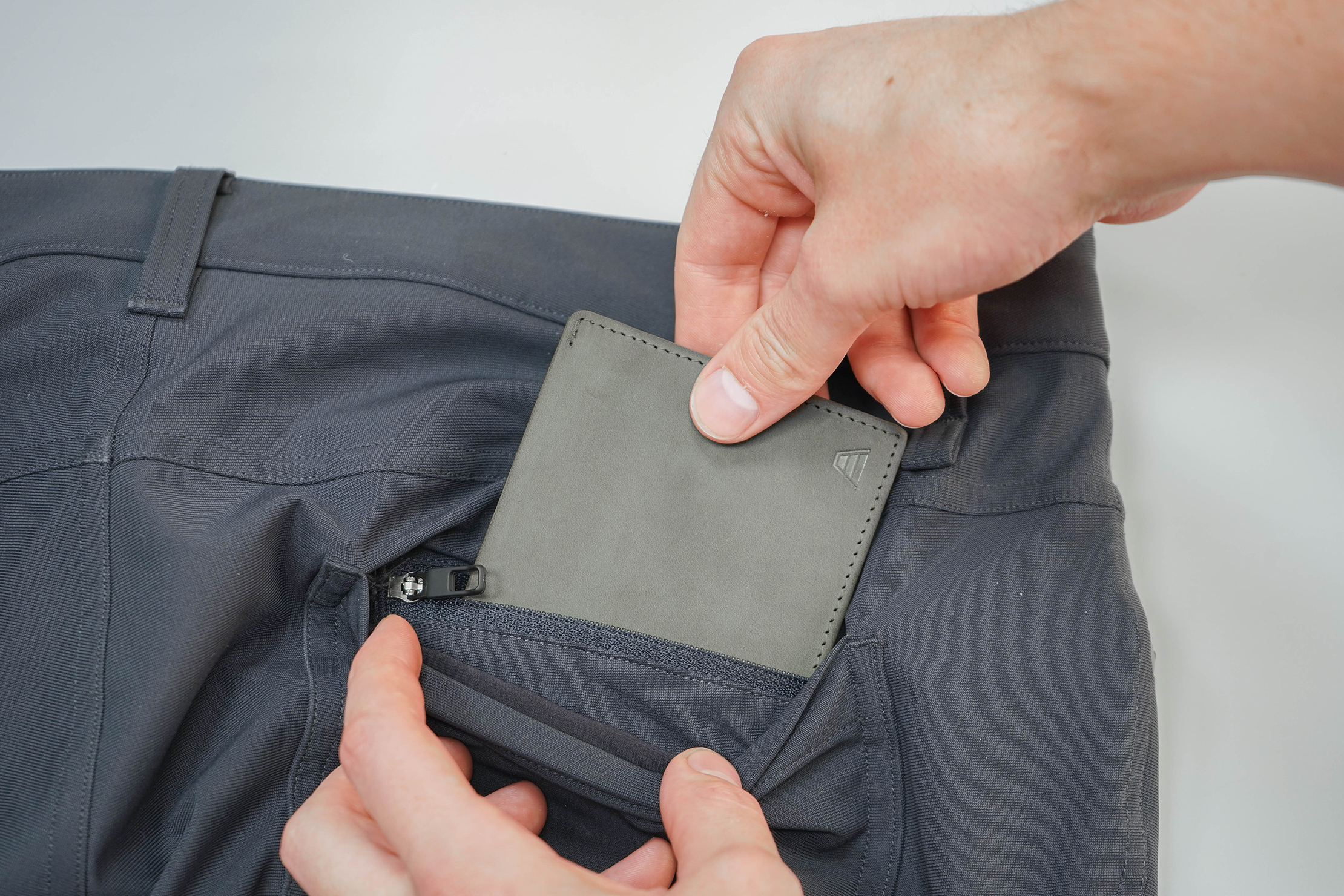 Okay—let's talk pockets. Four of the pockets are run-of-the-mill pockets you'll find on most men's clothing. They're deep enough for keys, cellphones, and your wallet. There's also a fifth secret zippered pocket on the rear of the pants. You can hardly tell it's there—hence the secret in its name—and it's a nice spot for extra cash, your passport, or your phone. Definitely handy for travel.
The last feature worth discussing is the ever-important how-long-can-you-get-away-with-not-washing-them test. Answer? A little bit less than you'd stretch a pair of jeans. You can't get away with hardly washing them like you can with the Outlier Slim Dungarees since the ABS pant's fabric doesn't repel stains, dust, and dirt. They start to feel dirty after a week or two (and, yes, we've tested this. The things we do for you…)
Durability & Testing
With lululemon being as big as it is, we had initial concerns regarding durability. That said, we haven't personally experienced any issues during our month of testing in Detroit, Michigan, San Francisco, California, Los Angeles, California, and Minneapolis, Minnesota. The stitching looks nice; the rivets, button, and zipper are all as good as new; and we haven't seen any pilling.

BUT—and this is important enough to require all caps—we've read that the quality of lululemon's ABC pants is hit or miss. The demand is high enough that some batches of these pants aren't up to par with others. That's the theory, anyway. One customer on the website has noted that buying a pair of ABC pants is like "rolling the dice."
It seems we've had a good roll, but we'll keep the usage timeline updated down below if it ever changes.
Usage Timeline
Initial Usage
Condition: Excellent
We dig the hidden zipper pocket
Four-way stretch means you can actually move
Excited about the versatile style
2 Weeks of Use
Condition: Excellent
1 Month of Use
Condition: Excellent
Still digging that four way-stretch!
Access the Pro Community Discussion
Get your questions about the lululemon ABC Pant (Slim Warpstreme) answered from our team and the Pro Community right here on the page. Plus, join discussions with other members about gear, guides, and more.
Other Clothing & Accessories Reviews