Outlier Slim Dungarees Review
With the durable Outlier Slim Dungarees, you can feel like you're wearing pajama pants while looking like you're ready for a business lunch.
Our Verdict
Unlock the Pro Summary
Save time. Get access to brief summaries of our reviews so you can browse and make decisions more efficiently.
Pros
Sleek and sharp aesthetic
Pajama-like comfort and stretchiness without feeling sloppy
You can fit a LOT in the front pockets without the items slipping out
Cons
Expensive, but have a good cost per wear
The water repellent feature requires maintenance using a product like Granger's Performance Wash, and decreases with wear
While the front pockets are deep and roomy, the back pockets are definitely lacking
Recent Pack Hacker Video
Technical Details
Weight (oz)

15.77 oz (447.1 g)

Notable Materials

Nylon, Polyester, Elastane, Workcloth Doubleweave Canvas, NanoSphere®

Manufacturing Country

Portugal

Warranty Information
Full Review
They're not jeans. They're not sweatpants. They're technical pants—and they're a game-changer when it comes to travel. If you want to be comfortable, wash your pants less, and still look sleek, the Outlier Slim Dungarees may be for you.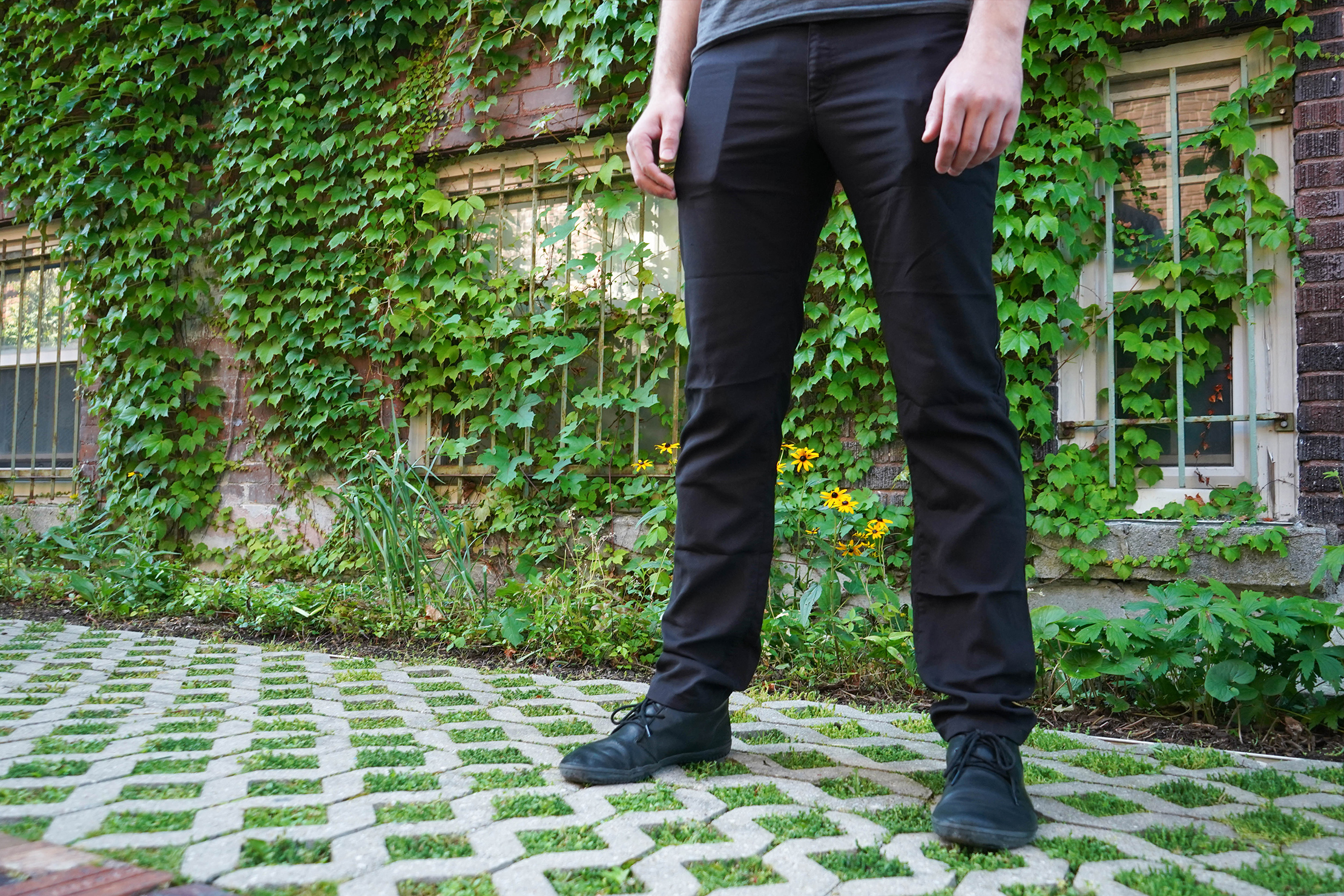 We've been testing the Outlier Slim Dungarees for three years and counting. Yes, you read that right, three years. We've taken these pants around the world, but even when we're not traveling, they're our go-to. Needless to say, we highly recommend them. Why? Well, the beauty is in the details, so let's check them out.
Fabric & Fit
We've been testing the pants in Black, Bluetint Gray (Long) and Charcoal Gray (we really like gray, okay?), but they're available in 12 colorways at the time of this review. Six of those colorways are only available in a Long fit, which as you may have guessed means they're for the taller folks out there who don't want their pants cutting off above the ankle (you can also custom tailor these pants if that's your thing).
We love that these pants look like, well, pants. Not technical, outdoorsy pants with five-million zippered pockets. Just pants. And, as the name suggests, the Slim Dungarees have a slim fit. Slim, but not skinny. They look tailored, which is a major plus in our books. The travel pants of yesteryear tend to be loose—think cargo pants—and can't look sophisticated no matter how hard you try.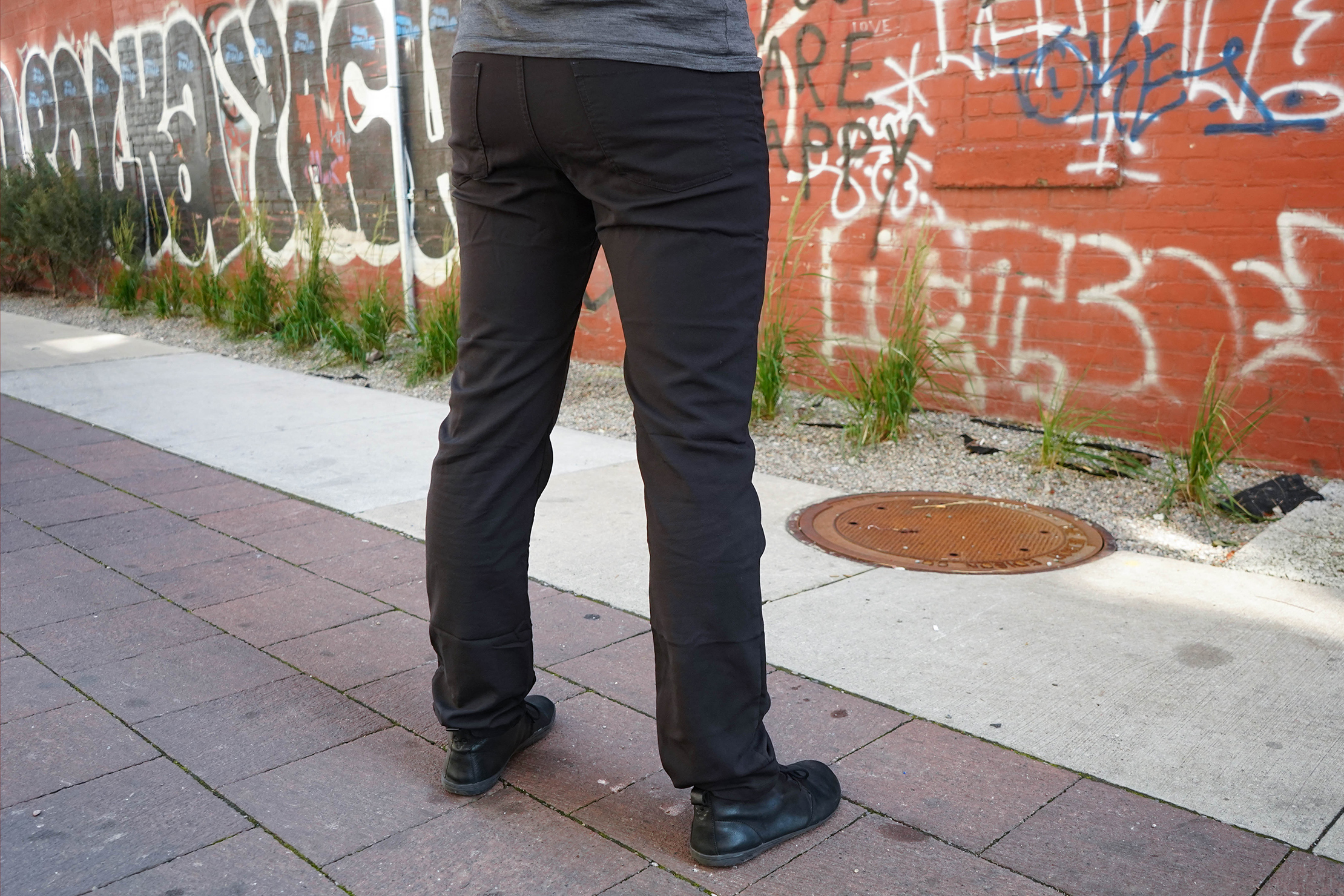 While these dungarees are by no means fancy, you can dress them up with the right shoes and shirt and wear them to a nice restaurant, yet they're still comfortable enough for lounging. Nobody has to know that you fell asleep in them the night before as you cut into your flæskesteg while in Copenhagen. We won't tell anyone 😉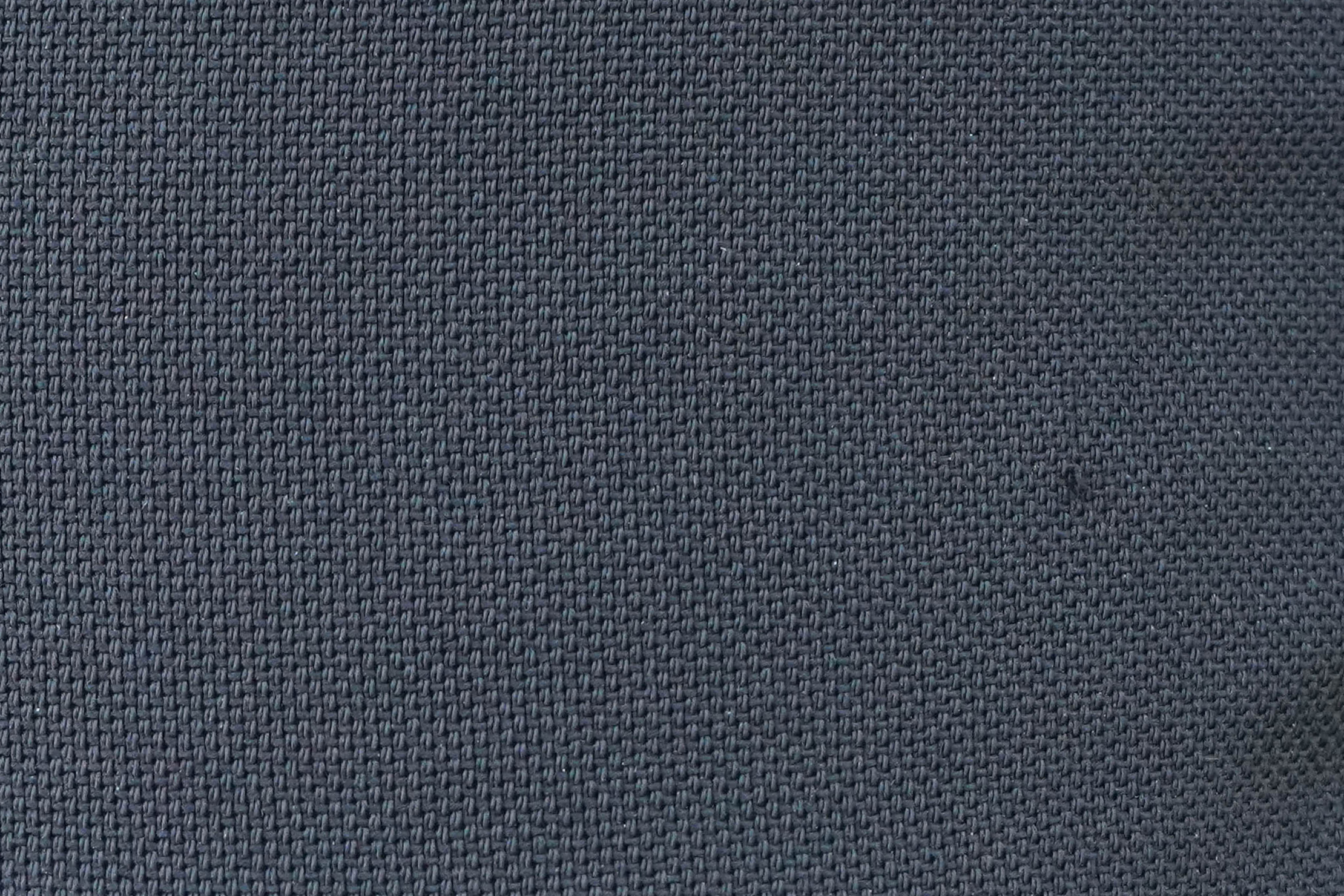 The Dungarees are made from Outlier's own 275GSM Workcloth Doubleweave Canvas, which is two different fabric blends: Cordura-grade nylon canvas weave on the exterior and a nylon-poly blend on the interior, giving you comfort, durability, and function (we'll get into its specific features below). GSM, grams per square meter, measures the thickness of a fabric. At 275GSM, these Dungarees are plenty thick, but the weave allows for maximum breathability.
Features & Usage
The features of the Outlier Slim Dungarees are what makes these pants a true game-changer. With a NanoSphere® treatment on the fabric, the pants are resistant to all kinds of stains: coffee, beer, jelly, even dirt and water, making them great for hiking and just living your life (although be aware that the water-repellent property tends to decrease with wear unless you retreat them with something like Granger's Performance Wash.
You'll hardly ever have to wash these pants (hooray!) because they don't pick up smells and much dirt, but when you do wash them they'll come out soft and fresh. They dry fast and we've found that hang drying them works best. There's no need to iron these pants. Even if they wind up balled up in your bag and a bit wrinkly, the wrinkles fall out after wearing them for a bit.
And their two-way stretch, which stretches horizontally not vertically, keeps them comfortable and looking custom-fit. The breathability of the fabric is also a major feature, allowing you to wear the Dungarees in warmer climates without sweating profusely.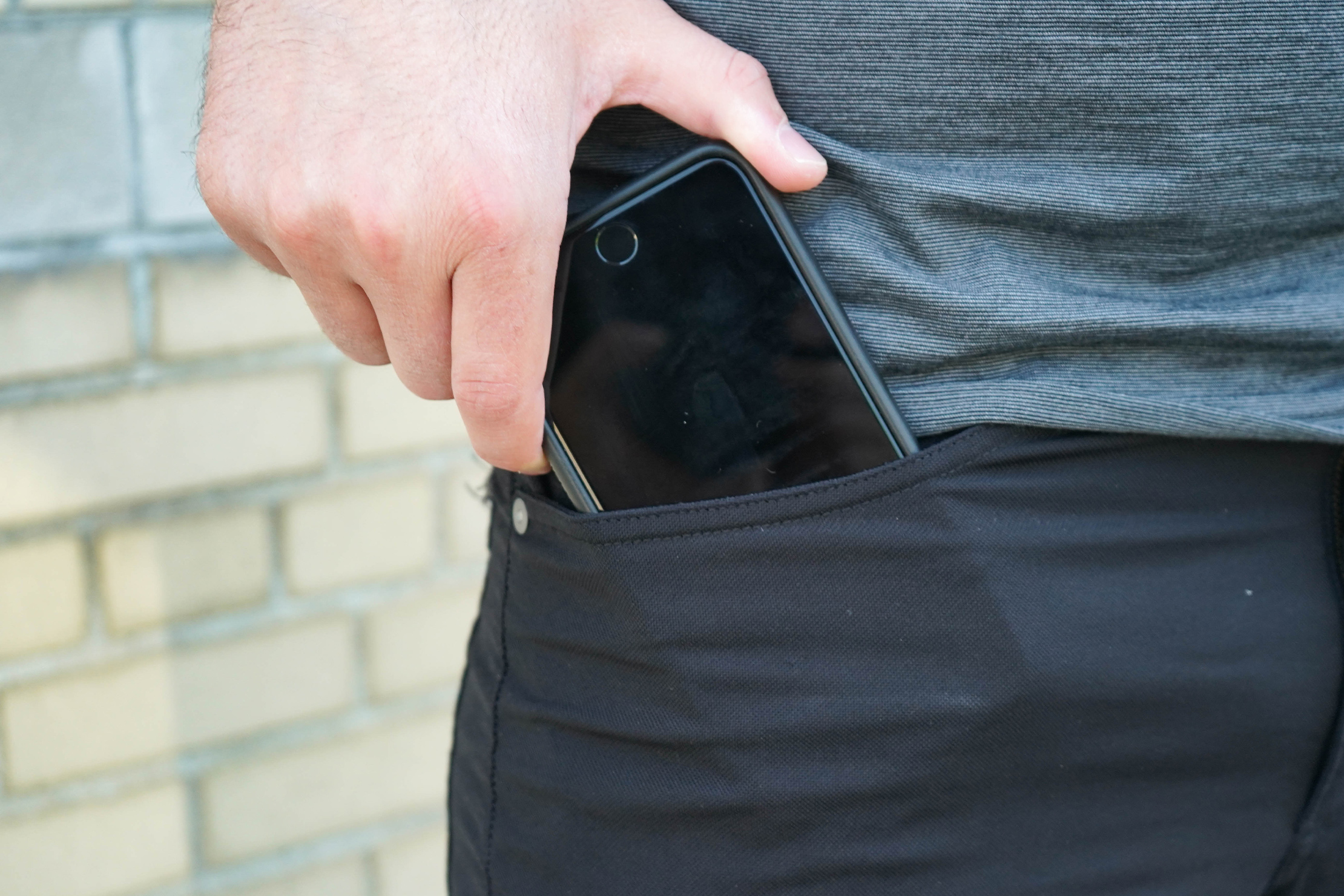 The front pockets of these pants are deep and roomy so you can easily carry everything you need. When traveling, we recommend keeping your valuables in the front pockets because the back pockets aren't as deep and items tend to slip out.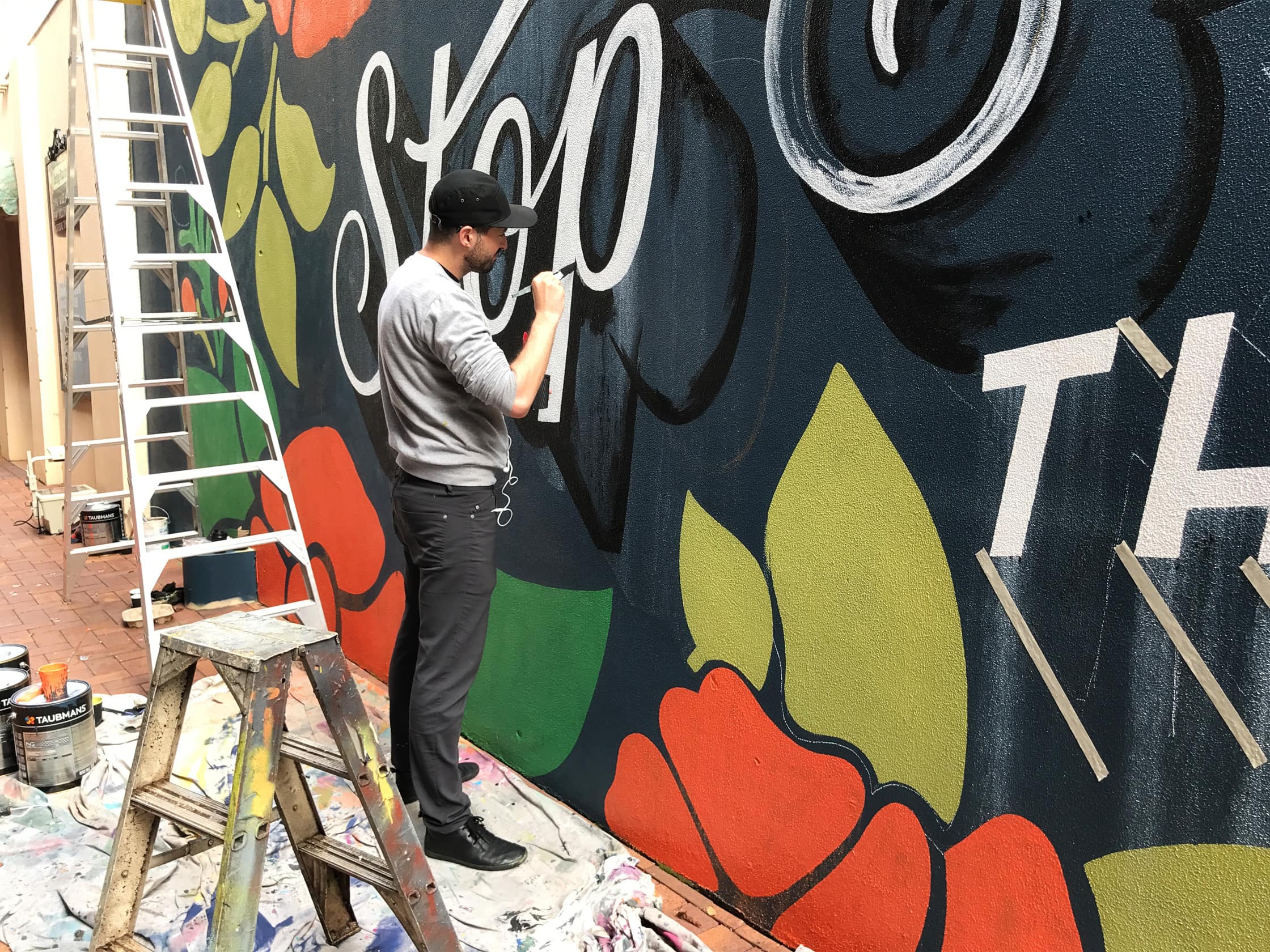 Although the pants repel dirt and grime, we can't say the same for paint. This isn't a fair test and is pretty ridiculous, but just don't get paint on them and you'll be fine.
Durability & Testing
At the time of this review, a pair of Outlier Slim Dungarees will set you back nearly 200 bucks, but hear us out—we've put three pairs of the Dungarees to the test for over three years and they've seen heavy use. They have some wear and tear, but nothing major yet, meaning the cost per wear is less than a cheaper pair of pants. Plus, their versatility and odor/stain resistance allows you to lighten the load and travel with fewer pairs of pants.
Lighter luggage + less laundry + good cost per wear…What more could there be?
Usage Timeline
Initial Usage
Condition: Excellent
Right out of the box these pants are stretchy, comfortable and well fitting.
3 Months of Use
Condition: Excellent
Still going strong – no updates.
6 Months of Use
Condition: Good
They're not as water resistant as they used to be and they've started holding more wrinkles than they used to. A quick tumble dry could solve for the wrinkles. As for the waterproof coating, this is temporary and needs to be treated to maintain it. We suggest using Granger's Performance Wash if the waterproofing has worn off.
9 Months of Use
Condition: Good


Some of the thread has become exposed with the regular wear.
1 Year of Use
Condition: Good
1.5 Years of Use
Condition: Good


Nothing new to report besides a couple small dings in the fabric. Normal wear & tear for pants that have been worn so often.
2 Years of Use
Condition: Good
Still wearing these all the time.
2.5 Years of Use
Condition: Good
Picked up another pair, but the original two are still going strong.
3 Years of Use
Condition: Good
Access the Pro Community Discussion
Get your questions about the Outlier Slim Dungarees answered from our team and the Pro Community right here on the page. Plus, join discussions with other members about gear, guides, and more.
Other Clothing & Accessories Reviews