Matador Laptop Base Layer Review
The Matador Laptop Base Layer offers excellent weather resistance when using the rolltop, though at the cost of quick accessibility.
Our Verdict
Unlock the Pro Summary
Save time. Get access to brief summaries of our reviews so you can browse and make decisions more efficiently.
Pros
Seals for good weather-resistance
Has a stretchy mesh pocket for accessories
Has a top handle for standalone carry
Cons
The mesh pocket itself isn't weather-resistant
Hypalon flap can get caught on tight-fitting laptop sleeves
We think rolltop access feels slow and quick access feels kludgy
Recent Pack Hacker Video
Technical Details
Weight (oz)

5.43 oz (153.9 g)

Denier

420D

Notable Materials

Nylon, DWR Coating, Hypalon®, Polyurethane, YKK Zippers

Manufacturing Country

Vietnam

Laptop Compartment Size

16"

Warranty Information
Full Review
Get up to 20% off Matador • Join Pack Hacker Pro
One of the key aspects we often find ourselves checking out in any bag is the laptop compartment. We're very keen on inspecting a good laptop compartment based on how well protected it is and how well integrated it is to the whole bag. But there are backpacks out there that may not be up to snuff when it comes to protecting your laptop.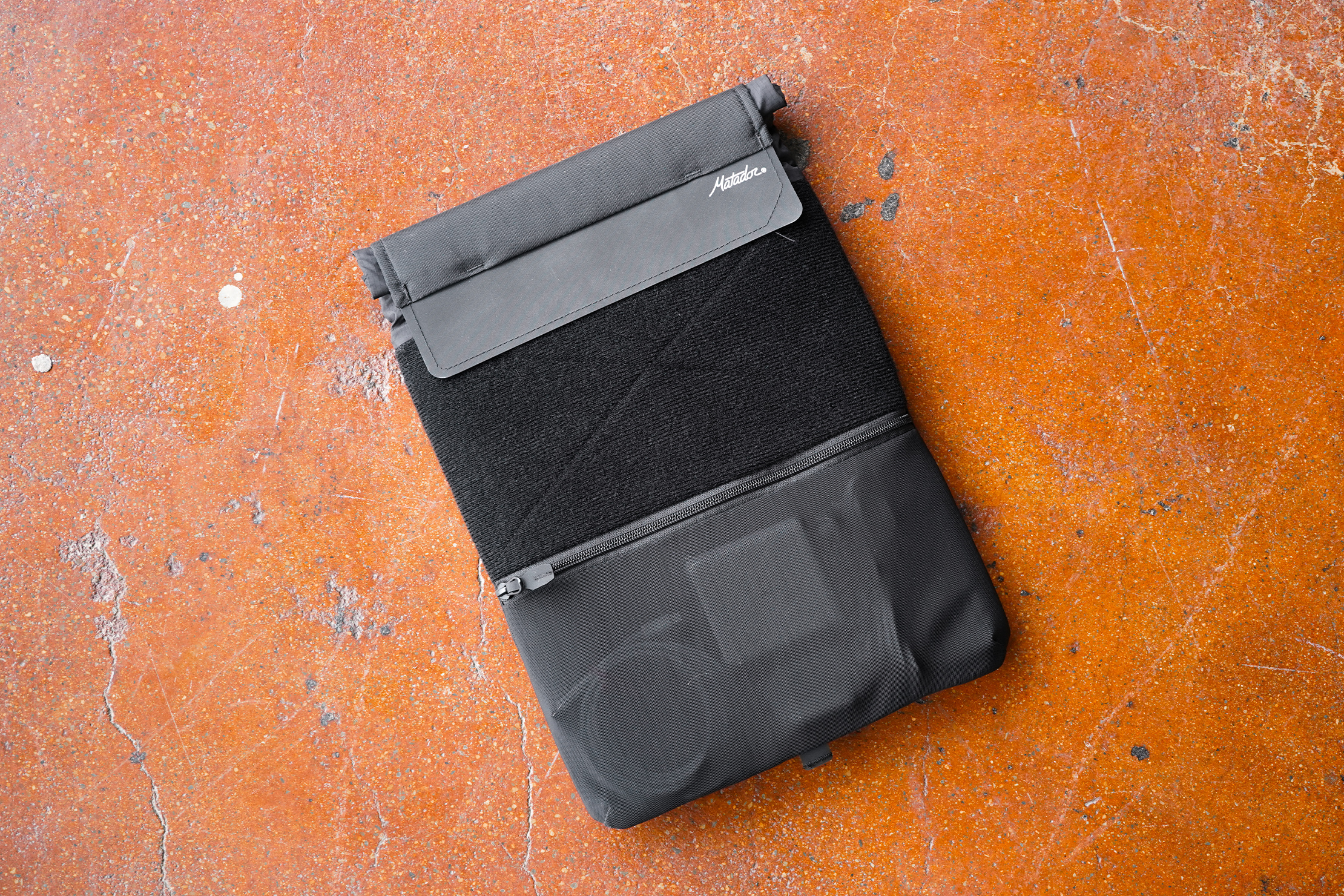 In those situations, laptop sleeves come in handy to fill in the gap. Matador's Laptop Base Layer, for example, offers superb protection against the elements. The catch is that accessibility does somewhat suffer, and the mesh pocket itself isn't weather-resistant. There are hits and misses, and if you're interested in learning more, read on to find out.
Materials & Aesthetic
Keeping in tune with Matador's aesthetic of slick and classy black, the Laptop Base Layer also dons the black attire, though with noticeably different shades at the front. Each of the materials you see at the front brings a different texture of black to the table. The Hypalon flap where you'll find the Matador logo is more of a matte gray and is flanked by the 420D Nylon at the top and the dark mesh of the pocket below. Underneath is a large section of female side hook-and-loop fastener (that's the fuzzy part), which is the darkest fabric on the Laptop Base Layer. There's something about this mix of different materials that works in favor of the overall aesthetic.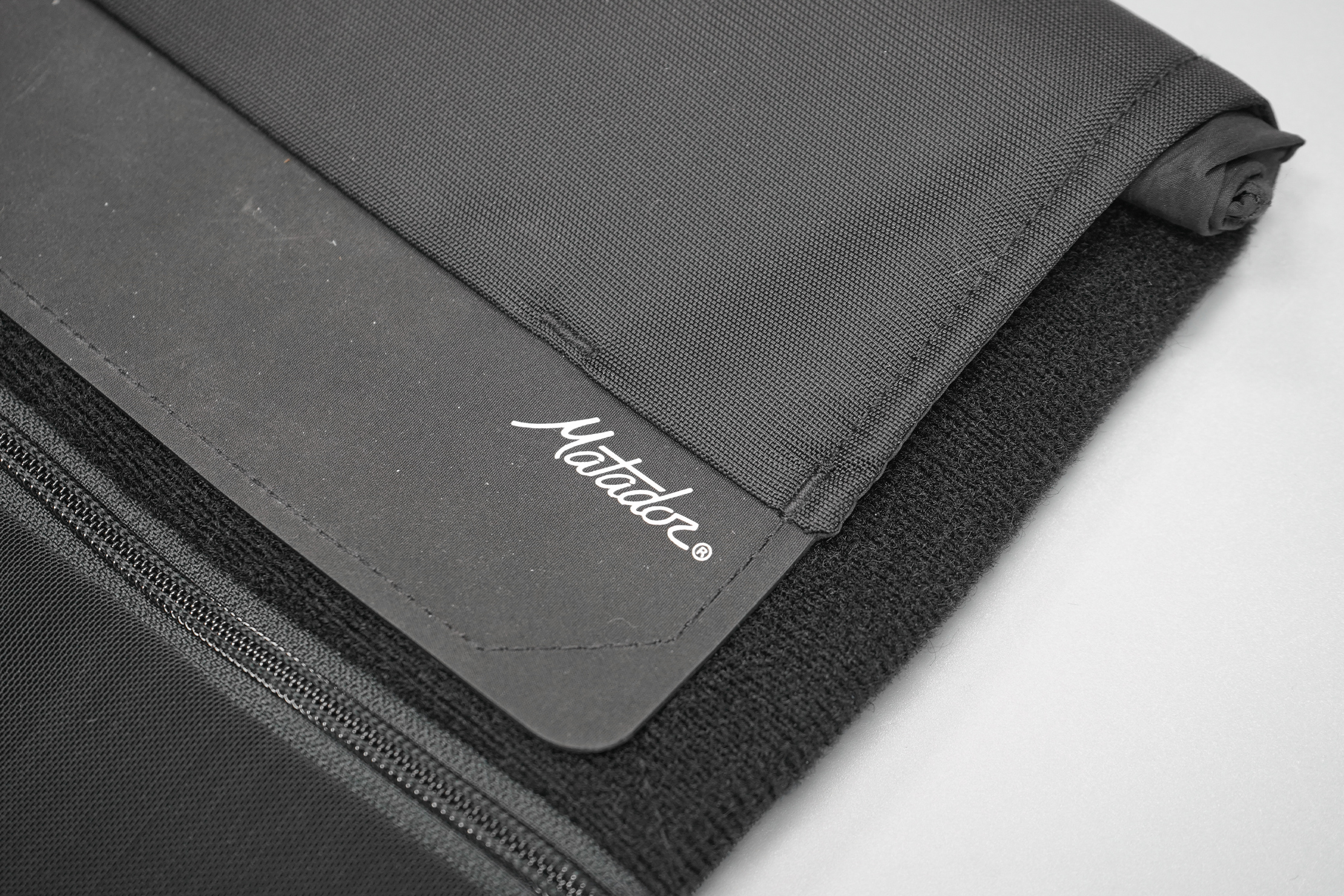 Matador has really upped their build quality, and the Laptop Base Layer is a good example of the right direction they're going. The main fabric is a 420D Nylon that's not too heavy for a laptop sleeve but durable enough at the same time. Meanwhile, the rolltop fabric inside is a much lighter 50D Ripstop drybag liner. Both of these work together to give the Laptop Base Layer superb weather resistance, almost too well, as you'll see later on.
In addition to the two main fabrics, the flap of the Laptop Base Layer is topped off with Hypalon, whose underside attaches to the hook-and-loop fastener section underneath. The mesh pocket mentioned above has a high-quality YKK no. 5 racquet coil zipper, which also uses a Hypalon zipper pull. In case you were wondering, unfortunately, the mesh pocket itself isn't weather-resistant.
Usage
Getting your laptop inside the Laptop Base Layer can be a bit fiddly at first. It's not as straightforward as with simpler laptop sleeves where you undo a zipper and in goes your laptop. For this one, you have to undo the wide hook-and-loop fastener first and then unravel the rolltop fabric. It's not a quick-access laptop sleeve for sure, but you get added protection as a worthwhile trade-off if you're into that.
That said, there is a "fast-access mode" where you quickly fold the male side hook-and-loop fastener over the rolltop without taking the time to roll it down meticulously. This certainly saves a bit of time, though it feels a bit kludgy to us since the extra fabric folds down and is locked in only by the hook-and-loop. Just note that the sleeve is less weather resistant in this mode without the rolltop's seal, so it's best for quick access at the coffee shop rather than a hike on the rainy trail.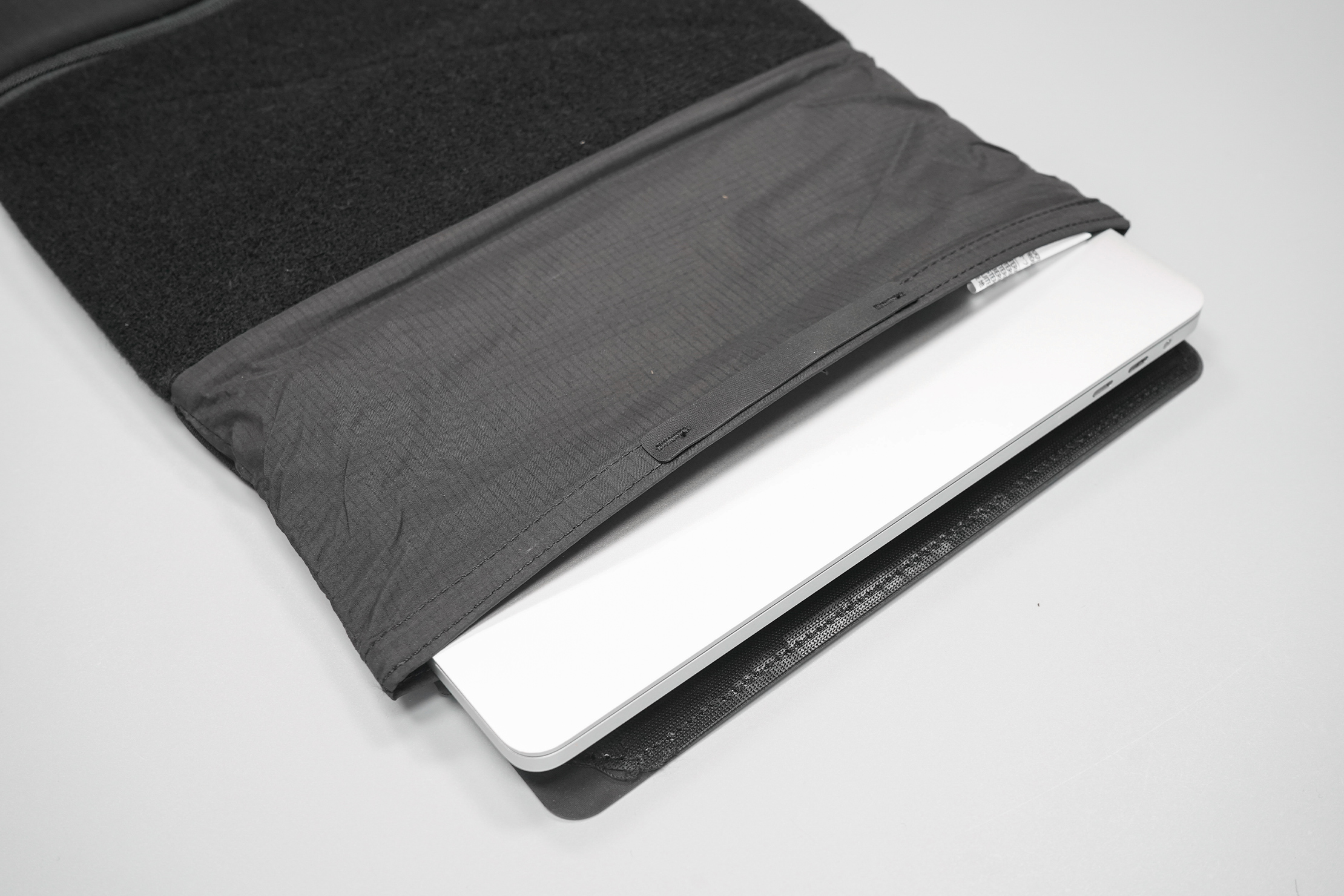 There's also the added benefit that the rolltop can accommodate wider laptops, hence why the Hypalon flap can be adjusted along a large area of female side hook-and-loop fastener. We're not aware of laptops that have extremely wide form factors such as this. But if you have extra long documents or folders that need the taller space, they can go inside the Laptop Base Layer as well.
As a 16-inch laptop sleeve, the Laptop Base Layer fulfills the basics: good padding and protection for your laptop. Stepping it up a notch, the Laptop Base Layer also has superb weather resistance by way of the fabrics previously mentioned. As proof of its weather resistance, we blew in some air inside and rolled it up, and it was almost like a pillow of air. With that in mind, this makes the Laptop Base Layer a welcome addition to basic backpacks that lack a laptop sleeve and/or weather resistance.
If your backpack does have an existing tech compartment or laptop sleeve, the Laptop Base Layer can fit inside those as well. Our bags typically come with built-in 16-inch compatible laptop compartments that have a bit of spare wiggle room, and the Laptop Base Layer fits in snuggly. Another thing to consider if you want to fit the Laptop Base Layer inside an existing laptop sleeve is how much you will be packing inside the mesh pocket.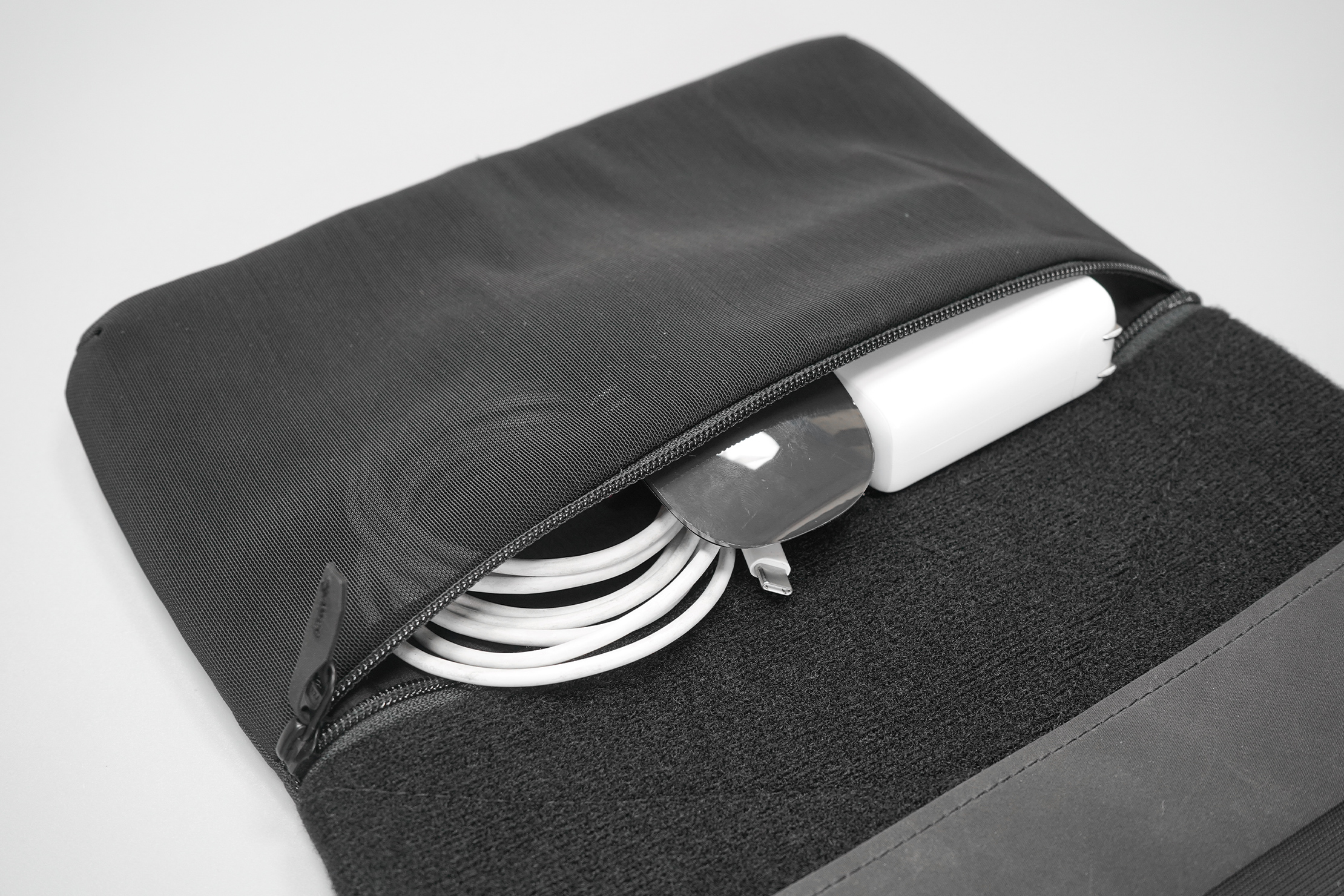 The mesh pocket has a fair amount of stretch that enables it to accommodate even bulky computer mice, charging adapters, and power cables. However, you'll want to keep an eye on how bulky this mesh pocket gets as it will affect your ability to fit the Laptop Base Layer inside your bag's laptop compartment.
We preferred to keep the mesh pocket slimmed down as much as possible. Fortunately, our 16-inch MacBook Pro's charging brick was slim enough, and so too was our mouse that the bulging wasn't too bad.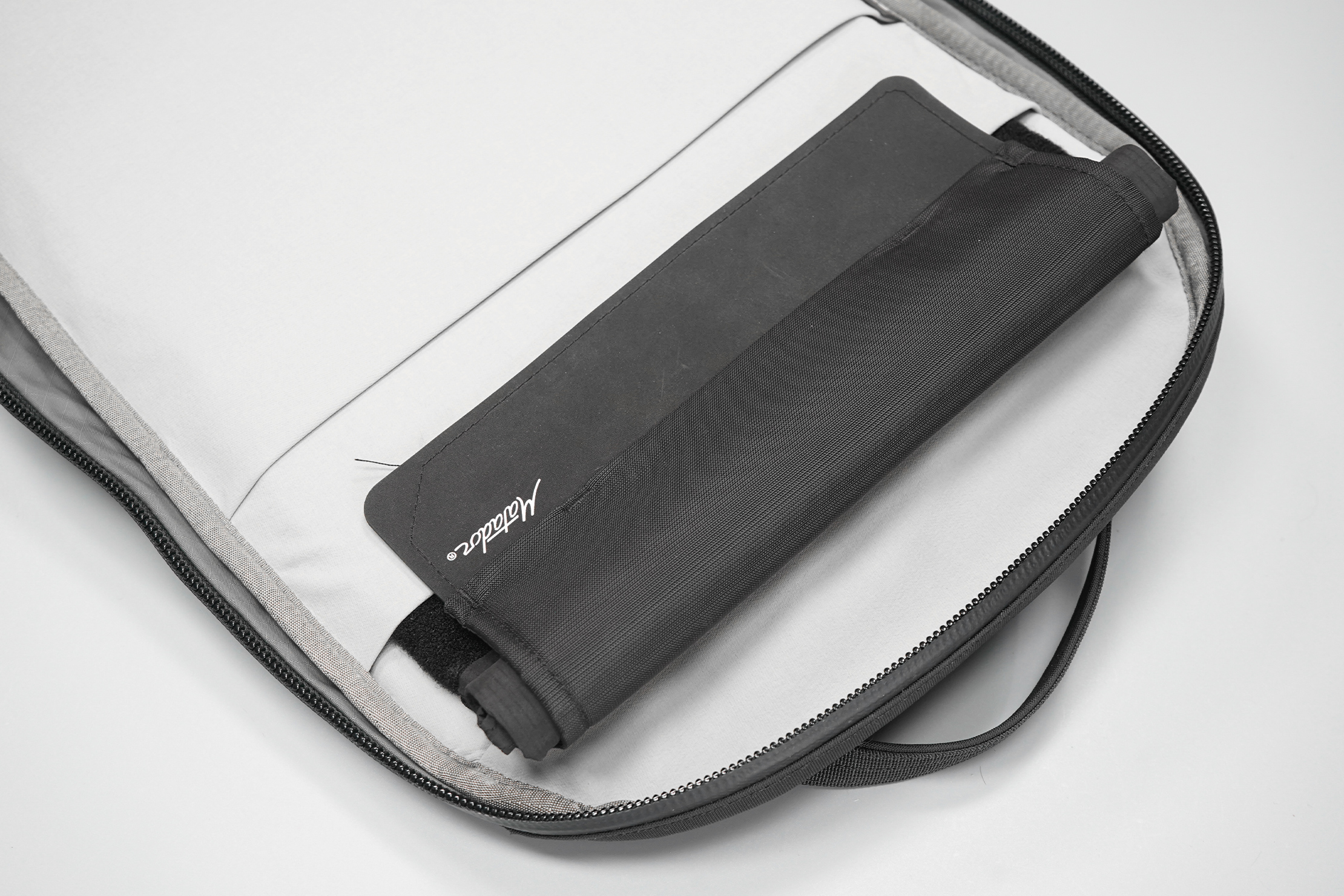 But in fact, where we did encounter trouble with the fitting was with the Hypalon flap, which got caught on the opening of our backpack's laptop sleeve more often than not. It's not an overly huge deal as we just needed to tuck it in manually each time it got caught. Additionally, we sometimes just slid it inside flap-first to avoid it getting caught altogether. Though this means the top handle would be at the bottom where you can use it, there's still the bottom Hypalon tab to pull on, though it's not as convenient.
If or when you decide to take the Laptop Base Layer out of your bag, you can take it with you easily as well. There's a built-in handle stitched at the top on the backside. We dig the option of carrying it this way because it means you can carry it around, say, the office, without having to clutch it the entire time.

The Laptop Base Layer presents an interesting but limited use case as a laptop sleeve. It's very weather-resistant as far as the laptop side is concerned. On the other hand, the mesh pocket itself isn't, so your accessories can still get wet. The Hypalon flap getting caught can be a minor source of annoyance but isn't an overall deal-breaker.
Where the Laptop Base Layer shines is if you just need a capable laptop sleeve for your bag that doesn't have a built-in one and/or doesn't feature weather resistance. It's also a good standalone laptop sleeve, with the inclusion of a top handle and the ability to accommodate long documents.
Usage Timeline
Initial Usage
Condition: Excellent
IPX6 waterproof rating ensures peace of mind
Very robust and tough construction
Pouch compartment keeps any bulk from pressing on your laptop
2 Weeks of Use
Condition: Excellent
Good for a specific use case—if you really need weather protection for your laptop
Mesh pocket is a nice touch, but generally better for flatter items, especially if you're putting your laptop into a sleeve within a bag
Hypalon tab can get caught on laptop sleeve
Access the Pro Community Discussion
Get your questions about the Matador Laptop Base Layer answered from our team and the Pro Community right here on the page. Plus, join discussions with other members about gear, guides, and more.
Other Organizers & Pouches Reviews