Aer Travel Pack 3 Review
The Aer Travel Pack 3 improves the collection's core strengths with an updated harness system, smoother compartment access, and refined build quality.
Our Verdict
Unlock the Pro Summary
Save time. Get access to brief summaries of our reviews so you can browse and make decisions more efficiently.
Pros
Comfortable harness system
Just-right built-in organization and open space
Compartments are easily accessible—even with compression straps fastened
Cons
Magnetic compression buckles can come undone
Imbalanced side handle carry
Laptop sleeve's false bottom could be greater (but still works well)
Recent Pack Hacker Video
Technical Details
Capacity

35l

Weight (lb)

4.12 lb (1.9 kg)

Dimensions

21.5 in x 13 in x 9 in (54.6 x 33 x 22.9 cm)

Notable Materials

CORDURA® Ballistic Nylon, YKK Zippers, Duraflex Hardware, Woojin Hardware, X-Pac, CORDURA® Nylon

Manufacturing Country

China

Laptop Compartment Size

16"

Warranty Information
Full Review
Get up to 10% off Aer • Join Pack Hacker Pro
It's no secret that we really liked Aer's original Travel Pack when we first reviewed it. It was a good one-bag solution for those who don't want to be overly encumbered with suitcases and bags on their flight (i.e., us). In fact, the follow-up Travel Pack 2 was our bag of choice for our Digital Nomad Packing List—was. Enter the Travel Pack 3, the third iteration of the collection, and it has the unenviable task of upstaging its already-great predecessor. With a long list of upgrades—both subtle and explicit ones—we think it has what it takes to become our new Digital Nomad bag of choice (spoiler alert: it does).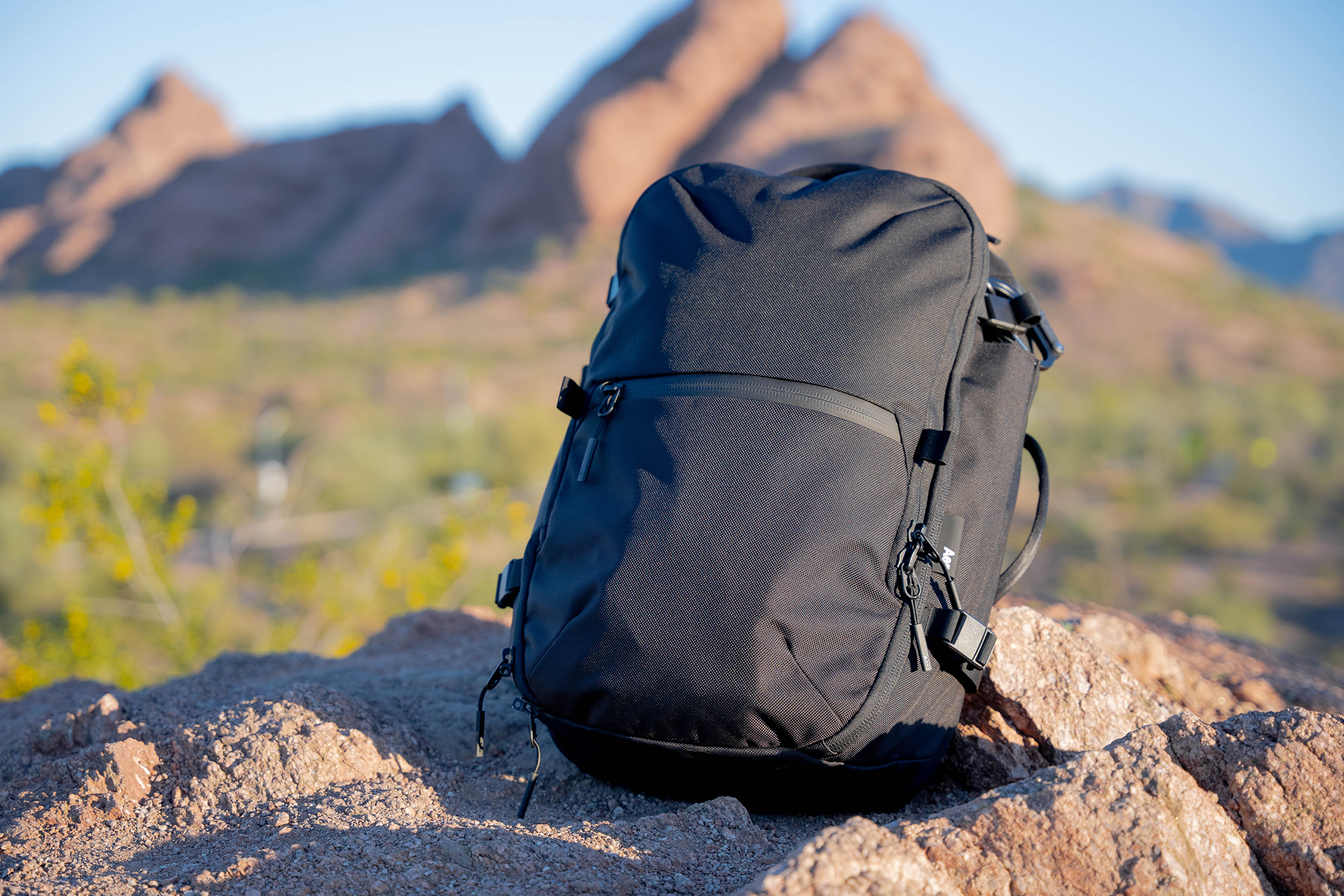 And there are a LOT of these upgrades to cover. The harness system welcomes back some old friends from the original Travel Pack: load lifters. Aer has also added magnetic buckles around the bag, which we're a bit let down by. We also say goodbye to the shoe compartment, which was in the two previous versions. Plus, the compression straps and compartment openings have been revised to improve access and ease of packing. If you're a visual learner, check out our Pack Hacker Pro-exclusive video to see exactly how we pack it. (If you're a pro member and you're logged in, click here.)
While we're welcoming some upgrades with the Travel Pack 3, some tradeoffs are tagging along with them. Now, let's move along with the review and meet who they are. Strap in because it's going to be a jam-packed one.
Materials & Aesthetic
As you might have already guessed based on the "3" in the name, the Travel Pack 3 isn't Aer's first take on the concept. They've pretty much nailed their desired aesthetic at this point—an aesthetic that we all dig here at Pack Hacker.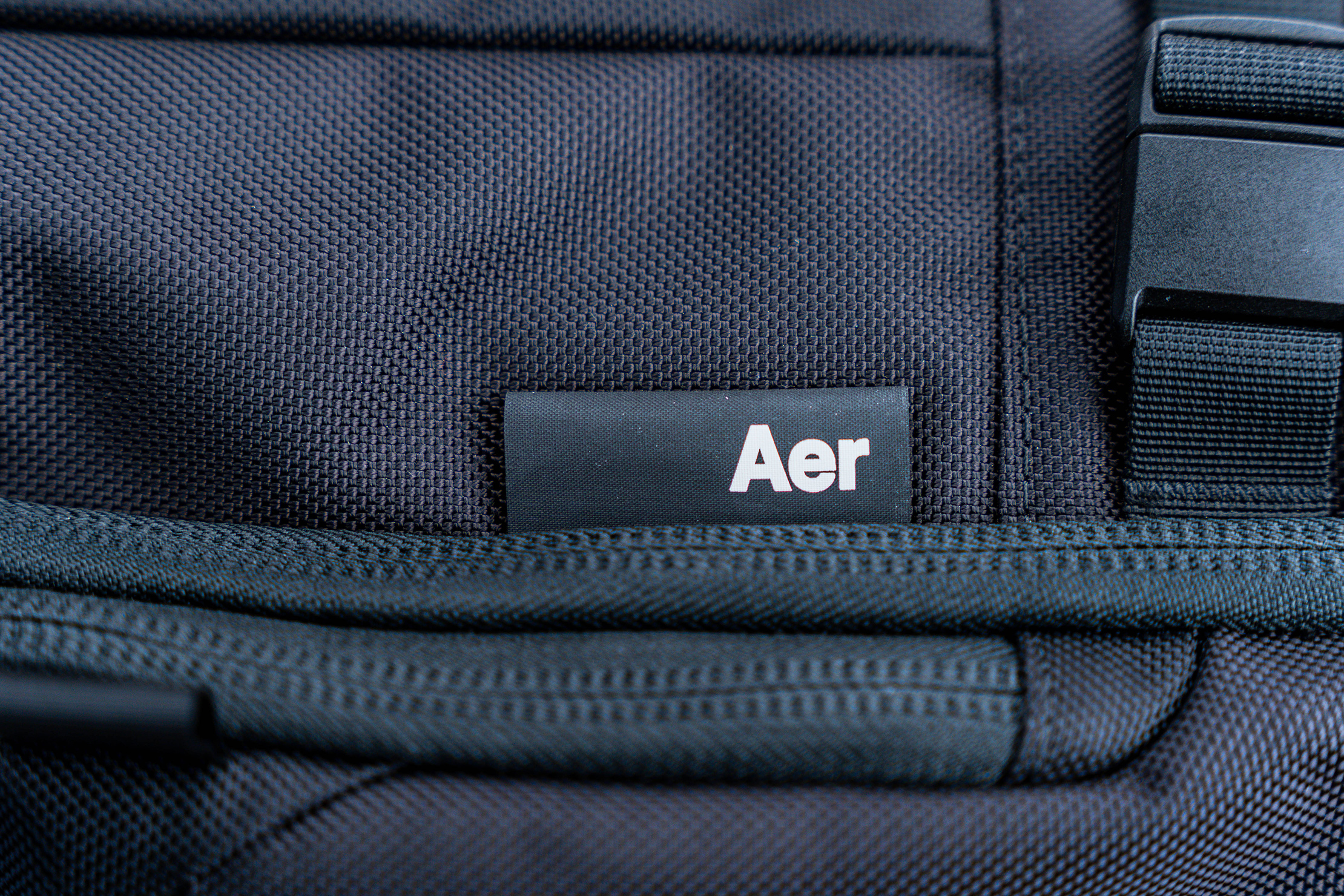 It's not just the black-on-black color scheme that we like. In spite of the now-larger 35-liter size, Aer has been able to keep the sleek looks. It still has their go-to styling cue of black ballistic nylon, a squared-off shape, and a bisecting zippered opening right at the front. They've scaled that design language up and down their product range from pouches like the Split Kit all the way to travel backpacks like the Travel Pack 3. Some design elements may shift from place to place, but Aer's done well to make their gear stand out from the pack.
We'll admit, it doesn't look drastically different from the Travel Pack 2. Unless you put them side-by-side, you might be hard-pressed to tell which bits and bobs are new. If you're coming from the previous version, there's nothing majorly different about the visual side of things. But hey, that doesn't mean there's nothing to get excited about (there's plenty of that to come later in the next sections). Rather, the lack of stand-out differences versus the previous model is just down to the minimalist approach the brand takes when it comes to design. Put another way, "If it ain't broke, don't fix it."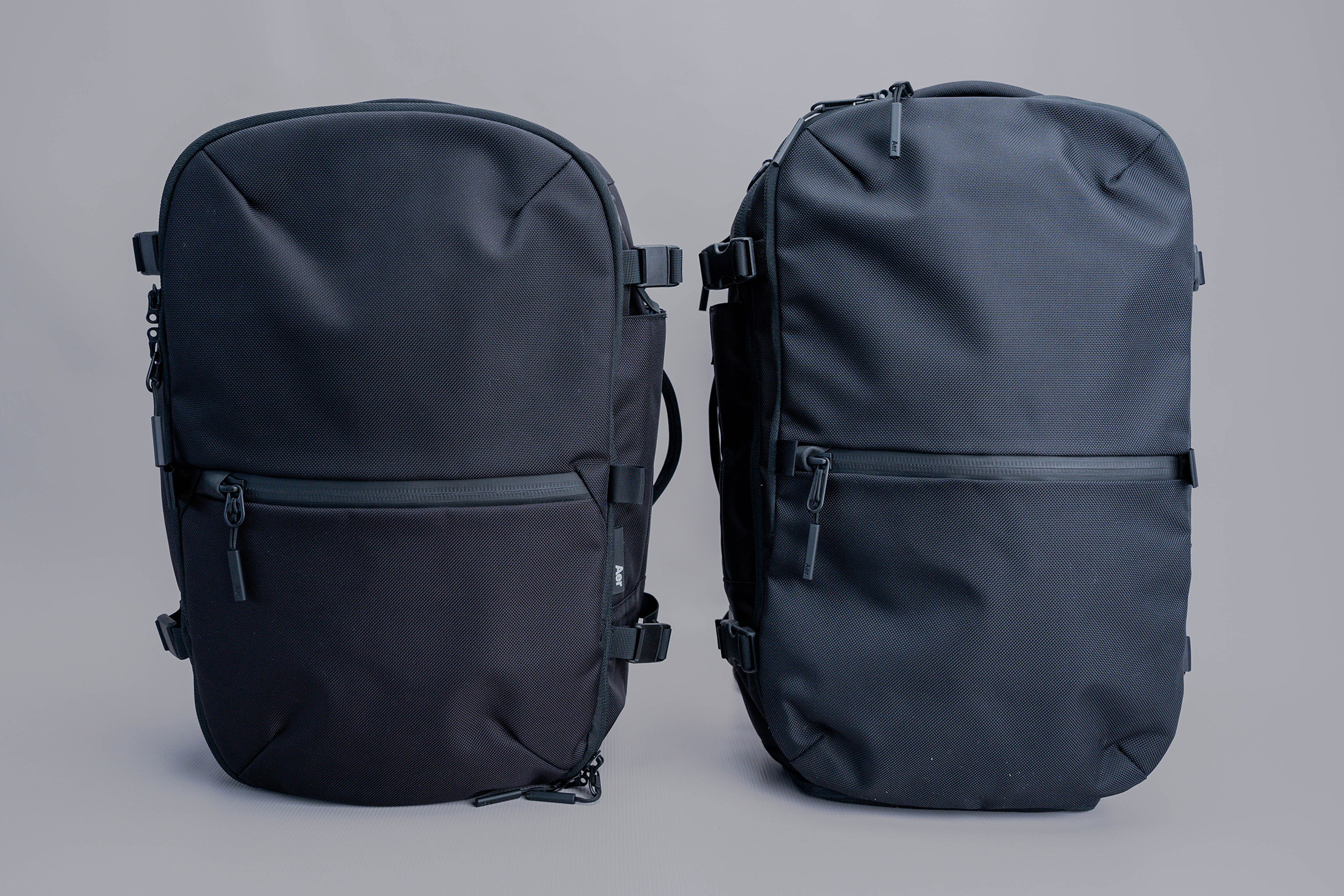 On that note, the Travel Pack 3 uses the same familiar material as the Travel Pack 2: 1680D CORDURA Ballistic Nylon. This time it's bluesign certified, so you know it's made with safety and sustainability in mind—good for the people making it, good for the environment. It's an extra tidbit of peace of mind that's oh-so-satisfying to have. Of course, the fabric still has that abrasion-resistant durability that a heavy denier brings along with it.
If you're looking for something even more water-resistant, the Travel Pack 3 is also available in X-Pac. Alternatively, Heathered Gray is also an option, featuring 700D CORDURA—it's a lower denier fabric, but it's also a different color if black's not your thing.
Needless to say, the Travel Pack 3 is about as well-built as we've come to expect from Aer (read: very well-built). The smaller details of the bag really help tie things together in this respect. The YKK zippers feel high quality, helped further by Hypalon pulls on some of them. On the subject of zipper pulls, the jingly-ness we observed from Aer's earlier iterations of their gear is practically gone. Paracord complements the metal pulls, and they're threaded through in such a way that dampens metal-on-metal clacking. The metal pulls themselves are smaller, too.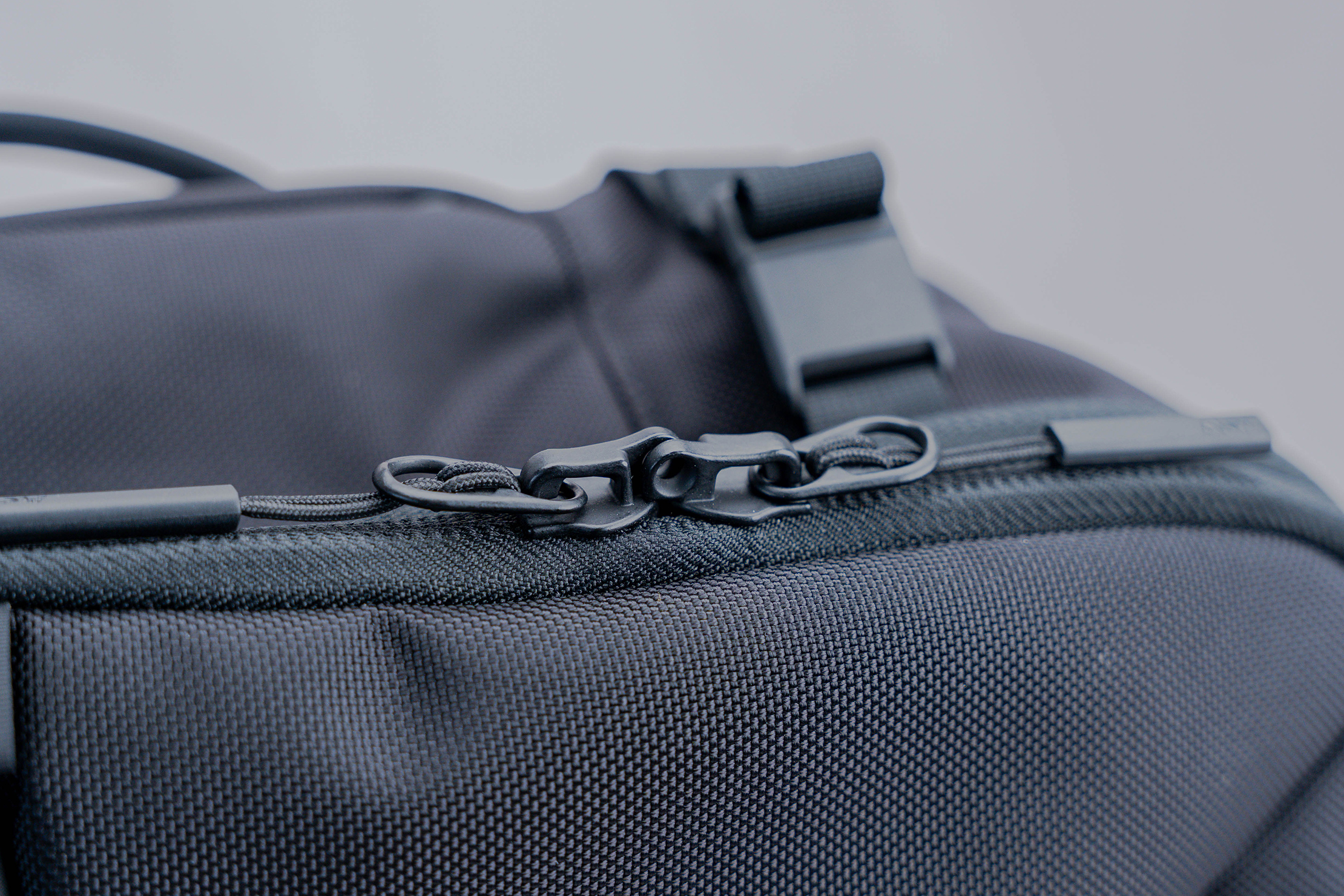 One of the most notable additions to this new version of the Travel Pack are the magnetic Woojin buckles. Magnets are a joy to use because of the tactile feedback when you engage and disengage them, which is why they're also great to fidget around with. However, we're not completely sold on their implementation on the Travel Pack 3, which we'll cover in the next section.
External Components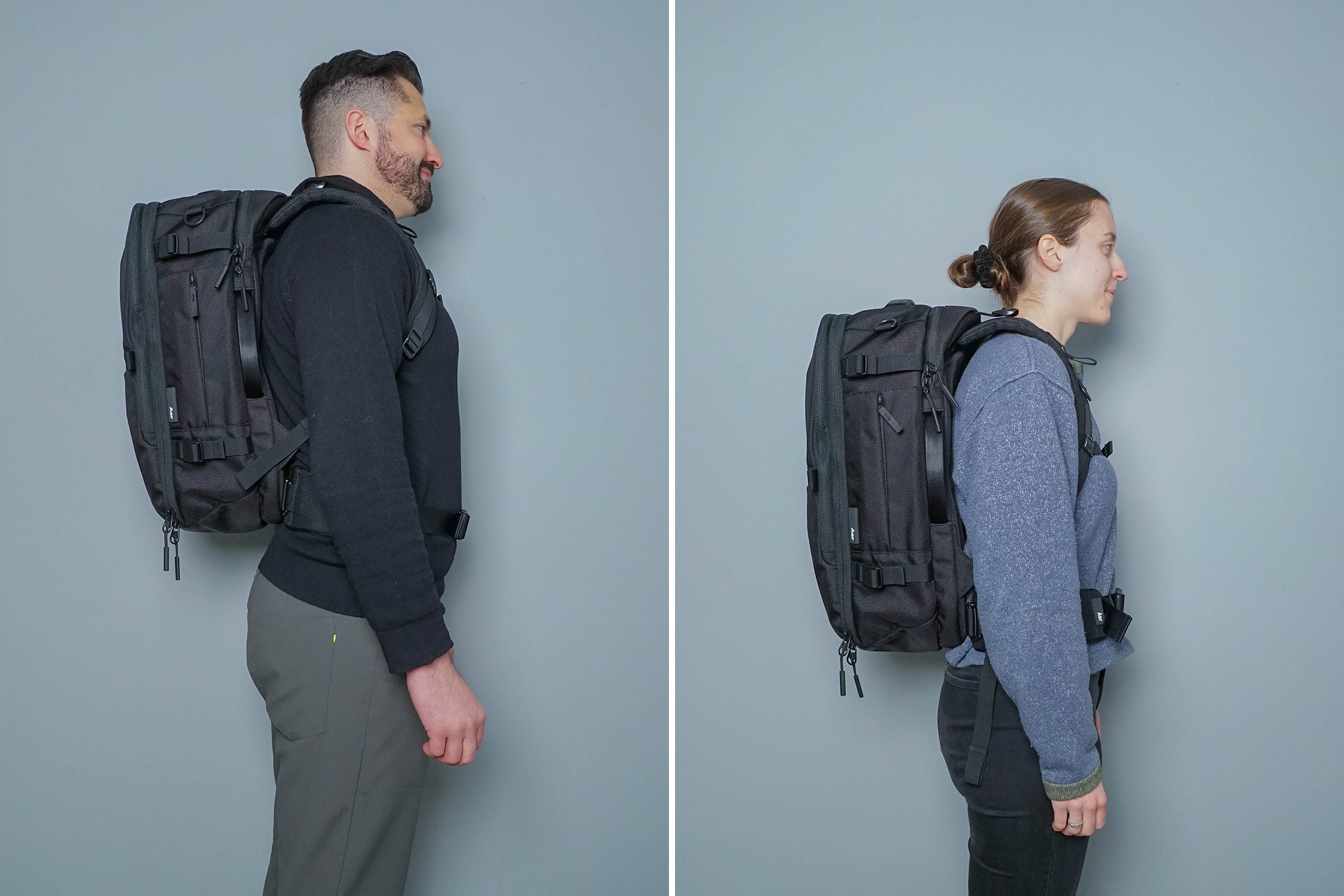 Since the Travel Pack 3 is a slightly bigger bag compared to the Travel Pack 2, changes to the harness system are welcome. Not that the Travel Pack 2 was uncomfortable to carry by any means, mind you. Just that, in our previous review, the changes made going from the Travel Pack 1 to the Travel Pack 2 felt like a bit of a tradeoff. We're, of course, talking about the addition of the (optional) hip belt but the removal of the load lifters.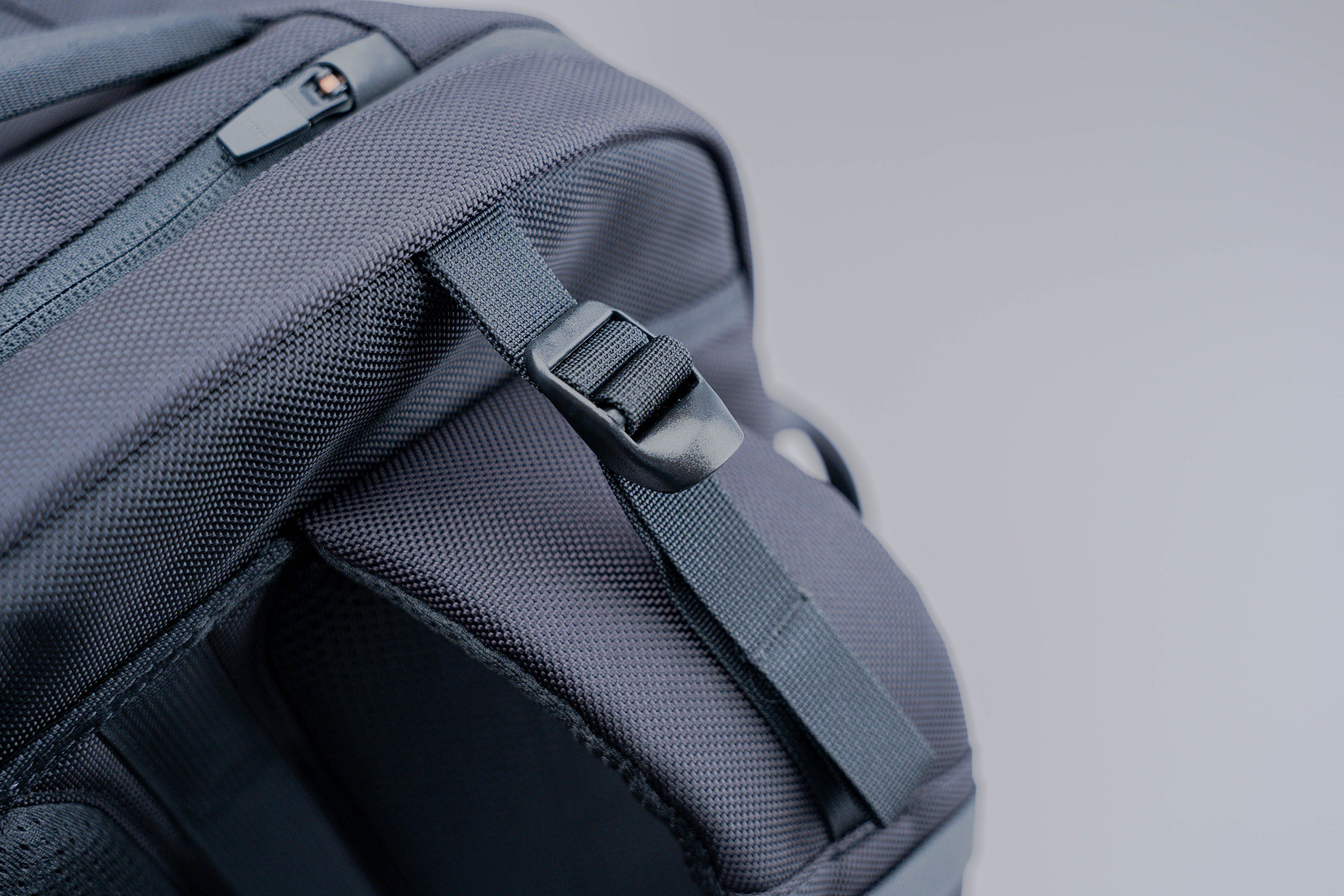 Now that tradeoff is now effectively nullified. The load lifters are back on the Travel Pack 3 along with the option to add a hip belt, and Aer's managed to solve one of the reasons they were omitted from the previous Travel Pack in the first place: to reduce the number of dangling straps. The solution is simple enough: strap keepers. Just below where the load lifters are, there are flat loops on the shoulder straps where the extra slack can be threaded through.
What are load lifters anyway? Simply put, they're straps anchoring the upper portion of the shoulder straps to the top edge of the bag's structure. Their ultimate purpose is to pull the bag toward your back, lifting some weight off your shoulders and preventing the bag from sagging and creating that sensation you're being pulled backward. While they may not be strictly necessary on the 35-liter Travel Pack 3, they do make a noticeable difference in carrying comfort.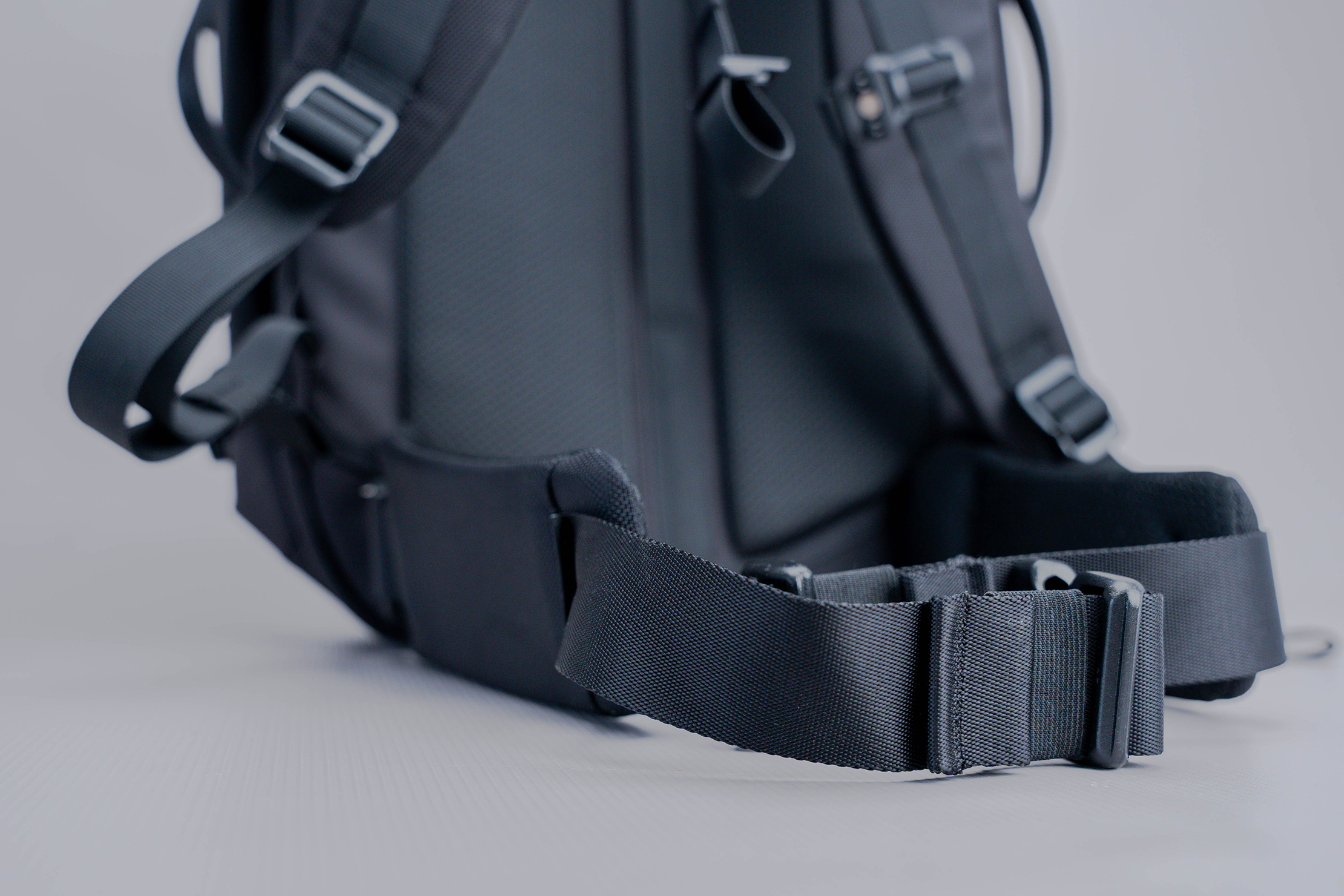 On the opposite end of the bag are two nylon loops where you have the option to attach the aforementioned hip belt (sold separately) via gatekeeper clips. Like load lifters, a hip belt also helps shift the weight of your pack, but this time to your waist area, which can more comfortably handle the pounds. The strap itself is wide and thickly padded, with a correspondingly beefy side release buckle in the middle.
Like the load lifters, it's not an absolute must-have unless you really have the Travel Pack 3 loaded to the brim. Side note: when not in use, this hip belt can poke you in the sides if it's not folded right. Good thing it's removable, so you can just pack it away or leave it at home when you don't need it.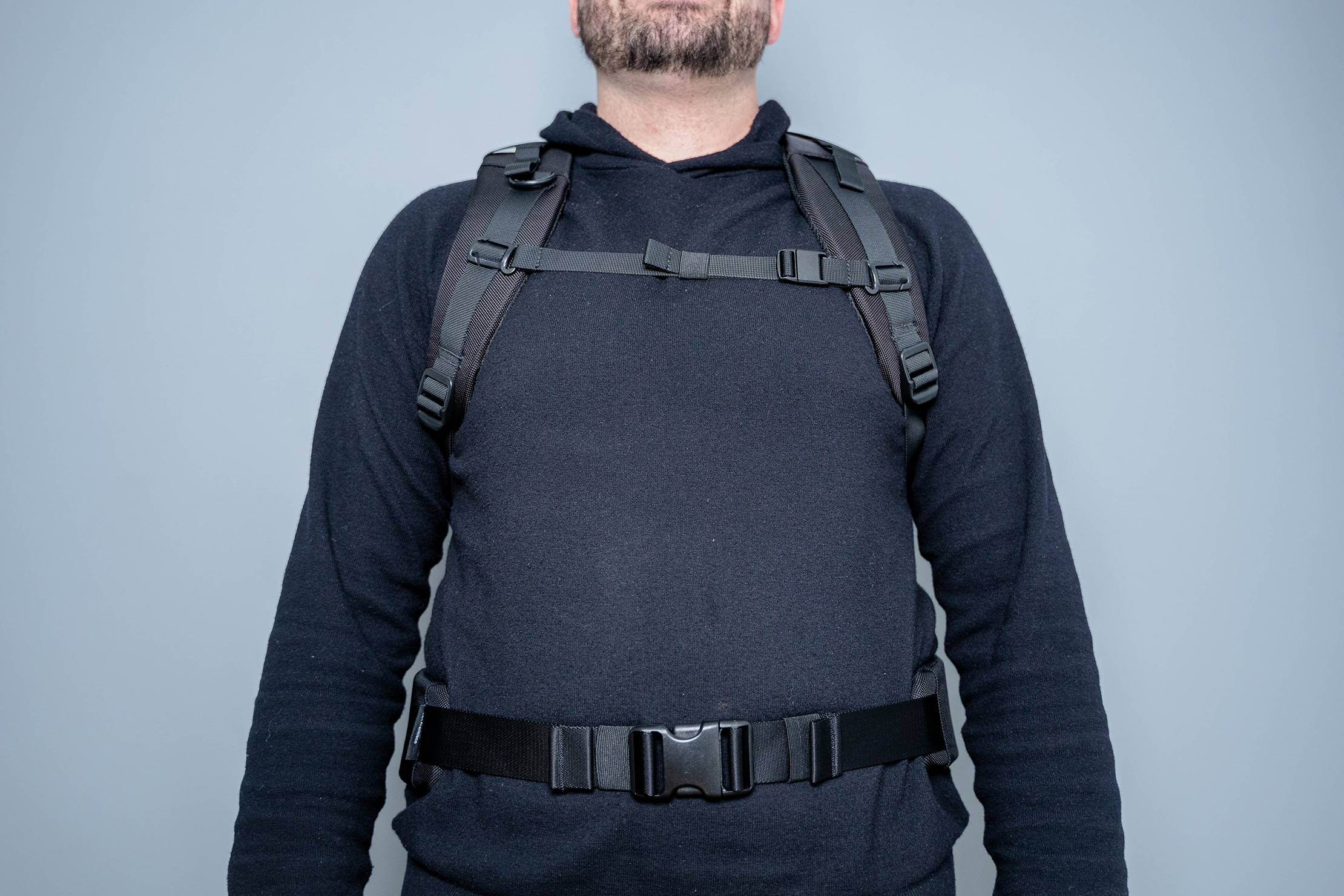 Supportive load lifters and a hip belt are good and all, but the basic comfort of a backpack still lies on its trusty pair of shoulder straps. The good news is that the Travel Pack 3's are just as comfortable to shoulder as we remember them on the Travel Pack 2. In fact, we'd say they're even more comfortable because side-by-side, the Travel Pack 3's are a little bit wider and somewhat thicker. However, the latter may be because our Travel Pack 2's straps are quite broken in.
Nonetheless, they're very comfortable to wear, especially once you take full advantage of the load lifters and hip belt, even though the Travel Pack 3 has an additional two liters of storage over the previous version. Keep in mind comfort is relative, and your mileage may still vary depending on your body type. For example, those with smaller frames may not feel as comfortable with the wide shoulder straps.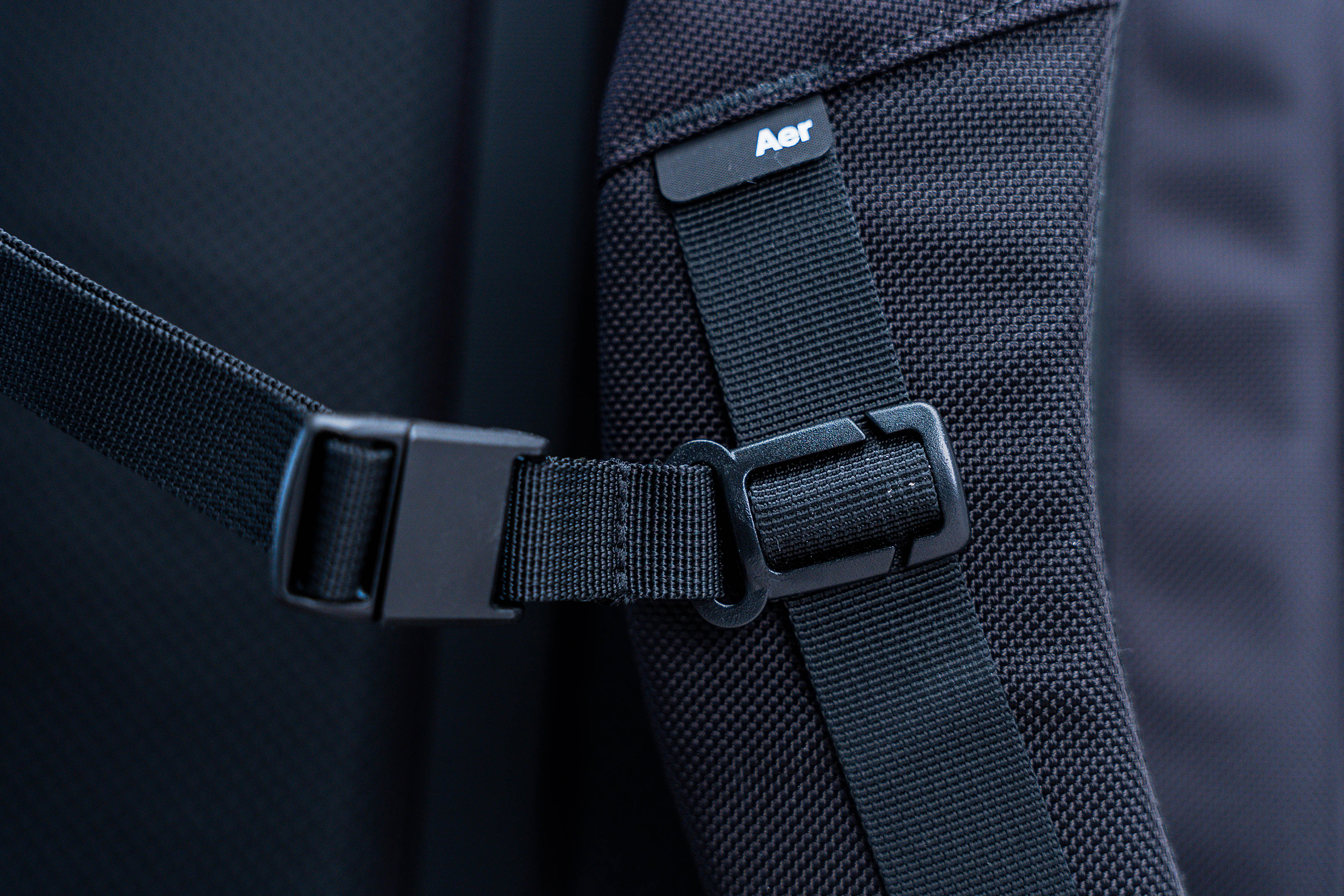 There's also a D-ring at the top of one of the shoulder straps, which was previously on the left side for the Travel Pack 2 but is now on the right. We're not quite sure why they moved it, but we're fine with it on either side, and it is handy to have.
There's also a sternum strap, and while the vertical adjustment is sliding (and that's our favorite kind), we're less enthused with the magnetic buckle. There's technically nothing wrong with it since it works as intended. However, we do feel it's a bit unnecessary for a sternum strap compared to a much simpler side release buckle. In our experience, a side release buckle is better because it simply plugs and clicks. Meanwhile, a magnetic buckle needs to be pulled inwards to unclasp, which is slightly discomforting if you have it well-tensioned. It's a tiny detail, but something we definitely notice in day-to-day use.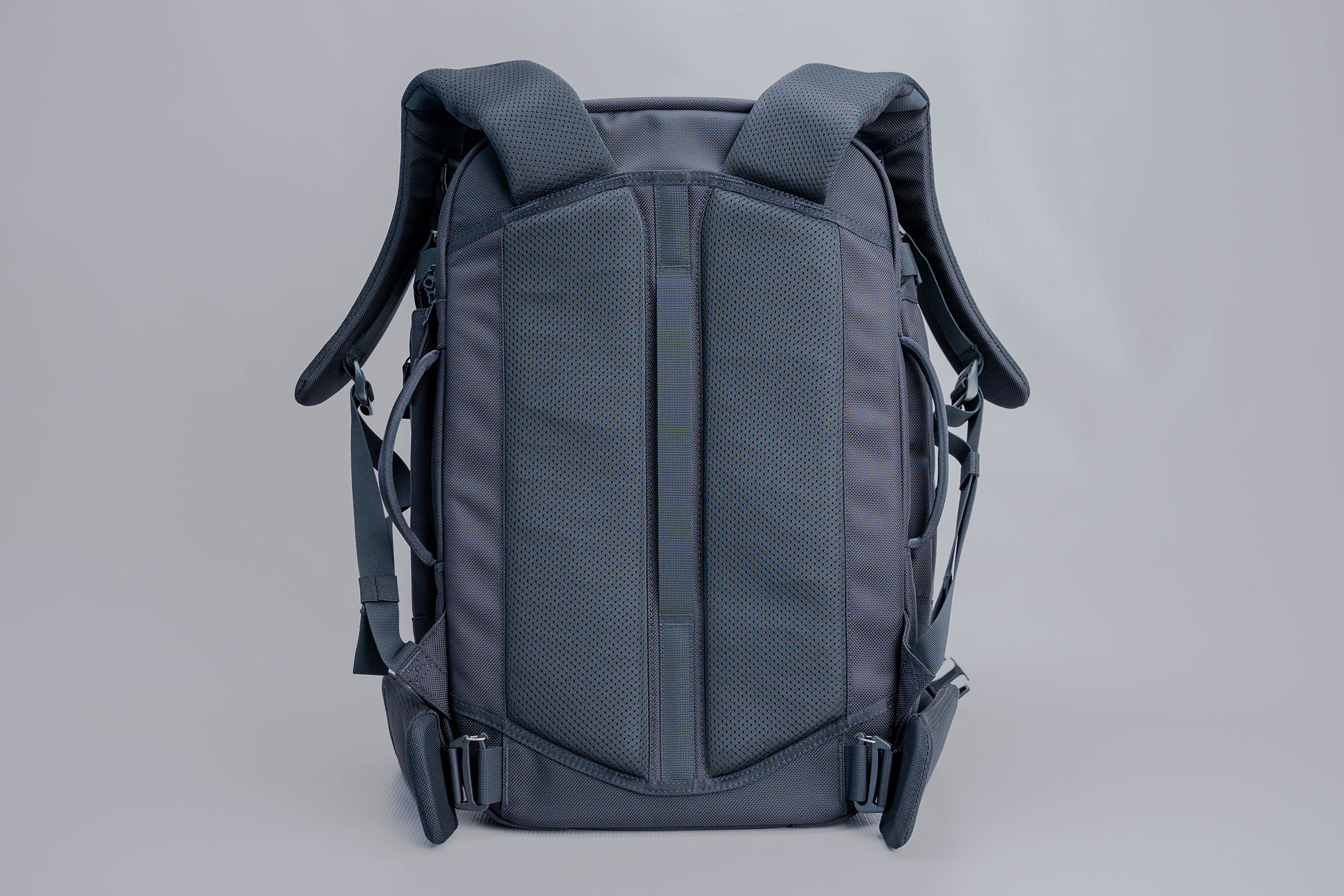 Other things to note about the shoulder straps include them not being stowable. We've seen this feature on other travel bags like the Peak Design Travel Backpack 30L and THULE Subterra Convertible Carry-On. We don't find the lack of this feature to be a huge loss since we like having them out and ready all the time for our one-bag trips. It's a feature that's more prevalent among bags with multiple carry options, which the Travel Pack 3 isn't. Silver lining: if you're looking for this feature in order to avoid dangling straps, there are elastic strap keepers built-in with the sternum and shoulder straps that keep their slack in check.
The back panel remains mostly unchanged from the Travel Pack 2 in terms of design. There are two foam panels with a vertical air channel in the middle. The foam is covered in a mesh fabric which allows the material to breathe and minimizes heat. Comfort-wise, the cushioning does well to make the Travel Pack 3 feel less boxy and flat. For times when the bag isn't on your back, there's a strap embedded in the air channel, intended as a luggage pass-through in case you want to hitch the bag to your roller.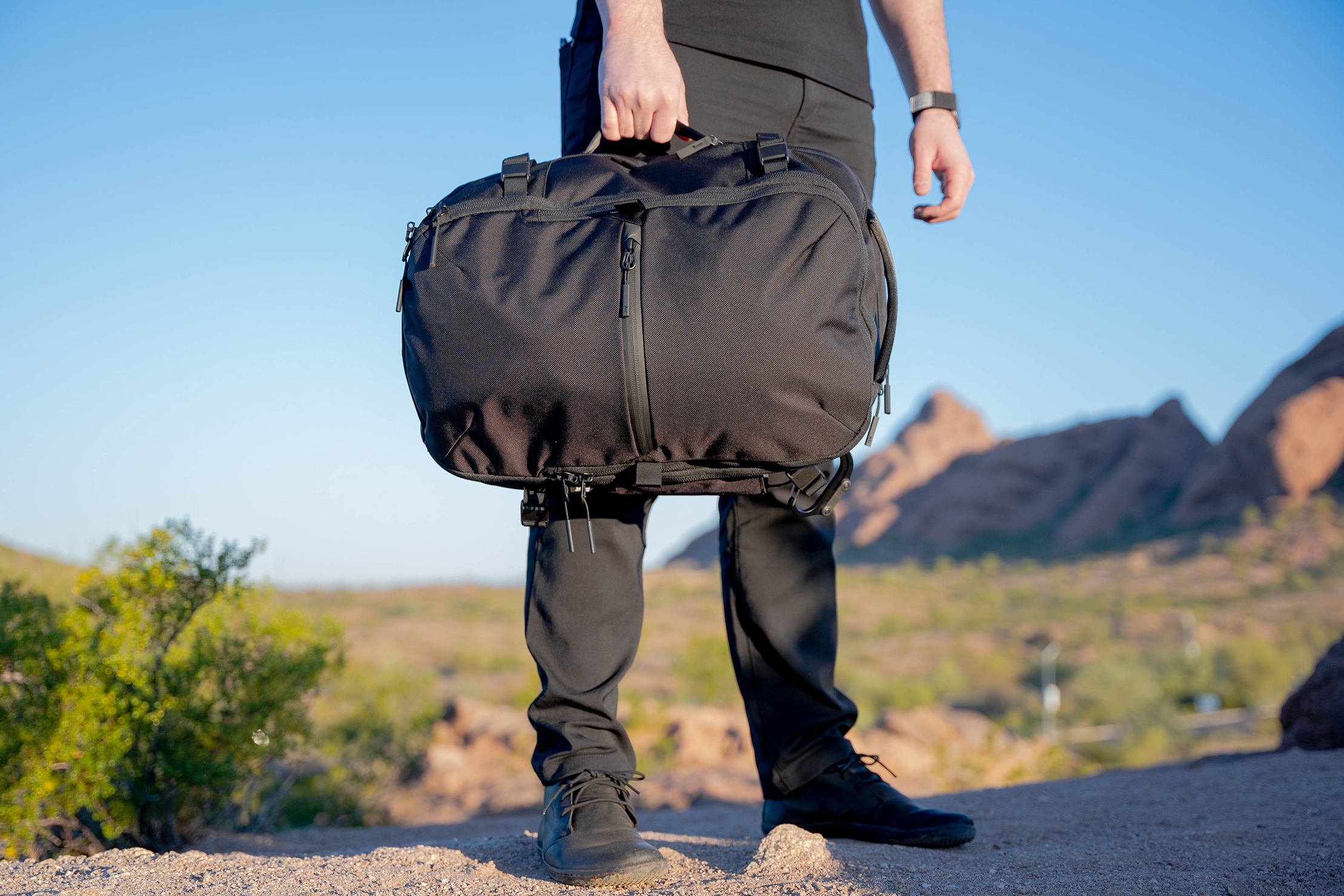 Alternatively, there are handles along the edges (top, bottom, and both sides). The top handle is easily the most padded among the four. Our only nitpick is that it's located far in the middle of the bag. This makes it almost impossible to hang on shallow hooks in restroom stalls (and no, there isn't a loop between the shoulder straps, either).
The side handles have some thickness to them, and they're made from slick seatbelt-like material. As opposed to the centrally located top handle, they're positioned more towards the side of the back panel. This means that when we're carrying it briefcase-style, the bag leans and feels lopsided. There's also a plain nylon strap at the bottom, mostly for "pull-it-out-of-the-overhead-bin" scenarios.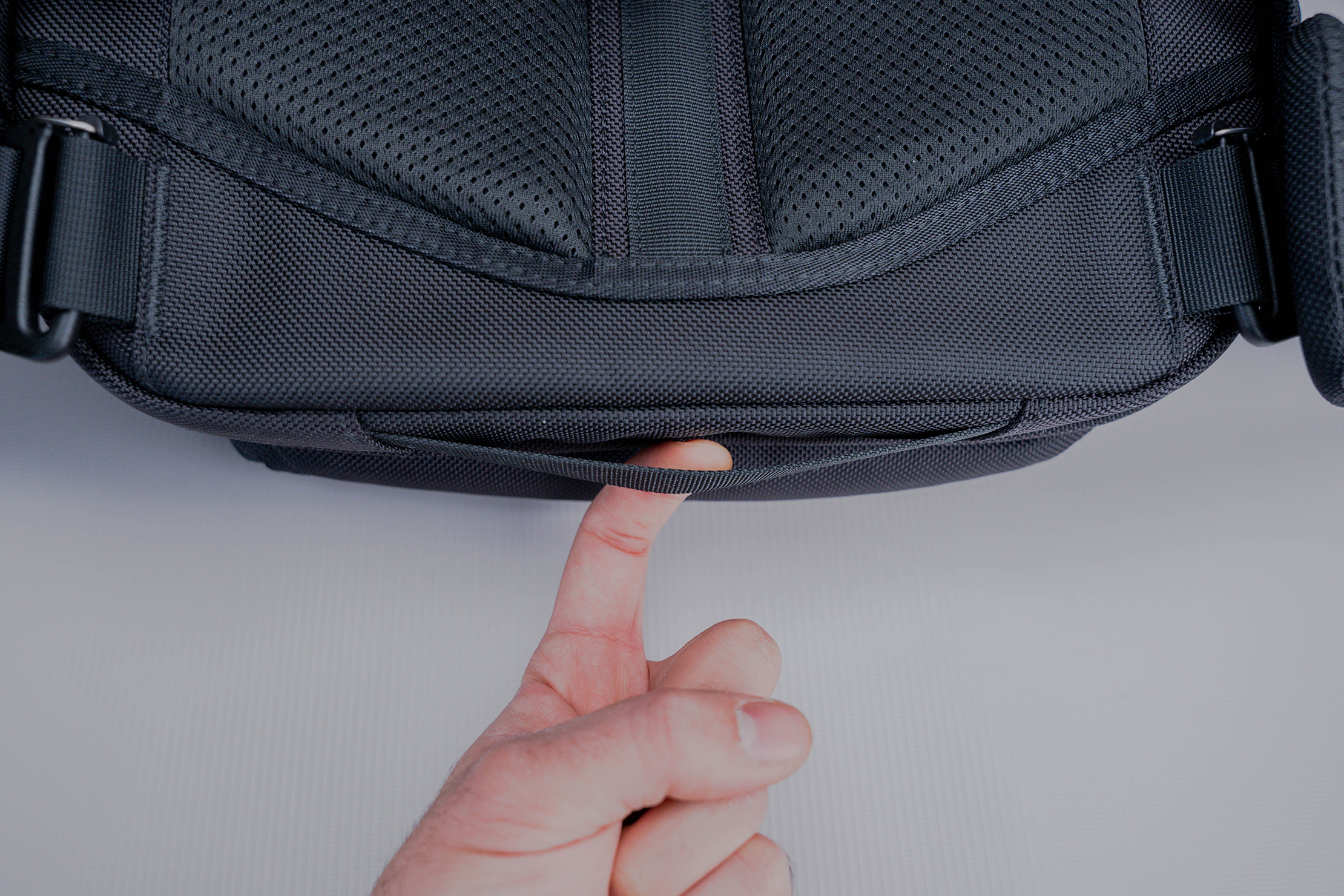 Despite the nitpicks on the handles, they do their job well when we need to move the relatively weighty Travel Pack 3 over short distances. We're talking about moving to another seat in an airport terminal, across your hotel room, or just passing it among your travel companions.
On the right side of the Travel Pack 3 is a water bottle pocket that sits flush against the bag. It's held down by a zipper, another feature carried over from the previous version, which we like. Unzipping reveals the stretchy mesh fabric inside that gives the pocket its expandability. For context, our fairly slender 21-ounce Hydro Flask doesn't sit all the way down on the non-flat floor, nor is it firmly gripped by the elastic. On the other hand, our wider 32-ounce Nalgene Wide-Mouth fits more snuggly.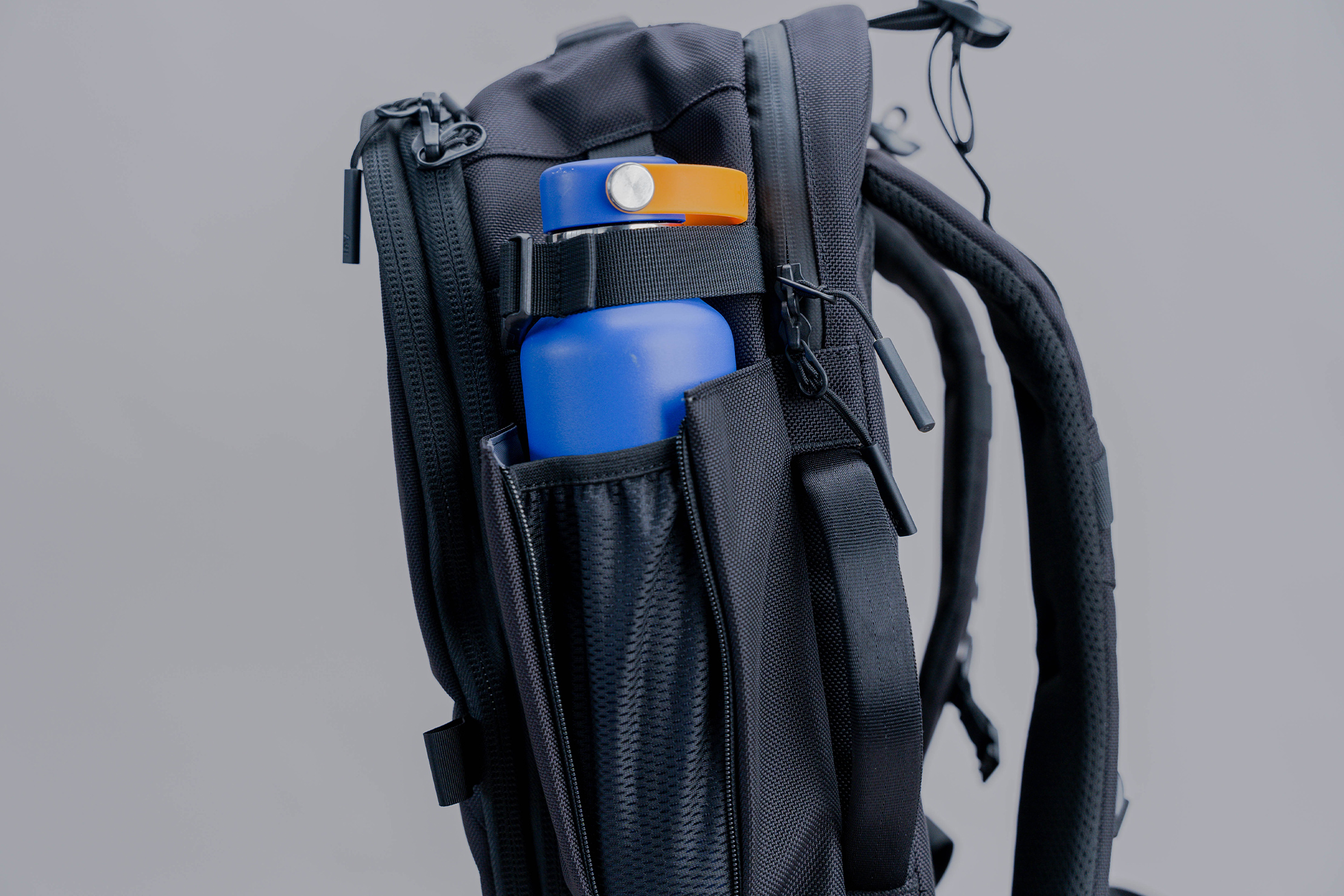 Above the water bottle pocket is a D-ring, a carry-over all the way from the original Travel Pack. Fun fact: this was originally intended as an attachment point for a detachable shoulder strap Aer ultimately didn't implement. The D-ring is still here, though, and you can use it for other purposes like securing the handle of a water bottle or simply hanging accessories like luggage tags and keychains.
Aer made major revisions to the four compression straps, too. We must say these are the most exciting to us because it affects accessibility and ease of packing—two crucial aspects for any travel bag. In the Travel Pack 2, the compression straps went over the zippered openings of the bag; not so for the Travel Pack 3.

There are still four of them: two on each side of the bag. This time, Aer moved the openings further forward so that the straps don't go over them. Another change is the move to magnetic buckles instead of side release ones. As with the sternum strap, we're not quite satisfied with these because there are instances where they disengage on their own. However, since there are four of them, and if they're tightened enough, the issue isn't catastrophically bad—a minor inconvenience at most. Just be sure you hook any gear to them, as it'll fall off if they come apart.
One of the main uses of compression straps is turning relatively large travel backpacks into something more daily drivable (i.e., more daypack-like). In this regard, we think the Travel Pack 2's simpler, more secure compression straps are the better solution (zipper overlap notwithstanding). In contrast, the Travel Pack 3's larger size and less secure buckles toe the line between daily drivable and strictly travel.
Inside The Backpack
All of that capacity is put to good use, though. The Travel Pack 3 is packing compartments and pockets—lots of 'em. We've already shown you the water bottle pocket on the right side. In addition to that, there's also another zippered pocket on the opposite side of the bag.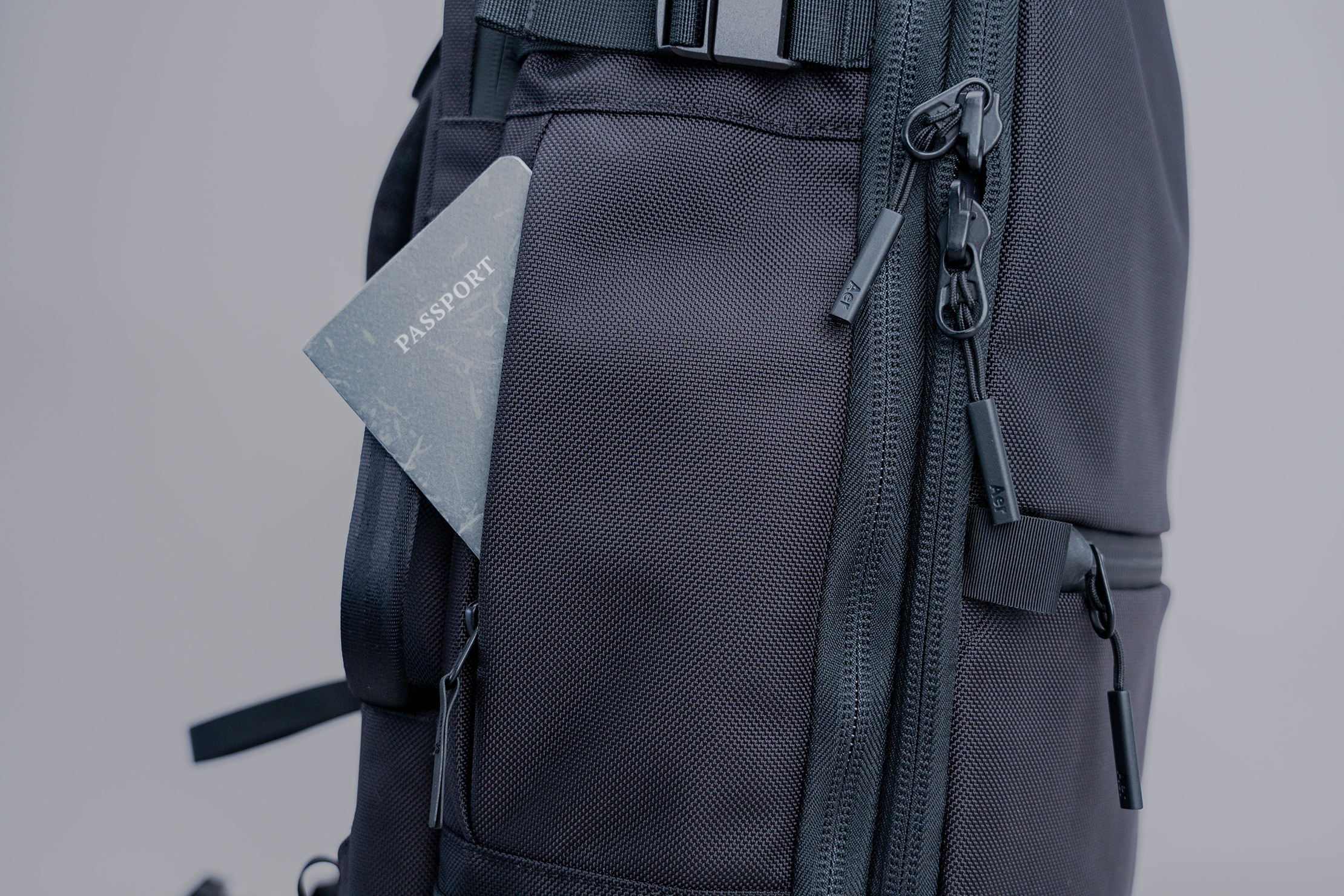 It's very stealthy and great for quick-grab items like a passport and wallet. The opening of the pocket itself is fairly shrouded by fabric; you wouldn't guess a pocket is hiding underneath if not for split in the pack's material—the telltale sign of a zippered opening. The fabric shroud has enough space underneath to tuck the zipper in, hiding it completely.
Next is the top quick-grab pocket. This is geared more towards fragile or easily scratched items like a smartphone or a pair of sunglasses. Inside, the inner fabric is a soft and thick liner that's less abrasive than regular polyester lining. The only downside is that the fabric is completely black, so it's best to avoid putting small accessories like black memory cards in there.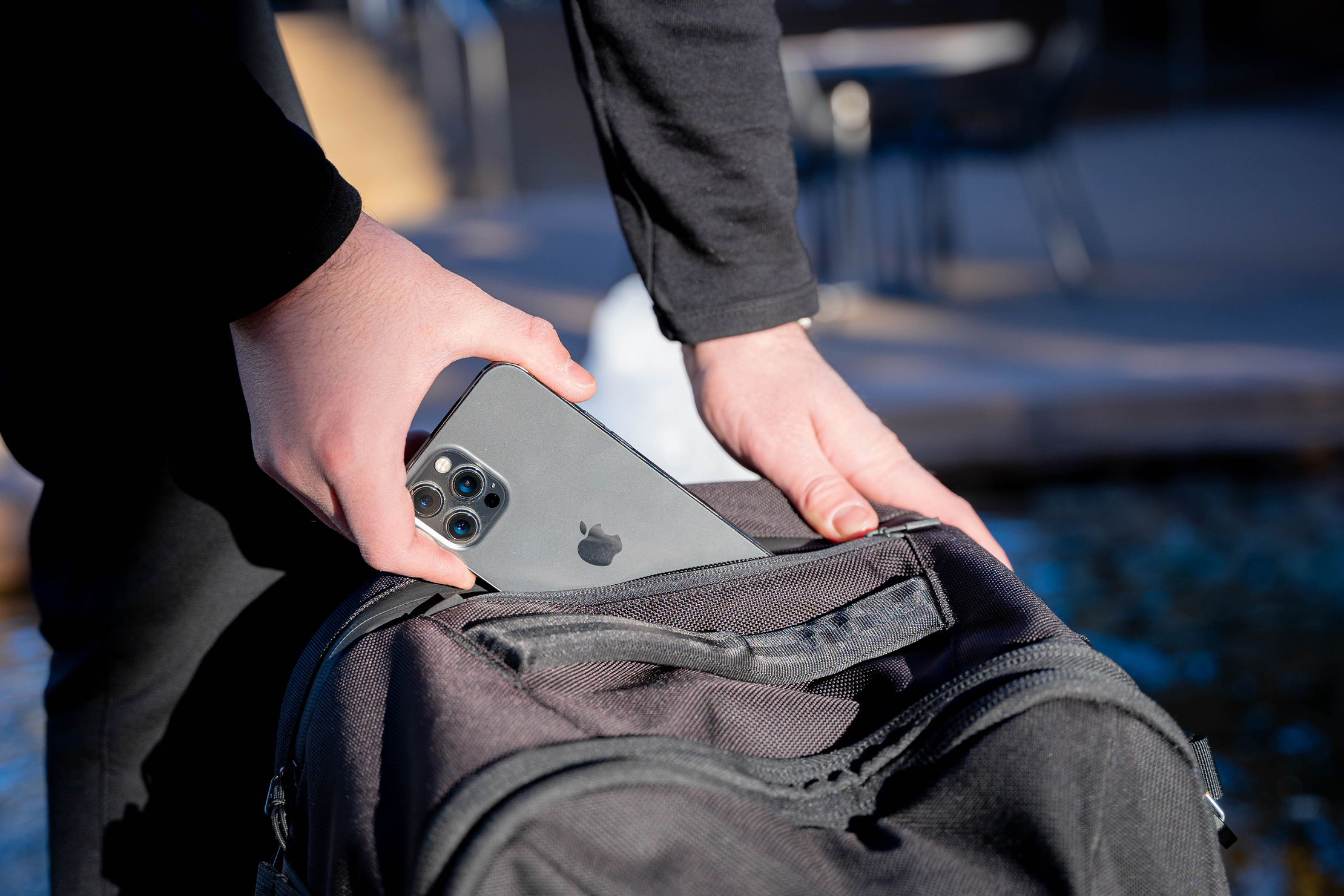 Since the opening uses a self-locking YKK zipper, you can also stash a mid-sized power bank inside and route a charging cable out of it. Simply leave a small hole for the cable and fold down the metal zipper pull so that it stays in place.
If the top and side pockets aren't enough, there's still plenty of space inside the front pocket. Its coverage practically spans the entire lower half of the Travel Pack 3's front, meaning it's deep enough to stash our folded jacket inside (though this still depends on how packed the main compartment's pockets are). On the flip side, its depth means that using a pouch is recommended to prevent smaller items from getting mixed up. The only exception are keys since there's a built-in key clip. We're happy to report that it's a solid key clip, too, one that feels way better than the plastic-y ones Aer has included in the past.

Despite the pocket's depth, access remains quite good. The YKK AquaGuard zipper serves both as a distinguishing visual feature and a water-resistant barrier between the elements and what's inside. It's flanked by a pair of nylon tabs, making zipping and unzipping easier, especially when the bag's tightly packed.
Around the back, the Travel Pack 3 comes with a dedicated tech compartment where you can put your laptop and its accessories. The laptop sleeve fits around our 16-inch MacBook Pro with room to spare. There's also a false bottom, which is something Aer also added on a second iteration of the Travel Pack 2. However, the laptop sleeve is only raised about an inch from the base of the bag, and we feel this could have been more. The Travel Pack 3 is a relatively large backpack, so we think there's room for the sleeve to be shifted an inch further upward to add a little extra protection.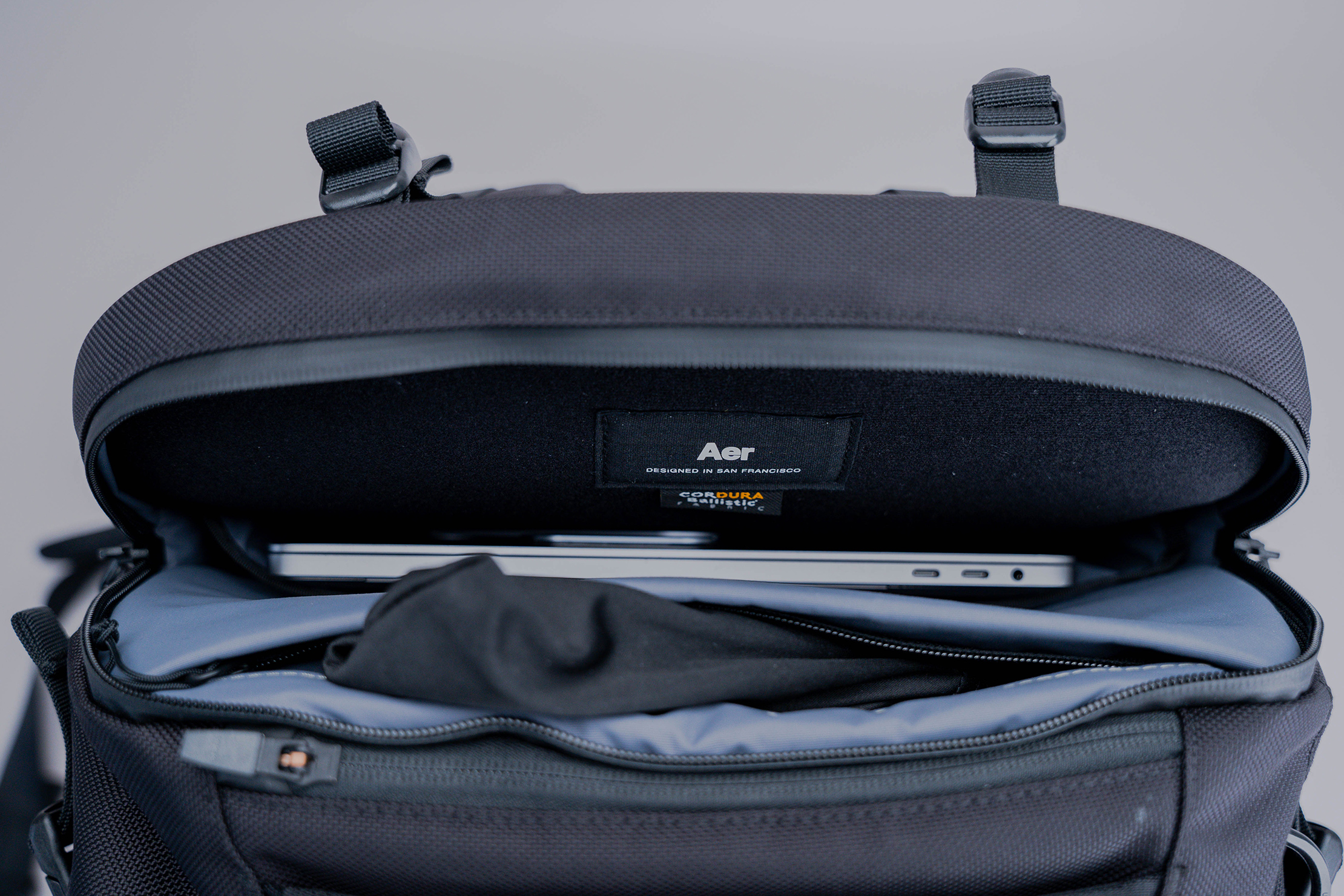 There's also space in the middle if you need to carry a folder of documents around. Near the top of the opening is a zippered pocket for tech accessories. It's a prime spot to put long laptop charging bricks or a small tech pouch. On the other hand, we use it to stash our packable hat since the pocket is relatively easy to access. Really, with so many pockets in the Travel Pack 3, you're free to make use of all of them as you see fit.
One neat design element of the Travel Pack 3 is how the upper portion of the tech compartment is wedge-shaped. This allows the back panel to better contour around your upper back and shoulders, most notably when the load lifters are tightened down. It also gives the zippered pocket inside and the top quick grab pocket more space to occupy and minimizes how much they press against each other. You can check out the photo below to get a clearer picture of what we mean.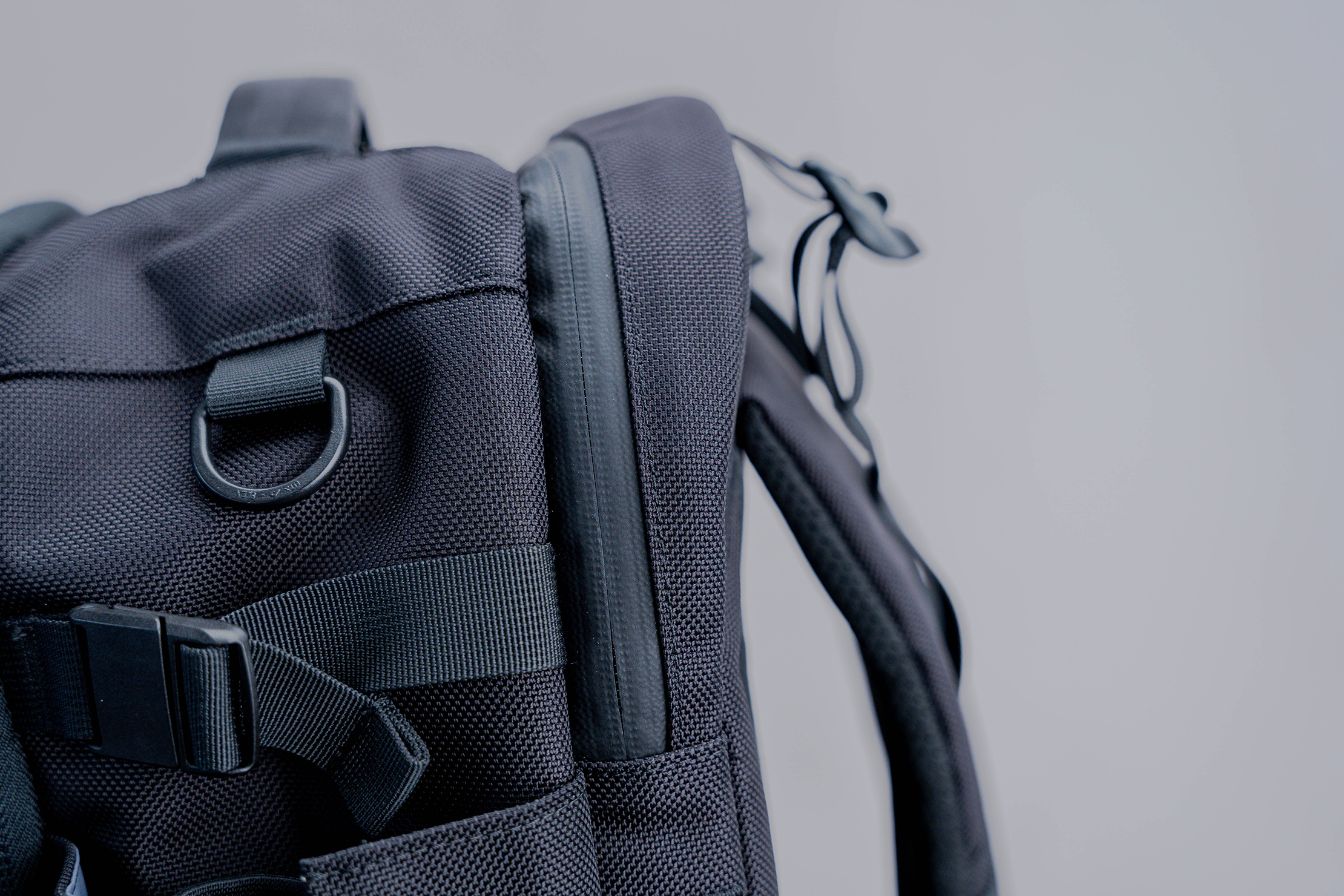 It's a very small and subtle attention to detail that really highlights the amount of thought that goes into designing the Travel Pack 3.
The Travel Pack 3's isn't out of pockets just yet. At the front is an admin panel that acts as the bag's secondary main compartment. This is where the bulk of the bag's organization is allocated. Granted, the pocket layout hasn't changed much from the Travel Pack 2, but we guarantee you things have been improved.
First, the horseshoe-style opening now goes about an inch lower than the previous version. This keeps items like pouches and organizers more accessible when they're stuffed into the lowermost area of the compartment. Second, the compartment's material, stitching, and seams look a lot cleaner. The most noteworthy visual distraction they've managed to hide is the piping around the edges. The reinforcement is still there, but it's now much more integrated and seamless.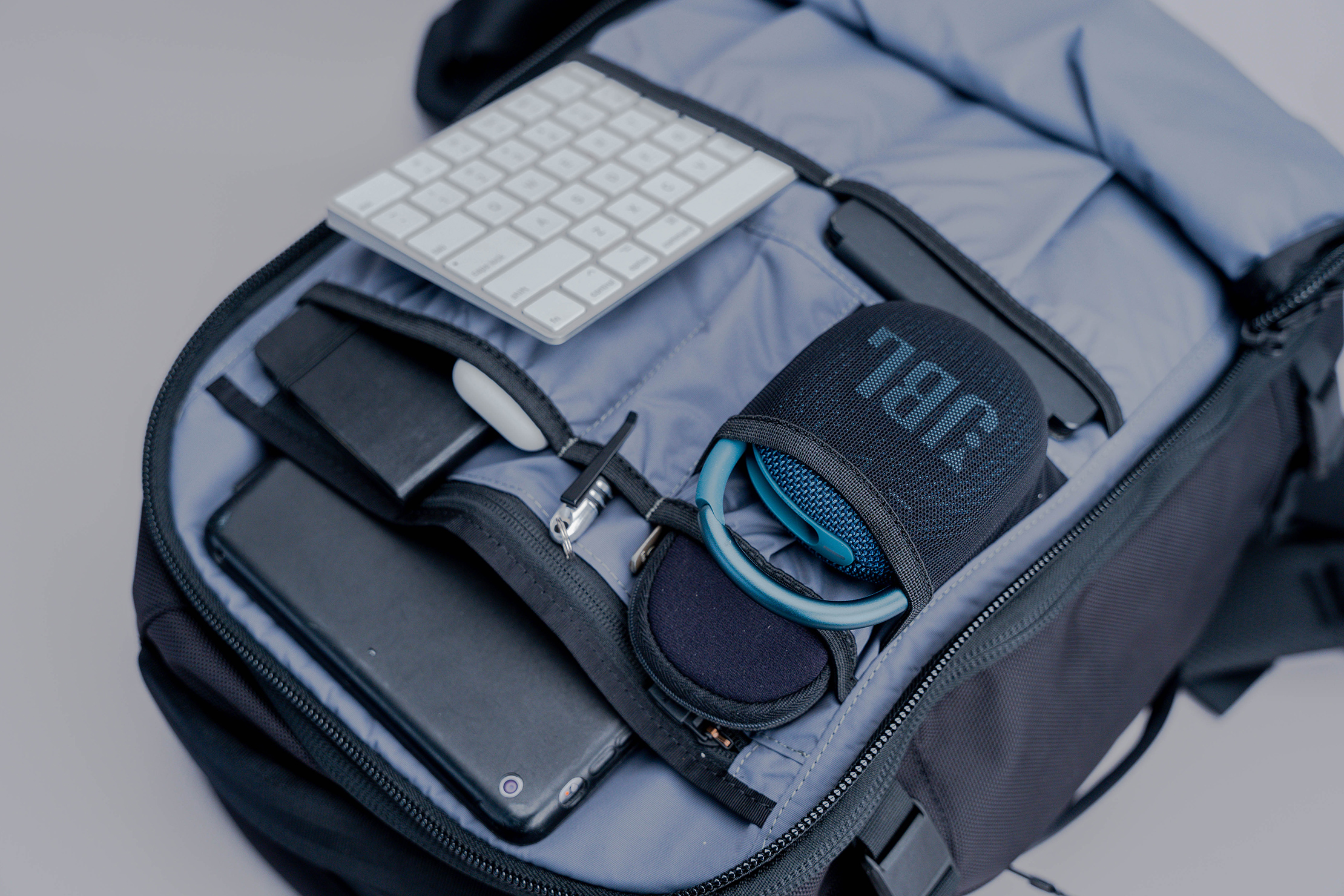 There are two liner pockets for items like our MacBook Pro's charging brick and Magic Keyboard. The row above that is populated by a small mesh pocket in front of two liner pockets flanking a pen/stylus slot. This row is better suited for smaller items we more frequently use, like our AirPods, Magic Mouse 2, and Field Notes notebook. The topmost zippered pocket is a good storage space for smaller paper documents like tickets, receipts, and travel guides. Behind that is a tablet sleeve that can fit up to a 12.9-inch iPad Pro or similarly-sized documents.
There's a fair amount of room inside this compartment alongside the vast array of pockets. Our key observation here is that despite the number of pockets, it doesn't feel overwhelming, nor do any of them feel conflicting. We've seen bags like CODEOFBELL's X-CASE where some of the pockets inside are tricky to access because of its design—not the case with the Travel Pack 3. Organization feels just right, with a lot of options offering storage flexibility.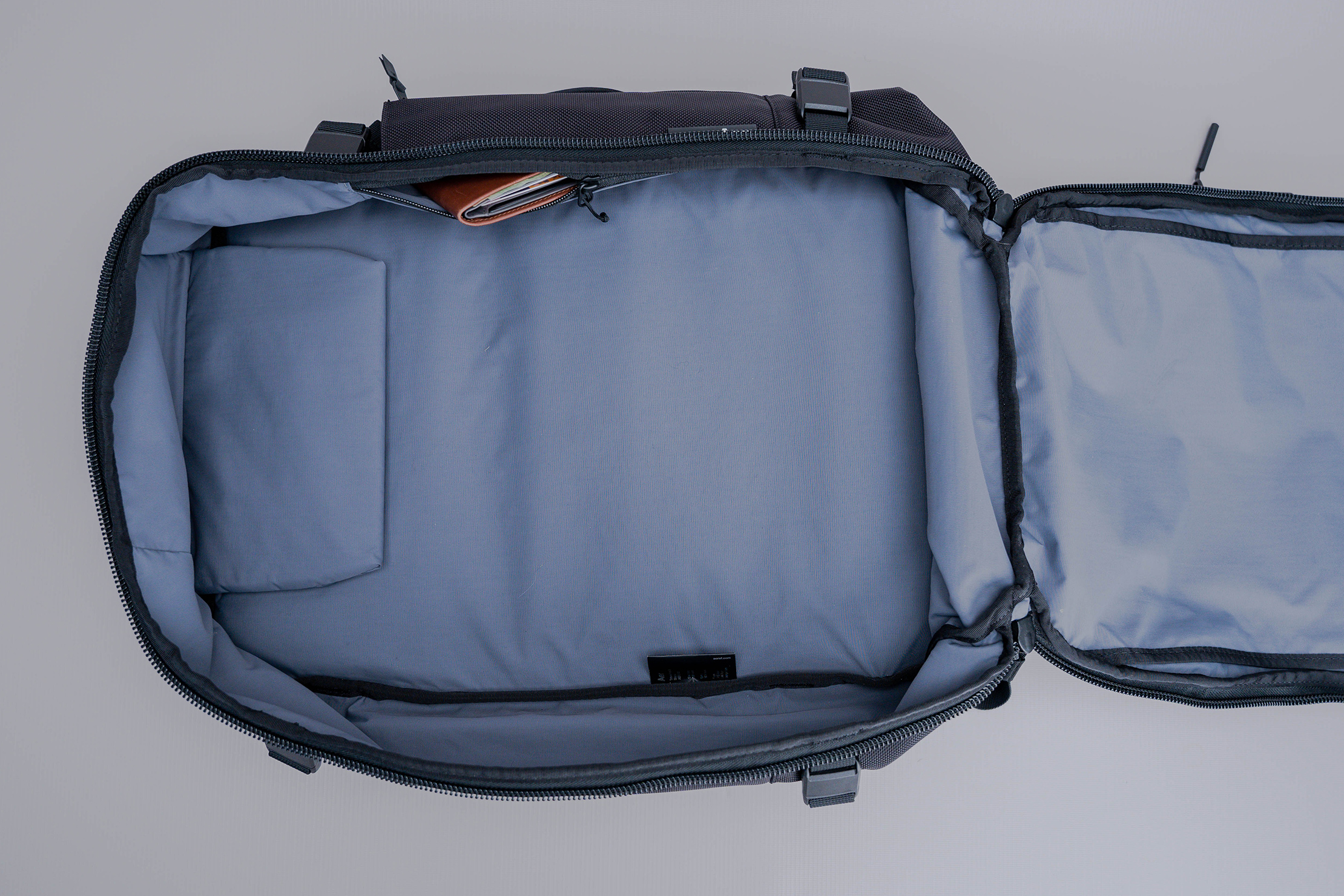 Last but not least is the main compartment. As we mentioned earlier, the compression straps no longer get in the way of the opening because it's been moved forward. As a result, the sidewalls of the compartment are noticeably higher than the Travel Pack 2's. In turn, this means packing is made easier because there's more bucket space to fill up.
It's the same design most travel backpacks with a similar clamshell-style opening have. The bag's boxier design fits packing cubes inside like puzzle pieces. While we do favor the use of packing cubes in general, we'd say they're necessary for the Travel Pack 3. There are no built-in tie-down straps, nor are there any attachment points to add them. Unless you're packing clothes tightly, chances are they'll get tossed around if they aren't secured in smaller pouches. That said, it doesn't mean the main compartment is devoid of any means of organization.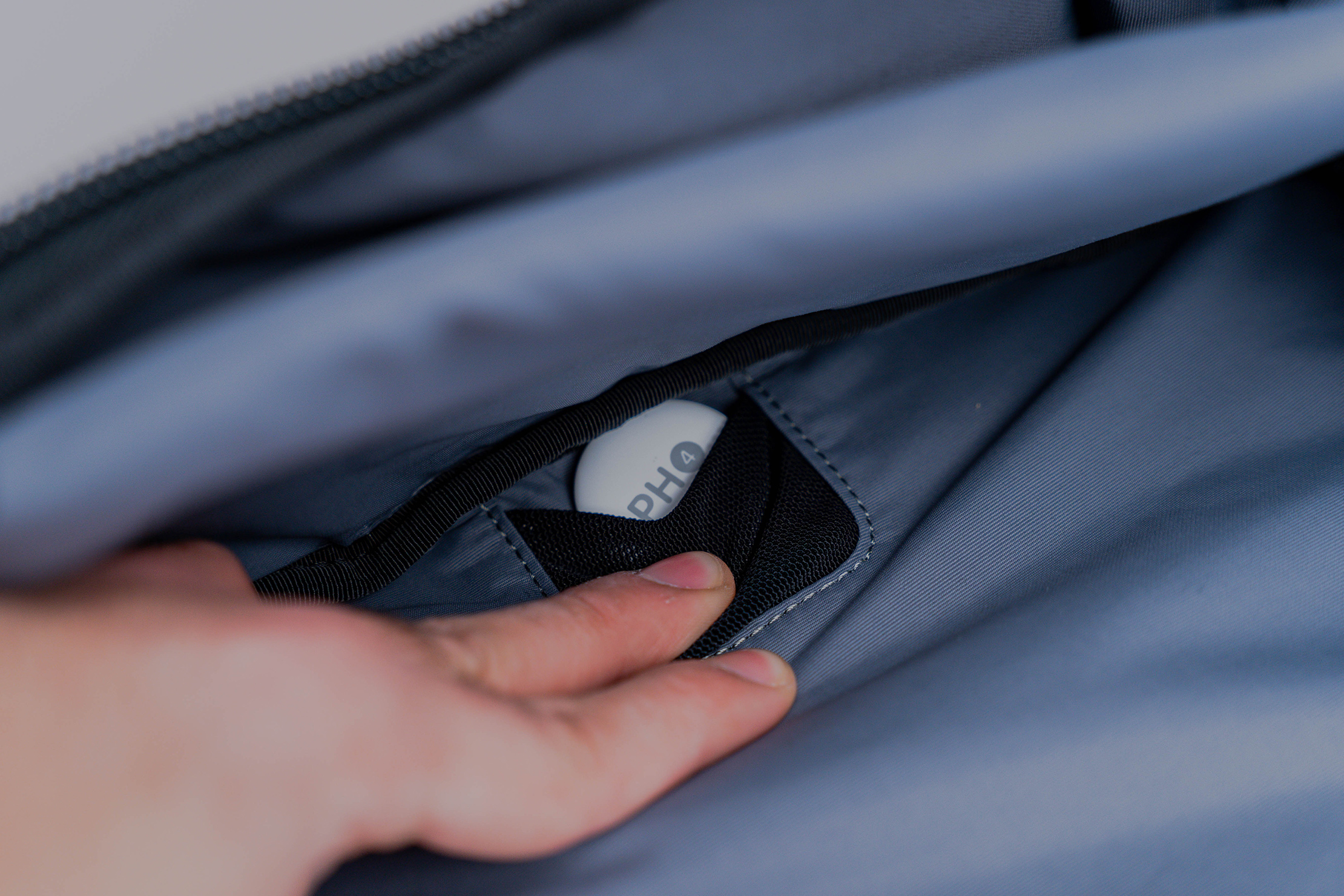 There's a small and quite hidden pocket for a smart tracker just behind the top pocket's liner. It's very easy to miss unless you move the liner out of the way, though that adds to the security. Our Apple AirTag fits the pocket snuggly, and its opening butts up against the bag's roof (sidewall), so there's little chance it will fall out. We like this implementation of a smart tracker pocket, and, more importantly, it makes the Travel Pack 3 feel more in line with the times.
There is also a side pocket along the right side where you can hide some important travel documents like valid IDs, membership cards, a passport, transit card, etc. Since the compression straps are no longer in the way, accessing this pocket won't be as tricky as it was on the Travel Pack 2.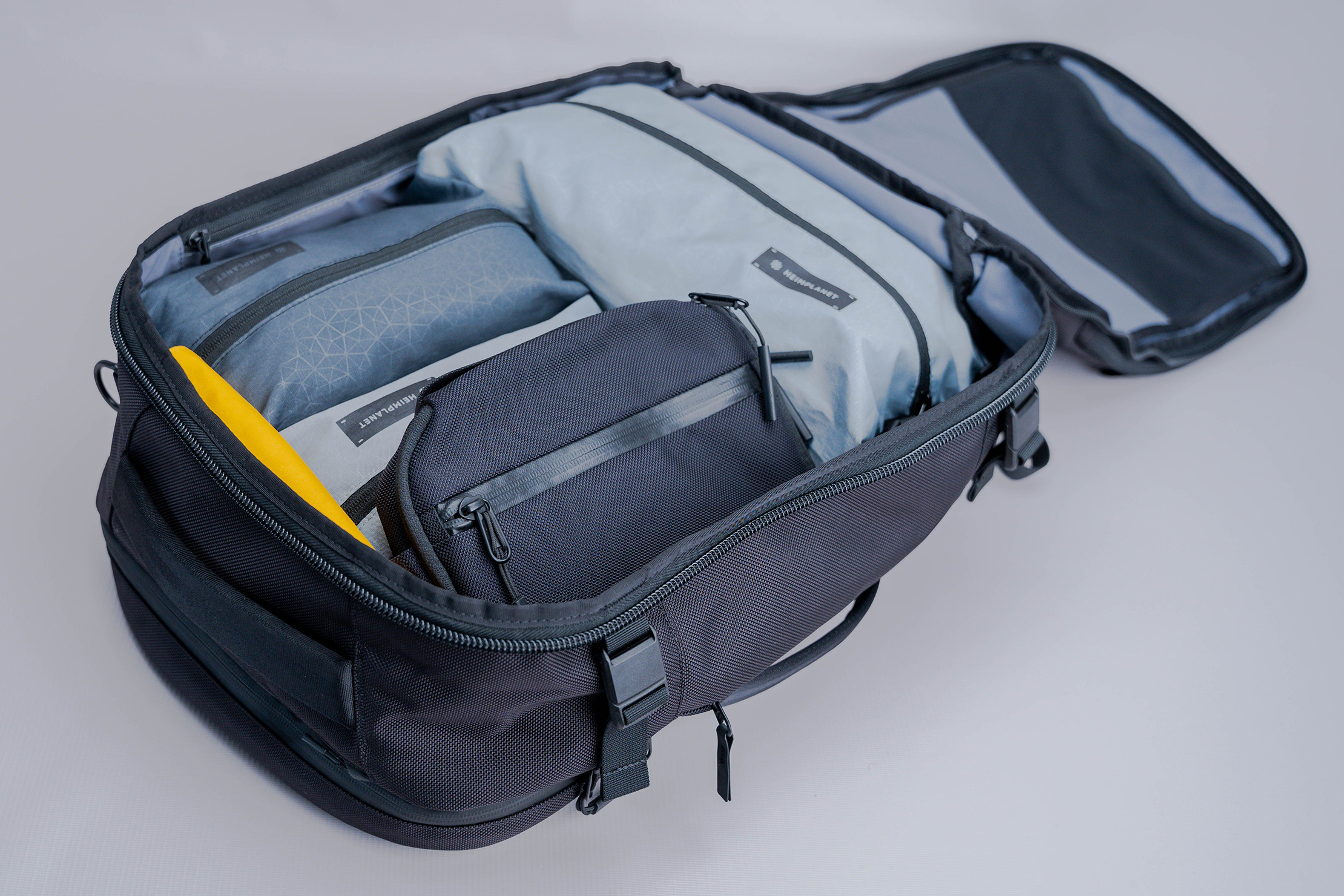 Lastly, on the lid is a zippered mesh pocket. This one's big and wide enough for clothes like socks or gloves. Alternatively, it can be used as a toiletry pouch in case you don't use one (though we highly recommend looking into those). Behind the mesh pocket, there's a hidden compartment about the size of the entire lid. It doesn't have much space in terms of bulk, though it is gusseted. This is where we put a towel or even some souvenir t-shirts as a surprise for later.
By far, the biggest feature the Travel Pack 3 omits from the Travel Pack 2 is the shoe compartment. There's also no built-in alternative like underslung straps where you can hang shoes. The good news is that since the Travel Pack 3 has more capacity, the space is still there if you want to pack a pair of shoes—it's just a matter of using something like a shoe pouch from WANDRD or Peak Design. Word of warning, though: Any odor that may leak will linger within the main compartment.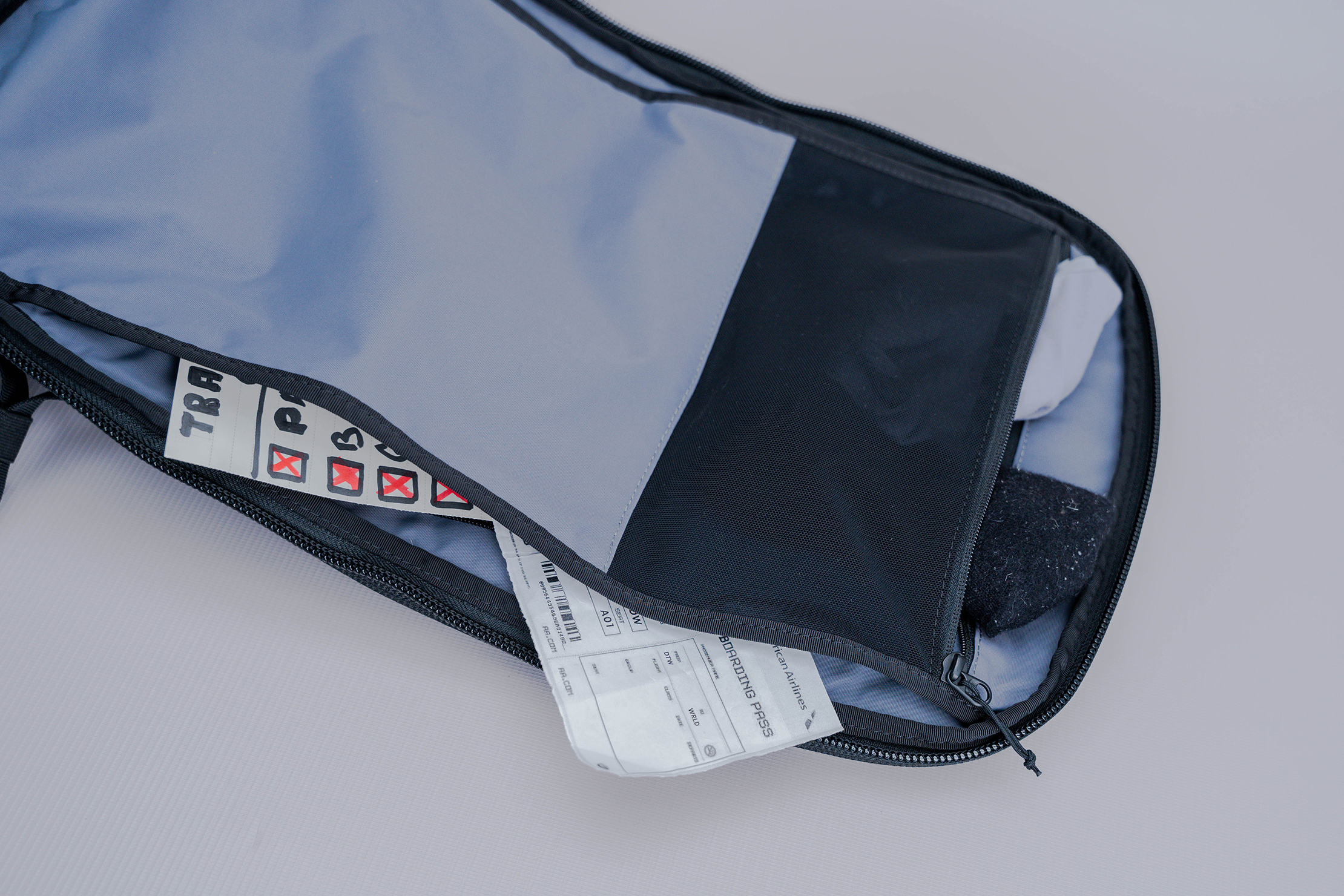 If you're currently on the Travel Pack 2 and like its shoe compartment, that's really the only major step down with the Travel Pack 3. The rest of the bag's features are a step up in terms of space, organization, and build quality. The experience just feels much more refined—and Aer just set itself a higher bar to hurdle.
To see exactly how we pack this bag for any trip, check out this video. Unlock access to our entire catalog of Pro Exclusive Videos when you
sign up for Pro
.

Usage Timeline
Initial Usage
Condition: Excellent
Load lifters are back, and you can slip their slack into loops on the shoulder straps
Side compression straps' buckles are relatively low-profile
Smart tracker pocket is right up against the ceiling, so whatever's inside shouldn't slip out
2 Weeks of Use
Condition: Excellent
Digging the small improvements from the Aer Travel Pack 2 like the harness system, cleaner construction, and additional secret pockets
Magnetic compression strap buckles on the sides have come undone on their own—it's best not to hang items or carabiners from these
Great organization options with a spacious main compartment and lay-flat admin area for gear
Top area of the bag requires a bit of packing strategy with all the pocket options available—it's hard to utilize every pocket at once, but the contour on the back panel does give more space
1 Month of Use
Condition: Excellent
We've found that loosening the load lifters can help flatten the straps to the bag for storage under plane seats
AirTag pocket has proven to be set-it-and-forget-it, which is awesome (so long as you don't accidentally leave it inside!)
This is our bag of choice for the updated version of our Digital Nomad Packing List
Access the Pro Community Discussion
Get your questions about the Aer Travel Pack 3 answered from our team and the Pro Community right here on the page. Plus, join discussions with other members about gear, guides, and more.
Other Bags & Luggage Reviews