Aer Split Kit Review
The Aer Split Kit's slim profile and two-compartment organization seem minimal, but the gusseted bottom and stretchy mesh material give it room to grow.
Our Verdict
Unlock the Pro Summary
Save time. Get access to brief summaries of our reviews so you can browse and make decisions more efficiently.
Pros
Expands and compresses via gusseted zipper
Can stand on its own when expanded
Mesh material allows flexible space management
Cons
Small items can get lost in the front pocket
Compression zipper can snag on the inner fabric
Planning required for efficient gear compression
Recent Pack Hacker Video
Technical Details
Capacity

0.4l

Weight (lb)

0.2 lb (0.1 kg)

Denier

1680D

Dimensions

4 in x 9.5 in x 0.75 in (10.2 x 24.1 x 1.9 cm)

Notable Materials

CORDURA® Ballistic Nylon, YKK Zippers

Manufacturing Country

China

Warranty Information
Full Review
Get up to 10% off Aer • Join Pack Hacker Pro
Aer packs a lot of clever features into their gear. Whether it's the gym-going Gym Duffel 3 or hygiene-centric Dopp Kit 2, looking through these bags is like being on a celebrity house tour—there's always something neat to point out that you wish you could have in your own home (or in this case, gear). So, when we first got our hands on the rather slim Split Kit, we tempered our expectations due to its small size.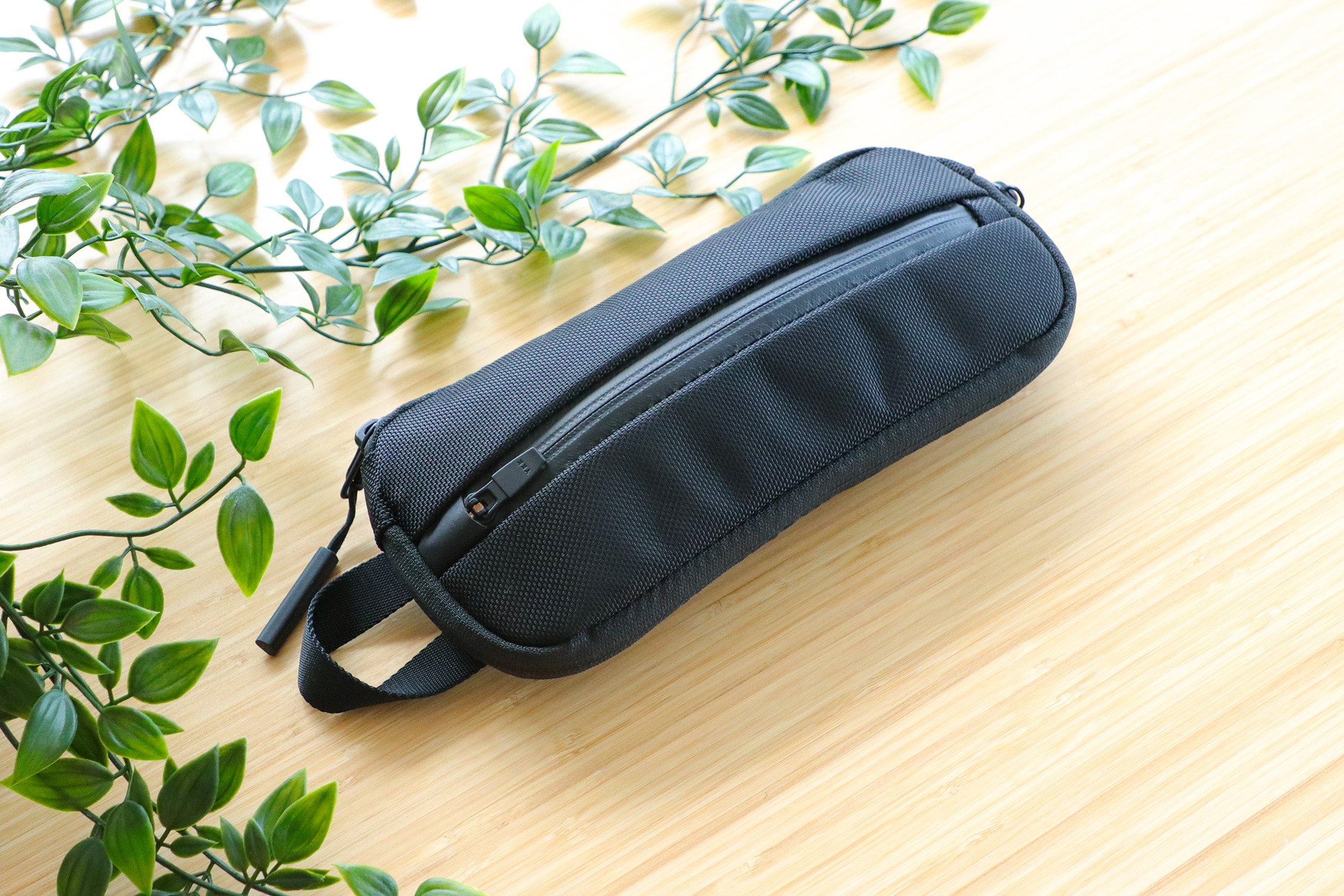 That said, we were equally interested in seeing what features they could cram inside. Lo and behold, it expands, compresses, and features just enough flexibility to maximize its two-compartment setup. Granted, the Split Kit is not by any means a one-size-fits-all solution. But stick with us and see if the slim profile coupled with expandability and clever space management is enough to split the difference.
Materials & Aesthetic
The Split Kit is an apple that didn't fall far from the tree—which is to say it looks unmistakably like an Aer product. It has an almost symmetrical design, with the shape and styling of a futuristic capsule taken from one of Ridley Scott's sci-fi films (Alien vs. Predator, anyone?). The creative among you might even conceivably use it as a prop for your next stop-motion film.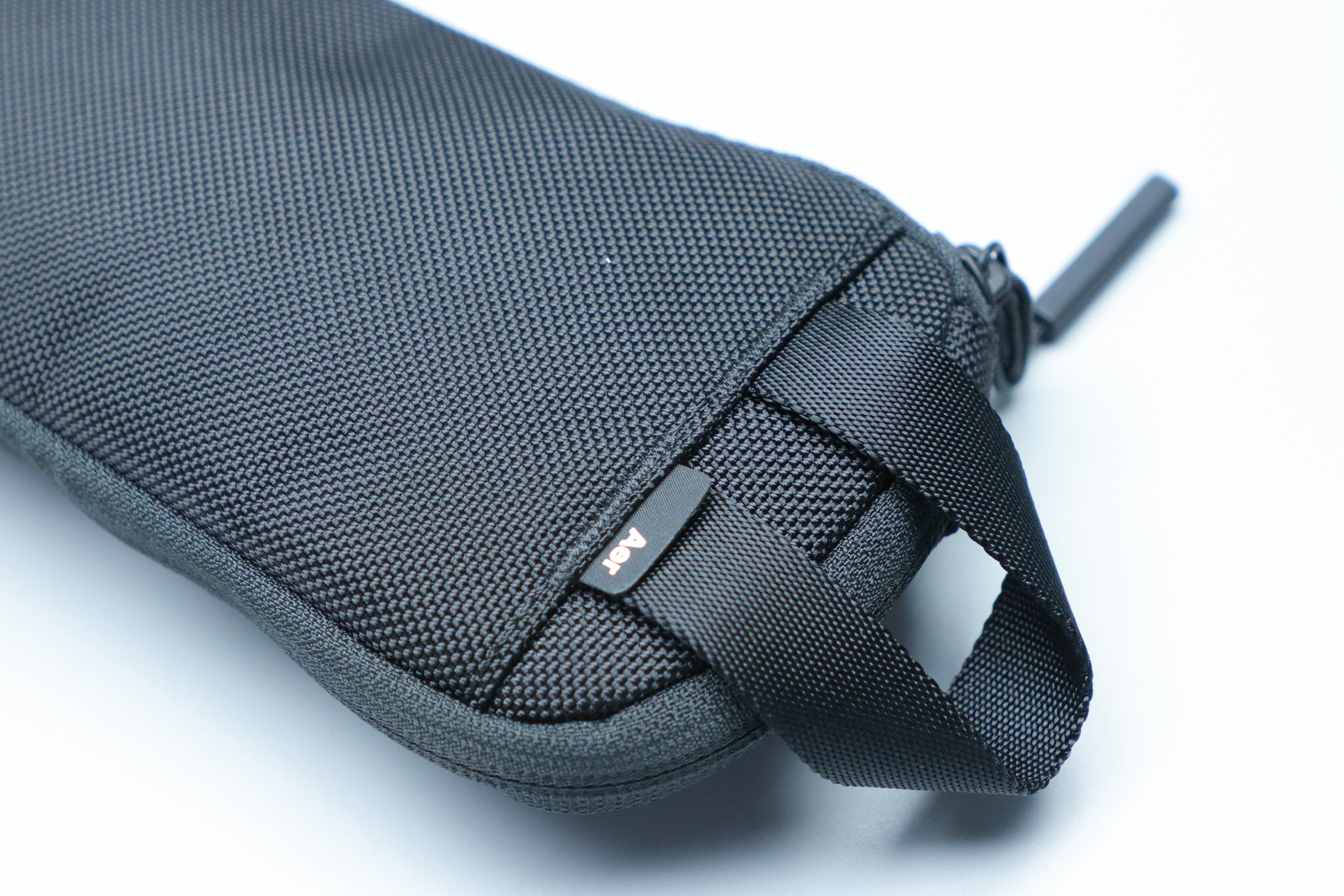 One good way to get more mileage out of the styling of the Split Kit would be to pair it with a bag from Aer. Off the top of our heads, the similar-looking Fit Pack 3 or the flat profile of the more tech-oriented Tech Folio 16" would be good matches. However, anything in grayscale and urban-esque will do nicely.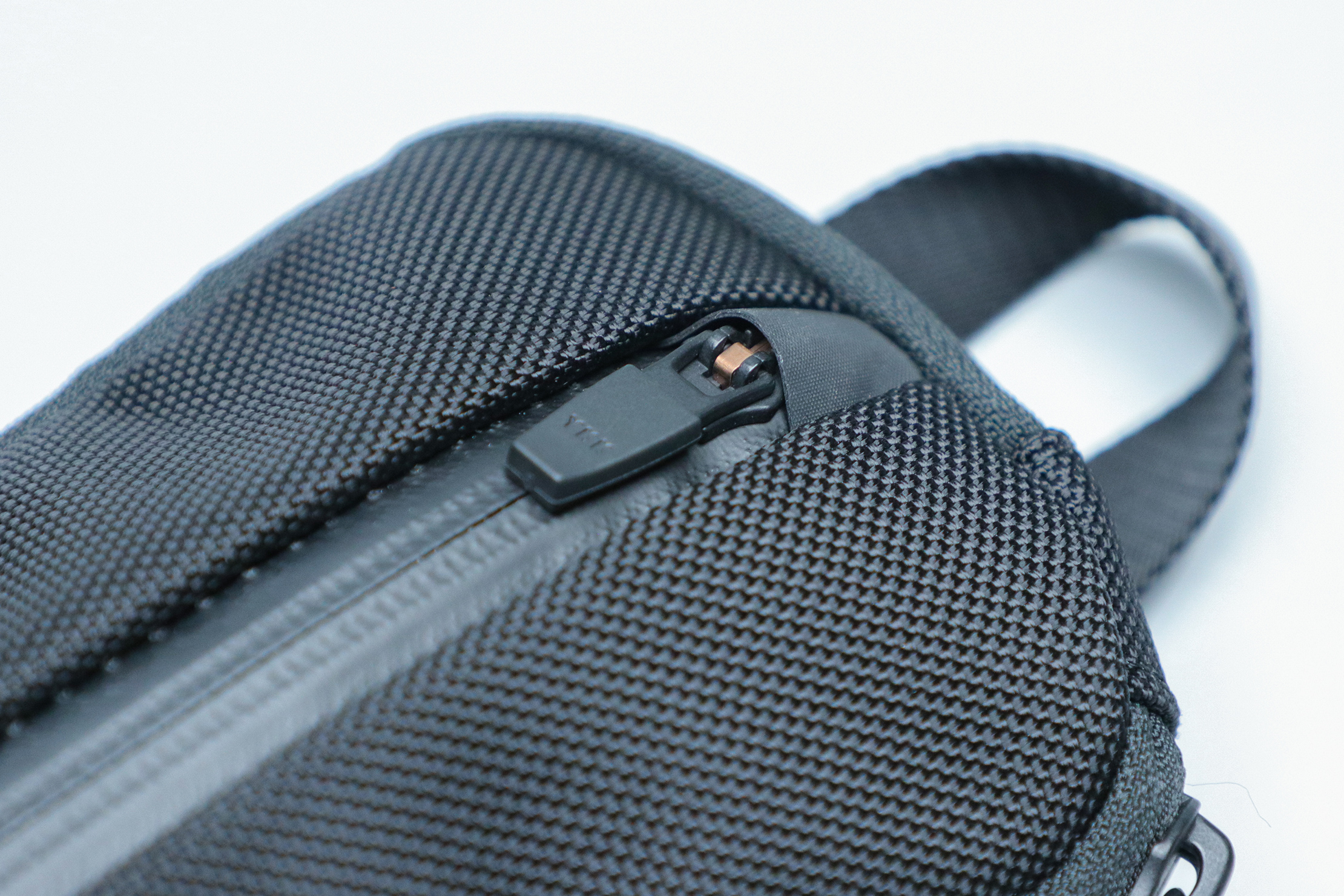 As with the styling, Aer's choice of materials remains practically unchanged from the rest of its lineup. The black colorway we have here features 1680D CORDURA Ballistic Nylon fabric, but the Gray version gets 900D Ecoya eco-dyed polyester. We're partial to the more structured feel of the CORDURA nylon, but we're not gonna lie and say we don't see the appeal of the Gray colorway. The rest are also in line with Aer's signature fit and finish: Small branding on a Hypalon tab, YKK zippers (one reverse coil and one AquaGuard), and the now-less-jingly zipper pulls.
Usage & Features
As simple as the Split Kit appears to be, there's a fair bit of clever design going on under the hood. First in its pouch of tricks is the ability to expand, turning the Split Kit from a flat case to a triangular standing pouch. We're fans of standing pouches because it keeps the main compartment's opening upright while taking up less desk real estate—a precious thing, especially if you're working remotely in a cafe or a co-working space.
How does it do this? On the opposite side of the Split Kit's main compartment opening is a discreet zipper. It's not an opening for another compartment or pocket; it's a compression zipper hiding a gusseted floor. Open it up, and it allows the bottom portion of the Split Kit to, well, split. Conversely, it compresses everything back together, provided it's not overly packed. Something to watch out for is that the fabric may get caught while compressing the pouch, so slightly nudging the fabric inwards as you zip along is helpful.
The front pocket has a self-locking YKK AquaGuard zipper with a Hypalon zipper garage at the end. The opening runs down almost the entire length of the Split Kit—in other words, it's a split opening. It's well-suited for when the pouch is compressed and lying on its back, pencil case-style like the Trakke Pencil Case.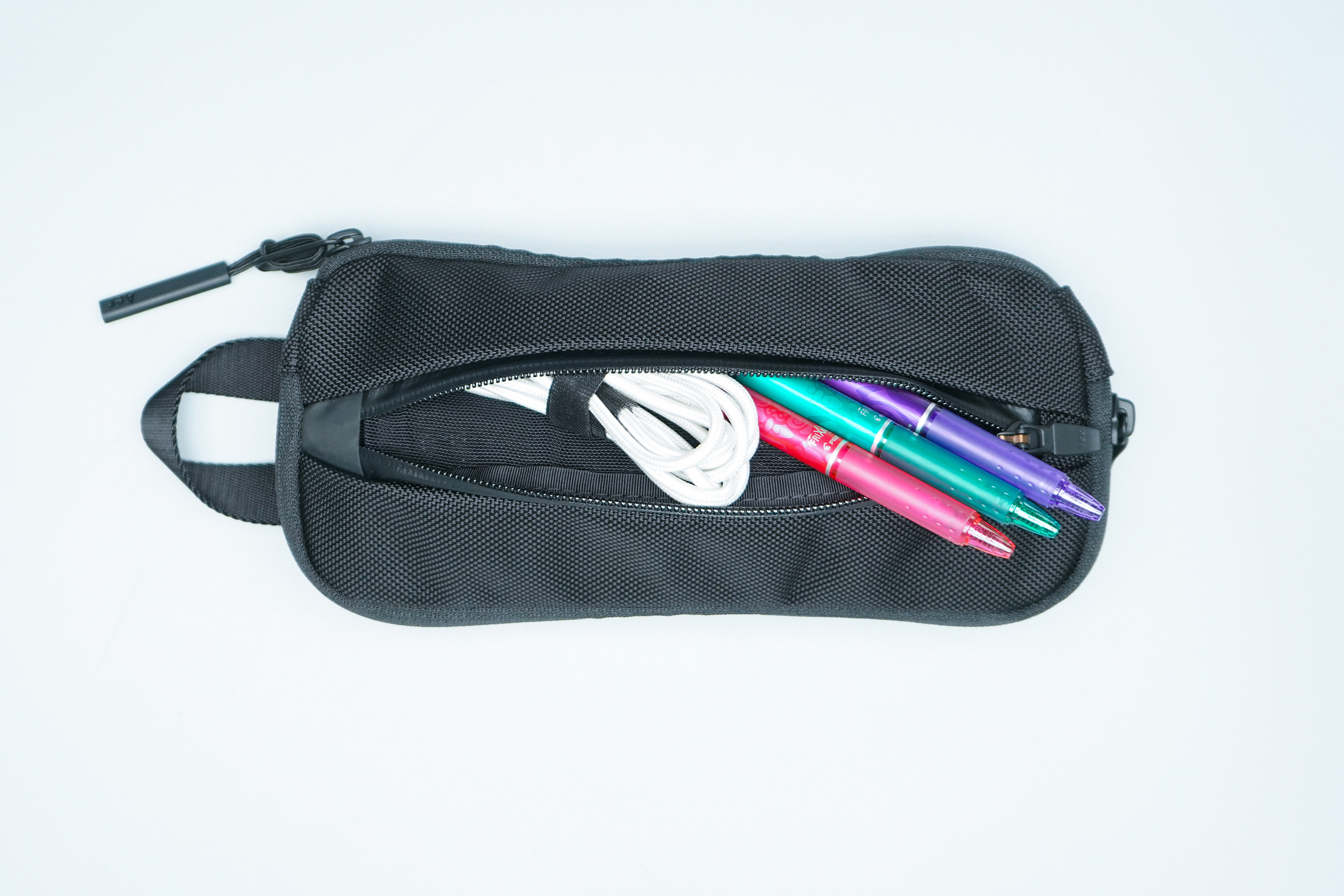 The trouble with this kind of opening is that there are sizable spaces on either side where small items like dongles and memory cards can sneak off. It doesn't help that a lot of tech accessories come in black and that the interior mesh material is also black, so finding things can be tricky. To avoid this problem on most bags and pouches, we typically put smaller accessories in even smaller pouches that fit inside our tech pouches and organizers, though a lighter liner would have been nice.
The main compartment's reverse coil YKK zipper opens up in a very shallow horseshoe style, but accessibility remains good. Inside there are no additional liner pockets or zippered compartments for further separation. It's just an empty space where you can stack and arrange chargers, adapters, cases, travel mice, and other bulky items.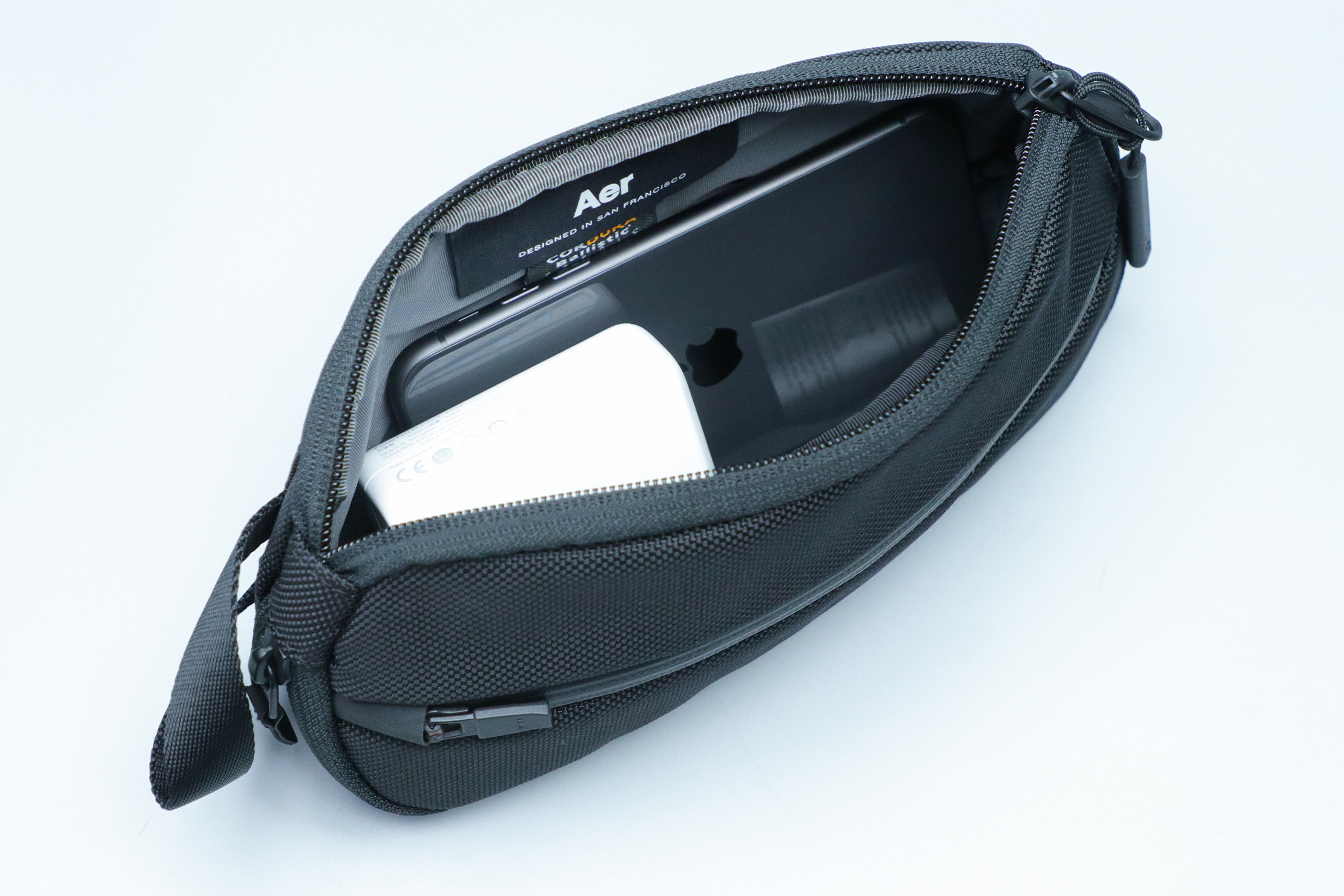 Between the front pocket and the main compartment, the Split Kit really only has two compartments to work with—it's minimal in terms of overall organization. However, the clever thing about Aer's design is that these two compartments are separated by stretchy mesh material, allowing for some flexibility when it comes to space.
Our usual kit of accessories often includes a power bank, our MacBook Pro charger, a pair of wireless earbuds with a case, a bunch of cables, dongles, and a Zippo lighter. Out of all of these items, our wireless earbuds are the most often used item, so we like to keep it inside the quick grab pocket along with an assortment of dongles.

Stacking the power bank with the MacBook Pro's charger on one side of the main compartment leaves a good amount of space available. This gives the front pocket room to expand inward and have space for a large wireless earbud case. Whichever way you choose to utilize the space, the mesh material's stretchiness gives you the flexibility to play around with gear management, which you'll need to do if you want to compress the Split Kit back into its flatter form.
Carrying the Split Kit isn't a chore, either. There's a nylon loop for hanging and carrying by hand, and clutching is also an option. That said, we usually keep the Split Kit inside a sling or larger bag as opposed to carrying it by itself. In this regard, the Split Kit's compressibility is a major plus, shaving off precious millimeters from its thickness, and it kept our packs less bulky than necessary.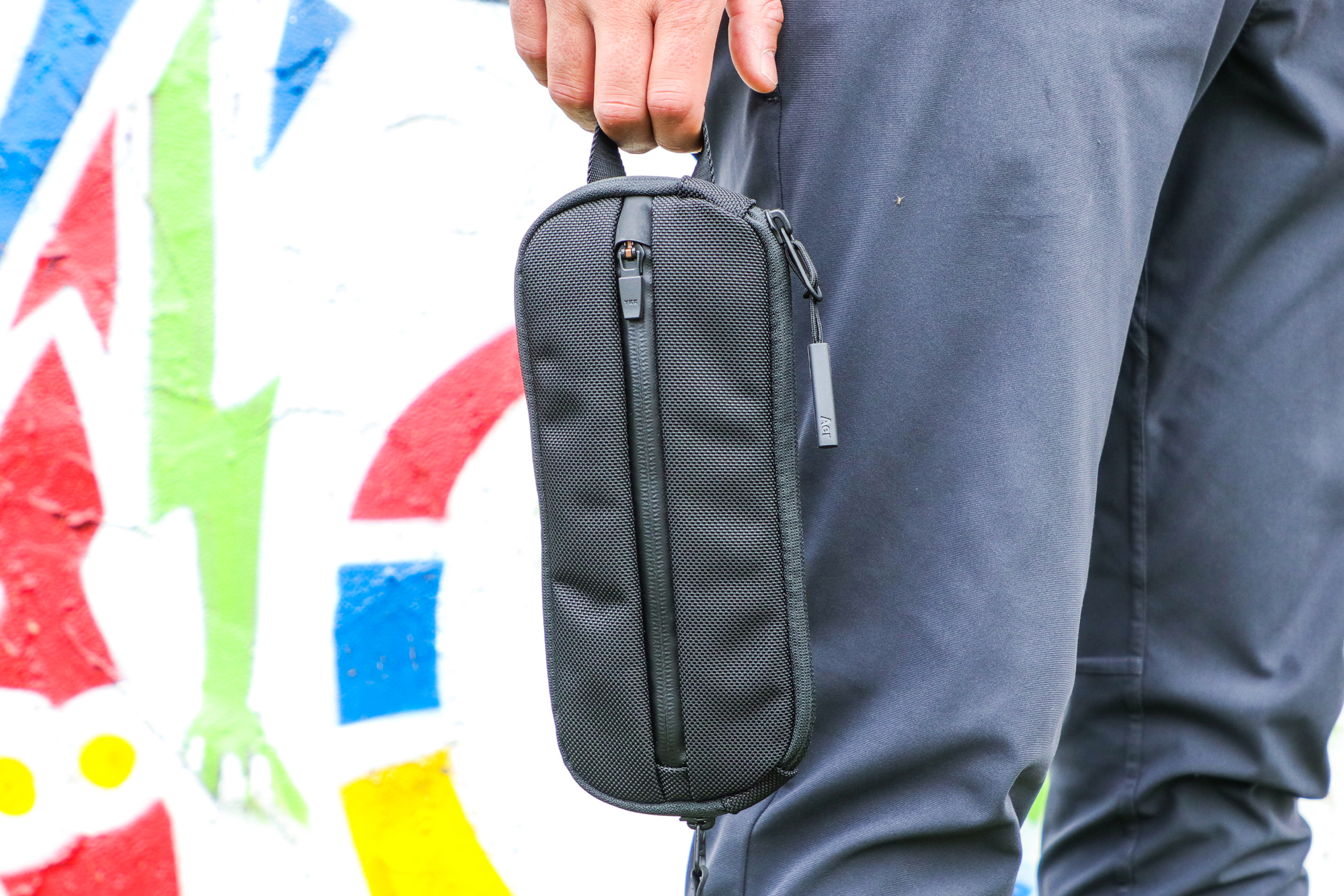 The Split Kit is by no means perfect. As a pouch, it's not the most spacious, nor is it the most comprehensive in terms of organization. Instead, Aer's approach is a minimalist one; they've put in clever design choices that make the most of its slim profile, like the expandable capacity and use of mesh material for flexibility. Depending on your needs, the Split Kit is a solid option for those who want a slim pouch with room to grow.
Usage Timeline
Initial Usage
Condition: Excellent
Expands via zipper at the bottom
It gains a floor when expanded so that it can stand
Front pocket has a handy self-locking YKK zipper
2 Weeks of Use
Condition: Excellent
Putting the Split Kit into triangle mode allows you to stand the pouch up on your desk
Relatively simple design, but it functions really well
We dig the stretchy mesh that adds a lot of flexibility on how much you'd like to add into the pocket
Handle is a nice touch, though it's a bit of a weird size & could be smaller or larger
Access the Pro Community Discussion
Get your questions about the Aer Split Kit answered from our team and the Pro Community right here on the page. Plus, join discussions with other members about gear, guides, and more.
Other Organizers & Pouches Reviews