Aer Dopp Kit 2 Review
The Aer Dopp Kit 2's space and organization make it great for long trips, but the size is a bit overkill for one-bag setups.
Our Verdict
Unlock the Pro Summary
Save time. Get access to brief summaries of our reviews so you can browse and make decisions more efficiently.
Pros
Offers a variety of internal pockets
Carries a lot of toiletries for long trips
Well-made with durable materials
Cons
Elastic loops can be too loose for small items
Large for one-bag setups
Can tilt if hung from the wide top handle
Recent Pack Hacker Video
Technical Details
Capacity

2.6l

Weight (lb)

0.5 lb (0.2 kg)

Denier

1680D

Dimensions

9 in x 5 in x 3.75 in (22.9 x 12.7 x 9.5 cm)

Notable Materials

CORDURA® Ballistic Nylon, YKK Zippers

Manufacturing Country

China

Warranty Information
Full Review
Get up to 10% off Aer • Join Pack Hacker Pro
Dopp kits are pouches completely dedicated to toiletries that keep you looking fresh even when you're countless miles away from your home's bathroom. They offer tons of organization by way of pockets and loops of all shapes and sizes. Though they're similar to regular pouches, they have a touch of water resistance and specialized features that make them more suitable for the job.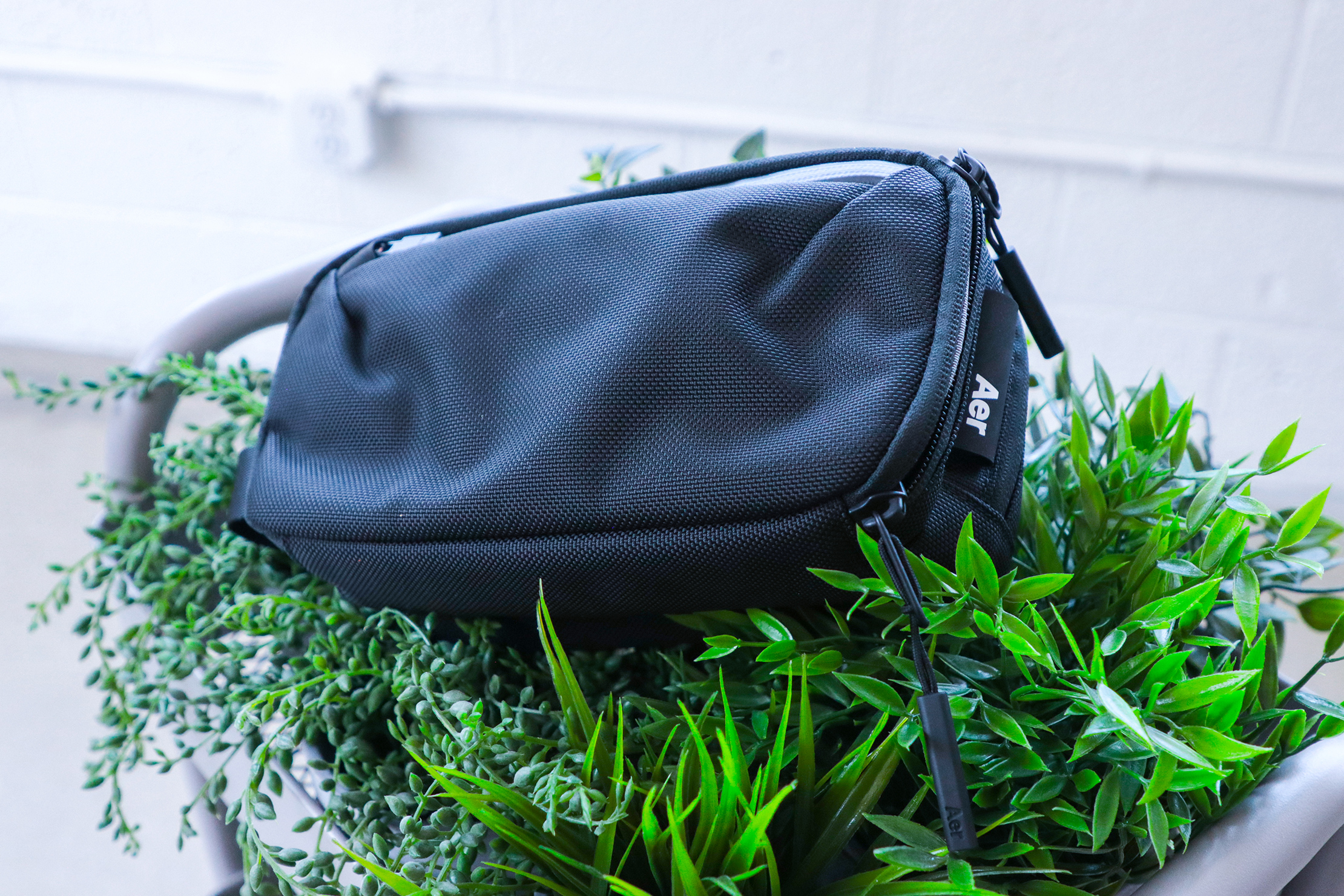 Aer's Dopp Kit 2 checks all of those boxes and more. You've got the usual traits that come with Aer, including durable materials and functional design. It's a bit overkill for one-bag setups due to its large size, and it might prove too much depending on your use case. However, if you're looking for a Dopp kit for long trips, it might just cover all the bases for you.
Materials & Aesthetic
The Dopp Kit 2 picks up where the original Dopp Kit left off and kept the no-nonsense styling—respectable and functional. We don't mind this approach one bit because we're more focused on the business of getting hygienic than admiring our Dopp kit when we're getting spruced up in the bathroom.
Accidental splashes and drips of toothpaste, lotions, and liquid soaps are handled well by the CORDURA Ballistic Nylon. However, there were some dried-up white marks on the water-resistant interior lining. At the time of writing, there's only a black colorway option, arguably the best color to hide most stains. Exterior branding is kept to a minimum—just a simple Hypalon tag with their logo on it.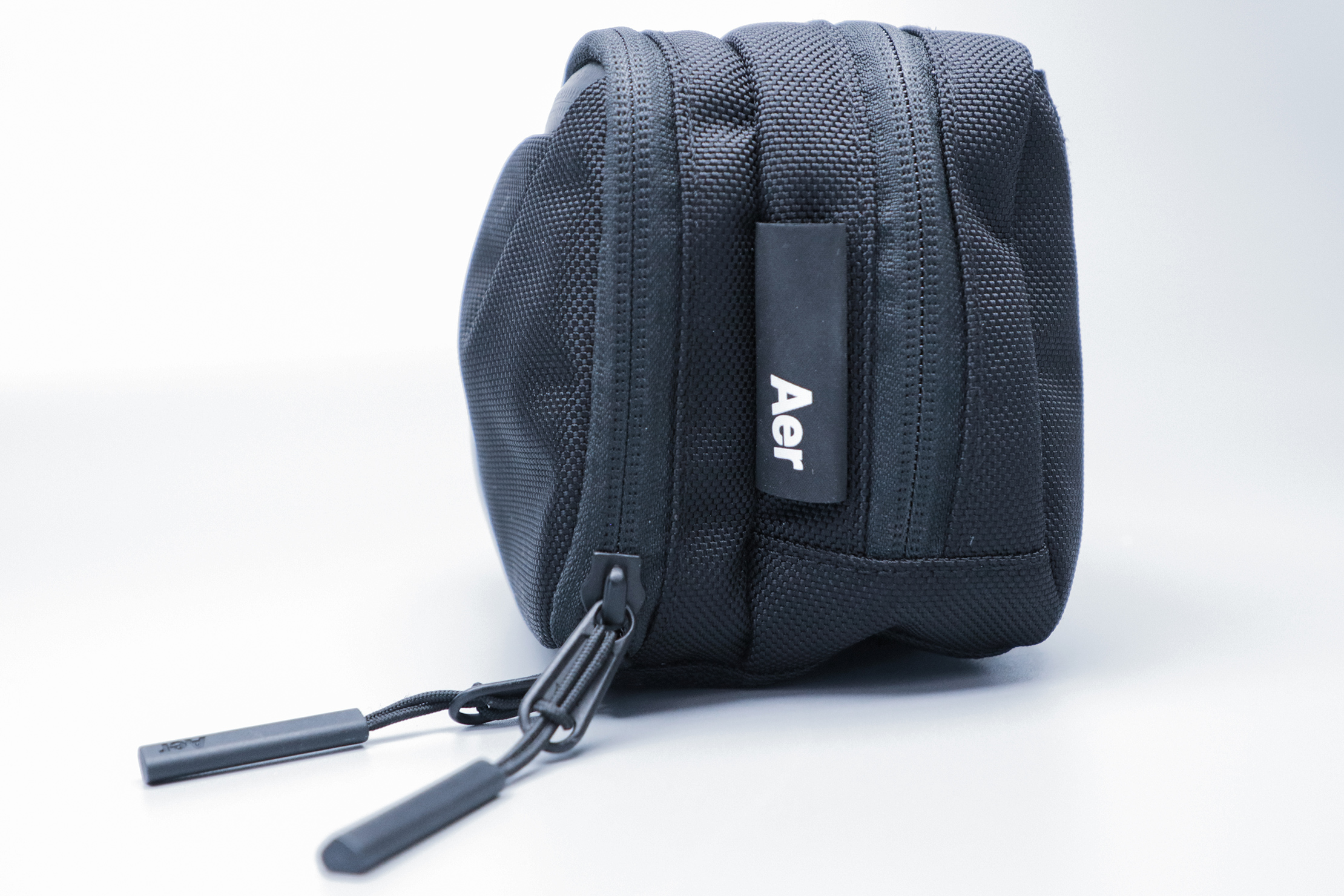 Aer really has their whole tried-and-tested formula drilled in by now. The most notable of their choice ingredients here are: 1680D CORDURA Ballistic Nylon and YKK zippers, the latter of which feature Aer's long zipper pulls. Very grabbable, but still somewhat jingly, though not as much as their previous products.
Everything feels nice and durable on the Dopp Kit 2, as we've come to expect from Aer. There's good structure even when it's empty, so it doesn't collapse as soon as you take everything out. We wouldn't necessarily put it at the bottom of a bag and stack everything on top of it, but it can at least take a good jostling while inside one.
External Components
The journey from our main bag to the bathroom is a short but important one. Even though the top and left-side handles are made of simple nylon, they make carrying the Dopp Kit 2 easier. Considering the relatively large size of the Dopp Kit 2, the handles are nothing to scoff at either. We'll get more into space and capacity later, but once it's loaded up, the handles do make a difference.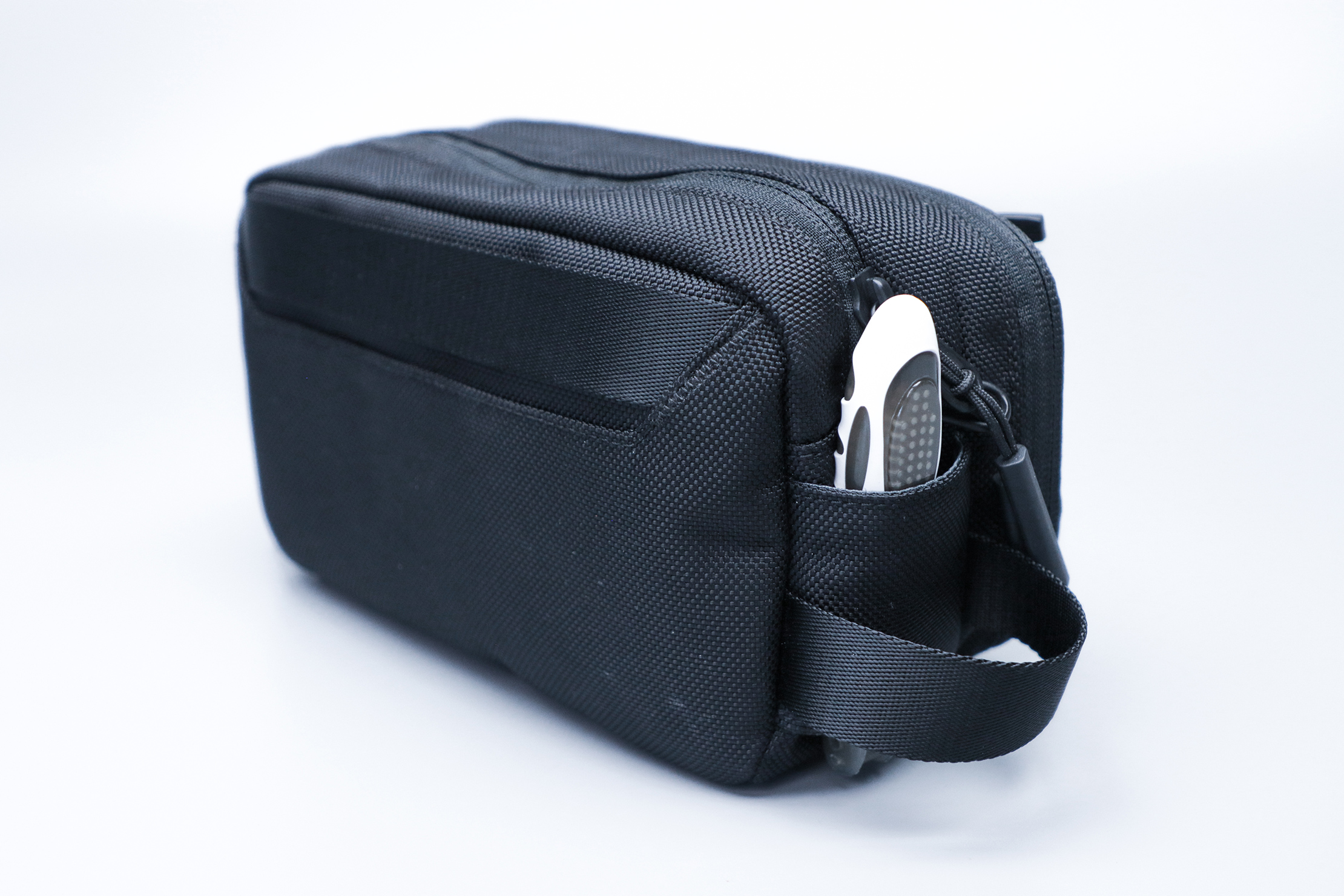 You can hang the Dopp Kit 2 using these handles. But unlike Aer's Travel Kit, which comes with a built-in hook, hanging the Dopp Kit 2 using the top handle can make it tilt, and using the left side handle will orient the front compartment's pockets upside down. It makes the Dopp Kit 2 more at home on a surface rather than being hung. There's separate functionality between this and the Travel Kit, and they both have their respective niches as well as overlaps.
One easy-to-miss feature on the Dopp Kit 2 is tucked away near the left handle. It's a small loop so you can holster your toothbrush while it's still wet or just so you can have it out and ready during your stay at a hotel. It's a small quality-of-life feature, but a handy one nevertheless.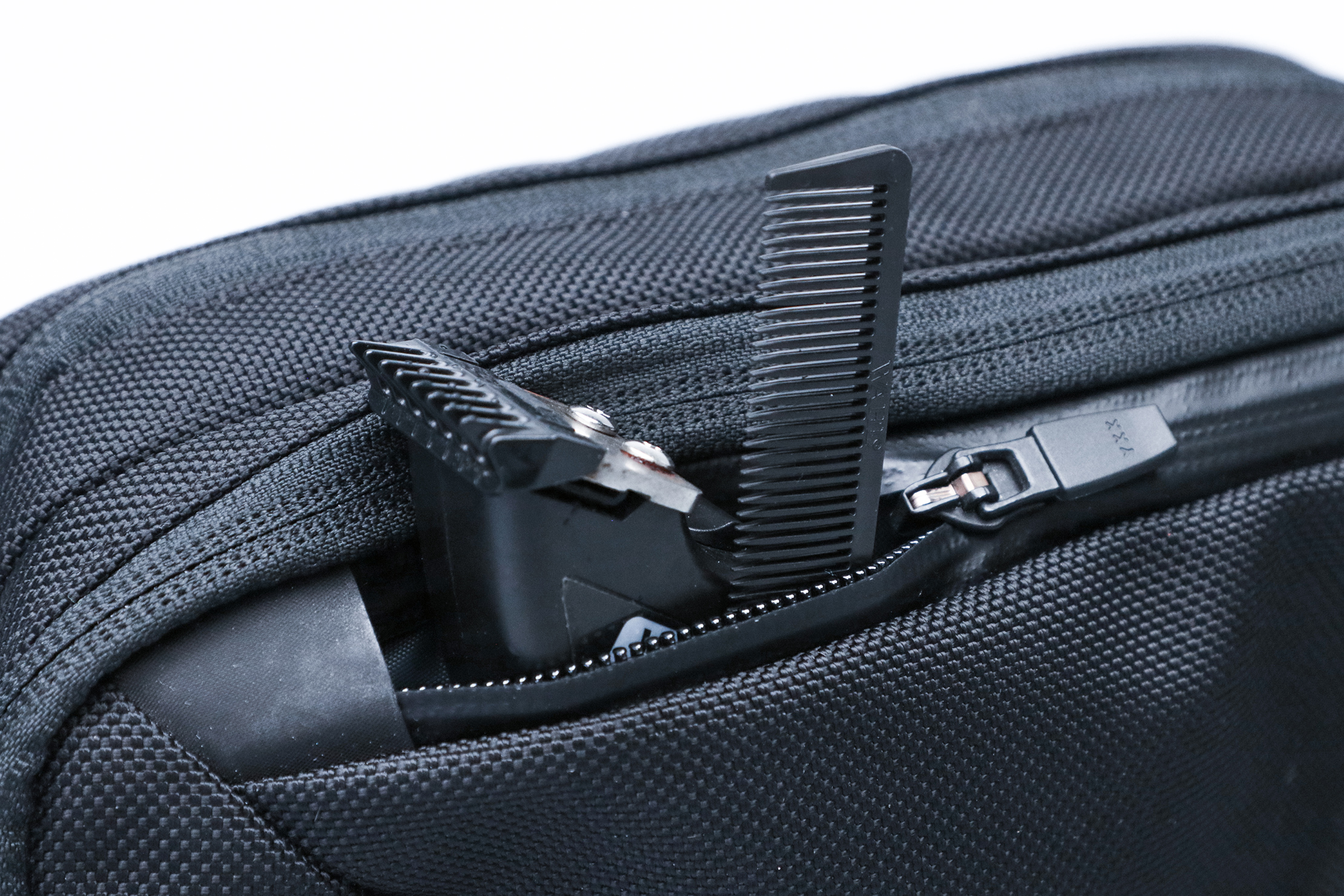 Before we get into the inside goodies of the Dopp Kit 2, we have to point out the front quick-grab pocket's self-locking YKK zipper. Fold the metal pull flat against the zipper elements, and it locks into position. Aer made a neat design choice here—it's the small bit of Hypalon fabric at the end that acts as a zipper garage to complete the seal. It leaves almost no gaps for water to get in, and it's nice to have in a wet environment like a busy shower room.
Inside The Pack
Inside the quick-grab compartment is a fair bit of space for small items you may want easily accessible, like toothpicks, cotton swabs, or a small packet of wet wipes. The depth goes about two-thirds of the way down, and the gray interior fabric makes things fairly visible. We didn't load it up with anything heavy because the front compartment opens up clamshell-style.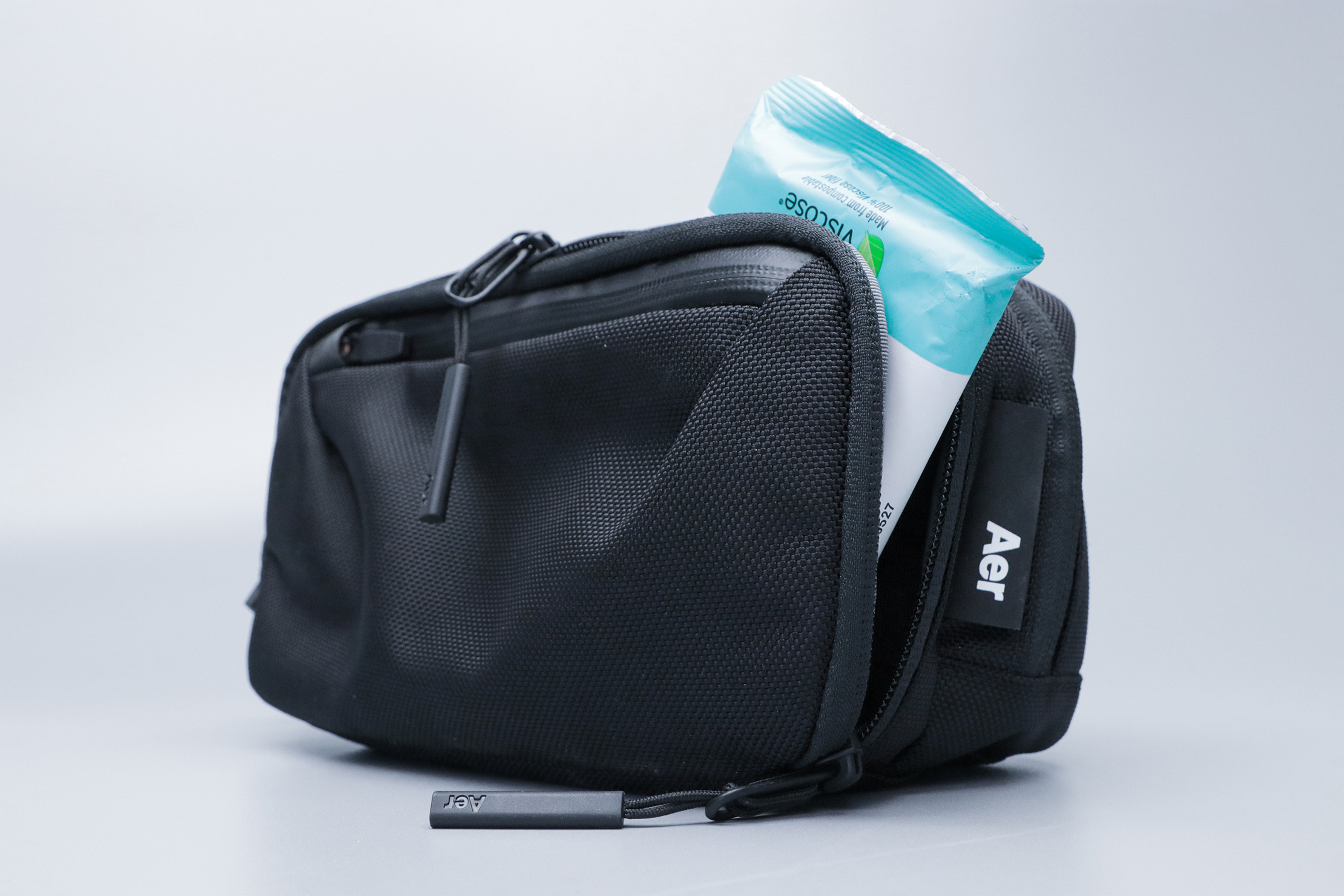 The original Dopp Kit's front compartment didn't open up like a clamshell, so this is another area the Dopp Kit 2 improves on. Once inside, things look very familiar to the original, but it gets some worthy upgrades here too. For starters, the two large elastic loops on the front get an accompanying liner pocket on the left side that acts as a floor for whatever's slotted into the loops. The zippered mesh pocket also gets an upgrade in the form of a much more refined mesh material that feels stretchier and smoother than the original's.
The depth of the front compartment allows for very chunky toothbrushes on the elastic loops. Ours didn't even interfere with the GoTubb containers we placed inside the zippered mesh pocket, nor did the cartridge of replacement razors we had in there as well. Good capacity so far for the Dopp Kit 2, and it gets even more of it in the main compartment.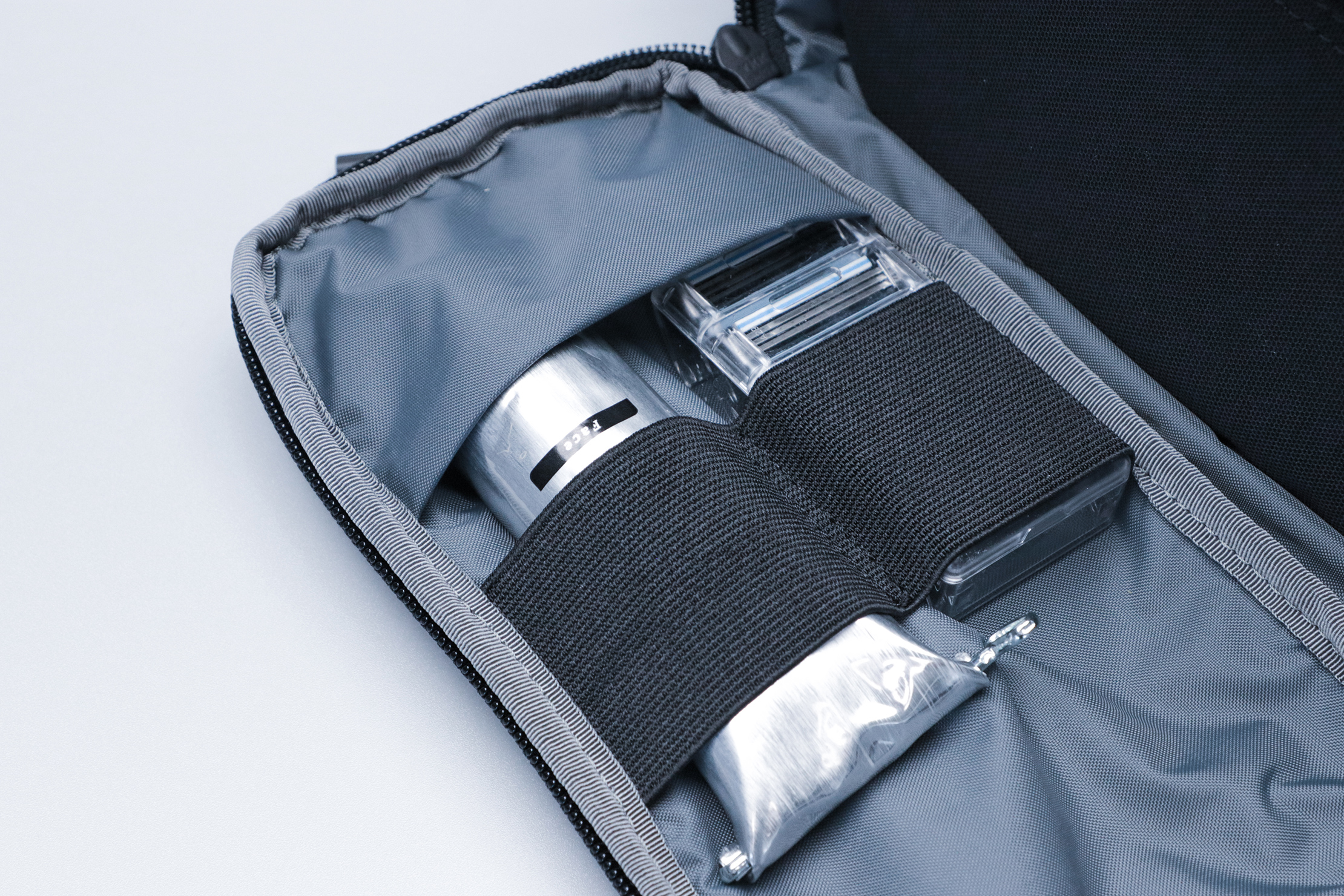 The main compartment opens up asymmetrically—that is to say that the right side opens up entirely while the left side stops where the toothbrush loop begins. Still, that offers enough visibility so that you won't be searching for your favorite small tube of ointment for too long.
Like the front compartment, there's a ton of space here as well—but even more of it. This is where the bulk of your small tubes and canisters of toiletries will go, like shampoo, hair gel, lotion, shaving cream, face wash, toothpaste, or even a full bar of soap. Top-down, the Dopp Kit 2's large profile pays dividends when it comes to what you can pack inside. It won't carry a whole medicine cabinet's worth of supplies, but its capacity is still pretty good.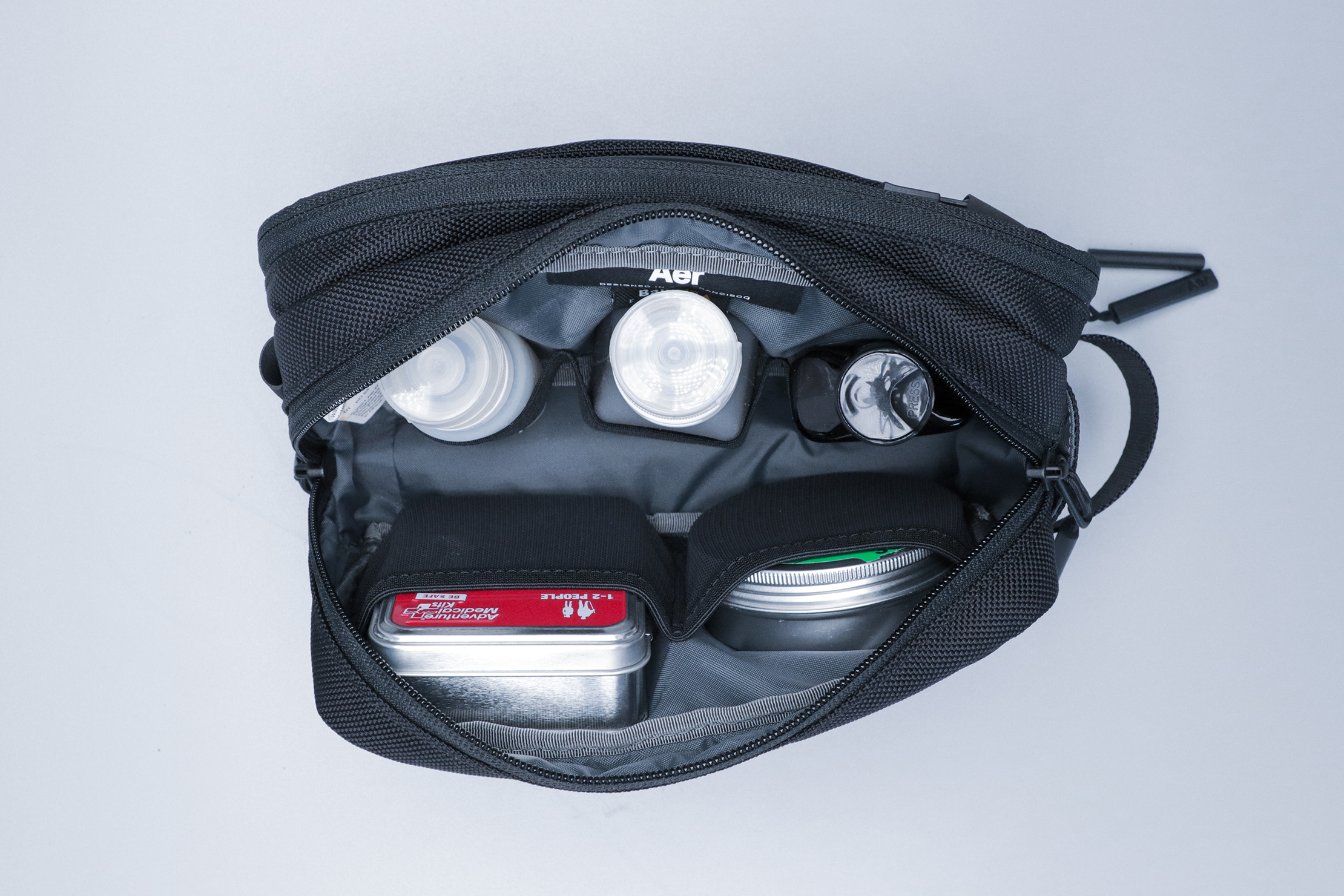 In terms of organization, you get a variety of choices here too. There are three more elastic loops for chunky items like a small travel electric razor or any of the previously mentioned small tubes of creams and solutions. Anything bigger or smaller will be handled better by the twin mesh pockets on the opposite side. Our own travel razor's pointy head got caught on the mesh material, so it would be best to keep sharp-edged items on the loop and pointed towards the liner fabric if you have something similar.
The Dopp Kit 2 offers a diverse range of pockets for organizing your toiletries. It had no problems fitting in what we needed to bring—we even brought it to an overnight trip to a wedding to give it a proper challenge, and it got us through all the necessary preparations. However, there is something to be said about its size.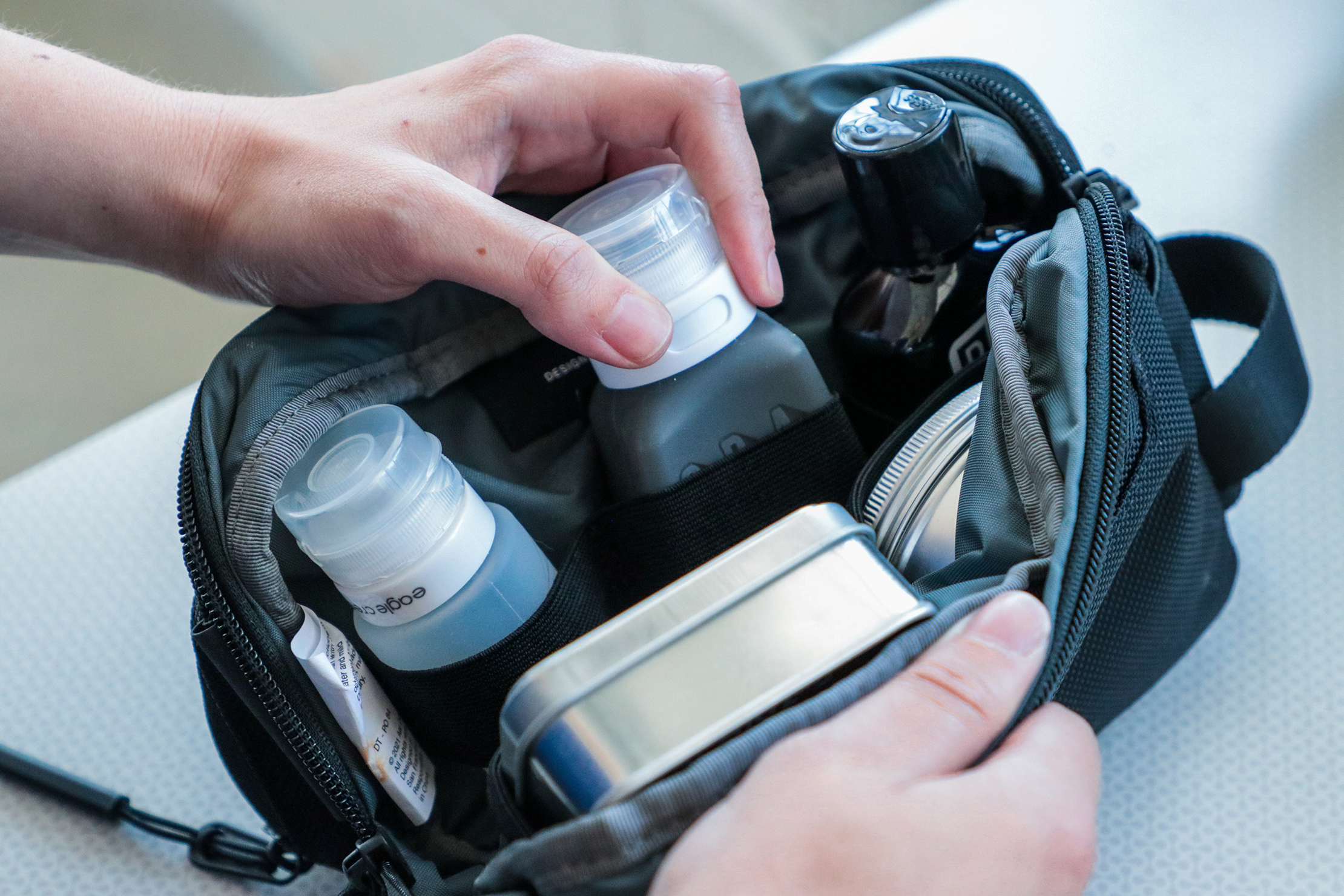 The Dopp Kit 2's size is a bit too much for a one-bag setup or a quick trip. Its size takes up a notable amount of space alongside packing cubes and similarly bulky items inside a bag. We're still leaning more towards Aer's own Travel Kit, which is slimmer, more portable, and flexible enough to fit inside a larger range of bags where you need to utilize every ounce of space. But for those who regularly go on long-duration trips and need to take more supplies with them, the Dopp Kit 2 makes a great case for itself.
Usage Timeline
Initial Usage
Condition: Excellent
There's a top and side handle so you can hang it onto hooks or carabiners
Uses stretchy loops inside so small containers don't shake loose
Plenty of depth and space for tubes and small bottles
2 Weeks of Use
Condition: Excellent
This dopp kit is pretty large—it's not ideal for one bag travel as it's a bit too large
Elastic bands within fit larger items
Mesh pocket is soft & stretchy to the touch
Access the Pro Community Discussion
Get your questions about the Aer Dopp Kit 2 answered from our team and the Pro Community right here on the page. Plus, join discussions with other members about gear, guides, and more.
Other Organizers & Pouches Reviews