Road Trip Packing List
The ultimate packing list including all of the road trip essentials you need to travel by car. We cover it all: men's and women's focused items from bags, to clothing and toiletries, to cooking supplies, and more.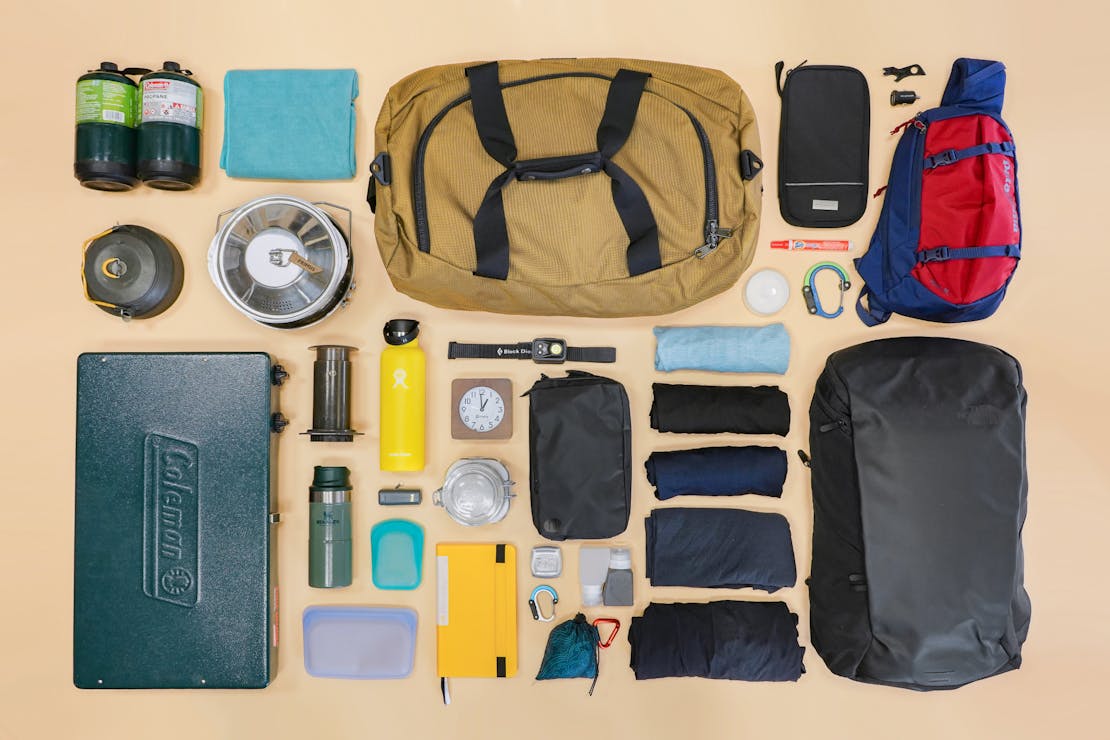 The Road Trip Essentials: Gear for An Epic Road Trip
Welcome to the Road Trip Packing List where we're going to cover everything you need to make your road-tripping adventure worthy of the big screen. While road trips can last anywhere from a weekend to a year or more, we've formulated this list to work for trips that span from a week to a month or so. (But you can adapt it to fit your needs.)
Now, it can be tempting to pack a lot of gear for a road trip—you're not limited by airline restrictions, after all—but we suggest packing the least amount of stuff possible. Beyond ensuring more legroom, we've found that packing minimally helps to keep a clear mind. Additionally, you won't have to go digging through a trunk full of stuff to pull out the few things that you actually use.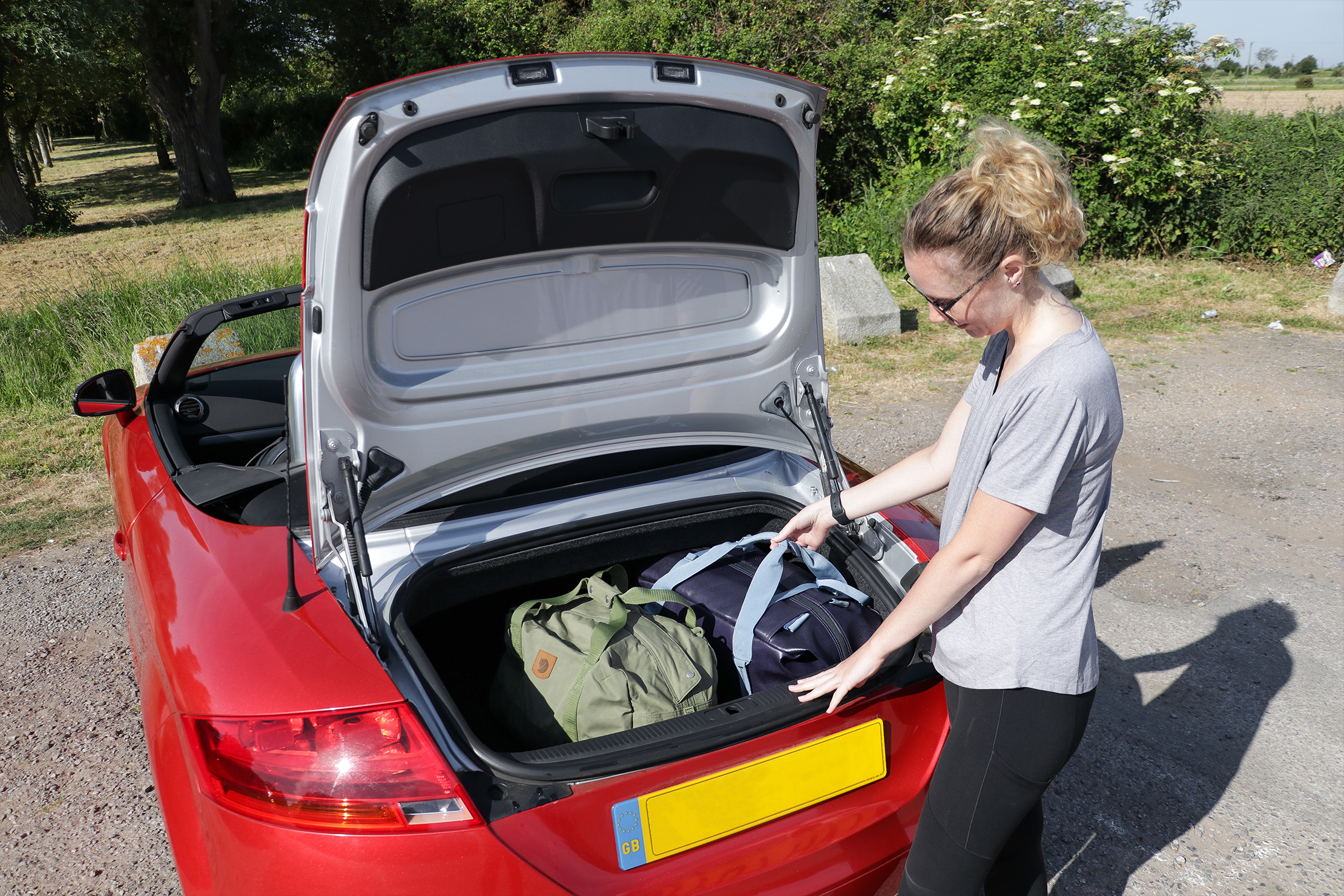 On that note, we've kept this list as minimal as possible while keeping comfort and convenience in mind. We don't guarantee that this packing list will prevent misadventures—which are part of the fun, anyway. But we believe this list will help you pack what you need (while staying comfortable) without being burdened down with a bunch of excess gear. That way, you can worry less about rummaging through your stuff and focus more on those classic road trip experiences.
Collectively, our team has driven thousands and thousands of miles. We've taken what's worked and what hasn't and distilled all the gear you need down into one mega list—with one exception.
We haven't included a section on vehicle specific items because what you need differs from vehicle to vehicle. Make sure you consider these vehicle-specific essentials before you take off, including tools, battery cables, a spare tire, nice windshield wipers (splurge on these, trust us), windshield washer fluid, etc. Plus, you need to pack your driver's license, insurance, registration, passport, car manual, and other like items. (And, if you're going abroad, there may be additional things you need to pack.)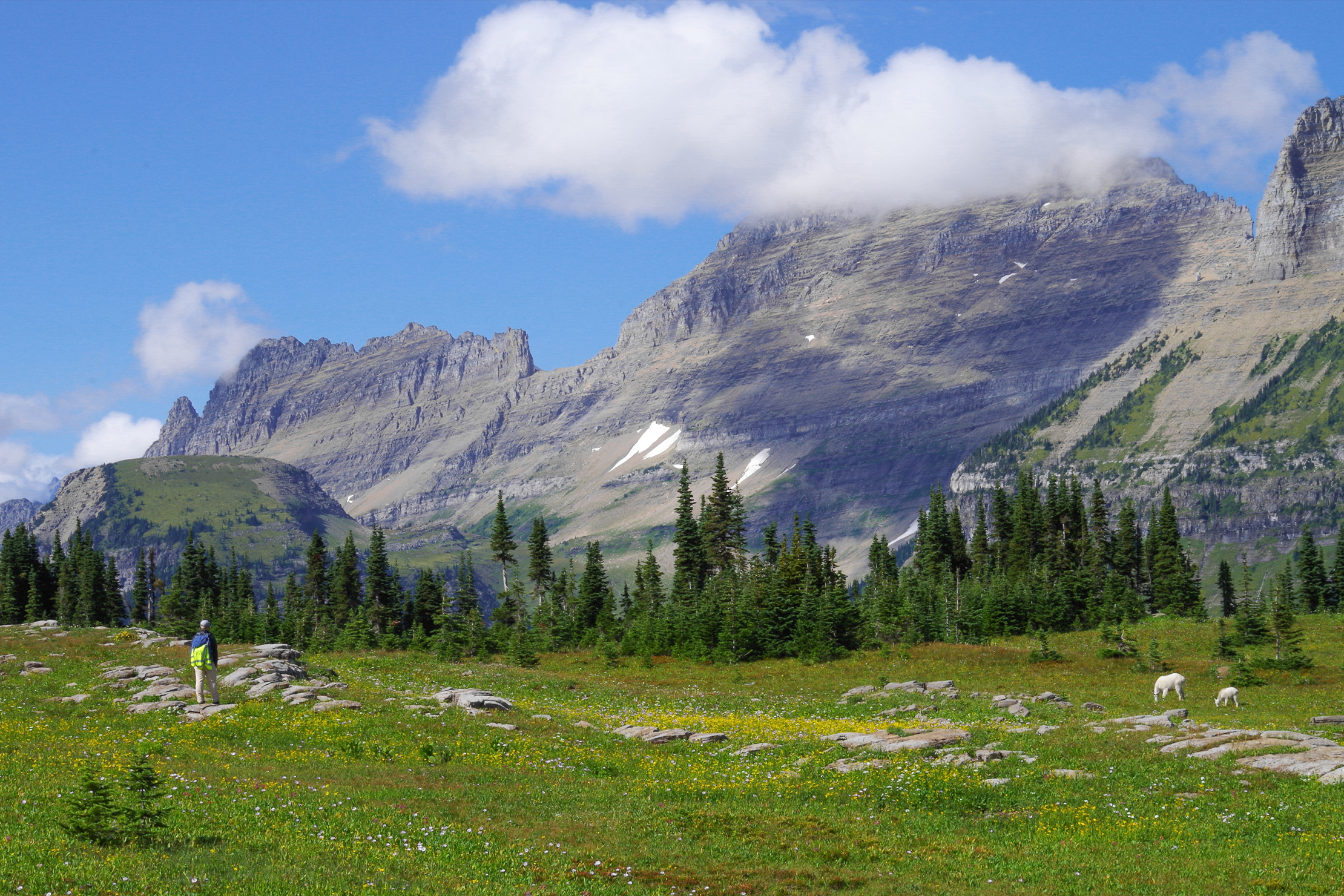 Of course, we know that what works for some isn't going to work for others (even the Pack Hacker team differs). So, if the items on this list aren't your thing, don't worry. We have other packing lists, guides, and reviews to help you find gear that works for you.
We've also written up a massive road trip guide to help you navigate all of the other aspects of a road trip (safety, finding accommodations, the best way to pack your car, and more), so check it out if you're so inclined.
With all of that said, let's get packing.
Standalone Bags & Organizers
We've found that the classic duffle, backpack, and sling bag combo (DBS, for short) is the best for road trips. Duffles are great for hauling the majority of your clothes as they're typically easy to pack—both in terms of throwing your stuff into one and Tetris-ing in the car. The backpack can act as an overnight bag or daypack while exploring whatever zany attraction you've stopped at. And the sling bag is for the essentials and quick stops.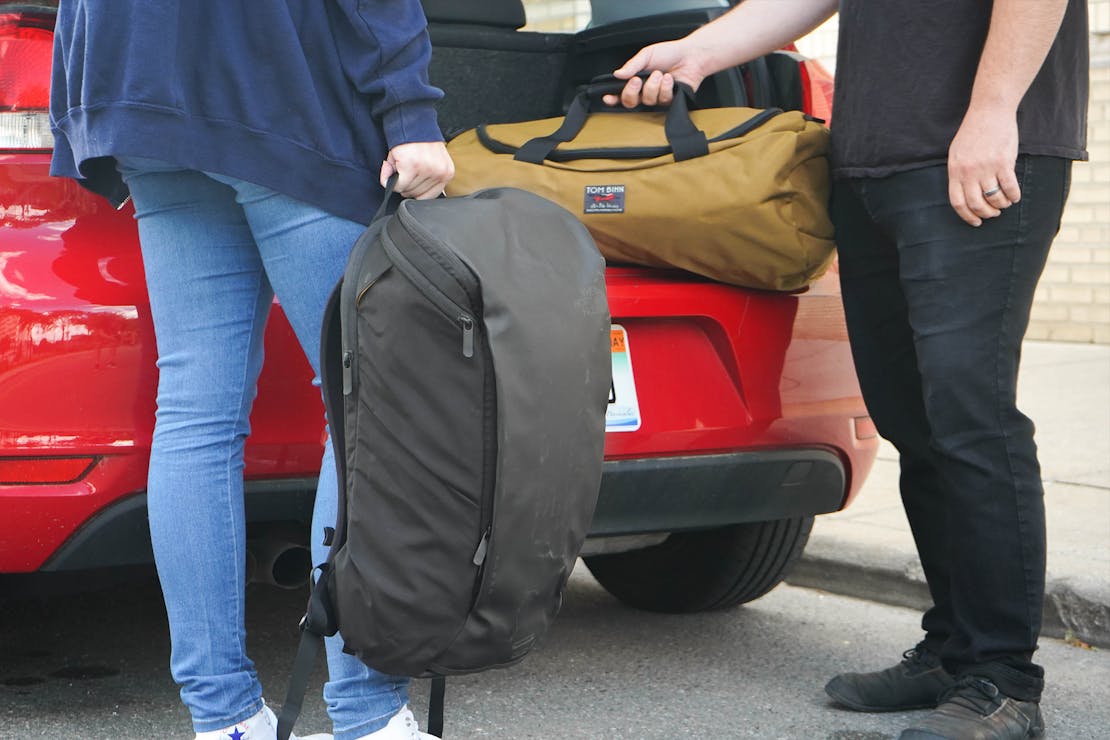 A classic duffle that's ideal for road trips in its simplicity. It's easy to dump all of your stuff inside the one compartment—basically a giant, cavernous bucket—so you can spend less time packing and more time enjoying the wind in your hair. Its soft sides will squish into the nooks and crannies leftover in your fully packed car. Plus, you can easily grab the comfortable handles and take the duffle into the laundromat (or the hotel if you're staying more than overnight). Tom Bihn is also known for the quality of its gear, so while this thing doesn't have much weather-resistance, it's highly durable in all other regards.
Versatility is key when it comes to choosing the right backpack for a road trip—and that's why we're recommending the Borealis. At 28L, this pack is large enough to hold all of the clothes and toiletries you need for a weekend trip, but small enough to act as a daypack for those longer drives. Plus, its dedicated laptop compartment means it'll work as a laptop bag if you need to head to the coffee shop to get some work done. It's also a great bag to take on hikes due to its comfortable harness system and durable, weather-resistant exterior.
A sling bag is a perfect place to stash your wallet, phone, and keys on the road. Not only so you know where all that important stuff is when not directly using them (trust us, there's nothing worse than losing your keys in a packed car), but so that you can easily throw your sling over your shoulder and go buy a cup of coffee. It's also nice for day trips and quick hikes. We're digging the Atom Sling due to its simple, effective organization as well as the soft mesh on the back panel and shoulder strap, which makes it super comfortable to carry. Plus, it's a great size—large enough to carry the essentials and a water bottle or packable jacket on day trips/hikes.
Clothing & Accessories
Road trips frequently involve a variety of scenarios: sitting down to a fancy dinner with your grandpa, camping at a goat farm, or spending the day at the beach to name a few. (And, of course, lots and lots of driving.) We suggest versatile, durable clothing that can keep up with whatever life on the road throws at you. Comfort is also key. Who likes sitting in a cramped car for eight hours wearing skinny jeans? Nobody, that's who. Additionally, we prefer clothes that feature antimicrobial properties or anti-odor treatments (for what should be obvious reasons).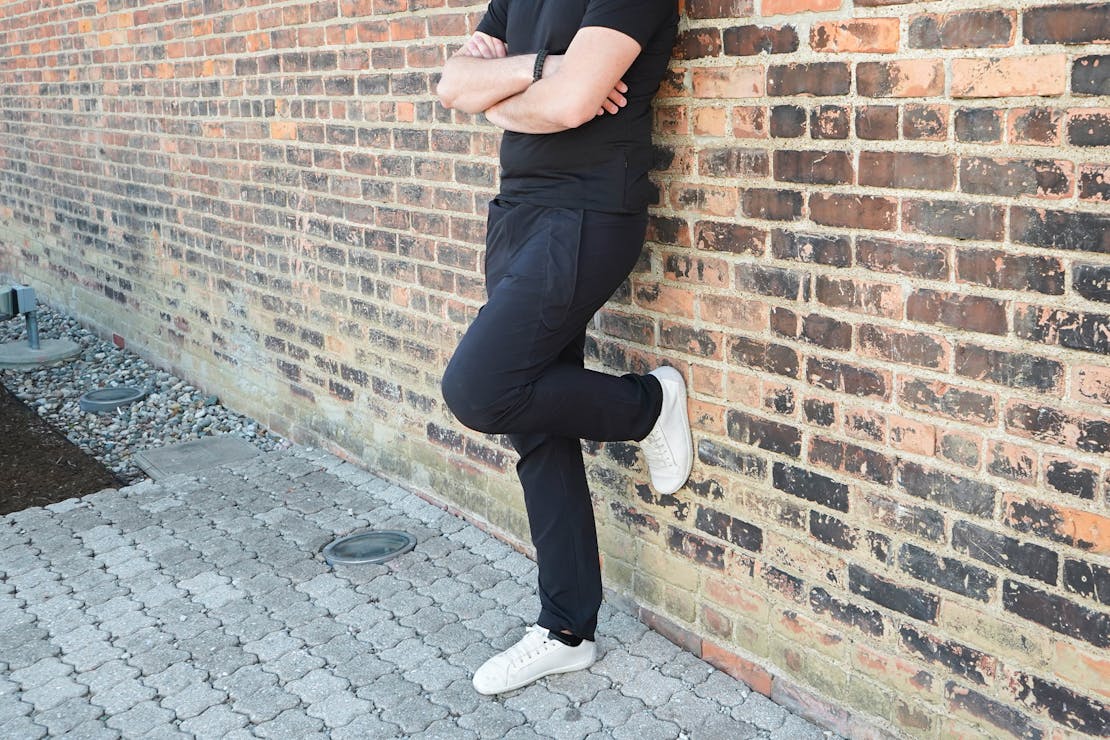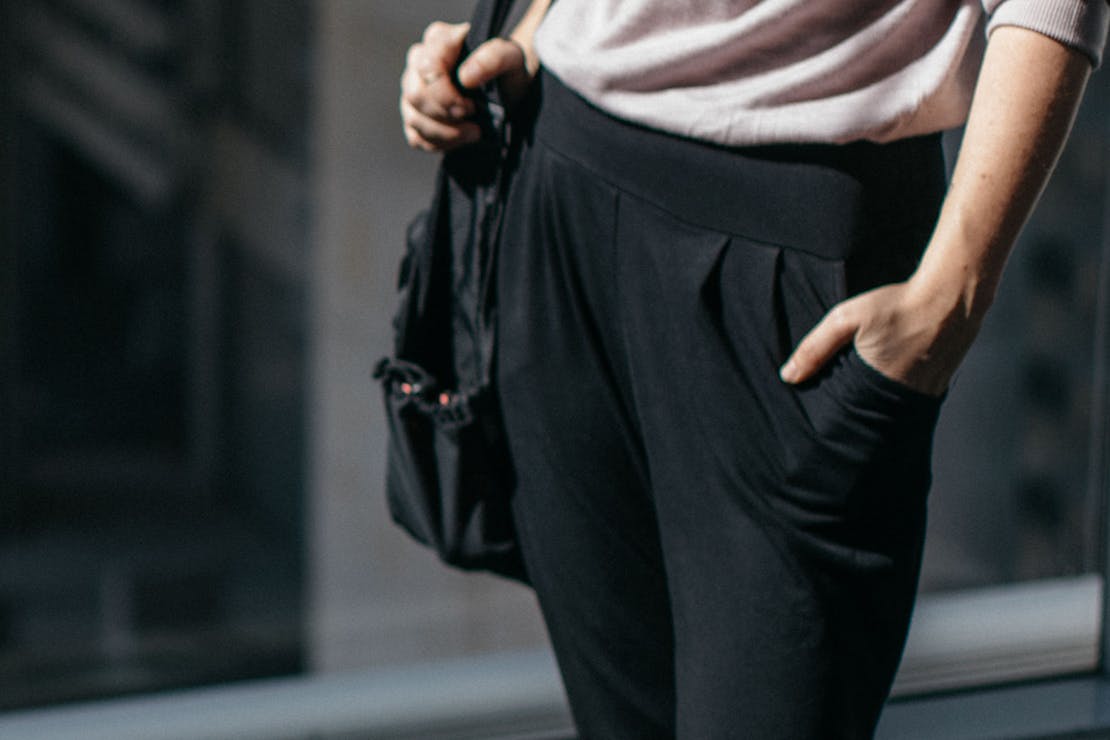 You can wear these boxers multiple days in a row without being gross. That in itself makes us like them for life on the road, but they're also breathable, soft, and moisture-wicking. Plus, the direction of the fabric on the legs runs vertically, so it stretches with your natural movement. Translation: the stretch on these boxers is fantastic. We're also digging their clean, sophisticated look (no branding on the waistband...yeah, we know!).
These pants are sleek and polished enough for the city, but versatile enough to work for an eight-hour drive, fast food eating session, or day on the trails. Yes, these pants do it all. We're huge fans of the crotch gusset, which gives these pants extra flexibility and breathability (two must-haves for long days in the car or hot afternoons exploring).
With a techy, almost sweatpants-y vibe, these pants are ideal for long driving days, traipsing through the forest, or lounging at your Airbnb. We like the technical fabric, which is thin enough that you won't overheat, but still nice and durable. We're also digging that the pockets zip all the way up, so you're less likely to have your phone and/or lucky charm slip out of your pocket and get lost between your seat and the middle console (you know what we're talking about). The waistband is also very forgiving, meaning you can go ahead and order the french fries and the onion rings.
Shorts that double as swim trunks—sometimes it's awesome to be living in the 21st century. These shorts are also comfortable, breathable, and stretchy. Plus, they're available in a variety of subdued and stylish colorways, and won't break the bank.
This tee boasts all of the magical properties of Merino wool, including odor-resistance, temperature-regulation, and a fast drying time. It also feels nice—lightweight and breathable, but not thin. All of these features, paired with its simple aesthetic, mean that it's quite versatile—wear it driving, hiking, lounging, or bar-hopping.
With a sporty, outdoorsy vibe, this tee may not be perfect for a five-star restaurant, but it's great for pretty much everything else. It has built-in UPF sun protection and odor-control that's comparable to Merino wool (not quite, but close). We like that it's moisture-wicking and lightweight, so you can turn off the air-conditioning and still keep cool. It's also quick-drying, so you can use it during any water-activities that may arise on your trip. NOTE: Patagonia is in the process of updating the Capilene line to provide 50+ UPF protection, so availability may be limited.
Made from a blend of Merino wool, the Icebreaker Siren Hipkini Briefs are ideal for life on the go. They're breathable, quick-drying, comfortable, soft, and more importantly, odor-resistant, so you can go longer between washes (or opt for a quick sink wash instead). Bring two, so you can let each pair breathe between wears.
These pants offer great versatility. They're comfortable and lightweight enough to wear on driving days, breathable enough to wear on trails, and polished enough to wear to happy hour. We also like that they're wrinkle-resistant, so you can crumple them up and toss them in your duffle without worrying how they'll fare. The only downside is that the pockets aren't as usable as we would like.
All you need to know about the Encircled Dressy Sweatpant is in the name. These sweats are oh-so-soft and stretchy—perfect for long drives—yet dressy enough you can step out of your car without being embarrassed. They're also relatively thin, so you're not likely to get overheated, and feature a secret zippered pocket that's actually hard to spot (unlike other "secret" pockets out there). So we guess it's not all in the name, after all.
Breathable and short (without looking excessively short), these lululemon shorts are great for hot days exploring the city, hiking up a mountain, or getting your exercise on. We like that they have two pockets—one zippered, one stash—for extra cash or cards. Plus, they're available in a range of colors, so you can (hopefully) find one that you like.
The odor-resistant, temperature-regulating, and moisture-wicking properties of this Merino wool t-shirt are a must for long days in the car or out exploring—plus it's nice enough you can get away with wearing it out to dinner. It's wrinkle-resistant too, so you can pull it out of your duffle, throw it on, and look sharp. Need we say more?
This tank is quick-drying, so you don't have to sit in discomfort after spilling your water bottle all over yourself when driving over a pothole. Plus, it's moisture-wicking and has solid odor control. As its name suggests, it's best for active days on the trails, but all of those aforementioned features mean it's great for driving days too. You can also rock it in the city if you're going for a sporty look. NOTE: Patagonia is in the process of updating the Capilene line to provide 50+ UPF protection, so availability may be limited.
Perfect for those days when you can't be bothered to wear separates, this romper is soft, stretchy, and comfortable. It has also been treated with a durable water repellent (DWR) to repel moisture. The small details—like the crisscrossed straps on the back, scalloped hem, and draped waist elevate the romper's look and make it easy to dress it up. So, you can wear it both on a lazy day at the campground and a night out on the town.
A versatile sports bra that will work for low-impact activities, including hiking, yoga, or a bike tour through the city. You can wear it beneath a tank or on its own. In fact, we think it's sleek enough that you could get away with wearing it with a jacket and jeans for a night out (of course that depends on your style preferences). It's also double lined for extra support, quick-drying, and has UPF50+ protection.
A headband is a versatile tool to have in your arsenal. It can help out a bad hair day, keep your hair out of your face, and elevate an outfit. We're digging this one as it can be worn in two ways (more versatility!) and has a soft, silky material. Plus, Breezy Tee uses 100% recycled materials in its packaging, which is a huge plus in our books.
Perfect for stargazing on chilly nights or when sharing a car with someone who loves to blast the air conditioning, this sweater is the epitome of cozy. It's soft and warm, yet breathable. You'll likely never want to take it off. And, of course, being from Patagonia, it's also made from 100% recycled polyester and is Fair Trade Certified™ sewn.
Also, make sure to pack:
Additional pairs of underwear (x 3)
Pair of jeans
Nice shirt for fancy dinners with Grandpa, walking through art museums, etc
Swimsuit
Wallet
Sunglasses
Hat (baseball cap style)
Athletic shoes
Sandals
Cheap flip flops for showers
Socks (x 4)
Cold weather clothing—warm jacket, hat, gloves, and long underwear—if you will be driving to chiller climates or camping
Productivity & Tech
Road trips are a great way to unplug and recharge. But a little technology can go a long way in making your time on the road less of a misadventure and more of an epic adventure.
And, if you'll be working on the road, check out our Digital Nomad Packing List for all the tech you need to be able to do your job on the go.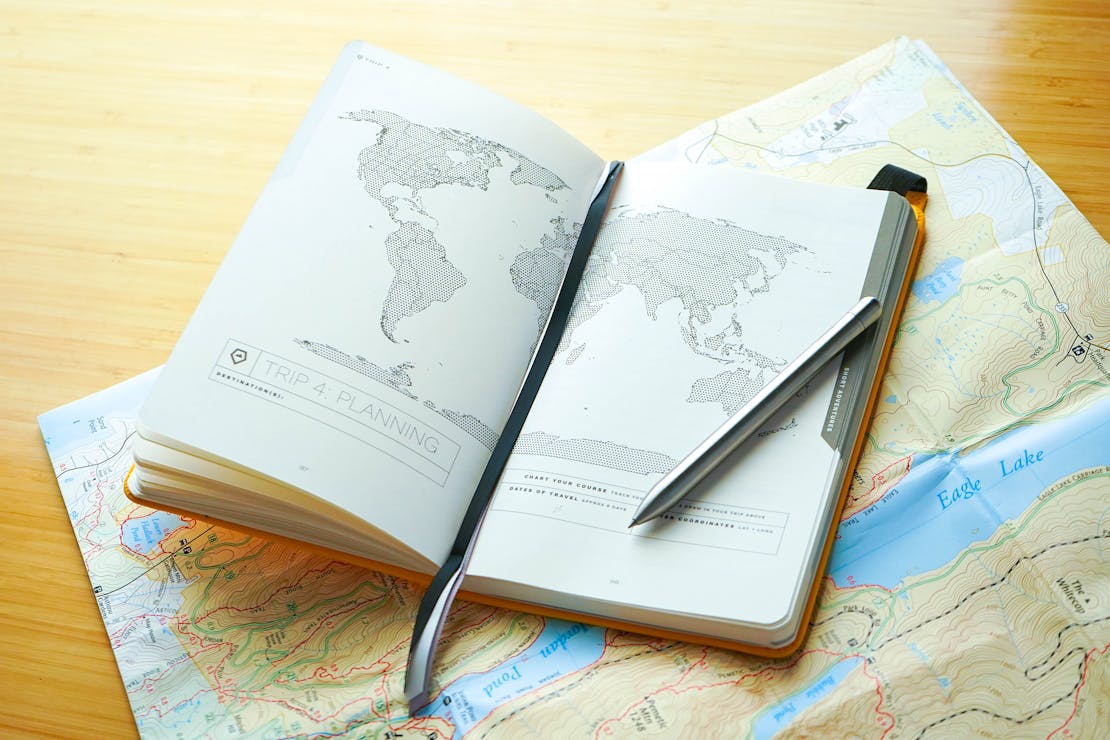 While you can hit the road without a phone mount, we don't suggest it. Not only is it more convenient to follow GPS directions with your phone mounted, it's safer to boot. We're digging this magnetic mount, which is pretty universal and will work with most smartphones, cases, and GPS devices. Plus, the magnet is super clean compared to other mount styles: no adhesive to stick to (and damage) your dash, no bulkiness, and easy to use one-handed.
An excellent tripod to keep your phone steady, so you can take photos or videos of your legendary trip. The flexible legs wrap around a variety of surfaces, allowing you to capture moments you would otherwise miss. Plus, it's so small, you'll hardly notice it in your car.
We probably don't need to convince you that a USB car adapter is a useful tool to have on the road. We like this one since it's small and has two outlets, so you don't have to fight over who needs to charge their phone the most…Unless there are more than two of you in the car. In which case, may we suggest rock-paper-scissors?
You need a phone cable to go with the car charger—or plug directly into your head unit. Anker is a brand we've had good luck with. Three feet is a great size as you don't want anything too long—all the extra cable will get annoying. Conversely, too short will also be annoying. We like to pack multiple cables, either for sharing with car mates or to keep one in our tech kit and a couple in the car.
If you're the type of person who likes to put pen to paper, you'll likely love this travel journal. It helps you plan your trip—with spots to jot down research, keep track of reservations, and budget. Plus, there's a travel log to memorialize your epic adventures. There's enough space inside for twelve (!) dedicated trips.
A headlamp is essential for camping and hiking—unless you have special night-vision magical powers, of course. But it's also nice-to-have in other situations (say if you want to stay up reading all night, but your roommate wants lights out). We like that this one has a variety of brightness settings, an option for red light, and a "memory" that lets you turn on your chosen brightness without cycling through all the options. Plus—it's highly water-resistant (rated Rated IPX4), so you don't have to worry about getting caught in a storm.
A dedicated alarm clock is a weird and specific thing to pack, we know. But you don't want to leave your phone on at night—say if you're camping or sleeping in your car—because it will kill the battery (or drain your battery bank). This is a solid workaround. It's small, somewhat durable, and totally silent (as in you won't hear it tick, not that the alarm itself is silent).
There are lots of power inverters on the market, but we're digging this middle of the road option. It has decent wattage—it will charge most things that need charging (laptop, e-reader, phone)—but isn't overkill. The two outlets and two USB ports are helpful to have, plus there's a built-in fuse for safety. It's also relatively compact, so it won't take up too much space in your car.
Also, make sure to pack:
E-reader
Power bank
Notebook
Pen
Smartphone
Headphones (noise canceling is clutch)
Toiletries & Personal Care
As far as we're concerned, smelling of sweat and sunscreen is a part of the fun of road trips (…right?). But your car mates—and grocery store clerks, baristas, park rangers, and everyone else you come in contact with on your travels will thank you if you freshen up from time to time.
Unlike the Toiletries & Personal Care sections in our other packing lists, not everything we list here will fit into your Dopp kit. In fact, we recommend only keeping the toiletries you'll need for showers and your morning/evening routines in your Dopp kit. Everything else—think toilet paper roll and coconut oil—can and should be tucked out of the way in one of the plastic bins we mention later on in this packing list. That way, you can get to said items when you need them, but you don't have to sort through them to get to your toothbrush every morning.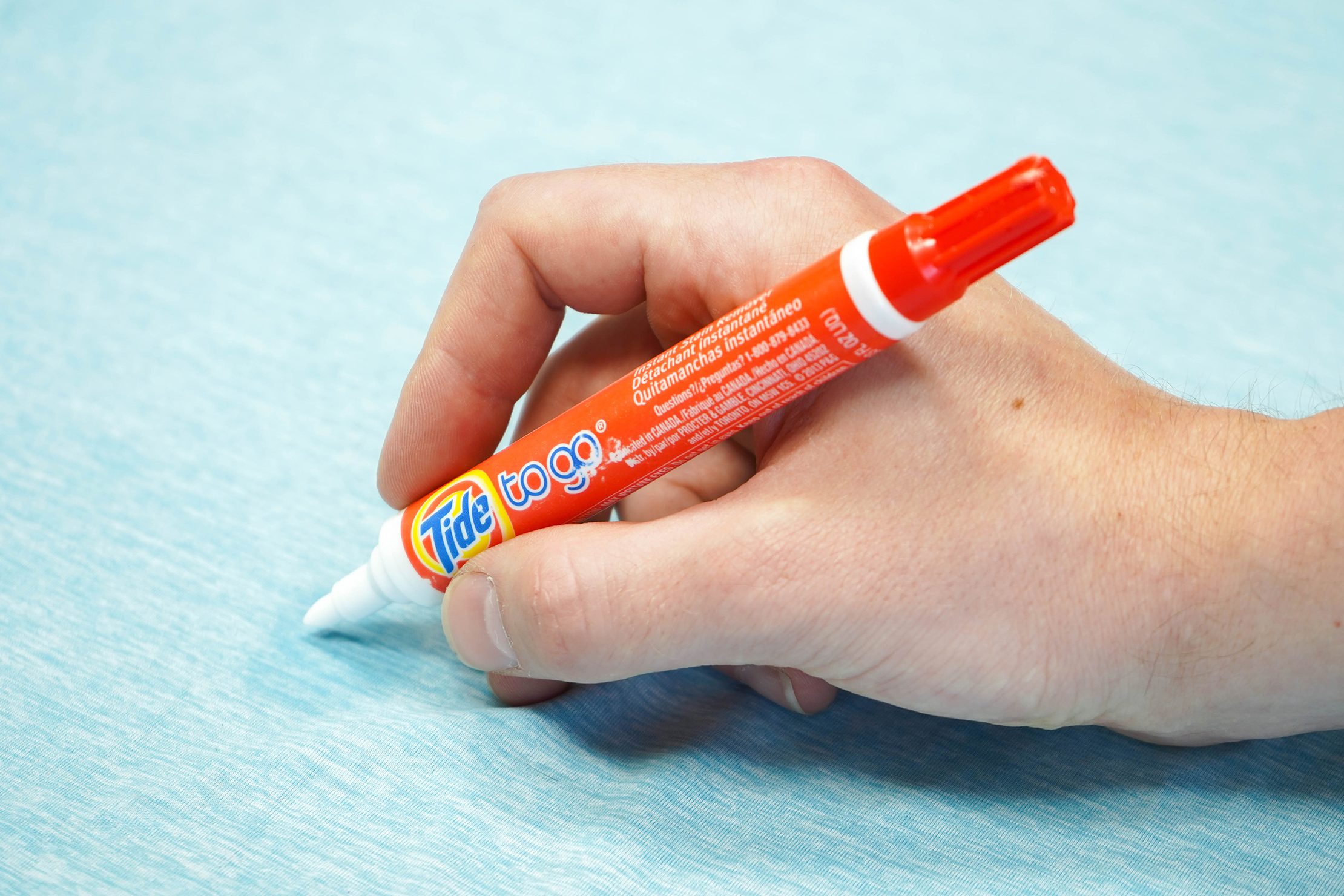 Cologne won't completely mask your haven't-taken-a-shower-in-a-week odor, but it will help. Fulton & Roark offers several scents to choose from, so you should be able to find a fragrance that suits you. (Check out the full review for our team's favorite scents.) And, because it's solid, you don't have to worry about spills.
If you haven't used a menstrual cup before, it may take some time to get used to (we suggest trying it out before your road trip). But, once you get used to it, it's amazing to have on the road. You can use it for up to 12 consecutive hours, so you don't have to clean it at questionable rest stops. Plus, the Blossom Cup doesn't use any harmful rubber or plastics and comes in at a super affordable price point.
Perfect for those days you want to smell extra nice (or when your deodorant needs some help in masking your haven't-taken-a-shower-in-a-week odor). Lush offers several different fragrances, so you should be able to find a smell that works for you. Plus, it's solid, so you don't have to worry about spills.
We like this Dopp kit for a couple of reasons. 1) It hangs up, which is an important feature for showering at gyms or campsites, and 2) It has a highly water-resistant pouch that you can take out of the kit and into the shower without worrying about it taking forever to dry. Note that there is a ton of organization inside of this bag, which may be right up your alley or feel limiting, depending on your travel style.
You don't need to abide by airline liquid rules, but we still prefer to put our liquids into small containers to save space. These toiletry bottles have been designed to fit perfectly inside the Gravel Toiletry Bag, but their unique shape means they fit together nicely to save space inside of any Dopp kit. We suggest using them for whatever liquids you plan to take with you on the road. Say conditioner and hair gel.
Sure, you don't need a fancy soap case, but this thing is super nice to have. It's not rigid like a hard-sided case—so it's easier to pack—and it's also way better than a plastic bag. The technical makeup of the case also allows the soap to dry out while being totally watertight, meaning your Dopp Kit and all your gear stays dry. Yeah, it's basically magic.
A microfiber, antimicrobial towel is about the most massively useful thing a road tripper might have (any Hitchhiker's Guide to the Galaxy fans out there? No?). In all seriousness, this microfiber towel is super handy. It's necessary if you plan to shower at a campsite or gym, but also nice-to-have in case your Airbnb forgets to supply a towel. It's also great for beach trips or picnics. The antimicrobial properties of the towel mean that smells are kept to a minimum and that you don't have to wash it as frequently as other towels. Plus, this towel dries really, really quickly. Additionally, it packs down into a small carrying case that won't take up much space in your car. There are a few different sizes available, so you can grab what you need—we recommend the XL.
You might not know, but coconut oil is a triple threat. It's a great way to moisturize your skin after spending all day in the sun. Plus, you can use to strengthen and de-frizz your hair, and, finally, you can cook with it. We like that this one is organic with no added chemicals.
While this first aid kit doesn't have a bunch of trauma stuff, it should take care of most minor ailments (and if you need trauma supplies, you should probably seek medical attention anyway). We like the extra hand-sanitizer and the addition of the anti-itch ointment. It's also relatively small, so you can easily keep it in your middle console or glove box.
Stains happen on road trips. Like a lot. Whether it's dropping melted chocolate onto your shorts while making s'mores around the campfire, spilling coffee on your shirt after hitting the road early, or rubbing dirt into your sweater on a picnic. A Tide to Go Pen won't alleviate every stain out there, but it gets rid of most stains with just a few pats.
Also, make sure to pack:
Toothbrush
Toothpaste or powder
Floss
Deodorant
Hand sanitizer
Bug spray
Sun screen
Bar soap
Shampoo bar
Hair ties
Makeup
Bath wipes
Powder laundry detergent
Razor
Comb/brush
Hair creams or pomades
Tweezers
Nail clippers
Lip balm (road trips lead to cracked lips…trust)
Toilet paper
Gallon plastic bags
Cooking
Cooking on the road is a great way to stretch your budget and stay healthy, whether you'll be road-tripping for a weekend or six months. While the idea of cooking over a campfire is romanticized in that whimsical living-off-the-land kind of way, it's not practical for a road trip that lasts any length of time. But you also don't want to take the finest chef's knife and ceramic pot and pan set from your kitchen either.
Finding the best supplies to spin up tasty meals out of your car—without taking up too much room in your trunk—is a difficult dance. Luckily, through lots of trial and error, we've come up with a list of what we find useful, but not overkill (of course, tailor it to your preferences).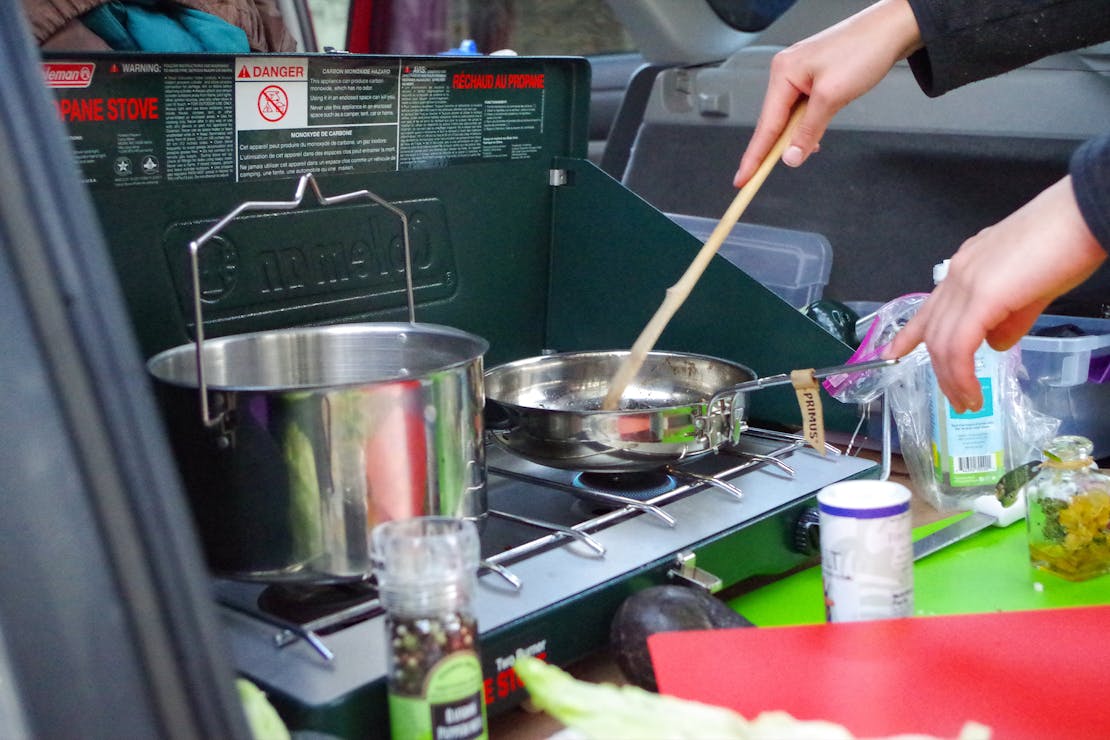 YETI made a name for itself by taking the cooler world by storm, so, yeah, we're going to recommend a YETI cooler. It keeps ice really well—we're talking days in the right conditions—so you don't have to continually buy ice. We recommend this soft-sided style as it can kind of expand or contract based on how full it is, can be jammed into places, and has a flat top, so you can throw some stuff on top of it. YETI also offers larger sizes if you think you'll need that extra space.
You can use this lightweight tea kettle for far more than making tea. Boil water for instant oatmeal, coffee, sanitation purposes, etc. The one-liter size of this kettle is large enough you can boil enough water for the aforementioned activities (you can always fill it and boil it twice if need be), but not so large that it will take up precious space in your car. The coated handle is nice to grip.
This stainless steel bowl is great for eating on the road. First of all, it cleans up ridiculously easily. If you're in a pinch, you can pour a little water into the bottom, clean off any gunk with your finger, rinse, and you're good to go. It's also lightweight and small, but deep enough that you can fit a good amount of food inside. And, if you need more than one, they stack into each other nicely. Our only caveat is that it can get hot to the touch when you fill it with hot food, so keep that in mind.
Yes, we're telling you to pack everything and the kitchen sink (ha!). But, seriously, you can't actually travel with your sink, so this is the next best thing. You can fill it up with soapy water—or just use it to catch your dirty dishwater—to clean up your cooking mess while at a campground, rest stop, or super cheap Airbnb that doesn't have a kitchen. Just make sure you properly dispose of the water.
If you've spent any time in a kitchen then you probably know why a towel is handy when it comes to cooking. The same is true on the road. (Hint: it's primarily for drying dishes and your hands. You can also use it as an oven mitt to hold your stainless steel bowl when it's super hot.) This microfiber towel is perfect for travel as it dries quickly, so you can throw it back in the car after a quick pit-stop without having to worry about weird damp towel smells.
It's super convenient to have a big ole mixing bowl while cooking on the road. You can use it to store chopped up veggies before sautéing them, to hold giant salads, or do other large mixing bowl activities. We like that this one collapses into a small size, so it won't take up space whenever not in use.
Plastic and paper grocery bags can make your car dirty in the blink of an eye. Plus, they're not great for the environment. We're digging this tote since it packs into a tiny size to stay out of your way when not in use. The included carabiner clip is also handy—you can clip it to your keychain, the exterior of your bag, or wherever else to ensure it doesn't get lost in the black hole that is your trunk. And it works for far more than groceries—take it to the beach, on a picnic, or wherever else you don't want to lug your day pack.
Cooking on the road can be a hassle, so it's important to keep leftovers when you can. Stasher Bags are a great way to do that. First of all, they're better for the environment than disposable plastic bags. But they also work better—you can throw them in the cooler without worrying about melted ice water penetrating the silicone exterior and turning last night's dinner into water-logged mush. Additionally, you can eat straight out of them. These bags also work well for snacks—you can partition out serving sizes of trail mix, pretzels, or [insert-your-favorite-snack-here]. Stasher sells a variety of sizes and colorways, so you can find one (or several) that works for you.
You may not be able to make intricate, complicated meals with this cook set, but the two pots and pan allow you to cook a good variety of things. They nest inside of each other and tuck into a handy carrying bag, which makes for easy packing. The pots also have a strainer built into the lid, so you can drain pasta (or other things) without having to pack a separate colander.
When it comes to camping stoves, this one from Coleman is luxurious. The two burners allow you to make meals that require cooking multiple things at the same time—think grilling up veggies and cooking rice. It's also durable, simple to use, and has a range of flame size. Plus, it packs up nicely.
Fuel for your stove—need we say more? Actually, yes, we do have more to say. Make sure you keep an eye out of how much propane you have left, so you don't roll up to your campsite hangry and tired only to realize you can't use your stove. Also, be sure to responsibly dispose of empty canisters.
There are several ways to make coffee on the road, but we're partial to an AeroPress. Sure, it's not the easiest option out there, but it makes such exceptional coffee that we think the trade-off is worth it. And, yeah, it may not be as easy as a pour over, but it's also not rocket science.
These plastic bins are a great, affordable option to organize your cooking supplies. You can easily grab them from the backseat of your car and set them on a picnic table whenever you're ready to fire up the stove. Use one for traditional supplies—think chef's knife, bowl, spork, lighter, etc. Use the other for bottles—olive oil, soy sauce, etc—and spices that you'll want handy while cooking (note that if you want to store taller bottles standing up, you won't be able to keep the lid on).
This flat storage bin easily slides into backseats and trunks, so it's a good place to keep all of your non-perishable food (cans of beans, boxes of pasta, etc). Plus, it's clear, so you can see what food you have and how much you have left at a glance.
Not only do you need water for drinking, but it's necessary for cooking and cleaning up too. We like this container because its shape is designed for easy pouring, the spigot makes doing dishes easy (well, easier), and 7L is a great size.
Also, make sure to pack:
Titanium spork
Wooden spatula
Vegetable peeler
Can opener
Lighter and/or box of matches
Thin, flexible, plastic cutting board
Chef's knife
Paper towel roll
Sponge
Dish soap
Sleeping & Camping
If you'll be sticking to hotels and Airbnbs then this section doesn't apply to you. But if you plan to spend some (or all!) of your trip camping and sleeping in your car, then you're gonna need some stuff to help you get a good night's sleep.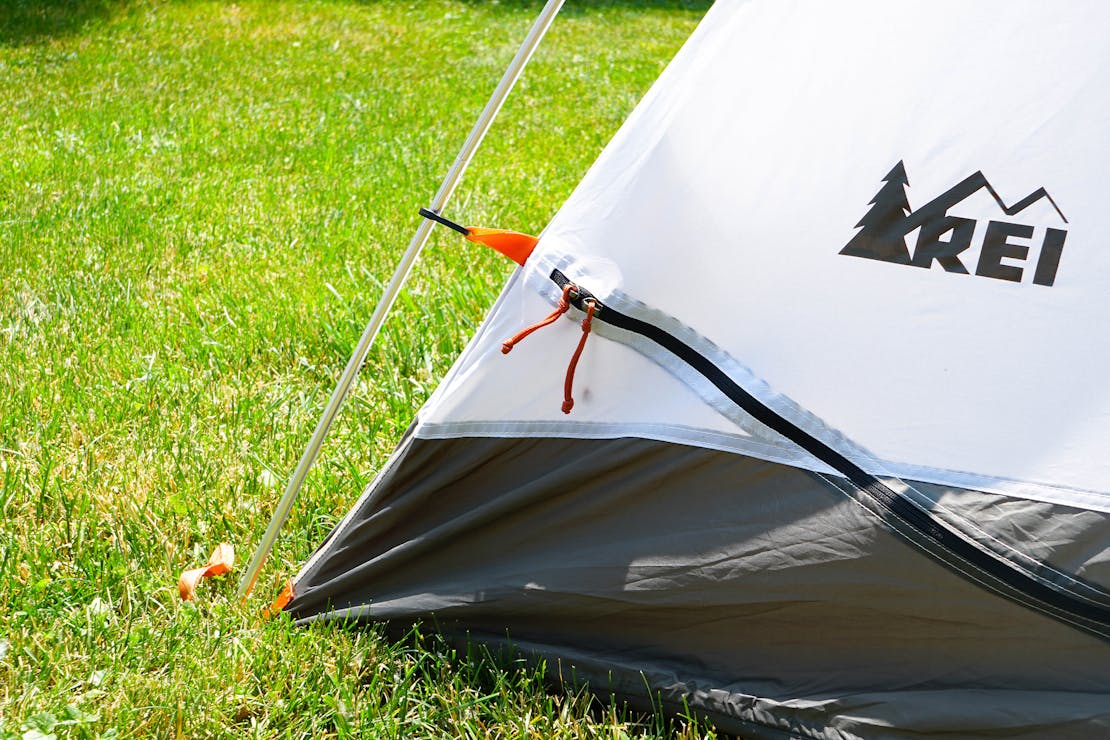 If you'll be spending a lot of time in your tent, you'll probably appreciate the space this tent provides. There's enough room inside that you can stand up (!)—plus the fly goes all the way down for solid weather protection. That said, it's going to take up more space in your car than a smaller tent and isn't going to be great in heavy winds. Based on the length of your trip, how frequently you'll be camping, and your personality, you can decide if the comfort and hangoutability (not a word, but go with it) of the Grand Hut is worth sacrificing some durability. Or if you would prefer something smaller. And, because REI will likely have REI-branded stuff at most of their locations, you should be able to drop by any REI store and easily get replacement parts or a new tent if your first one fails on you (within the scope of the one-year warranty).
You probably don't need this technical of a sleeping pad, but it's one of those things that are nice to have—especially if you'll be sleeping on it nearly every night. It's thick (for a sleeping pad) with great insulation to keep the cold from the ground from seeping into your body. Plus, it rolls up into a small size, so it won't take up too much space in your car.
There's a variety of highly technical, specialized, expensive sleeping bags on the market. This one is not one of them—but it's all you (likely) need for basic car camping. It's rated to 35℉, which is pretty dang cold, especially since most road trips take place in warm weather months (or involve chasing the sun). Plus, it's not likely to make you too hot. It comes in two sizes (regular and long) and you can pick up a left-handed version if you're left-handed. We also want to mention that it's made from 100% recycled fabrics, which is, frankly, awesome.
While you could bring the pillow off of your bed, we suggest packing a specific pillow for camping. Just think of all the dirt and grime that camping involves. We're digging this pillow since it's made of soft, comfy, and up-cycled foam—perfect for camping and car naps. Plus, it's compressible, so it won't take up much space in your car when not in use. There are a few different sizes to choose from and plenty of colorways.
If you're sleeping in your car—or even just lounging in it—you'll want to be able to roll down your windows without inviting mosquitos inside to sleep with you. This netting will get the job done. Simply drape it over your windows and secure it with magnets. You only need one package if you want to cover two windows, but you'll want two if you have large windows or several you want to cover.
These are the magnets you'll need if you're draping mosquito netting over your windows. They may look tiny, but they are seriously strong. You may want to wrap these in duct tape before using them because, otherwise, they can rip the paint off of your car. Also, you can create little handles/pull tabs with the duct tape, so you can actually pull off the magnets.
This tarp isn't durable enough for heavy lifting, but it's a good all-around tarp to set your tent on to protect it from a wet ground/help extend its life. Additionally, you can tie the tarp over the windows if it's raining and you need to sleep in your car (so you can keep the windows cracked without worrying about getting wet).
Rope is one of those things that seems to come in handy at random intervals. Say to help you tie your tarp over your windows in the aforementioned it's-raining-while-you're-sleeping-in-your-car scenario.
Miscellaneous
Not everything we recommend fits neatly into the above categories. While not as necessary as, say your toothbrush, these miscellaneous items will help you take your road trip to the next level. You know, the kinds of things you'll be really glad you packed after a few days on the open road.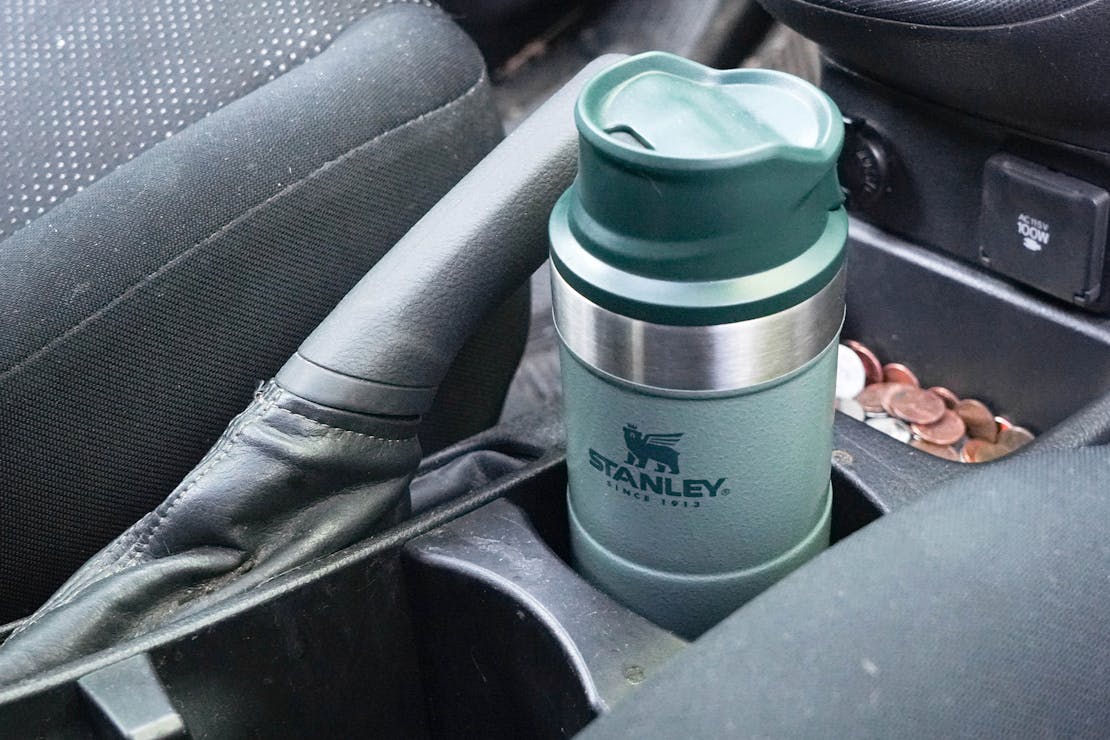 Road tripping with a reusable water bottle is the way to go (beyond environmentalism, who wants to drink lukewarm or, even, hot water from a plastic disposable bottle that's been sitting in the car all day?). This bottle has double wall vacuum insulation to keep cold drinks cold and hot drinks hot. The 18oz size is big enough that you should be able to quench your thirst, but it still fits inside most cup holders.
If you're a coffee drinker you're going to need a separate bottle for the delicious drink (for obvious reasons). This one seals, so you don't have to worry about spills in between sips. And, because of its trigger-action lid, you can easily drink your coffee one-handed, which is ideal (and necessary) for driving.
This seven-in-one multi-tool isn't going to be handy for any big things. In fact, we recommend you bring an actual tool kit for that kind of stuff. But the Shard is perfect for quick jobs like opening bottles or tightening the screw on that wobbly Airbnb chair. Plus, this little fella is small and inconspicuous enough to fit nicely on a keychain.
Part carabiner, part clip, the Heroclip is a handy tool to have around. Use it as a clip to hang things up. Or use it as a carabiner, which has a million different uses, from keeping your keys more secure inside of your bag, to clipping your water bottle to your pack. It's available in a few different sizes and a variety of colorways and patterns.
This travel wallet is a great place to stash and organize your roadside assistance card, insurance, registration, America the Beautiful pass, passport(s), emergency cash, etc. All of the things you may need occasionally on the road, but don't want to keep in your everyday wallet. And, because the wallet will mostly stay out of sight, you don't need anything fancy looking. Plus it has a spot for coins (for showers!).
Between stopping for smoothies, enjoying a creamy milkshake, or slurping down ice water at a restaurant, road trips involve a fair amount of straw action. This stainless steel reusable straw is a great alternative to plastic straws. It folds down to a small, packable size, ends up being more fun to drink out of than disposable straws, and will help mitigate your environmental impact. That's a win, win, win right there.
This camping chair is a great middle-ground between a traditional big camping chair, which will take up precious space inside of your car, and something ultralight, which usually involves sacrificing comfort. Use it at a campground or sitting around a fire pit in the backyard of your Airbnb.
This thing is only necessary if you'll be road tripping to a place without easy access to washers and dryers (or sinks). A simple concept, we've been impressed with how effective it is at cleaning clothes (the interior washboard makes all the difference). It does leave your clothes sopping wet, but as long as you keep drying time in mind, that's not a huge problem.
These plastic bins are a great way to keep your stuff organized—whether that be camping stuff, paper towels, coconut oil, plastic bags, and other things of that nature. The lids clip into place, ensuring that whatever you have inside won't fall out, plus they're stackable to make for a nicely organized car.
These convenient little tubs work well for storing those random small items you want to take on the road. Say ibuprofen, vitamins, or jewelry. We like to fill a second one with snacks (think almonds) to take on quick hikes or day trips. Plus, they're available in different sizes, so you can mix and match.
Also, make sure to pack:
Ear plugs
Duct tape
Playing cards
Yoga mat (if you're in to that sort of thing)
DSLR camera
Combination lock
Ready, Set, Drive.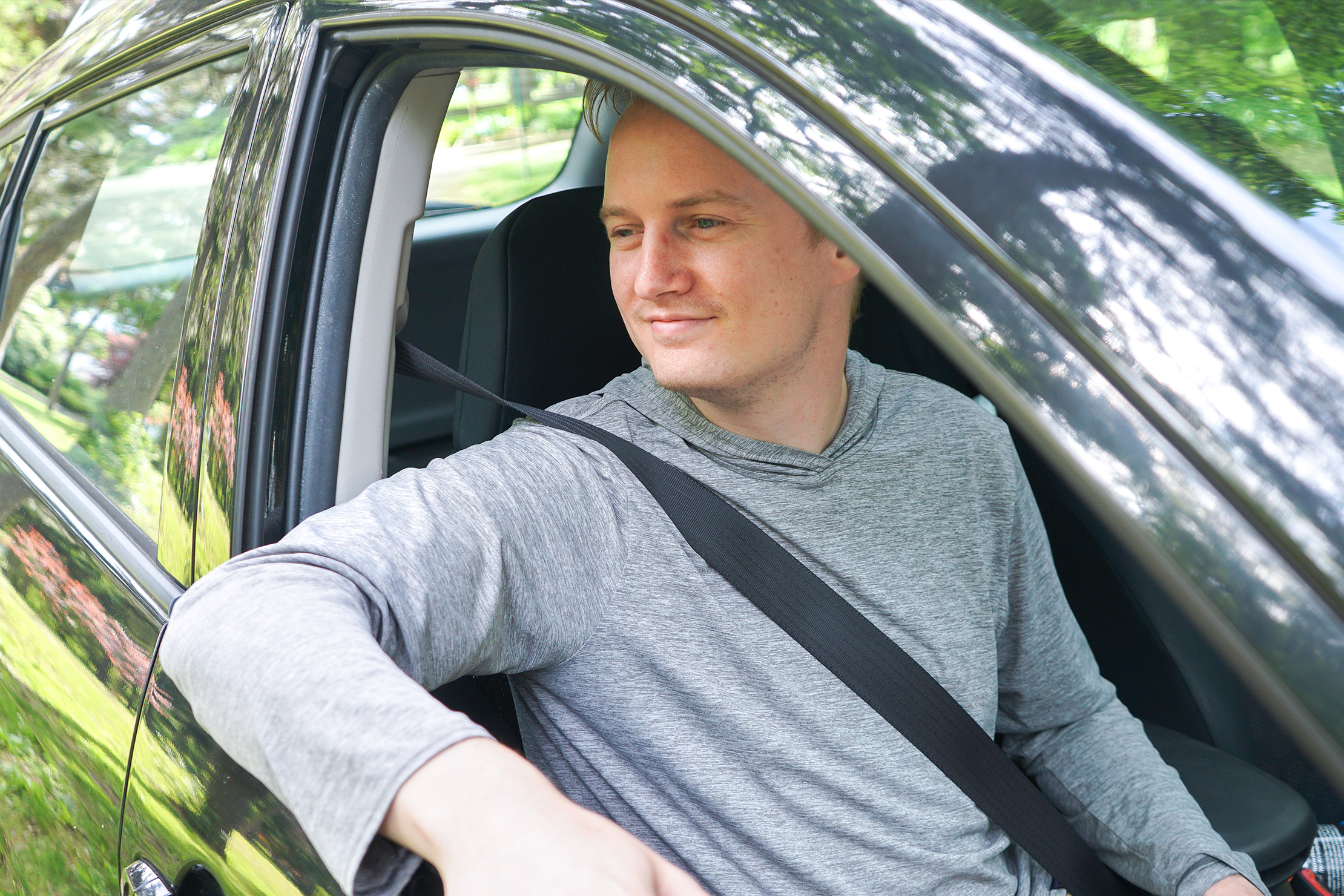 So there you have it—everything we've found that you need for a successful road trip after years of trial and error by members of our team. We hope this list has helped ease any of your pre-road trip stress. Remember, this list is more of a guideline. Please adapt it to your trip and preferences (our reviews may help you find gear that suits your needs).
And don't forget to check out our Road Trip Guide for more advice, including tips on how to pack your car. Now, crank up that music, roll down your windows, and hit the road.