Fulton & Roark Solid Cologne Review
The Fulton & Roark Solid Cologne can keep you fresh on-the-go. It's compact and easy to use, although fairly heavy for its size.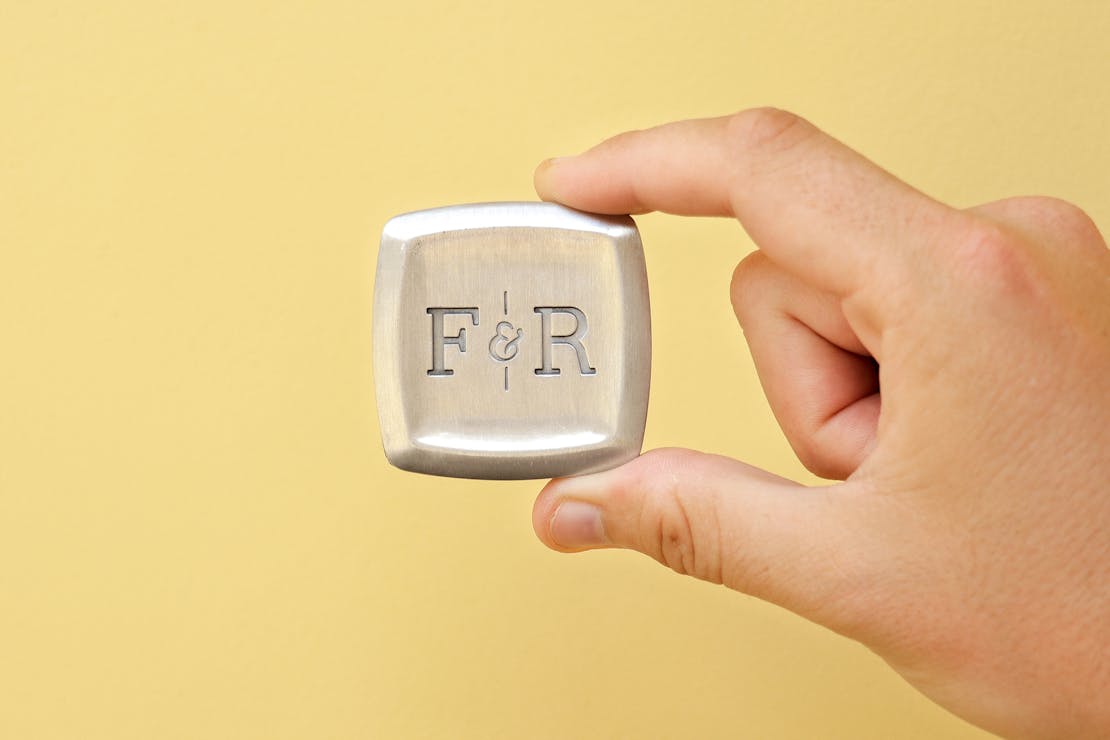 Our Verdict
Unlock the Pro Summary
Save time. Get access to brief summaries of our reviews so you can browse and make decisions more efficiently.
Pros
Convenient for travel
Durable metal tin
Refillable
Cons
Heavy for its size
Pricey (but it does last a long time)
Easy to misplace
Recent Pack Hacker Video
Technical Details
Capacity

.2oz

Weight (oz)

2.65 oz (75.1 g)

With case

Dimensions

2 in x 2 in x .5 in (5.1 x 5.1 x 1.3 cm)

Notable Materials

Metal

Manufacturing Country

United States

Warranty Information
Full Review
When you're traveling, solid toiletries are a great alternative over liquid. They're typically more compact, more convenient, and don't cut into your TSA liquid allowance (you also don't have to worry about them leaking all over your bag).
Enter the Fulton & Roark Solid Cologne. It's easy to use, takes up minimal space, and smells great. Plus, it comes in a small-but-tough package and several strong fragrances. All things that make it work well for travel. We've also found that it comes in handy for everyday carry too.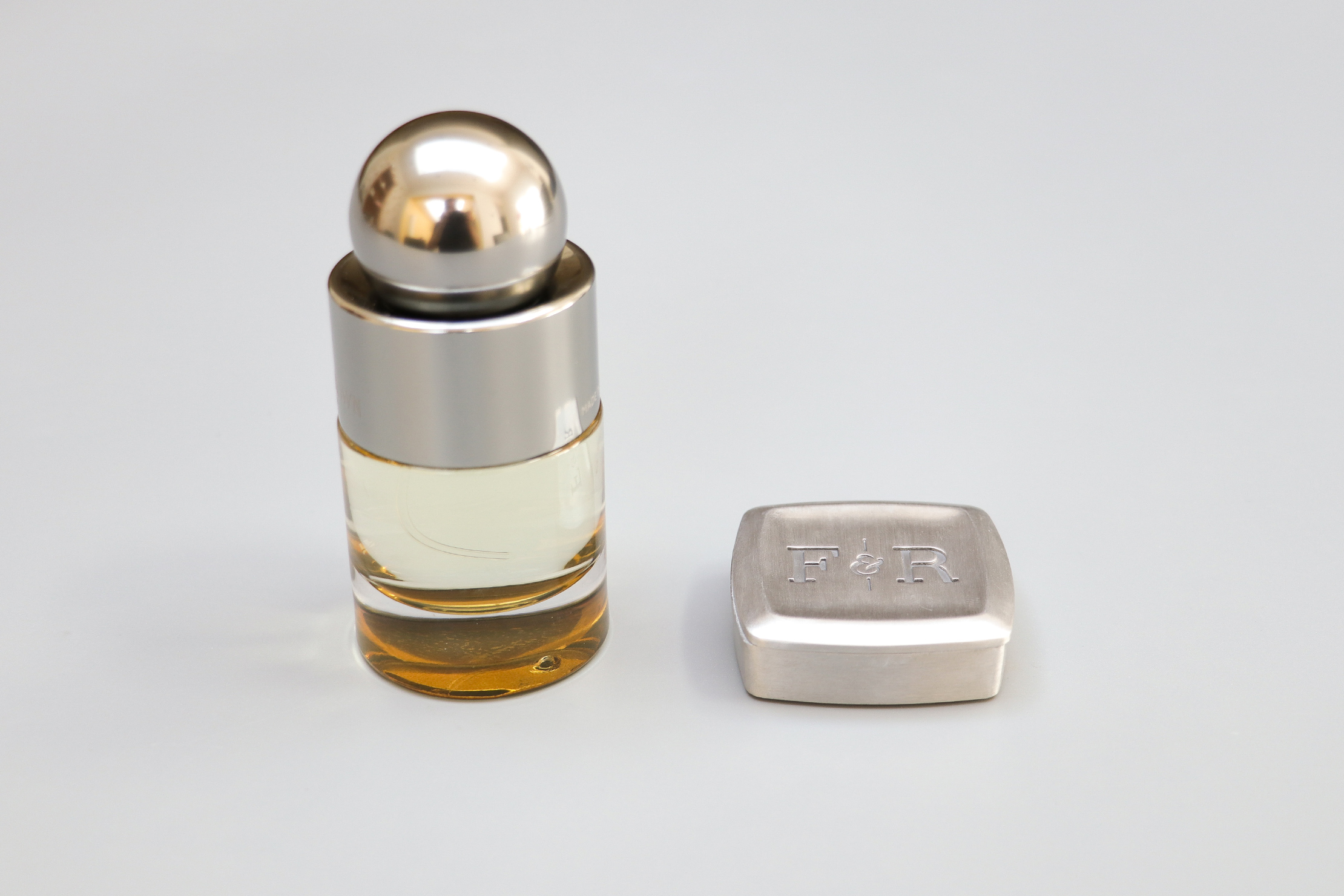 So far, we think this cologne is a pretty solid choice, but we want to give you a whiff (okay, okay, last one) of all our thoughts on it—good and bad. Let's jump in.
Features & Usage
The Fulton & Roark Solid Cologne comes in a metal tin that makes it extremely durable. You can toss it in your sling bag or your travel backpack and be confident it's safe from any harm—which isn't the case with most bigger, liquid cologne bottles since they're usually made of glass. With this one, you don't have to worry about any leaking or shattering going on while you're traveling.
The metal case also makes it pretty heavy—especially for its size. It's not so heavy that you have trouble picking it up or anything, but it is noticeable. So if you're trying to go ultralight where every ounce counts, this may not be the solid cologne for you. Not a deal-breaker for us, but worth mentioning.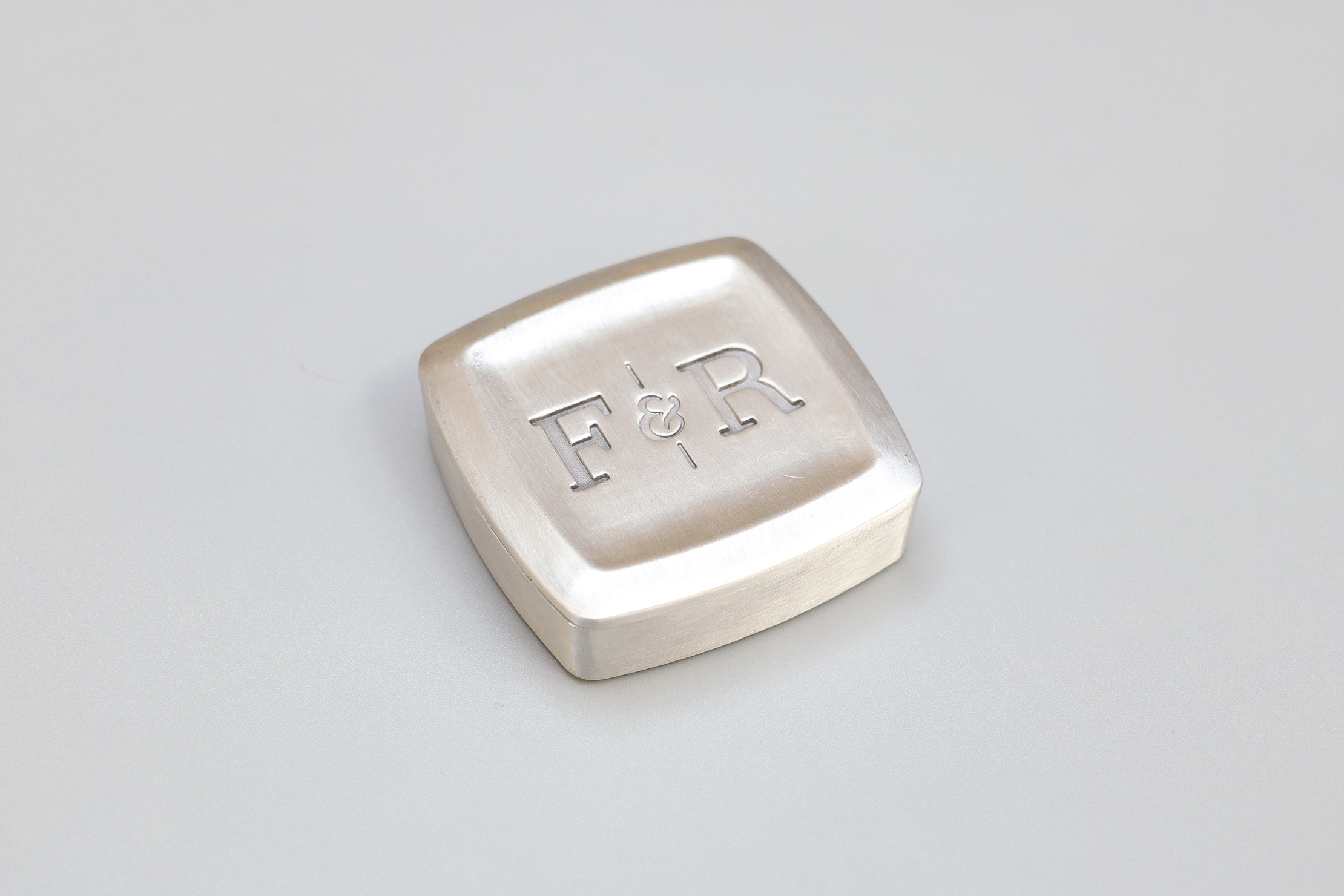 Speaking of size, the Fulton & Roark Solid Cologne is pretty small. It doesn't take up much space, which makes it ideal for all kinds of travel and everyday carry, but also easy to lose. If not organized properly it can find its way to the bottom of your pack or into those other hard-to-reach nooks. (And who has the time to play hide-and-seek with their cologne every day?)
You'll see the F&R logo etched into the lid of this solid cologne's metal case. This branding plus the polished steel of the canister gives it a sleek, business-like vibe. It looks and feels like a luxury product—and most importantly, smells like it too.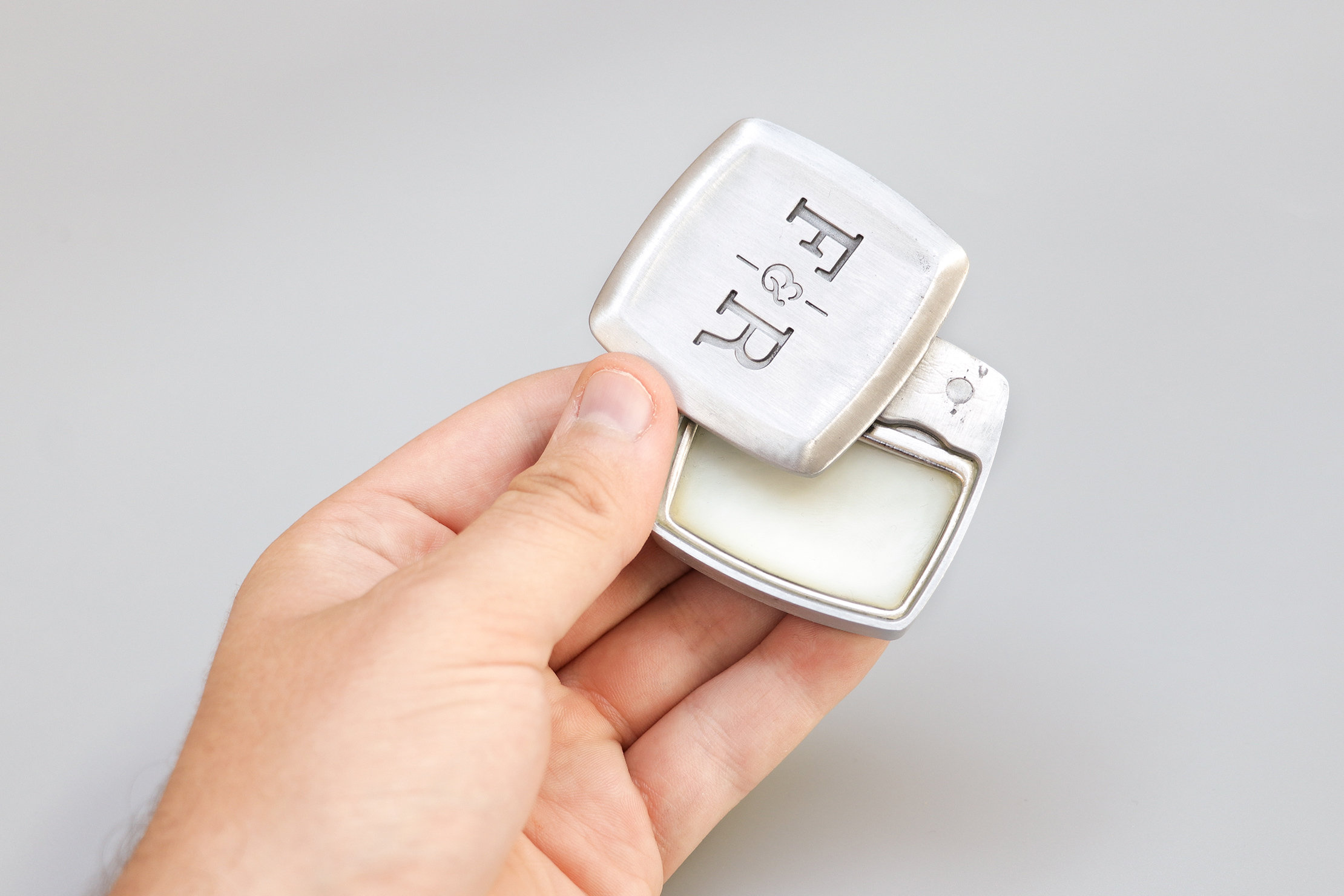 The tin also has a magnetic closure that's easy to open and close with one hand. Just slide it to the left (it only slides one way) and the lid will click and stay in place until you slide it back down—one quick, counterclockwise, 360° motion.
One tin holds .2 oz of cologne. That doesn't sound like a lot, but this product is a dense one. Fulton & Roark claims that it keeps you smelling good for four months of daily use. With regular, not daily use, that estimate goes up to seven months. Of course, your mileage may vary. We've been testing for about a month with regular use and have plenty of cologne left. But when you do run out you can purchase refills of your favorite scents and snap them into place by magnet—no need to buy another tin.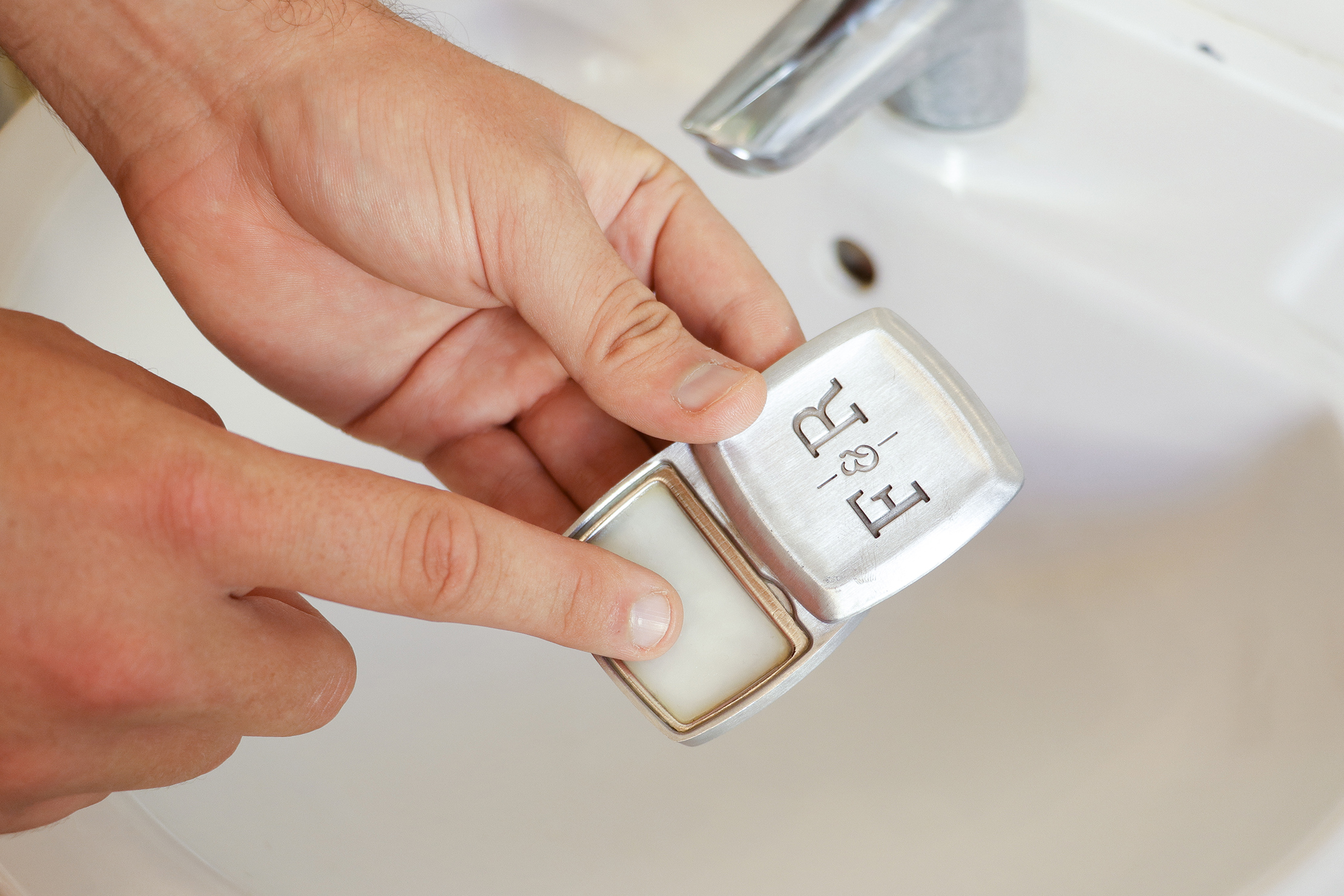 For application, we've found that a little goes a long way. We typically apply a quick swipe to the neck or on the wrists and we're set for about half the day, which has been long enough for us. We have heard complaints of this cologne not lasting as long as some sprays or oils on the market. But, you can supplement throughout the day if desired to keep the smell going morning till night.
What's it made of, you're wondering? Their ingredient list is minimal which we appreciate—only seven ingredients: Mineral Oil USP, Ceresin Wax, Coconut Oil, Fragrance, Perfumers Alcohol, Cetyl Alcohol, Petrolatum USP.
One fear with balmy products like this one is how they'll hold up in the heat. So far, so good during our testing. The metal tin seems to do a good enough job of protecting the actual cologne—on a hot day it's a little easier to swipe your finger across it, but the cologne isn't melting or sweating profusely which is nice. Of course, your mileage may vary depending on the climate you're in.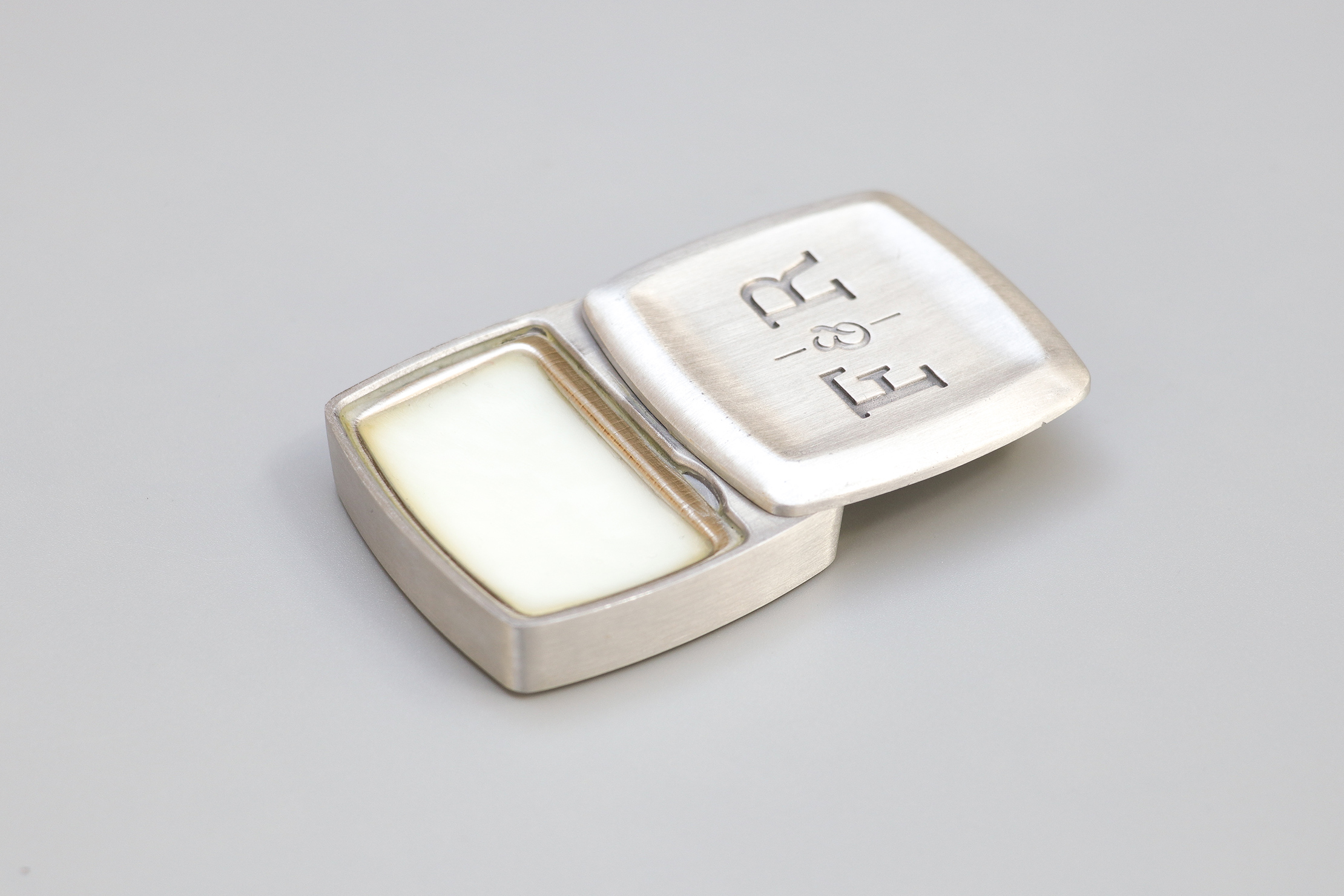 At the time of this review, there are eight different smells to choose from that come in the standard tin, plus two that you can get exclusively as refills—Shackleford and Captiva. In particular, the Palmetto scent is popular among our team. We're digging the notes of citrus coupled with spice from Brazilian pepper and hints of magnolia. Of course, everyone's nose is different—if you want a scent that mimics a fresh-cut lawn mixed with a little bit of edge, Hatteras may be your go-to. For a more woody, earthy scent, Perpetua is a good one to check out—just to name a couple.
We even took an internal scent survey and here's the verdict of each team member's favorite scent:
Tom: Captiva
Nathan: Palmetto
AJ: Hatteras
Mark: Perpetua
Rebecca: Palmetto
If you want to try some or all of these smells, Fulton & Roark offers a sample pack you can order to do exactly that—sample them! This allows you to pick out your favorites before ordering full sizes—because buying your cologne online can be a bit nerve-wracking.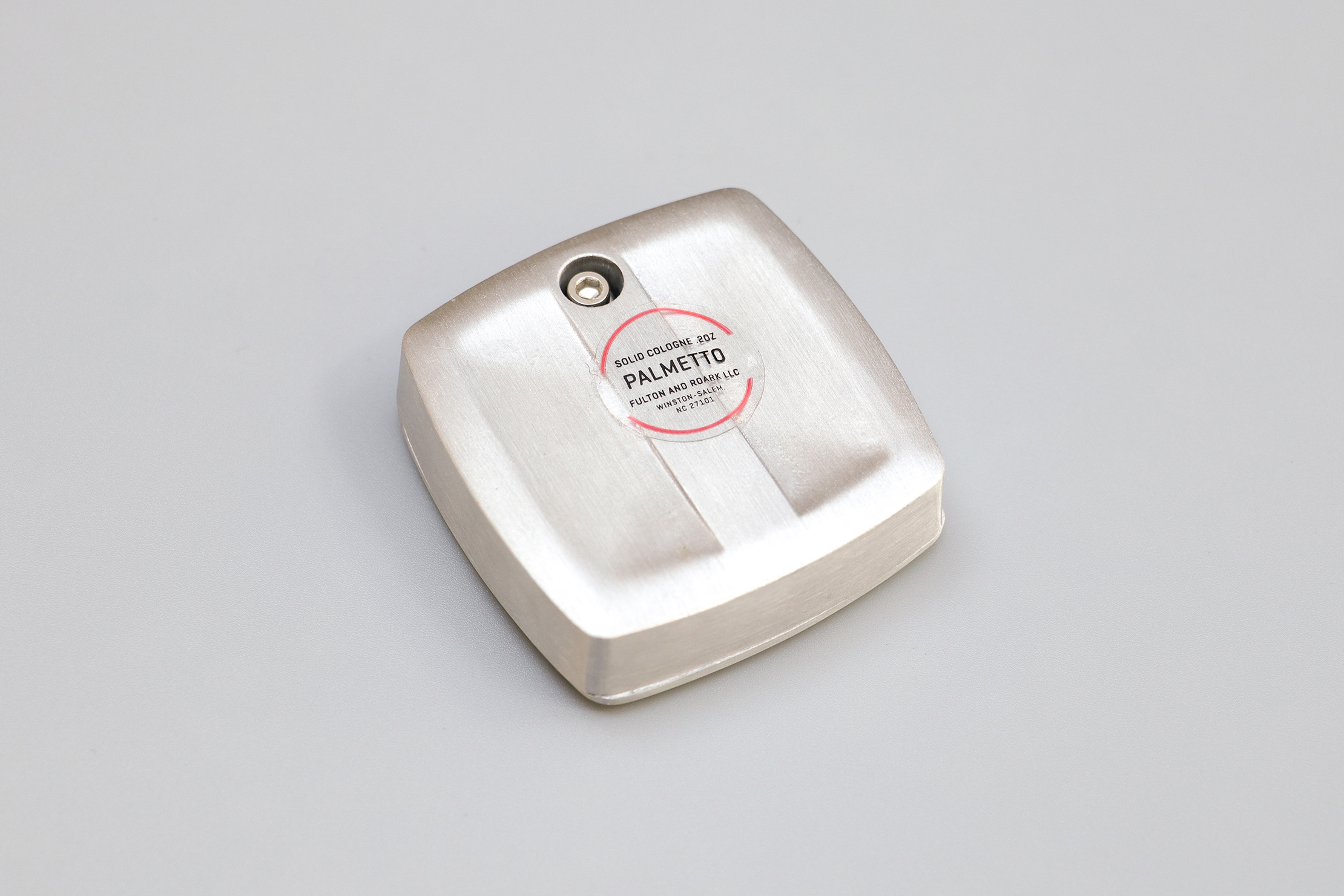 However, if you like more than one scent and choose to get multiple, each cologne is a similar color with identical casing. You should be able to differentiate by smell, but there's also a tiny sticker on the back of each tin with the name of the scent which you can choose to keep on if you're worried about forgetting which is which. And refills come in a two-pack with your choice of scents, so you can interchange them when desired.
Durability & Testing
We've been testing this solid cologne for a month now, including a trip to New York and an international flight to the UK. We can't stress enough how convenient its compact size and strong exterior are for travel…but we can try—its compact size and strong exterior are very convenient for travel. We've been tossing it in our bags (or our pockets) to freshen up whenever we need to.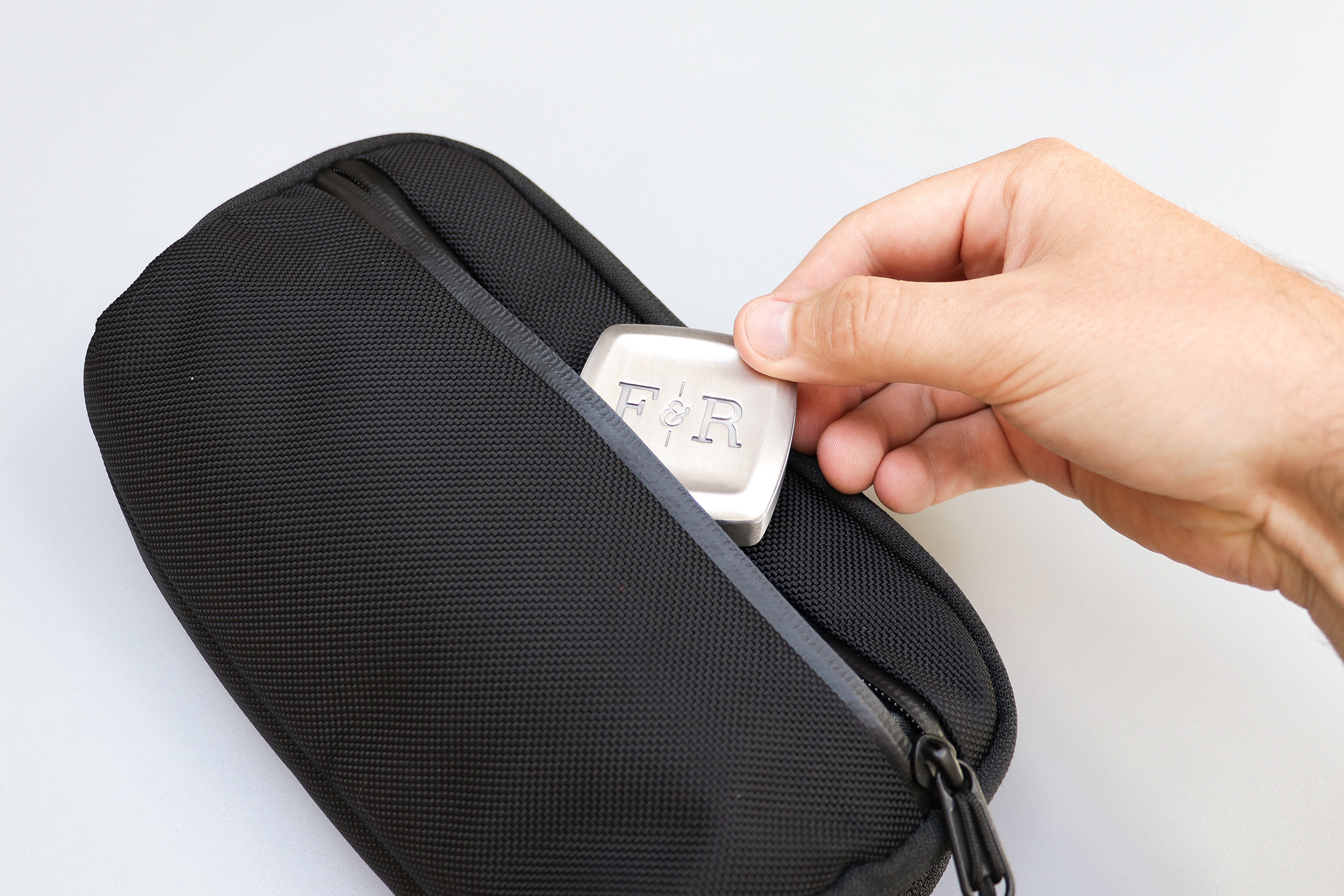 On a plane, the Fulton & Roark Solid Cologne offers a discreet application that's not going to evoke a cough or an eye-roll from the others in your row the same as it might with spray-on cologne. So not only does this cologne mean business, it knows how to be professional.
One final note: The fragrance is more apparent on the skin than in the container, so we recommend sampling it that way before making your final scent decision.
Usage Timeline
Initial Usage
Condition: Excellent
We like the wide variety of scents
Metal case gives it a high-class feel and is fun to open and close (reminds us of a Zippo lighter)
Case is also refillable so you don't need to buy another if you run out
We found that testing the scents on skin is better than smelling right out of the container
2 Weeks of Use
Condition: Excellent
The metal case is reassuring when you're throwing this thing into your Dopp kit and traveling the world. You know it's going to be just fine
The Palmetto is one of our favorite scents, but everyone is different of course
1 Month of Use
Condition: Excellent
Used this thing on a short trip to New York and then a transatlantic flight to the UK, it's so useful to have cologne this neat and compact when you're on the road
6 Months of Use
Condition: Good
There's still a fair bit left after six months of use, but we have only been using it once or twice a week. The scent is still as strong as the first time we used it, though there is some slight discoloration around the edges. We're still very much digging the size, and the fact you can throw it in your pack and head out for the day.

Access the Pro Community Discussion
Get your questions about the Fulton & Roark Solid Cologne answered from our team and the Pro Community right here on the page. Plus, join discussions with other members about gear, guides, and more.
Other Toiletries & Personal Care Reviews