Bite Body Balm Solid Moisturizer Review
Bite's Body Balm Solid Moisturizer is a TSA-friendly alternative to liquid moisturizers, though some water is needed for the best results.
Our Verdict
Unlock the Pro Summary
Save time. Get access to brief summaries of our reviews so you can browse and make decisions more efficiently.
Pros
Casing and refills are plastic-free and vegan-friendly
Rectangular shape makes it easy to pack
No need to rub with your hands to apply
Cons
Feels drier than liquid moisturizer
Easy to over-apply, which can leave residue
Best applied on wet skin—not ideal when there's no running water nearby
Recent Pack Hacker Video
Technical Details
Weight (oz)

1.6 oz (45.4 g)

Notable Materials

Aluminum

Manufacturing Country

China

Warranty Information
Full Review
Moisturizers are a part of our usual toiletry kit lineup. We use it at home and at work, and we always make sure to carry a travel-sized tube of it whenever we travel. However, it's not exactly at the top of our list when we're prioritizing items that go towards our TSA liquids allowance.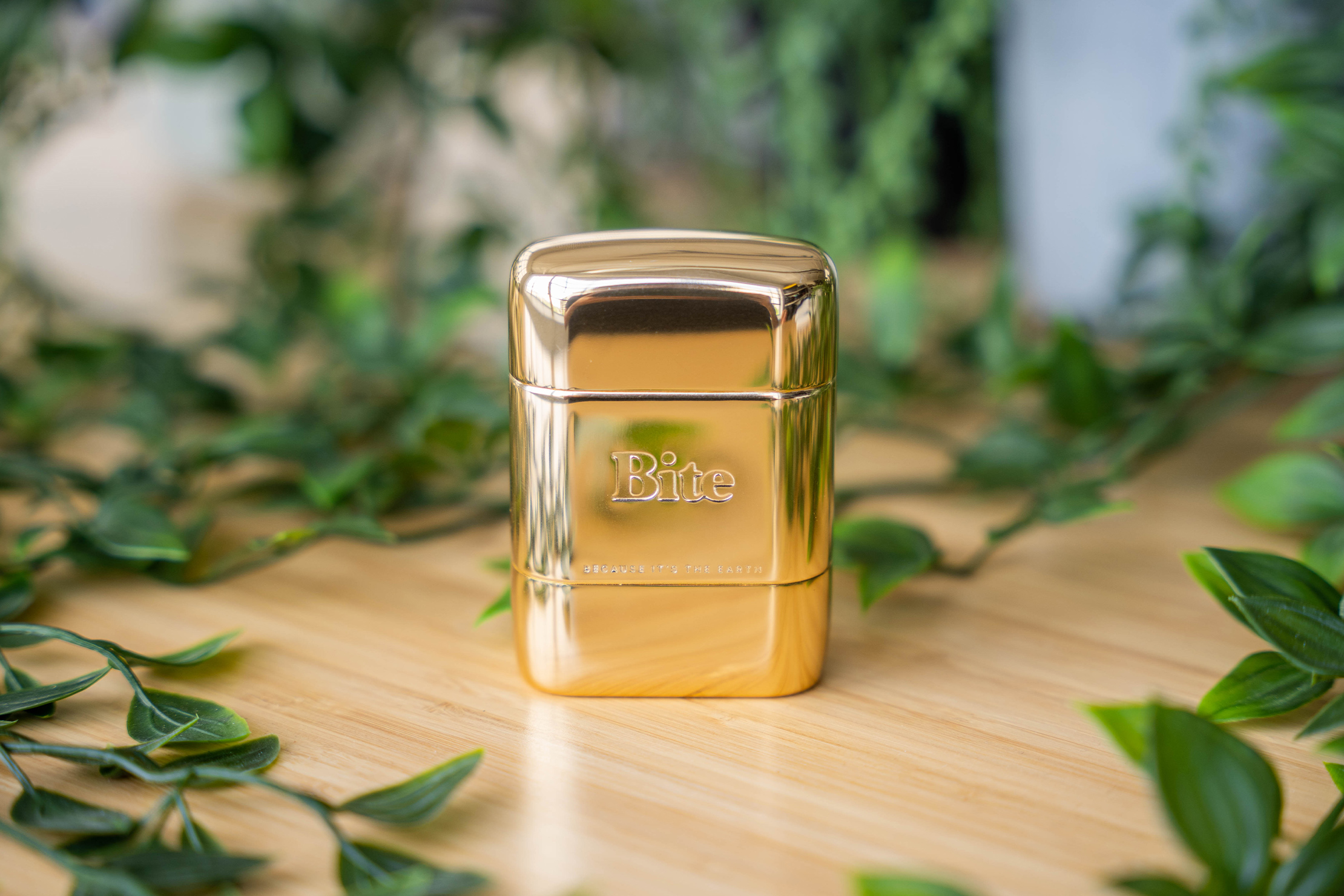 That's where solid options come in, like Bite's Body Balm Solid Moisturizer. This bar of moisturizer is in a gold-colored case and promises to be a good alternative to liquid. We'll be testing how easy it is to apply, what it feels like on the skin, and how easy it is to pack. So, without further ado, let's check out what this solid contender can do.
The Rundown
Okay, the basic idea is simple. Instead of your typical moisturizer that comes in liquid form and inside a bottle or sachet, the Body Balm Solid Moisturizer is, well, solid like a stick of deodorant. You take the cap off the top and just start rubbing along the desired area—simple!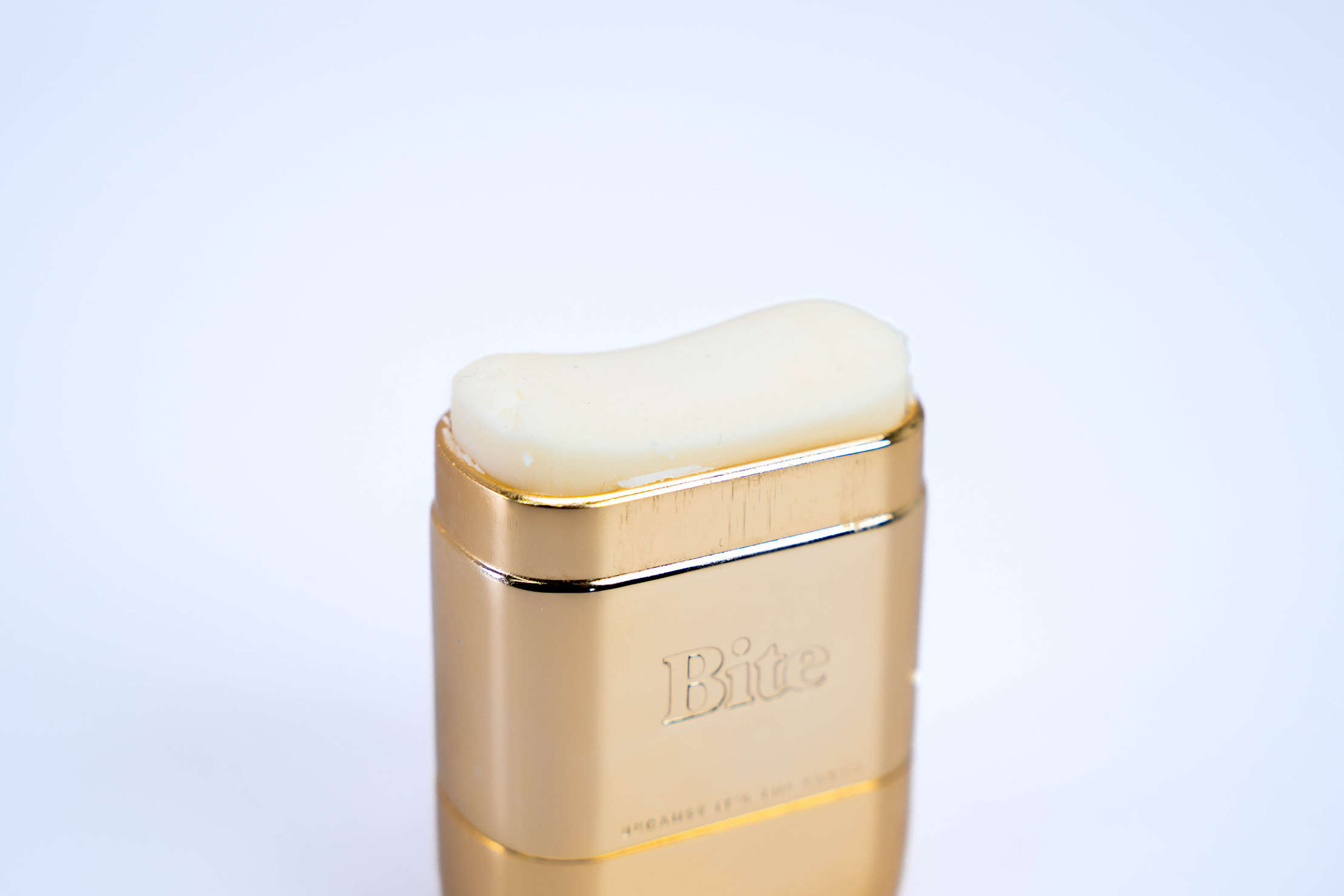 The case is made out of aluminum, not gold, sadly, despite what the color may suggest. Yes, it's a bit showy, and it'll probably stick out even among your many toiletries. However, it's not like it'll be hanging off the side of a backpack all the time, so we're going to give the aesthetics a pass.
There's another cap down at the bottom, though it's a hollow one. Removing this bottom cap allows you to insert a new refill, sold individually or on a subscription basis from Bite themselves. So yes, while the gold-colored casing is showy, it's also reusable. Worse comes to worst, and it can probably pass off as a souvenir you can hide in plain sight in the living room (we're pretty sure no one will notice).
For those who are wondering, the refill comes in a cardboard cartridge, while the casing is a hundred percent plastic-free, being made entirely of aluminum. The lotion itself is 100% vegan and unscented, though shea butter is one of the ingredients. This means there is a slight scent to the lotion, but it's mild and pleasant (in our subjective opinion). This is something to keep in mind if you're sensitive to certain smells.
Now, how does the Body Balm Solid Moisturizer actually perform? As much as we hoped it would be a one-to-one replacement for liquid moisturizer, it does feel drier. We can feel the residue stick to our arm hair, though it's nothing super noticeable in a visual sense. We found that it's best applied to wet skin where the water can help dilute it more. That sounds counterintuitive to the whole idea of a solid moisturizer—but actually, it isn't.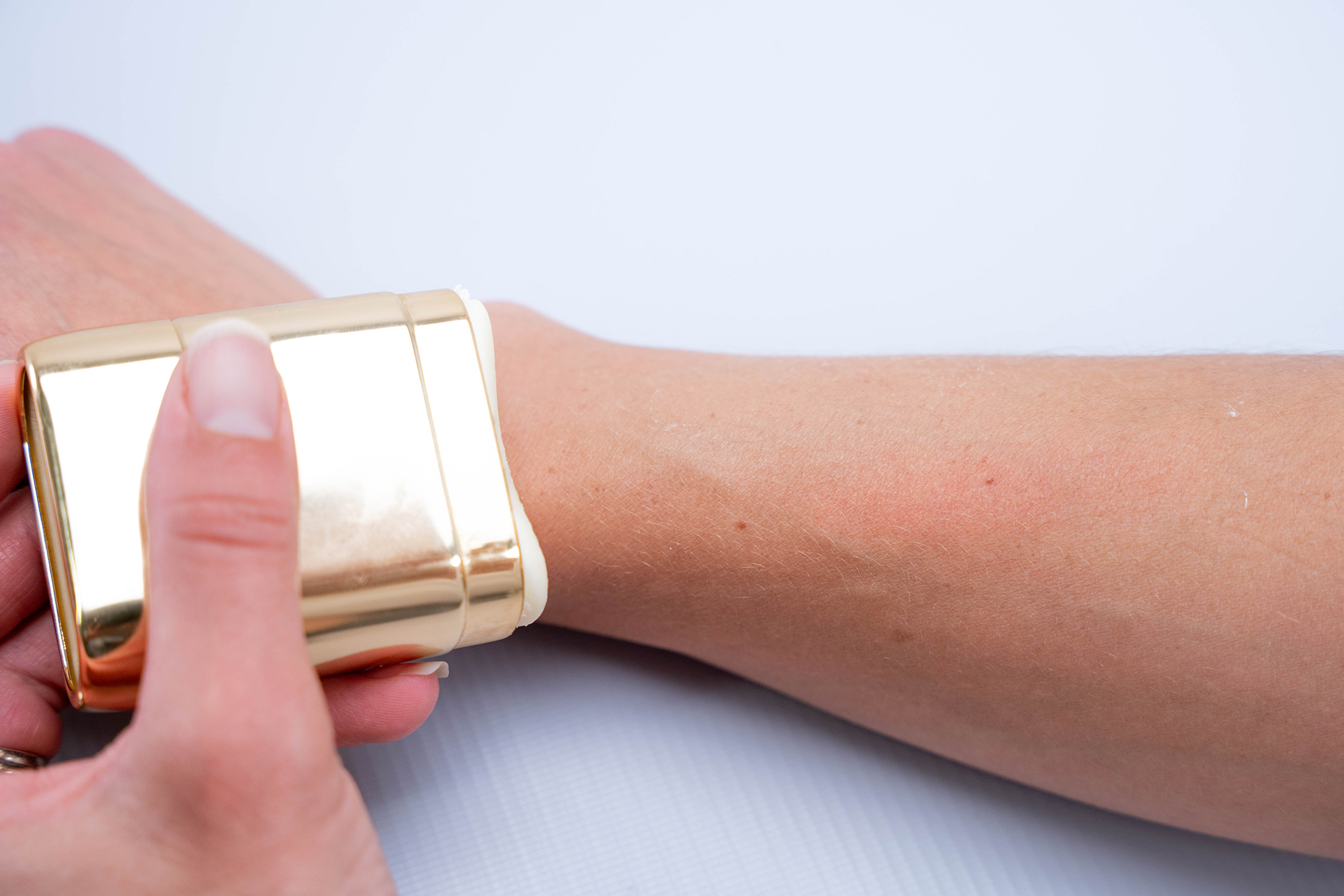 For one thing, the Body Balm Solid Moisturizer doesn't count towards your TSA liquid allowance. So yes, while applying water separately gets you the best results, it also leaves you with more room for other liquids. Worst case scenario, you'll have to apply the moisturizer by itself, but even then, it's not too bad of a substitute for the liquid type.
Another advantage the Body Balm Solid Moisturizer brings is not having to get it on your hands. Who knows? Maybe there are cases where you just don't want to moisturize your hands, just a desired area. In which case, you need only to hold onto the aluminum case as you rub it along your arm.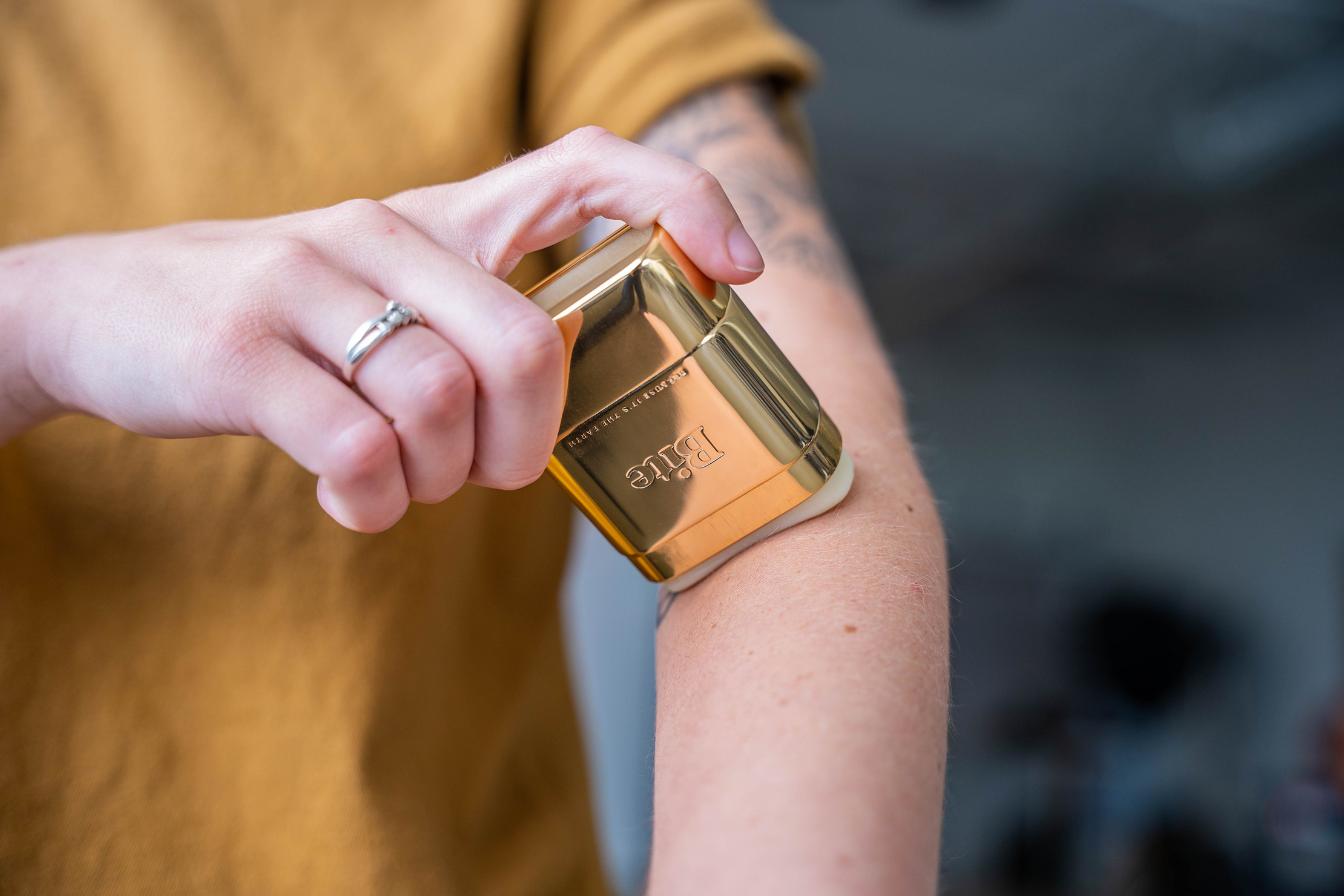 As for how long a single refill lasts, we're getting less than we would from a 32-ounce bottle of liquid moisturizer. This is somewhat surprising, given that you'd expect the solid to be more frugal than the liquid. It turns out that's not the case, though your mileage may vary depending on your habits. We find it pretty easy to over-apply, so there's a chance we're just going through it faster than Bite intends.
Packability
In terms of packability, the Body Balm Solid Moisturizer's shape plays a major role in making it an easy fit. While its overall proportions make it chunky, the shape is still rectangular, meaning wasted space is minimized when you put it inside similarly rectangular containers.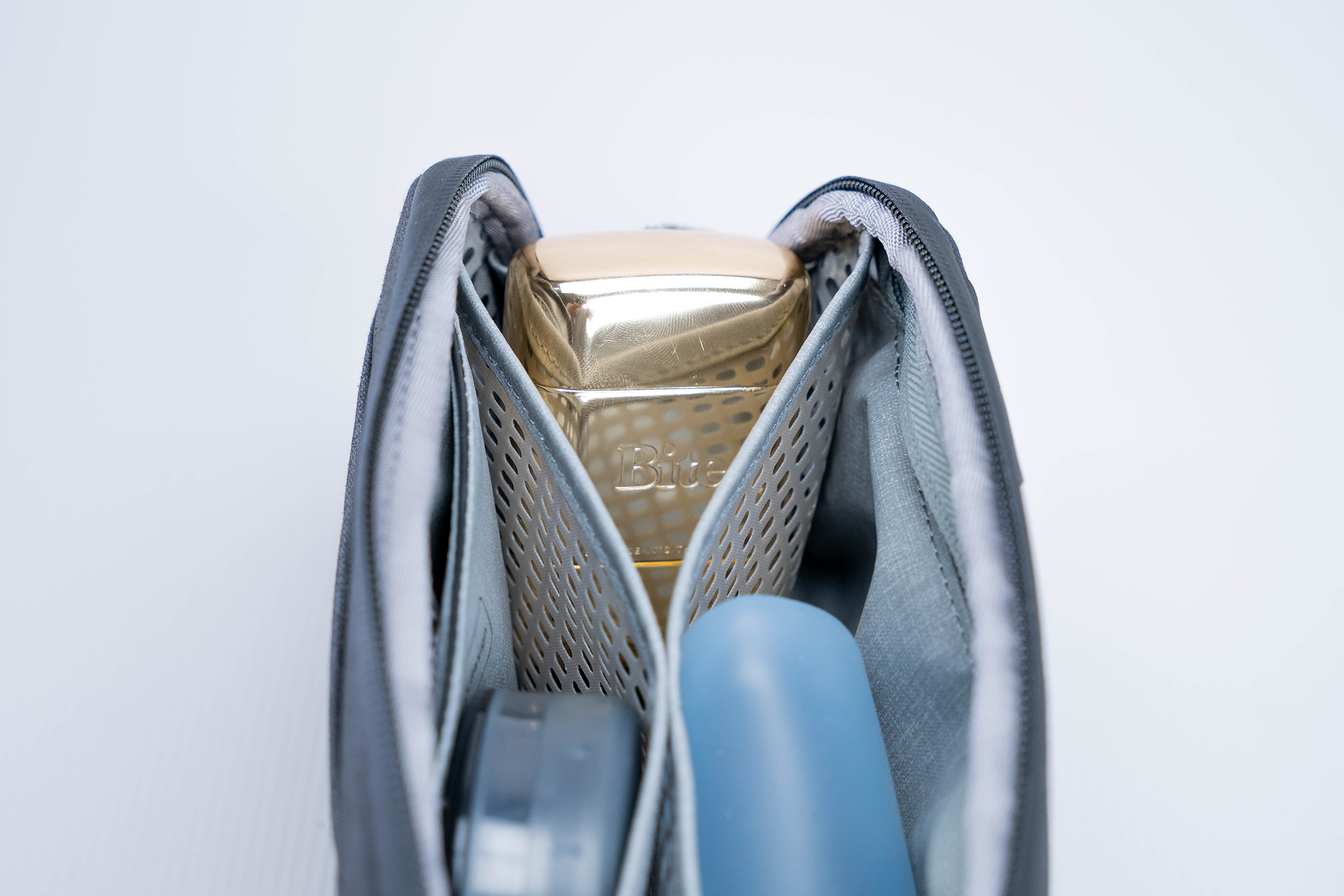 Case in point, it sits well down at a corner of a standard Ziploc bag. Similarly, we've brought the Body Balm Solid Moisturizer in our Peak Design Small Wash Pouch. Even when it's packed out, we have no problem fitting the rectangular shape into one of the subdivided spaces. Of course, your mileage may vary depending on how packed your toiletry bag already is.
One thing is for sure, though—the rectangular shape makes it easier to pack than the funkier-shaped ones out there.
Quick Comparison
To be fair, you can put liquid moisturizer in travel-sized containers. For comparison, we have the humangear GoToob+ and GoTubb. These are pretty much our go-to travel containers we've used for some time now. That said, their rounded shapes are less optimal than the Body Balm Solid Moisturizer's square design since they leave dead spaces when packed next to other items.


This moisturizer does take some getting used to at first. However, the benefits of using a solid over a liquid moisturizer for travel purposes are worth the shallow learning curve. It's easy to pack and wards off dryness, leaving us to enjoy our trip—what more can we ask for?
Usage Timeline
Initial Usage
Condition: Excellent
Unscented, though it does have a slight shea butter smell
Easy to insert the refill
Sleek aluminum case, though it holds on to fingerprints
2 Weeks of Use
Condition: Excellent
Developed a divot in the center
Surprisingly dry while it goes on, which makes it kind of difficult
Nice to not have to rub it in with your hands
Easy to over-apply, so we're hesitant to think it'll last as long as 40 oz of liquid lotion
Access the Pro Community Discussion
Get your questions about the Bite Body Balm Solid Moisturizer answered from our team and the Pro Community right here on the page. Plus, join discussions with other members about gear, guides, and more.
Other Toiletries & Personal Care Reviews