Earth Friendly Sustainable Packing List
Travel isn't inherently sustainable, so offset your adventures by choosing these sustainable, durable, and ethical products to replace your gear over time.
Sponsored By REI: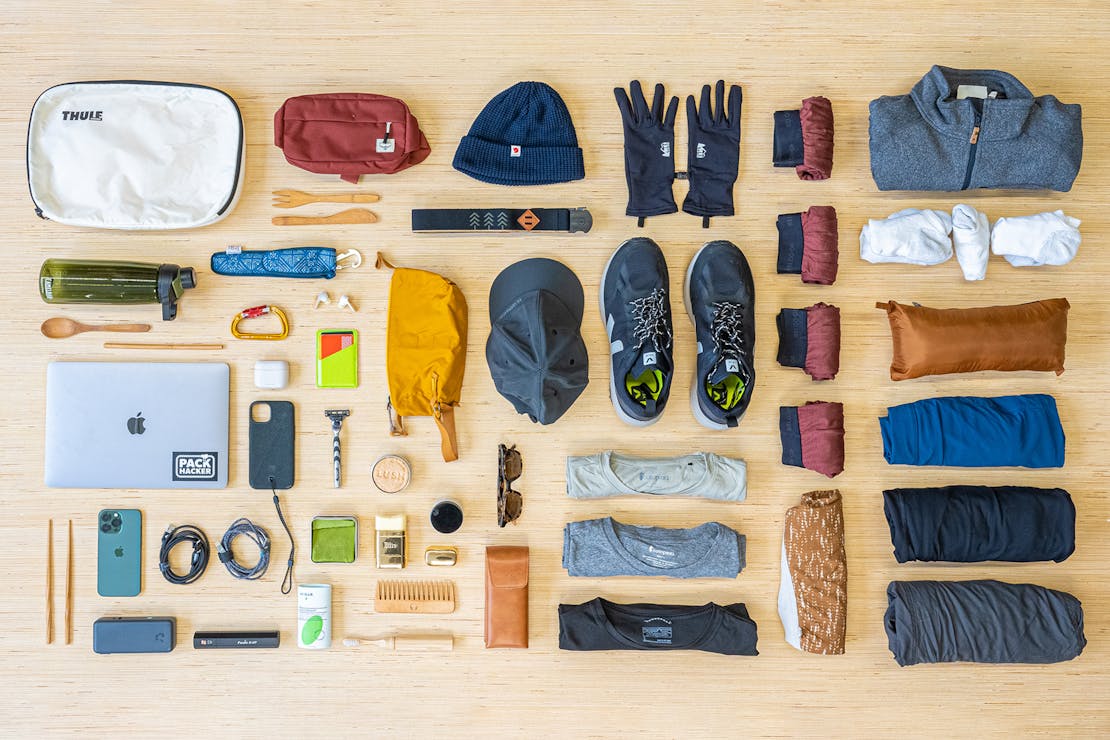 Packing Up a Conscious Lifestyle for the Road
Packing List Tool
Our packing list tool allows you to customize this list to your exact needs. You can add specific products directly from our website, adjust quantity, and keep an eye on total weight and price. Sign up for a free account or Join Pro for additional features & deals.

Maybe you drive a plug-in or don't drive at all. You observe Meatless Mondays, and perhaps you're even reducing your carbon footprint further by eliminating meat from some of your other meals. Or maybe you just have love for this planet that we share and want to take any steps you can—big or small—to keep it healthy for the next generation and beyond.
Whatever your reason, we've created the Sustainable Packing List to help you on your eco-friendly journey. While it's arguably not eco-friendly jetting off on a plane (flying round-trip 2,500 miles across the United States creates the equivalent of 1.5 metric tons of carbon emissions per passenger, according to the Flight Emissions Calculator at Flight Free USA), we think there are lessons worth learning through sustainable travel. Plus, some airlines are working hard to offset their carbon footprint and reduce their emissions with every passing year, and while it's not perfect, they're on the right path.
Because there's always more we can do as individuals, we're here to help you reduce your carbon footprint with the gear you buy before you leave home.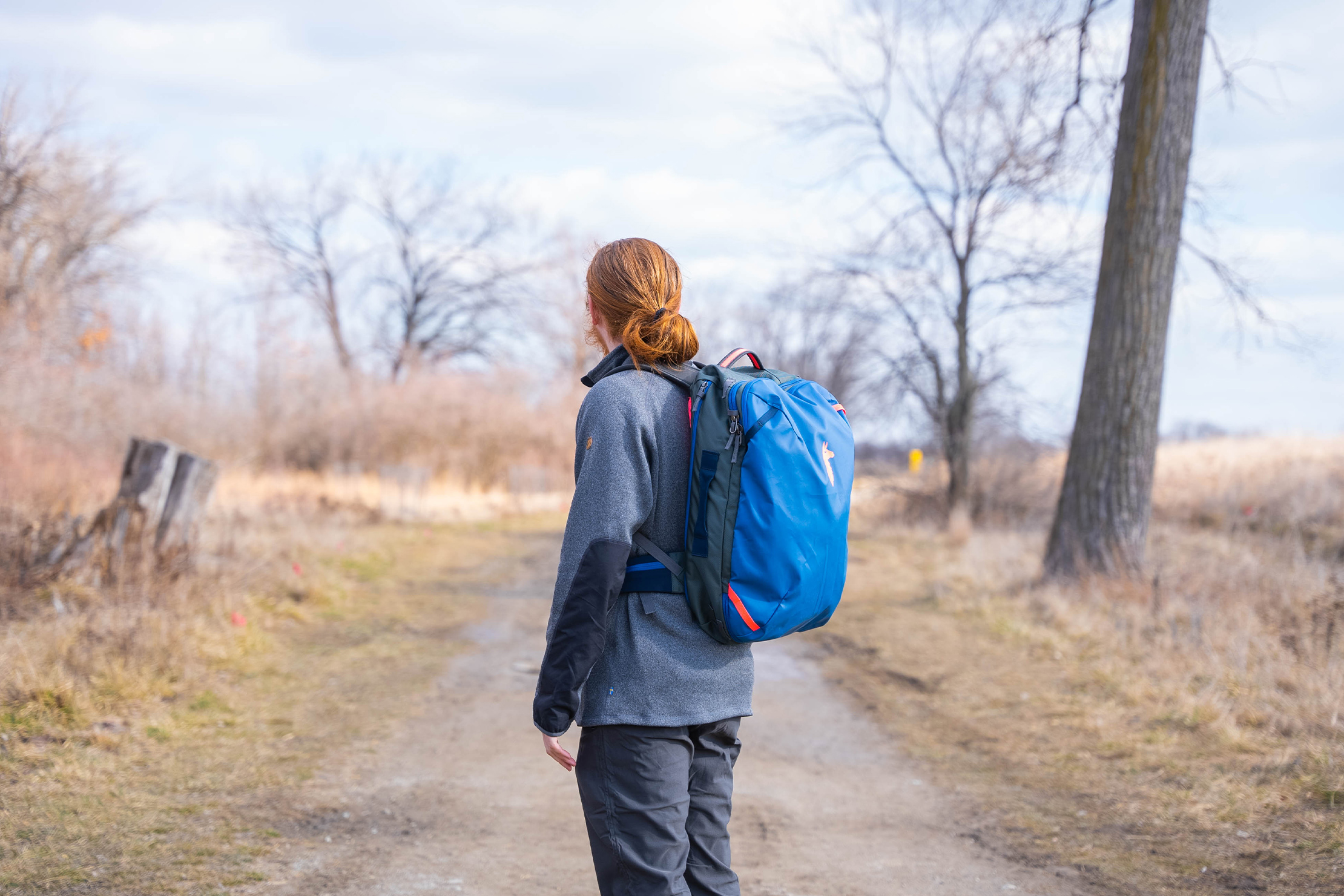 This packing list will help you create less waste on the road and guide you towards a zero-waste lifestyle filled with eco-friendly products to reduce your impact, and they can all fit easily into one backpack. Our list's bag, tech & productivity, and miscellaneous sections are all unisex. However, we've split the clothing & accessories and toiletries & personal care sections into men's- or women's-focused items.
We've researched products, cut through the marketing and greenwashing, and tested some of the most sustainable products we could find to discover what works best while fulfilling your travel needs.
Along the way, you'll find terms that might be unfamiliar. There's Fair Trade Certified™, which promotes safe working conditions and sustainable livelihoods for employees. Factories with bluesign® approval aim for responsible production through safe chemistry and responsible consumption of resources like water and energy to reduce their environmental impact. Responsible Wool Standard requires the treatment of sheep to align with leading animal welfare standards. And organic … well standards vary throughout the world, but they generally include practices to cycle resources, promote ecological balance, and conserve biodiversity.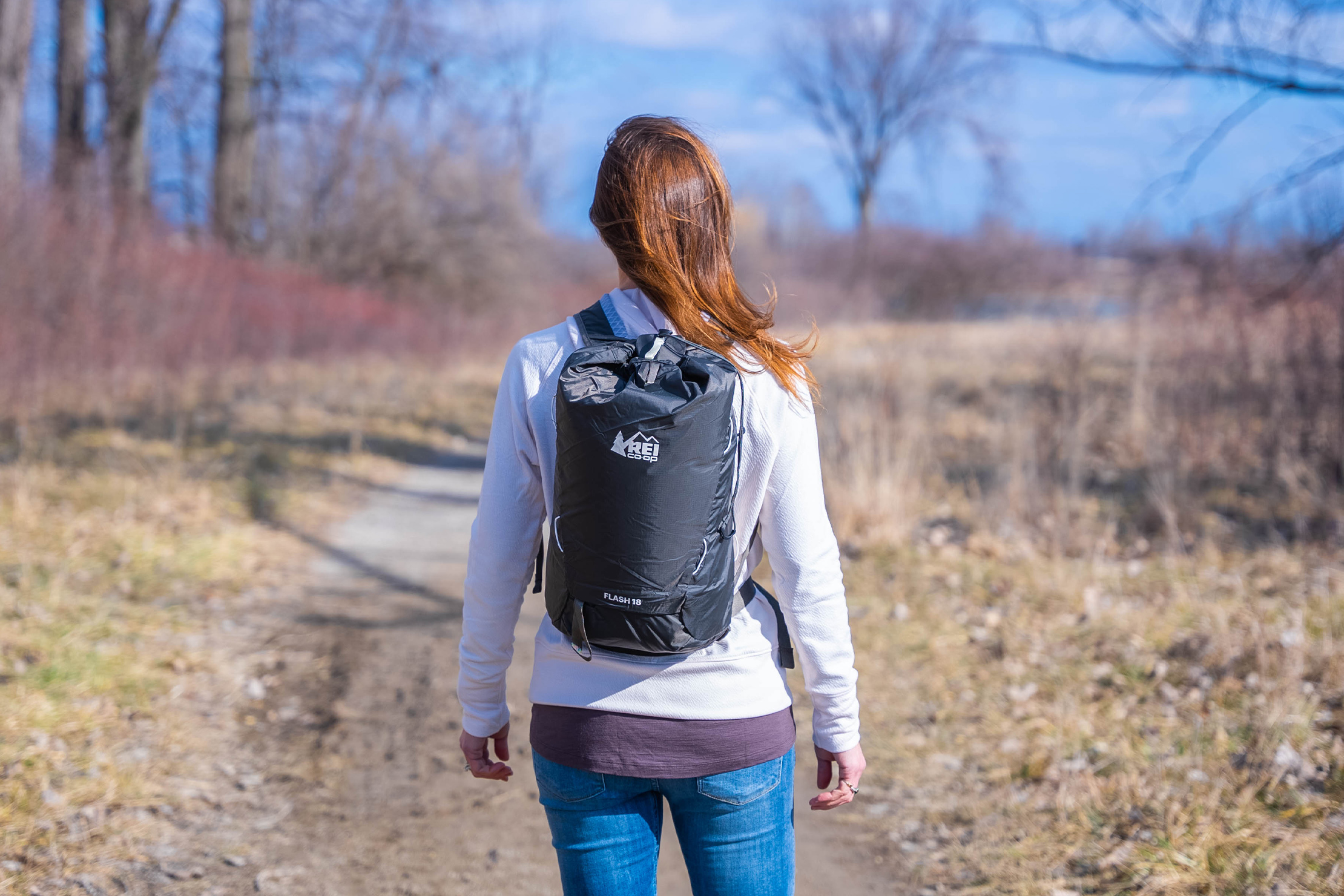 Science lesson over, we also want to point out that sustainable travel doesn't require you to buy everything on this list. If you already own a pair of sneakers that have lasted two years and they're still going strong, there's no need to rush out and buy new shoes made from recycled plastics. That defeats the purpose. Instead, keep our recommendations in mind for when you need to buy new gear and think of every dollar you do spend on new sustainable products as a vote for the earth.
That said, we also recognize that not all products we travel with are the most sustainable (we're looking at you, tech gear). We've tried to find the most environmentally responsible laptops, cell phones, charging cables, and more that we can, and we found some interesting eco-friendly alternatives.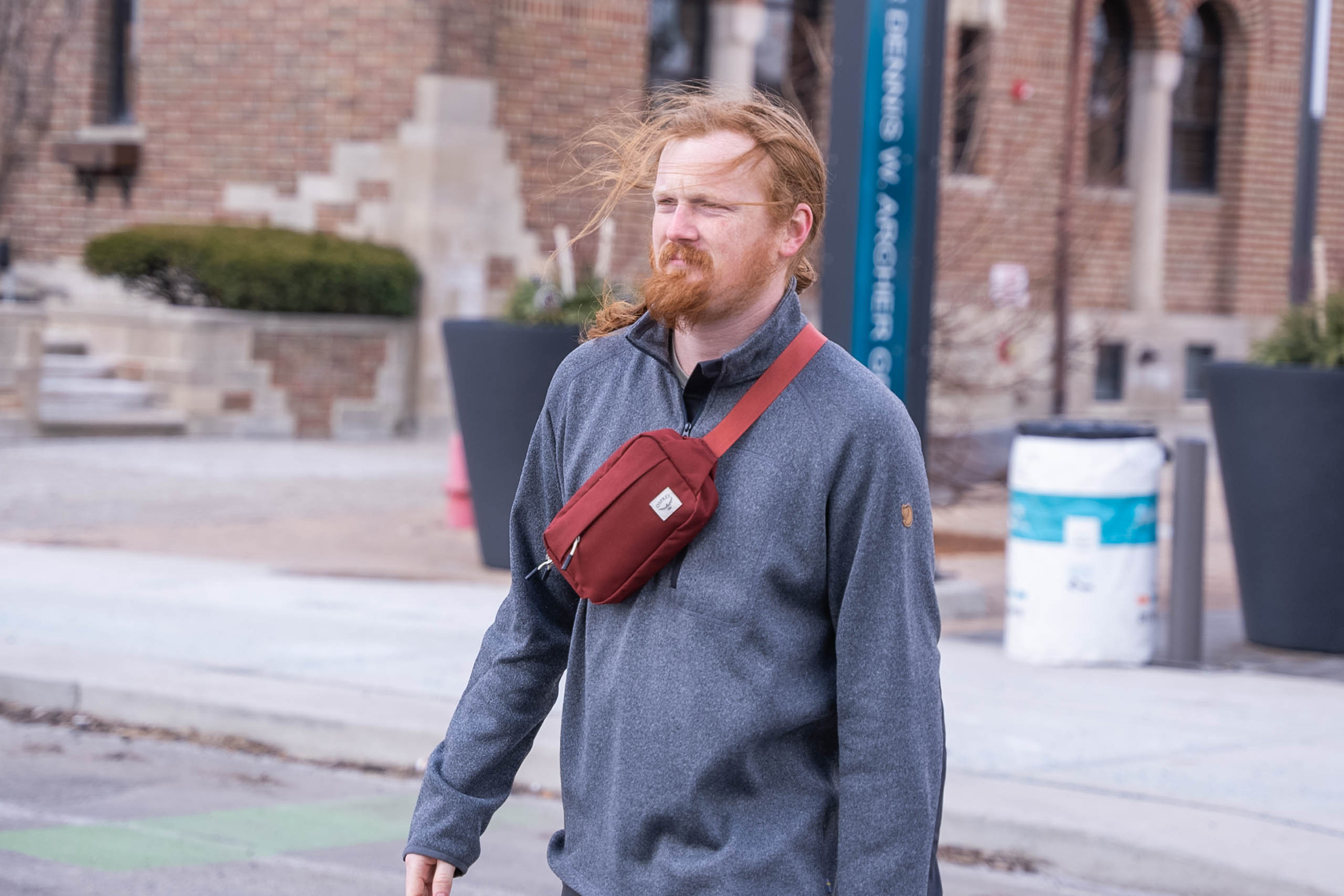 For products like these, we recommend buying durable options that will last multiple years, have stellar warranties, or are currently the best option on the market. And if you think you have better options, we'd love to hear about them.
We've partnered with REI to bring you this packing list for sustainable travel. The standards for brands sold at REI, including REI's own, focus on sustainability and encouraging brands to use materials and processes that meet the requirements for certifications like bluesign®, Fair Trade, and Climate Neutral, as well as prioritize diversity, equity, and inclusion.
They also offer REI Co-op Members the opportunity to buy and sell used gear with their Re/Supply program, among other great benefits, including an average of 10% back annually on eligible purchases, free shipping, and a generous return policy. Shoppers can also support these great causes with the REI Co-op Mastercard, which donates $2 million annually to the REI Cooperative Action Fund, a community-supported nonprofit. And the card itself is made of more than 85% recycled materials, too!
Now, onto the list!
Standalone Bags & Organizers
When you're aiming for sustainable travel, less is more. These bags will take you where you need to go, from the fjords of Norway to the Galapagos Islands to an Alaskan cruise to see the polar ice caps before they melt. We're focusing on sustainable brands and products that use repurposed or recycled materials to create your new gear.
Everything on this list will fit into these bags, and a few of these bags fit inside the others to give you options for different carry modes when you arrive at your destination. They'll help you keep your hands free to take a bike tour of Amsterdam or explore the Everglades.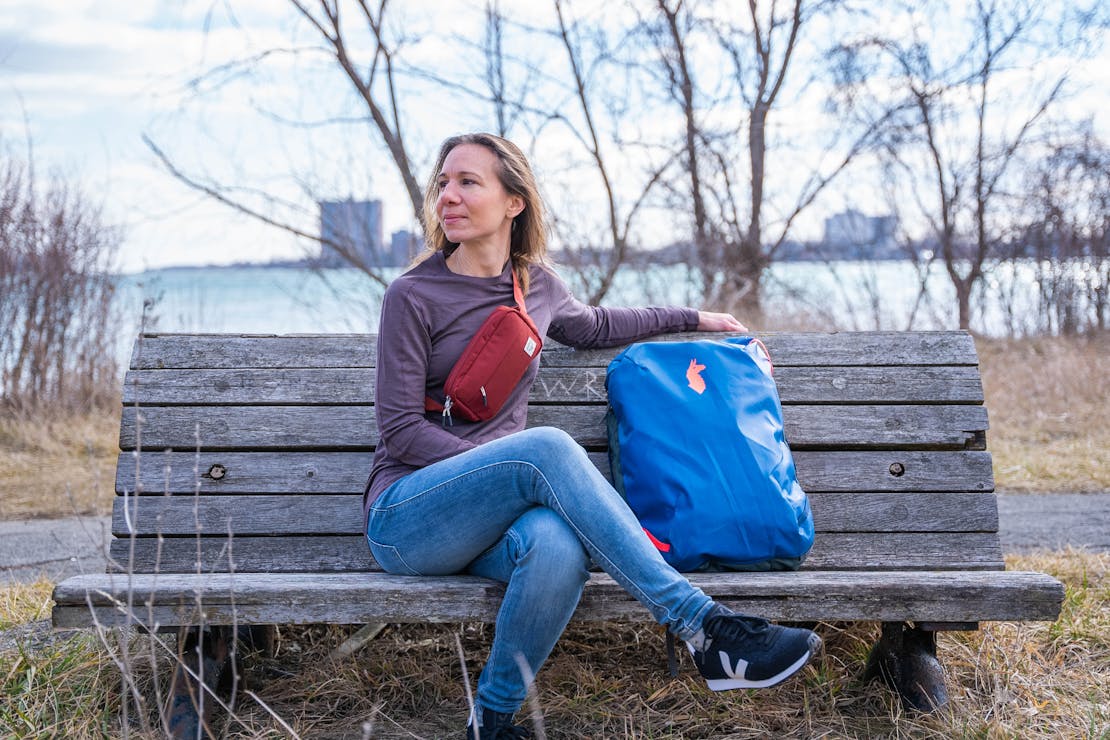 Cotopaxi bags are produced in the Philippines in a factory committed to fair labor and environmentally-sound practices. Opt for the Del Dia colorway, and you'll get a pack identical in form and function made with recycled nylon and leftover synthetic fabrics from other companies' large production runs. This pack will handle anything you throw inside it and has mesh dividers and organizers to help you keep track of your gear. The materials aren't very structured, so it can look slightly saggy if it's not packed out. However, when are you going to carry around an empty travel backpack? Load it up, and hit the airport!
A sling is essential on daily excursions around town, venturing across the airport, and for entertainment on the flight. The Osprey Arcane Waist has a comfortable fit, can handle your everyday carry gear, and is manufactured using bluesign® approved materials. It's not the largest sling around; it won't fit your large tablet or Nintendo Switch, but you can stow an ample arsenal of items inside. Plus, we dig the colorway options! Wear it as a sling or waist pack depending on your preference.
Sometimes, a day trip doesn't necessitate your full travel pack but requires more than your sling can handle. Look no further than the REI Co-op Flash 18 Pack. Not only does it utilize bluesign® approved recycled nylon, but it lays flat and is small enough to fit inside your travel backpack. Plus, it has features you're used to using on a regular bag, like a daisy chain, sternum strap, and hip belt. It won't pack down as small as a packable daypack, but it'll fit in most packs, and we think the additional features are worth the space.
While traveling, you won't need everything you typically carry in your wallet or purse. The Chums Duckie Wallet fits just what you need and is crafted from recycled textile materials from rafts. You can carry cash and cards inside, but you have to fold the money first. There's no place for coins, but you can stow that in your sling, packable daypack, or travel backpack. This thing checks two sustainability marks off your list; it's a minimalist wallet that's durable and made from recycled materials!
Clothing & Accessories
Out with fast fashion and in with ethically-made clothing! In this wardrobe, we're focusing on durable, responsibly-sourced clothing, plus items made with organic and recycled materials. You can use most of these pieces interchangeably to create a capsule wardrobe since sustainable travel starts with how much you pack.
Again, if you already have pieces of clothing that you love, don't rush out to buy something new. We also recommend checking out local second-hand shops and online resale sites for similar alternatives—you never know what you might find!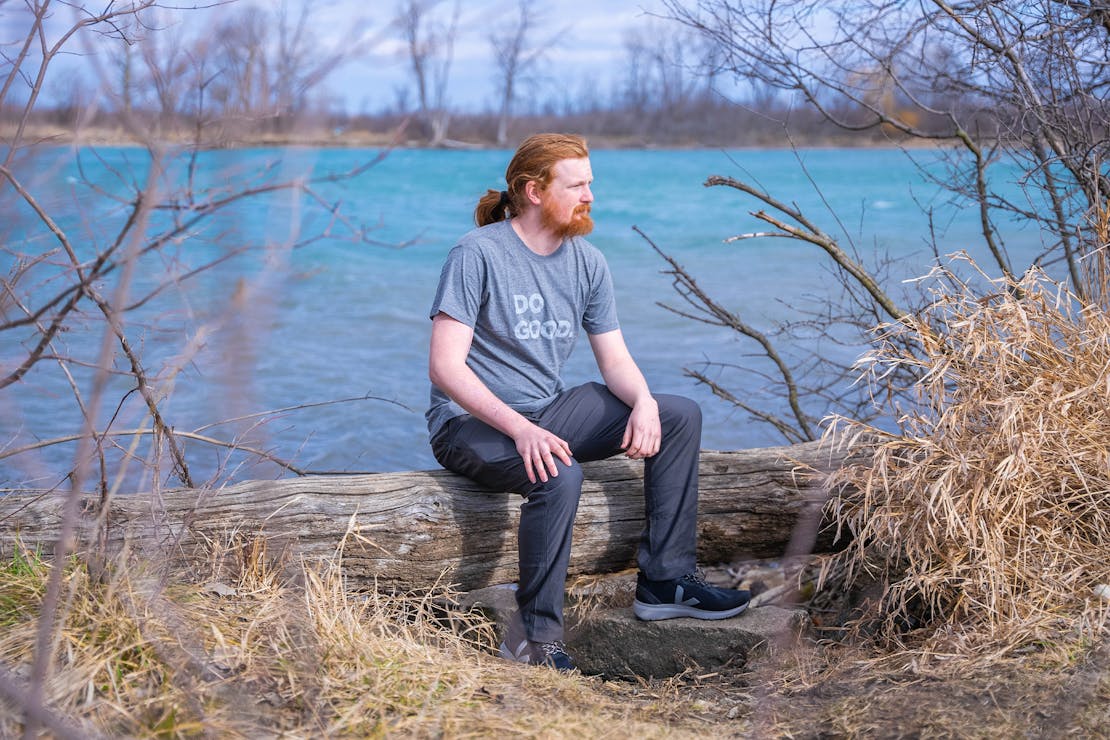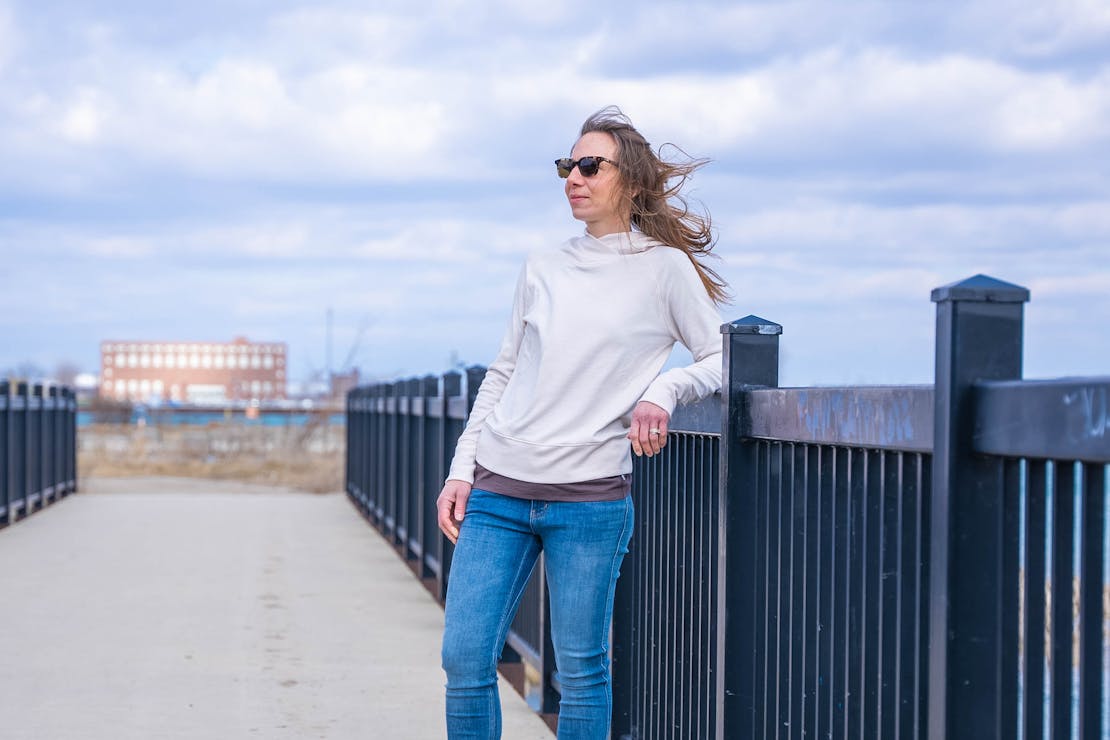 To stay organized, a set of packing cubes is a must. In addition to ensuring your gear is segmented and easy to find, some compression cubes will save space in your pack, giving you more room for other gear and souvenirs. The Thule Compression Packing Cubes use bluesign® approved 100-denier diamond ripstop nylon, which is sustainably sourced and durable. We wish there were a middle ground between the small and large cubes, but it works out fine because of how much gear we can fit in both.
Start the sustainable party when you get packing in these cubes from Cotopaxi. The brand's Del Dia collection is made with repurposed nylon and mesh by employees who get full creative control over the colorway design, so no two are alike. You can feel good about filling these up since the material would have otherwise gone to waste, and even better when you arrive at your destination and your clothing is still in one organized space instead of a jumbled mess. You get three sizes in one set, though we only need two for this list. Although the edges are on the floppy side for packing, we're digging the breathable mesh to let your gear breathe, and odors fade away.
Sustainability might not seem like a high priority when it comes to underwear, but you wear them daily, so you might as well get something good for yourself and the environment. REI Co-op Everyday Boxer Briefs are a poly-spandex blend that utilizes bluesign® approved materials. They fold up small to save space and work for almost every activity under the sun. They can bunch up during a rigorous workout but remain comfortable overall.
You don't have to sacrifice comfort and features to save the planet when you opt for this active underwear. They're sewn in a Fair Trade Certified™ facility and include recycled polyester, so we think it's a double win when it's good for the environment and the workers. The spandex makes them stretchy, so they're super comfortable for any activity, plus moisture-wicking to boot. We're not sure why Patagonia includes such large tags on their underwear when they also print their brand name and size on the briefs, so we suggest you cut them off before your trip.
You can do more with less when you pack a bra in a neutral colorway like this one. It stays hidden under most tops and is comfortable enough to take you through whatever you have planned for the day. Nearly two-thirds of the materials are recycled (the nylon), and there's also odor control to keep you feeling fresh. That's why we're only packing a couple for our trip, but you do you if you prefer to change it up more often. They pack down small, and you can grab it in a different style if racerback is not your jam. Need another reason to add to cart? How about Fair Trade Certified™ sewing? You're welcome.
Most people wear socks daily, so a sustainable pack-out must include eco-friendly under-shoe wear. The REI Co-op COOLMAX EcoMade Everyday Low Socks are manufactured from recycled water bottles, which is more comfortable than it sounds. They work with many shoes but aren't tall enough to work with boots. However, they're a comfortable option for most pairs of shoes, and even sandals, if you're into that kind of thing.
Put your best foot forward when you opt for socks made from recycled water bottles. While we prefer to go the reusable bottle route, not everyone does, and you can feel like you're doing your part to rid the world of plastic when you pull on these socks. The basic style goes with many casual looks, and the COOLMAX® EcoMade polyester will keep you from overheating when climbing a sunny slope.
Why pick from stripes, solids, or plaid when you can choose socks that sport an adorable animal and support them with your purchase? We're digging the comfort and cuteness of these socks adorned with sloths, although you can also opt to support LBGT rights or protect the oceans if you choose Conscious Step Socks with a different design. While the look isn't for everyone, you may come around to the Sloth Side when you learn that the company donates a dollar to Conservation International with every purchase. Plus, the Global Organic Textile Standard cotton and recycled polyester come together in a super soft cushion for your feet. What else could you want?
Who doesn't love a fun t-shirt? The Do Good T-Shirt from Cotopaxi doesn't just brighten your mood when you put it on, but it's crafted with the environment in mind. With a blend of 60% organic cotton and 40% recycled polyester, this Fair Trade Certified shirt is comfortable and lets folks you run into on your journey know you're ready for a fun time while being sustainable.
Some t-shirts are a big step up from the dingy ones you wear at home while writing gear reviews; the Cotopaxi Paseo is evidence of that. It's crafted from recycled polyester and TENCEL lyocell, making for an uber-soft shirt that can be dressed up or down. In addition to looking nice, it's comfortable enough to be worn on long flights. Depending on the colorway, the shirt shows sweat reasonably easily, so choose accordingly!
As a brand, prAna uses plenty of eco-friendly materials, like the recycled polyester in this tank. It's combined with natural hemp for a casual, comfortable top you'll be happy to wear for many excursions. Toss it over your tank at the pool or beach to cut down on the amount of sunscreen you have to slather on. It's rated UPF 30, so it will block some of the sun's rays without the use of added chemicals. Or pair it with additional layers to stay warm and cozy in cooler weather.
If you've booked a sunrise yoga session, toss on this tank to be ready to take on the Warriors—1, 2, and 3. Its TENCEL™ lyocell fibers come from sustainable eucalyptus plantations, and the Merino wool fibers meet Responsible Wool Standard equivalency. Together, they create a comfortable and moisture-wicking tank that will look great in your vacation photos, especially if you go with the Vibrant Earth Heather colorway like us. It's on the longer side, so you'll keep covered as you stretch from Mountain to Child's poses, though your mileage may vary as to whether that style works with every pair of shorts.
Sustainability and a capsule wardrobe go hand in hand. After all, buying and packing less is better for the planet, right? A base layer like this looks great on its own or paired with a tee or a sweatshirt for extra warmth. It's Fair Trade Certified™ and uses Responsible Wool Standard materials, and Merino wool has a lot of benefits for travel as it is. It's lightweight, breathable, and naturally antimicrobial, so you won't have to wash it each time you wear it. However, while it feels supremely soft, it can still irritate your skin if you're sensitive to wool.
We all need a shirt that can do just about anything. For this list, it's the Patagonia Capilene Cool Lightweight Shirt. This thing fits the bill for any activity you might run into while traveling, from a morning workout to walking across an unfamiliar island town accessible by boat. It's a little sporty but blends is neutral enough to look like a basic t-shirt in most travel environments. Since it's Fair Trade Certified™ sewn and meets bluesign® criteria, it's good for people and the planet, which isn't surprising since Patagonia prioritizes eco-friendly policies as a brand.
Not every trip calls for a suit and tie, but it's nice to have a piece of gear you can dress up in case you meet someone special or want to go to a fancy event a local tells you about at the coffee shop. The Fjallraven Ovik Fleece Half-Zip Pullover utilizes recycled polyester and looks dressy enough for a fancy occasion yet casual enough for a walk through the park. It isn't very small or lightweight, so it takes up a lot of space in your packing cube. However, it layers well and keeps you warm on cool evenings.
Athletic shorts might be too casual for some occasions, but they're comfortable and keep you going all day long. Plus, you can opt for a neutral colorway that makes them more versatile. The North Face Wander Shorts will be comfy from dawn until dusk, whether you're partaking in morning workouts or night market drinking events in warm climates. They're manufactured using recycled polyester, which is a great shout from a sustainability standpoint. These won't look the part for a walk through the Vatican, but they're long enough to get you through the door, which matters most.
Grabbing gear that can do more is essential for lowering your fabric footprint, and the Vuori Cruise Board Shorts do just that. You can wear these to hit the beach, walk across the city, or sleep in if you run into a pajama problem. They're made using 50% recycled polyester, 38% upcycled coconut, and 12% spandex, which offers some stretch. The pattern is fun and feels like vacation, which starts each day on the right foot. The look might not be for everyone, though; they look like board shorts, but that's because they are!
When looking at traveling from a sustainable angle, even your sweatpants should be able to do the most. The North Face Winter Warm Essential Pants are manufactured using recycled materials and can be worn on almost any occasion outside the boardroom. Their warmth-to-weight ratio is fantastic, they're quite comfortable, and the fabric is breathable enough to wear all day. They look a little sporty, but that's a small price for all-day comfort.
The prAna Alameda Pants are manufactured using 95% recycled nylon and 5% elastane, so they're sustainable and have enough stretch to accommodate the ups and downs of travel. They can get a bit sweaty in the heat, but they can be dressed up for fancier events, get by on the trail, and are comfortable all day long. Their sleek colorway options look good with any outfit, so picking one is easy. The materials are durable, too, so you don't have to worry about them wearing out mid-trip.
The Arcade Belts Blackwood Belt has sustainability on its mind and makes trips through airport security a breeze. Utilizing an 85% REPREVE recycled polyester composition, this belt is durable and has enough stretch for big meals on the road. Plus, it has no metal buckle, so you won't have to remove it at the airport when going through security. You should always listen if a security officer asks you to remove it—but we've gotten by without taking it off countless times!
Sustainability and a capsule wardrobe go hand in hand. After all, buying and packing less is better for the planet, right? A base layer like this looks great on its own or paired with a tee or a sweatshirt for extra warmth. It's Fair Trade Certified™ and uses Responsible Wool Standard materials, and Merino wool has a lot of benefits for travel as it is. It's lightweight, breathable, and naturally antimicrobial, so you won't have to wash it each time you wear it. However, while it feels supremely soft, it can still irritate your skin if you're sensitive to wool.
Pull on this fleece to stay cozy and warm while looking great, whether you're heading out to explore the Oktoberfest Biergarten or the holiday market. It's made entirely with recycled polyester and Fair Trade Certified™ sewn. Plus, the yarn is dyed with a lower-impact process that reduces the use of dyestuffs, energy, and water compared to conventional methods; that's a good shout. Although it has a slim fit, you can pair it with a tee or long-sleeve base layer for extra warmth, and the arm pocket is a great place to stash a card or a key if you want to run out for a drink.
What better way to greet the day than with a hoodie meant for seeing the sunrise? Whether you need to fend off the chill to greet the day or bid it adieu—or anything in between—we think you'll like this lightweight hoodie. The recycled polyester and TENCEL™ lyocell combine for a super soft layer that looks great with jeans, leggings or tossed over a sporty skirt. While we like the lighter neutral colorway, you can pick it up in a darker hue if you worry about accidental stains. Whichever you choose, it's easy to roll up and toss in your daypack when you warm up since the hood acts as a de facto pouch and prevents it from coming undone.
You can take these shorts back to their roots if you wear them to fish in the local stream, though you'll still appreciate their ability to pair with just about any shirt, even if you're not an angler. The NetPlus® 100% post-consumer recycled nylon faille material comes from recycled fishing nets, so it helps to reduce plastic pollution in the oceans—nice! They're also coated with a PFC-free durable water repellent if you forget to check the radar and end up in light rain on your morning walk. We like the Oar Tan colorway because it's a neutral that goes with most other colors, but you can choose from a rainbow of colors and even a print or two if neutral is not your thing—or you like them so much you want to pack more than one pair!
A great pair of jeans is essential for sustainable travel since you only need one perfect pair to go with just about anything. No matter if you dress them up or lounge around, the recycled COOLMAX polyester and Lycra spandex help the organic cotton move with you throughout the day, so you don't have to worry about breaking them in before you go for a hike. It can take a bit to figure out the sizing if you're used to American standards, but it's worth the effort. We like DUER because they use many eco-friendly materials that reduce its climate impact by limiting the chemicals, water, and wastewater used in production. Plus, they look and feel great!
A great pair of leggings will take you from morning yoga to an afternoon stroll and lounging on the deck of your rental home to take in the starry night sky. These recycled polyester leggings will work for all three and look good at the same time. They've even got a UPF 50 rating, so you can skip the sunscreen when you wear them to a picnic or at the beach. While they're not super thick for below-freezing temperatures, they do have pockets, so you don't need to add a sling if you just need to carry the bare essentials. Less is more, right?
Why pack two swimsuits when one will do the job? We're digging the reversible nature of this one-piece swimsuit to add variety to your beach vacation photos. Wear one side one day and the opposite the next to switch things up. The added thickness of the suit should help it last through more seasons, and if one side starts to show wear sooner than the other, flip it inside out for a whole new suit. It's made with ECONYL® regenerated nylon in a Fair Trade Certified™ factory, and the adjustable straps help you find the perfect fit whether you're long- or short-torsoed.
Sometimes you need to step your style up a notch above a T-shirt and jeans. When you do, reach for this casual dress, and you'll be set for dinner or exploring the local art gallery. It's got built-in shorts to take you through slightly more active adventures, and the straps are adjustable to help you find the perfect fit. You'll need a racerback bra to match the straps or go au natural if that's your thing. However you wear it, you'll be happy to know the cotton meets Global Organic Textile Standards, and most of Pact's facilities are Fair Trade Certified™.
We've been loving Outdoor Research rain jackets for years, and the GORE-TEX Foray II is no exception. The materials are bluesign® approved, giving your sustainability side some peace of mind. However, most importantly, this thing is lightweight and keeps you bone dry even on the rainest days. It doesn't pack into itself, but we've found that it packs down small enough to fit inside the admin panel on your travel backpack or into your packing cubes.
A good rain jacket is worth the investment, so choose one that will stand the test of time, protecting you from showers from home to the other side of the globe. If you've got anything on your itinerary that will take you outdoors, there's always a chance of getting wet, so pack this jacket and be assured that the GORETEX will keep the rain away whether you're in Seattle or Singapore. It's not the most packable jacket we've seen, but we think the durability is worth it. Then you're not replacing it year after year and contributing to a landfill full of plastic ponchos.
The Teca Calido Hooded Jacket from Cotopaxi is reversible, so you have two colorway options while hitting the town. It's comfortable enough for all-day wear and utilizes sustainable materials, too. The insulation is recycled polyester and repurposed taffeta, so the jacket requires fewer virgin materials. In addition to comfort and sustainability, this jacket can be dressed up or down for any occasion.
Many products from REI utilize recycled and bluesign® approved materials—the REI Co-op Out the Door Cap included. This cap folds up to pack away easily in your travel backpack, sling, or raincoat and keeps the sun out of your eyes or hides your hair on a bad hair day. It doesn't have the most structure, which takes some getting used to, but its a comfortable and sustainable option for those who like to travel with a hat.
Don't you love happy little trees? Channel Bob Ross and cap your outfit off with this hat, constructed of organic cotton twill grown in rain-watered fields. It's adjustable through a metal clasp in the back, though it can be a little slow to find the perfect fit. You'll be happy once you do since this hat is "green" in both hue and construction, with a cute little white pine on its front. See what we did there? Puns make us happy, and so does this hat.
Even in warm climates, after-dark activities can be a little chilly once the sun turns in for the night. The Fjallraven Tab Hat is crafted from recycled materials and folds up small enough to slide into your pocket if you get too warm. It's a bit small, so those with larger heads might not get total ear coverage. The sleek styling works with most outfits, and it'll keep your head warm from dusk until dawn.
Sunglasses are essential to any packing list whether you're heading to sunny beaches or snowy mountains. The Dropout Boogie sunglasses from Crap Eyewear have frames manufactured from handcrafted bio acetate, which is biodegradable and plant-based. The included case is a bit bulky, though it's rugged and durable to keep the glasses safe. We recommend packing it inside your travel backpack for use in transit and bringing the sunglasses solo on your daily adventures.
These REI Co-op Liner Gloves 2.0 are manufactured from bluesign® approved materials and recycled nylon, so your hands will be warm, and your heart will be full. They aren't very warm in frigid temperatures, but you can layer them with another pair of gloves, and they're touch-screen compatible, so you can still use your flashlight, take a photo, and text your mom.
As a company, VEJA utilizes vegan and sustainable materials across the board. Although most of their offerings are sporty, some models, like the VEJA Condor 2 Road-Running Shoes, can be dressed up or down. The energetic style might not suit everyone, but the Condor offers a comfortable, supportive shoe that is relatively easy to keep clean. Plus, 57% of the materials used to manufacture it are recycled or bio-based.
You may forget all about the sustainability of your cute clothing if your feet are aching at the end of a long day's explorations. Instead, slip on these cushiony sandals while you stroll sidewalk shops or explore local museums. They pair the comfort and durability of traditional Tevas with the style and flair you expect from less cushiony strappy footwear. You can adjust all the straps to find your perfect fit, and the REPREVE® recycled polyester webbing uppers dry quickly when you get them wet. That's great because it means you can rinse them clean when repacking before slipping them back into your travel backpack; no extra shoe pouch required.
Mix sugarcane and a plastic bottle, and what do you get? No, soda pop isn't the answer—it's these shoes. VEJA uses recycled plastic bottles for the mesh and sugarcane for the EVA midsole, then throws rice waste into the outsole for good measure. It comes together in a good-looking package with a matte finish thanks to the vegan suede, which involves a solvent-free process that's less toxic than other ways of producing synthetic suede. That way, you get the look you want without feeling bad about its impact on animals or the environment. These stylish shoes will take you through evening walks, light hikes, and general exploring of new destinations, though, like most suede-like materials, they're not really meant for wet weather since it can impact the soft finish.
Productivity & Tech
If you want to live entirely sustainably, you'd have to go off the grid with solar panels and minimal tech. Technology like laptops and cell phones contain all sorts of plastics, chemicals, heavy metals, and other unsustainable stuff, but we'll spare you the details.
But if you're looking to travel or work abroad, there's no getting around it. You'll need some gear to work online, and we get it! Money is nice. So is the Internet.
While you won't save the planet by purchasing the items below, they're gear from brands that have taken steps toward environmental friendliness. From recycled materials to plant-based bioplastics and sustainable packaging, they're arguably more eco-friendly than prior generations of tech.
Plus, we'll help you choose minimal gear for your sustainable travels. The same thing goes for tech gear as for clothing—purchase second-hand or new yet durable items that will last for years. This method of responsible shopping will help you buy less and send less to the landfill.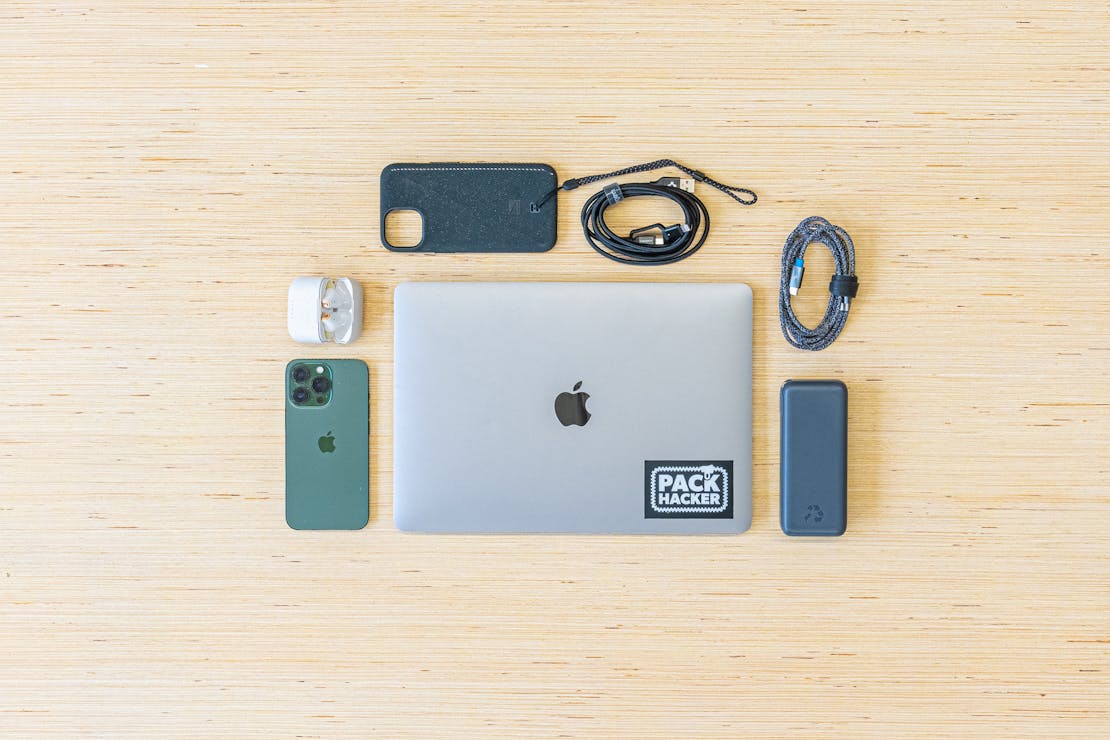 Sometimes, even on vacation away from work, you still want to check in on things at the office. This could be as simple as reading your emails or communicating with the world outside of your phone. If you opt for an Apple MacBook, you'll keep plastic out of your everyday carry because the shell is made of aluminum, and the screen is glass. Apple uses some recycled materials in their computers, and you can get credit by recycling your old ones through Apple when upgrading. Compared to other laptops, MacBooks are free from mercury, arsenic, BFRs, and PVC plastic, which is a great shout depending on what different model you were looking at.
No matter where you end up, you'll need to communicate with family and friends, keep track of online travel plans, and entertain yourself on the plane. A smartphone is essential for travel in the digital age, and an Apple iPhone is an excellent shout. You can trade in your old phone to be reused and recycled at the end of its lifecycle, but Apple has committed to transitioning to renewable energy by 2030. One negative for the iPhone is that it uses a Lightning cable for data transferring and charging, which means you may need to bring a compatible cable for just one device. However, the rumor is that a USB-C iPhone is closer than we think, and you can use wireless charging in the meantime.
If you spend hundreds on a new phone, you'd better protect it from bumps and drops. The Lander Torrey Case is crafted from TPU derived from plant-based bioplastics. The package includes a little lanyard too, which is handy if your trip ends up on the wild side of the spectrum. Or, if you're a little shaky-handed, put on the lanyard while holding your phone over something precarious while shooting a photo or video for peace of mind. It isn't the most durable case on the market, but paired with the durability of modern cell phones, you'll be all set!
Regarding technology, a lot of the negative environmental impact comes from making the device in the first place, shipping it to your door, and its packaging. You cut a lot out of the picture by opting for a device that does more than one thing. The Nimble WALLY Pro Portable Wall Charger will charge up to two devices simultaneously and can be used as a battery bank or a wall charger. You're set from the hotel to the beach with a 10,000 mAh battery and 63W charging capabilities. The device is made from 72.5% certified recycled plastic, and the packaging is sustainable, too!
As a brand, Nimble has made moves to ensure its products are some of the most sustainable on the market, from the packaging they arrive inside to the devices themselves. The POWERKNIT Cable is durable and made from certified recycled plastic and aluminum. Use this to charge your computer and other USB-C devices, so you're juiced up for the day when you wake up in the morning. The packaging is crafted from repurposed materials and includes a recycled plastic bag to recycle your old electronics.
Although the Spigen DuraSync 3 in 1 Universal Charger Cable isn't crafted from overtly sustainable materials, its existence helps keep you from purchasing extra cables. On one end of the line is a USB-A port; on the other are three adaptable ports; USB-C, Micro-USB, and Lightning. With this cable alone, you can charge just about any device you bring for the ride. This cable is also durable, so you won't have to purchase another one soon.
No matter where the destination is, you should aim to be as comfortable as possible on the journey so you're well-rested when you arrive to take the trip by storm. The House of Marley Redemption ANC 2 True Wireless Earbuds are comfortable, excellent at muting noises around you and crafted with sustainable materials. The buds feel a bit big for small ears, but they have different-sized buds to work for most ear canals. The packaging is so sustainable you can feel it–instant gratification!
Toiletries & Personal Care
Single-use, travel-sized toiletries can quickly create a massive amount of waste. Between tiny shampoo bottles, plastic toothbrushes, and even dental floss—this stuff can add up quickly.
To reduce the waste you create while traveling, we highly recommend checking out some of these sustainable products that last longer and keep you clean and tidy! Many include organic and vegan ingredients, and some companies listed below are cutting down on the plastic packaging used in their products. Also, because almost everything in this part of the list is solid, you won't have to pull out your toiletries every time you get to the airport.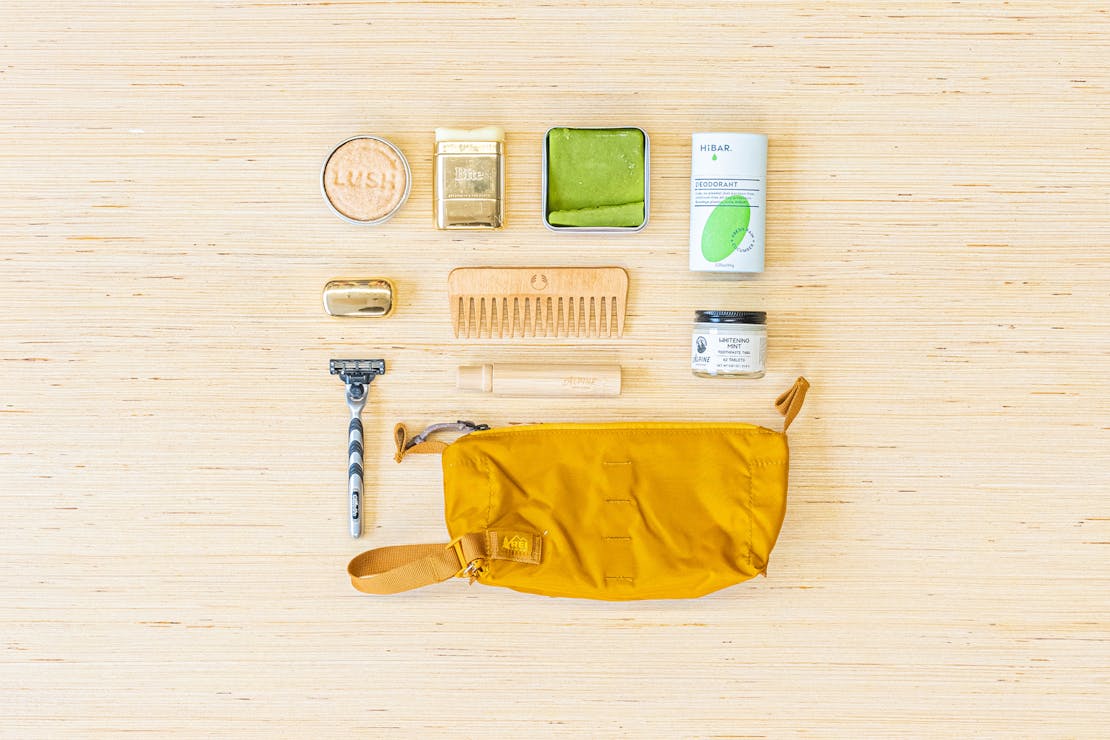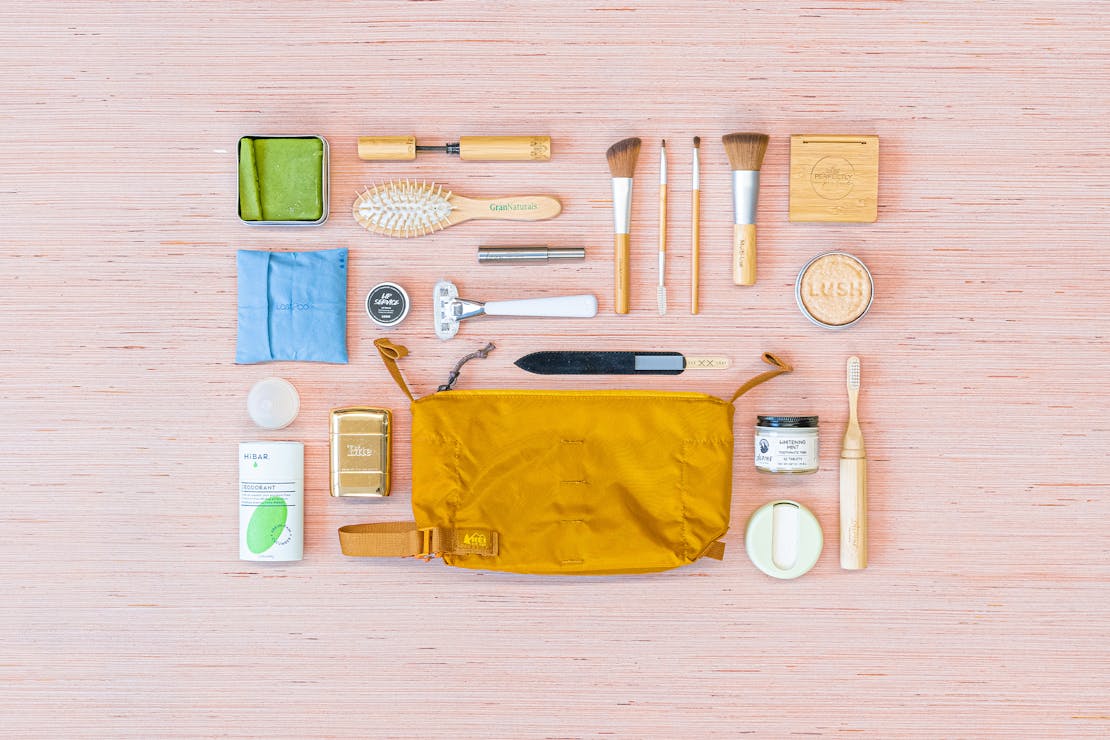 Do you like lots of organization or open space in your toiletry bag? If you can't decide, you may like the REI Co-op Travel Kit. It has three elastic loops for holding super slender bottles and brushes, a zippered mesh pocket for tiny accessories like lip balm and contact lens cases, and room to toss (or stack neatly) everything else. The small may be enough if you're going away for a short time or don't bring a lot of supplies with you, and the large will serve you well if you're packing the contents of your home cabinet. We use the loops to hold our mascara, toothbrush, and razor, though the elastic lays flat if you have nothing skinny enough to slip through.
While the most sustainable route is probably to skip shaving altogether, we understand if that's not your style. Instead, choose a brand built to last, and you'll go through less plastic when replacing the cartridge than you would with disposable razors. The handle is anodized aluminum with a fiberglass core and coated in silicone, so it's ultra-smooth to hold. While they only ship to the U.S. and Canada at the time of posting, you can schedule refills for delivery on a timeframe that works for you, and stock up on more before taking off on a long-term trip.
Have you bean brushing your teeth? That's not a typo when you reach for this brush since its bristles came from castor oil beans. This bamboo brush comes in plastic-free packaging and includes a bamboo cap to keep the top from brushing against the remaining gear in your toiletry bag. While it's a little bulkier than other travel toothbrushes, it saves you from getting any remnants of toothpaste on the wall of your Dopp kit, so we think it's worth the extra space. Alpine Provisions donates 1% of their sales to the Colorado Outward Bound School Scholarship Fund, so you can get a warm fuzzy feeling even as you brush the fuzziness off your teeth and tongue.
Have you bean brushing your teeth? That's not a typo when you reach for this brush since its bristles came from castor oil beans. This bamboo brush comes in plastic-free packaging and includes a bamboo cap to keep the top from brushing against the remaining gear in your toiletry bag. While it's a little bulkier than other travel toothbrushes, it saves you from getting any remnants of toothpaste on the wall of your Dopp kit, so we think it's worth the extra space. Alpine Provisions donates 1% of their sales to the Colorado Outward Bound School Scholarship Fund, so you can get a warm fuzzy feeling even as you brush the fuzziness off your teeth and tongue.
Stay fresh as rain with this all-natural deodorant in a compostable cardboard applicator. You won't have to worry about finding recycling facilities for plastic if you finish it on your trip, and we dig the fresh scent, though you could opt for a different fragrance if cucumber's not your thing. It doesn't contain aluminum, and while you may think that's healthier, your body may need a bit of a detox if you've been using aluminum-based deodorants and antiperspirants since puberty. The oval shape slides easily into your Dopp kit, and all the ingredients are vegan, so you don't have to worry about hurting animals with your choice of grooming products.
If you're looking for soap without plastic packaging, look at Lush. Whether you pick up your soap in the store or shop online, it comes without any added plastic to clog up the waste stream. When shopping for your favorite flavor, pick up a reusable tin from Lush too, or you'll be scrounging for a way to store it in your bag when you jet out. We've packed the Olive Tree Bar Soap with coconut and olive oils for moisturization and a lovely scent, but they've got a fragrance to suit every preference, so pick the one that speaks to you. If you pick a special scent for your trip, you'll remember the fun times you had when you return home and use up the bar.
When you pack a shampoo bar, you don't have to worry about packing a special bag to pull out at TSA, and you can eliminate single-use plastics. We like the beeswax and Fair Trade honey used in the Honey I Washed My Hair Shampoo Bar (And the pun, because who doesn't love a good pun?), though they have plenty of other scents if you're not sweet on honey (See? We did it again!). You can get a round tin from Lush to hold your shampoo bar, and you'll want to since the company sends you the shampoo plastic-free. One bar lasts as long as three 250ml bottles of liquid shampoo, and you may be able to forgo conditioner, too, thanks to the moisturization built into this bar, but they sell pressed conditioner as well if you want the added hydration.
Go liquid-free when you pack a solid moisturizer. This body balm from Bite works well wherever you need a little hydration, whether it's your hands, legs, or feet, to keep dry skin and scaliness at bay. It comes with a plastic-free applicator, the refills come in cardboard cartridges, and the balm itself is vegan, so it's a win-win for animals and the planet. It can dry out a little after a time with no use, but once you warm it up with friction on your skin, it's ready to slide on again.
The Body Shop is a certified B Corp, so you know to expect nothing less than sustainability from their products. In addition to making mother Earth happy, their Comb works wonders for your hair after a long night out, a fresh shower, or in the airport. It's a bit large, but we dig how durable and easy it is to use. The design is worth commending, too—what's not to love?
Unfortunately, not everything has a sustainability angle. However, the Gillette Mach3 Razor is durable enough for this list. The handle is sturdy, and you'll be able to use it for years. We aren't the biggest fan of the look, but it gets the job done at the end of the day. You'll be able to get a clean shave from your bathroom at home to a hostel in Chile. Plus, if you lose it or it gets stolen in your backpack, you aren't out a ton of cash.
Harness the power of wooden pin bristles to help distribute the natural oils in your hair for a silky smooth look in a travel-friendly package. While it's not the most packable brush we've encountered, it's small enough to fit in many toiletry bags and slings, and it still feels good to hold while brushing your hair. There are some things you don't want to sacrifice in the name of packing less, and while your mileage may vary, you may want to make room for this.
Just say no to paper emery boards that snag and shred with this lead-free, tempered glass file. It's great for cleaning up the jagged edges of your nail so you don't keep catching it on your sweater, although it can take a bit of time to get your nails short if they've grown out too much. It will easily last for decades, though it's recyclable if you decide to go in another direction with your manicure. Don't have recycling at home? Urban Oreganics will take care of it for you if you send it back to them.
When it's time to take off your makeup at the end of the day, don't reach for a disposable cotton ball or round when you can use one LastRound more than 250 times before it wears out. The pack of seven should replace more than 1,750 single-use pads and are designed to last for years. The organic cotton and wood fibers feel a little stiff right out of the package, but they turn cottony soft when you get them wet. You can even throw them in the laundry in a wash bag after you use them or scrub them clean with a little hand soap and elbow grease. Their case is recycled ocean-bound plastic, and the packaging is plastic-free, so you can feel good about more than just having a clean face.
Stop tossing pads in the trash with this reusable option from LastObject. The antibacterial polyester material is silky against your skin, and it has absorbent bamboo inside, plus a bottom layer of polyester and leak-proof TPU to protect your clothing. It can last up to a decade, keeping 250 single-use pads from landfills. You may want to bring more than one so you can have a day to wash them in between, but you'll save time finding a local pharmacy if Aunt Flo decides to drop in on your trip.
For times when you'd usually reach for a tampon, try a Diva Cup instead. There's a learning curve to using this silicone device, but once you know, you know—you know? It's washable and reusable, so use it throughout your trip, and you can avoid adapting to a foreign replacement if you run out of your favorite brand of period protection. Different sizes are available for different ages and types of users, so pick the one that best suits your needs.
Brighten up your face, and your outlook on the health of the planet, with this zero-waste makeup. Its metal tube is strangely satisfying to hold and use, and a 90-day supply comes straight to your home in a zero-waste reusable shipper with no outer packaging. After about three months, Izzy will remind you to return your empty tube in the prepaid shipper, and then they'll refill it and send it back. We're digging the creative way they've eliminated shipping materials and packaging, although if you forget and toss the tube or shipper, you'll have to pay a restocking fee.
Eliminate plastic packaging when you pick up one of these refillable bamboo palettes. You can go a step further on the sustainable journey by opting for the Perfectly Imperfect design, which eliminates waste—and saves you money—by sending you a palette with minor flaws. It may have some minor cosmetic damage like scratches or dents, but you could do that the first time you drop it yourself, too. Fill it with foundation, concealer, blush, and eye shadow sold separately by Elate, and everything snaps into place with magnets. All their ingredients are vegan and sourced from ethical, fair-trade sources, and nearly all the packaging is reusable, recyclable, or plantable. Plus, you can buy replacements as you need, in the colors you want, so you're not wasting hues you won't use. We like the Essential size for minimal packing, but you can get larger palettes if you need room for more options.
The makeup brushes you used in middle school probably had plastic handles, but you've outgrown that outlandish eyeshadow, and it's time for your makeup kit to grow up too. This set of brushes includes sustainably-sourced bamboo handles. The brush bristles are Taklon, a cruelty-free, antibacterial, and hypoallergenic fiber. You can buy the brushes you need individually or grab the entire set and bring a few or all when you travel, depending on the trip. While we like the versatility of the largest Multi-Use Brush, it can be tricky to use in smaller palettes, so use what works best for your makeup routine.
Have a panda bear party when your mascara comes encased in bamboo. It's water-resistant and great for sensitive eyes, and the luxurious brush gives you great big lashes. You can use it to touch up your brows, too. Thanks to a recyclable plastic inner tube, the liquid won't leak into the wood. If you don't have curbside pickup, send it back to Elate for recycling, and you can crush the water-processed bamboo tube for composting in your own backyard.
Cut the plastic from your lip care routine without eliminating moisture altogether with this self-preserving lip balm. It comes in a handy metal tin; just unscrew the cap and slather it on. Fair Trade and organic ingredients—including shea, cocoa, and beeswax—soften up even the driest of lips, and it smells so bright and fresh that it's a joy to use. Plus, it may make you happy to know the cocoa butter comes from farmers in the Democratic Republic of the Congo who are paid a premium for investing in their local communities.
Miscellaneous
Now for sustainable products to put the icing on the cake and reduce your use of single-use products, as well. Forget reaching for disposable water bottles, utensils, and extra batteries when you pack these products on your next trip, and since some do double duty, you can knock another product off your shopping list.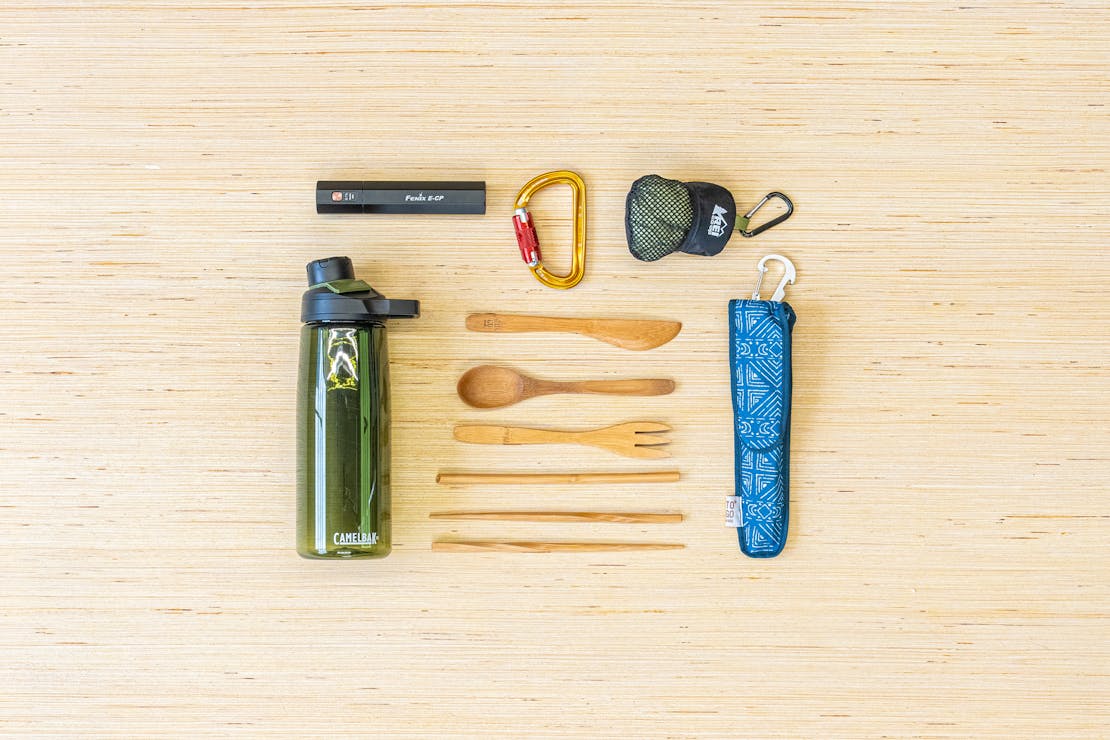 Sometimes, the most sustainable option is the one that'll last you the longest. Regarding carabiners, you can't go wrong with a Petzl Sm'D Twistlock. It operates with a standard clip but has a twisting lock mechanism, so it isn't as simple to open. If you attach gear on the exterior of your pack with it, a stranger trying to snag it will be slowed down by the mechanism, and it won't be able to get bumped off on accident. Plus, it's durable as heck, so you won't need to purchase a new one for years.
Grabbing devices that can do multiple things doesn't waste as much packaging material or space in your pack. The Fenix E-CP Rechargeable Flashlight w/ Power Bank is a light and battery bank in one that fits in your sling or pocket. The light is 1600 lumens, the charger outputs 18W, the device has a 5,000 mAh battery, and it charges using a USB-C cable. However, you can charge devices with both a USB-C and USB-A cable. With an A6061-T6 aluminum shell and an IP68 rating, you can take this thing from the city to the trail without missing a beat.
Odds are, you'll be getting takeout while traveling. Many countries still use plastic packaging and cutlery for takeout, which isn't sustainable or easy to eat with. The To-Go Ware Premium Bamboo Utensil Set doesn't use plastic in the cutlery and features a spoon, fork, knife, straw, and set of chopsticks. It comes in a carrying case crafted from recycled materials with a small clip so you won't lose anything on your journey. It's a bit large compared to other utensil sets we've used, but it fits in most slings, which is worth commending!
Whether crossing an unfamiliar city or heading to the beach, staying hydrated is essential to ensuring your body is ready to take on the day. Camelbak is a trusted water bottle brand, and their Renew Bottle is crafted from 50% recycled materials so that you can feel better about sourcing your hydration. It doesn't have a clip, but the top has a large eye, so you can attach a carabiner or a strap to hook it to things. This bottle is durable and won't break the bank, so you've got a bottle you can use for years without spending too much money.
Regardless of the destination, a pack towel is an essential piece of gear. If you wash your face after a long flight and don't want to waste paper towels in the bathroom, the REI Co-op Multi Towel Mini is convenient. Or, use it as a napkin while eating out to cut out paper waste while eating out. This towel uses bluesign® materials, is small enough to fit in your pocket, and is easy to pack just about anywhere.
See How We Pack It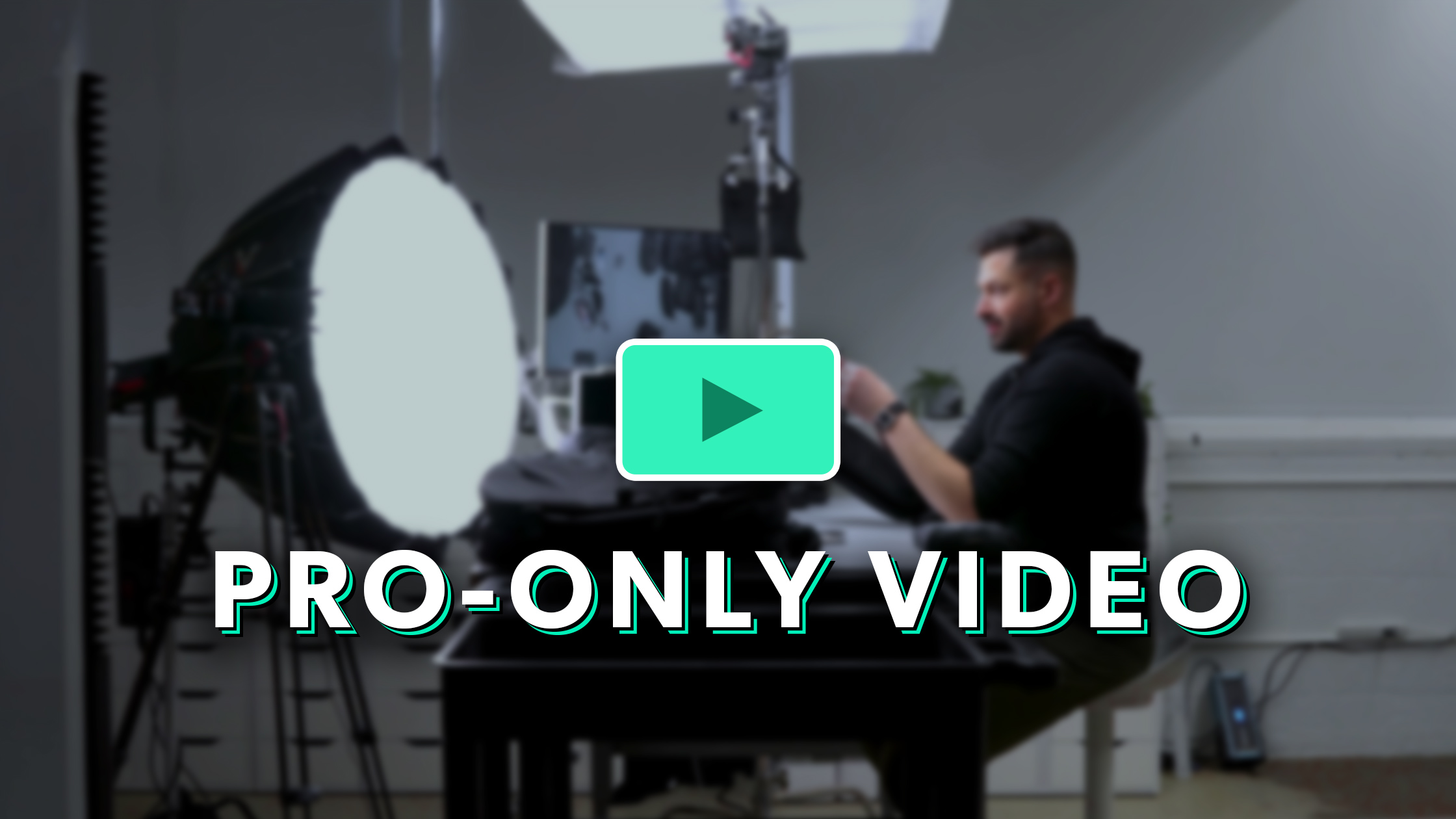 This video shows how we pack everything into the bags. We cover what pocket holds each piece of gear and what items to put where. Even if you use a different travel backpack, we'll share tips and tricks for making everything fit into smaller spaces.

See You Out There!
This list will put you on the path to sustainable travel, with products made with renewable and recycled materials and brands reducing their carbon footprint and packaging. If you're planning for a specific trip and need some more detailed options, be sure to check out our other packing lists and guides to get ideas of some other great gear.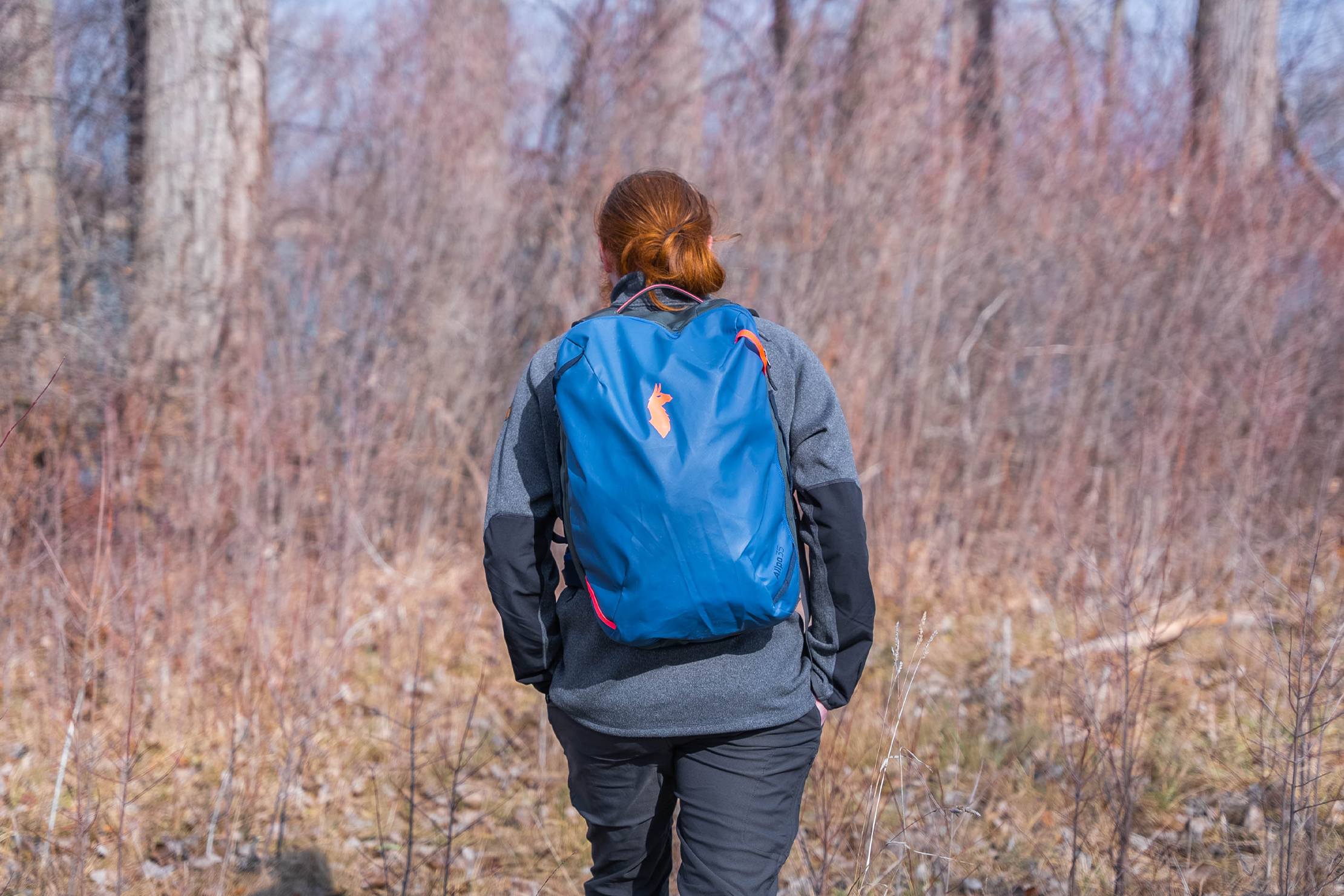 Then you can protect the planet with sustainable travel choices, whether heading out to explore forest trails or ancient cities. At the very least, it's a good start.