Thule Compression Cube Review
The Thule Compression Cube is simple and performs well in all aspects a packing cube should while being durable and lightweight.
Our Verdict
Unlock the Pro Summary
Save time. Get access to brief summaries of our reviews so you can browse and make decisions more efficiently.
Pros
Zippers are designed to hold clothes securely and operate easily
Can fit a surprising amount of gear inside both sizes
The pack material is strong and lightweight to make your pack lighter
Cons
Larger garments can be hard to place in compartment without unfolding
No internal organization to speak of
Thule logo is large and hard to ignore
Recent Pack Hacker Video
Technical Details
Capacity

4l

Small | 11L Medium

Weight (oz)

2.79 oz (79.1 g)

Small Packing Cube

Weight (oz)

4.3 oz (121.9 g)

Medium Packing Cube

Dimensions

10 in x 7 in x 4 in (25.4 x 17.8 x 10.2 cm)

(expanded) ; 10 in x 7 in x 1.25 in (compressed) - Small | 14 in x 10 in x 4 in (expanded) ; 14 in x 10 in x 1.25 in (compressed) - Medium

Notable Materials

Ripstop Nylon, YKK Zippers

Manufacturing Country

Cambodia

Warranty Information
Full Review
On first inspection, the Thule Compression Cubes are extremely simple—with just two zippers and no internal organization, they're very lightweight and have the potential to be a sturdy travel companion. We're curious whether we'll miss the segmentation we've seen from other packing cubes or whether we'll love them so much they'll never leave our travel backpack. Let's dive in!
External Components
There are two different-sized packing cubes. The medium size is 11 liters and comes in at 4.3 ounces (121.0 grams), and the small size is 4 liters and comes in at 2.79 ounces (79.1 grams). Both models are crafted from ripstop nylon and are durable yet super lightweight. The material is semi-transparent, so it lets a fair amount of light through. You can't see the items inside, but you can see their color. If you're a private person, you may not like this feature, but if you wear colorful clothes, it can be fun.

There's a handle on the backside of the top of the packing cube. It's super thin and has no padding or anything on it. It's basic, but it does its job well. You can grab it from your daypack or travel backpack, carry it to the bathroom, etc., without issue. You theoretically could hang it from something, but it's hard to open the pack when it's hanging from it because everything would fall out if you opened the zipper all the way. Since this isn't a hanging packing cube, we can't fault it for that.
Each compression cube has two zippers. One is to access the main compartment, and the other is to compress the cube once you've got it fully packed. The zipper for the compartment is black, and the zipper to cinch things down is white. The black zip contrasts nicely, making it easier to separate them when you're in a hurry or the lighting isn't ideal.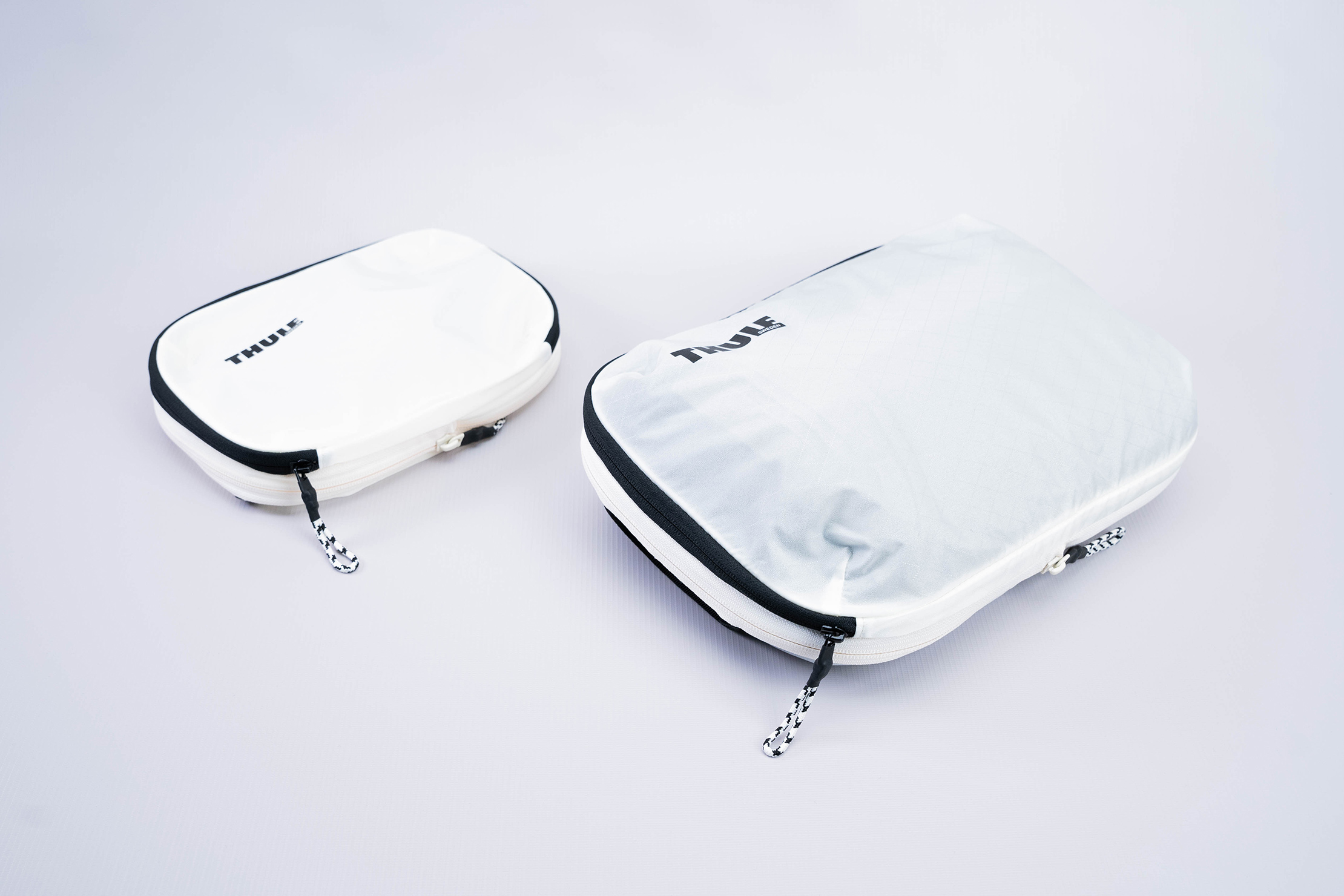 The primary compartment closure is a YKK #5, and the compression closure is a YKK #8. This is a slight difference, but an important one. The access zipper isn't holding the brunt of the compression—the white zipper is, so it's larger. They both feel adequate for the jobs they're tasked with and don't feel bulky or in the way in use.
Okay, we promise we'll only say the word zipper one more time. Here goes nothing—are you ready? The zipper pulls are made from a paracord-like material with heat-shrunk plastic over the metal pull and the first section of the paracord. The material forms a loop that is pleasing to stick a finger or two through to open and close.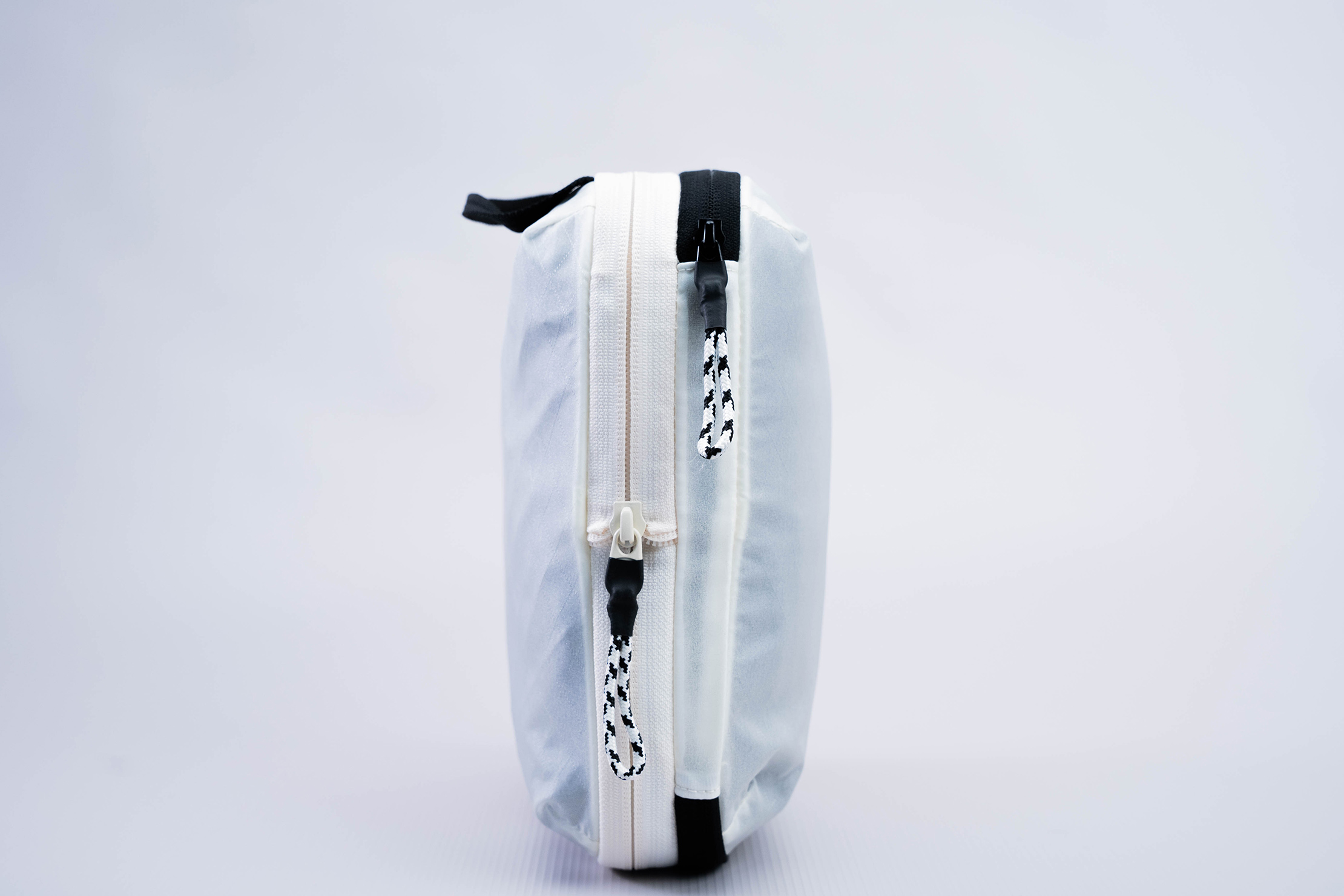 The Thule logo is prominent on the front of the cube but looks professional and contrasts nicely with the primary pack material. The backside of the cube is blank apart from a small fabric tab with the bluesign® logo on it. This little indicator means that the materials used in the cube's production are certified as sustainably sourced, which is a great shout, we think. Companies continue to move towards sustainability, so we like to note it when we see it.
Inside The Packing Cube
The main compartment opens like a clamshell, and to be honest, there isn't anything going on here. We aren't knocking it for that—we dig the raw simplicity, but it's worth noting. In a sense, the world is your oyster regarding these compression cubes. If you like to be guided as to where to place every single article of clothing, they're probably not for you. However, if you like taming the wild west of garment organization, go west, young man.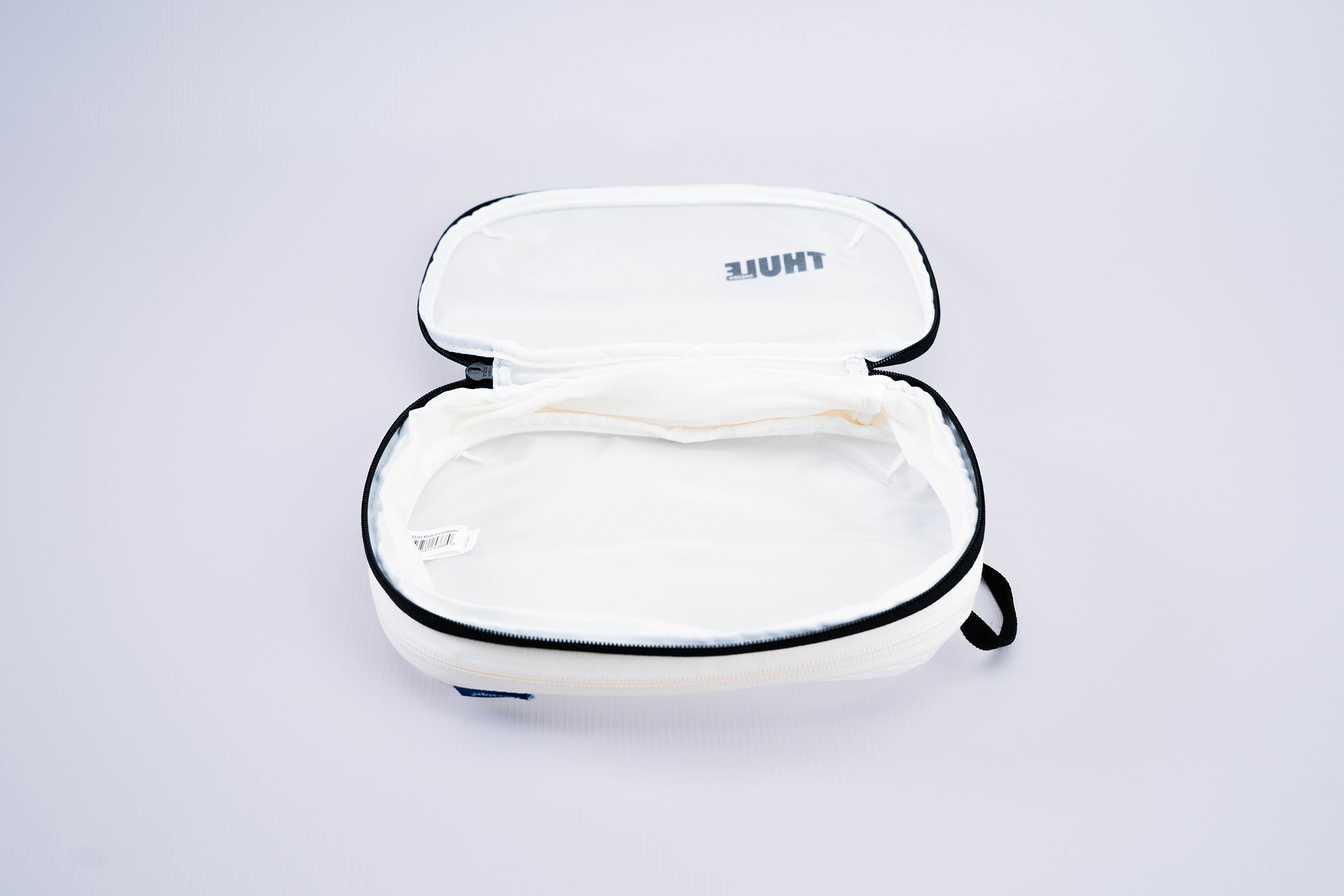 The small compression cube measures 10 inches by 7 inches by 4 inches (25.4 cm x 17.8 cm x 10.2 cm) when uncompressed, and the medium model measures 14 inches by 10 inches by 4 inches (35.6 cm x 25.4 cm x 10.2 cm) when uncompressed. The two come in a package together, so we like to put delicates like socks and underwear in the smaller model and opt for shirts, pants, etc., in the larger model.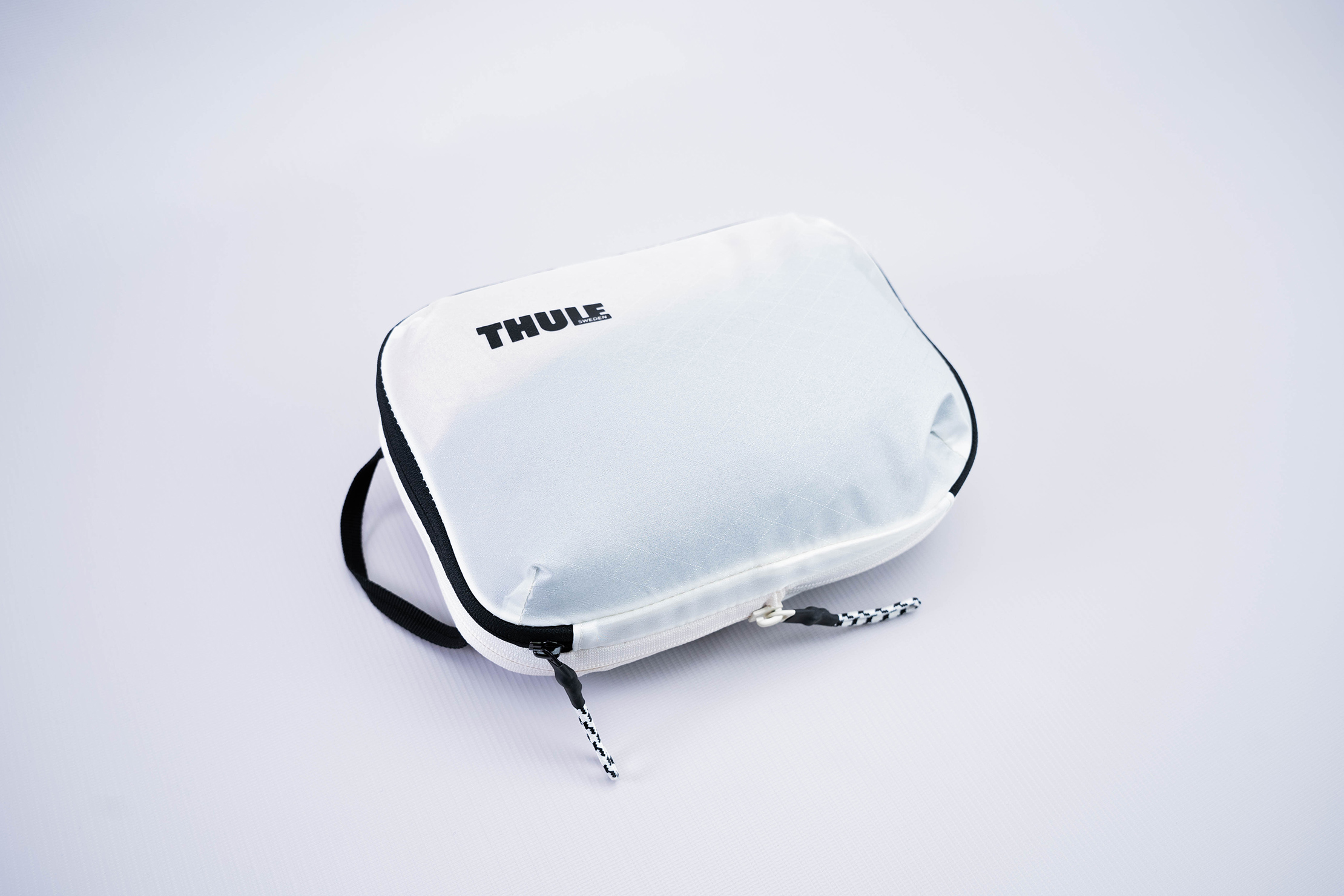 We're happily surprised by how much gear we can fit into both cubes, but what we feel is worth noting is how large articles of clothing can monopolize space quickly. On other packing cubes, like the Tropicfeel Smart Packing Cube 10L, there are places to cinch down clothes inside before compressing them, making loading easier. With the free reign we've been given here, it's hard to load large items without them unraveling and taking over the space. You can combat this by using VELCRO Brand Cable Ties, though some articles of clothing can get snagged by a hook and loop fastener, so that isn't always an option.
When the cube is full, compressing it is relatively easy. We like to use two hands, one on the zipper (darn, we almost made it), and another just in front of it to hold the track closed. Obviously, if you have larger items inside, it's harder to close.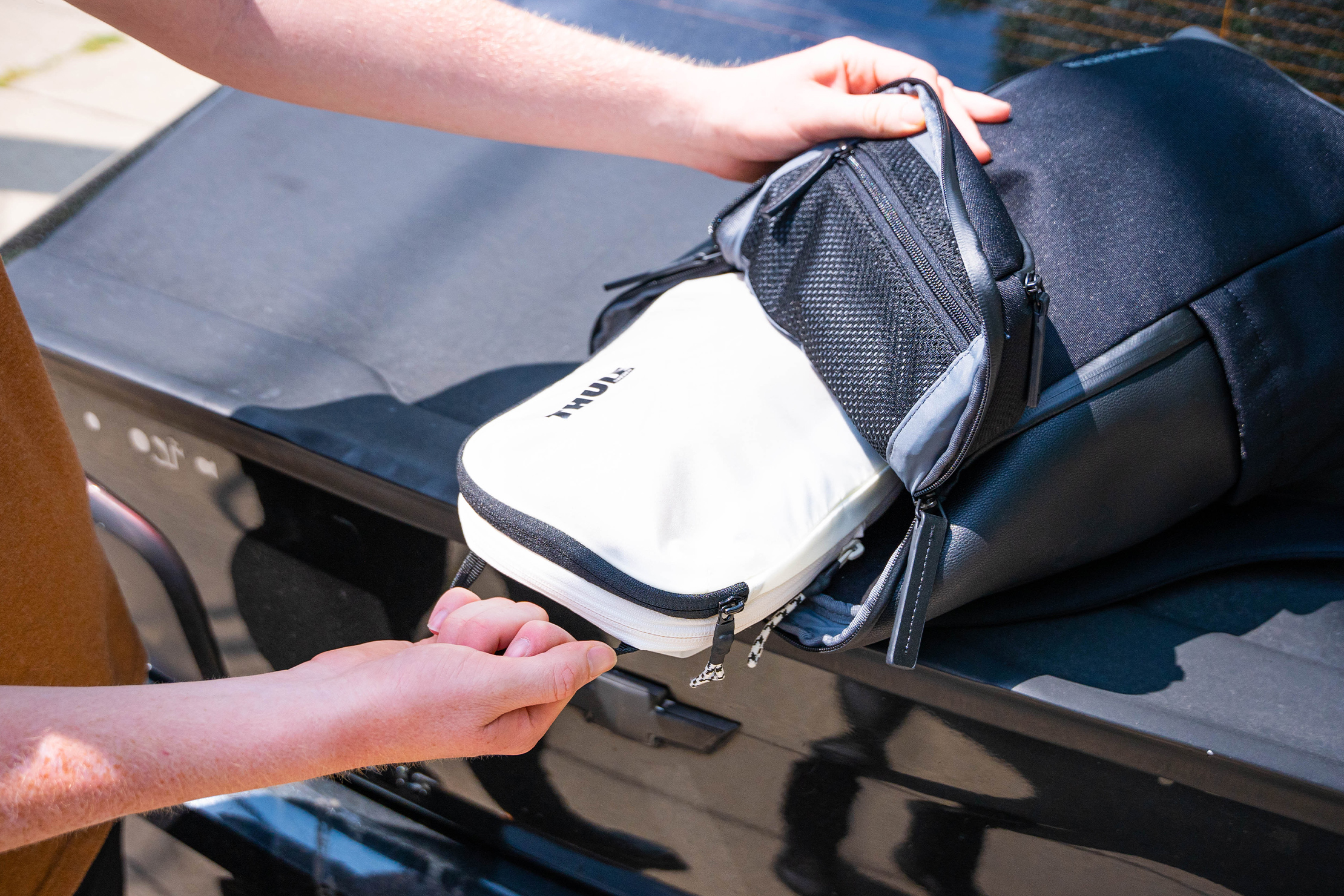 We were worried about the white fabric when it would inevitably come into contact with dirty clothes, but it looks the same color white as when it arrived. Overall, we're amped with how much gear fits inside the compression cube and think the design is simple yet effective. Larger items can be tricky, and it isn't for those who crave internal organization, but we're happy with how it performs overall.
Usage Timeline
Initial Usage
Condition: Excellent
Materials feel durable and are water-repellant, so there's no need to worry about accidental spills inside your pack
The handle is thin but durable and easy to grab onto
The cubes are somewhat transparent—which is a little odd for a garment storage
2 Weeks of Use
Condition: Excellent
No issues with the materials—they remain durable and look nice
The zippers are adequately sized for the job they're tasked with
No issues with the handle getting caught on things
Access the Pro Community Discussion
Get your questions about the Thule Compression Cube answered from our team and the Pro Community right here on the page. Plus, join discussions with other members about gear, guides, and more.
Other Organizers & Pouches Reviews