Lush Shampoo Bar Review
A tiny bar of soap & shampoo that lasts much longer than typical liquid soaps, the LUSH Shampoo Bar proves to be a great TSA-approved option for travel.
Our Verdict
Unlock the Pro Summary
Save time. Get access to brief summaries of our reviews so you can browse and make decisions more efficiently.
Pros
Lasts an unbelievably long time.
It's much more than a shampoo, it's an all-purpose soap.
Offers a good variety of scents.
Can double as a bag freshener.
Cons
Some scents seem a little strange for washing clothes or dishes, but they weren't originally intended for that anyway.
Recent Pack Hacker Video
Technical Details
Weight (oz)

1.9 oz (53.9 g)

For a full bar

Manufacturing Country

Canada

Warranty Information
Full Review
When it comes to keeping it fresh on the road, we found a pretty solid option (pun fully intended). The Lush Shampoo bar is a little compact soap disc that can do what your entire ziploc bag of liquid carry-ons could.
It's your shampoo, conditioner, body wash, detergent and dish soap all in one. And as if it can't possibly get any better, it actually lasts for months on end. Their website says you can get about 80 washes out of each puck … that's about three months worth for those who don't regularly count their washes. We've found that metric to be true on several occasions and tests.
If you are able to get to a Lush store, it's worth making the trip to go pick out a scent that you're comfortable smelling like for the next couple of months. There are over 12 different bars to choose from. Each one has a unique scent and hair treatment. Most of the scents are fruity or floral based, but there are a few like the Soak and Float or Copperhead that work in more earthy aromas.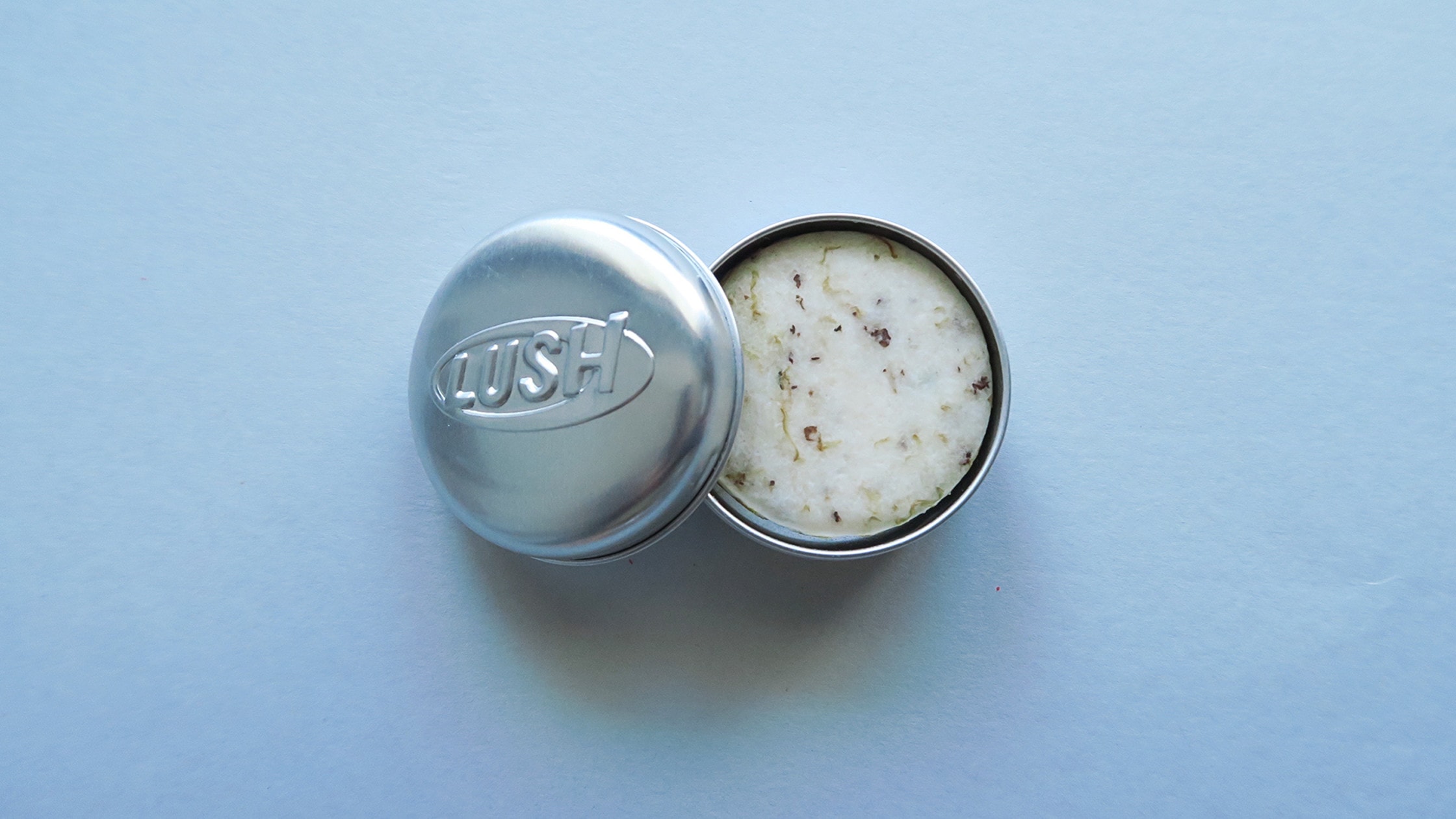 When traveling with the Lush Shampoo bar, we highly recommend buying one of the Lush tins or using a comparable container. It'll keep the soap and scent from seeping out into your luggage. Although, that's not always a bad thing if your bag could use the extra air freshener.
Note: Some folks have reported the Square Tin being a good option for the shampoo bar as well, since the shampoo bar in the circular tin can be a little too snug.
We also found that patting the soap disc dry after using will help keep it from dissolving in between washes. It's not completely necessary but if you want to make it last as long as possible, we recommend the added step.
Usage Timeline
Initial Usage
Condition: Excellent
Fresh out of the box: prepare thy senses.
3 Months of Use
Condition: Good
One bar so many washes — hair, body, even occasionally clothes and dishes.
6 Months of Use
Condition: Dead
We had a good run. It's lasted longer than other liquid soaps, but alas it's time for a new bar.
Access the Pro Community Discussion
Get your questions about the Lush Shampoo Bar answered from our team and the Pro Community right here on the page. Plus, join discussions with other members about gear, guides, and more.
Other Toiletries & Personal Care Reviews